May 4, 2017
ON THE RECORD. . .
"The Affordable Care Act has never been more popular -- and it's more popular than the current president," --Barack Obama to an private event in midtown Manhattan
"For starters, by not having a Twitter account."-- Obama responding to presidential historian Doris Kearns Goodwin who asked him how he handled frustrating moments, noting that Lincoln would write angry letters and then put them in a desk and not mail them."
"We're dealing with obstructionists. I don't have one Democratic vote." — = Trump on why he didn't get more done in his first 100 days.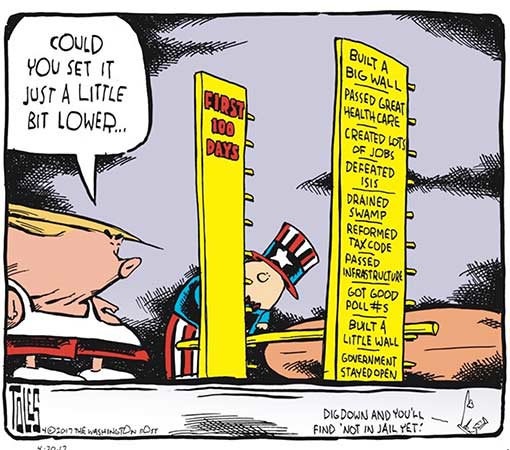 It's been 99 days since Donald Trump became commander-in-chief. But for the president's detractors, it's felt like centuries — long medieval centuries chock-full of plague, illiteracy, and barbarians running roughshod through the ruins of the old republic. -- Eric Levitz in the NY Magazine.
"I truly believe that the first 100 days of my administration has been just about the most successful in our country's history," -- Trump 4/29/17
'Look, because if you hurt your knee, honestly, I'd rather have the federal government focused on North Korea, focused on other things, than your knee, okay?" -- Trump when asked by John Dickerson whether coverage for pre-existing conditions will be left up to the states. 4/30/17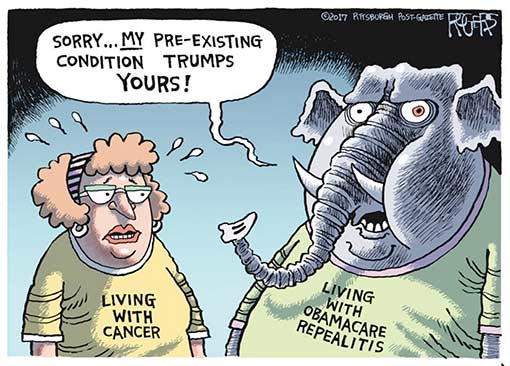 "Guys, I'm not running." — Joe Biden ruling out a 2020 presidential bid.
"As a Trump supporter I do my best not to pay attention to what he says. If I pulled my hair out for every nutty thing he said, I'd be bald." — Former Rep. Joe Walsh (R-IL), in an interview on MSNBC.
"People can go to the state that they want to live in." -- Rep. Robert Pittenger (R-NC) when asked if people with pre-existing conditions could be charged much more under the American Health Care Act. 
Roger Severino, a former lawyer with the Becket Fund, a law firm that advocates for religious liberty, and Trump's pick for head of the U.S. Department of Health and Human Services' Office for Civil Rights, was one of the leading attorneys in the 2006 Conaway v. Deane case, banning same-sex couples from marriage in Maryland. In August 2006, Severino penned an op-ed for the Philadelphia Inquirer saying that the concept "live and let live" doesn't apply to gay rights and religious beliefs. -- Tatyana Bellamy-Walker in the Daily Beast 5/01/17 
"Within an hour or two of the Hollywood Access tape being made public, the Russian theft of John Podesta's emails hit WikiLeaks. What a coincidence. So, I mean, you just can't make this stuff up. So did we make mistakes? Of course we did. Did I make mistakes? Oh my gosh, yes. You know, you'll read my confession and my request for absolution. But the reason why I believe we lost were the intervening events in the last 10 days. -- Hillary Clinton 5/02/17
"Well said, Jimmy. That's exactly why we fought so hard for the ACA, and why we need to protect it for kids like Billy. And congratulations!"-- Obama tweet in response to Jimmy Kimmel's Monday night monologue that recount his newborn son's emergency surgery. 5/02/16
"Once Republicans gain high office, worries about "generational theft" segue to the "deficits don't matter" philosophy— when deficit hawks morph into deficit doves." -- Matt Lewis in the Daily Beast. 5/02/16
"While the FBI was discussing its investigation into Senator Clinton's email server in detail, I cannot help but note that it was noticeably silent about the investigation into the Trump campaign and Russian interference into the election." -- Sen. Dianne Feinstein's opening remarks at the Senate Judiciary Committee's annual oversight hearing of the FBI 5/03/17
"Under the Democrats dream scenario, House GOP leaders would muscle through their controversial health care bill only to watch it die a long, painful death in the Senate, where it has already received a lukewarm reception from Republicans. Obamacare would stay intact while the House Republicans who voted to gut the law have a big shiny target on their back heading into the 2018 midterms." -- Heather Caygle in Politico 5/03/17
---
IN THIS ISSUE
1. 100 Days of Trump's Claims
2. Most Say They Wouldn't Vote for Trump
3. The DAILY GRILL
4. From MEDIA MATTERS (They watch Fox News so you don't have to)
5. From the Late Shows
6. Trump resistance tries to channel its anger
7. CNN/ORC poll: Expectations plummet for health care overhaul
8. Trump's Presidential Status Anxiety
9. Donald Trump's first 100 days have been a moneymaking success story
10. The Borowitz Report: Fourth-grade Class Touring White House Answers Trump's Questions About The Civil War
11. 99 Days in 99 seconds 
12. Trump's Alternative Reality Rally
13. VIdeo: Trump flees interview when pressed on lie that President Obama wiretapped him
14. Late Night Jokes for Dems 
15. Trump Rallies May Add to His Legal Woes
1. Paul Krugman: Living in the Trump Zone
2. Tom Nichols: Are Trump voters ruining America for all of us?
3. Albert R. Hunt: Trump Tax Plan Is a Trail of Broken Promises
4. Jonathan Chait: Conservatives Angry That Biased Media Accurately Reports Who Gets Trump Tax Cut
5. Bloomberg View Editorial: Trump's Misguided Approach to Tax Reform
6. John Cassidy: Trump Wants To Give Himself A Tax Cut And Undermine The Tax Code
7. RIck Wilson: White House Death Match: Plutocrats vs. Racists
8. Gail Sheey: What We've Learned 100 Days In: The Trust Deficit Is the Core Problem
9. Ron Brownstein: Can the Democratic Party Reconcile Two Divergent Economic Visions?
10. Nicholas Kristof: This Isn't Tax Policy; It's a Trump-Led Heist 
11. Roger Cohen: 'America First' Has Not Upended the World. Except It Has. 
1. 100 Days of Trump's Claims
Donald Trump earned 59 Four-Pinocchio ratings as a presidential candidate. Now that he's president, he has continued his proclivity for making dubious, misleading or false statements. He also often repeats the same debunked claims even though they have been fact-checked. It's hard to keep up with all of Trump's rhetoric, so the Fact Checker has assembling in one place all of his suspect statements from his first 100 days as president.
For the list of the 452 false or misleading claims the Washington Post Fact Checker has counted during the last 100 days go to https://www.washingtonpost.com/graphics/politics/trump-claims/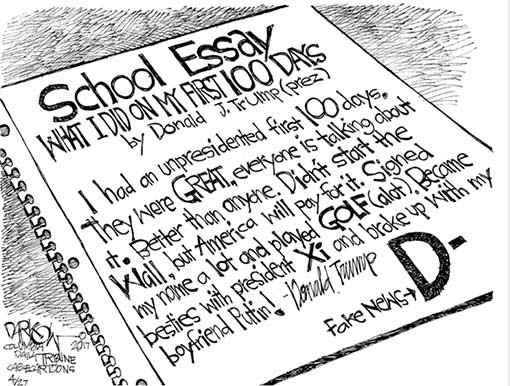 2. Most Say They Wouldn't Vote for Trump
A new Fox News poll finds that just 36% of voters say they would vote to re-elect President Trump if the 2020 election were today, compared to 55% who would vote for someone else.
In contrast, 52% said they'd vote to re-elect Barack Obama eight years ago, while just 31% said they'd vote for someone else. 4/26/17 http://www.foxnews.com/politics/slideshow/2017/04/26/fox-news-poll-president-trumps-first-100-days.html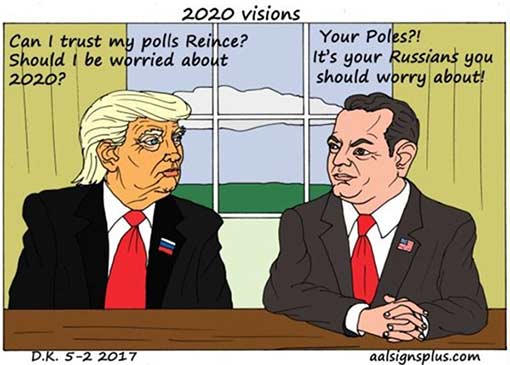 3. The DAILY GRILL
"I loved my previous life. I had so many things going. This is more work than in my previous life. I thought it would be easier." -- Trump to Reuters in an interview. "

VERSUS

.@realDonaldTrump, a 100 days! Being President ain't easy, you know? You're tired, just leave, go back to golfing. America will understand. -- Vicente Fox Quesada ✔@VicenteFoxQue 

Trump thought the hardest job on Earth would be easier and less work than being a reality TV host. Oh. My. God. -- Brian Klaas ✔@brianklaas

 

Trump, standing in front of Medal of Honor recipients: "to think of HER — being their boss? I don't think so…I know what they're thinking." -- Bradd Jaffy ✔@BraddJaffy

VERSUS

Women have not allowed the election of Donald Trump to keep them down. The number of women newly inspired to run for office has already reached 12,000 — an increase of more than 1000 percent since the last election cycle — and it shows no signs of abating. -- Alison R. Parker   4/24/17

 

"It's phenomenal. It's the most incredible equipment you've ever seen – shoots missiles right out of the sky. And it protects them and I want to protect them. But they should pay for that, and they understand that." — Trump on the THAAD anti-missile system the U.S. is providing for S. Korea's defense.

VERSUS

"It cannot engage missiles fired at Seoul, so it offers no additional protection of the city," -- David Wright, co-director of the Union of Concerned Scientists' Global Security Program.





"The president has released plenty of information and I think has given more financial disclosure than anybody else. I think the American population has plenty of information." - Treasury Sec. Steve Mnuchin

VERSUS

Trump has released less than other presidents in modern times. -- AP Fact Check
4. From MEDIA MATTERS (They watch Fox News so you don't have to)
Fox's Legendary Hypocrisy Is On Full Display With Today's Underwhelming GDP Report. Meager Growth Under Obama Meant We Were "Sliding Toward Recession"; For Trump, Fox Predicts A "Bounce Back" https://mediamatters.org/blog/2017/04/28/fox-s-legendary-hypocrisy-full-display-today-s-underwhelming-gdp-report/216206

Trump Praises Fox For Being "Fair," Unlike "Every Network" That "Hits Me" On "Made Up Stories Like Russia" https://mediamatters.org/video/2017/04/28/trump-praises-fox-being-fair-unlike-every-network-hits-me-made-stories-russia/216214

By The Numbers: 100 Days In, A Look At The Trump Administration's Conflicted Relationship With The Mediahttps://mediamatters.org/blog/2017/04/28/numbers-100-days-look-trump-administrations-conflicted-relationship-media/216205

Jimmy Kimmel Attacked After Saying Everyone Should Have Access To Healthcare Like His Newborn Son Didhttps://mediamatters.org/blog/2017/05/02/jimmy-kimmel-attacked-after-saying-everyone-should-have-access-healthcare-his-newborn-son-did/216251

Fox News' Special Report with Bret Baier featured a segment that baselessly connected the recent shooting at a building on a University of Alabama campus with "animosity in the climate change wars." https://mediamatters.org/blog/2017/05/03/fox-host-baselessly-links-shooting-animosity-climate-change-wars/216262
5. From the Late Shows
Chelsea: Trump Needs to Golf More: https://www.youtube.com/watch?v=MLBYJIhUoYY

Donald Trump's First 100 Days In Office | Season 28 | THE SIMPSONS: https://youtu.be/Qo3fT0xPeHs

The Late Show with Stephen Colbert: What Doesn't Kill You Makes You 100 Days Stronger: https://youtu.be/XGbw372nK-I

Late Night with Seth Meyers: President Trump's Flip-Flops On Executive Orders: https://youtu.be/JPaodrB8T8Y

Real Time with Bill Maher: New Rule: Change Anxiety: https://youtu.be/jWc2SvkQSoQ

Hasan Minhaj's monologue at the White House Correspondents' Dinner: https://www.youtube.com/watch?v=Of6PLJbMnxE

Not The White House Correspondents' Dinner, Pt. 7: Special Guest George W. Bush: https://youtu.be/bdp0am6tGLY

The Late Show with Stephen Colbert: This Monologue Goes Out To You, Mr. President: https://youtu.be/HaHwlSTqA7s
6. Trump resistance tries to channel its anger
The first three months of the Trump administration have demonstrated that the energy and anger of the electorate has shifted unmistakably to the left as Democrats assume the role of opposition party after eight years of controlling the White House."
"But the movement is decentralized and diffuse, lacking a singular leader and splintering into multiple fronts. Ask more than a dozen progressive activists to define the goals of the Trump resistance… and receive almost as many different answers." 4/27/17 http://www.politico.com/story/2017/04/27/trump-congress-democrats-237535
7. Expectations plummet for health care overhaul
A new CNN/ORC poll finds 50% of American voters would vote for the Democratic candidate for Congress while 41% would choose the Republican candidate if the election were held today.
"A lead that large, this far out, is not necessarily predictive, however — although it approaches the edge Democrats held early on in the 2006 election cycle when they won control of the House, it is also similar to their advantage early on in the 2010 cycle, which ended with a Republican takeover of the chamber." http://www.cnn.com/2017/04/28/politics/poll-congress-health-care-repeal-replace-unlikely/index.html
8. Trump's Presidential Status Anxiety
Trump is a Queens-born billionaire who has spent his life chasing validation from elites who hold him in disdain. With each new benchmark he reaches, he holds out hope that it will finally quiet his chorus of haters. And when he realizes they're still laughing at him, he acts out. Consider, now, what Trump is likely seeing these days when he turns on his TV: presidential historians discussing the unparalleled failures of his first hundred days; polls showing an historically low approval rating; pundits depicting a presidency gripped by impotence. Given his recent history, an eruption was inevitable. -- McKay Coppins https://www.theatlantic.com/politics/archive/2017/04/trump-milestones/524424/
9. Donald Trump's first 100 days have been a moneymaking success story
Since his ascension to the White House, conventional wisdom has developed an odd tendency to describe his inability to make major legislative changes as an indication that his presidency is failing. It's certainly true that Paul Ryan's speakership of the House is failing, arguable that Mitch McConnell's tenure as majority leader of the Senate is failing, and indisputably true that the Koch brothers' drive to infuse hardcore libertarian ideological zeal into the GOP is failing.
But Trump isn't failing. He and his family appear to be making money hand over fist. It's a spectacle the likes of which we've never seen in the United States, and while it may end in disaster for the Trumps someday, for now it shows no real sign of failure. disaster for the Trumps someday, for now it shows no real sign of failure." -- Matthew Yglesias 4/28/17 http://www.vox.com/policy-and-politics/2017/4/28/15365438/donald-trump-100-days-kleptocracy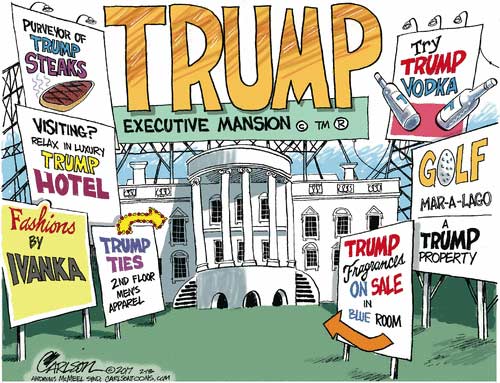 10. The Borowitz Report: Fourth-grade Class Touring White House Answers Trump's Questions About The Civil War

A class of fourth-grade students touring the White House on Monday had a chance encounter with Donald Trump and were able to answer several of his questions about the Civil War.

Ten-year-olds briefed him on the causes of the Civil War, including slavery, states' rights, and regional economic differences.

"It was really cool," Tracy Klugian, who had done a diorama about the Civil War while in third grade, said. "Someday I'll be able to tell my kids that I met the President and taught him about history."

But another student in the class, Zach Dorrinson, said that his attempt to explain the abolitionist movement to Trump was not successful.

"He needs to learn how to sit still for longer without fidgeting," the fourth-grader said. Read more at http://www.newyorker.com/humor/borowitz-report/
11. 99 Days in 99 seconds
https://www.youtube.com/watch?v=xfFnWn1QDK4&feature=youtu.be
12. Trump's Alternative Reality Rally
It was definitely something. Entering a Trump rally in the year 2017 requires you suspend your critical faculties to a degree, since the people there — most of all the president — seem to be under the impression that the campaign is ongoing, that Hillary Clinton remains Trump's most formidable foe, and that they are united against the creatures of a swamp controlled by … someone else … it's not clear who. Several times Saturday night, the crowd chanted, "LOCK HER UP," seemingly unaware that Clinton retreated long ago into some woods in Chappaqua.
While the crowd was animated by Trump's claims about his accomplishments — executive orders he's signed, the Supreme Court justice he got confirmed (they chanted "build the wall!" although there is no concrete plan to do so) — they seemed to take the most delight in feeling, finally, a sense of superiority. "Look at the media back there!" Trump said, "They would actually rather be here, I have to tell you. That's right." The crowd booed, and then broke into a chant: "CNN sucks! CNN sucks!"
"Media outlets like CNN and MSNBC are fake news, fake news. And they're sitting and they're wishing in Washington, they're watching right now, they're watching, they're watching, and they would love to be with us right here tonight. But they're trapped at the dinner which will be very, very boring." -- Olivia Nuzzi http://nymag.com/daily/intelligencer/2017/04/trumps-alt-white-house-correspondents-dinner.html
13. VIdeo: Trump flees interview when pressed on lie that President Obama wiretapped him
14. Late Night Jokes for Dems
"I read that the Republicans' spending package does not include any money for Trump's border wall. Then Trump told his secretary, 'Get me the CEO of Lego.'" –Jimmy Fallon

"Chris Christie says that he'd give Trump a 'B' on his first 100 days. Then said he'd give him an 'A' on immigration, and a 'C' on healthcare, and long story short, he ended up just spelling 'bacon.'" –Jimmy Fallon

"A new study says that the first humans to arrive in what is now North America may have been Neanderthals. Apparently they came here to vote in the 2016 election." –Conan O'Brien

"President Trump is considering opening federal park land to developers. In fact, builders have already broken ground on a Bed, Bath & Grand Canyon." –Conan O'Brien

"Today President Trump tweeted, 'Happy birthday to our first lady, Melania!' And this is historic — it's the first time Trump has said something nice to an immigrant." –Conan O'Brien

"The Associated Press revealed that President Trump has a single red button on his Oval Office desk that he can push at any time and have a butler bring him a Coke. And I think I speak for everyone when I say: Oh, THAT'S what the red button on his desk is for. Whew, thank God!" –James Corden

" Trump is being criticized after it came out the workers at a Chinese factory who make her fashion line earn roughly $1 an hour. President Trump was pretty upset with Ivanka. He was like, 'Wait, you pay your workers?'" –James Corden

"President Trump unveiled his new tax plan today. And it's pretty much the same as his old plan: He's not gonna pay them." –Seth Meyers

"President Trump spoke on the phone with Canadian Prime Minister Justin Trudeau yesterday amidst increased tensions on trade. I'm guessing Trump wanted to trade ... faces?" –Seth Meyers

"Today was first lady Melania Trump's birthday. And after she blew out the candles, nobody had to ask what she wished for." –Seth Meyers

"Big news out of Washington, D.C., just this afternoon, as the White House finally released Trump's tax plan. That plan? Never release Trump's taxes." –Stephen Colbert

"The Trump administration has a very strong rationale for simplifying the tax code. 'In 1935, we had a one-page tax form consisting of 34 lines with two pages of instructions. Today, the basic 1040 form has 79 lines and 211 pages of instructions.' 1935 was the height of the Great Depression, so the two-page form was just 'Page 1: Do you have money?
15. Trump Rallies May Add to His Legal Woes
A pro-Donald Trump biker gang's physical handling of protesters at a weekend rally could add to the president's legal woes, with one attendee considering a fresh lawsuit as protesters already suing over violence at rallies last year plan to cite the recent events as proof of an ongoing pattern. 5/02/17 http://www.politico.com/story/2017/05/02/trump-rally-fights-protesters-237861
1. Paul Krugman: Living in the Trump Zone
Fans of old TV series may remember a classic "Twilight Zone" episode titled "It's a Good Life." It featured a small town terrorized by a 6-year-old who for some reason had monstrous superpowers, coupled with complete emotional immaturity. Everyone lived in constant fear, made worse by the need to pretend that everything was fine. After all, any hint of discontent could bring terrible retribution.
And now you know what it must be like working in the Trump administration. Actually, it feels a bit like that just living in Trump's America.
What set me off on this chain of association? The answer may surprise you; it was the tax "plan" the administration released on Wednesday.
It's clear the White House is proposing huge tax breaks for corporations and the wealthy, with the breaks especially big for people who can bypass regular personal taxes by channeling their income into tax-privileged businesses — people, for example, named Donald Trump. So Trump plans to blow up the deficit bigly, largely to his own personal benefit; but that's about all we know.
What we're looking at here isn't policy; it's pieces of paper whose goal is to soothe the big man's temper tantrums. Unfortunately, we may all pay the price of his therapy. https://www.nytimes.com/2017/04/28/opinion/living-in-the-trump-zone.html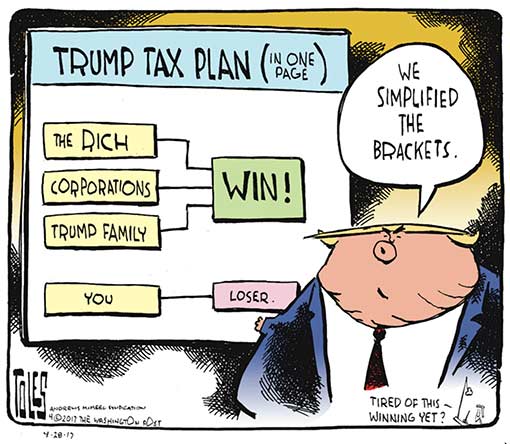 2. Tom Nichols: Are Trump voters ruining America for all of us?
The wide disagreement among Americans on the president's performance, however, is more than partisanship. It is a matter of political literacy. The fact of the matter is that too many Trump supporters do not hold the president responsible for his mistakes or erratic behavior because they are incapable of recognizing them as mistakes. They lack the foundational knowledge and basic political engagement required to know the difference between facts and errors, or even between truth and lies.
There is a more disturbing possibility here than pure ignorance: that voters not only do not understand these issues, but also that they simply do not care about them. As his supporters like to point out, Trump makes the right enemies, and that's enough for them. Journalists, scientists, policy wonks — as long as "the elites" are upset, Trump's voters assume that the administration is doing something right."
There is a serious danger to American democracy in all this. When voters choose ill-informed grudges and diffuse resentment over the public good, a republic becomes unsustainable. The temperance and prudent reasoning required of representative government gets pushed aside in favor of whatever ignorant idea has seized the public at that moment. The Washington Post recently changed its motto to "democracy dies in darkness," a phrase that is not only pretentious but inaccurate. More likely, American democracy will die in dumbness. https://www.usatoday.com/story/opinion/2017/04/27/trump-voters-ruining-america-tom-nichols-column/100926836/
3. Albert R. Hunt: Trump Tax Plan Is a Trail of Broken Promises
The tax plan outlined by the Trump administration was an opening bid, but a slipshod and deceptive one that won't much resemble anything that might be enacted.
Top officials pitched the plan, missing important specifics, as aimed at helping the middle class and creating lots more jobs, accomplished by slashing corporate taxes. It would simplify the code, collapsing seven brackets into three, and doubling the standard deduction mainly helping middle-income taxpayers. It would add trillions -- as much as $7 trillion -- to the deficit.
But it's a bonanza for the well-to-do, including Donald Trump and his family. For the wealthiest, the top rates would be cut sharply; the tax on high-end investment income used to help fund health care would be eliminated, and it would kill the alternative minimum tax -- which hit Trump, according to the only one of his tax returns that was leaked -- and the estate tax, paid by only a handful of the very rich.
Treasury Secretary Mnuchin's claim that these tax cuts will spur extraordinary economic growth and pay for themselves is a fantasy, belied by experience. This was the supply-side claim when Reagan cut taxes in 1981; Republicans spent the next four years increasing some taxes to offset the revenue loss. The same claim was made when George W. Bush cut taxes in 2001. That produced less economic growth than under Bill Clinton, who increased taxes.
When the only real tax reform was enacted in 1986, it was revenue-neutral and bipartisan. There may be tax legislation in this Congress, but it will be neither. https://www.bloomberg.com/view/articles/2017-04-26/trump-tax-plan-is-a-trail-of-broken-promises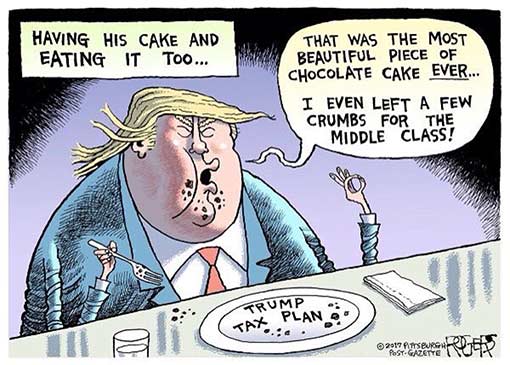 4. Jonathan Chait: Conservatives Angry That Biased Media Accurately Reports Who Gets Trump Tax Cut
Cutting taxes on affluent people has been the Republican Party's number-one policy objective for more than a quarter century. Republicans are not merely interested in cutting taxes on the whole, they take special exception to the most progressive ones — which is why they ignore regressive taxes, like the payroll tax, while proposing the deepest cuts for taxation of capital income. They have hewed relentlessly to this goal during recessions and booms, in the minority and in the majority, and they believe in this policy for a combination of moral and economic reasons.
However, since this policy is highly unpopular with the public, Republicans have grown habituated to obscuring this intent. Their messaging is built around lying about, or obscuring, the distributional impact of their tax policies. In the past, they have had a lot of success bullying the mainstream news media into treating the distributional impact of their policies as a contested question of partisan spin, rather than something that can be measured in fairly straightforward fashion. So, now that Republicans have rolled out another massively regressive tax cut, they're going to spend a lot of time insisting that the news media should not report this fact. http://nymag.com/daily/intelligencer/2017/04/mnuchin-tax-cuts-for-rich-arent-about-tax-cuts-for-rich.html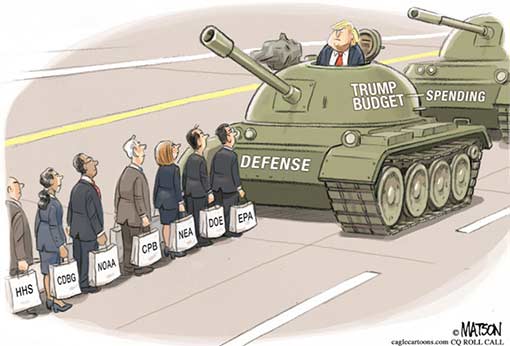 5. Bloomberg View Editorial: Trump's Misguided Approach to Tax Reform
President Donald Trump's much-anticipated tax proposal is true to his style of governing: bold and vague. More an agenda for discussion than the promised blueprint, it espouses some appealing principles, but the chances that the administration might mold them into an effective reform seem slim.
The proposal aims to cut tax rates and greatly simplify the code -- worthy goals. The U.S. corporate tax rate is one of the highest in the world and ought to be cut. And no American needs persuading that the personal-tax system is too complicated.
But a plan based on the president's bullet points would involve a big increase in public borrowing, which would be unwise. In addition, starting from here, the political maneuvering needed to get it passed would cancel out much of the benefit.
Trump says his tax cuts would be the biggest in U.S. history. The top marginal rate would fall to 35 percent; the standard personal deduction would be doubled to $24,000; the standard corporate rate would drop from 35 percent to 15 percent. The revenue to pay for these cuts would come, he says, from faster economic growth and from measures to broaden the tax base. Most personal-tax deductions would go -- including the deduction for state and local taxes, though the deductions for mortgage interest and charities would stay.
Unfortunately, that acceleration in growth can't be relied on. The economy is already at or close to full employment. The government could and should aim to spur growth by raising productivity -- a long-term endeavor, in which tax reform certainly ought to play a part -- but not by boosting demand to raise employment. The time for that has passed.
Without a surge in growth, the broadening of the tax base that Trump is advocating won't bridge the revenue gap. By itself, his cut in corporate taxes would cost some $2.4 trillion in lost revenue over the next decade. 4/27/17 https://www.bloomberg.com/view/articles/2017-04-27/trump-s-misguided-approach-to-tax-reform
6. John Cassidy: Trump Wants To Give Himself A Tax Cut And Undermine The Tax Code
"This is quite an historic day for us . . . We have a once-in-a-generation opportunity to do something really big," Gary Cohn, the former president of Goldman Sachs, who now serves as President Trump's top economic adviser, told reporters at the White House on Wednesday. Trump's desire to reform the U.S. tax code is big—clearly—but the actual plan, which Cohn and Treasury Secretary Steven Mnuchin unveiled at the press conference, was nothing more than a sketch. And even as the details remain to be filled out, there's much reason to doubt the plan's viability in Congress. Still, Cohn and Mnuchin confirmed a couple of important things about this Administration's approach and intentions when it comes to taxes.
The first is that Trump wants to give himself a big tax break, and not just by slashing the tax rates that high earners and business owners face. Thanks to a leaked tax filing, one thing we know about Trump's tax history is that in 2005 he paid the federal government thirty-eight million dollars on income of about a hundred and fifty million dollars. But, because Trump had so many deductions, and exploited so many loopholes, his initial tax liability that year was much lower: $5.3 million. The only reason he ended up paying thirty-eight million is that he got caught by the Alternative Minimum Tax (A.M.T.)—a fallback mechanism that the Internal Revenue Service uses to prevent people like him from paying too little.
The potential effect on the over-all tax system, which is heavily dependent on contributions from high earners, is alarming. In their analysis of Trump's campaign tax plan, Rosenberg and his colleagues estimated that people shifting wages and salaries to business income would reduce over-all tax revenues by another six hundred and fifty billion dollars over ten years. But Rosenberg acknowledged there was a great deal of uncertainty. "A lot depends on what is done to police that boundary" between salary income and business income, he said. "And a lot of this stuff is fairly arbitrary."
At the White House press conference, Mnuchin acknowledged there could be a problem. But he downplayed it, saying it would be resolved in the detailed framing of the tax plan, which could take months. "We will make sure that there are rules in place so that wealthy people can't create pass-throughs and use that as a mechanism to avoid paying the tax rate that they should be on the personal side," he said. For some reason, it didn't sound entirely reassuring. http://www.newyorker.com/news/john-cassidy/trump-wants-to-give-himself-a-tax-cut-and-undermine-the-tax-code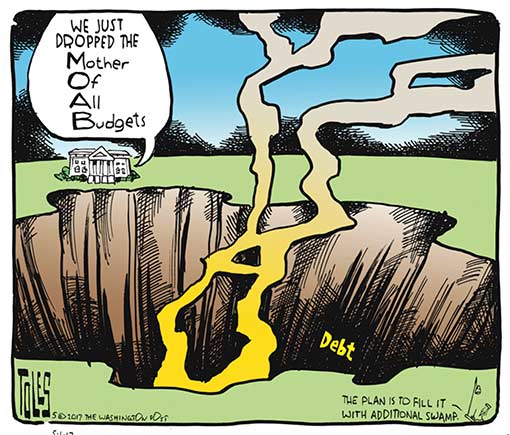 7. RIck Wilson: White House Death Match: Plutocrats vs. Racists
Trump faced a choice; he could have Mnuchin, Cohn, Mattis, McMaster, and the grownups in the room, or he could have eminence gross Steve Bannon and his band of misfit toys. It's not without risk of Bannon snapping, but after having his head caved in on issue after issue, Trump has decided Team Goldman and the Swamp dwellers are more to his liking. The rise of Jared and Ivanka (no, I will not use that portmanteau to describe them, ever) is another triumph for the Goldman Branch of the Trump government; lavishly raised in the bluest-of-blue Manhattan bubble, they're as far away from the average Trump voter as Stephen Hawking is from a slime mold.
As for Trump's base, if they can briefly rouse themselves from their Fox-n-OxyContin stupor, they'd realize they were conned by the populist scam and that the White House today is run by people more than willing to leverage every tool in the D.C. toolbox to enrich the Wall Street mothership. I'm a ferocious advocate of free markets and an avowed enemy of the crony capitalism, special favors, tax advantages, legislative trickery, regulatory shenanigans, and the rest of the playbook that compromised the GOP in the last decade. Every single thing Republicans hated with the fire of a million suns during the George W. Bush compassionate conservative era and the Obama years is hardwired into the plutocrats in charge of the White House now.
So 100 days in, the plutocrats are spanking the racists as Trump has chosen a domestic leadership team utterly at odds with his base. But that means Team Goldman needs to produce, or get spanked themselves—don't count Bannon and his barely-disguised alt-reich ideology out just yet. 4/28/17 http://www.thedailybeast.com/articles/2017/04/28/white-house-death-match-plutocrats-vs-racists.html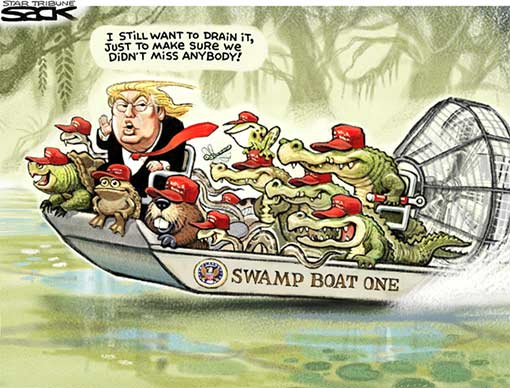 8. Gail Sheey: What We've Learned 100 Days In: The Trust Deficit Is the Core Problem
As President, he is systematically shredding trust in the institutions he now commands. Having discredited the entire 17-agency intelligence community as acting like Nazis, he also dismissed the judiciary because of one judge's Hispanic background and another's opposition to his travel ban. Even his Supreme Court justice, Neil Gorsuch, said it was "disheartening" and "demoralizing" to hear Trump disparage the judiciary. Not content to smear the media on a daily basis, Trump borrowed a phrase used by Lenin and Stalin to brand the media as "enemy of the people."
By his own words, Trump operates on the assumption that everyone is out to get him. The non-medical definition of paranoia is the tendency toward excessive or irrational suspiciousness and distrustfulness of others. As a man who proclaims his distrust of everyone, it is not surprising that Trump drew closest to him two legendary conspiracy theorists—Stephen Bannon and Gen. Michael Flynn.
His failure to trust and to inspire trust is even more dangerous on a global scale. He sees alliances like NATO as suspicious (until he changes his mind); he sees trade agreements like NAFTA as ripping off America (until he changes his mind three or four times in the same week). "This is because Trump's worldview is that we live in a snake pit where everybody is out for themselves," observes Breen. He and his co-conspiracy advisor, Bannon, take everything that the left-behind white working class hates about globalization and they turn it into personalized enemies--Muslims, Mexicans, refugees they believe are taking away their jobs. "Those people aren't like us," is the alt.right message, "they're polluting our culture."
Beneath the grandiose behavior of every narcissist lies the pit of fragile self-esteem. What if, deep down, the person Trump trusts least is himself? The humiliation of being widely exposed as a "loser" –unable to bully through the actions he promised to accomplish in his first 100 days—could drive him to prove he is, after all, a "killer." He has already teed up three choices for starting a war: Syria, Afghanistan, and North Korea. It is up to Congress, backed up by the public, to restrain him.  http://www.thedailybeast.com/articles/2017/04/28/what-we-ve-learned-100-days-in-the-trust-deficit-is-the-core-problem.html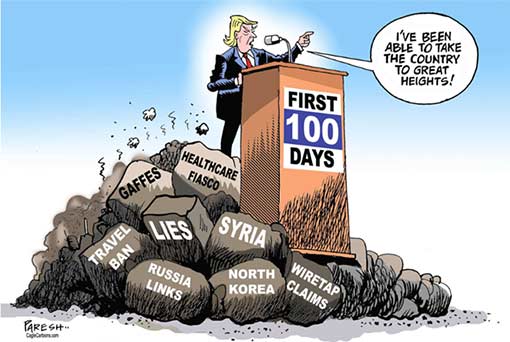 9. Ron Brownstein: Can the Democratic Party Reconcile Two Divergent Economic Visions?
The Democrats' post-election debate has mostly focused on how the party can win back blue-collar and older whites who defected from Obama in 2012 to Trump, particularly in the Midwest. But given Trump's inability to expand his support, the more relevant question may be how Democrats can consolidate the roughly 55 percent of Americans who have consistently expressed unease about him. That question points the party away from Trump's working-class base toward those white-collar whites (especially women), minorities, and Millennials expressing the most discomfort about his performance, qualifications, and agenda.
Whenever a political party faces an "either/or" choice, the right response is almost always: "both/and." This Democratic crossroads is no exception. Geographically that means the party, in the races for both Congress and the White House, must regain ground in the working-class Rustbelt states where Trump outperformed other recent GOP nominees and the more diverse, younger Sunbelt states where he slipped. "In the long term, the future for the Democratic Party is Florida, Arizona, Georgia, eventually Texas ... and maybe Ohio goes the other way [toward Republicans]," said Democratic pollster Andrew Baumann. "But given the map for 2018, and even 2020, I think relying on just that and not fighting in those Midwest states is a mistake."
Yet even while Democrats acknowledge the need to contest both fronts, they face genuine choices about where to place their largest bets. Matt Bennett, senior vice president at the centrist Democratic group Third Way, said the party's principal opportunity is with white-collar suburbanites alienated from Trump. He points to the previously solidly Republican House district in suburban Atlanta where neophyte Jon Ossoff faces a June runoff election, after approaching 50 percent in a recent primary. "The obvious opportunity is in places like Ossoff's district," Bennett said. Those places "can deliver majorities [for Democrats] in the House and Senate and … the White House if we have a message that really lands."
The party's next presidential primary could diverge between populists best suited to reconstruct a blue-collar coalition (think Senators Sherrod Brown or Elizabeth Warren) or choices more acceptable to white-collar suburbanites (perhaps Senators Cory Booker or Mark Warner). With Trump still connecting so deeply with much of working-class white America, despite all his administration's upheavals, a strategy centered on rallying white-collar, younger, and diverse voters might seem the path of least resistance for Democrats in upcoming elections. But that, of course, is what Hillary Clinton also thought in 2016. https://www.theatlantic.com/politics/archive/2017/04/sanders-economic-populism-centrist-trump-election/524457/
10. Nicholas Kristof: This Isn't Tax Policy; It's a Trump-Led Heist
What do you do if you're a historically unpopular new president, with a record low approval rating by 14 points, facing investigations into the way Russia helped you get elected, with the media judging your first 100 days in office as the weakest of any modern president?
Why, you announce a tax cut!
And in your self-absorbed way, you announce a tax cut that will hugely benefit yourself. Imagine those millions saved! You feel better already!
I'm deeply skeptical that President Trump will manage to get a tax reform package passed into law, and that's just as well. Trump's new tax "plan" (more like an extremely vague plan for a plan) is an irresponsible, shameless, budget-busting gift to zillionaires like himself.
This isn't about "jobs," as the White House claims. If it were, it might cut employment taxes, which genuinely do discourage hiring. Rather, it's about huge payouts to the wealthiest Americans — and deficits be damned! If Republicans embrace this "plan" after all their hand-wringing about deficits and debt, we should build a Grand Monument to Hypocrisy in their honor.
Trump's tax "plan" is a betrayal of his voters. He talks of helping ordinary Americans even as he enriches tycoons like himself.
This isn't tax policy; it's a heist. 4/26/17 https://www.nytimes.com/2017/04/26/opinion/trumps-tax-plan-a-gift-to-zillionaires-like-him.html?ref=opinion
11. Roger Cohen: 'America First' Has Not Upended the World. Except It Has
Defense Secretary Jim Mattis and H.R. McMaster, the national security adviser, have ring-fenced Trump's recklessness and bellicosity. They have neutralized his ignorance even if nobody can help the president grasp its extent. Some of the loonier members of the president's entourage have been fired or marginalized. Adults have taken charge. There is still a lot of noise, but "America First" has not upended the world.
Except that it has. A disaster is unfolding whose consequences for humanity and decency will be devastating.
The United States under Trump has embarked on a valueless foreign policy. The president has not met a strongman whose machismo does not beguile him. He prefers guns to diplomats. Militarism and mercantilism constitute a new policy, unconstrained by any consideration of what the United States stands for in the world or the values its alliances have defended since 1945.
This is a radical departure. America is also an idea. That idea is inextricable — whatever the country's conspicuous failings — from the defense of liberty, democracy, human rights, open societies and the rule of law. Realist, neoconservative and liberal internationalist schools have different interpretations of how this may be achieved, and what limits exist on America's capacity to extend the reach of freedom. But the unblushing, public embrace of the torturer for mutual gain does not appear in any pre-Trump foreign policy manual I know. 5/02/17 https://www.nytimes.com/2017/05/02/opinion/trumps-valueless-foreign-policy.html