January 21, 2021
ON THE RECORD. . .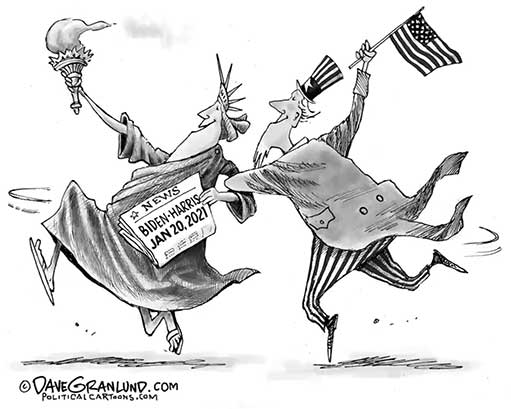 With the inauguration of the Biden-Harris team, today we can look forward to a new, calmer, more authentic administration — one in which people with actual experience and credentials will fill government roles, replacing the legions of unqualified family members and sycophants who populated the Trump administration. This era is going to look very different from the last four interminable years. — Rhonda Garelick

"I had a lot of conversations with my Republican colleagues… A couple of them broke down in tears… saying that they are afraid for their lives if they vote for this impeachment." — Rep. Jason Crow (D-Colo.)

"His understanding of global events, his understanding of global history, his understanding of U.S. history was really limited. It's really hard to have a conversation with someone who doesn't even understand the concept for why we're talking about this." — Rex Tillerson, Trump's first secretary of state.

Following his meeting with President Trump on Friday, MyPillow CEO Mike Lindell said in a Facebook interview that he's praying that the military presence in Washington for the inauguration is part of Trump's plan to retain power.

"Trump misled followers into believing election was rigged, resulted in attack on Capitol." — Arkansas Gov. Asa Hutchinson (R)

"The mob was fed lies. They were provoked by the President and other powerful people, and they tried to use fear and violence to stop a specific proceeding of the first branch of the federal government which they did not like." — Sen. Mitch McConnell (R-KY).

It will be another decade before these millennial and Gen Z voters reach levels in the electorate powerful enough to shift the direction of national politics away from the obsolete doctrine of white supremacy. It can't happen soon enough. -- Thomas B. Edsall

The contrast between this dignified, almost regal, scene and the mob of Jan. 6 is so striking. The presence of 3 ex-presidents and absence of Trump seems so appropriate, reflective of what a deviation from the norm he was. — Jennifer Rubin

Fundamentally, this whole ceremony is about legitimacy -- the passing of the mantle from one legitimate holder of presidential power to the next. Weird that it's taking place with the knowledge that some significant portion of Americans will probably deny Joe Biden's legitimacy. — Eugene Robinson

So great that Justice Sonia Sotomayor is administering the oath to Kamala Harris. Such as sign of change and progress in the country. Sorry to say this on a day that is supposed to be unifying, but it is a powerful way to signal that we are trying to turn our backs on Trump's intolerance and division. — E.J. Dionne Jr.

It'll be interesting to watch Harris going forward. Obviously most VPs think of themselves as possible future presidents. But Biden is not a young man, and there's been a lot of speculation about whether he'll run for a second term. So I think Harris's actions and positioning will be more important than that of the average VP. — David Byler

VIDEOS

Amanda Gorman, he youngest inaugural poet in U.S. history read "The Hill We Climb," which she finished writing after the riot at the Capitol, https://twitter.com/BuzzFeedNews/status/1351949197612900355

A Look Back at Trump's Presidency in 6 Minutes: https://www.nytimes.com/video/us/politics/100000007551464/donald-trump-presidency-moments.html

A Reporter's Footage from Inside the Capitol Siege: https://www.newyorker.com/news/video-dept/a-reporters-footage-from-inside-the-capitol-siege

What Parler Saw During the Attack on the Capitol: https://projects.propublica.org/parler-capitol-videos/

How Police Tried but Failed to Protect the Capitol: https://www.nytimes.com/video/us/politics/100000007542963/capitol-police-security-failures.html

Hold the Line, Patriots': New Scenes From the Capitol Riot: https://www.nytimes.com/video/us/politics/100000007539952/capitol-video-riot.html

Today, we salute the Heroes of the Insurrection: Cruz. Hawley. Pirro. Dobbs. Pierson. Graham. Pence. Carlson. Cawthorn. Jordan. Gaetz. Gohmert. Ingraham. Tuberville. McCarthy. Guilfoyle. Greene. McEnany. Biggs. Gosar. Hegseth. Brooks. Giuliani. Don Jr. Lara. Eric. Donald Trump. — The Daily Show. https://twitter.com/TheDailyShow/status/1349546620069834753
---
IN THIS ISSUE
FYI
OPINION
1. Trump's swampiest pardons, ranked
Donald Trump came into office pledging to drain the swamp. He exits having extracted a bunch of allies who were neck-deep in the muck from it.
it's not unheard-of for a president to pardon an ally. But generally, such pardons are few and far between. Trump took the practice to a completely unseen level, both due to the extraordinary number of people around him who found themselves in legal trouble and his general shamelessness about such things.
In total, Trump has now pardoned five former campaign aides and political advisers, his son-in-law's father and a slew of top GOP donors, former congressmen and lobbyists. He also issued a bunch of pardons with less of a personal connection that seemed aimed at currying favor with more extreme elements of the conservative movement.
Given he just dropped 143 pardons and commutations overnight, it can be a lot to sort through. The Post has the full list here. With his list of pardons now complete, the swampiest are listed at: https://www.washingtonpost.com/politics/2021/01/20/trumps-swampiest-pardons-ranked/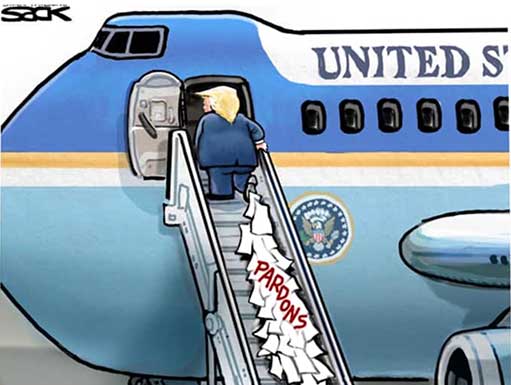 2. Trump allies were behind the rally that ignited Capitol riot
Members of President Trump's failed presidential campaign played key roles in orchestrating the Washington rally that spawned a deadly assault on the U.S. Capitol, according to an Associated Press review of records, undercutting claims the event was the brainchild of the president's grassroots supporters. https://apnews.com/article/election-2020-donald-trump-capitol-siege-campaigns-elections-d14c78d53b3a212658223252fec87e99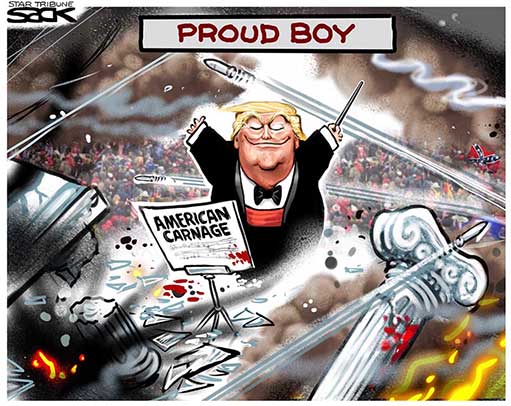 3. Lawmakers who objected to election results have been cut off from biggest corporate PAC donors
The 147 Republican lawmakers who opposed certification of the presidential election earlier this month have lost the support of many of their largest corporate backers — but not all of them.
The Washington Post contacted the 30 companies that gave the most money to election-objecting lawmakers' campaigns through political action committees. Two-thirds, or 20 of the firms, said they have pledged to suspend some or all payments to their PACs. https://www.washingtonpost.com/business/2021/01/19/gop-corporate-pac-funding/
4. Scarborough Mulls Legal Action Against Trump
Joe Scarborough says he consulted defamation lawyers in New York and Washington, D.C., about a potential lawsuit after President Trump suggested repeatedly last year that Scarborough may have murdered his aide.
Said Scarborough: "I am going to go back to my lawyer after Trump leaves office and I'm going to make sure — because why should a president be immune from a lawsuit if he does something like that?" https://twitter.com/TimesRadio/status/1350493918446673923
5. What Joe Biden has promises to do on "Day One" and in his first 100 days as president
Incoming White House chief of staff Ron Klain distributed a memo Saturday that reiterated Mr. Biden's intention to fulfill several of his promises — some geared toward immediate action to arrest the surging coronavirus pandemic, some to roll back the actions taken by President Trump in the last four years, and others to address problems that have persisted over several administrations. 
For some of the highlights go to: https://www.cbsnews.com/news/joe-biden-first-100-days-president-actions/
6. Trump Administration's '1776 Report' Justifies Slavery, Three-Fifths Compromise
The "1776 Commission" — formed by Trump in September in direct response to The New York Times' 1619 Project on America's deep roots in slavery and racial injustice — released a report Monday that was meant to provide a "definitive chronicle of the American founding."
The 45-page report reads in places like a right-wing manifesto: It makes excuses for slavery and the Three-fifths Compromise that declared slaves counted as less than full humans. It decries socialism and "identity politics," celebrates the right to bear arms and calls the anti-abortion movement one of the nation's "great reforms."
The Trump commission's report also rails against socialism as leading people down a "dangerous path" of wealth redistribution and cites "anti-Communism" and "the Pro-Life Movement" — or anti-abortion movement — as some of the "great reforms" of the country's history. 
It concludes that universities are "hotbeds of anti-Americanism, libel and censorship," and warns against any teaching that "shames Americans by highlighting only the sins of their ancestors and teaches claims of systemic racism." It also recommends K-12 schools "reject any curriculum" that demeans "America's heritage."  https://www.huffpost.com/entry/trump-1776-commission-report-slavery_n_600627e1c5b6df63a9194243
NOTE: On Wednesday President Joe Biden issued an executive order to dissolve the 1776 commission, https://www.cnn.com/2021/01/20/politics/biden-rescind-1776-commission-executive-order/index.html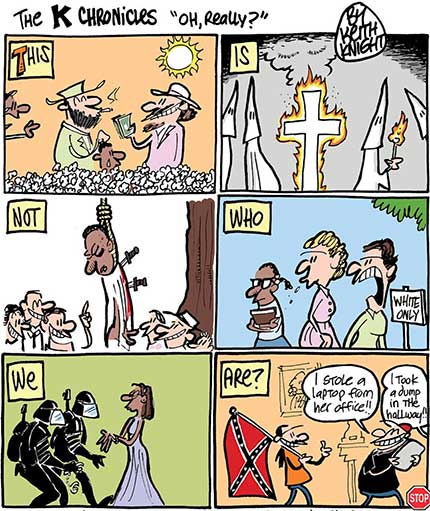 7. Feds edge closer to sedition charge in Capitol riot aftermath
Federal prosecutors on Thursday for the first time described last week's assault on the U.S. Capitol as a "violent insurrection that attempted to overthrow the United States Government" — and one they consider to still be underway.
 FBI and Justice Department officials have emphasized that more serious charges are on the horizon, after an initial round of lesser charges were leveled to ensure they corralled some of the most dangerous offenders. https://www.politico.com/news/2021/01/15/feds-edge-closer-to-sedition-charge-459573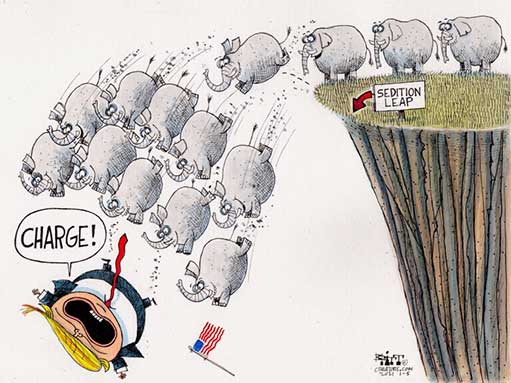 8. Lawmakers who conspired with Capitol attackers in legal peril
Lawmakers who interacted with the pro-Trump protesters who rioted at the Capitol last week could face criminal charges and will almost certainly come under close scrutiny in the burgeoning federal investigation into the assault, former prosecutors said.
"This is incredibly serious," said Ron Machen, a former U.S. attorney for Washington, D.C. "Although you would need compelling evidence before charging a member of Congress with anything related to the breach of the Capitol that day, this has to be investigated."
Unlike with the president, there's no Justice Department policy shielding members of Congress from legal accountability while in office.
"I'd say those are potentially viable prosecutions," added Peter Zeidenberg, another former federal prosecutor in Washington. "I'd say those guys should be worried." https://www.politico.com/news/2021/01/14/lawmakers-capitol-attackers-legal-459519
9. Wyoming GOP chairman floats idea of secession
Wyoming GOP Chairman Frank Eathorne floated the idea of seceding from the United States after Rep. Liz Cheney (R-WY) embraced the impeachment of President Trump. https://www.washingtonexaminer.com/news/wyoming-gop-chairman-secession-cheney-votes-impeach-trump
10. Biden team says recent Trump foreign policy moves 'feel like sabotage'
Days before the inauguration, President-elect Joe Biden's transition team criticized recent Trump administration policy announcements, suggesting that a series of recent statements "begin to feel like sabotage."
In the last week, the State Department announced significant policies on Yemen, Cuba, Taiwan and Iran that senior Trump administration officials insist they have been pushing for months, if not years, but that critics label as motivated more by politics than policy. https://www.pbs.org/newshour/world/biden-team-says-recent-trump-foreign-policy-moves-feel-like-sabotage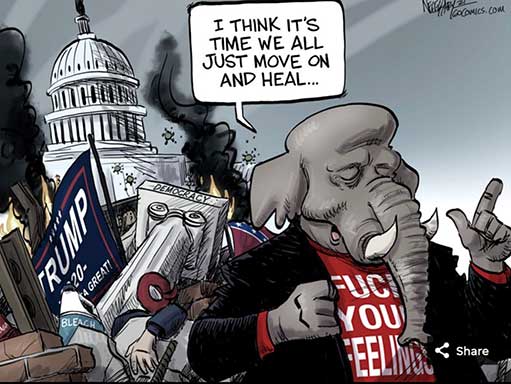 11. Trump explodes at Nixon comparisons
Trump has been consumed by the unraveling of his presidency during his last days in office, according to people around him, which included a casual discussion among advisers recently about a possible resignation.
Trump shut the idea down almost immediately. And he has made clear to aides in separate conversations that mere mention of President Richard Nixon, the last president to resign, was banned.
He told one adviser during an expletive-laden conversation recently never to bring up the ex-president ever again. During the passing mention of resigning this week, Trump told people he couldn't count on Vice President Mike Pence to pardon him like Gerald Ford did Nixon, anyway. https://www.cnn.com/2021/01/14/politics/donald-trump-presidency-ending/index.html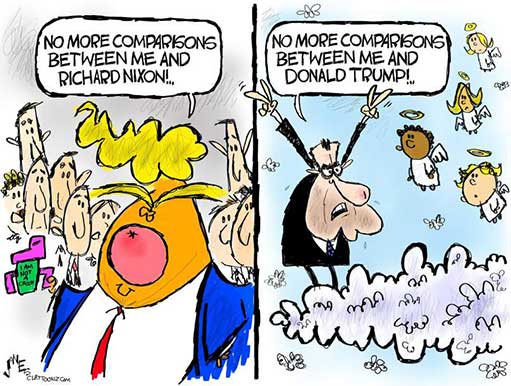 12. 'Stop the Steal' organizer says three GOP lawmakers helped plan his D.C. rally 
Weeks before a mob of President Donald Trump's supporters stormed the U.S. Capitol, right-wing activist Ali Alexander told his followers that he was planning something big for Jan. 6.
Alexander, who organized the "Stop the Steal" movement, said he hatched the plan — coinciding with Congress's vote to certify the electoral college votes — alongside three GOP lawmakers: Reps. Andy Biggs, Ariz., Mo Brooks, Ala., and Paul Gosar, Ariz., all hard-line Trump supporters. https://www.seattletimes.com/nation-world/nation-politics/stop-the-steal-organizer-says-three-gop-lawmakers-helped-plan-his-d-c-rally/
13. Trump Departs With Lowest-Ever Job Approval
Donald Trump is leaving the White House with the lowest job approval of his presidency (29%) and increasingly negative ratings for his post-election conduct. The share of voters who rate Trump's conduct since the election as only fair or poor has risen from 68% in November to 76%, with virtually all of the increase coming in his "poor" ratings (62% now, 54% then). https://www.pewresearch.org/politics/2021/01/15/biden-begins-presidency-with-positive-ratings-trump-departs-with-lowest-ever-job-mark/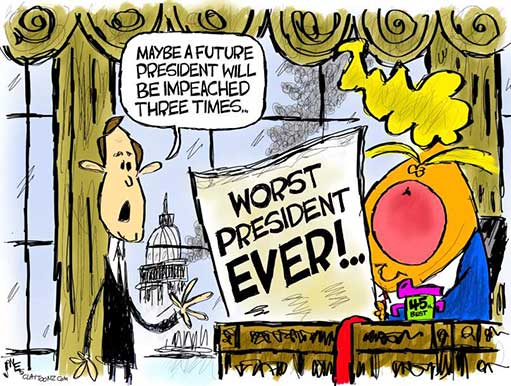 14. Prospect of Pardons in Final Days Fuels Market to Buy Access to Trump
As President Trump prepares to leave office in days, a lucrative market for pardons is coming to a head, with some of his allies collecting fees from wealthy felons or their associates to push the White House for clemency, according to documents and interviews with more than three dozen lobbyists and lawyers.
The brisk market for pardons reflects the access peddling that has defined Mr. Trump's presidency as well as his unorthodox approach to exercising unchecked presidential clemency powers. Pardons and commutations are intended to show mercy to deserving recipients, but Mr. Trump has used many of them to reward personal or political allies. https://www.nytimes.com/2021/01/17/us/politics/trump-pardons.html
15. Abandon Trump? Deep in the G.O.P. Ranks, the MAGA Mind-Set Prevails
As Mr. Trump exits the White House and face a second impeachment trial in the Senate, his ideas continue to exert a gravitational pull in Republican circles across the country. The falsehoods, white nationalism and baseless conspiracy theories he peddled for four years have become ingrained at the grass-roots level of the party, embraced by activists, local leaders and elected officials even as a handful of Republicans in Congress break with the president in the final hour.
Interviews with more than 40 Republican state and local leaders conducted after the siege at the Capitol show that a vocal wing of the party maintains an almost-religious devotion to the president, and that these supporters don't hold him responsible for the mob violence last week. The opposition to him emerging among some Republicans has only bolstered their support of him.
And while some Republican leaders and strategists are eager to dismiss these loyalists as a fringe element of their party, many of them hold influential roles at the state and local level. These local officials are not only the conduits between voters and federal Republicans, but they also serve as the party's next generation of higher-level elected officials, and would bring a devotion to Trumpism should they ascend to Washington. https://www.nytimes.com/2021/01/14/us/politics/trump-republicans.html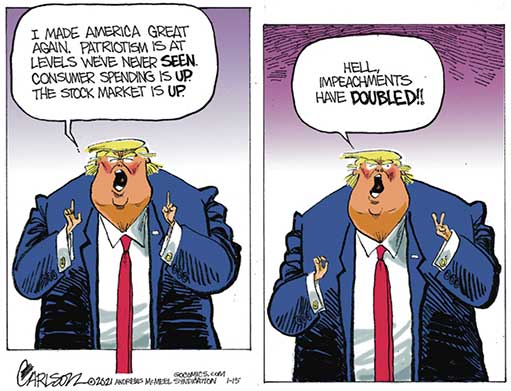 16. GOP Congresswoman Will Move to Impeach Biden on First Day in Office
Rep. Marjorie Taylor Greene, the newly elected Republican congresswoman from Georgia who has expressed racist views and support for QAnon conspiracy theories, says she plans on filing articles of impeachment against President Joe Biden today. https://twitter.com/mtgreenee/status/1349519602888355840
NOTE: Twitter on Sunday temporarily suspended the account of Rep. Greene's account for repeated violations of new rules the social media platform put in place following the violent US Capitol riot.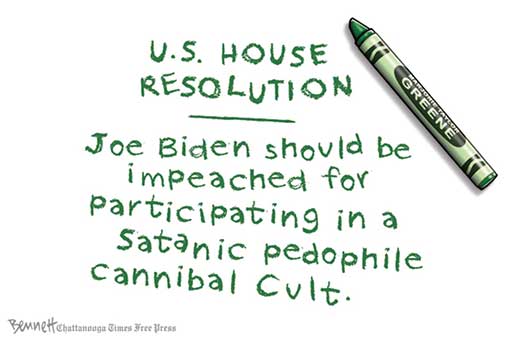 17. National Rifle Association Files for Bankruptcy, Announces Move From New York to Texas
"The NRA's claimed financial status has finally met its moral status: bankrupt," responded the New York Attorney General, who is suing the NRA for fraud.
In a letter to members, Wayne LaPierre, the head of the notorious gun lobby group, wrote, "The plan aims to streamline costs and expenses, proceed with pending litigation in a coordinated and structured manner, and realize many financial and strategic advantages."
The group will apparently relocate from the "toxic political environment of New York," where it is now registered as a nonprofit, to Texas. It is physically headquartered in Fairfax, Virginia. For his part, LaPierre referred to the bankruptcy filing and reincorporation in the Lone Star State as a "restructuring plan." https://www.thedailybeast.com/national-rifle-association-files-for-bankruptcy-and-announces-move-from-new-york-to-texas
18. Dozens of people on FBI terrorist watch list came to D.C. the day of Capitol riot
Dozens of people on a terrorist watch list were in Washington for pro-Trump events Jan. 6, a day that ended in a chaotic crime rampage when a violent mob stormed the U.S. Capitol, according to people familiar with evidence gathered in the FBI's investigation.
The majority of the watch-listed individuals in Washington that day are suspected white supremacists whose past conduct so alarmed investigators that their names had been previously entered into the national Terrorist Screening Database, or TSDB, a massive set of names flagged as potential security risks, these people said. The watch list is larger and separate from the "no-fly" list the government maintains to prevent terrorism suspects from boarding airplanes, and those listed are not automatically barred from any public or commercial spaces, current and former officials said. https://www.washingtonpost.com/national-security/terror-watchlist-capitol-riot-fbi/2021/01/14/07412814-55f7-11eb-a931-5b162d0d033d_story.html
19. MyPillowGuy brings notes to White House that suggest calling for 'martial law if necessary'
One of Donald Trump's fiercest supporters, MyPillow CEO Mike Lindell, went to a meeting at the White House with notes suggesting "martial law if necessary".
The notes, captured by a photographer as Mr Lindell entered the Oval Office on Friday, come after Mr Lindell tweeted then deleted calls for the president to "impost martial law" in the seven battleground states that won the election for Joe Biden. https://www.independent.co.uk/news/world/americas/us-election-2020/mypillow-lindell-white-house-martial-law-b1788176.html
20. 2020 rivals hottest year on record, pushing Earth closer to a critical climate threshold
The year 2020, which witnessed terrifying blazes from California to Siberia and a record number of tropical cyclones in the Atlantic, rivaled and possibly even equaled the hottest year on record, according to multiple scientific announcements Thursday.
Experts said that another year as hot as 2016 coming so soon suggests a swift step up the climate escalator. And it implies that a momentous new temperature record — breaching the critical 1.5 degrees Celsius (2.7 degrees Fahrenheit) warming threshold for the first time — could occur as soon as later this decade. https://www.washingtonpost.com/climate-environment/interactive/2021/2020-tied-for-hottest-year-on-record/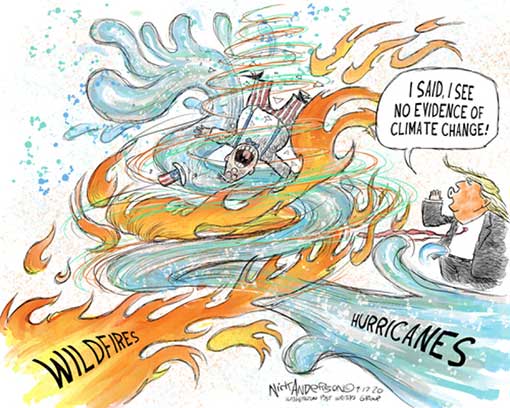 21. From MEDIA MATTERS (They watch Fox News so you don't have to)
Trump's allies in right-wing media are suggesting that his speech calling for his supporters to march on the Capitol just before the insurrection could not have incited the mob because recent reporting  reveals that the attack may have been planned ahead of the rally. This impeachment defense obscures the dangerous rhetoric Trump used during his January 6 speech, in which he told the crowd that "if you don't fight like hell, you're not going to have a country anymore." More broadly, it ignores the months both Trump and right-wing media spent feeding the lie that the election had been "stolen," which was also cited in his article of impeachment. https://www.mediamatters.org/january-6-insurrection/right-wing-media-claim-evidence-january-6-violence-was-planned-advance
Before the deadly January 6 attack at the Capitol, "Stop the Steal" organizer Ali Alexander told right-wing media audiences that they should be afraid because their enemies want to enslave them, put them in "gulags," or "kill" them. He also offered purported solutions, telling followers that they have "to punch the left in the nose," "do brave acts," "fight," and "have vengeance if we have traitors."  https://www.mediamatters.org/january-6-insurrection/stop-steal-organizer-ali-alexanders-pre-january-6-calls-violence-weve-got
1. Paul Waldman: Goodbye, Donald Trump. You were the worst of us.
In fantasy worlds, a nation may be led by its best: a noble king, full of courage and wisdom and love for all his people, who bears the weighty burden of rule because no one else could do it better. That's not how things usually work in the real world, where for every virtuous leader there are a hundred mediocrities, knaves and fools.
But here in the United States we come now to the end of a four-year experiment to answer the question: What would happen if we were led by the worst of us? What if we searched the land and plucked out literally the most repugnant human being we could find, a walking collection of character flaws, and put him in charge? What damage would he do, and what version of America would be left in his wake?
When Joe Biden takes the oath of office, there will be no joyful celebrations, only relief that Donald Trump's presidency is finally over. America is in a state of misery and despair, our condition degraded and our divisions seeming more intractable than ever in our lifetimes.
On Trump's last day as president we will mark 400,000 dead from covid-19 — not just Trump's greatest failure but perhaps the greatest failure of any president in our history. By the time the pandemic he so disastrously mishandled is over, that number could be 600,000. That's not to mention the millions out of work, the businesses shuttered, the epidemic of loneliness and depression, and all the children whose educations have been set back, perhaps irrevocably. He brought us all that. https://www.washingtonpost.com/opinions/2021/01/19/goodbye-donald-trump-you-were-worst-us/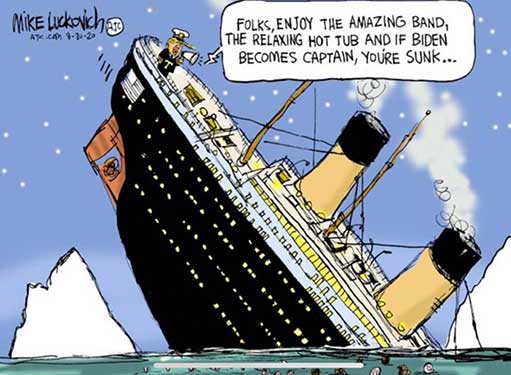 2. David Nakamura: The president as pariah: Trump faces a torrent of retribution over his role in the U.S. Capitol siege
He has been banned on social media, shunned by foreign leaders, impeached (again) in the House, threatened with censure by Republicans, deserted by Cabinet members, turned on by Senate Majority Leader Mitch McConnell (R-Ky.), canceled by his hometown of New York City, dropped by the PGA golf tour and snubbed by New England Patriots Coach Bill Belichick.
Trump, who after ruling Washington for nearly four years through a mix of bullying, intimidation, patronage and a sense that his willingness to spread falsehoods and misinformation would have no consequences is suddenly facing a torrent of retribution from those who long excused his behavior or were too scared or powerless to confront it.
The fallout on Trump for his role in riling up thousands of supporters in a speech ahead of their deadly siege on the U.S. Capitol last week has intensified quickly — leaving the world's most powerful leader as a pariah in many quarters, more isolated than ever.
Timothy L. O'Brien, author of the biography "TrumpNation," said the backlash from Republicans, especially McConnell, is probably "creating vast wells of unquenchable resentment" in the president. He predicted Trump will seek revenge on GOP leadership by continuing to hold campaign-style rallies and supporting insurgent candidates.
But O'Brien said it was the economic pain to Trump's businesses — and the blows to his self-esteem through the loss of his social media platforms and snubs from the PGA and Belichick — that are probably more hurtful to him.
"For someone who has had his nose pressed against the glass of public approval for most of his life over things that others find silly," O'Brien said, "Donald Trump can't live without them." https://www.washingtonpost.com/politics/trump-pariah-siege/2021/01/13/5fd2d69e-55bb-11eb-a931-5b162d0d033d_story.html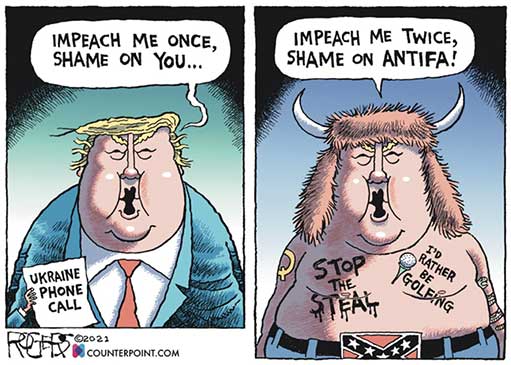 3. Karen Tumulty: Trump's stench will cling to Republicans long after he's gone
Republicans must recognize that, as Trump leaves office, he leaves them at a hinge point. Will their party be completely taken over by the loudmouthed conspiracy theorists and white supremacists Trump has invited to crawl out into the open? Or is it still possible for the GOP to regain any claim to a governing philosophy based on conservative ideas?
It remains unclear how congressional Republicans will deal with those in their ranks who deserve their share of the blame for last week's violence.
The disciplinary mechanisms within the institution are a place to start.
At a minimum, Republican Sens. Josh Hawley (Mo.) and Ted Cruz (Tex.) should be censured by the Senate for seeking to further their own presidential aspirations by challenging the procedure by which Congress certifies the electoral college outcome. It was that normally rote exercise that the Trump rioters disrupted last week.
I'm doubtful the Senate will penalize its own members, no matter how well deserved. There is, however, another option for punishment, one that is old-fashioned and highly effective.
Every Republican who undermined trust in our electoral system by indulging and amplifying the president's false claims about the 2020 presidential result should be shunned.
Some of the nation's largest corporations are already leading the way by halting contributions from their political action committees to the 147 Republicans who voted against certifying the election results even after the Capitol was stormed.
In a week, Trump will be gone. But his stench will cling to Republicans for a long time to come. https://www.washingtonpost.com/opinions/a-bipartisan-congressional-rebuke-of-trumps-incitement-to-violence/2021/01/13/bda7e530-55b0-11eb-a08b-f1381ef3d207_story.html
4. Ed Kilgore: Trump Leaves the White House Like a Failed Coup Leader
It's hard for tradition-bound Washingtonians of either party to wish a fond farewell on January 20 to a man who on January 6 was busily inciting a mob to go to the Capitol to halt the routine counting of electoral votes decided on or before November 3, recognized by every objective observer on November 7, and certified by every state in early December. Whether or not they favor an impeachment conviction for this sin against all precedents for law and order, there's little disagreement among political professionals that this president who once said the Constitution let him "do whatever I want" had finally gone too far.
As he departs Washington, Trump resembles no one so much as a failed coup leader in a banana republic who has negotiated his exile but leaves at the point of a bayonet. For our country, this is a happy occasion we unhappily acknowledge as the necessary exorcism of a great evil. https://nymag.com/intelligencer/2021/01/biden-inauguration-trump-leaves-like-a-failed-coup-leader.html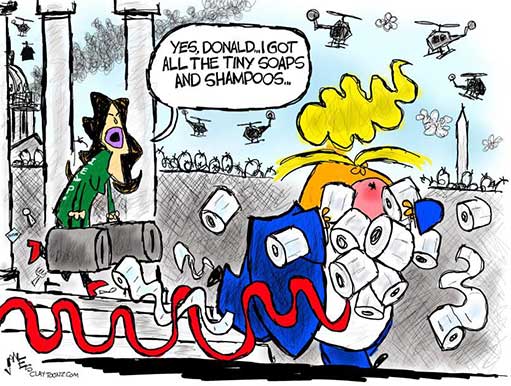 5. Steve Schmidt: No Unity With Seditious Extremists
The flag of treason, the Confederate Flag, was carried through the Capitol Rotunda by an enemy of the Republic for the first time in history. The floor of the United States Senate and House were taken over, vandalized and desecrated by a fascist mob, which included people celebrating the genocide of the Jewish people under Adolf Hitler's Nazi Germany.
This did not happen providentially. It was incited by the Trump propagandists at Fox News, Newsmax, One America News Network, Breitbart, Red State, et cetera. It was stoked by the highest ranked political leaders in the country. It was financed by America's richest citizens and corporations.
The inciters of violence and the spreaders of the Big Lie are now making shallow and insincere calls for unity.
They must be rejected. No accommodation can be made with these seditious extremists. There is no compromise with people who want to throw out millions of Black votes and impose a new Jim Crow.
There is no compromise with the white nationalists and supremacists. There is no compromise with the fascists and the militias. Democracy will be defended under the rule of law and the U.S. Constitution. We do not seek retribution. We demand justice and accountability under the law. This autocratic movement must be crushed.
Trump is the worst president in history. He didn't do it alone. He is surrounded by liars, thugs, seditionists, racists and opportunists. Know their names. Understand their treachery. This rancid movement that has grown around Trump's malignant personality must be eradicated as a serious threat to take political power in this country. https://www.maxnewstoday.com/post/no-unity-with-seditious-extremists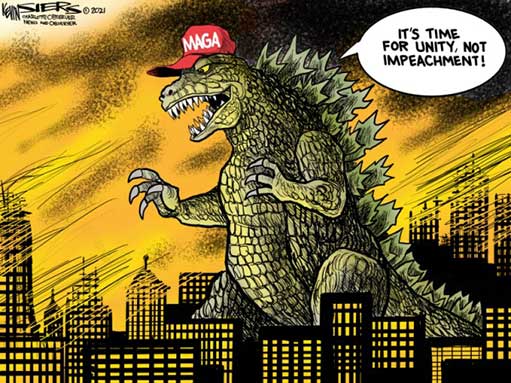 6. Tim Miller: Trump's Voters Took the Coup Literally and Seriously
But there is no magic language that changed the plain reality of what was happening: This was a coordinated effort by a large bloc of the Republican party to install an illegitimate Trump dictatorship. As Rand Paul tweeted, "The vote today is not a protest; the vote today is literally to overturn the election!"
And with the mob there ain't no such thing as halfway coups.
Here's a tip. When you tell tens of millions of people who worship you that you want to overthrow the government, some of them are going to believe you. And then the violence and vigilantism that mark Third World dictatorships will follow. The seventh House conspirator's speech was interrupted by rioters who understood exactly what these traitors were calling for. They took them seriously and literally.
And so this riotous mob acted accordingly. They swarmed the walls of the Capitol. They bashed in doors and smashed in windows and clashed with police. As they marched through the halls of the Capitol, causing Congress to flee, they vandalized and stole. They breached the House chamber and occupied the speaker's rostrum. They broke into the speaker's office. Blood was spilled. One woman was shot and killed.
Thus the dozens of Republicans trying to do their insurrectionist burlesque came face to face with a group of separatist vigilantes who showed up to act as the muscle for the uprising these polished elites had fomented. https://thebulwark.com/trumps-voters-took-the-coup-literally-and-seriously/
7. Jonathan V. Last: Why "Stop the Steal" poisoned American politics.
What is different today is that at no point in living memory has the defeated president of the United States, along with the majority of his party, proclaimed that a national election was fraudulent and that the incoming president is illegitimate. In all prior instances, they did exactly the opposite: They testified to the legitimacy of the new government in an effort to tamp down the conspiratorial falsehoods which always exist in small numbers.
Today, the president and his party are the wellspring of these falsehoods.
And here is the point which you must understand: Nothing can get better in American politics until this lie is repudiated by the main body of the Republican party in the public square, with enough force and repetition that the majority of Republican voters cease to believe it.
Even if armed insurrection is not a weekly occurrence, a government cannot function when a third of the citizens believe it is literally, not rhetorically, illegitimate. It is not be possible to legislate or build consensus or even enforce the laws when you begin with a substantial minority who literally believe that the government is the product of a coup.
What the Republican party has done over the last two months is akin to having dropped polonium into America's political groundwater.
And the radiation from their lie has poisoned everything. https://thetriad.thebulwark.com/p/the-biggest-lie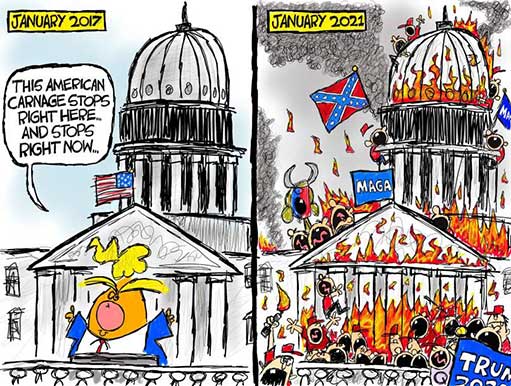 8. Timothy Snyder: The American Abyss
Like historical fascist leaders, Trump has presented himself as the single source of truth. His use of the term "fake news" echoed the Nazi smear Lügenpresse ("lying press"); like the Nazis, he referred to reporters as "enemies of the people." Like Adolf Hitler, he came to power at a moment when the conventional press had taken a beating; the financial crisis of 2008 did to American newspapers what the Great Depression did to German ones. The Nazis thought that they could use radio to replace the old pluralism of the newspaper; Trump tried to do the same with Twitter.
In November 2020, reaching millions of lonely minds through social media, Trump told a lie that was dangerously ambitious: that he had won an election that in fact he had lost. This lie was big in every pertinent respect: not as big as "Jews run the world," but big enough. The significance of the matter at hand was great: the right to rule the most powerful country in the world and the efficacy and trustworthiness of its succession procedures. The level of mendacity was profound. The claim was not only wrong, but it was also made in bad faith, amid unreliable sources. It challenged not just evidence but logic: Just how could (and why would) an election have been rigged against a Republican president but not against Republican senators and representatives? Trump had to speak, absurdly, of a "Rigged (for President) Election." https://www.nytimes.com/2021/01/09/magazine/trump-coup.html
9. Jonathan Chait: Trump Is on the Verge of Losing Everything
President Trump's second impeachment, like the other repudiations he has suffered, feels provisional. He is never quite banished. He is impeached, but Senate Republicans refuse to convict or even allow evidence into his trial. He loses the election, but won't concede, and may just run again. He is impeached again, but his trial is delayed until after his departure date. It feels as if we have spent four years watching the wheels come off, yet the vehicle somehow still keeps rolling forward.
But now, finally, the end is at hand. Trump is suffering a series of wounds that, in combination, are likely to be fatal after Joe Biden is sworn in on January 20. Trump is obviously going to surrender his office. Beyond that looming defeat, he is undergoing a cascading sequence of political, financial, and legal setbacks that cumulatively spell utter ruin. Trump is not only losing his job but quite possibly everything else.
One crisis, though the most opaque, concerns Trump's business. Many of his sources of income are drying up, either owing to the coronavirus pandemic or, more often, his toxic public image. The Washington Post has toted up the setbacks facing the Trump Organization, which include cancellations of partnerships with New York City government, three banks, the PGA Championship, and a real-estate firm that handled many of his leasing agreements. Meanwhile, he faces the closure of many of his hotels. And he is staring down two defamation lawsuits. Oh, and Trump has to repay, over the next four years, more than $300  million in outstanding loans he personally guaranteed.
At noon on January 20, Trump will be in desperate shape. His business is floundering, his partners are fleeing, his loans are delinquent, prosecutors will be coming after him, and the legal impunity he enjoyed through his office will be gone. He will be walking naked into a cold and friendless world. What appeared to be a brilliant strategy for escaping consequences was merely a tactic for putting them off. The bill is coming due. https://nymag.com/intelligencer/2021/01/donald-trump-after-presidency.html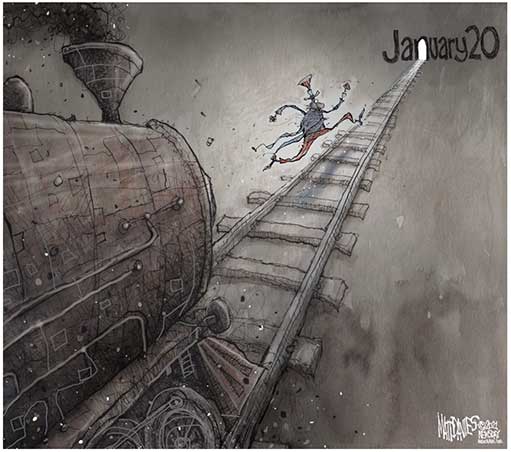 10. Abigail Tracy: "They Simply Can't Treat This As A Normal Inauguration": Counterterrorism Professionals Warn Violence Could Plague The Country For Months
If a picture is worth a thousand words, the images circulating on social media of members of the National Guard in the halls of the Capitol are worth a thousand fears. After a seditious mob of Donald Trump supporters—counting QAnon followers, election-fraud truthers, neo-Nazis, and white supremacists in its ranks—descended on Washington last week, breaching police barriers and desecrating symbols of American democracy, counterterrorism professionals warn that the threat of violence in the days leading up to and during Joe Biden's inauguration has hardly dissipated. Rather, sources I spoke with fear that it may be higher than ever. "They simply can't treat this as a normal inauguration," a former senior counterterrorism official told me. "The threat environment we are in remains highly volatile, and I think the concern of law enforcement professionals is that we're going to see more violence in not only the days ahead, but the weeks and months ahead." 
The insurrection at the Capitol last week didn't materialize out of thin air. "This element of our society has always existed. What Donald Trump did was set it free…. This didn't happen overnight," the former senior counterterrorism official said. "What we experienced at the Capitol on January 6 is the results of his work."
While perhaps the most dramatic, the Capitol siege is certainly not the first flash of America's heinous underbelly in recent years. From the Tree of Life massacre to the march on Charlottesville, the domestic terrorist threat of right-wing extremists and white supremacists has become increasingly apparent and, finally, impossible to ignore. "What we saw [last week] was the culmination of a threat that's been neglected to be addressed, that's grown year after year for the past 10 years," Daryl Johnson, a former Department of Homeland Security analyst who wrote a 2009 intelligence report warning of a growing right-wing extremist threat following the election of Barack Obama, told me. "There's no silver bullet that's going to solve this problem."  https://www.vanityfair.com/news/2021/01/joe-biden-inauguration-donald-trump-domestic-terrorism
11. McKay Coppins: GOP Will Try to Pretend Like Trump Never Happened
As Donald Trump lurches through the disastrous final days of his presidency, Republicans are just beginning to survey the wreckage of his reign. Their party has been gutted, their leader is reviled, and after four years of excusing every presidential affront to "conservative values," their credibility is shot. How will the GOP recover from the complicity and corruption of the Trump era? To many Republicans, the answer is simple: Pretend it never happened.
"We're about to see a whole political party do a large-scale version of 'New phone, who dis?'" says Sarah Isgur, a former top spokesperson for the Trump Justice Department. "It will be like that boyfriend you should never have dated—the mistake that shall not be mentioned."
The plan might seem implausible, but I've heard it floated repeatedly in recent days by Republican strategists who are counting down the minutes of the Trump presidency. The hardcore MAGA crowd will stay loyal, of course, and those few who have consistently opposed Trump will escape with their reputations intact. But for the majority of GOP officials, apparatchiks, and commentators who sacrificed their dignity at the altar of Trump, a collective case of amnesia seems destined to set in the moment he leaves office. https://politicaldog101.com/2021/01/republicans-forget-the-trump-presidency/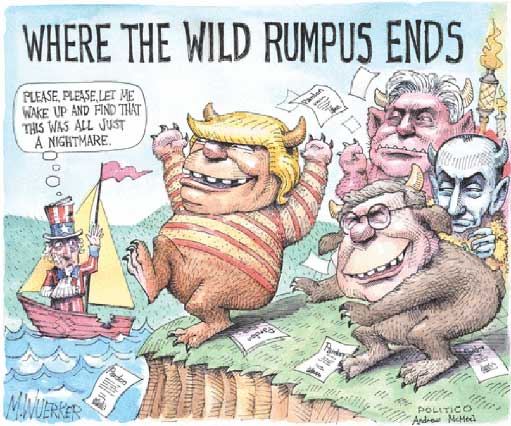 12. Alexander Burns and Jonathan Martin: Are Republicans headed for a pro-Trump, anti-Trump civil war?
Republican leaders including Sen. Mitch McConnell are maneuvering to thwart Trump's grip on the GOP in future elections, while forces aligned with Trump are looking to punish Republican lawmakers and governors who have broken with him.
The bitter infighting underscores the deep divisions that Trump has created in the GOP and all but ensures that the next campaign will represent a pivotal test of the party's direction, with a series of clashes looming in the months ahead.
The friction is already escalating in several key swing states in the aftermath of Trump's incitement of the mob that attacked the Capitol on Jan. 6. They include Arizona, where Trump-aligned activists are seeking to censure the Republican governor they deem insufficiently loyal to the president, and Georgia, where a hard-right faction wants to defeat the current governor in a primary election.
In Washington, Republicans are particularly concerned about a handful of extreme-right House members who could run for Senate in swing states, potentially tarnishing the party in some of the most politically important areas of the country. McConnell's political lieutenants envision a large-scale campaign to block such candidates from winning primaries in crucial states.
But Trump's political cohorts appear no less determined, and his allies in the states have been laying the groundwork to take on Republican officials who voted to impeach Trump — or who merely acknowledged the plain reality that President-elect Joe Biden won the presidential race. https://www.baltimoresun.com/news/nation-world/ct-nw-nyt-trump-republicans-adam-kinzinger-20210116-gns2nfnjpfbdhc2xljwb34hnee-story.html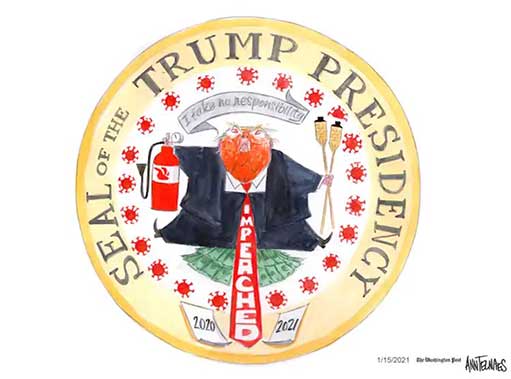 13  Susan B. Glasser: Obituary for a Failed Presidency
Many of Trump's biggest outrages had the effect of directly challenging the laws and norms governing the Presidency, as he sought to expand executive power while simultaneously undermining those whose job it was to wield it on his behalf. His obsession with defeating Biden led him to become the first President in American history impeached twice by the House. In his first impeachment trial, after he pressured Ukraine to dig up dirt on Biden, only a single Republican senator, Mitt Romney, voted to convict him. This time, a few more Republicans might finally break with him, after he incited a mob to believe that Congress could somehow defy the Constitution and overturn Biden's Electoral College victory. On Tuesday, Trump's last full day in office, Mitch McConnell, the Senate Majority Leader who up until this month had done so much to enable Trump's Presidency, said unequivocally that the riot at the Capitol was "provoked by the President." But, in the end, it may matter little or not at all that McConnell abandoned Trump so close to the finish. Consequences may now rain down on Trump, but they will come only after the tragedy of the past four years has played out.
There are some antecedents for Trump's failures in the long record of American Presidents, of course.
Woodrow Wilson botched the handling of a pandemic in 1918; L.B.J. and Richard Nixon lied to the American public about Vietnam and much else besides. Many Presidents were outright bigots and philanderers. But none before Trump was all of those things at once, and that in the end will be the lasting embarrassment that Trump bears with him off to Mar-a-Lago.
On the eve of his Inauguration, exactly four years ago today, Trump attended a glittering fireworks display at the Lincoln Memorial. "We're going to work together," he said. "We are going to make America great again—and, I'll add, greater than ever before." History will be brutally clear on this: he did not. https://www.newyorker.com/news/letter-from-trumps-washington/obituary-for-a-failed-presidency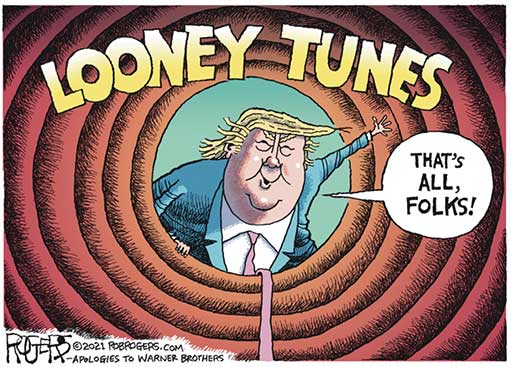 14. Eric Levitz: We're Lucky the Trump Presidency Wasn't Worse
The final chapter of America's experiment in kakistocracy has witnessed the 400,000th U.S. death from a pandemic disease whose spread the president actively abetted; an insurrectionary mob storming the Capitol in an attempt to disrupt the peaceful transfer of power (at the president's behest); a majority of House Republicans proceeding to object to the certification of election results, with some telling reporters that they feared for their families' safety if they did not do as the mob demanded; state capitals across the country fortifying themselves against a potential Trumpist insurgency; and mass unemployment, small-business bankruptcies, and rates of child hunger unprecedented in America's modern history.
Even before Trump failed to muster a federal response to the COVID pandemic and incited an insurrection, he had already done much to make 2016's anti-Trump alarmists look like optimists. By the end of 2019, Trump had proved that the president can, in fact, openly monetize his public power, make personal loyalty to the president an official requirement for leading the Justice Department, promise his lackeys presidential pardons if they refuse to cooperate with investigations that threaten his interests, withhold congressionally approved funds in order to coerce foreign governments into smearing his domestic rivals, commandeer U.S. troops and federal property as campaign props, funnel billions of dollars in relief payments to favored constituencies without congressional authorization, declare the press an "enemy of the people," accuse the opposition party of orchestrating an invasion of the United States, and dispossess hundreds of thousands of longtime legal U.S. residents, among other things — all without suffering removal from office or criminal indictment.
And yet: For all of the mass death and democratic backsliding we've suffered these past four years, America is in far better shape than it might have been. Entrusting an authoritarian con man with the world's most powerful elective office brought the United States catastrophe, but it has also left us with a historic opportunity for democratic renewal. https://nymag.com/intelligencer/2021/01/trump-presidency-in-review.html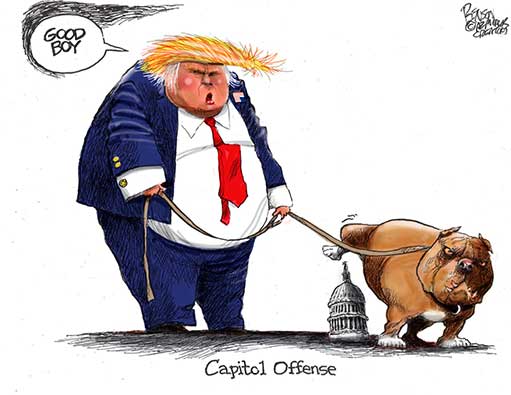 15. Max Boot: Trump was the worst president ever. But his failures set up Biden for success.
The new president will face monumental challenges that exceed those of any incoming president since Franklin D. Roosevelt in 1933. Not only must Biden stop a pandemic and revive an economy, but he must address global warming, income inequality, racial injustice, restore confidence in government, reinvigorate the rule of law, return ethics to government, decrease divisions in U.S. society and depoliticize government agencies.
It's a daunting, nearly overwhelming to-do list. But, paradoxically, by taking over at such a low point in our history, Biden is set up for success.
Simply by not calling his critics traitors, inciting violence, sending demented tweets, spreading cockamamie conspiracy theories, or branding the media the "enemy of the people," Biden will start to heal a fractured and traumatized country. He will never win over the Trump die-hards, but he is already gaining the support of the broad middle of the country. His approval rating is higher than Trump's ever was. In a new CNN poll, two-thirds of Americans approve of the way Biden is handling the transition.
Thanks, President Trump. By being so awful, you have all but guaranteed that Biden will be far more successful by comparison. https://www.washingtonpost.com/opinions/2021/01/19/trump-was-worst-president-ever-his-failures-set-up-biden-success/