May 27, 2021
ON THE RECORD. . .
Norm Ornstein and Ruth Ben-Ghiat interviewed by Mehdi Hasan.
Mehdi Hasan: Do you believe a Republican-controlled Congress will allow a Democratic nominee for president who wins in 2024 to take office? Yes or no.
Ruth Ben-Ghiat: No.
Norm Ornstein: No.

"You know, we can look back at a time in history where people were told to wear a gold star, and they were definitely treated like second class citizens, so much so that they were put in trains and taken to gas chambers in Nazi Germany. And this is exactly the type of abuse that Nancy Pelosi is talking about." — Rep. Marjorie Taylor Greene (R-GA) comparing House Speaker Nancy Pelosi's decision to continue to require members of the House to wear masks on the chamber floor to steps the Nazis took to control the Jewish population during the Holocaust.

"I'm waiting to see who wants to leave the freeway of crazy. But at this point, I don't see anybody interested in taking an offramp." — Art Hamilton, now a political independent, sees no end in sight to the Trump worship, even after it helped cost Republicans a U.S. Senate seat in 2018 and Arizona's electoral votes in 2020.

"I worked for eight presidents, five of them were Republicans. I don't think any of them would recognize the Republican party today. I think in terms of the values and the principles that the Republican party stood for under those five presidents are hard to find these days.— Former Defense Secretary Robert Gates.

"See, 35 wayward Republicans—they just can't help themselves. We have much better policy and are much better for the Country, but the Democrats stick together, the Republicans don't. They don't have the Romney's, Little Ben Sasse's, and Cheney's of the world. Unfortunately, we do. Sometimes there are consequences to being ineffective and weak. The voters understand! — Trump about the Republicans who had the courage to vote for a commission to investigate the January 6th insurrection.

"As massive crime in the 2020 Election is becoming more and more evident and obvious, state Attorney General Mark Brnovich is nowhere to be found, He is always on television promoting himself, but never mentions the Crime of the Century, that took place during the 2020 Presidential Election, which was rigged and stolen. -- Trump

"We're too far apart. Because I think Mitch's ultimate purpose is not compromise but delay and mischief." — Sen. Sheldon Whitehouse (D-RI) on the unofficial deadline for a bipartisan accord on infrastructure hits a week from now and negotiators are some $1.5 trillion apart, with severe differences in both size and scope, after more than a month of talks.

"It is shocking that the West calls the incident in Belarusian airspace 'shocking.'" —Russian Foreign Ministry spokeswoman Maria Zakharova.

"Even if GOP candidates don't make Trump an issue in the midterms, and the Democratic candidates don't make Trump an issue in the midterms, Trump will make Trump an issue in the midterms. Everything we know about the man says he'll gravitate to wherever the media spotlight is and make it all about himself -- it's like a law of physics at this point, without the Uncertainty Principle." — Kausfiles #38

"Marjorie Taylor Greene made herself a GOP star. By creating chaos for clicks. Seeking money using racist, homophobic, antisemitic language. Spewing nonsense and hate. Her actions are only a sign of the greater rot in her party."— Rep. Adam Schiff (D-CA)

"This is a continuation of the greatest Witch Hunt in American history. This is purely political, and an affront to the almost 75 million voters who supported me in the Presidential Election, and it's being driven by highly partisan Democrat prosecutors." — Trump after it was reported that a grand jury was seated to weigh any criminal evidence against him and his company and decide if indictments should be issued.
VIDEOS
"This is evil lunacy." — Liz Cheney on Marjory Taylor Greene saying that Speaker Pelosi wanting Members of Congress to get vaccinated and, if not, to wear masks is "exactly the type of abuse" as murdering Jews in gas chambers during the Holocaust, and David Brody nods along. No follow up.

Rep. Tim Ryan's impassioned speech on the House floor after the vast majority of House Republicans voted against an independent commission to investigate the January 6 attack on the Capitol.

David Fahrenthold provides answers to questions on what we know — and what we don't — about two New York state investigations of the Trump Organization.

Jen Psaki, the White House press secretary, said on Monday that President Biden "won't allow the abuse of power to intimidate journalists."
REMINDER: Just Security is continuing to track every pending criminal and civil case against Donald Trump.
---
IN THIS ISSUE
IN THE NEWS
OPINION
Andy Borowitz: Trump Orders Kevin McCarthy to Go to Prison in His Place
In what legal experts are calling a highly unorthodox arrangement, Donald J. Trump has commanded Representative Kevin McCarthy to go to prison in his place.

Although Trump has denied any and all wrongdoing, he told the House Minority Leader to be prepared to plead guilty if the current criminal investigation of the Trump Organization "turns nasty," sources familiar with the agreement said.

McCarthy, who appeared shaken after agreeing to Trump's demand, nevertheless put the best face on the situation when speaking to reporters.

"I can think of no greater honor than going to prison for this wonderful man," McCarthy said.

Behind the scenes, however, congressional sources reported that McCarthy was trying to hammer out an agreement under which Representative Elise Stefanik would go to prison in his place. https://www.newyorker.com/humor/borowitz-report/
The GOP remains stuck with Trump — and his latest legal drama
Back in January, the Republican Party had a chance to walk away from Donald Trump — after his defeat, after Jan. 6, after his second impeachment and after he refused to attend President Biden's inauguration.
Instead, they stuck with him, which has led to many GOP members downplaying the Capitol attack, fighting the creation of a bipartisan commission to study what happened on Jan. 6, and watching the former president continue to question the legitimacy of a contest he lost fair and square.
And now they face the very real possibility of seeing their party's de-facto leader and potential 2024 frontrunner getting indicted in the coming months. https://www.nbcnews.com/politics/meet-the-press/gop-remains-stuck-trump-his-latest-legal-drama-n1268607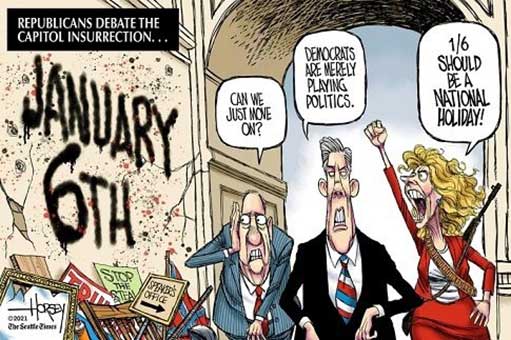 85% Of Republicans Want Candidates To Agree With Trump
A new Quinnipiac poll finds 85% of Republican voters say they would prefer to see their party's candidates mostly agree with former President Donald Trump.
Asked whether they would like to see Trump run for president in 2024, Republicans say 66% to 30% they would.
Said pollster Tom Malloy: "The numbers fly in the face of any predictions that Donald Trump's political future is in decline. By a substantial majority, Republicans: (1) believe the election was stolen from him, (2) want Trump to run again, and (3), if they can't vote for Trump, prefer someone who agrees with him." 85% Of Republicans Want Candidates To Agree With Trump. https://poll.qu.edu/poll-release
Biden's job approval ticks upward to 62 percent
A new Harvard CAPS/Harris poll finds 62% of respondents said they either strongly or somewhat approve of the job President Biden is doing, while 38% said they disapprove. https://thehill.com/homenews/administration/555144-bidens-job-approval-ticks-upward-to-62-percent-poll-finds
Faulty redactions in court document show federal investigators seized more info in case against Rudy Giuliani than previously disclosed
New York federal prosecutors investigating Rudy Giuliani have seized material from a wider array of individuals than previously disclosed, including messages from email and iCloud accounts they believe belong to two former Ukrainian government officials, as well as the cell phone and iPad of a pro-Trump Ukrainian businessman, according to a court document unsealed Tuesday.
The court filing, which contained redacted portions that CNN was able to read by copying and pasting them into another document, also disclosed that federal prosecutors have "historical and prospective cell site information" related to Giuliani and another lawyer, Victoria Toensing, both of whom were the subjects of search warrants executed late last month. https://www.cnn.com/2021/05/25/politics/giuliani-redactions-investigations/index.html
Trump lashes out against possible U.S. Senate candidate Mark Brnovich over election audit
Former President Donald Trump lashed out against state Attorney General Mark Brnovich over his tepid support of the ongoing review of ballots in Maricopa County, a blow to the potential Republican contender in Arizona's 2022 U.S. Senate race.
"As massive crime in the 2020 Election is becoming more and more evident and obvious, Brnovich is nowhere to be found," Trump said. "He is always on television promoting himself, but never mentions the Crime of the Century, that took place during the 2020 Presidential Election, which was Rigged and Stolen." https://www.azcentral.com/story/news/politics/elections/2021/05/24/trump-criticizes-mark-brnovich-election-audit/7416438002/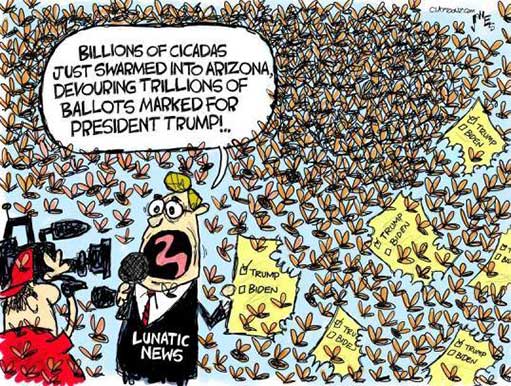 Kathryn Garcia leads field in new poll, 4 weeks ahead of NYC Election Day
Former New York city sanitation commissioner Kathryn Garcia is leading the Democratic field of NYC mayoral contenders, with Brooklyn Borough President Eric Adams hot on her trail, according to a new poll four weeks ahead of Election Day.
The survey, conducted by Emerson College and PIX11 News found Garcia with support from 21 percent of the 570 likely voters surveyed Sunday and Monday. Adams trailed closely with 20 percent, followed by Yang at 16 percent and City Comptroller Scott Stringer at 10 percent, according to a screenshot of the results obtained by POLITICO. When the full poll was released later in the day, it also showed Garcia beating Eric Adams by 10 points for the nomination, after a simulated ten rounds of ranked choice voting. https://www.politico.com/states/new-york/city-hall/story/2021/05/25/kathryn-garcia-leads-field-in-new-poll-4-weeks-ahead-of-election-day-1383927
Appropriations Committee votes to strip Secretary of State Katie Hobbs of roles
Political score-settling is not supposed to be part of the budgeting process, but you will have a hard time convincing Democratic members of the House Appropriations Committee of that.
On Tuesday morning, the Arizona House Appropriations Committee stripped Secretary of State Katie Hobbs of her ability to defend election lawsuits. It gave the power exclusively to the Attorney General. https://www.abc15.com/news/state/secretary-of-state-katie-hobbs-stripped-of-roles-by-appropriations-committee
PPIC Poll: Support for Governor's Recall Still Falls Short
If the recall election were held today, 40 percent of likely voters say they would vote yes to remove Newsom from office, while 57 percent would vote no and 3 percent don't know. Support for the recall is unchanged from March (40%). Views on the recall break along partisan lines, with Republicans (78%) far more likely than independents (47%) and Democrats (11%) to say they would vote to remove Newsom. https://www.ppic.org/wp-content/uploads/ppic-statewide-survey-californians-and-their-government-may-2021.pdf
Trump responds to insurrection lawsuit by claiming immunity while he was President
Donald Trump's attorney defended the ex-President's incendiary speech on January 6, saying he is protected under the First Amendment and had "absolute immunity" while he was President to contest the election, according to a court filing this week.
The argument is the first time Trump has formally defended his actions in court since the insurrection, and reflects his continued push to his supporters that he did nothing wrong and was robbed of a second term in office.
This argument was a response in court to a lawsuit from Democratic Rep. Eric Swalwell seeking to hold him accountable for the insurrection. https://www.cnn.com/2021/05/25/politics/donald-trump-capitol-riot-immunity/index.html
Big Oil's Bad, Bad Day
In what may be the most cataclysmic day so far for the traditional fossil-fuel industry, a remarkable set of shareholder votes and court rulings have scrambled the future of three of the world's largest oil companies. On Wednesday, a court in the Netherlands ordered Royal Dutch Shell to dramatically cut its emissions over the next decade—a mandate it can likely only meet by dramatically changing its business model. A few hours later, sixty-one per cent of shareholders at Chevron voted, over management objections, to demand that the company cut so-called Scope 3 emissions, which include emissions caused by its customers burning its products.
Oil companies are willing to address the emissions that come from their operations, but, as Reuters pointed out, the support for the cuts "shows growing investor frustration with companies, which they believe are not doing enough to tackle climate change." The most powerful proof of such frustration came shortly afterward, as ExxonMobil officials announced that shareholders had (over the company's strenuous opposition) elected two dissident candidates to the company's board, both of whom pledge to push for climate action. https://www.newyorker.com/news/annals-of-a-warming-planet/big-oils-bad-bad-day
Prosecutor in Trump criminal probe convenes grand jury to hear evidence, weigh potential charges
Manhattan's district attorney has convened the grand jury that is expected to decide whether to indict former president Donald Trump, other executives at his company or the business itself should prosecutors present the panel with criminal charges, according to two people familiar with the development.
The panel was convened recently and will sit three days a week for six months. It is likely to hear several matters — not just the Trump case ­— during the duration of its term, which is longer than a traditional New York state grand-jury assignment, these people said. Like others, they spoke on the condition of anonymity to discuss an ongoing investigation. Generally, special grand juries such as this one are convened to participate in long-term matters rather than to hear evidence of crimes charged routinely.
The move indicates that District Attorney Cyrus R. Vance Jr.'s investigation of the former president and his business has reached an advanced stage after more than two years. It suggests, too, that Vance believes he has found evidence of a crime — if not by Trump then by someone potentially close to him or by his company. https://www.washingtonpost.com/national-security/trump-investigation-grand-jury/2021/05/25/5f47911c-bcca-11eb-83e3-0ca705a96ba4_story.html
Rick Santorum on CNN departure: 'You get savaged for telling the truth'
Former Republican senator and TV analyst Rick Santorum addressed his departure from CNN on "Hannity" Monday, after the network fired him over past comments about Native American culture.
"You get savaged for telling the truth," Santorum said in his first public interview since he ousted from the network.
The Republican political commentator was given the boot after an April 23 speech resurfaced where he told a young conservative crowd that "We birthed a nation from nothing. Yes, there were Native Americans, but there isn't much Native American culture in American culture."
https://www.foxnews.com/media/rick-santorum-cnn-fired-native-american-culture
Rudy Giuliani and the MyPillow Guy among 'winners' in 41st Annual Razzie Awards for worst in cinema
The award for Worst Picture went to Lindell's documentary "Absolute Proof," which claims that a Chinese cyberattack flipped the 2020 election -- despite there being no evidence to back up the claim. Lindell, a vocal supporter of former President Donald Trump, also got a Worst Actor Razzie for the film.
Giuliani's awkward appearance in "Borat Subsequent Moviefilm" left many wondering if he was in on the joke after he was caught on camera with his hand down his pants during a spoof interview -- he said he was tucking in his shirt. The former Trump lawyer won the Razzie for Worst Supporting Actor. Giuliani and his pants zipper were also recognized as the Worst Screen Combo. https://www.cnn.com/2021/04/24/entertainment/razzie-awards-2021-rudy-giuliani-mypillow-guy-trnd/
Texas set to allow unlicensed handgun carry despite outcry
Texas is poised to remove one of its last major gun restrictions after lawmakers approved allowing people to carry handguns without a license, and the background check and training that go with it.
The Republican-dominated Legislature approved the measure Monday, sending it to Gov. Greg Abbott, who has said he will sign it despite the objections of law enforcement groups who say it would endanger the public and police. https://apnews.com/article/texas-gun-politics-shootings-government-and-politics-28ef6e5ea8dd48a57114b67e5a885fad
Alabama Gov. Kay Ivey signs bill banning vaccine passports
Alabama Gov. Kay Ivey (R) on Monday signed into law a bill banning state agencies, schools and businesses from requiring COVID-19 vaccine passports to access services.
Alabama is the latest Republican-led state to outlaw coronavirus immunization credentials in the name of personal freedom and privacy protection. https://www.axios.com/alabama-governor-bans-vaccine-passports-covid-f2a5ea50-44a8-4387-8b3c-3bcf185bad8c.html
Experts or 'grifters'? Little-known firm runs Arizona audit
In early March, a Boston-based vote-counting firm called Clear Ballot Group sent a bid to Arizona's state Senate to audit the 2020 presidential election results in Maricopa County.
The firm has conducted more than 200 such audits over 13 years in business. "Our level of comparison data is unmatched," Keir Holeman, a Clear Ballot Group vice president, wrote to the Republican-controlled Senate. He never heard back, he says.
Instead, the state Senate hired a small Florida-based cybersecurity firm known as Ninjas that had not placed a formal bid for the contract and had no experience with election audits. Senate President Karen Fann says she can't recall how she found the firm, but her critics believe one credential stood out: Cyber Ninjas' chief executive officer had tweeted support for conspiracy theories claiming Republican Donald Trump, and not Democrat Joe Biden, had won Maricopa County and Arizona. https://apnews.com/article/donald-trump-arizona-business-technology-election-recounts-c5948f1d2ecdff9e93d4aa27ba0c1315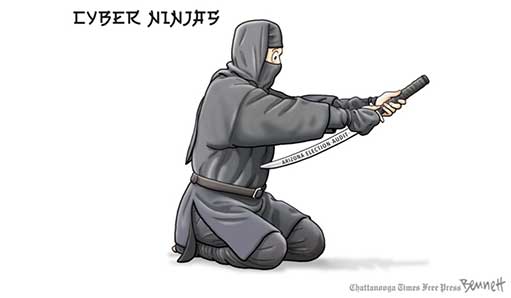 Conservatives have a new target: Biden's IRS plan
Add another obstacle to the growing list President Joe Biden faces in his negotiations over his massive spending plans: mounting opposition to one of the ways to pay for his proposal — growing the IRS.
Conservative groups have launched a campaign of TV ads, social media messages and emails to supporters criticizing the proposal to hire nearly 87,000 new IRS workers over the next decade to collect money from tax cheats.
They accuse the Biden administration of pushing for the IRS expansion as a way to raise taxes, increase dues paid to left-leaning unions, and increase oversight on political organizations, as happened with the rise of Tea Party groups during the Obama presidency.
The campaign further dampens already remote prospects for bipartisan negotiations. Biden and fellow Democrats have held out hope that the $80 billion proposal to crack down on tax evasion by high-earners and large corporations could be an area of agreement between the two parties, even if the GOP is skeptical about the amount it could raise.
The IRS said uncollected taxes in 2019 amounted to about $554 billion. But Chuck Rettig, the IRS commissioner who was appointed by President Donald Trump, said recently the figure could be as high as $1 trillion annually.
A Data for Progress poll from three weeks ago found that 60 percent, including 40 percent of Republicans, support increased IRS enforcement, while 29 percent opposed it. Biden touted the proposal when he met with the four congressional leaders at the White House on May 12. https://www.politico.com/news/2021/05/24/conservatives-biden-irs-hiring-490479
Trump is sliding toward online irrelevance. His new blog isn't helping.
On the Internet Donald Trump is sliding toward something he has fought his entire life: irrelevance.
Online talk about him has plunged to a five-year low. He's banned or ignored on pretty much every major social media venue. In the last week, Trump's website — including his new blog, fundraising page and online storefront ­— attracted fewer estimated visitors than the pet-adoption service Petfinder and the recipe site Delish.
Trump posts several times a day to the blog in the same rambling style that won him attention on Twitter for years, berating his enemies, cheering his cheerleaders and bemoaning how little credit he believes he gets: "Just a mention please!" he said last week in a post about vaccines. He still loudly opines on the day's news, writing recently that a "junky" racehorse's failed drug test was "emblematic" of how "the whole world is laughing at us as we go to hell." https://www.washingtonpost.com/technology/2021/05/21/trump-online-traffic-plunge/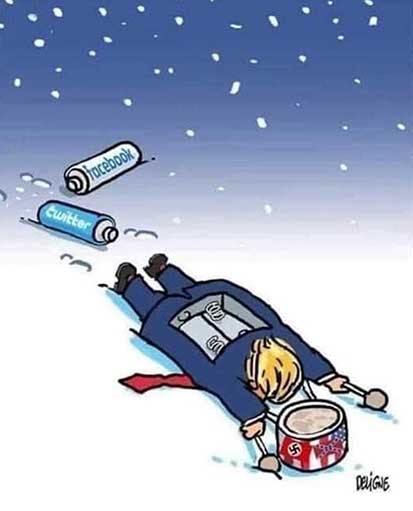 Polling places for urban voters of color would be cut under Texas Senate's version of voting bill being negotiated with House
The number of Election Day polling places in largely Democratic parts of major Texas counties would fall dramatically under a Republican proposal to change how Texas polling sites are distributed, a Texas Tribune analysis shows. Voting options would be curtailed most in areas with higher shares of voters of color.
A comparison of the Election Day polling locations that were used for the 2020 general election and what would happen under the Senate proposal shows a starkly different distribution of polling sites in Harris and Tarrant counties that would heavily favor voters living in Republican areas.
In Harris County — home to Houston, the state's biggest city — the formula would mean fewer polling places in 13 of the 24 districts contained in the county, all currently represented by Democrats. Every district held by a Republican would either see a gain in polling places or see no change. https://www.texastribune.org/2021/05/23/texas-voting-polling-restrictions/
What Barack Obama Really Thinks of Donald Trump
According to a new book, Battle for the Soul: Inside the Democrats' Campaigns to Defeat Donald Trump, in conversations with advisers and donors during the Trump administration and the 2020 election, former President Barack Obama called Donald Trump a "madman," a "racist, sexist pig," "that fucking lunatic" and a "corrupt motherfucker." Obama's feelings are well-known, but have rarely been reported in such blunt detail. https://www.theguardian.com/us-news/live/2021/may/19/house-commission-capitol-insurrection-politics-covid-coronavirus-biden-live
Trump Is Still Squeezing Money Out of Taxpayers
Donald Trump has continued a trend at the Mar-a-Lago Club that began during his time in the White House: charging the Secret Service for expenses accrued while protecting him.
According to a report from the Washington Post, Trump's Florida club and new residence has been charging the Secret Service $396.15 a night for a room for his security detail, beginning on January 20 when Trump left Washington, D.C., and Joe Biden was sworn in as president. The Secret Service released the information in response to a public-records request by the newspaper. Trump has charged the Secret Services through at least April 30, at which point they totaled $40,011.15 — an amount that will ultimately be footed by taxpayers.
A source familiar with the financials told the Post that the charges were for a single room that Secret Service agents used as a "workspace."
The Post has previously reported on Trump charging the U.S. government at least $2.5 million while in office, money that went to his company due to the former president's penchant for frequenting his own properties, such as Mar-a-Lago and his Bedminster, New Jersey, club.
The billionaire former president has found various other ways to continue using taxpayer funds in his post-presidency. This week, Insider obtained government records that show how Trump is making use of funding available to all presidents for six months after they leave office "for use in connection with winding up the affairs of his office," per the Presidential Transition Act. Trump is using this public money to employ at least 17 transition aides in Palm Beach, Florida, and Arlington, Virginia — including former White House aides Stephen Miller and Dan Scavino.
His team is also billing taxpayers for mundane office supplies, like a $74.89 plastic floor mat to go under Trump's desk chair. https://nymag.com/intelligencer/2021/05/trump-charged-secret-service-usd40k-in-post-presidency.html
Few plea bargains in U.S. Capitol riot cases as prosecutors stand firm
Nearly four months after the U.S. Capitol attack, just one of more than 440 people charged has pleaded guilty, a sign of tough conditions set by prosecutors for plea deals and resistance by defense lawyers to their demands.
"Lawyers for more than a dozen defendants said plea talks so far have foundered because prosecutors demanded their clients turn over social media data, cell phones and other evidence, while also pushing for prison sentences they would not accept."
Without evidence provided under plea bargains, federal prosecutors may have a harder time building cases against leaders of the violence on more serious charges such as conspiracy or violation of laws intended to fight organized crime. https://www.reuters.com/world/us/few-plea-bargains-us-capitol-riot-cases-prosecutors-stand-firm-2021-05-21/
What's Behind the New York Attorney General's Criminal Probe of the Trump Organization
The announcement by New York Attorney General Letitia James that her office is "actively investigating the Trump Organization in a criminal capacity" was greeted with a wave of nearly unanimous snap analysis that this spelled big trouble for former President Donald Trump and his company. But behind the scenes, many lawyers, including experienced prosecutors in New York, expressed confusion about what the move actually signifies.
The attorney general's spokesperson noted that the AG was investigating "along with the Manhattan D.A.," whose office has been conducting for some time a criminal investigation into whether Trump's company inflated the value of its properties to obtain loans and lowered the values to limit its tax burden. Rather than a new, independent investigation into similar matters, the announcement was more of a combining of resources. Members of the AG's staff have been named as "special assistant district attorneys" and will be working as part of District Attorney Cyrus Vance Jr.'s team. For that reason, it might have been more accurate to say that her team is assisting the DA's already underway investigation.
This announcement was not merely stylistic, however. It represents a serious commitment by James to go all-in on the DA's criminal investigation. James is a politician who holds elective office, and her high-profile announcement ensures that she will share in the credit or the blame for the outcome of this investigation. https://www.politico.com/news/magazine/2021/05/20/whats-behind-the-new-york-attorney-generals-criminal-probe-of-the-trump-organization-489866
54 More Migrant Children Reunited with Parents
In the last month, lawyers working to reunite migrant families separated at the southern border during the Trump administration were able to connect 54 more children with their parents,
Now the parents of 391 children have yet to be reached, down from 445 in April. And pro bono lawyers commissioned to find them by a federal judge say the parents of 227 of those children have been deported, 100 are somewhere in the U.S. and 14 have no contact information that the government has provided. NBC News reports. https://www.nbcnews.com/politics/immigration/lawyers-find-parents-54-more-migrant-children-families-separated-under-n1267974
Inspired by Arizona recount, Trump loyalists push to revisit election results in communities around the country
The ramifications of Trump's ceaseless attacks on the 2020 election are increasingly visible throughout the country: In emails, phone calls and public meetings, his supporters are questioning how their elections are administered and pressing public officials to revisit the vote count — wrongly insisting that Trump won the presidential race.
I think there is clearly a justification to do that type of audit that they're doing in Maricopa County. That's what I wanted to see done here," said Ken Eyring, a local activist in Windham who recently appeared at a rally with former Trump campaign manager Corey Lewandowski. Eyring said his only goal is to make sure Windham's machines are accurate.
Behind the scenes, a loose network of lawyers, self-styled election experts and political groups is bolstering community efforts by demanding audits, filing lawsuits and pushing unsubstantiated claims that residents are echoing in public meetings. Much of it is playing out in largely Republican communities, where Trump supporters hope to find officials willing to support their inquiries.
https://www.washingtonpost.com/politics/trump-false-claims-fallout/2021/05/19/87aeacc4-b7f9-11eb-a6b1-81296da0339b_story.html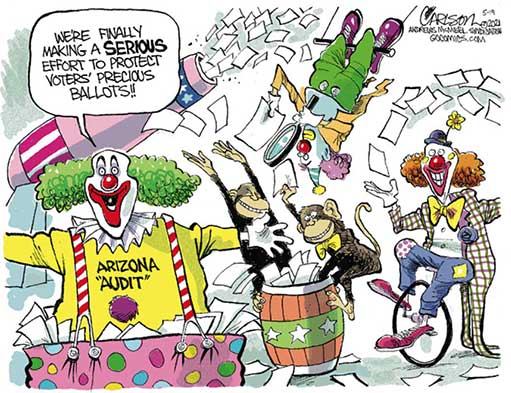 GOP eases path for Trump to pursue casino license
Florida legislators approved a legislative package Wednesday that will dramatically expand gambling in the state and sets the stage for former president Donald Trump to pursue a casino license at his Doral golf resort.
The deal negotiated by Gov. Ron DeSantis bars Seminole Tribe from opposing a casino at former president's ailing Doral resort. https://www.washingtonpost.com/business/2021/05/19/trump-casino-florida-desantis/
Paul Ryan to Hold Fundraiser for Adam Kinzinger
Former House Speaker Paul Ryan, a Republican from Wisconsin, headlines a fundraiser Monday for Rep. Adam Kinzinger. It's a decisive move against ex-President Donald Trump, who has set his sights on Republicans who voted to impeach him.
Kinzinger is one of 10 Republicans who joined Democrats to impeach Trump for his role in the Jan. 6 attack on the Capitol. The Illinois Republican has continued to carry the anti-Trump mantle and it's no surprise that Ryan would back Kinzinger.
Ryan, who's had a long-running feud with Trump, criticized Republicans who wouldn't certify the Electoral College results that validated Joe Biden's election as president. https://www.politico.com/newsletters/illinois-playbook/2021/05/21/illinois-goes-it-alone-for-now-a-lightfoot-interview-paul-ryan-headlines-for-kinzinger-492957
Chief Justice John Roberts: From key swing vote to potential bystander?
"In an unbroken line dating to Roe v. Wade, the Supreme Court's abortion cases have established (and affirmed, and reaffirmed) a woman's right to choose an abortion before viability," Judge Patrick Higginbotham wrote for the U.S. Court of Appeals for the 5th Circuit.
The Supreme Court has long declined to take on such cases, often falling back on the precedent set by previous decisions. 
 Under Roberts, even with a 5-4 conservative majority after Trump's first two nominees, Neil M. Gorsuch and Brett M. Kavanaugh, were confirmed, the court seemed reluctant to take on big, landmark cases — and certainly to challenge precedent on politically sensitive issues. It has been suggested that Roberts aimed to make the court appear less political by avoiding those sensitive issues. Some conservatives have even said he lacks the will to address issues such as abortion at all. But such things could increasingly be out of his hands.
Roberts's status as a key swing vote was solidified by the 2012 decision he wrote upholding the Affordable Care Act's constitutionality, in which the individual care mandate was preserved as a tax, a decision that infuriated conservatives.
But his supposed efforts to depoliticize the court were blunted by Barrett's appointment. In a 6-3 court, Roberts is no longer a swing vote. Even if he were to side with the liberal-leaning justices, they could be outvoted 5-4.
This isn't the first case that has seemingly made Roberts's vote potentially less potent — but it has the potential to be the most high-profile (though we have no idea what the court will do with it).
s. https://www.washingtonpost.com/politics/2021/05/20/chief-justice-john-roberts-key-swing-vote-potential-bystander/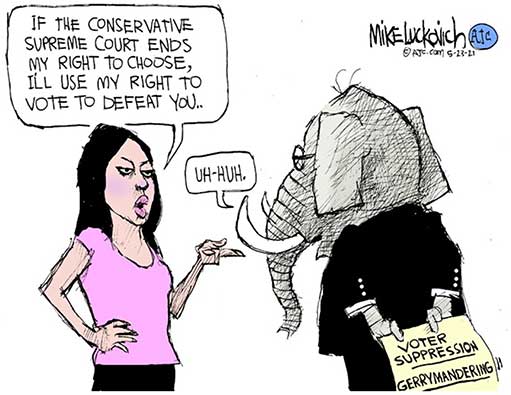 Republicans say January 6 probe is redundant, but here's what we still don't know
Despite all of the previous congressional hearings, the reporting and the impeachment proceedings regarding the Jan. 6 Capitol attack, there's always been a crucial missing piece from that day.
That missing part? An official accounting of Donald Trump's actions on Jan. 6, especially once he returned to the White House after addressing his rallied supporters. https://www.nbcnews.com/politics/meet-the-press/republicans-say-jan-6-probe-redundant-here-s-what-we-n1267902
The DAILY GRILL
Sen. Cruz  retweeted a video Thursday that featured Cpl. Emma Malonelord, an air defense system operator stationed in South Korea. mocked her as representative of an "emasculated military," tweeting: "Holy crap Perhaps a woke, emasculated military is not the best idea." https://twitter.com/tedcruz/status/1395394254969753601

VERSUS

"For what it's worth, I met this Corporal a few months ago during a routine unit visit, tweeted Gen. Robert Abrams. "A superstar by any measure. Exceptionally sharp, professional, technical expert, highly respected by her peers, superiors and subordinates."  https://www.stripes.com/news/army/army-leaders-praise-superstar-soldier-after-sen-ted-cruz-criticizes-her-recruitment-video-1.674213

 

Perhaps a woke, emasculated military is not the best idea. — Ted Cruz sharing Russian propaganda videos. https://twitter.com/tedcruz/status/1395394254969753601

VERSUS

Holy crap. Perhaps a U.S. Senator shouldn't suggest that the *Russian* military is better than the American military that protected him from an insurrection he helped foment? — Tammy Duckworth https://twitter.com/TammyDuckworth/status/1395523155477860353

 

GOP Sen. Mike Rounds tells me he wants a bipartisan commission focused on just 1/6 — and that if other issues need to be investigated they can decide that later. "We clearly had an insurrection on that particular day, and I don't want it to be swept under any rug," he says. https://twitter.com/sahilkapur/status/1394708368388919296

VERSUS

Rounds says his thinking changed after hearing from McCarthy at this morning's GOP breakfast. "Leadership in the House says it's not bipartisan in nature," he tells reporters. https://twitter.com/igorbobic/status/1395053366007537667

 

"We are witnessing absolute banana republic crap in the United States Capitol right now. Donald Trump, you need to call this off." -- Rep. Mike Gallagher (R-WI) https://twitter.com/RepGallagher/status/1346912246291603465

VERSUS

Mike Gallagher was one of the 175 Republicans opposed the bipartisan commission to investigate the Jan. 6 attack.  https://www.jsonline.com/story/news/politics/2021/05/19/jan-6-commission-all-5-wisconsin-republican-congressmen-vote-no/5169864001/
Tom Nichols: The Republican Party Is Now in Its End Stages
We are living in a time of bad metaphors. Everything is fascism, or socialism; Hitler's Germany, or Stalin's Soviet Union. Republicans, especially, want their followers to believe that America is on the verge of a dramatic time, a moment of great conflict such as 1968—or perhaps, even worse, 1860. (The drama is the point, of course. No one ever says, "We're living through 1955.
Ironically, the GOP is indeed replicating another political party in another time, but not as the heroes they imagine themselves to be. The Republican Party has become, in form if not in content, the Communist Party of the Soviet Union of the late 1970s.
I can already hear the howls about invidious comparisons. I do not mean that modern American Republicans are communists. Rather, I mean that the Republicans have entered their own kind of end-stage Bolshevism, as members of a party that is now exhausted by its failures, cynical about its own ideology, authoritarian by reflex, controlled as a personality cult by a failing old man, and looking for new adventures to rejuvenate its fortunes. https://www.theatlantic.com/ideas/archive/2021/02/the-republican-party-is-now-in-its-end-stages/618132/
Bess Levin: Trump's Inner Circle Is Reportedly Soiling Itself At The Likelihood Of Criminal Charges, As It Should Be
As you've no doubt heard by now, on Tuesday, The Washington Post broke the news that the Manhattan district attorney has convened a grand jury to hear evidence against Donald Trump. According to legal experts, this is a major development in Cyrus Vance Jr.'s criminal investigation; as former assistant district attorney Rebecca Roiphe told the Post, it's unlikely that Vance's office would have taken such a step without believing it can prove Trump, the Trump Organization, or a Trump Organization executive committed a crime. "The prosecutors are convinced they have a case," Roiphe said. "That's at least how I read it." As former U.S. attorney Preet Bharara told CNN, "It's significant…they must have come across some evidence as to somebody's state of mind. That the misconduct they were investigating does not seem to be the product of negligence or recklessness or mistake but intentional criminality." And as a result, people surrounding the ex-president are said to be more than a little freaked out, as they probably should be!
According to Politico Playbook, which spoke to members of "Trump world" after the news came out, "There's definitely a cloud of nerves in the air." One adviser told the outlet that while Trump is no stranger to legal issues, this situation feels different, in part because prosecutors are pressuring Trump Organization CFO Allen Weisselberg, who's described himself as Trump's "eyes and ears" at the company, to flip. "I think the Weisselberg involvement and the wild card of that makes the particular situation more real, because there's no sort of fluff and made-up fictional circumstances around the guy," an adviser told Politico. "The fact that they're dealing with a numbers guy who just has plain details makes people more nervous. This is not a Michael Cohen situation." https://www.vanityfair.com/news/2021/05/trump-inner-circle-grand-jury-panick
Doyle McManus: How Mitch McConnell and the GOP perfected the politics of 'No!'
Groucho Marx isn't often hailed as a political oracle. But you can't tell me he wasn't channeling the future Sen. Mitch McConnell of Kentucky in 1932, when he sang:
Your proposition may be good,
But let's have one thing understood:
Whatever it is, I'm against it.
And even when you've changed it or condensed it — I'm against it!
That pretty well sums up how the Republican leader of the World's Greatest Deliberative Body has greeted almost every proposal from the Biden administration. https://www.latimes.com/politics/story/2021-05-26/senate-republicans-and-democrats-say-they-want-to-make-bipartisan-deals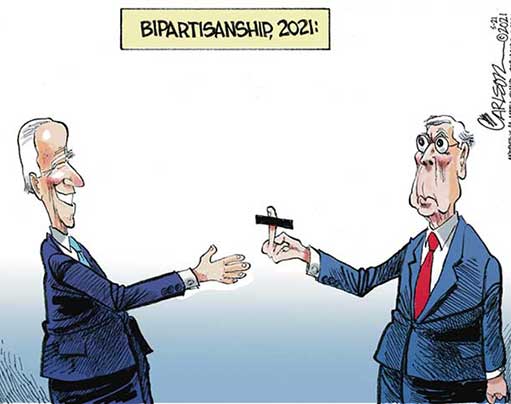 David Brooks: Has Biden Changed? He Tells Us.
What happened to Joe Biden? Many people thought he was a moderate incrementalist, but now he's promoting whopping big legislative packages that make many on the progressive left extremely happy.
I asked him that when I spoke on the phone with him this week. The answer seems to be — it's complicated.
The values that drive him have been utterly consistent over the decades, and the policies he is proposing now are similar to those he's been championing for decades.
It's the scale that is gigantically different. It's as if a company that was making pleasure boats started turning out ocean liners. And that's because Biden believes that in a post-Trump world we're fighting not just to preserve the middle class, but to survive as the leading nation of the earth.
"The risk is not trying to go big," Biden said. "If we stay small, I don't know how we change our international status and competitive capacity."
The Biden administration has broken with the thinking that dominated the Clinton and Obama administrations in other ways as well, though it's not clear how much of this is driven by Biden and how much by the team around him. As Ronald Brownstein noted in The Atlantic, for years the dominant Democratic view was that wages would rise if you gave people more skills and education. The dominant Biden era view is that you also have to give people more union bargaining power to balance corporate power. For years Democrats predominantly believed you could help Black Americans if you designed colorblind policies aimed at the working class. Now Biden officials are more likely to believe you have to create race-conscious policies that explicitly benefit Blacks.
Biden hasn't really changed; he's just doing everything bigger. https://www.nytimes.com/2021/05/20/opinion/joe-biden-david-brooks-interview.html
Amy Davidson Sorkin: The G.O.P. Looks for New Ways to Ignore the Capitol Riot
Illustrating the breach between the parties—and between the G.O.P. and reality—Rep. Val Demings, who had served as the police chief of Orlando, spoke about how "insurrectionists" had "attacked, bear-sprayed, and beaten down" officers defending the Capitol. "We need answers," she said. "We need accountability." To get both, she added, "we need an independent commission, and a vote against it is a vote for a coverup." There is a great deal about the events of January 6th that remains blurry or contested, from how supporters of Donald Trump listening to him speak at a rally that day were channelled into a militia-like mob to the response at the Pentagon. The aim of the assault was a disruption of the electoral-vote tally—which could also be described as an attempted coup.
The alibi for opposing the commission that McConnell seems to have fixed on is that there are a lot of other investigations under way: prosecutions of alleged members of the mob (more than four hundred have been charged), various committee oversight hearings (studying, for example, how security might be improved going forward), and witnesses asked to give accounts in one forum or the other. But the multifarious state of the reckoning is very much an argument for a commission. Pieces of the story might emerge in this courtroom or that committee chamber, but they need to be brought together in a useful way. As Demings put it, we need answers, not just a proliferation of questions. Under the bill, the commission would be directed to submit its report by December 31st, giving it a focus; it is also supposed to come up with "recommendations to prevent future attacks on our democratic institutions." Whatever measures those might be should be deliberated openly, in the spotlight that a commission would provide—not cobbled together in different Cabinet departments or pieces of legislation, or neglected entirely.
It is a measure of how far the Republican Party has gone that the thirty-five House G.O.P. votes in favor of creating the commission seemed, by some measures, a lot. It was more than triple the number (ten) who had voted to impeach Trump, but the actions are hardly comparable—this is a bipartisan commission, not an action that could have ended in barring a former President from running again. Before Wednesday's vote, Trump (whose own legal problems are multiplying) put out a statement saying that the commission would be "just more partisan unfairness and unless the murders, riots, and fire bombings in Portland, Minneapolis, Seattle, Chicago, and New York are also going to be studied, this discussion should be ended immediately." After the vote, he put out another statement, decrying what he called "35 wayward Republicans." Trump warned, "Sometimes there are consequences to being ineffective and weak." That admonition might be better directed at his G.O.P. enablers, who are preserving, and even promoting, his fantasy that the 2020 election was stolen. They can't wanly pretend that January 6th never happened and then be surprised by what Trump and his supporters—or some future version of Trump—might come up with next. And they can't cover up what their party has become. https://www.newyorker.com/news/daily-comment/the-gop-looks-for-new-ways-to-ignore-january-6th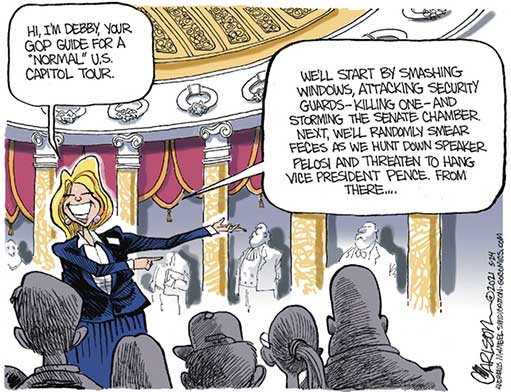 Alexandra Petri: Arizona's election audit is a disaster. Hire my company to audit it.
Well, I see your problem right here! It is not that the chaotic audit that Arizona is currently undergoing is the work of hucksters and mountebanks who are trying to scan the for "kinematic artifacts" (what is a kinematic artifact? "Citizen Kane"?). That is certainly happening, but the solution is not to stop it or for the state legislature to hang its head in shame.
The solution is this: For a small fee of another $150,000 plus whatever amount assorted Trump supporters want to throw in, I, an expert auditing auditor, will audit your audit, Arizona! You know what they say — when you are dug into a deep and mortifying hole, keep digging! The only way out is through!
Yes, your audit is a national embarrassment, pouring fuel on the fires of conspiracy and also making it look like your state is being taken advantage of! That is why you need to hire someone to audit it. This will let the world know that your state is no one's fool. If you need any references, here is a list of names that are visible only to people who are running a state well and competently. Call any of them! Don't hesitate! https://www.washingtonpost.com/opinions/2021/05/21/arizonas-election-audit-is-disaster-hire-my-company-audit-it/
Alexandra Petri: The Grand Orwell Party
Hello, Republicans! By the time you are reading this, Liz should no longer be in leadership — she has been justly punished for trying to proclaim a reality different than the Party's reality! Soon she will be returned to Memory Hole, Wyo.
Do you still remember the events of Jan. 6? Think carefully. Was there an insurrection or were there "peaceful patriots" who are now being needlessly harassed by the Justice Department? Do you remember smashed windows and screams, or do you remember some tourists having a normal day? If you can remember anything going wrong that was not the fault of the Russia investigation, then you are still seeing four fingers instead of the requisite five, and you should turn yourself in before they come for you!
Be certain to enjoy your New McCarthyism update! Old McCarthyism was cumbersome. Instead of being a system where people are groundlessly removed from their posts and cast into suspicion by virtue of someone's big lie, it is a system where people are removed from their posts and cast into suspicion by virtue of NOT subscribing to someone's big lie. Much more streamlined, without all those annoying lists! "I don't think anybody is questioning the legitimacy of the presidential election," New (Kevin) McCarthy explains. Of course not. He is not calling into question the legitimacy of the election — he is just punishing those who don't!
If you experience any discomfort, don't worry about it! Your mind is simply accommodating itself to the new contours of what you are choosing to accept as reality. What would you prefer, to say that you see Donald Trump winning the election in the face of devious rigging, or really to see it? Do not answer that. That question implies that there is more than one version of reality you could see, and acknowledging that could cost you!
The elephant that is the emblem of your party has now been replaced with a different elephant with a shorter memory. It was just getting to be too much for the original one; he lay awake screaming and screaming. He remembered everything. https://www.washingtonpost.com/opinions/2021/05/12/grand-orwell-party/
Perry Bacon Jr.: American democracy is in even worse shape than you think
By far the biggest problem is the Republican Party. Presented with a clear chance to move on from Trumpism after the Jan. 6 attack on the Capitol, the GOP has instead continued its drift toward anti-democratic action and white grievance. The future looks scary. A Republican-controlled House could attempt to impeach Biden in 2023 and 2024 on basically any pretext, as payback for Trump's two impeachments. If Republicans win the governorships of Michigan, Pennsylvania and Wisconsin next year, taking total control in those key swing states, they could impose all kinds of electoral barriers for the next presidential election. The Republicans are laying the groundwork to refuse to certify a 2024 Democratic presidential victory should the GOP hold a House majority.
"The radicalization of the Republican Party has outpaced what even most critical observers imagined," Georgetown University historian Thomas Zimmer told me. "We need to grapple with what that should mean for our expectations going forward and start thinking about real worst-case scenarios."
The Republican path wouldn't matter too much if it seemed like voters were going to punish them. But the GOP appears unlikely to suffer an electoral backlash because of our second, huge problem: America appears intractably polarized into Team Blue and Team Red.
Moderate Democrats and anti-Trump Republicans either don't appreciate the direness of the situation or don't care. Democratic Sens. Joe Manchin III (W.Va.) and Kyrsten Sinema (Ariz.) seem to value their reputations as being bipartisan more than protecting the voting rights of people who look like me. Republican Sen. Mitt Romney's (Utah) response to a law clearly designed to make it harder for liberal-leaning people in Georgia to cast ballots was to criticize … the media for covering the law too harshly.
I hope I am overly alarmed about all of this. But I don't think I am. Perhaps democracy dies faster in darkness. But it could also die slowly in the light, as all of us watched but didn't do enough to save it. https://www.washingtonpost.com/opinions/2021/05/20/american-democracy-is-even-worse-shape-than-you-think/
Perry Bacon Jr.: Dangerous identity politics of anti-Trump Republicans
I'm pretty sure that people such as Bush, Cheney and Romney know that the pre-Trump Republican Party isn't coming back. They can see that the GOP of 2021 is less about keeping the government small than, say, making it harder for Democratic-leaning Americans to vote and stopping Americans from learning about the lingering effects of slavery.
But none of them are taking steps that will effectively challenge Trumpism. After being ousted from her House leadership post, Cheney plans to raise money and campaign for anti-Trump Republicans in GOP primaries. That isn't going to work, because most rank-and-file GOP voters back Trump-ish policies and rhetoric, including the "big lie." Still, Cheney's strategy isn't as cowardly as voting for Condoleezza Rice in 2020 (Bush), saying you won't vote for Trump but not endorsing Joe Biden (Romney) or voting for Trump and then complaining about him on your book tour (former House speaker John A. Boehner). https://www.phillytrib.com/commentary/perry-bacon-jr-dangerous-identity-politics-of-anti-trump-republicans/article_d19b9b17-cbba-563a-a857-aba441f05b90.html
Michael Scherer and Josh Dawsey: Republicans struggle to define a new governing coalition as Trump closes grip on party
Aggravation and drama have defined the Republican Party since Trump left office. In just the past two weeks, Republican leaders have punished his enemies, continued to pursue a revisiting of the election results and, on Capitol Hill, opposed bipartisan efforts to create a commission to investigate the Jan. 6 insurrection there. A few members expressed concern for those who broke into the building where they work.
A new generation of Trumpist acolytes — such as Missouri attorney Mark McCloskey, who became famous for drawing a gun on Black Lives Matters protesters — have announced their intention to run for high office with a set of Trump issues that motivate them. McCloskey has announced plans to run for the Senate.
The moves pose a threat to the party's efforts to reclaim moderate, largely college-educated voters who were turned off by Trump, while muddying an attempt to shift the national focus to the less popular parts of Democratic policies.
They also mark a continued repudiation of the orthodoxy that last restored Republicans to power and governed the party for two generations.
Republican leaders have been alarmed by GOP-leaning voters moving away from the traditional conservative political conversation. Some even showed early support for parts of President Biden's policy agenda, including another round of government checks for Americans, which Trump also supported, and plans for a massive infrastructure spending bill paid for with tax increases.
That has left Republicans wrestling to merge their past revolutions with their current one.
"How do we marry the Party of Reagan with the Party of Trump?" said Rep. Jim Banks (R-Ind.), one of the party's most influential new strategists, when asked about the focus of the Republican Study Committee, a conservative caucus of lawmakers he leads. https://www.washingtonpost.com/politics/republicans-struggle-to-define-a-new-governing-coalition-as-trump-closes-grip-on-party/2021/05/23/07bce926-b98a-11eb-96b9-e949d5397de9_story.html
Eric Lutz; The Republicans Who Backed Trump's Election Lies Are Hatching A Plot To Take Over
Donald Trump put United States democracy through a grueling stress test in the last election, forcing Americans to consider all sorts of chilling "what if" questions and underscoring how little a process that relies heavily on the honor system can constrain someone who has none. It's tempting to view the fact that the country passed—Trump eventually did leave office and Joe Biden took his place—as a testament to the strength of our institutions. To some extent, it was. But the fate of those institutions depends on the people who comprise them, and it's possible they could have fared worse were it not for several key officials who resisted Trump's demands.
Indeed, what would have happened to Biden's victory in Georgia had Brad Raffensperger, a pro-Trump conservative, not stood his ground and declined to "find" 12,000 votes for the incumbent? What if election officials in places like Pennsylvania and Arizona hadn't won out over the will of Trump and GOP state legislators, who insisted, without basis, that the vote had been marred by fraud? Could Trump's relentless attempt to undo his loss have worked?
Republicans are trying to answer those questions in the lead-up to the 2022 midterms and the 2024 general. In addition to passing laws making it harder to vote and redrawing maps to dilute the impact of their opponents' voters, the party's powerful MAGA wing is seeking to oversee the voting process itself, with several proponents of Trump's Big Lie running to replace election officials in key states. Representative Jody Hice, who voted to object to Biden's victory after the January 6 Capitol attack, is running for secretary of state in Georgia. Mark Finchem, a state representative who is supporting the partisan Maricopa County audit, is seeking the same position in Arizona. Kristina Karamo, who challenged the results of the election in Michigan, is running for secretary of state there. "Someone who is running for an election administration position, whose focus is not the rule of law but instead 'the ends justify the means,' that's very dangerous in a democracy," Bill Gates, Republican vice chair of the Maricopa County board of supervisors, told Politico Monday. "This is someone who is trying to tear at the foundations of democracy."
It's unclear if they'll be able to do so. But the class of candidates raises the disturbing possibility that Trump allies openly hostile to democracy could soon oversee one of the most integral parts of it. The process worked in 2020 because enough election officials, including Republicans, did not give in to Trump's demands. It would be hard to overstate the danger of that process winding up in the hands of Trumpers who have made clear they'd go to bat for him. https://www.vanityfair.com/news/2021/05/the-republicans-who-backed-trumps-election-lies-are-hatching-a-plot-to-take-over
Doyle McManus: Forgetting the Jan. 6 attack
It may seem impossible to imagine now, but there was a time not long ago when Kevin McCarthy and Mitch McConnell were angry with Donald Trump.
It was just after the invasion of the Capitol by a pro-Trump mob on Jan. 6.
"The president bears responsibility," McCarthy (R-Bakersfield), the Republican leader in the House, said back then.
"The mob was fed lies," McConnell (R-Ky.), the Senate Republican leader, said. "They were provoked by the president."
That was then; this is now.
Last week, McCarthy and McConnell joined forces again — but this time it was in an effort to protect Trump from the indignity of facing a bipartisan investigation into the events of Jan. 6, including his encouragement of the mob.
What turned the GOP's understandably furious leaders of January into the meek, evasive men they are today?
Donald Trump, of course. After a few months of relative silence, the former president has reemerged as the GOP's dominant national figure, mostly by attacking any dissident Republican rash enough to defy him. Last week, Trump denounced the idea of a Jan. 6 commission as "a Democrat trap."
And polling shows he's got most GOP voters firmly on his side. A University of Massachusetts poll last month found that only 7% of Republican voters blame the former president for the Jan. 6 riot. So who was at fault? An astounding 31% blame the Democratic Party, and 22% blame the leftist antifa movement — testimony to the mind-bending effects of political polarization.
Those poll numbers have crushed whatever remnant of backbone Republican leaders previously displayed and made support for any investigation into whether Trump helped incite the riot look dangerous. https://enewspaper.latimes.com/infinity/article_share.aspx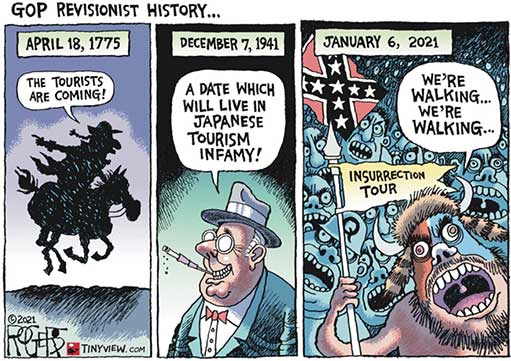 Stuart Rothenberg: Still in trouble … and getting worse. Rule of law, commitment to democracy in question
Trump and his loyal followers have continued to undermine the 2020 presidential election's outcome, insisting that Democrats "stole" it and minimizing events in and around the Capitol on Jan. 6.
In fact, it was the former president and his allies who tried to steal the election, pursuing a variety of scenarios in individual states and in Washington, D.C., in their efforts to deny Joe Biden his presidential victory.
In addition, GOP-controlled state legislatures are making every effort to disadvantage Democratic voters in future elections, and the Arizona state Senate continues to pursue a partisan "audit" to "prove" Trump won the state.
Republican senators regarded as institutionalists — including Ohio's Rob Portman, Pennsylvania's Patrick J. Toomey, Missouri's Roy Blunt and North Carolina's Richard M. Burr — are heading for the exits.
At the same time, House GOP extremists such as Florida's Matt Gaetz, Alabama's Mo Brooks and Georgia's Marjorie Taylor Greene and Andrew Clyde echo Trump's untruths and try to rewrite history, much as Soviet dictator Joseph Stalin did. https://rollcall.com/2021/05/25/republicans-trump-democrats-still-in-trouble-and-getting-worse/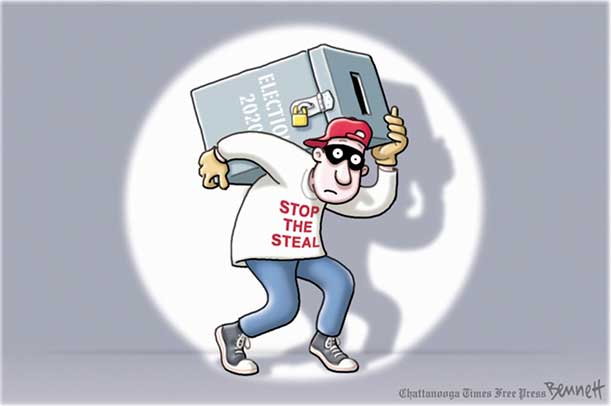 Michelle Cottle: Hail Kevin McCarthy, People Pleaser and Trump Appeaser
Representative Kevin McCarthy, the House Republican leader, is frequently derided as a weak, hollow, craven, opportunistic, transactional, nakedly ambitious political animal with no core principles.
Last week, he set heads shaking by announcing his opposition to the bill establishing a bipartisan commission to investigate the Jan. 6 sacking of the U.S. Capitol. The legislative negotiations had been led on the Republican side, reportedly at Mr. McCarthy's explicit request, by Representative John Katko of New York. But Mr. McCarthy and his leadership team urged members to reject the deal, leaving Mr. Katko twisting in the wind. The plan passed on Wednesday. Thirty-five Republicans supported it, in what was viewed as a rebuke of Mr. McCarthy.
Some in the G.O.P. conference are asking: What kind of leader dispatches one of his troops to make a deal, then abandons and humiliates him over a bill that's going to pass anyway? The most obvious answer: a pathetic one. https://www.nytimes.com/2021/05/23/opinion/kevin-mccarthy-trump-republicans.html