June 23, 2022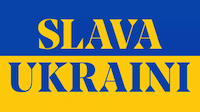 If you have a friend, family member, or neighbor who would like to subscribe to this FREE weekly newsletter they should simply email jellison@san.rr.com with "subscribe" as the subject.
THE WEEK'S BEST QUOTES. . .
"This is going to be a massive blowout like 1932. You're witnessing, right now, a political realignment like 1932. And we will govern for 100 years after we win 100 seats." — Steve Bannon, taking questions from reporters.
"Look, it looks like you're better now, your neck was on a hinge for four years and just nodding up and down from January 20 to January 6 of, you know, 2021. So I'm glad to see you're better."  — Chris Christie (R), telling Fox News what he would say to Mike Pence if they shared a presidential debate stage in 2024.
"You can't teach them differently. I don't think of myself in any way as a racist." — New York congressional candidate Carl Paladino (R) who told a radio host in late 2016 that Black Americans were kept "dumb and hungry" so they could be conditioned to only vote for the Democratic Party, saying,
"I think it's been very clear for a very long time that I work with people who wish me harm. Who wish me physical harm, who wish me political harm, who wish me harm. And it's not just Rep. Loudermilk. You have many members of Congress who have specifically used my name to incite violence. And this has been happening well before the 6th." — Rep. Alexandria Ocasio Cortez (D-NY) on the video of Rep. Barry Loudermilk's (R-GA) tour the day before the Capitol attack.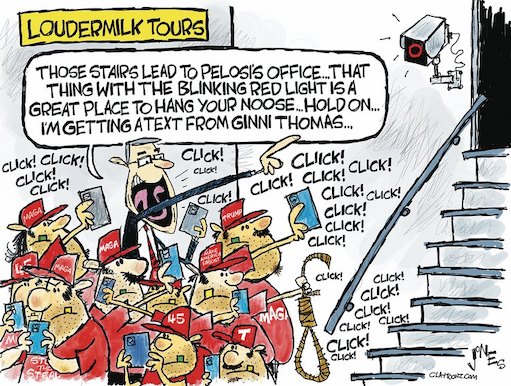 "A stake was driven through the heart of American democracy on January 6, 2021, and our democracy today is on a knife's edge." — Retired Judge J. Michael Luttig, in prepared testimony to the January 6 Committee.
"Most people should not be treated the way they're being treated, and if I become president someday, if I decide to do it, I will be looking at them very, very seriously for pardons," — Trump, falsely claiming that "most" of those arrested for the events of Jan. 6 were charged with nothing more than "parading through the Capitol."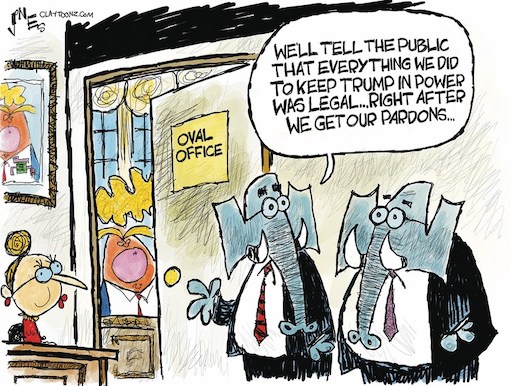 "We are standing on the precipice of losing our democracy." — Hillary Clinton.
"Right now, I'm for Biden, and second I'm for Harris — that's one and two on the ticket, but that's one and two in my heart as well. … So I don't care who goes to New Hampshire or Iowa, I'm for Biden and then I'm for Harris — either together or in that order."
— House Majority Whip James Clyburn (D-SC).

"There is violence in the future, I'm going to tell you. And until we get a grip on telling people the truth, we can't expect any differently." — Rep. Adam Kinzinger (R-IL)

"Trump being front and center could affect GOP gains in the House by five seats or so…. But it could really affect the Senate, which could end up 50/50 again based on how the seats are looking." — GOP strategist Jeff Burton on the impact of Donald Trump announcing a 2024 presidential bid before the midterm elections.

"Look at the Great State of Texas and their powerful Republican Party Platform on the 2020 Presidential Election Fraud. After much research and study, they disavow the national result for President." — Donald Trump applauding the Texas Republican Party's proposed platform that declares President Biden "was not legitimately elected.

"The more we learn from the January 6 committee, the more it becomes obvious that the Senate's inability to convict Trump in February 2021 was a failure of historical proportions." — Political scientist Alex Garlick

During these hearings, I urge all Americans not to be distracted by politics. This is serious. We cannot let America become a nation of conspiracy theories and thug violence. — Rep. Liz Cheney

Sen. Ron Johnson: "I'm on the phone right now."Reporter: "No you're not. I can see your phone. I can see your screen." — Sen. Ron Johnson (R-WI) faking a phone call to avoid answering questions.
VIDEOS
Jesus Christ didn't have enough AR-15 assault rifles to "keep his government from killing him." — Rep. Lauren Boebert (R-CO) at a Christian conference.
"Join the MAGA crew, get a RINO hunting permit. There's no bagging limit, no tagging limit, and it doesn't expire until we save our country." — Missouri U.S. Senate candidate Eric Greitens (R) new ad calling for people to hunt down Republicans who aren't loyal to Donald Trump. It shows Greitens with men wearing tactical gear breaking into a house, throwing down flash bangs and pointing their guns around. The ad speaks to how fundamentally broken our political system is.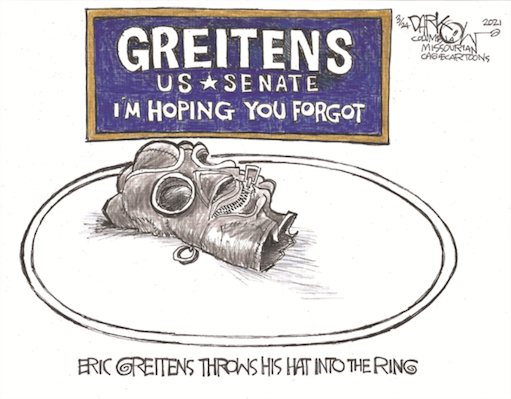 Rep. Adam Kinzinger
tells tells George Stephanopoulos about a threat recently mailed to his house that targeted him, his wife and their 5-month-old child.
LITIGATION TRACKER
Pending Criminal and Civil Cases Against Donald Trump. https://www.justsecurity.org/75032/litigation-tracker-pending-criminal-and-civil-cases-against-donald-trump/
---
IN THIS ISSUE
IN THE NEWS
OPINION
Andy Borowitz: John Eastman Considering Applying to Law School
John Eastman has announced that he is "seriously considering" going to law school, in what he described as the pursuit of a lifelong dream.
The embattled Eastman said that the idea of applying to law school first occurred to him while being deposed by the January 6th committee.
"As I was taking the Fifth Amendment a hundred times, I realized there must be at least four other amendments, and possibly more than that," he said. "I started wondering what those amendments were."
Eastman said that attending law school would "be a ton of work" but would probably make him a better lawyer. "Everything I know about law I learned at Trump University," he revealed.
https://www.newyorker.com/humor/borowitz-report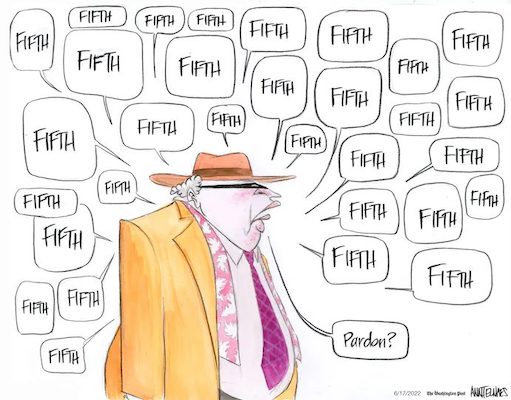 Paxton Suggests Mass Shooting Was Part of God's Plan
Texas Attorney General Ken Paxton (R) "made another in a string of tone deaf media appearances in the wake of the Uvalde, Texas school shooting," this time telling a conservative radio host that while it's difficult for him to offer comfort to the parents of the 19 students killed at Robb Elementary School, he believes "God always has a plan."
Said Paxton: "If I had the opportunity to talk to the people I'd have to say, look, there's always a plan. I believe God always has a plan. Life is short no matter what it is." -- Read more in the
Houston TX Chron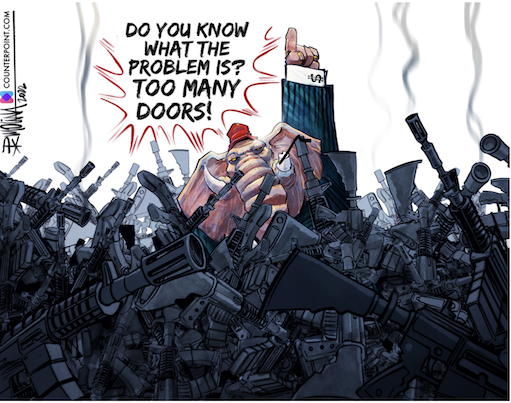 Trump Proves the Jan. 6th Committee's Point. He's basically a witness against himself
Since the panel began its public hearings, Trump has responded by insisting the election was stolen from him, that former Vice President Mike Pence really had the power to keep Trump in office, and that Jan. 6th rioters are being unfairly prosecuted.

All of which underscores the committee's central point that the threat to democracy continues as Trump and his supporters still deny the outcome of the 2020 election and what took place on Jan. 6th. Trump may not be testifying to the committee, but his public reaction to the committee's work should not be ignored.

What Trump is saying basically makes him a witness against himself. -- The Bulwark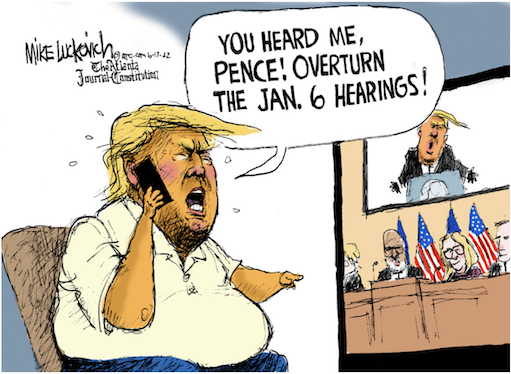 House GOP Leadership to Vote Against Gun Deal
House Minority Leader Kevin McCarthy and Minority Whip Steve Scalise told House Republicans during a closed-door conference meeting that they will oppose the gun control agreement, which a bipartisan group of Senate negotiators unveiled Tuesday night. — Politico
Supply Issues Account for Half of Surge in U.S. Inflation
Supply constraints, exacerbated by Russia's war in Ukraine this year, account for about half of the surge in US inflation, with demand currently making up a third of the increase, according to new research from the Federal Reserve Bank of San Francisco. —
Bloomberg
Experts Consider Trump One of the Worst Presidents
A new poll finds that 141 presidential scholars rank Franklin D. Roosevelt, Abraham Lincoln, George Washington, Theodore Roosevelt and Thomas Jefferson as the country's top five presidents.
For the second time, scholars include Donald Trump along with Andrew Johnson, James Buchanan, Warren Harding and Franklin Pierce in the bottom five. —
Siena College poll
Trump's political operation and Republican Party committees have paid over $12.6 million to Jan. 6 rally organizers since the 2020 election cycle
Former President Donald Trump's political operation and Republican Party committees have paid over $12.6 million to individuals and firms that organized the Jan. 6, 2021, rally that preceded the deadly attack on the U.S. Capitol since the start of the 2020 election, a new OpenSecrets analysis found.
The full extent of the payments from the Trump campaign political operations to rally organizers during the 2020 election and around the rally in early 2021 remains a mystery because the campaign's top vendor was American Made Media Consultants LLC, a firm created by Trump campaign aides to act as a clearinghouse for its spending. Trump's campaign and joint fundraising committee routed more than $771 million through the firm, hiding details of those payments – including information about the identities of some people paid by the campaign and how much money changed hands.
The Federal Election Commission recently deadlocked on whether to investigate allegations that Trump's campaign routed funds through American Made Media Consultants LLC and a closely-tied corporate entity to conceal details of the 2020 presidential campaign's spending.
"We found evidence that the Trump campaign and its surrogates misled donors about what those funds would be used for," Rep. Zoe Lofgren (D-Calif.) said during the second hearing of the Select Committee to Investigate the Jan. 6 Attack on the United States Capital on Monday, "Those donors deserve the truth about what those funds will be used for." --
Open Secrets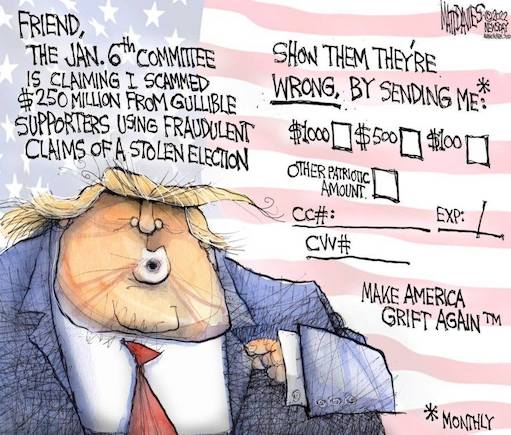 Jan. 6 Panel Could Start Sharing Transcripts With Justice Dept. as Soon as July
The House committee investigating the Jan. 6 attack could start sharing some transcripts of witness interviews with federal prosecutors as early as next month as Justice Department officials ratchet up public pressure on the panel to turn over the documents.
Negotiations between Justice Department officials and Timothy J. Heaphy, the lead investigator for the House panel and a former federal prosecutor, have intensified in recent days, as the two sides wrangle over the timing and content of the material to be turned over, according to several people familiar with the talks but not authorized to publicly discuss the matter. --
NY Times
Texas Could Vote to Secede From U.S. in 2023 as GOP Pushes for Referendum
The demand for Texans to be allowed to vote on whether the state should secede from the U.S. in 2023 was one of many measures adopted in the Texas GOP's party platform following last week's state convention in Houston.

They want the state Legislature to pass a bill in its next session "requiring a referendum in the 2023 general election for the people of Texas to determine whether or not the State of Texas should reassert its status as an independent nation." -- Newsweek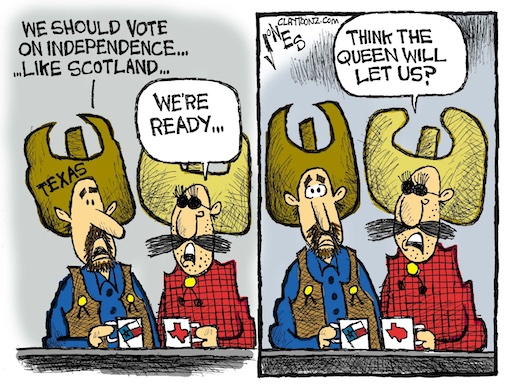 Walmart "canceling" MyPillow products from stores
Walmart is the latest retailer to pull MyPillow products from its stores as the company's CEO Mike Lindell continues to claim that the 2020 election was rigged against former President Trump.
"You guys are canceling us just like the other box stores," Lindell said he had told a Walmart executive during an interview he streamed on his Facebook page this week. "Shame on you, Walmart. You're disgusting." --
Axios
Election deniers quiet on fraud claims after primary wins
Nevada Republican Jim Marchant insisted there hadn't been a legitimate election in his state in more than a decade. All of Nevada's election winners since 2006, he said on a recent podcast, were "installed by the deep-state cabal."

But when Marchant won the Republican nomination for Nevada secretary of state this week, he immediately celebrated the victory as legitimate.

"I am beyond humbled by the overwhelming support of our campaign. Nevadans made their voices heard," Marchant declared on social media.

Such inconsistency has become a hallmark of election deniers in Republican primary contests across the U.S. in this year's midterms. Dozens of GOP candidates who sought former President Donald Trump's backing in Nevada, Ohio, Pennsylvania, Texas and elsewhere have spent months parroting his baseless claims of 2020 election fraud but then declared victory without raising such concerns in their own elections.

Amid such seeming hypocrisy, many Republican candidates are still vowing to pursue a series of election reforms that could make it more difficult to vote — particularly for those who traditionally support Democrats — in the name of election integrity.

Democratic National Committee Chair Jamie Harrison warned that "MAGA Republicans will do anything in their desperate chase for power." -- AP News
Texas Republican Convention calls Biden win illegitimate and rebukes Cornyn over gun talks
Meeting at their first in-person convention since 2018, Texas Republicans on Saturday acted on a raft of resolutions and proposed platform changes to move their party even further to the right. They approved measures declaring that President Joe Biden "was not legitimately elected" and rebuking Sen. John Cornyn for taking part in bipartisan gun talks. They also voted on a platform that declares homosexuality "an abnormal lifestyle choice" and calls for Texas schoolchildren "to learn about the humanity of the preborn child." -- Texas Tribune
How the Proud Boys Breached the Capitol
A New York Times investigation shows how the Proud Boys coordinated to instigate multiple breaches of the U.S. Capitol on Jan. 6. -- NY Times Video
Biden sends every signal he is running again
Former Democratic senator Chris Dodd, a close Biden ally and friend, said there is no reason to think the president will not run again. "The one thing I guarantee you is he is no quitter," Dodd said. "There is always some speculation in every administration, but from my conversations, he is a guy who is running again."

In public and private, Biden himself has emphasized that he is running, effectively shutting down any discussion of the topic between the president and his close advisers, according to interviews with more than a dozen Democrats close to the White House, most of whom spoke on the condition of anonymity to discuss private conversations. -- Washington Post
Amid Jan. 6 Revelations, Election Lies Still Dominate the G.O.P.
The most striking revelation so far may be how deeply Mr. Trump's disregard for the truth and the rule of law have penetrated into the Republican Party, taking root in the fertile soil of a right-wing electorate stewing in conspiracy theories and well tended by their media of choice. The Republican response to the hearings — a combination of indifference, diversion and doubling down — reflects how central the lie of a stolen election has become to the party's identity. From Nevada's secretary of state race to Michigan's contest for governor, Republican candidates have embraced the fictional conspiracy in their 2022 campaigns. -- New York Times
Supreme Court Rushes to End Term Like No Other
Under normal circumstances on decision days at the end of June, the Supreme Court emerges from behind crimson curtains to finally issue the most controversial cases of the term after months of closed-door deliberations. Wearing their judicial robe and exhausted from the final push of work, the justices take their seats and the majority opinion is read by its author.

The hand-down can take several minutes as the audience of spouses, staff, spectators and journalists digest what's being read aloud. Often times, the justice who penned the principal dissent, also chooses to address the audience, offering a fiery oral critique of the majority opinion.

None of that is expected to happen this month.

With no pomp and circumstance, an official will push a button and opinions changing the contours of some of the most divisive social issues of the day including abortion, gun rights, religious liberty and the environment -- will simply be released via the internet. -- CNN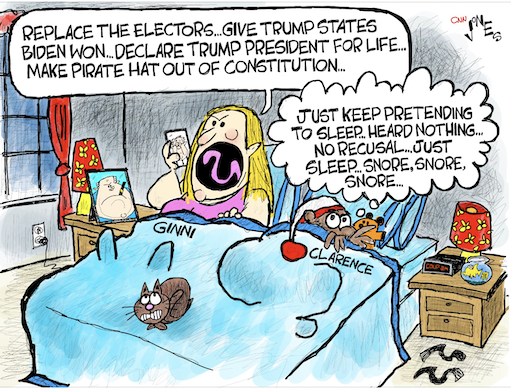 6 in 10 Americans say Trump should be charged for Jan. 6 riot: POLL
With the first full week of hearings for the House select committee's investigation into the Jan. 6 attack on the U.S. Capitol now complete, nearly 6 in 10 Americans believe former President Donald Trump should be charged with a crime for his role in the incident, a new ABC News/Ipsos poll finds.

Six in 10 Americans also believe the committee is conducting a fair and impartial investigation, according to the poll.
The DAILY GRILL
That has no modern precedent. Trump succeeding would've meant the end of our democracy. The stakes here are genuinely existential. Now Trump's enablers, they want you to believe this is a nothing burger. — Tim Miller.

VERSUS

It is a made for TV smear campaign. — Sean Hannity
The whole thing is insulting. In fact, it's deranged. You might get an insurrection if you behave like that. — Tucker Carlson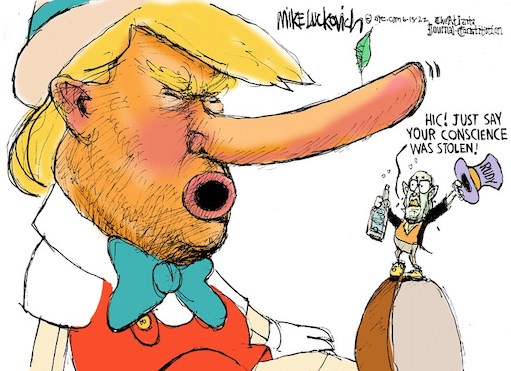 Maureen Dowd: Hence, Mike Pence
At first, you think that fawning over the boss is a good way to move forward. But when you are dealing with a narcissist — and narcissists are the ones who like to be surrounded by sycophants — you can never be unctuous enough.

Narcissists are Grand Canyons of need. The more they are flattered, the more their appetite for flattery grows.

That is the hard, almost fatal, lesson Pence learned on Jan. 6, when he finally stood up to Donald Trump after Trump asked for one teensy favor: Help destroy American democracy and all we stand for.

Trump sparked the mob to seek vengeance against Pence the same way Henry II sparked a crew to murder Thomas Becket, the archbishop of Canterbury, in 1170. According to legend, after Becket defied Henry by excommunicating bishops supportive of the king, Henry muttered something to the effect of, "Who will rid me of this meddlesome priest?" Four knights immediately rode to Canterbury Cathedral and sliced up Becket.

The line became a famous example of directing loyalists with indirection, cloaking an order as a wish. Who will rid me of this meddlesome vice president?

A Times video, showing how the Proud Boys breached the Capitol, underscored that within the confederacy of dunces, there was an actual organized conspiracy. The group began plotting even before the election to take up arms for Trump. When Trump barked "Stand back and stand by" about the Proud Boys during his debate with Joe Biden, the Proud Boys felt as though they had received a directive, like Henry's knights.

With each hearing, it becomes clearer that Trump has no plausible deniability. He put the lives of the vice president and his family at risk, as well as the lives of lawmakers, by sending a crowd, stewing in lies, into a frenzy.

Pence did not have the power to do what Trump wanted, and it's good that he resisted the insane, illegal and unconstitutional plan of the narcissist in the Oval. But Pence still wants it both ways. He has steered clear of the committee. He wants to become president by staying on the good side of Trump supporters, but they're never going to forgive him.

The fate of a sycophant is never a happy one. -- NY Times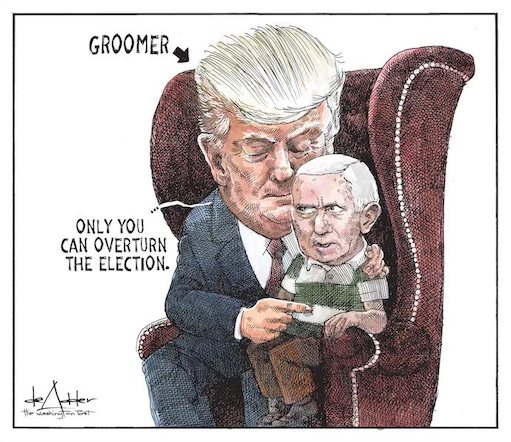 Jackie Calmes: During Watergate, Republicans made 'the system' work. Today's GOP is failing the nation
Friday is the 50th anniversary of the Watergate burglary that would end Richard M. Nixon's presidency two years later. By then, his vice president and successor, Gerald R. Ford Jr., would tell Americans, "Our long national nightmare is over."
Little could Ford or his audience have imagined the nation's current nightmare, one that's far from over. We're enduring the biggest presidential scandal since Watergate, or ever: Donald Trump's continued assault on democracy, following his unprecedented refusal to accept the 2020 election result and allow for the peaceful transfer of power to the winner.
When Nixon resigned and helicoptered away from the White House, the often uttered consensus was that "the system worked." All three branches of government had done their part: Congress, the courts and even the executive branch once Nixon's henchmen were out of the way and prison-bound. Finally Nixon himself — a believer in constitutional governance, despite his many flaws, and a patriot compared to the traitorous Trump — accepted that the jig was up.
It's not "the system" that must work to preserve our 246-year-old nation. It's the people whom we entrust to operate the machinery of government who must act.
And those people, chiefly the Republicans among them, continue to fail us. Led in Congress by Sen. Mitch McConnell and Rep. Kevin McCarthy, they've enabled Trump's worst abuses for years by their acquiescence and by their opposition to his impeachment, first for extorting from a foreign country for political dirt and then for inciting an insurrection to remain in power. --
LA Times
Isaac Chotiner: The Two-Pronged Test That Could Put Trump in Prison
If the former President is charged, what exactly would the charges be, and how tough would the case be to prosecute? To talk about this, I recently spoke by phone with Barbara McQuade, a professor at the University of Michigan Law School and a former United States Attorney for the Eastern District of Michigan. (She resigned from her position, which she'd held since 2010, in the early days of the Trump Administration.) During our conversation, which has been edited for length and clarity, we discussed why Trump's mind-set is so important to any criminal case, the arguments he might make to defend himself, and whether the Justice Department is too concerned about the optics of charging a former President.
If a case is made against Trump, what precisely would it be for?
It would require a full investigation to see if you can mount sufficient evidence. And the Justice Department will be the first to tell you that it investigates crimes and not people. But, with that in mind, it seems to me that some potential crimes here are: first, conspiracy to defraud the United States; and, second, conspiracy to obstruct an official proceeding. The first one is more broad. The second one is more specific.
What does that mean, "conspiracy to defraud the United States"?
The statutory citation is Title 18 of the United States Code, Section 371. It is sometimes referred to as the Klein Conspiracy, after a case named United States v. Klein. It is frequently used in cases of tax violations, but what it means is that someone with a fraudulent intent did something to obstruct or impede the official functioning of government. And so, in this instance, it would be something like, Trump and others conspired to defraud the American people and interfere with the proper transfer of Presidential power. And it could be as simple as getting Mike Pence to refuse to certify the vote when he had a duty to do so. Sometimes people think about the big picture, that you have to tie Trump to the physical attack on the Capitol. And that could do it, because that was one way that the certification was obstructed. But it could also simply be his efforts to pressure Mike Pence to refuse to certify the vote. And that would be an obstruction of an official proceeding.
Liz Cheney said there are seven different schemes that they're going to try to prove in the next few weeks. It could be that they've got seven different ways that they're going to try to show conspiracy to defraud the United States, but any one of them is enough to obtain a conviction. Alternate slates of electors, or trying to persuade Georgia to change the outcome in that one state. Any of those things could suffice for conspiracy to defraud the United States. --
The New Yorker
Susan B. Glasser: What We Learned About Trump, Pence, and the January 6th Mob
It's been hard, these last couple of weeks, to watch and rewatch the horrifying events of January 6, 2021. As the House select committee investigating the attack on the Capitol has conducted its televised hearings, they have played video clips of the violence over and over again. No image is more memorable—and more disturbing—than that of the wooden gallows Donald Trump's supporters erected on the Capitol lawn as rioters chanted "Hang Mike Pence! Hang Mike Pence!" The committee documented that those threats were real. According to an F.B.I. affidavit the panel highlighted on Thursday, a government informant said that members of the far-right militant group the Proud Boys told him they would have killed Pence "if given the chance." The rioters on January 6th almost had that chance, coming within forty feet of the Vice-President as he fled to safety.
The malice of those in the crowd toward Pence, the holier-than-thou evangelical Christian who had spent the previous four years as Donald Trump's slavishly loyal sidekick, was remarkable.
"If Pence caved we're going to drag motherfuckers through the streets," one rioter was captured on video saying. "He deserves to burn with the rest of them," another said. A man with a bullhorn agitated the crowd. "Mike Pence has betrayed the United States of America," he informed the already agitated mob. "Mike Pence has betrayed this President." He finished with a threat and a promise: "We will never, ever forget."
The explosive ending of the Trump Presidency has always been a story about the rift between Trump and Pence—two of the most mismatched figures ever to be thrown into a marriage of political convenience. For four years, Trump had tested and tried his sanctimonious No. 2, but Pence never broke. Not in public, not, as far as we can tell, in private, either. He was famous during the Trump years for doing and saying almost nothing that would make news. When he debated Kamala Harris during the 2020 campaign, his most memorable moment was when a fly landed on his impeccably coiffed white hair and he did not react for the full two minutes that it sat on his head.
But on January 6th, Pence finally did break with Trump, refusing to go along with the President's absurd, illegal, and unconstitutional plot to have his Vice-President single-handedly overturn the will of the American people and block Congress's confirmation of Joe Biden's victory. On Thursday, the House committee devoted its hearing to attempting to explain Trump's scheme to pressure Pence—which unfolded in a series of inflammatory Presidential tweets, angry phone calls, and bizarre White House meetings that were a mix of constitutional-law seminars and live reënactments of "The Godfather." The New Yorker
Judge J. Michael Luttig's opening remarks as prepared for the Jan. 6 select committee's public hearing on Thursday.
A stake was driven through the heart of American democracy on January 6, 2021, and our democracy today is on a knife's edge.
America was at war on that fateful day, but not against a foreign power. She was at war against herself. We Americans were at war with each other -- over our democracy.

January 6 was but the next, foreseeable battle in a war that had been raging in America for years, though that day was the most consequential battle of that war even to date. In fact, January 6 was a separate war unto itself, a war for America's democracy, a war irresponsibly instigated and prosecuted by the former president, his political party allies, and his supporters. Both wars are raging to this day.
A peaceful end to these wars is desperately needed. The war for our democracy could lead to the peaceful end to the war for America's cultural heart and soul. But if a peaceful end to the war for America's democracy is not achievable, there is little chance for a peaceful end to that war. The settlement of this war over our democracy is necessary to the settlement of any war that will ever come to America, whether from her shores or to her shores. Though disinclined for the moment, as a political matter of fact only the party that instigated this war over our democracy can bring an end to that war.
Like our war from a distant time, these twin wars are "testing whether th[is] nation or any nation . . . so conceived in Liberty . . . can long endure." We must hope that January 6 was the final battle of at least the deadly war for America's democracy. -- Politico
Jonathan Chait: They Will Do It Again Republicans have not been chastened by the revelations of the January 6 committee.
The January 6 hearings are about the events of a single day, but they implicate a much broader phenomenon: the Republican Party's faltering commitment to democracy. The mob attack on Congress a year and a half ago was merely the most grotesque manifestation of Donald Trump's rejection of democracy, and Trump himself merely the most grotesque manifestation of his party's authoritarian impulses.
"Parties that are committed to democracy must, at minimum, do two things: accept defeat and reject violence," wrote the political scientists Steven Levitsky and Lucan Way earlier this year. Trump has built a movement that does neither. And while he is justifiably known for his petty egocentrism, he has finally and genuinely infused this movement with beliefs that are greater than his self-interest and whose power will outlast him.-- NY Magazine
Andrew Sullivan: A Man And A Mob
There are simply no precedents in history for this kind of assault on the core principles of the American republic. None. And there is no precedent for a president, having been exposed as a fantasist, to carry on, insisting that his fever dream remains reality, attacking the very legitimacy of our democracy, day after day. The idea that he could run again — or again become president — could only be entertained by those who wish to end the American experiment.
Peruse the 12-page letter Trump put out in response to the hearings. It is the work of someone with no grip on reality, absurd lie after lie after lie, barely literate, the kind of thing you'd think was written by a lunatic if you received it in the mail. Any other president would have conceded on election night. Others with a real case (unlike Trump's) — Nixon in 1960, Gore in 2000 — knew what their duty was. They cared more about the republic than themselves — a concept simply outside Trump's cognition. In four years, he never acted as a president. He only ever acted as Trump.
In the bitter end, he was just a man with a mob. Not a Republican. Not a politician. Not a president. Not a member of any political party but his own cult. A mindless, raging, bullying thug. The hearings have methodically and calmly revealed this, masterfully led by a Republican, Liz Cheney, through testimony supplied by Republican after Republican witness.
And yet just this week, Trump acolytes repeating his lies won primaries in Nevada and South Carolina. Republican election officials in some states have said they will decide the results of future elections — and not the voters. Steve Bannon has encouraged a wave of new candidates in positions overseeing elections to foment chaos. The crisis Trump — and Trump alone — has created is not over. Biden's legacy — an abandonment of his mandate for moderation, soaring inflation, an imminent recession, yet another new war, and woker-than-woke extremism — has only deepened it.
So it's up to Republicans to save us. In the words of Michael Luttig, "as a political matter of fact only the party that instigated this war over our democracy can bring an end to that war." -- Andrew Sullivan Substack
Laurence H. Tribe, Phillip Allen Lacovara and Dennis Aftergut: The insurrection won't end until Trump is prosecuted and disqualified from future office
Section 3 of the 14th Amendment directs: "No person shall . . . hold any office . . . under the United States . . . who, having previously taken an oath . . . as an officer of the United States . . . to support the Constitution shall have engaged in insurrection or rebellion against the same.''
There is ample evidence that Trump's objective was the insurrection's success. Among that evidence was his three-hour delay in calling on the attackers to go home and his vengeful tweet demeaning Vice President Mike Pence after Trump knew that the savage invasion of the U.S. Capitol had begun. That was "pouring gasoline on the fire," testified former deputy White House press secretary Sarah Matthews.
Even without a direct charge of insurrection, allegations of such insurrectionist activities in an indictment for conspiring to defraud the United States or to obstruct an official proceeding or for seditious conspiracy might suffice for 14th Amendment disqualification if Trump were convicted.
Holding Trump accountable — and disqualifying him from future office — would not be a partisan act, but one needed to preserve the republic.
And should Trump get an encore, look to pre-World War II Germany for a mirror. A failed coup in 1923 taught Hitler a better route to dictatorship nine years later.
Those who repeat history are doomed to learn it. The hard way. -- LA Times
Dana Milbank: Texas Republicans want to secede? Good riddance
The Lone Star State does not have the best track record as a sovereign power. The Republic of Texas survived only 10 years from independence to annexation by the United States in 1845. Texas seceded during the Civil War — and, with the rest of the Confederacy, was crushed.
But, as the saying goes: If at first you don't secede, try, try again. The Texas GOP now wants the state to vote on declaring independence.
And the United States should let Texas go! Better yet, let's offer Texas a severance package that includes Oklahoma to sweeten secession — the Sooner the better.
Yee-haw!
Consider the benefits to the rest of the country: Two fewer Republican senators, two dozen fewer Republican members of the House, annual savings of $83 billion in defense funds that Texas gets. And the best reason? The Texas GOP has so little regard for the Constitution that it is calling for a "Convention of the States" to effectively rewrite it — and so little regard for the United States that it wishes to leave.
In democracy's place, the Republican Party, which enjoys one-party rule in Texas, is effectively proposing a church state. If you liked Crusader states and Muslim caliphates, you'll love the Confederate Theocracy of Texas which maintains that President Biden "was not legitimately elected," would keep only traces of democracy. It wants the Voting Rights Act of 1965 "repealed," and it would rewrite the state constitution to empower minority rule by small, rural (and White) counties. It would rescind voters' right to elect senators and the Constitution's guarantee of birthright citizenship.
In their platform, the Texas Republicans invoked "God" or the "Creator" 18 times and "sovereignty" or sovereign power 24 times. And the word "democracy"? Only once — in reference to China. -- Washington Post