May 30, 2019
ON THE RECORD. . .
"This is somebody, who I think it is fairly obvious to most of us, took advantage of the fact that he was a child of multimillionaire in order to pretend to be disabled so that somebody could go to war in his place." — Pete Buttigieg accusing Trump of using his "privileged status to fake a disability" to dodge the draft during the Vietnam War.
Trump has "failed once again to prioritize our long term national security interests or stand up for human rights, and instead is granting favors to authoritarian countries like Saudi Arabia." — Sen. Robert Menendez (D-N.J.), the ranking Democrat on the Senate Foreign Relations Committee, who had been blocking the sale of the precision-guided munitions.
The president claiming the FBI's investigation was "TREASON" reminds me that a Russian once said, "A lie told often enough becomes the truth." That shouldn't happen in America. Who will stand up? -- James Comey@Comey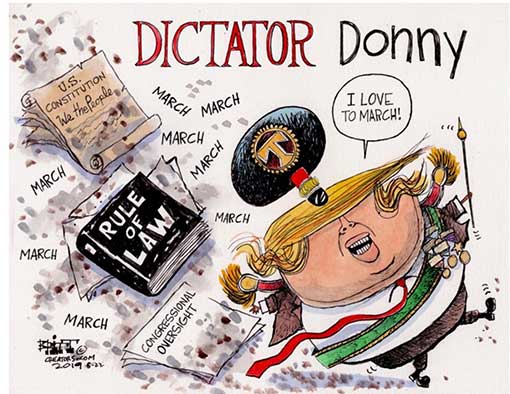 "I wish that his family or his administration or his staff would have an intervention for the good of the country. What goes on there? Who's in charge? And he says he's in charge. And I suspect that he may be. And I suspect he may be even more since yesterday, because I don't think that any responsible assistant to the president of the United States would have advised him to do what he did yesterday." — Speaker Nancy Pelosi after Trump's latest "temper tantrum."
"I sat on that stage between Bernie and John McCain, and John McCain kept reciting to me names of dictators during that speech because he knew more than any of us what we were facing as a nation. He understood it. He knew because he knew this man more than any of us did." — Sen. Amy Klobuchar (D-MN) saying that Sen. John McCain (R-AZ) repeatedly compared President Trump to a dictator during the president's inaugural address.
"The demonization of carbon dioxide is just like the demonization of the poor Jews under Hitler." — Physicist, William Happer, who serves on the National Security Council as the president's deputy assistant for emerging technologies.
"Go ahead, investigate the investigators, if you must. When those investigations are over, you will find the work was done appropriately and focused only on discerning the truth of very serious allegations. There was no corruption. There was no treason. There was no attempted coup. Those are lies, and dumb lies at that. There were just good people trying to figure out what was true, under unprecedented circumstances. — James Comey
"President Trump's enemies continue to try everything to destroy him, his family, and the presidency. In the history of our country, no president has been attacked as he has. I believe the only hope for him, and this nation, is God." — Franklin Graham, a prominent evangelical supporter of President Trump, calling for Christians across the country to set aside this Sunday as a "special day of prayer" for the president.
"if we don't stand up and say that we Democrats don't stand for socialism, we're going to end up reelecting the worst president this country's ever had." — Former Gov. John Hickenlooper
"Everything else changes. What can't be undone is a lifetime appointment… That's the most important thing we've done in the country, which cannot be undone." — Senate Majority Leader Mitch McConnell (R-KY) on confirming conservative judges.
"Given that Special Counsel Mueller was unable to pursue criminal charges against the President, it falls to Congress to respond to the crimes, lies and other wrongdoing of President Trump – and we will do so. No one, not even the President of the United States, is above the law." — House Judiciary Committee Chairman Jerry Nadler (D-NY), in a statement.
"If you have a society where all we care about is that the other side is bad, and therefore we don't have to do the right thing, that society will break down, and you will have no liberty." — Rep. Justin Amash (R-MI) (video) making the case for impeaching President Trump.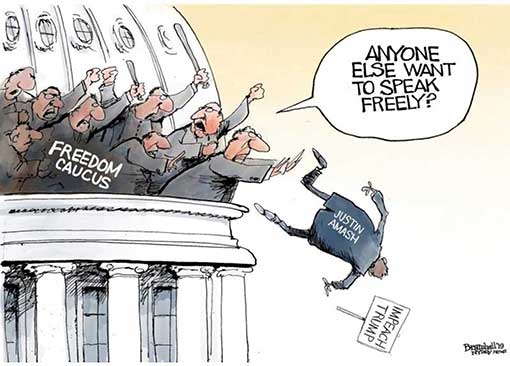 "Former White House adviser Steve Bannon has described the Trump Organization as a criminal entity and predicted that investigations into the president's finances will lead to his political downfall, when he is revealed to be "not the billionaire he said he was, just another scumbag".-- From "Siege: Trump Under Fire," Michael Wolff's forthcoming account of the second year of the Trump administration.
"We have said all along, 'Poor Facebook, they were unwittingly exploited by the Russians.' I think wittingly, because right now they are putting up something that they know is false. I think it's wrong, They're lying to the public. . . . I think they have proven — by not taking down something they know is false — that they were willing enablers of the Russian interference in our election. For me, I'm in the arena, I've been the target all along. ... I wonder what they would do if (Facebook chief) Mark Zuckerberg wasn't portrayed, you know, slowed down, made to look" drunk, she said. If it was "one of their own, would this be — is this their policy? Or is it just a woman?" -- House Speaker Nancy Pelosi
---
IN THIS ISSUE
FYI
OPINION
1. Andy Borowitz: Mueller Stirs Controversy by Urging Americans to Read
Special counsel Robert Mueller ignited a firestorm of controversy on Wednesday by recommending that millions of Americans read.

Mueller, seemingly oblivious to the uproar he was about to create, repeatedly commented that there was valuable information available to the American people only by reading a long book.

At the White House, sources said that Donald J. Trump was furious about Mueller's statement because he interpreted the special counsel's pro-reading message as a thinly veiled attack on him.

Speaking to reporters later, on the White House lawn, Trump made it clear that Mueller's exhortation to read had fallen on deaf ears.

"I've never read any of my books, and I certainly don't intend to read his," Trump said. https://www.newyorker.com/humor/borowitz-report/
2. IRS could be forced to release Trump's taxes in the heat of 2020 campaign
Trump's bet that it'll take years to resolve a coming court fight over his tax returns could be wrong.
Federal courts are already ruling quickly against Trump in his other attempts to block Congress. The Supreme Court could also be a dead end if the case doesn't present new legal issues or divide appellate courts. That means there's a decent chance the White House could lose the fight and be forced to hand over Trump's tax records before the election. https://www.politico.com/story/2019/05/24/irs-trumps-taxes-2020-1468771
3. Trump Administration Hardens Its Attack on Climate Science
Trump has rolled back environmental regulations, pulled the United States out of the Paris climate accord, brushed aside dire predictions about the effects of climate change, and turned the term "global warming" into a punch line rather than a prognosis.
Now, after two years spent unraveling the policies of his predecessors, Mr. Trump and his political appointees are launching a new assault.
In the next few months, the White House will complete the rollback of the most significant federal effort to curb greenhouse-gas emissions, initiated during the Obama administration. It will expand its efforts to impose Mr. Trump's hard-line views on other nations, building on his retreat from the Paris accord and his recent refusal to sign a communiqué to protect the rapidly melting Arctic region unless it was stripped of any references to climate change.
And, in what could be Mr. Trump's most consequential action yet, his administration will seek to undermine the very science on which climate change policy rests. https://www.nytimes.com/2019/05/27/us/politics/trump-climate-science.html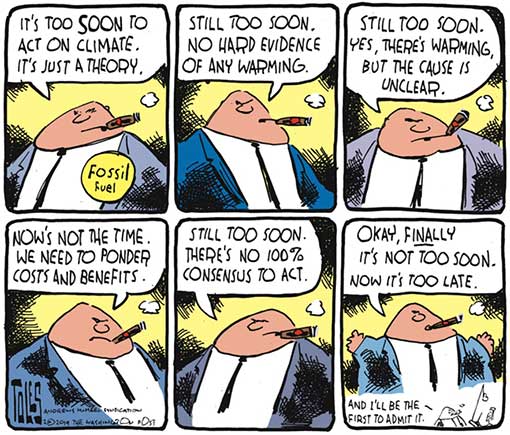 4. Senior military officers rebel against Trump plan to pardon troops accused of war crimes
Current and former military officers have urged the White House not to pardon service members and security contractors implicated in war crimes, warning that forgiving their offenses would send a dangerous signal to U.S. troops and potential adversaries.
Aides to President Trump have been examining high-profile war crimes cases from Iraq and Afghanistan, preparing paperwork so Trump could issue pardons during Memorial Day commemorations next week, according to two senior U.S. officials.
But the possibility that Trump could issue pardons has brought a flood of opposition from current and former high-ranking officers, who say it would encourage misconduct by showing that violations of laws prohibiting attacks on civilians and prisoners of war will be treated with leniency. https://www.latimes.com/politics/la-na-pol-pentagon-oppose-trump-pardon-murder-warcrimes-20190522-story.html
5. USDA farms out economists whose work challenges Trump policies
The Agriculture Department is moving nearly all its researchers into the economic effects of climate change, trade policy and food stamps – subjects of controversial Trump administration initiatives – outside of Washington, part of what employees claim is a political crackdown on economists whose assessments have raised questions about the president's policies. https://www.politico.com/story/2019/05/22/usda-agriculture-economists-trump-policies-1340168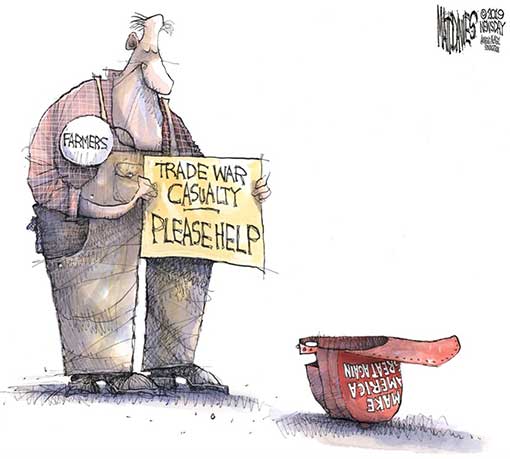 6. O'Rourke immigration plan would create pathway to citizenship for 11 million people
Beto O'Rourke on Wednesday unveiled an immigration plan  that would create a pathway to citizenship for 11 million undocumented people within his first 100 days in office. 
"This innovative plan overcomes a generation of inaction to finally rewrite our immigration laws in our own image — reflecting our values, the reality of the border, the best interests of our communities, and the longstanding traditions of a country comprised of families from the world over," O'Rourke said in a statement. https://thehill.com/homenews/campaign/445884-orourke-immigration-plan-would-create-pathway-to-citizenship-for-11-million
7. How 'Infrastructure Week' Became a Long-Running Joke
At this point in the Trump presidency, "Infrastructure Week" is less a date on the calendar than it is a "Groundhog Day"-style fever dream doomed to be repeated.
Roughly two years after the White House first came up with the idea of discussing, for all of seven days, the pursuit of a bipartisan agreement to rebuild the nation's roads, bridges and broadband networks, President Trump more or less torpedoed those plans on Wednesday in a Rose Garden speech. In the process, he gave Democrats a helpful sound bite when he said he would not pursue a legislative agenda while under investigation by House committees.
He also gave them another opportunity to charge that Mr. Trump, who has promised to deliver on an infrastructure plan since his first days in office, doesn't really care about working together on one at all. https://www.nytimes.com/2019/05/22/us/politics/trump-infrastructure-week.html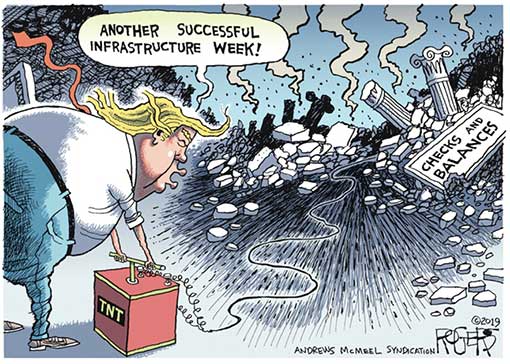 8.Trump to sidestep Congress to clear arms deals benefiting Saudi Arabia, UAE
Secretary of State Mike Pompeo notified lawmakers Friday that President Trump is invoking his emergency authority to sidestep Congress and complete 22 arms deals that would benefit Saudi Arabia, the United Arab Emirates and other countries, despite lawmakers' objections to the transactions.
Republicans and Democrats urged the Trump administration this week not to take the rare step of exploiting a legal window to push through deals — worth about $8 billion, according to congressional aides — that lawmakers have blocked from being finalized.
Pompeo's notification letters effectively give the Trump administration a green light to conclude the sale and transfer of bombs, missile systems, semiautomatic rifles, drones and repair and maintenance services to aid the Saudi air fleet, and precision-guided munitions that lawmakers fear Saudi Arabia may use against civilians in Yemen's civil war. https://www.washingtonpost.com/world/national-security/trump-to-sidestep-congress-to-clear-arms-deals-benefitting-saudi-arabia-uae/2019/05/24/367f4990-7e4d-11e9-a5b3-34f3edf1351e_story.html
9. The DAILY GRILL
"I was so calm,. Cryin' Chuck, Crazy Nancy — I tell you what, I've been watching her. I have been watching her for a long period of time. She is not the same person. She has lost it." — Trump taking issue with Pelosi's characterization of his abrupt departure from the room, saying he kept his cool.

VERSUS

When the "extremely stable genius" starts acting more presidential, I'll be happy to work with him on infrastructure, trade and other issues. — Nancy Pelosi@SpeakerPelosi retweeted Kelly O'Donnell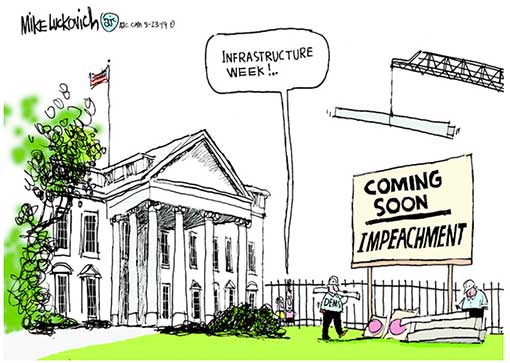 Russian President Vladimir Putin out-prepared President Trump during a key meeting in Germany, putting the U.S. leader at a disadvantage during their first series of tête-à-têtes. — Former secretary of state Rex Tillerson to a bipartisan group of House Foreign Affairs Committee lawmakers and staffers.

VERSUS

"Rex Tillerson, a man who is 'dumb as a rock' and totally ill prepared and ill equipped to be Secretary of State, made up a story (he got fired) that I was out-prepared by Vladimir Putin at a meeting in Hamburg, Germany," he tweeted. "I don't think Putin would agree. Look how the U.S. is doing!" — Donald J. Trump@realDonaldTrump.

 

North Korea fired off some small weapons, which disturbed some of my people, and others, but not me. I have confidence that Chairman Kim will keep his promise to me, & also smiled when he called Swampman Joe Biden a low IQ individual, & worse. Perhaps that's sending me a signal? -- Donald J. Trump@realDonaldTrump.

VERSUS

It's Memorial Day Weekend and you're taking a shot at Biden while praising a dictator. This is just plain wrong. — Republican Rep. Adam Kinzinger (IL) calling out Trump for bashing former Vice President Joe Biden and praising North Korean "dictator" Kim Jong Un on Memorial Day weekend.

 

Nothing changes from the Mueller Report. There was insufficient evidence and therefore, in our Country, a person is innocent. The case is closed! Thank you. — Donald J. Trump@realDonaldTrump

VERSUS

Trump is spinning Mueller's statement the same way he and Barr spun the report: pretending Mueller's statement that he cannot bring charges means the evidence was insufficient. — Jonathan Chait
10. From Media Matters
Sean Hannity: Robert Mueller is "full of crap." Hannity: "First of all, he's full of crap. It's laughable on the surface." https://www.mediamatters.org/video/2019/05/29/sean-hannity-robert-mueller-full-crap/223820

Following Mueller's statement, Fox's Pete Hegseth falsely claims Trump can "rightfully" claim there was "no obstruction" and he's "exonerated."  https://www.mediamatters.org/video/2019/05/29/following-muellers-statement-foxs-pete-hegseth-argues-trump-can-rightfully-claim-there-was-no/223809

Fox and Trump claim Democrats have no legislative accomplishments. The House has passed over 150 bills. Fox isn't telling viewers that the Republican-controlled Senate is doing nothing. https://www.mediamatters.org/blog/2019/05/23/fox-and-trump-claim-democrats-have-no-legislative-accomplishments-house-has-passed-over-150-bills/223785

Fox Business host blames stock market decline on House Speaker Pelosi's press conference. https://www.mediamatters.org/video/2019/05/23/fox-business-host-blames-stock-market-decline-house-speaker-pelosis-press-conference/223784

Potential DHS senior official Ken Cuccinelli suggested that states invoke "war powers" to turn back migrant "invasion." Cuccinelli: "Because [states would be] acting under war powers, there's no due process. … You just point them back across the river and let them swim for it." https://www.mediamatters.org/blog/2019/05/23/potential-dhs-senior-official-ken-cuccinelli-suggested-states-invoke-war-powers-turn-back-migrant/223778

Pro-Trump media -- including Fox News -- are using deceptively edited videos in a smear campaign against Speaker Pelosi. https://www.mediamatters.org/blog/2019/05/24/Pro-Trump-media----including-Fox-News----are-using-deceptively-edited-videos-in-a-smear-ca/223794
11. From the Late Shows
Jimmy Kimmel Live: Trump & Kim Jong Un Lash Out at Joe Biden: https://youtu.be/dLHKyWFojxs

The Late Show with Stephen Colbert: Get Ready For Donald Trump Jr.'s Book: https://youtu.be/mKqREUcrBVk

Jimmy Kimmel Live: Global Warming Could Prevent Jimmy Kimmel From Realizing His Dream: https://youtu.be/wdRclBUjt-E
12. Trump tries to steer border wall deal to North Dakota firm
President Trump has personally and repeatedly urged the head of the U.S. Army Corps of Engineers to award a border wall contract to a North Dakota construction firm whose top executive is a GOP donor and frequent guest on Fox News, according to four administration officials.
Even as Trump pushes for his firm, Fisher already has started building a section of fencing in Sunland Park, N.M. We Build the Wall, a nonprofit that includes prominent conservatives who support the president — its associates and advisory board include former White House adviser Stephen K. Bannon, Blackwater USA founder Erik Prince, ex-congressman Tom Tancredo and former Kansas secretary of state Kris Kobach — has guided an effort to build portions of the border barrier on private land with private funds.
Jared Kushner, the president's son-in-law, has joined in the campaign for Fisher Industries, along with Sen. Kevin Cramer (R-N.D.), an ardent promoter of the company and the recipient of thousands of dollars in campaign contributions from Fisher and his family members, according to campaign finance records.  https://www.washingtonpost.com/immigration/he-always-brings-them-up-trump-tries-to-steer-border-wall-deal-to-north-dakota-firm/2019/05/23/92d3858c-7b30-11e9-8bb7-0fc796cf2ec0_story.html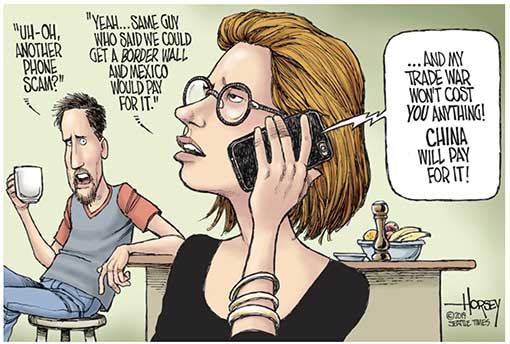 13. Republicans have spent more than $4 million at Trump properties
Republican candidates and campaign committees have spent more than $4 million at hotel, and vineyard properties that bear President Trump's name since he was inaugurated in 2017.
More than three dozen members of Congress have held fundraisers or spent the night at Trump properties, according to a review of filings made with the Federal Election Commission (FEC) over the last two years.
More than a quarter of the money spent has come from Trump's own campaign, which has paid his businesses nearly $1.5 million over that span, both for rent and for fundraisers. 
The Republican National Committee (RNC) has spent more than $1.1 million at Trump-branded properties in both Washington and Florida.
Watchdog groups have raised concerns over the propriety of Trump profiting off businesses as foreign governments and corporate interest groups currying favor in Washington book rooms at Trump hotels — including Trump's hotel in Washington, D.C. https://thehill.com/homenews/campaign/445307-republicans-spend-more-than-4-million-at-trump-properties
14. How Abortion Could Threaten GOP Control of the Senate
There was a time when the decisions to set up court tests of abortion laws were made carefully by antiabortion lawyers and strategists on the national level, picking cases very carefully to maximize their chances of victory. Today the decision-making is both decentralized and organic, and apparently by tone-deaf people who seem to oblivious of the consequences to their cause. When the Rev. Pat Robertson thinks an antiabortion measure goes too far, there is a fair chance it's too far. There isn't a pro-choice bone in Robertson's body, but the Yale Law School class of 1955 graduate knows a bad case when he sees one.
This is all a long way of saying that while the Republican majority in the Senate probably shouldn't be in much danger, if one were going to construct a scenario in which Democrats reach a 50-seat majority (with a White House win) or 51 (without one), an uncompromising assault on legal abortion would likely be an element of it.
Republicans lost a bunch of suburban districts last year. With actions like these, we may find out how many more there are to lose. https://cookpolitical.com/analysis/national/national-politics/how-abortion-could-threaten-gop-control-senate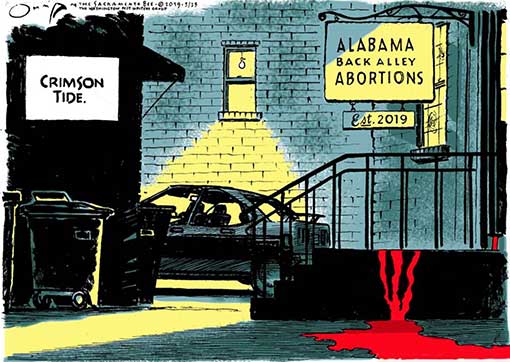 15. The Making of the Fox News White House
Nicole Hemmer, an assistant professor of Presidential studies at the University of Virginia's Miller Center and the author of "Messengers of the Right," a history of the conservative media's impact on American politics, says of Fox, "It's the closest we've come to having state TV."
Hemmer argues that Fox—which, as the most watched cable news network, generates about $2.7 billion a year for its parent company, 21st Century Fox—acts as a force multiplier for Trump, solidifying his hold over the Republican Party and intensifying his support. "Fox is not just taking the temperature of the base—it's raising the temperature," she says. "It's a radicalization model." For both Trump and Fox, "fear is a business strategy—it keeps people watching." As the President has been beset by scandals, congressional hearings, and even talk of impeachment, Fox has been both his shield and his sword. The White House and Fox interact so seamlessly that it can be hard to determine, during a particular news cycle, which one is following the other's lead. All day long, Trump retweets claims made on the network; his press secretary, Sarah Sanders, has largely stopped holding press conferences, but she has made some thirty appearances on such shows as "Fox & Friends" and "Hannity." Trump, Hemmer says, has "almost become a programmer." https://www.newyorker.com/magazine/2019/03/11/the-making-of-the-fox-news-white-house
16. British ex-spy will not talk to U.S. prosecutor examining Trump probe origins
Christopher Steele, a former Russia expert for the British spy agency MI6, will not answer questions from prosecutor John Durham, named by Barr to examine the origins of the investigations into Trump and his campaign team, said the source close to Steele's London-based private investigation firm, Orbis Business Intelligence. https://www.reuters.com/article/us-usa-trump-steele/british-ex-spy-will-not-talk-to-u-s-prosecutor-examining-trump-probe-origins-source-idUSKCN1SY20K
1. Bess Levin: Shorter Mueller: Just Impeach This Guy Already
When William Barr released his four-page summary of the special counsel's report, he took it upon himself to to clear Donald Trump of obstructing justice, despite the fact that Robert Mueller himself had done no such thing. In fact, Mueller found numerous instances of obstruction that, were his hands not tied by Justice Department guidelines that say you can't indict the president, could have resulted in Trump being charged with a crime. has repeatedly attempted to obfuscate that essential point in his defense of the president. So on Wednesday, Mueller himself went on the record, speaking publicly for the first time since being appointed as special counsel, to make things crystal clear for everyone who didn't actually read the report.
Addressing reporters, Mueller effectively objected to the Attorney General's description of his findings, specifically Barr's characterization of the report as exonerating Trump on obstruction. "If we had confidence after a thorough investigation of the facts that the president clearly did not commit obstruction of justice, we would so state," Mueller said Wednesday. "Based on the facts and the applicable legal standards, however, we are unable to reach that judgment." In other words, it's very possible Trump committed a crime. Mueller went on to note that it was the Justice Department's legal guidance, which prohibits the indictment of a sitting president, that prevented him from accusing Trump as such. He went on to shame the president, though not by name, noting that "When a subject of an investigation obstructs that investigation or lies to investigators, it strikes at the core of their government's effort to find the the truth and hold wrongdoers accountable."
Perhaps most important, Mueller suggested that if Trump is to be held to account, it must be Congress that takes up the case. "The Constitution requires a process other than the criminal justice system to formally accuse a sitting president of wrongdoing," he said. In other words: Congress, do your job and impeach. https://www.vanityfair.com/news/2019/05/robert-mueller-statement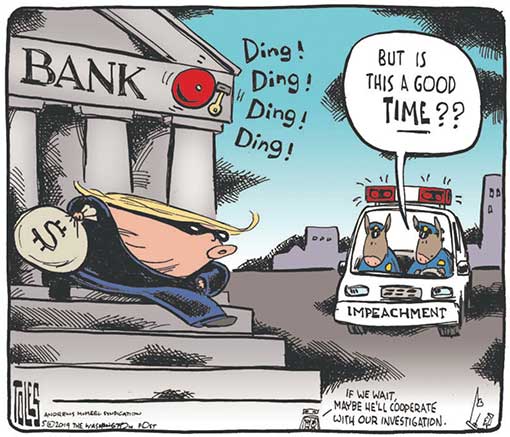 2. David Frum: What the Mueller Report Actually Said
The full report is rich with details. But that's the essence. A foreign power interfered in the U.S. election to help the Trump campaign. The Trump campaign welcomed the help and repeatedly lied about it. The lying successfully obscured some questions the investigation sought to answer; in the end, it found insufficient evidence to charge a broader conspiracy. President Trump, in public and in private, worked to stop the investigation.
Those are the facts. What are the remedies? Mueller underscored at his press statement: He did not exonerate the president. Under the Department of Justice rules he was subject to, he lacked the power to act.
Meanwhile, the Trump administration refuses to take steps to secure the next presidential election against the interference that swayed the last. The question of why Russia so strongly wished to help Trump remains as mysterious as ever. In particular, if you wish to understand the breadth and depth of Trump's Russian business connections before he declared for president in 2015, Mueller's report will not help you.
Mueller says he can do no more. The rest, Congress, is up to you. https://www.theatlantic.com/ideas/archive/2019/05/mueller/590467/
3. Rick Hasen: Robert Mueller Was Telling Nancy Pelosi to Begin Impeachment Proceedings
With the Department of Justice and Mueller taking the position that indicting the president for crimes is off the table, an impeachment inquiry is the only way the American people will know that Trump's potential crimes have been fully investigated and appropriate punishment considered.
No one knows if a fairly done impeachment inquiry will hurt Democrats politically. No one knows if failing to seriously pursue an impeachment inquiry will hurt Democrats more. So it makes sense to do what is constitutionally required. After all, it is not as though Pelosi is saying she doesn't believe Trump obstructed justice or that these are not serious enough charges to merit impeachment. It seems a pure political calculation, which is arguably a dereliction of Congress' responsibility to investigate.
If the House impeaches Trump though a fair process based on strong evidence of obstruction of justice, let the American people watch Senate Majority Leader Mitch McConnell run a sham Senate trial—with Chief Justice John Roberts presiding—and let Republican senators vote against conviction in the face of that evidence.
Even if McConnell runs no trial, every senator will be asked her position on whether or not the evidence adduced by the House merits removing the president from office.
Sure that's a political risk for Democrats, but so is doing nothing. More importantly, it's the right thing to do as a matter of constitutional responsibility. Mueller was saying no less.  https://slate.com/news-and-politics/2019/05/robert-mueller-to-nancy-pelosi-begin-impeachment-proceedings.html
4. Farhad Manjoo: Worry About Facebook. Rip Your Hair Out in Screaming Terror About Fox News
I understand the fear about digital fakery. But to focus on Facebook instead of Fox News is to mistake the symptom for the disease.
The disease is an entrenched, well-funded, decades-in-the-making, right-wing propaganda network, one that exists to turn faintly sourced rumors into full-blown, politically convenient narratives. The propaganda network's tentacles now infiltrate every form of media — magazines, books, talk radio, social networks — but it still finds its most profitable and effective outlet in the Murdochs' cable empire.
And it is devastatingly effective: Just about every political lie that has dominated American discourse in the past two decades — the Swift Boaters and the birthers, death panels, the idea that undocumented immigrants pose an existential threat but climate change does not — depended, for its mainstream dissemination, on the Fox News machine. https://www.nytimes.com/2019/05/29/opinion/fox-news-facebook-pelosi.html
5. Jonathan Chait: Trump Staff Dreads Traveling Overseas With Toddler President
Traditionally, White House staffers cherish the opportunity to travel with the president overseas on Air Force One as a perk of their service. But traditionally, the president they are traveling with is not Donald Trump. CNN reports on the dread and horror that has overtaken the White House staff when duty calls upon them to accompany the 45th president. "It's like being held captive," one source reports.
The experience of overseas travel with Trump is almost exactly like traveling overseas with a poorly behaved toddler:
Trump won't stop watching television. The screen-addicted president just keeps doing what he does at home, which is binge-watch TV for hours and get angry. The difference is that, on the plane, they can't get away:
Trump will spend hours reviewing cable news coverage recorded on a TiVo-like device or sifting through cardboard boxes of newspapers and magazines that have been lugged aboard. He'll summon sleeping staffers to his office at moments the rest of the plane is dark, impatient to discuss his upcoming meetings or devise a response to something he saw in the media.
Like at home, Trump's method of governing is to see things on television that anger him and order his staffers to make them go away: "Trump has long insisted that he is treated unfairly by the news media, and if he sees something on television that bothers him — 'which he invariably will,' one official quipped — he instructs his staff to fix it, no matter if they are at the White House or flying over the Atlantic Ocean," according to CNN.
On Trump's Air Force One, the overnight is dark and full of terrors. http://nymag.com/intelligencer/2019/05/trump-staff-dreads-flying-air-force-one-with-toddler-president.html
6. Maureen Dowd: Crazy Is as Crazy Does
"He does outrageous, nasty, destructive things, knowing full well he's crossing a line, and then he pretends he didn't," said Trump biographer Tim O'Brien. "He has spent five decades going to gossip columnists, radio shows, TV interviews and newspapers to stick a knife into almost anybody who crosses his path that he doesn't like and he revels in it. There is something amazing in the Energizer Bunny aspect of his nastiness and his ignorance. He doesn't care what people think about how mean or dumb he is. He just keeps going."
O'Brien said Pelosi "hit on something that is core to his con. His whole life is about the cover-up. He has covered up his academic record, his health reports, his dalliances with women, his finances, his family history. Even while he was saying he was the most transparent president in history, his Treasury secretary was across town telling Congress, 'I'm not giving you the president's tax returns.'
"One of the biggest motivating factors in Trump's life — other than food, greed, sex and revenge — is mythmaking. Deep down, he knows he's a pathological liar and he's not the person he says he is. But any time anyone pierces that veil, it sends him into a rage."
It's wearing, not letting this petulant man wear us all out.
https://www.nytimes.com/2019/05/25/opinion/sunday/donald-trump-nancy-pelosi.html
7.  Eric Lutz: Trump Gives His Attorney General New Powers To Prove His "Witch Hunt" Theory
The president granted William Barr "full and complete authority" to declassify materials related to the origins of the Russia probe.
Trump has been claiming for a while now that he's the victim of a political "witch hunt" that began with what he says was the illegal and undeserved surveillance of his campaign by the F.B.I., the C.I.A., and the Obama administration. With his new mandate, Barr is in a position to selectively release materials that could back the president up. Trump was poised last year to declassify materials related to an application to monitor Carter Page, a former Trump campaign aide, and other aspects of the Russia probe, but backpedaled amid concerns that doing so could jeopardize the investigation and reveal intelligence sources and methods. With the probe over, though, and with the Roy Cohn he's always wanted as attorney general, Trump is plunging ahead.
His announcement came hours after he accused several former federal law-enforcement officials — including James Comey and Andrew McCabe, two of his favorite targets on Twitter—of "treason." "They have unsuccessfully tried to take down the wrong person," he said in a surreal press conference in which he called upon aides to vouch for his mental stability. Democrats are looking for a "do-over," he's whined, and he has stonewalled them at every turn. Still, the president is now demanding that U.S. intelligence officials comply with a probe no doubt intended to tarnish them. It's not unreasonable for intelligence decisions to be reviewed, especially in such a high-stakes investigation involving the sitting president. But based on Barr's actions so far, the public has no reason to trust that his probe will be impartial. https://www.vanityfair.com/news/2019/05/trump-gives-barr-new-powers-to-prove-witch-hunt-theory-russia-declassify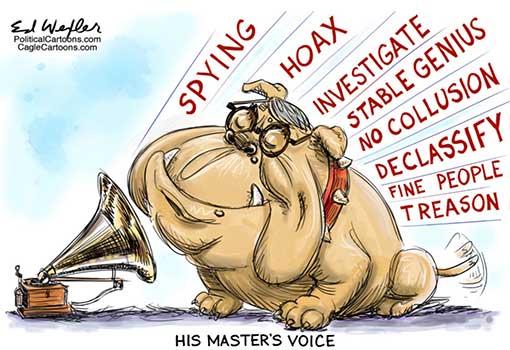 8. Karen Tumulty: Pelosi is a dangerous foil for a president who operates on impulse
So far, her strategy of keeping one foot on the congressional oversight accelerator while tapping the brakes on impeachment is winning.
The prospect of unending scrutiny is getting to Trump. On Wednesday, he abruptly blew up a meeting that had been scheduled with Pelosi and other congressional leaders to negotiate an infrastructure package and stalked out to the Rose Garden to whine that he could not work with Democrats unless they drop what he called "these phony investigations."
Even more bizarre was a scene a day later when, during an appearance with farmers, the president bristled at Pelosi's characterization of that aborted infrastructure meeting as a "temper tantrum," and pressed five different White House aides to attest he had been "calm" in his three-minute session with the lawmakers.
By Thursday night, Trump and his allies were reduced to the shameless gambit of circulating doctored and heavily edited videos suggesting it was the speaker's mental stability that should be questioned. "I've been watching her for a long period of time. She's not the same person," Trump said.
But that's the thing. Pelosi is exactly who she has always been. What's changed is that Trump is beginning to understand what that means. https://www.washingtonpost.com/opinions/pelosi-is-a-dangerous-foil-for-a-president-who-operates-on-impulse/2019/05/24/ecfe2ea2-7e34-11e9-a5b3-34f3edf1351e_story.html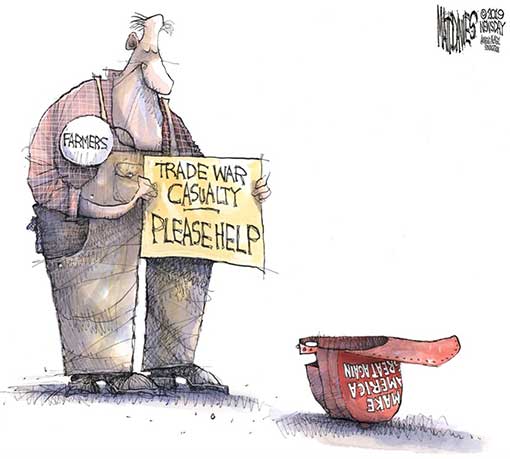 9. Paul Waldman: How do we avoid another 'But her emails' in 2020?
The reason I raise is because we're headed into another election in which they're going to do the same thing they did in 2016: take some trivial matter about the Democratic presidential nominee, and try to turn it into The Most Shocking Scandal Ever, the thing the entire campaign should be about. And they're counting on the media to fall for it.
Let's not forget that Hillary Clinton's emails got more coverage than any other topic during the 2016 campaign. As one study found, "In just six days, The New York Times ran as many cover stories about Hillary Clinton's emails as they did about all policy issues combined in the 69 days leading up to the election."
That, like everything else journalists do, was a choice. Every day, they chose to write about her emails and not, say, health-care policy or climate change or the fact that the Republican nominee was an obvious con artist.
And we can already say what will happen in 2020. At some point in the campaign — more likely at multiple points — Trump will make some kind of incendiary charge about the Democratic nominee, with no evidence to support it. He will count on the media doing what they almost always do: treating the charge itself as the primary news, and determining the truth of the charge as a secondary task, thereby amplifying and spreading the allegation.
He will do this because he is utterly unconstrained by any sense of propriety or desire to hold to a standard of honesty. He knows he can do it because he does it all the time, and it always works. The headlines ("Trump Says Opioid Epidemic is Warren's Fault," or "Trump Charges Biden With Taking Payoffs from Mafia," or "Trump Claims Harris Is Member of Violent Sex Cult") will do their work before voters have time to read the fact-check, if they ever bother at all.
We also know that when he makes those scurrilous charges, every Republican in sight will rush to the cameras to repeat them, and Fox News will quickly devote hours of time to conservatives saying how deeply troubling "it" is. https://www.washingtonpost.com/opinions/2019/05/21/how-do-we-avoid-another-her-emails/
10. Jonathan Bernstein: Where Does Trump Get His Odd Ideas?
Trump doesn't read briefings, on politics or anything else. He doesn't appear to have absorbed the basics of public policy, whether on health care or national security or even issues, like trade, that he cares about. Instead, he seems to pick up fragments of information in conversation or, more often, from cable television. Often, it's partisan talking points, which isn't surprising since much of what airs on Fox News, CNN and MSNBC consists of partisan talking points. 
Trump then extracts some fact or detail he finds useful from that input, and comes up with his own way of expressing it. Usually, he pretties it up, smooths out any nuances and exaggerates significantly. Then he tests it out, on Twitter and especially at his rallies, working for the wording that gets the biggest reaction.
And then? As far as I can tell, Trump winds up believing the final version of whatever it is he has produced. Once it's in there, it seems to stick, although sometimes the original "fact" winds up growing more distorted over time.This works on just about everything. For example, the facts contained in special counsel Robert Mueller's report were in fact devastating for Trump, especially on obstruction of justice. But for the president, it's simply become "No Collusion. No Obstruction." https://www.bloomberg.com/opinion/articles/2019-05-28/where-does-donald-trump-get-his-odd-ideas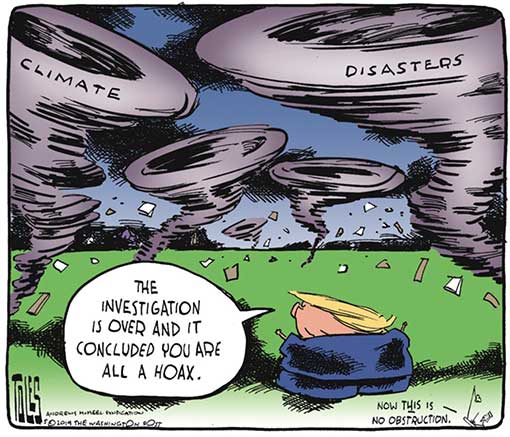 11. Michael Gerson: These are the golden days of sleaze
American politics has become a case study of the type that college professors employ in Ethics 101. If the economy is good, does presidential corruption actually matter?
That President Trump and members of his circle are corrupt has been established beyond doubt. There is the financial corruption of using the presidency as a marketing tool for Trump businesses; of foreign governments seeking influence by spending at Trump properties; of close associates being paid for influence by foreign entities; of industry advocates and lobbyists being appointed as industry regulators; of the Trump Organization expanding overseas operations with the help of foreign governments; of possible money laundering through Trump properties. And all of this in the context of a president fighting tooth and nail to shield his financial records from public scrutiny.
There is a political corruption of inviting a foreign government to interfere in a presidential election; of seeking politically motivated investigations against opponents; of attempting to block and discredit legitimate investigations of Trump's own questionable activities; of directing secret payments to women with potentially damaging information; of attempting to influence ongoing federal investigations.
These activities do not need to be illegal to be corrupt, just as the president does not need to be a criminal to be a deceitful schemer who undermines important legal and ethical norm. https://www.washingtonpost.com/opinions/with-trump-as-president-our-country-is-in-its-golden-days-of-sleaze/2019/05/23/8baa7ce0-7d90-11e9-8ede-f4abf521ef17_story.html
12. Eugene Robinson: Pelosi has Trump frantic and rattled — again
Once again, House Speaker Nancy Pelosi is large and in charge. Once again, President Trump is frantic and rattled. Once again, a tough and powerful woman is driving an insecure man out of his mind.
I don't think Pelosi's strategy of resisting a formal impeachment inquiry can last forever, but I have to admit it's working. She looks like a responsible public servant trying her best to serve the public interest. He looks panicked, desperate, out of control and concerned only — as usual — with self-interest.
No one can possibly take at face value Trump's little stunt Wednesday in which he stormed out of a White House meeting with the Democratic congressional leaders, ostensibly because Pelosi (Calif.) had earlier said he was engaged in a "coverup." For one thing, Democrats have been saying that for months. For another, Trump undoubtedly has been trying to cover up improper activity. There were the payoffs to Stormy Daniels and Karen McDougal; there was the false explanation he dictated aboard Air Force One about the Trump Tower meeting. I could go on and on.
While the president was pitching his scripted fit, aides were already readying the Rose Garden for the brief and bizarre temper tantrum in which Trump vowed to hold his breath until he turns blue. Not literally, but close enough: He said he will refuse to work with Democrats as long as they are investigating him. https://www.washingtonpost.com/opinions/pelosi-has-trump-frantic-and-rattled--again/2019/05/23/90f8adfa-7d97-11e9-a5b3-34f3edf1351e_story.html
13. Paul Waldman: The wall of concealment Trump built around his finances is beginning to crumble
In the past, presidents have gone to almost any length to assure the public that there wouldn't be even the barest suggestion of impropriety regarding their personal finances. Jimmy Carter put his peanut farm in a trusteeship. Barack Obama refused to refinance his mortgage when rates fell, saying that "When you're president you have to be a little careful about these transactions."
President Trump would no doubt say that they were suckers. Not only has he continued to seek every opportunity he can to make money while president, but also he has essentially declared that where he gets his money from and what he does with it are nobody's business. The obvious reason — the voluminous evidence that he is spectacularly corrupt, in some ways that are simply appalling and in others that bear directly on the presidency — is precisely why it's so important that we see what he's hiding.
So far, Trump has been successful in erecting walls of concealment around his finances. But those walls are beginning to crack.
The legal problem Trump and his attorneys face is that there is a long line of jurisprudence establishing that Congress' oversight powers are extremely broad. And one must acknowledge their spectacular chutzpah, to claim that Congress has no legitimate reason to investigate the finances of a president with a long history of not only scams and cons such as Trump University but also a series of sketchy overseas business deals that have the potential to influence the way he conducts foreign policy. https://www.washingtonpost.com/opinions/2019/05/23/wall-concealment-trump-built-around-his-finances-is-beginning-crumble/
14. Matt Stieb: National Security Adviser John Bolton Is Trying to Run a One-Man State Department
The Trump White House has long been a place of internal strife, from the early days of Steve Bannon versus everyone else, to the daily sparring of John Kelly and his boss, to the current conflict between Secretary of State Mike Pompeo and National Security Adviser John Bolton. According to a new report from CNN, Pompeo is frustrated by Bolton overstepping his role and circumventing the usual policy-making processes.
Since becoming national security adviser in April 2018, Bolton has hosted fewer "principals meetings" involving high-level Cabinet officials and has pursued shorter, more informal briefs with the president and his staff. Generally, he has reengineered his role "into a decision-making perch instead of a position meant to funnel information to the President," per CNN.
At times, that's left other top-ranking officials, including Pompeo, feeling excluded and out of the loop.
During a recent debate over how to handle North Korea, Bolton left Pompeo off messages he sent to the CIA that included a list of questions he wanted answered, according to a source in the intelligence community.
Bolton is also reportedly holding meetings at the CIA headquarters as an easy way to keep State Department staffers from attending. One source told CNN that "John Bolton is playing secretary of State."
Not only is Bolton's jockeying causing open conflict with Pompeo in national security meetings, Trump also appears to be frustrated by his unconventional adviser. The president reportedly said that he felt undermined by Bolton on North Korea, and that Bolton is pushing a "war agenda" on Iran, when he would prefer diplomatic talks. Naturally, the president also doesn't like his adviser's public-facing role. Bolton's Twitter presence and media appearances are not "appreciated by the president," a source close to Bolton told CNN. "He wants it to be all about him." http://nymag.com/intelligencer/2019/05/john-bolton-wants-to-run-a-one-man-state-department-report.html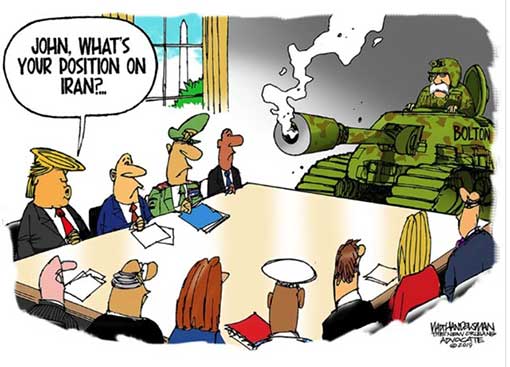 15. Dana Milbank: Trump seems to be transparently mad
On Wednesday, Trump started tweeting before 6 a.m. about "NO COLLUSION" and impeachment and "PRESIDENTIAL HARASSMENT!" From that fragile mental state, all it took was one line from Pelosi to propel Trump to the Rose Garden with a poster taped to the presidential lectern announcing such things as "NO Collusion" and "18 Angry Democrats."
"I don't do coverups," announced the man who paid hush money to an adult-film star and who is now fighting legal battles to conceal his tax returns and business records. "I'm the most transparent president, probably, in the history of this country," he also said.
In one sense, that's true: Trump's state of mind is utterly transparent, revealed in real time. At the moment, he seems to be transparently mad.
Back at the Capitol, Pelosi reacted with concern more than anger. "I pray for the president of the United States," she said. "And I pray for the United States of America."
So should we all. https://www.washingtonpost.com/opinions/as-impeachment-looms-trump-has-less-method-more-madness/2019/05/22/41c22bec-7cd6-11e9-a5b3-34f3edf1351e_story.html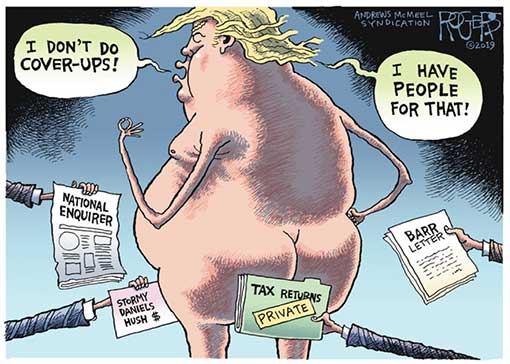 16. Philip Bump: Trump, not understanding treason, names people he thinks committed the capital crime
During an impromptu press conference at the White House on Thursday, President Trump was asked by a reporter to be a bit more specific with one of the pejorative claims he's been making in recent weeks.
"Sir," NBC's Peter Alexander said, "the Constitution says treason is punishable by death."
Trump gave a slight nod of acknowledgment.
"You've accused your adversaries of treason," Alexander continued. "Who specifically are you accusing of treason?"
Before we get to Trump's response, here's an example of Trump using the phrase on Twitter.
My Campaign for President was conclusively spied on. Nothing like this has ever happened in American Politics. A really bad situation. TREASON means long jail sentences, and this was TREASON! -- Donald J. Trump@realDonaldTrump
It is not the only example.
"Well," Trump replied, "I think a number of people. And I think what you look is that they have unsuccessfully tried to take down the wrong person."
Who specifically?
"If you look at [former FBI director James] Comey," Trump said, "if you look at [former FBI deputy director Andrew] McCabe, if you look at people probably higher than that."
Notice what's happened here: Trump's gone from nodding at the idea that treason demands execution to hinting darkly that senior officials in his predecessor's administration might have committed the crime.
It's an absolutely ridiculous assertion, mind you. For all of Trump's overheated rhetoric, none is as easily dismissed as this claim of "treason." Why? Because, as an expert with whom we spoke in March explained, the constitutional definition of treason to which Alexander referred is very specific in its scope.
"You can commit treason in one of two ways," Carlton F.W. Larson, professor of law at the University of California at Davis and author of the upcoming book "The Trials of Allegiance: Treason, Juries and the American Revolution," said when we spoke by phone. "One is you can levy war against the United States, which is essentially raising an internal rebellion to overthrow the government. ... The other would be adhering to the enemy, giving them aid and comfort. And 'enemy' is defined very precisely as foreign nations or groups with whom we are in a state of open war."
So unless Comey and McCabe raised an army to take on the U.S. military or provided direct aid to countries who are officially at war with the U.S. -- countries to be named later -- they didn't commit treason. By definition.
But the president of the United States nonetheless directly and incorrectly accused four former government officials of a capital crime -- and indirectly hinted that perhaps the man who preceded him in office was similarly culpable. https://www.washingtonpost.com/politics/2019/05/23/trump-not-understanding-treason-names-people-he-thinks-committed-capital-crime/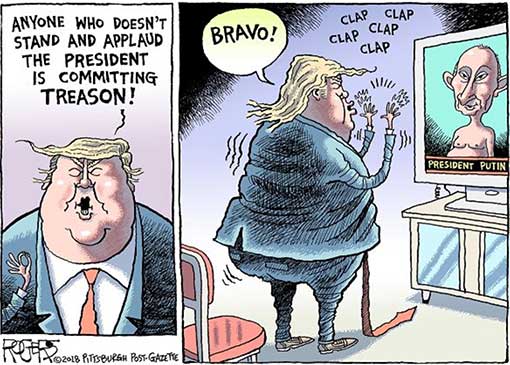 17. Amy Walter: Democrats and the Enthusiasm Gap
"Democrats are in something of a Catch-22. There is a consensus (at least among the chattering class and highly engaged Democratic voters) that the party needs to pick a nominee who is the most electable, even if this person is not the most exciting or ground-breaking pick (i.e., a white, moderate, male). But, the 'least risky' candidate risks depressing Democratic base voters (especially younger voters and voters of color), the very voters Democrats need to turn out if they are going to beat President Trump."
"New polling by Pew Research suggests that former Vice President Joe Biden — the candidate many see as the most electable — also fits the description of the type of nominee that many voters in the Democratic base say they are least enthusiastic about supporting in November of 2020. Pew asked Democratic voters to choose their level of enthusiasm for a Democratic nominee based on that candidate's gender, race, and sexual orientation. A nominee who was female, Black, or Latino generated the most enthusiasm and the lowest percent of apathy. A nominee who was described as gay, lesbian or bi-sexual drew slightly more eagerness than wariness — 17 percent more enthusiastic to 15 percent less enthusiastic."
"The characteristics that drew the lowest percent of enthusiasm and the highest percent of apathy? You guessed it, a white man." https://cookpolitical.com/analysis/national/national-politics/democrats-and-enthusiasm-gap
18. Paul Waldman:Trump extends his corruption into the intelligence agencies
Because this is the Donald Trump era, the news that the president has "repeatedly urged" the Army Corps of Engineers to give a lucrative contract to a GOP donor and frequent Fox News guest is only the second most scandalous story of the day. The most scandalous is this one:
President Trump has granted Attorney General William P. Barr "full and complete authority" to declassify government secrets, issuing a memorandum late Thursday that orders U.S. intelligence agencies to cooperate promptly with Barr's audit of the investigation into Russia's election interference in 2016.
The president's move gives Barr broad powers to unveil carefully guarded intelligence secrets about the Russia investigation, which the attorney general requested to allow him to quickly carry out his review, according to the memo.
Barr's "investigation" is nothing but a propaganda exercise, an effort to provide ballast to the lunatic idea that there should never have been any investigation at all into Russia's attempts to help Trump get elected president. But we have to be clear about just how shocking this order from Trump is.
The executive order not only gives Barr permission to "declassify, downgrade, or direct the declassification or downgrading of information or intelligence" to whatever degree he likes, but also orders the leaders of every intelligence agency to give him whatever he wants. If he wants to declassify something and they object, tough luck for them.  https://www.washingtonpost.com/opinions/2019/05/24/trump-extends-his-corruption-into-intelligence-agencies/
19. Jonathan Chait: Laugh at Trump, Sure — But Also Watch What He's Doing
"You joined our movement" — he said, making clear which subset of the country he was speaking to — "because you rejected the failures and betrayals of the past," he told the crowd. "You reclaimed your destiny, you defended your dignity, and you took back your country." The clanging, ethno nationalist oratory felt weirdly out of time and place. "Joined our movement"? "Reclaimed your destiny"? "Defended your dignity"? It sounded less like a speech by an American president than like lines uttered by one of the leaders of the Axis powers.
In combination with Barr's latest counter-investigation, Trump has succeeded in reshaping the legal incentives under which law enforcement operates. The message is clear: If you investigate Trump or his allies, you will yourself be hounded and scrutinized for evidence of any wrongdoing. (Peter Strzok and Lisa Page, two romantically linked FBI agents involved in the Russia probe, who shared what they thought were private text messages criticizing Trump during the campaign, have been openly mocked by the president and will be the subjects of a forthcoming theater production catering to Trump fans.) And if you carry out Trump's agenda or goals, you will be rewarded with legal immunity for any crimes, however cruel or brutal.
Just as Trump has put his presidency at the disposal of his never-ending campaign, he is likewise demanding that the federal security apparatus put aside its ethos of civil-service neutrality and follow his whims. For all his buffoonish flailing, it's hard to say he's losing. http://nymag.com/intelligencer/2019/05/laugh-at-trump-but-watch-what-hes-doing.html
20. Masha Gessen: How Nancy Pelosi's Tactics Affirm the Trumpian Style of Politics
The President of the United States is erratic, illiterate, and doesn't want to know what he doesn't know. The President has alienated former allies, befriended or courted murderous dictators, and has repeatedly brought the country to the brink of nuclear confrontation. The President lies constantly, knows that he is lying, and demands that Administration officials lie for him, and often they do. The President has waged war on the institutions of government, overseeing the gutting of the State Department and the destruction of other federal agencies by their own leaders, and effectively shut off media access to the Pentagon, the State Department, and the White House. The President has acted to thwart oversight of the Administration by other branches of government. The President has never made a secret of despising the government itself: he has called it a "swamp" and gleefully shut it down for thirty-five days, during a temper tantrum. The President has not only failed to divest himself of his businesses but has installed his children in and near the White House, openly using his office for personal financial gain. The President has debased political culture and language, using his bully pulpit to spew lies, hate, and personal insults, and to serve fast-food burgers.
These are some of the known facts. The Trump Presidency has been a two-and-a-half-year-long high crime against common decency, good sense, human values, the national interest, and the law. The question is: What constitutes good opposition politics in this situation?
Trump's performance is repetitive. None of what he has done in his battle of insults with Pelosi is surprising or new: not storming out of a meeting with her and the Senate Democratic leader, Chuck Schumer, on Wednesday (at least the third such walkout in six months); not the scuttling of an anticipated legislative deal with the Democrats (he does this every time); not his counterfactual assertions that he doesn't "do coverups" and is a "very stable genius" (he has said this before); not the ugly spectacle of his meltdown; not the vulgar sexism of his insults. All of it is just more Trump. https://www.newyorker.com/news/our-columnists/how-nancy-pelosis-tactics-affirm-the-trumpian-style-of-politics
21. Renato Mariotti: Why Trump's Stonewalling Legal Strategy Will Keep Failing
If Trump's team is not alarmed by the speed and sweeping nature—not to mention the almost dismissive tone—of the two judgments against the president, it should be. Trump's strategy on a variety of fronts has been to take extreme positions denying congressional authority to investigate the president. On Monday, for example, the Department of Justice's Office of Legal Counsel concluded that the president's senior advisers are immune from subpoenas to testify about their official duties. Buried on Page 9 of the memo was an admission that the only court to consider this issue had ruled to the contrary. Hiding an unfavorable precedent in this manner might work on a first-year law student, but it won't fool a federal judge.
Last week, White House counsel Pat Cipollone, arguing against having to produce the full Mueller Report and underlying materials, said the House Judiciary Committee lacked any "legislative purpose" for investigating Trump's conduct as detailed in the Mueller report. He accused the House Judiciary of conducting a "pseudo law enforcement investigation." Sound familiar?
The Achilles' heel of Trump's strategy is that his extreme positions are not fact-specific or nuanced and are easily disposed of as legally groundless. Mehta noted that the "legal issues presented do not require the court to resolve any fact contests because the material facts are not in dispute." Because Trump challenged the very right of Congress to investigate these matters, the only facts the court needed to consider were basic facts that no one could possibly dispute.
As a result, his strategy is not only generating adverse results quickly, but it could very well convince a court that he is acting in bad faith. If that happens, the House could get the courts to do what it is ill-equipped to do itself: enforce compliance with congressional subpoenas. That could get congressional investigations, or even an impeachment inquiry, off the ground. https://www.politico.com/magazine/story/2019/05/26/trump-tax-returns-subpoena-226987
22. Robert De Niro Subpoena's Robert Mueller
Dear Mr. Mueller,
It probably hasn't escaped your attention (in my mind, nothing escapes your attention) that I play a version of you on "Saturday Night Live." As "Robert Mueller," my character is intimidating because he is so honest and upright. I do it for comic effect — that's the intention anyway — but there's also a lot of truth to it. To put it another way — it's good-natured fun, but not entirely good-natured.
There's a level of satire, directed at the current administration. To be fair, not everyone appreciates the humor. The president has tweeted that there's "nothing funny about tired 'Saturday Night Live'" and that it's "very unfair and should be looked into," even "tested in courts," and "this is the real collusion!" Though what or with whom the show would be colluding is unclear. But then I don't have to tell you about problems with the term "collusion." You barely mention the word in your report, and then only to explain why you're not using it. That could be a punch line on "Saturday Night Live."
As I prepared for my role on the show, I got to know you a lot better. I read about your lifetime devotion to public service and your respect for the rule of law. I watched how you presided over the special counsel's office apparently without leaks. And you never wavered, even in the face of regular vicious attacks from the president and his surrogates.
While I and so many Americans have admired your quiet, confident, dignified response in ignoring that assault, it allowed the administration to use its own voice to control the narrative. And those voices are so loud and so persistent that they beat even reasonable people into submission. The loudest, most persistent voice belongs to the president himself, and under most circumstances, we want to believe our president.
There's a lot of speculation about the president being tone-deaf to facts, but there's not much disagreement about the tone. Whether you take delight in it as his loyal supporters do or you're the unfortunate target of his angry rhetoric, the hostile way he expresses himself registers with everyone. Nor is there much credible disagreement that the president treats lies, exaggerations and bullying as everyday weapons in his communication toolbox. These onslaughts of rhetoric aimed at his opposition mostly leave his antagonists sputtering in response, but I don't think an in-kind response will be very effective either.
Say what you will about the president — and I have — when it comes to that lying, exaggerating, bullying thing, no one can touch him. He has set up a world where it seems as if those disapproving of him can effectively challenge him only by becoming just like him. He's bringing down the level of the entire playing field.
And here, Mr. Mueller, is where you come in — where you need to come in. In your news conference, you said that your investigation's work "speaks for itself." It doesn't. It may speak for itself to lawyers and lawmakers who have the patience and obligation to read through the more than 400 pages of carefully chosen words and nuanced conclusions (with all due respect, as good a read as it is, you're no Stephen King).
You've characterized the report as your testimony, but you wouldn't accept that reason from anyone your office interviewed. Additional information and illumination emerge from responses to questions. I know you're as uncomfortable in the spotlight as the president is out of it. I know you don't want to become part of the political spectacle surrounding Russia's crimes and your report on them. I know you will, however reluctantly, testify before Congress if called, because you respect the system and follow the rules, and I understand why you'd want to do it away from the public glare.
But the country needs to hear your voice. Your actual voice. And not just because you don't want them to think that your actual voice sounds like Robert De Niro reading from cue cards, but because this is the report your country asked you to do, and now you must give it authority and clarity without, if I may use the term, obstruction.
We've learned our lesson about what can happen to the perception of your work when interpreted in rabid tweets by the president, dissected by pundits all over the map, trumpeted in bizarre terms by the president's absurd personal lawyer and distorted by the attorney general.
And if, in fact, you have nothing further to say about the investigation, for your public testimony, you could just read from the report in response to questions from members of Congress. Your life has been a shining example of bravely and selflessly doing things for the good of our country. I urge you to leave your comfort zone and do that again.
You are the voice of the Mueller report. Let the country hear that voice.
With great respect,
Robert De Niro
https://www.nytimes.com/2019/05/29/opinion/robert-de-niro-robert-mueller-we-need-to-hear-more.html