April 14, 2022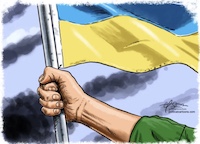 If you have a friend, family member, or neighbor who would like to subscribe to this FREE weekly newsletter they should simply email jellison@san.rr.com with "subscribe" as the subject.
THE WEEK'S BEST QUOTES. . .
"Judge Jackson has also shown real interest in helping terrorists. The last Judge Jackson"—Robert H. Jackson—"left the Supreme Court to go to Nuremberg and prosecute the case against the Nazis. This Judge Jackson might have gone there to defend them." —
Sen. Tom Cotton
. Judge Jackson, as a federal public defender, had worked on the cases of four men detained at Guantánamo Bay. None of them was ever put on trial.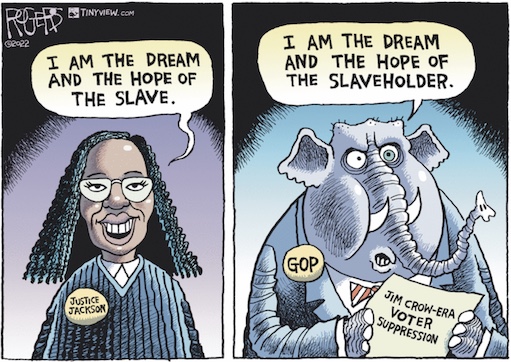 Senator Cotton is a "little maggot-infested man. Cotton is basically everything that is wrong with the Republican Party, a party built on fraud, fear, and fascism. — DNC chair Jaime Harrison in an appearance on Morning Joe.
"'You know, you've been investigated years and years, millions and millions of pages of documents, they found nothing.…I think I'm the most honest human being, perhaps, that God ever created. — Donald Trump, at a rally in Selma, NC, after NY state prosecutors asked a court to hold Mr Trump in contempt for failing to hand over documents for a civil probe into his business dealings.
"Dr. Oz. Great guy, good man. He's a good man. Harvard educated, tremendous, tremendous career and they liked him for a long time. That's like a poll. You know, when you're in television for 18 years, that's like a poll, that means people like you." — Donald Trump, explaining his endorsement of Dr. Mehmet Oz (R) in the Pennsylvania Senate race.
"Enemy number one is the sociopathic grandpa from Omaha." — Billionaire venture capitalist Peter Thiel on Warren Buffett topping the "enemies list" of people who are trying to stop cryptocurrency.
The idea of a Black woman being confirmed as a Supreme Court justice in a Senate chamber presided over by another Black woman as vice president of the United States went from being just a dream of a much better day in a racially evolved nation to being a reality on Thursday. When the Rev. Martin Luther King Jr., the night before he was assassinated, told an audience he had been to the mountaintop and seen the promised land, could even he have foreseen this day? — LA Times Editorial on the confirmation of Ketanji Brown Jackson.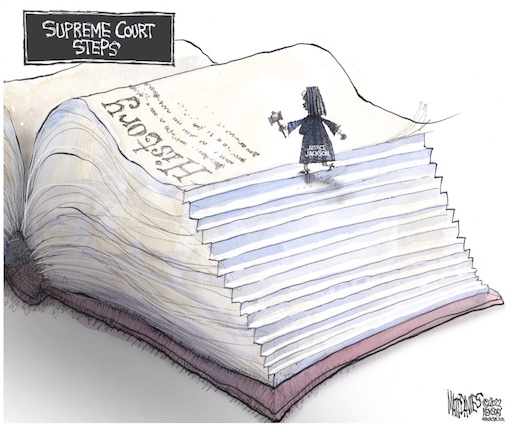 "They say, 'Trump said Putin's smart.' I mean, he's taking over a country for two dollars' worth of sanctions. I'd say that's pretty smart. He's taking over a country -- really a vast, vast location, a great piece of land with a lot of people, and just walking right in." — Donald J. Trump, March 2022.
"I feel like maybe other Republicans like having her around to make the rest of them seem normal." — Jimmy Kimmel on why Republicans refuse to discipline Rep. Marjorie Taylor Greene.
63 Rs voted NO on a non-binding resolution reaffirming "unequivocal support for the North Atlantic Treaty Organization as an alliance founded on democratic principles" and calling on Biden to push to establish a "center for democratic resilience" at NATO — Manu Raju
"The policies I represent are those of Trump and Putin." — French presidential candidate Marine Le Pen, defending the annexation of Crimea in 2017.
"There's not really a dispute on the committee." — Rep. Liz Cheney (R-WY) disputing a report which said the House select Committee was split over whether to refer Donald Trump to the Department of Justice for criminal charges regarding his attempt to overturn the 2020 election, leading to the Capitol attack.
"He's not smart enough to be an authoritarian." — Former National Security Adviser John Bolton, when asked by the New York Times if Donald Trump was an authoritarian.
A Republican in Missouri sponsored a bill to outlaw marriages to a child under 14. And 48 Republicans voted against it.
"It's like throwing your life away." — What MTG says about joining the US Military.
Busy day for the @GOP:
63 Republicans vote no to support NATO
TN GOP proposes "Marry Little Kids" bill
Tom Cotton calls Ketanji Brown Jackson a Nazi
OH pushes Don't Say Gay/Race bill
GOP to host CPAC with Orban in Hungary
Oklahoma GOP passes total abortion — MeidasTouch
VIDEOS
Justice Ketanji Brown Jackson Confirmation Cold Open - SNL: https://youtu.be/A_qQwXRjqQ8
Weekend Update: Judge Ketanji Brown Jackson Confirmed, Obama's Return to the White House - SNL: https://youtu.be/uLivLrE4w8E
Jimmy Kimmel Live: Sean Hannity Cleverly Trolls Donald Trump. https://www.youtube.com/watch
Mitt Romney stayed and continued to clap as most Republicans walked out during the applause for newly confirmed Justice Ketanji Brown Jackson. https://twitter.com/Acyn/status/1512133744219475986
"These claims are frankly ridiculous." - CNN's Daniel Dale breaks down specific examples of Russian misinformation regarding the war in Ukraine. https://twitter.com/CNN/status/1513637883739090947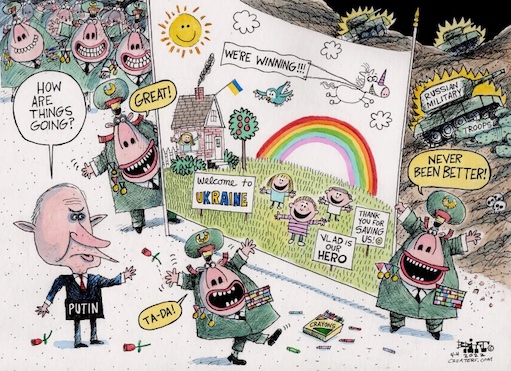 Rep. Marjorie Taylor Greene (R-GA) criticized the media attention on the January 6 Capitol insurrection, arguing that it "only happened one time," https://www.independent.co.uk/news/world/americas/us-politics/marjorie-taylor-greene-january-6-b2055600.html
LITIGATION TRACKER
Pending Criminal and Civil Cases Against Donald Trump. https://www.justsecurity.org/75032/litigation-tracker-pending-criminal-and-civil-cases-against-donald-trump/
---
IN THIS ISSUE
IN THE NEWS
OPINION
Andy Borowitz: Ted Cruz Says Confirmation of Qualified Nominee Sets Dangerous Precedent
Minutes after Kentanji Brown Jackson was confirmed to the United States Supreme Court, Senator Ted Cruz warned that the confirmation of a qualified nominee set "a dangerous precedent.
"Make no mistake, Judge Jackson has been confirmed for the flimsiest of reasons—that she is qualified," Cruz said. "Now that one qualified nominee has been confirmed, we can expect more of the same."
"Mark my words, Joe Biden and his cabal of Democratic cronies are ready to pack the Court with other qualified nominees," he added. "The slippery slope started today."
Recalling confirmation hearings of yesteryear, Cruz waxed nostalgic for an era "before the tyranny of the qualified seized control."
"There was a time in America when a Supreme Court nominee could be confirmed because he liked beer and cried about calendars," he said. "Those days, sadly, appear to be over."https://www.newyorker.com/humor/borowitz-report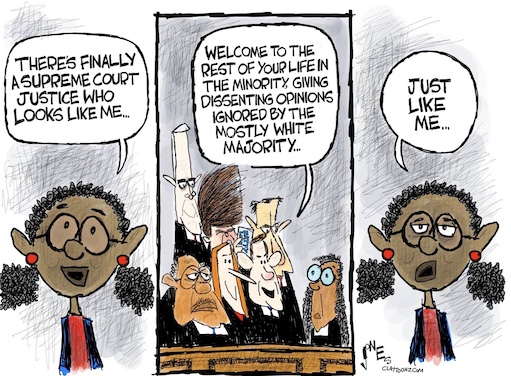 Trump Blames Pelosi for Not Ending Capitol Riots
Former president Donald Trump voiced regret Wednesday over not marching to the U.S. Capitol the day his supporters stormed the building, and he defended his long silence during the attack by claiming House Speaker Nancy Pelosi and others were responsible for ending the deadly violence.
"I thought it was a shame, and I kept asking why isn't she doing something about it? Why isn't Nancy Pelosi doing something about it? And the mayor of D.C. also. The mayor of D.C. and Nancy Pelosi are in charge," Trump said of the Jan. 6, 2021, riot in a 45-minute interview with The Washington Post. "I hated seeing it. I hated seeing it. And I said, 'It's got to be taken care of,' and I assumed they were taking care of it." https://www.washingtonpost.com/politics/2022/04/07/trump-interview-jan6/
Donald Trump Jr. texted Meadows ideas for overturning 2020 election before it was called
Two days after the 2020 presidential election, as votes were still being tallied, Donald Trump's eldest son texted then-White House chief of staff Mark Meadows that "we have operational control" to ensure his father would get a second term, with Republican majorities in the US Senate and swing state legislatures, CNN has learned.
In the text, which has not been previously reported, Donald Trump Jr. lays out ideas for keeping his father in power by subverting the Electoral College process, according to the message reviewed by CNN. The text is among records obtained by the House select committee investigating January 6, 2021.
"It's very simple," Trump Jr. texted to Meadows on November 5, adding later in the same missive: "We have multiple paths We control them all."
The text from Trump Jr. is revealing on a number of levels. It shows how those closest to the former President were already exchanging ideas for how to overturn the election months before the January 6 insurrection -- and before all the votes were even counted. It would be another two days before major news outlets declared Joe Biden the winner on November 7. https://www.cnn.com/2022/04/08/politics/donald-trump-jr-meadows-text/index.html
Greg Abbott Pledges to Bus Migrants to Washington, D.C.
Responding to the recent announcement that the Biden administration will lift a pandemic-era immigration policy that allows authorities to turn away migrants, Gov. Greg Abbott promised drastic, "unprecedented" action to curb what is expected to be a significant influx of migrants coming to Texas.
At a press conference on Wednesday, Abbott unveiled a stunning plan that sent a shockwave through the immigration rights community: Texas would place state troopers in riot gear to meet migrants at the border and bus them straight to the steps of the U.S. Capitol in Washington, D.C., where he said the Biden administration "will be able to more immediately address the needs of the people that they are allowing to come across our border." https://www.texastribune.org/2022/04/06/greg-abbott-texas-border-title-42/
The Republican Party Is Trump Steaks
It's been an inauspicious start for TRUTH Social, the former president's new Twitter knock-off, helmed by bovine ex-Congressman Devin Nunes.
Like the other Trump schemes—airlines, steaks, board game, university, magic pills, magazine, etc. etc. etc…—from the jump TRUTH had all the marks of a media buzz Potemkin Village that allows the first family of grift to cash in, but doesn't deliver anything of value to the marks who got swept up in the hype. https://www.thebulwark.com/the-republican-party-is-trump-steaks/
Trump Criminal Probe Continues, While New York Attorney General Seeks Contempt in Civil Case
Manhattan District Attorney Alvin Bragg said Thursday that his office's criminal investigation into former President Donald Trump, his company and its leadership continues, despite the resignation earlier this year of two senior prosecutors.
The team working on the investigation was going through documents, interviewing witnesses and "exploring evidence not previously explored," Mr. Bragg said in a statement. He said while the law required secrecy during the investigation, he would ultimately tell the public whether it concluded without charges or with an indictment.
Mr. Bragg's comments came shortly after New York Attorney General Letitia James asked a judge to hold Mr. Trump in contempt and fine him $10,000 a day for what she said was his failure to turn over documents for her civil-fraud investigation into the former president and his company. https://www.wsj.com/articles/trump-criminal-probe-is-ongoing-top-manhattan-prosecutor-says-11649356200
The Veteran Who Launched A Multimillion-Dollar Effort To Build A Border Wall Has Agreed To Plead Guilty To Fraud Charges
Brian Kolfage, an Iraq War veteran who launched a multimillion-dollar crowdfunding effort to build a private border wall, has agreed to plead guilty to fraud charges after prosecutors say he surreptitiously took hundreds of thousands of dollars from the fundraiser.
Kolfage collected the funds despite claiming that he wouldn't earn "a penny in salary or compensation" for the massive crowdfunding effort, but federal prosecutors alleged he and others with the organization arranged a scheme in which he secretly took more than $350,000 from the donations by using nonprofits and shell companies.
Steve Bannon, a top aide to former president Donald Trump, was also charged with conspiracy to commit wire fraud and money laundering. According to the indictment, Bannon had received at least $1 million from the supposed nonprofit. In the last hours of his presidency, however, Trump issued a pardon for Bannon. https://www.buzzfeednews.com/article/salvadorhernandez/brian-kolfage-border-wall-fraud-charges-plea
Alabama legislature passes surprise 'Don't Say Gay' amendment, transgender bathroom restrictions
The Alabama legislature passed its own version of Florida's "Don't Say Gay" law Thursday after a surprise amendment to a transgender bathroom bill.
Thursday morning, the last day of the legislative session, Sen. Shay Shelnutt, R-Trussville, introduced an amendment amendment that's language mirrors a new Florida law, which applies to K-3 grades. https://www.al.com/educationlab/2022/04/alabama-senate-adds-dont-say-gay-amendment-to-transgender-bathroom-bill.html
Prosecutor says criminal probe of Trump business is still underway
Manhattan District Attorney Alvin Bragg's office is "exploring evidence not previously explored" in its investigation of former president Donald Trump's business practices, Bragg said in a statement Thursday, pledging that he will publicly announce whether he will seek charges at the conclusion of his probe.
https://www.washingtonpost.com/national-security/2022/04/07/bragg-trump-probe-continues/
McConnell pressed on contradiction with Trump and moral red lines
Senate Minority Leader Mitch McConnell said during an Axios NewsShapers interview with Jonathan Swan that he'd be obligated to support former President Trump despite the Jan. 6 attack on the Capitol if the GOP renominates him for president in 2024, this inspite of saying Trump was "morally responsible" for January 6th.
McConnell also stood by Justice Clarence Thomas' decision not to recuse himself despite wife Ginni Thomas' activism to overturn the 2020 election. And he would not commit to Supreme Court hearings for Biden nominees if the GOP takes the majority in November. https://www.axios.com/mcconnell-trump-interview-axios-jonathan-swan-0b36e7ea-c975-4d2f-b2da-c4cd64ddd361.html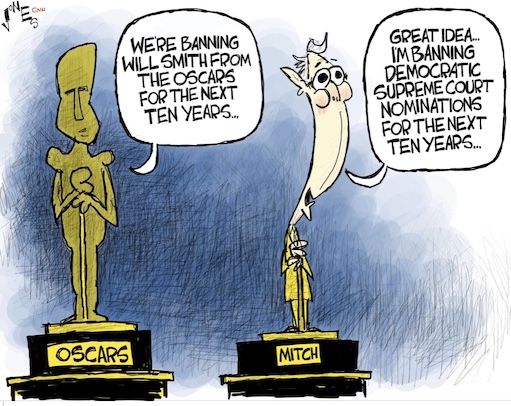 Quinnipiac University National Poll Finds; 2020 Election: Public Split On Whether Trump Committed A Crime
When it comes to the 2020 presidential election and former President Donald Trump's efforts to change the results, 46 percent of Americans think Trump committed a crime, while 48 percent think he did not.
Democrats think 87 - 10 percent that Trump committed a crime, while Republicans think 90 - 6 percent that he did not. Forty-six percent of independents think Trump committed a crime, while 47 percent think he did not. https://poll.qu.edu/poll-release?releaseid=3842
Mississippi governor signs state's largest income tax cut
Republican Gov. Tate Reeves on Tuesday signed a bill that will reduce the state income tax over four years, beginning in 2023.
Mississippi, one of the poorest states in the nation, has struggling rural hospitals and perpetually underfunded schools.
Supporters say a significant tax cut could spur economic growth and attract new residents to Mississippi, which was one of three states that lost population during the decade before the 2020 census. Opponents say reducing the income tax would mean less money for schools, health care, roads and other services, especially hurting Mississippi's poor and working-class residents.
The Mississippi income tax accounts for 34% of state revenue. Wealthy people would see the biggest financial boost from eliminating the income tax, because they're the ones paying the most now. The poorest residents would see no benefit because they are already earning too little to pay state income tax. https://apnews.com/article/business-tate-reeves-mississippi-bc78903b9d20d78638a963efcafd9d03
Whitmer sues over abortion law as governors prepare for state policy free-for-all
Michigan Gov. Gretchen Whitmer filed a lawsuit Thursday challenging her state's 1931 law banning abortion — the latest move in a flurry of state activity preparing for the possible overturning of Roe v. Wade in a few months.
The Michigan law bans abortion at any stage of pregnancy, with an exception for the health of a woman but not for cases of rape or incest. It has remained on the books for decades despite the 1973 Roe decision rendering it unenforceable and establishing the right to abortion nationally.
But with the Supreme Court expected to rule this summer on Mississippi's ban on abortion after 15 weeks of pregnancy, both sides of the abortion debate anticipate that the justices will either completely reverse or significantly roll back Roe. That would allow pre-Roe bans in Michigan and a swath of other states to go back into effect and give states a green light to pass new ones, causing abortion access to vary dramatically from state to state.
In preparation for that moment, and with a closely divided Congress unable to pass new federal abortion legislation, the battle over the procedure is already being fought in the states. Blue states are rushing to shore up protections for people terminating a pregnancy, while red states are pushing a new wave of restrictions.
Whitmer, one of the most vulnerable Democratic governors up for reelection this fall, is using an extraordinary power afforded to Michigan governors to ask the state Supreme Court to take up the abortion case directly, without winding its way through lower courts. By challenging the nearly century-old law, Whitmer hopes to establish a proactive right to an abortion under the state constitution, regardless of developments at the national level. https://www.politico.com/news/2022/04/07/whitmer-sues-abortion-law-governors-00023649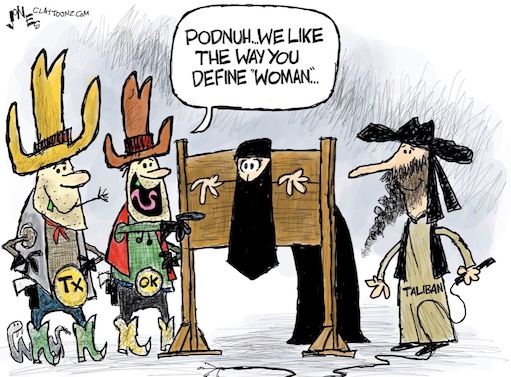 Nearly 25,000 mail-in ballots rejected in March 1 Texas primary, mostly due to new election law
The Texas Secretary of State issued a report Wednesday indicating that nearly 25,000 mail-in ballots were rejected during the March 1 primary, sharply higher than rejections recorded in prior elections.
The major increase in the number of rejected ballots stems almost entirely from new mail-in ballot identification rules from a controversial election law enacted earlier this year. Before the law, election officials typically saw rejection rates hovering near 1%.
The March 1 primary was the first statewide election that required mail-in voters to submit either their driver's license number or last four digits of their Social Security number with the ballot. The election was plagued with problems and confusion across Texas that resulted in rejected applications.
In total, 24,636 ballots were rejected across Texas. Of those, 14,281 were Democratic ballots while 10,355 were ballots for the Republican primary. About 3 million ballots were cast in the primaries.
In North Texas, 1,981 mail-in ballots were rejected across Collin, Dallas, Denton and Tarrant counties. The rejection rate was 12.3%. https://www.dallasnews.com/news/politics/2022/04/06/nearly-25000-mail-in-ballots-rejected-in-march-1-texas-primary-mostly-due-to-new-election-law/
Greene Claims Jimmy Kimmel Threatened Her
Rep. Marjorie Taylor Greene (R-GA) accused Jimmy Kimmel of making a violent "threat" against her, and filed the claim with the U.S. Capitol Police.
The offense? After mentioning some of Greene's outlandish statements, Kimmel said: "Wow, where is Will Smith when you really need him?" https://twitter.com/RepMTG/status/1511816972610244615
Meanwhile, Marjorie Taylor Greene has also removed this Facebook video where she suggests Pelosi can be executed for treason.
"It's a crime punishable by death is what treason is. Nancy Pelosi is guilty of treason," she says. https://twitter.com/KFILE/status/1354908180694904834
Trump endorses Rep. Marjorie Taylor Greene, saying she's worked "to ensure the truth is known about the RIGGED and STOLEN 2020 Presidential Election" — one a string of endorsements for incumbent GOP House members hitting inboxes on April 6th. https://twitter.com/emilybrooksnews/status/1511851174659563520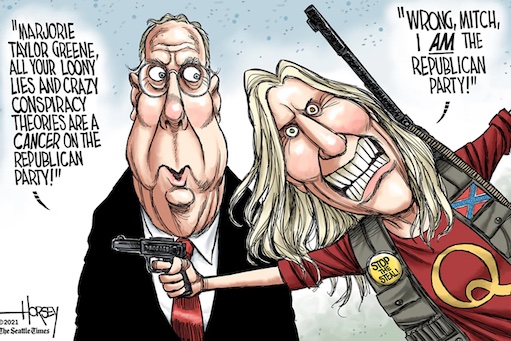 Trumpworld Goes Into Meltdown After Trump Endorses Dr. Oz
Late Saturday evening, former President Donald Trump officially endorsed his old TV pal Dr. Mehmet Oz in the raucous Republican U.S. Senate primary race in Pennsylvania.
In doing so, Trump, while speaking at a rally in North Carolina, ignited fury and ridicule among some of the loudest voices in Trumpworld.
At issue among Trump's most fervent supporters is the belief that Oz, a Turkish-American TV physician who has hobnobbed with Hollywood's elite and has flip-flopped on the issue of abortion, isn't a trustworthy "America First" Republican candidate, compared to fellow candidate Dave McCormick.
"It's like Donald Trump's staff is sabotaging Trump by convincing him to make the worst possible endorsements," conservative radio host Erick Erickson tweeted.
"This endorsement could divide MAGA in the only way that matters: he could lose America First conservatives over it," Breitbart News' Joel Pollak wrote. https://www.thedailybeast.com/trumpworld-figures-go-into-meltdown-after-donald-trump-endorses-dr-oz-in-pennsylvania-senate-race
Poll: Climate Change Proposals Favored by Solid Majorities in U.S.
Americans widely favor each of six proposals designed to limit greenhouse gas emissions that contribute to climate change. Support ranges from 59% in favor of spending federal money for building more electric vehicle charging stations in the U.S. up to 89% for providing tax credits to Americans who install clean energy systems in their homes. https://news.gallup.com/poll/391679/climate-change-proposals-favored-solid-majorities.aspx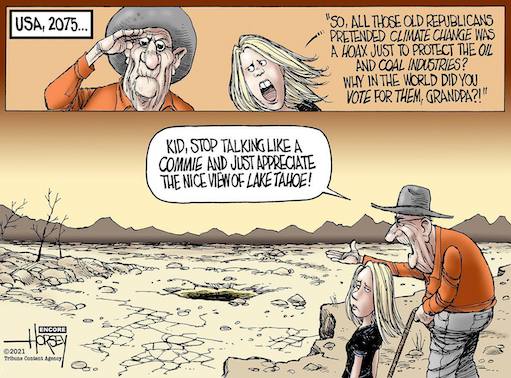 The new White House rule: Do not talk about Joe Manchin
The fate of President Joe Biden's domestic agenda may hinge on his administration's ability to do one simple thing: Shut up.
Four months after Biden's Build Back Better plan collapsed amid a bitter back-and-forth with Sen. Joe Manchin (D-W.Va.), the White House is taking a final shot at resuscitating its social spending bill — and this time it's vowing a sharply different approach to the negotiations.
Top Biden officials are keeping their ambitions vague. They're steering clear of firm deadlines. Most importantly, they're trying as hard as possible to just not talk about it at all. https://www.politico.com/news/2022/04/11/white-house-joe-manchin-biden-00024340
GOP candidates double down on anti-immigrant rhetoric
GOP candidates from Nevada to Ohio are stepping up attacks on undocumented Latino immigrants despite warnings the strategy may backfire in some general election contests.
https://www.axios.com/gop-candidates-anti-immigrant-rhetoric-vance-laxalt-7c3d1559-a409-4e0a-a4d8-ee7dc04e6ac8.html
Putin 'purges' 150 FSB agents in response to Russia's botched war with Ukraine
A "Stalinist" mass purge of Russian secret intelligence is under way after more than 100 agents were removed from their jobs and the head of the department responsible for Ukraine was sent to prison.
In a sign of President Putin's fury over the failures of the invasion, about 150 Federal Security Bureau (FSB) officers have been dismissed, including some who have been arrested. https://www.thetimes.co.uk/article/putin-purges-150-fsb-agents-in-response-to-russias-botched-war-with-ukraine-lf9k6tn6g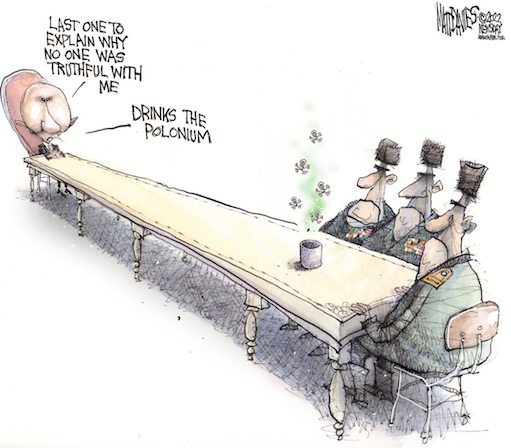 QAnon candidates are on the ballot in 26 states
Dozens of politicians running for state or federal office are aligning themselves with the right-wing, conspiracy-rich, sometimes-violent movement known as QAnon. They're drawing tens of millions of dollars in donations as the movement's popularity stays strong among voters, a Grid investigation has found.
And despite the movement's penchant for lies and violence, key Republicans — from influential megadonors to prominent elected officials — are welcoming the QAnon movement into the party, Grid found. In sum: QAnon appears to be a growing political movement with increasing clout and significant mainstream appeal.
Grid reviewed public records and reporting, social media posts, and campaign materials and events to identify and confirm at least 78 QAnon-aligned candidates running for office in 26 states in 2022. They're running for governorships, secretaries of state, seats in the Senate and House, and in state legislatures. They have raised over $20 million this cycle — and over $30 million since 2018. https://www.grid.news/story/misinformation/2022/04/12/qanon-candidates-are-on-the-ballot-in-26-states/
Anti-Vaxxers Charge Followers to Join Fake Fauci 'Grand Jury'
A motley crew of right-wing activists, a former Trump administration official, and a disgraced former state attorney general have launched an amateur "grand jury" to vote on whether to indict Dr. Anthony Fauci on fictitious criminal charges. But the effort could also become a windfall for its organizers, with positions on the grand jury selling for as much as $2,500.
The upstart organization, dubbed "America's Grand Jury," has no actual legal powers. Instead, starting on April 11, the group will present a livestreamed presentation of Fauci's "prosecution." The mock grand jury will also include "evidence" presented by vaccine opponents, including Robert F. Kennedy Jr. and Dr. Robert Malone.
The event will culminate in the grand jury voting on whether to indict Fauci. Unlike an actual grand jury, though, the slots on this grand jury have been sold to Fauci-haters willing to splash out some cash to express their dislike for the head of the National Institute of Allergy and Infectious Diseases. A voting spot on the jury starts at $25 and goes up from there, with those willing to pay $2,500 for "VIP Juror" status receiving one-night access to mingle with anti-vaccine celebs in the grand jury's green room.
According to its website, the mock grand jury also plans to empanel fake grand juries for Hunter Biden and Hillary Clinton.
https://www.thedailybeast.com/anti-vaxxers-charge-followers-to-join-fake-anthony-fauci-grand-jury?ref=home
The DAILY GRILL
"We had a mother from Leon County, and her daughter was going to school and some people in the school had decided that the daughter was really a boy and not a girl. So they changed the girl's name to a boy's name, had her dress like a boy and on doing all this stuff, without telling the mother or getting consent from the mother. First of all, they shouldn't be doing that at all. But to do these things behind the parents' back and to say that the parents should be shut out. That is wrong," — Florida Gov. Ron DeSantis during a news conference in Jasper, Florida.
VERSUS
DeSantis' account of what happened in Leon County is not quite what a limited number of records that have been made public show, and the governor has continued to repeat the story even after those records were made public late last year. CNN obtained emails that show January Littlejohn wrote the school in 2020 and notified a teacher that her child wanted to change pronouns. Contrary to the governor's portrayal of the story, Littlejohn also wrote that she would not stop her child from using preferred pronouns or name of choice at school. Littlejohn references these emails in her lawsuit against the school and they were reported by the Tallahassee Democrat in November. — Facts First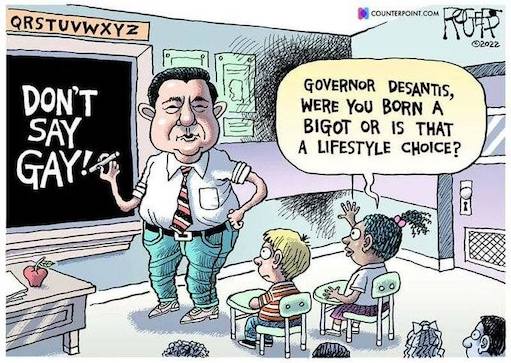 Jonathan Chait: The House GOP Has a Pro-Russian-War-Crimes Caucus
Sixty-three House Republicans voted earlier this week against a resolution expressing support for NATO. That might sound extreme, but a subsequent vote last night exposed a smaller and even more hard-core faction: Six Republicans voted against a bill simply calling on the president to document evidence of Russian war crimes.
This bill does not commit the United States to war with Russia over its war crimes. It does not propose any retaliatory sanctions. It merely requires a report. That even this modest step goes too far reveals the full extent of the far right's functional support for Russian atrocities.
Before the war, Russia commanded widespread admiration on the American right. Donald Trump repeatedly praised Vladimir Putin as a "strong" leader, social conservatives praised his advocacy of Christian values, and even traditional Republican hawks like Ted Cruz expressed envy for the manly appearance of the Russian army in contrast to the "woke, emasculated" U.S. military.
The war has, at least temporarily, tamped down open expressions of Russophilia. But the sentiment has instead been channeled into anti-anti-Russian rhetoric. Rather than openly endorsing Putin's war aims, they focus their criticism on Putin's targets: NATO, military aid for Ukraine, or the legitimacy of Ukraine's government itself. Some right-wingers, most notably Tucker Carlson, have spread Russian propaganda about Ukrainian biolabs as a supposed weapons threat.
The anti-anti-Russia wing has multiple justifications for its stance. Will Saletan chronicles the arguments, which range from disdain for "socialist" allies to fear of escalation to an association between Ukraine and Joe Biden and the Democratic Party. What connects these disparate beliefs is an animus — sympathy for Russia and contempt for its victims — rather than a coherent agenda.
The war-crimes report is an issue that effectively strips away all those pretexts and reduces the question to a simple desire to record Russian atrocities. The refusal to accept even this step shows how deep the far right's resentment of the resistance to Putin runs. They don't merely oppose any steps to contain Russia's war of aggression. They oppose even stating the truth about it. https://nymag.com/intelligencer/2022/04/the-house-gop-has-a-pro-russian-war-crimes-caucus.html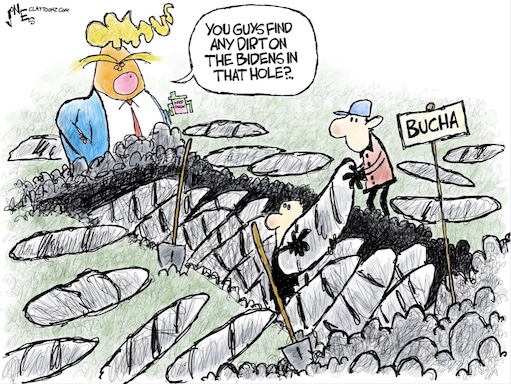 Tim Naftali: Trump Can't Just Erase History Like Nixon Did
A major presidential scandal isn't complete without missing evidence, though Donald Trump seems to have been the first president to swallow his own words, literally. The former president had a habit of tearing drafts and signed documents into small pieces to be thrown away—or flushing them down a toilet. And there have even been reports that, on occasion, he consumed them.
Now a seven-hour gap has appeared in Trump's official daily White House diary, part of the documentation that the congressional January 6 committee requested for its investigation into all aspects of the country's 2021 insurrection. The diary has no evidence of Trump making the calls that others have admitted receiving from him during the height of the violence in the Capitol. Nor does it document any meetings during that time, when the president was thought to be under pressure from aides to calm the situation on the Hill.
The comparisons to Richard Nixon were immediate and inevitable—but they missed a key difference: What happened in those seven hours should ultimately be knowable, at least at some level. The Harvard law professor Laurence Tribe tweeted that the gap in the record made "the infamous 18-minute gap in Nixon's tapes look like nothing in comparison." While that brazen presidential manipulation of the historical record ultimately didn't help Nixon stave off the collapse of his presidency—indeed it likely backfired by creating skepticism toward the president among elite Republicans after its revelation—the gap in a crucial White House tape to this day remains stubbornly difficult to fill in. By contrast, the newly reported Trumpian gap may actually be easier to fill in, and therefore less of a threat to the historical record than Nixon's. https://www.theatlantic.com/ideas/archive/2022/04/trump-phone-calls-nixon-watergate-gap/629472/
Dan Froomkin: Fox News isn't news
The problem with Fox "News," the cable TV channel, isn't just what it is — it's also what it isn't.
It is often a purveyor of propaganda and misinformation. What it's not is a source of "news" — at least not by any normal definition.
According to Broockman and Kalla, when these Fox viewers watched CNN, they heard about all sorts of things Fox wasn't telling them.
That's one of the conclusions I drew from a fascinating new study in which arch-conservative Fox TV viewers were paid to watch CNN for a month. The study, titled "The manifold effects of partisan media on viewers' beliefs and attitudes: A field experiment with Fox News viewers," was performed by a pair of political scientists: David Broockman, who teaches at UC-Berkeley, and Joshua Kalla, who teaches at Yale.
According to Broockman and Kalla, when these Fox viewers watched CNN, they heard about all sorts of things Fox wasn't telling them. They processed that information. They took it in. They became more knowledgeable about what was really going on in the United States.
The experiment didn't change their political preferences — certainly not in just one month. But it slightly altered their perceptions of certain key issues and political candidates.
The study authors differentiated between "traditionally emphasized forms of media influence," like agenda setting and framing, and what they call "partisan coverage filtering": the choice to selectively report information about selective topics, based on what's favorable to the network's partisan side, and ignore everything else. https://www.nbcnews.com/think/opinion/fox-news-study-comparing-fox-cnn-highlights-cable-tvs-harm-rcna23620
Philip Bump: How the GOP learned to stop worrying and love 'stolen election' claims
Making her case to Republican voters before next month's primary in her state, Alabama Gov. Kay Ivey (R) released a new ad succinctly capturing how Donald Trump's false claims about the 2020 election are being weaponized.
"The fake news, big tech and blue state liberals stole the election from President Trump," Ivey says in the spot, which is titled "Stole." She later adds that "the left is probably offended. So be it."
Ivey's assertion that the election was stolen is indefensible nonsense. But the specific phrasing of it, suggesting a conspiracy that involved the machinations of those long-hated elites rather than some cadre of as-yet-unidentified poll workers and schemers, is exactly how non-Trump Republicans plan to appeal to the voters who have been convinced that Trump was the real winner. https://www.washingtonpost.com/politics/2022/04/11/how-gop-learned-stop-worrying-love-stolen-election-claims/
Sarah Ellison and Josh Dawsey: Lachlan Murdoch, once the ambivalent Fox heir, makes his views clear
In a speech in Sydney celebrating a new initiative at a conservative think tank, Lachlan Murdoch — now 50 and the co-chairman of the family's News Corp., which owns the Wall Street Journal and the New York Post, and chairman and CEO of Fox Corp. — took swipes at the "elites" who he believes disdain traditional values. He also blasted governments for imposing mandates and business shutdowns to control the pandemic and alleged conspiratorially that "practically all the media suppressed the discovery of Hunter Biden's laptop."
It was a monologue that could have fit in seamlessly with the lineup of right-wing commentary served up every night by Fox News's prime-time opinion hosts — including an obscure jab at the 1619 Project.
And he echoed the culture-war battles raging on cable news over school curriculums by painting a dire picture of what he sees happening in Australia.
"How can we expect people to defend the values, interests and sovereignty of this nation," Murdoch asked, "if we teach our children only our faults and none of our virtues?"
The speech was something of a tipping point for longtime watchers of the Murdoch empire, who once assumed that the children of the 91-year-old Rupert — notably Lachlan and his younger brother James — might be a moderating influence on the media properties that promoted the rise of former president Donald Trump. https://www.washingtonpost.com/media/2022/04/09/fox-news-lachlan-murdoch-attacks-1619-project-covid-measures/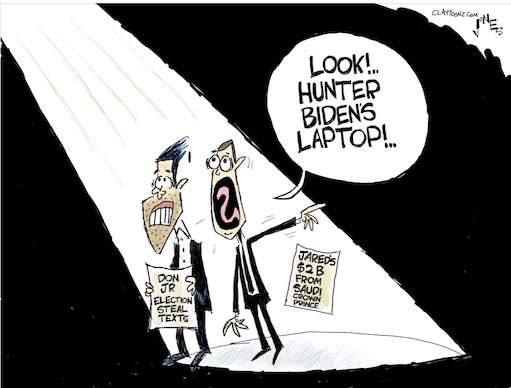 Tom Friedman: How Do We Deal With a Superpower Led by a War Criminal?
It is hard to believe, but now impossible to deny, that the broad framework that kept much of the world stable and prospering since the end of the Cold War has been seriously fractured by Vladimir Putin's invasion of Ukraine. In ways we hadn't fully appreciated, a lot of that framework rested on the West's ability to coexist with Putin as he played "bad boy," testing the limits of the world order but never breaching them at scale.
But with Putin's unprovoked invasion of Ukraine, his indiscriminate crushing of its cities and mass killings of Ukrainian civilians, he went from "bad boy" to "war criminal." And when the leader of Russia — a country that spans 11 time zones, with vast oil, gas and mineral resources and more nuclear warheads than anyone else — is a war criminal and must be henceforth treated as a pariah, the world as we've known it is profoundly changed. Nothing can work the same.
How does the world have an effective U.N. with a country led by a war criminal on the Security Council, who can veto every resolution? How does the world have any effective global initiative to combat climate change and not be able to collaborate with the biggest landmass country on the planet? How does the U.S. work closely with Russia on the Iran nuclear deal when we have no trust with, and barely communicate with, Moscow? How do we isolate and try to weaken a country so big and so powerful, knowing that it could be more dangerous if it disintegrates than if it's strong? How do we feed and fuel the world at reasonable prices when a sanctioned Russia is one of the world's biggest exporters of oil, wheat and fertilizer?
The answer is that we don't know. Which is another way of saying that we are entering a period of geopolitical and geoeconomic uncertainty the likes of which we have not known since 1989 — and possibly 1939.
And it promises only to get worse before it gets better, because Putin is now like a cornered animal. He not only got so much wrong in his Ukraine invasion; he produced the opposite of so much he was aiming to achieve, making him desperate for any war achievement, at any price, that can obscure this fact. https://www.nytimes.com/2022/04/10/opinion/putin-russia-ukraine.html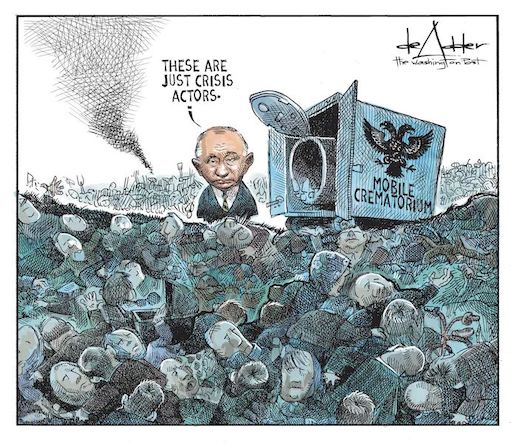 Robert Tracinski: Did the John Birch Society Win in the End?
We tend to think that our culture war is something new, rising out of the unique challenges of our own era. But you'd be surprised how much of it is just the same old culture war being endlessly rehashed.
Today's equivalent of the John Birch Society is the QAnon conspiracy theory, an online grift that got out of hand and became a worldview. It posits its own spectacularly implausible conspiracy theory: That there is a global network of pedophiles who secretly run the world and control our politics so that they can abuse children. This conspiracy theory has in turn spawned other conspiracy theories which claim that the 2020 election was stolen from Donald Trump. It is currently being mainstreamed in attacks on Disney as a corporation bent on "grooming" children to prepare them for exploitation by pedophiles.
Florida Governor Ron DeSantis is the leading candidate to become the "sane Trump"—a Republican who can harness Trump's populist appeal, but in a disciplined and calculating way. But after DeSantis's defenders rushed out to assure everyone that his bill targeting teachers was not a "Don't Say Gay Law" and was not animated by anti-homosexual bias, his press secretary Christina Pushaw declared that the bill "would be more accurately described as an Anti-Grooming Bill," adding, "If you're against the Anti-Grooming Bill, you are probably a groomer." A "groomer," for those who are fortunate enough not to know, is a child predator who manipulates his victims to prepare them to accept abuse.
So much for being the "sane Trump." https://www.thebulwark.com/did-the-john-birch-society-win-in-the-end/