May 5, 2022
THE WEEK'S BEST QUOTES. . .
"At least I'm not a communist." —
Pennsylvania lieutenant governor candidate Teddy Daniels (R)
when asked about his attendance at an event that promoted QAnon and the belief that a global cabal of Democrats and elites are trafficking children for sex and engaged in other demonic activity.
"Had Mitch stuck with many members of the party who knew the election was rigged, I think we wouldn't be at Mar-a-Lago. We would be at the White House having this conversation." —
Donald Trump
saying that he would still be in the White House if Senate Minority Leader Mitch McConnell (R-KY) had bought into his false election claims.
They're gonna start arresting political opponents. They're gonna start throwing political dissidents in jail. They're going to parade people and interrogate you for your free speech." —
Donald Trump
spokeswoman Liz Harrington speaking to a QAnon-affiliated conference over the weekend, warning the audience that if the liberals she alleges stole the 2020 election aren't thrown in jail, they'll come after Trump supporters instead. 
"Anybody who changes the name of the 'storied' Cleveland Indians (from 1916), an original baseball franchise, to the Cleveland Guardians, is not fit to serve in the United States Senate." —
Donald Trump
attacking Ohio U.S. Senate candidate Matt Dolan (R) for his family's ownership of Cleveland's baseball team.
"I don't think he should be our nominee - the Republican Party nominee. And I think Republicans have a big opportunity - it would be a big mistake to put him forward." —
Former Attorney General William Barr
on Trump running in 2024.
"What it is, is Satan's controlling the church. The church is not doing its job, and it's not adhering to the teachings of Christ, and it's not adhering to what the word of God says we're supposed to do and how we're supposed to live." —
Rep. Marjorie Taylor Greene (R-GA)
about Christian organizations working to resettle undocumented immigrants and refugees in the U.S.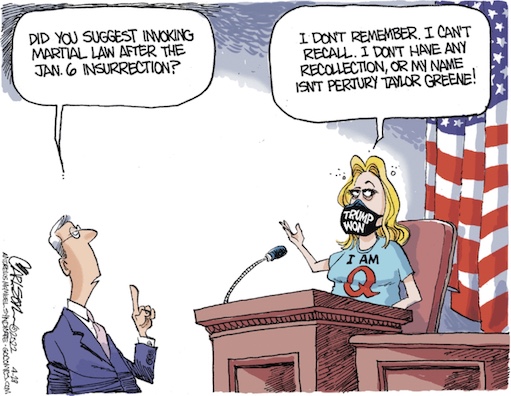 Trump as a "deranged narcissist. Incredibly, rather than distancing themselves from this undisciplined loser, far too many Republican 'leaders' have decided that encouraging his delusional lies — and, even worse — cynically appeasing him despite knowing they are lies, is the easiest path to ensuring their continued hold on power, general election consequences be damned." — 
Tony Daunt
, a longtime Michigan Republican insider, resigned Tuesday night from the GOP's state committee, saying party leaders had made the coming election a test of 'who is most cravenly loyal' to former President Donald Trump.
"Can't you just shoot them? Just shoot them in the legs or something?" —
Former President Donald Trump
asking when demonstrators were filling the streets around the White House following the death of George Floyd, according to Defense Secretary Mark Espern's new memoir. 
"Remember that Zelensky is a thug. Remember that the Ukrainian government is incredibly corrupt, and it is incredibly evil, and it has been pushing woke ideologies." —
Rep. Madison Cawthorn (R-N.C.)
, at odds with the broad bipartisan support for Ukraine.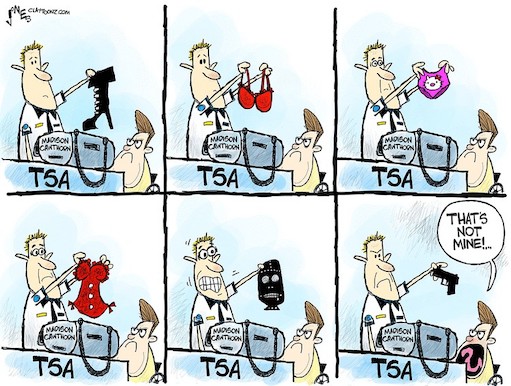 "We're now not going to use Texas. We can't leave all the eggs in one basket and be hostages to someone who wants to use trade as a political tool. Instead the rail line would be routed along the far edge of West Texas up through Santa Teresa, N.M., about 20 miles west of downtown El Paso."—
Mexican Economy Minister Tatiana Clouthier
saying Mexico intends to shift long-range plans to build a trade railway connection worth billions of dollars from Texas to New Mexico in the wake of Gov. Greg Abbott's stepped-up border inspections.
It "may be true" that vaccines against COVID-19 cause AIDS. —
Sen. Ron Johnson (R-WI)
on Rumble, a right-wing social media platform.
VIDEOS
President Biden complete remarks at 2022 White House Correspondents' Dinner (C-SPAN):
https://www.youtube.com/watch?v=CdzGHBUEMY8
Trevor Noah complete remarks at 2022 White House Correspondents' Dinner (C-SPAN):
https://www.youtube.com/watch?v=_fpxCuorKjA
"We should try Anthony Fauci and put him in front of a firing squad." — John Bennett, chairman of the Oklahoma Republican Party and a current GOP congressional candidate -  the crowd at a campaign event clapped and cheered! 
https://twitter.com/RightWingWatch/status/1518959927284441090
I talked with a woman who believes Joe Biden is being played by several different actors - including Jim Carrey. Big, if true. — Jason Selvig
https://twitter.com/jasonselvig/status/1519045888039178244
"Kevin McCarthy is a puppet of the Democratic Party." — Tucker Carlson, on his Fox News show.
https://twitter.com/Acyn/status/1519106348281057282
\
"I would burn 'em." — Tennessee state Rep. Jerry Sexton (R) saying he would burn books that are deemed "inappropriate" by a bill just passed by the legislature. The bill now heads to Tennessee Gov. Bill Lee (R) to be signed into law. 
https://twitter.com/TheTNHoller/status/1519371062538121216
"When women get abortions, it's because Satan has whispered in their ears and promised them that if they do it, the guy they are with will marry them."  -- Rep. Marjorie Taylor Greene (R-GA)
Within hours of winning the U.S. Senate nomination in Ohio, Tim Ryan (D) is out with a new ad hammering rival J.D. Vance (R).
https://twitter.com/PeterHamby/status/1521688181011193856
LITIGATION TRACKER
Pending Criminal and Civil Cases Against Donald Trump. 
https://www.justsecurity.org/75032/litigation-tracker-pending-criminal-and-civil-cases-against-donald-trump/
---
IN THIS ISSUE
IN THE NEWS
OPINION
Andy Borowitz: Susan Collins Shocked That Brett Kavanaugh Would Ever Lie to a Woman
Senator Susan Collins, who had been assured by Brett Kavanaugh in 2018 that he considered Roe v. Wade "settled law," said today that she was "shocked" that the Supreme Court Justice "would ever lie to a woman."

"When I met with Justice Kavanaugh before his confirmation hearings, he looked me in the eye and said that he considered Roe v. Wade the law of the land," she said. "Nothing in his confirmation hearings suggested that he would ever be less than trustworthy with a woman."

"As I watched his Senate testimony, I felt even more confident that he had told me the truth," she added. "His utter respect for a woman's right to make decisions for herself came shining through."

In the aftermath of the leaked Supreme Court draft ruling and reports that Kavanaugh voted to overturn Roe v. Wade, however, Collins is reassessing her ability to tell whether someone is lying to her. "My conduct in this matter has left me troubled and concerned," she said.
https://www.newyorker.com/humor/borowitz-report/
How Tucker Carlson Reshaped Fox News — and Became Trump's Heir
In some respects, Mr. Carlson has taken Trumpism away from Mr. Trump. While the former president has urged his followers to get vaccinated and sought to claim more credit for his administration's efforts to fight Covid-19, Mr. Carlson has continued to promote doubt about the vaccines' efficacy, even likening mandates to Nazi medical experiments. On the Jan. 6 anniversary, Senator Ted Cruz, the Texas Republican, set out to walk back his comments accurately calling the Trump-inspired riot a "violent terrorist attack." He didn't apologize to Mr. Trump. He apologized to Mr. Carlson, in a cringing appearance on "Tucker Carlson Tonight."
https://www.nytimes.com/2022/04/30/us/tucker-carlson-fox-news.html
Tucker Carlson vows he won't read N.Y. Times series about him
Tucker Carlson, the highest rated host in cable news, told Axios he hasn't read a word of this weekend's New York Times series about him — "and of course won't."  https://www.axios.com/tucker-carlson-vows-wont-read-ny-times-series-him-9b12c798-4efc-448d-a04c-f8aaad1a2b41.html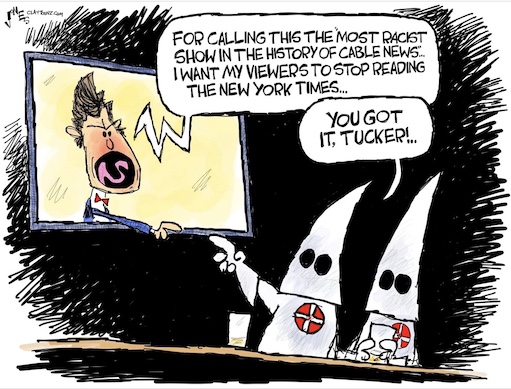 Trump appointee twice delayed report on Russian election interference, federal watchdog says
A top Trump political appointee delayed a report on Russian election interference in the 2020 election in a way that created the perception that intelligence was politicized, according to a new report by the Department of Homeland Security watchdog.
The DHS inspector general report also found that employees of DHS's Office of Intelligence and Analysis made changes to the analysis of foreign election interference "that appear to be based in part on political considerations, potentially impacting I&A's compliance with Intelligence Community policy."  https://www.nbcnews.com/politics/national-security/trump-appointee-twice-delayed-report-russian-election-interference-fed-rcna27198
What the end of Roe would mean
If abortion is left up to the states to regulate entirely to their own will, and that would mean abortion could become very difficult to obtain or even outright illegal in about half of the country, in states mostly concentrated in the South and Midwest.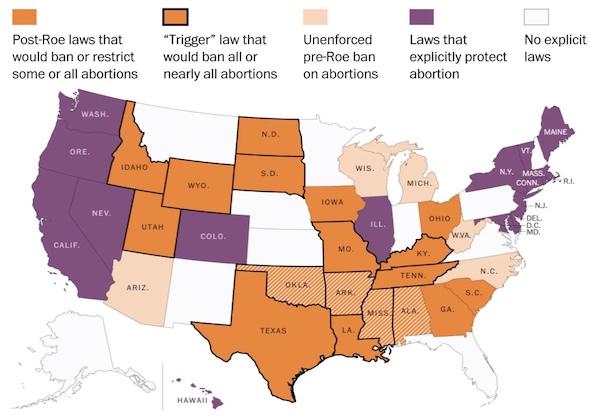 By about a 2-to-1 margin, Americans say Roe v. Wade should be upheld rather than overturned.

https://s2.washingtonpost.com/camp-rw/
Roger Stone Says 'Satanic Portal' Is Over the White House
Roger Stone claimed to have photographic proof that a "satanic portal" has opened over the White House.
Said Stone: "We who believe, we can close the portal, but we can only close it through prayer. Massive prayer, millions of Christians praying to close the portal."
He added: "It's like a swirling cauldron… It's very, very clear. It doesn't move, day or night. It's harder to see during the day, but you see it at night. And I'm absolutely convinced about the inherent evil of what's going on in the White House, what's going on in the country."
"We were born for this moment," Stone continued. "I've been preparing for this moment for my entire life without even knowing it. I just thought I was a political warrior. But this is no longer a war in the political realm, and I do know how it comes out because I know how the Bible comes out. I don't know exactly what the plan is, but I do know that closing this portal is crucial to victory. I want others to talk about it. I want others to see it. … This is not some practical joke. This isn't some conspiracy theory. I'm absolutely convinced that this is demonic. It is a satanic portal. It is access to this Earth by those who are evil, and only by closing it will we be successful in saving this nation under God." Video at https://www.nytimes.com/2022/04/28/us/gop-vote-fraud-immigrants.html
G.O.P. Concocts New Fake Threat: Voter Fraud by Undocumented Immigrants
Voter fraud is exceptionally rare, and allegations that widespread numbers of undocumented immigrants are voting have been repeatedly discredited. Yet that fabricated message — capitalizing on a concocted threat to advance Mr. Trump's broader lie of stolen elections — is now finding receptive audiences in more than a dozen states across the country, including several far from the U.S.-Mexico border.
In Macomb County, Mich., where Republicans are fiercely split between those who want to investigate the 2020 election and those who want to move on, many voters at the county G.O.P. convention this month said they feared that immigrants were entering the country illegally, not just to steal jobs but also to steal votes by casting fraudulent ballots for Democrats.
"I don't want them coming into red states and turning them blue," said Mark Checkeroski, a former chief engineer of a hospital — though data from the 2020 election showed that many places with larger immigrant populations instead took a turn to the right. https://www.nytimes.com/2022/04/28/us/gop-vote-fraud-immigrants.html
Conservative Twitter accounts got boost in followers after Musk acquisition, data shows
It's not your imagination: follower counts on Twitter really have been shifting wildly in response to news that Elon Musk had finalized a deal to acquire the platform.
Data compiled by The Verge from social media statistics site Social Blade shows that in the two days since the deal was completed, influential conservative accounts have increased their follower counts at roughly ten times the average daily rate for the month leading up to the acquisition.
Meanwhile, popular liberal accounts have suffered, collectively losing hundreds of thousands of followers on April 25th and 26th after a month of gains. https://www.theverge.com/2022/4/27/23045005/conservative-twitter-follower-boost-musk-acquisition-data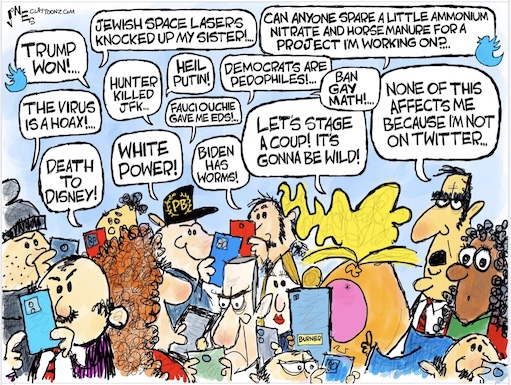 NY attorney general's office says it's nearly done unraveling Trump's 'Russian nesting doll'
Lawyers for the New York State Attorney General's Office said they are nearly finished with their civil investigation into the Trump Organization, after taking steps to unravel the real estate company's assets that they described as being as complex as a "Russian nesting doll."
They still want to search two cell phones belonging to former President Donald Trump and the laptop and desktop of his longtime executive assistant Rhona Graff, but investigators told a judge this week they're moving quickly.
"The process is near the end," Kevin Wallace, senior enforcement counsel at the New York State Attorney General's Office, said Monday. https://www.cnn.com/2022/04/27/politics/trump-ny-investigation/
Evidence mounts of GOP involvement in Trump election schemes
A text exchange between Rep. Jim Jordan  and then-White House chief of staff Mark Meadows, in an April 22 court filing from the congressional panel investigating the Jan. 6 riot, is in a batch of startling evidence that shows the deep involvement of some House Republicans in Trump's desperate attempt to stay in power. A review of the evidence finds new details about how, long before the attack on the Capitol unfolded, several GOP lawmakers were participating directly in Trump's campaign to reverse the results of a free and fair election.
It's a connection that members of the House Jan. 6 committee are making explicit as they prepare to launch public hearings in June. The Republicans plotting with Trump and the rioters who attacked the Capitol were aligned in their goals, if not the mob's violent tactics, creating a convergence that nearly upended the nation's peaceful transfer of power. https://apnews.com/article/capitol-siege-biden-presidential-elections-electoral-college-mark-meadows-296ddf04ffaacec07f548a2a997af448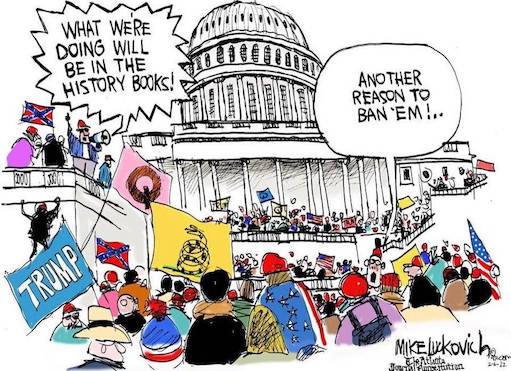 New text messages reveal Fox's Hannity advising Trump White House and seeking direction
Former White House chief of staff Mark Meadows and Fox's Sean Hannity exchanged more than 80 text messages between Election Day 2020 and Joe Biden's January 2021 inauguration, communications that show Hannity's evolution from staunch supporter of former President Donald Trump's election lies to being "fed up" with the "lunatics" hurting Trump's cause in the days before January 6.
CNN obtained Meadows' 2,319 text messages, which he selectively provided in December to the House committee investigating the January 6, 2021, attack on the Capitol. While the logs show Meadows communicating with multiple Fox personalities, as well as a number of journalists from other organizations, Hannity stands out with 82 messages. The texts, including dozens of newly disclosed messages, offer a real-time window into how Hannity, a close friend of Trump, was reacting to the election and its aftermath.
Throughout the logs, Hannity both gives advice and asks for direction, blurring the lines between his Fox show, his radio show and the Trump White House. https://www.cnn.com/2022/04/29/politics/hannity-text-messages-meadows-trump-white-house/index.html
Cracks Emerge In Russian Elite as tycoons start to bemoan invasion
In the two months since Russia invaded Ukraine, the silence — and even acquiescence — of the Russian elite has started to fray.
Even as opinion polls report overwhelming public support for the military campaign, amid pervasive state propaganda and new laws outlawing criticism of the war, cracks are starting to show. The dividing lines among factions of the Russian economic elite are becoming more marked, and some of the tycoons — especially those who made their fortunes before President Vladimir Putin came to power — have begun, tentatively, to speak.
For many, the most immediate focus has been their own woes. Sweeping sanctions imposed by the West have brought down a new iron curtain on the Russian economy, freezing tens of billions of dollars of many of the tycoons' assets along the way.
"In one day, they destroyed what was built over many years. It's a catastrophe," said one businessman who was summoned along with many of the country's other richest men to meet Putin on the day of the invasion. https://www.washingtonpost.com/world/2022/04/29/russia-oligarchs-ukraine-invasion-dissent/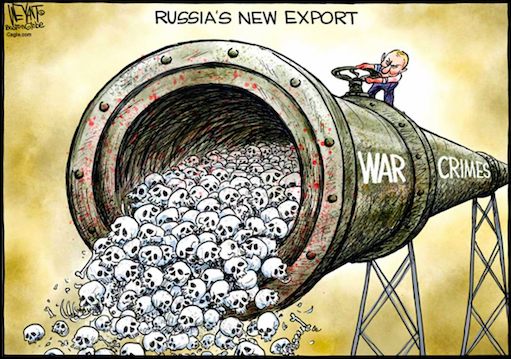 Support for Sending Arms to Ukraine Grows
Seventy-three percent of Americans support U.S. efforts to supply Ukraine with weapons, the highest level of support since Russia invaded its neighbor in February, according to a Reuters/Ipsos poll completed on Tuesday.
Some 46% of Americans - including 70% of Democrats and 24% of Republicans - approve of Biden's performance on Ukraine, the Reuters/Ipsos poll found. https://twitter.com/idreesali114/status/1519082639466110977
Inside the Republican drift away from supporting the NATO alliance
In early 2019, several months after President Donald Trump threatened to upend the North Atlantic Treaty Organization during a trip to Brussels for the alliance's annual summit, House lawmakers passed the NATO Support Act amid overwhelming bipartisan support, with only 22 Republicans voting against the measure.
But this month, when a similar bill in support of NATO during the Russian invasion of Ukraine again faced a vote in the House, the support was far more polarized, with 63 Republicans — more than 30 percent of the party's conference — voting against it.
The vote underscores the Republican Party's remarkable drift away from NATO in recent years, as positions once considered part of a libertarian fringe have become doctrine for a growing portion of the party.
The isolationist posture of some Republicans is in line with the "America First" ethos of Trump, the GOP's de facto leader, who has long railed against NATO. Last week, speaking at a Heritage Foundation event in Florida, Trump implied that as president he had threatened not to defend NATO allies from Russian attacks as a negotiating tactic to pressure them to contribute more money toward the organization's shared defense. https://www.washingtonpost.com/politics/2022/04/29/nato-republicans-trump/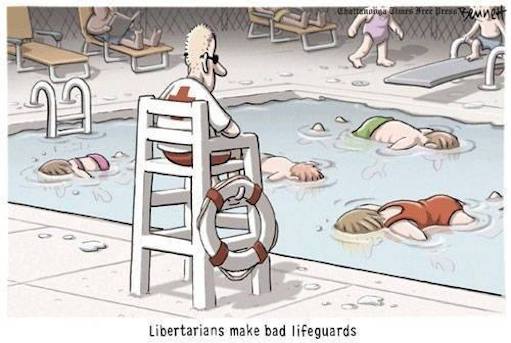 Feds seek $3M from Paul Manafort over failing to disclose offshore accounts
The Justice Department is suing Paul Manafort, the former Trump campaign chair, for almost $3 million in penalties related to his alleged failure to file reports disclosing more than 20 bank accounts he controlled in foreign countries, including Cyprus, the United Kingdom and St. Vincent and the Grenadines https://www.politico.com/news/2022/04/28/paul-manafort-trump-lawsuit-00028717
Biden's shiny new move to cripple Putin is to waive some visa requirements for highly educated Russians
Biden admin has a plan to rob Putin of some of his best innovators by waiving a certain visa requirement for highly educated Russians who want to come to the U.S.
It becomes clear that Putin got the wrong president when he invaded Ukraine. As vice president, one of Biden's responsibilities in the Obama administration was to work with Ukraine against Russian aggression. Joe Biden knows exactly what he is doing. https://www.thebharatexpressnews.com/bidens-shiny-new-move-to-cripple-putin-is-to-waive-some-visa-requirements-for-highly-educated-russians/
Jan. 6 committee looking into potential Trump pardons
At this stage of the investigation, after the committee has talked to hundreds of people and secured countless documents via subpoenas, all eyes are on any details that suggest the committee may accuse Trump or any of his alleged co-conspirators with criminal wrongdoing. Naturally, you don't need to pardon someone if they didn't take an action that was against the law. And you normally wouldn't inquire about a pardon if you didn't think laws might have been broken.  https://www.politico.com/newsletters/playbook-pm/2022/05/02/jan-6-committee-looking-into-potential-trump-pardons-00029338
MyPillow CEO Mike Lindell gets banned from Twitter, again
MyPillow CEO Mike Lindell was banned from Twitter for a second time after attempting to use a new account to access the social media platform. https://apnews.com/article/biden-technology-business-social-media-donald-trump-3bdebae1fc19af4fc8643a587de01324
Russian Tycoon Criticized Putin's War. Retribution Was Swift
Oleg Y. Tinkov was worth more than $9 billion in November, renowned as one of Russia's few self-made business tycoons after building his fortune outside the energy and minerals industries that were the playgrounds of Russian kleptocracy.
Then, last month, Mr. Tinkov, the founder of one of Russia's biggest banks, criticized the war in Ukraine in a post on Instagram. The next day, he said, President Vladimir V. Putin's administration contacted his executives and threatened to nationalize his bank if it did not cut ties with him. Last week, he sold his 35 percent stake to a Russian mining billionaire in what he describes as a "desperate sale, a fire sale" that was forced on him by the Kremlin.
"I couldn't discuss the price," Mr. Tinkov said. "It was like a hostage — you take what you are offered. I couldn't negotiate." https://www.nytimes.com/2022/05/01/world/europe/oligarch-putin-oleg-tinkov.html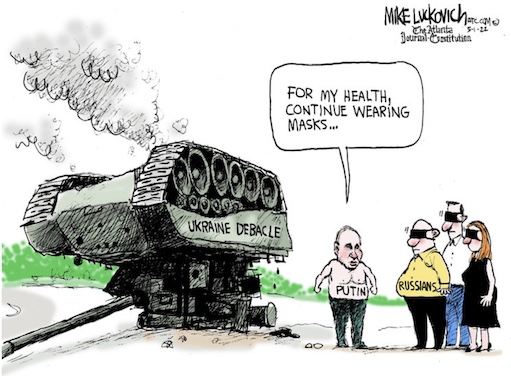 TX governor Greg Abbott taunts Joe Biden with plan to declare 'invasion'
The governor of Texas is considering an incendiary plan to declare the record surge of illegal migration at the US southern border an "invasion" and invoke war powers to tackle the crisis in a direct challenge to the federal government.
Greg Abbott, 64, has discussed enforcing greater state authority over control of the border, allowing state police to arrest and deport migrants, powers that usually lie with federal agencies.
To do this, Abbott could declare the migrant crisis an invasion in accordance with an article in the US Constitution which says that individual states cannot engage in war unless they are "actually invaded." https://www.thetimes.co.uk/article/texas-governor-greg-abbott-taunts-joe-biden-with-plan-to-declare-invasion-50m77mwhj
GOP culture war attacks 'alarmingly potent,' DCCC warns
If Democrats don't answer Republican hits, the party operatives warned, the GOP's lead on the generic ballot balloons to 14 points from 4 points — a dismal prediction for Democrats when the GOP only needs to win five seats to seize back the majority. But when voters heard a Democratic response to that hit, Republicans' edge narrowed back down to 6 points, giving candidates more of a fighting chance, especially since those numbers don't factor in Democrats going on the offensive. https://www.politico.com/news/2022/02/15/gop-culture-war-attacks-alarmingly-potent-dccc-warns-00009265
The DAILY GRILL
"President Biden gave strong indications during a private meeting with House Democrats this week that his administration is poised to take significant action to relieve student loans in the coming months, a move that would likely include the cancellation of potentially tens of thousands of dollars in debt. https://www.washingtonpost.com/politics/2022/04/26/biden-cancel-student-loans/
VERSUS
"Senate Minority Whip John Thune and a group of GOP senators are introducing a bill to ban President Biden from canceling student loan debt, adding congressional oversight to the process. https://www.foxnews.com/politics/thune-republicans-biden-student-loan-debt
I strongly supported Obama for President, but today's Democratic Party has been hijacked by extremists. — Elon Musk tweet Apr 28, 2022 https://twitter.com/elonmusk/status/1519852213698502656
VERSUS
Normal: trying to overturn an election, rioting in the Capitol, banning books, opposing vaccines, siccing bounty hunters on women who get abortions, cheering Putin, getting rid of gun permits.
Extremist: suggesting billionaires maybe should pay more in taxes. — Helen Kennedy https://twitter.com/HelenKennedy/status/1519878987522187269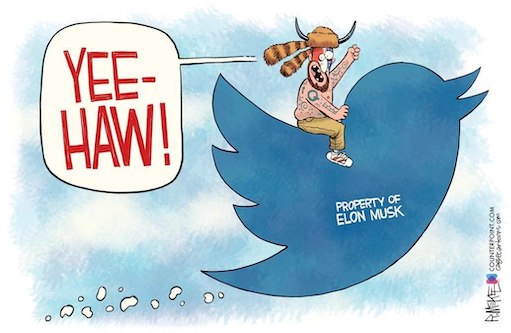 "Last week, Congress voted to fund Ukraine with $13.6 BILLION in lethal aid. How much U.S. taxpayer cash will end up in the hands of the neo-Nazis in Ukraine?" And to top it all off, NATO has been supplying the neo-Nazis in Ukraine with powerful weapons and extensive training on how to use them. What the hell is going with these #NATONazis?" she added. — Marjorie Taylor Greene https://www.newsweek.com/jamie-raskin-slams-marjorie-taylor-greene-likening-nato-allies-nazis-1701951

VERSUS

Representative Jamie Raskin slammed Representative Marjorie Taylor Greene in an impassioned speech on the House floor Thursday, criticizing her for likening NATO soldiers to neo-Nazis and demanding "proof" for her claims https://www.newsweek.com/jamie-raskin-slams-marjorie-taylor-greene-likening-nato-allies-nazis-1701951 Video https://www.youtube.com/watch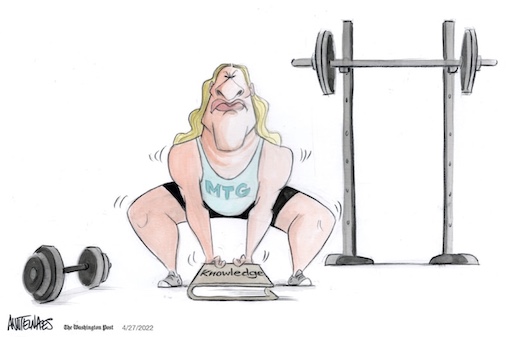 Ketanji Brown Jackson "would be my first suspect when it comes to the leak." — Newsmax host https://twitter.com/JasonSCampbell/status/1521831947546370048
VERSUS
Sure, she hasn't been sworn in as a justice yet, and OK, she wasn't part of the deliberations or draft opinions on this case at all, and yeah, fine, she doesn't have any clerks or even an office in the damn building, but she's his *first* suspect for some sort of reason. — Kevin M. Kruse@KevinMKruse https://twitter.com/KevinMKruse/status/1521835774617939968
From MEDIA MATTERS (They watch Fox News so you don't have to)
Right-wing media have recently resorted to calling acts of bigotry and violence "false flag" operations in an attempt to deflect blame for their incendiary rhetoric. By claiming real events of violence and bigotry are staged, right-wing media seek to evade criticism and culpability, conveniently suggesting that anything which might put them or conservatives in a bad light is really the work of George Soros, Hillary Clinton, or "the feds."
Though not a new phenomenon, the trend of prominent right-wing voices claiming that events are "false flags" shows that conservative media are ushering their audiences even further from reality and mainstreaming what was once considered a fringe tactic. https://www.mediamatters.org/russias-invasion-ukraine/according-right-wing-media-anything-makes-them-look-bad-false-flag
Karen Tumulty: Democrats finally have a message. Will they seize it?
With the extraordinary leak of a draft showing the Supreme Court is preparing to strike down Roe v. Wade, Democrats finally have something they have lacked in this perilous midterm election year: a compelling message.
They now have a concrete case to make. It is that Republicans, if they get the chance, will take the country backward — and not just on abortion rights, which have been a given throughout the lifetime of the approximately two-thirds of the population that was born after the court's landmark 1973 decision.
For the first time, voters should be compelled to focus not only on their own anger and frustration over rising prices, growing rates of violent crime and a surge in illegal immigration. Their ballots this fall will not be a mere protest vote against the direction of the country and the slim Democratic majority's ineptitude at changing it; 2022 will also be a referendum on the GOP agenda. https://www.washingtonpost.com/opinions/2022/05/03/democrats-midterms-roe-v-wade/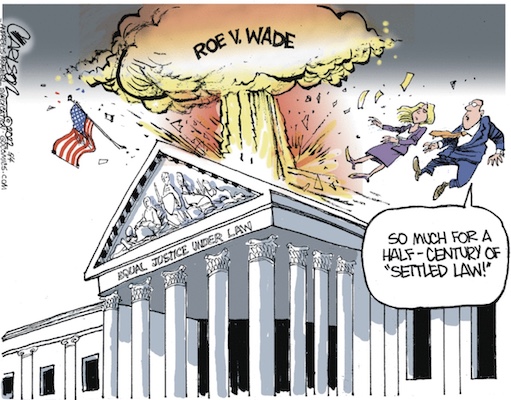 Paul Waldman: The House GOP is a dumpster fire. What if it takes power
Unless something dramatic changes in the outside world or Democrats get their act together, House Republicans stand a very good chance of taking power in the midterm elections. This outcome is made only slightly less likely by the fact that the GOP caucus is a dumpster fire of disorganization and infighting.
But having devoted themselves entirely to the greater glory of Donald Trump, they now aren't sure what they stand for. Some of them worry about whether the latest generation of firebrands makes it impossible for the caucus to act in an organized fashion the next time it wants to create a phony administration scandal or shut down the government.
All this will be presided over by Rep. Kevin McCarthy (R-CA, whose position atop the caucus seems to have been negligibly injured by audiotapes revealing him to have said uncomplimentary things about Trump after the Jan. 6 insurrection. Trump and the caucus were apparently reassured by the fact that McCarthy lied about his comments publicly (take that, liberal media!) and subsequently prostrated himself appropriately before the caucus's god-king.
Even though another audiotape from after the insurrection showed McCarthy critical of the loosest cannons in the GOP caucus, his position is not in serious jeopardy. Nevertheless, that position is, to any outside observer, something of a mystery. He has no apparent charisma or smarts, he's not a particularly effective communicator, and he's certainly not a skilled legislator. If he does have a talent, it's for keeping everyone in his caucus, if not actually happy, at least satisfied enough with his leadership not to turn against him.
Yes, Bill Clinton and Barack Obama were both reelected after the country got a good look at what Republicans did with the power they were given. But we had to suffer through an awful lot of unpleasantness along the way. We might be in for it again. https://www.washingtonpost.com/opinions/2022/04/29/house-gop-is-dumpster-fire-what-if-it-takes-power/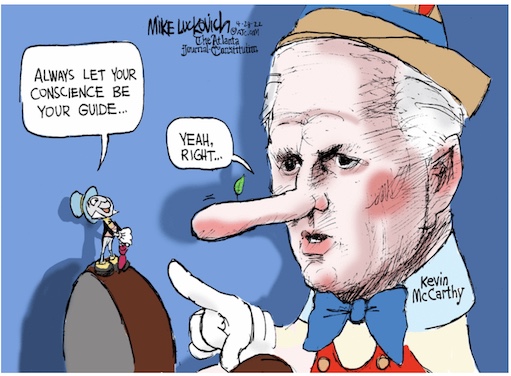 Jackie Calmes: Forget the leak. The justices' radicalism has shredded the Supreme Court's integrity
Talk about shooting the messenger.
Chief Justice John G. Roberts Jr. has ordered the Supreme Court's marshal, its internal police, to investigate who leaked to Politico a draft opinion overturning Roe vs. Wade and a half-century of abortion-rights precedents.
Congress' Republican leaders likewise decried the leak, not the trashing of a longtime constitutional right. Sen. Mitch McConnell suggested criminal charges might be in order for the whistleblower, er, leaker.
Roberts in his statement Tuesday said the leak was a "betrayal of the confidences of the Court … intended to undermine the integrity of our operations."
The court's integrity has been undermined, all right, but not by the leaker.
Blame should go to the five Republican-appointed conservative justices — Samuel A. Alito Jr., the opinion's author; Clarence Thomas; and Donald Trump's three appointees, Neil M. Gorsuch, Brett M. Kavanaugh and Amy Coney Barrett — who dissembled their way through their Senate confirmation hearings. As nominees they each dismissed, under oath, the idea that they would overturn Roe and other rulings upholding that 1973 decision.
Yet safely on the bench, unelected and life-tenured, they reportedly are seizing power to do just that, fulfilling the decades-old dream of antiabortion activists and a central plank of the Republican Party platform.
The five justices have embarked on a crusade of judicial activism against a raft of precedents, not just on abortion, now that conservatives have a 6-3 conservative majority, including Roberts, who has been trying to preserve the court's image as a nonpartisan institution. His lone effort to keep the court from straying too far from public opinion has been blown apart.
Forget the leak. The opinion is what matters to tens of millions of American women who will lose their constitutionally protected right to decide whether they will give birth.  https://www.latimes.com/opinion/story/2022-05-03/roe-vs-wade-supreme-court-justices-abortion-ideology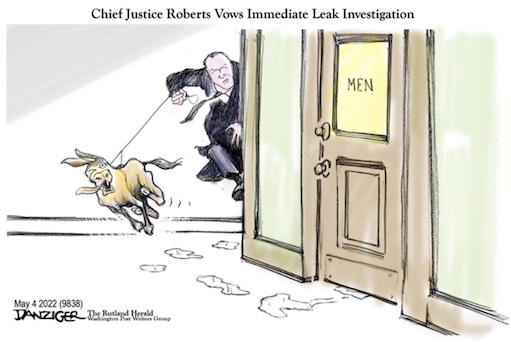 Bess Levin: Disney's Special District Tells Ron DeSantis To Cough Up $1 Billion Or STFU
Reedy Creek, the company's self-governing district says the Florida governor's attempt to dissolve it is illegal unless he pays off its debts first, and until then will be operating business as usual.
Last week, like the petty tyrant he is, Florida governor Ron DeSantis signed a bill dissolving Walt Disney World's special district status, as retribution for the company's decision to speak out against his bigoted "Don't Say Gay" law. Set to go into effect next June, the move abolishes Disney's self-governing jurisdiction, the Reedy Creek Improvement District, and no longer allows it to effectively run its own city in and around the theme park. That means the counties of Orange and Osceola would be required to pay for services like firefighting, which Disney currently covers, and would be on the hook for Reedy Creek's roughly $1 billion in outstanding bond debt. In other words, DeSantis's act of revenge would not only punish a private company for condemning his anti-LGBTQ+ law, it would likely punish Florida residents too, whose property taxes would go through the roof. Which is a pretty wild thing for a governor to do, particularly one from a party that talks a big game about "cutting taxes" and "free speech." But all of this might be moot anyway, because Disney apparently knows Florida's laws better than DeSantis and has said that actually, he can't do jack unless he pays off Reedy Creek's debts first, and until then, it'll be business as usual in Mouse Town. "If Disney wants to pick a fight, they chose the wrong guy," DeSantis wrote in a fundraising email to supporters on Wednesday last week. "I will not allow a woke corporation based in California to run our state."
But apparently that "woke corporation" won't be surrendering so easily!  https://www.vanityfair.com/news/2022/04/ron-desantis-disney-reedy-creek-debt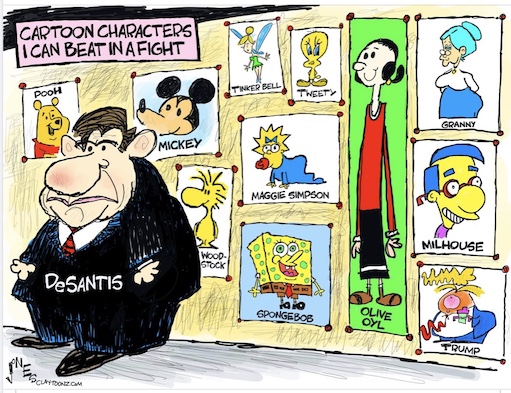 Jennifer Rubin: Kamala Harris finally found her moment and her message
Vice President Harris has not had an easy go of it. From thankless, unsolvable issues (e.g., Central America's corruption and violence) to poor staff picks to snippy and misogynistic coverage, she has gotten off to what can charitably be called a rocky start. But in the wake of the leaked Supreme Court draft opinion reversing Roe v. Wade, she seemed to find her voice and gravitas.
Harris began with a statement Tuesday that struck a balance between abortion specifically — "opponents of Roe want to punish women and take away their rights to make decisions about their own bodies" — and the general danger to Americans — "if the right to privacy is weakened, every person could face a future in which the government can potentially interfere in the personal decisions you make about your life."
Fortuitously, Tuesday night was the annual gathering for Emily's List, an organization dedicated to electing pro-choice women. Though Harris used the word "abortion" just four times, she spoke with righteous anger and steely determination.
Though she was speaking to a group focused on abortion, Harris restated her broader message, too: "When the right to privacy is attacked, anyone in our country may face a future where the government can interfere with their personal decisions — not just women; anyone," she said. "And it has never been more clear which party wants to expand our rights and which party wants to restrict them."
She then used a term too few Democrats employ: "freedom." "We must link arms in this fight. I invite all people to join us," she said. "If you stand for freedom, for self-determination, for the right to privacy — if you stand for these principles, stand with us." She added that "women's issues are America's issues. And democracies — democracies cannot be strong if the rights of women are under attack." https://www.washingtonpost.com/opinions/2022/05/04/kamala-harris-abortion-message/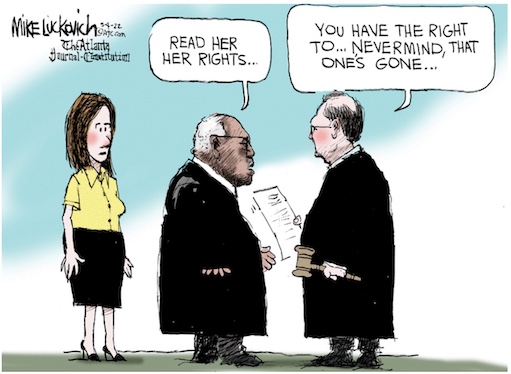 Dana Milbank: Republicans' 2023 agenda: Hunter Biden, Hunter Biden, Hunter Biden
In interviews with Fox News and other public pronouncements, Rep. James Comer (R-Ky.), the man in line to become chairman of the Committee on Oversight and Reform, the House's main investigative panel, has alleged that the president's son is responsible for just about everything.
Why is fentanyl flowing into the United States? Hunter Biden.
Why is President Biden pushing electric vehicles? Hunter Biden.
Why isn't the president tougher on Russian oligarchs? Hunter Biden.
Why isn't the administration pinning the pandemic on a Wuhan lab leak and battling China over currency manipulation? Hunter Biden and Hunter Biden.
Why did the United States rejoin the Paris climate accord? Hunter Biden.
Why did the chairman of the Joint Chiefs of Staff reassure the Chinese military in the last chaotic days of the Trump administration? Again, Hunter Biden.
So, to recap, Hunter Biden controls cobalt in Congo, fentanyl in Mexico, coronavirus in Wuhan and war in Ukraine. It is just a matter of time until Republicans find a Hunter Biden angle in Jeffrey Epstein's demise and UFOs off the coast of California.
"Where's Hunter?" went the popular refrain at Trump rallies. Now we know. In the Republican imagination, Hunter is everywhere.  https://www.washingtonpost.com/opinions/2022/05/04/hunter-biden-obsession-republicans-comer/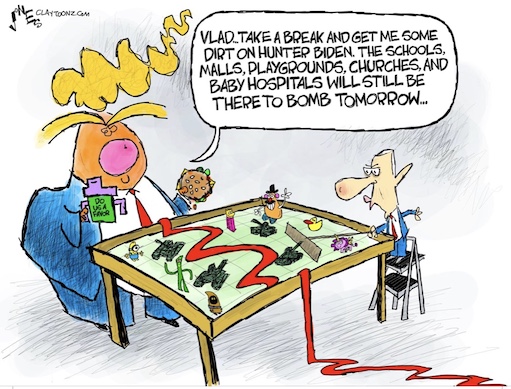 John Cassidy: It's Not News That McConnell and McCarthy Are Craven Patsies for Trump, but the Danger Has Grown
Behind the scenes there is a struggle of sorts going on for the future of the G.O.P. As Trump continues to spread the Big Lie that he didn't lose the 2020 election, he's busy doling out endorsements to his favored Republican candidates in this year's midterm races, particularly the Senate ones—Herschel Walker in Georgia, Mehmet Oz in Pennsylvania, J. D. Vance in Ohio. On the other side, McConnell is busy trying to prevent the former President from saddling the Party with "goofball" candidates who might deprive it of a majority in both chambers.
But, as usual, it is Trump who is setting the terms of this contest. From his Palm Beach stronghold, he freely lashes out at any Republican candidate whom he considers insufficiently loyal or pandering. Earlier this week, he ripped into Arizona's attorney general, Mark Brnovich, whose long-running investigation into the 2020 election in Maricopa County, which includes much of Phoenix, so far hasn't turned up any evidence of the widespread fraud that Trump and his acolytes allege took place. Meanwhile, any public criticism of Trump is strictly verboten. After Trump complained that Brnovich was taking too long with his report, and strongly hinted that he will be endorsing another candidate in Arizona's Senate race, Brnovich issued a milquetoast statement saying, "I understand his frustration, but as I've said previously, I will continue to follow the facts and evidence and do what the law requires."
It's eminently clear where Republican candidates are learning the techniques of prostration: from their own leaders. And this abject situation isn't likely to change. If the events of January 6, 2021, weren't sufficient to embolden the likes of McCarthy and McConnell for more than a few days, could anything effect such a transformation? Probably not. To be sure, there are some individual elected Republicans, such as Cheney and Mitt Romney, who are still willing to criticize and challenge Trump, but none of them are in positions of authority within the Party.
Taken as a whole, the G.O.P. is still in the same position it has been in for the past five and a half years: beholden to a narcissistic demagogue who has no respect for democracy or the law. In fact, the situation is even worse than it used to be, because the demagogue is now explicitly demanding that Republican candidates sign on to his Big Lie about 2020—a modern version of the "stab-in-the-back" conspiracy theory that helped undermine the Weimar Republic. In one sense, it's fun to read yet another story confirming the utter spinelessness and cravenness of McConnell, McCarthy, et al. Ultimately, though, the joke is on us. https://www.newyorker.com/news/our-columnists/its-not-news-that-mcconnell-and-mccarthy-are-craven-patsies-for-trump-but-the-danger-has-grown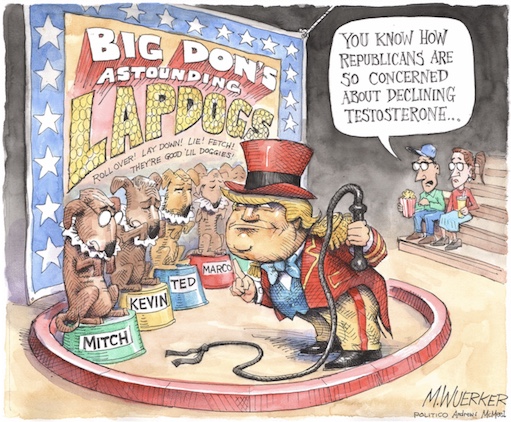 Jonathan Bernstein: Stop Smearing Biden's Mental Capacity
One of the many ugly things that's happened during Joe Biden's presidency: The smear that he's lost it — that he's cognitively impaired. It's a frequent explicit refrain within Republican-aligned media, and quite a few Republican politicians, Trump included, have repeated it. I don't know quite how common the belief in it is among Republican voters, but judging from my reader mail, many of them treat it as simply a well-known fact that the U.S. president is barely able to function.
Biden is also constantly in meetings with members of Congress (including Republicans), military leaders and independent civil servants, interest group and party leaders, governors and mayors, and foreign leaders of friendly and unfriendly nations. To believe that he is impaired requires a belief in a massive conspiracy, in many cases against interest, by thousands of people.
Consider this a bit of media literacy education: Presidents have to be in public constantly, and their every move and word and facial expression is recorded, and that means that there's more than enough fodder to "prove" almost any narrative to  sympathetic audiences predisposed to believe the worst. Don't fall for it. https://www.washingtonpost.com/business/stop-smearing-bidens-mental-capacity/2022/05/02/69118f56-ca14-11ec-b7ee-74f09d827ca6_story.html