October 4, 2018
ON THE RECORD. . .
"This Judiciary Committee is no longer an independent branch of government. And we're supposed to be. The Senate is supposed to be an independent, equal branch of government. We're no longer that. We are an arm — and a very weak arm — of the Trump White House. Every semblance of independence has just disappeared. It's gone." — Sen. Patrick Leahy (D-VT)
"This was not someone who reflected an impartial temperament or the fairness and evenhandedness one would see in a judge. This was someone who was aggressive and belligerent. I have never seen someone who wants to be elevated to the highest court in our country behave in that manner." -- Sen. Dianne Feinstein (D-CA) solemnly critiqued Brett Kavanaugh's "belligerent" testimony.
"It is a scary time for young men in America. You can be accused before you prove your innocence." .... "Women are doing great." -- Donald Trump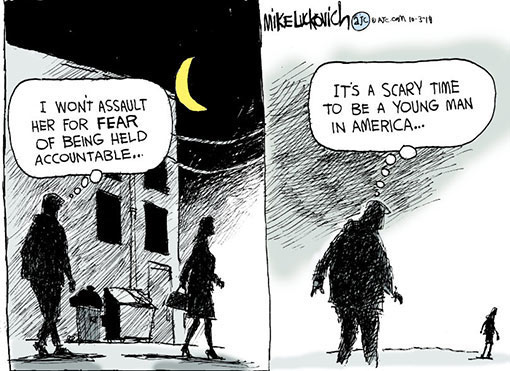 "We can't have that on the Court." — Sen. Jeff Flake (R-AZ), after calling Brett Kavanaugh's interactions with senators "sharp and partisan."
---
IN THIS ISSUE
FYI
OPINION
1. Satire from The Borowitz Report: Trump Says It's a Very Scary Time for Men, Because Women Can Vote Them Out of Office
Saying that "it's terrible what's going on right now," Donald J. Trump told reporters on Wednesday that "it's a very scary time for men, because women can vote them out of office."

"It's very scary right now to be a man," Trump said. "You can do or say something that women don't like, and suddenly millions of women will come out of the woodwork and vote against you. I think it's a disgrace."

"It's getting to the point where men are not going to be able to ridicule women at their campaign rallies without being terribly afraid that women are going to vote against them," he said. "It's a very scary time."

Trump said that, if women are allowed to get away with voting men out of office, "No one will be safe."

"I'll tell you what's going to happen," Trump warned. "If it's up to women to decide who's in power and who's not, men like me aren't even going to run."

Later in the day, Donald Trump, Jr., echoed his father's words. "Last night, when I put my sons to bed, I had to tell them to be nice to girls," he said. "It broke my heart. https://www.newyorker.com/humor/borowitz-report/
2. Trump Engaged in Suspect Tax Schemes as He Reaped Riches From His Father
"President Trump participated in dubious tax schemes during the 1990s, including instances of outright fraud, that greatly increased the fortune he received from his parents," an investigation by the New York Times has found.
"Mr. Trump won the presidency proclaiming himself a self-made billionaire… But The Times's investigation, based on a vast trove of confidential tax returns and financial records, reveals that Mr. Trump received the equivalent today of at least $413 million from his father's real estate empire, starting when he was a toddler and continuing to this day."
"Much of this money came to Mr. Trump because he helped his parents dodge taxes. He and his siblings set up a sham corporation to disguise millions of dollars in gifts from their parents… Records indicate that Mr. Trump helped his father take improper tax deductions worth millions more. He also helped formulate a strategy to undervalue his parents' real estate holdings by hundreds of millions of dollars on tax returns, sharply reducing the tax bill when those properties were transferred to him and his siblings."
The Times also provides a good summary of the 11 takeaways from their investigation.
3. New York state tax department reviewing fraud allegations involving Trump in NYT article
New York state tax officials are investigating allegations detailed in an exhaustive New York Times investigation into Donald Trump and his family's business dealings.
The Times reported on Tuesday that Trump and his family committed "instances of outright fraud" in order to transfer millions of dollars from the real estate empire of the president's father, Fred Trump, to his children without paying the appropriate taxes.
"The Tax Department is reviewing the allegations in the NYT article and is vigorously pursuing all appropriate avenues of investigation," a spokesman from the New York State Department of Taxation and Finance said in an email to CNBC. https://www.cnbc.com/2018/10/02/new-york-state-tax-department-reviewing-fraud-allegations-involving-trump-in-nyt-article.html
4. The miscalculation haunting Trump, Kavanaugh
Imagine if Brett Kavanaugh had offered his emotional, tearful, you-ruined-my-life opening speech to the Judiciary Committee — and then called for a quick FBI probe to clear his name and perhaps find the true assailant. He would have looked confident, humble, even a tad heroic, given the president who nominated him opposed the FBI probe.
Well, he and Republicans had an epic failure of imagination: Instead, they were forced reluctantly and publicly into what should have been a fairly easy-to-anticipate moderate compromise: agree to a vote after a quick FBI probe.
Instead of looking hungry for truth, Kavanaugh heads into the week looking fearful of findings. https://www.axios.com/trump-kavanaugh-fbi-investigation-2b04645c-5446-4879-b8e8-146e51677e9b.html
5. The Government Is Moving Migrant Children to a Texas Tent City. Here's What's Behind It.
More than 1,600 migrant children have been sent with little notice on late-night voyages to their new home: a barren tent city in West Texas, where they do not receive schooling and have limited access to legal representation. The Trump administration opened the facility because shelters that house migrant children have been overflowing.
Most of them are Central American teenagers who journeyed to the United States alone, hoping to win asylum status or slip into the country illegally. Known as "unaccompanied minors," more than half are Guatemalans, who have been fleeing in increasing numbers from destitute villages in the country's western highlands.
The latest estimates from Congress suggest that it costs about $750 a day to house a child in the tent city — about three times as much as the cost of a single placement in a shelter — even though conditions there are comparatively austere. Government grants also pay for the legal representation of some unaccompanied minors. Access to legal representation is limited in the tent city.  https://www.nytimes.com/2018/10/01/us/migrant-children-tent-city-camp-texas.html
6. The DAILY GRILL
Late last night, our deadline, we reached a wonderful new Trade Deal with Canada, to be added into the deal already reached with Mexico. The new name will be The United States Mexico Canada Agreement, or USMCA. It is a great deal for all three countries, solves the many.....deficiencies and mistakes in NAFTA, greatly opens markets to our Farmers and Manufacturers, reduces Trade Barriers to the U.S. and will bring all three Great Nations together in competition with the rest of the world. The USMCA is a historic transaction! — Donald J. Trump (@realDonaldTrump) 

VERSUS

It seems a little silly to take a hugely complex agreement such as NAFTA, make a few tweaks to it, change the name, and declare that you've actually created something entirely new. But as Steve Benen observes, this is hardly the first time Trump has focused intently on what something is called, as though that were far more important than what it actually does. It's not just because Trump is superficial and obsessed with image, though he is; it's also that he's obsessed with his image. If you make some changes to NAFTA but don't change the name, then the result doesn't give sufficient credit to him. If he could have called it TRUMPFTA, he would have, but short of that, USMCA will have to do. --  Paul Waldman
7. From MEDIA MATTERS (They watch Fox News so you don't have to)
Fox Business guest on Christine Blasey Ford: "She was far from being raped ... It was all a fumbled attempt to make out with a girl at a party." Sidney Powell: There was "certainly no description of anything any prosecutor that I know of would actually call a sexual assault."  https://www.mediamatters.org/video/2018/09/27/fox-business-guest-christine-blasey-ford-she-was-far-being-raped-it-was-all-fumbled-attempt-make-out/221488

NRATV host: Women who say Kavanaugh sexually assaulted them are Democrats' "pawns" just like victims of gun violence. https://www.mediamatters.org/video/2018/09/27/nratv-host-women-who-say-kavanaugh-sexually-assaulted-them-are-democrats-pawns-just-victims-gun/221482

Donald Trump says women were paid to lie about him committing sexual assault. Trump: "You can check with Sean Hannity, you can check with Fox [News] because they covered it very strongly." https://www.mediamatters.org/video/2018/09/26/donald-trump-says-women-were-paid-lie-about-him-committing-sexual-assault-check-sean-hannity-you-can/221471

Lindsey Graham, Fox News hero: Apocalyptic, viciously partisan, unhinged, and with negligible concern for the truth, Graham's polemic could have been ripped from Fox News' red-meat evening lineup any night of the week. And sure enough, in the hours that followed, Graham was feted, praised, and applauded by the network's commentators. https://www.mediamatters.org/blog/2018/09/28/lindsey-graham-fox-news-hero/221502

Hannity radio guest warns that "there's a chance that the deep state can get involved" in FBI's Kavanaugh investigation. Jonathan Gilliam: "We do still have a realistic expectation that the deep state is part of the FBI." https://www.mediamatters.org/video/2018/09/28/hannity-radio-guest-warns-theres-chance-deep-state-can-get-involved-fbis-kavanaugh-investigation/221508

Sinclair's recent must-runs were a series of Trump interview excerpts about how great his administration is doing and how unfairly he's treated. Trump in must-run: "I am treated less fairly than anybody who's probably ever lived."  https://www.mediamatters.org/blog/2018/10/01/sinclairs-recent-must-runs-were-series-trump-interview-excerpts-about-how-great-his-administration/221525

Pro-Kavanaugh conspiracy theory suggests Christine Ford hypnotized herself into creating false memory of assault by Kavanaugh. https://www.mediamatters.org/blog/2018/10/01/pro-kavanaugh-conspiracy-theory-suggests-christine-ford-hypnotized-herself-creating-false-memory/221530
8. From the Late Shows
The Late Show with Stephen Colbert: Brett Kavanaugh Screams About His Innocence. https://youtu.be/x6Ng298HXcM

Full Frontal with Samantha Bee: Sam Goes Full Carrie Over Kavanaugh: https://youtu.be/yqrZBfk3lv0

Jimmy Kimmel on Kavanaugh Hearing: https://youtu.be/zEhpmh4xVHA

Kavanaugh Hearing Cold Open - SNL: https://youtu.be/VRJecfRxbr8

Weekend Update: Brett Kavannaugh and Dr. Ford Testify - SNL: https://youtu.be/ljmCX0R7Tqg

Weekend Update: Justice Ruth Bader Ginsburg on Brett Kavanaugh - SNL: https://youtu.be/aY8A2cpK6tg

The Late Show with Stephen Colbert: This Is Why Trump Doesn't Do Solo Press Conferences: https://youtu.be/eTKHdO8zTB4

Trump Holds Crazy Press Conference to Defend Brett Kavanaugh: A Closer Look: https://youtu.be/VTgwbGWfGQU

The Late Show with Stephen Colbert: Kavanaugh May Have Boofed The Truth During His Testimony: https://youtu.be/U2_52Dj6DsI
9. Late Night Jokes for Dems
Jimmy Kimmel

The Republican senators were very careful with Dr. Ford. In fact, they were too scared to even question her. They hired a surrogate, a female prosecutor from Arizona. No kidding. They brought her in to do it for them. The way they found this prosecutor is very interesting. Sen. Chuck Grassley, the chairman of the judiciary committee, didn't like the optics of 11 Republican men questioning one woman so one of his aides suggested, "Why don't you hire a female lawyer to ask the questions?" And Grassley was like, "There are female lawyers?"

Melania Trump has the right idea. With everything that's going on, she's getting the hell out of town. Our first lady is headed overseas next week as part of her "Be as Far Away From My Husband as Possible" campaign.

She's going to Africa. Melania feels a strong connection to Africa because she's married to the Lyin' King.

Jimmy Fallon

Next week, first lady Melania Trump is going to Africa on a humanitarian visit. When she gets there, people will be like, "How can WE help YOU?"

Judge Kavanaugh has been accused of sexual misconduct by several women and many Republicans are still defending him. Americans were like, "Here's an idea — just pick a different judge. There's thousands of judges. Anyone! What is Judge Judy up to? Let's get Judge Judy in there! Judge Joe Brown! Simon Cowell! I don't care who it is!"

James Corden

The nation was gripped today by Dr. Christine Blasey Ford's emotional testimony on Capitol Hill against Supreme Court nominee Brett Kavanaugh. As Dr. Ford was speaking, Brett Kavanaugh was reportedly preparing for his own testimony in Vice President Mike Pence's office. Out of habit, Kavanaugh brought a keg.

You know you're radioactive when even President Trump was like, "Uh, yeah, I'm busy. Maybe go hang around with Mike."

A bar in Atlanta even opened hours earlier than normal so people would have a place to watch the hearing. The bar was filled with Dr. Ford's supporters — as well as three drunks pretending that they knew there was a hearing today.

At one point, Republican Sen. Chuck Grassley interrupted and talked over Sen. Dianne Feinstein. Sen. Feinstein said it was her turn to speak, but since it was coming from a woman, Grassley didn't believe her.

Melania Trump has announced her first major solo trip as first lady. She will be going to Africa and visiting Ghana, Malawi, Kenya, and Egypt. She said she specifically chose those countries because those are literally the last places on Earth her husband would look for her.
10. Massive House Map Continues to Grow
Democrats are finding compelling evidence that a new set of Republican-held seats are becoming increasingly competitive, stretching an already expansive map.
Internal Democratic polling conducted in August and September revealed the party's candidate leading or trailing by small margins in a dozen seats on the outer edges of the battlefield. And outside money is already starting to flow beyond the 50 or so districts that initially drew major TV ad reservations.
The GOP's top House super PAC, the Congressional Leadership Fund, funneled nearly $3 million into a few sleeper races that had previously received little national attention. And the Democratic Congressional Campaign Committee booked more than $100,000 of airtime in Republican Rep. Mike Kelly's northwestern Pennsylvania district, which President Trump carried by 20 points.
"For Republicans, this is a game of Whac-A-Mole," said John Lapp, a Democratic strategist who served as the DCCC's executive director in 2006. "With a battleground map this big, they simply can't be everywhere. There are competitive races in blue, purple, and ruby-red districts popping up every day." https://www.nationaljournal.com/s/672943?unlock=L7PZ5ZTD12MOF718
11. Analysis: Uptick in Youth Voter Registration Continues in Key Battleground States
The state-by-state analysis shows that younger voters are poised to have an outsized impact in key battleground races. Pennsylvania – which has November elections for U.S. Senator, Governor, and many critical House races – has seen youth voter registration surge by 10 points after the February 14th Parkland shooting. Youth voters make up nearly 60 percent of all new Pennsylvania registrants.
Other states with critical elections that may decide control of the U.S. Senate and House also showed large increases in youth registration, including Arizona (+7.6 point increase), Florida (+7.9), Indiana (+6.8), Michigan (+7.5), Wisconsin (+5.7), and New York (+10.7). The increase in new youth voter registrants in North Carolina is 8 points higher in 2018 than in 2014; a majority of states have seen at least modest, if not significant, increases in youth voter registration rates compared to 2014. This spike in voter registration activity comes on the heels of the grassroots movement to address gun violence issues. https://targetsmart.com/uptick-in-youth-voter-registration-continues-in-key-battleground-states/
12. Congressional Democrats' lawsuit alleging Trump's private business is violating the Constitution can proceed, federal judge rules
A federal judge on Friday gave the go-ahead to a lawsuit filed by 200 congressional Democrats against President Trump alleging that Trump has violated the Constitution by doing business with foreign governments while in office.
The lawsuit is based on the Constitution's emoluments clause, which bars presidents from taking payments from foreign states without Congress's consent. Trump's business, which he still owns, has hosted foreign embassy events and visiting foreign officials at its downtown D.C. hotel.
The decision opens another legal front for the president, who is facing an array of inquiries into his business, his campaign and his charity. https://www.washingtonpost.com/politics/congressional-democrats-lawsuit-alleging-trumps-private-business-is-violating-the-constitution-can-proceed-federal-judge-rules/2018/09/28/0aa3c5dc-bc22-11e8-8792-78719177250f_story.html
13. Trump administration sees a 7-degree rise in global temperatures by 2100
Last month, deep in a 500-page environmental impact statement, the Trump administration made a startling assumption: On its current course, the planet will warm a disastrous seven degrees by the end of this century.
A rise of seven degrees Fahrenheit, or about four degrees Celsius, compared with preindustrial levels would be catastrophic, according to scientists. Many coral reefs would dissolve in increasingly acidic oceans. Parts of Manhattan and Miami would be underwater without costly coastal defenses. Extreme heat waves would routinely smother large parts of the globe.
But the administration did not offer this dire forecast, premised on the idea that the world will fail to cut its greenhouse gas emissions, as part of an argument to combat climate change. Just the opposite: The analysis assumes the planet's fate is already sealed.
"The amazing thing they're saying is human activities are going to lead to this rise of carbon dioxide that is disastrous for the environment and society. And then they're saying they're not going to do anything about it," said Michael MacCracken, who served as a senior scientist at the U.S. Global Change Research Program from 1993 to 2002. https://www.washingtonpost.com/national/health-science/trump-administration-sees-a-7-degree-rise-in-global-temperatures-by-2100/2018/09/27/b9c6fada-bb45-11e8-bdc0-90f81cc58c5d_story.html
14. Washington Gov. Jay Inslee's statement about Trump administration's decision to roll back crucial oil train safety regulation
On Monday, the Trump administration repealed a crucial oil train safety regulation which will increase the risk posed by oil train derailments. We know all too well the horrific damage and potential loss of life that could result from the greater numbers of trains carrying crude oil through Washington and along the Columbia River. Today's news signifies a reckless disregard for the life and property of all who live or work along the rail tracks that transport volatile Bakken crude oil. http://beniciaindependent.com/washington-gov-inslee-on-trump-admin-roll-back-of-oil-train-safety-rule/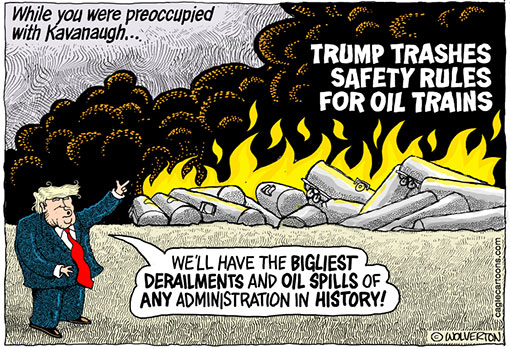 15. Dems rebuild blue wall in Midwest
"The Republican gubernatorial class of 2014, which ran anti-Obama campaigns, are now in a box that's sinking," said David Yepsen, the host of Iowa Press and a former director of the Paul Simon Public Policy Institute at Southern Illinois University. "They can't run anti-Trump campaigns without losing base voters, so they're wed to an unpopular president."
And the GOP's failed efforts to roll back the Affordable Care Act have become a rallying cry for Democratic candidates, who warn that Republicans would end protections for those with pre-existing conditions. Democratic candidates or outside groups in Ohio, Minnesota, Wisconsin and Michigan are all using the threat to the health-care law against Republicans in paid advertising.
"Health care absolutely is still at the top of all the polling I've seen," Fitzgerald said. "All you have to do is watch the 60 second ads that are running right now to know that health care" is the top issue.
Democrats say their party is ascendent at just the right moment, in a region they need to reclaim in order to win back the White House in 2020 — in part because their voters were so surprised they lost key blue wall states in 2016.
"Democrats are enthused at a level we haven't seen in a long time, and independents are breaking hard against Republicans. They don't like Trump and they're embarrassed by the way he behaves himself," Ananich said. "There's Republican fatigue in these states for the things they've done over the last eight years, and there's Trump fatigue which motivates our base and drives the independents against him." https://thehill.com/homenews/campaign/409304-dems-rebuild-blue-wall-in-midwest
16. Global image of US is historically bad under Trump, says poll
A new Pew Research survey of 25 countries finds the global image of the United States has sunk to historic lows since Donald Trump took office, with only Israelis, Russians and Kenyans showing an increase in positive attitudes.
In most countries, a majority said they had no confidence in Trump. Only 7% of Spanish people, 9% of French people and 10% of Germans said they trusted Trump's leadership. Even in Russia, where the US's image has grown more positive under the current administration, Trump's had fallen by 34 percentage points since last year. https://www.theguardian.com/us-news/2018/oct/02/global-image-of-us-has-plummeted-under-trump-says-poll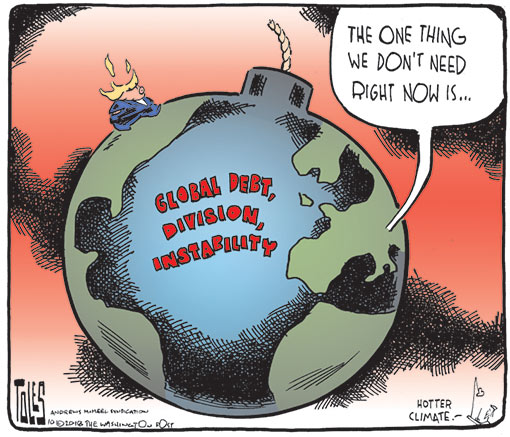 17. Trump Administration to Deny Visas to Same-Sex Partners of Diplomats, U.N. Officials
The Trump administration on Monday began denying visas to same-sex domestic partners of foreign diplomats and United Nations employees, and requiring those already in the United States to get married by the end of the year or leave the country. https://foreignpolicy.com/2018/10/01/trump-administration-to-deny-visas-to-same-sex-partners-of-diplomats-un-officials-gay-lgbt/
18. House Rating Changes: Eight More GOP Seats Move Towards Democrats
It's becoming harder and harder to see Republicans' path to holding the majority. In the past few days, multiple Democrats challengers have announced staggering fundraising totals of more than $3 million during the third quarter of the year, exceeding what many predecessors have raised for an entire cycle. One high-ranking Republican worries his party could be "buried under an avalanche" of Democratic money that GOP outside groups can't match.
 
After today's ratings changes, there are 15 GOP-held seats in Lean or Likely Democratic (including seven incumbents) and Democrats would only need to win 11 of the 31 races in the Toss Up column to flip the majority. There's still time for political conditions to change, but today the likeliest outcome appears to be a Democratic gain of between 25 and 40 seats (they need 23 for House control). https://www.cookpolitical.com/analysis/house/house-overview/house-rating-changes-eight-more-gop-seats-move-towards-democrats
19. GOP gloom: Republicans predict House majority will be swept away by Democratic 'spending tsunami'
Five weeks before critical midterm elections, House Republicans are outgunned and outmanned as a constellation of well-resourced Democratic groups dedicated to winning the majority overwhelm GOP defenses.
From financially flush super PACs flooding the zone with advertising to grassroots organizations directing money and volunteers to targeted races, around a dozen political groups are fueling the Democratic Party's campaign to flip 23 seats and capture the House on Nov. 6.
In a toxic environment driven by discontent with President Donald Trump, the barrage has become too much to handle for the two groups manning the barricades for House Republicans: the National Republican Congressional Committee, their official campaign arm, and the Congressional Leadership Fund, their designated super PAC.
Said one GOP consultant: "We are facing a spending tsunami." https://www.washingtonexaminer.com/news/campaigns/gop-gloom-republicans-predict-house-majority-will-be-swept-away-by-democratic-spending-tsunami
20. FBI has not contacted dozens of potential sources in Kavanaugh investigation
sources close to the investigation, as well as a number of people who know those involved, say the FBI has not contacted dozens of potential corroborators or character witnesses. https://www.nbcnews.com/politics/supreme-court/dozens-potential-sources-information-have-not-been-contacted-fbi-kavanaugh-n916146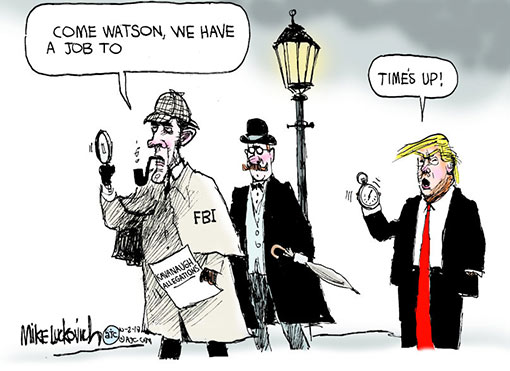 21. Trump Supporters Were Beside Themselves With Glee As The President Mocked Christine Ford
At a rally in Mississippi Tuesday night, Trump launched into a full-on mockery of Dr. Christine Blasey Ford, imitating her and doubting her retelling of the alleged assault. "I had one beer," he said, referring to Ford's account of the night she says she was pinned down and nearly raped by Kavanaugh. "'Nope. It was one beer.' Oh good. How did you get home? 'I don't remember.' How did you get there? 'I don't remember.' Where is the place? 'I don't remember.' How many years ago was it? 'I don't know. I don't know. I don't know.'"
The crowd roared with laughter. But one zoomed-in shot of the rally on television, shared on Twitter, is particularly chilling; three men behind Trump are shown on camera clapping and laughing hysterically as they watch the president's performance. Without Trump in the frame, you would think they're at a real circus — or a comedy show. https://www.thecut.com/2018/10/trump-supporters-laugh-as-president-mocks-christine-ford.html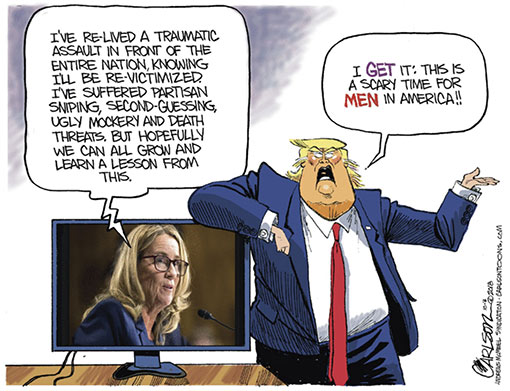 1. Jonathan Chait: The New York Times Proves President Trump Is a Crook
The New York Times has published a massive investigation of Trump's finances, revolving around two important revelations. First, Trump was given far more financial support by his father than previously known — at least $413 million in today's dollars, not the measly $1 million he claims to have received. Second, the mechanisms by which he received these transfers often crossed the line from aggressive or creative maneuvering into illegality. That the Times presents these conclusions so baldly — accusing him of "outright fraud" in the first sentence — in the face of Trump's famous litigiousness, is a testament to the power and clarity of its findings.
That is to say, Trump was in the money-inheriting business. And that business was essentially, and not just incidentally, illegal. The Times found 295 income streams created by Fred Trump for his son, many of them illegal on their face. The English language has terms for people who make large sources of money from illegal activity: criminals.
The article makes clear that Trump is safe from criminal prosecution largely because tax-law enforcement is weak, and many of his apparently illegal activities took place too long ago to prosecute now. That does not minimize his culpability in any moral sense though. It's merely a testament to the general immunity from consequences that wealthy people enjoy, and regular people do not. http://nymag.com/daily/intelligencer/2018/10/president-trump-crook-new-york-times-proves.html
2. Robin Abcarian: Boohoo hoo. Brett Kavanaugh is not a victim
A woman says she was sexually assaulted in high school by a hard-drinking kid who has grown up to become a Supreme Court nominee. Her story gets out. A second accuser comes forward. Then a third.
His nomination is imperiled.
What happens next?
Time for another round of Let's Blame the Women!
But this time, there's a twist.
With the #MeToo movement making mincemeat out of so many misbehaving men's careers, you can't directly slam a credible accuser such as Christine Blasey Ford anymore.
You can't just come out and say she's a liar.
You can't say, the way a Clarence Thomas supporter said about Anita Hill, that she is "a little bit nutty and a little bit slutty." Or wonder aloud whether she is a "scorned woman."
Instead, you must discredit her in every other possible way:
She must be mistaken about who attacked her.
Her story cannot be corroborated.
She is an unwitting pawn of power-hungry Democrats.
It's all Sen. Dianne Feinstein's fault and she is the one who must be investigated.
And — wait for it! — the nominee is the real victim here. http://www.latimes.com/local/abcarian/la-me-abcarian-kavanaugh-20181001-story.html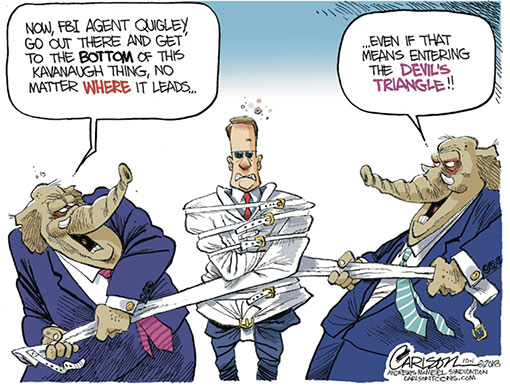 3. Susan B. Glasser: "If They Can, They Will": The Ford-Kavanaugh Hearing and the Angry Politics of Now
How could we have expected anything from Trump's Washington other than the circus that unfolded on Capitol Hill on Thursday over the Supreme Court nomination of Brett Kavanaugh? In the course of eight agonizing hours in a wood-panelled hearing room, tears were shed, tweets were sent, fists were pounded. At the end of the day, as at the beginning, the polarized politics of Kavanaugh's nomination to the Supreme Court had hardly shifted. The hearing was not an effort to answer the perhaps unanswerable question of what happened between Kavanaugh and the woman who accused him of sexual assault in 1982, when he was a teen-ager, but a searing, infuriating reminder of what we already knew: there are two Americas, getting angrier by the minute, and they are not listening to each other. Truth was not the goal, nor will it be the outcome. https://www.newyorker.com/news/letter-from-trumps-washington/if-they-can-they-will-the-ford-kavanaugh-hearing-and-the-angry-politics-of-now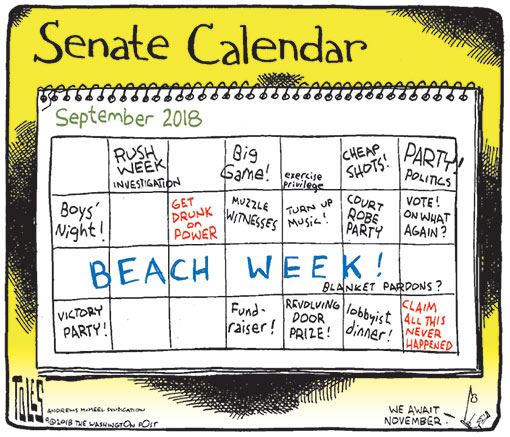 4. David Von Drehle: America, we are on our own
Sen. John Cornyn (R-Tex.) said the appalling final day of testimony on the Supreme Court nomination of Judge Brett M. Kavanaugh was the most "embarrassing scandal for the United States Senate since the McCarthy hearings."
That's putting it mildly.
Patriotic Americans: We are on our own. Patriotic Americans — by which I mean those of us who are not willing to drag down the temple of our nation in hopes of crushing our ideological foes in the rubble — appear to have few remaining representatives in Washington. Especially with solution-seeking Sen. Jeff Flake (R-Ariz.) heading for the exits.
If the United States' worst enemies had schemed to design a more divisive, more demoralizing, more hurtful episode, they could not have done so. And no single party or faction could fail so spectacularly on its own. https://www.washingtonpost.com/opinions/america-we-are-on-our-own/2018/09/28/c522d906-c344-11e8-b338-a3289f6cb742_story.html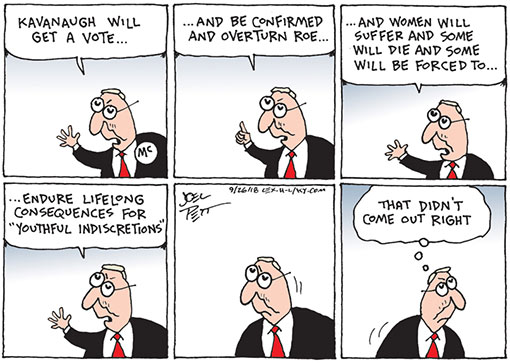 5. Jeannie Suk Gersen: Brett Kavanaugh's Damaging, Revealing Partisan Bitterness
A Senate confirmation hearing for a Supreme Court nominee is a political affair, not a court proceeding. But when the topic is alleged criminal wrongdoing by the nominee, the distinction can start to blur. We, the public, may feel more like a jury considering evidence than a boss considering an applicant for an important job.
Thursday's hearing, with testimony by Brett Kavanaugh and Christine Blasey Ford, was supposedly intended to reveal whether there was truth to Ford's allegation that Kavanaugh attempted to rape her, by providing testimony from each of them under oath. But the Senate Judiciary Committee's focus on whether Kavanaugh did what he was accused of gave way to partisan recriminations about whether the process for considering that question was fair. The damage to the legitimacy of the Supreme Court and the Senate confirmation process is incalculable, whether or not Kavanaugh is confirmed.
If there is a red flag here, it is not only Kavanaugh's failure to maintain composure during a tense and extraordinary hearing. It is, rather, the risk that the process itself, which Democrats and Republicans seem to agree has been a disaster, has been so damaging to Kavanaugh's psyche that partisan bitterness and rage will shape his temperament and his orientation to judicial work for a lifetime. It is unfortunate, if not tragic, that perhaps the most consequential unfairness of the process may be that his reaction to it has left him unfit to serve as a Justice on the Supreme Court. But, then again, Kavanaugh the political operative may have understood, far better than we did, that his abandonment of judicial performance was precisely the kind of gripping reality television that would lock in the support of his President and his base. https://www.newyorker.com/news/daily-comment/brett-kavanaughs-damaging-revealing-partisan-bitterness-supreme-court-confirmation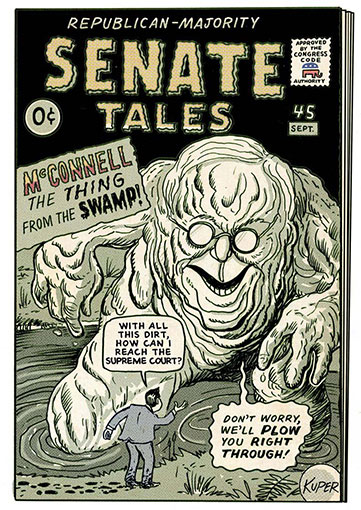 6. Paul Waldman: Kavanaugh finally showed us who he really is. And he's unfit for the court.
Kavanaugh is an intense Republican partisan. To be honest, I was surprised it took this long for this fact to become clear. In the past decade, I've heard people say numerous times that the guy Republicans would really love to have on the Supreme Court is Brett Kavanaugh, but he probably can't be nominated because he's known as too much of a partisan hack. He worked for Ken Starr, where he urged that Bill Clinton be questioned in the most lurid way possible. He worked on the George W. Bush legal team during the 2000 Florida debacle. He worked in the Bush White House. He might have the qualifications, the argument went, but a hard-charging partisan like him would be too controversial. Yet somehow that reality got wiped away in all the encomiums to his brilliant mind and stellar record.
On Thursday, no doubt realizing that the only way to save his nomination was to reinforce feelings of party loyalty among Republican senators, Kavanaugh not only came out swinging at Democrats, he made clear that he's a Supreme Court nominee for the age of negative partisanship. I deserve to be on the court, he said in effect, because I hate Democrats as much as you do. This part of his testimony sounded like what you hear from Rush Limbaugh or Sean Hannity. https://www.washingtonpost.com/blogs/plum-line/wp/2018/09/28/kavanaugh-finally-showed-us-who-he-really-is-and-hes-unfit-for-the-court/
7. Max Boot: In the Kavanaugh hearing, Republican rage overrides the desire to seek the truth
In the 1976 movie "Network," Howard Beale is a dyspeptic TV anchorman with a high-decibel mantra: "I'm as mad as hell, and I'm not going to take this anymore." If Beale were alive today, he would feel right at home in the Republican Party. The Senate Judiciary Committee hearing Thursday on Judge Brett M. Kavanaugh's nomination to the Supreme Court showed that, among Republicans, rage has triumphed over reason.
As John Harwood of CNBC noted, Republicans don't care what the science says about climate change. They don't care what the economic models say about the fiscal impact of tax cuts. And they don't care what the evidence says about the possibility that Kavanaugh may be guilty of sexual assault charges. All that matters is sticking it to the "libtards."
Kavanaugh channeled this vibe perfectly in the most acerbic and abusive appearance of any nominee I have ever seen before any Senate committee. His face contorted in anger, he blasted Senate Democrats for replacing "advise and consent with search and destroy," and turning the confirmation process into "a national disgrace."
Instead of seeking the truth, the Howard Beale Republicans prefer to holler and hate. The likely result will be to confirm an injudicious justice, and to further politicize an institution that is supposed to be above politics. https://www.washingtonpost.com/blogs/post-partisan/wp/2018/09/28/in-the-kavanaugh-hearing-republican-rage-overrides-the-desire-to-seek-the-truth/
8. Dana Milbank: Brett Kavanaugh, disrobed
Brett M. Kavanaugh proved himself unfit to serve on the Supreme Court.
It has little to do with his treatment of women.
Kavanaugh's freshman-year roommate at Yale had told the New Yorkerthat the future Supreme Court nominee could become "aggressive "and "belligerent" when drunk. But, as millions have now seen with their own eyes, he is aggressive and belligerent when stone-cold sober.
His testimony before the Senate Judiciary Committee on Thursday was a howl of partisan rage. He said the behavior of Democrats on the committee was "an embarrassment" and "a good old-fashioned attempt at Borking." He said they were "lying in wait" with "false, last-minute smears."
The proceedings were, he said, "a national disgrace," a "circus," a "grotesque and coordinated character assassination" and a "search and destroy" mission. He blamed Democrats for threats against his family, "to blow me up and take me down."
"This whole two-week effort has been a calculated and orchestrated political hit, fueled with apparent pent-up anger about President Trump and the 2016 election," he said, ". . . revenge on behalf of the Clintons and millions of dollars in money from outside left-wing opposition groups."
Kavanaugh shouted and scowled, sniffed and wept, turned the pages of his text as if swatting insects and thumped the witness table. Gone was the nominee who two weeks ago preached judicial modesty. Gone was the man who on Monday spoke to Fox News about fairness and integrity and dignity and respect.
Partisanship and revenge fantasies: Exactly what we don't need on the Supreme Court. https://www.washingtonpost.com/opinions/brett-kavanaugh-disrobed/2018/09/28/0271a840-c2bf-11e8-a1f0-a4051b6ad114_story.html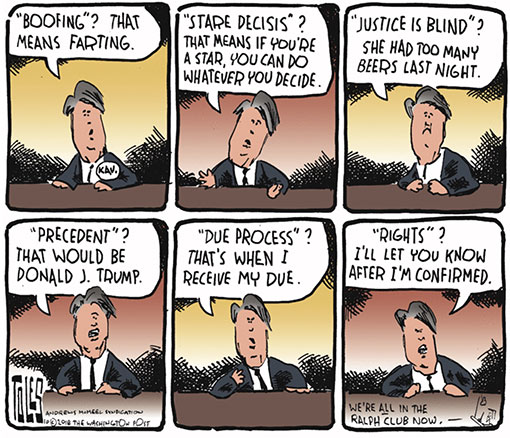 9. David Faris: The rage of Brett Kavanaugh and the implosion of the GOP
The Senate majority may confirm a man now thrice-accused of sexual misconduct, who was nominated by another man elected with a 46 percent minority and who himself has at least 18 different accusations of sexual misconduct against him. They seem willing to dispense with the whole investigatory process one day after barely hearing out his accuser and are refusing either to ask the FBI to investigate or at least subpoena the alleged co-perpetrator, even though the guy is just hanging out at the beach. Remember, we are a little over two years from the Republican Party conspiring together to block Merrick Garland from the Supreme Court, thereby stealing the swing seat now held by arch-conservative Neil Gorsuch. Republicans still seem to have no understanding of how that hardball gambit to this day makes Democrats sleepless with fury.
They are doing all of this despite the white-hot, incandescent rage it is generating among women across the political spectrum, despite clear public opposition to the Kavanaugh nomination altogether, despite evidence that it is going to worsen their electoral plight in November, despite Ford's credibility, and most of all, despite the damage the GOP's conduct over the past several years is going to do to the institution of the Supreme Court itself. They don't care. They see the Court as the only remaining avenue to indefinite dominion over the majority of Americans who now despise them and would crawl over fire-spitting coals to vote against them.
For the past two years, Republicans have acted as if there will never be any consequences for governing the country with total contempt for what the majority actually wants, instead gambling that our anti-majoritarian political institutions will keep them in power indefinitely. There is only one way to disabuse this gang of that confidence, which is to demolish them comprehensively in the next two national elections, and then to use fully legal and constitutional procedures to pack the courts and force Kavanaugh to scribble "MINORITY OPINION DUE FRIDAY" over and over again in his little calendars. http://theweek.com/articles/798507/rage-brett-kavanaugh-implosion-gop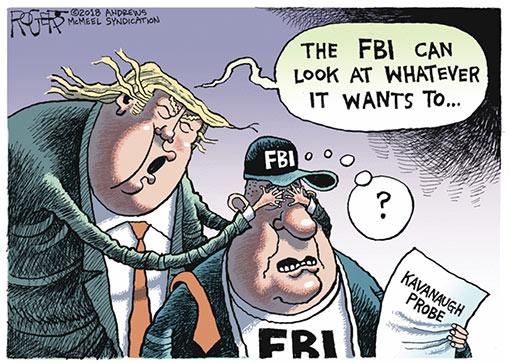 10. Osita Nwanevu: With Brett Kavanaugh, as with Donald Trump, Conservatives Defend a Tainted Nominee
For at least the second time in as many years, the vast majority of the conservative movement has abandoned all pretenses to sobriety and civility on behalf of a tainted nominee. And it cannot be said now, as it was in November, 2016, that the man in question is the best or only option for those committed to conservative policy objectives. Backing Brett Kavanaugh is a choice conservatives have made over viable alternatives—qualified conservative candidates who could be spirited through the nomination process before November's elections or in the lame-duck session by a Republican Senate that has already proved itself capable of sidestepping the required procedural hurdles.
They have chosen this course because the Kavanaugh nomination has presented the movement with a golden opportunity to accomplish two things more valuable, evidently, than merely placing another conservative on the court: standing against the new culture of accountability for sexual abuse and, at least as important, thumbing their noses at an angry and despairing Democratic Party. https://www.newyorker.com/news/daily-comment/with-brett-kavanaugh-as-with-donald-trump-conservatives-defend-a-tainted-nominee
11. James Pethokoukis: The trouble with Trumponomics
That Trump hates NAFTA so much — he's repeatedly blasted it as the"worst trade deal" in American history — and has so badly bungled its updating says a lot, unfortunately, about the nature of Trumponomics and the Trump presidency. When the president talks about the trade deal in such apocalyptic terms, he's really presenting an alternate dystopian reality. This is a common tactic of populist politicians who need to tell a story of elite incompetence in order to justify their electoral argument.
The facts, however, are that since the agreement took effect in 1994, regional trade has more than tripled to over $1 trillion. A Congressional Budget Office research review concluded that NAFTA likely gave a modest boost to U.S. growth and productivity with little significant impact on total employment either way. For individual sectors such as autos and retail, the agreement has been key to maintaining global competitiveness. And if you like drinking fresh raspberry smoothies in the dead of winter, you can thank NAFTA.
In other words, you shouldn't trust Trump's view of NAFTA any more than his view of the broader American economy. Recall that candidate Trump said America had become a "third world" country in recent decades. As he told The Washington Post, "I think we were a very powerful, very wealthy country. And we're a poor country now." Of course, Trump now claims the U.S. economy is "great and vibrant" thanks to his tax cuts, deregulation, and infectious can-do attitude. http://theweek.com/articles/798244/trouble-trumponomics
12. Jonathan Allen: Kanaugh fight shows us that Washington is sick. Very sick.
The nation's capital is critically ill.
The collision of Kavanaugh's nomination with the #MeToo movement — a demand for justice for victims of sexual assault — has paralyzed Washington and turned the once-solemn Supreme Court confirmation process into a theater of human suffering. It is the twisted result, one chief of staff to a Democratic senator said, of the two parties breaking their own system in a tit-for-tat brawl over nominations that led Democrats to end filibusters on lower-court judges and Cabinet nominees and Republicans to respond by doing the same for the high court.
"It's like watching a really bad movie where the kids learn all the wrong lessons at the end," the aide said.
The Senate is just one piece of a political system afflicted by petty grievance, political blood thirst and the distrust of a nation. But this week, it was a perfect microcosm. https://www.nbcnews.com/politics/politics-news/kavanaugh-fight-shows-us-washington-sick-very-sick-n914931
13. Charles P. Pierce: In Plain Terms, Judge Brett Kavanaugh Lies About Everything
In plain terms, for all his spleen and outrage, Judge Kavanaugh lies about everything. In his earlier hearings, he lied about his judicial philosophy, and he lied about his days as a Republican operative, both in and out of the White House. On Monday, he lied to Martha McCallum of Fox News. On Thursday, he lied about his entire adolescence and his college days.
He lied even when he didn't have to lie. He lied in preposterous ways easily disproven by common sense. (The "Devil's Triangle"? "Renate Alumnius"?) He lied like a toddler, like a guilty adolescent, and like a privileged scion of the white ruling class, which is a continuum with which we all are far too familiar. He lied and he dared the Democratic members of the committee, and the country, to call him on his lies. And now, he is a couple of easy steps away from having lied his way into a lifetime seat on the United States Supreme Court. This guy is going to be deciding constitutional issues for the next four decades, and the truth is not in him.
The ballgame pretty much ended when Jeff Flake's endlessly tortured conscience led him to the completely predictable conclusion that, while Dr. Christine Blasey Ford was "credible," he would have to vote in favor of putting Kavanaugh on the Supreme Court because, as his official statement said: https://www.esquire.com/news-politics/politics/a23511160/brett-kavanaugh-lies-about-everything/