May 12, 2022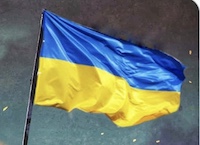 If you have a friend, family member, or neighbor who would like to subscribe to this FREE weekly newsletter they should simply email jellison@san.rr.com with "subscribe" as the subject.
THE WEEK'S BEST QUOTES. . .
"The events of earlier this week" show that if people cannot "live with outcomes we don't agree with," then the integrity of the judicial branch of government is undermined. —
Justice Clarence Thomas
told a group of judges and lawyers at the 11th Circuit Judicial Conference in Atlanta.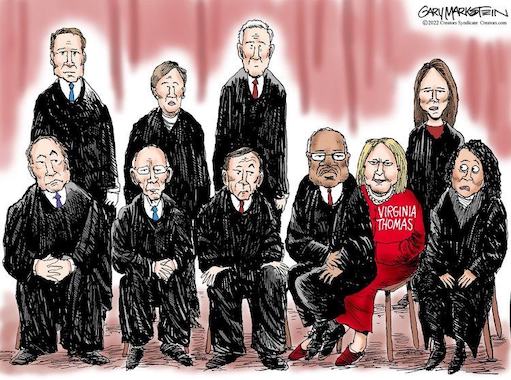 "I need every guerrilla fighting this guerrilla war right now. Don't get out ahead of what the public is willing to accept as truth." —
Sen. Ron Johnson (R-WI)
, saying that he's in a "guerrilla war" against the medical establishment.
"Hello, this is President Donald J. Trump, hopefully your all time favorite president of all time Georgia has one of the worst secretary of states in America, and I mean the worst, RINO Brad Raffensperger." —
Donald Trump
has a new and rambling robocall for Rep. Jody Hice (R) in the race for Georgia Secretary of State going on for more than a minute and a half, talking about himself, repeating disproven election conspiracies, and floating a new one.
If men could get pregnant, this wouldn't even be a conversation. This decision isn't about strengthening families - it's about extremism. It's about control.  We will fight for the right to choose. —
Gavin Newsom
"I don't delude myself into thinking I have a big swath of the Republican Party. It's hard to imagine anything that would derail his support. So if he wants to become the nominee in '24, I think he's very likely to achieve that." —
Sen. Mitt Romney
on Donald Trump running for president again. 
"Republicans are going to be in a very tough place right now. They have to defend something that Republicans said would never happen. I think this is a very bad issue for them." — S
en. Ben Ray Luján (D-NM)
, on the likely forthcoming Supreme Court decision to overturn Roe v. Wade.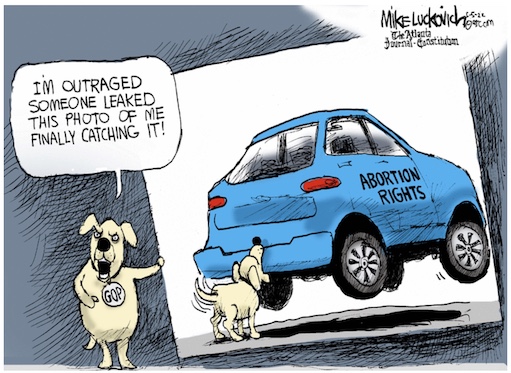 "With this leaked opinion, the court is looking at reversing 50 years of women's rights and the fall will be swift. Over 20 states have laws in place already." —
Sen. Amy Klobuchar
How many of the women rallying against overturning Roe are over-educated, under-loved millennials who sadly return from protests to a lonely microwave dinner with their cats, and no bumble matches? —
Rep. Matt Gaetz (R-FL) 
"What a surprise… right on schedule… here comes the 'midterms variant." --
Fox News host Maria Bartiromo
suggesting that Democrats are creating a new Covid-19 variant to help them win the midterm elections.
"Mark Esper was weak and totally ineffective, and because of it, I had to run the military. I took out ISIS, Qasem Soleimani, al-Baghdadi, rebuilt the military with $2.5 trillion, created Space Force, and so much more." —
Donald Trump
responding to a 60 Minutes interview with his former defense secretary, Mark Esper, calling him a "a RINO incapable of leading."
"I think that Elon Musk just knows that he himself can escape to space, and the rest of us earthlings will have to deal with this." —
Alisyn Camerota's
take on Musk saying he would reverse Trump's Twitter ban.
"Republican state legislators across the country are already advancing extreme new laws, seeking to arrest doctors for offering reproductive care, ban abortion entirely with no exceptions, and even charge women with murder who exercise their right to choose." —
Speaker Nancy Pelosi (D-CA)
saying that Republicans "have made clear that their goal will be to seek to criminalize abortion nationwide."
VIDEOS
"If the media wants to shed some real tears, I can help them out with that." — 
GOP congressional hopeful Cory Mills
, who made his fortune selling tear gas  boasted in a new ad that the 'liberal media is crying about it' before suggesting he'd tear-gas them himself," while shooting gas canisters 
MeidasTouch: #GOPHandmaidsTale:
https://www.youtube.com/watch?v=_g2CqOrFGak
In his primary debate, Rep.Tom Rice (R-SC) makes the case for why we need to tell the truth and demand accountability for Jan. 6. You'll want to listen to the whole thing.
https://twitter.com/AccountableGOP/status/1522655395503910914
Fox Host calls for Biden to be impeached for inciting mobs to disrupt proceedings of the Supreme Court for partisan ends.
https://twitter.com/Acyn/status/1523470875269378048
SNL Weekend Update: Justice Amy Coney Barrett on Overturning Roe v. Wade.
https://www.youtube.com/watch?v=D3pF5FhOmKU
SNL Weekend Update: Roe v. Wade Leaked Draft.
https://www.youtube.com/watch?v=Z1XKrgRhdT0
"We arm Ukraine so that we can punish Russia. Why? For stealing Hillary Clinton's coronation." -- Tucker Carlson: https://www.mediamatters.org/media/3987833/embed/embed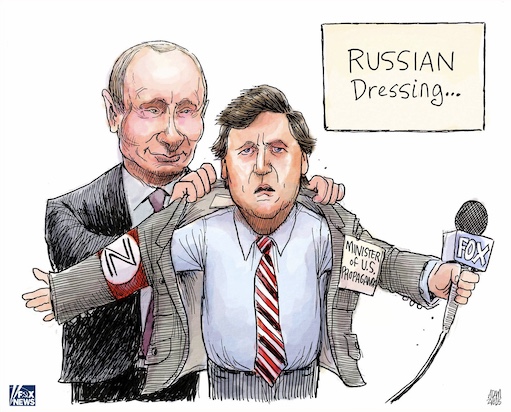 Tucker Carlson blames American aid to Ukraine for the death of Ukrainian civilians: https://www.mediamatters.org/tucker-carlson/tucker-carlson-blames-american-aid-ukraine-death-ukrainian-civilians
"The Republican primary candidates have spent their careers proving that they would be in lockstep with McConnell's agenda of criminalizing abortion and punishing women." — From Sen. Maggie Hassan's (D-NH) new digital ad linking her Republican opponents to "McConnell's decade-long crusade to criminalize abortion."
Former Defense Secretary Mark Esper interviewed by Brett Baier on Fox News:
BAIER: Do you think Donald Trump was a threat to democracy?
ESPER: I think that given the events of January 6th, given how he has undermined the election results, he incited people to come to D.C., stirred them that morning, and failed to call them off. To me, that threatens our democracy."
BAIER: So, yes?
ESPER: What else can you conclude, Bret? 
"We should let parents raise their kids until they're 5 at least before government comes with a school bus, backs it up to the maternity ward room door and takes them to the government school." — Minn. state Rep. Steve Drazkowski (R) arguing for abolishing early childhood education.
LITIGATION TRACKER
Pending Criminal and Civil Cases Against Donald Trump. 
https://www.justsecurity.org/75032/litigation-tracker-pending-criminal-and-civil-cases-against-donald-trump/
---
IN THIS ISSUE
IN THE NEWS
OPINION
Andy Borowitz: Kavanaugh Claims Protesters Outside Home Obstructing Daily Keg Delivery
Brett Kavanaugh blasted protesters outside his home for "callously and cruelly" obstructing the daily keg delivery he has relied upon for the past twenty-two years.

According to the jurist, a truck belonging to Roscoe's Beer Depot, which has made the regular keg deliveries with no previous interruption, was unable to turn in to Kavanaugh's driveway and load a keg into the residence's basement, where it was to be kept at a "cool and frosty temperature" until its contents could be consumed.

"The United States Constitution explicitly protects my right to an uninterrupted flow of beer," Kavanaugh declared. "This will not stand."

Kavanaugh said that he has "tried to remain calm" about the beer blockade, but warned protesters that, when he gets down to his final keg, "things could get ugly fast—real fast."
https://www.newyorker.com/humor/borowitz-report/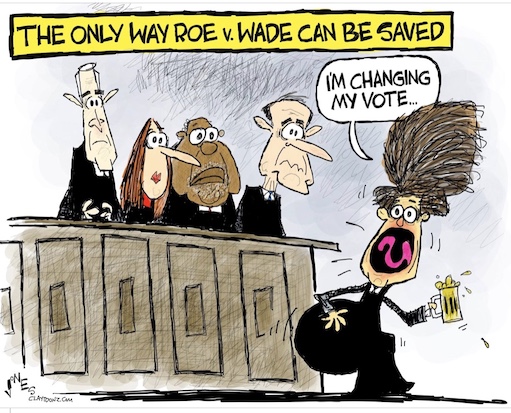 With Roe likely to fall, Senate Republicans weigh nationwide abortion restrictions
Senate Republicans have fought for decades to end Roe v. Wade. Now, with victory in sight, they are discussing whether to pursue nationwide restrictions on abortion if they gain power.
"We need to discuss what the role of the federal government will be in this," Sen. Joni Ernst of Iowa, a member of the Republican leadership, told NBC News. "I know that states will enact different laws — that would likely happen should the deliberations go the way that everybody thinks they will."
Asked if Congress should restrict legal abortion across the country, Ernst responded: "We're debating now. We're going to continue to debate that. I think that's important that we do that, to debate it."
Read more at:
https://www.nbcnews.com/politics/congress/roe-likely-fall-senate-republicans-weigh-nationwide-abortion-restricti-rcna27491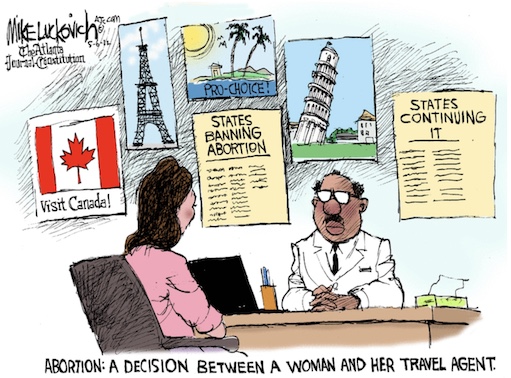 Trump Wanted To Activate Retired Four-Stars To Court-Martial Them For Disloyalty
President Donald Trump demanded that the military recall two retired four-star officers who criticized him so they could be court-martialed, a new book says.
According to a copy of ex-Secretary of Defense Mark Esper's memoir, A Sacred Oath, obtained by TPM, Trump demanded that former Gen. Stan McChrystal and former Navy Admiral William H. McRaven be recalled into active duty so that they could be court-martialed for criticizing the President.
Read more at:
https://talkingpointsmemo.com/muckraker/esper-trump-wanted-to-activate-retired-four-stars-to-court-martial-them-for-disloyalty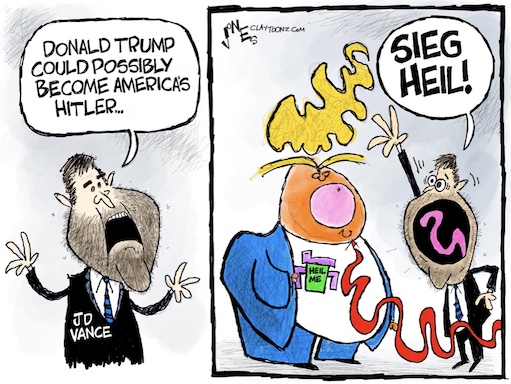 A Biden-Trump rematch is increasingly likely
The 2024 election begins as a high-stakes staring contest.
President Joe Biden and former President Donald Trump have both told aides and confidants that they're more likely to run for the White House next cycle — and confident in their chances of winning — if the other runs, too. But as each camp gears up for a rematch of the bitterly contested 2020 contest, there remains a small hiccup: Neither is inclined to take the plunge first.
It's a game of political chicken that — as described by more than a half dozen advisers to the two men — has largely frozen the field among Democrats and Republicans alike, raising questions about the future health of two parties being led by a pair of candidates who, by that Election Day, would have long ago celebrated their 75th birthdays.
Read more at:
https://www.politico.com/news/2022/05/05/biden-trump-rematch-00030250
GOP Senate candidate Blake Masters wants to allow states to ban contraception use
After the U.S. Supreme Court overturns women's constitutional right to abortion this summer, one Arizona Republican candidate for U.S. Senate thinks judges should also take aim at the right to buy and use contraception.
Read more at:
https://www.azmirror.com/blog/gop-senate-candidate-blake-masters-wants-to-allow-states-to-ban-contraception-use/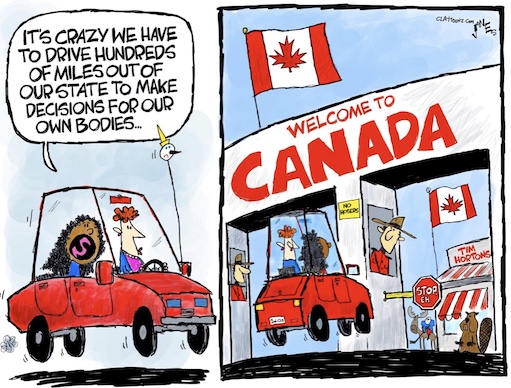 Russian generals turning on each other to avoid Putin's purge, says Ben Wallace
Russian generals are "turning in on themselves" because the war in Ukraine is not going to plan, the Times of London reports.
Ben Wallace said military leaders were blaming each other for the disaster. He said they feared being purged if the quagmire turned into a panicked retreat. Military chiefs in the general staff were the scapegoats for President Putin's failed invasion, he said. General Valery Gerasimov, chief of the Russian general staff, headed to the front line in Ukraine last month.
Read more at:
https://ground.news/article/russian-generals-turn-on-each-other_12559d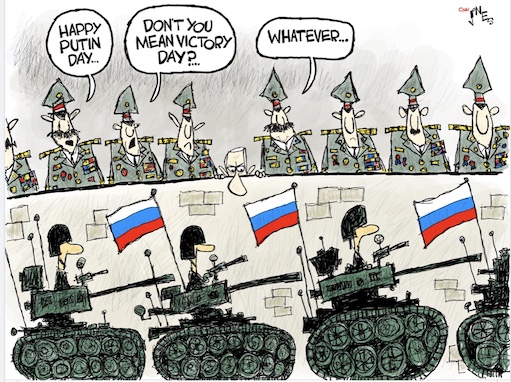 Abbott says Texas could 'resurrect' SCOTUS case requiring states to educate all kids
Gov. Greg Abbott wants Texas to challenge a 1982 U.S. Supreme Court ruling that requires states to offer free public education to all children, including those lacking legal immigration status.
That ruling, known as Plyler v. Doe, struck down a Texas law that had denied state funding to educate children who had not been "legally admitted" to the United States.
It's time, Abbott told a conservative radio host Wednesday, for Texas to try once again to limit the state's responsibility to educate noncitizens. 
Read more at:
https://www.statesman.com/story/news/2022/05/04/gov-greg-abbott-supreme-court-case-requiring-education-undocumented-children/9652463002/
'I Simply Refuse': Wiretaps Catch Putin's Troops Breaking Own Tanks in Sabotage Scheme
Russian fighters have been sharing tips with one another about how to deliberately damage their own equipment and hamper Russian President Vladimir Putin's war plans in Ukraine, according to recordings of alleged Russian troops' phone calls that the Security Service of Ukraine intercepted
In one regiment, one Russian soldier allegedly said they've been pouring sand into the tanks' fuel systems to clog them up.
Read more at:
https://www.thedailybeast.com/intercepted-calls-catch-russian-troops-sabotaging-vladimir-putins-war-plans-by-breaking-tanks
New poll reveals warning signs for GOP on abortion ahead of midterms
A new Yahoo News/YouGov poll, one of the first to be conducted entirely after the leak of Justice Samuel Alito's controversial draft opinion, suggests that Republicans risk overplaying their hand on abortion ahead of the 2022 midterms — and that Democrats could benefit if the hot-button issue is on the ballot.
The survey of 1,577 U.S. adults, which was conducted from May 3 to May 6, found that registered voters initially preferred a generic Democrat (44%) over a generic Republican (39%) by 5 percentage points when asked how they would vote in their district if the congressional election were being held today.
But when voters were asked to choose instead between a "pro-choice Democrat" and a "pro-life Republican," GOP support fell to 31% while Democratic support held steady — more than doubling the gap between the two candidates, to 13 percentage points.  Read more at: https://news.yahoo.com/new-poll-reveals-warning-signs-for-gop-on-abortion-ahead-of-midterms-205241999.html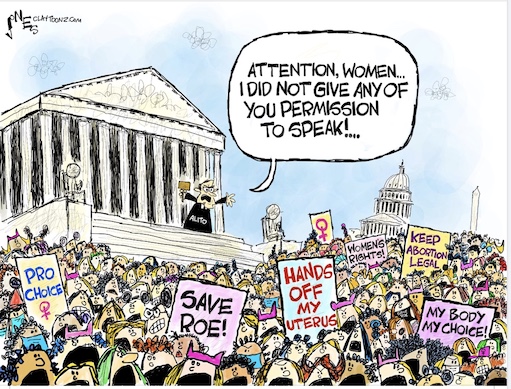 Louisiana Republicans advance bill that would charge abortion as homicide
Republicans in the Louisiana House advanced a bill Wednesday that would classify abortion as homicide and allow prosecutors to criminally charge patients, with supporters citing a draft opinion leaked this week showing the Supreme Court ready to overturn Roe v. Wade.
The legislation, which passed through a committee on a 7-to-2 vote, goes one step further than other antiabortion bans that have gained momentum in recent years, which focus on punishing abortion providers and others who help facilitate the procedure. Experts say the bill could also restrict in vitro fertilization and emergency contraception because it would grant constitutional rights to a person "from the moment of fertilization." 
Read more at:
https://www.washingtonpost.com/politics/2022/05/05/louisiana-republicans-advance-bill-that-would-charge-abortion-homicide/
How Abortion Might Motivate or Persuade Voters in the Midterms
Larry Sabato's Crystal Ball: The potential demise of Roe vs. Wade could both help Democrats generate higher turnout and appeal better to persuadable, Republican-leaning swing voters in the 2022 election who generally have a concern about women losing access to safe and legal abortion services, according to a new analysis from the University of Virginia Center for Politics/Project Home Fire data analytics project.
Their analysis suggests that 1. The public, broadly speaking, is more supportive of abortion rights and more concerned about women's access to abortion services than not and 2. There are voters who may be animated by Roe vs. Wade being overturned, which could give Democrats a desperately-needed shot in the arm this November given their many other political problems this year. Whether abortion would trump the concerns that persuadable voters have on other issues — such as inflation and broader economic concerns, where the Democrats appear very vulnerable — remains to be seen, but we may find out if and when the Supreme Court releases their potentially explosive actual opinion on abortion.
Read more at:
https://centerforpolitics.org/crystalball/articles/how-abortion-might-motivate-or-persuade-voters-in-the-midterms/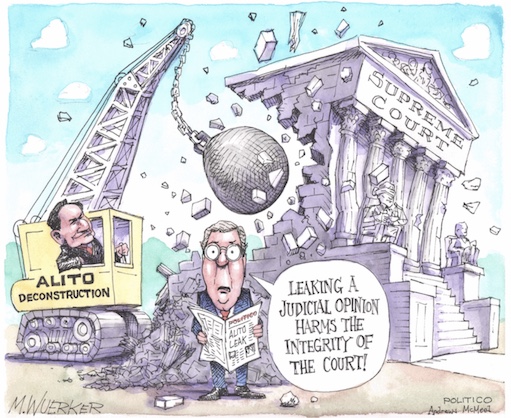 Ron DeSantis signs $1.2 billion in tax breaks for Floridians to fight 'Bidenflation headwinds,' though Biden's stimulus will help pay for it
Floridians will get more than $1.2 billion in tax breaks on a slew of items from diapers to mobile homes thanks to a bill Republican Gov. Ron DeSantis signed into law on Friday.
As he prepared to sign the bill at a Sam's Club in Ocala, Florida, DeSantis blamed President Joe Biden for the state's need to provide financial relief amid record-high inflation. He has also warned in recent weeks that the country may be heading into a recession
"We have done more than any other state to step up against Bidenflation headwinds, to give relief to our citizens, and we are going to keep on doing that," DeSantis said at a bill signing event at Sam's Club in Ocala, Florida.
But at least one portion of the tax relief package is being paid for by congressional Democrats' $1.9 trillion coronavirus relief measure, called the American Rescue Plan, that Biden signed into law last year. Republicans and even some outside analysts frequently blame the spending package for contributing to inflation.
Read more at:
https://www.businessinsider.com/lots-of-tax-breaks-coming-to-florida-thanks-to-desantis-and-biden-2022-5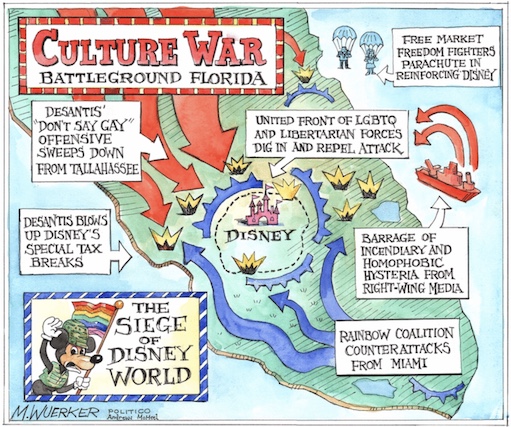 Less immigrant labor in US contributing to price hikes
The U.S. is experiencing a labor shortage that's partly fueled by a drop-off in immigration, which ground to a halt during the pandemic, the   reports.
By some estimates, the U.S. now has 2 million fewer immigrants than it would have if the pace had stayed the same.
Read more at:
https://apnews.com/article/immigration-covid-health-business-united-states-dcfd75981dcd212ef6747eeaf87f4f31
Governor signs bill criminalizing mail-in abortion drugs
Tennessee Gov. Bill Lee (R) signed a bill Thursday criminalizing abortion-inducing drugs that are provided via mail.
Read more at:
https://apnews.com/article/immigration-covid-health-business-united-states-dcfd75981dcd212ef6747eeaf87f4f31
The DAILY GRILL
Rep. Paul Gosar (R-AZ) boasts he's been "relentless" in seeking to restore fiscal responsibility and "common sense" when it comes to the "bloated" federal government.
https://www.cnn.com/2022/05/05/politics/paul-gosar-taxpayer-funded-travel/index.html
VERSUS"
"A review conducted by the nonpartisan watchdog Moonlight Foundation of the self-described fiscal conservative's spending shows Rep. Gosar has spent more taxpayer dollars on travel than any other member of the House over the past five years — an unusual amount of money spent by a rank-and-file member who has served in the minority for part of that time and has built a scant record of legislative accomplishments." — CNN
https://www.cnn.com/2022/05/05/politics/paul-gosar-taxpayer-funded-travel/index.html
"It was a protest. It was a protest. That's what it was. A few people went in and the law should be implemented for those who broke it." — Rep. Alex Mooney (R-WV) telling West Virginia Metro News that it was "insulting" to classify the Jan. 6 attack on the Capitol as a domestic terrorist attack.
https://www.politico.com/minutes/congress/05-5-2022/mooneys-view-on-16/
VERSUS
"Based on a review of the body-worn-camera footage conducted by the U.S. Attorney's Office in Washington, D.C, the footage displays approximately 1,000 events that may be characterized as assaults on federal officers." -- Emily Miller, the federal prosecutor leading evidence-collection efforts for.
https://www.politico.com/news/2021/09/01/prosecutors-jan-6-police-assaults-508720
A New Democratic poll in Pennsylvania shows Doug Mastriano (R) leads the Republican gubernatorial field with support from 28% of voters, a 14-point lead over the next-closest candidate. https://www.cityandstatepa.com/politics/2022/04/new-poll-shows-doug-mastriano-14-point-lead-pennsylvania-gop-primary-governor/366333/

VERSUS

If Mastriano wins the Republican primary in Pennsylvania, he may well cost Republicans the U.S. Senate race that will share the ballot this fall, a couple of congressional races, and perhaps even majorities in the state House and state Senate. — Salena Zito  https://www.msn.com/en-us/news/politics/in-pennsylvania-a-doug-mastriano-win-would-cost-the-gop-the-house-and-senate-in-that-state/ar-AAX02gk
Poll: Confidence in Supreme Court has collapsed since conservatives took control
A new Yahoo News/YouGov poll shows that Americans' confidence in the U.S. Supreme Court has collapsed over the last 20 months — a period that began with former President Donald Trump and Senate Republicans installing a 6-3 conservative majority ahead of the 2020 election and culminated last week with the leak of a draft opinion signaling that five GOP-appointed justices plan to overturn Roe v. Wade. Read more at: https://news.yahoo.com/poll-confidence-in-supreme-court-has-collapsed-since-conservatives-took-control-122402500.html
GOP politicians aren't pro-life. They're pro-forced birth
Republican politicians working to overturn Roe v. Wade say they are pro-life and antiabortion. In fact, they are neither. What they are is pro-forced birth.

This distinction is about more than semantics. These officials have drawn a clear line, as evidenced by policies they've adopted in conjunction with their opposition to Roe. GOP-led states are making choices, today, that increase the chances of unplanned pregnancies and, therefore, demand for abortions; their choices also limit access to health care and other critical programs for new moms, endangering the lives and welfare of mothers and their children. Read more at: https://www.washingtonpost.com/opinions/2022/05/10/republican-politicians-are-less-antiabortion-than-pro-forcing-birth/
Being Anti-Science Is Now Part Of Many Rural Americans' Identity
The advances in science and technology over our lifetimes are awe-inspiring. But unfortunately not everyone feels that way.

"In a 2021 paper published in American Political Science Review, political scientists David Barker, Ryan Detamble and Morgan Marietta looked at Republicans' growing distrust of scientists and other experts," FiveThirtyEight reports.

"Their research shows that partly due to the education divide — i.e., college graduates prefer the Democratic Party, and white people without a college degree prefer the Republican Party — the divide between those who are pro-intellectualism and those who are anti-intellectualism is more entrenched in party politics."

The growing gap has already proven a big problem during the Covid-19 pandemic, but it's only going to get worse. Read more at: https://fivethirtyeight.com/features/why-being-anti-science-is-now-part-of-many-rural-americans-identity/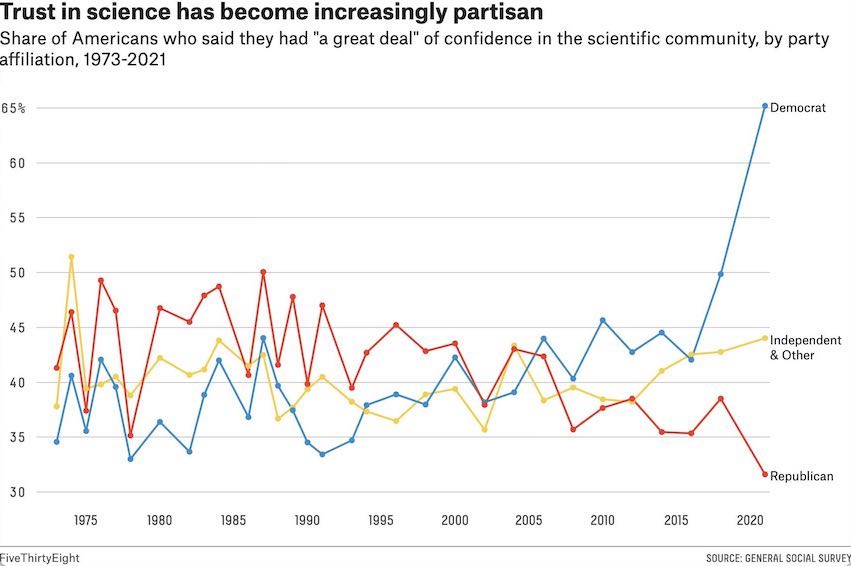 DeSantis Signs Bill Mandating Communism Lessons
Public school teachers in Florida will soon be required to dedicate at least 45 minutes of instruction on "Victims of Communism Day" to teach students about communist leaders around the world and how people suffered under those regimes. Read more at: https://www.miamiherald.com/news/politics-government/article261246872.html
Elizabeth Warren Grabs Center Stage
Sen. Elizabeth Warren (D-Mass.) is eclipsing President Biden with endorsements and, at times, as the Democrats' leading voice on major issues, including abortion and canceling student debt.
The progressive's prominence is pressuring the incumbent president and White House to move left. It's also raising questions about her ambitions, especially as the Democratic Party faces electoral apocalypse this fall and questions about whose voice — and issues — are best to rebound. Read more at: https://www.axios.com/2022/05/10/elizabeth-warren-eclipses-biden-endorsements
The great GOP divide on abortion
Republicans are deeply split on their abortion strategy, with top officials pushing restraint, even silence, while activist GOP candidates demand an all-out campaign for a national ban and harsher penalties.

Republicans' confidence in landslide victories this fall was shaken by the leaked abortion ruling — in part because they know the topic invigorates their base, while rattling many swing voters.
One thing is certain about modern politics: Rarely does moderation or restraint prevail — especially on cultural, religious or identity issues. In fact, one truism of modern conservatism is: The more the establishment pushes something, the more the base recoils. Read more at: https://www.axios.com/2022/05/10/abortion-republican-divide
Alabama's ban on medical treatments for transgender minors starts today
A new Alabama law banning certain medical treatments for minors with gender dysphoria takes effect today unless a federal judge grants a request to put a temporary hold on it while a lawsuit is pending.

Alabama's law is the first in the country to actually take effect. The Alabama Vulnerable Child Compassion and Protection Act makes it a felony to provide puberty blockers, hormones and surgeries for the purpose of helping transgender minors, people under 19, transition to the gender they identify with. Violators of the law would face a penalty of up to 10 years in prison.
Read more at:
https://www.al.com/news/2022/05/alabamas-ban-on-medical-treatments-for-transgender-minors-starts-today.html
Michigan AG says she won't enforce state's 'Draconian' 1931 abortion law
Michigan attorney general Dana Nessel (D) said she will refuse to enforce what she calls a 1931 "Draconian law," which would make abortion illegal in Michigan if Roe v. Wade is overturned
.
Said Nessel: "Let's be clear, women in my state and states all over America are going to die because of this position."
Read more at:
https://www.mlive.com/politics/2022/05/michigan-ag-says-she-wont-enforce-states-draconian-1931-abortion-law.html
1 in 3 fears immigrants influence US elections: AP-NORC poll
With anti-immigrant rhetoric bubbling over in the leadup to this year's critical midterm elections, about 1 in 3 U.S. adults believes an effort is underway to replace U.S.-born Americans with immigrants for electoral gains.

About 3 in 10 also worry that more immigration is causing U.S.-born Americans to lose their economic, political and cultural influence, according to a poll by The Associated Press-NORC Center for Public Affairs Research. Republicans are more likely than Democrats to fear a loss of influence because of immigration, 36% to 27%.

Those views mirror swelling anti-immigrant sentiment espoused on social media and cable TV, with conservative commentators like Tucker Carlson exploiting fears that new arrivals could undermine the native-born population.

In their most extreme manifestation, those increasingly public views in the U.S. and Europe tap into a decades-old conspiracy theory known as the "great replacement," a false claim that native-born populations are being overrun by nonwhite immigrants who are eroding, and eventually will erase, their culture and values. The once-taboo term became the mantra of one losing conservative candidate in the recent French presidential election. Read more at: https://apnews.com/article/immigration-2022-midterm-elections-covid-health-media-2ebbd3849ca35ec76f0f91120639d9d4
"Non-COVID" Excess Death Rates Ran 21x Higher In Reddest Counties Than Bluest In 2021
For the full year 2021, official COVID deaths ran more than three times higher in the reddest tenth of the U.S. than the bluest. This is something I've been tracking and writing about for nearly a year now, so while it's pretty dramatic, it's nothing new.

What is new is the "other" excess deaths in 2021: They ran a jaw-dropping twenty-one times higher in the reddest decile than the bluest...nearly 50 per 100K residents vs. only ~2.3 per 100K.
Read more at: https://acasignups.net/22/05/09/exclusive-non-covid-excess-death-rates-ran-21x-higher-reddest-counties-bluest-2021
Maureen Dowd: Marilyn Monroe v. Samuel Alito
Samuel Alito's antediluvian draft opinion is the Puritans' greatest victory since they expelled Roger Williams from the Massachusetts Bay Colony.

Alito is a familiar type in American literature: the holier-than-thou preacher, so overzealous in his attempts to rein in female sexuality and slap on a scarlet letter that one suspects he must be hiding some dark yearnings of his own.

This week's stunning reversal on women's rights is the apotheosis of the last 40 years, through Reagan, Schlafly, Meese, Rehnquist and Scalia, climaxing in Mitch McConnell, who made a Faustian bargain to support chuckleheaded Trump to get a conservative court. Because of McConnell's machinations blocking Merrick Garland and ramming through Amy Coney Barrett, Trump was able to name three anti-abortion conservatives to the court, all of whom prevaricated under oath before the Senate about their intentions on Roe.

The founding fathers would be less surprised that there's a popular musical about Alexander Hamilton than they would be that, in an age of space travel, the internet, Netflix and in vitro fertilization, the majority of the court is relying on a literal interpretation of a document conceived in the agrarian 1780s.

They would be devastated that the court is just another hack institution with partisan leaks. Alito helped open the door to dark money and helped gut the Voting Rights Act; but he wants to ban abortion largely because, he says, the Constitution doesn't expressly allow it. That's so fatuous. The Constitution doesn't mention an awful lot of things that the court involves itself with. But while it expressly prohibits state-sanctioned religion, this court seems ready to let some rebel public school football coach convene a prayer session after games. These rogue justices are always ready to twist the Constitution to their purposes.

They are strict constructionists all right, strictly interested in constructing a society that comports with their rigid, religiously driven worldview. It is outrageous that five unelected, unaccountable and relatively unknown political operatives masquerading as impartial jurists can so profoundly alter our lives.

Chief Justice Roberts has been trying to protect the court's reputation by working to split the difference on some of these explosive decisions. He may be doing that in this case. But he has lost control of a lost-its-marbles majority. To borrow an image from the great Mary McGrory, Roberts seems like a small man trying to walk a large dog. At this point, he can't even see the end of the leash. Read more at: https://www.nytimes.com/2022/05/07/opinion/abortion-supreme-court-puritanism.html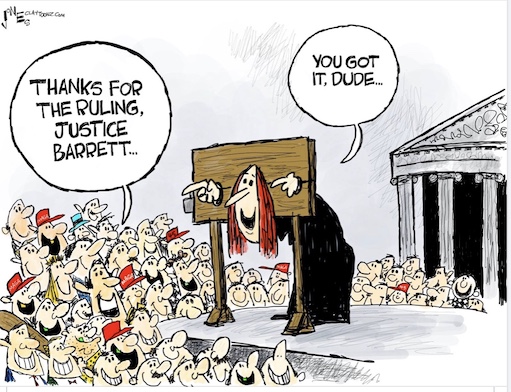 Dana Milbank: What other brilliant ideas are in Alito's medieval law book?
Justice Alito's opinion, after mocking the Roe decision for its "discussion of abortion in antiquity," then provides a discussion of abortion in medieval times when Judge Henry de Bracton's 13th-century treatise explained that if a person has 'struck a pregnant woman, or has given her poison, whereby he has caused an abortion, if the foetus be already formed and animated … he commits homicide.' "
"Where he ought to be executed by the sword he shall not be put to death in any other way, neither by the axe nor the spear, by cudgels nor by the rope," Bracton informs us. "Similarly, those condemned to be burned alive ought not to be injured by floggings, whippings, or tortures, since many perish while under torture."
So true! Let's take a closer look at the 13th-century work from which Alito draws in his cruel and unusual draft — and perhaps glimpse more of the world to which Alito and his fellow conservatives on the court would return us.
In Bracton's account, "Women differ from men in many respects, for their position is inferior to that of men." Alito didn't cite that passage.
Bracton also outlines procedures for "viewing a woman to discover whether or not she is pregnant" in which "discreet women" should in certain instances "carefully examine her by feeling her breasts and abdomen and in every way" to make sure she wasn't faking. If the exam was inconclusive, the woman could be locked in a "castle at her own cost" where the exam would be repeated daily. Once the woman was found to be pregnant, "the time of conception, how, when, and where, and at what time she believes she is to give birth" was to be made "known to our justices at Westminster."
Should there be suspicion of fraud, Bracton details a requirement to calculate "from the time at which she alleged that she conceived" to determine true fatherhood, as well as the view that "the woman cannot exceed the gestation period by a single day, even where the issue dies in utero or turns into a monster."
Welcome to the post-Roe world!
You won't find those passages in Alito's draft opinion, either. But this medieval court is just getting started. Read more at: https://www.washingtonpost.com/opinions/2022/05/09/alito-13th-century-law-roe-opinion-snl/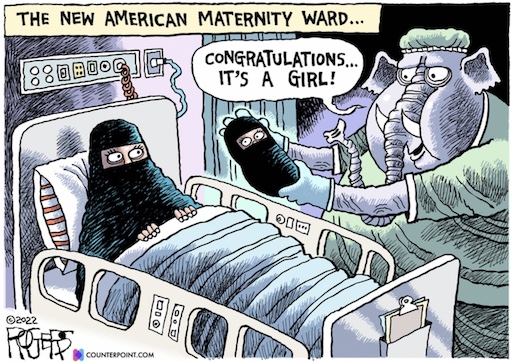 Eugene Robinson: Mitch McConnell is the biggest threat to abortion rights in America
The individual most responsible for threatening women's reproductive rights in this country is not Justice Samuel A. Alito Jr. — or, for that matter, any of his reactionary colleagues on the Supreme Court. It's Senate Minority Leader Mitch McConnell.
And McConnell has done more than anyone else to put that goal within reach.
As majority leader, McConnell systematically assembled an unassailable far-right Supreme Court majority that was carefully tailored to strike down Roe. When Justice Antonin Scalia, the court's most vocal Roe opponent, died suddenly in February 2016, President Barack Obama nominated Merrick Garland — then a U.S. Court of Appeals judge, now the attorney general — to replace him. McConnell refused to give Garland even a Senate hearing, let alone a confirmation vote.
McConnell took the ridiculous position that the vacancy had occurred too close to the coming presidential election — which was nine months away. This unprecedented and unprincipled use of McConnell's power allowed President Donald Trump to nominate Neil M. Gorsuch to take Scalia's seat on the court, and Gorsuch was confirmed in April 2017. To make this happen in a closely divided Senate, McConnell eliminated the filibuster for Supreme Court nominees.
The next time Republicans howl and scream about the notion that Democrats would even think about increasing the number of justices, remind them that McConnell reduced the court roster from nine to eight for an entire year.
If McConnell is the chief dissembler and the architect of this disaster, he isn't alone. We were lied to by those Republican-appointed Supreme Court justices who told us at their confirmation hearings how deeply they respected precedents such as Roe v. Wade. The justices might have been using language that was legalistic in the worst sense, giving the impression they would abide by precedent even as they avoided pledging to be bound by it. These distinctions are worthy of petty ambulance-chasers, not justices who need to build, and hold, the nation's confidence.
The history of the United States has been a saga of difficult, halting progress in expanding the rights protected by the Constitution to citizens other than White men who own property, those to whom "We the people" originally applied. Roe is so important because it protects women's rights over their own bodies.
If Republicans were to take control of Congress and the White House, there would indeed be a push to ban abortion coast to coast. Remember what McConnell did when he had power. Don't give it to him again. And don't believe McConnell and the justices when they ask you to trust them, and not your lying eyes. Read more at: https://www.washingtonpost.com/opinions/2022/05/09/mitch-mcconnell-biggest-threat-abortion-rights/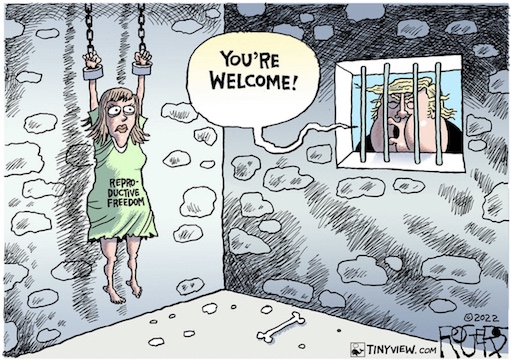 Bess Levin: Samuel Alito's Antiabortion Inspiration: A 17Th-Century Jurist Who Supported Marital Rape And Had Women Executed
The Supreme Court justice wants to turn the U.S. into a dystopian hellscape where women are property—and he's not stopping there.
As Slate's Mark Joseph Stern notes, the draft—which could change before a the final ruling, as could the various justices' votes—doesn't just lay out the case for why Roe should be overturned, it goes full scorched earth. Alito, Stern writes, "does not seek out any middle path. He disparages Roe and its successors as dishonest, illegitimate, and destructive to the court, the country, and the Constitution. He quotes a wide range of anti-abortion activists, scholars, and judges who view abortion as immoral and barbaric; there's even a footnote that approvingly cites Justice Clarence Thomas's debunked theory that abortion is a tool of eugenics against Black Americans." The opinion is an appalling, heinous attack on people who have relied on Roe for nearly half a century, and the most sickening part is that the conservative justice clearly doesn't give a shit that obliterating the landmark ruling will ruin countless lives. In fact, one might argue, that's all part of the plan. And if you needed further proof that Alito is pure evil and wants to take the U.S. back to a time when women's bodies were property for men to control, know that one of the people he cited in his opinion was an English jurist who defended marital rape and had women executed for "witchcraft."
Yes, Alito literally quoted this guy, who was born in 1609, as a defense for ending Roe v. Wade in 2022. "Two treatises by Sir Matthew Hale," Alito enthusiastically writes, "described abortion of a quick child who died in the womb as a 'great crime' and a 'great misprision.' See M. Hale, Pleas of the Crown." As Jezebel notes, The History of the Pleas of the Crown "is a text that defended and laid the foundation for the marital rape exemption across the world" and reads: "For the husband cannot be guilty of a rape committed by himself upon his lawful wife for by their mutual matrimonial consent and contract the wife hath given up herself in this kind unto her husband which she cannot retract." Again, Alito used the arguments of this man to bolster his case.
Taking away the rights of pregnant people is quite clearly just the first step for Alito, though. 
Read more at: https://www.vanityfair.com/news/2022/05/samuel-alito-roe-v-wade-abortion-draft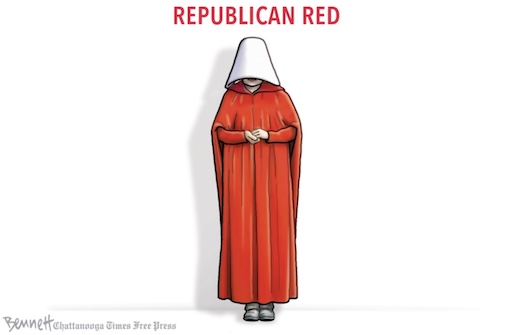 Jeannie Suk Gersen: What an Unprecedented Supreme Court Leak Says About the Future of Abortion—and About Precedent Itself
The content of Alito's draft is exactly what I would expect of the long-pent-up takedown of Roe that generations of legal conservatives have been fantasizing about for decades. The draft's account is a standard one, expressed without much restraint: that the Court in Roe arrogantly took the issue of abortion out of the democratic political processes in each of the states, where it belongs, and imposed on the nation a fake constitutional right in an "abuse of judicial authority" and exercise of "raw judicial power." Alito writes, "Roe was egregiously wrong from the start. Its reasoning was exceptionally weak, and the decision has had damaging consequences. And far from bringing about a national settlement of the abortion issue, Roe and Casey have enflamed debate and deepened division. It is time to heed the Constitution and return the issue of abortion to the people's elected representatives. . . . That is what the Constitution and the rule of law demand."
The bulk of Alito's draft is devoted to arguing that "a right to abortion is not deeply rooted in the Nation's history and traditions" and that, to the contrary, "an unbroken tradition of prohibiting abortion on pain of criminal punishment persisted from the earliest days of the common law until 1973," when Roe was decided. Before Roe, he writes, "there was no support in American law for a constitutional right to obtain an abortion. Zero. None." He spends many pages describing laws that made abortion a crime, and then dozens of pages in an appendix laying out "statutes criminalizing abortion at all stages of pregnancy in the States existing in 1868," the year the Fourteenth Amendment was ratified, and another appendix of statutes criminalizing abortion in the District of Columbia and in territories that became states. The appendices even take the trouble to italicize phrases tending to show that abortion was criminal regardless of the stage of pregnancy (though Alito acknowledges that, at the time, abortion before "quickening" was allowed in a number of states). All this is to prove that abortion cannot be a fundamental right guaranteed under the Constitution.

The Court has repeatedly said, in prior substantive due-process cases, that a fundamental right is one that is "deeply rooted in this Nation's history and tradition" and "fundamental to our scheme of ordered liberty." It is particularly telling that, rather than rejecting substantive due process, which conservatives have long reviled as a liberal invention untethered from the Constitution, Alito's draft purports to scrap the abortion right as "not deeply rooted" while embracing a version of substantive due process that leaves room for anti-abortion advocates to claim a fetal right to life as "deeply rooted." Alito also states that the overruling of Roe and Casey does not threaten "precedents that do not concern abortion," including precedents establishing the right to gay sex and to same-sex marriage. But it is impossible to see how the regressive method he uses, framing "history and tradition" at such a low level of generality, would not have the effect of casting doubt on them.

If four other Justices end up joining this opinion, it will indicate change on the horizon that is far more radical than the overruling of Roe and Casey. Simply getting rid of those precedents would mean that roughly half the states would ban abortion, while the rest of the states would remain free to permit it. But an eventual finding of a constitutional right to fetal life would disallow abortion in every state. Alito's leaked draft leaves no doubt that an expedited attempt to render abortion illegal throughout the entire nation as the vindication of fundamental—if fundamentalist—constitutional rights can be expected to arrive much sooner than we thought.
Read more at: https://www.newyorker.com/news/daily-comment/what-an-unprecedented-supreme-court-leak-says-about-the-future-of-abortion-and-about-precedent-itself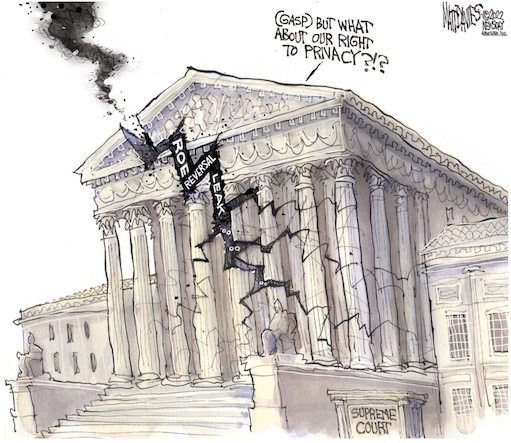 Fareed Zakaria: The abortion battle may be the precursor to even larger struggles
As the prospect of Roe v. Wade being overturned looms large and the United States braces for another round of culture wars, I have been puzzling about why clashes over values seem to be more intense in this country than elsewhere, and why the competing camps seem more divided than before.

One key to this might be found in a 2020 Pew Research Center survey, showing that on many cultural issues, the American political divide was the widest among rich countries surveyed. Asked whether the country would be "better off in the future if it sticks to its traditions and way of life," 65 percent on the right said "yes," vs. just 6 percent on the left, a 59-point gap. That compares with a 19-point gap in tradition-bound France. Asked whether being Christian was a crucial aspect of being a citizen of the country, the gap in the United States was 23 points, compared to just seven points in Britain.

These attitudes were also fleshed out in a 2018 Pew study that asked people in 27 rich countries whether religion should play a larger role in their societies. In America, 71 percent of people who identified as conservative said "yes," while just 29 percent of liberals agreed. That difference — 42 percentage points — was off the charts compared to the other countries. The gap was 17 points larger than those in the next-highest countries analyzed (Canada and Poland), and roughly four times the gap between right and left in Sweden and Germany. In Britain, 35 percent of conservatives said they wanted religion to play a larger role in their country, vs. 28 percent of liberals (a mere seven-point gap).
Why is the United States exceptionally polarized? It's a tough question to answer. Many of the forces that seem to be at work — globalization, technological change, immigration — are happening in other Western societies as well. In fact, if you use the size of trade in a country's economy as a measure, the United States is less globalized than many European countries. It's not even special when it comes to immigration. Canada and Sweden have larger shares of foreign-born people in their societies than the United States. And technology is at work everywhere.

In his book "Religion's Sudden Decline," distinguished social scientist Ronald Inglehart offered an answer. Inglehart pointed out that the most striking cultural shift of our times is the decline in religiosity in most countries. When Inglehart and colleague Pippa Norris analyzed survey data on attitudes toward religion from 1981 to 2007, they found that most of the countries studied had become more religious. But between 2007 and 2020, the "overwhelming majority became less religious."

The standout in the recent studies is the United States.

For a long time, the United States was the outlier in showing that rich, advanced countries could still be religious. In recent years, though, it has been reversing course to dramatic effect. "Since 2007, the U.S. has been secularizing more rapidly than any other country for which we have data," Inglehart noted, adding, "by one widely recognized criterion it now ranks as the 12th least religious country in the world."

Inglehart said this process of secularization has many causes, mostly relating to the decline of group norms of mechanisms of control and the rise of individualism. But here's the interesting part: As this broad shift is taking place in the United States, it is coinciding with increased polarization. The picture that emerges is of a country that is rapidly secularizing but at the same time seeing a strong backlash to that process. Big changes are leading to big reactions.

There are other factors at work. As always in the United States, race relations play an important role. This is one other area where the differences between left and right are much more marked than in other countries (as can also be seen in the 2020 Pew survey). All this highlights a new reality: You cannot really understand America anymore by looking at averages. It has become two countries. One is urban, more educated, multiracial, secular and largely left of center. The other is rural, less educated, religious, White and largely right of center.

But if one were to divide the United States into two countries — one blue, one red — I suspect you would see that blue America would fit comfortably with Northern European Protestant countries, while red America's cultural values would move it closer to Nigeria and Saudi Arabia.

For the country's political future, the central question is now this: Can these two Americas find a way to live, work, cooperate with and tolerate one another? If not, the abortion battle may be the precursor to even larger struggles. Read more at: https://www.washingtonpost.com/opinions/2022/05/05/america-values-diverge-from-world-abortion-religion/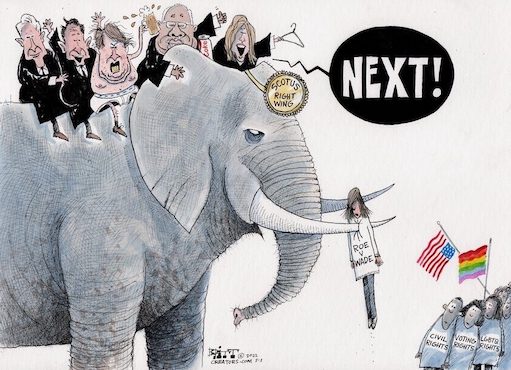 Michelle Goldberg: The death of Roe is going to tear America apart
"If you think it's polarized now, you haven't seen anything yet," said Mary Ziegler, a visiting professor at Harvard Law School and author of the forthcoming book "Dollars for Life: The Anti-Abortion Movement and the Fall of the Republican Establishment."

Very soon, if the Supreme Court really discards Roe and Planned Parenthood v. Casey, the 1992 decision partly upholding it, we will have two wildly different abortion regimes in this country. About half the states are expected to mostly prohibit abortion; according to the Guttmacher Institute, in 11 states there won't even be exemptions for rape and incest. A bill moving through the Louisiana Legislature would allow prosecutors to charge those having abortions with homicide.
Blue states, meanwhile, are casting themselves as abortion sanctuaries. Oregon lawmakers recently passed a bill to create a $15 million fund to help cover abortion costs, including for those traveling to the state for the procedure. Something similar is in the works in California. Abortion clinics in Illinois, bordered by several states where abortion is likely to be made illegal, are preparing for a huge influx of patients.

The right won't be content to watch liberal states try to undermine abortion bans. As the draft of a forthcoming article in The Columbia Law Review puts it, "overturning Roe and Casey will create a novel world of complicated, interjurisdictional legal conflicts over abortion. Instead of creating stability and certainty, it will lead to profound confusion because advocates on all sides of the abortion controversy will not stop at state borders in their efforts to apply their policies as broadly as possible."

Already, a Missouri lawmaker has introduced a measure that would let private citizens sue anyone who helps a Missouri resident get an out-of-state abortion. More such proposals will probably follow. Under a Texas law passed last year, people in other states sending abortion pills through the mail to Texas residents could be extradited to face felony charges, though the authorities in liberal states are unlikely to cooperate.

In anticipation of such legislation, Connecticut just passed a law meant to shield doctors and patients. Among other things, it ensures that no one can be extradited to another state for performing or obtaining an abortion that's legal in Connecticut, and ensures that people sued under a law like the one proposed in Missouri could countersue to recover their costs. 
Read more at: https://www.nytimes.com/2022/05/06/opinion/roe-abortion-culture-war.html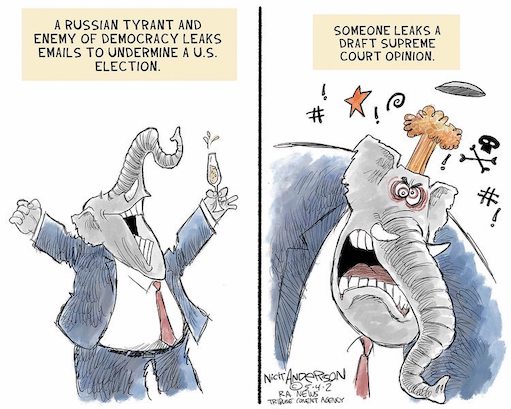 Note from Elie: Merrick Garland is Running Out of Time
It's now early May – sixteen months since the January 6th attack, and fourteen months since Garland took office. There's no technical reason DOJ needs to indict anytime soon — the federal crimes in play here typically carry five-year statutes of limitations — but the Department's pace conveys a lack of urgency that is ill-matched to the gravity of the potential crimes. Put it this way: if Trump did commit a crime relating to the coup attempt, it's the most serious political crime in our country's history. Yet the Justice Department is going to wait a year and change (and counting) to do anything about it?

I know, I know: these things take time, and they want their case to be perfect. That's an easy refrain, but I reject it in these circumstances. During my fourteen years as a prosecutor, I saw law enforcement move with astonishing speed when circumstances demanded it. As attorney general, Garland has the full resources of the Justice Department, including the FBI, at his disposal. If ever a case required urgency, this is it. Yes, as a prosecutor you want your case to be strong and well-supported. But you don't spend over a year fretting over whether your proof is absolutely flawless, particularly when there's already ample evidence in plain public view.

Let's flip ahead on the calendar. Midterm elections are on November 8th. The Justice Department has a longstanding policy against announcing new criminal charges or taking overt investigative steps (such as executing a search warrant) shortly before an election. There's no formal provision on the books, but AGs of both parties over the past several administrations have issued Department-wide memos reminding prosecutors to abide by this blackout practice, which applies either 60 days or 90 days before an election, depending who you ask. (I always understood the blackout period to be 60 days, but other DOJ alums place the line of demarcation 90 days out.) 

Knowing Garland's tendencies, he'll err on the side of caution. So counting back 90 days from November 8th puts us in early August. That means either (1) we'll see a federal indictment of Trump by late summer, or (2) we won't see one until at least the end of 2022, if ever. (The same applies, by the way, to other pending DOJ investigations with obvious political implications: Matt Gaetz, Hunter Biden, Rudy Giuliani.)

So unless you genuinely expect to see United States v. Donald J. Trump sometime within the next three months or so, then we're talking about DOJ allowing nearly two years to pass between commission of a crime that threatened our democracy, and criminal consequences. That's tough to envision and, if a charge does happen, the delay will be difficult for Garland to justify.

Of course, the political world will change after midterms. History tells us the Democrats are virtually certain to lose control of the House, and potentially the Senate too. In six of the past seven midterms following election of a new president, that president's party has gotten crushed in the House (the lone exception being 2002, when George W. Bush was still riding a post-9/11 wave of popularity). Senate results also have been grim for new presidents, though not as drastic. Given Democrats' current razor-thin margins in the House and Senate, and President Biden's low approval ratings, they'll likely lose one or both houses of Congress.

Finally, let's consider this reality: if Garland does charge Trump, there's going to be an actual case to prosecute. Trump will surely seek to have it dismissed based on selective prosecution (meaning he was singled out for political reasons) or some version of presidential immunity doctrine. Those arguments are questionable, legally, but Trump will duke them out in the federal courts, and that'll take time. And if Trump loses those arguments, we're going to have an actual trial, folks. When exactly is U.S. v. Trump supposed to be tried? In late 2023 or early 2024, with elections right around the corner? It's tough to imagine that the politics-averse Garland would sign on to that.

The debate surely will rage on about whether Garland has meaningfully and pragmatically set his sights on Trump. Someday, we'll find out. No matter what happens, the delay in reaching a resolution is counterproductive and inexcusable. Read more at: https://cafe.com/elies-note/note-from-elie-merrick-garland-is-running-out-of-time/
Amy Davidson Sorkin: How Alito's Draft Opinion on Abortion Rights Would Change America
Roe has held for nearly fifty years, with the support of a majority of Americans, and yet, to hear Alito tell it, it has no real place in the country's history or law or in any reasonable concept of liberty. Roe and Casey are part of a long series of cases in which the Court, relying in large part on the Fourteenth Amendment, has recognized certain unenumerated rights that derive from the Constitution, even if they are not spelled out there. A number of those cases have involved a right to privacy—a notion that Alito disparages. The Alito opinion, despite its claim to be limited to abortion, thus casts doubt on Obergefell and even on Griswold v. Connecticut, the 1965 case that recognized the right of married couples to obtain contraception. Some commentary surrounding the leak has portrayed fears that these rights could be taken away as overblown, but, whatever the political will, the Alito draft creates a legal pathway to do so. Certain forms of contraception may be imperilled by Dobbs itself: some opponents of reproductive rights put intrauterine devices in the category of "abortifacients," alongside the morning-after pill. We may be entering an increasingly un-private era.

Alito notes that "women are not without electoral or political power." Indeed, an effect of his draft opinion would be that Americans who care about reproductive rights will be asked to expend a great deal of energy carrying their fight to every level of government, perhaps most especially in elections for state legislatures, which is where, for the immediate future, access to abortion will be doled out or withheld. For many, it will be dispiriting and deeply sad to be asked to wage battles long thought won, when there are so many other struggles to be fought—child care, climate change, Trump. The light that Dobbs casts on each party's priorities could nonetheless be bracing. Elections are worth the effort. It may be Alito's Court, but it's not yet his America. Read more at: https://www.newyorker.com/magazine/2022/05/16/how-alitos-draft-opinion-on-abortion-rights-would-change-america