July 12, 2018
ON THE RECORD. . .
Trump's tweet that he has "written" bestselling books is one more deceit & delusion. He is incapable of reading a book, much less writing one. -- Tony Schwartz, co-author of The Art of the Deal 

"I try to be careful with the language that I use. When people ask me questions, for example, about why is Mr. Trump so submissive to Vladimir Putin, and whether or not Mr. Trump fears that the Russians have something on him, I say, I don't know. Perhaps. Maybe. I just don't want to get into details about what I know or don't know. I have to be very mindful of my obligations as far as classified material is concerned." — Former CIA Director John Brennan

We just hit the point in the plot where Donald Trump's top lawyer, Michael Cohen, is hiring Lanny Davis Hillary Clinton's top lawyer. That's not good news for Donald Trump. -- Ari Melber

"Russia is trying to flip Turkey. They're trying to flip many of our allies. They want to destabilize the strongest defense alliance in the history of the world." — U.S. ambassador to NATO, Kay Bailey Hutchison

"Every time I watch him work, I think, This is what it must have been like to see the Sistine Chapel being painted. But instead of paint, Michael uses the tears of his enemies." — Stormy Daniels, about her attorney, Michael Avenatti.

 "Shades of 1933 Germany. And an invitation to autocrats w/o America's checks & balances to play the same game more dangerously. Leadership??" -- Britain's former ambassador to the United States, Peter Westmacott, tweeted in response to Trump's Arizona rally
---
IN THIS ISSUE
FYI
OPINION
1. Satire from The Borowitz Report: Man Wins "Why Trump Shouldn't Go to Prison" Essay Contest
A Washington, D.C., man has won a nationwide essay contest on the topic "Why Donald J. Trump Shouldn't Go to Prison."
The man, Brett Kavanaugh, received his award for the winning essay at a ceremony at the White House on Monday night.
Kavanaugh's essay, which was distributed to the press shortly after he was announced as the winner, reads as follows: "Donald J. Trump should never go to prison because he is the President of the United States and the President of the United States is a very important person in the country. It would look bad if visitors from foreign countries came to the United States and asked, 'Where is your President?' and we had to say, 'He is in prison,' which in my opinion is another reason Donald J. Trump should not go to prison. For these reasons, if I am ever in a position to keep Donald J. Trump from going to prison, I will do that (keep him from going to prison)."
Shaking Kavanaugh's hand, Trump heaped praise on him for his "very, very beautiful" essay, calling it "maybe the best essay that has ever been written."
"I did not personally read it, but Ivanka read it aloud to me, and I thought it was fantastic," Trump said. https://www.newyorker.com/humor/borowitz-report/
2. Donald Trump makes 100 false claims for second consecutive week
Until this month, U.S. President Donald Trump had not made more than 60 false claims in any single week of his presidency.
He has now made 100 false claims in each of the last two weeks.
After shattering his old record by uttering an astonishing 103 false claims two weeks ago, an average of 14.7 per day, Trump delivered precisely 100 false claims last week, an average of 14.3 per day. https://www.thestar.com/news/world/analysis/2018/07/06/donald-trump-makes-100-false-claims-for-second-consecutive-week.html
3. July House Overview: Democrats Remain Slight Favorites for Majority
Based on the Republicans' structural advantages from redistricting and residential patterns, Democrats likely need to win seven to eight percent more votes than the GOP to win the barest possible majority of 218 seats. By that measure, it's close: today, the RealClearPolitics average of congressional generic ballot polls gives Democrats a seven-point lead, while FiveThirtyEight's gives Democrats an eight-point advantage.
These fundamentals suggest a photo finish in the House. But in our view, the intensity gap between the parties' voters is what gives Democrats a slight edge. In the most recent NBC/WSJ poll, 63 percent of Democrats rated their interest level in the midterms as a "9" or "10," compared to 47 percent of Republicans. And by 25 points, voters said they were more likely to support a candidate who runs as a "check" on Trump.
If the 24 Toss Ups were to split evenly between the parties, Democrats would gain 18 seats, five short of a majority. But that doesn't take into account that there are 26 GOP-held seats in Lean Republican with strong potential to become Toss Ups, and an additional 28 GOP-held seats in Likely Republican with the potential to become more competitive. In other words, there's still a lot of upside for Democrats. https://www.cookpolitical.com/node/2711
4. Trump and women: The big disconnect in American politics
The disconnect between President Trump and female voters is serious and not getting better. That's a potentially big problem for Republicans in the November elections — but only if the women opposed to the president turn out to vote.
Trump's election divided an already fractured country, deepening the red-blue chasm that has become the defining feature of today's politics. But the revulsion among many women toward the president adds another layer to the politics of discontent.
Trump is doing nothing to mitigate the problem. Just the opposite. A man accused by multiple women of sexual misbehavior, he seems to take special delight in denigrating women, especially House Democratic leader Nancy Pelosi (Calif.), Rep. Maxine Waters (D-Calif.), Sen. Elizabeth Warren (D-Mass.) and his 2016 rival, Hillary Clinton. In one comment at a rally in Montana last Thursday, he mocked Warren and the #MeToo movement, and he also went after Waters. https://www.washingtonpost.com/politics/trump-and-women-the-big-disconnect-in-american-politics/2018/07/07/9469bdca-8145-11e8-b9a5-7e1c013f8c33_story.html
5. Judge Rejects Long Detentions of Migrant Families, Dealing Trump Another Setback
The Trump administration on Monday lost a bid to persuade a federal court to allow long-term detention of migrant families, a significant legal setback to the president's immigration agenda.
In a ruling that countered nearly every argument posed by the Justice Department, Judge Dolly M. Gee of the Federal District Court in Los Angeles held that there was no basis to amend a longstanding consent decree that requires children to be released to licensed care programs within 20 days. The government said that long-term confinement was the only way to avoid separating families when parents were detained on criminal charges. https://www.nytimes.com/2018/07/09/us/migrants-family-separation-reunification.html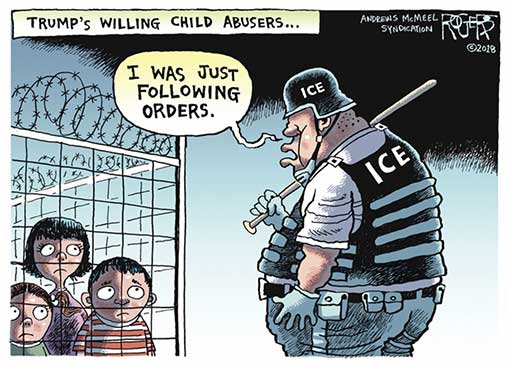 6. Washington Post Fact checker: Anatomy of a Trump rally: 76 percent of claims are false, misleading or lacking evidence
We're doing something new today: Analyzing every factual claim from President Trump's campaign rally in Montana on July 5.
According to our analysis, the truth took a beating in Montana. From a grand total of 98 factual statements we identified, 76 percent were false, misleading or unsupported by evidence.
Here's a breakdown: 45 false or mostly false statements, 25 misleading statements and four unsupported claims. We also counted 24 accurate or mostly accurate statements. False or mostly false statements alone accounted for 46 percent of all claims. https://www.washingtonpost.com/news/fact-checker/wp/2018/07/10/anatomy-of-a-trump-rally-76-percent-of-claims-are-false-misleading-or-lacking-evidence/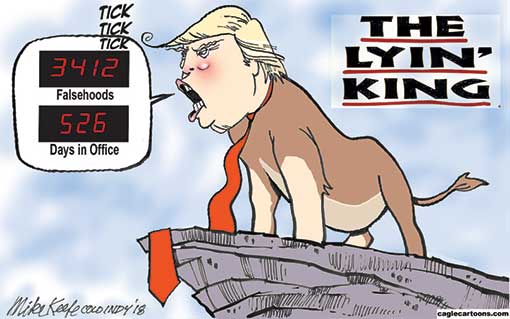 7. Trump aide Stephen Miller, meet your great-grandfather, who flunked his naturalization test
A photo of Nison (aka Max) Miller stares out from the screen, sullen and stern, in faded black and white. "Order of Court Denying Petition" is the title of the government form dated "14th November 1932," to which it is attached, the one in which Miller is applying for naturalization as an American citizen.
And beneath the photo, the reason given for his denial: Ignorance.
Nison Miller is the great-grandfather of White House adviser Stephen Miller, who has taken credit for being one of the chief architects of the administration's family separation policy. And this 85-year-old document is just one bit of ammunition in a campaign being waged by the unofficial band that goes by the hashtag #Resistance Genealogy.
Believing that the past is prologue, they search online archives for nuggets about the ancestors of public figures and politicians who disparage today's immigrants. They use tools they developed as a personal hobby to make the point that people like Miller are holding newcomers to a standard that their own forebears could not meet. https://www.yahoo.com/news/trump-aide-stephen-miller-meet-great-grandfather-flunked-naturalization-test-203424658.html
8. The Trump administration made trade threats to Ecuador over … feeding
The United States threatened to hit Ecuador with retaliatory trade measures and to pull military aid over the South American country proposing an international resolution that encouraged breastfeeding. The US eventually agreed to the resolution — when Russia backed it.
American officials surprised international delegates at the United Nations-affiliated World Health Assembly in May when they opposed a widely popular resolution to promote breastfeeding, according to a report from Andrew Jacobs at the New York Times on Sunday. Specifically, they pushed to remove language asking governments to "protect, promote, and support breast-feeding." They also took issue with a passage that called for policymakers to restrict the promotion of food products that may harm children.
It appears the Trump administration sided with corporate interests — in this case, the $70-billion infant formula industry — over the health and well-being of kids around the globe. The baby food industry is primarily based in the US and Europe. https://www.vox.com/2018/7/8/17546142/trump-breastfeeding-new-york-times-ecuador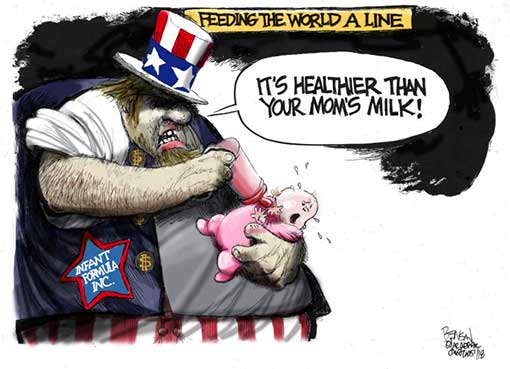 9. Trump's delusions are about to blow up in his own voters' faces
Nearly two-thirds of the jobs in industries targeted by China's tariffs — a total of more than 1 million jobs — are in more than 2,100 counties that voted for Trump. By contrast, barely more than one-third of the jobs in China-targeted industries — just over half a million — are in the counties that voted for Clinton. (This is based on 2017 county/employment data.) This doesn't mean those jobs will definitely be lost; it means that they are in industries that are getting caught up in Trump's trade war, making them vulnerable, depending on what happens.
China's retaliatory tariffs are mainly aimed at U.S. exports of agricultural and food products such as soybeans, cereal, seafood, meats, fruits and nuts, and dairy, as well as intermediate goods and transport equipment, including vehicles. https://www.washingtonpost.com/blogs/plum-line/wp/2018/07/09/trumps-delusions-are-about-to-blow-up-in-his-own-voters-faces/
10. Most Americans oppose key parts of Trump immigration plans, including wall, limits on citizens bringing family to U.S., poll says
Americans overwhelmingly oppose the Trump administration's now-rescinded policy of separating immigrant children from their parents, and smaller majorities also disagree with the president's call to build a wall on the U.S.-Mexico border and to restrict legal immigration by limiting citizens from bringing parents and siblings to this country, according to a new Washington Post-Schar School poll.
Democrats appear more energized than Republicans about the fall elections, especially in battleground districts. Among Democrats and Democratic-leaning independent voters in those districts, 59 percent say the midterms are extremely important, compared with 46 percent of ­Republicans and Republican-leaning independents. Overall, registered voters say they prefer to vote for a Democrat over a Republican for the House, 47 percent to 37 percent. The margin on that question is not statistically larger in battleground districts, standing at 12 percentage points. https://www.washingtonpost.com/politics/most-americans-oppose-key-elements-of-trump-immigration-policy/2018/07/05/36124360-7e3d-11e8-b0ef-fffcabeff946_story.html
11. Republicans Fear Trade War Will Cost Them the House
Republicans have privately warned us they think that a trade war with China is enough to cost them their majority in the House. The everyday economic impact — higher prices, businesses laying off employees — would blunt any positive impact of tax reform. Well, the trade war is here. Combine that with rising gas prices four months before Election Day." https://www.politico.com/newsletters/playbook/2018/07/06/pompeo-north-korea-kim-jong-un-rocket-man-283743
12. Red-hot planet: All-time heat records have been set all over the world during the past week
Large areas of heat pressure or heat domes scattered around the hemisphere led to the sweltering temperatures. The Canadian Broadcasting Corporation reports the heat is to blame for at least 54 deaths in southern Quebec, mostly in and near Montreal, which endured record high temperatures.
In Northern Siberia, along the coast of the Arctic Ocean – where weather observations are scarce – model analyses showed temperatures soaring 40 degrees above normal on July 5, to over 90 degrees. "It is absolutely incredible and really one of the most intense heat events I've ever seen for so far north," wrote meteorologist Nick Humphrey, who offers more detail on this extraordinary high-latitude hot spell on his blog.
On Thursday, Africa likely witnessed its hottest temperature ever reliably measured. Ouargla, Algeria soared to 124.3 degrees.
No single record, in isolation, can be attributed to global warming. But collectively, these heat records are consistent with the kind of extremes we expect to see increase in a warming world. https://www.washingtonpost.com/news/capital-weather-gang/wp/2018/07/03/hot-planet-all-time-heat-records-have-been-set-all-over-the-world-in-last-week/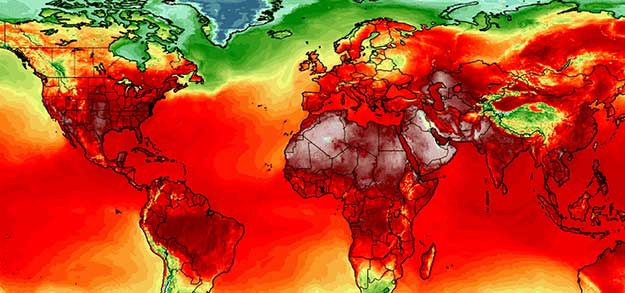 13. The DAILY GRILL
"We will take that little kit and say — but we have to do it gently, because we're in the #MeToo generation, so have to be very gentle And we will very gently take that kit and we will slowly toss it — hoping it doesn't hit her and injure her arm — even though it only weighs probably 2 ounces. We will say, 'I will give you a million dollars to your favorite charity, paid for by Trump, if you take the test and it shows you're an Indian.'"-- Donald Trump mocking Sen. Elizabeth Warren (D-MA) and the #MeToo movement during his campaign rally in Great Falls, Montana

VERSUS

Hey, @realDonaldTrump: While you obsess over my genes, your Admin is conducting DNA tests on little kids because you ripped them from their mamas & you are too incompetent to reunite them in time to meet a court order. Maybe you should focus on fixing the lives you're destroying. -- Sen. Elizabeth Warren (D-MA) responding on twitter.

 

"Jesus did live in Egypt for three-and-a-half years. But it was not illegal. If He had broken the law then He would have been sinful and He would not have been our Messiah. -- Pastor Paula White, chair of Donald Trump's evangelical advisory board

VERSUS

Why did Jesus "break the laws"? Because he understood that there are higher laws. Jesus always followed the Father's laws, even when it brought him into conflict with the authorities. And what is God's law? Jesus told us plainly: "You shall love your neighbor as yourself." -- James Martin, SJ, a Jesuit priest.
14. From MEDIA MATTERS (They watch Fox News so you don't have to)
Fox & Friends hosts attack July Fourth protests under Trump. They promoted them under Obama. https://www.mediamatters.org/blog/2018/07/05/fox-friends-hosts-attack-july-fourth-protests-under-trump-they-promoted-them-under-obama/220592

Scott Pruitt's EPA blacklists reporters from summit on toxic water contaminants, forcibly removes reporter from the building. Journalists from AP, CNN, E&E News, and Politico were all prevented from attending. https://www.mediamatters.org/blog/2018/05/22/scott-pruitt-s-epa-blacklists-reporters-summit-toxic-water-contaminants-forcibly-removes-reporter/220276

Fox News has now given Trump over $15 million in free advertising by airing his rallies. https://www.mediamatters.org/blog/2018/07/06/fox-news-has-now-given-trump-over-15-million-free-advertising-airing-his-rallies/220609

Pruitt's EPA replacement, Andrew Wheeler, is a former coal lobbyist who promoted an Infowars video defending Milo Yiannopoulos. Now Wheeler is trying to sound like a defender of environmental justice. https://www.mediamatters.org/blog/2018/07/05/Pruitts-EPA-replacement-Andrew-Wheeler-is-a-former-coal-lobbyist-who-promoted-an-InfoWars-/220601
15. Late Night Jokes for Dems
Mitt Romney won last night's Utah Republican Senate primary. Romney celebrated by going to a victory party and turning the music down. -- Seth Meyers

Justice Anthony Kennedy retiring is a seismic political event, because Kennedy has been the decisive vote in many cases, and his retirement gives Trump the opportunity to fundamentally change the course of the Supreme Court, and I would not trust Trump to fundamentally change the dessert course. Oh, we are supremely screwed. I look forward to Wolf Blitzer in 2021: "In the end, this Supreme Court case will be decided by the swing vote, Justice Meat Loaf." -- Stephen Colbert

This could have huge repercussions. Think about it: The court that just this week crippled unions, and upheld Trump's Muslim ban and race-based gerrymandering, might turn conservative -- Stephen Colbert

Reportedly, the White House will push for a nomination and confirmation before the midterms. Well, of course before the midterms! Just like you want to eat all the weed before the cop walks up to the driver's side window. -- Stephen Colbert

Trump is in a Twitter feud with Harley-Davidson since they announced that they're moving some jobs overseas. When people first heard Trump was feuding with Harley-Davidson, they just assumed it was another porn star. -- Jimmy Fallon
16. How Trump's Policy Decisions Undermine the Industries He Pledged to Help
If nothing else, experts say, the unpredictability of many of Mr. Trump's proposals — the lack of clarity on when or how Nafta might be renegotiated; the risk of potential litigation over his rollback of auto-pollution rules; the ways in which other countries might retaliate against Mr. Trump's tariffs — seeds confusion across the American economy, making it tough for businesses to plan effectively for the future.
"That just wreaks havoc with American farmers and businesses with the investments they have to make," said Matthew Slaughter, a professor of international business at Dartmouth College. "It creates massive uncertainty for these industries."
Automakers, for instance, had sought looser emissions rules. However, Mr. Trump's proposed rollback goes further than expected, and now automakers say it could ultimately spawn years of legal battles and perhaps even subject the industry to more regulations, not fewer, if individual states start enforcing their own, separate rules. They also fear that Mr. Trump's recent threats to impose tariffs on imports of European autos could trigger a trade war, raising prices for all vehicles. https://www.nytimes.com/2018/07/04/climate/trump-industry-policy-consequences.html
17. Mueller Taps More Prosecutors to Help With Growing Trump Probe
Special Counsel Robert Mueller is tapping additional Justice Department resources for help with new legal battles as his year-old investigation of Russian interference with the 2016 election continues to expand.
As Mueller pursues his probe, he's making more use of career prosecutors from the offices of U.S. attorneys and from Justice Department headquarters, as well as FBI agents -- a sign that he may be laying the groundwork to hand off parts of his investigation eventually, several current and former U.S. officials said. https://www.bloomberg.com/news/articles/2018-07-05/mueller-said-to-tap-more-career-prosecutors-as-trump-probe-grows
18. The Best Responses to Alex Jones' Prediction Of Civil War
Conspiracy theorist Alex Jones declared on July 1  that Democrats were planning to launch a second Civil War on Independence Day, a claim no more ridiculous than many he's spewed, but one which, thankfully, spurred the #SecondCivilWarLetters hashtag.
Twitter users mocked Jones' prediction with some alternative history of their own, including dispatches from Fort Red Pill, the 42nd Bisexual Brigade and elsewhere along the potential battlefield.
The best of the "letters" are at https://talkingpointsmemo.com/livewire/after-alex-jones-prediction-of-civil-war-here-are-the-best-secondcivilwarletters
19. Donald Renews Call for Deporting Refugees Without Due Process
On Thursday, the president reiterated his desire to deport asylum seekers without providing them access to the American legal system — a proposal that would violate American law, multiple binding international treaties, and the U.S. Constitution. http://nymag.com/daily/intelligencer/2018/07/trump-renews-call-for-deporting-immigrants-without-due-process-aslyum.html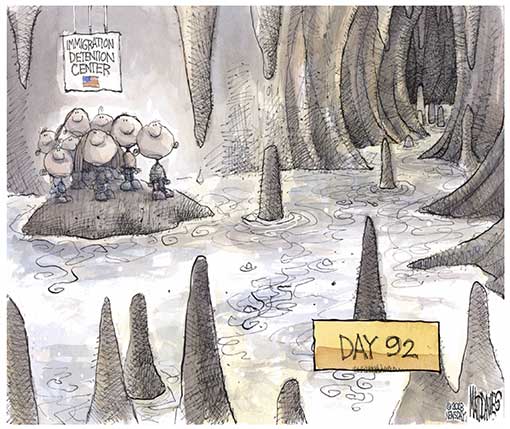 20. Scott Pruitt Wasn't Corrupt Enough for Trumpistan
Pruitt was a handmaiden of state and crony capitalism, which actual conservatives—we're still here—revile. It wasn't just rolling back Obama-era regulations; it was doing so to help specific companies profit and prosper. He was a man who conflated lobbyist wish lists with getting government's heavy hand out of broad market sectors, particularly coal.
Like much of Trump's energy policy, their fetishization of coal seems to contain a weird, Rule 34-ish desire to see hearty men headed down-pit with pickaxes and wearing helmets with sputtering carbide lamps. It's not happening. It's never happening. It's a dead industry—dirty, inefficient, and outdated. Obama didn't kill coal; natural gas and solar killed coal, and nothing Pruitt could do is going to bring it back.
Pruitt didn't get fired because he was an utterly corrupt grifter. Pruitt got fired because he was clumsy enough to give away the game and embarrass a different utterly corrupt grifter. To the detriment of the country, Pruitt is just one of Trump's many minions who model their low behavior, raving contempt for the law, and disregard for even the sparest ethical standards and shamelessly follow the lead of the Grifter in Chief. https://www.thedailybeast.com/scott-pruitt-wasnt-corrupt-enough-for-trumpistan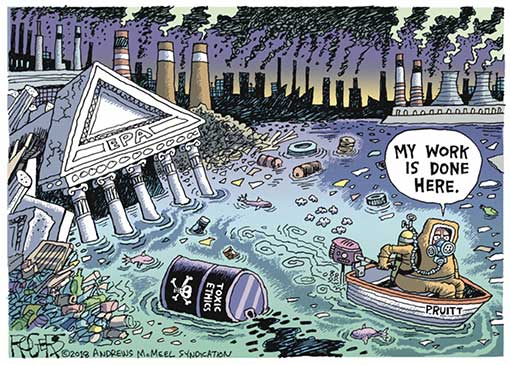 21. The Epic Turnover of the Trump Administration
 It might seem self-evident, but it bears repeating: Trump, whatever else he accomplishes, will certainly go down in the record books as the worst manager of the White House in modern times. And not only is this state of affairs not normal, it's no way to run even a small organization, never mind a country. A senior European official recently told me that every time he shows up at the White House there is a new aide to meet with him, because the last one he sat down with has since been cashiered or fled. As each successive wave of aides comes and goes, what little institutional knowledge remains in the White House is further diminished.
In such circumstances, of course, nobody knows who's in charge or what the policy is. Staffers come in every day not knowing if they—or their bosses, for that matter—might lose their jobs by the end of the day. Everyone is looking for a way out. Gallows humor seems to rule the day, and aides from the top down are utterly consumed by their own fate and that of those around them. In that sense, Trump may well have created a West Wing in his own image, one more self-absorbed and beset by gnawing doubts than perhaps any that came before it. https://www.newyorker.com/news/letter-from-trumps-washington/john-kelly-scott-pruitt-and-the-epic-turnover-of-the-trump-administration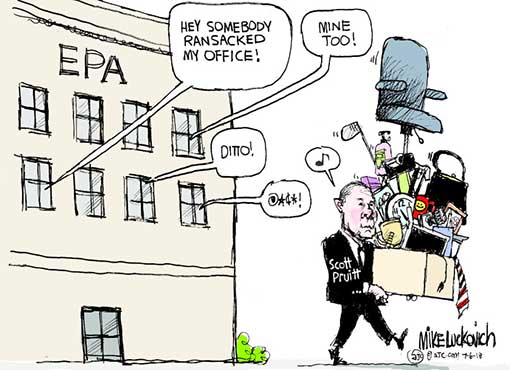 22. Republicans on Russia trip face scorn and ridicule from critics at home
Republican lawmakers who went to Russia seeking a thaw in relations received an icy reception from Democrats and Kremlin watchers for spending the Fourth of July in a country that interfered in the U.S. presidential election and continues to deny it.

"Cannot believe GOP, once the party that stood strong against Soviets & only a decade ago sought to democratize the Middle East, is now surrendering so foolishly to [Russian President Vladimir] Putin and the Kremlin's kleptocracy — only two years ­after Russia interfered in U.S. election," tweeted Clint Watts, an information warfare specialist at the Foreign Policy Research Institute and frequent featured expert before congressional panels examining Russian influence operations. https://www.washingtonpost.com/powerpost/republicans-on-russia-trip-face-scorn-and-ridicule-from-critics-at-home/2018/07/05/68f0f810-807e-11e8-b0ef-fffcabeff946_story.html
23. U.S. Army Quietly Discharging Immigrant Recruits
 Some immigrant U.S. Army reservists and recruits who enlisted in the military with a promised path to citizenship are being abruptly discharged, the Associated Press has learned.
The AP was unable to quantify how many men and women who enlisted through the special recruitment program have been booted from the Army, but immigration attorneys say they know of more than 40 who have been discharged or whose status has become questionable, jeopardizing their futures.
Spokespeople for the Pentagon and the Army said that, due to the pending litigation, they were unable to explain the discharges or respond to questions about whether there have been policy changes in any of the military branches. https://apnews.com/38334c4d061e493fb108bd975b5a1a5d/AP-NewsBreak:-US-Army-quietly-discharging-immigrant-recruits
24. Trump Videos
Donald Trump Can't Stop Congratulating Donald Trump: https://youtu.be/7XERwP5YE6w

Trump's Anti-Immigrant Catchphrases: https://youtu.be/nXYXaUJ4ROk
25. Obama Tops Public's List of Best President in Their Lifetime, Followed by Clinton, Reagan
When asked which president has done the best job in their lifetimes, more Americans name Barack Obama than any other president. More than four-in-ten (44%) say Obama is the best or second best president of their lifetimes, compared with about a third who mention Bill Clinton (33%) or Ronald Reagan (32%). http://www.people-press.org/2018/07/11/obama-tops-publics-list-of-best-president-in-their-lifetime-followed-by-clinton-reagan/
1. Jonathan Chait: Will Trump Be Meeting With His Counterpart — Or His Handler?
On June 14, 2016, the Washington Post reported that Russian hackers had broken into the Democratic National Committee's files and gained access to its research on Donald Trump. A political world already numbed by Trump's astonishing rise barely took notice. News reports quoted experts who suggested the Russians merely wanted more information about Trump to inform their foreign-policy dealings. By that point, Russia was already broadcasting its strong preference for Trump through the media. Yet when news of the hacking broke, nobody raised the faintest suspicions that Russia wished to alter the outcome of the election, let alone that Trump or anybody connected with him might have been in cahoots with a foreign power. It was a third-rate cyberburglary. Nothing to see here.
Suppose we are currently making the same mistake we made at the outset of this drama — suppose the dark crevices of the Russia scandal run not just a little deeper but a lot deeper. If that's true, we are in the midst of a scandal unprecedented in American history, a subversion of the integrity of the presidency. It would mean the Cold War that Americans had long considered won has dissolved into the bizarre spectacle of Reagan's party's abetting the hijacking of American government by a former KGB agent. It would mean that when Special Counsel Robert Mueller closes in on the president and his inner circle, possibly beginning this summer, Trump may not merely rail on Twitter but provoke a constitutional crisis.
And it would mean the Russia scandal began far earlier than conventionally understood and ended later — indeed, is still happening. As Trump arranges to meet face-to-face and privately with Vladimir Putin later this month, the collusion between the two men metastasizing from a dark accusation into an open alliance, it would be dangerous not to consider the possibility that the summit is less a negotiation between two heads of state than a meeting between a Russian-intelligence asset and his handler. http://nymag.com/daily/intelligencer/2018/07/trump-putin-russia-collusion.html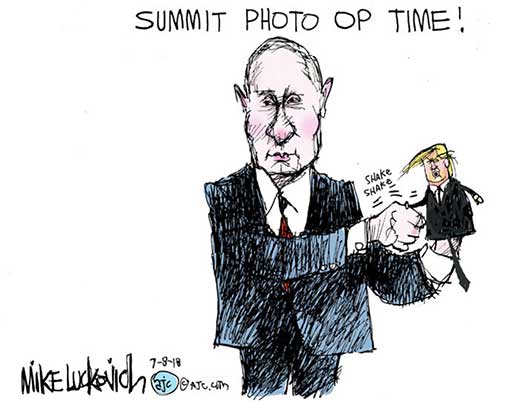 2. Maureen Dowd: For Whom the Trump Trolls
One of the more chilling things I've heard recently came from Jaron Lanier, the Silicon Valley founding father whose new book is "Ten Arguments for Deleting Your Social Media Accounts Right Now."
Lanier, who met Trump a couple of times back in the real estate developer's New York heyday, thinks the president's addiction to tweeting is rewiring his brain in a negative way. As Trump picks up speed on Twitter, the Oval Office is becoming a Skinner box. Like other "behavior modification empires," as Lanier calls social media sites, Twitter offers positive reinforcement for negativity.
"Twitter addicts take on this kind of nervous, paranoid, cranky quality, sort of itching for a fight," Lanier said in an interview. "Trump used to be in on his own joke, and he no longer is. He's just striking out every morning, fishing for somebody to harass or seeing who's harassing him.
"I do think it creates a terrifying situation because somebody who is addicted is easy to manipulate. It's easier for the North Koreans to lie to him than if he wasn't an addict."
And the hostility and insensitivity that so easily flow from his fingers now define his immigration policy. https://www.nytimes.com/2018/07/07/opinion/sunday/trump-twitter-social-media.html
3.  Charles M. Blow: Trump Reeks of Fear
I can smell Donald Trump's fear from here. His panic. His anxiety.
And yet, I don't have a full picture of what is causing it.
The only people who know what has been discovered in the Russian election meddling probe are Special Counsel Robert Mueller and his team, and they aren't talking.
But President Trump no doubt knows far more about it than the rest of us, and what he knows — or what he fears — appears to be a consuming preoccupation. He tweets about the investigation constantly.
Part of this is an overt play to bend public opinion, to besmirch whatever conclusions the investigation might reach and to ward off any attempt at a possible impeachment.
As The New York Times reported last week about the president and his legal team:
"They have come to believe that, if the Democrats win control of the House in November, the chamber will vote on whether to begin the impeachment process no matter the outcome of Mr. Mueller's investigation. So they want to sway Americans — and by extension, lawmakers."
The Times quoted Rudy Giuliani, one of the president's lawyers, as saying, "Nobody is going to consider impeachment if public opinion has concluded this is an unfair investigation, and that's why public opinion is so important."
One has to ask: Why exactly is impeachment front of mind for these people? If they were as innocent as they publicly proclaim, they would know that impeachment would be out of the question as a matter of fact and law. But that is apparently not the case.
Do they believe that Democrats would take the politically disastrous step of moving to impeach Trump even if Mueller fully exonerated him?
I don't believe so. I believe that Trump is conducting himself as only a guilty man would, one who has a very real and well-founded fear that he is in imminent jeopardy
Yet Trump contends that there's no there there. If not, why is he acting like there is? https://www.nytimes.com/2018/07/08/opinion/trump-mueller-impeachment.html
4. NY Times Editorial: There's So Much You Don't Know About Brett Kavanaugh
Senate Democrats need to use the confirmation process to explain to Americans how their Constitution is about to be hijacked by a small group of conservative radicals well funded by ideological and corporate interests, and what that means in terms of the rights they will lose and the laws that will be invalidated over the next several decades.
We're witnessing right now a global movement against the idea of liberal democracy and, in places like Hungary and Poland, its grounding in an independent judiciary. Mr. Trump and Senate Republicans appear happy to ride this wave to unlimited power. They will almost certainly win this latest battle, but it's a victory that will come at great cost to the nation, and to the court's remaining legitimacy.
Americans who care about the court's future and its role in the American system of government need to turn to the political process to restore the protections the new majority will take away, and to create an environment where radical judges can't be nominated or confirmed. As those tireless conservative activists would be the first to tell you, winning the future depends on deliberate, long-term organizing in the present, even when — especially when — things appear most bleak. https://www.nytimes.com/2018/07/09/opinion/editorials/trump-kavanaugh-supreme-court-senate.html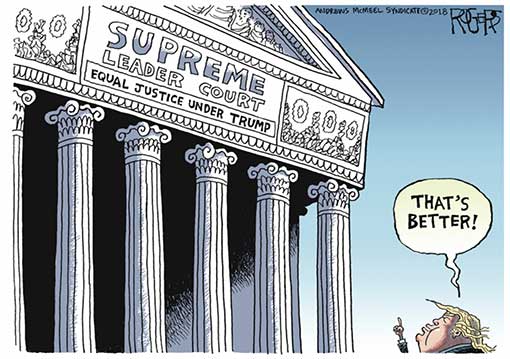 5. Amy Davidson Sorkin: Why Donald Trump Nominated Brett Kavanaugh to the Supreme Court
He has a strong record of ruling against regulations, notably environmental ones. His position opposing gun control goes significantly beyond an embrace of the Court's controversial ruling, in Heller, that there is an individual right to bear arms—those whom Trump calls the "Second Amendment people" can rest easy with Kavanaugh. And recently Kavanaugh ruled, in the case of Garza v. Hargan, with the minority in favor of the Trump Administration and against an undocumented minor who was trying to get an abortion in Texas. Some conservatives worried that his decision didn't come down strongly enough against reproductive rights. Kavanaugh presented himself as being constrained by the government's failure to contest the premise that the girl had a theoretical right to an abortion, but he was also willing to let the government make it prohibitively difficult, if not impossible, for her actually to get one. In this, he embodies what is likely the near future of reproductive-rights jurisprudence: the stretching into meaninglessness of the standard, laid out in the Supreme Court decisions following Roe v. Wade, that the government should not put an "undue burden" on a woman when she seeks to exercise her right to end an early pregnancy. (The next-near future may simply be the overturning of Roe.) https://www.newyorker.com/news/daily-comment/why-donald-trump-nominated-brett-kavanaugh-to-the-supreme-court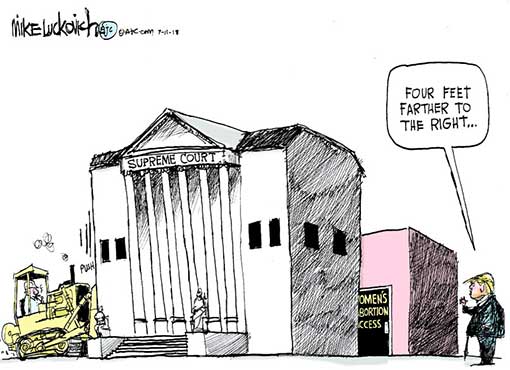 6. Max Boot: I left the Republican Party. Now I want Democrats to take over.
Personally, I've thrown up my hands in despair at the debased state of the GOP. I don't want to be identified with the party of the child-snatchers. But I respect principled conservatives who are willing to stay and fight to reclaim a once-great party that freed the slaves and helped to win the Cold War. What I can't respect are head-in-the-sand conservatives who continue to support the GOP by pretending that nothing has changed.
They act, these political ostriches, as if this were still the party of Ronald Reagan and John McCain rather than of Stephen K. Bannon and Stephen Miller — and therefore they cling to the illusion that supporting Republican candidates will advance their avowed views. Wrong. The current GOP still has a few resemblances to the party of old — it still cuts taxes and supports conservative judges. But a vote for the GOP in November is also a vote for egregious obstruction of justice, rampant conflicts of interest, the demonization of minorities, the debasement of political discourse, the alienation of America's allies, the end of free trade and the appeasement of dictators.
That is why I join Will and other principled conservatives, both current and former Republicans, in rooting for a Democratic takeover of both houses in November. Like postwar Germany and Japan, the Republican Party must be destroyed before it can be rebuilt.
https://www.washingtonpost.com/opinions/i-left-the-republican-party-now-i-want-democrats-to-take-over/2018/07/03/54a4007a-7e38-11e8-b0ef-fffcabeff946_story.html
7. Eric Levitz: On Eve of Trade War, China Warns That Trump's Tariffs Will Backfire
In its first round of tariffs, the White House targeted advanced industrial inputs and technology; which is to say, imports that aren't sold directly to consumers. But there is no way to impose tariffs on $250 billion (let alone $450 billion) worth of Chinese products without drastically increasing retail prices for American consumers. As is, inflation is already nullifying real wage growth for most American workers. With midterm elections approaching, it's far from clear that Trump is prepared to weather rising prices, angry U.S. exporters, and growing opposition among his own party's elected officials and donors. On other issues, the president has shown little inclination to put (his conception of) America's long-term interests above his own short-term political gain. It is not hard to imagine him declaring victory, after securing an agreement that does not actually address his substantive complaints (after all, that is precisely what he just did in negotiations with North Korea).
Meanwhile, China has its own reasons for seeking a resolution sooner rather than later. The nation's stocks have entered a bear market in recent weeks amid fears of the looming trade war. If the skirmish ends with each side imposing $50 billion worth of tariffs, China would lose 0.2 percentage points of growth in 2019, according to Bloomberg Economics; if the trade war escalated further, it could lose up to half a percentage point.
And both sides are likely to hear pleas for normalized trade relations from their respective allies and economic partners. Many Asian nations supply Chinese firms with inputs that are then used to make goods shipped to the United States. For this reason, Taiwan, Malaysia, and South Korea all actually have more to lose from a steep drop in Chinese imports than even China itself.
For the moment though, there are few signs that president Trump has any ambivalence about pressing ahead with a worldwide trade war, even in the face of high (economic) casualties. In fact, the White House is preparing to open up a new front in that conflict, by imposing duties on European automobiles. http://nymag.com/daily/intelligencer/2018/07/china-warns-that-trumps-trade-war-will-backfire-tariffs.html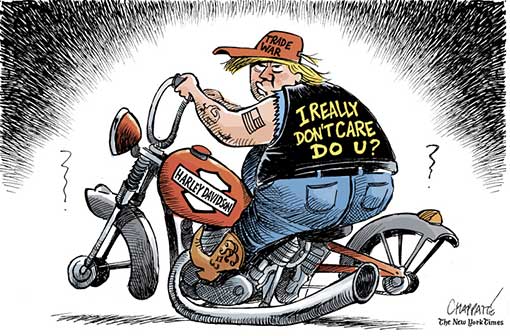 8. William D. Cohan: "We Don't Want Him To Have The Self-Satisfaction": Why Wall Street Hates The Trump Economy.
Here's the crux of the Donald Trump problem for Wall Street: it hates pretty much everything about the man and resents deeply the fact that he may have a few genuine accomplishments to crow about as the country heads into the midterm election. "It's, like, offensive to our intellects," a very senior banker at a big Wall Street firm tells me from his seaside vacation home a day before Independence Day. "It's an assault, every day. And we can't help but think how unfair it is that a guy that we vehemently despise, for a whole series of legitimate reasons, is our president and is gloating as he promotes his so-called victories, and his base just loves it." The economy is humming, but not for any of the reasons that Trump seems to think. If anything, the banker suggested, it's thriving in spite of the president: "It's intellectually insulting, and it's just psychologically impairing."
To be clear, he doesn't think any of what Trump claims to be his "victories" on a regular basis are, in fact, accomplishments. Sitting down with Kim Jong-un? "Given the fact that we haven't done that, ever, it is a little bit of a victory," he said, "but we did it by basically elevating a brutal, vicious, murdering dictator to on par with the U.S. So, yeah, he got a meeting, but he gave Kim Jong-un a level of international credibility that that guy should never have. And he's going to find that they're not going to denuclearize. They're going to play him just like Putin's going to play him. He's getting out-negotiated everywhere." https://www.vanityfair.com/news/2018/07/why-wall-street-hates-the-trump-economy
9. Eric Levitz: New Study Confirms That American Workers Are Getting Ripped Off
America's unemployment rate is hovering near half-century lows. There are now more job openings than unemployed workers in the United States for the first time since the government began tracking that ratio. For America's working class, macroeconomic conditions don't get much better than this.
And yet, most Americans' wages aren't getting any better, at all. Over the past 12 months, piddling wage gains — combined with modest inflation — have left the vast majority of our nation's laborers with lower real hourly earnings than they had in May 2017. On Wall Street, the second-longest expansion in U.S. history has brought boom times — in the coming weeks, S&P 500 companies will dole out a record-high $124.1 billion in quarterly dividends. But on Main Street, returns have been slim.
Economists have put forward a variety of explanations for the aberrant absence of wage growth in the middle of a recovery: Automation is slowly (but irrevocably) reducing the market-value of most workers' skills; a lack of innovation has slowed productivity growth to a crawl; well-paid baby-boomers are retiring, and being replaced with millennials who have enough experience to do the boomers' jobs — but not enough to demand their salaries.
There's likely some truth to these narratives. But a new report from the Organization for Economic Cooperation and Development (OECD) offers a more straightforward — and political — explanation: American policymakers have chosen to design an economic system that leaves workers desperate and disempowered, for the sake of directing a higher share of economic growth to bosses and shareholders.
President Trump spends a great deal of time and energy arguing that American workers are getting a rotten deal. And he's right to claim that Americans are getting the short end. But the primary cause of that fact isn't bad trade agreements or "job killing" regulations — its the union-busting laws and court rulings that the president has done so much to abet. http://nymag.com/daily/intelligencer/2018/07/oecd-study-labor-conditions-confirms-that-u-s-workers-are-getting-ripped-off.html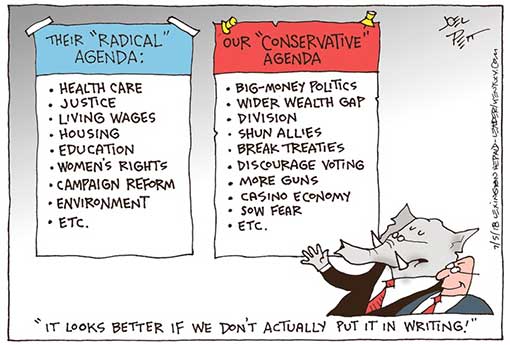 10. Bess Levin: Surprise: Donald Trump's Entire Anti-Immigration Agenda Is A Con
When he is not slandering the Justice Department for investigating his friends, Donald Trump has kept his presidency focused on two demagogic concerns. The first is purely ethnocentric: for the past several months, Trump has been ramping up deportations of non-criminal immigrants, demonizing them in increasingly fascistic terms, and cracking down on illegal border crossings, including by forcibly separating migrant families seeking amnesty and warehousing their toddlers in tent cities in the desertas political leverage. The second major theme of Trump's presidency has been his escalating trade war with China, which he has long believed is ripping off the U.S. by selling Americans the things they don't want to make themselves. It's all part of his "America First" schtick, wherein foreigners and foreign countries are screwing us over, and only Uncle Don can put a stop to it.
Plenty of competent people, including the dearly departed Gary Cohn, have tried to convince Trump that his nationalist policies are self-defeating—that immigration is a net plus for the economy; that immigrants do work that Americans won't; that the U.S. economy has a labor shortage; that international trade allows developed countries to focus on technological innovations and consumer services; that America's future isn't in returning to the coal mines or the assembly line. The great irony is businessman Trump—the Trump some people thought they were electing—seems to understand this, even if President Trump is too busy conning his supporters to integrate these two discrete realities.
This isn't a new development: Trump has been stocking his workforce with cheaper foreign labor for years, rather than raise wages to attract American workers. As BuzzFeed notes, Trump-owned businesses, or ones bearing his name, have attempted to hire more than 480 foreign guest workers since he launched his campaign in June 2015, including more than 240 at Mar-a-Lago. "It's very, very hard to get people," Trump explained during a 2016 debate, arguing that "other hotels do the exact same thing," and the practice is allowed by law. "I take advantage of that. There's nothing wrong with it. We have no choice." https://www.vanityfair.com/news/2018/07/trumps-entire-anti-immigration-agenda-is-a-con