October 28, 2021
ON THE RECORD. . .
End Times conspiracy theorist Rick Wiles claims that COVID-19 vaccines contain "an egg that hatches into a synthetic parasite and grows inside your body."

"It was never an insurrection. It was a melee." — Tucker Carlson

"In the United States Senate, when you have 50 Democrats, every one is the president" – Joe Biden on the reality of passing his agenda through the current Congress.

"To look at her is to despise her." — Donald Trump after Rep. Liz Cheney (R-WY) pressed the House to back a criminal contempt vote against Steve Bannon.

"Anybody who thinks that that's a viable strategy is crazy." — John Eastman, author of the now-infamous legal memo making the case that Pence had that very power — that the vice president was the "ultimate arbiter" of deciding whether to count Electoral College votes.

"What we know historically is that a failed coup is a trial run for a successful coup. Usually when you fail in a coup, something happens to you— and Mr. Trump, nothing has happened to him." — Yale history professor Timothy Snyder.

Minnesota state Sen. Mark Koran (R) promoted a fundraiser for several constituents who are charged with participation in the deadly January 6 attack on the US Capitol, saying they come from a "good family. "

"Go out there and fight and work because you're going to decide this election and the direction of Virginia and this country for generations to come. Don't sit this one out. We ain't got time to be tired. What is required is sustained effort." — Barack Obama delivering a fiery address campaigning for Terry McAuliffe.

There's a lot to dig through in these papers about how Facebook promotes extremism and hurts our communities, but here's the bottom line: Facebook knew. — Amy Klobuchar

I wish people would stop saying, "The protest on Jan. 6, turned violent." It didn't "turn violent," it was planned to be violent. — Paula Poundstone

"If you think about what our Declaration of Independence says, it says to overthrow tyrants. So there's a clear difference between January 6th and the Marxist-communist revolution that antifa, BLM, Democrat ground troops waged on the American people in 2020." —Rep. Marjorie Taylor Greene (R-GA) to Real America's Voice

"It's time to start locking up these people on these school boards if they're going to oversee this and let children be raped and sodomized. There's got to be a penalty for that." — Steve Bannon, who went on to falsely suggest that Attorney General Merrick Garland had declared that parents who speak out at school board meetings are "domestic terrorists."

VIDEOS

Listen to this. It's the Tucker Carlson effect. Tucker attacks me. His fans respond with threats to kill my family. And Tucker knows exactly what he's doing. — Rep. Eric Swalwell https://twitter.com/RepSwalwell/status/1451347945069154307

"You don't knock over the US Capitol and wound 140 officers and storm the capitol and lay state of siege to the congress without any money being behind it.... Lots of money was raised and we do intend to get to the bottom of the financial dimension of this attack." — Rep. Jamie Raskin (D) to CNN. https://twitter.com/Acosta/status/1452031077283926025

FL's new political Surgeon General Joseph Ladopo, with Desantis, today became the first SG in the US to question the safety and efficacy of vaccines, saying to ignore the experts: "People need to stick with their intuition and their sensibilities." https://twitter.com/RonFilipkowski/status/1451195065116680209
Litigation Tracker: Pending Criminal and Civil Cases Against Donald Trump
---
IN THIS ISSUE
IN THE NEWS
OPINION
Andy Borowitz: America's Children Demand That Joe Manchin's Salary Be Tied to Work Requirement
Declaring "no more government handouts," millions of America's children are demanding that all future salary payments to Senator Joe Manchin be tied to a work requirement.

Tracy Klugian, who is nine years old, said that Manchin's current arrangement, in which he is paid for no work whatsoever, amounts to "an obscene ripoff of the American taxpayer."

"Our message to Senator Manchin is clear," she said. "Your years of feeding at the socialist trough are over."

But Jake Pearlgon, who is eleven, believes that a work requirement for might be the wrong approach. "Actually, it would be better if he worked less," he said.https://www.newyorker.com/humor/borowitz-report/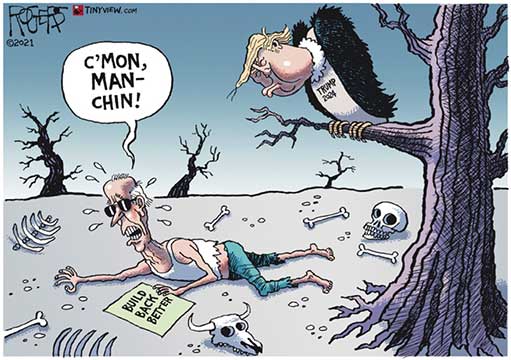 Trump-Backed QAnon Candidates Launch Group to 'Control the Election System'
A coalition of right-wing MAGA candidates, including multiple Trump-backed candidates, are seeking to take control of elections in states across the U.S.—and one says they're formally working with a group of conspiracy theorists, as well as with a QAnon influencer who some in the conspiracy movement believe is John F. Kennedy Jr. in disguise.
The group consists of five GOP candidates running for the key election position of secretary of state in Arizona, Nevada, Michigan, Georgia, and California, as well as one Pennsylvania lawmaker who may run for governor, which in Pennsylvania appoints the secretary of state. According to one of the candidates, it also has support from wealthy conspiracy theorists Mike Lindell and Patrick Byrne.
The reported coalition is just the latest example of how extreme QAnon-inspired conspiracy theories about election fraud and vote-rigging have become pervasive in the Republican Party, and how those conspiracies are now driving this group to seek to take control of key election positions across the country ahead of the 2024 election.  https://www.vice.com/en/article/bvngwq/trump-backed-qanon-candidates-announce-coalition-at-conference
Texas Lt. Governor Pays Out First Voter Fraud Bounty
Texas Lt. Gov. Dan Patrick (R) offered up a massive cash reward for evidence of voter fraud following Donald Trump's loss almost a year ago, and this week paid out his first bounty ― to a progressive poll worker who caught a Republican trying to vote twice. https://www.dallasnews.com/news/politics/2021/10/21/texas-lt-gov-dan-patrick-just-paid-his-first-voter-fraud-bounty-it-went-to-an-unlikely-recipient/
The Nationalism of Facebook
Thanks to the "Facebook Papers" leak, news organizations have been digging into the latest trove of internal Facebook documents and have revealed—at last—the appalling truth about Facebook's global growth strategies and how little concern the company has shown for the state of democracy and human rights in India, Indonesia, Brazil, and other postcolonial countries around the world.
The documents show that internal research from Facebook has revealed, again, what scholars and activists have known for a decade: Facebook directly contributes to mass violence against Muslim Indians by fostering coordinated campaigns by powerful political organizations connected with Prime Minister Narendra Modi. The groups behind these campaigns have deep fascist roots and have never hidden their commitment to anti-Muslim violence (and violence against non-Muslims who stand against their terrorism, including Mahatma Gandhi). https://slate.com/technology/2021/10/facebook-papers-leaks-global-damage-india-brazil-indonesia-media.html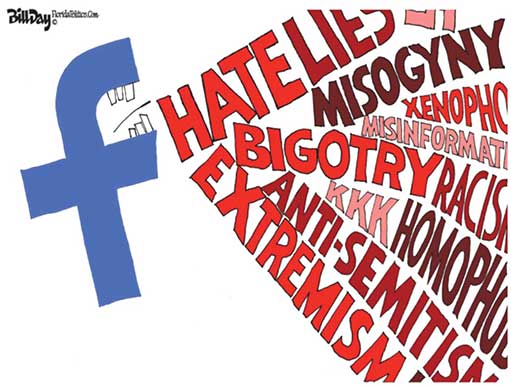 The GOP pushed Benghazi probes for years. It's already done with Jan. 6.
Republicans spent years pushing for investigation after investigation of the tragedy in Benghazi, Libya. But when it comes to the Jan. 6 insurrection, they're already very much over it.
A new poll from Quinnipiac University is the latest to show Republicans don't really want any type of investigation of the riots at the U.S. Capitol on Jan. 6. The poll gave people a choice between the idea that it was an attack on democracy that should "never be forgotten," and the idea that it's overblown and it's time to "move on." Three-quarters of Republicans — 75 percent — chose "move on."
By a 62-to-27 percent margin, Republicans said the matter had been investigated sufficiently already.
Perhaps most tellingly, it's a huge contrast to how the party viewed the Benghazi investigations.
For months and years after the 2012 attack on the U.S. mission in Benghazi that killed four Americans, Fox News's pollsters asked similar questions about people's appetite for investigating it. And Republicans' appetite was voracious and long-lasting.
In June 2013 — nine months after the attack — 88 percent of Republicans said they supported continuing to investigate. In November 2013 and February 2014, it was 83 percent. By April 2014, it was still only slightly diminished, at 77 percent.
In May 2014, the House GOP added a select committee to its previous investigations, bringing the total number to a half-dozen. The committee issued its final big report in June 2016.
But a full year later — in June 2017 — Fox News asked a similar question again. And lo and behold: 65 percent of Republicans still said it was either "extremely" or "very" important that the investigations into Benghazi continue. This was just shy of five years after the attack, after six congressional investigations, including a select committee run by Republicans that had concluded its work. https://www.washingtonpost.com/politics/2021/08/05/gop-pushed-benghazi-probes-years-its-already-done-with-jan-6/
Texas Governor Appoints Former Trump Lawyer to Oversee Election Review
Texas' new secretary of state, Mr. John Scott Scott, a Fort Worth lawyer who worked for Gov. Abbott when he was the state's attorney general, will oversee Texas elections at a time when a new law imposing further restrictions on voting and a Republican redistricting plan have raised alarm among voting rights advocates that the state's growing nonwhite population would not be fairly represented.
More immediately, John Scott will take charge of a limited review of the 2020 election results that Gov. Greg Abbott a Republican, ordered last month for four of the most populous counties in Texas.
Mr. Scott was among the lawyers representing Mr. Trump's campaign as it filed suit to challenge the results of the November 2020 election in Pennsylvania, a state that President Biden won by 80,555 votes. https://www.nytimes.com/2021/10/21/us/texas-governor-secretary-of-state.html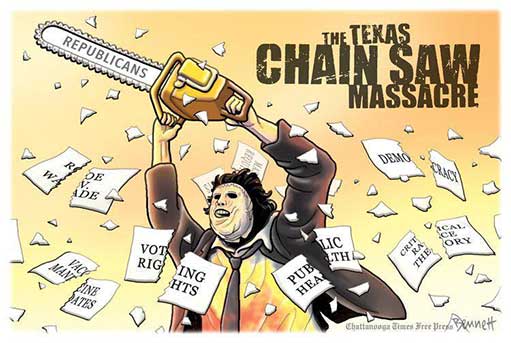 Ahead of Jan. 6, Willard hotel in downtown D.C. was a Trump team 'command center' for effort to deny Biden the presidency
They called it the "command center," a set of rooms and suites in the posh Willard hotel a block from the White House where some of President Donald Trump's most loyal lieutenants were working day and night with one goal in mind: overturning the results of the 2020 election.
The Jan. 6 rally on the Ellipse and the ensuing attack on the Capitol by a pro-Trump mob would draw the world's attention to the quest to physically block Congress from affirming Joe Biden's victory. But the activities at the Willard that week add to an emerging picture of a less visible effort, mapped out in memos by a conservative pro-Trump legal scholar and pursued by a team of presidential advisers and lawyers seeking to pull off what they claim was a legal strategy to reinstate Trump for a second term. https://www.washingtonpost.com/investigations/willard-trump-eastman-giuliani-bannon/2021/10/23/c45bd2d4-3281-11ec-9241-aad8e48f01ff_story.html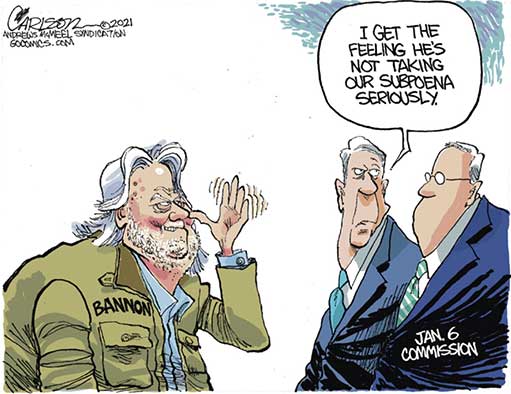 'Down the rabbit hole': Arizona GOP goes full fringe
Just when it seemed Arizona Republicans couldn't make more of a spectacle, they found another way.
As the party hardens around its fealty to former President Donald Trump, the GOP is filling up its midterm ballot with a roster of conspiracy theorists and extremists that could threaten the party's prospects in a state that's drifted leftward in recent elections.
The latest of those candidates is Ron Watkins, a celebrity in the QAnon conspiracy world suspected of being Q, who announced his plans to run for Congress last week.
It isn't just that Watkins embraces the baseless claim that the November election was stolen. It's that an entire ticket is running on that falsehood now. The state's congressional delegation features Rep. Paul Gosar, who spoke earlier this year at a conference organized by a white nationalist, and Rep. Andy Biggs, who falsely maintains "we don't know" who won the presidential election in Arizona. https://www.politico.com/news/2021/10/20/arizona-gop-fringe-516322
Leaked Oath Keepers Data Shows At Least 28 Elected Officials Have Ties To The Group
Over the past dozen years, at least 28 people who currently hold elected office joined or financially supported the Oath Keepers, the extremist group that figured prominently in the violent Jan. 6 storming of the US Capitol, a BuzzFeed News analysis of data from the organization shows.
In the months since the Capitol insurrection, as two dozen people linked to the Oath Keepers have been charged with crimes, including conspiracy, for their roles, several of those elected officials have continued to voice support for the organization. And at least two officials — David Eastman and Mark Finchem of the Alaska and Arizona Houses of Representatives, respectively — were in Washington, DC, on Jan. 6 to protest the certification of Biden's Electoral College victory. Neither of the men has been charged. https://www.buzzfeednews.com/article/jessicagarrison/oath-keepers-data-elected-officials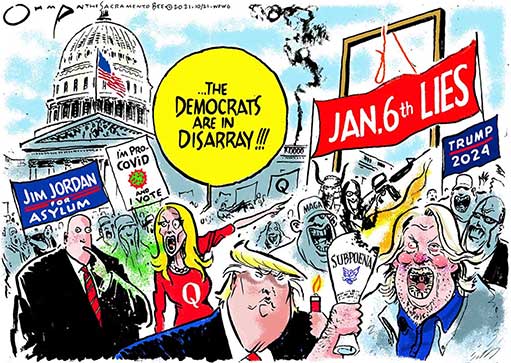 Greenhouse gas concentrations hit a new record in 2020 despite pandemic lockdowns
The global average of carbon dioxide concentrations hit a new high of 413.2 parts per million last year, according to the WMO report. The 2020 increase was higher than the annual average over the last decade despite a 5.6% drop in carbon dioxide emissions from fossil fuels because of COVID-19 restrictions, the WMO said.
A level above 400 parts per million — which was breached in 2015 — "has major negative repercussions for our daily lives and well-being, for the state of our planet and for the future of our children and grandchildren." https://www.latimes.com/world-nation/story/2021-10-25/greenhouse-gas-concentrations-new-record-2020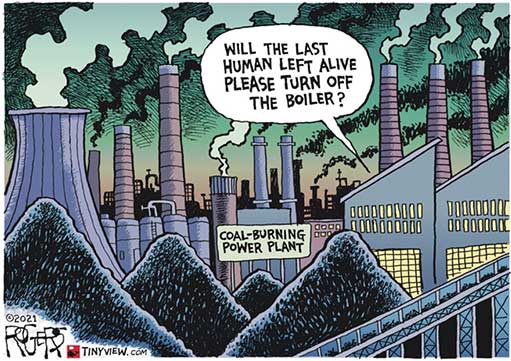 Biden's critics hurl increasingly vulgar taunts
During the 2020 presidential campaign, one of Biden's political superpowers was his sheer inoffensiveness, the leader who could make America calm, steady, even boring again after four years of Donald Trump.
"But it's clear that after nine months in office, Biden — or at least what he represents — is increasingly becoming an object of hatred to many Trump supporters. The vitriol partly reflects Trump's own repeated baseless claims that Biden is a usurper, depriving him of his rightful claim to the presidency, and partly stems from Biden actions that Republicans deplore, from his spending plans to his immigration policies.
Yet the anger also demonstrates how a political party or cause often needs an enemy, a target of vilification that can unite its adherents — and, in this case, one refracted through the harshness, norm-breaking and vulgarity of the Trump era.
"One of the many legacies of the Trump presidency is he normalized angry speech," said Mike Murphy, a Republican strategist and Trump critic. "Trump and our culture in general has beaten decorum out of politics, so now it's just angry rage therapy — so you get out your Magic Marker and you do your coarse lawn sign."
Murphy, whose Twitter bio describes him as "Infuriated GOP Strategist," added, "When Trump acts like a savage, it makes other people think it's okay to act like a savage. . . . We're so tribal, everybody now is an angry Democrat or an angry Republican. https://www.washingtonpost.com/politics/biden-vulgar-signs-chants/2021/10/22/6071836e-3122-11ec-a880-a9d8c009a0b1_story.html
Did Trump's Media Company Really Just Trademark the Term "Truthing"?
According to a press release and filings with the Securities and Exchange Commission (Trump hopes his new company will go public and pegs the value at $875 million), the Trump Media & Technology Group will encompass all sorts of business areas—a "non-woke" version of Netflix and Disney Plus, news products to compete with CNN, web-hosting to compete with Amazon and Google. But its first product will be a social media platform called TruthSocial.
According to filings with the US Patent and Trademark Office, on October 13, a Florida intellectual property attorney named Holly Collins applied to the US Patent and Trademark Office for a trademark for "TruthSocial." And over the next few days, she also filed applications for trademarks on "TMTG" and "TMTG+".
Collins also filed applications for several other words or phrases that suggest a creative reimagining of the concept of truth, including "Truthing"; "Retruth"; and "Post A Truth." All of the applications state that the words will be used in connection with online selling, website hosting, and social media platforms. https://www.motherjones.com/politics/2021/10/trump-social-media-truthsocial-trademark-truth/
Where are the workers? Cutoff of jobless aid spurs no influx
 Earlier this year, an insistent cry arose from business leaders and Republican governors: Cut off a $300-a-week federal supplement for unemployed Americans. Many people, they argued, would then come off the sidelines and take the millions of jobs that employers were desperate to fill.
Yet three months after half the states began ending that federal payment, there's been no significant influx of job seekers. https://apnews.com/article/coronavirus-pandemic-business-lifestyle-health-indiana-d3acd668eaf6343aada03cd660055bbc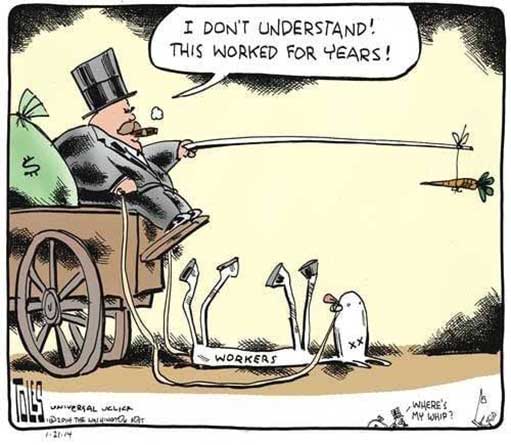 Minnesota politician backs fundraiser for alleged Capitol attackers
Minnesota state Sen. Mark Koran (R) promoted a fundraiser for several constituents who are charged with participation in the deadly January 6 attack on the US Capitol, saying they come from a "good family." https://www.theguardian.com/us-news/2021/oct/23/us-capitol-attack-minnesota-fundraiser-mark-koran
Anti-abortion activists' Supreme Court dreams are coming true
This is the moment the conservative legal movement has been building toward for decades: The solidly conservative Supreme Court is about to hear two major abortion cases within a month of each other.
All of this is likely to end with significant new restrictions on abortion and a clear path for Republican-led states to win the next big abortion cases, too — the culmination of a long and bitter fight for control of the judiciary. https://www.axios.com/supreme-court-abortion-texas-mississippi-ba807f04-7fbf-4ed4-bb6f-cc17560356da.htm
Pundits Have a Terrible Track Record of Predicting Midterms a Year in Advance
Amid the dire predictions for Democrats in next year's midterm elections, Walter Shapiro looks back at what the pundits said for every midterm election since 1994.
Handicapping off-year congressional elections nearly 400 days in advance has proven about as accurate as an eighteenth-century blunderbuss. Yes, the forerunner of the shotgun could hit its target. But its accuracy was limited, and it carried the risk of misfiring.
What does seem evident is that dramatic events on Capitol Hill that consume Washington rarely resonate with the voters. Neither the Democrats passing the Affordable Care Act nor the Republicans rallying to ratify the Trump tax cuts provided much protection in the wave elections of 2010 and 2018. Similarly, congressional Republicans escaped serious retribution from the voters after their frenzied efforts in October 2013 that shut down the government and rolled dice with the debt ceiling.
So much politically depends on the pace of the nation's comeback from the pandemic. What will matter as Election Day approaches next year is whether America feels like it's 2019 again or whether we are locked in an endless cycle of sad-eyed surges as in August and September of this year.
In short, Yogi Berra got it right when he supposedly said, "It's tough to make predictions, especially about the future." https://newrepublic.com/article/164107/pundits-terrible-track-record-predicting-midterms-year-advance
A whistleblower's power: Key takeaways from the Facebook Papers
A mix of presentations, research studies, discussion threads and strategy memos, the Facebook Papers provide an unprecedented view into how executives at the social media giant weigh trade-offs between public safety and their own bottom line. For key takeaways from The Post's investigation read: https://www.washingtonpost.com/technology/2021/10/25/what-are-the-facebook-papers/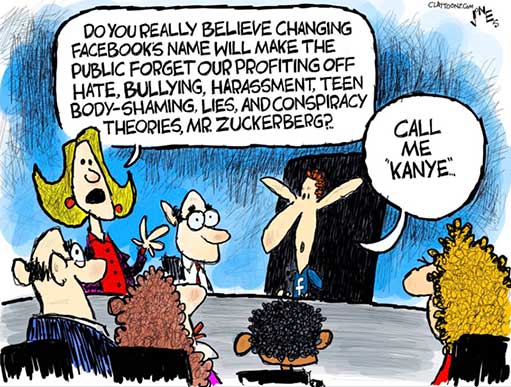 Trump's social network has 30 days to stop breaking the rules of its software license
The Software Freedom Conservancy (SFC) says former President Donald Trump's new social network violated a free and open-source software licensing agreement by ripping off decentralized social network Mastodon. The Trump Media and Technology Group (TMTG) has 30 days to comply with the terms of the license before its access automatically and permanently terminated — forcing it to rebuild the platform or face legal action. https://www.theverge.com/2021/10/22/22740354/trump-truth-social-network-spac-mastodon-license-software-freedom-conservancy
Report: Members of Congress Helped Plan the 6 Rally
Rolling Stone published a story Sunday night reporting that some of the planners of the January 6 pro-Trump rally on the Ellipse in DC were cooperating with congressional investigators and, according to two rally organizers the magazine spoke to, are saying that several Congressional members were "intimately involved" in the planning of the events taking place that day, which eventually turned violent. The representatives named in the article include Marjorie Taylor Greene (R-Ga.), Mo Brooks (R-Ala.), Lauren Boebert (R-Colo.), Madison Cawthorn (R-NC), Louie Gohmert (R-Texas), Paul Gosar (R-Ariz.), and Andy Biggs (R-Ariz.). 
Perhaps the most explosive claim is one about Rep. Gosar: "Both sources say he dangled the possibility of a 'blanket pardon' in an unrelated ongoing investigation to encourage them to plan the protests." One of the witnesses told Rolling Stone they thought the pardon was a "done deal" and "that he'd spoken to the president about it in the Oval." https://www.washingtonian.com/2021/10/25/report-members-of-congress-helped-plan-the-january-6-rally/ 
The DAILY GRILL
As of today, 1,887 Washington state employees were terminated or left their positions after Gov. Jay Inslee's COVID-19 vaccine mandate went into effect." — USA Today

VERSUS

It's off a base of 63,300 employees! So less than 3% of people quit...IN AN ENTIRE STATE. — Ben Wakana @WhiteHouse COVID-19 Response Team.

 

"Terry McAuliffe wants government to stand between parents and their children. And when parents across this great commonwealth said, 'No, Terry, you're wrong,' he called his friend Joe Biden and asked the FBI to come silence us." —  Virginia Republican gubernatorial candidate Glenn Youngkin  of his Democratic opponent.

VERSUS

PolitiFact already identified this baseless claim (that McAuliffe got U.S. Attorney General Merrick Garland to order the Justice Department to help combat growing threats against school-board members and educators) as a "pants on fire" lie. But Youngkin keeps repeating it.
Doyle McManus: Why is Trump running for president again? To stay out of jail
A House committee is examining his attempts to overturn last year's presidential election, including his actions when a mob of his supporters stormed the Capitol on Jan. 6.
A prosecutor in Georgia is investigating whether he violated state law against soliciting election fraud when he demanded that officials "find 11,780 votes" — the number he needed to undo Joe Biden's victory in that state.
And prosecutors in New York are looking into allegations that Trump, or at least the closely held family business he runs, committed tax and bank fraud.
But don't count him out.
"His life has been a series of lessons showing that with aggressive lawyering and a lot of chutzpah, you can achieve almost total immunity," Norman Eisen, a counsel to the House Judiciary Committee during Trump's first impeachment, told me.
He's used the investigation to raise money for his political action committee, which has collected millions.
"The Left will never stop coming after me," he wrote in an email to donors last week. "Please contribute ANY AMOUNT IMMEDIATELY to make a statement to the Left that you'll ALWAYS stand with YOUR President."
And there, no matter how the legal wrangles turn out, lies the answer to a persistent question about Trump: What makes him run?
One is money. Political contributions may be the most reliable revenue stream the Trump family enterprise has at the moment.
The other, equally important, is to bolster his legal defense. As long as he's running (or even sort of running), Trump can denounce every inquest and subpoena as just another part of a political vendetta. It's a way to hold his troops together — and to make every prosecutor think twice.
He's notching up another presidential first: He's running for reelection to stay out of jail. https://www.latimes.com/politics/story/2021-10-24/why-is-trump-running-for-president-again-to-stay-out-of-jail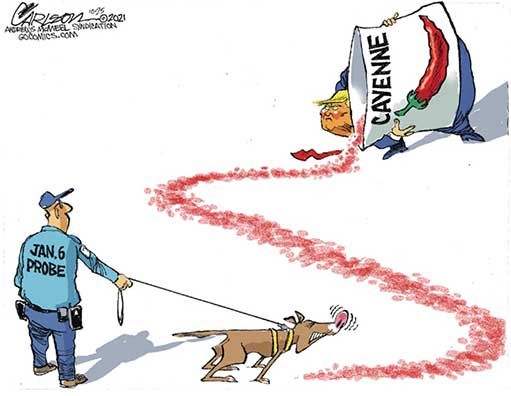 Catherine Rampell: The GOP rebrands itself as the party of tax cheats
Once upon a time, Republicans portrayed themselves as the party of small government and family values. Recently, though, GOP leaders have been cobbling together a new coalition, welcoming insurrectionists, white-nationalist tiki-torchers and people who think Bill Gates is trying to microchip them.
The latest recruit to the Big Tent? Tax cheats.
Here's the backstory. Each year, about $600 billion in taxes legally owed are not paid. For scale, that's roughly equal to all federal income taxes paid by the lowest-earning 90 percent of taxpayers, according to Treasury Department data.
These unpaid taxes — often called the "tax gap" — are predominantly owed by wealthy individuals. The richest 1 percent alone duck an estimated $163 billion in income taxes each year.
Tax cheating is not a victimless crime. When (disproportionately high-income) people don't pay their bills, everyone else must pay more to fill the shortfall.
More reporting would also deter would-be tax cheats from fudging in the first place, because they'd know they're more likely to get caught.
The reporting proposal is estimated to bring in $200 billion to $250 billion in revenue over the next decade, according to Treasury.
This is revenue that would be collected without having to raise a single tax rate, which you'd think Republicans would applaud. Instead, the GOP, backed by the bank lobby, has fought every version of the reporting policy tooth and nail.
Republicans also presumably have another shameful aim: communicating to tax cheats that, now and in the future, the GOP has their backs. https://www.washingtonpost.com/opinions/2021/10/21/gop-rebrands-itself-party-tax-cheats/
Dana Milbank: Why is Anthony Fauci trying to kill my puppy?
My family recently got a new puppy, a strong-willed and mouthy but ultimately lovable little nipper. We named him Bernie Sanders.
Unfortunately, though, I can't take Bernie out on walks. Here in the capital, we have a puppy killer on the loose, a murderous psychopath known as Anthony S. Fauci.
"Dr. Anthony Fauci is facing calls from a bipartisan group of legislators to respond to allegations that his National Institutes of Health division provided a grant to a lab in Tunisia to torture and kill dozens of beagle puppies for twisted scientific experiments," Rupert Murdoch's New York Post reported Sunday afternoon.
"HORROR 'EXPERIMENTS': #ArrestFauci trending after doc 'funded research that saw beagles eaten alive & stripped of vocal cords in testing'" Murdoch's Sun reported.
"'Cruel' Fauci is condemned for … experiments which saw beagles 'de-barked' and trapped in cages so flies could eat them alive," added Britain's Daily Mail, mentioning "a Tunisian research lab where beagle puppies were force-fed a new drug."
The monster! What next, Fauci? Setting kittens' tails on fire? Pulling appendages off daddy long legs while watching cock fights?
Unlikely. As it turns out, the only thing being tortured here is the truth. The episode says more about the right-wing disinformation machine and its crusade against Fauci than it does about research funded by Fauci's National Institute of Allergy and Infectious Diseases. https://www.washingtonpost.com/opinions/2021/10/25/fauci-puppy-experiments-conspiracy-republicans/
Bess Levin: Trump's New Social Media Company Is His Biggest Scam Yet
As you've no doubt heard by now, Donald Trump announced Wednesday night that he will be launching his own social media network, the embarrassingly named TRUTH Social. For those of you scratching your heads and wondering, But wait, didn't Trump already launch a new social media company? you are likely thinking of (1) one of the right-wing networks tangentially associated with the ex-president, like Gab, Parler, or Gettr, or (2) something called "From the Desk of Donald J. Trump," the blog that published Trump's comments and was shut down after just a month because it had almost no readers.
Obviously, the lack of readers was upsetting to the former president, who spent much of the last decade tweeting every deranged thought that came into his head, from "I would like to extend my best wishes to all, even the haters and losers, on this special date, September 11th" to "NEVER, EVER THREATEN THE UNITED STATES AGAIN OR YOU WILL SUFFER CONSEQUENCES THE LIKES OF WHICH FEW THROUGHOUT HISTORY HAVE EVER SUFFERED BEFORE" to "An 'extremely credible source' has called my office and told me that @BarackObama's birth certificate is a fraud." Unfortunately for Trump, his ban from Twitter, on account of inciting an insurrection, remains in effect. Hence, TRUTH Social.
Like most Trump initiatives, TRUTH Social is incredibly cringeworthy and embarrassing. For one thing, before it even launched, per The Washington Post, patriotic pranksters were able to find a seemingly unreleased version and post "a picture of a defecating pig to the  'donaldjtrump' account," causing it to be pulled offline. For another, the network's terms of service dictate that users must refrain from "excessive use of capital letters," i.e., the only way Donald Trump knows how to type. Then there's also the fact that TRUTH Social, billed as a vehicle for "stand[ing] up to the tyranny of Big Tech," which conservatives claim hates free speech, prohibits users from saying anything to "disparage, tarnish, or otherwise harm, in our opinion, us and/or the Site." Meanwhile, the whole thing is basically a crappier version of Twitter. https://www.vanityfair.com/news/2021/10/donald-trump-truth-social-spac-scam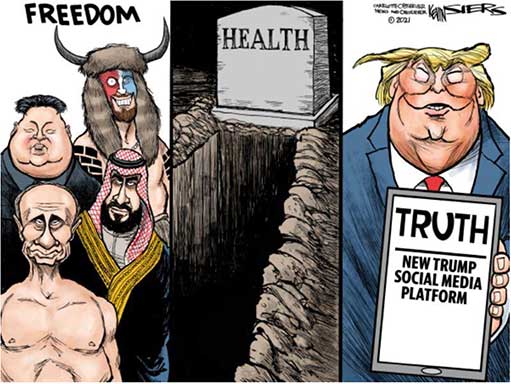 Bess Levin: Trump's Family Business Is Under Yet Another Criminal Investigation
The New York Times reports that the Trump Organization, already under indictment by the office of Manhattan district attorney Cyrus Vance Jr., is now facing a separate criminal investigation being conducted by the district attorney's office in Westchester County, New York, which has subpoenaed records from the Trump National Golf Club located there and from the town of Ossining, which sets property taxes for the course. While the full breadth of the investigation is not clear at this time, the Times reports that it appears that district attorney Mimi Rocah is focused in part on whether Trump's family business misled local officials about the property's value with the express purpose of lowering its tax bill.
Of course, for those of you keeping up at home, the notion that a company run by Donald Trump would claim the value of a property was less than one tenth of what local officials said it was actually worth should come as…no surprise whatsoever. https://www.vanityfair.com/news/2021/10/donald-trump-trump-organization-westchester-criminal-investigation
Eugene Robinson: Criticism of Democrats' negotiations misses a bigger issue: Republicans' absence from governing
Nobody said life was fair, but this is ridiculous: Democrats are getting pilloried for struggling to do big and important things, while Republicans are being given a free pass for behaving like a horde of vandals.
This isn't the way our government is supposed to work. Yes, the Democratic Party controls the White House and has the slimmest of majorities in the Senate and the House. But that doesn't absolve Republicans from the duty to try to do what's best for the country. It doesn't give any of our elected representatives the right to simply ignore the work they were elected to do — and the GOP should be called out for putting political gamesmanship ahead of the nation's well-being.
Wednesday's vote by GOP senators to block debate — not passage, mind you, but mere debate — of watered-down legislation to guarantee basic voting rights is just the latest example. Securing universal access to the ballot box used to be a bipartisan cause. In blocking the bill, Republicans are "hurting their own constituents," as House Speaker Nancy Pelosi (D-Calif.) noted Thursday. But apparently that doesn't matter.
I get it. The voter-suppression laws passed by GOP-controlled state legislatures across the country are crafted to give an advantage to Republican candidates. The proposed Freedom to Vote Act, already watered down in a vain quest for Republican support, would have somewhat leveled the playing field. Yet even the few GOP senators who occasionally show a glimmer of conscience — Mitt Romney (Utah), Lisa Murkowski (Alaska), Susan Collins (Maine) — voted the party line, which was against allowing the Senate even to debate the bill.
The many Republicans who helped pass the landmark Voting Rights Act of 1965 — giants such as Everett Dirksen of Illinois, Margaret Chase Smith of Maine and Jacob Javits of New York — would weep if they could witness what has happened to their party.
The problem is that one of our two major parties — the GOP — is doing nothing but throwing rocks and bottles from the sidelines. https://www.washingtonpost.com/opinions/2021/10/21/criticism-democrats-negotiations-misses-bigger-issue-republicans-absence-governing/
Maureen Dowd: Colin Powell and 'Guernica'
If we could unlock the puzzle of Colin Powell, maybe we could understand why America cracked up.
Back in 1995, I wrote a column about the needlepoint-pillow rules Powell laid out in his memoir. It is sad to read them now because he broke so many of them when he drove his tank off the cliff known as Iraq. Like Rule No. 7: "You can't make someone else's choices. You shouldn't let someone else make yours."
Rule No. 1 was: "It ain't as bad as you think. It will look better in the morning."
But there will be no morning from here to eternity when the decision to invade Iraq will look better.
The Shakespearean tragedy of Powell is that he knew it was a rotten decision. And, unlike the draft dodgers in the Bush White House, he knew the real cost of war. He knew they weren't playing with toy soldiers.
We're still living in a world warped by the fakery of W. and Cheney. We're still shattered because W. and Condi Rice ignored that intelligence report titled "Bin Laden Determined to Strike in U.S." W. was too busy mountain biking to pay attention.
If our leaders could trick us into the Iraq misadventure, how could we trust government again? And when government is not trusted, it creates fertile ground for charlatans.
Donald Trump fed off — and is still feeding off — those severed ties of trust between Americans and their government. A substantial chunk of the public believes Trump's lies and conspiracies.
And most of those craven House Republicans are still so frightened of Trump's power, as he ramps up for another run, that they refused to stand up for their own institution and hold Steve Bannon in contempt.
Powell is a cautionary tale for another reason. He was supposed to be the "grown-up in the room," a counterweight to W.'s callowness. It didn't work. Powell folded and hundreds of thousands, and counting, died.
When U.N. officials covered up a tapestry of Picasso's antiwar masterpiece, "Guernica," before his speech, Powell should have checked that small thing. The discordance of the secretary of state selling the bombing of Iraq in front of the shrouded image of shrieking and mutilated women, men, children, bulls and horses spoke volumes. https://www.nytimes.com/2021/10/23/opinion/colin-powell-legacy.html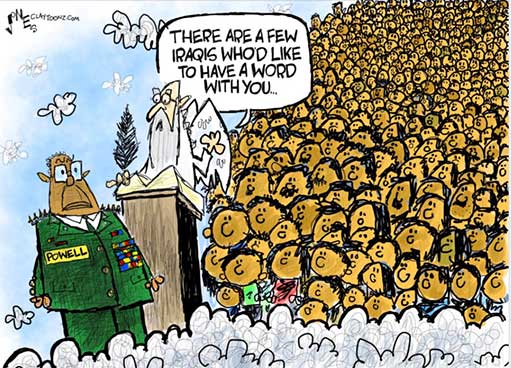 Elisabeth Zerofsky: How the American Right Fell in Love With Hungary
For one week this summer, Fox News beamed the face of Prime Minister Viktor Orban of Hungary into the homes of Tucker Carlson's 3.2 million viewers. In a two-tiered library adorned with dark wood and the Hungarian flag, Carlson sat across from the prime minister in Budapest with an expression of intense concentration, though he evinced little familiarity with the internal affairs of Hungary. The trip was hastily arranged after Orban agreed to the interview: Carlson dined at the prime minister's office the evening before the broadcast, and earlier in the week, he was taken in a military helicopter to a tightly controlled area along the country's southern border, generally off limits to journalists, in the presence of a Hungarian minister. There, Hungary became the idealized backdrop for Carlson's habitual preoccupations: Thanks to a barbed-wire fence, Hungary's border area was "perfectly clean and orderly," free of the "trash" and "chaos" that mark other borders of the world. Consequently, "There weren't scenes of human suffering." He did not bring up the fact that civic groups have repeatedly taken the Hungarian government to court for denying food to families held in immigration detention centers.
Bringing Carlson to Budapest was meant to persuade Americans to pay attention to Orban's Hungary. The effort appeared to be successful: The following week, several Republican senators told Insider, an online news publication, that Carlson's broadcasts from Budapest had given them a favorable opinion of Orban. In September, Jeff Sessions, the former U.S. attorney general, went to Budapest for a panel discussion on immigration, and Mike Pence traveled there to address a meeting on family and demographic decline, with Orban in the audience. Next year, the Conservative Political Action Conference, an influential annual gathering of conservatives in America, will be held in Budapest. https://www.nytimes.com/2021/10/19/magazine/viktor-orban-rod-dreher.htm
Isaac Dovere and Jeremy Herb: 'It's absolutely getting worse': Secretaries of state targeted by Trump election lies live in fear for their safety and are desperate for protection
"I am a hunter -- and I think you should be hunted," a woman can Officials and aides in secretary of state offices in Arizona and other states targeted by former President Donald Trump in his attack on last year's election results told CNN about living in constant terror -- nervously watching the people around them at events, checking in their rearview mirrors for cars following them home and sitting up at night wondering what might happen next.
They defended the 2020 election against Trump's lies. Now they are running for higher office in states that could decide 2024
Law enforcement has never had to think much about protecting secretaries of state, let alone allocating hundreds of thousands of dollars in security, tracking and follow-up. Their jobs used to be mundane, unexciting, bureaucratic. These are small offices in a handful of states with enormous power in administering elections, from mailing ballots to overseeing voting machines to keeping track of counted votes.
None were prepared to be publicly attacked. They don't have the budgets to monitor threats, and certainly not to suddenly protect officials who never had to be protected before. No systems were in place on the state or federal level to back them up, and the Department of Justice admits that the federal government doesn't yet have the infrastructure to handle the situation.
Staff members in the offices say they're dealing with long-term emotional and psychological trauma after a year of constant threats -- in person and virtually -- to the secretaries and to themselves.
https://www.cnn.com/2021/10/26/politics/secretaries-of-state-personal-threats-trump-election-lies/index.html
Greg Sargent: Elon Musk reveals exactly why we need the Democrats' new tax on billionaires
Musk appears to harbor a strange dichotomy. On one side, there's using taxpayer money to enable entrepreneurs to realize grand visions, a good form of socially beneficial government investment (which benefited him spectacularly).
On the other, there's curbing billionaire tax avoidance to fund taxpayer spending on other public goods that don't immediately fuel glorious entrepreneurial visions, multi-planetary or otherwise. This is apparently a bad and inefficient taking.
But that's a wrongheaded frame. The Democratic agenda would tax the ultrawealthy to fund massive investments in child care, early education, health care and the transition to a decarbonized economy, and those investments will bring long-term social benefits for all of us.
Making Musk's frame worse, the structure of the tax code that protects extreme wealth from taxation is itself a social product. The rich have benefited from government-restructured market rules that channeled income, wealth and rents upward for decades.
One is preferential treatment of wealth. As Ryan Cooper notes, the very distinction between income and wealth that shields the latter from taxation is not "natural"; it's the product of "government choices." We can choose to reverse them.
The insistence by billionaires that those choices are sacrosanct is at bottom an insistence that we must maintain their privileged status. That assumed privilege, and the superrich's power to maintain it, are exactly what the billionaires' tax would target. And that's why we need it. https://www.washingtonpost.com/opinions/2021/10/27/musk-billionaires-tax-reconciliation-bill/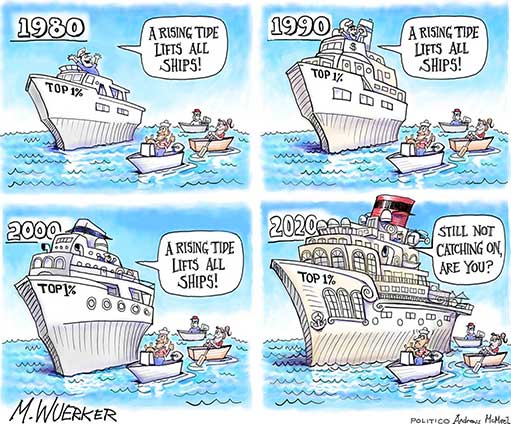 David Rohde: Garland vs. Bannon Is Bidenism vs. Trumpism
Until now, the Justice Department has generally declined to prosecute former Administration officials who defied Congressional subpoenas, such as George W. Bush's White House counsel Harriet Miers and Obama's Attorney General Eric Holder. But the allegations against Trump and Bannon are unprecedented. No Attorney General in American history has faced such a case: a former President, his onetime White House strategist, and their allies stand accused of inciting a mob to storm the Capitol and prevent Congress from certifying that President's electoral defeat.
David Laufman, a former senior Justice Department official, thinks that if career prosecutors in Washington recommend that Bannon be charged, Garland should promptly approve an indictment and prosecution. "There is a particular urgency to this congressional investigation, given the threat to democracy that was manifested on January 6th and continues today," he said. Garland, too, is subject to our current hyper-politicized era. Whatever his decision, he will be criticized by one side or the other: one will see Bannon as a right-wing provocateur brought to justice; the other will see him as a victim of tyrannical leftists. Our domestic cold war will rage on. https://www.newyorker.com/news/daily-comment/garland-vs-bannon-is-bidenism-vs-trumpism