January 10, 2019
ON THE RECORD. . .
"Bernie Sanders should not run for president. In fact, we beg him not to." — The Barre Montpelier Times Argus, a newspaper in Vermont, urging Sen. Bernie Sanders (I-Vt.) not to run for president in 2020.
"I have not discussed the border wall with President Trump, and do not support him on the issue." — Former President Jimmy Carter, the latest former president to deny telling President Trump that he regrets not building a wall along the U.S.-Mexico border.
Republicans are "not going to put any offers on the table as long as people in charge of these negotiations accuse all of us who want a wall of being a racist and see our Border Patrol agents as gassing children. Until you get that crowd put to the sidelines, I don't see anything happening." — Sen. Lindsey Graham (R-SC), suggesting that Republicans might work constructively toward ending their shutdown if Democrats stopped hurting GOP leaders' feelings.
The review of Trump's life is only beginning now. It will probably tell us that Trump is not merely a politician who has abused his power, or a businessman who has cut corners. He is a criminal who happened to be elected president. —  Jonathan Chait in the NY Intelligencer  
"I think he is without question the worst president we've ever had. We've had some bad ones, and there's not even a close second to him. he'll lie. He'll cheat. You can't reason with him." — Former Senate Majority Leader Harry Reid (D-NV), about Donald Trump.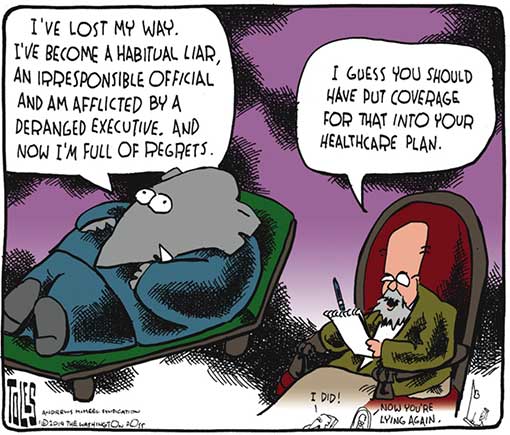 The U.S. Treasury Department says that the national debt has increased by $2 trillion ($2,000,000,000,000) since President Trump took office on Jan. 20, 2017. That's with Republicans in control of the House and Senate. The national debt is now almost $22 trillion. — Wolf Blitzer on Twitter
"People are looking for a new leader who can bring us together. They are looking for a unifier and a healer. They are looking for a leader of principle, and they are now looking for a fearless vision." -- Former Governor of Maryland, Martin O'Malley, endorsing Beto O'Rourke for President.
"The visuals of new House should send a shiver through anyone who cares about future of Republican Party. One side looks like America and our future, the other looks like board meeting of a 1950's corporation. A basic law of politics: be for the future not past." — GOP strategist Stuart Stevens, on Twitter.
"Republican hypocrisy at its finest: saying that Trump admitting to sexual assault on tape is just 'locker room talk,' but scandalizing themselves into faux-outrage when my sis says a curse word in a bar. GOP lost entitlement to policing women's behavior a long time ago. Next."  — Democratic Representative Alexandria Ocasio-Cortez slamming Republicans for criticizing fellow freshman Representative Rashida Tlaib over her language while downplaying President Trump's controversial comments about women in an apparent reference to the "Hollywood Access" tape.
"Well, I can't speak for Sen. McConnell, but I would like to see him bring the House-passed bills to the Senate floor," Collins told NBC News' Chuck Todd. "We could reopen much of government where there's no dispute over issues involving certain departments like Agriculture , Transportation, Housing, Interior. Let's get those reopened while the negotiations continue." -- Sen. Susan Collins (R-ME) on Sunday urging Senate Majority Leader Mitch McConnell (R-KY) to allow votes on House Democrats' effort to vote to reopen the federal government.
"Over 200 members voted for Nancy Pelosi today, yet the GOP only booed one: me. Don't hate me cause you ain't me, fellas." — Congresswoman Ocasio-Cortez tweet.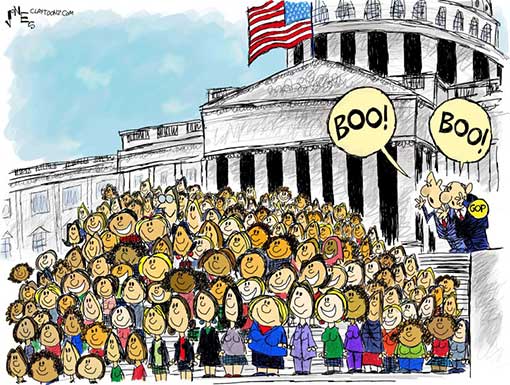 "I am writing to urge you to take the necessary steps to immediately end the shutdown of government agencies that is adversely affecting the safety, security and efficiency of our national airspace system." — Air Line Pilots Association president, Captain Joe DePete in a letter to Donald Trump.
The partial government shutdown created a delicious irony at federal prisons — inmates dining on lavish holiday meals in front of disgruntled staffers forced to work without pay. — NBC News
"I feel like there's a Monty Python and the Holy Grail moment here. People pretend they're winning when they're having their arms and legs hacked off." — Former Rep. Charlie Dent (R-PA), on his party's handling of the government shutdown.
"If this is a crisis, the people dealing with this crisis should get paid." — Rep. Will Hurd (R-TX) calling for an end to the government shutdown.
"The fact is, the women and children at the border are not a security threat. They are a humanitarian challenge, a challenge that President Trump's own cruel and counterproductive policies have only deepened." - Nancy Pelosi
"The president using fear and anecdote to try to instill an anxiety and paranoia to build the political will to construct this wall that would cost $30 billion and take private property and cause death and suffering as more asylum seekers are pushed to ever more hostile stretches of the U.S.-Mexico border — that was what we heard from the Oval Office. And we need to meet that fear with the truth, with our ambition, with the best traditions of this country, a country of immigrants, and with the example of El Paso and Juárez." — Beto O'Rourke
"You know why you can enjoy a day at the zoo? Because walls work." — Trump Jr. drawing a comparison between caged zoo animals and immigrants in an Instagram Story that has since disappeared.
How much collusion there was, how deeply Donald Trump was knowingly a part of it, remains to be seen. The fact of collusion is established. Not through some marginal member of the operation but by the man Trump chose to run his campaign. — Josh Marshall
---
IN THIS ISSUE
FYI
OPINION
1. Andy Borowitz: Trump Offers to Station Pence at Border with Binoculars in Lieu of Wall
In an unexpected breakthrough that could end the government shutdown, President Donald Trump has backed down from his demand for a wall and offered instead to post Vice-President Mike Pence at the border with big binoculars.

According to the White House, Pence's mission at the border will alternate between keeping an eye out for potential intruders and glaring menacingly into the distance.

At a press conference announcing the development, Pence appeared to embrace his new role as the nation's first line of defense against illegal immigration.

"If anyone wants to sneak into the United States, why, lordy, they'll have to get past Mike Pence first," he said.

The White House press secretary, Sarah Huckabee Sanders, denied that stationing Pence at the border represented a concession on Trump's part and claimed that the Vice-President was "just as good as a wall."

"If anyone can take the place of an inanimate object, it's Mike Pence," she said. https://www.newyorker.com/humor/borowitz-report/
2. The Border Wall: How a Potent Symbol Is Now Boxing Trump In
Before it became the chief sticking point in a government shutdown drama that threatens to consume his presidency at a critical moment, President Trump's promise to build a wall on the southwestern border was a memory trick for an undisciplined candidate.
As Mr. Trump began exploring a presidential run in 2014, his political advisers landed on the idea of a border wall as a mnemonic device of sorts, a way to make sure their candidate — who hated reading from a script but loved boasting about himself and his talents as a builder — would remember to talk about getting tough on immigration, which was to be a signature issue in his nascent campaign.
"How do we get him to continue to talk about immigration?" Sam Nunberg, one of Mr. Trump's early political advisers, recalled telling Roger J. Stone Jr., another adviser. "We're going to get him to talk about he's going to build a wall."
Talk Mr. Trump did, and the line drew rapturous cheers from conservative audiences, thrilling the candidate and soon becoming a staple of campaign speeches. Chants of "Build the wall!" echoed through arenas throughout the country.
Now, Mr. Trump's fixation with a border wall — the material embodiment of his keep-them-out immigration agenda — has run headlong into the new realities of divided government, pitting him against Democrats who reject the idea out of hand. https://www.nytimes.com/2019/01/05/us/politics/donald-trump-border-wall.html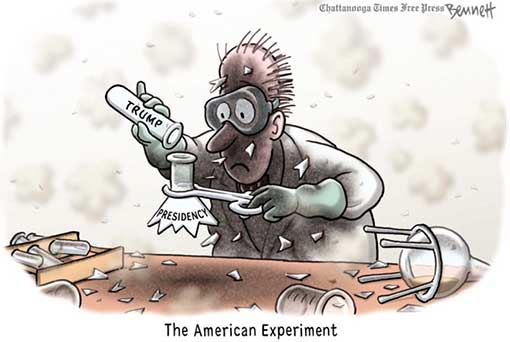 3. Fact checking Trump's border wall speech ahead of time
Fake news: 4,000 known or suspected terrorists tried crossing the border in 2018.
Real fact: Only 6 immigrants found at the border were in the government's Terrorist Screening Database.

Fake news: 17,000 known criminals tried crossing the border last year.
Real fact: Just 800 immigrants arrested by the U.S. Border Patrol have records of violence or convictions for sexual or firearms offenses.

Fake news: America faces a crisis in the number of border crossings.
Real fact: Border crossings have been declining for years.

Fake news: Trump is willing to build a steel wall instead of a concrete wall, as a concession to Democrats.
Real fact: Almost nobody cares how the wall is made.

Fake newss: Previous presidents told Trump they wished they'd built a wall.
Real fact: Nope.

Fake news: Okay, but there's a genuine humanitarian crisis at the border — record numbers of migrant families are entering the U.S., The Washington Post reports, "overwhelming border agents and leaving holding cells dangerously overcrowded with children, many of whom are falling sick."
Real fact: The wall won't fix that problem.
https://theweek.com/articles/816309/fact-checking-trumps-border-wall-speech-ahead-time
4. Trump Approval Underwater In Key States
A new Morning Consult poll in all 50 states finds President Trump's net approval rating is now negative in nine states that he won in the 2016 presidential election: Arizona, Florida, Georgia, Iowa, Michigan, North Carolina, Ohio, Pennsylvania and Wisconsin.
Overall, Trump's net approval fell in 43 states in last month. https://morningconsult.com/tracking-trump/
5. Congressional Democrats turn up the heat on GOP over shutdown
A growing coalition of Senate Democrats — hailing primarily from states that have a large population of federal workers, as well as the contingent of senators eyeing presidential bids in 2020 — say the chamber should not vote on anything else until the shutdown ends. Those tactics were first proposed by Sen. Chris Van Hollen (D-Md.). 
Among the Democratic senators who have endorsed Van Hollen's strategy include his fellow Maryland Sen. Benjamin L. Cardin, Sen. Mark R. Warner (D-Va.), Sen. Kamala D. Harris (D-Calif.), Sen. Cory Booker (D-N.J.), Sen. Bernie Sanders (I-Vt.), Sen. Jeff Merkley (D-Ore.) and Thomas R. Carper (D-Del.). https://www.washingtonpost.com/politics/democrats-pledge-to-paralyze-senate-as-shutdown-negotiation-tactic/2019/01/07/ed5e355e-12aa-11e9-a896-f104373c7ffd_story.html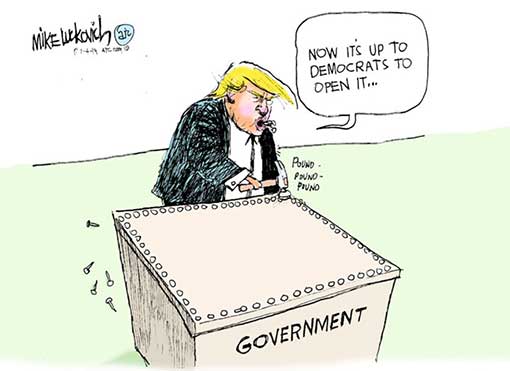 6. House Democrats prepare fusillade of Trump investigations
Democrats want to investigate the Trump Hotel deal and President Donald Trump's taxes. They want to haul up conflicted Cabinet officials and dig into controversial changes to the census and food stamps. They want to put Education Secretary Betsy DeVos under oath and investigate child detentions at the border.
The threat of subpoenas, investigations and oversight hearings will dominate the new House Democratic majority's agenda, targeting the White House's most controversial policies and personnel, spanning immigration, the environment, trade and of course, the biggest question of all: Russian collusion. https://www.politico.com/story/2019/01/07/congress-house-democrats-trump-subpoenas-oversight-1082563
7. Top Trump Backer Financed Supreme Court Confirmation Fights Through Shadowy Network
A top conservative judicial activist used a sprawling web of interconnected groups to not only help fund President Donald Trump's inauguration but to help pave the way for the confirmation of his Supreme Court nominees.
The effort has been a resounding success, but Americans remain largely in the dark about who provided the tens of millions of dollars to bankroll it.
Previously unreported documents obtained by The Daily Beast provide the first glimpse into the finances of a key node in that network, traced to Federalist Society Executive Vice President Leonard Leo, a major player in Washington's wars over the makeup of the federal judiciary.
Those documents, like others revealed over the last few months, provide a deeper glimpse into the expanding role that Leo's played in advancing the Trump administration's agenda on legal matters in particular. And they underscore the degree to which anonymous, high-dollar donors have bankrolled the advocacy behind Trump's highly successful efforts to reshape the federal judiciary. https://www.thedailybeast.com/top-trump-backer-financed-supreme-court-confirmation-fights-through-shadowy-network
8. Trump Allies Try to Rig the 2020 GOP Nomination
Yesterday's op-ed by Mitt Romney expressing doubts about the character and competence of President Donald Trump was striking. Just as striking was the response of Trump's allies.
Trump supporters on the Republican National Committee jumped to argue for changing party rules to aid Trump's renomination prospects in 2020. In particular, Jevon Williams, national committeeman from the Virgin Islands, urged other members of the RNC to act at their upcoming winter meeting to make it harder for a challenger to Trump to have his name placed in nomination at the convention and called on the committee to pass a resolution endorsing Trump and declaring him "the presumptive nominee in 2020."
So a prominent Republican criticizes Trump, and Trump's allies don't try to counter the arguments or make a positive case for the president. Instead, their first reaction is to try to rig the system to protect the president. This reveals a number of things: (1) The knee-jerk, dime-store authoritarianism of the Trump forces; (2) The degree of panic which has already set in among the Trumpists; and (3) Evidence that beneath the superficially strong approval numbers there is bubbling up discontent—even dread—at the prospect of renominating Trump in 2020. https://thebulwark.com/trump-allies-try-to-rig-the-2020-gop-nomination/
9. Facing Shutdown Evictions, HUD Asks Landlords To Dig Into Reserves
The Department of Housing and Urban Development sent letters to 1,500 landlords Friday as part of a last-minute effort to prevent the eviction of thousands of tenants. A lot of those tenants live in units covered by a HUD program that many agency officials didn't realize had expired on Jan. 1 and that they are now unable to renew.
The letters instruct the landlords to use their reserve accounts so that no one is evicted, HUD spokesman Jereon Brown said. He said the budget and contract staff are "scouring for money" to figure out how to fund the contracts on an interim basis. https://www.washingtonpost.com/national/health-science/as-shutdown-drags-on-trump-officials-seek-novel-ways-to-cope-with-its-impacts/2019/01/06/96c54a50-11ee-11e9-90a8-136fa44b80ba_story.html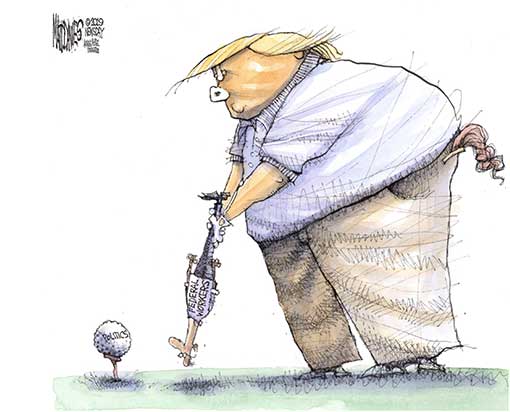 10. National Parks Are Overflowing With Poop Thanks to the Government Shutdown
With the government shutdown set to enter its third week, and with the possibility of it lasting for months more, the most tangible evidence of its impact appears to be the most gastronomical.
People are having a difficult time dispensing with their poop.
At national parks across the country, human excrement is piling up, bathrooms have become unbreathable heaps of bodily fluids, and park officials are noticing visitors relieving themselves in places where they should not be.
The shit storm—for lack of a more apt phrase—is a byproduct of a quirk in how the government has approached this shutdown versus those prior. Instead of closing the national parks, the Trump administration has kept them open but with little to no staff there to help manage the premises. With sanitation workers not on the job, human toxicity has been left unattended. And unlike other outcomes of the shutdown—from disrupted scientific research, to furloughed federal workers, to government programs operating on shoestring staff and budgets—this one has broken through the news clutter. https://www.thedailybeast.com/national-parks-are-overflowing-with-poop-thanks-to-the-government-shutdown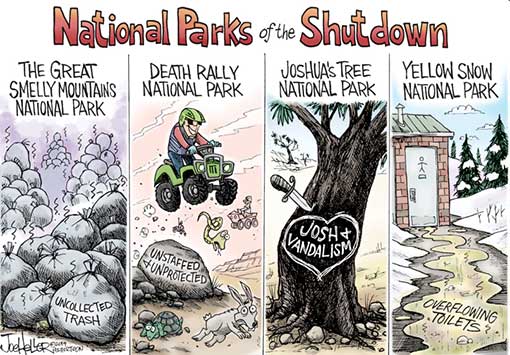 11. Every congressperson along southern border opposes border wall funding
Eight congressional representatives serve the districts that line the 2,000-mile southern border. They are men, women, freshman politicians and Washington veterans. The Democrats among them span liberal ideologies, while one of them is a Republican.
But they all have one thing in common: each is against President Trump's border wall. https://www.cbsnews.com/news/trumps-border-wall-every-congressperson-along-southern-border-opposes-border-wall-funding-2019-1-8/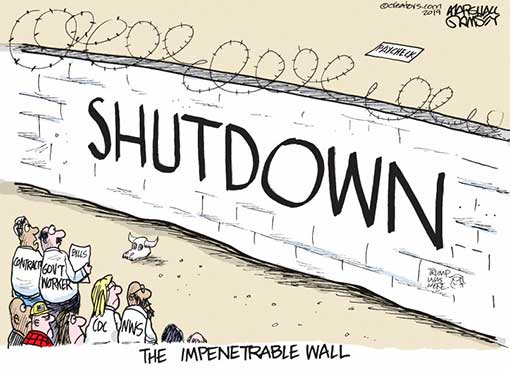 12. The DAILY GRILL
Billions of dollars are sent to the State of California for Forest fires that, with proper Forest Management, would never happen. Unless they get their act together, which is unlikely, I have ordered FEMA to send no more money. It is a disgraceful situation in lives & money!
— Donald J. Trump (@realDonaldTrump) January 9, 2019

VERSUS

.@realDonaldTrump's threat insults the memory of scores of Americans who perished in wildfires last year & thousands more who lost their homes. @GOPLeader must join me to condemn & call on POTUS to reassure millions in CA that our govt will be there for them in their time of need. — Nancy Pelosi (@SpeakerPelosi) January 9, 2019

"This should have been done by all of the presidents that preceded me and they all know it," Trump said. "Some of them have told me that we should have done it." — Donald Trump claiming without evidence on Friday that past presidents have privately confided to him that they regret not building a wall along the U.S.-Mexico border.

VERSUS

At least three of the four living U.S. presidents — Bill Clinton, George W. Bush and Barack Obama — did no such thing. — Andrew Restuccia in Politico

 

Customs and Border Protection picked up nearly 4,000 known or suspected terrorists last year "that came across our southern border." — White House Press Secretary Sarah Sanders.

VERSUS

But in fact, the figure she seems to be citing is based on 2017 data, not 2018, and refers to stops made by Department of Homeland Security across the globe, mainly at airports. ….According to Justice Department public records and two former counterterrorism officials, no immigrant has been arrested at the southwest border on terrorism charges in recent years. — Julia Ainsley for NBC News

 

How do you impeach a president who has won perhaps the greatest election of all time, done nothing wrong (no Collusion with Russia, it was the Dems that Colluded), had the most successful first two years of any president, and is the most popular Republican in party history 93%? — Donald J. Trump (@realDonaldTrump) January 4, 2019

VERSUS

"President Donald Trump is a direct and serious threat to our country. On an almost daily basis, he attacks our Constitution, our democracy, the rule of law and the people who are in this country. His conduct has created a constitutional crisis that we must confront now." — Rep. Rashida Tlaib (D-MI) and John Bonifaz in the Detroit Free Press

 

in 1979, the Soviet Union had invaded Afghanistan "because terrorists were going into Russia. They were right to be there."  — Donald Trump during a cabinet meeting.

VERSUS

"We cannot recall a more absurd misstatement of history by an American President." — Wall Street Journal editorial

 

U.S. Customs and Border Protection CBP stopped nearly 4,000 known or suspected terrorists from crossing the southern border in fiscal year 2018. — White House press secretary Sarah Sanders.

VERSUS


According to Justice Department public records and two former counterterrorism officials, no immigrant has been arrested at the southwest border on terrorism charges in recent years. — Julia Ainsley for NBC News.
13. From MEDIA MATTERS (They watch Fox News so you don't have to)
Sean Hannity warns that Rep. Alexandria Ocasio-Cortez will stop rich people from buying boats and "taking expensive vacations." Hannity: Higher taxes "means the rich people won't be buying boats that they like recreationally." https://www.mediamatters.org/video/2019/01/04/sean-hannity-warns-alexandria-ocasio-cortez-will-stop-rich-people-buying-boats-and-taking-expensive/222427

Trump administration flocks to Fox to recycle discredited statistic about terrorists crossing the southern border. The Trump administration drew media criticism in February for a misleading claim that 10 terrorists were intercepted crossing the U.S.-Mexico border each day in 2017. The claim has now resurfaced as "almost 4,000 terrorists" throughout 2018. It is still misleading. https://www.mediamatters.org/blog/2019/01/04/trump-administration-flocks-fox-recycle-discredited-statistic-about-terrorists-crossing-southern/222426

Sean Hannity blames Nancy Pelosi's Christmas vacation for death of a California police officer. Hannity: "Over this past weekend, we lost a police officer ... you were thousands of miles away, lapping it up, life of luxury, playing politics with border security." https://www.mediamatters.org/video/2019/01/03/sean-hannity-blames-nancy-pelosis-christmas-vacation-death-california-police-officer/222417

Fox Business host attempts to sell Trump's border wall as infrastructure spending. https://www.mediamatters.org/video/2019/01/04/fox-business-host-attempts-sell-trumps-border-wall-infrastructure-spending/222422

Fox's Outnumbered panel: Republicans should sell Trump's border wall as "infrastructure" to gain Democratic support. David Asman: "If this could be put in the realm of 'infrastructure,' as opposed to the realm of 'border security,' it might work." https://www.mediamatters.org/video/2019/01/07/foxs-outnumbered-panel-republicans-should-sell-trumps-border-wall-infrastructure-gain-democratic/222434

Lou Dobbs calls "all of the folks in the FBI corrupt" and "a legion of evildoers" https://www.mediamatters.org/video/2018/12/13/lou-dobbs-calls-all-folks-fbi-corrupt-and-legion-evildoers/222309

Lou Dobbs and Sean Hannity advised Trump on shutdown strategy. His Oval Office speech reflected it. Trump's address ripped language from their Fox shows. https://www.mediamatters.org/blog/2019/01/09/lou-dobbs-and-sean-hannity-advised-trump-shutdown-strategy-his-oval-office-speech-reflected-it/222465
14. House Democrats unveil bill to obtain Trump's tax returns, put checks on White House
A day after assuming the majority, House Democrats on Friday unveiled a sweeping ethics reform package that would put new checks on the White House and require President Donald Trump to release his tax returns.
House Democrats mostly presented the package — which contains numerous changes to campaign finance and ethics law — as a set of popular good-government reforms during a Friday press conference on Capitol Hill. But the bill's proposed checks on Trump also will make it a useful cudgel for the new majority, even though the legislation is unlikely to be approved by the GOP-held Senate.
Rep. Elijah Cummings (D-Md.), incoming chairman of the House Committee on Oversight and Government Reform, indicated he will be stepping up oversight of Trump in the coming weeks.
"The midterm elections were monumental and indeed historic. The American people gave Congress a mandate: to finally start conducting credible oversight and start enacting reforms. Over the last two years, President Trump set the tone from the top in his administration that behaving ethically and complying with the law is optional," Cummings said. "We're better than that."
The new bill would mandate that the president and vice president release 10 years of their tax returns. It would also enhance ethics rules for White House employees and give the Office of Government Ethics more enforcement power. https://www.politico.com/story/2019/01/04/house-democrats-bill-trump-tax-returns-1081412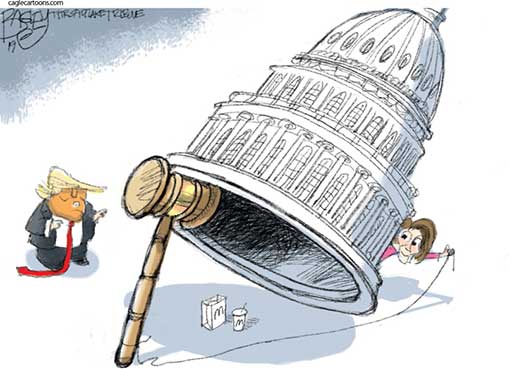 15. Special counsel Robert Mueller accused ex-Trump campaign chief Paul Manafort of lying about sharing polling data with alleged Russian spy
Special counsel Robert Mueller has accused former Trump campaign chief Paul Manafort of lying about sharing polling data with an alleged Russian spy during the 2016 presidential campaign, a new court filing by Manafort's criminal defense lawyers has accidentally revealed.
The alleged spy, Konstantin Kilimnik, is a former business associate of Manafort's who is criminally charged with working with him to try to tamper with potential witnesses against Manafort before his scheduled federal criminal trials last summer.
Mueller has previously alleged that Kilimnik has "ties to a Russian intelligence service and had such ties in 2016," the same year during which Manafort acted as chairman of President Donald Trump's campaign.
The defense filing also reveals that Mueller has accused Manafort of lying to Mueller about a text message from "a third-party asking permission to use Mr. Manafort's name as an introduction in the event the third-party met the President."
Manafort's lawyers meant for those accusations by Mueller, and several others, to be sealed from public view. The sections containing the accusations are blacked out in an otherwise public document filed Tuesday in federal court in Washington, D.C. https://www.cnbc.com/2019/01/08/mueller-accused-manafort-of-lying-about-sharing-polling-data-with-spy.htm
16. US spends twice as much on health care as its peers
Despite many efforts to rein in US health care costs in recent years, spending is still on the rise.
Americans spend more than twice as much on health care per person as their peers in developed nations, according to a new analysis from Johns Hopkins Bloomberg School of Public Health.
It's not because people in the US use more medical services. Instead, it's because drugs cost more, doctors and nurses are paid better, hospital administration is more expensive and many medical services have higher price tags, the study found. https://www.cnn.com/2019/01/08/politics/health-care-spending/index.html
17. GOP operatives dig for dirt against rising star O'Rourke
Republicans are feverishly digging into Beto O'Rourke's past, a sign they view the former Texas congressman as a potential threat if he wins the Democratic presidential nomination.
GOP organizations and political action committees have spent recent weeks delving into multiple areas of O'Rourke's life, from his voting record to a drunken driving arrest in 1998. https://thehill.com/homenews/campaign/424240-gop-operatives-dig-for-dirt-against-rising-star-orourke
1. New York Times Editorial: The Crisis Is in the Oval Office
How fitting is it that President Trump's first Oval Office address, which he requested be televised live in prime time by every major network, was aimed at stirring up the American public about a crisis largely of his own making?
Not that the border crisis is one of Mr. Trump's self-serving political fictions — like the deep state or widespread voter fraud. It may have started out that way, but the situation has, with the president's nurturing, become something far more tragic.
Pursuing poorly thought-out and even more poorly executed policies on the pretext of battling a nonexistent national security crisis, Mr. Trump has helped create a pressing humanitarian one. Desperate migrant families being detained en masse at the border are overwhelming a system pushed beyond its limits by an administration that chose to ignore the implications of its actions — overcrowding, children falling gravely ill and, paradoxically, the haphazard release of throngs of detainees into border communities stretching from California to Texas.
Mr. Trump is now invoking the urgency of the situation as a justification for pursuing more wasteful, hard-line measures that most Americans do not support, chiefly the ludicrous border wall over which he has shut down critical pieces of the government. The president and his enablers have been busily knitting together inaccurate data, misleading anecdotes, exaggerations and other "alternative facts" about the flow of criminals, drugs and terrorists across the southern border. He seems to hope he can paint a dystopian landscape of security threats and human suffering so dire that the American people will rally to his side and pressure congressional Democrats to succumb to his demands for a towering wall — preferably concrete, but at this point, it seems, steel will suffice. https://www.nytimes.com/2019/01/08/opinion/president-trump-speech.html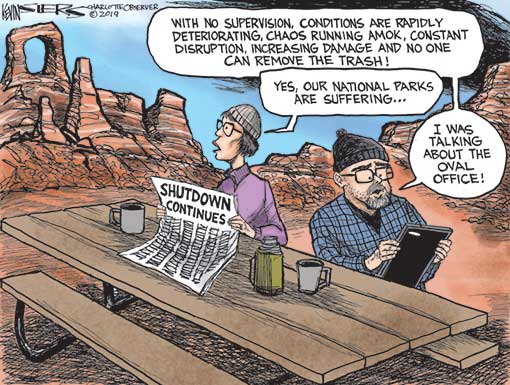 2. Sharon LaFraniere, Kenneth P. Vogel and Maggie Haberman: Manafort Accused of Sharing Trump Polling Data With Russian Associate
As a top official in President Trump's campaign, Paul Manafort shared political polling data with a business associate tied to Russian intelligence, according to a court filing unsealed on Tuesday. The document provided the clearest evidence to date that the Trump campaign may have tried to coordinate with Russians during the 2016 presidential race.
Mr. Manafort's lawyers made the disclosure by accident, through a formatting error in a document filed to respond to charges that he had lied to prosecutors working for the special counsel, Robert S. Mueller III, after agreeing to cooperate with their investigation into Russian interference in the election.
The document also revealed that during the campaign, Mr. Manafort and his Russian associate, Konstantin V. Kilimnik, discussed a plan for peace in Ukraine. Throughout the campaign and the early days of the Trump administration, Russia and its allies were pushing various plans for Ukraine in the hope of gaining relief from American-led sanctions imposed after it annexed Crimea from Ukraine.
Prosecutors and the news media have already documented a string of encounters between Russian operatives and Trump campaign associates dating from the early months of Mr. Trump's bid for the presidency, including the now-famous meeting at Trump Tower in Manhattan with a Russian lawyer promising damaging information on Hillary Clinton. The accidental disclosure appeared to some experts to be perhaps most damning of all.
"This is the closest thing we have seen to collusion," Clint Watts, a senior fellow with the Foreign Policy Research Institute, said of the data-sharing. "The question now is, did the president know about it?" https://www.nytimes.com/2019/01/08/us/politics/manafort-trump-campaign-data-kilimnik.html
3. Frank Bruni: The Wall Is a Symbol of Donald Trump's Neediness
It's funny that we're still talking about the physical features of what President Trump wants or will settle for on our country's southern border — about whether it will be concrete or steel, solid or slatted, a fancied-up fence or, in Nancy Pelosi's hilariously acerbic dig, a "beaded curtain." Because it's not really a wall that Trump is after, if indeed it ever was. It's a victory for victory's sake. It's a show of his might. It's proof of his potency.
Of course he discussed it in a much different manner on Tuesday night, when, for the first time during his presidency, he formally addressed Americans from the Oval Office in prime time. He spoke of a "crisis of the heart" on the border. He spoke of a "crisis of the soul." He mentioned drugs, crime, Americans who have lost their lives because of undocumented immigrants and Americans who have lost their jobs to them. It was an epic threat that he painted — and a grossly exaggerated one. Whatever it takes to deliver on a promise that he should never have made.
Whatever it takes to salvage his pride.
The longer his stalemate with Democrats in Congress grinds on, the clearer that becomes. Seldom has a president's ego been this tender, and seldom has it required so much shoring up. There's not enough concrete in creation for that job. https://www.nytimes.com/2019/01/08/opinion/trump-speech-border-wall.html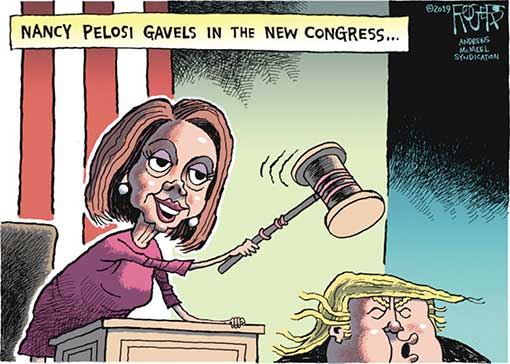 4. Matthew Dowd: Trump's speech was the Hollywood equivalent of a doomed remake
The Hollywood equivalent of President Trump's speech Tuesday night on immigration would be releasing a movie for the 12th time after it bombed at the box office a little over two months ago.
The president's speech from the Oval Office provided no new information for this debate we are in over the government shutdown and border security, did not expand the audience who would be receptive to the president's message and will not move a single swing voter in America or in Congress to the president's position.
Other than all that, it went well. https://abcnews.go.com/beta-story-container/Politics/trumps-speech-hollywood-equivalent-doomed-remake-column/story?id=60248697
5. David Frum: Trump Has Defeated Himself
After the January 8 Oval Office address, little doubt remains of how this shutdown will end. Sooner or later—probably sooner—it will end the way Trump's threats of nuclear war upon North Korea ended: with a sudden Trump about-face. It is now only a matter of time. The polls will arrive over the next hours. Democrats and Republicans will both see that Trump did not move public opinion in his favor. They might see that Trump could not even motivate very many Americans to watch him. The panic slowly building among congressional Republicans will boil. Trump, trapped without a decent exit in a predicament of his own making, will yield everything and get nothing.
Trump will cope by locking himself into the Fox News closed-feedback system of flattering disinformation, emerging only to emit enraged tweets pretending he won big and denouncing the media for reporting otherwise. He might even convince himself to believe it. His political allies will repeat it without believing it.
But he will have lost. Lost humiliatingly. And he will have done it almost entirely to himself, before the amazed eyes of the opponents who, dumbfounded, watched him do it to himself, without a plan or even much of a reason, other than the empty and fleeting joy of feeling briefly powerful by inflicting pain. https://www.theatlantic.com/ideas/archive/2019/01/trump-speech/579850/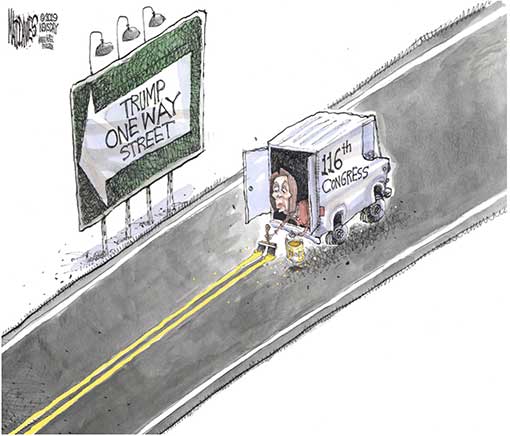 6. McKay Coppins: Trump's Oval Office Address Was Classic Stephen Miller
Almost from the moment the camera blinked on in the Oval Office, it was clear that President Donald Trump was delivering a Stephen Miller special.
The 33-year-old White House speechwriter has a hand in virtually everything the president reads from a teleprompter. But as one of the most strident immigration hawks in the West Wing, Miller has been especially influential over the past two years in shaping the way Trump talks about his signature issue. Tuesday night was reportedly no exception.
While it's impossible to say just how much of the address he wrote, all of the tics and tropes of Millerian rhetoric were on display. The scary immigrants ("vicious coyotes and ruthless gangs"). The gory anecdotes (a veteran "beaten to death with a hammer by an illegal alien"). The decidedly un-Trumpian flourishes ("a crisis of the heart, and a crisis of the soul.")
In setting the stage for Trump's prime-time address, White House officials had insisted that the president was making a good-faith effort to win over skeptics of his border-wall proposal and get the government reopened. But the speech he ended up giving was not calibrated for persuasion. It was, by and large, dark, divisive, and shot through with the kind of calculated provocation that rallies the president's fans and riles his enemies. It was, in other words, classic Stephen Miller. https://www.theatlantic.com/politics/archive/2019/01/stephen-miller-shaped-trumps-oval-office-speech/579859/
7. Tom Nichols: Trump Escalates His Assault on Civil-Military Relations
We've gotten used to so much in Donald Trump's two years in office, from the cruelty of his immigration policies to his childlike understanding of international trade, and from his apparent fear of Vladimir Putin to his whipsawing of the financial markets. Too many Americans have simply become accustomed to the president's antics as a normal part of the background noise of their lives. Sometimes Trump's disjointed thoughts are merely an embarrassment; at other times, he makes dangerous policy changes or wipes out great amounts of wealth in a tweet.
Now, however, the president has opened a Pandora's box by escalating his attacks on senior U.S. military leaders. No American president has ever dared risk the American civil-military relationship for less cause or with such childish malice.
American citizens don't think much about civil-military relations. That's good: It's a sign of a healthy polity. We don't worry about tanks rolling up North Capitol Street or paratroopers lolling about in Lafayette Square. We're not that kind of country. But the president has taken a dangerous path, excoriating retired military leaders who criticize him and lavishing praise and make-believe pay raises on the active-duty military voters who he believes support him. A precious heritage built on the dual pillars of military obedience to civilians and civilian respect for military professionals is now at severe risk. https://www.theatlantic.com/ideas/archive/2019/01/trumps-attacks-mcchrystal-and-mattis-will-do-lasting-damage/579256/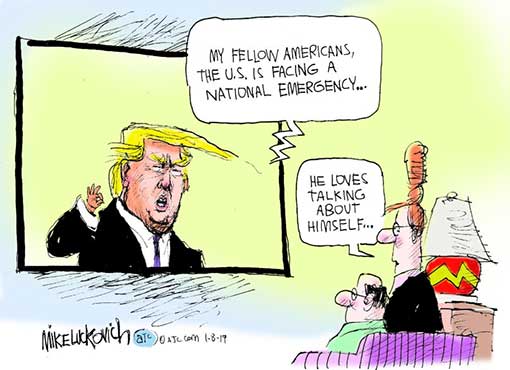 8. Manny Fernandez, Caitlin Dickerson and Paulina Villegas: The Price of Trump's Migrant Deterrence Strategy: New Chaos on the Border
At a migrant shelter near the Mexican border, three girls from Guatemala — sisters aged 10, 9 and 6 — coughed and sniffled. One of them clung to both a teddy bear and a large bottle of Pedialyte, to soothe her dehydration and flu.
New arrivals from Central America are coming in much sicker, after being held far longer than ever before in bare-bones government detention facilities never intended for children. Asylum seekers bottled up in Mexico are jumping fences and throwing rocks at officers, who are firing tear gas to push them away. Hundreds of migrants have been released on city streets in recent weeks, uncertain of where to go. Two sick migrant children have died while in custody.
A crisis of the kind President Trump has long warned of is beginning to take shape along the country's 1,900-mile border with Mexico. A border security network built over a period of decades to handle large numbers of single men has in the past several years been inundated with women and children, and as the number of families has peaked in recent months, the system has increasingly been unable to accommodate all of them.
Much of the growing chaos, say many of those who work along the border and in some of the government's own security agencies, is a result of a failed gamble on the part of the Trump administration that a succession of ever-harsher border policies would deter the flood of migrants coming from Central America.
It has not, and the failure to spend money on expanding border processing facilities, better transportation and broader networks of cooperation with private charities, they say, has led to the current problems with overcrowding, health threats and uncontrolled releases of migrants in cities along the border. https://www.nytimes.com/2019/01/04/us/mexico-wall-policy-trump.html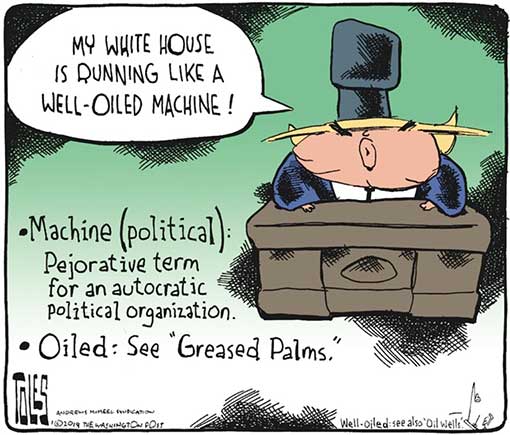 9. David Frum: Why Is Trump Spouting Russian Propaganda?
It was only one moment in a 90-minute stream of madness.
President Donald Trump convened a Cabinet meeting, at which he invited all its members to praise him for his stance on the border wall and the government shutdown. There's always a lively competition to see which member of the Cabinet can grovel most abjectly. The newcomer Matthew Whitaker may be only the acting attorney general, but despite—or perhaps because of—that tentative status, he delivered one of the strongest entries, saluting the president for sacrificing his Christmas and New Year's holiday for the public good, and contrasting that to members of Congress who had left Washington during the Trump-created crisis.
But that was not the crazy part.
The crazy part came during the president's monologue defending his decision to withdraw all 2,000 U.S. troops from Syria and 7,000 from Afghanistan, about half the force in that country.
"Russia used to be the Soviet Union," he said.
Afghanistan made it Russia, because they went bankrupt fighting in Afghanistan. Russia … the reason Russia was in Afghanistan was because terrorists were going into Russia. They were right to be there. The problem is, it was a tough fight. And literally they went bankrupt; they went into being called Russia again, as opposed to the Soviet Union. You know, a lot of these places you're reading about now are no longer part of Russia, because of Afghanistan.
Let's go to the replay:
The reason Russia was in Afghanistan was because terrorists were going into Russia. They were right to be there.
It's amazing enough that any U.S. president would retrospectively endorse the Soviet invasion. What's even more amazing is that he would do so using the very same falsehoods originally invoked by the Soviets themselves: "terrorists" and "bandit elements."
The war in Afghanistan helped bring about that collapse, not because it bankrupted the Soviet regime—that was an effect of the break in the price of oil after 1985—but because it forced a reckoning between the Soviet regime and Soviet society. As casualties mounted, as soldiers returned home addicted to heroin, Soviet citizens began demanding the right to speak the truth, not only about the war in Afghanistan, but about all Soviet reality.
Putin-style glorification of the Soviet regime is entering the mind of the president, inspiring his words and—who knows—perhaps shaping his actions. How that propaganda is reaching him—by which channels, via which persons—seems an important if not urgent question. But maybe what happened yesterday does not raise questions. Maybe it inadvertently reveals answers. https://www.theatlantic.com/ideas/archive/2019/01/trump-just-endorsed-ussrs-invasion-afghanistan/579361/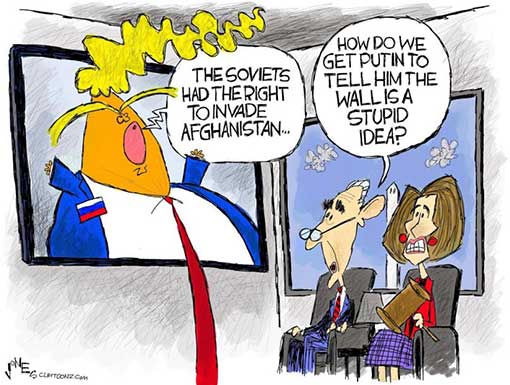 10. Josh Barro: China Is Losing Trump's Trade War, and So Are We, Because Everyone Loses in Trade Wars
Back in August, President Trump bragged that his policies were damaging the Chinese economy:
Tariffs are working far better than anyone ever anticipated. China market
has dropped 27% in last 4months, and they are talking to us. Our market is stronger than ever, and will go up dramatically when these horrible Trade Deals are successfully renegotiated. America First.......— Donald J. Trump (@realDonaldTrump) August 4, 2018
Now, Apple has announced that slowing consumer demand in China is hurting its sales growth. Apple cut its quarterly sales forecast by $5 billion, an announcement that pushed its stock price down by over 10 percent.
"There are a heck of a lot of U.S. companies that have sales in China that are going to be watching their earnings being downgraded next year until we get a deal with China," said Hassett, the chairman of the Council of Economic Advisers, on CNN today.
This is the insanity of the president's trade war policy: it's negative-sum. The president is probably right that China has more to lose in a trade war than we do. Their economy is more dependent on trade with us than ours is on trade with them. But we are still both dependent on each other, and when China doesn't export as much to the U.S., Chinese consumers have less income and can't afford to buy as much from U.S. companies.
Just because China loses does not mean we win. http://nymag.com/intelligencer/2019/01/china-is-losing-trumps-trade-war-and-so-are-we.html
11. Eric Levitz: Alexandria Ocasio-Cortez's 70 Percent Top Tax Rate Is a Moderate, Evidence-Based Policy
When Ronald Reagan took office, affluent Americans paid a 70 percent tax rate on all income above $216,000. In the decades since, our country's highest earners have seen their annual pay skyrocket, while the median household's has barely budged. As a result, America's 160,000 richest families now lay claim to 90 percent of its wealth. Studies suggest that this kind of inequality erodes social trust, abets plutocracy, and depresses economic growth. Politicians from both major parties routinely suggest that they see inequality as a major problem.
The case for trickle-down economics — which is to say, the idea that high top-marginal tax rates hurt economic growth — is much weaker now than it was in 1980. The U.S. saw faster GDP and productivity growth in the decades before Reagan's tax cuts, than it did in the decades after. And during that latter era, the American economy grew at roughly the same rate as peer nations with higher top tax rates. A separate premise of the trickle-down theory held that raising taxes on the rich eventually costs the government revenue by discouraging work. The latest economic research suggests that this is true — but only if you raise the top tax rate higher than (approximately) 70 percent. http://nymag.com/intelligencer/2019/01/alexandria-ocasio-cortez-70-top-tax-rate-60-minutes-green-new-deal.html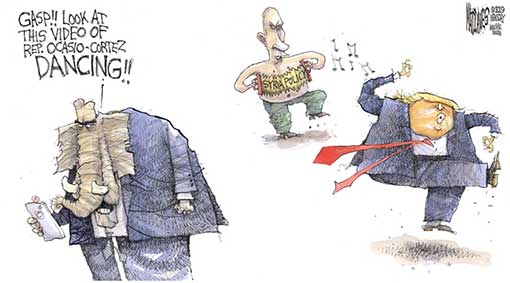 12.  Bruce Ackerman: No, Trump Cannot Declare an 'Emergency' to Build His Wall
From the founding onward, the American constitutional tradition has profoundly opposed the president's use of the military to enforce domestic law. A key provision, rooted in an 1878 statute and added to the law in 1956, declares that whoever "willfully uses any part of the Army or the Air Force" to execute a law domestically "shall be fined under this title or imprisoned not more than two years" — except when "expressly authorized by the Constitution or Act of Congress."
Another provision, grounded in a statute from 1807 and added to the law in 1981, requires the secretary of defense to "ensure that any activity (including the provision of any equipment or facility or the assignment or detail of any personnel)" must "not include or permit direct participation by a member of the Army, Navy, Air Force, or Marine Corps in a search, seizure, arrest, or other similar activity unless participation in such activity by such member is otherwise authorized by law."
In response to the Hurricane Katrina disaster in New Orleans, Congress created an express exception to the rules, and authorized the military to play a backup role in "major public emergencies." But in 2008 Congress and President Bush repealed this sweeping exception. Is President Trump aware of this express repudiation of the power which he is threatening to invoke?
If President Trump declared an emergency, Section Five of the act gives the House of Representatives the right to repudiate it immediately, then pass their resolution to the Senate — which is explicitly required to conduct a floor vote within 15 days. Since President Trump's "emergency" declaration would be a direct response to his failure to convince Congress that national security requires his wall, it is hard to believe that a majority of the Senate, if forced to vote, would accept his show of contempt for their authority.
What this all adds up to is a potential crisis much graver than whatever immigration emergencies the president has in mind: A legally ignorant president forcing our troops to choose between his commands and the rule of law in a petty political struggle over a domestic political question. https://www.nytimes.com/2019/01/05/opinion/no-trump-cannot-declare-an-emergency-to-build-his-wall.html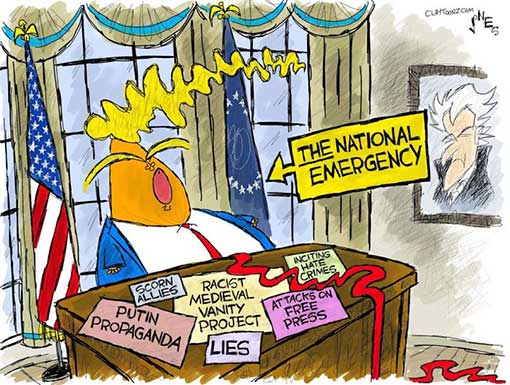 13. David Leonhardt: The People vs. Donald J. Trump
The presidential oath of office contains 35 words and one core promise: to "preserve, protect and defend the Constitution of the United States." Since virtually the moment Donald J. Trump took that oath two years ago, he has been violating it.
He has repeatedly put his own interests above those of the country. He has used the presidency to promote his businesses. He has accepted financial gifts from foreign countries. He has lied to the American people about his relationship with a hostile foreign government. He has tolerated cabinet officials who use their position to enrich themselves.
To shield himself from accountability for all of this — and for his unscrupulous presidential campaign — he has set out to undermine the American system of checks and balances. He has called for the prosecution of his political enemies and the protection of his allies. He has attempted to obstruct justice. He has tried to shake the public's confidence in one democratic institution after another, including the press, federal law enforcement and the federal judiciary.
The unrelenting chaos that Trump creates can sometimes obscure the big picture. But the big picture is simple: The United States has never had a president as demonstrably unfit for the office as Trump. And it's becoming clear that 2019 is likely to be dominated by a single question: What are we going to do about it? https://www.nytimes.com/2019/01/05/opinion/sunday/trump-impeachment.html
14. Chuck Todd, Mark Murray and Carrie Dann: Trump is still digging in on immigration. But public opinion and the midterm scoreboard aren't with him.
With immigration front and center late last year, the GOP suffered its worst midterm House loss since Watergate. They lost the popular vote by nine points. Democrats gained seven governorships. While Republicans did pick up two Senate seats, they also saw seats flip to Democrats in two Southwestern states (Nevada and Arizona) and got at least a scare in a third (Texas).
And one of the rare bright spots for the House GOP was that Will Hurd, an endangered Texas Republican representing a district that spans a full third of the U.S.-Mexico border, narrowly survived a challenge from a Democrat after being one of the few in his party to vocally oppose Trump's immigration positions.
Add to that the fact that a majority of Americans — 54 percent — oppose building the wall, per Quinnipiac, with 86 percent of Republicans but just 45 percent of independents and eight percent of Democrats backing the idea. And there's evidence that, even among Republicans, those who live closer to the border are less likely to support the wall than those who live further away.
So Trump is staking all the political and economic consequences of a lengthy shutdown on an immigration play that hasn't been shown to be a political winner outside of his own base. https://www.nbcnews.com/politics/meet-the-press/trump-still-digging-immigration-public-opinion-midterm-scoreboard-aren-t-n955621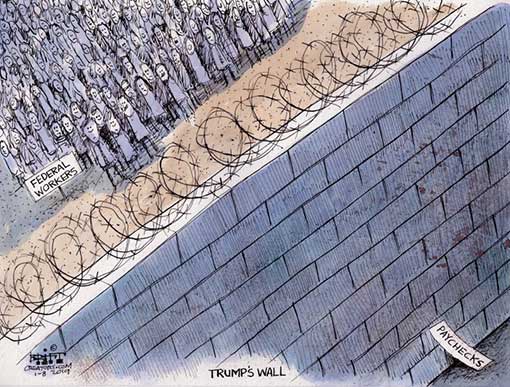 15. Gabriel Sherman: "There Is No Endgame": White House Aides Fear Trump Has Turned The Border Wall Into His Alamo
Eighteen days into the standoff over his $5.7 billion wall-fence-barrier, Donald Trump is rolling out his heaviest weapons: a prime-time Oval Office address tonight and a visit to the Mexican border later this week. It's the president's personal Alamo. Inside the West Wing, Trump has told aides he's prepared to stake his presidency on making a last stand. "He has convinced himself he can't win re-election in 2020 unless he gets a lot of the wall built. It's fundamental to his id," a former West Wing official said. "The problem is, the Democrats know that."
Trump's aides fear he has given himself no way out. "The president put himself in a box," the former official in touch with the White House told me. "The problem is there's no endgame. Right now the White House is at a seven on the panic scale. If this thing goes on past the State of the Union they're going to be at an 11." Another prominent Republican close to Senate Majority Leader Mitch McConnell described Trump's handling of the shutdown as "total fucking chaos." https://www.vanityfair.com/news/2019/01/trump-aides-fear-the-wall-will-be-his-alamo