January 26, 2017
ON THE RECORD. . .
"We have a lot of smart people. I tell you what. One thing we've learned we have by far the highest IQ of any Cabinet ever assembled." — Donald Trump, quoted by Twitter.
For [outgoing Energy Secretary Ernie] Moniz, the future of nuclear science has been a lifelong obsession; he spent his early years working at the Stanford Linear Accelerator Center. Mr. Perry, the new Energy Secrery, studied animal husbandry and led cheers at Texas A&M University." 
"Aides insisted during the transition that President Trump wrote his own inaugural address but a White House official now tells the Wall Street Journal that "much of the speech was written by Stephen Miller and Steve Bannon, two of Mr. Trump's top advisers."-- Michael Bender in the WSJ
Thanks for standing, speaking & marching for our values @womensmarch. Important as ever. I truly believe we're always Stronger Together.-- Hillary Clinton ✔@HillaryClinton
"This was the largest audience to ever witness an inauguration period, both in person and around the globe." -- White House Press Secretary Sean Spicer 1/21/17 
Somewhat tantalizingly, it wouldn't take much of a sea-level rise or storm surge to inundate Mar-a-Lago., since its sweeping lawns, like most of the rest of southern Florida, lie just a few feet above high tide. Perhaps a thorough soaking will convince Trump that global warming is more than a Chinese hoax and worth doing something about—unless he just builds a big seawall around the entire the property, and makes the Chinese pay for it.-- David Owen  January 20, 2017
"It took only an hour after his positive words on the inaugural platform for his actions to ring hollow.One hour after talking about helping working people and ending the cabal in Washington that hurts people, he signs a regulation that makes it more expensive for new homeowners to buy mortgages." -- Senate Democratic leader Chuck Schumer
"You're saying it's a falsehood and Sean Spicer, our press secretary, gave alternative facts to that," -- Kellyanne Conway, on the White House press secretary inaccurately describing the inauguration crowd as "the largest ever.".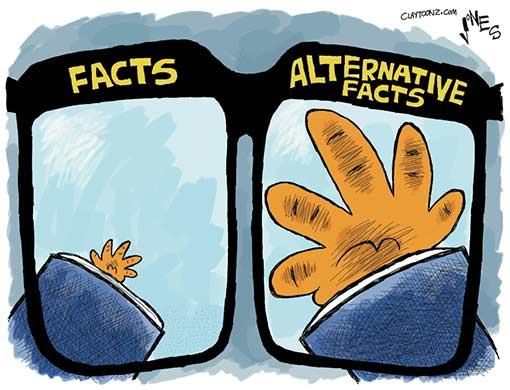 "Trump has now clearly telegraphed, with his public comments and his disastrous nominee[s] for key posts, his total disdain for efforts to avert catastrophic climate change." -- Michael Mann, a distinguished professor of meteorology at Pennsylvania State University.
"That Donald Trump chose to spend the first 48 hours of his presidency feuding with the news media over crowd sizes, crowing about his win in front of a wall of killed CIA agents, spreading inaccurate information and firing off tweets didn't shock his supporters or critics," -- Josh Dawsey in Politico 1/22/17
---
IN THIS ISSUE
1. Andy Borowitz: More Than Three Hundred Million Americans Now Enrolled In Trump University
2. Trump team prepares dramatic cuts
3. How 'Doonesbury' predicted Donald Trump's presidential run 29 years ago
4. The DAILY GRILL
5. From MEDIA MATTERS (They watch Fox News so you don't have to)
6. From the Late Shows
7. Imagining the royal court of Donald the First
8. U.S. scientists officially declare 2016 the hottest year on record. That makes three in a row.
9. The White House Website Removes Climate Change and LGBT Pages
10. Galvanizing women, Trump (inadvertently) succeeds where Clinton failed
11. Nearly Half Now Favor Obamacare
12. Intercepted Russian Communications Part of Inquiry Into Trump Associates
13. Congress moves to give away national lands, discounting billions in revenue
14. Trump Administration Imposes Freeze On EPA Grants and Contracts
15. Russia Fears That Trump Won't Be Such a Great Deal After All
16. Trump Orders EPA to Delete Climate Change Page
17. 663 promises Trump made about what he will do as president.
18. Trump's Transition of Untruths, Exaggerations and Flat-out Falsehoods
19. Interior Department Ordered to Stop Tweeting
20. Sales of George Orwell's 1984 surge after Kellyanne Conway's 'alternative facts'
21. Late nite jokes for Dems
1. NY Times Editorial: What President Trump Doesn't Get About America
2. Frank Rich: Trump's Speech Gave Us America the Ugly. Don't Let It Become Prophesy.
3. Gonzalo Martínez de Vedia, Jeremy Haile and Sarah Dohl: How to stop Trump: Lessons from the tea party
4. Jonathan Chait: The System Has Failed and a Con Artist Has Won
5. David Remnick: Preserve, Protect, And Defend
6. Russell Shorto: George Washington, Trump, And The End Of Humility
7. Jonathan Chait: Don't Let Anybody Tell You the Marches Didn't Matter
8. John Cassidy: An Impulsive Authoritarian Populist In The White House
9. John Avlon: Donald Trump's 'American Carnage' Inaugural
10. NY TImes Editorial: The Republican Health Care Con 
11. Anne Applebaum: Trump's dark promise to return to a mythical past
12. Ezra Klein: Trump's real war isn't with the media. It's with facts.
13. LA Times Editorial : Trump's recycled campaign speech made no effort to bring Americans together
14. Paul Krugman: Things Can Only Get Worse 
15. Dean Obeidallah: With Impending Muslim Ban, Trump to Turn Hate Into Policy
1. Andy Borowitz: Disturbed Man Gets Past White House Security, Gives Press Conference
A man who was described as "visibly deranged" eluded the Secret Service on Saturday and gave a five-minute press conference at the White House.

The man, who somehow obtained White House credentials in order to bypass security, unloaded a delusional and paranoid rant that left a room full of experienced reporters shaken.

"We were all very, very scared," Tracy Klugian, a reporter who witnessed the incident, said. "The things he was shouting made absolutely no sense, and he seemed to just get angrier and angrier."

After a stream-of-consciousness tirade in which he accused the reporters of being part of a far-reaching conspiracy to distort reality, the man abruptly walked off "before he could do any real harm," a Secret Service spokesman said.

Reporters who left the White House called the incident the scariest five minutes of their lives and said that they were grateful it did not escalate further.

"We were all terrified that, at some point, he was going to ask us if we had any questions," Harland Dorrinson, a reporter, said. "None of us wanted to say anything that would set him off."

ELSEWHERE: "With Trump in the White House, recent college graduates are flocking to careers in fact checking," he said. "There's guaranteed job security, and you basically just have to Google stuff."

In his daily press briefing, Sean Spicer, the White House press spokesman, touted the surging employment for fact checkers but said that the actual number of jobs created was closer to ten billion. Read more at http://www.newyorker.com/humor/borowitz-report
2. Trump team prepares dramatic cuts
Staffers for the Trump transition team have been meeting with career staff at the White House ahead of Friday's presidential inauguration to outline their plans for shrinking the federal bureaucracy, The Hill has learned.
The departments of Commerce and Energy would see major reductions in funding, with programs under their jurisdiction either being eliminated or transferred to other agencies. The departments of Transportation, Justice and State would see significant cuts and program eliminations.
The Corporation for Public Broadcasting would be privatized, while the National Endowment for the Arts and National Endowment for the Humanities would be eliminated entirely.
Overall, the blueprint being used by Trump's team would reduce federal spending by $10.5 trillion over 10 years.
At the Department of Justice, the blueprint calls for eliminating the Office of Community Oriented Policing Services, Violence Against Women Grants and the Legal Services Corporation and for reducing funding for its Civil Rights and its Environment and Natural Resources divisions.
At the Department of Energy, it would roll back funding for nuclear physics and advanced scientific computing research to 2008 levels, eliminate the Office of Electricity, eliminate the Office of Energy Efficiency and Renewable Energy and scrap the Office of Fossil Energy, which focuses on technologies to reduce carbon dioxide emissions. http://thehill.com/policy/finance/314991-trump-team-prepares-dramatic-cuts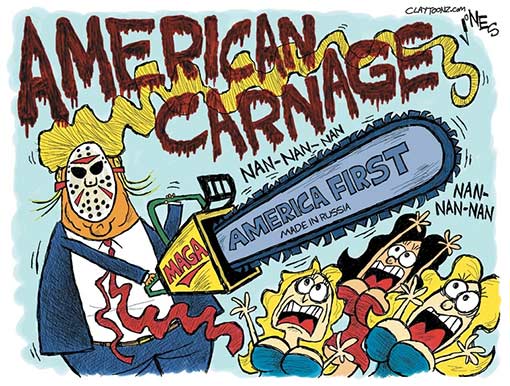 3. How 'Doonesbury' predicted Donald Trump's presidential run 29 years ago
A stroll down the past three decades of "Doonesbury" can read like a road map to the billionaire's 2016 candidacy.
https://www.washingtonpost.com/news/comic-riffs/wp/2016/06/23/how-doonesbury-predicted-donald-trumps-presidential-run-29-years-ago/?postshare=6201484583803052&tid=ss_mail&utm_term=.42b0527d4e94
4. The DAILY GRILL
"All of this space [from Trump's platform to the Washington Monument] was full when the president took the Oath of Office." -- WH press secretary Sean Spicer 1/21/17

VERSUS

This photograph, taken during Trump's inaugural address and published by CNN, shows considerable crowd gaps between the Capitol and the Washington Monument on the National Mall. To believe the area was full when Trump took the oath, one would have to believe the watchers left en masse in the minutes between the oath and the speech. -- POLITICO 1/22/17

 

We know that 420,000 people used the D.C. Metro public transit yesterday, which actually compares to 317,000 that used it for President Obama's last inaugural." -- WH press secretary Sean Spicer 1/21/17

VERSUS

Spicer is correct that, per Metro, there were 317,000 trips taken before 11 a.m. in 2013, "President Obama's last inaugural." But by that metric, the 2017 figure would be 193,000 — less than half of the 420,000 Spicer claimed. -- POLITICO 1/22/17

 

"This was the largest audience to ever witness an inauguration — period — both in person and around the globe." -- WH press secretary Sean Spicer 1/21/17

VERSUS

While the new administration disputes the count, the visual evidence from overhead photography is overwhelming: Far more people stood on the Mall and witnessed Obama's inauguration in 2009 than Trump's inauguration on Friday. The global viewing audience is nearly impossible to calculate, but at least four previous presidents drew bigger domestic TV audiences than Trump.. -- POLITICO 1/22/17

 

"This was also the first time that fencing and magnetometers went as far back on the Mall, preventing hundreds of thousands of people from being able to access the Mall as quickly as they had in inaugurations past." -- WH press secretary Sean Spicer 1/21/17

VERSUS

The U.S. Secret Service told the New York Times that security measures were largely unchanged. CNN reporter Robert Acosta tweeted the Secret Service told him they were not  using magnetometers. -- POLITICO 1/22/17
5. From MEDIA MATTERS (They watch Fox News so you don't have to)
New York Times: Trump Ally Roger Stone Under Investigation For Possible Russia Ties - The New York Times is reporting that American law enforcement and intelligence agencies are investigating "intercepted communications" that potentially show ties between longtime Donald Trump ally Roger Stone and Russian officials. http://mediamatters.org/blog/2017/01/19/new-york-times-trump-ally-roger-stone-under-investigation-possible-russia-ties/215068

Fox's Charles Krauthammer Compares John Lewis Inauguration Boycott To Nazi Sympathizing Charles Lindbergh http://mediamatters.org/video/2017/01/19/foxs-charles-krauthammer-compares-john-lewis-inauguration-boycott-nazi-sympathizing-charles/215067

"My Shirts Aren't Going To Iron Themselves" -- Conservatives Launch Attacks On Women's March. http://mediamatters.org/blog/2017/01/21/my-shirts-arent-going-iron-themselves-conservatives-launch-attacks-women-s-march/215075

 
6. From the Late Shows
Full Frontal with Samantha Bee: The Great Feminists in Feminism Herstory Hall of Lady Fame: https://youtu.be/TOzQrOPrjwk

Full Frontal with Samantha Bee: Swamp Dwellers: https://youtu.be/8okdzcz7PTM

The Late Show with Stephen Colbert: So Here We Are: Donald Trump Is Officially The President: https://youtu.be/0L9ZDnOB5ZU

The Daily Show: The Inauguration of Donald Trump: https://youtu.be/5MSQm3hqEUU

SNL Cold Open 01/21/2017: https://youtu.be/0NBI90bq-R4

Kellyanne Conway (Kate McKinnon) reveals the real reason she joined Donald Trump's campaign: https://www.nbc.com/saturday-night-live/video/kellyanne-conway/3457926?snl=1
7. Imagining the royal court of Donald the First
A cartoon by Steve Brodner. http://www.latimes.com/opinion/op-ed/la-oe-brodner-trump-cabinet-20170122-htmlstory.html
8. U.S. scientists officially declare 2016 the hottest year on record. That makes three in a row.
In a powerful testament to the warming of the planet, two leading U.S. science agencies Wednesday jointly declared 2016 the hottest year on record, surpassing the previous record set just last year — which itself had topped a record set in 2014.
Average surface temperatures in 2016, according to the National Oceanic and Atmospheric Administration, were 0.07 degrees Fahrenheit warmer than 2015 and featured eight successive months (January through August) that were individually the warmest since the agency's records began in 1880.
The average temperature across the world's land and ocean surfaces was 58.69 Fahrenheit, or 1.69 degrees above the 20th-century average of 57 degrees, NOAA declared. The agency also noted that the record for the global temperature has now successively been broken five times since the year 2000. The years 2005 and 2010 were also record warm years, according to the agency's data set. https://www.washingtonpost.com/news/energy-environment/wp/2017/01/18/u-s-scientists-officially-declare-2016-the-hottest-year-on-record-that-makes-three-in-a-row/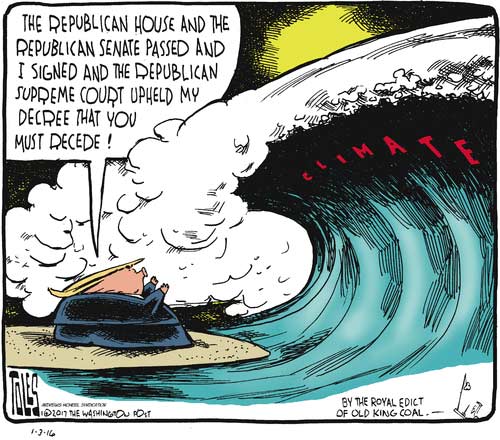 9. The White House Website Removes Climate Change and LGBT Pages
Just as Donald Trump was sworn in as the 45th president of the United States, the official White House website was updated with his portrait and his policies, which include many changes from what the site had said earlier this morning.
Among the first changes noted was the elimination of all mentions of "climate change" and the posting of Trump's America First Energy Plan. The plan calls for rolling back regulations, including "harmful and unnecessary policies such as the Climate Action Plan and the Waters of the U.S. rule." The Climate Action Plan was Barack Obama's set of policies aimed at combatting the causes of global warming. The plan further says President Trump will tap domestic energy sources while refocusing "the EPA on its essential mission of protecting our air and water." https://www.whitehouse.gov/america-first-energy
Also gone from the site are the LGBT, civil rights, and health-care sections. Separately, the Labor Department's report on LGBT workplace rights is no longer online.
Like Trump's energy plan, his foreign-policy page on WhiteHouse.gov is labeled "America First." The page promises a "foreign policy focused on American interests and American national security." That includes building more ships for the Navy while embracing diplomacy. Russia also gets a subtle shout-out. http://nymag.com/daily/intelligencer/2017/01/whitehouse-gov-removes-climate-change-and-lgbt-pages.html
10. Galvanizing women, Trump (inadvertently) succeeds where Clinton failed
Trump triggered a massive women's movement. On Saturday, it drew a diverse crowd of several hundred thousand people to Washington, as well as hundreds of thousands more in cities across the country.
Overall, Clinton did win 54 percent of all female votes, to Trump's 42 percent. About 94 percent of black women and 64 percent of Latino women came through for her. But white women voted for Trump, 53 to 43 percent. Clinton won 51 percent of the vote of white college-educated women, but lost non-college educated white women to Trump, 62 percent to 34 percent.
Now, all women are left with Trump, a president known for making lewd comments about women on tape and, more recently, for referring to a top female adviser as "baby."
He also plans to choose a Supreme Court justice who opposes Roe v. Wade; threatens to cut off funding to Planned Parenthood; and is in the process of derailing the Affordable Care Act. That, plus his anti-immigration stand and hostility to the science of climate change, spurred chants of "Hey, hey, ho, ho, Donald Trump has got to go." 1/21/17 http://www.bostonglobe.com/opinion/2017/01/21/galvanizing-women-trump-inadvertently-succeeds-where-clinton-failed/uaPZt8xtAlQh22kOLqCbrO/story.html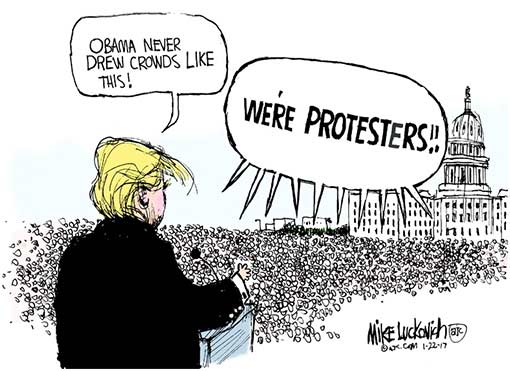 11. Nearly Half Now Favor Obamacare
A new CNN/ORC poll finds that 49 percent of Americans favor Obamacare, while 47% oppose President Obama's signature healthcare legislation.
The poll marks the first time more people have said they favor the healthcare law than oppose it since it passed in 2010. 1/19/17 http://www.cnn.com/2017/01/19/politics/obamacare-approval-cnn-orc-poll/index.html?sr=twpol011917obamacare-approval-cnn-orc-poll1131AMVODtopLink&linkId=33548270
12. Intercepted Russian Communications Part of Inquiry Into Trump Associates
American law enforcement and intelligence agencies are examining intercepted communications and financial transactions as part of a broad investigation into possible links between Russian officials and associates of President-elect Donald J. Trump, including his former campaign chairman Paul Manafort, current and former senior American officials said.
It is not clear whether the intercepted communications had anything to do with Mr. Trump's campaign, or Mr. Trump himself. It is also unclear whether the inquiry has anything to do with an investigation into the hacking of the Democratic National Committee's computers and other attempts to disrupt the elections in November. The American government has concluded that the Russian government was responsible for a broad computer hacking campaign, including the operation against the D.N.C.
The F.B.I. is leading the investigations, aided by the National Security Agency, the C.I.A. and the Treasury Department's financial crimes unit. The investigators have accelerated their efforts in recent weeks but have found no conclusive evidence of wrongdoing, the officials said. One official said intelligence reports based on some of the wiretapped communications had been provided to the White House. 1/19/17 https://www.nytimes.com/2017/01/19/us/politics/trump-russia-associates-investigation.html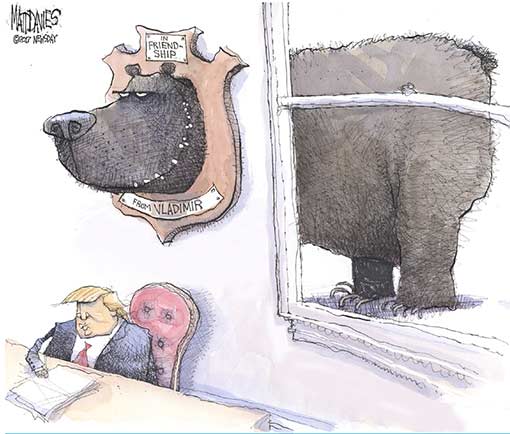 13. Congress moves to give away national lands, discounting billions in revenue
In the midst of highly publicized steps to dismantle insurance coverage for 32 million people and defund women's healthcare facilities, Republican lawmakers have quietly laid the foundation to give away Americans' birthright: 640m acres of national land. In a single line of changes to the rules for the House of Representatives, Republicans have overwritten the value of federal lands, easing the path to disposing of federal property even if doing so loses money for the government and provides no demonstrable compensation to American citizens. At stake are areas managed by the Bureau of Land Management (BLM), National Forests and Federal Wildlife Refuges, which contribute to an estimated $646 billion each year in economic stimulus from recreation on public lands and 6.1m jobs. Transferring these lands to the states, critics fear, could decimate those numbers by eliminating mixed-use requirements, limiting public access and turning over large portions for energy or property development. 1/19/17 https://www.theguardian.com/environment/2017/jan/19/bureau-land-management-federal-lease
14. Trump Administration Imposes Freeze On EPA Grants and Contracts
The Trump administration has imposed a freeze on grants and contracts by the U.S. Environmental Protection Agency, a move that could affect a significant part of the agency's budget allocations and even threaten to disrupt core operations ranging from toxic cleanups to water quality testing, according to records and interviews. 1/23/17 https://www.propublica.org/article/trump-administration-imposes-freeze-on-epa-grants-and-contracts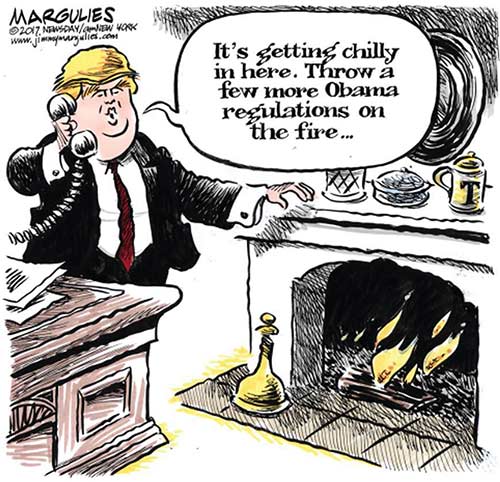 15. Russia Fears That Trump Won't Be Such a Great Deal After All
Russia is giving Donald Trump the kind of fawning television coverage usually reserved for Vladimir Putin, with its most popular propagandist hailing the president-elect this week as "a man of his word."
But inside the Kremlin, the initial euphoria over having a Putin admirer in the White House is giving way to skepticism that any meaningful detente with the U.S. can be achieved, according to four senior officials in Moscow.
Swirling controversies over alleged Putin-ordered hacking to help Trump get elected and a leaked dossier claiming the Kremlin has blackmail material on him has transfixed Washington, where a bill to impose even harsher sanctions on Russia is gaining bipartisan support. The backlash appears to have forced many of Trump's cabinet picks to take tougher lines on Russia in their confirmation hearings than the Kremlin anticipated, the people said.
The unprecedented firestorm is a double-edged sword for Putin, who's spent the last 16 years trying to restore some semblance of his country's lost superpower status -- while Russia is back at the center of U.S. attention, the uproar has energized Putin's critics, according to Alexei Chesnakov, a former senior Kremlin staffer who continues to advise authorities. 1/19/17  https://www.bloomberg.com/politics/articles/2017-01-19/kremlin-said-to-fear-trump-won-t-be-such-a-great-deal-after-all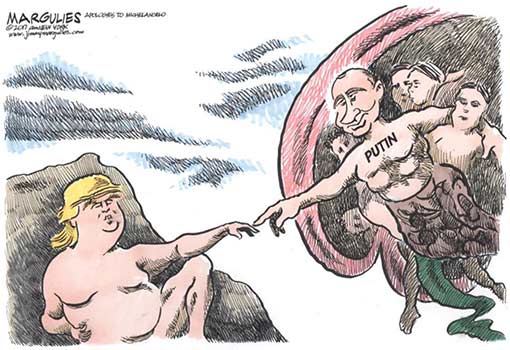 16. Trump Orders EPA to Delete Climate Change Page
EPA employees were notified by EPA officials on Tuesday that the administration had instructed EPA's communications team to remove the website's climate change page, which contains links to scientific global warming research, as well as detailed data on emissions. 1/25/16 .http://www.reuters.com/article/us-usa-trump-epa-climatechange-idUSKBN15906G
17. 663 promises Trump made about what he will do as president.
Along the way, he made 663 promises (and counting), according to a ThinkProgress analysis of Trump's public statements that examined well over 4 million words from his media interviews, his policy position papers, and his speeches to supporters, interest groups, and national television audiences.
They are housed here in ThinkProgress' searchable, interactive Trump Promises Database: https://thinkprogress.org/trump-made-a-lot-of-promises-about-what-he-will-do-as-president-weve-documented-663-of-them-3d28f0131e7f#.yule3ope0
18. Trump's Transition of Untruths, Exaggerations and Flat-out Falsehoods
A list of 82 of Trump's transgressions against the truth since his election win are at .http://www.politico.com/magazine/story/2017/01/trumps-transition-of-untruths-exaggerations-and-flat-out-falsehoods-214664?lo=ap_d1
19. Interior Department Ordered to Stop Tweeting
Interior Department officials have been ordered to shut down the organization's official Twitter accounts indefinitely after the National Park Service shared tweets comparing attendance at President Trump's inauguration against former President Obama's.
"The photos were seen as stark evidence that Trump's prediction of an 'unbelievable, perhaps record-setting turnout' did not come to fruition." http://www.politico.com/story/2017/01/obama-vs-trump-inauguration-attendance-nps-233937
20. Sales of George Orwell's 1984 surge after Kellyanne Conway's 'alternative facts'
Sales of George Orwell's dystopian drama 1984 have soared after Kellyanne Conway, adviser to the reality-TV-star-turned-president, Donald Trump, used the phrase "alternative facts" in an interview. As of Tuesday, the book was the sixth best-selling book on Amazon.
Comparisons were made with the term "newspeak" used in the 1949 novel, which was used to signal a fictional language that aims at eliminating personal thought and also "doublethink". In the book Orwell writes that it "means the power of holding two contradictory beliefs in one's mind simultaneously, and accepting both of them." https://www.theguardian.com/books/2017/jan/24/george-orwell-1984-sales-surge-kellyanne-conway-alternative-facts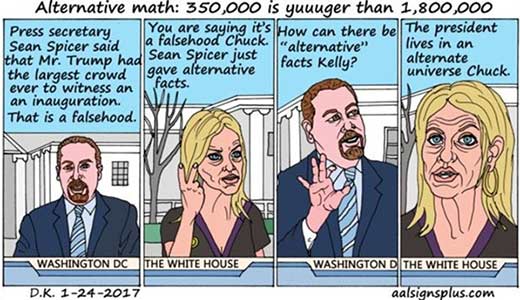 21. Late Nite Jokes for Dems
"A new report finds that protecting Donald Trump and his family is costing New York City taxpayers over a $1 million a day. Then Trump was like, 'Thank God I'm not a taxpayer!'" –Jimmy Fallon

"Trump's campaign manager, Kellyanne Conway, was being interviewed yesterday and said she's 'very confident' that Trump isn't breaking any laws during his transition. Then Americans were like, 'Uh . . . we weren't even suspicious until you said that.'" –Jimmy Fallon

"Donald Trump said this afternoon that he was 'surprised' one of his top picks for secretary of defense is not in favor of waterboarding. Man, you think you know somebody. And then they turn out to be a decent human being." –Seth Meyers

 "The mayor of London said recently that if people based in the U.S. want to escape Donald Trump's administration, quote, 'London is open.' Said Melania, 'Taxi!'" –Seth Meyers

"Trump's transition continues its transitioning. Don't know a lot about what's going on, but I do know that his team has not yet called the Pentagon, possibly because he knows more than the generals. Or maybe he's never going to call them. He'll just launch a literal tweet war: '@Pentagon, please bomb Syria. #LyingNewYorkTimes.'" –Stephen Colbert

"President-elect Trump tweeted that he would have won the popular vote if he had campaigned more in New York, Florida, and California. Trump explained, 'I just got tired and ran out of terrible things to say.'" –Conan O'Brien

"After Donald Trump met with President Obama, Trump seemed surprised by the scope of the president's duties. Trump said, 'Who knew?' And Hillary was like, 'I did.'" –Jimmy Fallon

"It was reported that Trump's team was unaware that they needed to replace the entire West Wing staff. Trump's team basically thought the White House was like a Best Buy that occasionally gets a new store manager." –James Corden
1. NY Times Editorial: What President Trump Doesn't Get About America
President Trump presented such a graceless and disturbingly ahistoric vision of America on Friday that his Inaugural Address cast more doubt than hope on his presidency.
Instead of summoning the best in America's ideals, Mr. Trump offered a fantastical version of America losing its promise, military dominance and middle-class wealth to "the ravages of other countries making our products, stealing our companies and destroying our jobs."
With sweeping exaggeration, Mr. Trump spoke of "carnage" in the inner cities. He deplored all of this decline as a betrayal of America, implicitly trashing the four former presidents who sat listening behind him at the inaugural ceremony. Those presidents, Democratic and Republican, must have put Mexico first, or perhaps Sweden, or China. Offering himself as a kind of savior, the leader of a "historic movement, the likes of which the world has never seen before," Mr. Trump proclaimed he would have a different priority: "America First! America First!"
Though expectations couldn't have been terribly high, the opening moments of Mr. Trump's presidency were beyond disappointing. He spoke to a nation in need of moving past the divisiveness that, not so incidentally, was his hallmark during the campaign. But what President Trump presented was more of candidate Trump, now more ominous in bearing the power of the White House, yet no less intent on inspiring only his base of aggrieved or anxious white Americans.
Vainglorious on a podium where other presidents have presented themselves as fellow citizens, preening where they have been humble, Mr. Trump declared that under him America will "bring back our jobs" and "bring back our borders," "bring back our wealth" and "bring back our dreams." This country has its challenges, and we fervently hope Mr. Trump will address them. But America had dreams before Friday. It was great before Mr. Trump became president, and with his help — or, if necessary, in spite of his folly — Americans will find ways to make it greater in years to come. https://www.nytimes.com/2017/01/20/opinion/what-president-trump-doesnt-get-about-america.html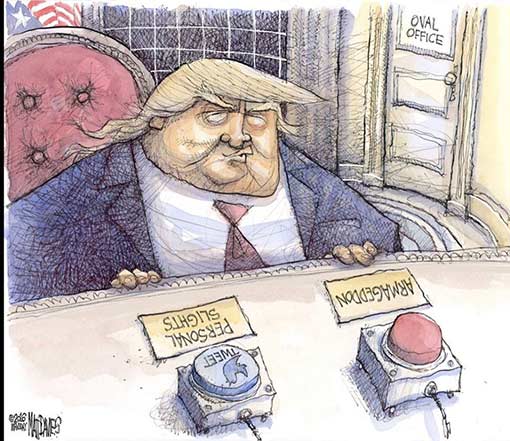 2. Frank Rich: Trump's Speech Gave Us America the Ugly. Don't Let It Become Prophesy.
Many Americans surely held out hope, despite themselves, that Donald Trump would've used his inaugural address to accomplish what he could have done with his transition: demonstrate an understanding of the gravity of the office, allow suspicions of his campaign (and his associates) to be allayed by honest investigations, search for reconciliation with those who doubt him. The past few weeks have shown that Trump had different ideas for his transition. What do you think he achieved with this address?
Not to put too fine a point on it, but in a word: Nothing. It was a recycled Trump campaign speech sporadically retrofitted with ersatz poetry ("the windswept plains of Nebraska," yet) and boilerplate stabs at unity ("We are one nation!") and inclusion ("there is no room for prejudice"), but otherwise characteristically nationalistic, populist, and apocalyptic in its view of America. According to our new president, our country is a Valhalla of "rusted-out factories" and schools that leave students "deprived of all knowledge." The "wealth of our middle class" has been "ripped from their homes." Our communities are blighted by "the crime and the gangs and the drugs." If you weren't eager to take some of those drugs at the moment he was sworn in, you certainly were by the time his scowling account of America the Ugly was done.
Earlier in the week, Trump's press spokesman, Sean Spicer, previewed the speech with a burst of ecstasy: "It is a Trump draft. It is written by him. It is edited by him." We were treated to a photo of the president-elect posing with pad and Sharpie while penning his masterpiece, apparently (we were later to learn) while sitting at a concierge's desk at Mar-a-Lago. There were some typical Trumpian declarations in the text ("America will start winning again, winning like never before"), but most of it was pure Stephen Bannon. The language was violent and angry — "This American carnage stops right here" — reeking of animosity, if not outright hatred, of "the Establishment." The tone was one of retribution and revenge. The contempt for Washington, including the Republican Party's current leadership, was omnipresent: It's not just John Lewis but the many officeholders onstage during the inaugural ceremony who were condemned for being "all talk and no action." Paul Ryan and Mitch McConnell continue to live in a dreamland if they think their collaborationist accommodation of Trump will spare them from the auto-da-fé.
But you know all that. What stood out about Trump's inaugural address was his one bedrock conviction, the one core belief he never reverses — that the country he will now try to lead is an unmitigated disaster. The great task before us is to stop him from taking down with him all that remains good about America, before his reign comes to its inevitable bad end. http://nymag.com/author/Frank%20Rich/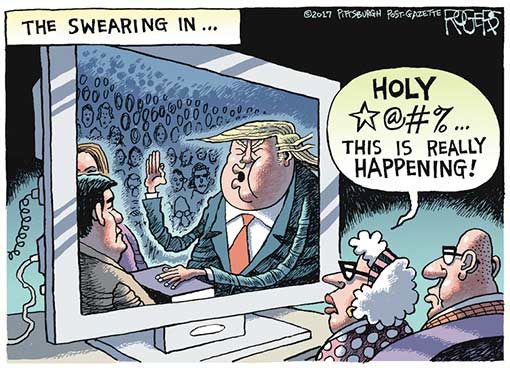 3. Gonzalo Martínez de Vedia, Jeremy Haile and Sarah Dohl: How to stop Trump: Lessons from the tea party
The tea party organized for the 2010 midterms, targeting both Republicans and moderate Democrats. By the time the dust had settled, Democrats had lost their large majorities in Congress and, with their lost seats, any hope of realizing a bold progressive agenda.
Although their policy ideas were destructive, the tea party demonstrated that a small group of activists can take on a newly elected president with a majority in Congress — and win. 
Now it's our turn.
We learned two key lessons from the tea party's success.
First, they organized locally, focusing on members of Congress in their home states and districts, pushing them to use every available tool — legislation, letters, public statements, media interviews — to oppose Obama's every move.
The second lesson we learned from the tea party is that we need to play defense. The movement's members understood that if they tried to choose among competing conservative priorities, their coalition would fracture. Rather than putting forward plans to stimulate the economy or to improve the healthcare system, they chose to "just say no." The tea party kept its movement strong, broad and unified by concentrating relentlessly on opposition.
Americans against Trump are in the majority. If we want to resist his agenda, we have to do it together, and we have to start now. You can find like-minded people through a website we started, Indivisible, or start your own group. Meet in person. Tell your member of Congress to represent you, not Donald Trump. Together we can win. 1/19/17 http://www.latimes.com/opinion/op-ed/la-oe-vedia-haile-dohl-stop-trump-tea-party-20170119-story.html
4. Jonathan Chait: The System Has Failed and a Con Artist Has Won
"This guy is a con artist. He's always making things up. No one holds him accountable for it." —Marco Rubio
"It's called a confidence game. Why? Because you give me your confidence? No. Because I give you mine." —House of Games
Presidential inaugurations are occasion for repeating certain pieties. As Thanksgiving is to gratitude, and New Year's for hope, the quadrennial 20th of January is for paeans to the peaceful transfer of power. But Donald Trump's inauguration is not evidence the system worked. Trump is president because the system failed.
The presidency raises the stakes of Trump's con game to a completely new level. In his inaugural address, Trump declared his fealty to the People, promising to unleash untold wealth to them that was being held by elites in Washington and by foreigners. "We will bring back our jobs," he said. "We will bring back our wealth." He promised to quash crime and "eradicate" Islamic terrorism "from the face of the Earth." The grandiosity of these promises is necessary to get even the minority of the electorate that can tolerate Trump to overlook his overt grossness and corruption.
The methods of a skilled con artist have worked just barely well enough to deliver the presidency to Trump. But what happens when his grandiose promises fail to materialize? And when the aspects of his program that he never mentioned in his speech — tax cuts for the rich, stripping away health insurance from millions, massive graft — do take place? A con artist who always escaped his old victims and found new ones has reached the maximal limits of his strategy. What happens when the marks are demanding that the promises he made be redeemed, and there is nowhere for him to go, and he commands the powers of the state? http://nymag.com/daily/intelligencer/2017/01/the-system-has-failed-and-a-con-artist-has-won.html
hat remains good about America, before his reign comes to its inevitable bad end. http://nymag.com/daily/intelligencer/2017/01/trumps-speech-gave-us-america-the-ugly.html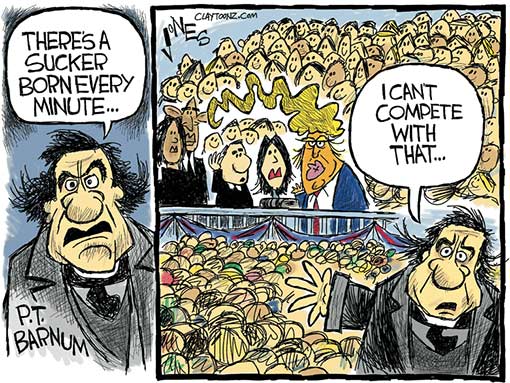 5. David Remnick: Preserve, Protect, And Defend
Since Election Day, Trump has managed to squander good faith and guarded hope with flagrant displays of self-indulgent tweeting, chaotic administration, willful ignorance, and ethical sludge. Setting the tone for his Presidency, he refused, or was unable, to transcend the willful ugliness of his campaign. He goes on continuing to conceal his taxes, the summary of his professional life; he refuses to isolate himself from his businesses in a way that satisfies any known ethical standard; he rants on social media about every seeming offense that catches his eye; he sets off gratuitous diplomatic brushfires everywhere from Beijing to Berlin. (Everywhere, that is, except Moscow.)
His appointees, in the meantime, are too often amateurs in the fields they now pretend to lead or determined opponents of the realms they are intended to safeguard: civil rights, the global environment, public housing.
The Constitution is not by itself an insuperable barrier against the authoritarian temptation. As Obama pointed out in his final press conference, there is a distinct difference between debates over policy and moments when "core values may be at stake." A President can at least try to constrain freedoms, issue racist decrees, intimidate, coerce. And, if that becomes the case, it will be on us, resolute citizens, to protect the republic—to demand, as Franklin said, that we keep it. http://www.newyorker.com/news/news-desk/preserve-protect-and-defend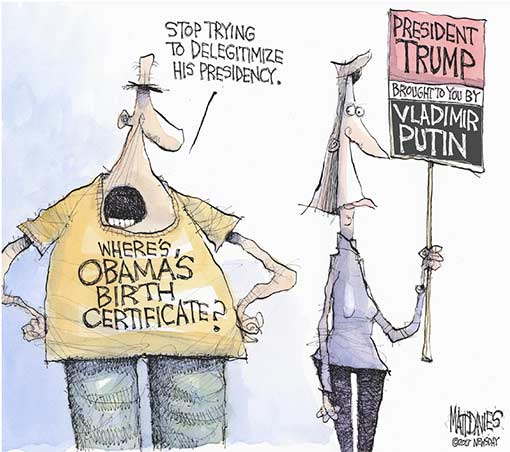 6. Russell Shorto: George Washington, Trump, And The End Of Humility
In seemingly every possible way—with his tweets, with style and substance based more on reality TV than reality, with a dismissal not just of facts but of fact itself, with outright rejection of the concept of ethics—Donald Trump has brought that long tradition of humility to a thudding end even before entering office. In doing so, he gives the finger to George Washington and those who followed him. His behavior tells us that he thinks of them as fools for acting as though ideals and the meanings of words mattered.
Models are models: no one lives up to them. But Washington brought with him from Mount Vernon as part of his baggage his generation's reverence for public service, which Paul K. Longmore, the Washington biographer, summarized as "their ideals of patriotism, selflessness and emotional self-mastery." Those elements have remained attached to our own model of the Presidency.
If those who feel dread at the coming Administration want to express the source of their anxiety to others who do not comprehend their feelings, they might point to this discrepancy between the first President and the forty-fifth as each man stood on the brink of the office. As his carriage reached the shores of the Hudson River, Washington noted the cheering throngs; their cries, he said, "filled my mind with sensations as painful . . . as they are pleasing." Painful because he knew what people expected of him, and he very reasonably questioned his ability to live up to it. It is human to feel the weight of such a burden. Knowing that the man about to assume power feels that moral burden is vital to us, for it suggests that he will govern with compassion, in "the cause of virtue." That is what we have come to expect. More than that, it's what we demand.  http://www.newyorker.com/news/news-desk/george-washington-trump-and-the-end-of-humility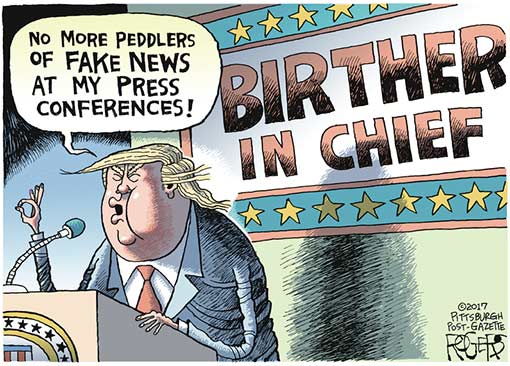 7. Jonathan Chait: Don't Let Anybody Tell You the Marches Didn't Matter
Of the many reasons a man like Donald Trump managed to win the presidential election, ranging from the 22nd Amendment to James Comey, an important one was the imbalance in political passion between the two sides. Not only did many Democrats distrust or dislike Hillary Clinton, but eight years of Democratic control of the White House had created complacency (as it did in 2000). Republicans were starving for power and willing to overlook their candidate's glaring, grotesque flaws. A number of Democrats would not forgive Clinton's smaller ones. The events of the last two days have made clear that Trump's victory wiped those conditions away overnight.
It matters that Trump drew a sparse crowd to inaugural festivities that he had billed beforehand as a historic, Jacksonian uprising of The People. And it matters much more that millions of Americans came out on a Saturday to register their protest. It is not only catharsis, though catharsis is better than depression. The message has been heard by the political class, Republican and Democratic alike.
The prospect of a Democratic wave may not stop Republicans, and it may not even give them pause. But the governing party had probably assumed the clock would not start for months on the liberal backlash. Now the clock is ticking already. http://nymag.com/daily/intelligencer/2017/01/dont-let-anybody-tell-you-the-marches-didnt-matter.html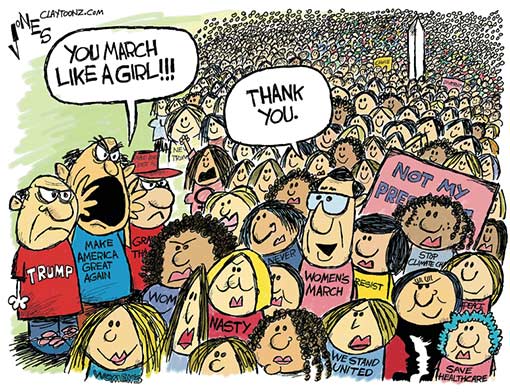 8. John Cassidy: An Impulsive Authoritarian Populist In The White House
Even for the Republicans who are allied with him, that won't necessarily be easy. We've never had a President who has adopted the public persona of a professional wrestler, baring his teeth, railing at his opponents, and trying to fling to the canvas anyone he deems to have crossed him, even members of his own party. We've never had a President with a far-flung business empire that he has refused to give up, placing him, according to many ethics experts, in contravention of the Constitution. We've never had a President who seems to spend most of his time watching cable news and firing off salvos on social media. We've never had a President who openly expresses admiration for an authoritarian Russian leader while simultaneously pouring scorn on U.S. intelligence agencies.
Finally, it's hard to recall a President who had such little interest, or expertise, in the details of governing. Wayne Barrett, the legendary Village Voice muckraker who died on Thursday, at the age of seventy-one, had covered Trump for almost as long as anybody. (He published a book about him, in 1992.) "Donald just has no interest in information," Barrett told Jennifer Gonnerman, shortly after the election. "He has no genuine interest in policy. He operates by impulse."
Impulsive behavior is one thing. The worrying thing about Trump is that his impulsiveness is combined with authoritarian instincts and, according to some accounts, an unhealthy interest in populist dictators. According to a 1990 profile of Trump in Vanity Fair, his former wife Ivana said that he kept a book of Hitler's collected speeches by his bedside. Last weekend, when a reporter from Germany's Bild magazine asked him, in reference to his Scottish-German heritage, whether there is anything "typically German" about him, Trump didn't object to the absurdity of the question. Instead, he replied, "I like order and strength." http://www.newyorker.com/news/john-cassidy/donald-trump-the-impulsive-demagogue-in-the-white-house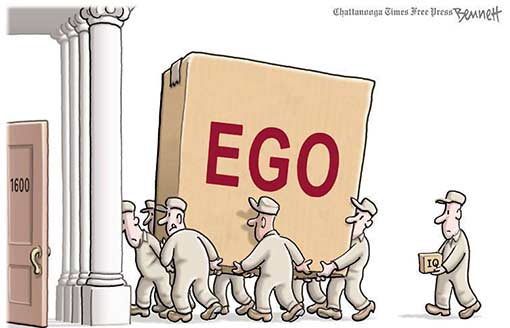 9. John Avlon: Donald Trump's 'American Carnage' Inaugural
It started to rain right as President Donald J. Trump started speaking. And with the rain came the darkest inaugural address Americans have ever heard from a new president.
Take it all together and it looks like isolationists finally have their president. Somewhere Charles Lindbergh and Henry Ford are smiling that their phrase "America first" made it to the inaugural platform 77 years after they introduced it into the lexicon.
But there was notably few nods to American history in President Trump's address. Instead, there was a litany of populist grievances combined with the self-congratulatory promise to finally let the people govern. The fact that anti-elite populist anger has been embodied by a celebrity billionaire has been surreal over the course of his 18-month road to the White House, but the idea that the people haven't been electing presidents and representatives until now reinforces Trump's peculiar self-importance, even among politicians.
Trump's dark inaugural failed to hit those inspiring heights and rarely seemed to even try. Instead of a sunny optimistic assessment about America, there was stormy pessimism. Instead of unity, there was division. Instead of embracing American leadership around the world, there was the promise of retreat. This was a departure from our best traditions and Republican convictions.
But this is the new president's vision. Welcome to Donald Trump's America.1/20/17 http://www.thedailybeast.com/articles/2017/01/20/donald-trump-s-american-cranage-inaugural.html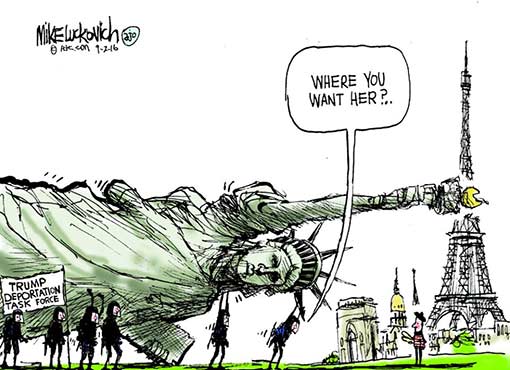 10. NY TImes Editorial: The Republican Health Care Con
Republicans say the Affordable Care Act provides health insurance that manages to be both lousy and expensive. Whatever the flaws of these policies, the new Trump administration is trying to pull off a con by offering Americans coverage that is likely to be so much worse that it would barely deserve the name insurance. It would also leave many millions without the medical care they need.
This reality became increasingly clear when President Trump's choice to run the Department of Health and Human Services, Tom Price, testified before a Senate committee last week. He looked pained as he described the terrible predicament of people who earned around $30,000 to $50,000 a year and had to deny "themselves the kind of care that they need" because they had Obamacare policies with deductibles of $6,000 to $12,000. Yet, earlier in the same hearing, Mr. Price extolled the virtues of policies that would be woefully inadequate — policies that cover medical treatment only in catastrophic cases. Such policies often have deductibles of around $14,000 for family coverage. This is simple hypocrisy. Condemn the policy you don't like, propose something far worse as a replacement and claim that it is much better.
When it comes to health care, Mr. Price and other Republicans say their goal is to give people more choices. It is hard to argue against choice. But in the ideological world inhabited by Mr. Price, House Speaker Paul Ryan and many other Republicans, choice is often a euphemism for scrapping sensible regulations that protect people.
Some Americans might well be tempted by this far-right approach. They would have to pay less up front for these skeletal policies than they do now for comprehensive coverage. But over time, when people need health care to recover from accidents, treat diabetes, have a baby or battle addiction, they will be hit by overwhelming bills. The Trump administration seems perfectly willing to sell those people down the river with false promises. 1/21/17 https://www.nytimes.com/2017/01/21/opinion/sunday/the-republican-health-care-con.html
11. Anne Applebaum: Trump's dark promise to return to a mythical past
Over the past few days, multiple polls have shown that Trump is the least popular new president in recent memory. He received 3 million fewer votes than his opponent. He won with the aid of a massive Russian intelligence operation, and by propagating lies about Barack Obama and Hillary Clinton. But don't let any of this fool you: Do not underestimate the appeal of his nostalgic vision. His call for America to "start winning again," his denunciation of the "crime and gangs and drugs" of the present, these are so powerful that he has triumphed despite his dishonesty, his vulgarity, his addiction to social media, his lack of religious faith, his many wives, all of the elements of his character and personal history that seemed to disqualify him. Surrounded by the trappings of the White House, its appeal may well increase.
Of course this vision will not appeal to everybody: It is not designed to do so. On the contrary, this appeal to the so-called real America, a tribe that exists within the United States of America, deliberately excludes anyone black or brown, anyone who does not live in a nuclear family and anyone who cannot or will not aspire to a house with a white picket fence. Nor can it succeed: The "jobs" and the "borders" that Trump promised to "bring back" do not exist anymore, in a world of air travel and artificial intelligence and automation. But Trump is not the first demagogue to succeed by offering an impossible, idealized national vision. Anybody who reads history knows that people have argued with one another, competed with one another and even murdered one another in the name of countless national and tribal utopias, religious and secular, right wing and left wing, over many centuries.
Others will reject his utopian American nationalism, his "America First" rhetoric and his brutal calls for protectionism and selfish tribalism. Indeed, it is likely the Trump administration will be remembered around the world as the tipping point, the moment when U.S. influence, which always had a base in ideas and morality as well as economic and military power, finally went into steep and irreversible decline. But the people who believe in Trump's vision will not see that decline, they will not understand it and they will not have their hearts changed by it. The promise of the mythical past, now to be recovered, is far, far too strong. 1/20/17 https://www.washingtonpost.com/opinions/global-opinions/trumps-dark-promise-to-return-to-a-mythical-past/2017/01/20/02558ce0-df3c-11e6-ad42-f3375f271c9c_story.html
12. Ezra Klein: Trump's real war isn't with the media. It's with facts.
Trump then had press secretary Sean Spicer call an impromptu briefing in which Spicer lashed the press for estimating crowd size. "Nobody had numbers, because the National Park Service does not put any out," he insisted. Seconds later, he said: "This was the largest audience ever to witness an inauguration, both in person and around the globe."
This, along with much else Spicer said, was plainly untrue. But there's a strategy at work here. The Trump administration is creating a baseline expectation among its loyalists that they can't trust anything said by the media. The spat over crowd size is a low-stakes, semi-comic dispute, but the groundwork is being laid for much more consequential debates over what is, and isn't, true.
Delegitimizing the institutions that might report inconvenient or damaging facts about the president is strategic for an administration that has made a slew of impossible promises and takes office amid a cloud of ethics concerns and potential scandals. 1/21/17 http://www.vox.com/policy-and-politics/2017/1/21/14347952/trump-spicer-press-conference-crowd-size-inauguration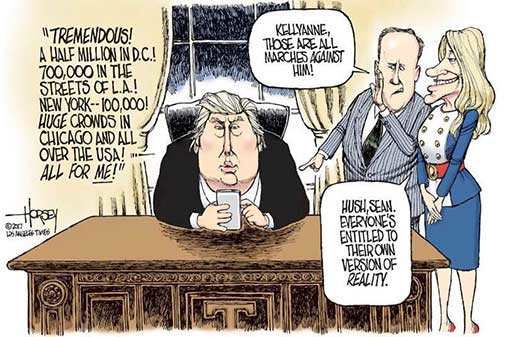 13. LA Times Editorial : Trump's recycled campaign speech made no effort to bring Americans together
No one expected Donald Trump's inaugural address to join John F. Kennedy's in the annals of presidential oratory. His own advisors telegraphed that the speech would be brief and "workmanlike." But they also signaled that the new president would outline a vision for the country.
What the nation got instead was a recycled campaign speech. President Trump, like candidate Trump, offered absurd oversimplifications ("The wealth of our middle class has been ripped from their homes and then redistributed across the entire world") and made promises that will be impossible to keep (the "carnage" in American cities caused by gangs and drugs "stops right here and stops right now").
The speech was a virtual Greatest Hits of Trump campaign clichés, from "America First" to "America will start winning again, winning like never before" to, of course, the climactic closing in which the president pledged (you guessed it) to "Make America great again."
If Trump governs effectively — a big if, based on all that we've seen of him so far — it will matter little that he delivered a hackneyed and unmemorable inaugural address. Still, this speech offered the new president a unique opportunity to reintroduce himself to the American people. He squandered it. 1/20/17 http://www.latimes.com/opinion/editorials/la-ed-trump-speech-20170120-story.html
14. Paul Krugman: Things Can Only Get Worse
If America had a parliamentary system, Donald Trump — who spent his first full day in office having a temper tantrum, railing against accurate reports of small crowds at his inauguration — would already be facing a vote of no confidence. But we don't; somehow we're going to have to survive four years of this.
And how is he going to react to disappointing numbers about things that actually matter?
In his lurid, ghastly Inaugural Address, Mr. Trump portrayed a nation in dire straits — "American carnage." The real America looks nothing like that; it has plenty of problems, but things could be worse. In fact, it's likely that they will indeed get worse. How will a man who evidently can't handle even the smallest blow to his ego deal with it?
Let's talk about the predictable bad news.
First, the economy. Listening to Mr. Trump, you might have thought America was in the midst of a full-scale depression, with "rusted-out factories scattered like tombstones across the landscape of our nation." Manufacturing employment is indeed down since 2000; but overall employment is way up, and the unemployment rate is low by historical standards.
Seriously, how do you think the man who compared the C.I.A. to Nazis will react when the Bureau of Labor Statistics first reports a significant uptick in unemployment or decline in manufacturing jobs? What's he going to do when the Centers for Disease Control and the Census Bureau report spiking numbers of uninsured Americans?
You may have thought that last weekend's temper tantrum was bad. But there's much, much worse to come. 1/23/17 https://www.nytimes.com/2017/01/23/opinion/things-can-only-get-worse.html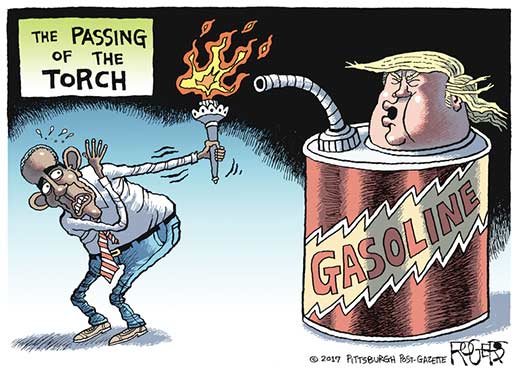 15. Dean Obeidallah: With Impending Muslim Ban, Trump to Turn Hate Into Policy
Donald Trump is poised to turn his hate-filled and bigoted campaign rhetoric about Muslims into policy. The man who despicably declared that "Islam hates us," lied that "thousands" of Muslims cheered in New Jersey on 9/11 and claimed despite facts actually proving the opposite that American Muslims are hiding terrorists in our midst, per media reports will soon be banning people from seven Muslim-majority countries from entering the United States as well as barring Syrian and other refugees.
America under Trump is clearly changing. The promise that the United States is a welcoming place to those "yearning to breathe free" is being replaced by the vision of a man who ran a white supremacist, xenophobic themed campaign. And it appears that his reign as President will mirror that. Thankfully many groups—from Latinos to Muslims to Native Americans—are prepared to file lawsuits to thwart Trump's agenda, where possible. As long as the judiciary remains independent of Trump, we can rely on the court system to be fair.
The battle lines are clearly drawn in our nation. There are those who support Trump and those who stand on the side of American values of tolerance and pluralism that makes our nation exceptional. Which side are you on? 01.25.17 http://www.thedailybeast.com/articles/2017/01/25/with-impending-muslim-ban-trump-to-turn-hate-into-policy.html