July 5, 2018
ON THE RECORD. . .
"Personally, I've thrown up my hands in despair at the debased state of the GOP. I don't want to be identified with the party of the child-snatchers. But I respect principled conservatives who are willing to stay and fight to reclaim a once-great party that freed the slaves and helped to win the Cold War. What I can't respect are head-in-the-sand conservatives who continue to support the GOP by pretending that nothing has changed." -- Conservative commentator Max Boot 

"Just because you don't see a judge doesn't mean you don't receive due process." -- Press secretary Sarah Huckabee Sanders

"The deficit, it's coming down and it's coming down rapidly." — White House economic adviser Larry Kudlow, on Fox News Business, claiming something that everyone knows is not true.

"Reality has an interesting way of coming up and biting you, and the other side has been peddling a lot of stuff that is so patently untrue that you can get away with it for a while, but at a certain point, you confront reality," he said. "The Democrats' job is not to exaggerate; the Democrats' job is not to simply mimic the tactics of the other side. All we have to do is work hard on behalf of that truth. And if we do, we'll get better outcomes." -- Barack Obama

"Chairman Gowdy urgently demanded that the Justice Department wrap up the investigation, yet he literally spent years and years investigating Hillary Clinton as part of the GOP's eight-committee investigation of Benghazi, which resulted in nothing but a deluge of false Republican allegations that helped get Donald Trump elected President." -- Maryland Rep. Elijah Cummings, who was the top Democrat on the Benghazi committee.

"Right now, there are two things that should be unhinged. People and those doors to the child cages." -- Michelle Wolf firing back at GOP Ad calling her 'Unhinged'

Last week Rep.Trey Gowdy lashed out at Deputy Attorney General Rod Rosenstein, saying, "Whatever you got, finish it the hell up, because this country is being torn apart." But that's like blaming the doctor for your illness. The investigators aren't tearing the country apart. They are trying to protect and save it. Trump and his defense machine — including members of Congress — are tearing it apart. -- Charles M. Blow

"If not for me, we would now be at War with North Korea!" — Trump on Twitter.
---
IN THIS ISSUE
FYI
OPINION
1. Andy Borowitz: Foreigners Unsure Why Anyone Would Want to Travel to U.S. at This Point
Shortly after the United States Supreme Court upheld Donald J. Trump's controversial travel ban, millions of people from other countries expressed puzzlement that anyone would want to travel to the United States at this juncture.

In interviews with people from around the world, respondents said that the travel ban struck them as unnecessary, because the United States was not currently on the list of the top hundred countries to which they would consider travelling.

When asked to name the reasons they felt that a travel ban was superfluous, many of those interviewed cited the United States's gun violence and crumbling infrastructure, as well as its broken educational and health-care systems, while others singled out its President's startling disrespect for democratic norms and human rights.

Given those views, most of the foreigners interviewed said they found the news of the Supreme Court's decision baffling. "When I heard that the United States was having a travel ban, I assumed that was to keep people from leaving," one respondent said, echoing the sentiments of many. https://www.newyorker.com/humor/borowitz-report/
2. Big Partisan Split on the Russia Investigation
Views on the Mueller investigation's credibility are deeply divided along partisan lines. An overwhelming majority of Clinton voters say they are "very confident" (62 percent) or "somewhat confident" (21 percent) that the investigation is being conducted fairly. Only 15 percent of Trump voters say the same. In contrast, most of those who voted for Trump in 2016 are either "not too confident" (18 percent) or "not at all confident" (54 percent) in the fairness of the investigation.
Beliefs about whether improper contact occurred between members of the Trump campaign and Russia are similarly polarized. While a majority (51 percent) of Americans believe that improper contact occurred, partisan reactions are almost mirror opposites of one another. Ninety percent of Clinton voters believe that improper contact "likely occurred" while 82 percent of Trump voters say it "likely did not." https://www.voterstudygroup.org/publications/2018-voter-survey/jumping-to-collusions
3. Trade Fight Threatens Farm Belt Businesses
The U.S. Farm Belt helped deliver Donald Trump to the White House, drawn to his promises to revive rural America and deregulate industry. Now, the president's global trade offensive is threatening the livelihoods of many farmers.
Mounting trade disputes, spurred by U.S. threats to withdraw from the North American Free Trade Agreement and tariffs on billions of dollars' worth of goods from key trading partners, have cut U.S. agricultural exports and sent commodity prices tumbling. Many farmers, who depend on shipments overseas for one-fifth of the goods they produce, say they are anxious, especially because they are already expecting bumper harvests or grappling with a dairy glut. https://www.wsj.com/articles/trade-fight-threatens-farm-belt-businesses-1530529201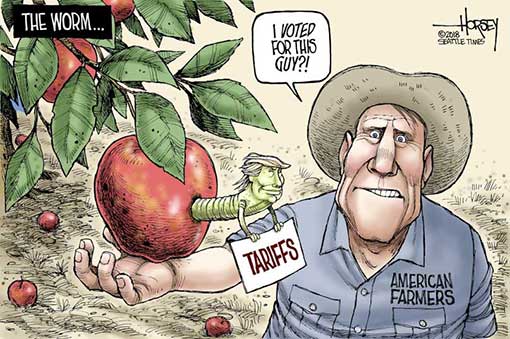 4. Change Is Coming to the Democratic Party
Across the country, a new generation is making its way to Washington. It's not just that some of the Democrats, like 28-year-old Alexandria Ocasio-Cortez, are young and progressive. They are. Or that many are women entering politics who want to fight President Donald Trump. They do. Or even that some of them live in Trump country.
They also come to politics steeped in an era of resistance and revolt, like the tea party Republicans who rose against President Barack Obama and the so-called Watergate babies elected after President Richard Nixon.
If the newcomers provide the numbers to give Democrats control of the House, or even fall short and end up in the ranks of the minority, they will be a force to be reckoned with upon arrival. That holds especially true for Nancy Pelosi, D-Calif., the longtime House Democratic leader. https://apnews.com/e5f031de0b2144c4a1fa8877e1685041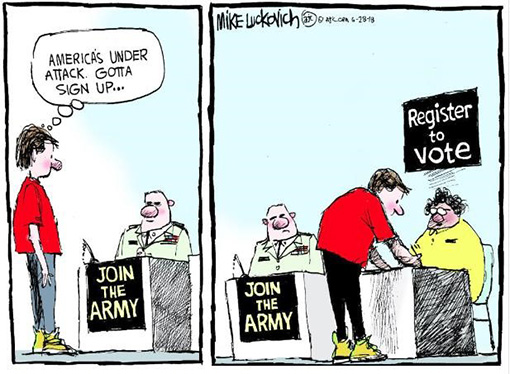 5. Michael Cohen Flipping Would be Extremely Bad News for Trump
Cohen can't be pardoned. Trump has repeatedly flaunted his pardon power in an obvious effort to persuade witnesses to stay loyal. The trouble is that Trump can only issue a pardon for a federal crime. Cohen seems to have committed many state-level crimes, and New York's state prosecutor is cooperating with Robert Mueller.
The precise contours of Cohen's state-level criminal history remain to be defined. But reporters at ProPublica and at the New York Times have combed through his business history. His first job out of law school was working for a lawyer who was "charged with bribing insurance adjusters to inflate damage estimates and expedite claims." His father-in-law, who worked with Cohen in the taxi business, pleaded guilty to tax fraud. His business address was the known headquarters of a Russian-American mobster. Cohen made "scores of car insurance lawsuits, often on behalf of plaintiffs who claimed to have been injured in auto collisions" at a time when "a wave of staged auto accidents, involving immigrants from the former Soviet Union who claimed to have been hurt, had led prosecutors to open a massive investigation." And so on.
If prosecutors wanted leverage on Cohen that Trump couldn't touch, they could surely find it. http://nymag.com/daily/intelligencer/2018/07/michael-cohen-apparent-flip-is-extremely-bad-news-for-trump.html
6. New Trump admin order for separated parents: Leave U.S. with kids or without them
After a court order to reunite more than 2,000 migrant children who were separated from their parents in May and June, the Trump administration has instructed immigration agents to give those parents two options: leave the country with your kids — or leave the country without them, according to a copy of a government form obtained by NBC News.
The new instructions to agents do not allow parents who were separated from their children under President Donald Trump's "zero tolerance" policy to reunite with their children while they await a decision on asylum, a protection sought by thousands of migrant families fleeing violence in Central America. https://www.nbcnews.com/politics/immigration/new-trump-admin-order-separated-parents-leave-u-s-kids-n888631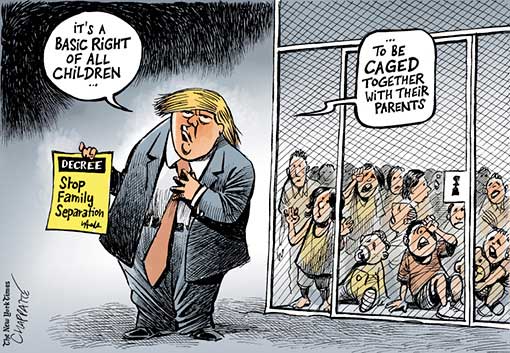 7. The DAILY GRILL
"Russia continues to say they had nothing to do with Meddling in our Election! Where is the DNC Server, and why didn't Shady James Comey and the now disgraced FBI agents take and closely examine it? Why isn't Hillary/Russia being looked at? So many questions, so much corruption!" --Trump, whose campaign is under criminal investigation for possibly colluding with Russia.

VERSUS

We assess Russian President Vladimir Putin ordered an influence campaign in 2016 aimed at the US presidential election. Russia's goals were to undermine public faith in the US democratic process, denigrate Secretary Clinton, and harm her electability and potential presidency. We further assess Putin and the Russian Government developed a clear preference for President-elect Trump. -- From the consensus intelligence assessment released by the FBI, CIA, and NSA in January 2017:

 

I want you to imagine how much better our future can be if we declare independence from the elites who've led us to one financial and foreign policy disaster after another. --  Trump's scripted remarks castigating his opponents.

VERSUS

"We have more money and more brains and better houses and apartments and nicer boats. We are smarter than they are. They say the elite. We are the elite. You are the elite. " -- Trump

 

The Democrats are making a strong push to abolish ICE, one of the smartest, toughest and most spirited law enforcement groups of men and women that I have ever seen. I have watched ICE liberate towns from the grasp of MS-13 & clean out the toughest of situations. They are great! -- Donald J. Trump tweet

VERSUS

Trump's assertion that he "watched ICE liberate towns from the grasp of MS-13" should be taken no more literally than his claim to have seen thousands of people celebrating in Jersey City, New Jersey, on September 11. Put simply: It didn't happen..-- David A. Graham in the Atlantic
8. From MEDIA MATTERS (They watch Fox News so you don't have to)
On CNN, a lawyer explains what it's like to represent a toddler in a deportation hearing. Lindsay Toczylowski: Three-year-olds "are expected to present a claim that gives them a cognizable right to asylum ... without their parents there, that's very difficult."https://www.mediamatters.org/video/2018/06/29/cnn-lawyer-explains-what-its-represent-toddler-deportation-hearing/220574

Fox Business guest downplays Russian interference in US elections, calls for "sanctions relief for Russia." Christian Whiton: Russia attacked US elections "just as some of our allies do, including the Canadians."https://www.mediamatters.org/video/2018/07/02/fox-business-guest-downplays-russian-interference-us-elections-calls-sanctions-relief-russia/220581
9. From the Late Shows
Jon Stewart Is Ready To Negotiate With Donald Trump: https://youtu.be/PYCPZrOkZx0

The Tonight Show Starring Jimmy Fallon: Trump Tweets at Jimmy - Monologue: https://youtu.be/Ud_-wBFe9bE

The Late Show with Stephen Colbert: Donald Trump Is Afraid To Say Stephen's Name: https://youtu.be/kWygX0Q1Rhk
10. Late Night Jokes for Dems
The Supreme Court today upheld President Trump's travel ban on seven primarily Muslim nations. Though, I think they should only uphold the ban if Trump can name all seven. -- Seth Meyers

President Trump today accused Democrats of wanting "unlimited crime." Coincidently, Unlimited Crime was also the most popular class at Trump University. -- Seth Meyers

You remember that guy in Washington, tried the whole Muslim ban that they said was "not a Muslim ban — a travel ban." Well, today, the Supreme Court fell for it, upholding Trump's ban by a 5-4 vote. Oooh, 5-4 — THIS CLOSE to being able to look our grandchildren in the eye. -- Stephen Colbert

This was actually Trump's third travel ban after the previous version explicitly banned people from Muslim-majority countries, and the original draft just read, "Beards are scary!" -- Stephen Colbert

In fact, the ruling says that statements made during a campaign may not be legally determinative. So, the things he said during the campaign may not be true? Wait, does that mean he's NOT Making America Great? Hold on, is Sen. Rubio "Regular-Sized Marco?" -- Stephen Colbert

Of course, almost immediately, Donald Trump crowed via tweet, "Supreme Court upholds Trump travel ban. Wow!" Wow? That's very presidential — much like Lincoln in the Emancipation Proclamation: "All persons held as slaves within the rebellious states are, and henceforward shall be free. Yowza!" -- Stephen Colbert

After the decision, Trump got together with members of Congress to celebrate, and he promised to continue his harsh immigration policies, saying, "I will always be defending the sovereignty, the safety, and the security of the American people. That's why I was put here." Put here? I think you mean "Putin here." -- Stephen Colbert

The Supreme Court ruled in favor of President Trump's travel ban 5-4. Or as Trump calls that, unanimous. -- Jimmy Fallon

In a speech last night, Trump said sometimes you have to toot your own horn because nobody else is going to do it. The last time someone else tooted Trump's horn it cost him $130,000. -- Jimmy Fallon
11. We've Found $16.1 Million in Political and Taxpayer Spending at Trump Properties
Since Donald Trump declared his candidacy for president in late 2015, at least $16.1 million has poured into Trump Organization-managed and branded hotels, golf courses and restaurants from his campaign, Republican organizations, and government agencies. Because Trump's business empire is overseen by a trust of which he is the sole beneficiary, he profits from these hotel stays, banquet hall rentals and meals. https://www.propublica.org/article/political-and-taxpayer-spending-at-trump-properties-16-1-million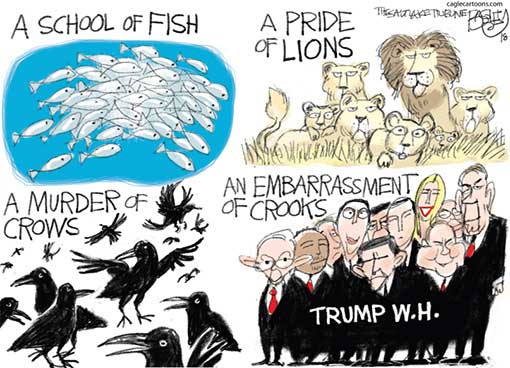 12. The Midterms Will Be Decided by Intensity. Are Democrats ready?
The November election could be about many things. Immigration. Tax cuts and the economy. The Supreme Court and the future of abortion rights. Trade and tariffs. The menu changes with the cascading of events. Ultimately, the midterms will be about intensity. On that factor, Democrats ought not to underestimate President Trump.
Trump dominates like no president in recent memory. He dominates the daily conversation in the country. He creates diversions and distractions, starts brush fires or all-out conflagrations. He stirs constantly with tools his predecessors never had or imagined using. He says whatever he wants to say, regardless of the truth. He puts the news media on the defensive and calls journalists the 'enemy of the people.' He makes himself impossible to ignore. https://www.washingtonpost.com/politics/the-midterm-elections-shape-up-as-a-battle-over-intensity-are-democrats-ready/2018/06/30/701da98c-7bd1-11e8-aeee-4d04c8ac6158_story.html
13. It's official: The Trump administration has replaced family separation with indefinite family detention
the administration now claims that a more recent court ruling — the order by U.S. District Judge Dana Sabraw on Tuesday that barred the administration from splitting up any more families and ordered them to reunite the 2,000 remaining separated ones within 30 days — means that they are now allowed to detain thousands of families in temporary facilities for as long as it takes to either grant them legal status or (the administration's preference) deport them.
But now, the administration's no longer asking permission to detain families. It's not even really begging forgiveness. It's declaring that it is allowed to detain families indefinitely now, and telling U.S. District Judge Dolly Gee that it would be helpful if she agreed. https://www.vox.com/2018/6/30/17520820/families-together-detention-separate-camp-military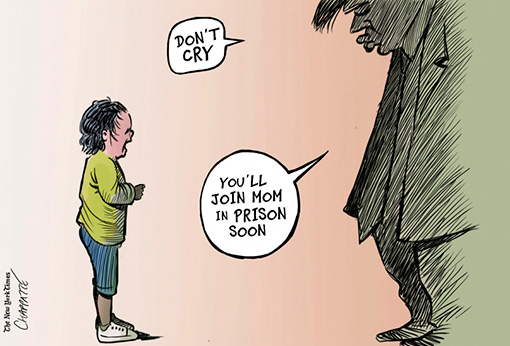 14. The Inconvenient Legal Troubles That Lie Ahead for the Trump Foundation
Barring an unexpected change, the Donald J. Trump Foundation will be defending itself in a New York courtroom shortly before this fall's midterm elections. The proceedings seem unlikely to go well for the institution and its leadership; President Trump and his elder children, Ivanka, Donald, Jr., and Eric, are being sued by New York's attorney general, Barbara Underwood, for using the charity to enrich and benefit the Trump family. On Tuesday, the judge in the case, Saliann Scarpulla, made a series of comments and rulings from the bench that hinted—well, all but screamed—that she believes the Trump family has done some very bad things.
The case against the Trumps appears damning. Charitable foundations are governed by a crucial compromise: they can operate without paying taxes on the condition that their leadership insures that all money spent is spent in pursuit of the public good. The case brought by Attorney General Underwood shows that the Trump Foundation was neither well-managed nor focussed on what would generally be considered the public good. Its operations were shockingly sloppy; at least one of the organization's official board members said that he had no idea he was on the board and that the board had never met, to his knowledge. No surprise, then, that the other controls that normally govern nonprofits were absent. As David Fahrenthold, of the Washington Post, exposed in a series of stories in 2016, the Foundation did virtually none of the charitable things it claimed to be doing. https://www.newyorker.com/news/our-columnists/the-inconvenient-legal-troubles-that-lie-ahead-for-the-trump-foundation
15. Scott Pruitt Personally Involved in 'Ratf*cking' Ex-Aides Who He Feels Betrayed Him
On May 18, a top aide to Environmental Protection Agency chief Scott Pruitt testified to a congressional committee that she had been tasked with procuring her boss a used mattress from the Trump International Hotel in Washington, D.C. Just days after news of that testimony broke, the aide, Pruitt's now former director of scheduling Millan Hupp, submitted her resignation.
But even though Hupp was gone from the agency, Pruitt wasn't done with her.
According to three sources familiar with the conversations, Pruitt was livid over Hupp's testimony, which he felt had been particularly humiliating. And he personally reached out to allies in the conservative movement, including some at the influential legal group the Federalist Society, to insist that she had lied about, or at least misunderstood, the request for a used Trump mattress. He also stressed that Hupp could not be trusted—the implication being that she should not be hired at their institutions. https://www.thedailybeast.com/scott-pruitt-personally-involved-in-ratfcking-ex-aides-who-he-feels-betrayed-him
16. The Other Russia Collusion Scandal Is Breaking Wide Open
In 2016, Vladimir Putin reaped two of his greatest foreign policy triumphs in quick succession. The United Kingdom voted narrowly to exit the European Union, advancing a longstanding Russian goal of splitting Western allies that have long been united against it. Later that year, the United States voted even more narrowly to elect Donald Trump president.
On Friday evening, the New York Times revealed new detail about Russian involvement in the Brexit vote. The more we learn, the more clearly the pattern of behavior in the two countries becomes similar, and the more suspicious the denials of Putin's partners grows.
In both countries, the right-wing pro-Russian populists indignantly insist there is no more incriminating information to be found beyond what was known at any given moment, even as the bounds of what is known at any moment continues to expand. In Britain, billionaire businessman Arron Banks financed the Brexit referendum with the largest donation in British history. Initially, he copped to having one meeting with Russian officials. After the Guardian obtained secret documents blowing up this claim, he admitted there were actually three meetings. Now the Times has even more information, and Banks concedes the number of covert meetings has grown to four. http://nymag.com/daily/intelligencer/2018/06/the-british-russia-collusion-scandal-is-breaking-wide-open.html
17. 'I snookered them': Illinois Nazi candidate creates GOP dumpster fire
Illinois Republicans botched four opportunities to stop an avowed Nazi from representing their party in a Chicago-area congressional district. Now they're paying the price.
Arthur Jones, a Holocaust denier who will appear on the November ballot as the GOP candidate against Democratic Rep. Dan Lipinski, has become campaign fodder for Democrats as they seek to defeat Gov. Bruce Rauner. And some Republicans even fear the taint from Jones' extremist views poses a threat to the party up and down the ticket. https://www.politico.com/story/2018/06/29/arthur-jones-nazi-illinois-republicans-686875
18. 'I'd like to kill 'em': GOP takes on Trump tariffs
"I'd like to kill 'em," groused Finance Committee Chairman Orrin Hatch (R-Utah), a close Trump ally, referring to the administration's expanding list of tariffs.
The mounting frustration with the Republican president is a warning sign for the party amid what's been a surprisingly favorable stretch. Trump appears, at least for now, to have weathered the internal GOP backlash against his family separation policy. He has a new Supreme Court vacancy to fill, and he ended last week celebrating the "economic miracle" he said his tax cuts created.
But Republican senators say they can't get the president to comprehend that his tariffs offensive could upend all of that progress in short order. Commodity prices in the heartland are sagging, U.S. allies are retaliating with tariffs of their own — and GOP leaders are fretting that the booming economy is about to go into a pre-midterms nosedive. https://www.politico.com/story/2018/07/03/trump-tariffs-republicans-congress-hatch-687911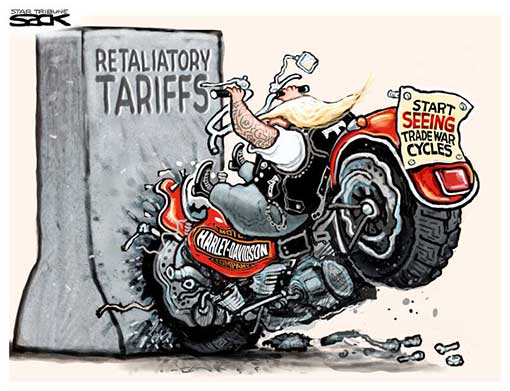 1. Evan Halper: Trump tax cuts carry a big price tag: Huge debt and risk of another financial crisis, budget office warns
The tax cuts championed by President Trump are helping push the nation toward an unprecedented level of debt, heightening the risk of another financial crisis, according to the nonpartisan Congressional Budget Office.
The budget office's annual look at the government's long-term financial outlook paints a grim picture, projecting soaring deficits in the coming years, with debt ultimately peaking at more than 152% of the nation's gross domestic product.
"The prospect of large and growing debt poses substantial risks for the nation and presents policy makers with significant challenges," Keith Hall, director of the budget office, said in a statement.
The federal debt currently stands at about $15 trillion, or 78% of the size of U.S. economy. If current trends continue, it will roughly equal the size of the economy within a decade, the budget office said. The last time the debt burden hit that level was just after World War II.
The biggest problem in the coming decade stems from last year's tax cut. It is estimated to increase the deficit by more than $2.3 trillion over the decade.
And that's under an optimistic scenario. Under the tax law, individual income tax rates are slated to increase sharply at the end of the decade, while corporate taxes remain low. If Congress allows that individual tax hike to take effect, the tax cut's long-term impact on the debt will begin to fade after the next 10 years.
But if Congress balks at that big tax increase — many members of Congress already have said they want to make the individual cuts permanent — the red ink would be even worse than projected, the budget office said. http://www.latimes.com/politics/la-na-pol-tax-cuts-debt-20180626-story.html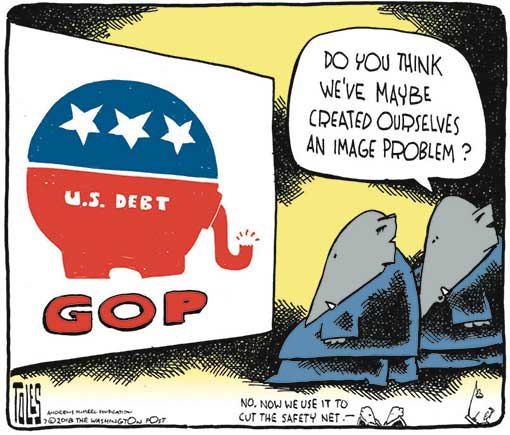 2. Charles M. Blow: Trump Remakes America
Donald Trump, a lying, bullying, womanizing autocrat-idolizer, is fundamentally transforming America in very real and lasting ways, in ways that have left decent people slack-jawed, enraged and exasperated.
He has overtaken and destroyed the structure of the Republican Party, unleashing its ugliest elements to chant his praise and stroke his ego like drunken apostates dancing around a golden calf.
He has attacked American institutions that seek truth and justice, like the Federal Bureau of Investigation and the press, because he wants to weaken America's faith in truth and facts themselves.
He has shunned and denigrated America's traditional allies and cozied up to America's traditional enemies, in one of the most bewildering presidential postures the country may ever have seen.
And now, with the retirement of the Supreme Court moderate Anthony Kennedy, Trump will be able to solidify the court's conservative majority for a generation.
Elections have consequences. Not voting has consequences. Falling for Russian propaganda has consequences. Voter suppression has consequences. Taking the absolutely ridiculous position that there would be little difference between Hillary Clinton and Donald Trump has consequences. https://www.nytimes.com/2018/06/27/opinion/anthony-kennedy-supreme-court.html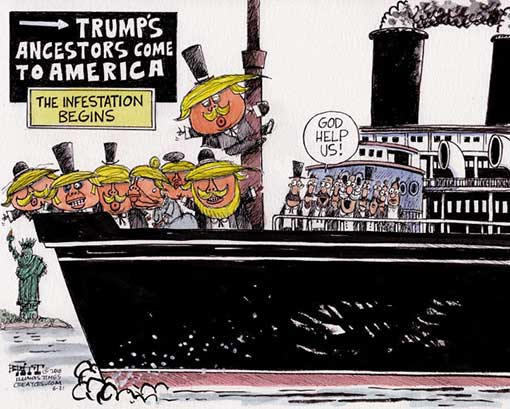 3. Lili Loofbourow: The America We Thought We Knew Is Gone
Because countries are not people, it's tricky to translate whatever "loving one's country" means—it's quite abstract—into the language of heartbreak. It sounds melodramatic. What can heartbreak mean as a civic matter? And yet it is what I feel.
A corrupt but weak president—this has been my comfort, his weakness—has been given a gift that will make him strong. After upholding the travel ban, weakening labor unions, and allowing crisis pregnancy centers to misrepresent themselves to women seeking help, Justice Anthony Kennedy announced he was retiring before the midterm elections. That decision empowers a reality-television star who lost the popular vote by millions to reform the Supreme Court for at least a generation—a court that rather than rebut his claim to power has affirmed it. In his own branch, he asked James Comey for a loyalty oath and lamented not getting one from Jeff Sessions, whom he has repeatedly condemned for recusing himself in the Russia investigation, saying he never would have hired him as attorney general had he known. There is every reason to think he will do the same for a Supreme Court nominee. When Neil Gorsuch—who took the seat Mitch McConnell withheld from Merrick Garland—seemed to distance himself from the man who offered him the robes, Donald Trump reportedly considered pulling the nomination. Trump has said he will pardon himself if he needs to, a controversial stance that would likely need approval from the high court. Now he has been given a way to assure it. He holds the power over the person who can rubber-stamp him into invulnerability.
The capitulation of two branches of government to a terrifying third, elected by a minority, is not how our government was envisioned. That is frightening. It is also, depending on the America you want to live in, painful. https://slate.com/news-and-politics/2018/06/supreme-court-is-now-trumps-and-so-we-grieve-for-america.html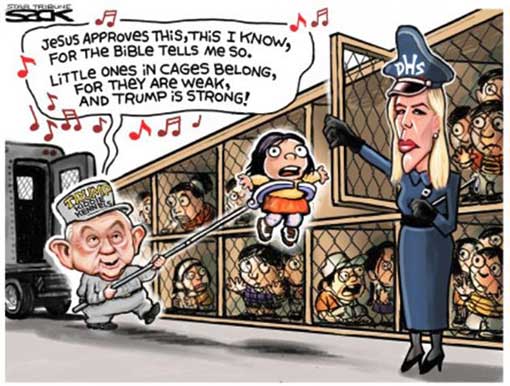 4. Rebecca Traister: Summer of Rage
Democrats have won the popular vote in four of five of the elections held since 2000, yet have only occupied the White House for two terms. Meanwhile, Republicans, as Jonathan Chait wrote Wednesday, are "increasingly comfortable with, and reliant on, countermajoritarian power." Of course, as Chait outlines in his column, the Electoral College was intentionally designed to empower a minority: those in less populous areas of the country who wanted to protect the institution of slavery. The documents that encoded the participatory democracy of which Americans tend to be so proud expressly barred the electoral, civic, and economic participation of the nonwhite and the non-male.
White men are at the center, our normative citizen, despite being only around a third of the nation's population. Their outsize power is measurable by the fact that they still — nearly 140 years after the passage of the 15th Amendment, not quite 100 years after the passage of the 19th Amendment, and more than 50 years after the passage of the Civil Rights and Voting Rights Acts — hold roughly two-thirds of elected offices in federal, state, and local legislatures. We have had 92 presidents and vice-presidents. One-hundred percent of them have been men, and more than 99 percent white men.
But it's not just in the numbers; it's also in the quotidian realities of living in this country. The suffocating power of our minority rule is evidenced by the fact that we're always busy worrying about the humanity — the comfort and the dignity — of white men, at the same time discouraging disruptive challenge to their authority.. https://www.thecut.com/2018/06/summer-of-rage.html
5. Clive Irving: It Is Happening Here, Trump Is Already Early-Stage Mussolini
Where Mussolini had his militia, Trump has Immigration and Customs Enforcement, ICE. Created in 2003, ICE was a child of the response to 9/11, part of the Bush administration's plan to reinforce institutions to deal more effectively with terrorism, and it fell under the Department of Homeland Security.
Probably because of the haste of that change—and the priorities given to anti-terrorist powers—ICE has suffered from weak oversight. As a result, it has a long record of abusing detainees through both the Bush and Obama administrations and now in the era of Trump it seems alarmingly unfettered.
Last December the inspector general of the Department of Homeland Security, belatedly responding to disturbing reports about the treatment of immigrants, confirmed widespread cases of the abuse of detainees in ICE jails across the country.
The abuse included strip searches in violation of rules, failure to provide medical care, physical abuse by guards and unsafe and unhygienic conditions. Other reports have indicated systemic sexual harassment and abuse.
Indeed, since the arrival of "Zero tolerance" ICE has shown all the signs of going rogue. It scooped up and bundled off detainees to many parts of the country in the confidence that nobody was looking—until the whole miserable farrago of family separations was suddenly exposed. It remains belligerently opaque in its methods, consistently rebuffing the attempts of lawmakers to inspect its premises.
Not even Mussolini could have imagined concentration camps for babies. But that is where we are. https://www.thedailybeast.com/it-is-happening-here-trump-is-already-early-stage-mussolini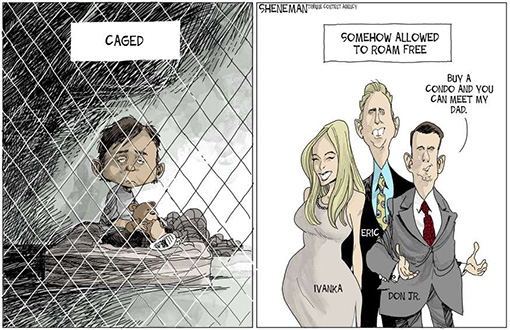 6. Charles M. Blow: Trump's Rage Junkies
It is truly a confounding time to be alive, to be an American.
We are watching as a president of the United States openly lies, fabricates and exaggerates while two-fifths of the population cheers him for it.
He spurns our allies and embraces our adversaries and people shrug.
He, his congressional allies and his propaganda arm are waging open warfare on the Federal Bureau of Investigation in an effort to tarnish it before its inquiry into connections between the Trump campaign, family and associates and Russia can be made public.
He is a racist who disparages black and brown people, whether they be immigrants, Muslims, people from Haiti and Africa, Barack Obama, the mayor of San Juan or Maxine Waters. People equivocate about it and excuse it.
He is attacking the press in the most aggressive of terms so that what they reveal about him will be viewed with skepticism.
He is attempting to weaken our institutions, our protocols and conventions, our faith in the truth, our sense of honor and our respect for the rule of law.
And somehow, many Americans, even those disgusted by what they see, have resigned themselves to this new reality. https://www.nytimes.com/2018/07/01/opinion/trumps-rage-junkies.html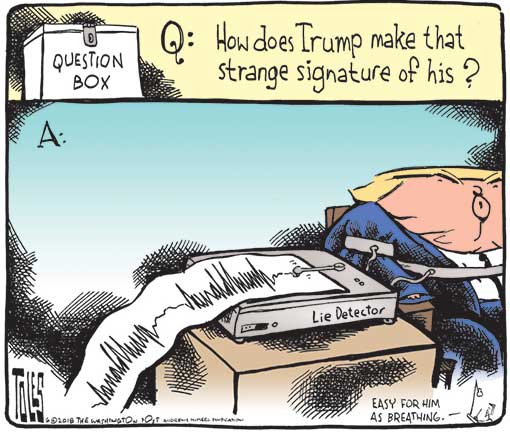 7. Paul Krugman: Trump's Taking Us From Temper Tantrum to Trade War
So we're heading into a trade war, and it's hard to see how the escalation ends. After all, foreign governments literally can't give Trump what he wants, because he wants them to stop doing things they aren't actually doing.
How will all of this affect the U.S. economy? Exporters will be hurt, of course — and exports support around 10 million jobs. Some industries that compete with imports might end up adding jobs. But they wouldn't be the same jobs, in the same places: A trade war would cause huge worker displacement.
And what's especially striking right now is that even industries Trump claims he wants to help are protesting his policies, urging him to reverse course. General Motors warns that proposed auto tariffs could lead to "less investment, fewer jobs and lower wages for our employees." The Motor & Equipment Manufacturers Association has urged the administration to stand down, declaring that "counterproductive unilateral actions" will "erode U.S. jobs and growth" while doing nothing to protect national security.
What do these industries understand that Trump and Company don't? That international economics isn't a game in which whoever runs trade surpluses wins, and that disrupting global supply chains can hurt almost everyone.
But as I said, none of this seems to be getting through. Another administration might look at foreign retaliation, industry protests and stories about jobs lost due to its tariffs and consider the possibility that it's on the wrong path. This administration? Never.
For what it's worth, I don't think most businesses, or most investors in financial markets, are taking the threat of trade war seriously enough. They're acting as if this is a passing phase, as if the grown-ups will step in and stop this downward spiral before it goes too far.
But there are no grown-ups in this administration, which basically makes policy by temper tantrum. A full-blown trade war looks all too possible; in fact, it may already have begun. https://www.nytimes.com/2018/07/02/opinion/trump-trade-war.html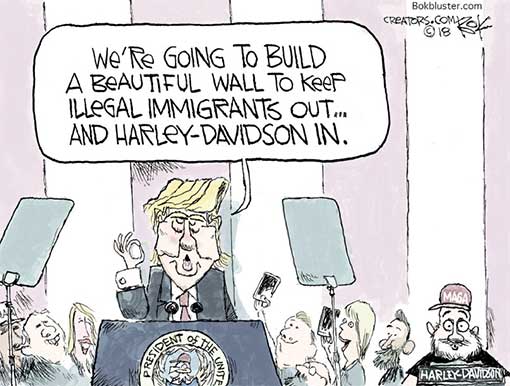 8. Trump and Cohen - The Prisoner's Dilemma
The most famous game-theory formula was developed in 1950, by two mathematicians, Melvin Dresher and Merrill Flood. But it was only later that another mathematician gave it the catchy name that made it famous: the Prisoner's Dilemma. The idea is simple: two accused criminals have been arrested and are being interrogated separately. If they both stay silent, they'll both get a year in jail. But, if one rats out the other, he could get away scot-free while his accomplice would spend three years in jail. The optimal outcome, in terms of total time served, is for both to remain silent. But, as Drescher and Flood posited, there is enormous likelihood that each will rat out the other. There are endless variations of the formula, tweaking the costs and benefits of silence and confession, but the core insight remains: if two people whose interests are mutually dependent on the actions of the other don't fully trust each other, and don't have the opportunity to secretly coördinate, they will end up behaving in ways that hurt both of them.
We are witnessing a grand, public Prisoner's Dilemma, in which each man could, theoretically, destroy the other. Or, perhaps, they could work together to explain away any troubling information that comes out of the investigation of Cohen's files. They can't talk privately, because every interaction is likely to be scrutinized. Instead, they speak to each other through the media.
Cohen seems to have made what game theorists call a "binding commitment," a sign that he will pursue the benefits of coöperating against Trump. He has removed options from himself and from the President. It will now be harder for Cohen to revert to his previous state of complete fealty to his former boss. And he has made it more difficult for Trump to pardon him without appearing to mount a cover-up. It seems fairly clear: Cohen is willing to turn against the President. The key question now is what does Cohen know and what can he prove?
Trump's path is clear now, too. If coöperation is no longer an option, he must destroy Cohen. He must crush this man's credibility and find some way to so raise the cost of Cohen's coöperation with Mueller that Cohen will remain silent. What will Trump do if he is convinced that Cohen does have information that could end his Presidency and destroy his family? Trump's actions against Cohen and Mueller in the weeks ahead will give us clues regarding the President's guilt. https://www.newyorker.com/news/our-columnists/is-michael-cohen-turning-on-donald-trump
9. Emily Jane Fox: "He Could Go Down In History As The Man That Saved This Country"
"For months, every article written about Michael was calling him a thug, a moron, someone who was all mobbed up," one friend of Cohen's told me. "Those words are mentioned millions and millions of times. He had tabloid guys heckling him at dinner with his family telling him he was going to jail, paparazzi yelling at him as he goes in and out of his hotel." Earlier this week, however, a woman chased him down the street, shouting at him that he could be a hero if he cooperates with the government and brings President Trump down. Last week, another person attempted to get a message to Cohen, saying, "Please let him know that he could go down in history as the man that saved this country. I think his family would be so proud of him. Even people like me that were disgusted with the things we heard on those audio recordings, would totally forgive him."
Cohen's friends have been whispering encouragements, too, particularly after the president distanced himself from Cohen earlier this month by telling reporters that he "liked" Cohen, in the past tense. "He's frustrated," one person close to Cohen told me. "Washington is actively pushing him away as opposed to protecting him or welcoming him back in, when, at the same time, he has all these people telling him that he could change the course of the midterms, or 2020."
Cohen has not yet met with federal prosecutors, according to three people familiar with the situation, and he has remained mostly quiet while the rest of the world speculates about what he has on the president, and whether or not he plans to use it. What is clear is that Cohen, after a year of scrutiny and mounting legal bills, is not the same man who once offered to be a human shield for the Trumps. "I have no one watching my back," he has told friends. "I just did what I was told." https://www.vanityfair.com/news/2018/06/michael-cohen-identity