November 27, 2019
ON THE RECORD. . .
"Corrupt politician Adam Schiff's lies are growing by the day. Keep fighting tough, Republicans, you are dealing with human scum who have taken Due Process and all of the Republican Party's rights away from us during the most unfair hearings in American History…But we are winning big, and they will soon be on our turf." — Trump on Twitter.
"Women are held to a higher standard. Otherwise we could play a game called 'name your favorite women president,' which we can't do because it has all been men. … And if you think a woman can't beat Donald Trump, Nancy Pelosi does it every single day." — Sen. Amy Klobuchar, during the last Democratic debate.
"A lot of it, they say, had to do they say had to with Ukraine. It is very interesting, it is very interesting, they have the server from the DNC." — Trump in a telephone interview on "Fox and Friends," espousing a debunked narrative that Ukraine was involved in a hack of the Democratic National Committee's network in 2016, the day after a former White House Russia expert warned about the danger of propagating a "fictional narrative" that Ukraine, not Russia, interfered in the 2016 presidential election,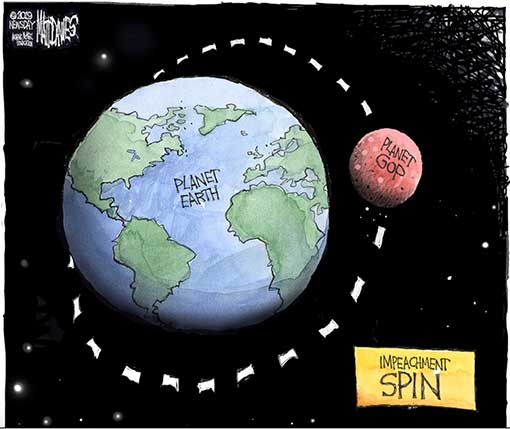 "Why do @ShannonBream & @FoxNews waste airtime on Democrat Rep. Eric Swalwell, who recently left the Presidential Primaries having attained a grand number of ZERO in the polls. I don't even know how that is possible. Fox should stay with the people that got them there, not losers! — Trump slamming Fox News over its coverage of the House impeachment probe, taking issue with the network's decision to interview Rep. Eric Swalwell (D-CA).
"I did say to him, 'Ambassador Sondland, Gordon, this is going to blow up.' And here we are, because he was being involved in a domestic political errand and we were being involved in national security foreign policy. and those two things had just diverged." -- Dr.Fiona Hill
"In America, a sociopath will beat a socialist seven days a week and twice on Sunday. Nobody should underestimate Donald Trump's ability to frame an argument, to demagogue an opponent." — GOP strategist Steve Schmidt.
"In the course of this investigation I would ask that you please not promote politically driven falsehoods that so clearly advance Russian interests." — Dr. Fiona Hill warning Republicans that legitimizing an unsubstantiated theory that Kyiv undertook a concerted campaign to interfere in the election — a claim the president pushed repeatedly for Ukraine to investigate — played into Russia's hands.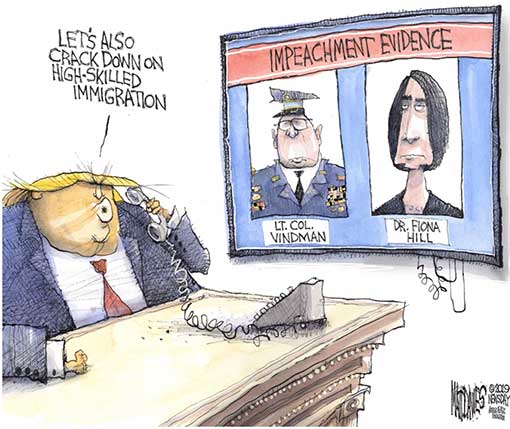 "Everybody needs to chill out about the candidates but gin up about the prospect of rallying behind whoever emerges from this process." — Former President Barack Obama
"It was his personal account that he continued to use while he was at the White House. I don't know a whole lot about it but sometimes – I'll use my father as an example. Somebody who is of an advanced age may not understand that all you have to do is contact Twitter and reset your password if you've forgotten it. So I'll just leave it at that. — WH Press Secretary Stephanie Grisham responding to Bolton, who claimed his absence from Twitter was due to the White House refusing to return access to his account.
"I would like to think there's a coalition of the decent out there who are just horrified by watching Donald Trump, by watching what he's doing, but also what he's doing to us. I would love to see the emergence of a coalition that would set aside ideological differences, at least temporarily, to deal with the current emergency." — Conservative commentator Charlie Sykes.
"My fellow Republicans, please follow the facts. It's not enough merely to dismiss the Ukraine investigation as a partisan witch hunt or to hide behind attacks against the 'deep state,' or to try to find some reason to denounce every witness who steps forward, from decorated veterans to Trump megadonors. History demands that we all wrestle with the facts at hand. They are unavoidable." — Former Sen. Slade Gorton (R-WA)
"Of course the president's not the king. The president's far more powerful than the king. The president has the power that kings have never had." —Alan Dershowitz, on Fox News.
"I am fighting for future Presidents and the Office of the President. Other than that, I would actually like people to testify." — Donald Trump tweet
"God's used imperfect people all through history. King David wasn't perfect. Saul wasn't perfect. Solomon wasn't perfect.And I actually gave the president a little-one pager on those Old Testament kings about a month ago and I shared it with him. I said, 'Mr. President, I know there are people that say you said you were the chosen one and I said, 'You were.' I said, 'If you're a believing Christian, you understand God's plan for the people who rule and judge over us on this planet in our government.'" — Energy Secretary Rick Perry telling Fox & Friends that he believes President Trump is the "chosen one."
"I am a high functioning human being able to outwork people half my age. Compared to Biden and Pelosi, I'm a phenom." — Rudy Giuliani, quoted by New York Magazine.
"It probably goes without saying, that our country's commitment to our national security priorities is under attack from within. America is distracted. Our enemies are not. We need to make U.S. national security a priority." — Former National Security Adviser John Bolton
---
IN THIS ISSUE
FYI
OPINION
1.  Andy Borowitz: Trump Refuses to Pardon White House Turkey After Accusing It of Working for Soros
In a startling break with Thanksgiving tradition, Donald J. Trump refused to pardon the White House turkey after claiming that it was working as a secret operative of the billionaire George Soros.

A group of fourth graders from Bethesda, Maryland, who had gathered on the White House lawn for the annual turkey-pardoning ceremony appeared unprepared for the anti-Soros outburst that Trump unleashed on the Thanksgiving bird.

"That turkey was sent by Soros to spy on me," Trump said, angrily turning on the fowl. "A lot of people are saying this."

While the oblivious turkey pecked desultorily at the ground, an increasingly enraged Trump spewed a stream of conspiracy theories linking the feathered animal to global élites, election fraud in Florida, and Jim Acosta.

Trump attempted to lead the fourth-grade class in a chant of "Lock It Up," apparently directed at the Thanksgiving delicacy, but the students slowly backed away from him in silence.

Tracy Klugian, one of the children who witnessed Trump's meltdown, said that he found it "sad."

"I get that he's upset about Mueller and the midterms, but he shouldn't take it out on a turkey," he said. https://www.newyorker.com/humor/borowitz-report/d
2. Believing Trump means believing this...
Here, an incomplete list of what it takes to be a "loyal" Republican in 2019. According to Trump, you're supposed to believe that:
 • The Ukraine whistleblower made up a "false story" that's been mostly debunked.

 • The probe of Russia's actual interference in 2016 was a deep state plot to sabotage Trump.

 • When the DNC was hacked, it gave the server to "a company owned by a very wealthy Ukrainian."

 • The real scandal is that Ukraine is guilty of meddling in 2016 to help Hillary Clinton.

 • President Obama sent only "pillows and sheets" in aid to Ukraine.

 • Adam Schiff "made up a phone call, and then when I released it, everybody was embarrassed."
https://mailchi.mp/cnn/rs-nov-24-2019?e=5807e62acb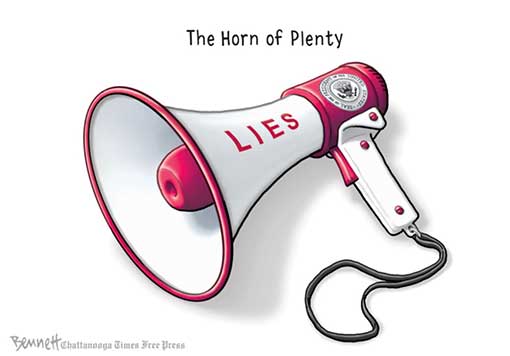 3. California says it won't buy cars from GM, Toyota, others opposing tough tailpipe standards
Starting immediately, California state agencies will no longer buy gas-powered sedans, officials said Friday. And starting in January, the state will stop purchasing vehicles from carmakers that haven't agreed to follow California's clean car rules.
The decision affects General Motors, Fiat Chrysler, Toyota and multiple other automakers that sided with the Trump administration in the ongoing battle over tailpipe pollution rules. The policy will hit General Motors particularly hard; California spent more than $27 million on passenger vehicles from GM-owned Chevrolet in 2018.
California's Department of General Services, the state's business manager that oversees vehicle purchases for California's fleet, announced the bans on Friday afternoon. The immediate ban on state purchases of cars powered only by gas will include exceptions for public safety vehicles. 
"The state is finally making the smart move away from internal combustion engine sedans," California Gov. Gavin Newsom said in a statement emailed to CalMatters. "Carmakers that have chosen to be on the wrong side of history will be on the losing end of California's buying power," Newsom said. https://calmatters.org/environment/2019/11/california-says-it-wont-buy-cars-from-gm-toyota-others-opposing-tough-fuel-standards/
4. Americans, not Chinese, pay Trump tariffs: NY Fed study
When the Trump administration imposed tariffs on Chinese imports last year, officials insisted China would pay the cost - implying Chinese firms would have to cut their prices to absorb import "taxes" of up to 25% when the goods hit U.S. shores.
Instead, the prices Chinese firms charge have barely budged, meaning U.S. companies and consumers are paying the tariff costs, estimated at around $40 billion annually, New York Fed Reserve Bank researchers found in a study released on Monday.
As a result of the U.S.-China trade war, U.S. Customs and Border Protection adds as much as 25% to the import price as Chinese goods enter the country. If Chinese companies were absorbing that cost, they would have to cut their prices as much as 20% - a level that would allow U.S. retailers, manufacturers, or wholesalers to keep their own prices and profits stable.
That is not what is happening. https://www.reuters.com/article/us-usa-fed-tariffs/americans-not-chinese-pay-trump-tariffs-ny-fed-study-idUSKBN1XZ2A4
5. In bleak report, U.N. says drastic action is only way to avoid worst effects of climate change
The world has squandered so much time mustering the action necessary to combat climate change that rapid, unprecedented cuts in greenhouse gas emissions offer the only hope of averting an ever-intensifying cascade of consequences, according to new findings from the United Nations.
Already, the past year has brought devastating hurricanes, relentless wildfires and crippling heat waves, prompting millions of protesters to take to the streets to demand more attention to a problem that seems increasingly urgent.
Amid that growing pressure to act, Tuesday's U.N. report offers a grim assessment of how off-track the world remains. Global temperatures are on pace to rise as much as 3.9 degrees Celsius (7 degrees Fahrenheit) by the end of the century, according to the United Nations' annual "emissions gap" report, which assesses the difference between the world's current path and the changes needed to meet the goals of the 2015 Paris climate accord.
As part of that deal, world leaders agreed to hold warming to "well below" 2 degrees Celsius compared with preindustrial levels; the current trajectory is nearly twice that.
Should that pace continue, scientists say, the result could be widespread, catastrophic effects: Coral reefs, already dying in some places, would probably dissolve in increasingly acidic oceans. Some coastal cities, already wrestling with flooding, would be constantly inundated by rising seas. In much of the world, severe heat, already intense, could become unbearable. https://www.washingtonpost.com/climate-environment/2019/11/26/bleak-report-un-says-drastic-action-is-only-way-avoid-worst-impacts-climate-change/
6. Secret Service spent more than $250,000 at Trump's properties in first five months of his term, records show
The U.S. Secret Service paid more than $250,000 to President Trump's private businesses in just the first five months of his presidency — paying Trump's company an average of nearly $2,000 per day.
The president has set up an extraordinary arrangement: He kept ownership of his businesses — and then visited them repeatedly, bringing along aides and security officials and charging the government for what they bought.
Previously, other records have shown that taxpayers covered the cost of Trump aides staying in the guest suites at Mar-a-Lago, at $546 per night. Taxpayers also paid for a $1,000 liquor tab rung up by Trump aides in a Mar-a-Lago bar.
The Secret Service records released Thursday cover only the first five months of Trump's term, during which he made 21 visits to Trump properties, by The Washington Post's count. https://www.washingtonpost.com/politics/secret-service-spent-quarter-of-a-million-dollars-at-trumps-properties-in-first-five-months-of-his-term-records-show/2019/11/21/ea66d588-0c80-11ea-8397-a955cd542d00_story.html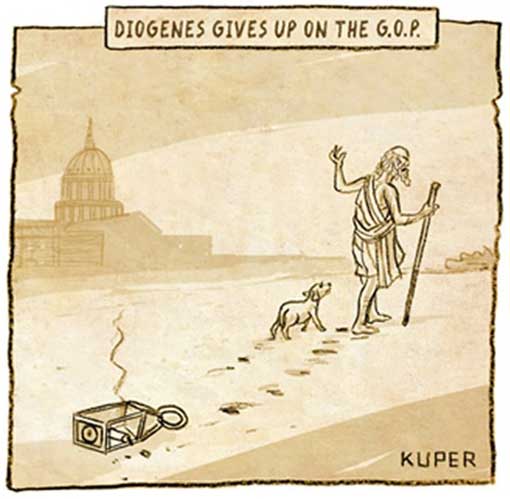 7. Pompeo Emerges as a Major Trump Enabler in Ukraine Affair
Secretary of State Mike Pompeo has for months deflected questions about whether the Trump administration demanded political favors from Ukraine in exchange for military aid. He has refused to explain why he recalled the American ambassador, declared that it was "inappropriate" for his diplomats to testify before Congress and declined to hand over documents to impeachment investigators.
Gordon D. Sondland, the American ambassador to the European Union, filled in the blanks: He said Mr. Pompeo and his top aides "knew what we were doing, and why," and recited emails he wrote to Mr. Pompeo about the quid pro quo demanded by President Trump. "Everyone was in the loop," Mr. Sondland said.
Mr. Sondland's testimony has undercut any notion that Mr. Pompeo, the administration's most powerful national security official, was not a participant in Mr. Trump's efforts to pressure Ukraine. It also firmly places him at the center of one of the nation's biggest foreign policy controversies in nearly two decades, since the debate over the intelligence that led to the war in Iraq.
https://www.nytimes.com/2019/11/20/us/politics/pompeo-sondland-trump-impeachment.html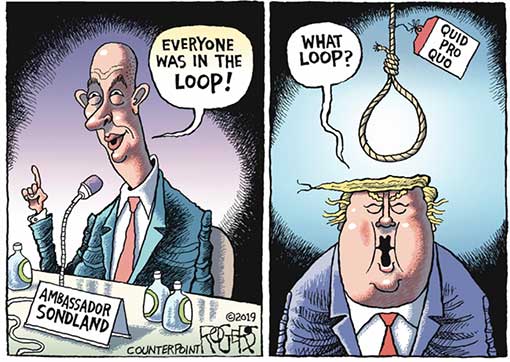 8. The DAILY GRILL
"They gave the server to CrowdStrike ... that's what the word is" -- here's Trump pushing the absolutely insane, debunked conspiracy theory that the DNC's server is in Ukraine and that Russia was framed for interfering in the 2016 election. — Aaron Rupar @atrupar

VERSUS

"This is a fictional narrative that has been perpetrated and propagated by the Russian security services themselves." -- Fiona Hill

"This ambassador that everybody says was so wonderful, she wouldn't hang my picture in the embassy. She wouldn't hang it." — President Trump attacked former U.S. Ambassador to Ukraine Marie Yovanovitch on Friday, saying she was "not an angel" and claiming she refused to hang his framed photograph in the embassy in Kiev for at least a year, CBS News reports.

VERSUS

'I was in charge of the US embassy in London for much of Trump's first year. We didn't hang his picture either. Why? It took the WH almost 15 months to get official photos sent to embassies to hang. And we were instructed not to print other photos,' — Lewis Lukens, chief of mission at the U.S. Embassy in London from 2016 to 2019.
9. From MEDIA MATTERS (They watch Fox News so you don't have to)
U.S. Navy Secretary Richard V. Spencer was forced out over the weekend after losing a power struggle with Fox News host Pete Hegseth over the fate of Eddie Gallagher, a Navy SEAL who had been accused of war crimes during a 2017 deployment to Iraq. https://www.mediamatters.org/pete-hegseth/navy-secretary-forced-out-after-losing-power-struggle-fox-host

In a July interview with the Ukrainian publication New-Times, Lev Parnas, a close associate of the president's personal lawyer Rudy Giuliani, disclosed that his efforts to help Giuliani launch a disinformation campaign targeting former Vice President Joe Biden were also intended to help Attorney General Bill Barr with his investigation into the origins of the U.S. intelligence community's investigation into Russian electoral interference in the 2016 election. https://www.mediamatters.org/trump-impeachment-inquiry/giuliani-associate-parnas-told-ukrainian-publication-july-his-efforts

Far-right conspiracy theorist Alex Jones has continued to use his Infowars outlet to slime Fiona Hill, using derogatory language while making false accusations about the former National Security Council staffer who testified last week in the impeachment inquiry. Jones said that he was responding to Hill because his former Infowars colleague Roger Stone, who was recently convicted of seven felonies and is under a gag order while awaiting sentencing, cannot. https://www.mediamatters.org/alex-jones/alex-jones-presses-roger-stones-smear-campaign-against-fiona-hill

Fox's Pete Hegseth: Trump has withstood more then what "any other mortal could understand." https://www.mediamatters.org/fox-friends/fox-news-host-trump-has-withstood-more-then-what-any-other-mortal-could-understand

Testifying in the House impeachment inquiry against Donald Trump, former White House Russia adviser Fiona Hill criticized what she described as a "fictional narrative" about Ukrainian interference in the 2016 U.S. presidential election. Fox News -- particularly prime-time host Sean Hannity -- has been a key driver of this narrative, which Hill claimed "has been perpetrated and propagated by the Russian security services." https://www.mediamatters.org/sean-hannity/fiona-hill-testified-dangers-fox-pushed-fictional-narrative-about-ukrainian-collusion

Hannity opened his show in triumph. "The charade on Capitol Hill is effectively over, it's done, it is finished," Hannity said, with a graphic reading "END IT" projected behind his left shoulder. "This was the day the Democrats' Trump-Ukraine quid pro quo coup impeachment attempt and hoax officially died. Their phony, their weak narrative was just ripped to shreds. The gigantic, self-serving political stunt is now blowing up in their faces as we all knew it would."  https://www.mediamatters.org/fox-news/foxs-alternate-reality-after-wednesdays-devastating-impeachment-testimony
10. From the Late Shows
Trump Impeachment Press Conference Cold Open - SNL: https://youtu.be/VDNQEplDHjA

2020 Democratic Debate - SNL: https://youtu.be/y8EQFhj8ca4

The Late Show with Stephen Colbert: Devin Nunes Refuses To Answer Questions About His Trip To Vienna: https://youtu.be/BuWDjJ1yx7s
11. Why Giuliani Singled Out 2 Ukrainian Oligarchs to Help Look for Dirt
In public hearings over the last two weeks, American diplomats and national-security officials have laid out in detail how Mr. Trump, at the instigation and with the help of Mr. Giuliani, conditioned nearly $400 million in direly needed military aid on Ukraine's announcing investigations into Mr. Biden and his son, as well as a debunked conspiracy theory that Ukraine, not Russia, interfered in the 2016 presidential election.
But interviews with the two Ukrainian oligarchs — Dmitry Firtash and Ihor Kolomoisky — as well as with several other people with knowledge of Mr. Giuliani's dealings, point to a new dimension in his exertions on behalf of his client, Mr. Trump. Taken together, they depict a strategy clearly aimed at leveraging information from politically powerful but legally vulnerable foreign citizens. https://www.nytimes.com/2019/11/25/us/giuliani-ukraine-oligarchs.html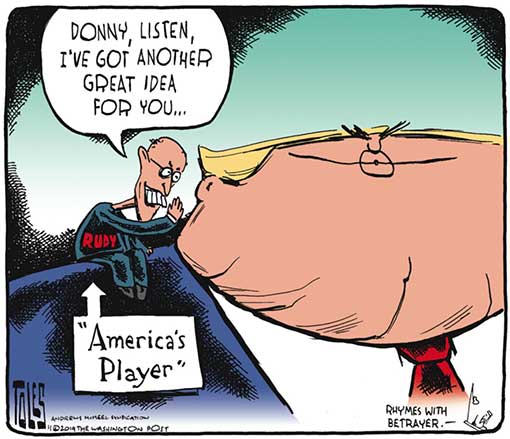 12. Trump Tells Allies He Wants Absolved War Criminals to Campaign for Him
Despite military and international backlash to Trump's Nov. 15 clemency—fallout from which cost Navy Secretary Richard Spencer his job on Sunday—Trump believes he has rectified major injustices. Two people tell The Daily Beast they've heard Trump talk about how he'd like to have the now-cleared Clint Lorance, Matthew Golsteyn, or Edward Gallagher show up at his 2020 rallies, or even have a moment on stage at his renomination convention in Charlotte next year. Right-wing media have portrayed all three as martyrs brought down by "political correctness" within the military. https://www.thedailybeast.com/trump-tells-allies-he-wants-absolved-war-criminals-to-campaign-for-himl
13. Disinformation targets Republicans who criticize Trump or support the impeachment inquiry
Mitt Romney and the few other Republican lawmakers who have spoken out against Trump lately have become the targets of disinformation on social media. False Facebook posts and tweets about federal and local lawmakers who broke the party line have been shared thousands of times, with some talking points making their way onto radio and TV programs, too. 
For Republicans, the choice on social media is clear: support the president or get smeared. https://www.politifact.com/truth-o-meter/article/2019/nov/22/disinformation-targets-republicans-who-criticize-t/
14. Jared Kushner's new assignment: Overseeing the construction of Trump's border wall
Trump has made his son-in-law, Jared Kushner, the de facto project manager for constructing his border wall, frustrated with a lack of progress over one of his top priorities as he heads into a tough reelection campaign, according to current and former administration officials.
Kushner convenes biweekly meetings in the West Wing, where he questions an array of government officials about progress on the wall, including updates on contractor data, precisely where it will be built and how funding is being spent. He also shares and explains the president's wishes with the group, according to the officials familiar with the matter, who spoke on the condition of anonymity to discuss internal White House deliberations. https://www.washingtonpost.com/politics/jared-kushners-new-assignment-overseeing-the-construction-of-trumps-border-wall/2019/11/25/b175cad4-0d63-11ea-a49f-9066f51640f6_story.html
15. Trump's Turkey Corruption Is Way Worse Than You Think
According to a report by MSNBC's Stephanie Ruhle, Bolton said that he believes there is a "personal or business relationship dictating Trump's position on Turkey."
Wait what?
The president's former national security advisor suggested that the commander-in-chief made life or death national security decisions because of an active conflict of interest related to his business?
Bolton's accusation, if accurate, would amount to the biggest scandal in the American presidency in half a century: The most senior security staffer, a man with unparalleled access to the president, believes that Trump acted in a way that is indistinguishable from double-dealing despots the world over. https://thebulwark.com/trumps-turkey-corruption-is-way-worse-than-you-realize/
16. Trump administration officially put hold on Ukraine aid same day as Trump call
The White House budget office's first official action to withhold $250 million in Pentagon aid to Ukraine came on the evening of July 25, the same day President Donald Trump and Ukrainian President Volodymyr Zelensky spoke on the phone, according to a House Budget Committee summary of the office's documents. https://www.cnn.com/2019/11/26/politics/ukraine-aid-trump-call-omb/index.html
1. Frank Rich: Republicans Are Excusing a Criminal Conspiracy
Had Trump pulled out that (so far) proverbial gun and shot someone on Fifth Avenue, Republicans would trot out the exact same defense they have this week: The shot was fired at 2 a.m. and there were no eyewitnesses. Those nearby who claimed to have heard the shot had actually heard a car backfiring. The closed-circuit video capturing the incident is, as the president says, a hoax concocted by the same Fake News outlets that manufactured the Access Hollywood video. The confession released by the White House was "perfect" evidence of Trump's innocence. Election records show that the cops who arrived on the scene were registered Democrats and therefore part of a deep-state conspiracy to frame the president for a crime he didn't commit but that the Democrats did. The victim was not killed and will make a complete recovery, so no crime was committed anyway. And even if Trump had killed the young woman he gunned down, the argument advanced by Trump's lawyer last month would apply: "The person who serves as president, while in office, enjoys absolute immunity from criminal process of any kind." Next case!
The crime Trump actually is accused of is far more severe than that imaginary shooting in any event. He and his co-conspirators, including the vice-president and secretary of State, were guilty of aiding Vladimir Putin's plan to bludgeon Ukraine, an American ally, and, in Fiona Hill's language, "to weaken our country" as well. That Putin's foremost goal is to sabotage the electoral process that is the beating heart of our democracy doesn't seem to matter a whit to Vichy Republicans. If the devastating facts unfurled with great clarity by Adam Schiff's committee has failed to move them, what would? History — particularly the history of the prominent political figures in England, France, and the United States who appeased and collaborated with Germany during the Nazis rise to power — suggests that they will only be moved to speak up when it's too late. http://nymag.com/intelligencer/2019/11/frank-rich-republicans-excuse-criminal-conspiracy.html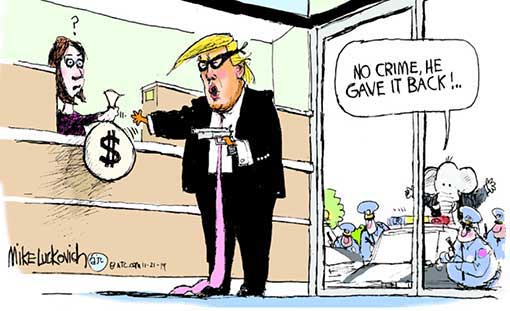 2. Charlie Sykes  Devin Nunes' impeachment defense of Trump — and possible Ukraine collusion — redefines partisan hackery
As Trump's loyal attack ferret on the House Intelligence Committee, Nunes has continually pushed the same debunked conspiracy theories about Ukraine, the Democratic National Committee and CrowdStrike that the Russians have apparently worked so diligently to spread. Indeed, Nunes has become the de facto face of the GOP defense of Trump, in all of its bizarre contempt for facts, its willingness to ignore and defame witnesses and its zeal to defend the president at all costs — including actively colluding with efforts to dig up dirt on his political opponents.
Not content with rhetorical support for Trump and his bizarre conspiracy theories, we now learn that Nunes may also have traveled to Europe to meet with a former (and highly corrupt) Ukrainian prosecutor to discuss the effort to vilify former Vice President Joe Biden. (Speaking with Fox News' Maria Bartiromo on Sunday, Nunes dodged questions about the report.)
It is true that Nunes will never be confused with Abraham Lincoln in either intellect or statesmanship. It also is worth remembering that he is the guy suing a Twitter account called "Devin Nunes' Cow," for $250 million for (among other things) calling him a "treasonous cowpoke," and tweeting that: "Devin's boots are full of manure. He's udder-ly worthless and its pasture time to move him to prison."
Nunes, like so many of his colleagues, IS a political hack. But he's more than that. Devin Nunes has redefined hackery in the age of Trump. https://www.nbcnews.com/think/opinion/devin-nunes-impeachment-defense-trump-possible-ukraine-collusion-redefines-partisan-ncna1090261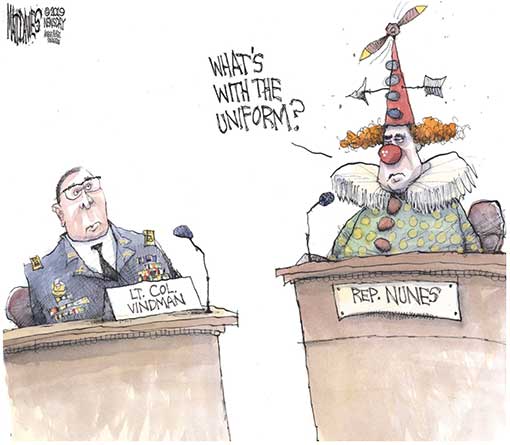 3. Glenn Simpson and Peter Fritsch: The Double-Barreled Dream World of Trump and His Enablers
The Ukraine scandal now unfolding in congressional impeachment hearings has at its core a Shakespearean twist: President Trump, abetted by his paladins of spin, has trapped himself in an alternate universe. To undermine the well-established fact that Russia corrupted the 2016 vote to help him win, Mr. Trump and his allies have tried to build a fiction that pins those crimes on Ukraine.
In doing so, he has confirmed our darkest fears. The president's bid to solicit foreign help to impugn a domestic political rival in 2019 should wipe away any doubts about his willingness to do the same with Russian help in 2016.
Mr. Trump and his enablers — Rudolph Giuliani foremost among them — have scrambled all year to do two deeds at once. They want to besmirch Joe Biden, without foundation, for supposedly using his office as vice president to protect his son Hunter, who served until recently on the board of a Ukrainian gas company. And they want to reinvent what happened in 2016 so as to switch the blame for the election meddling from Moscow to Kyiv. https://www.nytimes.com/2019/11/22/opinion/sunday/trump-ukraine-russia.html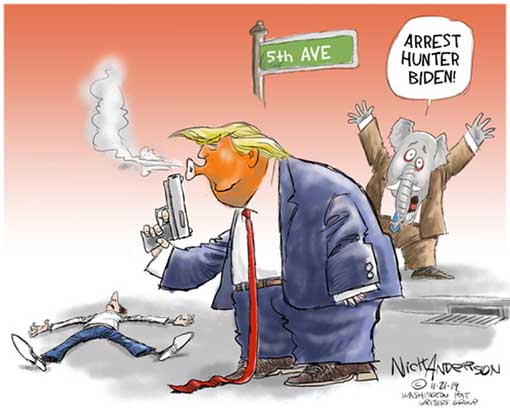 4.  New York Times editorial board: Sondland Has Implicated the President and His Top Men
If Mr. Trump truly believes he insisted on no conditions for the White House meeting and the aid for Ukraine, he has a clear choice: Let people testify. At this point it's hard to see what reason they have for continuing to refuse. Nor is there any justification for the administration to refuse to turn over the underlying documents and notes made by those witnesses who have already testified.
Americans shouldn't be distracted by Republican smoke bombs, but they should also not be satisfied with a truncated inquiry into a question as consequential as whether the president of the United States should be removed from office. There is already abundant evidence that Mr. Trump has abused his power, holding out hundreds of millions of dollars to secure a bribe from a foreign government he wanted to investigate his political rival. In the process, he undermined American national security, and he is continuing to obstruct efforts by a coequal branch of government to get to the bottom of what happened.
These are classic examples of impeachable offenses; some are federal crimes. It is essential for the House to conduct a thorough inquiry, including hearing testimony from critical players who have yet to appear. Right now, the House Intelligence Committee has not scheduled testimony from any witnesses after Thursday. That is a mistake. No matter is more urgent, but it should not be rushed — for the protection of the nation's security, and for the integrity of the presidency, and for the future of the Republic. https://www.nytimes.com/2019/11/20/opinion/sondland-impeachment-hearings.html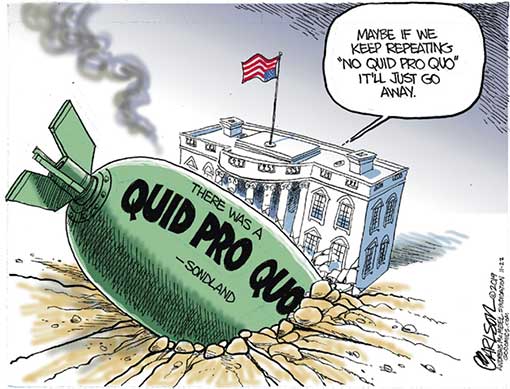 5. Greg Sargent: In Fiona Hill's powerful testimony, a disturbing glimpse into Trump's mindset
The past few days of impeachment hearings have shined a particularly harsh light on the role in this scandal played by Secretary of State Mike Pompeo. And now we're getting a dispiriting glimpse of what Pompeo himself thinks about all of it.
This peek into Pompeo's mindset captures with unique clarity the contempt for basic governing and the rule of law that pervades much of this administration.
On Wednesday, Gordon Sondland, the U.S. ambassador to the European Union, deeply implicated Pompeo in the whole saga, testifying that Pompeo fully understood the dimensions of the scheme that Sondland was implementing to pressure Ukraine into carrying out President Trump's political bidding.
Sondland even testified that Pompeo had direct knowledge of his own view that military aid to Ukraine had been frozen to leverage that country into carrying out the "investigations" Trump wanted.
The reason this is particularly damning in Pompeo's case is that the man whose official role is to implement the nation's foreign policies through the State Department as "the president's chief foreign affairs adviser" was himself actively involved in perverting those policies — by placing them at the disposal of the president's corrupt personal and political ends. https://www.washingtonpost.com/opinions/2019/11/21/amid-powerful-testimony-fiona-hill-disturbing-glimpse-into-pompeos-mindset/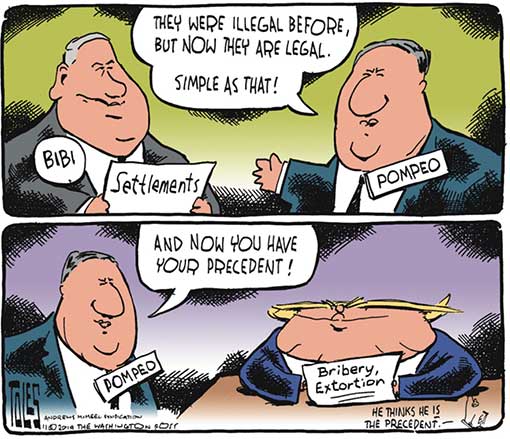 6. Paul Krugman: Trump and His Corrupt Old Party
Formally, the House of Representatives is holding an inquiry into the question of whether Donald J. Trump should be impeached. In reality, we've known the answer to that question for a long time. In a different era, when both parties believed in the Constitution, Trump's abuse of his position for personal gain would have led to his removal from office long ago.
No, what we're actually witnessing is a test of the depths to which the Republican Party will sink. How much corruption, how much collusion with foreign powers and betrayal of the national interest will that party's elected representatives stand for?
And the result of that test seems increasingly clear: There is no bottom. The inquiry hasn't found a smoking gun; it has found what amounts to a smoking battery of artillery. Yet almost no partisan Republicans have turned on Trump and his high-crimes-and-misdemeanors collaborators. Why not?
The answer gets to the heart of what's wrong with modern American politics: The G.O.P. is now a thoroughly corrupt party. Trump is a symptom, not the disease, and our democracy will remain under dire threat even if and when he's gone.
The big question is whether America as we know it can long endure when one of its two major parties has effectively rejected the principles on which our nation was built. https://www.nytimes.com/2019/11/21/opinion/trump-republicans-corruption.html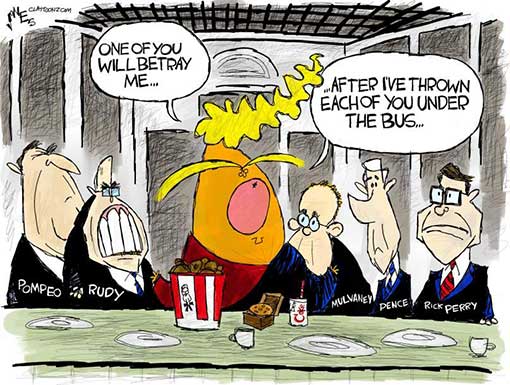 7. Jonathan Chait: Trump Just Repeated the Russian Conspiracy Theory Republicans Deny He Believes
Yesterday, Fiona Hill testified that President Trump and his allies have circulated "a fictional narrative that has been perpetrated and propagated by the Russian security services themselves," absolving Vladimir Putin of interference in the election by claiming Ukrainians, not Russian hackers, actually stole Democratic emails in 2016. Republicans indignantly denied the charge. Byron York called it a "willfully misleading statement." Devin angrily replied, and the Trump War Room quickly posted a clip of his response on YouTube, headlined, "Devin Nunes Destroys Fiona Hill's False Claim About Republicans Denying Russian Meddling."
This morning, Trump gave an interview to Fox & Friends repeating the very theory Republicans so angrily denied he has ever promoted. As the friendly hosts looked on apprehensively, Trump began unspooling a wild theory he has mentioned before, and invoked on his phone call to Ukrainian president Zelensky. The theory posits that Ukrainians hacked Democratic emails, framed Russia, and kept the server they hacked to hide their crime. It fixates on the role of CrowdStrike, a cybersecurity firm that helped the FBI solve the crime.
Trump called CrowdStrike "a company owned by a very wealthy Ukrainian … why did they give it to a Ukrainian company?" None of this is true. CrowdStrike is not owned by Ukrainians. The FBI did examine the server. Ukrainians don't have it. And Robert Mueller proved that Russian hackers carried out the email hack. An obviously concerned Steve Doocy, apparently aware that Trump was blowing up the defense Republicans had laid out the day before, asked, "Are you sure they have it?" Trump seemed sure. http://nymag.com/intelligencer/2019/11/trump-russian-conspiracy-theory-fox-friends-fiona-hill-crowdstrike-ukraine.html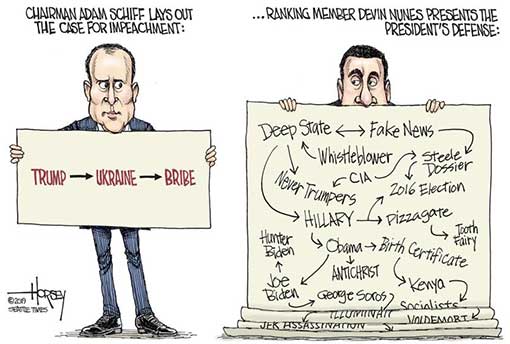 8. Andrew Sullivan: Fiona Hill: The Antidote to Trump
Watching Fiona Hill listen carefully to Castor and Nunes's questions and arguments, and then just as carefully, methodically dismantle them was a kind of cleansing shower in an impossibly humid summer. Her clear distinction between national security and a "domestic errand" is at the heart of the profound corruption in this presidency, and I have simply never seen it expressed so coherently and plainly.
This is why we needed impeachment hearings. We can see this "deep state" for the patriotic professionals so many of them are. We can pierce through the propaganda and see the Washington that many of us who live there have always seen: countless quiet, principled public servants, usually genuinely seeking the public good. Yes, there are many, many cronies and lobbyists and swamp-dwellers as well. But they are outnumbered.
And to see how these people have had to endure a president this deranged, this indifferent to the truth, this craven toward the enemies of the United States because they can be assets for his domestic political purposes is to experience the appropriate amount of anger toward the damage he has done. It feels like a moment to me. http://nymag.com/intelligencer/2019/11/andrew-sullivan-fiona-hill-is-the-antidote-to-trump.html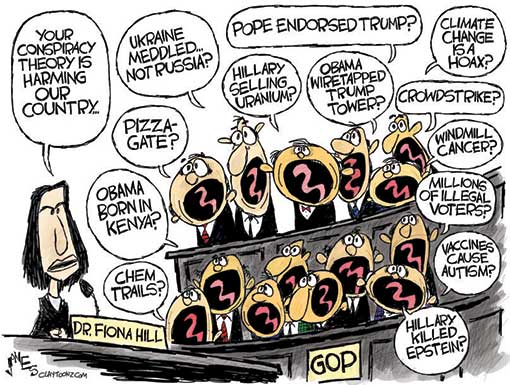 9.  Maggie Haberman: A Senate Trial Could Put Trump's Use of Aggressive Defense Tactics to Their Biggest Test
Over four decades in public life, President Trump has sought to bend business, real-estate and political rivals to his will. Facts that cut against his position have been declared false. Witnesses who have questioned his motives have been declared dishonest. Critics of his behavior are part of a corrupt, shadowy effort aiming to damage him.
And, as he likes to put it, his own actions are always, to one degree or another, "perfect."
That approach — which proved effective when Mr. Trump faced off against the special counsel, Robert S. Mueller III — is about to face a formidable test as the impeachment process moves forward.
The White House and congressional Republicans allied with Mr. Trump are preparing for a Senate trial in which they will not only declare Mr. Trump's innocence but also present a version of events that portray him as the victim of a broad plot to undermine his presidency even before it began.
That narrative will include claims that Ukrainians meddled in the 2016 election instead of the Russians — an unfounded allegation refuted by the administration's own intelligence agencies as recently as this week — and that Biden, the younger son of Vice President Joseph R. Biden Jr., used his father's connections to make money in Ukraine.
Asked about the hearings, Mr. Trump flatly denied testimony given under penalty of perjury by a succession of career national security officials. https://www.nytimes.com/2019/11/22/us/politics/trump-impeachment-defense.html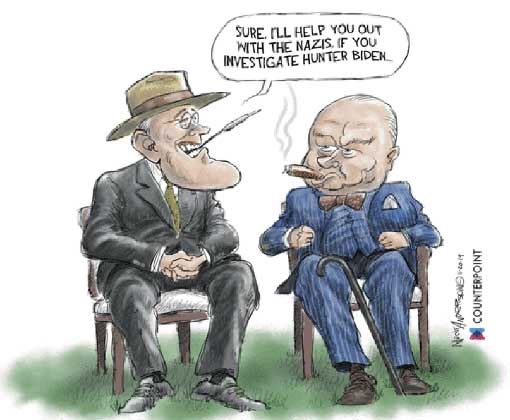 10. Sonia Saraiya: Impeachment, the Comedy
A colorful cast of characters, incoherent yelling, and a country-wide lesson on the proper way to pronounce the name of Ukraine's capital, Kyiv (It's "keev."). Even the president was watching! Okay, to be fair, the president is always watching. And if this is a TV show, surely it's a soap opera: The neverending crisis state of the Trump administration. Every day brings a new drama to unfold, but there's never any resolution.
We've seen hearings before, after all. James Comey. Robert Mueller. Time and again the reasonable public servants come to sit in front of politicians and the cameras, and they say things like: The president was "generally" untruthful in his responses to special counsel Mueller. The president and his administration told "lies, plain and simple" about Comey's tenure at the FBI. But nothing changes. No one is surprised, after all, that Trump lies—it was practically the central pillar of his campaign. The Poynter Institute's PolitiFact has a 13-page topic titled "All False Statements Involving Donald Trump.". The Washington Post counts 13,435 false statements—and counting—since Trump took office. For reasons that stymie pundits and excite social scientists, his supporters don't care.
This soap opera has a dark sense of humor. The most important revelation of the hearings was a farcical, idiotic bit worthy of Curb Your Enthusiasm by way of Veep: The president's a loud talker. A loud phone talker. He's so loud that career diplomat (and modern Adonis) David Holmes heard Trump's voice, blaring from the tinny speaker of Gordon Sondland's cell phone in a restaurant in Kyiv, clearly asking if Ukraine president Volodymyr Zelensky would accede to the investigation. During his testimony, Holmes mimed Sondland holding the phone away from his ear and wincing at the volume of the president's voice. That little gesture is comedic gold. In a moment it shows you the discomfort of listening to Trump's voice. Its boorish volume. His words are so craftily vague—"so, he's going to do the investigation?" being only slightly more specific than did the guy do the thing? The attempt to escape the voice—and the futility inherent.
The joke, obviously, is on us. The hearings were riddled with cynical laughter. As the room buzzed with activity, Post photographer Matt McClain caught Sondland in a moment of stillness, with a sly, smug smile on his face. Both Sondland and acting ambassador William Taylor could not stop themselves from grinning through indignant, blustering questions. Holmes nearly laughed through Jim Jordan's tirade against him.. https://www.vanityfair.com/hollywood/2019/11/impeachment-hearings-fiona-hill-david-holmes-comedy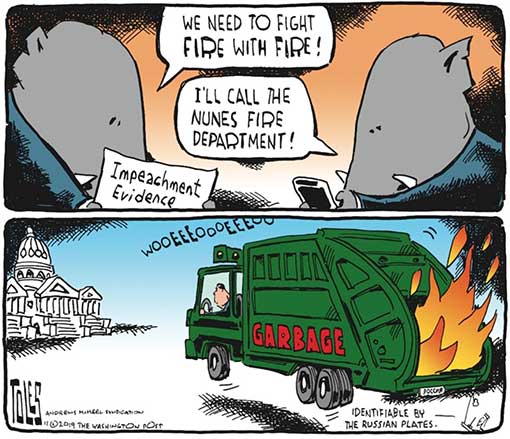 11. Washington Post Editorial: Did the Trump administration really expect a jury to criminalize basic human kindness?
THE FIRST time federal prosecutors in Arizona put a humanitarian volunteer on trial for the unpardonable offense of providing food, water and a change of clothes to a pair of Central American migrants, this spring, a deadlocked jury failed to convict. The second time, there was no such ambiguity — a new jury this month took barely two hours to produce an acquittal, meaning the prosecutors were all but laughed out of court.
The defendant, Scott Warren, a 37-year-old teacher, delivered a brief coda on the judicial ordeal he endured, in which he was charged with felonies that could have meant years in prison: "The government failed in its attempt to criminalize basic human kindness."
Basic human kindness is not exactly the organizing principle of the Trump administration's immigration policy, to put it mildly, but the conspicuous lack of it — in fact, the impulse to gratuitous cruelty — has repeatedly run afoul of the courts as well as the basic decency of most ordinary Americans. That was the lesson of last year's systematic family separations, a festival of barbarism masquerading as a policy of deterrence. And that was the lesson of the misguided prosecutions of a good Samaritan in Arizona.
Mr. Warren is active in a group called No More Deaths, which is motivated by humanitarian and religious principles to assist desperate migrants who trek across the desert to reach the United States. Over the past couple of decades, thousands have died in an unforgiving landscape where temperatures can reach well above 100 degrees. The group leaves water and other supplies for migrants and offers medical care and clothing if needed. It is not engaged in human smuggling. https://www.washingtonpost.com/opinions/did-the-trump-administration-really-expect-a-jury-to-criminalize-basic-human-kindness/2019/11/22/2de5b0ae-0cb8-11ea-bd9d-c628fd48b3a0_story.html
12. Washington Post Editorial: Yes, Congress should be talking about the president and bribery
DID PRESIDENT TRUMP commit bribery? When House Speaker Nancy Pelosi (D-Calif.) leveled this accusation this month, some may have heard hyperbole — or even a public-relations stunt. Messaging concerns persuaded Democrats to abandon the term "quid pro quo" for "bribery." But it is not phony messaging. The Democrats' charge is grounded in the Constitution's language — and it is credible.
The Constitution specifically lists bribery as an impeachable offense, before "high crimes and misdemeanors." If the president is guilty of bribery, there is no need to wonder what "high crimes and misdemeanors" means.
Of course, the Constitution does not define "bribery," either. But federal law does: It is the act of giving, offering or promising anything of value — not just money or tangible items — to a public official to influence an official act. Likewise, the law bars public officials from soliciting anything of value in return for influencing the performance of an official act. In Mr. Trump's case, two weeks of testimony have uncovered evidence that he solicited something of value from the Ukrainian government (besmirching a political opponent) in exchange for official acts (a White House meeting, the delivery of military aid). https://www.washingtonpost.com/opinions/yes-congress-should-be-talking-about-the-president-and-bribery/2019/11/22/ba0c209c-0cb6-11ea-8397-a955cd542d00_story.html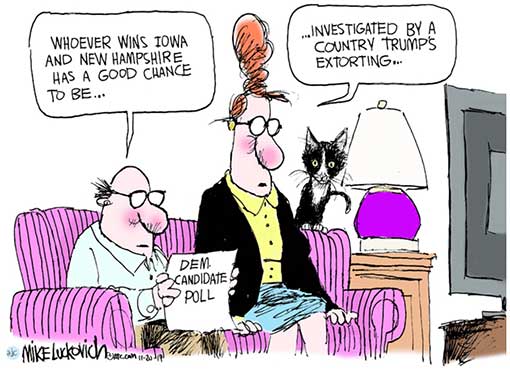 13. Kathleen Parker: The impeachment witnesses are the silver lining to this embarrassing chapter in our history
After fidgeting through five days of public hearings, a dozen witnesses and countless political pontificators, Americans should be gratified by the quality of the people who testified and who actually do the nation's work abroad.
If there was a silver lining to an otherwise embarrassing chapter in our history, it was that we were able to meet and hear from those whose names aren't well known except to their colleagues. To listen and observe was to have one's faith restored in America's image despite the withering damage suffered these past few years.
One after another, the men and women who testified, subjecting themselves to the sometimes scurrilous scrutiny of political profilers, maintained their focus and their cool. It was grating to hear the screech of Rep. Jim Jordan (R-Ohio), whose raised voice surely signaled a stretch-and-restroom break for many viewers. While we're on the subject, can't the man put on a blazer? Jordan appeared without one, putting in mind a teenager who refuses to play by his parents' rules. Jordan proved that age and maturity can be mutually exclusive. https://www.washingtonpost.com/opinions/the-impeachment-witnesses-are-the-silver-lining-to-this-embarrassing-chapter-in-our-history/2019/11/22/280569b6-0d73-11ea-bd9d-c628fd48b3a0_story.html
14. David Ignatius: In firing Richard Spencer, Trump recklessly crosses another line
President Trump's attempt to manipulate military justice had a sorry outcome Sunday with the firing of Navy Secretary Richard V. Spencer. For the past nine months, Spencer had tried to dissuade Trump from dictating special treatment for Navy SEAL Edward Gallagher — but in the end Spencer was sacked for his efforts to protect his service.
Gallagher has become a hero in the Trump echo chamber of Fox News commentary, where he's seen as a victim of vengeful SEAL commanders. His case may have caught White House attention because his legal team included two Trump friends who are former partners of Giuliani: investigator Bernard Kerik, a former New York police commissioner, and Marc Mukasey, who represents Trump.
While Gallagher is celebrated on Fox, current and former senior officers of the SEALs and other elite units told me this weekend that his case has little support within the community of Special Operations forces. One former SEAL commander noted that maintaining discipline among these elite units is so important that the SEAL peer-review panels have removed more than 150 Trident pins since 2011, or more than one a month.
That's the process of internal accountability that Spencer was trying to defend, and that Trump sabotaged. https://www.washingtonpost.com/opinions/2019/11/24/firing-richard-spencer-trump-recklessly-crosses-another-line/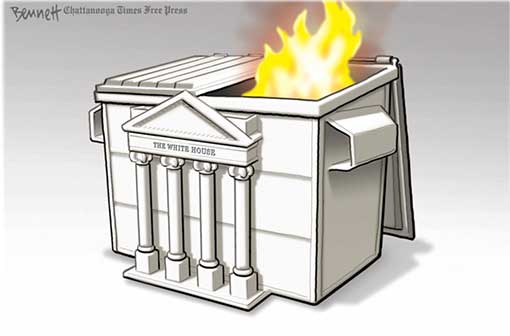 15. Max Boot: For aiding Trump's abuse of power, the GOP deserves to be voted out of existence
The impeachment hearings have revealed President Trump's congenital corruption. The Republican Party's nonchalant reaction, with not a single Republican member of Congress so far endorsing impeachment, reveals its own pervasive corruption.
When the Republican Party sold its soul to Trump in 2016, the price included overlooking his attacks on Mexicans and Muslims, on Gold Star parents, on a disabled reporter, even on John McCain; his abysmal ignorance of basic matters of public policy (he had never heard of the nuclear triad); his open collusion with Russia ("Russia, if you're listening"); and, of course, his boasts about sexually assaulting women.
A pretty high price, that, but, like a landlord raising the rent because he knows you're too lazy to move, Trump has dramatically escalated the cost his supporters must pay to stay in his good graces as we approach his fourth year in power. The price came to include overlooking his racist rants (e.g., telling congresswomen of color to "go back" to where they came from); putting kids in cages; kowtowing to Vladimir Putin, Kim Jong Un, Recep Tayyip Erdogan and other tyrants; abandoning America's Kurdish allies; obstructing justice and stonewalling Congress; declaring a state of emergency to spend money that Congress has not appropriated for a border wall that we don't need; lying nonstop; using the presidency to enrich himself; and disparaging the press as "the enemy of the people."
Now, as the impeachment proceedings have made clear, the price includes turning a blind eye to Trump's attempt to solicit a bribe from Ukraine in return for releasing military aid — and his disparagement of the dedicated men and women in the Foreign Service, the military and the intelligence community who have revealed his self-dealing. https://www.washingtonpost.com/opinions/2019/11/25/aiding-trumps-abuse-power-gop-deserves-be-voted-out-existence/
16. George F. Will: On Trump, the Republican Party is docile, supine and invertebrate
Trump's gross and comprehensive incompetence now increasingly impinges upon the core presidential responsibility. This should, but will not, cause congressional Republicans to value their own and their institution's dignity and exercise its powers more vigorously than they profess fealty to Trump. He has issued a categorical refusal to supply witnesses and documents pertinent to the House investigation of whether he committed an impeachable offense regarding Ukraine. This refusal, which is analogous to an invocation of the Fifth Amendment protection against self-incrimination, justifies an inference of guilt. Worse, this refusal attacks our constitutional regime. So, the refusal is itself an impeachable offense.
If Trump gets away with his blanket noncompliance, the Constitution's impeachment provision, as it concerns presidents, will be effectively repealed, and future presidential corruption will be largely immunized against punishment.
Trump is not just aggressively but lawlessly exercising the interests of his place, counting on Congress, after decades of lassitude regarding its interests, being an ineffective combatant. Trump's argument, injected into him by subordinates who understand that absurdity is his vocation, is essentially that the Constitution's impeachment provisions are unconstitutional. https://www.washingtonpost.com/opinions/the-spiraling-president-adds-self-impeachment-to-his-repertoire/2019/10/10/8c1a739c-eb7c-11e9-9c6d-436a0df4f31d_story.html