September 1, 2022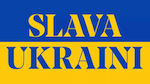 If you have a friend, family member, or neighbor who would like to subscribe to this FREE weekly newsletter they should simply email jellison@san.rr.com with "subscribe" as the subject.
THE WEEK'S BEST QUOTES. . .
"My bike is not bent so anyone can ride my bike like he's going to have Chuck Schumer and Joe Biden riding his bike because he's going to be voting for whatever they say." —
Georgia U.S. Senate candidate Herschel Walker (R)
https://www.mediaite.com/tv/herschel-walker-baffles-with-answer-about-his-mental-health-involving-joe-biden-and-a-bent-bicycle/ 
.
"We have watched the Republican party that was once a party of low taxes and smaller government to become a party of chaos and confusion and QAnon and Marjorie Taylor Greene and the 'Big Lie' and promoting Trumpism at any cost, really a thirst for power above everything else." —
Rep. David Cicilline (D-RI)
discussing his new book, "House on Fire: Fighting for Democracy in the Age of Political Arson."
https://www.msnbc.com/andrea-mitchell-reports/watch/rep-cicilline-gop-is-party-of-chaos-and-confusion-with-thirst-for-power-above-everything-else-147351621800
"Let me say this to my MAGA Republican friends in Congress – Don't tell me you support law enforcement if you won't condemn what happened on the 6th. For God's sake whose side are you on? Whose side are you on? You're either on the side of a mob, or the side of the police. You can't be law enforcement and pro-insurrection. You can't be a party of law and order and call the people who attacked the police on Jan. 6th, patriots." --
President Joe Biden
https://occupydemocrats.com/2022/08/30/fighting-back-biden-calls-the-gop-out-in-fiery-pa-speech-as-the-crowd-cheers/
Even though I am as innocent as a person can be, and despite MY campaign being spied on by the Radical Left, the FISA COURT being lied to and defrauded, all of the many Hoaxes and Scams that were illegally placed on me by very sick & demented people, and without even mentioning the many crimes of Joe and Hunter Biden, all revealed in great detail in the Laptop From Hell, it looks more and more like the Fake News Media is pushing hard for the Sleaze to do something that should not be done! —
Donald Trump
on Truth Social.
https://truthsocial.com/@realDonaldTrump/posts/108883594660582214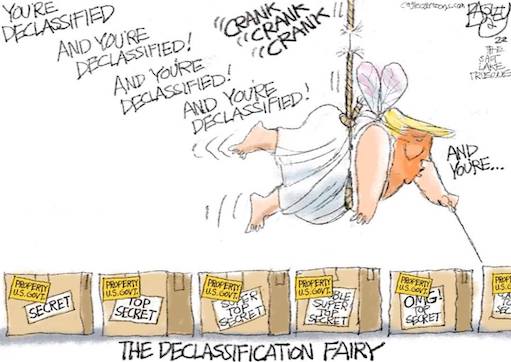 "We are not afraid to call out Donald Trump as someone who, I believe, is essentially traitorous at this point. I had a top secret clearance. I was an Army officer. If I had done what he did, I would've been in jail, 100%. No questions asked. And that is has certainly been part of it." —
Rep.-elect Pat Ryan (D-NY)
the day after winning his special election.
https://www.mediaite.com/tv/congressman-elect-deems-trump-essentially-traitorous-says-if-i-had-done-what-he-did-i-wouldve-been-in-jail/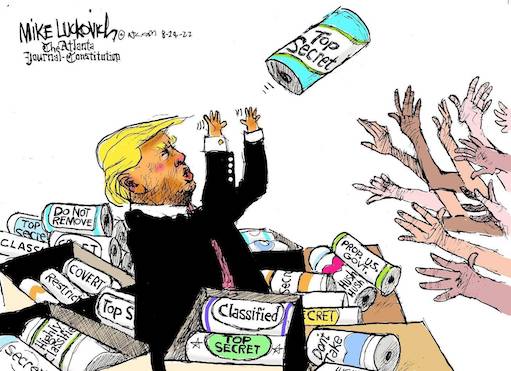 'A slap in the face to working Americans.' —
Description of Biden's student debt relief by Sen. Mitch McConnell (R-Ky.)
, a graduate of two public universities in his home state.
https://www.latimes.com/business/story/2022-08-25/hiltzik-republicans-attacking-student-loan-forgiveness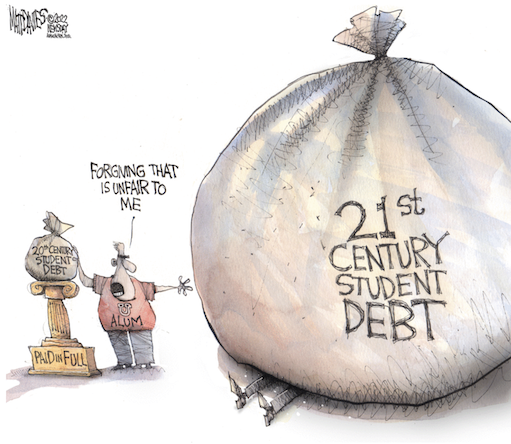 I'm up against massive amounts of spending. I'm up against the media. They're very good. They are very good at assassinating people's character, playing class envy, distorting things beyond any reasonable recognition of things I say. That's been twisted to I carved out a special deal for myself. When you cut taxes for everybody, everybody gets a tax cut. — Sen. Ron Johnson (R-WI) accusing his critics Wednesday of playing class envy as he defended doubling his wealth while in office and inserting a major provision into former President Donald Trump's signature 2017 tax bill.  https://www.jsonline.com/story/news/politics/elections/2022/08/24/u-s-sen-ron-johnson-accuses-critics-playing-class-envy/7885381001/

"Mitch McConnell is not an Opposition Leader, he is a pawn for the Democrats to get whatever they want," Trump said in a statement on his Truth Social platform. "He is afraid of them, and will not do what has to be done. A new Republican Leader in the Senate should be picked immediately!" — Donald Trump accusing Senate Minority Leader Mitch McConnell of being "a pawn for the Democrats" and saying he should "immediately" be replaced. https://www.huffpost.com/entry/donald-trump-says-mcconnell-should-be-replaced_n_630740fde4b035629c01904d
Every Republican in Congress voted:
Against lower prescription drug prices.

Against lower health care costs.

Against a fairer tax system.

Against tackling the climate crisis.

Against lowering your energy costs.

Against creating good-paying jobs.
They chose the already-powerful. -- Joe Biden https://twitter.com/JoeBiden/status/1563213196348993542
"Something I'm pretty tired of from the right is the constant pandering to outrage and people's frustrations. And picking and picking and picking at that sore without trying to channel those feelings in a constructive direction." — Former Attorney General William Barr attacked Donald Trump and his Republican supporters for again "pandering to outrage," this time over the FBI search of Mar-a-Lago. https://www.huffpost.com/entry/william-barr-trump-outrage-pandering-trump-mar-a-lago-search_n_63090d66e4b0dc23bbe89c02

"It became very divisive. Steve Bannon was undermining us, knife-fighting with colleagues, and it just wasn't helping us implement the agenda. Steve really defeated himself, you know. His head got so big he was just doing all these crazy things, and the ultimately just, you know, like a suicide bomber, blew up." -- Jared Kushner to  Hugh Hewitt. https://hughhewitt.com/video/jared-kushner-on-his-new-book-breaking-history/

The president is "robbing hard-working Americans to pay for Karen's daughter's degree in lesbian dance theory." — Rep. Lauren Boebert (R-CO) on President Biden's student loan forgiveness plan.  https://www.vanityfair.com/news/2022/08/rep-lauren-boebert-accuses-biden-funding-degrees-in-lesbian-dance-theory

Two of Donald Trump's attorneys who were involved in the former president's failure to hand over classified documents at his Mar-a-Lago estate should probably "stop talking" and "best defense counsel you can possibly get." — Former federal prosecutor Andrew Weissmann https://www.huffpost.com/entry/andrew-weissmann-trump-attorneys-doj_n_630efe27e4b065bfc4b33a61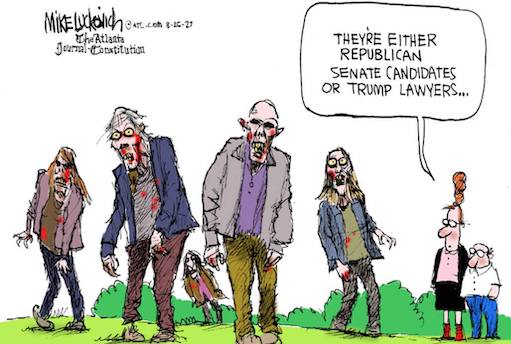 VIDEOS
REPORTER

: Is this unfair to people who paid their student loans or chose not to take out loans?


BIDEN

: Is it fair to people who, in fact, do not own multi-billion-dollar businesses if they see one of these guys getting all the tax breaks? Is that fair? What do you think? https://twitter.com/RiegerReport/status/1562520081342406658

"If I have a mental problem, Jesus Christ must have a mental problem." --
Herschel Walker

  https://twitter.com/patriottakes/status/1562123435463135232

Fuck you Dr. Fauci. You don't get to say whether you go. You get a congressional subpoena, you show up, or you get the Steve Bannon treatment… —

Megyn Kelly

https://twitter.com/MegynKellyShow/status/1562610008231219200

Our fundamental freedoms are literally on the ballot. … A woman's right to choose, on the ballot. Democracy, on the ballot. Your rights as minorities are on this ballot. … He's abusive. He is a bully. … He's dangerous. …He imitates the worst political authoritarians around the globe. —

From Charlie Crist's election night victory speech

. https://twitter.com/CharlieCrist/status/1562232548235051008

I'm sick of seeing him! I know he says he's gonna retire. Someone needs to grab that little elf and chuck him across the Potomac! —

5'9 Ron Desantis

calling 5'7 Dr. Fouci a little elf. https://twitter.com/RonFilipkowski/status/1562540815334789121

The Democratic Party is not taking North Carolina off the board - see this

new ad

from a group associated with the Democratic-led Senate Majority PAC, a $750,000 buy that follows roughly $2 million in previous spending. https://www.youtube.com/watch?v=IODz_oNzYdE

"If you are that slacker barista who wasted seven years in college studying completely useless things, now has loans and can't get a job, Joe Biden just gave you 20 grand… Like, holy cow! 20 grand. You know, maybe you weren't gonna vote in November, and suddenly you just got 20 grand… And you know, if you can get off the bong for a minute and head down to the voting station… or just send in your mail-in ballot that the Democrats have helpfully sent you, it could drive up turnout, particularly among young people." —

Sen. Ted Cruz (R-TX), railing against student loan forgiveness

. https://twitter.com/therecount/status/1563273151575990272



Harvard Law School professor Lawrence Tribe

says that the unredacted portions of the Mar-a-Lago affidavit show "overwhelming evidence" of serious federal crimes. https://twitter.com/CNN/status/1563318734931931136
I just joined Trump's Truth Social. <https://truthsocial.com/users/realgovnewsom40/statuses/108485154625673944> Going to be on there calling out Republican lies. This could get…interesting. My first post -- breaking down America's red state murder problem. —

Governor Gavin Newsom

. https://twitter.com/GavinNewsom/status/1537519138398031872
LITIGATION TRACKER
Pending Criminal and Civil Cases Against Donald Trump
. 
https://www.justsecurity.org/75032/litigation-tracker-pending-criminal-and-civil-cases-against-donald-trump/
---
IN THIS ISSUE
IN THE NEWS
OPINION
Andy Borowitz: Student-Loan Forgiveness Inspires Giuliani to Apply to Law School
The Biden Administration's student-loan-forgiveness program has inspired Rudolph Giuliani to apply to law school, the former New York mayor has confirmed.

Appearing on Fox News, Giuliani said that he had resisted law school in the past because of the hefty price tag, but added, "If I'm gonna get ten, maybe twenty grand back, I'd be freaking nuts not to grab this.

"As amazing an attorney as I am now, can you imagine me with a law degree?" he said. "Get out of here!"

He added that President Biden would "soon regret" his loan-forgiveness offer when he realized that it was putting a nemesis like Giuliani through law school. "Be careful what you wish for," he said, cackling maniacally.

Calling the loan-forgiveness deal "a no-brainer," Giuliani said, "Suppose somebody offered me twenty thousand bucks' worth of booze. You think I wouldn't suck that down? Get out of here!"  https://www.newyorker.com/humor/borowitz-report/.
Democrats see the once unthinkable: A narrow path to keeping the House
Democrats are voicing growing confidence about limiting losses in the House and potentially even salvaging their majority in the midterm elections, with candidates and allied groups making moves to capitalize on a backlash to abortion restrictions, signs of improvements in the economy and opposition to Donald Trump,.

After months of gloomy predictions, Democrats are investing anew in flipping Republican seats. They are also directing more money to protect a roster of their own endangered incumbents — a list party officials said noticeably shrank since the spring. And they are trying to frame contests around abortion rights, putting Republicans on the defensive for strict opposition to the procedure in the wake of the Supreme Court overturning Roe v. Wade. https://www.washingtonpost.com/politics/2022/08/27/democrats-republicans-house-midterms/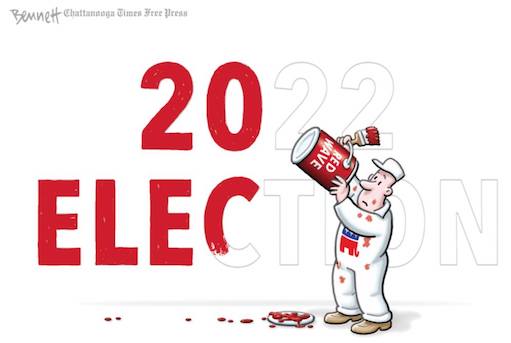 Republicans, Once Outraged by Mar-a-Lago Search, Become Quieter as Details Emerge
In the minutes and hours after the FBI's search of former President Donald J. Trump's residence in Florida this month, his supporters did not hesitate to denounce what they saw as a blatant abuse of power and outrageous politicization of the Justice Department.

But with the release of a redacted affidavit detailing the justification for the search, the former president's allies were largely silent, a potentially telling reaction with ramifications for his political future. https://www.nytimes.com/2022/08/26/us/trump-search-republican-reactions.html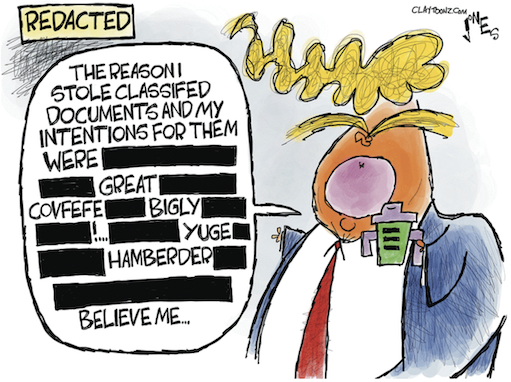 Texas spends more than $12 million to bus migrants to Washington, DC, and New York
The state of Texas has spent more than $12 million busing migrants to Washington, DC, and New York who crossed into the state from Mexico. https://www.cnn.com/2022/08/30/politics/texas-migrant-busing-cost-abbott-washington-dc-new-york/index.html
New Ad Features Herschel Walker's Threats Against Ex-Wife
Democrats are escalating their attacks on Georgia Republican Senate candidate Herschel Walker with a new television ad that calls attention to the violent episodes in Walker's past.
From the 30-second ad: "Herschel Walker has repeatedly threatened to kill his ex-wife." https://www.youtube.com/watch?v=UbhqF21eyhg
More former Republican officials come out in support of Democrat Josh Shapiro in Pa. governor's race
Seven former GOP officials — including former Secretary of Homeland Security Michael Chertoff and former Allegheny County state Rep. Jim Kelly — said they'll support Mr. Shapiro, the state's Democratic nominee, in the 2022 election. https://www.post-gazette.com/news/politics-state/2022/08/30/gop-officials-support-josh-shapiro-pennsylvania-governors-race-michael-chertoff-jim-kelly/stories/202208300061
Honolulu Woman Receives Three Months in Prison for Removal and Retention of Classified Material
Asia Janay Lavarello, 32, was sentenced in the U.S. District Court for the District of Hawaii on February 10, 2022, by Chief U.S. District Court Judge J. Michael Seabright to three months of imprisonment and a $5,500 fine for knowingly removing classified information concerning the national defense or foreign relations of the United States and retaining it at an unauthorized location. Lavarello had pleaded guilty to the charge in July 2021.

According to information produced to the court, Lavarello, a Department of Defense employee, removed and retained numerous classified documents, writings, and notes relating to the national defense or foreign relations of the United States without authority. https://www.justice.gov/usao-hi/pr/honolulu-woman-receives-three-months-prison-removal-and-retention-classified-material

Inside
Truth Social faces financial peril as worry about Trump's future grows
Former president Donald Trump's Truth Social website is facing financial challenges as its traffic remains puny and the company that is scheduled to acquire it expresses fear that his legal troubles could lead to a decline in his popularity, the Washington Post reports.

Six months after its high-profile launch, the site — a clone of Twitter, which banned Trump after Jan. 6, 2021 — still has no guaranteed source of revenue and a questionable path to growth.
The company warned this week that its business could be damaged if Trump 'becomes less popular or there are further controversies that damage his credibility.' The company has seen its stock price plunge nearly 75 percent since its March peak and reported in a filing last week that it had lost $6.5 million in the first half of the year. https://www.washingtonpost.com/technology/2022/08/27/trump-truth-social-mar-a-lago-fbi/
In New Hampshire, Republicans Weigh Another Hard-Right Candidate
He has said the state's popular Republican governor is a Chinese Communist sympathizer, called for the repeal of the 17th Amendment allowing direct popular election of senators and raised the possibility of abolishing the F.B.I.

The man behind these statements is Don Bolduc, a retired Army general who leads the Republican field in what should be a competitive race for the New Hampshire Senate seat held by Senator Maggie Hassan, a Democrat.

In one primary after another this year, Republican voters have chosen hard-right candidates who party officials had warned would have trouble winning in November, and Mr. Bolduc could be on course to be the next. https://www.nytimes.com/2022/08/28/us/politics/don-buldoc-new-hampshire.html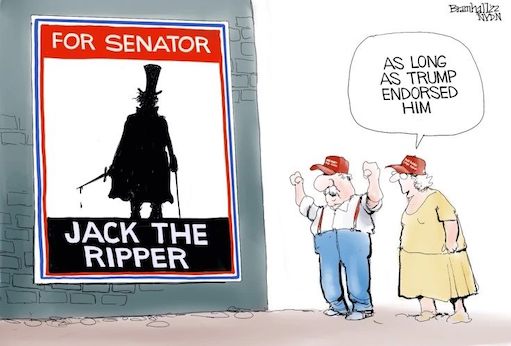 Texans who perform abortions now face up to life in prison, $100,000 fine
Performing an abortion is now a felony punishable by up to life in prison in Texas after the state's trigger law, which has only narrow exceptions to save the life of a pregnant patient, went into effect Thursday. https://www.texastribune.org/2022/08/25/texas-trigger-law-abortion/
Judge blocks part of Idaho's abortion law from taking effect
The Biden administration on Wednesday scored its first legal victory since the Supreme Court overturned Roe V. Wade, convincing a judge to block the portion of an Idaho law that criminalizes performing an abortion on a woman to protect her health.
The law, which was set to take effect on Thursday, bans abortions except in cases involving rape, incest or when a woman's life is in danger — and does not contain an exception for when a pregnant person's health is at risk. It would allow authorities to arrest a health-care professional involved in performing an abortion, putting the onus on that person to prove in court that the abortion met the criteria for one of the exceptions.
In a ruling late Wednesday, U.S. District Judge B. Lynn Winmill said the statute violates a federal act that requires hospitals participating in the federally funded Medicare program to provide medical care when a person's life or health is at stake. The trigger law was written by Idaho state lawmakers long before the Supreme Court struck down Roe V. Wade in June, with the expectation that it would automatically go into effect soon after the court made that landmark ruling.
Idaho can still have a strict abortion law in place. But in issuing a preliminary injunction, Winmill ruled that a doctor cannot be punished if he or she performs an abortion to protect the health of a pregnant patient. https://www.washingtonpost.com/national-security/2022/08/24/idaho-abortion-ruling/
Ads Begin in Texas Governor Race, With O'Rourke's Highlighting Abortion
With early voting now two months away, the ad competition has begun in the race for Texas governor. Last week, Gov. Greg Abbott released a first ad and, on Thursday, Beto O'Rourke, the former El Paso congressman and perennial Democratic hopeful, countered with two of his own.
The O'Rourke campaign, looking for leverage in a tightening but still uphill campaign, focused on abortion, seeking to harness anger among women at the overturning of Roe v. Wade and to direct that anger at Mr. Abbott.
Its two ads were released on the day that a so-called trigger law — made possible by the Supreme Court's overturning of Roe v. Wade — went into effect in Texas. The law, signed last year by Mr. Abbott, bans abortion with no exception for rape or incest and with only limited medical exceptions. https://www.nytimes.com/2022/08/25/us/politics/ads-texas-orourke-abbott.html
GOP prospects narrow in House as Democrats overperform in early contests
Republicans are facing dimming prospects for an overwhelming sweep in the House this fall, according to independent analysts and strategists across parties, as Democrats defy a long-predicted red wave in early contests by capitalizing on abortion's rise as a campaign issue and a renewed focus on former president Donald Trump. https://www.washingtonpost.com/politics/2022/08/24/new-york-special-election-midterms/
Sources Say Feds Are Not Done With Matt Gaetz
Eight people with direct knowledge of the probe confirmed to the Daily Beast that the case against Rep. Matt Gaetz (R-FL) is still unfolding—albeit at a methodical pace—as federal prosecutors work their way across a number of spokes of possible criminality.
While each zone has its own sets of witnesses, subjects, and targets, all of it spirals out from one man: a crooked local tax official and Gaetz's former 'wingman,' Joel Greenberg. https://www.thedailybeast.com/eight-sources-say-feds-are-not-done-with-matt-gaetz
Florida Pair Pleads Guilty in Theft of Biden's Daughter's Diary
Two Florida residents pleaded guilty in federal court in Manhattan on Thursday to stealing a diary and other belongings of President Biden's daughter, Ashley Biden, and selling them to the conservative group Project Veritas in the final weeks of the 2020 campaign.
Prosecutors said Mr. Kurlander agreed as part of a plea deal to cooperate with the Justice Department's investigation into how the diary was acquired by Project Veritas, whose deceptive operations against liberal groups and traditional news organizations made it a favorite of former President Donald J. Trump. https://www.nytimes.com/2022/08/25/us/politics/ashley-biden-diary-project-veritas-guilty.html
Sean Hannity and Other Fox Stars Face Depositions in Defamation Suit
Some of the biggest names at Fox News have been questioned, or are scheduled to be questioned in the coming days, by lawyers representing Dominion Voting Systems in its $1.6 billion defamation suit against the network, as the election technology company presses ahead with a case that First Amendment scholars say is extraordinary in its scope and significance. https://www.nytimes.com/2022/08/25/business/media/sean-hannity-fox-dominion-defamation.html
Abortion Issue Deflates GOP Hopes for November
The Supreme Court ruling overturning Roe vs. Wade and ending the nationwide guarantee of abortion rights achieved a goal the Republican Party had pursued for more than four decades. Now, the bill has come due, at a price much higher than many Republicans expected, the Los Angeles Times reports.
Since the ruling in June, Democrats have done significantly better than expected in special elections, culminating Tuesday with a victory in a race for a vacant congressional seat in upstate New York that strategists on both sides thought the Republican would win.
Combine those results with polls that show Democratic Senate candidates leading in a half dozen swing states plus a surge of women registering to vote this summer in several states, and you have the evidence that has caused nonpartisan analysts to drastically scale back their expectations for GOP victories this fall. https://www.latimes.com/politics/newsletter/2022-08-26/republicans-hopes-for-november-have-deflated-question-now-is-how-badly-essential-politics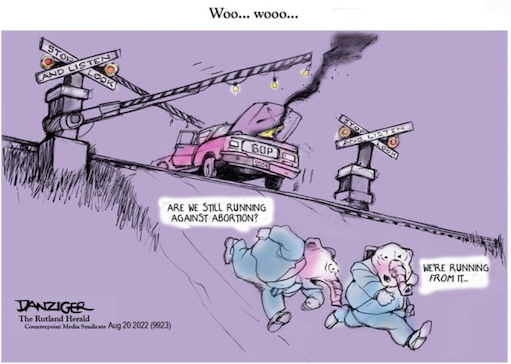 U.S. judge throws out Texas gun ban for young adults after Supreme Court ruling
A federal judge in Texas threw out the state's ban on people between 18 and 20 years old from carrying handguns on Thursday in what appears to be the first major judicial decision since a landmark ruling on weapons rights by the U.S. Supreme Court in June. https://www.nbcnews.com/news/us-news/us-judge-throws-texas-gun-ban-young-adults-supreme-court-ruling-rcna44942
Judge rips fake electors' claims they shouldn't have to testify in Trump probe
A scathing order from Judge Robert McBurney that could have significant implications into the ongoing investigation of Donald Trump.
The three-page order demolished the argument by 11 fake GOP electors who argued prosecutors should be disqualified from seeking criminal charges against them.  https://www.ajc.com/politics/politics-blog/the-jolt-judge-rips-fake-electors-claims-they-shouldnt-have-to-testify-in-trump-probe/UH4S6UOZE5ALTOKNXO2AHZFWHU/
White House Twitter Account Tells Republican Hypocrites To Sit Down And STFU
Fortunately for the universe, someone in the Biden White House apparently thought that this inconvenient truth was worth mentioning. And on Thursday, in an incredible act of aggression previously unheard of for Democrats, they decided to let everyone know.
In a series of simple but effective tweets, the official White House Twitter account responded to GOP outrage over the student-debt jubilee by noting the six- and seven-figure PPP loans the government had forgiven as part of the pandemic-era program.
Representative Marjorie Taylor Greene

?

Who claimed it is completely unfair to forgive student loans up to $20,000? She had $183,504 of debt forgiven. https://twitter.com/WhiteHouse/status/1562916200866267138
Representative Vern Buchanan?

Who called the Biden program a reckless loan giveaway? More than $2.3 million. https://twitter.com/WhiteHouse/status/1562916204011995136
Representative Markwayne Mullin

?

More than $1.4 million in PPP loans forgiven.. https://twitter.com/WhiteHouse/status/1562916206419509248
Representative Kevin Hern

?

More than $1 million. https://www.vanityfair.com/news/2022/08/white-house-twitter-joe-biden-student-loans
Congressman Matt Gaetz

had $482,321 in PPP loans forgiven. https://twitter.com/WhiteHouse/status/1562916212841103360
Congressman Mike Kelly

had $987,237 in PPP loans forgiven. https://twitter.com/WhiteHouse/status/1562916210819436544
https://www.vanityfair.com/news/2022/08/white-house-twitter-joe-biden-student-loans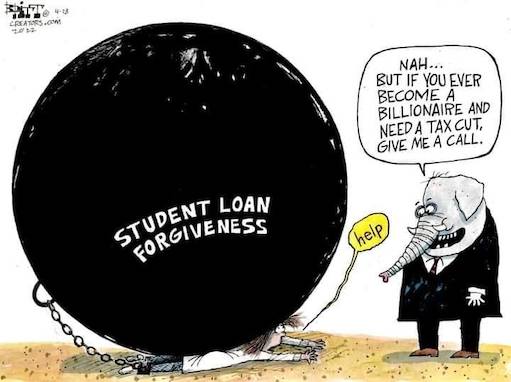 After Roe's End, Women Surged in Signing Up to Vote in Some States
In the first few months of this year, more than half of Kansans who registered to vote were men. That changed after the Supreme Court overturned Roe v. Wade.

The Kansas figures are the most pronounced example of a broader increase in registration among women since the Dobbs decision, according to an Upshot analysis of 10 states with available voter registration data. On average in the month after Dobbs, 55 percent of newly registered voters in those states were women, according to the analysis, up from just under 50 percent before the decision was leaked in early May. https://www.nytimes.com/interactive/2022/08/25/upshot/female-voters-dobbs.html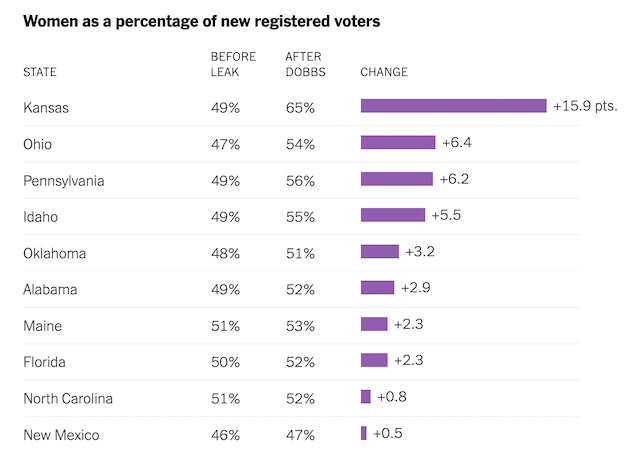 POLLS ...
The Division of Election released an update Tuesday in the three-way contest to see who will serve the remainder of the late Rep. Don Young's (R-AK) term. With an additional 22,000 votes counted, Peltola gained over rivals Sarah Palin (R) and Nick Begich (R). Peltola is now 7.5 percentage points ahead of Palin. She was 6 points ahead last week. https://alaskapublic.org/2022/08/23/peltola-gains-in-alaskas-updated-special-us-house-election-results/

A new Franklin & Marshall College finds Democrat Josh Shapiro currently holds an advantage over Republican Doug Mastriano in the 2022 race for Pennsylvania Governor, 44% to 33%. https://www.getrevue.co/profile/fandmpoll/issues/franklin-marshall-poll-release-august-2022-1324503

The same poll shows Democrat John Fetterman currently holds an advantage over Republican Mehmet Oz in the 2022 race for Pennsylvania US Senator, 43% to 30%. https://www.getrevue.co/profile/fandmpoll/issues/franklin-marshall-poll-release-august-2022-1324503

An internal poll shows Rep. David Schweikert (R-AZ) in a dead heat with challenger Jevin Hodge (D), 47% to 47% in an Arizona swing district. https://www.politico.com/f/?id=00000182-d595-dc2e-a3a3-dfb7a11c0000

An internal poll shows Kirsten Engel (D) just ahead of Juan Ciscomani (R) in the Arizona district being vacated by Rep. Ann Kirkpatrick (D-AZ), 49% to 47%. https://www.politico.com/f/?id=00000182-d598-d145-a1ab-f79cfe880000

In May, @CookPolitical Report's House outlook was a GOP gain of 20-35 seats. Based on recent developments, we've revised our outlook to a 10-20 seat GOP gain, w/ Dems maintaining control not out of the question. — Dave Wasserman, U.S. House editor of the nonpartisan Cook Political Report w/Amy Walter. https://twitter.com/Redistrict/status/1562476651014893568. https://twitter.com/Redistrict/status/1562476651014893568

A new EPIC-MRA poll in Michigan finds Gov. Gretchen Whitmer (D) has a sizeable lead over challenger Tudor Dixon (R), 50% to 39%. https://www.nbcnews.com/meet-the-press/meetthepressblog/whitmer-double-digit-lead-dixon-new-michigan-poll-rcna44974

A new Trafalgar Group poll in Wisconsin finds Mandela Barnes (D) leading Sen. Ron Johnson (R) in the U.S, Senate race, 49% to 47%. https://www.thetrafalgargroup.org/news/wi-sen-0828/

Larry Sabato's Crystal Ball: The overall race for the Senate remains a Toss-up, with 49 seats at least leaning to each party and a couple of Toss-ups overall, Georgia and Nevada. https://centerforpolitics.org/crystalball/articles/senate-rating-changes-arizona-pennsylvania-to-leans-democratic/

A new USA Today/Ipsos poll finds 59% of Republican voters said Donald Trump should be the Republican nominee in 2024 and that he deserves re-election, while 41% said it's time for a change within the GOP and that Trump shouldn't run. https://www.ipsos.com/sites/default/files/ct/news/documents/2022-08/USA%20Today%20Partisan%20Poll%20Topline%20082522.pdf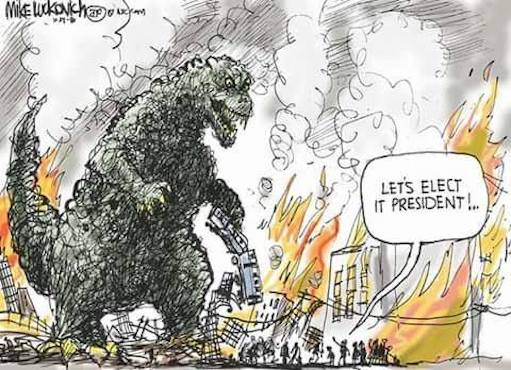 A New York Times/Siena College poll after the Dobbs decision found that 9 percent of women ranked abortion as their most important issue, compared with 1 percent of men. https://www.nytimes.com/interactive/2022/08/25/upshot/female-voters-dobbs.html
The DAILY GRILL ...
Rep. Tom Emmer (R-MN)
, the chair of House Republicans' campaign arm, sought to tamp down fears over the party's special election loss in New York's 19th district in a memo in which he called Pat Ryan's (D) win a "quirk." 
https://www.axios.com/2022/08/24/tom-emmer-gop-ny-19-loss
VERSUS
Mr. Ryan's
victory in the 19th District of New York quickly topped the list of signs that the fall campaigns may be more competitive, in more places, than strategists in both parties had once anticipated.
https://www.nytimes.com/2022/08/24/us/politics/ny-special-election-abortion.html
Trump University founder Donald Trump
railed in a post on his Truth Social platform about college administrators who 'fleeced' students — part of his attack on President Joe Biden's student loan forgiveness program.
https://truthsocial.com/@realDonaldTrump/posts/108885084271450262.
VERSUS
Trump failed to mention that he paid $25 million in 2016 to settle three fraud lawsuits
filed on behalf of customers who paid as much as $35,000 each to attend his own Trump University, which was never accredited as a university and didn't provide any legitimate college degree.
https://www.huffpost.com/entry/donald-trump-university-fraud-lawsuits-hypocrisy_n_6307f940e4b0581766d1e6ed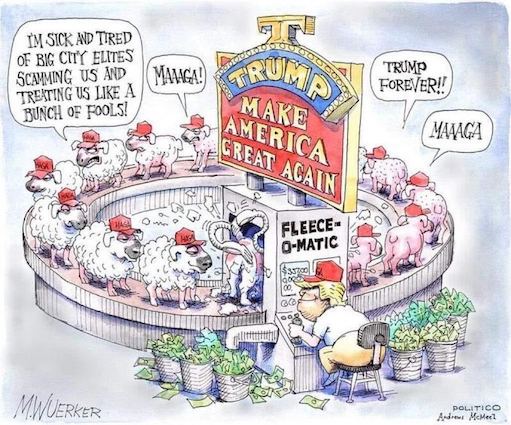 My body my choice? Your loan my responsibility? This isn't loan forgiveness, it's a generation of lazy unaccountable uneducated children being covered by hard working debt paying Americans. —
Curt Schilling
https://twitter.com/gehrig38/status/1562631791491825664
VERSUS
Curt Schilling, declared bankruptcy after bilking tax payers for millions of dollars and recovering his own investments. Let's face it:
Curt Schilling is the 21st century face of a welfare queen
.
https://www.cbsnews.com/detroit/news/curt-schilling-is-the-21st-century-face-of-a-welfare-queen/
Democrats' student loan socialism is a slap in the face to working Americans who sacrificed to pay their debt or made different career choices to avoid debt. A wildly unfair redistribution of wealth toward higher-earning people. —

Leader McConnell

https://twitter.com/Public_Citizen/status/1562484273696759816
VERSUS
You literally canceled $1,900,000,000,000 in tax cuts for the rich. You should sit this one out. —

Public Citizen

. https://twitter.com/Public_Citizen/status/1562484273696759816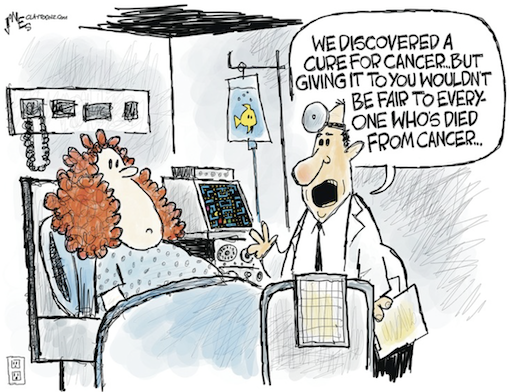 Brad Moss: It's Over: Trump Will Be Indicted
I believe Trump will actually be indicted for a criminal offense. Even with all its redactions, the probable cause affidavit published today by the magistrate judge in Florida makes clear to me three essential points:
Trump was in unauthorized possession of national defense information, namely properly marked classified documents.

He was put on notice by the U.S. Government that he was not permitted to retain those documents at Mar-a-Lago.

He continued to maintain possession of the documents (and allegedly undertook efforts to conceal them in different places throughout the property) up until the FBI finally executed a search warrant earlier this month.
That is the ball game, folks. Absent some unforeseen change in factual or legal circumstances, I believe there is little left for the Justice Department to do but decide whether to wait until after the midterms to formally seek the indictment from the grand jury. https://www.thedailybeast.com/its-over-trump-will-be-indicted/?scrolla=5eb6d68b7fedc32c19ef33b4
Maureen Dowd: Women's Work Is Never Done
It's nice to see that the Democrats are back on track.
It only took an upheaval turning women into second-class citizens, the possibility that the Orange Menace could be re-elected, and an out-of-control Supreme Court.
Women who thought that Roe would never really get tossed out, or if it did, it wouldn't have that much impact, are now realizing what an earthquake this is.
Tudor Dixon, a Donald Trump acolyte who is the Republican nominee for governor in Michigan, told a local Fox station that abortion should be illegal even in the case of minors who are raped. She suggested that having the baby could be healing.
Many women are angry and many are registering to vote. Trump seems nervous, but he has wiggled out of a lot of jams. Democrats can't rely on his spontaneous combustion. Just as women boosted Biden into the White House, now women have to rescue us again, from a bunch of crazy conservatives determining our health care — and how we live our lives. And maybe soon, whether we can be Dancing Queens. https://www.nytimes.com/2022/08/27/opinion/sanna-marin-women-abortion.html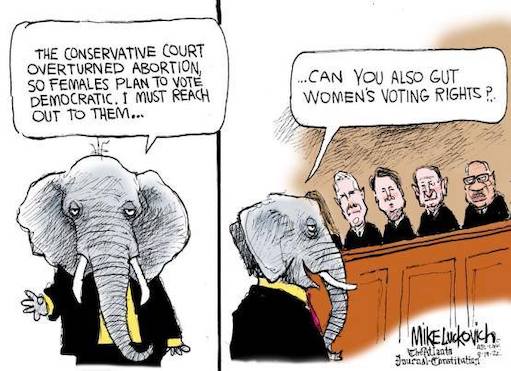 Megan Messerly And Alice Miranda Ollstein: Abortion access crumbles: 4 more states enact new restrictions this week
The erosion of abortion access in the United States accelerated this week with four more state trigger laws taking effect — in Idaho, North Dakota, Tennessee and Texas.
While three of those states had significant restrictions on the procedure already in place, the new laws carry narrower exemptions and harsher criminal penalties, all but eliminating abortion in broad swaths of the U.S.
As of Thursday, abortion is prohibited starting at conception, with limited exceptions, in a dozen states, and two more states forbid the procedure after the detection of fetal cardiac activity, around six weeks of pregnancy.
The newly effective laws make good on conservative promises to swiftly prohibit abortion in as many states as possible following the Supreme Court's decision to overturn Roe v. Wade in June and will leave much of the South and Plains states with virtually no access to the procedure. The laws could also make it harder for people to access non-abortion care, including for a miscarriage and family planning.
In Texas, which has banned all abortions after roughly six weeks of pregnancy for nearly a year, abortion providers now risk a life sentence for performing an abortion at any time during pregnancy, unless the pregnant person's life is in danger.
Traveling outside of Texas for an abortion was hard enough as it is, but now we have large blocks of the country that are abortion deserts with no provider at all, said Abigail Aiken, an associate professor and researcher focusing on abortion at the University of Texas at Austin. All these trigger bans going into effect at once are changing the picture.
And courts are temporarily blocking enforcement of sweeping restrictions in five other states — Arizona, Iowa, Michigan, Utah and Wyoming — as litigation against them proceeds.
Court battles currently playing out in both Idaho and Texas that could reach the Supreme Court will also determine what rights both pregnant patients and abortion providers have in emergency situations.
Who is going to decide what care patients receive when they experience a dire medical emergency while pregnant? said Jeff Dubner, an attorney with Democracy Forward, representing medical groups in both cases. Is it going to be the physician in the room with them, making calls based on their decades of study, or is it going to be legislators with no medical expertise?
https://www.politico.com/news/2022/08/25/abortion-access-restrictions-00053622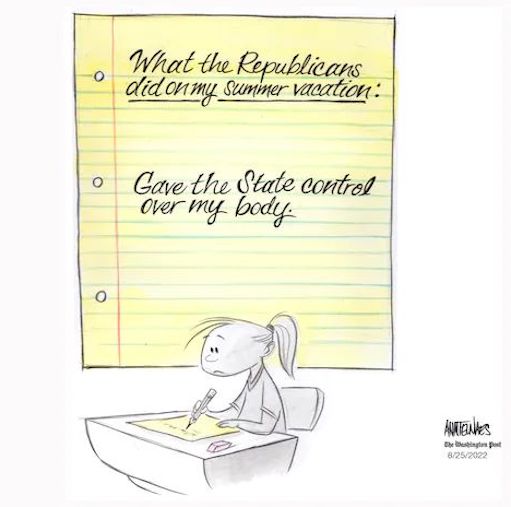 Mike Hixenbaugh: How a far-right, Christian cellphone company 'took over' four Texas school boards
A little more than a year after former Trump adviser Steve Bannon declared that conservatives needed to win seats on local school boards to save the nation, he used his conspiracy theory-fueled TV program to spotlight Patriot Mobile, a Texas-based cellphone company that had answered his call to action.
The school boards are the key that picks the lock, Bannon said during an interview with Patriot Mobile's president, Glenn Story, from the floor of the Conservative Political Action Conference, or CPAC, in Dallas on Aug. 6. Tell us about what you did.
Story turned to the camera and said, We went out and found 11 candidates last cycle and we supported them, and we won every seat. We took over four school boards.
Eleven seats on school boards, took over four! Bannon shouted as a crowd of CPAC attendees erupted in applause.
It was a moment of celebration for an upstart company whose leaders say they are on a mission from God to restore conservative Christian values at all levels of government — especially in public schools. To carry out that calling, the Grapevine-based company this year created a political action committee, Patriot Mobile Action, and gave it more than $600,000 to spend on nonpartisan school board races in the Fort Worth suburbs.
In a recent weekly sermon at Patriot Mobile headquarters, Rafael Cruz — the father of U.S. Sen. Ted Cruz, R-Texas — dismissed
the concept of separation of church and state as a myth, arguing that America's founders meant that ideal as a one-way wall preventing the government from interfering with the church, not preventing the church from influencing the government.
He then called on people who are rooted in the righteousness of the word of God to run for public office.
If those people are not running for office, if they are not even voting, then what's left? Cruz said.

The wicked electing the wicked.
https://www.nbcnews.com/news/us-news/-christian-cell-company-patriot-mobile-took-four-texas-school-boards-rcna44583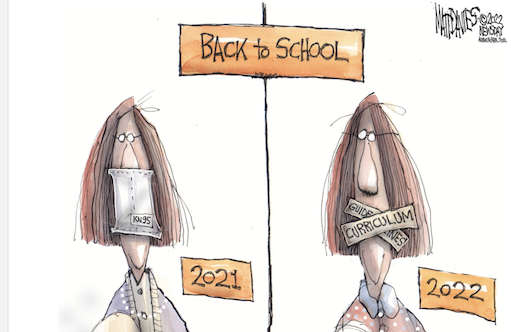 Chris Smith:

Letitia James's Trump Investigation Is Nearing Its Endgame

The flurry of recent headlines does not mean that New York's attorney general, Letitia James, has forgotten about the state's most famous former resident.

To the contrary. After more than three years spent digging through millions of documents and compiling dozens of hours of depositions, all signs seem to point toward James taking legal action against Trump soon, probably in the next four to six weeks. The attorney general's press office declined to comment on whether a decision has been made about next steps.

The best deposition outcome for James would have been for Trump to admit to cooking the books. Which—surprise, surprise—he did not do. Instead, Trump pleaded the Fifth Amendment more than 400 times over the course of four hours. In civil cases, unlike criminal cases, judges and juries are allowed to attach an adverse inference when defendants refuse to answer questions. The attorney general can absolutely use that against Trump, says E. Danya Perry, a white-collar defense attorney and former federal prosecutor, who last year was one of the coauthors of a lengthy Brookings Institution assessment of James's ongoing investigation of Trump. I assume she presumed that he would invoke the Fifth Amendment—that's part of why she was chasing this so hard, to get him to testify. It certainly bolsters and tidies up her case.

In addition to assembling its own civil case, James's office has been assisting in the criminal probe of Trump and the Trump Organization conducted by the Manhattan district attorney. That front seemed to have reached a near dead end last February, when two senior prosecutors quit in protest of what they said was DA Alvin Bragg's decision not to seek an indictment of Trump on charges of allegedly inflating his assets in financial statements. One large impediment to bringing charges was the refusal of the Trump Organization's former chief financial officer, Allen Weisselberg, to implicate his longtime boss. Last week, however, Weisselberg pleaded guilty to 15 felonies, and he is expected to testify in the DA's criminal fraud case against the Trump Organization, which is scheduled to begin on October 24. https://www.vanityfair.com/news/2022/08/letitia-jamess-trump-investigation-is-nearing-its-endgame

Bess Levin: Donald Trump Jr., Born With A Silver Spoon In His Ass, Doesn't Like Biden's Student Loan Forgiveness Plan

As you've no doubt heard by now, on Wednesday, Joe Biden announced that the government will forgive up to $20,000 in federal student loans for Americans making under $125,000 a year individually, or $250,000 a year as a married couple. While the move is projected to overwhelmingly benefit the middle class—the White House estimates that almost 90% of the relief will go toward people earning less than $75,000 annually—Republican lawmakers reacted to the news as though Biden had declared that starting Friday, members of his Secret Service detail will be going house-to-house to shoot blue-collar workers in the face. Also having a meltdown about the whole thing? Donald Trump Jr., who we're guessing has never had to live under the weight of crushing educational debt on account of the whole born-with-a-silver-spoon-in-his-ass business.
 
Canceling student debt is a tax on the most responsible people in the country, Junior, whose tuition to the University of Pennsylvania was presumably footed in full by his father, tweeted on Wednesday. (At Penn, my colleague Emily Jane Fox reported in her book, Born Trump, the ex-president's namesake was nicknamed Diaper Don, on account of the frequency with which he would get drunk and wake up in strangers' beds covered in piss.) He similarly suggested that the loan forgiveness plan is nurturing incompetence and irresponsible behavior while penalizing hard work and fiscal responsibility, asking, How long can this continue before we collapse as a society and a nation? (As Don is presumably unaware, many countries actually allow their citizens to go to college for free and are somehow doing just fine.) Responding to Congresswoman Cori Bush's statement about the startling disparity between the debt held by Black borrowers versus white ones, the ex-president's eldest son sneered that Biden's loan program discriminate[s] against Those that saved their money, skipped cool toys/trips and already paid their debts and those that went to work rather than getting a $300K gender studies degree. (For those of you keeping up at home, the gender studies line is a popular one among the MAGA crowd.)
 
Of course, Junior himself did not have to worry about the cost of college because he was born into generational wealth, at least some of which was reportedly accrued through outright fraud. Nor has he ever had to worry about money in general, given that he's worked for the company owned by his father since he was in his early 20s and, as of 2019, was reportedly worth an estimated $25 million.
 
Speaking of Donny's dad, before he became president, Trump the elder was probably best known for basically never paying his debts, with his businesses filing for bankruptcy a whopping six times. And not only did he habitually not pay back his loans, he was deeply proud of it. After The New York Times revealed that the real estate developer had $287 million in debt forgiven by lenders—after he went into default—Trump tweeted that getting out of paying what he owed made him a smart guy. Which begs the question, is Trump, in little Donny's mind, an irresponsible deadbeat? Or is it simply that it's okay for the very wealthy catch a break, but the middle class, not so much? https://newsofcanada.net/donald-trump-jr-born-with-a-silver-spoon-up-his-butt-doesnt-like-bidens-student-loan-forgiveness-plan/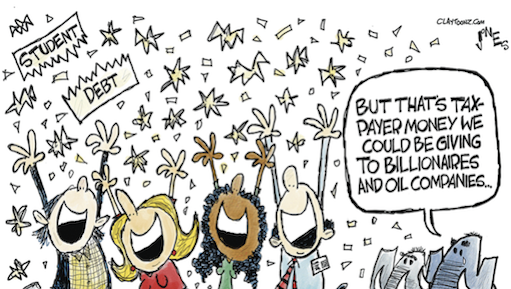 FT Editorial: Donald Trump Now Owns the Republicans
Nine months ago, there was still some doubt whether the US Republicans were Donald Trump's personal possession. Glenn Youngkin had just won the Virginia governorship while keeping some distance from the twice-impeached former president. Here was, if not a brave soul, then an electoral model for non-populist conservatives to follow.
How naive that doubt now seems. Trump-endorsed candidates are thriving in the primaries for the midterm elections. Those who take a stand against him are not. The rout of the Republican lawmaker Liz Cheney in Wyoming this month was retribution for her role in the probe into last year's siege of the US Capitol. About three-quarters of Republican voters deny that Joe Biden is the legitimately elected US president. Subscribers to the Big Lie include people attaining positions in the election bureaucracy of Arizona and other important states. Trump, if he runs again in 2024, will count on their chicanery.
The decay of the GOP is existential for the republic.
https://www.ft.com/content/1b960855-0608-4100-b3e1-6a9922a58366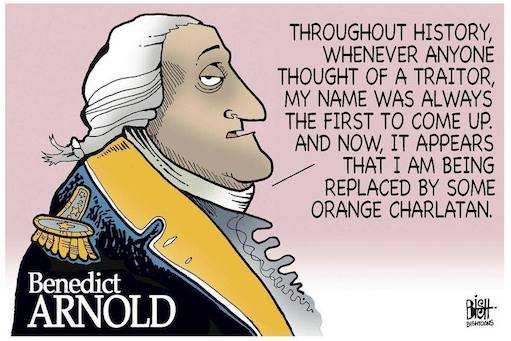 Jonathan Chait; Trump Is Completely Innocent, Argues Fellow Criminal
Donald Trump's supporters in the Republican Party have produced numerous defenses of his mishandling of presidential records and even more numerous attacks on the Justice Department for its effrontery in taking the records from a locker in Trump's country club. But for sheer entertainment value, none of those polemics may match Conrad Black's column in the American Mind, a publication of the Claremont Institute.
Unlike the circuitous arguments of the anti-anti-Trumpers, who attack Trump's adversaries (the FBI can't be trusted, you know) without defending his conduct directly, Black states straight out that the former president committed no crime whatsoever. There is no evidence against Trump of having done anything illegal, he insists.
Having claimed the raid had no legal basis, Black posits that it must be politically motivated before going on to assert that it may also have finally generated some independent voter empathy for Trump. Naturally, he produces no evidence for this claim either.
However, the episode does seem to have rallied Trump's base, and no part of his base is more devoted to Trump than Conrad Black, especially on matters of white-collar crime. Black, a convicted criminal who served time for fraud and obstruction of justice before Trump pardoned him, has more reason to empathize with and feel gratitude toward Trump than perhaps any other Trump supporter. (Trump has enjoyed an outpouring of support from his base of criminal friends.)
Indeed, Black's experience as both a fellow convicted offender and a recipient of Trump's favor is the most relevant credential he possesses to comment on the case. Alas, the column fails to mention either his conviction or Trump's pardon. https://nymag.com/intelligencer/2022/08/trump-is-completely-innocent-argues-fellow-criminal.html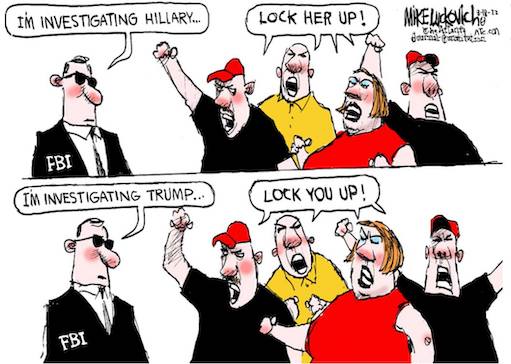 Greg Sargent: Lindsey Graham's vile 'riots' threat gives away Trump's game
"If there's a prosecution of Donald Trump for mishandling classified information," said Sen. Lindsey O. Graham on Fox News, there will be "riots in the streets."
Trump endorsed Graham's threat by posting video of it on Truth Social. And Trump himself had already unleashed a volley of deranged hints that the FBI search of his Mar-a-Lago compound is the stuff of banana republics and FBI leadership is riddled with corruption.
"Most Republicans, including me, believe that when it comes to Trump, there is no law," Graham seethed in that Fox appearance. "It's all about getting him."
Graham said this straight out: When it comes to Trump, "there is no law." That's what Trump and his propagandists want the public (or at least Trump's base) to come to believe, so Americans tune out the facts and conclude prosecution cannot be legitimate.
Trump and Graham cannot be permitted to advance the idea that applying the law to Trump cannot be done neutrally or legitimately by definition. Graham is not just threatening political violence. He's also providing an invented rationale for it that is deeply dangerous.
https://www.washingtonpost.com/opinions/2022/08/29/lindsey-graham-threatens-riots-trump-prosecution-mar-a-lago/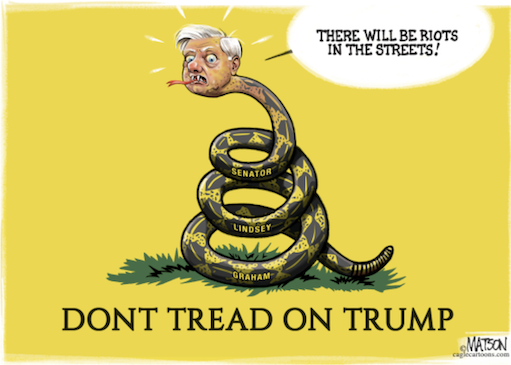 Jonathan Chait: The Conservative Case for Letting Trump Obstruct Justice
Ever since he was sitting at his father's knee and refusing repeated demands by the Justice Department to allow Black people to rent apartment buildings, Donald Trump has always believed the law does not apply to him. He acted accordingly both as president and as self-styled president-in-exile, treating any inconvenient law as a mere suggestion. Obstructing justice is a way of life for Trump.

The conservative Establishment has accommodated itself to this reality by developing a legal doctrine that obstruction of justice is not a crime, at least not if Trump is the obstructor.

This novel concept comes through in two documents that appeared last week, both explaining away different episodes of Trump obstructing justice. The first is a memo written at the behest of former attorney general William Barr, arguing against charging Trump with obstructing the Mueller investigation. The memo's primary argument, which Barr used to dismiss Mueller's findings, was that Trump's obstruction of justice was not really obstruction because prosecutors were unable to prove he committed any underlying crime.

The main flaw in this line of reasoning is that Mueller may well have failed to prove a criminal conspiracy precisely because Trump obstructed his investigation. Specifically, he dangled pardons (and then subsequently delivered them) to Paul Manafort and Roger Stone, the two figures involved most directly in coordinating between his campaign and the Russian effort to benefit it.
https://nymag.com/intelligencer/2022/08/trump-obstruction-justice-mar-a-lago-documents-justice-department-barr-memo-mueller-russia.html
Jonathan Last: Is Sedition Now A Policy of the GOP?
The former president of the United States has made a new pronouncement on his social media site. He now demands that the federal government either: declare him the winner of the 2020 election and install him as president. or, re-do the 2020 election.

If Trump is serious, then he is cognitively impaired. There is no way to accomplish the "remedies" he proposes. The idea that someone could simply "declare" him the rightful winner of the 2020 election is preposterous. Who has that authority? Not Congress. Not the Supreme Court. Not the president. There is no piece of paper that can be signed and ratified that would accomplish this goal.

So either Trump does not have the baseline intelligence to understand how the government and the U.S. Constitution function—or he has suffered from some mental decline which has rendered him incapable of basic deductive reasoning.
In either case, even the most ardent anti-anti-Trumpers would be forced to acknowledge that under no circumstances should he be president again.

On the other hand, if Trump is not serious—by which I mean that he does not actually believe that either of these remedies are even theoretically possible—then he is advocating the overthrow of the legitimately-elected government of the United States and rejecting the Constitution.

But no matter what the motivation, the result is the same. It's sedition. So anyone who wants to throw in with Trump on the "oh he doesn't really mean it" tip is signing up for sedition and rejects the Constitution.

That's it.

Those are the only options. https://thetriad.thebulwark.com/p/is-sedition-now-a-policy-of-the-gop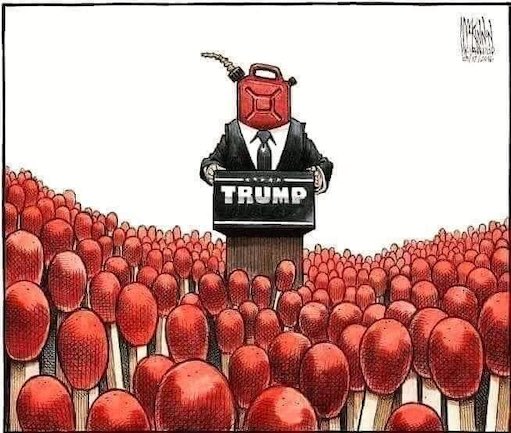 John Cassidy: Joe Biden's Big Month

The President is getting things done and reaffirming that his historic role is to defeat Trump and Trumpism.
On Tuesday, Biden traveled to Wilkes-Barre, Pennsylvania, where he promoted his Safer America Plan, which would provide new federal funding to help localities hire an additional hundred thousand police officers nationwide for community policing, and invest in crime-prevention and mental-health strategies. After enduring a terrible twelve months politically, Biden finally has reasons to smile. Between July 21, 2021, and July 21, 2022, according to the FiveThirtyEight poll average, his approval rating plummeted from 52.1 per cent to 37.5 per cent, a drastic slump that led some of his critics to write him off. But, since Biden's over-all rating reached its nadir, last month, it has risen by five points. On Tuesday afternoon, it stood at 42.4 per cent. To be sure, that's far from great. But, for a President and a Democratic Party preparing for the midterms, the directional shift is an encouraging sign.
At least three factors explain this partial rebound: inflation has improved somewhat, the White House and Democrats on Capitol Hill have finally got their legislative act together, and Trump and the Supreme Court have reminded voters that the likely alternative to Democratic rule is very dark—a message that Biden will certainly seek to amplify in his address on Thursday night. (The White House has said that the theme of his speech will be "the continued battle for the soul of the nation.")
Last week, during a campaign speech in Maryland, Biden described "maga Republicans" as "a threat to our very democracy." It isn't a questionable claim, given how many of them have signed onto Trump's Big Lie, which Trump repeated, yet again, on Monday. We can expect to hear more of this argument on Thursday from Biden, who seems to have rekindled his spirit, and recentered his message, by reaffirming that his historic role is to defeat Trump and Trumpism. When he steps to the dais at Philadelphia's Independence Hall, the calendar will have clicked over into September. He will certainly be hoping for another month like August. https://www.newyorker.com/news/our-columnists/joe-bidens-big-month