June 2, 2022
THE WEEK'S BEST QUOTES. . .
"I hope, Madam Chair, that the senator of Florida doesn't walk in to Memorial Day services and talk about what a great friend he is of our veterans. Cause he is not. This is obstruction at the worst, because this obstruction stops our veterans from getting the healthcare that they need. You want to talk about why the American people think the United States Senate is dysfunctional? The senator from Florida could look in the mirror." — Sen. Jon Tester (D-MT) after Sen. Rick Scott (R-FL) blocked unanimous consent to confirm a new undersecretary for health of the Department of Veterans Affairs.
Our "deepest sympathies" are with the families and victims of the Uvalde, Texas, elementary school massacre. — The National Rifle Association.
"Kellyanne Conway never told me that she thought we lost the election. If she had, I wouldn't have dealt with her any longer – she would have been wrong – could go back to her crazy husband." — Donald Trump disputing a claim by Kellyanne Conway who said that she told him he lost the 2020 presidential election.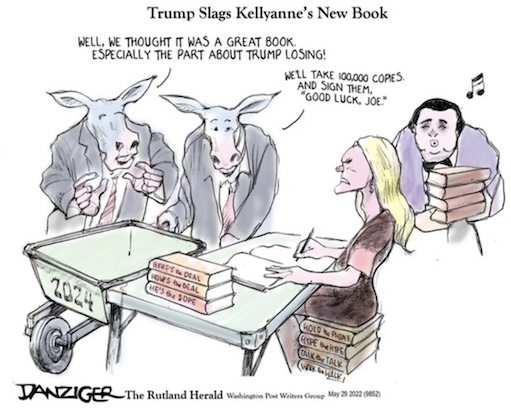 "If the question is whether Trump maintains all but total power over his party's choices of candidates, the answer is 'no.' …. But if the question is whether the Republican Party has succumbed almost wholly to Trump's canard that he was robbed of his presidency, and whether they are determined to ensure a different outcome to the next presidential election, the answer is a clear and compelling 'yes.'" — Jeff Greenfield
Senate Republicans on Thursday blocked legislation intended to combat domestic terrorism. — Politico
Congress needs to pass universal background checks, ban assault weapons and high-capacity magazines, and confirm Steve Dettelbach as head of the ATF.  It's time to turn this pain into action. — President Biden
"It feels different right now." — Sen. Joe Manchin (D-WV), expressing hope that 70 or 80 senators will vote on gun reform legislation. 
"I have news for the embarrassment that claims to be our President — try to take our guns and you'll learn why the Second Amendment was written in the first place." — Florida state Rep. Randy Fine (R) tweeting what appeared to be a threat toward President Biden.
"If we teach proper moral values and if we teach respect for human life, then that is the way to fix the problem." — Rep. Mo Brooks (R-AL) blaming the decline of "moral values" in the U.S. for mass shootings that have devastated the country.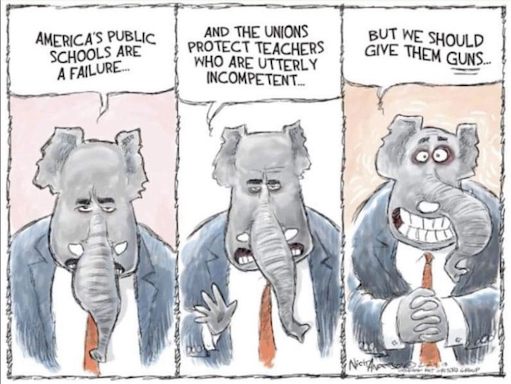 "As one of the nation's leading proponents of the insurrection hoax, Liz Cheney has pushed a grotesquely false, fabricated, hysterical partisan narrative. Look at the so-called word insurrection, January 6 – what a lot of crap." — Donald Trump speaking at a rally in Wyoming in support of Rep. Liz Cheney's primary challenger.
"The government totally wants to provide surveillance on every part of your life. They want to know when you're eating. They want to know if you're eating a cheeseburger, which is very bad because Bill Gates wants you to eat his fake meat that grows in a peach tree dish. So you'll probably get a little zap inside your body that'll say 'No, no, don't eat a real cheeseburger, you need to eat…the fake meat from Bill Gates." — Rep. Marjorie Taylor Greene (R-GA)
"He never asked. So, I'm mad at him because he never asked. But he's taking credit that he asked." — Herschel Walker saying that Donald Trump lied when he claims he called and asked him to run for Senate.
"McConnell is a rational Republican. Cornyn is as well. I think things have gotten so bad that everybody is getting more rational about it." — President Joe Biden insisting that there are some Republicans who could agree on some gun control.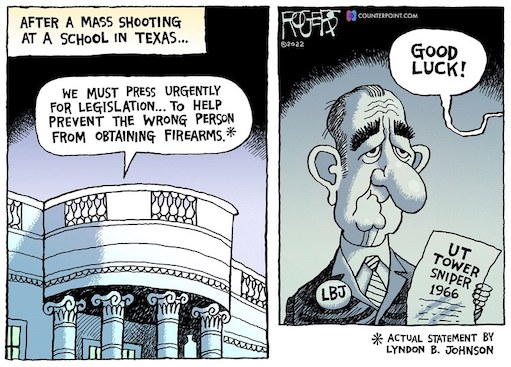 I am opposed to any new restrictions on guns because we need them to "take back" our government should they become dictatorial. — Rep. Mo Brooks (R-AL).
"I am sorry if I'll be saying something that you don't like but for us as the country in war, it doesn't matter whether its Democrats or Republicans. It's the people of the United States that support us." — Ukrainian President Volodymyr Zelensky responding to a Newsmax interviewer who prompted him to say that there would be no war in Ukraine if former President Donald Trump were still US president.
The shooter could have killed children "with a bat, or a bomb, or some sort of improvised device, or a machete." — Donald Trump Jr. arguing that guns aren't to blame for the Uvalde school massacre.
"Our Legal System is CORRUPT, our Judges (and Justices!) are highly partisan, compromised or just plain scared, our Borders are OPEN, our Elections are Rigged, Inflation is RAMPANT, gas prices and food costs are "through the roof," our Military "Leadership" is Woke, our Country is going to HELL, and Michael Sussmann is not guilty. How's everything else doing? Enjoy your day!!!— Trump on the acquittal of Clinton campaign lawyer Michael Sussman, a trial that debunked Trump's theory about the FBI.
"An onslaught of dangerous anti-LGBTQI+ legislation has been introduced and passed in states across the country, targeting transgender children and their parents and interfering with their access to health care. These unconscionable attacks have left countless LGBTQI+ families in fear and pain." — From President Joe Biden's statement designating June 2022 as Lesbian, Gay, Bisexual, Transgender, Queer, and Intersex Pride Month. 
VIDEOS
"If you talk to the people that own it, killing feral pigs in the, whatever, the middle of Louisiana. They'll wonder: 'Why would you take it away from me?' I'm law abiding, I've never done anything, I use it to kill feral pigs. The action of a criminal deprives me of my right."  --
Sen. Bill Cassidy (R-LA)
explaining why he thinks people still need assault weapons.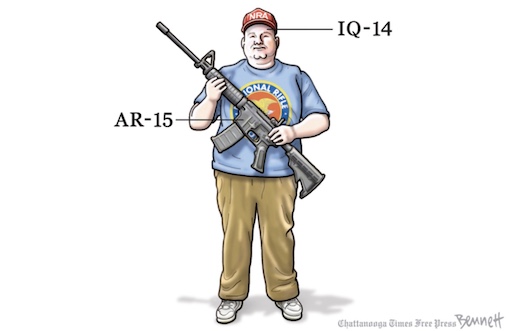 "You are doing nothing. You're offering us nothing. You said this is not predictable. This is totally predictable. Continuing as he was taken away by security: This is on you until you choose to do something different! This will continue to happen. Somebody needs to stand up for the children of this state or they will continue to be killed just as they were in Uvalde yesterday." — Beto O'Rourke condemning Texas Gov. Greg Abbott (R)  for failing to enact gun control measures.
"Mass shootings have become America's copy and paste tragedy. We change the place, the town, the number of dead and injured. But the constant is lives lost, people who cannot be brought back, and the nation is left in a numb daze."  — Tyler Weyant
"What I like to do is see it and everything and stuff." — GA Senate GOP nominee Herschel Walker responding to Manu Raju who asked if he believes there should be new gun laws in the wake of the Texas shooting.
"A department that can look at young men that's looking at women that's looking at social media." -- Herschel Walker's solution to school shootings. 
"The 14 kids dead in an elementary school in Texas right now. What are we doing? What are we doing? Just days after a shooter walked into a grocery store to gun down African American patrons we have another Sandy Hook on our hands." — Senator Chris Murphy (D-CT)
Brian Kemp keeps taking us back… on guns, on abortion, and even a massive tax giveaway… for himself. Georgians deserve a governor who will move us forward – not a guy stuck in the past. — A new 30-second ad from Stacey Abrams pans Georgia Gov. Brian Kemp's support for "criminal carry" gun legislation, income tax cut and the governor's anti-abortion stance.
LITIGATION TRACKER
Pending Criminal and Civil Cases Against Donald Trump.  https://www.justsecurity.org/75032/litigation-tracker-pending-criminal-and-civil-cases-against-donald-trump/
---
IN THIS ISSUE
IN THE NEWS
OPINION
Andy Borowitz: Shaken Greg Abbott Describes Moment of Terror When Beto O'Rourke Talked to Him
A rattled Greg Abbott described for reporters the moment of abject terror that he endured when the gubernatorial candidate Beto O'Rourke suddenly talked to him.
"Without warning, out of nowhere, there he appeared, saying things," the Governor of Texas said. "I'm still shaking just thinking about it."
Accusing O'Rourke of hiding behind the First Amendment, Abbott asserted, "That amendment was written in the eighteenth century and was intended for use only in times of war, such as when Paul Revere warned that the British were coming."
Abbott said that he would secure twenty-four-hour police protection to shield himself from future terrifying incidents of O'Rourke speaking, and that he would take measures to safeguard fellow-Texans from similar outbursts.
One measure under consideration is a two-week waiting period between O'Rourke thinking of something to say and being permitted to say it, aides to the Governor confirmed.
"The No. 1 problem facing Texas today is Beto O'Rourke making sudden, unprovoked comments," he said. "We must pass new, strict laws to protect Texans from Beto O'Rourke's sentences. https://www.newyorker.com/humor/borowitz-report/
9 killed, more than 60 injured in 14 Memorial Day weekend mass shootings
Amid calls for gun control after last week's massacre at a Uvalde, Texas, elementary school, shots rang out across the country over the Memorial Day weekend, with more than a dozen mass shootings in the span of 72 hours.
According to the Gun Violence Archive, which tracks shootings in the United States, there were at least 14 "mass shootings" in the country over the weekend, from early Saturday to late Monday.
The archive defines a mass shooting as an incident in which "four or more people are shot or killed, not including the shooter." https://www.nbcnews.com/news/us-news/memorial-day-weekend-marked-dozen-mass-shootings-us-rcna31179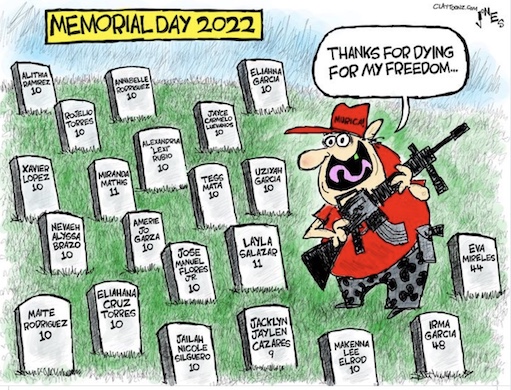 Some Democrats voting in GOP primaries to block Trump picks
in Georgia, the AP found a sizable percentage of Republican early ballots were cast by voters who participated in the Democratic primary two years ago. Specifically, more than 14% of the 38,000 early or absentee votes cast in the Cawthorn race — more than 5,400 voters — came from a Democratic 2020 primary voter.
Cawthorn lost his primary by fewer than 1,500 votes. https://apnews.com/article/2022-midterm-elections-donald-trump-georgia-campaign-2016-congress-df4fa72d2d4a1e4d9344d61c0a3d4b9e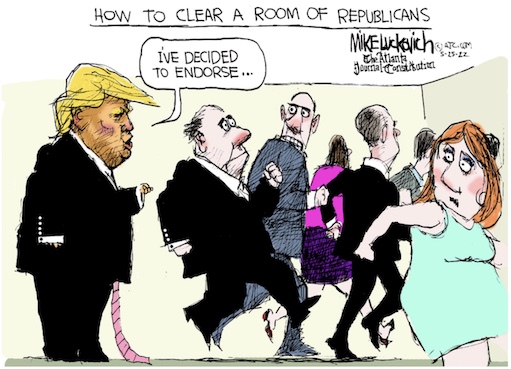 Overwhelming Support for New Gun Safety Laws
A new Morning Consult poll finds 88% of Americans strongly or somewhat support requiring background checks on all gun sales while just 8% strongly or somewhat oppose them.
Meanwhile, 75% strongly of somewhat support creating a national database with info about each gun sale, while 18% strongly or somewhat opposes.
And 84% strongly or somewhat support preventing sales of all firearms to people reported as dangerous to law enforcement by a mental health provider, while 9% strongly or somewhat oppose that. https://www.politico.com/f/?id=00000180-fe72-d0c2-a9ae-ff7250f80000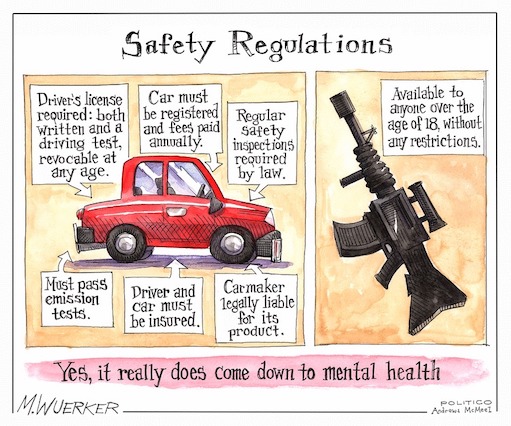 Intensifying Inquiry Into Alternate Electors Focuses on Trump Lawyers
The Justice Department has stepped up its criminal investigation into the creation of alternate slates of pro-Trump electors seeking to overturn Joseph R. Biden Jr.'s victory in the 2020 election, with a particular focus on a team of lawyers that worked on behalf of President Donald J. Trump including his personal lawyer, Rudolph W. Giuliani, and one of his chief legal advisers, John Eastman. https://www.nytimes.com/2022/05/25/us/politics/pro-trump-lawyers-elector-scheme.html
There Have Been 27 School Shootings This Year
There have been 27 school shootings this year. There have been 119 school shootings since 2018, when Education Week began tracking such incidents. The highest number of shootings, 34, occurred last year. There were 10 shootings in 2020, and 24 each in 2019 and 2018. https://www.edweek.org/leadership/school-shootings-this-year-how-many-and-where/2022/01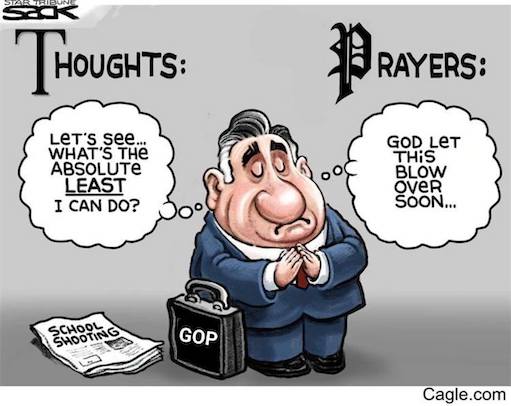 40% Say Abortion Is a Top Issue for Them
A new Marquette Law School poll finds 40% of Americans rate abortion as one of the most important issues in the country — including 48% of Democrats and 31% of Republicans.
Asked what public policy on abortion should be, 29% say abortion should be legal in all cases, 38% say legal in most cases, 24% say it should be illegal in most cases, and 8% say illegal in all cases. https://www.marquette.edu/news-center/2022/new-marquette-law-poll-national-survey-shows-40-pct-rate-abortion-one-of-most-important-issues.php
Gun deaths dropped in California as they rose in Texas: Gun control seems to work
Why, in the face of the large majorities of the public who agree on at least some limited steps to further regulate firearms, does Congress repeatedly do nothing?
One powerful factor is the belief among many Americans that nothing lawmakers do will help the problem. The argument about futility is one that opponents of change quickly turn to after a catastrophe. It's a powerful rhetorical weapon against action.
"It wouldn't prevent these shootings," Sen. Marco Rubio (R-Fla.) said on CNN on Wednesday when asked about banning the sort of semiautomatic weapons used by the killer in Uvalde and by a gunman who killed 10 at a Buffalo, N.Y., supermarket 10 days earlier. "The truth of the matter is these people are going to commit these horrifying crimes — whether they have to use another weapon to do it, they're going to figure out a way to do it."
Republican Texas Gov. Greg Abbott made a similar claim at his news conference on Wednesday: "People who think that, 'well, maybe we can just implement tougher gun laws, it's gonna solve it' — Chicago and L.A. and New York disprove that thesis."
The facts powerfully suggest that's not true.
Go back 15 years: In 2005, California had almost the same rate of deaths from guns as Florida or Texas. California had 9.5 firearms deaths per 100,000 people that year, Florida had 10 and Texas 11, according to data from the National Center for Health Statistics.
Since then, California repeatedly has tightened its gun laws, while Florida and Texas have moved in the opposite direction.
California's rate of gun deaths has declined by 10% since 2005, even as the national rate has climbed in recent years. And Texas and Florida? Their rates of gun deaths have climbed 28% and 37% respectively. California now has one of the 10 lowest rates of gun deaths in the nation. Texas and Florida are headed in the wrong direction. https://www.latimes.com/politics/newsletter/2022-05-27/on-guns-fear-of-futility-deters-action-essential-politics
Russian Military Is Repeating Mistakes in Eastern Ukraine, U.S. Say
The Russian military, beaten down and demoralized after three months of war, is making the same mistakes in its campaign to capture a swath of eastern Ukraine that forced it to abandon its push to take the entire country, senior American officials say.
While Russian troops are capturing territory, a Pentagon official said that their "plodding and incremental" pace was wearing them down, and that the military's overall fighting strength had been diminished by about 20 percent. And since the war started, Russia has lost 1,000 tanks, a senior Pentagon official said last week. https://www.nytimes.com/2022/05/31/us/politics/russia-military-eastern-ukraine.html
Scoop: GOP plots '23 probes
Top Republican congressional aides huddled this month with conservative think-tank leaders on Maryland's Eastern Shore to hone tactics and messaging for Biden administration probes.
If the GOP wins control in the midterms, leaders want to kick off high-profile investigations as soon as the new Congress is seated. Republicans plan to draw on investigative power from allies across Washington. https://www.axios.com/2022/06/01/republicans-investigations-congress-midterms
Same-Sex Marriage Support Inches Up to New High of 71%
Seventy-one percent of Americans say they support legal same-sex marriage, which exceeds the previous high of 70% recorded in 2021 by one percentage point.
These data are from Gallup's annual Values and Beliefs poll, conducted May 2-22. https://news.gallup.com/poll/393197/same-sex-marriage-support-inches-new-high.aspx
Supreme Court puts Texas social media law on hold while legal battle continues
The Supreme Court on Tuesday stopped a Texas law that would regulate how social media companies police content on their sites, while a legal battle continues over whether such measures violate the First Amendment.
The vote was 5 to 4. The five in the majority — Chief Justice John G. Roberts Jr. and Justices Stephen G. Breyer, Sonia Sotomayor, Brett M. Kavanaugh and Amy Coney Barrett — did not provide reasoning for their action, which is common in emergency requests. https://www.washingtonpost.com/politics/2022/05/31/supreme-court-texas-social-media-law/
Stefanik, Mullin introduce House resolution to expunge second Trump impeachment
House GOP Conference Chair Elise Stefanik and more than two dozen of her colleagues are supporting a resolution to "expunge" former President Donald Trump's second impeachment – as pro-Trump Republicans push to rally voters ahead of the midterms. Although it will not pass the Democrat-controlled House, it underscores Republicans' continued support for Trump nearly 16 months after he left office. https://www.foxnews.com/politics/stefanik-house-republicans-resolution-trump-impeachment-expunge
Trump claims Georgia Primary Was Stolen
Trump claims Kemp's 50 point victory in the Georgia GOP gubernatorial primary was due to voter fraud. 400,000 Mules?
https://twitter.com/jonathanvswan/status/1531641422952247298
Georgia attorney general subpoenaed in Trump investigation
An Atlanta-area prosecutor investigating former President Donald Trump's efforts to overturn Georgia's 2020 election results has subpoenaed state Attorney General Chris Carr.
In December 2020, Trump phoned Carr and warned him not to rally other Republicans to oppose a lawsuit Trump's allies had filed with the Supreme Court seeking to toss millions of votes from Georgia and other battleground states that Joe Biden won. https://www.cnn.com/2022/05/31/politics/trump-georgia-investigation/index.html
House Democrats look to pass gun control legislation by early June
House Democrats will try to advance a raft of gun control bills on Thursday in the wake of two high-profile mass shootings that rocked the nation earlier this month.
House Judiciary Committee Chair Jerry Nadler, D-N.Y., has called committee lawmakers back from a break to mark up gun legislation that combines eight separate bills. Nadler intends to bring a suite of new gun safety laws to the House floor "as soon as possible," a spokesman said, in light of shootings in Texas and New York state. https://www.cnbc.com/2022/05/31/house-democrats-aim-to-pass-gun-control-legislation-by-early-june.html
Chinese scientists call for plan to destroy Elon Musk's Starlink satellites
Chinese military researchers have called for the development of a "hard kill" weapon to destroy Elon Musk's Starlink satellite system if it threatens China's national security. https://www.livescience.com/china-plans-ways-destroy-starlink
Memo Outlines 'Likely' Felonies by Donald Trump
The Jan. 6 select committee last week publicly released a long-hidden memo that a federal judge previously determined was evidence of "likely" felonies by Donald Trump and attorney John Eastman.
The document: It's a Dec. 13, 2020 email from Kenneth Chesebro, a little-known attorney who had been advising Donald Trump's legal team. He sent it to Rudy Giuliani, sketching out a plan for then-Vice President Mike Pence to halt the certification of Joe Biden's victory on Jan. 6, 2021. He dubbed it the "'President of the Senate' strategy." https://www.politico.com/minutes/congress/06-1-2022/jan-6-strategy-memo/
Attacks on voting machines set off fresh worries about election subversion
Pockets of resistance to voting machines mark another attempt by Republicans sold on former President Donald Trump's baseless claims of election fraud to transform how US elections are run. So far, most efforts have been thwarted at the state level. But critics warn that the moves, if successful in just a handful of localities, would result in delays and chaos and potentially open the door to election subversion efforts. https://www.cnn.com/2022/05/31/politics/handcounting-ballots-voting-machines/index.html
'It's going to be an army': Tapes reveal GOP plan to contest elections
Video recordings of Republican Party operatives meeting with grassroots activists provide an inside look at a multi-pronged strategy to target and potentially overturn votes in Democratic precincts: Install trained recruits as regular poll workers and put them in direct contact with party attorneys.
The plan, as outlined by a Republican National Committee staffer in Michigan, includes utilizing rules designed to provide political balance among poll workers to install party-trained volunteers prepared to challenge voters at Democratic-majority polling places, developing a website to connect those workers to local lawyers and establishing a network of party-friendly district attorneys who could intervene to block vote counts at certain precincts.
"Being a poll worker, you just have so many more rights and things you can do to stop something than [as] a poll challenger," said Matthew Seifried, the RNC's election integrity director for Michigan, stressing the importance of obtaining official designations as poll workers in a meeting with GOP activists in Wayne County last Nov. 6. It is one of a series of recordings of GOP meetings between summer of 2021 and May of this year obtained by POLITICO.
Backing up those front-line workers, "it's going to be an army," Seifried promised at an Oct. 5 training session. "We're going to have more lawyers than we've ever recruited, because let's be honest, that's where it's going to be fought, right?" https://www.politico.com/news/2022/06/01/gop-contest-elections-tapes-00035758
How the Right Rigs the Book Game
These explicit efforts to hijack the New York Times Bestseller List have continued unabated since the Nixon Era. Back in 2020, Donald Trump Jr's MAGA memoir debuted at #1. On one level, that's not a surprise. Trump Jr. is the son of the former President, a frequent guest on Right Wing media, and a big draw on the GOP fundraising circuit. On another level, he is a moron who lacks any depth of thought and is a festering carbuncle on American life. A few weeks later, the New York Times reported that Trump's place at the top of the Bestseller List was secured via a $100,000 bulk purchase by the Republican National Committee.
The dumb apple doesn't fall far from the dumb tree. The tremendous success of Trump Sr.'s Art of the Deal was also the product of gaming the system.
Similarly, the National Republican Congressional Committee spent $400,000 on copies of Representative Dan Crenshaw's book. Right Wing think tanks and billionaires buy the books written by other MAGA personalities and Republican politicians. Ted Cruz even had his own campaign spend more than $100,000 buying copies of Cruz's own book, which is the literary equivalent of asking oneself to prom. https://messagebox.substack.com/p/how-the-right-rigs-the-book-game
Peter Navarro subpoena suggests DOJ may be investigating Trump
Peter Navarro, a top White House adviser to Donald Trump, is being commanded by a federal grand jury subpoena to turn over to the justice department his communications with the former president, the former president's attorneys and the former president's representatives.
The exact nature of the subpoena – served on 26 May 2022 and first obtained by the Guardian – and whether it means Trump himself is under criminal investigation for January 6 could not be established given the unusually sparse details included on the order.
But certain elements appear to suggest that it is related to a new investigation examining potential criminality by the former president and, at the very least, that the justice department is expanding its inquiry for the first time into Trump and his inner circle. https://www.theguardian.com/us-news/2022/may/31/peter-navarro-subpoena-donald-trump
Five G.O.P. candidates for Michigan governor are ruled ineligible over forged petition signatures.
Five Republican candidates for Michigan governor were disqualified by a state canvassing board on Thursday for submitting nominating petitions that officials said had contained thousands of forged signatures. The decision sent the race, in a key battleground state, into chaos and dealt a serious blow to the party's plans to challenge Gov. Gretchen Whitmer, the Democratic incumbent.
The five candidates, half of the party's field, were denied a spot on the Aug. 2 primary ballot by the Board of State Canvassers, including James Craig, a former Detroit police chief, and Perry Johnson, a wealthy businessman. https://www.nytimes.com/2022/05/26/us/politics/michigan-republicans-governor-signatures.html
Texas Forces Companies to Be Neutral on Guns, or Lose Business
To keep doing business with Texas, companies will effectively have to take a vow of neutrality if the latest school-shooting massacre sets off another nationwide furor over gun control.
That's because in June 2021, flanked by Republican lawmakers and officials from the National Rifle Association, Governor Greg Abbott signed a state law that gives firearm makers, retailers and industry groups a special protection, one that relies on language usually reserved to shield people from racism, sexism, ageism or other forms of prejudice.
The unusual provision, which has since inspired legislation in other Republican-led states, shows how much power the gun lobby has wielded in the nation's statehouses to fend off any efforts to curtail access to firearms in the wake of mass shootings. https://www.bloomberg.com/news/articles/2022-05-25/texas-forces-companies-to-be-neutral-on-guns-or-lose-business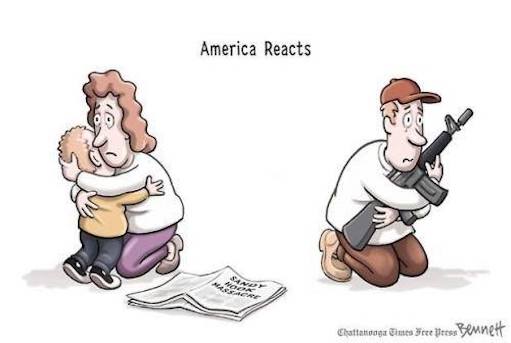 Oklahoma Gov. Kevin Stitt signs nation's strictest abortion ban. It starts immediately
Oklahoma Gov. Kevin Stitt (R) signed the strictest anti-abortion law in the nation, giving the country a preview of a possible post-Roe future.
The law prohibits most abortions beginning at fertilization, with no exceptions for rape or incest unless they were reported to law enforcement.
The law also encourages private citizens to sue anyone suspected of helping a person get an abortion. https://www.oklahoman.com/story/news/2022/05/25/oklahoma-implements-nations-most-restrictive-abortion-ban-kevin-stitt-roe/9891816002/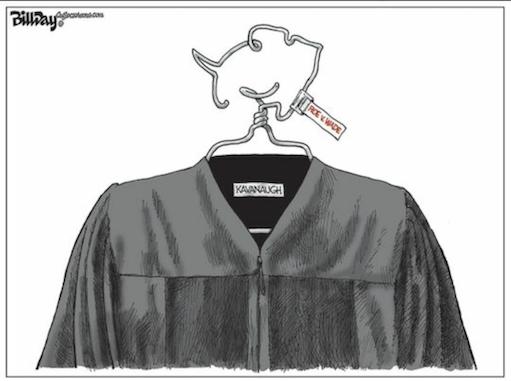 In More Than 100 G.O.P. Midterm Ads This Year: Guns, Guns, Guns
Since January, fewer than two dozen television ads from Democratic candidates and their aligned groups mention guns or combating gun violence, according to a review of data through Tuesday from the media tracking firm AdImpact.
But more than 100 television ads from Republican candidates and supportive groups have used guns as talking points or visual motifs this year. Guns are shown being fired or brandished, or are discussed but not displayed as candidates praise the Second Amendment, vow to block gun-control legislation or simply identify themselves as "pro-gun."
The disparity highlights how much Republicans stand to gain — and how little Democrats can benefit — from campaigning on guns in primaries.
Republican primary candidates are often competing to show how conservative they are in a polarized landscape ever more defined by white-hot cultural battles. And guns are an easy visual shorthand.
"You basically have Republican primary candidates trying to explain to Republican primary voters that they are going to be on their side when it comes to the cultural cold civil war that's being fought right now," said Robert Blizzard, a Republican strategist. https://www.nytimes.com/2022/05/25/us/politics/republicans-campaign-guns.html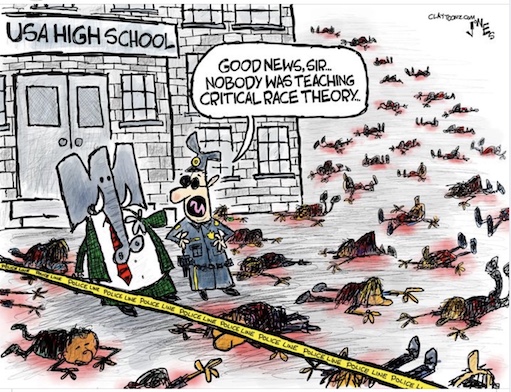 The DAILY GRILL
"You know, I don't think that D.C. solutions are realistic here." — Sen. Kyrsten Sinema (D-AZ), when asked about reforming the filibuster to doing something legislatively after the Texas school massacre:
VERSUS
"It's f**king nuts to do nothing about this."  -- Sen. Mark Kelly (D-AZ)
Twitter shareholders have filed a lawsuit against billionaire Elon Musk, accusing him of unlawfully sowing doubt about his bid to buy Twitter. — ABC news
VERSUS
Use of the word "billionaire" as a pejorative is morally wrong & dumb — Elon Musk  
Daily Kos: Science has answers to why conservatives fall so easily for COVID-19 and Russian propaganda
Watching the stunning ignorance displayed at Trump's recent Michigan rally is shocking, and although it's tempting to say it's pure ignorance, the science explains that it is more about how we are wired. There are multiple studies that show how liberals and conservatives differ, not just in political views, but in different purviews of life. Conservatives register a greater response to negative stimuli because they tend to view the world as a dangerous place and are "hyper-attuned" to the hazards in the world.
This is why fearmongering is used more often as a persuasion technique in right-wing media, and why conspiracies are more likely to take root in conservative thought. Liberals, on the other hand, tend to be more hopeful about mankind and are much more likely to respond to persuasion over the perceived benefits of something presented. This explains why there is such a huge disconnect in legislative policy initiatives from both parties.
Democrats push legislation to expand rights, create programs, or build infrastructure. Conservatives, however, tend to promote bills to address perceived dangers-–even if the dangers are fake. This past year we saw bills dealing with "critical race theory," undocumented immigrants, and more recently, bills to "protect" children from "grooming." Here in Florida, our governor just signed a ridiculous bill to protect kindergartners from what they believe is a secret society of teachers trying to convert them into homosexuality.
This perception of made-up enemies is nothing new, but a trait of cult-like behavior. Another trait is idolizing a leader, which Republicans have been prone to do for decades. The worship of Ronald Reagan was just the beginning. https://www.dailykos.com/stories/2022/5/24/2088332/-Science-has-answers-to-why-conservatives-fall-so-easily-for-COVID-19-and-Russian-propaganda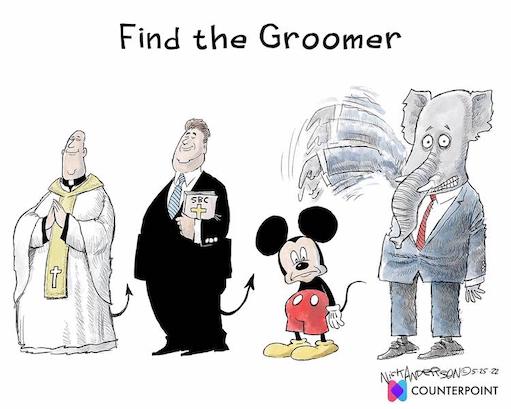 Jonathan Bernstein: Dysfunctional Republicans Bail Out on Gun Violence
The problem isn't mainly that the GOP lacks practical solutions to calamities like the Texas school massacre. It's that it isn't making the slightest effort to find any.
I don't have the expertise on guns and violence that some of my Bloomberg Opinion colleagues or many academic experts have. So I really don't know which of the gun-control policies Democrats have proposed would be helpful, which would make little difference and which would create new risks.
What I do know is that that Democrats are a normal US political party, which means that they are mainly pragmatic problem-solvers. That is, what US political parties are usually good at is finding out what makes their constituents unhappy and attempting to do something about it. They listen to voters in their districts; to the party coalition that nominates them; to their strongest supporters. Some of their solutions may turn out to be highly ideological. Some are not. They're generally willing to cut deals to pass something, figuring that something is better than nothing. If it doesn't have the votes, or it's implemented and it doesn't work, they'll try something else.
The Democrats have been like that for well over a century. The Republicans used to be like that, too. The instinctive approaches the two parties took differed, in part because of ideology, in part because different groups made up different coalitions and in part because parties wind up with legacy policies that they support because they've always supported them.
That Republican politicians are almost unanimously lacking any interest in doing anything about those problems? That's the breakdown of democracy. https://www.bloomberg.com/opinion/articles/2022-05-26/texas-school-massacre-dysfunctional-republicans-bail-out-on-gun-violence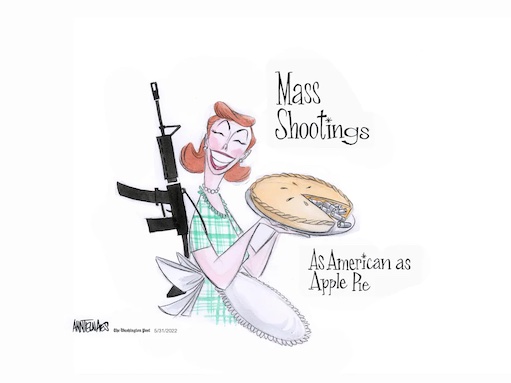 Jonathan Chiat: The Conservative Playbook for Deflecting Anger After Mass Shootings
The broader reality that there is obviously a connection between America's extraordinary permissive gun-control regimen and its extraordinarily high rates of gun violence. The way this game works is to point out that Solution A would not prevent Episode X, and Solution B would not prevent Episode Y, and thus imply no solutions exist whatsoever.
The final step is to locate solutions outside of gun control and blame Democrats for opposing them. "Democrats, unfortunately, are unwilling to talk past their base's gun control desires," writes Erick Erickson. "So now, instead of trying to solve the problem of gun violence, they will use it to campaign on — letting the problem fester in order to mobilize their base."
Erickson is echoing a widespread conservative assumption that Democrats are merely pretending to care about gun violence. "To this administration, the Texas victims are not much more than a stick with which to beat their opponents and an opportunity to capitalize on their vendetta against firearms and those who value the rights of law-abiding Americans to bear them," writes Zempel. "That [Biden] would make comments like this tells you he doesn't care at all about what happened. He doesn't care about the victims. He doesn't care about their families," insists Sean Davis.
The Federalist has already thrown online one column blaming the attack on aid to Ukraine (headline: "Sandy Hook Proved The Need To Enhance K-12 Security. Congress Armed Ukraine Instead.") and another proposing homeschooling as the remedy (headline: "Tragedies Like The Texas Shooting Make A Somber Case For Homeschooling"). That "somber" is a subtle touch, no doubt reflecting the need for some level of taste when capitalizing on a murder to propose eliminating public education ("Name-calling, blame-shifting, and calls for gun restrictions fill social media in the public's quest to find a solution," the author writes. "But to protect the most precious, innocent lives among us, parents must educate their kids at home.").
These kinds of exertions are extreme even by the standards of the right-wing media. They are the product of the right's keen grasp of the intense but fleeting dangers posed by a televised display of the costs of their agenda. Once the murder has left the headlines, normality will resume. https://nymag.com/intelligencer/2022/05/the-rights-playbook-for-deflecting-anger-after-shootings.html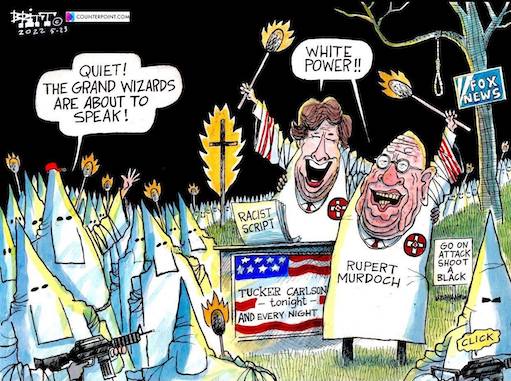 Eric Lutz: The NRA Is Pouring Millions Into Blocking Gun Violence Prevention
On Thursday, Republicans blocked an anti-domestic terror bill, which House Democrats approved after the recent racist attack on a Buffalo supermarket, in a partyline vote. The bill "just doesn't make any sense to me at all," Texas Senator John Cornyn, a top recipient of gun lobby dollars, said earlier this week, per the Washington Post.
If Thursday's vote is a bellwether, that would seem to suggest that any attempts next month to expand background checks, implement red flag law, or ban military-grade weapons that have left a trail of dead from Uvalde to Newtown could be doomed to meet the same fate as other no-brainer measures the gun lobby has undercut, from funding for gun violence research to the Bureau of Alcohol, Tobacco, and Firearms, which hasn't had a Senate-confirmed director since 2015. Cruz and other Republicans justify their obstruction by deflecting to other causes — like mental health, which they also do little to address — and insisting that gun control measures wouldn't work anyway. "It's not effective," Cruz told reporters later Wednesday. "It doesn't prevent crime."
But that's just not true. Obviously, there is no law that would "prevent" violent crime.
But background checks, assault weapons restrictions, and other measures do, in fact, curb gun crime. That's why they enjoy broad support among the American public — just not the gun lobby. "The problem in the Senate is simple," Schumer said Wednesday. "Too many members on the other side of the aisle are disconnected from the suffering of the American people. Too many members on that side care more about the NRA than they do about families who grieve victims of gun violence." https://www.vanityfair.com/news/2022/05/nra-blocking-gun-control-ted-cruz-uvalde-shooting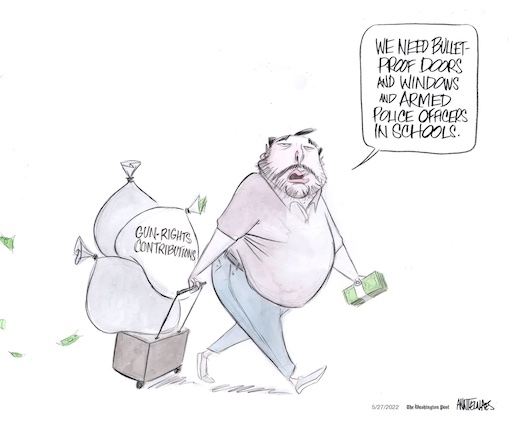 Nicholas Goldberg: No action on guns? Blame the founders
Sometimes we explain our inaction by blaming the enormously powerful National Rifle Assn. And certainly the NRA (which has faced its own travails in recent years) deserves a sizable portion of responsibility.
Or we blame the cynical, self-interested gun industry.
Or unconscionable Republican obstinacy.
Or voter apathy, short attention spans and peripatetic news cycles.
All are partly to blame, no doubt. But one of the most serious obstacles to meaningful gun control laws dates back to the beginning of the republic. It's the piece of historical bad luck that ties our hands: The founders of this country — those men in their powdered wigs, revered for their prescience and common sense — blindly and stupidly enshrined gun rights in the U.S. Constitution.
Well, perhaps stupidly is the wrong word. They didn't actually mean for the 2nd Amendment to be what it has become. The founders presumably couldn't have foreseen a violence-prone society more than 200 years in the future flooded with assault rifles and automatic weapons and ubiquitous handguns. They couldn't have predicted copycat killings, elementary school shootings, domestic terrorism or senseless, random homicide.
Surely Thomas Jefferson and James Madison didn't intend to protect the right of people like Salvador Ramos, Payton Gendron, Dylann Roof and Adam Lanza to massacre innocent people with deadly weapons of war.
But regardless of their intentions, the 2nd Amendment they left us with is a jumbled piece of work. Historians and scholars and judges have spent years battling over whether it was actually meant to confer on each individual American a right to "keep and bear arms" that may not be abridged, or whether it was supposed to apply only in the context of the right to form self-defense militias.  https://www.latimes.com/opinion/story/2022-05-25/gun-laws-constitution-amendment-supreme-court-uvalde-texas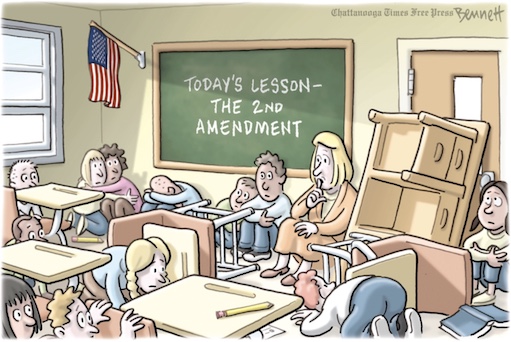 Susan B. Glasser: On Guns, Biden's Call for Action Is a Painful Reminder That He Cannot Make It Happen
If anything, the near-surety that Biden's demand for action will very likely not produce action speaks to one of the larger questions raised by this awful moment in American politics: What does Presidential leadership even mean anymore, in a society paralyzed by its own political fissures and in a culture dominated by blame-shifting hatred? It used to be that national tragedies called for words of national consolation. There was the aspiration, if not the reality, that such horrors might eventually lead to reforms. Or at least to a shared sense of sorrow and renewed purpose. No longer. We can't have collective grief anymore. We can't have collective anything.
Since the first major mass shooting of the modern era—a massacre at the University of Texas at Austin in 1966, during Lyndon B. Johnson's tenure, that left seventeen dead and more than thirty wounded—American Presidents have struggled to deal with them, as the historian Tevi Troy, the director of the Presidential Leadership Initiative at the Bipartisan Policy Center, wrote in a fascinating 2018 study. This particularly grotesque aspect of our national politics is a uniquely American phenomenon; other countries, such as Australia, have rewritten their laws and changed their societies after one or two mass shootings. Not America.
In this context, another mass shooting or two or three is not a game changer. Biden is just another Democratic President stymied by the fact that there are two parties in this country, and one of them—not his—obstructs the passage of popular gun-control measures. Before Buffalo and Uvalde, gun control was not a top issue among voters of either party in the run-up to the midterms. The electorate is as fatalistic as their despairing President about the prospects for meaningful preventative action. It has given up. The voters are not wrong. Biden's call for action at such a moment is also a reminder that he himself cannot produce it.
https://www.newyorker.com/news/letter-from-bidens-washington/on-guns-bidens-call-for-action-is-a-painful-reminder-that-he-cannot-make-it-happen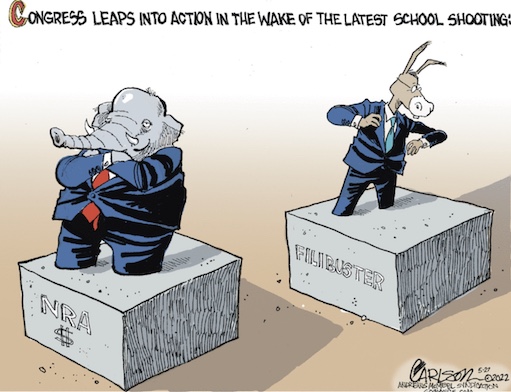 Jessica Winter: Seeing America, Again, in the Uvalde Elementary-School Shooting
Nineteen children and two adults were murdered in Texas. This is the country that gun-rights advocates have chosen.
On Tuesday, the Federal Bureau of Investigation released a report titled "Active Shooter Incidents in the United States in 2021," which logged sixty-one mass shootings last year. The deadliest of these was at a supermarket in Boulder, Colorado, where ten people were killed, a death toll that was matched ten days ago, at a supermarket in Buffalo, New York, and then exceeded, at Robb Elementary School, in Uvalde, Texas, where an eighteen-year-old shot and killed nineteen children and two adults. Early reports indicate that he used a handgun and a rifle. Families who gathered at the local civic center, which was used as a reunification site, were asked for DNA swabs to assist investigators in identifying their loved ones. The shooting began around eleven-thirty in the morning; as darkness fell, many families were still waiting outside the civic center, without word of their children.
This is the second-deadliest K-12 school shooting in U.S. history, after the December, 2012, massacre at Sandy Hook Elementary School, in Newtown, Connecticut, where twenty children and six educators were killed. Eventually, Sandy Hook also came to be seen as the graveyard of the gun-control movement: in 2013, a new assault-weapons ban, and also a bill to require universal background checks for firearm sales, failed in the Senate. If an entire classroom of dead first-graders could not spur even remedial action in Congress on gun control, nothing would. And nothing has. https://www.newyorker.com/news/daily-comment/seeing-america-again-in-the-texas-elementary-school-shooting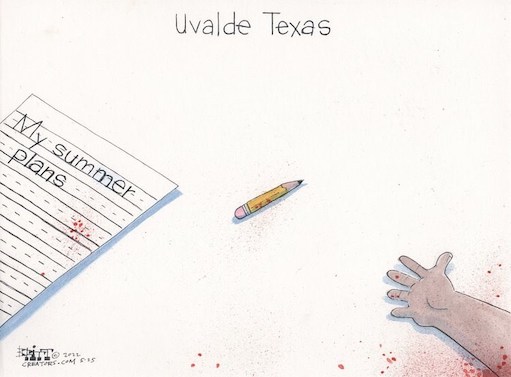 Karen Tumulty: Abbott vows change after a school shooting. We've heard that before.
The Lone Star State has long ranked near the bottom of the nation when it comes to how much it spends on public schools, and it is no more generous when it comes to the dollars it would take to turn them into the kind of fortresses that many conservatives claim they should be. Kevin Brown, executive director of the Texas Association of School Administrators, told me the state allotment of funds for school security is a mere $9.72 per student annually. And in recent years, Texas voters have become increasingly resistant to bond measures, which would be needed to fund extensive physical improvements to school buildings.
Pretty much off the table, politically speaking, is doing much of anything about guns. After the Santa Fe school shootings, Abbott asked the Texas legislature to "study the possibility" of a "red flag" law allowing courts to order the seizure of guns from people deemed an imminent threat. When state lawmakers balked at even looking at the possibility, Abbott backed down.
More difficult still would be making it harder for an 18-year-old in Texas to buy assault rifles — as the Uvalde shooter did just days after his birthday.
After the 2018 Parkland massacre, a place once known as the "Gunshine State" quickly enacted new firearms restrictions, including raising the age at which one may be purchased to 21. But Abbott said that Texas is different from Florida. The future governor was given his first .22-caliber rifle when he was 12 or 13, he recalled, and grew up in an area where high-schoolers typically drove around with gun racks in their pickup trucks. "It's part of the culture in Texas. Kids get shotguns as gifts at Christmastime to go hunting or for their birthday or whatever," he said. "I don't see that changing in Texas."
Having grown up myself in a gun-owning extended family in Texas, I don't either — at least, no time soon. As children, my own sons shot at targets under the careful eye of my uncle. But there is a vast difference between the rite-of-passage experience in which a youngster gets his own rifle to go deer hunting with his granddad and the purchase of a weapon of war by a troubled teen. Surely there must come a day when even Texans can recognize that.
The country will inevitably move on as Uvalde fades from the daily news, until there is another Uvalde or Parkland or Sutherland Springs. Then, we will once again hear politicians promising how, this time, things will change. The truth is, there will never be a single cure to the sickness of gun violence in this country. Which is why it is long past time for leaders like Greg Abbott to stop repeating the same tired tropes and start taking action on multiple fronts at once. https://www.washingtonpost.com/opinions/2022/05/29/greg-abbott-uvalde-texas-school-shooting-vows-change-again/
Jelani Cobb The Atrocity of American Gun Culture
Ten years ago, in the aftermath of the horror in Newtown, Connecticut—where a twenty-year-old with a semi-automatic rifle entered Sandy Hook Elementary School and fatally shot twenty children and six adults—Wayne LaPierre, the C.E.O. of the National Rifle Association, said, "The only thing that stops a bad guy with a gun is a good guy with a gun." The idea of vigilant protectors subduing armed antagonists spoke to a vision of a society in which firearms are as commonplace as cell phones, and where more guns mean more safety. If the idea seemed absurd then, the passage of time has only made it empirically so.
Two years ago, a study published in the journal Justice Quarterly examined the effects of gun laws in every state. Emma Fridel, an assistant professor of criminology at Florida State University, looked at gun-ownership rates and the proliferation of concealed-carry laws between 1991 and 2016. State lawmakers pushing for laxer laws have tended to argue that a more broadly armed public would serve as a deterrent to violence. Fridel found the opposite: gun-homicide rates in states with more permissive carry policies were eleven per cent higher than in states with stricter laws, and the probability of mass shootings increased by roughly fifty-three per cent in states with more gun ownership.
The most obvious indicator of the absurdist thinking on this subject can be seen in the fact that the latest massacre happened in Texas, a state that has more than eight thousand gun dealers, and where an estimated thirty-seven per cent of the population owns firearms. Last year, Governor Greg Abbott signed a bill that allowed most Texans to carry handguns without a license or mandatory training.
This legislation did not prevent the Uvalde carnage any more than previous legislation allowing easier access to guns prevented the 2019 shooting that killed twenty-three people at an El Paso Walmart, or the 2017 attack in the town of Sutherland Springs, which took the lives of twenty-six worshippers in a rural church. https://www.newyorker.com/magazine/2022/06/06/the-atrocity-of-american-gun-culture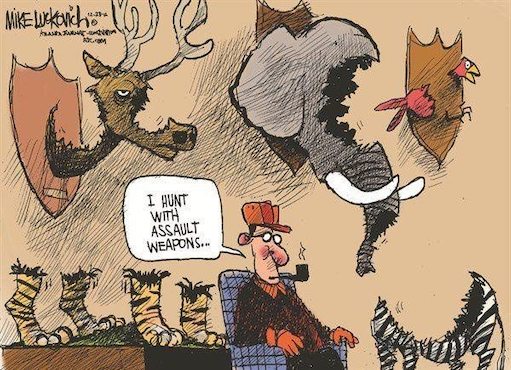 Dana Milbank: There's no reasoning with a GOP hijacked by disinformation
Once you've taken leave from the reality-based community, every day is fantastic!
It has been particularly so over the past week. As the rest of the country mourned the latest young victims of gun violence, the QAnon crowd and their enablers in the Republican Party have constructed a walled fortress of alternative facts.
Beginning in the hours after the elementary school massacre in Uvalde, Tex., right-wing social media churned out every manner of conspiracy theory: The shooter was an illegal immigrant! No, he was transgender! Or maybe the massacre was a false-flag operation perpetrated by the anti-gun left! And the grieving families are paid crisis actors!
The disinformation then followed the usual paths, finding its way to Alex Jones's Infowars (the shooting had "very suspicious timing," coming days before the National Rifle Association's convention) and right into the claims of Republican members of Congress.
Rep. Paul Gosar (Ariz.), who has repeatedly tied himself to white nationalists, tweeted that the gunman was "a transsexual leftist illegal alien" — and let that multi-headed falsehood stand for two hours before deleting it.
"We stopped teaching values in so many of our schools; now we're teaching wokeness. We're indoctrinating our children with things like CRT, telling, you know, some children they're not equal to others and they're the cause of other people's problems." — Reminded by host Neil Cavuto that school shootings were happening long before CRT became a (Republican-invented) issue, Johnson added the claim that CRT was "going on under the radar for quite some time."
Then came the ubiquitous Rep. Marjorie Taylor Greene (R-Ga.), who, fresh from a GOP primary victory, repeated in a live Facebook broadcast the false narrative that the perpetrator was trans ("wearing eyeliner, cross-dressing"). She also nodded to the conspiracy belief that the shooter couldn't have afforded the weapons and therefore anti-gun forces must have given him the guns to create a pretext for gun confiscation. "He must have really been saving up," she said.   https://www.washingtonpost.com/opinions/2022/05/31/gun-safety-compromise-impossible-gop-disinformation/
Edward Luce: Is America heading for civil war?
In the summer of 2015, America caught a glimpse of how its future could unfold. The US military conducted a routine exercise in the south that triggered a cascade of conspiracy theories, particularly in Texas. Some believed the maneuver was the precursor to a Chinese invasion; others thought it would coincide with a massive asteroid strike. The exercise, called Jade Helm 15, stood for "homeland eradication of local militants", according to one of the right's dark fantasy sites. Greg Abbot, Texas's Republican governor, took these ravings seriously. He ensured that the 1,200 federal troops were closely monitored by the armed Texas National Guard. In that bizarre episode, which took place a year before Donald Trump became the Republican nominee for president, we see the germs of an American break-up.
As with any warning of impending civil war, the very mention of another American one sounds impossibly alarmist – like persistent warnings from chief Vitalstatistix in the Asterix comic series that the sky was about to fall on Gaulish heads. America's dissolution has often been mispredicted.
Yet a clutch of recent books make an alarmingly persuasive case that the warning lights are flashing redder than at any point since 1861. The French philosopher Voltaire once said: "Those who can make you believe absurdities can make you commit atrocities." As the University of California's Barbara Walter shows in her bracing manual, How Civil Wars Start, US democracy today is checking all the wrong boxes.
Even before Trump triumphed in the 2016 presidential election, political analysts were warning about the erosion of democracy and drift towards autocracy. The paralyzing divisions caused by Trump's failed putsch of January 6th, 2021, have sent it into dangerous new territory. Polls show that most Republicans believe, without evidence, that the election was stolen by Democrats backed by the so-called "deep state", the Chinese government, rigged Venezuelan voting machines, or a feverish combination thereof.
In This Will Not Pass, a book by New York Times reporters Jonathan Martin and Alexander Burns, Joe Biden is quoted telling a senior Democrat: "I certainly hope [my presidency] works out. If it doesn't I'm not sure we're going to have a country." That a US president could utter something so apocalyptic without raising too many eyebrows shows how routine such dread has become. https://www.irishtimes.com/world/us/2022/05/31/is-the-united-states-heading-for-civil-war/