June 24, 2021
ON THE RECORD. . .
"I'm very honored to say that my endorsement means more than any endorsement that has ever been given by anybody." — Donald Trump

"In the aftermath of the deadly Jan. 6 Capitol attack, the GOP's love for law enforcement — a longtime hallmark of the party — is being called into question as some members on the right continue to whitewash the insurrection and even foist blame on the police officers who protected lawmakers that day." — Melanie Zanona 

"I've done all this stuff for the Blacks — it's always Jared telling me to do this. And they all fucking hate me, and none of them are going to vote for me." — Donald Trump, on Father's Day 2020.

"I do still believe my brother was an organizer of, or a part-organizer of [the 1/6 insurrection and I have no evidence to the contrary to suggest anything different" — Jennifer Gosar about her brother, Rep. Paul Gosar (R-AZ).

"It's true some GOP members of Congress who are treating Capitol Police like shit were the most scared on the floor. Jody Hice took apart a hand sanitizer station to make into a club, Gosar & Biggs were the first to leave the floor and Rep. Clyde was screaming like a banshee.." — Rep. Ruben Gallego (D-AZ)

Former President Donald and his health secretary, Alex Azar, are quoted in a new book, Nightmare Scenario on coronavirus testing at the start of the pandemic.

TRUMP: I'm going to lose the election because of testing! What idiot had the federal government do testing?
AZAR: Uh, do you mean Jared?

 How despicable a man is Donald ? He lost an election legitimately. He can't face that, that it was his failure, and he creates a lie, a big lie, and wins so many people over to that lie, with the help of news media and other news commentators, who are lying, as well. And they know it. Again, Donald Trump, with his despicable lies, has lit a fire beneath Republican state legislatures, and they have launched the most sweeping voter suppression efforts in at least, in at least 80 years. — Senate Majority Leader Chuck Schumer

"Boom. It's going to be a worldwide event. Millions are going to see it, and those Supreme Court justices are going to look at it then, and they're going to go 9-0 that this country was attacked. The election is gonna come down. Donald Trump will be in office by this fall, for sure." — MyPillow CEO Mike Lindell said he's going to host a "cyber symposium" where he'll present proof that the 2020 election was rigged.
VIDEOS
Pamela Brown lists the 'greatest hits' of Republicans rewriting reality: https://www.cnn.com/videos/politics/2021/06/19/republicans-rewriting-reality-top-5-brown-nr-vpx.cnn
Just Security is continuing to track every pending criminal and civil case against Donald Trump.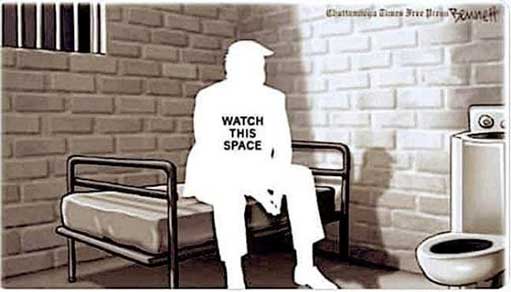 ---
IN THIS ISSUE
IN THE NEWS
OPINION
Andy Borowitz: Mitch McConnell Warns That Voting Bill Would Bring U.S. to Brink of Democracy
Blasting the For the People Act, Senator Mitch McConnell claimed that the bill's passage would bring the United States "to the brink of democracy."

"The Democrats can dress this bill up any way they want, but their real agenda couldn't be clearer," the Senate Minority Leader said. "They want to turn the United States of America that we love and cherish into a democracy."

Noting that the word "democracy" originated in ancient Greece, he vowed, "I will not sit idly by and watch a foreign form of government sneak across our border."

McConnell rallied his fellow Republican senators by reminding them that "we're the only thing standing between this country and democracy."

"The people who voted for us did not vote for us so that other people could vote for other people," he said. https://www.newyorker.com/humor/borowitz-report/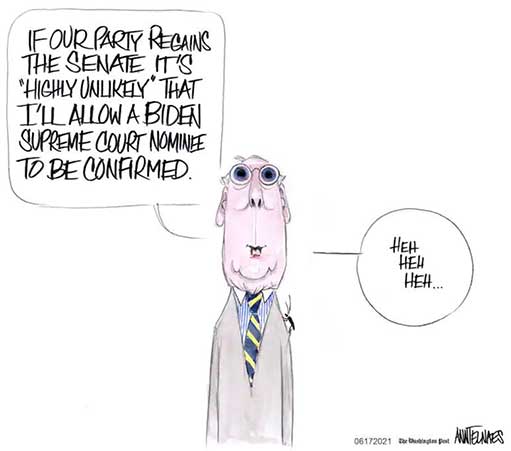 Putin polls higher than Biden among voters
A new Economist/YouGov poll among those who voted for Donald Trump shows Vladimir Putin with a 19% approval rating, while President Joe Biden is approved by just 9%. https://www.msnbc.com/morning-joe/watch/putin-polls-higher-than-biden-among-trump-voters-114976837699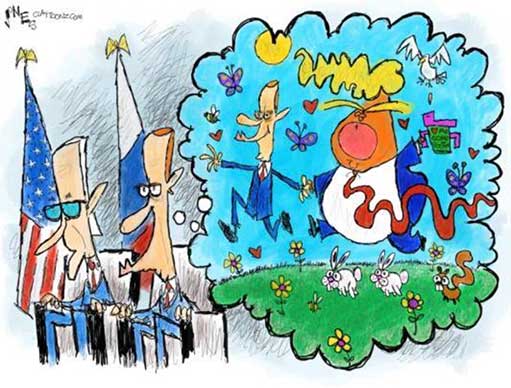 The public option is now a reality in 3 states
Washington state first approved its public option in 2019 and made it available to consumers for enrollment in 2020. The state now has a year of experience getting the Cascade Care program up and running, and it's already starting to tinker with the policy design. It's also offering lessons for Colorado and Nevada (the other state to pass a public option this year, one week before Colorado).
As these states have drawn up their plans, one thing has become clear: The potential value of a public option is in keeping health care costs in check by keeping rates lower than those of private insurance plans. But it still remains to be seen whether a public option can expand health coverage to more people.
Already, more than half of the uninsured in the US are eligible for either Medicaid enrollment or ACA subsidies for private coverage. Surveys have shown that price concerns often keep them from enrolling — so if these public options can help put a check on rising health care costs, perhaps they can also have an effect on coverage. But that is an open question at this point. https://www.vox.com/policy-and-politics/22535267/public-option-health-insurance-nevada-colorado-washington
Representative Ronny Jackson sends letter to President Biden calling for a cognitive test
June 17, Congressman Ronny Jackson (R-TX) sent a letter to President Joe Biden, Physician to the President Kevin O'Connor, D.O. and Chief Medical Advisor Dr. Anthony Fauci, calling on President Biden to undergo a cognitive test, according to a news release.
The letter was co-signed by 12 other House Republicans. https://jackson.house.gov/uploadedfiles/rep._jackson_letter_to_president_biden_regarding_moca_test.pdf
In secret recording, Florida Republican threatens to send Russian-Ukrainian 'hit squad' after rival
"I really don't want to have to end anybody's life for the good of the people of the United States of America. ... But if it needs to be done, it needs to be done," William Braddock says in the clip.
A little-known GOP candidate in one of Florida's most competitive congressional seats was secretly recorded threatening to send "a Russian and Ukrainian hit squad" to a fellow Republican opponent to make her "disappear."
During a 30-minute call with a conservative activist that was recorded before he became a candidate, William Braddock repeatedly warned the activist to not support GOP candidate Anna Paulina Luna in the Republican primary for a Tampa Bay-area congressional seat because he had access to assassins. The seat is being vacated by Rep. Charlie Crist (D-Fla.), who is running for governor. https://www.politico.com/news/2021/06/17/secret-recording-florida-republican-threat-hit-squad-494976
'Pure insanity': How Trump and his allies pressured the Justice Departments help overturn the election
New documents and emails reveal how far the president and his supporters were willing to go to try to keep Donald Trump in office in a frenzied three-week stretch that tested Justice Department leaders. To see the Selected Documents CLICK HERE
Report: Rep. Steven Palazzo spent campaign money to fight allegations he misspent campaign money
Republican Mississippi Rep. Steven Palazzo is using campaign money to pay lawyers defending him in an investigation into whether he misspent campaign funds.
Palazzo, who represents most of southern Mississippi, paid Jackson law-firm Watkins & Eager more than $60,000 in December using campaign dollars, according to campaign finance reports. The disbursements are listed as professional fees. Forbes first reported the payments. https://www.clarionledger.com/story/news/2021/06/16/rep-palazzo-campaign-money-fund-ethics-investigation/7720074002/
'Italygate' election conspiracy theory
Late last December, as President Donald Trump pressed senior officials to find proof of election fraud, White House Chief of Staff Mark Meadows emailed acting attorney general Jeffrey Rosen a letter detailing an outlandish theory of how an Italian defense contractor had conspired with U.S. intelligence to rig the 2020 presidential contest.
According to the conspiracy theory known as "Italygate," people working for the Italian defense contractor, in coordination with senior CIA officials, used military satellites to switch votes from Trump to Joe Biden and swing the result of the election.
Former Trump advisers Michael Flynn and George Papadopoulos — both of whom Trump pardoned for lying to the FBI during the inquiry into Russia's 2016 election interference — posted about the conspiracy theory on Twitter. "Italy did it," Flynn wrote. https://www.washingtonpost.com/investigations/italygate-michele-edwards-meadows-trump/2021/06/19/2f6314d2-d05f-11eb-8014-2f3926ca24d9_story.html
Biden's First Task at Housing Agency: Rebuilding Trump-Depleted Ranks
During the 2020 campaign, President Biden pledged to transform the Department of Housing and Urban Development into a frontline weapon in the fight against racial and economic inequality.
But when his transition team took over last fall, it found a department in crisis.
The agency's community planning and development division, the unit responsible for a wide array of federal disaster relief and homelessness programs, had been so weakened by an exodus of career officials that it was faltering under the responsibility of managing tens of billions of dollars in pandemic aid, according to members of the team.
And it was not just the planning unit. In some divisions, as many as 25 to 30 percent of jobs were unfilled or occupied by interim employees. The losses were concentrated among the ranks of highest-skilled managers and policy experts, many of whom had been overruled, sidelined, exiled and eventually driven away under President Donald J. Trump and his appointees.
https://www.nytimes.com/2021/06/18/us/politics/biden-housing-agency-trump.html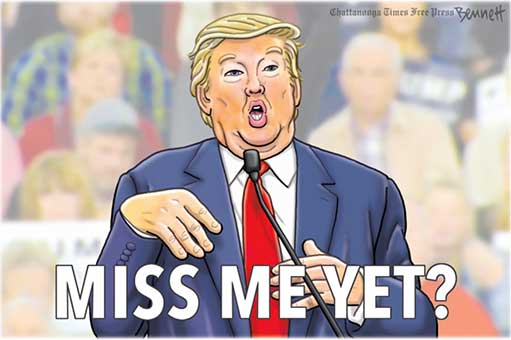 Republican official in Ohio faces charge for voting twice in November election
Republican lawmakers in Ohio pushing for more "safety and security" at the ballot box can now point to a clear example of voter fraud in the November 2020 presidential election.
Unfortunately for them, it involves another Republican.
Edward Snodgrass, who is a Porter Township trustee, has admitted to forging his dead father's signature on an absentee ballot and then voting again as himself, court records and other sources revealed. https://www.nbcnews.com/news/us-news/republican-official-ohio-faces-charge-voting-twice-november-election-n1271985
Deleted Tweet from Rep. Matt Gaetz
Matt Gaetz tweets that Democrats should defund the FBI, then deletes the tweet.
The FBI is investigating Gaetz's possible role in child sex trafficking, after his friend pled guilty to charges of having sex with a minor and implicated "others." https://twitter.com/michaelscherer/status/1407707069902430209
What every Senate Democrat has said about filibuster reform
The PBS Newshour details the position each of the 50 Democratic Senators has taken on reforming the filibuster:
• 24 want to reform the filibuster
• 22 are open to reform.
• 2 are still deciding (Tom Carper and Mark Kelly)
• 2 are opposed (Joe Manchin and Kyrsten Sinema)
Ivanka Trump and Jared Kushner distance themselves from the former President and his constant complaints
With each passing day away from Washington, former President Donald Trump's grievances continue unabated. And those complaints appear to be driving away two of the people who were closest to him during his White House tenure: his daughter Ivanka Trump and son-in-law, Jared Kushner.
A large part of the reason for the separation is Trump's constant harping on the past and his inability to move on. The former President has also started to question the role that Kushner -- one of the few people who were able to stay close to Trump throughout his two presidential campaigns and White House tenure -- has played in his presidential legacy. https://www.cnn.com/2021/06/23/politics/donald-trump-ivanka-trump-jared-kushner/index.html
Gov. Abbott vetoes bill that would have made it illegal to chain up dogs without drinkable water or adequate shade in Texas
 Governor Greg Abbott a vetoed a bill known as the Safe Outdoor Dogs Act which would have made it illegal to chain up dogs and leave them without drinkable water, adequate shade or shelter. It also called for a ban on tethering dogs with heavy chains.
The hashtag #AbbottHatesDogs is now trending on Twitter. https://www.wfaa.com/article/life/animals/abbott-vetoes-bill-banning-chaining-dogs-outside/285-238b067b-e91b-4722-bf0f-b98415fb1eda
Democratic Group Will Pour $20 Million Into Voting Rights Efforts
Priorities USA, one of the biggest Democratic super PACs, announced on Tuesday that it would pump $20 million into voting rights initiatives ahead of the 2022 election cycle, aiming to combat Republican-led election laws with digital ads and organizing as well as in the courts.
The digital effort will include a series of extensive voter information campaigns, going beyond a more traditional approach that would consist solely of persuasion ads. The group's overall goal is to help people navigate a new balloting landscape created by the many new restrictions passed by Republicans in at least 16 states. The campaigns will also provide voting tools like text message reminders to register to vote or request an absentee ballot. https://www.nytimes.com/2021/06/22/us/politics/priorities-usa-voting-rights.html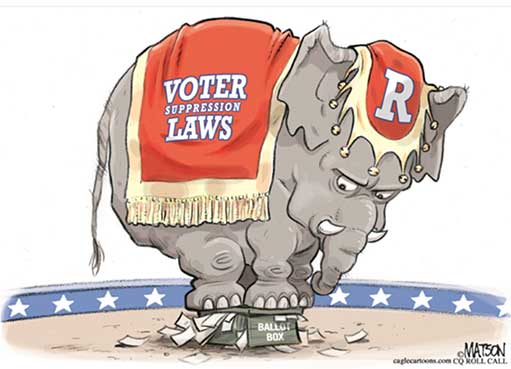 The DAILY GRILL
President Biden gave Vladimir Putin a pass...Biden failed to make Moscow pay a price for a string of ransomware attacks on US infrastructure believed to originate on Russian soil. — House Minority Leader Kevin McCarthy engineering the GOP's latest hypocritical gyration on Thursday by criticizing President Joe Biden's conduct in his summit with the leader of Russia in Geneva on Wednesday

VERSUS

McCarthy didn't mention two intelligence operations by Russia to meddle in US elections to help Trump win. Nor did he mention Trump's notorious press conference in Helsinki when the then-President threw US spy agencies under the bus on live television and embraced the denials of Putin, a former KGB officer, on election interference. https://www.cnn.com/2021/06/18/politics/republicans-trump-january-6-whitewashing/index.html

 

A Capitol police officer was 'lying in wait' for Ashli Babbitt before shooting. Babbitt was "executed" by police, demands name of officer involved in shooting — Rep. Paul Gosar (R-AZ).

VERSUS

On January 6, as the violent mob advanced on the House bqrzchamber, I was standing near @RepGosar and helped him open his gas mask. The Capitol Police led us to safety. It is disgusting and despicable to see Gosar lie about that day and smear the men and women who defended us. — Liz Cheney
Jonathan Weisman: For Republicans, 'Crisis' Is the Message as the Outrage Machine Ramps Up
House Republican leaders would like everyone to know that the nation is in crisis.
There is an economic crisis, they say, with rising prices and overly generous unemployment benefits; a national security crisis; a border security crisis, with its attendant homeland security crisis, humanitarian crisis, and public health crisis; and a separate energy crisis.
Pressed this week on whether the nation was really so beleaguered, the No. 2 Republican in the House, Representative Steve Scalise of Louisiana, thought of still more crises: anti-Semitism in the Democratic ranks, "yet another crisis," he asserted, and a labor shortage crisis.
"Unfortunately they're all real," he said, capping a 25-minute news conference in which the word "crisis" was used once a minute, "and they're all being caused by President Biden's actions."
As Americans groggily emerge from their pandemic-driven isolation, they could be forgiven for not seeing the situation as quite so dire. They might also be a little confused about which of the many outrages truly needs their focus: the border, perhaps, but what about Dr. Anthony S. Fauci and the Wuhan lab leak theory, the teaching of critical race theory in the nation's schools, the fact that some schools are not fully reopened, Representative Ilhan Omar, or all those transgender athletes competing in high school sports?
But for divided House Republicans, outrage may be the tie that binds — at least their leaders hope so. https://www.nytimes.com/2021/06/17/us/politics/house-republicans-outrage.html
Dana Milbank: Republicans just proved critical race theory correct
It was a good day for the insurrectionists.
Senate Republicans voted in lockstep on Tuesday to block the landmark voting rights bill, in effect embracing the disenfranchisement of non-White voters under the "big lie" justification that widespread voter fraud denied Donald Trump reelection.
Even as they did so, Senate Republicans also embraced the latest Fox-News-generated conspiracy theory: that a shadowy network of America haters — suspiciously similar to antifa, BLM and the deep state — had taken over the Biden administration with a nefarious ideology known as critical race theory, or "critical theory."
"Critical theory is, in fact, very real," Sen. Josh Hawley (R-Mo.), the man who pumped his fist in solidarity with the people who attacked the Capitol on Jan. 6, declared on the Senate floor on Tuesday. "It is very influential. And it appears to have become the animating ideology of this administration."
In short, Hawley explained, the Biden administration hates America. "President Biden is nominating for federal office individuals who do not share a view of America as a good and decent place," Hawley announced. His nominees instead "believe that this is a country founded in racism and shot through with corruption."
The irony, of course, is that Republicans are now proving that systemic racism exists — and they, along with Fox News, are the primary offenders. With their united stand against the voting-rights bill and their united votes against Ahuja on the bogus justification of critical race theory, they're the ones reducing Americans "to their racial identity alone," as Hawley put it. The Proud Boys who attacked the Capitol must be filled with pride anew. https://www.washingtonpost.com/opinions/2021/06/22/republicans-just-proved-critical-race-theory-correct/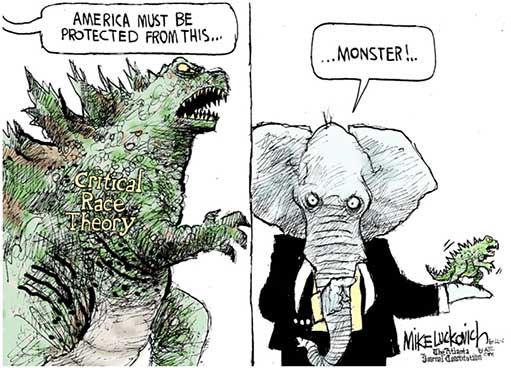 Jennifer Rubin: Republicans can't conceal history
Indeed, it is evident that, rather than the academic discipline they claim to oppose, Republicans are railing at something much bigger and fundamental. At a time when white grievance and resentment has taken over the GOP, their feigned outrage boils down to a primal scream: Stop reminding us of the past. Stop telling us that we've done something wrong. Stop exploring why racial divides persist.
In their resentment toward immigrants, "elites," urbanites and anyone who might challenge their account of America, Republicans cling to a narrative in which racism is confined to the past. If they acknowledge that racism still affects our institutions and our economic and social structure, they might have to reform them. They might have to acknowledge there has been and continues to be injustice that we are all responsible for addressing.
In their willful historical ignorance, the party attempts to substitute imaginary problems for real ones and thereby cement the status quo. In refusing to recognize the history of Jim Crow, the persistent attempts to reduce Black voting power through gerrymandering and post-Shelby voter suppression, Republicans deny there is any problem to fix — except for the entirely fictional one of "massive voting fraud," which multiple lawsuits and investigations found to be baseless.
Ultimately, the Republican Party is fighting a losing battle. Research, education and culture will swamp desperate efforts to enforce historical nihilism.
"Great nations don't ignore their most painful moments," President Biden said when he signed the bill that made Juneteenth a holiday. "They embrace them. Great nations don't walk away, they come to terms with the mistakes they've made." We embrace historical facts so that the great American experiment in self-government can endure. https://www.washingtonpost.com/opinions/2021/06/21/republicans-will-never-win-battle-historical-amnesia/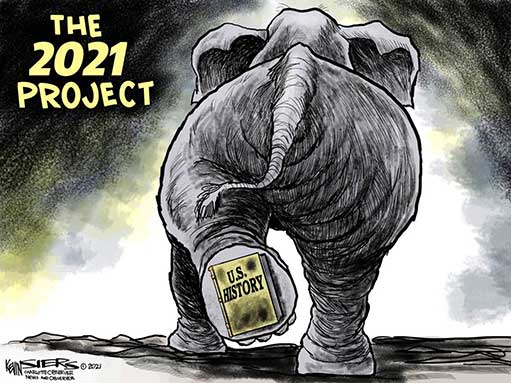 Paul Waldman: Why conservatives keep creating imaginary enemies to fight
Conservatives haven't had a lot of high-profile, practical victories lately, ways they can show their supporters that their side is winning important battles. Democrats took the White House and control of Congress, Obamacare is remains in place, same-sex marriage is legal, and those on the right fear they're losing every cultural conflict.
So if you can't defeat a real enemy, why not take on an imaginary one?
Thus it is that "critical race theory" — an academic approach to understanding the way race operates within systems and institutions — has become the new conservative bugaboo.
Though it is no more a topic taught to children than post-structuralism or computational quantum chemistry (if you ever encountered it before this year, you probably went to grad school), the entire American right is now donning its battle gear to fight this threat to their children's education and way of life. The fact that this is a phantom threat is essential to understanding how the strategy works.
"We will eventually turn it toxic," wrote the conservative think-tank fellow who played an important role in birthing this effort. "The goal is to have the public read something crazy in the newspaper and immediately think 'critical race theory.'"
Turning outrage into action, a wave of bills have been filed in state legislatures that either explicitly or implicitly ban the discussion of critical race theory in schools. Among states where such bills have recently passed are Texas, Oklahoma, Arkansas, Tennessee, Idaho and Iowa. Florida Gov. Ron DeSantis (R) promised to "make sure there's not a single school board member who supports critical race theory."
The key characteristic of this manufactured controversy is that it is a symbolic battle masquerading as a practical one. By passing laws to ban an idea that is never taught in schools from being taught in schools, they're trying to create a threat, then claim they vanquished it, thereby offering their supporters a feeling of reassurance and agency.
That's enough to make you despair. But you can pass a measure at your local school board or a law in the state legislature and say, "We banned critical race theory from the classroom! Victory is ours!" That's the nice thing about imaginary enemies: They're not hard to defeat. https://www.washingtonpost.com/opinions/2021/06/18/why-conservatives-keep-creating-imaginary-enemies-fight/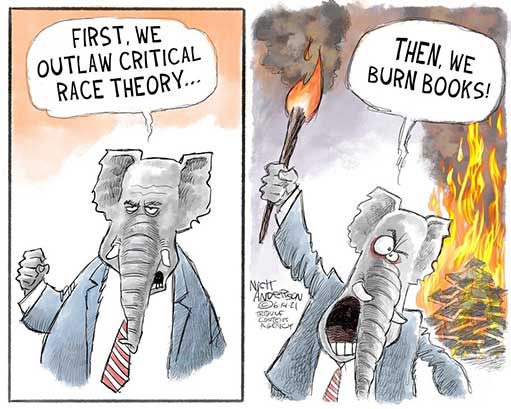 Greg Sargent: Joe Manchin reaches out to Republicans, and they slap him in the face
On Thursday morning, leading voting rights advocate Stacey Abrams dropped a big piece of news: She told CNN she supports Sen. Joe Manchin III's (D-W.Va.) compromise bill to protect democracy.
Republicans were thrilled because, as Sen. Roy Blunt of Missouri candidly put it, they now get to rebrand Manchin's compromise as "the Stacey Abrams substitute."
"When Stacey Abrams immediately endorsed Senator Manchin's proposal," Blunt told reporters, "it became the Stacey Abrams substitute, not the Joe Manchin substitute."
The careful observer will note that nothing substantive about the proposal itself changed when Abrams endorsed it. What changed is that Republicans now get to associate it with Abrams, rather than Manchin.
Senate Minority Leader Mitch McConnell (R-Ky.) also signaled that this will be the GOP approach, putting out a statement denouncing Manchin's proposal as "the plan endorsed by Stacey Abrams."

Why the newfound availability of this talking point is so exciting to Republicans is fairly obvious, but put that aside for now. Shouldn't this underscore for Manchin the broader problem with his whole approach to Republicans in a highly clarifying way?
Republicans are immediately jumping at the chance to obscure the fact that this new proposal represented the work of a moderate Democrat who is reaching out in good faith to Republicans, by recasting it as the work of someone they believe they can easily caricature as a partisan activist.
All of which should illustrate the folly of seeking bipartisanship as a precondition for protecting democracy in the first place. https://www.washingtonpost.com/opinions/2021/06/17/joe-manchin-reaches-out-republicans-they-slap-him-face/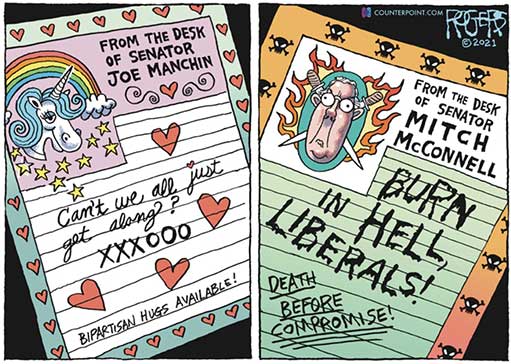 Elie Honig: New emails reveal a Trump White House gone mad
The emailed reactions of officials within the Justice department appropriately reflect a sense of incredulity and dismay at the efforts of Trump's staffers to get them on board with trying to overturn a democratic election. In one internal Justice Department email, Rosen asks "Can you believe this?" and in another, a top department adviser characterized the White House's outreach as "pure insanity."
"Pure insanity," indeed. But it's worse than that, really. In one respect, the White House acted from a sense of delusion, both about the actual outcome of the 2020 election and about its chances to reverse it.But in a more sinister sense, Trump and his top advisers acted purposefully and deliberately. Their efforts to steal an election and undercut democracy are as clear as the words on the page. And as the efforts of Trump and his followers to continue spreading the Big Lie continue and intensify, we need to remember just how close Trump and his enablers came to succeeding the first time. https://www.cnn.com/2021/06/15/opinions/trump-white-house-doj-gone-mad-honig/
Stephen Collinson: The Republican Party's mission: Whitewash the Trump presidency
The Republican Party has turned to another page in the authoritarian playbook as it whitewashes the of Donald Trump's presidency.
It's as if the fawning over Vladimir Putin never happened. Or Trump's assurance that Covid-19 would simply "go away" never passed his lips. Trump's acolytes have, meanwhile, rebranded the worst assault in American democracy in modern times into a January 6 tourist jaunt as they seek to cleanse the reputation of the former President who told rioters to "fight like Hell" and, months later, still holds enormous sway over the GOP.
Trump and conservative propaganda media are also assailing Dr. Anthony Fauci to expunge the ex-President's neglect of a pandemic that killed hundreds of thousands of Americans on his watch.
The attempt to reconfigure the often disastrous historical record of the Trump presidency comes as the former President eyes a political comeback ahead of a new round of political rallies this summer teeing up 2022 primaries. And it takes place as much of the Republican Party is engaged in a crusade built on the former President's lies about election fraud to make it harder for many Americans to vote and easier for GOP officials to interfere in free and fair elections. Since the truth is too painful for Republicans and is detrimental to their future political prospects, an alternative narrative must be constructed. https://www.cnn.com/2021/06/18/politics/republicans-trump-january-6-whitewashing/index.html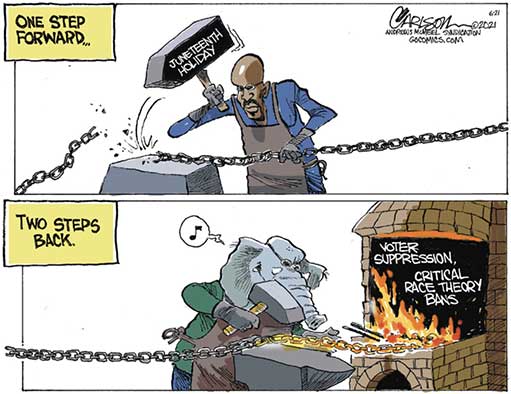 Philip Bump: Is Arizona the next post-Capitol flash point?
"QAnon followers have coalesced around a theory that the audit itself would trigger the major event long prophesied by Q," the paper's Richard Ruelas and Jen Fifield report. "Some follow every development of the audit on channels devoted to it on Telegram, a messaging application that has grown in popularity as Facebook and Twitter have culled users who post disinformation."
The idea, in essence, is that the Arizona review will prove that one particular conspiracy theory — that the election results were suspect — was accurate. And that, in turn, will trigger a chain reaction leading … somewhere. MyPillow CEO Mike Lindell, whose company offered discount codes using Q-related phrases, has insisted that Trump would be president again by August, thanks to new discoveries this summer.
In other words, Arizona is poised to be a place and a time on which Trump supporters and QAnon can focus.
And similar focal points are in the works. If there is a chain reaction leading out from Arizona, that means other similar reviews in other places and other points of focus.
"In the words of adherents, Arizona would be the first 'domino' to fall," Ruelas and Fifield write. "The excitement around this theory has grown in recent days, as interest in replicating Arizona's election audit has spread to other states. Alaska, Georgia and Pennsylvania lawmakers toured the coliseum to find out how they could do an audit just like this one back home, and a Georgia judge allowed a conspiracy-minded group to recount absentee ballots.
Similar calls for audits are happening in New Hampshire, Michigan and Wisconsin."
As The Washington Post's Dave Weigel pointed out, some of those observers flown in from other states did so on the dime of Voices and Votes, that OAN-linked charity. OAN has covered the Arizona review nonstop, elevating its importance and earning plaudits from Trump. More audits, as Weigel notes, mean more OAN coverage. And again, it means more points at which that energy can coalesce. https://www.washingtonpost.com/politics/2021/06/15/is-arizona-next-post-capitol-flashpoint/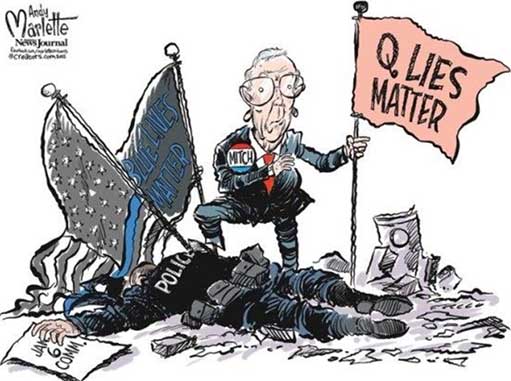 Tim Miller: Get Ready for the Shitstorm That Will Follow the Arizona "Recount"
The whole Arizona recount circus is being taken deadly seriously by Trump himself—he called Republican pols who are ignoring the audit "weak"—and by his radicalized supporters who still want to "stop the steal."
Doesn't this all sound a little too familiar?
There's more.
Activists in the QAnon movement have described the audit as the first step in "The Great Awakening." And Arizona Republican Party Chairwoman Kelli Ward has threatened "arrests" of those who did not comply with the audit. (N.B.: The Arizona Republican Party does not yet have the power to detain citizens for crimes against MAGA.)
One Arizona GOP precinct committeewoman, Gail Golec, has quit her job as a real estate agent to focus on uncovering "fraud" full-time, which she details on her Facebook and YouTube pages. One America News has hired a local propagandist, Christina Bobb, to "cover the audit"—while also fundraising for it.
Steve Bannon's War Room, which was the official podcast of the "Stop The Steal" rallies last fall, is playing the same role in unofficial fashion in Arizona and has found an audience for the grift. (At the time of this writing, War Room was the tenth-biggest news podcast on the Apple charts.) The thirstiest and craziest MAGA Republicans around the country have all made the hajj to Maricopa to either learn how they can bring the insurrection to their states or signal their allegiance to primary voters. The frontrunner in the Missouri race to succeed the retiring Senator Roy Blunt, Eric Greitens, is the latest of this latter group.
Again, I ask: Doesn't this all sound pretty fucking familiar?!!!
Sometime soon the results of the Arizona audit will be brought forth. It seems quite likely, given the participants, that the auditor ninjas will claim that Donald Trump won Arizona. Or probably won Arizona—who can say!
And if this happens, the former president and his MAGA media echo chamber will once again stoke the flames of insurrection. Q-adherents will convince themselves that one of the seven seals has been revealed. Millions (tens of millions) of Republicans throughout the country will believe it. And some of them will demand action.
So when the Arizona audit bell tolls, what exactly is McConnell and McCarthy's plan?
Because it sure looks as though they are dooming us all to repeat the same history we just lived through, humoring Trump's delusions and hoping that none of their supporters die in their imaginary fight for freedom this time. https://thebulwark.com/get-ready-for-the-shitstorm-that-will-follow-the-arizona-recount/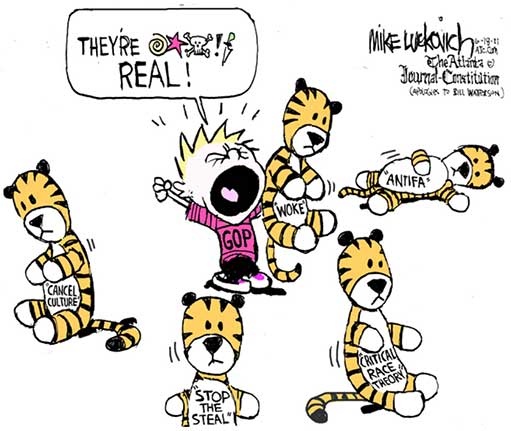 Jennifer Rubin: Liz Cheney points to the plague of civic illiteracy. So what's the cure?
Rep. Liz Cheney (R-Wyo.) has refused to allow her party the luxury of uncontested lying. A party that still wallows in the "big lie" of a stolen election, offers outlandish and Putin-like conspiracy theories (e.g., blaming the police and not the mob for the results of the Jan. 6 insurrection) and conducts a campaign of slander against the nation's most esteemed immunologist should not be able to rely on the right-wing echo chamber to blot out inconvenient facts.
But while intentional misrepresentation is now rampant and widely accepted in the GOP, there is also a problem of abject ignorance.
Representatives such as Marjorie Taylor Greene (R-Ga.) and Lauren Boebert (R-Colo.) serve as a reminder that a working knowledge of the Constitution (let alone emotional stability) is not a requirement for members of Congress. It is tempting to say that members of Congress in the MAGA cult must be lying because no one could possibly be so uninformed, but both are likely at play. If Cheney is right about the ignorance of her colleagues (they seem daily to prove her point) and the Republican base, we should think seriously about the remedy. https://www.washingtonpost.com/opinions/2021/06/21/liz-cheneys-diagnosis-is-right-so-whats-cure/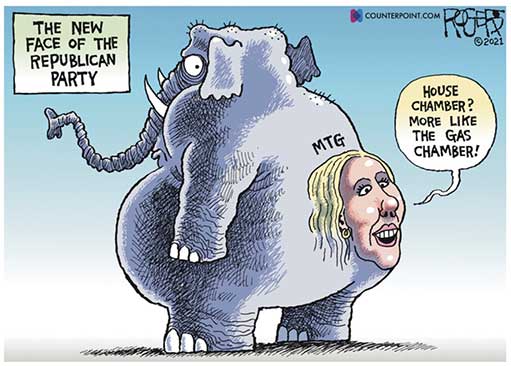 Catherine Rampell: No room at the inn in Texas
There's no room at the inn. Not for children fleeing persecution, anyway.
That's according to Texas Gov. Greg Abbott (R), who last week ordered his state to yank the licenses of shelters and foster-care programs that provide care to unaccompanied migrant children. Abbott is a self-proclaimed advocate of family values, religious liberty, and law and order. Yet in one fell swoop, he undermined all three.
If the feds somehow allowed shelters and foster-care programs that lose state licensure to continue taking in children, Abbott's order would put contractors themselves in a difficult position. Organizations that lose their license because they decide to continue working with migrant kids would forfeit the ability to care for Texas-born kids; that means organizations that run multiple programs, such as Catholic Charities of Dallas, would have to decide which population they want to serve.
Many of these contractors are ministries that work with displaced migrant children as an expression of their faith, heeding scripture's instructions to welcome the stranger and protect immigrants and orphans. Understandably then, such faith-based institutions have expressed frustration at the governor's implicit decision to restrict their ability to act on their religious beliefs, particularly given his frequent claims to being a champion for religious liberty.
"As a follower of Jesus," said Marv Knox, a coordinator at Fellowship Southwest, "I take seriously his admonition that we demonstrate how much we love God by how we treat 'the least of these.'"
https://www.washingtonpost.com/opinions/2021/06/07/no-room-inn-texas/
David Rohde: The Political, Legal, and Moral Minefield That Donald Trump Left for Merrick Garland
Legal experts say that Garland will have a tougher time restoring public faith in federal law enforcement, on both the right and the left, than any Attorney General since Watergate. Jack Goldsmith, who served in the Justice Department during the George W. Bush Administration, said that Garland faces an even greater challenge than his predecessors did after Nixon's resignation. "That was in a much less partisan and politicized time," Goldsmith said. "We're so deeply divided now in ways we weren't after Watergate." He also predicted that Garland's job will only grow more difficult. "It's just much harder for Garland to operate in ways that bring bipartisan political support," Goldsmith said. "Everything he does is going to be criticized by half the country."
The array of politically sensitive Trump-related cases currently before the Garland Justice Department is startling. The Attorney General is overseeing the prosecution of the more than four hundred Trump supporters who were arrested in connection with the January 6th Capitol riot; the department's response to a Republican-led recount of 2020 election returns in Arizona; its response to Republican-led efforts to restrict voting, based on Trump's false claims of election fraud; the reinstatement of consent decrees designed to prevent police abuses; the criminal investigation of Trump's personal lawyer and confidant Rudy Giuliani, for illegal lobbying; and a criminal investigation of Hunter Biden, the current President's son, which was launched under Barr. Hanging over all these cases are demands from Democrats that Garland investigate whether Trump committed federal crimes while in office. "He's going to have to make some very hard calls," Goldsmith said.
Garland seems to be counting on a belief that most Americans, exhausted by the Trump years, will welcome his neutrality, probity, and reticence. He is betting that the dictum inscribed in the stately anteroom about pursuing justice will resonate with ordinary Americans. Trump is betting that his lies will. https://www.newyorker.com/news/daily-comment/the-political-legal-and-moral-minefield-that-donald-trump-left-for-merrick-garland
Doyle McManus: Why Republicans are suddenly reluctant to condemn political violence
The Republican Party has a problem with violence: It's not sure whether it's for it or against it. In the first days after a mob loyal to former President Trump stormed the Capitol on Jan. 6 to try to block Congress from certifying President Biden's election, GOP leaders delivered a sensible, unified response: There's no place in our constitutional system for that kind of violence.
Since January, though, some leading Republicans have been backsliding — offering excuses for the insurgents who sought to overturn the election through extralegal means.
Rep. Andrew S. Clyde of Georgia has likened the forced entrance of the Capitol to "a normal tourist visit." Arizona Rep. Paul Gosar complained last month that the FBI was "harassing peaceful patriots" by investigating the events. Twenty-one House Republicans voted against awarding a medal to the Capitol Police for attempting to defend the building; several said they objected to calling the riot an "insurrection."
Last week, Sen. Ron Johnson of Wisconsin defended the protesters, too. "The vast majority of the crowd, they were in a jovial mood," he said last week. "They weren't violent."
And retired Lt. Gen. Michael Flynn, who served briefly as Trump's national security advisor, recently told an audience that a Myanmar-like coup "should happen here." He later denied having said that, but it was captured on videotape.
These are not good signs for the Republican Party.
They are trying to tiptoe around a fundamental problem: Their candidate lost a presidential election, but he not only refuses to accept the voters' verdict; he wants his party to "fight" to restore him to power.
They want to move past the embarrassment of Jan. 6 — but that can't happen until they settle their internal debate: Are they a party that condones extraconstitutional violence or not? https://www.latimes.com/politics/story/2021-06-20/some-republicans-now-see-violence-as-a-necessary-means-to-an-end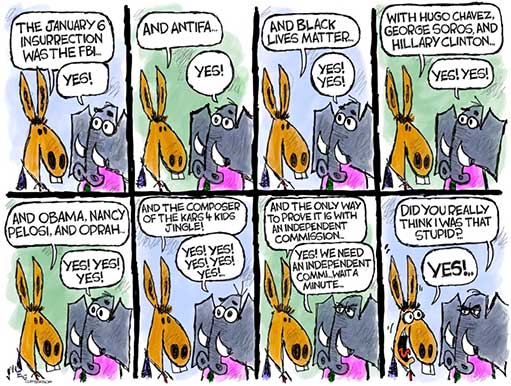 Philip Bump: After seven months of debunking, the false belief that Biden won because of fraud hasn't budged
A pattern has emerged in Republican politics over the past several years, a three-part system by which to generate a cloud of uncertainty about certain things. One component is to suggest a failure to treat something unserious as serious is a reflection of an unwillingness to debate, that the party considering the unserious thing as unserious is somehow afraid to confront it. Another is cherry-picking from huge pools of information, using isolated and usually misconstrued claims to construct alternative narratives. The third is the existence of a sympathetic media and social universe that collectively agrees the unserious and unproven thing is, in fact, both proven and serious.
So valid arguments that hunts for fraud are equivalent to hunts for left- handed screwdrivers are dismissed as showing fear about the debate. The lack of credible evidence is countered with specious evidence that the presenter views as credible — in part because she has a galaxy of right-wing media figures and a former president agreeing with her position.
The result is a stable bubble of falsehood, one that shifts its shape over time but otherwise remains stable. A third of the country believed there was fraud right after the election, a third believed that at the time of the Jan. 6 Capitol riot, a third believed it two months into Biden's presidency, a third believes it now. As long as there's a market for the argument, which there seemingly always will be, a third of Americans may believe this obviously false thing forever. https://www.washingtonpost.com/politics/2021/06/21/after-seven-months-debunking-false-belief-that-biden-won-because-fraud-hasnt-budged/