April 28, 2022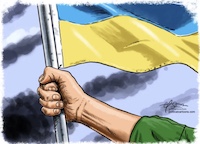 If you have a friend, family member, or neighbor who would like to subscribe to this FREE weekly newsletter they should simply email jellison@san.rr.com with "subscribe" as the subject.
THE WEEK'S BEST QUOTES. . .
Just a casual reminder that in 1861, 11 Senators and 3 Representatives were expelled from Congress for failing to recognize Lincoln's election and supporting insurrection. —
Andrea Junker
"This is not your father's Republican Party. It's not even conservative in a traditional sense of conservatism. It's mean, it's ugly. I mean, look at what's happening now in Florida: Christ, they're going after Mickey Mouse." —
President Joe Biden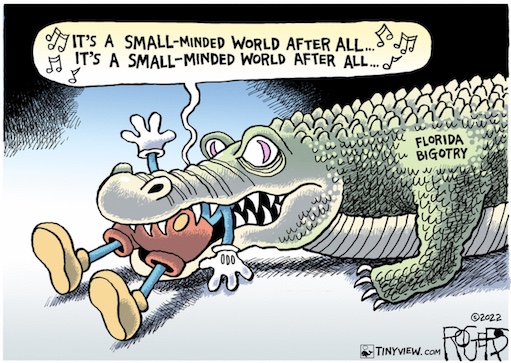 Here's the audio
: Kevin McCarthy tells Liz Cheney, privately, after Jan. 6 that he's going to call Trump and tell him to resign. This contradicts McCarthy's denial.
Michigan Sen. Lana Theis joins the growing conservative trend of baselessly accusing political opponents of being pedophiles/groomers.—
Andrew Roth
"Grappling with a colleague accusing you of grooming children, the types of QAnon claims that led a gunman to open fire on a DC pizza place believing that he was saving children, makes it impossible to focus on your client's bills." --
Mallory McMorrow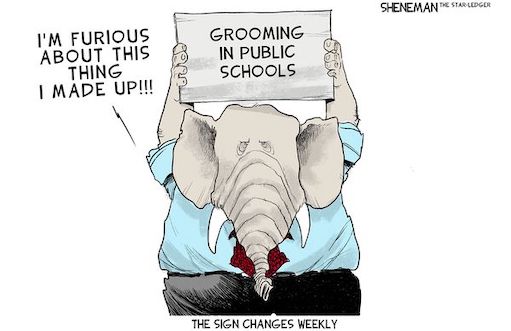 It is time Mike Lee told the truth, the whole truth and nothing but the truth. To his constituents. To the House committee investigating the Jan. 6 uprising. And to history. -- The Salt Lake Tribune editorial board throwing down the gauntlet to Sen. Mike Lee (R-Utah).

"God these tapes are so infuriating. Kevin McCarthy is casually discussing 25th Amendment, telling Trump to resign, and making sure Pence won't pardon him…WITH LIZ CHENEY. Only to, weeks later, kick Cheney out of leadership for saying the same things he did." -- Sarah Longwell

Conservatives and the right are widely celebrating Elon Musk's purchase of Twitter, and are basking in the "liberal tears" that come with the world's richest man spending $43 billion to, as they see it, literally own the libs. — Vice
"This is a great day to be conservative on Twitter. … Elon Musk buying Twitter terrifies the left because they don't want their power to censor conservatives threatened." — Tennessee Sen. Marsha Blackburn (R) tweet.
 
"The hearings will tell a story that will really blow the roof off the House. … The committee will present "evidence" that proves there was coordination among then-President Donald Trump and his inner circle and his supporters who attacked the Capitol on Jan. 6 in an attempt to overturn the 2020 presidential election." -- Rep. Jamie Raskin, (D-MD).

"The government – we would support legislation that would allow some of that money (assets the Justice Department seizes from Russian oligarchs) to go directly to Ukraine." — Attorney General Merrick Garland testifying to lawmakers.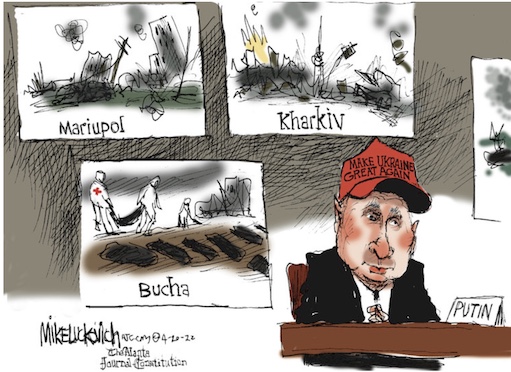 VIDEOS
"I think it's actually worse than cowardice because what you see here is the cynicism, the deep cynicism that puts their ambition and their desire for power above doing what they knew was the right thing" -- @SykesCharlie on Mitch McConnell and Kevin McCarthy w/
@NicolleDWallace

"In every episode now, they're gonna have Mickey and Pluto going at it … You can always shift to Cinemax if you want that. -- Sen. Ted Cruz (R-TX) slams Disney for opposing Florida's "Don't Say Gay" law.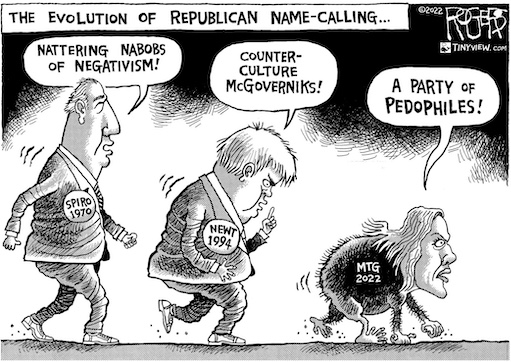 LITIGATION TRACKER
Pending Criminal and Civil Cases Against Donald Trump. 
https://www.justsecurity.org/75032/litigation-tracker-pending-criminal-and-civil-cases-against-donald-trump/
---
IN THIS ISSUE
IN THE NEWS
OPINION
Andy Borowitz: Musk Deletes Every Twitter Account but His
In his first official act since acquiring the social-media company, Elon Musk has deleted every Twitter account but his.

Minutes after the acquisition was announced, the two hundred million people who had Twitter accounts found that they could no longer tweet, and that the Tesla C.E.O.'s tweets were the only ones that appeared on the site.

In an official statement, Musk said that he deleted everyone else's accounts to address "the No. 1 problem plaguing Twitter: the relentless flood of voices inferior to mine."

The billionaire said that he would consider letting people other than himself back on Twitter "on a case-by-case basis."

"If people can show that they have something to say that's as smart as what I've got to say, they will get their accounts back," he said. "So, not likely. https://www.newyorker.com/humor/borowitz-report/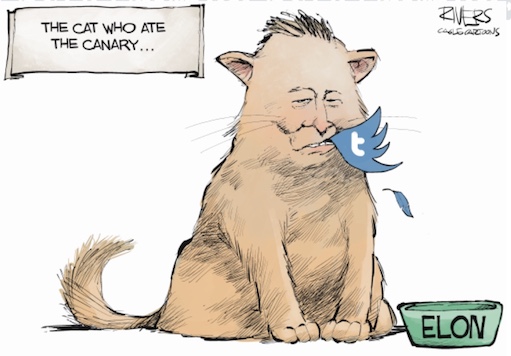 Zelensky, Rep. Cheney to receive JFK Profile in Courage award
Ukrainian President Volodymyr Zelensky and Rep. Liz Cheney (R-WY) will be among the recipients this year of the John F. Kennedy Profile in Courage Award, which is given by the John F. Kennedy Library Foundation to underscore the importance of fighting for democracy. https://www.washingtonpost.com/politics/2022/04/21/zelensky-cheney-jfk-profiles-in-courage/
'Exhilarated' McConnell said Jan. 6 'discredited' Trump
Hours after a mob ransacked the U.S. Capitol on Jan. 6, 2021, in a bid to block the certification of the 2020 presidential election, Senate Majority Leader Mitch McConnell described himself as "exhilarated" about the potential damage to President Donald Trump.

"I feel exhilarated by the fact that this fellow finally, totally discredited himself," McConnell told Jonathan Martin, one of the authors of a new book called "This Will Not Pass," when asked about his feelings on the violence and the rioters.

Trump, the Kentucky Republican said, "was pretty thoroughly discredited by this."

"He put a gun to his head and pulled the trigger," he said, standing in a doorway of the Capitol after midnight. "Couldn't have happened at a better time."

"What do you hear about the Twenty-Fifth Amendment?" he asked Martin, eager for intelligence about whether the Cabinet and vice president might remove Trump from office, according to the book. Then McConnell said, according to the book, that he had spoken to Senate Minority Leader Charles E. Schumer (D-N.Y.) and House Speaker Nancy Pelosi (D-Calif.) about issuing a joint statement telling Trump to stay away from the inauguration. A McConnell spokesman declined to comment on the book.  https://www.washingtonpost.com/politics/2022/04/25/trump-mcconnell-january-6-book/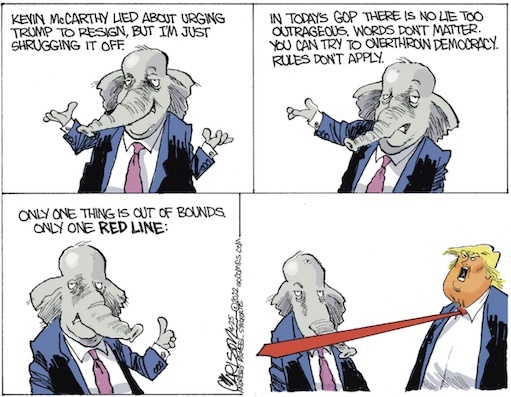 CNN Exclusive: Mark Meadows' 2,319 text messages reveal Trump's inner circle communications before and after January 6
CNN has obtained 2,319 text messages that former President Donald Trump's White House chief of staff Mark Meadows sent and received between Election Day 2020 and President Joe Biden's January 20, 2021 inauguration.

The vast trove of texts offers the most revealing picture to date of how Trump's inner circle, supporters and Republican lawmakers worked behind the scenes to try to overturn the election results and then reacted to the violence that effort unleashed at the US Capitol on

"The texts include everything from plans to fight the election results to surprising and unexpected reactions on January 6 from some of Trump's staunchest allies." https://www.cnn.com/2022/04/25/politics/mark-meadows-texts-2319/index.html
Republicans to Trump: Stay away from Twitter
The news that Elon Musk is buying Twitter has thrown Washington into a tizzy over one major question: Will Donald Trump return to his old favorite social media platform and start tweeting again?

As it turns out, no one is more petrified of this than members of Trump's own party.

On Monday night, in a series of calls and texts with several top GOP insiders, every single one of them told us that they hoped the former president stays the hell away from Twitter, lest he sink their chances at flipping the House and Senate. Some of his allies even think that a return to his old Twitter habits could damage his own brand ahead of a possible third presidential bid in 2024.

Said one House GOP leadership aide: "If I'm a Democrat, I'd pray that Elon Musk puts Trump right back on Twitter. I don't think it costs Republicans the House, but it certainly will elevate Trump's opinions — and is going to put Republican candidates and members back having to answer for that." https://www.politico.com/newsletters/playbook/2022/04/26/republicans-to-trump-stay-away-from-twitter-00027726
New Details Underscore House G.O.P. Role in Jan. 6 Planning
It has been clear for more than a year that ultraconservative members of Congress were deeply involved in attempts to keep Mr. Trump in power: They joined baseless lawsuits, spread the lie of widespread election fraud and were among the 147 Republicans who voted on Jan. 6, 2021, against certifying President Biden's victory in at least one state.

But in a court filing and in text messages obtained by CNN, new pieces of evidence have emerged in recent days fleshing out the degree of their involvement with the Trump White House in strategy sessions, at least one of which included discussions about encouraging Mr. Trump's supporters to march to the Capitol on Jan. 6, despite warnings of potential violence. Some continued to push to try to keep Mr. Trump in office even after a mob of his supporters attacked the complex. https://www.nytimes.com/2022/04/26/us/politics/jan-6-texts-mark-meadows.html
Putin gets what he didn't want: Ukraine army closer to West
The longer Ukraine's army fends off the invading Russians, the more it absorbs the advantages of Western weaponry and training — exactly the transformation President Vladimir Putin wanted to prevent by invading in the first place.

The list of arms flowing to Ukraine is long and growing longer. It includes new American battlefield aerial drones and the most modern U.S. and Canadian artillery, anti-tank weapons from Norway and others, armored vehicles and anti-ship missiles from Britain and Stinger counter-air missiles from the U.S., Denmark and other countries.

If Ukraine can hold off the Russians, its accumulating arsenal of Western weapons could have a transformative effect in a country that has, like other former Soviet republics, relied mainly on arms and equipment from the Soviet era. https://apnews.com/article/russia-ukraine-war-western-relations-4ce7e24093f61f574ec6e0b3e29b7b38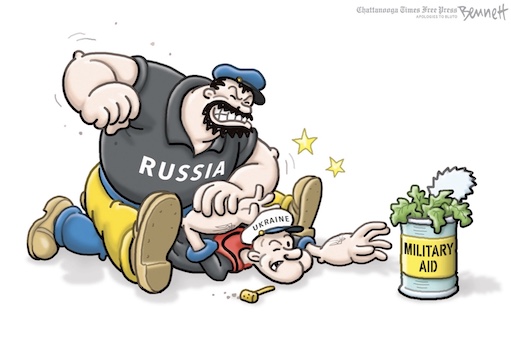 A Look Inside the Textbooks That Florida Rejected
After the Florida Department of Education rejected dozens of math textbooks last week, the big question was, Why?
The department said some of the books "contained prohibited topics" from social-emotional learning or critical race theory — but it has released only four specific textbook pages showing content to which it objects.Using online sample materials provided by publishers to Florida school districts, The New York Times was able to review 21 of the rejected books and see what may have led the state to reject them. Because Florida has released so few details about its textbook review process, it is unknown whether these examples led to the rejections. But they do illustrate the way in which these concepts appear — and don't appear — in curriculum materials.
In most of the books, there was little that touched on race, never mind an academic framework like critical race theory. https://www.nytimes.com/2022/04/22/us/florida-rejected-textbooks.html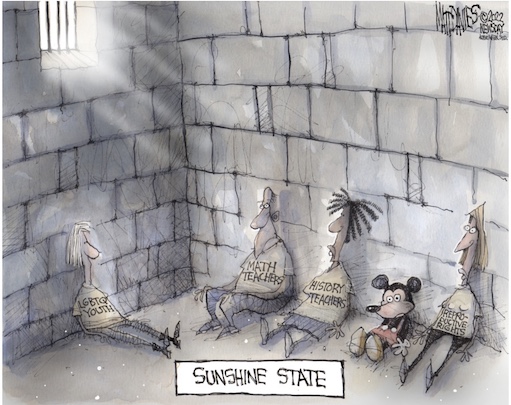 'I've Had It With This Guy': G.O.P. Leaders Privately Blasted Trump After Jan 6
In the days after the Jan. 6 attack on the Capitol building, the two top Republicans in Congress, Rep. Kevin McCarthy and Sen. Mitch McConnell, told associates they believed President Trump was responsible for inciting the deadly riot and vowed to drive him from politics.

McCarthy went so far as to say he would push Mr. Trump to resign immediately: I've had it with this guy.

Said McConnell to top advisers: The Democrats are going to take care of the son of a bitch for us.

But within weeks both men backed off an all-out fight with Mr. Trump because they feared retribution from him and his political movement. Their drive to act faded fast as it became clear it would mean difficult votes that would put them at odds with most of their colleagues. https://www.nytimes.com/2022/04/21/us/politics/trump-mitch-mcconnell-kevin-mccarthy.html
In election Misinformation fight, '2020 changed everything
As voters ready for hundreds of elections of local and national importance this year, officials and voting rights advocates are bracing for a repeat of the misinformation that overwhelmed the 2020 presidential race and seeded distrust about the legitimacy of Democrat Joe Biden's victory. It culminated in the storming of the U.S. Capitol on Jan. 6 by angry supporters of then-President Donald Trump who believed his lies that the election was stolen from him. https://apnews.com/article/2022-midterm-elections-voting-rights-technology-business-social-media-f5ba340c7a98f6f058fb3afac74a26bb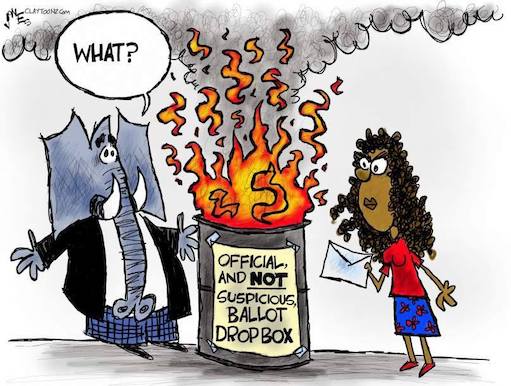 Judge Won't Toss Defamation Suit Against Trump Allies
A federal judge has rejected bids by three top promoters of President Donald Trump's election fraud claims to throw out defamation lawsuits they face over a slew of allegedly false statements they made about the election-technology firm Dominion. https://www.politico.com/news/2021/08/11/judge-dominion-defamation-suits-powell-504000
Alex Jones Reaches Out to Justice Dept. in effort to get an immunity deal
The federal investigation into efforts to overturn the 2020 election appears to be gaining traction, with the Justice Department having brought in a well-regarded new prosecutor to help run the inquiry and a high-profile witness seeking a deal to provide information, the New York Times reports.

Alex Jones, the host of the conspiracy-driven media outlet Infowars and a key player in the pro-Trump 'Stop the Steal' movement, is in discussions with the Justice Department about an agreement to detail his role in the rally near the White House last Jan. 6 that preceded the attack on the Capitol. https://www.nytimes.com/2022/04/20/us/politics/alex-jones-jan-6-interview.html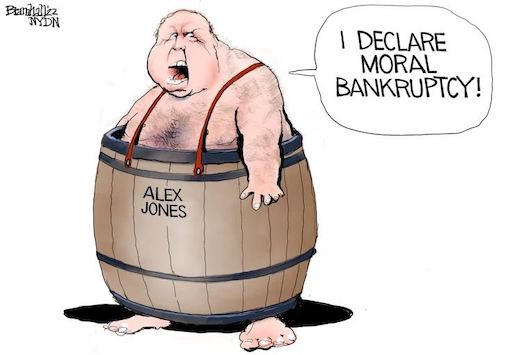 RNC Paid Trump's Personal Attorneys Another $350,000 In March
The Republican National Committee paid law firms representing former President Donald Trump's personal interests another $350,000 in March, according to a financial report filed Wednesday evening with the Federal Election Commission.
https://www.forbes.com/sites/zacheverson/2022/04/20/rnc-paid-trumps-personal-attorneys-another-350000-in-march/
If Biden's Plan Is Like a 'New Deal,' Why Don't Voters Care
Unlike the New Deal, however, this $1.9 trillion federal investment in American communities has barely registered with voters. Rather than a trophy for Mr. Biden and his party, the program has become a case study in how easily voters can overlook even a lavishly funded government initiative delivering benefits close to home.

Mr. Biden's popularity has declined in polls over the past year, and voters are giving him less credit for the country's economic recovery than his advisers had anticipated. In Virginia, Democrats got shellacked in the 2021 off-year elections amid the country's halting emergence from the depths of the pandemic.

Ambivalence among voters stems partly from the fact that many of the projects being funded are, for now, invisible. https://www.nytimes.com/2022/04/21/us/politics/biden-pandemic-relief-democrats.html
After Pardon for Bannon, 2 Admit Bilking Donors to Border Wall
In Donald J. Trump's final hours as president in January 2021, he pardoned his onetime chief strategist, Stephen K. Bannon, who faced charges that he had conspired to swindle donors to a private group that promised to build a wall along the Mexican border.
But three men charged with Mr. Bannon were not pardoned, and two of them pleaded guilty on Thursday in Federal District Court in Manhattan. https://www.nytimes.com/2022/04/21/nyregion/trump-bannon-border-wall.html
Trump Campaign Ordered to Pay $1.3 Million to Omarosa Manigault Newman in NDA case
A court arbitrator has ordered former President Donald Trump's presidential campaign to pay nearly $1.3 million in legal fees to Omarosa Manigault Newman, the former Apprentice star, White House aide and author of the first tell-all book about the Trump White House, the New York Times reports.

The award, handed down on Tuesday, concludes a protracted legal fight after Mr. Trump unsuccessfully sued Ms. Manigault Newman over her book, Unhinged, arguing that she had violated a nondisclosure agreement she had signed while working for his campaign in 2016. https://www.nytimes.com/2022/04/20/us/politics/trump-omarosa-manigault-newman-nda-award.html
Trump says he has no records subpoenaed by New York's attorney general and shouldn't be held in contempt
Former President Donald Trump does not have any documents subpoenaed by the New York attorney general's office as part of its civil investigation into the Trump Organization's finances and shouldn't be held in contempt, he told a state court. https://www.cnn.com/2022/04/20/politics/trump-subpoena-new-york-attorney-general/index.html
Court halts South Carolina plan for firing squad execution
South Carolina's highest court on Wednesday issued a temporary stay blocking the state from carrying out what was set to be its first-ever firing squad execution. https://apnews.com/article/us-supreme-court-business-crime-executions-south-carolina-e460cd28fad87b099ca96cab6c07099e
Prosecutor drops all charges against Pamela Moses, jailed over voting error
A Memphis prosecutor has dropped all criminal charges against Pamela Moses, the Memphis woman who was sentenced to six years in prison for trying to register to vote.

Moses was convicted last year and sentenced in January. She was granted a new trial in February after the Guardian published a document showing that had not been given to her defense ahead of the trial.

The case stirred national outrage because it underscored disparities in the way Black people are punished for voting errors. Several white defendants elsewhere have been sentenced to probation for impersonating family members and voting on their behalf. https://www.theguardian.com/us-news/2022/apr/22/pamela-moses-prosecutor-drops-charges-memphis-tennessee
Republicans Picked An Election Denier To Run Michigan's Elections
Michigan Republicans endorsed Kristina Karamo, a first-time candidate who has spread lies about the 2020 election, to run all the state's elections as the party's candidate for secretary of state.

Karamo, a professor of public speaking, built her profile and campaign on allegations of fraud in the last election and by claiming to have witnessed it herself as a poll challenger in Detroit. She was featured on Fox News' Hannity in December 2020 as a "whistleblower" where she recounted watching Detroit elections officials take a ballot that was marked straight-ticket for both parties and count it for Biden. But as former Michigan elections director Chris Thomas later explained to the Guardian, the ballot wasn't counted for Biden, it was tossed out as an over-vote. https://www.buzzfeednews.com/article/sarahmimms/karmao-michigan-secretary-of-state-election-denial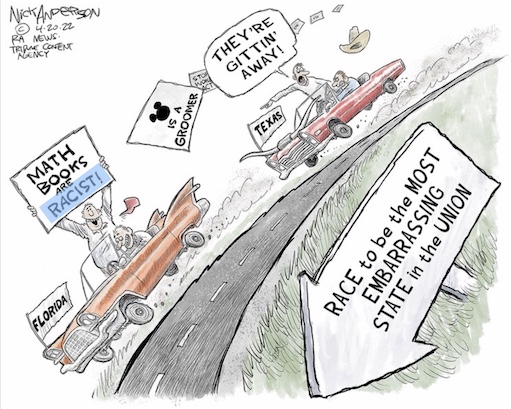 McCarthy's Lie Puts G.O.P. Hypocrisy on Trump on Display
Representative Kevin McCarthy's denial of disparaging comments he made about President Donald J. Trump after the Capitol attack on Jan. 6, 2021, exposed a widely known but seldom seen phenomenon in Washington: the hypocrisy of Republicans who have privately scorned Mr. Trump while publicly defending him.

Mr. McCarthy, the California Republican who is campaigning to be speaker of the House if his party wins the majority in November, had dismissed as "totally false and wrong" a report that he had told fellow G.O.P. leaders he would urge Mr. Trump to resign from office after the riot. But an audio recording of the conversation revealed Mr. McCarthy's denial to be a lie.

For Mr. McCarthy, the immediate political problem was not being caught in a lie. In the Republican Party, which has coalesced around Mr. Trump's claim that the 2020 election was stolen from him, falsehoods have become routine and even accepted.

The greater danger for Mr. McCarthy on Friday had been the truth — that, with the disclosure of his negative comments about Mr. Trump, he might invite the ire of the former president, who maintains a stranglehold on his party and on a powerful faction of extremist House members who already pose the greatest risk to his political future. But by Friday evening, it appeared the danger would not materialize, as Mr. Trump told The Wall Street Journal in an interview that their relationship remained good. https://www.nytimes.com/2022/04/22/us/politics/mccarthy-trump-republicans.html
The DAILY GRILL
Border Patrol agents have apprehended more than 1,000,000,000 migrants at our southern border in just 6 months. President Biden's open border policies are fueling this crisis! — Congresswoman Debbie Lesko (R-AZ) 

VERSUS

Two possibilities: (1) ONE BILLION MIGRANTS have tried to cross our border in just 6 months, or 230,000 PER HOUR, which is more than the population of Des Moines, Iowa every 60 minutes, - or - (2) Debbie doesn't know how many zeroes are in a million.


Rudy Giuliani sings Bad to the Bone on Masked Singer as host leaves saying, I'm done.

VERSUS
 
I thought there could not ever possibly be worse and more humiliating footage of Rudy Giuliani than when shit-colored sweaty dye streaked down his face. I was wrong. — Ana Navarro-Cárdenas


In an appearance on Fox News on Wednesday, Tulsi Gabbard reiterated her statement that "There are 25+ US-funded biolabs in Ukraine which if breached would release & spread deadly pathogens to US/world. We must take action now to prevent disaster"; and saying When powerful and influential people basically threaten and intimidate people into silence as Mitt Romney … [is] doing, they're hoping to achieve that effect that if anybody dares speak out against the government … [or] criticize whatever the washed, permanent Washington establishment narrative is, then you will be smeared … as a treasonous traitor.

VERSUS

"Tulsi Gabbard is parroting false Russian propaganda. Her treasonous lies may well cost lives." — Mitt Romney, responding to Gabbard's letters demanding that both Romney and Olbermann cease these false, defamatory, and malicious claims and that they retract/takedown all such statements made about Gabbard and destroy all copies of those statements.


Question to Rep. Marjorie Taylor Greene: "In fact, you think that Speaker Pelosi is a traitor to the country, right?"
Greene: "I'm not answering that question...I haven't said that."
Q: "Put up plaintiff's exhibit 5."
Greene: "Oh, no. Wait. Hold on now…" 

VERSUS

Marjorie Taylor Greene removes social media posts amid scrutiny of past controversial comments including this Facebook video where she suggests Pelosi can be executed for treason.
John Cassidy: It's Not News That McConnell and McCarthy Are Craven Patsies for Trump, but the Danger Has Grown
Behind the scenes there is still a struggle of sorts going on for the future of the G.O.P. As Trump continues to spread the Big Lie that he didn't lose the 2020 election, he's busy doling out endorsements to his favored Republican candidates in this year's midterm races, particularly the Senate ones—Herschel Walker in Georgia, Mehmet Oz in Pennsylvania, J. D. Vance in Ohio. On the other side, McConnell is busy trying to prevent the former President from saddling the Party with "goofball" candidates who might deprive it of a majority in both chambers.
But, as usual, it is Trump who is setting the terms of this contest. From his Palm Beach stronghold, he freely lashes out at any Republican candidate whom he considers insufficiently loyal or pandering. Earlier this week, he ripped into Arizona's attorney general, Mark Brnovich, whose long-running investigation into the 2020 election in Maricopa County, which includes much of Phoenix, so far hasn't turned up any evidence of the widespread fraud that Trump and his acolytes allege took place. Meanwhile, any public criticism of Trump is strictly verboten. After Trump complained that Brnovich was taking too long with his report, and strongly hinted that he will be endorsing another candidate in Arizona's Senate race, Brnovich issued a milquetoast statement saying, "I understand his frustration, but as I've said previously, I will continue to follow the facts and evidence and do what the law requires."
It's eminently clear where Republican candidates are learning the techniques of prostration: from their own leaders. And this abject situation isn't likely to change. If the events of January 6, 2021, weren't sufficient to embolden the likes of McCarthy and McConnell for more than a few days, could anything effect such a transformation? Probably not.
Taken as a whole, the G.O.P. is still in the same position it has been in for the past five and a half years: beholden to a narcissistic demagogue who has no respect for democracy or the law. In fact, the situation is even worse than it used to be, because the demagogue is now explicitly demanding that Republican candidates sign on to his Big Lie about 2020—a modern version of the "stab-in-the-back" conspiracy theory that helped undermine the Weimar Republic. In one sense, it's fun to read yet another story confirming the utter spinelessness and cravenness of McConnell, McCarthy, et al. Ultimately, though, the joke is on us. https://www.newyorker.com/news/our-columnists/its-not-news-that-mcconnell-and-mccarthy-are-craven-patsies-for-trump-but-the-danger-has-grown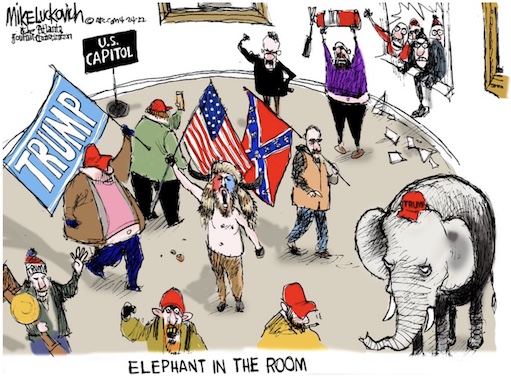 Shira Ovide: Buying Twitter, Elon Musk Will Face Reality of His Free-Speech Talk
A decade ago, Twitter executives, including the chief executive, Dick Costolo, declared that the social media site was the "free-speech wing of the free-speech party." The stance meant Twitter would defend people's ability to post whatever they wished and be heard by the world.

Since then, Twitter has been dragged into morasses over disinformation peddlers, governments' abuse of social media to incite ethnic violence and threats by elected officials to imprison employees over tweets they didn't like. Like Facebook, YouTube and other internet companies, Twitter was forced to morph from hard-liner on free expression to speech nanny.

Today, Twitter has pages upon pages of rules prohibiting content such as material that promotes child sexual exploitation, coordinated government propaganda, offers of counterfeit goods and tweets "wishing for someone to fall victim to a serious accident."

The past 10 years have seen repeated confrontations between the high-minded principles of Silicon Valley's founding generation of social media companies and the messy reality of a world in which "free speech" means different things to different people. And now Elon Musk, who on Monday struck a deal to buy Twitter for roughly $44 billion, wades directly into that fraught history. https://www.nytimes.com/2022/04/26/technology/twitter-elon-musk-free-speech.html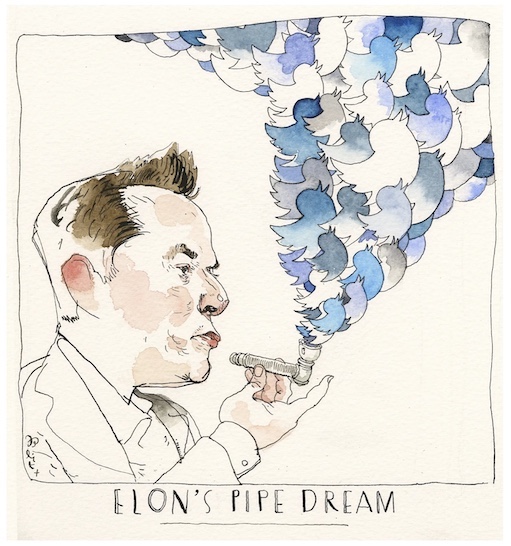 Dana Milbank: Abbott's plan to humiliate the weak instead dupes Texas taxpayers
Texas Gov. Greg Abbott's election-year scheme to bus migrants to Washington has driven itself into a ditch.

Three weeks ago, the Republican announced, along with his ill-fated plan to inspect all vehicles entering Texas from Mexico, his intention to reduce the state's "hordes of illegal immigrants" by shipping them to the nation's capital.

"To help local officials whose communities are being overwhelmed," Abbott said, "… Texas is providing charter buses to send these illegal immigrants, who have been dropped off by the Biden administration, to Washington, D.C. … where the Biden administration will be able to more immediately address the needs of the people they are allowing to come across our border."

In a cruel twist, Texas then refused to tell the federal government, D.C. authorities or nonprofits when the buses would arrive — the better to inflict maximum suffering on the most vulnerable by forcing them to wander, lost and penniless, in a strange city.

The stunt is part of a fortune in Texas taxpayer money that Abbott is spending for the benefit of his gubernatorial reelection campaign and potential presidential bid. He had to rescind his vehicle inspection plan after it caused massive backups, inflicted billions of dollars in trade losses and resulted in not a single drug arrest. His positioning of the Texas National Guard on the border has, tragically, turned deadly.

Now the busing plan is proving to be a bust. At this writing, only 11 mostly empty buses (they can hold up to 45 but have arrived with as few as nine migrants and average fewer than 18) have made it from Texas, immigration advocates report. Two more half-full buses departed Texas for D.C. on Monday. Of the 195 migrants who have arrived, 85 percent quickly moved on to other destinations, often to meet family; they were merely hitching a free ride at Texas taxpayers' expense.

Abbott's buses, intended to send a "clear message" to the federal government, have achieved no such thing. They haven't had any impact on President Biden, nor on said government, nor even on local authorities. Instead, volunteers with nonprofits such as Catholic Charities, Sanctuary DMV and the Central American Resource Center, known as Carecen, anonymously tipped off when the buses depart Texas, have been on hand to meet the migrants and get them the help they need. https://www.washingtonpost.com/opinions/2022/04/26/texas-bus-immigrants-abbott-taxpayers-burden/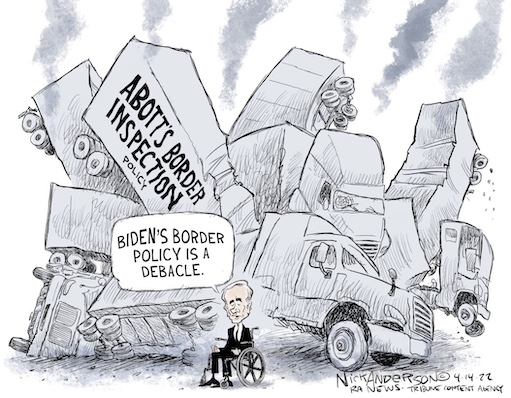 Mike Schacter: GOP Leaders Remain Shackled To Donald Trump
If the revelation that an ambitious politician says one thing to one audience and another to somebody else comes as a shock to you, you might want to get out more.

While the sheer scale and quantity of their falsehoods lead to speculation that politicians are born with a particular laryngeal feature that facilitates speech from both sides of the mouth, it's only because of the very public nature of their work that their mendacity gets so much attention.

The phenomenon is in fact ubiquitous. The benefits of instrumental mendacity—the willful telling of falsehoods to advance one's own interests—are so large that only a few saintly figures in human history have been able to resist the temptation. And even then, we learn that history probably lied about their truthfulness. Let he who is without sin cast the first stone.

So it's not exactly shocking to discover, in a new book by New York Times reporters Jonathan Martin and Alexander Burns, that House Minority Leader Kevin McCarthy told fellow GOP leaders on a conference call a few days after the Jan. 6, 2021, Capitol riot, that he was going to tell then-President Trump that he would be impeached for his role and should resign.

It was embarrassing for Mr. McCarthy that, while he emphatically denied that he had said the words, it turned out that someone had an audiotape. But while that falsehood was quickly exposed, we don't know whether the more substantive thing—what he actually said on the call—was sincere.

It is quite possible that Mr. McCarthy fully intended at the time to give Mr. Trump the full force of his disapproval. He wouldn't have been the first critic to get cold feet in the volcanic presidential presence. The French have a term, "the spirit of the staircase," which describes a rejoinder that occurs to you after you've left a gathering. Mr. McCarthy might have been channeling the spirit of the Oval Office waiting area.

But it says something about the malaise in the very soul of the Republican Party that so many of its prominent members say one thing behind Mr. Trump's back and another to his face.

Democrats speak a lot about the "big lie" that the 2020 presidential election was stolen. But the continuing bigger and more consequential lie is the fundamental dishonesty at the heart of the relationship between the Republican Party and Mr. Trump himself. https://vigourtimes.com/gop-leaders-remain-shackled-to-donald-trump/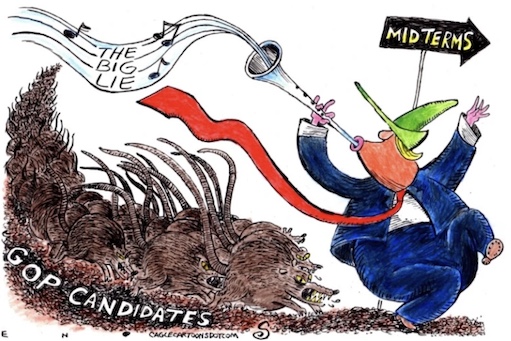 Jonathan Weisman: For Trump's G.O.P., Crossing Lines Has Few Consequences
When the House Republican leader, Representative Kevin McCarthy of California, was shown to have lied about his response to the deadliest assault on the Capitol in centuries and President Donald J. Trump's culpability for it, there was little expectation that the consequences would be swift or severe — or that there would be any at all.
Dissembling is not a crime, but doing so to conceal a wholesale reversal on a matter as serious as an attack on the citadel of democracy and the possible resignation of a president would once have been considered career-ending for a politician, particularly one who aspires to the highest position in the House.
Not so for a Republican in the age of Trump, when Mr. McCarthy's brand of lie was nothing particularly new; maybe it was just a Thursday. On Friday, another House member, Representative Marjorie Taylor Greene, Republican of Georgia, said under oath at an administrative law hearing in Atlanta that she could "not recall" having advocated Mr. Trump imposing martial law to stop the transfer of power to Joseph R. Biden Jr., a position that would seem difficult to forget.

"It's a tragic indictment of the political process these days — and the Republican Party of late — that truth doesn't matter, words don't matter, everybody can be elastic in areas that were once viewed as concrete," said Mark Sanford, a former Republican governor of South Carolina who lied to the public about his whereabouts when he was pursuing an extramarital affair in South America and was censured by the State House of Representatives. "You cross lines now, and there are no longer consequences." https://www.nytimes.com/2022/04/23/us/politics/trump-mccarthy-gop.html
Rick Wilson: The Battle of Reedy Creek
Even for Floridians, Reedy Creek is obscure; a small, strange legal fiction created by the State of Florida for Walt Disney World in 1972. It was an utterly esoteric remnant in state law until Gov. Ron DeSantis set his sights on breaking Disney to his will…
This stunt is all about giving DeSantis more ammunition in his nonstop culture war as he prepares to primary Donald Trump in 2024, and the Florida Legislature has covered itself in infamy for playing his game. Just as Washington Republicans lived in terror of Trump's horde, Florida House and Senate Republicans live in fear of DeSantis and his mob, including the ones who troll on the taxpayer's dime.
As America's hottest new dictator-curious Trump-manque, DeSantis signed an instantly notorious 'Don't Say Gay' bill this spring as part of his nascent 2024 presidential campaign. Like almost every Republican moral panic and trolling operation (but I repeat myself), it was a divisive piece of legislative arson presented as a response to an imaginary threat.
https://floridapolitics.com/archives/518189-rick-wilson-the-battle-of-reedy-creek/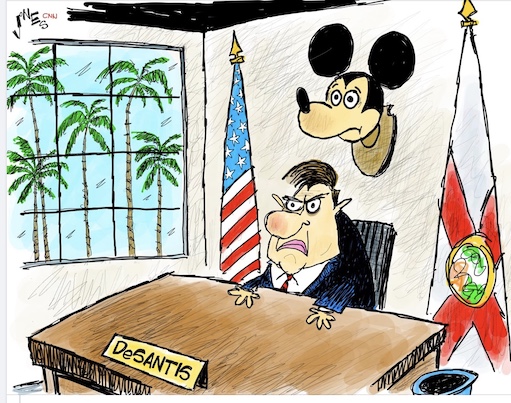 Dana Milbank: Disney should leave Florida. It's time for DeSanty World.
Mickey Mouse needs a sanctuary city.
Gov. Ron DeSantis (R-Hades) got his state legislature this week to abolish the favorable tax arrangement that brought Disney World to Orlando and kept it there for 55 years. It's the latest salvo against corporate America from the Trump right, which has already threatened Twitter, Facebook, Citigroup and Delta Air Lines. But now they're canceling Mickey and Minnie? That's just Goofy.
Taking aim at Ariel, Belle, Jasmine, Pocahontas and Moana? It's not only cruel — it's Cruella.
Suddenly, sad times are upon the Happiest Place on Earth. Jared Polis, the Democratic governor of Colorado, has promised to "grant Mickey and Minnie full asylum in Colorado" and offered Disney a "Mountain Disneyland" retreat from "Florida's authoritarian socialist attacks on the private sector." Many Disney fans online are urging Disney World to leave Florida.
Of course, you can't just put a resort with six theme parks and two dozen or so hotels on a magic carpet ride to, say, New Jersey. (As it is, central Floridians could be stuck with more than $1 billion in debt and a massive property-tax increase because of DeSantis's anti-Disney vendetta.) But Disney is the place where dreams come true, and mine is that the whole of Disney World, which employs roughly 80,000 Floridians and attracts tens of millions of tourists every year, will take the second star to the right and straight on till morning — and abandon Florida entirely.
DeSantis would be left with a 25,000-acre house of horrors in Orlando: an abandoned resort in a state nobody wants to visit, thanks to Ron's Runaway Railway.
https://www.washingtonpost.com/opinions/2022/04/22/disney-world-should-leave-florida-desantis/