February 7, 2019
ON THE RECORD. . .
"If Texas turns back to a Democratic state, which it used to be, then we'll never elect another Republican [president] in my lifetime." — Senator John Cornyn (R-TX).
"They said they were totally misquoted and totally taken out of context. They said it was fake news." — Trump claiming that his intelligence chiefs told him that they were misquoted when they publicly contradicted him during public on-camera testimony. He made this argument even though a full report and recordings of the testimony are publicly available.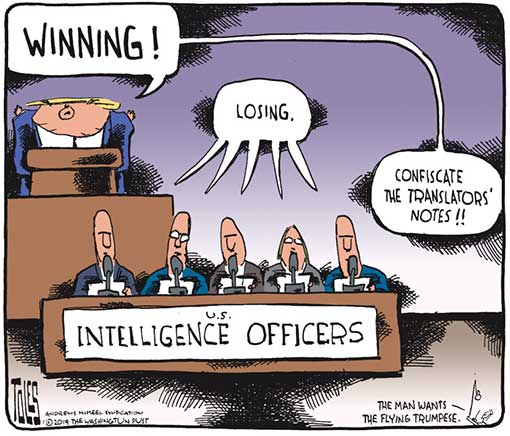 "No, I disagree with certain things that they said. I think I'm right. Time will prove me right, probably." — Trump when asked if he has confidence in CIA Director Gina Haspel and Director of National Intelligence Dan Coats to give him good advice.
Trump spent decades chasing a building deal in Moscow. Russia was dangling that opportunity in front of him throughout the campaign, at a time it was dealing with him secretly, and also promising to help his campaign. Not every suspicious detail in this episode will turn out to indicate guilt, but the prospect that this story ends innocently for Trump is slim, and growing slimmer. — Jonathan Chait in the Intelligencer.
President Trump is "lazy and incompetent" and he might face a challenger for the Republican presidential nomination if he doesn't build a wall on the Mexican border. We put this lunatic in the White House for one reason." — Ann Coulter
Howard Schultz is getting burned, like a bad cup of Starbucks coffee and it may force him to rethink his presidential aspirations."— FOX Business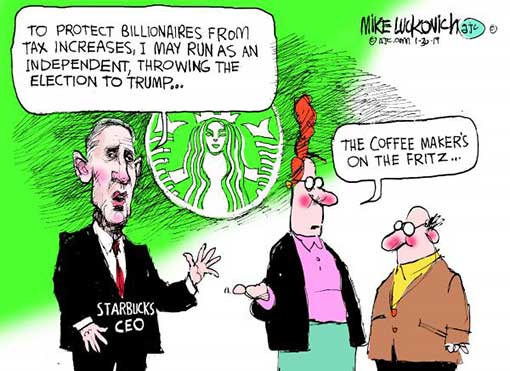 "You can't impeach somebody for doing the best job of any president, in the history of our country." — Trump, in an interview with CBS News.
"I am who I am. I'm good with it. You might need to figure it out, but I'm fine with it." — Sen. Kamala Harris (D-CA), saying that she doesn't define herself by race or ethnicity, just as "an American."
"It seems to me that he's gonna have to go it alone, but there could be a war within the Republican Party over the wall." — Sen. Lindsey Graham (R-SC), who added that he would "stand with" Trump if he declares a national emergency to construct the U.S.-Mexico border wall and urged his Republican colleagues to "get behind the president" if he goes down that path.
"U.S. troops in Iraq are there as part of an agreement between the two countries with a specific mission of combating terrorism, and that they should stick to that." — Iraqi President Barham Salih saying that President Trump did not ask Iraq's permission for U.S. troops stationed there to "watch Iran."
"This person has been the most prolific leaker of all time. The Tom Brady of leaking. To do that every single day since November, that's some real commitment and dedication." — A former White House staffer on someone "making a conscious effort to subvert the president on a daily basis" by leaking President Trump's private schedules.
"Trump can dress up his demand for a wall all he wants. On Tuesday he also spoke of a "smart, strategic, see-through steel barrier," and about a "common-sense proposal." But Trump's border wall wasn't born as a common-sense proposal; it was campaign-rally red meat. It was an imagined monument to anti-immigrant sentiment, telling people outside the U.S. to stay out. Trump's shutdown was fomented not by any "crisis" on the actual border but by a political crisis involving Trump's base, which had taken Trump at his word about the wall and what it would be. No amount of fear-mongering should distract from that." — Eric Lach in the New Yorker
"Golden beaches of California"? This was the lamest, sappiest, most intentionally tear-jerking SOTU ever. Please fire your speechwriter, @realDonaldTrump. — Ann Coulter tweet.
"Calls for bipartisanship seem deeply hollow and empty in light of his calling for an end to the investigation, his support for ending a woman's right to choose, his distorted and deceptive claim that we'd be at war with North Korea now but for his presidency and of course his continued advocacy for the wall." -- Sen. Richard Blumenthal (D-Conn.).
"If there is going to be peace and legislation, there cannot be war and investigation. It just doesn't work that way!" — Trump, demanding that progress on the people's vital business be contingent on Congress halting all investigations into his scandal-ridden administration.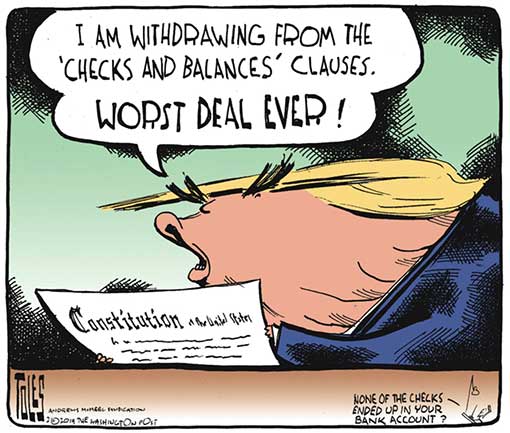 .
---
IN THIS ISSUE
FYI
OPINION
1. Andy Borowitz: Trump Comes Out Strongly Against Intelligence
Using some of his harshest rhetoric in recent memory, President Donald J. Trump came out strongly against intelligence on Wednesday morning.

"I've listened to these people with so-called intelligence go on and on, and, quite frankly, it's a waste of time," he said. "I know a lot more than people with intelligence do."

Trump added that he has stopped receiving intelligence briefings at the White House, arguing, "I can do my job without any intelligence whatsoever."

He said that he has chosen, instead, to seek advice from his son-in-law, Jared Kushner, and from his elder children, Ivanka, Eric, and Donald, Jr. "You won't find a trace of intelligence in anything they say," he boasted.

At a briefing for the White House press corps, the President's press secretary, Sarah Huckabee Sanders, denied that Trump's war on intelligence was a new development. "Intelligence has never played a role in Donald Trump's life," she said. https://www.newyorker.com/humor/borowitz-report/
2. Pelosi could force Senate Republicans into awkward vote on Trump emergency powers
House Speaker Nancy could move to block President Trump from invoking a national emergency to build a border wall, forcing Senate Republicans to choose between preserving congressional power and crossing the White House.
The California Democrat, under a seldom-used statute, could put a binding "resolution of disapproval" on the House floor to counter Trump should he claim constitutional powers to unilaterally build a border wall. The president is threatening action if Congress refuses his demand for $5.7 billion in border wall funding. Friday, Trump expressed skepticism that a bipartisan commission seeking a deal on the wall to avoid another government shutdown would succeed, saying there was a "good chance" he would declare an emergency.
The lawmakers are desperate to avoid another standoff over immigration and are worried about political anger and even retribution from the pro-Trump base. Yet they are wary of endorsing an unprecedented expansion of presidential emergency powers. Some fear the powers, once in a Democratic president's hands, could be used to justify all sorts of progressive priorities.
The resolution would almost assuredly pass the Democratic House. Then, in a quirk of the law — the Congressional Review Act — Senate Majority Leader Mitch McConnell, R-Ky., would essentially be forced to hold a floor vote, with only a simple majority required for passage rather than the customary 60 votes.
https://www.washingtonexaminer.com/news/campaigns/pelosi-could-force-senate-republicans-into-awkward-vote-on-trump-emergency-powers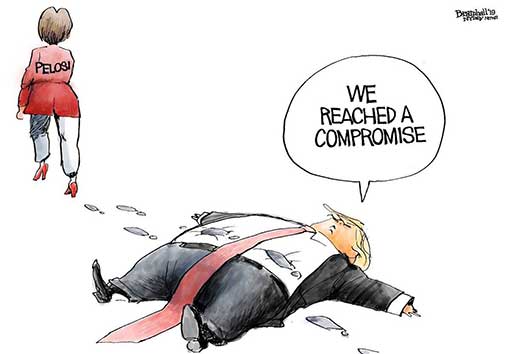 3. 'Willful Ignorance.' Inside President Trump's Troubled Intelligence Briefings
"In the wake of President Trump's renewed attacks on the U.S. intelligence community this week, senior intelligence briefers are breaking two years of silence to warn that the President is endangering American security with what they say is a stubborn disregard for their assessments," Time reports.
Citing multiple in-person episodes, these intelligence officials say Trump displays what one called 'willful ignorance' when presented with analyses generated by America's $81 billion-a-year intelligence services. The officials, who include analysts who prepare Trump's briefs and the briefers themselves, describe futile attempts to keep his attention by using visual aids, confining some briefing points to two or three sentences, and repeating his name and title as frequently as possible.
What is most troubling, say these officials and others in government and on Capitol Hill who have been briefed on the episodes, are Trump's angry reactions when he is given information that contradicts positions he has taken or beliefs he holds. Two intelligence officers even reported that they have been warned to avoid giving the President intelligence assessments that contradict stances he has taken in public. http://time.com/5518947/donald-trump-intelligence-briefings-national-security/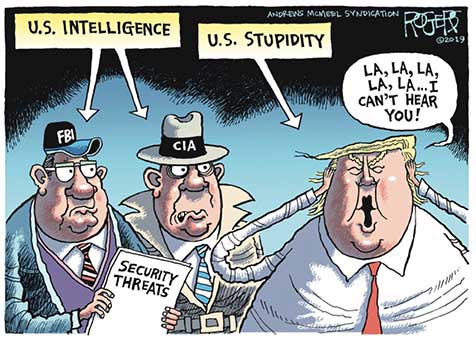 4. Stacey Abrams's New Strategy for Democrats
In a brief speech lauded by Democrats, Abrams succeeded in elevating an event that is often awkward and anticlimactic by nature. With a measured tone and her trademark working-class anecdotes, Abrams outlined a raft of policy measures, from the potential of Medicaid expansion in combatting infant mortality to the importance of gun control and immigration reform. But the high point of the speech was her strong and vocal stance on protecting voting rights. As the national face of the party for a few minutes on Tuesday, Abrams pushed the issue of the franchise closer to the heart of Democratic politics, and gave Democrats another rhetorical weapon against the Republican Party. https://www.theatlantic.com/politics/archive/2019/02/stacey-abrams-focuses-voting-rights-her-response/582139/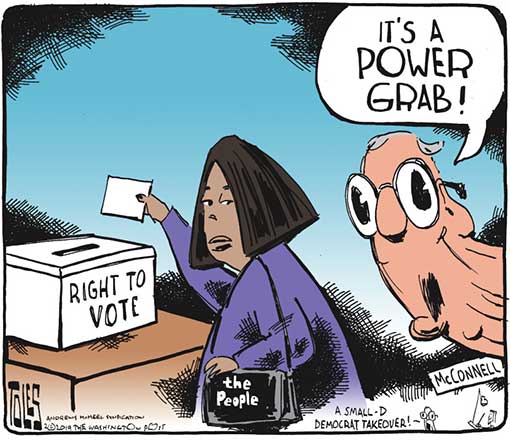 5. Trump trashes Democrats at luncheon with TV anchors
As his aides were previewing a "unifying" State of the Union address focused on "comity," Trump on Tuesday trashed Democrats — as well as the late Republican senator John McCain — at a freewheeling lunch with television news anchors.
Trump assailed Senate Minority Leader Charles E. Schumer (D-N.Y.) as a "nasty son of a bitch," ridiculed former vice president Joe Biden as "dumb" for his history of gaffes, and accused Virginia Gov. Ralph Northam (D) of "choking like a dog" at his news conference denying he was in a racist photo on his yearbook page, according to two attendees and a third person who was briefed on the discussions.
It is an annual tradition for presidents to host news anchors for an off-the-record lunch the day of their "State of the Union" speech, but Trump did more than preview his address.
Trump held forth with a stream-of-consciousness commentary on his political foes — including McCain, who died of cancer last year, mocking him for the sales of his latest book. Trump also said he hoped to run against Sen. Elizabeth Warren (D-Mass.), but mockingly said, "I hope I haven't wounded Pocahontas too badly," a reference to his attacks on the senator for her claims of Native American heritage.
Trump was especially caustic with his comments about Biden, who is considering a 2020 presidential campaign.
"Biden was never very smart," Trump said about Biden, according to The Times and confirmed by The Washington Post. "He was a terrible student. His gaffes are unbelievable. When I say something that you might think is a gaffe, it's on purpose; it's not a gaffe. When Biden says something dumb, it's because he's dumb."
https://www.washingtonpost.com/powerpost/trumps-2019-state-of-the-union-address/2019/02/05/d2dd57f4-28a4-11e9-b2fc-721718903bfc_story.html
6. How Fox News Pushes Trump to Make Every Bad Decision
President Donald Trump's announcement last Friday that he would end the longest partial government shutdown in U.S. history without securing funding from congressional Democrats for his long-promised border wall came after weeks of brutal headlines and sagging poll numbers.
But when Trump arose the following morning, he did not devote his time to convening his White House advisers to figure out what went wrong or reaching out to Republican congressional leaders to plot their next move.
Instead, he did the same thing he's done on countless days of his administration: He turned on his television, tuned in to his favorite program, Fox & Friends, and started tweeting about what he saw. https://www.thedailybeast.com/how-fox-news-pushes-trump-to-make-every-bad-decision
7. The DAILY GRILL
"We are not even into February and the cost of illegal immigration so far this year is $18,959,495,168. Cost Friday was $603,331,392. There are at least 25,772,342 illegal aliens, not the 11,000,000 that have been reported for years, in our Country. So ridiculous! DHS"— Trump tweet, Jan. 27, 2019

VERSUS

Trump administration officials, under pressure from the White House to provide a rationale for reducing the number of refugees allowed into the United States next year, rejected a study by the Department of Health and Human Services that found that refugees brought in $63 billion more in government revenues over the past decade than they cost. — Julie Hirschfeld Davis and Somini Sengupta in the NY Times.

 

"Michael Cohen plead [sic] guilty to two counts of campaign finance violations that are not a crime. President Obama had a big campaign finance violation and it was easily settled!" — Trump, in a tweet, Aug. 22, 2018

"Michael Cohen pled guilty to something that isn't even a crime." — Trump, in a Fox News interview, Dec. 13, 2018

VERSUS

Cohen says he committed a crime, prosecutors say he committed a crime, a judge found that he committed a crime, and usually those are all the ingredients you need for a crime. Four Pinocchios. -- Washington Post Fact Checker

 

"Football has become soft like our country has become soft. The outcome of games has been changed by what used to be phenomenal, phenomenal stuff. Now these are rough guys, these are rough guys. These guys — what they're doing is incredible, but I looked at it and I watched yesterday in particular. So many flags, right? So many flags." — Trump in 2016, repeatedly criticized football as "soft" for referees policing tackles.

VERSUS

"I just don't like the reports that I see coming out having to do with football—I mean, it's a dangerous sport and I think it's — it's— really tough." — Trump, saying that the sport itself is too "dangerous" for his son Barron.

 


"The president's actions and posture towards Russia during the campaign, transition, and administration have only heightened fears of foreign financial or other leverage over President Trump and underscore the need to determine whether he or those in his administration have acted in service of foreign interests since taking office." —Rep. Adam Schiff (D-CA), chair of the House Intelligence Committee.

VERSUS

"He has no basis to do that. He's just a political hack who's trying to build a name for himself, It's just presidential harassment and it's unfortunate and it really does hurt our country." — Trump about the House probe
8. From MEDIA MATTERS (They watch Fox News so you don't have to)
Sexist right-wing smear against Kamala Harris moves from the fever swamps to Fox. The barrage of crude memes attacking Harris is a clear reminder of the misogynistic double standard that applies to women who run for president.  https://www.mediamatters.org/blog/2019/01/31/sexist-right-wing-smear-against-kamala-harris-moves-fever-swamps-fox/222716

Rush Limbaugh: "The entire homosexual community is going to become pro-life" when it's "discovered that homosexuality is genetic." https://www.mediamatters.org/video/2019/01/31/rush-limbaugh-entire-homosexual-community-going-become-pro-life-when-its-discovered-homosexuality/222713

Newsmax TV and Rebel Media host John Cardillo amplified a far-right conspiracy theory that originated from message boards and social media accounts and accuses Democratic presidential candidates Sens. Kamala Harris (D-CA) and Cory Booker (D-NJ) of staging the alleged anti-queer and racist attack against actor Jussie Smollett. The conspiracy theory contends that the senators' intent in drawing attention to a case like Smollet's was to help pass their proposed anti-lynching legislation. The baseless claim connects with the far-right narrative that Smollett's alleged attack -- which reportedly included the attackers wrapping a rope around the Empire star's neck -- was a hoax in efforts to minimize the importance of anti-lynching legislation. https://www.mediamatters.org/blog/2019/02/01/Newsmax-host-elevates-far-right-conspiracy-theory-accusing-two-Democratic-presidential-can/222738

CNBC's Joe Kernen claims Sen. Elizabeth Warren wants billionaires to "stop creating jobs, stop creating wealth, stop succeeding" with her "warped" wealth tax proposal. https://www.mediamatters.org/video/2019/02/01/cnbcs-joe-kernen-claims-sen-elizabeth-warren-wants-billionaires-stop-creating-jobs-stop-creating/222736

Fox's Stuart Varney slams Democratic proposal to strengthen SocialSecurity: "Here we go again, another tax hike proposal from the Democrats." https://www.mediamatters.org/video/2019/02/04/foxs-stuart-varney-slams-democratic-proposal-strengthen-social-security-here-we-go-again-another-tax/222752

Are conservative media egging on potential presidential candidate Howard Schultz just to help Trump? Possibly. It says a lot that Schultz's biggest fans this early on are people on the right. https://www.mediamatters.org/blog/2019/02/04/are-conservative-media-egging-potential-presidential-candidate-howard-schultz-just-help-trump/222743

On Fox, Duck Dynasty's Phil Robertson says he doesn't need health care because he "already" has it: "It's given to me by God." https://www.mediamatters.org/video/2019/02/05/fox-duck-dynastys-phil-robertson-says-he-doesnt-need-health-care-because-he-already-has-it-its-given/222764

Fox commentators defend Trump for using executive time to tweet about their shows. https://www.mediamatters.org/blog/2019/02/05/fox-commentators-defend-trump-using-executive-time-tweet-about-their-shows/222762

Fox's Charles Payne blames popularity of taxing the rich on "fairness" being "promoted in our schools for a long time." https://www.mediamatters.org/video/2019/02/05/foxs-charles-payne-blames-popularity-taxing-rich-fairness-being-promoted-our-schools-long-time/222760

Fox guest: "What you have in Ocasio-Cortez are Latin American values. Instead of us assimilating them, they are assimilating us." Peter Morici: Ocasio-Cortez is "a demagogue" who wants "to bring the kind of socialism that destroyed Venezuela, and frankly Mexico, here." https://www.mediamatters.org/video/2019/02/05/fox-guest-what-you-have-ocasio-cortez-are-latin-american-values-instead-us-assimilating-them-they/222758

Trump's 2019 State of the Union address was filled with misinformation and anti-immigrant bigotry, often sounding similar to Sean Hannity's Fox News show. While mainstream news outlets fact-checked the many lies and misleading claims in the speech, Fox News figures heaped enthusiastic praise on Trump's address, calling it "one of the best speeches I've ever heard in terms of reaching across the aisle," gushing that "the president delivered, I think, a message of unity," claiming "Trump is going to be recognized as one of the greatest presidents of our generation, if not the greatest." https://www.mediamatters.org/blog/2019/02/06/fox-news-figures-salivate-over-trump-s-2019-state-union-address/222779

"Did you hear that, Alexandria Ocasio-Cortez?": Fox has another socialism freakout after Trump's State of the Union address. https://www.mediamatters.org/blog/2019/02/06/did-you-hear-alexandria-ocasio-cortez-fox-has-another-socialism-freakout-after-trump-s-state-union/222784

Laura Ingraham agrees with guest that "Operation Wetback" should be recreated to deport immigrants. https://www.mediamatters.org/video/2019/02/06/laura-ingraham-agrees-guest-operation-wetback-should-be-recreated-deport-immigrants/222785
9. From the Late Shows
Trump Threatens Military Action in Venezuela: A Closer Look: https://youtu.be/6PZw-11rmyY

Stephen Delivers The Restate Of Our Union: https://youtu.be/8X6MNCkMF9k

Jimmy Fallon Recaps the State of the Union Address: https://youtu.be/DMpeyjtPrAo

Jimmy Kimmel Responds to Trump's State of the Union: https://youtu.be/EuRAtZHfX9M
10. Schultz deletes tweet of column calling Warren 'Fauxcahontas' and Harris 'shrill'
Howard Schultz, the former Starbucks CEO who has floated an independent run at the White House, deleted a tweet Wednesday in which he praised a column that insulted other 2020 contenders.
In the now-deleted tweet, Schultz linked to a piece that called Sen. Kamala Harris (D-Calif.) "shrill" and Sen. Elizabeth Warren (D-Mass.) "Fauxcahontas," a reference to her claims of Native American heritage. https://thehill.com/homenews/campaign/427750-schultz-deletes-tweet-of-column-calling-warren-fauxcahontas-and-harris#.XFJLDf7oHx0.twitter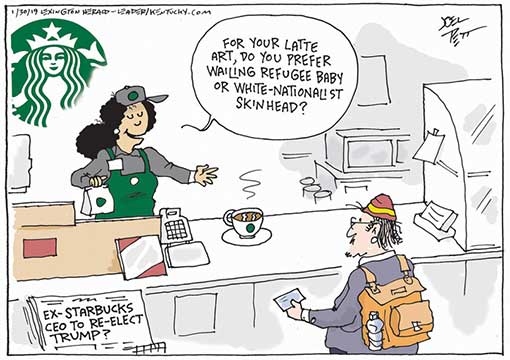 11. Dems demand records from Mnuchin on lifting sanctions on Deripaska-tied firms
Three top House Democrats have formally requested documents related to the Trump administration's decision to lift sanctions on companies connected to a prominent Russian oligarch with ties to Russian President Vladimir Putin. https://thehill.com/policy/national-security/427548-dems-demand-records-from-mnuchin-on-move-to-lift-sanctions-on
12. Trump Sought a Loan During the 2016 Campaign. Deutsche Bank Said No
Mr. Trump's loan request, which has not been previously reported, set off a fight that reached the top of the German bank, according to three people familiar with the request. In the end, Deutsche Bank did something unexpected. It said no.
Senior officials at the bank, including its future chief executive, believed that Mr. Trump's divisive candidacy made such a loan too risky, the people said. Among their concerns was that if Mr. Trump won the election and then defaulted, Deutsche Bank would have to choose between not collecting on the debt or seizing the assets of the president of the United States. https://www.nytimes.com/2019/02/02/business/trump-deutsche-bank.html
13. Russia's propaganda machine discovers 2020 Democratic candidate Tulsi Gabbard
The Russian propaganda machine that tried to influence the 2016 U.S. election is now promoting the presidential aspirations of a controversial Hawaii Democrat who earlier this month declared her intention to run for president in 2020," NBC News reports.
An NBC News analysis of the main English-language news sites employed by Russia in its 2016 election meddling shows Rep. Tulsi Gabbard of Hawaii, who is set to make her formal announcement Saturday, has become a favorite of the sites Moscow used when it interfered in 2016." https://www.nbcnews.com/politics/2020-election/russia-s-propaganda-machine-discovers-2020-democratic-candidate-tulsi-gabbard-n964261
14. Democratic primary watchers look to the West
The rapidly growing 2020 presidential field is shaping up to be a Wild West of Democratic primaries — with the actual West emerging as a decisive battleground.
The delegate-rich state of California has vaulted itself near the front of the primary calendar, which means candidates seeking to break away from the pack will be looking to build early support on the left coast. The action has already begun in Nevada, the third state to vote, which also hosted a parade of potential candidates during the midterms.
The West has a younger, more diverse population than the traditional early states of Iowa and New Hampshire, and they are expected to tilt the Democratic debate toward issues such as immigration and climate policy." https://www.bostonglobe.com/news/nation/2019/02/02/democratic-primary-watchers-look-west/90BBHafbeTyQvdRAFrM2GK/story.html
15. Solid Majority Still Opposes New Construction on Border Wall
A new Gallup poll finds 60% of Americans oppose major new construction of walls along the U.S.-Mexico border — the goal behind President Trump's budget showdown with Democratic leaders that led to a record 35-day partial shutdown of the federal government. https://news.gallup.com/poll/246455/solid-majority-opposes-new-construction-border-wall.aspx
16. Trump campaign takes steps to prevent a challenge within GOP
Worried about a potential Republican primary challenge, President Trump's campaign has launched a state-by-state effort to prevent an intraparty fight that could spill over into the general-election campaign.
The nascent initiative has been an intense focus in recent weeks and includes taking steps to change state party rules, crowd out potential rivals and quell any early signs of opposition that could embarrass the president. https://www.apnews.com/33438efb7d794b5caf0b60f815192500
17. Soak the rich? Americans say go for it
The prospect of 70 percent tax rates for multimillionaires and special levies on the super-rich draw howls about creeping socialism and warnings of economic disaster in much of Washington.
But polling suggests that when it comes to soaking the rich, the American public is increasingly on board.
Surveys are showing overwhelming support for raising taxes on top earners, including a new POLITICO/Morning Consult poll released Monday that found 76 percent of registered voters believe the wealthiest Americans should pay more in taxes. A recent Fox News survey showed that 70 percent of Americans favor raising taxes on those earning over $10 million — including 54 percent of Republicans. https://www.politico.com/story/2019/02/04/democrats-taxes-economy-policy-2020-1144874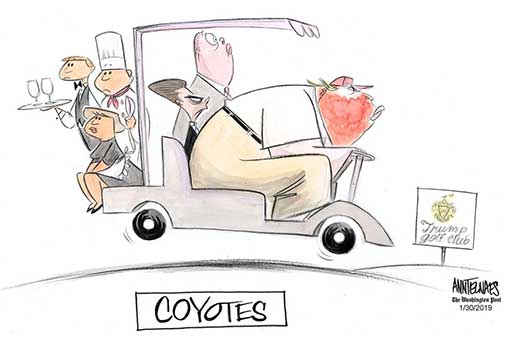 18. Secret Files Show How The Trump Moscow Talks Unfolded While Trump Heaped Praise On Putin
BuzzFeed News is today publishing a cache of internal Trump Organization documents that lay bare the secret negotiations that continued long after Cohen claimed the deal had been abandoned. The documents, many of which have been exclusively obtained by BuzzFeed News, reveal that — despite Trump's claim that the development was never more than a passing notion — the effort to get the tower built was long-running, detail-oriented, and directly entwined with the ups and downs of his campaign.
This large trove of nonbinding business agreements, architectural renderings, texts, emails, and plans for Trump to travel to Russia to meet Putin offer an unprecedented glimpse inside the negotiations to build the tallest tower in Europe — a deal Trump's fixers hoped would "help world peace and make a lot of money." https://www.buzzfeednews.com/article/azeenghorayshi/trump-tower-moscow-the-secret-files-cohen-sater-putin
19. Earth's 5 warmest years on record have occurred since 2014
Last year was Earth's 4th-warmest year on record, coming in behind 2016, the planet's warmest recorded year, as well as 2015 and 2017, according to information released Wednesday by NOAA, NASA and the U.K. Met Office.
Why it matters: The yearly rankings don't tell the whole story of long-term climate change, since natural variability can still push or pull an individual year up or down the rankings. However, the overall picture is growing starker with each passing year. Nine of the 10 warmest years on record since reliable data began in 1880 have occurred since 2005. At the same time, greenhouse gases from the burning of fossil fuels — as well as deforestation and intensive agriculture — have skyrocketed to levels not seen in more than 800,000 years. https://www.axios.com/earths-5-warmest-years-have-occurred-since-2014-cc42f4bb-dbc6-40b7-b478-0ce942fab2d0.html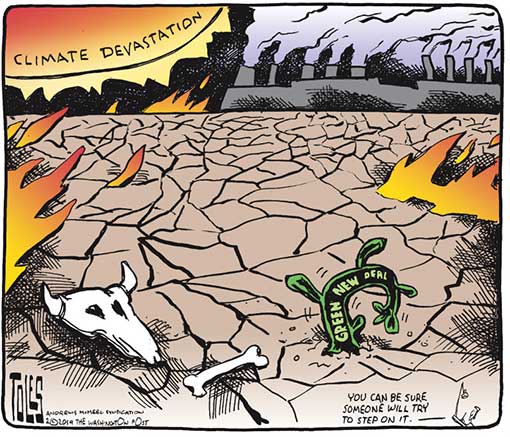 20. Fact-checking President Trump's State of the Union address
President Trump's State of the Union speech once again was chock-full of stretched facts and dubious figures. Many of these claims have been fact-checked repeatedly, yet the president persists in using them.
The nearly 30 "lies" told by the president, in the order in which he made them, are at: https://www.washingtonpost.com/politics/2019/02/06/fact-checking-president-trumps-state-union-address/
21. Senators make a bipartisan push to limit Trump's trade powers
Multiple Republican lawmakers are working alongside Democrats to put forward legislation curtailing Trump's existing national security tariff powers. They include Pennsylvania Republican Sen. Pat Toomey, who recently introduced a bill with Virginia Democratic Sen. Mark Warner that would require congressional approval to impose trade restrictions for national security reasons. https://www.cnn.com/2019/02/05/politics/trump-trade-congress/index.html
22. GOP Leadership Instructs Lawmakers To Play Up Gruesome Murders And Rapes By Immigrants
House Republican lawmakers are being encouraged by their party's leadership to play up gruesome murders, rapes, and other crimes committed by undocumented immigrants in the United States," according to The Intercept.
In a newsletter sent on Friday, House Republican Conference Chair Rep. Liz Cheney (R-WY) provided the caucus and staff with a messaging update that compiled immigrant crimes by date and congressional district. The newsletter is used by the GOP caucus to provide talking points and messaging guidance. https://theintercept.com/2019/02/05/republicans-immigrants-crimes/
23. The US shipped weapons and secrets to the Saudis and Emiratis. Now, some are in the hands of fighters linked to al Qaeda and Iran
Saudi Arabia and its coalition partners have transferred American-made weapons to al Qaeda-linked fighters, hardline Salafi militias, and other factions waging war in Yemen, in violation of their agreements with the United States, a CNN investigation has found.
The weapons have also made their way into the hands of Iranian-backed rebels battling the coalition for control of the country, exposing some of America's sensitive military technology to Tehran and potentially endangering the lives of US troops in other conflict zones.
Saudi Arabia and the United Arab Emirates, its main partner in the war, have used the US-manufactured weapons as a form of currency to buy the loyalties of militias or tribes, bolster chosen armed actors, and influence the complex political landscape, according to local commanders on the ground and analysts who spoke to CNN.
By handing off this military equipment to third parties, the Saudi-led coalition is breaking the terms of its arms sales with the US, according to the Department of Defense. After CNN presented its findings, a US defense official confirmed there was an ongoing investigation into the issue. https://edition.cnn.com/interactive/2019/02/middleeast/yemen-lost-us-arms/
1. Eric Levitz: The State of the Union Is Delusion
When Donald Trump took the rostrum Tuesday night, the federal government was ten days away from collapsing into paralysis for the second time in three weeks, and humanity was 12 years away from irrevocably spoiling the only home it has ever known.
When the president punctuated the phrase "my fellow Americans" with his signature nasal inhalations, America's child mortality rate was the highest of any wealthy nation's, while its life expectancy had just declined for the third consecutive year, amid an epidemic of drug overdoses and suicides. As Americans gawked at their leader's crooked tie, thousands of Central American children were still living without their parents — as a result of a White House policy that blatantly contravened international law — and the Trump administration was refusing to do anything to reunite the families it had separated because doing so would require "significant increases in appropriations from Congress."
When the president basked in his first round of obligatory applause, his approval rating was hovering near historic lows. More than half the country said that they would "definitely not" vote for his reelection. Much of his campaign team had been convicted of crimes, and multiple federal investigations into him and his family were still ongoing. A member of the president's administration had just leaked private schedules showing that, over the preceding three months, the commander-in-chief had spent 60 percent of his work days doing nothing in particular. Since his inauguration, White House aides had been likening him to a toddler in conversations with reporters on a near-daily basis; one senior administration official had written an op-ed in the New York Times assuring the country that unelected bureaucrats like himself were subverting the president's wishes, so as to spare the world from his mindless "amorality"; and a Republican senator had likened the White House to an adult daycare center, warned that Trump's recklessness was a threat to global security, and insisted that most of his colleagues secretly agreed.
Almost everyone in the House of Representatives Tuesday night knew almost all of this. Almost all acted as though they did not. There was nothing exceptional in the mendacity of Trump's State of the Union address. By now, we are quite used to the lies. But the spectacle of a shoddy con man stiltedly rehearsing a combination of his own willful delusions, and our nation's — while a chamber of respectables hooted and hollered — proved that this president hasn't lost the power to unnerve. http://nymag.com/intelligencer/2019/02/trump-sotu-state-of-the-union-is-delusional.html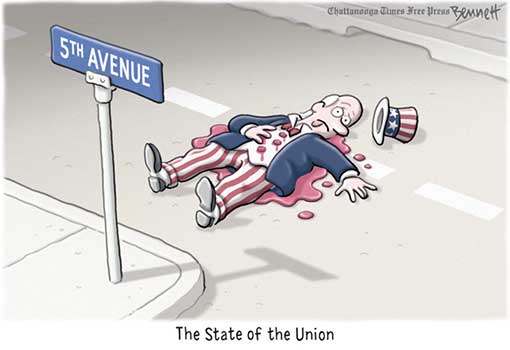 2. David Faris: The only time Trump got specific last night was when he demonized immigrants. How revealing.
Last night the president of the United States tried to strike a new tone, one that despite occasional moments of unity and humor, likely convinced no one who wasn't already wearing a red hat. The threadbare policy vision advanced in his speech was as absurd as any of his daily, febrile Twitter hallucinations, even if more seriously stated. And while President Trump's speechwriters managed to steer him away from his rally-standard free association act, the address' absence of even cursory policy signals how little he cares about solving the country's many pressing problems.
From the moment someone unloaded a bottomless trunk full of elderly white men, i.e. Trump's Cabinet, onto the House floor to the address' merciful denouement 84 minutes later, the president failed to change the narrative of his presidency or to advance a plausible policy vision for the next year. If you are part of the 41 percent of Americans who enjoyed the president's first two years in office, you almost certainly took pleasure in last night's proceedings. The event was at times cleverly stage-managed, particularly in its focus on the quickly disappearing Greatest Generation heroes. The expected procession of human props and callouts was, particularly by the standards of this administration, impressive in its execution and in the scope of its emotional appeal. The sniffing was kept to a minimum.
But President Trump's closing encomium to the past glory of America could not hide the emptiness of his vision for our politics today. "We do the incredible. We defy the impossible," the president said with a flourish toward the end. But he didn't point to any incredible or impossibility-defying proposals for today's America. https://theweek.com/articles/822144/only-time-trump-got-specific-last-night-when-demonized-immigrants-how-revealing
3. Bess Levin: Trump Wants To Give Loan Sharks Easier Access To The Poor
In 2016, Donald Trump slithered into the White House by pitching himself as the guy who would save the working class. That pitch, obviously, turned to be a classic Trump scam, given that the former real-estate developer's "accomplishments" in the past two years have included passing a giant tax cut that disproportionately benefits corporations and the uber-rich; sabotaging the Affordable Care Act; weakening labor rules; and, most recently, forcing 800,000 federal workers to go without pay for more than a month while trotting out his own personal Mr. Burns to tell said workers to "take out a loan" and quit their bitching. Naturally, this large body of evidence that Trump does not, in fact, give a rat's ass about lower- and middle-class Americans did not stop him from insisting during the State of the Union Tuesday night that he has spent the past 24 months devoted to making life better for the little guy. Strangely, however, his speech did not mention the Consumer Financial Protection Bureau proposal to significantly weaken Obama-era rules governing payday lenders.
Yes, Trump cares so deeply about the average American that he wants to ensure that predatory lenders, who typically charge interest rates of up to 400 percent, have easy access to individuals who most certainly can't pay them back. By the way, this move definitely has nothing to do with "years of lobbying by payday and auto-title lenders to block the Obama payday-lending rule," because, remember, Donald Trump drained the swamp. https://www.vanityfair.com/news/2019/02/trump-cfpb-payday-rule
4. Susan B. Glasser: Trump Lost the Shutdown, But At Least God Made Him President, and He's Building That Wall
It's hardly surprising that, in the days since his shutdown humiliation, Trump has retreated into the virtual seclusion of Twitter, holed up watching cable news and tweeting his alternative reality as America struggles with an actual deep freeze. For Trump, the fake world is much better than the real one. There is no extreme weather in his White House; in fact, climate change does not exist inside its walls. Trump's policy has decreed it.
He's avoiding more than just the frigid air outside; in the cocoon of the Oval Office, there are only invited guests and staff who, while they may be secretly leaking unflattering accounts, at least have the good sense to be nice to Trump's face. In recent days, the Democratic Speaker of the House, Nancy Pelosi, has compared Trump to a petulant toddler and openly wondered what Russia has on him. Why would Trump want to spend his time negotiating with her?
Much better, from Trump's point of view, to simply announce, as he did to reporters on Thursday, that 'Nancy Pelosi will be begging for a wall,' and spend the day with his own press secretary, Sarah Huckabee Sanders, who this week told an interviewer that God 'wanted Donald Trump to become President.' https://www.newyorker.com/news/letter-from-trumps-washington/trump-lost-the-shutdown-but-at-least-god-made-him-president-and-hes-building-that-wall
5. Dana Milbank: Trump is on a mission from God
Now we hear from the White House that God's work is . . . Trump.
If so, His choice of a thrice-married, foul-mouthed, untruthful casino mogul as His vessel raises thorny theological questions, not least: Why did God award Hillary Clinton the popular vote? And why, given all the Christian conservatives of high character running for president, did God go with a man who boasted about grabbing women by the [expletive], who paid hush money to a porn star, and who derided the "interesting" tendency of Vice President Pence to pray?
Perhaps it was Trump's boast that "nobody reads the Bible more than me." Or his National Prayer Breakfast call to pray for Arnold Schwarzenegger's ratings on "The Apprentice." Or his sermon to Liberty University students about the "two Corinthians." Or his vow to keep "Merry Christmas in department stores, believe me. "
We can't be certain that God didn't approach Donald, son of Fred, from a burning bush, and that Donald didn't tell God that in Finland "they spend a lot of time on raking . . . and they don't have any problem" with forest fires. Or that God didn't speak to Donald, as to Joshua outside Jericho, telling him the wall would fall, to which Donald replied, "Mexico is going to pay." https://www.washingtonpost.com/opinions/trump-is-on-a-mission-from-god/2019/02/01/dc3a535a-2643-11e9-90cd-dedb0c92dc17_story.html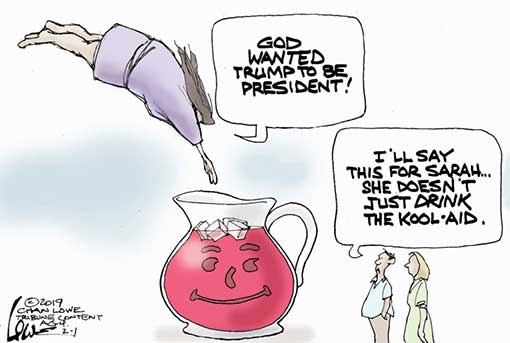 6. Shikha Dalmia: America's shameful history of border cruelty
Donald Trump has taken to calling the situation at the border not just a security "crisis" but also a "humanitarian" one. He should know because he created it.
But even before Trump's zero-tolerance enforcement policy unleashed new horrors, inhumanity at the border was part and parcel of America's immigration enforcement. The silver lining, however, is that Trump's open embrace of such policies is inviting a level of scrutiny — and generating a level of disgust — that might pave the way for reform.
Hardly a day goes by when some shocking story doesn't break about this administration's treatment of immigrants — or suspected immigrants. ICE recently detained a 27-year-old decorated Marine vet with mental health issues who is an American citizen. Why? Because he is Hispanic so it likely assumed he was here illegally.
It is also becoming apparent that the administration separated far more than "just" 2,700 migrant kids from Central American parents seeking asylum as originally thought. Indeed, we are finding out now that separations started as soon as President Trump entered the Oval Office and before former Attorney General Jeff Sessions even formally embraced the policy. Worse, the administration failed to keep proper records when taking away the kids and, therefore, we can't be sure it'll ever be able to reunite all of them.
As if all this is not bad enough, it implemented its policy of mass detaining children and parents without proper preparations. Hence, it is housing many of them in constantly lit, freezing-cold holding pens meant for drug dealers. The migrants reportedly sleep wrapped in thin blankets on mats or aluminum foil on cement floors with poor food and scarce running water to shower or brush their teeth.
Toddlers were being herded in hastily constructed "tender-age shelters" or equally horrible facilities. Abuse is reportedly rampant. A state review of a Virginia detention facility found that immigration authorities used restraining techniques on children that included shackling and strapping them to chairs and placing mesh bags over their heads and sometimes even sending them into solitary confinement if they misbehaved. Videos of an Arizona facility show staffers shoving kids and dragging them across rooms by their hair. https://theweek.com/articles/819619/americas-shameful-history-border-cruelty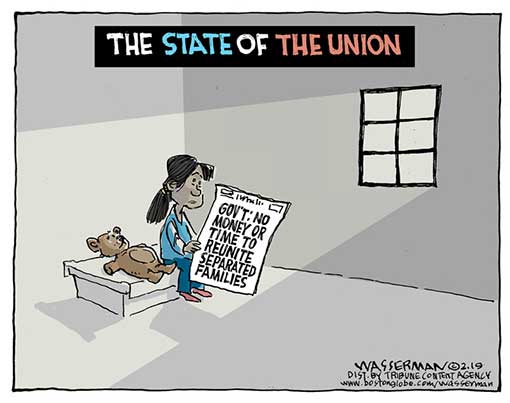 7. Tom Nichols: Sorry, Republicans. You can't call out Northam for racism and give Trump a pass.
Finally, the GOP is calling out a chief executive for his appalling insensitivity on an issue of race: Saturday, via Twitter, House Minority Leader Kevin McCarthy (R-Calif.) decried that chief executive's "past racist behavior" and said "He should resign." In two tweets posted on Saturday, Republican Party chair Ronna McDaniel listed off what she sees as that same chief executive's callousness on race, including, apparently, his appearance in a photo, 35 years ago in which one person is in blackface and the other is wearing a Ku Klux Klan hood. The conduct that these Republicans denounced clearly deserves condemnation, no matter how or when it occurred.
Unfortunately, they've reserved their scorn for one chief executive, Virginia Gov. Ralph Northam, a Democrat, and have held back when it comes to criticizing a chief executive from their own party, President Trump, for his racially divisive statements and public positions. That is naked hypocrisy.
Northam, without doubt, brought this criticism on himself: Friday he released a statement apologizing for appearing in a 1984 medical school yearbook photo "in a costume that is clearly racist and offensive," saying, "I am deeply sorry for the decision I made." Then on Saturday, he went before live cameras to say, "I believe then, and now, that I am not either of the people" in the photo in question. A risible, flimsy explanation, unacceptable for anyone, let alone the governor of a state. https://www.washingtonpost.com/outlook/2019/02/03/sorry-republicans-you-cant-call-out-northam-racism-give-trump-pass/
8. Trump Faces Mounting Threats from All Sides
Trump dealt himself a political defeat with the 35-day government shutdown. He has secured no funding to construct a border wall and is preparing to declare a national emergency to fulfill his campaign promise. He is newly at odds with the nation's intelligence chiefs and some senators in his own party. The Russia investigation, which has ensnared several of the president's allies, appears to be nearing its conclusion. New congressional oversight investigations will start soon. And the race to defeat him at the ballot box has kicked off in earnest.
"This is a watershed moment," said Chris Whipple, author of "The Gatekeepers," a history of White House chiefs of staff. "Time is running out. This is a last chance to really get things right."
The challenges mount at a moment when Trump is as unencumbered and isolated as ever. Inside the White House, aides describe a chaotic, freewheeling atmosphere reminiscent of the early weeks of Trump's presidency.
Power has consolidated around presidential son-in-law Jared Kushner, a senior adviser who is functioning as a de facto White House chief of staff. With counterweights like ousted chief of staff John F. Kelly now gone, some advisers say the West Wing has the feel of the 26th floor of Trump Tower, where an unrestrained Trump had absolute control over his family business and was free to follow his impulses. https://www.washingtonpost.com/politics/a-watershed-moment-trump-faces-crossroads-amid-mounting-threats-on-all-sides/2019/02/02/0f019554-2587-11e9-81fd-b7b05d5bed90_story.html
9. Greg Sargent: If Trump declares a national emergency, Pelosi can jam Republicans. Here's how.
Senate Republicans appear to be in a panic about President Trump's threat to declare a national emergency to realize his unquenchable fantasy of a big, beautiful wall on the southern border. Republicans are reportedly worried that such a move could divide them, and Senate Majority Leader Mitch McConnell (R-Ky.) has delivered that warning to Trump in private conversations.
Republicans have good reason to be deeply nervous. Here's why: According to one of the country's leading experts on national emergencies, it appears that House Speaker Nancy Pelosi (D-Calif.) can trigger a process that could require the GOP-controlled Senate to hold a vote on such a declaration by Trump — which would put Senate Republicans in a horrible political position.
GOP senators would have to decide between going on record in favor of a presidential declaration of a national emergency for something that everyone knows is based on false pretenses, a move that would be opposed by two-thirds of the country, or opposing it and possibly forcing a Trump veto (which they then would have to decide whether to override), enraging Trump's base.
https://www.washingtonpost.com/opinions/2019/02/04/if-trump-declares-national-emergency-pelosi-can-jam-republicans-heres-how/
10. Joel Mathis: By withdrawing from the INF Treaty, Trump puts America in grave danger
President Trump has had a lot of bad ideas in his short, misbegotten political career. The announcement on Friday that America is withdrawing from the Intermediate-Range Nuclear Forces (INF) Treaty with Russia might just be the worst.
To understand why, it's important to be reminded of an essential truth about nuclear weapons: They are genocidal-level weaponry. One bomb can destroy a city. We've seen it happen — twice — in Japan. An actual nuclear war would probably end civilization. So any action that increases the number of such weapons — and thus makes their use more likely — isn't simply a bad idea, it's morally wrong.
President Ronald Reagan, for all his cowboy posturing the in 1980s, recognized that truth. "A nuclear war can never be won and must never be fought," he said in his 1984 State of the Union address. That's why he negotiated and signed the INF Treaty in 1987, joining Soviet Chairman Mikhail Gorbachev in an effort to bring an end to a decades-long nuclear arms race led by the two countries.
Trump's defenders can offer smart-sounding strategic reasons about why new weapons are necessary for America's defense. The reality, though, is that the more warheads we deploy, the less safe we become. This is Trump's worst decision; let's hope we can survive it.https://theweek.com/articles/821563/by-withdrawing-from-inf-treaty-trump-puts-america-grave-danger
11. Tina Nguyen: Leaked Documents Confirm The Worst-Kept Secret Of Trump's Presidency
One of the most closely guarded and worst-kept secrets of Donald Trump's presidency is his extraordinary laziness. Despite efforts to project a manly ardor, the current leader of the free world spends most of his free time tweeting, calling friends, and watching Fox News. Of his 745 days in office, Trump has spent 222 days unwinding at Trump-branded properties and 168 days golfing. According to the testimony of numerous West Wing staffers, he struggles to focus in meetings, largely ignores intelligence briefings, and tunes out policy minutiae. Once, according to former White House aide Cliff Sims, Trump literally got up and wandered away while Paul Ryan was in the Oval Office attempting to explain the Republican health-care bill. While Ryan was still talking, Trump walked down the hall to his private dining room and turned on the TV.
We've known since January 2018 that White House staffers have an official designation for these unstructured periods on Trump's private schedule: "Executive Time." What we didn't know is exactly how much of the president's average day is spent un-presidenting.
In fact, "Executive Time" is far more than just a respite from the duties of the office. In perhaps the most remarkable White House leak this year, Axios on Sunday published about three months' worth of Trump's private daily schedules, dating back to the day after the midterm elections. They reveal that Trump has spent around 297 hours—or roughly 60 percent of his waking hours since the midterms—in "Executive Time." For comparison, he's only spent about 77 hours in meetings—less time than his travel (51 hours) and eating lunch (39 hours) combined. https://www.vanityfair.com/news/2019/02/the-worst-kept-secret-of-trumps-presidency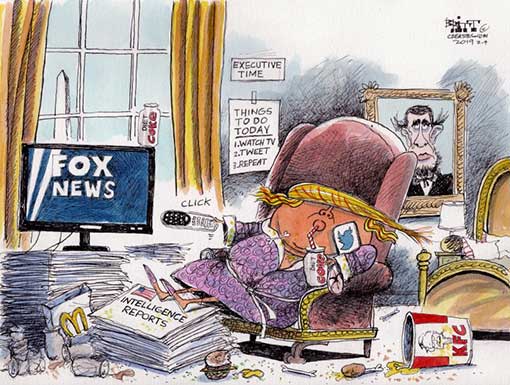 12. Paul Waldman: We may finally see Trump's tax returns, and Republicans are panicking
Washington is terribly divided these days, but there is at least one thing everyone — the Trump administration, members of Congress from both parties, journalists, cabdrivers — clearly agrees on: If the public ever got to see President Trump's tax returns, it would be utterly disastrous for him.
Though they haven't done it yet, Democrats are planning to utilize a law allowing the House Ways and Means Committee to obtain any American's tax returns to demand that the IRS turn them over. Once they have them, the committee can vote to release them to the entire House.
Terrified of that prospect, the administration is preparing to do everything in its power to keep it from happening, as Politico's Nancy Cook reports:
The new House Democratic majority is widely expected to test one of Donald Trump's ultimate red lines by demanding the president's personal tax returns — and the Trump administration has been gearing up for months to fight back hard.

Trump's Treasury Department is readying plans to drag the expected Democratic request for Trump's past tax filings, which he has closely guarded, into a quagmire of arcane legal arguments.

At the same time, officials intend to publicly cast the request as an nakedly partisan exercise. The two-pronged scheme was developed by a handful of top political appointees and lawyers inside the department — with the ultimate goal of keeping the president's past returns private, according to four people familiar with the administration's approach.
Legal experts make clear that the law is not ambiguous and the president can't simply order the Treasury Department to keep his returns secret. So the administration's plan seems to be to wage a PR battle while keeping the matter slogging through the courts for as long as possible — say, past November 2020. https://www.washingtonpost.com/opinions/2019/02/05/we-may-finally-see-trumps-tax-returns-republicans-are-panicking/