June 8, 2023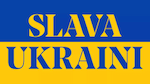 To subscribe to this FREE weekly newsletter simply email jellison@san.rr.com with "subscribe" as the subject.
THE WEEK'S BEST QUOTES. . .
"You have people that go to the Mona Lisa — they love the Mona Lisa and they'll see it hundreds and hundreds of times and it gets better every time. You have people that follow the rock bands and they listen to the same songs over and over and over. Fans returning to his rallies are like theater-goers going to "a Broadway play where they will see it 20 times." —Donald Trump compared himself to the Mona Lisa in a bizarre interview with a Welsh-language TV channel. https://www.mirror.co.uk/news/politics/donald-trump-says-hes-like-30132586
"I don't want reality." — Sen. Markwayne Mullin (R-OK) while questioning a witness about the teaching of race. https://www.theguardian.com/us-news/2023/jun/01/republican-senator-i-dont-want-reality
Due to recent statements by him promoting racial stereotypes, white nationalism and other various controversial topics, I feel compelled to distance myself from his ignorant, hateful rants… What I'm trying to say is that, I DO NOT agree with any of the vile rhetoric coming out of his mouth. Please don't confuse my brother with me." —  Charles Tuberville, the brother of Sen. Tommy Tuberville (R-AL), on Facebook: https://www.facebook.com/Charles.Tuberville
"We are not interested in whether the allegations against Vice President Biden are accurate or not."— Sen. Chuck Grassley (R-IA), apparently forgetting the Biden is no longer the VP. https://twitter.com/atrupar/status/1664259158122676224
"You know, I have conversations with my father and my uncle about what I'm doing. I do meditations every day, and that's kind of the nature of my meditations. I have a lot of conversations with dead people." — Robert F. Kennedy Jr.  when asked how he thinks his father or uncle would have responded to the challenges facing Democrats today. https://www.thefp.com/p/rfk-jr-and-the-populist-wave

"I don't know if he's that lucky or that skillful. Whatever it is, it's damn sure working." — Rep. James Clyburn (D-SC), on President Biden's negotiating a bipartisan debt ceiling deal. https://www.politico.com/news/2023/05/31/joe-biden-won-over-house-dems-00099587

"You've got two Irish guys who don't drink. The bonding opportunities are not the same as for an Irish guy like me." — Rep. Patrick McHenry (R-NC), on the relationship between President Biden and Speaker Kevin McCarthy. https://www.cnn.com/2023/05/31/politics/biden-mccarthy-debt-ceiling-behind-the-scenes/index.html

"How are we supposed to get our girls used to the fact that biological boys are in their locker rooms? And then we wonder why a third of our teenage girls seriously contemplated suicide last year." — Nikki Haley, at a CNN town hall, blaming teen suicides on trans kids in locker rooms. https://twitter.com/abbydphillip/status/1665529822909456384

"But to sit by and watch a guy (Joe Biden) get elected president who's been a thirty-year bribe taker." — Rudy Giuliani during Sunday's "Uncovering the Truth" on WABC. https://www.rawstory.com/rudy-giuliani-gay-deviancy/

"I don't want to be unkind to Sen. Manchin, but he's kind of dead man walking in West Virginia. There's nowhere for him to go." — David Axelrod on the uphill fight Joe Manchin has to be re-elected in 2024. https://thehill.com/homenews/senate/4034650-axelrod-manchin-is-dead-man-walking-in-west-virginia/
VIDEOS ...
"The Congress is this country's checkbook, and we can start cutting funds to the FBI. You know, they've bungled so many cases as of late and they continue to do so. ... It's this top level of arrogance [at the FBI] that we've seen, and it is the swamp. It does exist. And that's what we'll have to do, we'll have to start cutting their checkbook a little bit just to get them to the table, if that's what it takes. And I'm for that because they've just not done their duty." — Rep. Tim Burchett (R-TN) wants to defend the FBI.
https://twitter.com/atrupar/status/1658127262955307017
Seven wokes in under twenty seconds. —Gov Ron DeSantis declares war on woke!
https://twitter.com/Acyn/status/1665142746909405185
Rep. Ken Buck (R-CO) interviewed by Dana Bash on CNN about Donald Trump:
CNN's Bash: "Would Republicans be better off with a candidate who is not facing multiple criminal investigations?"

Rep. Ken Buck (R-CO): "I think that the multiple investigations and civil lawsuits ... almost give this presidential candidate and former president credibility."  https://twitter.com/therecount/status/1665351920649748480
"The only way American democracy can function is through compromise and consensus. And that is what I work to do as your president -- to forge bipartisan agreement where it is possible, and where it is needed." — President Biden in the Oval Office: https://twitter.com/atrupar/status/1664770425748873218
"Because it is." — George Santos, the indicted New York Republican, when asked about why it's so important to shield the identities of the people who paid his $500,000 bond.  https://twitter.com/mkraju/status/1666151233780871168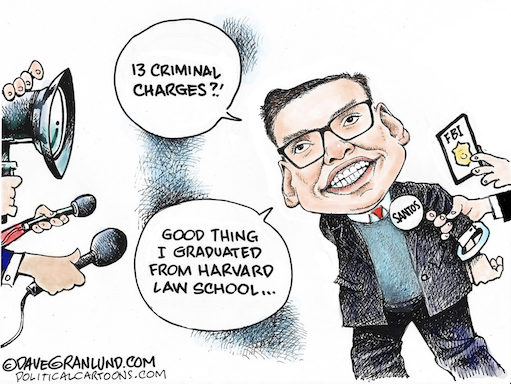 "This is not a case of the DOJ conducting a witch hunt...This would have gone nowhere had the president just returned the documents, but he jerked them around for a year and a half...There is no excuse for what he did here." — Bill Barr on the classified documents investigation.
https://twitter.com/AccountableGOP/status/1666108806202310657
---
IN THIS ISSUE
IN THE NEWS
OPINION
Andy Borowitz: Skeptics Question Whether Pence Has More to Offer Than Raw Sexual Magnetism
As Mike Pence prepares to announce his bid for the Presidency, political insiders are questioning whether he has more to offer the nation than unbridled sexual magnetism.
For years, the former Vice-President has wisely refused to dine alone with any woman other than his wife, fearing the havoc that his overpowering pheromones could wreak.

But now, as he hopes to convince voters to elect him leader of the free world, he risks being perceived as little more than a smoldering slice of beefcake.

"Whenever Mike Pence gives a speech, his crackling sexual energy is so palpable that all the women in the audience and a goodly number of men swoon," Davis Logsdon, who teaches political science at the University of Minnesota, said. "But is that what people want in a President?"

"Sex sells," he added, "but Mike Pence might just be too smokin' for the White House."
 https://www.newyorker.com/humor/borowitz-report 
The Bible is banned in from some Utah elementary and middle schools now for 'vulgarity or violence'
A Utah parent filed a challenge to have the Bible removed from public school libraries, citing passages describing sex and violence, the Salt Lake Tribune reports.

The committee appointed to review the complaint said the Bible may remain in high school libraries, but it will be removed from elementary and middle schools for containing vulgarity or violence. https://www.sltrib.com/news/education/2023/06/01/bible-is-banned-these-utah/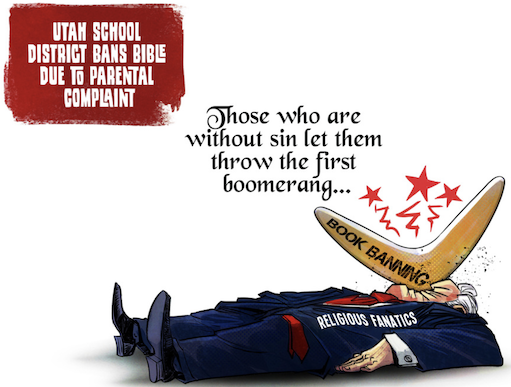 Trump-DeSantis Feud Turns Vicious
A ruthless war between the Trump and DeSantis campaigns is unfolding in increasingly personal terms, sucking in top surrogates and raising new skepticism about the likelihood of post-primary reconciliation.

Former President Trump doesn't just want to defeat Florida Gov. Ron DeSantis — he's out to destroy DeSantis' political career and that of anyone who has expressed even a hint of support for his candidacy.

For Trump, loyalty is paramount — and a one-way street. The fact that so many former Trump administration officials and supporters have defected to team DeSantis has made the feud intensely personal for the ex-president. https://www.axios.com/2023/05/31/donald-trump-milktoast-ron-desantis-kayleigh-mcenany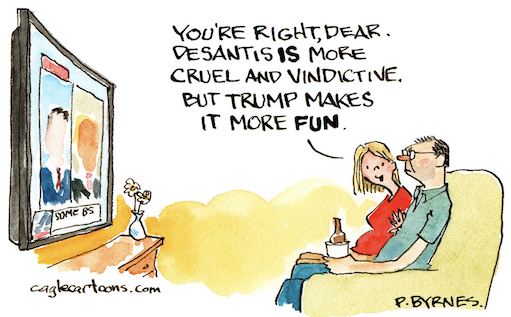 Trump Pollster Says DeSantis 'Electability' Is a Myth
Trump pollster Tony Fabrizio is telling GOP donors that it's a 'myth' that Florida Gov. Ron DeSantis is more electable than the former president, Axios reports.

Fabrizio's memo suggests that DeSantis is viewed as less electable than Trump in swing states after voters learn his positions on certain issues, and that voters have 'very limited knowledge' of the Florida governor right now. https://www.axios.com/2023/06/01/trump-desantis-electability-polling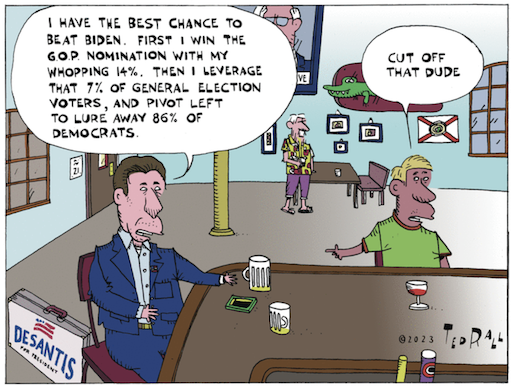 FBI to bring internal Biden-related document to Capitol Hill and brief House Oversight leaders
The FBI is scheduled to bring an internal law enforcement document that some Republicans claim will shed light on an allegation that then-Vice President Joe Biden was involved in a criminal scheme with a foreign national to Capitol Hill on Monday for House Oversight Chair James Comer and ranking Democratic member Rep. Jamie Raskin to review.
While the document contains the allegations made by an unnamed whistleblower, it doesn't provide proof that they are true… The FBI and prosecutors who previously reviewed the information couldn't corroborate the claims.
https://www.cnn.com/2023/06/02/politics/fbi-document-congress-biden/
Biden shows growing appetite to cross Putin's red lines
President Biden's decision last month to help Ukraine obtain F-16 fighter jets marked another crossing of a Russian red line that Vladimir Putin has said would transform the war and draw Washington and Moscow into direct conflict.
Despite the Russian leader's apocalyptic warnings, the United States has gradually agreed to expand Ukraine's arsenal with Javelin and Stinger missiles, HIMARS rocket launchers, advanced missile defense systems, drones, helicopters, M1 Abrams tanks and, soon, fourth-generation fighter jets.
A key reason for brushing aside Putin's threats, U.S. officials say, is a dynamic that has held since the opening days of the war: Russia's president has not followed through on promises to punish the West for providing weapons to Ukraine. His bluffing has given U.S. and European leaders some confidence they can continue doing so without severe consequences — but to what extent remains one of the conflict's most dangerous uncertainties.
https://www.washingtonpost.com/national-security/2023/06/01/ukraine-f-16s-biden-russia-escalation/
How House Dems went from angry at to rallying around the Biden White House
A week ago, House Democrats were furious at what they saw as an abdication of the political battle in the negotiations with Republicans on a debt-and-budget deal.

Yet, when the final vote was finally held late Wednesday, Democrats delivered 165 votes — almost 80 percent of the caucus — in favor of the Biden-led compromise. That's a bigger haul than Republicans, who provided 149 votes, or two-thirds of their caucus. https://www.washingtonpost.com/politics/2023/06/01/how-house-dems-went-angry-rallying-around-biden-white-house/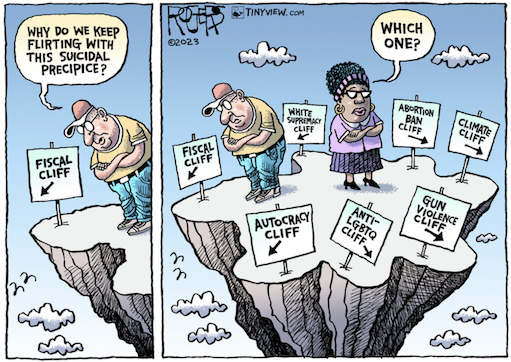 Russia's population nightmare is going to get even worse
A demographic tragedy is unfolding in Russia. Over the past three years the country has lost around 2m more people than it would ordinarily have done, as a result of war, disease and exodus.
The life expectancy of Russian males aged 15 fell by almost five years, to the same level as in Haiti. The number of Russians born in April 2022 was no higher than it had been in the months of Hitler's occupation. And because so many men of fighting age are dead or in exile, women now outnumber men by at least 10 million.
https://www.economist.com/europe/2023/03/04/russias-population-nightmare-is-going-to-get-even-worse
'Trump Bucks' retailers' websites taken down, days after being exposed for selling bogus currency
The companies who appear to have swindled supporters of former President Donald Trump out of tens of thousands of dollars by peddling them bogus Trump Bucks no longer have active websites.
https://www.nbcnews.com/news/us-news/trump-bucks-scam-websites-unavailable-rcna86916
Mark Levin Says Jan. 6 Rioter Who Threatened Pelosi, Shoved Cop 'Didn't Do Anything'
On his syndicated radio show Wednesday, Levin mentioned the two-year prison sentence given to Pauline Bauer, a Pennsylvania restaurant owner.
"And I see that a woman today, in a bench trial ... was sentenced to two years and she literally didn't do anything. She simply said, 'let's get' ― whatever she said about Pelosi."
The whatever included Bauer yelling at police "to bring them out or we're coming in" during the Capitol siege, prosecutors said. "Bring Nancy Pelosi out of here now. We want to hang that fucking bitch. Bring her out." She also shoved a cop.
Levin asked his guest, Julie Kelly of the far-right outlet American Greatness, if Bauer did anything.
Kelly replied: "No, she didn't."
https://www.huffpost.com/entry/mark-levin-pauline-bauer-didnt-do-anything_n_6479c7c7e4b045ce24881204
Aide fired by George Santos says he got his job after sending money to Republican's deputy
A man who briefly worked as an aide to U.S. Rep. George Santos says he got his job after sending a series of payments to one of the Republican's top deputies.
Derek Myers, 31, told staff of the House's ethics subcommittee during an interview Wednesday that while he was trying to get a job in Santos' congressional office in late January, he sent at least seven $150 payments to Santos' director of operations, Vish Burra.
Myers shared details about the payments, including receipts and text messages.
https://apnews.com/article/george-santos-aide-vish-burra-congress-594321a254526ab9edd8196d4b583c34
Georgia probe of Trump broadens to activities in other states
An Atlanta-area investigation of alleged election interference by former president Donald Trump and his allies has broadened to include activities in Washington, D.C., and several other states — a fresh sign that prosecutors may be building a sprawling case under Georgia's racketeering laws..
Fulton County District Attorney Fani Willis launched an investigation more than two years ago to examine efforts by Trump and his allies to overturn his narrow 2020 defeat in Georgia. Along the way, she has signaled publicly that she may use Georgia's Racketeer Influenced and Corrupt Organizations statute to allege that these efforts amounted to a far-reaching criminal scheme.
https://www.washingtonpost.com/nation/2023/06/02/trump-georgia-election-investigation-fulton-county/
Could Hunter Biden be the next poster child for Second Amendment rights?
Hunter Biden could soon find himself in a surprising position: at the cutting edge of the fight to strengthen the Second Amendment.
The president's son is the target of a Justice Department investigation scrutinizing his purchase of a gun in 2018 — a time when he has said he was regularly using crack cocaine. Federal law bans drug users from owning guns.
But the constitutionality of that law — like many other provisions restricting gun ownership — is newly in question after a precedent-rocking decision the Supreme Court handed down almost a year ago.
https://www.politico.com/news/2023/06/01/hunter-biden-supreme-court-second-amendment-00099544
Right-Wing Think Tank Family Research Council Is Now a Church in Eyes of the IRS
In acquiring church status for tax purposes, the Family Resource Council told the IRS it holds chapel services at its office, averaging more than 65 people.
But when a reporter called to inquire about service times, a staffer who answered the phone responded, We don't have church service.
https://www.propublica.org/article/family-research-council-irs-church-status
Trump's Legal Team in Turmoil
Donald Trump's legal team for months has weathered deep distrust and interpersonal conflict that could undermine its defense of the former president as the criminal investigation into his handling of classified documents and obstruction of justice at Mar-a-Lago nears its conclusion, The Guardian reports.
The turmoil inside the legal team only exploded into public view when one of the top lawyers, Tim Parlatore, abruptly resigned two weeks' ago from the representation citing irreconcilable differences with Trump's senior adviser and in-house counsel Boris Epshteyn.
But the departure of Parlatore was the culmination of months of simmering tensions that continue to threaten the effectiveness of the legal team at a crucial time – as federal prosecutors weigh criminal charges – in part because the interpersonal conflicts remain largely unresolved.
https://www.theguardian.com/us-news/2023/jun/01/trump-lawyers-resign-criminal-investigation
Bannon Calls for Primary Challenge of Greene
Rep. Marjorie Taylor Greene's (R-GA) decision to vote in support of the debt ceiling deal on Wednesday has been harshly criticized by her former ally Steve Bannon, who called on the Georgia Republican to be challenged in the next party's primary.
https://www.msn.com/en-us/news/politics/marjorie-taylor-greene-faces-insurrection-from-real-maga/ar-AA1bYRCK
How to Spot a Fascist
Beginning in 1943, the War Department published a series of pamphlets for U.S. Army personnel in the European theater of World War II. Titled Army Talks, the series was designed to help [the personnel] become better-informed men and women and therefore better soldiers.

On March 24, 1945, the topic for the week was FASCISM!
The
pamphlet
sought to educate Americans about the tactics fascists would use to take power in the United States under the guise of super-patriotism.
The War Department thought it was important for Americans to understand the tactics fascists would use to take power in the United States. They would try to gain power under the guise of 'super-patriotism' and 'super-Americanism.' And they would use three techniques:


First, they would pit religious, racial, and economic groups against one another to break down national unity. Part of that effort to divide and conquer would be a well-planned 'hate campaign' against minority races, religions, and other groups.


Second, they would deny any need for international cooperation, because that would fly in the face of their insistence that their supporters were better than everyone else. In place of international cooperation, the fascists seek to substitute a perverted sort of ultra-nationalism which tells their people that they are the only people in the world who count. With this goes hatred and suspicion toward the people of all other nations. 


Third, fascists would insist that the world has but two choices—either fascism or communism, and they label as 'communists' everyone who refuses to support them.

It is vitally important to learn to spot native fascists, the government said, even though they adopt names and slogans with popular appeal, drape themselves with the American flag, and attempt to carry out their program in the name of the democracy they are trying to destroy. 
https://heathercoxrichardson.substack.com/p/may-29-2023  
TV networks battle for Republican debates
CNN boss Chris Licht has told the RNC that CNN would air the debate not just on its linear feed, but also potentially on the linear networks of other Warner Bros. Discovery channels, two sources told Axios. By including those channels, Licht has argued, CNN could reach more conservatives than Fox, as well as independent voters.
Licht also has offered to partner with a conservative-leaning outlet on the debates. That partnership, two sources told Axios, could include giving a journalist from the partner outlet a co-moderator spot.
https://www.axios.com/2023/06/02/2024-republican-debates-networks-desantis-trump
In New Hampshire, DeSantis Avoids Talking About Florida's Abortion Ban
As he traversed socially conservative Iowa this week, the 2024 contender highlighted his state's six-week ban. But now, in more moderate New Hampshire, he is shying from the subject.
At a stop on his first trip to New Hampshire as a presidential candidate, Gov. Ron DeSantis mentioned his efforts to provide tax relief for Florida families. He mentioned defunding diversity programs at public colleges. He mentioned his fight with Disney, the New York Times reports.

But what he did not mention was the six-week abortion ban he signed in Florida this year. https://www.nytimes.com/2023/06/01/us/politics/desantis-abortion-new-hampshire.html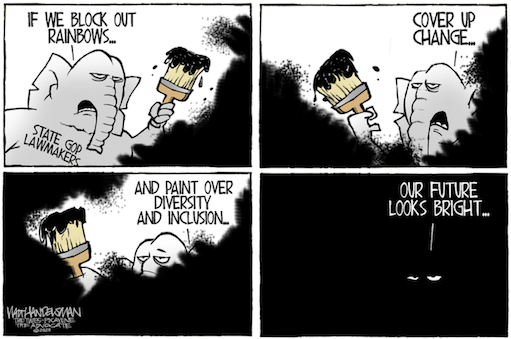 McCarthy Shares Footage with Conspiracy Theorists
Right-wing media favorite John Solomon disclosed on Thursday that House Speaker Kevin McCarthy has given him 'unfettered access' to the Jan. 6 surveillance tapes.
The fact that McCarthy is releasing the surveillance footage to right-wing media and hiding it from news organizations says a lot about him. McCarthy, who is very familiar with the horror that unfolded at the Capitol that day, knows that the media personalities he is giving the tapes to will use it to push bogus conspiracy theories about what happened. He knows that they will use the footage to rewrite the history of that day. And yet, he still provides them with the tapes while withholding it from news organizations.
https://view.newsletters.cnn.com/messages/168567051721887464ccb30cd/raw
There's Sufficient Evidence to Indict and Prosecute Trump
Just Security's
model prosecution memorandum
assesses potential charges federal prosecutors may bring against former President Donald Trump. It focuses on those emanating from his handling of classified documents and other government records since leaving office on January 20, 2021. It includes crimes related to the removal and retention of national security information and obstruction of the investigation into his handling of these documents. The authors have decades of experience as federal prosecutors and defense lawyers, as well as other legal expertise. Based upon this experience and the analysis that follows, they conclude that Trump should–and likely will–be charged.
https://www.justsecurity.org/86771/model-prosecution-memo-for-trump-classified-documents/
Twitter's U.S. Ad Sales Plunge 59% as Woes Continue
Twitter's U.S. advertising revenue for the five weeks from April 1 to the first week of May was $88 million, down 59 percent from a year earlier, according to an internal presentation obtained by The New York Times. The company has regularly fallen short of its U.S. weekly sales projections, sometimes by as much as 30 percent, the document said.
That performance is unlikely to improve anytime soon, according to the documents and seven current and former Twitter employees.
Twitter's ad sales staff is concerned that advertisers may be spooked by a rise in hate speech and pornography on the social network, as well as more ads featuring online gambling and marijuana products, the people said. The company has forecast that its U.S. ad revenue this month will be down at least 56 percent each week compared with a year ago, according to one internal document.
https://www.nytimes.com/2023/06/05/technology/twitter-ad-sales-musk.html
Elon Musk to lobby for criminalizing healthcare for trans youth
Elon Musk started Pride Month with a series of transphobic tweets that constitute his most extreme attacks agains the community to-date and included a pledge on Thursday that he will be "actively lobbying to criminalize" healthcare interventions for transgender youth.

Also on Thursday, Musk responded "Totally agree" to a tweet from a trans-exclusionary LGB account that said, "LGB don't even want Pride month anymore. We just want to be separated from the TQ+."

Responding to Musk's promise to fight for the criminalization of gender affirming care, anti-trans conservative media commentator and University of Toronto Professor Jordan Peterson tweeted, "Prison. Long term. Without Parole. No Mercy. And maybe for the compliant 'therapists' and the butchers they enable." Musk replied, "Absolutely."   https://www.losangelesblade.com/2023/06/02/elon-musk-to-lobby-for-criminalizing-healthcare-for-trans-youth/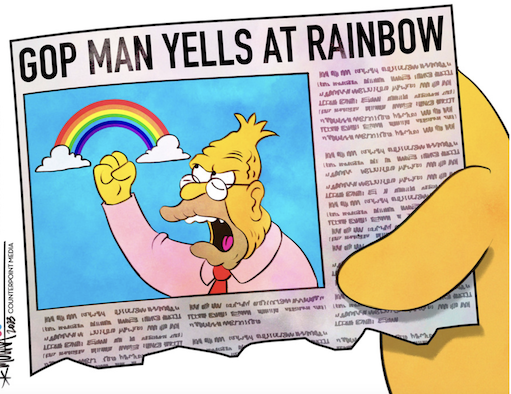 Migrants' trip to Sacramento aboard private jet appears to have been arranged by state of Florida, officials say
More than a dozen migrants from South America who were recently flown on a chartered jet from New Mexico and dropped off in Sacramento were carrying documents indicating that their transportation was arranged by the state of Florida, the California attorney general's office said Sunday.

The 16 migrants from Venezuela and Colombia were initially transported by bus from El Paso to New Mexico, where they boarded the flight to Sacramento, officials said. They were dropped off at the doorstep of the Roman Catholic Diocese of Sacramento on Friday.

Their arrival, for which no politician or organization has yet to publicly claim responsibility, adds fuel to a controversy over similar ploys by conservative politicians in Republican-led states.

Sacramento Mayor Darrell Steinberg called for an investigation into the latest incident in a Saturday statement, saying"Human trafficking is not only despicable; it's a felony. … Whoever is behind this must answer the following: Is there anything more cruel than using scared human beings to score cheap political points?" Sacramento represents the best of American values," he said. "We always welcome 'the tired, the poor, and the huddled masses,' and we always will." https://www.latimes.com/california/story/2023-06-03/california-investigating-who-sent-16-migrants-from-texas-to-doorstep-of-sacramento-diocese
Judge rejects Tennessee's anti-drag law as too broad, too vague
U.S. District Judge Thomas Parker, who was appointed by President Donald Trump, wrote that the law was both "unconstitutionally vague and substantially overbroad." He also added that the statute encouraged "discriminatory enforcement."
From the opinion: "There is no question that obscenity is not protected by the First Amendment. But there is a difference between material that is 'obscene' in the vernacular, and material that is 'obscene' under the law. Simply put, no majority of the Supreme Court has held that sexually explicit — but not obscene — speech receives less protection than political, artistic, or scientific speech."
https://apnews.com/article/drag-law-unconstitutional-tennessee-lgbtq-ff16eb4bdbd0d69863eef38bf93503cf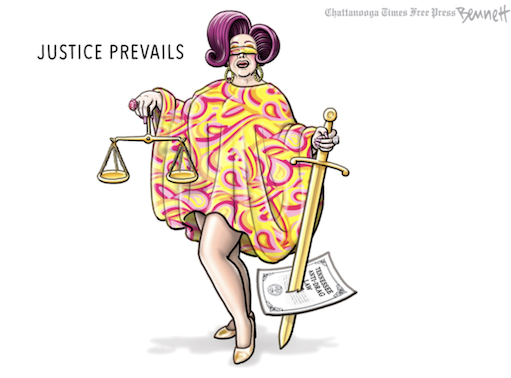 GOP Issues Debate Rules, But Will Trump Bother to Show Up?
The Republican National Committee released its first presidential debate's criteria Friday that require candidates to sign a loyalty oath that requires them to support the eventual nominee in the process. That requirement could keep some candidates off the stage, including former President Donald Trump, who hasn't committed to supporting the nominee.
https://themessenger.com/politics/gop-issues-debate-rules-but-will-trump-bother-to-show-up
Utah governor removes LGBTQ+ references from Pride Month declaration
Utah. Gov. Spencer Cox (R) came under fire Thursday after his 2023 Pride Month declaration eliminated all mention of LGBTQ+ people,.

Meanwhile, conservatives lambasted Cox as "woke" for making the declaration in the first place, accused him of pandering to the left by celebrating "sin," called him a RINO and urged a primary challenge from the right.. https://www.axios.com/2023/06/02/utah-governor-pride-month-declaration-lgbtq-spencer-cox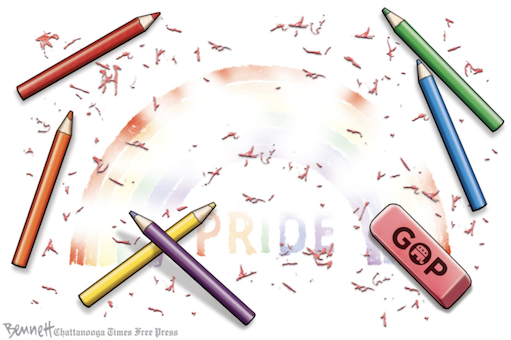 McCarthy Pumps the Brakes on Ukraine Funding
Speaker Kevin McCarthy told us Monday that a supplemental spending package for Ukraine is 'not going anywhere' in the House, essentially putting the brakes on any immediate plan to send more money to Kyiv — or get around new spending caps.
McCarthy's comments set the stage for a consequential Senate-vs.-House fight centered on Ukraine funding, an issue that has already bitterly divided the GOP.
For now, McCarthy's pronouncement is a blow to defense hawks in both parties, but especially in the Senate. A group of GOP senators held up the debt-limit bill last week until they got assurances from Senate leaders that the chamber would take up a separate funding bill for Ukraine and other defense needs
https://punchbowl.news/archive/6623-punchbowl-news-am/
Hard-right Republicans, still angry over debt ceiling, foil McCarthy on GOP vote
Hard-right Republicans, still angry with House Speaker Kevin McCarthy's handling of the debt ceiling bill last week, sunk a GOP procedural vote Tuesday in a show of strength in a razor-thin majority.
In a surprise rebuke for McCarthy (R-CA) and the rest of GOP leadership, the Republican-led House failed to pass the rule for consideration of several bills this week. Eleven Republicans broke with their party to vote with Democrats, and the rule fell short on a 206-220 vote — the first rule vote to fail since November 2002.
https://www.washingtonpost.com/politics/2023/06/06/house-republicans-debt-ceiling-mccarthy-procedural-vote/
Newsom threatens DeSantis with kidnapping charges after migrants flown to Sacramento
Gov. Gavin Newsom took his feud with Gov. Ron DeSantis to new heights on Monday, seemingly threatening him with kidnapping charges after California officials say South American migrants were sent to Sacramento by the state of Florida as a political stunt.
Newsom cited state kidnapping laws in a
tweet
to the Florida governor and Republican presidential hopeful, whom he called a 'small, pathetic man.'
https://www.latimes.com/california/story/2023-06-05/newsom-desantis-migrant-flights-kidnapping-charges
Tax Cuts High on GOP Agenda as House Looks to Revive Business Breaks
After insisting on spending cuts and deficit reduction in a debt-ceiling deal that came together just before the U.S. breached its borrowing limit, House Republicans are turning to tax cuts, the Wall Street Journal reports.

Republicans hope to push a bill through the House Ways and Means Committee as soon as this month that would revive expired business tax breaks and possibly make changes for individuals.

The GOP bill likely won't become law, but it could be the first step toward bipartisan negotiations this year. And it would set the stage for a larger tax-cut package Republicans are expected to push in 2025, when Trump-era breaks for individuals are scheduled to expire. https://www.wsj.com/articles/with-debt-ceiling-deal-done-house-gop-looks-to-cut-taxes-2fcf4fa6
Edward Luce: Game, Set and Almost Match to Joe Biden on the Debt Ceiling
Shakespeare foretold the tale of America's latest debt-ceiling crisis — full of sound and fury, signifying nothing. The final deal, which will probably be passed this weekend, could also have been scripted by Joe Biden. Rarely in the history of fiscal brinkmanship has so much noise been made by so many Republicans with so little to show for it. The result is a win for Biden that prudence stops him from celebrating.

This charade's key lesson is that people who call themselves 'fiscal conservatives' are guilty of fraudulent branding — aided by a process-obsessed media. The definition of fiscal conservatism is matching public spending with revenues over the business cycle. Threatening a catastrophic default unless the tax-collecting Internal Revenue Service is defunded is its very opposite. That would be fiscal incontinence.
The fact that this was one of the key Republican demands gave the game away. https://www.ft.com/content/1934ea96-99c6-4043-9343-af0f1ff4c0ef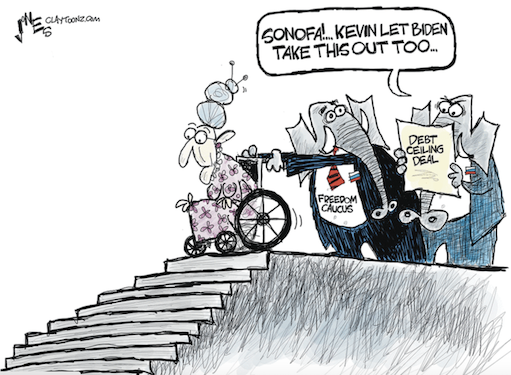 Susan B. Glasser The Irrational Exuberance of a Non-Catastrophe
Is there such a thing as a win-win in this zero-sum age of American politics, when Democrats speak of their Republican rivals as a threat to American democracy and Republicans speak of Democrats as a threat to America itself? During Memorial Day weekend, President Joe Biden cut a last-minute deal with the leader of the House Republicans, Speaker Kevin McCarthy, to avert a catastrophic default on the national debt, agreeing to suspend the debt ceiling until 2025 and to institute around a hundred and eighty billion dollars in G.O.P.-demanded spending cuts over the next two years. On Wednesday, the deal cleared the House in an overwhelming bipartisan vote, and it appeared headed for Senate passage by Friday, two days before the date the Treasury said that it would run out of money.
Instead of the usual apocalyptic warnings, both Biden and McCarthy served up soothingly retro bromides about the virtues of coming together to do the people's business. The President talked of the responsibility of governing and celebrated bipartisan compromise. The Speaker bragged of his accomplishment. Tonight we made history, he said, after the bill passed on Wednesday. I think we did pretty dang good for the American public. With disaster seemingly averted, and despite loud complaints from politicians on both the left and the right, an unaccustomed and distinctly upbeat tone crept into the political discourse: perhaps, after all, it was still possible to govern from the center and not the extremes. Was this, finally, the Revenge of the Normies?

The conventional wisdom on McCarthy was that, as Speaker, he was doomed to feckless subservience to the far right, whose votes had reluctantly put him in the chair only after fifteen ballots and a series of concessions that neutered his power. The new conventional wisdom is that McCarthy was underestimated and his Freedom Caucus foes have been, if not tamed, then at least temporarily beaten back. For Biden, whose case for the Presidency was premised on his ability to draw on decades of experience in the capital to broker old-fashioned deals across party lines, the political benefits were almost self-evident, all the more so since the alternative to a deal in this instance could well have been a recession-triggering economic crisis. https://www.newyorker.com/news/letter-from-bidens-washington/the-irrational-exuberance-of-a-non-catastrophe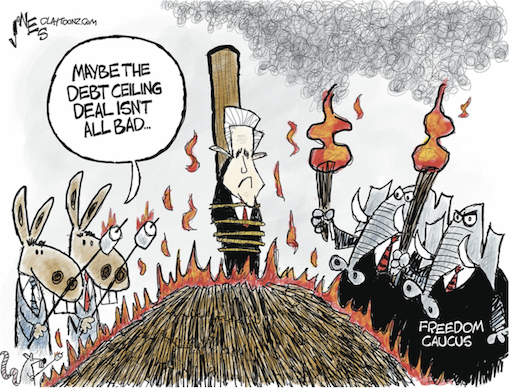 Molly Jong-Fast: The 2024 GOP Field Is Basically Donald Trump and His Mini-Mes
This year is starting to feel a lot like 2016, a primary field that contains Trump and all the other not-Trump candidates. The only difference between this contest and 2016 is that other candidates then ran (ostensibly, at least) as their own selves and not just lesser versions of the OG. Perhaps this is because the current crop of candidates have seen polling which shows the GOP base continues to struggle with a pronounced case of brain worms.
They dismiss Trump's critics out of hand and election denial runs deep, with 75% in one poll saying that Trump actually won the 2020 election. It's possible that these 2024 candidates can't figure out how to recon with a GOP base existing in a post-truth bubble, and are just trying to keep up with an electorate that's completely lost its mind.
https://www.vanityfair.com/news/2023/06/2024-gop-field-candidates-donald-trump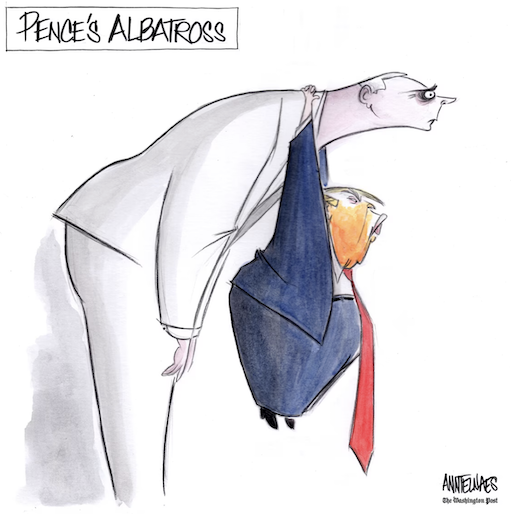 Greg Sargent and Paul Waldman: In a deep red Florida county, a student-teacher revolt shames the right
By now, it's obvious that the reactionary culture warriors who want to reshape American education are inspiring a serious liberal counter-mobilization in response. Remarkably, this backlash to the backlash is gaining momentum in some of the reddest parts of the country.
War on woke? one student said pointedly. More like war on your children's future.
It's me and my fellow students who are feeling the effects of this, said a second student. A third said the removal of books from classrooms is what's really indoctrinating students.

Things like this are happening all over. As Sarah Jones of New York magazine reports, liberal parents in states as far-flung as New York, North Carolina and Montana are organizing local groups, pressuring school boards and running for office to challenge the right's education takeover.

Democratic politicians are stepping up. Illinois Gov. J.B. Pritzker will soon sign a bill that requires schools and libraries to adopt a prohibition on book removals for political reasons to qualify for state funding.

We have also learned that nine Democratic governors representing nearly 9 million students have sent a letter to leading textbook companies decrying the negative impact that censorship and book-banning has on this nation's students. The letter indicates that the governors are watching closely to see if attacks on the companies by right-wing governors — such as DeSantis — are producing books that are inappropriately censored.

Phil Murphy, governor of New Jersey and the head of the Democratic Governors Association, says these governors will be modeling an alternative to right-wing censorship going forward.

There's a broad lane available for Democratic governors to reclaim the mantle of core American values — freedom, patriotism, rights, Murphy told us. Murphy recently responded to DeSantis's restrictions on an Advanced Placement course on African American studies by expanding the number of such classes in his state.

Just as a car wreck commands attention, the ugliness of right-wing culture-warring often transfixes the news media. But another story is beckoning: Ordinary parents everywhere and their elected representatives are responding, and declaring that they've had enough. https://www.washingtonpost.com/opinions/2023/06/01/hernando-county-ron-desantis-book-bans-democratic-governors/
Tim Alberta: Inside The Meltdown at CNN
Wen he took the helm of CNN, in May 2022, Chris Licht had promised a reset with Republican voters—and with their leader. He had swaggered into the job, telling his employees that the network had lost its way under former President Jeff Zucker, that their hostile approach to Trump had alienated a broader viewership that craved sober, fact-driven coverage. These assertions thrust Licht into a two-front war: fighting to win back Republicans who had written off the network while also fighting to win over his own journalists, many of whom believed that their new boss was scapegoating them to appease his new boss, David Zaslav, who'd hired Licht with a decree to move CNN toward the ideological center.
One year into the job, Licht was losing both battles. Ratings, in decline since Trump left office, had dropped to new lows. Employee morale was even worse. A feeling of dread saturated the company. Licht had accepted the position with ambitions to rehabilitate the entire news industry, telling his peers that Trump had broken the mainstream media and that his goal was to do nothing less than save journalism. But Licht had lost the confidence of his own newsroom. Because of this, he had come to view the prime-time event with Trump as the moment that would vindicate his pursuit of Republican viewers while proving to his employees that he possessed a revolutionary vision for their network and the broader news media.
https://www.theatlantic.com/politics/archive/2023/06/cnn-ratings-chris-licht-trump/674255/
Dan Pfeiffer: Hey Media: Stop Grading Republicans on a Curve
As someone with a long history of high blood pressure, yesterday was not a good day to be online.
Last night, the House of Representatives passed the debt limit extension/budget deal negotiated by President Biden and Speaker Kevin McCarthy by a surprising margin. On the one hand, the bill prevented the first-ever default in U.S. history and avoided a potential global financial collapse. On the other, this deal was small potatoes, consisting of relatively minor and temporary cuts to discretionary spending programs.
But you wouldn't know any of that from today's coverage. The press — and particularly Congressional reporters — are treating the passage of this basic bill as a significant accomplishment for McCarthy. On Twitter and in the press, reporters are slavishly fete-ing the Speaker for passage of the bill.
 Everyone, go take a cold shower. McCarthy did the bare minimum required and didn't get fired (yet) in the process. If folks want to say McCarthy exceeded historically low expectations, fine; but treating him as some conquering hero or the second coming of Lyndon Baines Johnson is ridiculously over the top.
https://www.messageboxnews.com/p/hey-media-stop-grading-republicans
Peggy Noonan: Trump, winning third nomination would mark the end of the GOP
If Trump Republicans propel Donald Trump over the top in the primaries, they will be doing and will have done two things. They will have made him their nominee for the presidency, and they will have ended the Republican Party.

I don't mean this rhetorically, in the way of people walking around the past eight years crying, The party as I knew it is gone. I mean it literally: The GOP will disappear as a party. Meaning the primary national vehicle of conservative thought and policy will disappear.
But a third Trump nomination? The third time it breaks.

Put another way, once is what you did (made a mistake, as people and parties do). Twice is what you did (almost out of loyalty to the first mistake). But a third time—that isn't what you did, it's who you are.
There will be no Republican Party after a Trump '24 race, which, again, means the vehicle of conservative thought and policy will be gone. https://www.wsj.com/articles/chris-christie-and-the-republican-partys-peril-new-jersey-2024-primary-trump-b0fa150d
Davids Ignatius: Biden is delivering on his most far-fetched pledge: Compromise
President Biden this week accomplished what America elected him to do — govern from the center and make deals that solve problems. Progressive Democrats don't seem to like that cooperative spirit, which is a big reason their candidates keep failing to become president.
The agreement represents a compromise, which means not everyone gets what they want. That's the responsibility of governing, Biden said last weekend in announcing the deal to raise the debt ceiling. It's a defining Biden line.
The president's congenital centrism is easy to criticize, especially in this era of hard, polarizing views. He's a conciliator, a dealmaker who likes to say yes and has trouble saying no. He's also risk-averse, and he avoids escalation when facing potential catastrophe, whether it's war with Russia or a budget default.
https://www.washingtonpost.com/opinions/2023/06/01/biden-budget-deal-compromise-gop-debt-limit/
Jonathan Chait: The GOP's Authoritarian Acceleration
During Trump's first term, violations of democratic norms came in sudden dramatic bursts attracting wide news coverage, and these efforts were often undone by a lack of planning and haphazard execution. January 6 is the most vivid example. The episode dramatized Trump's desire and determination to secure an unelected second term, but the coup attempt lacked the firepower to pull it off.

Since Trump left office, the Republican Party's anti-democratic turn has accelerated, but it has taken place quietly and deliberately with little drama or media attention. It has had the benefit of planning and the formation of a partywide consensus. And it is more insidious than anything a reelected Trump could come up with in a fit of pique. https://nymag.com/intelligencer/2023/06/gop-republican-party-fbi-authoritarian-acceleration.html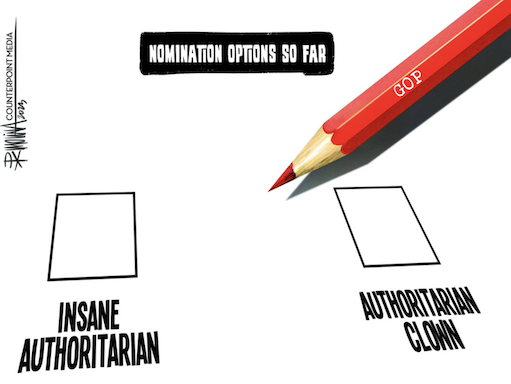 E.J. Dionne Jr.: The 'Minnesota Miracle' should serve as a model for Democrats
You could be forgiven for imagining that state legislatures around the country are lurching rightward, thanks to the media spotlight given to Florida Gov. Ron DeSantis's culture warring in his state. Other deep-red states are not far behind.
In Washington, President Biden was rightly seen as a net winner in the debt ceiling battle. But with the GOP in control of the House, it was largely a defensive triumph.

This is why the Minnesota Miracle, which is only beginning to get the attention it deserves, is so important. The avalanche of progressive legislation that the state's two-vote Democratic majority in the Minnesota House and one-vote advantage in the state Senate have enacted this year is a wonder to behold.

To detail everything Gov. Tim Walz and his legislative partners accomplished would far outstrip the space allocated here. Minn Post reporters Peter Callaghan and Walker Orenstein offered a bracing race through the list:

"Democrats codified abortion rights, paid family and medical leave, sick leave, transgender rights protections, drivers licenses for undocumented residents, restoration of voting rights for people when they are released from prison or jail, wider voting access, one-time rebates, a tax credit aimed at low-income parents with kids, and a $1 billion investment in affordable housing including for rental assistance."

Take a breath and move on: "Also adopted were background checks for private gun transfers and a red-flag warning system to take guns from people deemed by a judge to be a threat to themselves or others. [Democratic] lawmakers banned conversion therapy for LGBTQ people, legalized recreational marijuana, expanded education funding, required a carbon-free electric grid by 2040, adopted a new reading curricula based on phonics, passed a massive $2.58 billion capital construction package and, at the insistence of Republicans, a $300 million emergency infusion of money to nursing homes." The mix of tax cuts and increases, by the way, will make the state's revenue system more progressive.
There's a lot more, including laws strengthening workers' rights and unemployment insurance for hourly workers previously left out of the system; a refundable child credit for lower-income Minnesotans; and free breakfast and lunch for all Minnesota K-12 students. https://www.washingtonpost.com/opinions/2023/06/04/democratic-party-minnesota-legislature-progressives/
Dana Milbank: McCarthy got rolled. But it's good for him — and America.
The MAGA Republicans' opposition was categorical. It was also scatological.
Many of the same House GOP extremists who nearly denied Kevin McCarthy the speakership did their utmost this week to tank the bipartisan debt and budget agreement he struck with President Biden.
Rep. Chip Roy (Tex.) wanted colleagues to know "what a turd-sandwich this 'deal' is."

Rep. Dan Bishop (N.C.) told me and other reporters that the hard-liners needed "to fix this s--- sandwich."

Rep. Byron Donalds (Fla.), at a news conference, declared it "crap."
And Rep. Marjorie Taylor Greene (Ga.) said she needed sides and a dessert in order "to eat [this] s--- sandwich."

But this time, McCarthy didn't cower and cave. He made these vulgarians clean their plates. He told the right-wing hooligans to stuff it, and he took his debt compromise to the House floor — where something remarkable happened Wednesday night.

More than two thirds of Republicans stuck with McCarthy, leaving the 71 GOP holdouts isolated. At the same time, nearly 80 percent of Democrats voted for the package, putting more D's than R's in the yes column and lifting the bill to passage by a lopsided 314-117.

Watching from the gallery, I felt more hopeful about our politics than I had in some time. For a brief, glorious (and probably fleeting) moment, the madness had stopped.
McCarthy discovered that, if he's willing to be reasonable, Democrats will lend him their support. He also proved that the Trumpian forces within his party can be sidelined — if sensible Republicans would only show some courage. https://www.washingtonpost.com/opinions/2023/06/02/mccarthy-house-gop-defeat-trumpism-debt-ceiling-deal/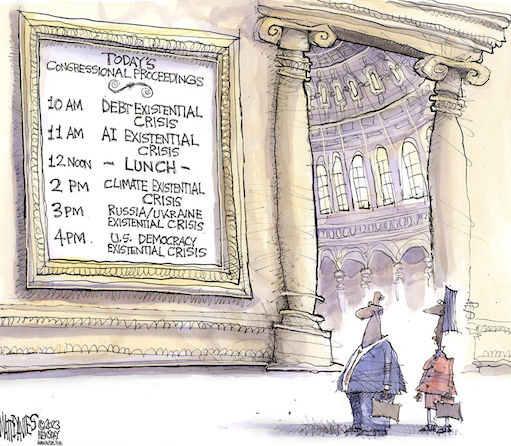 Bess Levin: The lawsuits against DeSantis's "anti-woke" agenda are piling up, and Florida taxpayers are the ones paying the price.
In Ron DeSantis's wars on free speech, the LGBTQ+ community, Black history, Black voters, pregnant people, and immigrants, the victims are clear. The other people being victimized by the laws being signed as part of the Florida governor's absurd "war on woke"? Florida taxpayers, who are literally paying for the lawsuits that follow.

The Guardian reports that "lawsuits from various communities whose rights have been violated have been stacking up against" against DeSantis, and "residents [who] are already struggling with costs of living" are being forced to cover the tab. "The list of legal challenges precipitating from DeSantis's unconstitutional laws is endless," Democratic state senator Lori Berman told the outlet.
"We've seen Floridians rightly sue many if not all of the governor's legislative priorities, including laws that restrict drag shows for kids, prohibit Chinese citizens from owning homes and land in Florida, suppress young and Black and brown voters, ban gender-affirming care and threaten supportive parents with state custody of their children, and of course, all the retaliatory legislation waged against Disney for coming out in support of the LGBTQ+ community," she said. And fighting these suits—which falls to taxpayers—does not come cheap. https://www.vanityfair.com/news/2023/06/ron-desantis-lawsuits-taxpayers