February 3, 2022
THE WEEK'S BEST QUOTES. . .
Palin "is to be commended because she's trying to act like a normal human being in the greatest city in America: New York City. It's time to "start resuming normal American life rather than cowering in our basements." — Former Rep. Michele Bachmann (R-MN) told Fox News that Sarah Palin was right to go to a restaurant in New York City despite testing positive for Covid-19.
"It is time for every Republican leader to pick a side… Trump or the Constitution, there is no middle on defending our nation anymore." — Rep. Adam Kinzinger (R-IL), about Donald Trump's first public admission that he sought to "overturn" the 2020 election.
"Trump uses language he knows caused the Jan 6 violence; suggests he'd pardon the Jan 6 defendants, some of whom have been charged with seditious conspiracy; threatens prosecutors; and admits he was attempting to overturn the election. He'd do it all again if given the chance," — Rep. Liz Cheney (R-Wyo.), Vice chairman of the select House committee investigating the attack on the Capitol.
"They're trying to put me in jail. These prosecutors are vicious, horrible people. They're racists and they're very sick. They're mentally sick. They're going after me without any protection of my rights by the Supreme Court or most other courts." — Trump, at his "Save America" rally in Conroe, TX.
Trump has explicitly admitted that his goal was to "overturn" the election. He incited violence. People died. Insurrectionists have said they believed he asked them to do it. He says he'll pardon them if elected. Who could doubt that he incited an insurrection?— Walter Shaub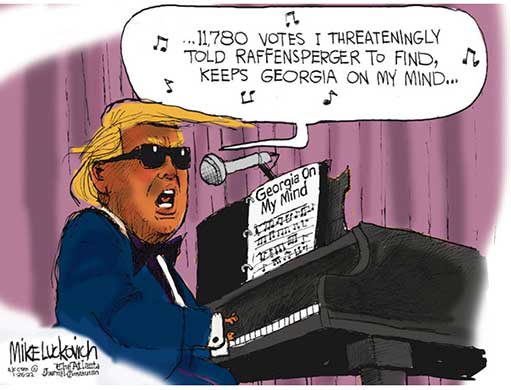 VIDEOS
Russian Disinformation Cold Open - SNL: https://youtu.be/FFNT1ixojZo
Litigation Tracker: Pending Criminal and Civil Cases Against Donald Trump.
---
IN THIS ISSUE
IN THE NEWS
OPINION
Andy Borowitz: Trump's Claim of Winning Presidency Twice Disqualifies Him from Running Again, Experts Say
In a major setback for the former President, constitutional-law experts have determined that Donald J. Trump's claim of having won the Presidency twice disqualifies him from ever running again.
At a convention of constitutional scholars over the weekend, more than four hundred experts unanimously agreed that Trump's declaration of two White House victories means that he has reached the Presidential term limit as defined by the Twenty-second Amendment.
"The Twenty-second Amendment clearly states, 'No person shall be elected to the office of the President more than twice,' " Davis Logsdon, a professor of constitutional law at the University of Minnesota, said. "Since Trump claims that he was elected for a second time in 2020, he has eliminated himself from any future White House bid."
"Frankly, I'm surprised that the people on his legal team, like Sidney Powell and Rudy Giuliani, didn't look into this," he said.
Logsdon said that, although Trump has rendered another Presidential bid impossible, he could still make productive use of his years as an ex-President, "perhaps by building houses, like Jimmy Carter."
In a sharply worded statement, from his home in Palm Beach, Trump lashed out at the authors of the Twenty-second Amendment. "The people who wrote that amendment are doing a terrible job and should be locked up," he said. https://www.newyorker.com/humor/borowitz-report/
Poll: Arizona Senator Kyrsten Sinema Set to Be Unseated by Possible Challenger Ruben Gallego in 2024 Primary Landslide
In October 2021, Data for Progress published poll findings that captured the extent of Arizona Democratic primary voters' dissatisfaction with Senator Kyrsten Sinema: She had the highest unfavorability rating of any elected Democrat tested in the state, and she was poised to lose her 2024 primary by a wide margin.
Since then, speculation has mounted that progressive Representative Ruben Gallego, a Harvard-educated Iraq War veteran, is seriously considering a bid. Meanwhile, Sinema was censured by the Arizona Democratic Party this week for her defense of the filibuster, which came at the expense of passing popular voting rights legislation.
Data for Progress' initial polling found Gallego to be in the best position to beat Sinema in 2024. New Data for Progress polling finds that, since October, Sinema's favorability has dipped even further — and that Gallego's potential to secure a primary victory has increased. https://www.dataforprogress.org/blog/2022/1/26/poll-arizona-senator-kyrsten-sinema-set-to-be-unseated-by-possible-challenger-ruben-gallego-in-2024-primary-landslide
A Trump Had Role in Weighing Proposals to Seize Voting Machines
The new accounts show that Mr. Trump was more directly involved than previously known in exploring proposals to use his national security agencies to seize voting machines as he grasped unsuccessfully for evidence of fraud that would help him reverse his defeat in the 2020 election, according to people familiar with the episodes.
The existence of proposals to use at least three federal departments to assist Mr. Trump's attempt to stay in power has been publicly known. The proposals involving the Defense Department and the Department of Homeland Security were codified by advisers in the form of draft executive orders.
But the new accounts provide fresh insight into how the former president considered and to some degree pushed the plans, which would have taken the United States into uncharted territory by using federal authority to seize control of the voting systems run by states on baseless grounds of widespread voting fraud. https://www.nytimes.com/2022/01/31/us/politics/donald-trump-election-results-fraud-voting-machines.html
Two Michigan GOP Candidates Encourage Election Interference, Including 'Showing Up Armed' At Polls
Two candidates for state office in Michigan, both Republicans, "encouraged supporters to interfere with election processes, and come armed to polling places, in a recent joint appearance," Deadline Detroit reports.
Gubernatorial candidate Ryan Kelley (R): "If you see something you don't like happening with the machines, unplug it from the wall."
State Senate candidate Mike Detmer (R) went further, advising the audience to be prepared to "lock and load… So you ask, 'what can we do?' Show up armed… Make sure that justice prevails." https://www.deadlinedetroit.com/articles/29810/two_michigan_gop_candidates_encourage_election_interference_i
ncluding_showing_up_armed_at_polls
An Arizona Republican just unveiled the most brazen election bill yet
AZ GOP state Rep. John Fillmore introduced legislation this week that would, among other things, get rid of almost all absentee and early voting in the state and mandate all votes be HAND-counted within 24 hours of polling sites being closed.
Under [Fillmore's] proposal, lawmakers would meet to either 'accept or reject election results' following primary and general elections. If legislators reject the results, any qualified voter 'may file an action in the Superior Court to request that a new election be held,' according to the bill. Fillmore said lawmakers should possess authority as 'representatives of the people' to review the vote count."
Lest you think Fillmore is on a lonely quest to subvert democracy, well, he's not. Fifteen Republican legislators have signed on to Fillmore's bill, including Rep. Mark Finchem, the Trump-endorsed candidate for Arizona secretary of state. https://www.cnn.com/2022/01/28/politics/arizona-john-fillmore-gop-election-results-bill/index.html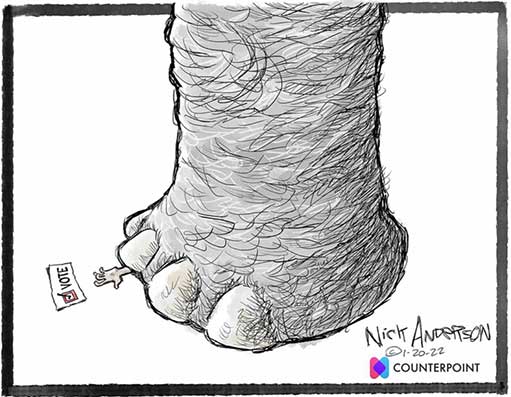 Trump Has Pushed the Wisconsin GOP Into a Full Meltdown
Accusations of slander. Leaked documents. Fake news pushed by a right-wing conspiracy website. Staff forcibly reassigned. Angry warnings from former President Donald Trump.
Wisconsin Republicans have broken into open warfare over how far to push Trump's election lies, pitting conspiracy theorists who think the 2020 election was outright stolen against Republicans who merely want to make it harder to vote.
It shows that no matter how far establishment Republicans go in trying to please Trump and his most hard-line supporters, they still risk his wrath if they don't fall in line on his demands. And it's a clear sign of what kinds of laws Wisconsin might get if Republicans win unified control of the state in this fall's midterms.
"The conspiracy theorists have taken over the party," said Wisconsin state Sen. Kathy Bernier, a Republican, whose election bill Trump attacked this week.
Tensions have been simmering for months. But they boiled over in recent days with nasty accusations and bitter recriminations. Trump-aligned Wisconsin GOP state Rep. Timothy Ramthun falsely accused Wisconsin Assembly Speaker Robin Vos of being in league with Hillary Clinton. Vos responded by stripping Ramthun of his lone staffer.
All this infighting comes even though Wisconsin Republicans have been bending over backwards to appease their base, while using the fury Trump has fueled to try to tighten voting laws heading into the midterms.The state has conducted two audits—one nonpartisan, one conducted by the conservative group that's suing against drop boxes—that found no evidence of widespread voting fraud in 2020. https://www.vice.com/en/article/dypxxa/trump-has-pushed-the-wisconsin-gop-into-a-full-meltdown
The 59 Republicans Who Joined Electoral Voter Fraud Scheme For Trump Could Face Prison
Dozens of local and state Republican leaders who showed their loyalty to Donald Trump by casting fake electoral votes for him a year ago may now face prison time in return for that devotion.
Because as the House select committee investigating the U.S. Capitol riot on Jan. 6, 2021, starts to look into the origins of the scheme to send "alternate" ballots to Congress from states narrowly won by Joe Biden, the 59 ersatz Trump electors who claimed to be "duly elected and qualified" could face federal charges ranging from election fraud to mail fraud, in addition to a range of state-level charges.
And in two of the states, the Democratic attorneys general are openly calling on the Department of Justice to act.
Michigan Attorney General Dana Nessel, who referred her case to federal prosecutors two weeks ago because it would be easier for them to investigate what appears to be a multi-state conspiracy, said she does not relish the thought of going after the 16 Trump electors in Michigan, a group that includes state lawmakers and state party officers ― but that she will if the Department of Justice does not.
"If I have to prosecute, I will," she told reporters. "It turns out that the biggest fraud seems to have been perpetrated by those who were claiming fraud in the first place."
"We can't have people say, 'You know what, I can do whatever I want. Because look what these 16 individuals did. They got away with it. Nothing happened to them,'" she said. "Maybe next time it will work. We can't have that." https://www.huffpost.com/entry/fake-electors-prison-capitol-riot-2020-election_n_61f1c3e3e4b02de5f513fa73
South Dakota Gov. Kristi Noem's interim chief of staff likened banning transgender girls from participating in girls' sports to thwarting terrorism.
Senate Bill 46, which sailed through the full Senate last week, was passed Wednesday by a powerful House committee after a heated debate. The bill would give the legal green-light to sue school officials over allowing transgender girls and women to participate on all-female teams.
Following public testimony in the House State Affairs Committee on Wednesday, Mark Miller, interim chief of staff and legal counsel to Noem, told lawmakers that even though the state has seen only one transgender girl perform during the last decade, the goal of the measure is preventative.
"It's sort of like terrorism," Miller said. "You see it over there, and don't want it to get to here." https://www.grandforksherald.com/news/south-dakota/gov-noems-lawyer-compares-transgender-sports-participation-to-terrorism-committee-approves-sports-bill
Madison Cawthorn Lawyer Cites Confederate Amnesty Act To Defend Rep's Job
A lawyer for Rep. Madison Cawthorn (R-NC) cited an 1872 congressional action granting amnesty to Confederate soldiers to defend his own client's eligibility for office.
The argument from Cawthorn lawyer James Bopp Jr. came in response to a legal effort to have Cawthorn declared ineligible for office because he allegedly "encouraged, and upon reasonable suspicion helped aid, the insurrection" on Jan. 6.
The legal challenge, from a group of North Carolina voters backed by the organization Free Speech For People, alleges that Cawthorn violated the third section of the 14th Amendment, which states, "No Person shall be a […] Representative in Congress […] who, having previously taken an oath, as a member of Congress […] to support the Constitution of the United States, shall have engaged in insurrection or rebellion against the same."
On the phone with TPM Wednesday, Bopp said "there are substantial constitutional defenses, which include the fact that Congress passed the 1872 Amnesty Act, which removed all persons whatsoever from the disability under Section 3 as a result of engaging in an insurrection or rebellion."
Though the Amnesty Act applied at the time to Confederate soldiers who fought in the Civil War, nothing in the law prevented it from being applied in the future, Bopp argued. https://talkingpointsmemo.com/news/madison-cawthorn-lawyer-cites-confederate-amnesty-act-to-defend-reps-job-capitol-insurrection
Extreme Heat is the 'New Normal' in Earth's Oceans, Study Warns
In recent years, more than half of Earth's oceans have surpassed extreme heat thresholds on a regular basis, a trend linked to human-caused climate change that has sobering implications for marine ecosystems and the many species that rely on them, including our own.
"You cannot overestimate the stabilizing and significant force of the ocean in making our planet habitable for all of our lives," added Van Houtan, who is now president and CEO of Loggerhead Marinelife Center in Florida. "It's telling us, right now, that it is out of balance. It is extremely hot."
More than 50 percent of the global ocean have crossed this extreme heat threshold every consecutive year since 2014—with the number reaching 57 percent in 2019, the last year covered in the study—marking what Tanaka and Van Houtan called "a point of no return.
This mass disruption of marine environments is, of course, a troubling trend in its own right, but these changes also have major implications for human lives and livelihoods. Tanaka and Van Houtan found that extreme heat is intruding into many ocean regions that are economically important, which will restrict production from fisheries and other industries. In this way, the new study adds to the overwhelming evidence that human-driven climate change is not only wreaking havoc on marine species, it is also a major threat to human societies across the globe.
"Any discussion of climate change that doesn't begin and end with the ocean probably needs to be reframed," Van Houtan said. "It's 97 percent of the water on our planet. It generates the primary source of protein for two to three billion people every day. It provides medicine and good stable jobs."
"It is the beating heart of our climate system, and it needs to be at the forefront of any climate discussion," he concluded. https://www.vice.com/en/article/z3nypx/extreme-heat-is-the-new-normal-in-earths-oceans-study-warns
Is Ginni Thomas a Threat to the Supreme Court?
The claim that the Justices' opinions are politically neutral is becoming increasingly hard to accept, especially from Thomas, whose wife, Virginia (Ginni) Thomas, is a vocal right-wing activist. She has declared that America is in existential danger because of the "deep state" and the "fascist left," which includes "transsexual fascists." Thomas, a lawyer who runs a small political-lobbying firm, Liberty Consulting, has become a prominent member of various hard-line groups. Her political activism has caused controversy for years. For the most part, it has been dismissed as the harmless action of an independent spouse. But now the Court appears likely to secure victories for her allies in a number of highly polarizing cases—on abortion, affirmative action, and gun rights. https://www.newyorker.com/magazine/2022/01/31/is-ginni-thomas-a-threat-to-the-supreme-court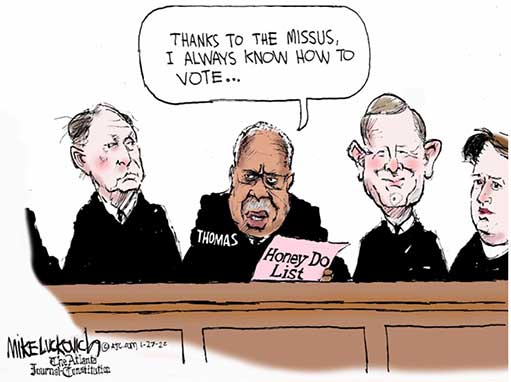 The DAILY GRILL
BREAKING: President Trump promises to PARDON Jan. 6 prisoners if he runs and wins in 2024. — Right Side Broadcasting Network (RSBN)

VERSUS

This is beyond being a demagogue to the stuff of dictators. He is defying the rule of law. Failure to confront a tyrant only encourages bad behavior. If thinking Americans don't understand what Trump is doing and what the criminal justice system must do we are all in big trouble! - John W. Dean

The hateful & anti-Semitic demonstrations reported in Florida today have no place in our state. Across America, we've seen a heartbreaking & disgusting rise in hate like this. We must always condemn it & continue to stand strongly with our Jewish communities. — FL State Sen. Rick Scott (R).

VERSUS

"Do we even know they're Nazis?" — Gov. DeSantis' press secretary, Christina Pushaw, suggesting the whole thing was a "stunt" by Democrats.

Black women are, what, 6% of the U.S. population? He's saying to 94% of Americans, 'I don't give a damn about you.'" — Sen. Ted Cruz (R-TX) calling Biden's commitment to picking a Black woman for the Supreme Court "offensive" and "an insult to Black women."

VERSUS

"This nation has been built on the strength and fortitude of Black women. We are everything from caregivers to CEOs and soon, a Supreme Court Justice. The only thing insulting to this Black woman is Ted Cruz thinking he speaks for us." — Rep. Marilyn Strickland (D-Wash.)
 
Eliot Cohen: Putin's No Chess Master
Ukraine is a problem for Putin's Russia not because it may join NATO, but because it is democratizing—slowly, awkwardly, imperfectly—and after 30 years of independence is constructing a new national identity. So, too, have the other former Soviet republics, a number of which (Azerbaijan, for example) have quietly sided with Kyiv.
The aim of reconstructing if not the Russian empire, then a 21st-century version of it, is slipping out of Putin's grip, and he knows it. In many ways, what we're seeing now from Moscow is a spasm of atavistic postimperial assertion, which, rather like British and French intervention in Egypt in 1956, may begin well but will probably end poorly.
The Russian dictator has made demands that he knows cannot be met. He has issued them publicly when such things are usually done in private, meaning that he is looking for a fight on any terms. https://www.theatlantic.com/ideas/archive/2022/01/russia-ukraine-putin-nato/621370/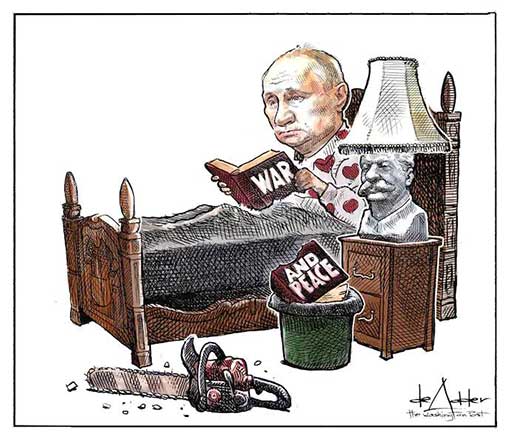 Greg Sargent: Tucker Carlson's pro-Russia rants give Republicans exactly what they deserve
Tucker Carlson has created a thorny dilemma for Republicans running in 2022 primaries: How can they cast President Biden as "weak" on Ukraine when the nation's most-watched right-wing TV commentator is enforcing a new orthodoxy suggesting that the U.S. must not defend Ukraine against Russian aggression in any way, shape or form?
While Carlson piously suggests he is driven by a desire to prevent U.S. lives from being wasted abroad, he has also suggested we should take Russia's side. He has even attacked U.S. media figures for suggesting Ukraine is a U.S. ally whose territorial sovereignty should be defended.
What's amusing about this situation — if "amusing" is the right word — is how Republicans are struggling mightily to get around the complications this creates.
The problem for Republicans under Carson's influence is they want to keep attacking the Democratic president's posture as "weak." But Carlson has complicated this by requiring them to oppose doing anything at all toward Russia in defense of Ukraine.
To solve this, those Republicans are seeking a new safe space. It entails hitting Biden as "weak" on Russia but without getting specific about what they think the United States should do toward Russia in Ukraine's defense, since detailing that would attract Carlson's ire.
Underscoring the absurdities here, one GOP aide candidly notes that GOP candidates are adopting that balance to keep Carlson happy, but without going "full Tucker." Yet Carlson himself won't allow this. He's calling on GOP voters to punish GOP primary candidates who don't fully toe his line: "I really hope that Republican primary voters are ruthless about this," Carlson told Axios, and vote out any Republican "who believes Ukraine's borders are more important than our borders."
To remain in Carlson's good graces, Republicans must comprehensively abandon any defense of Ukraine toward Russia. But how can Republicans revert to their usual attack on the Democratic president as "weak" no matter what he does, if they must adopt the posture that the U.S. must do nothing at all?
Really, this couldn't be happening to a bunch of nicer scoundrels. https://www.washingtonpost.com/opinions/2022/01/27/tucker-carlson-support-putin-republicans/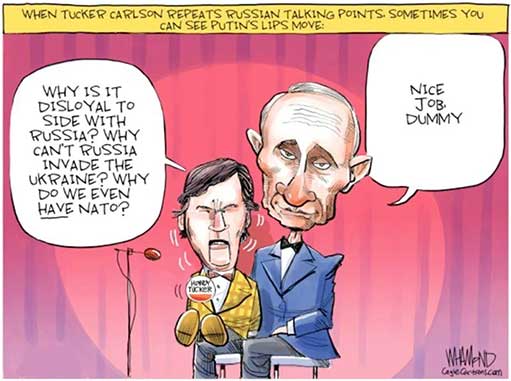 Paul Waldman: Strong economic growth wrecks the GOP's gloom-and-doom spin
On a day when some truly remarkable data on economic growth was released, let's give Republicans credit for one thing: They might not be very good at making policy, but when it comes to shaping the debate, their skills are unparalleled.
Start with the data: The gross domestic product grew at an annualized rate of 6.9 percent in the fourth quarter of 2021, and for the year, growth was 5.7 percent.
That's not just good; it's positively spectacular, exceeding every forecast. It's the highest GDP growth since 1984, which is remembered as a moment of boundless prosperity.
While predictions can always be wrong (and often are), the International Monetary Fund now forecasts that growth will slow to 4 percent in 2022 — which would still be the highest growth in two decades, excepting 2021.
Then there's the jobs picture: In 2021, more than 6 million jobs were created, the largest number of any year on record. The unemployment rate plummeted faster than anyone expected; it's now at 3.9 percent, and pretty much anyone who wants to can find a job.
I can already hear Republicans protesting: That wasn't President Biden's doing! It was because we were climbing out of a recession! Well, yes, it was because we were climbing out of a recession. But by that logic, Ronald Reagan and Bill Clinton didn't deserve any credit for the strong economies when they were president, either.
The party out of power always has an impulse to say that whatever is good about the economy can't possibly be attributed to the president, while anything bad about it is definitely his fault.'
But what used to be a gap in perceptions has turned into an absolute chasm. And that in turn has warped the entire debate around the economy. What's remarkable about this moment is how successful Republicans have been in convincing so many people not just that Biden shouldn't get any credit for the things that are going well, but also that the economy in general is just a disaster.
So yes, inflation is a real problem (and a global one). But in other ways that are equally or even more important, the economy is doing surprisingly well. We shouldn't let Republicans fool us into believing otherwise. https://www.washingtonpost.com/opinions/2022/01/27/strong-economic-growth/
Eric Levitz: Partisanship Made the Omicron Crisis Worse
Even if consumer demand drives the conservative media's hostility to vaccination, that hostility can still poison the minds of the previously unconverted. Last year, a working paper from researchers at the Swiss university ETH Zürich drew a causal connection between Fox News viewership and vaccine skepticism. To control for other variables, the scholars exploited random divergences in the channel number assigned to Fox News in different markets (the lower a network's channel number, the more people tend to watch it). They found that even when controlling for partisan affiliation, ideology, and a region's public-health policies, more exposure to Fox News was associated with more resistance to vaccination.
Progressives should continue to pressure the Biden administration to correct the (many) deficiencies in its Omicron response, and everyone should push back on attempts to dehumanize Americans on the basis of their partisan affiliation or vaccine status. But we should acknowledge that thousands of Americans are going to die in the coming weeks because of the pathologies of their preferred political party and the perfidy of their trusted news sources. The cynics who are knowingly leading their followers into harm's way are complicit in an atrocity. And that fact should be known by everyone. https://nymag.com/intelligencer/2022/01/omicron-deaths-antivax-vaccine.html
Jonathan Chait: The Republican Party's Anti-Vaxx Wing Is Too Big to Fail
When an ideological extreme faction with unpopular views emerges, it becomes a threat to the party that hosts it. At first, the party's incentive is to banish the extremists, lest their toxic ideas taint the party's brand with the broader electorate. But if the radical faction's growth is not arrested, the calculus changes, and barring the doors can no longer work. It forms a large enough part of the base that the party can't afford to alienate its members. The crank wing becomes too big to fail.
I believe the anti-vaccine movement is reaching that point in the Republican Party. The movement's position is akin to the tea party in 2009, or the birther movement a few years later — perhaps (this is a rough estimate) smaller than the former but larger than the latter. The cause has too many adherents, who supply too much energy, for the party to risk alienating.
American opinion on vaccines has begun to separate itself from the rest of the democratic world. Twenty percent of Americans say they are unwilling to take a COVID vaccine, a rate matched globally only by Russia. Among fellow democracies, the next-highest rate of vaccine refusal is 7 percent, or one-third as high. That 20 percent is not uniformly Republican, but partisanship accounts for an increasing share of vaccine refusal. That fifth of the population is not close to a majority, but it is large enough to hold a respected place in one of the two parties.
One indication of the anti-vaxx movement's rise is through the explosive growth of anti-vaccination media personalities like Joe Rogan and Alex Berenson, who have forced established conservative pundits to co-opt their appeal. The Fox News prime-time lineup is creeping farther and farther right on vaccines. Sean Hannity recently declared, "Now that we know that whether you're vaccinated or boosted and had natural immunity you're still going to get it, why is he still calling it a 'pandemic of the vaccinated'?" Laura Ingraham claimed "vaccines aren't stopping the spread from people from getting sick, so when can we end this 'mandates work' charade?"
Tucker Carlson, going farther still, gave Berenson a platform to allege, without challenge, "The mRNA COVID vaccines need to be withdrawn from the market … They are a dangerous and ineffective product at this point." https://nymag.com/intelligencer/article/anti-vaccine-republican-party-desantis-tucker-carlson.html
Washington Post Editorial: Gov. DeSantis knows these covid treatments don't work. He's pushing them anyway
If a loved one were sick with the omicron variant and in a hospital, and someone offered a drug that the Food and Drug Administration had prohibited because it didn't work against omicron, and the manufacturer agreed the treatment wasn't effective, and the American Medical Association also agreed, and scientific studies showed it wasn't working, would you urge them to take it anyway? What would you think of the person who offered it?
These are not abstract questions in Florida. Republican Gov. Ron DeSantis, who is up for reelection this year and has been wooing conservatives with an eye toward a presidential campaign, has protested the FDA decision to revoke authorization for two monoclonal antibody cocktails because the data shows they are not effective against omicron. Mr. DeSantis denounced the decision as "indefensible" and an example of President Biden's "medical authoritarianism — Americans' access to treatments is now subject to the whims of a failing president."
What's indefensible is pushing a useless drug upon needy patients. Mr. DeSantis shows contempt for covid-19 sufferers. His stance is also duplicitous. Would Mr. DeSantis also sell a used car with failing brakes?
Mr. DeSantis's press secretary, Christine Pushaw, was quoted in Politico recently as saying he "stands up for individual rights against federal tyranny." But it is pandering, not principled, for a political leader to advocate a medical treatment that doesn't work when people are at risk of serious illness and death. If it were his own loved ones, would Mr. DeSantis recommend taking a monoclonal antibody treatment that would do nothing to save them? https://www.washingtonpost.com/opinions/2022/01/27/gov-desantis-knows-these-covid-treatments-dont-work-hes-pushing-them-anyway/
Dana Milbank: Current weather: A blizzard of snowflakes in the red state
If we see any more snowflakes appear in red states, the National Weather Service is going to have to issue a blizzard warning.
Tennessee made news this week when it was reported that rural McMinn County took the initiative of banning from classrooms the Pulitzer Prize-winning graphic novel "Maus," by Art Spiegelman, which teaches children about the Holocaust by portraying Jews as mice and Nazis as cats.
So the state once celebrated for Davy Crockett's bravery now fears a cartoon mouse exposing teens to indecorous language. Can't get more snowflakey than that.
Spiegelman joins the good company of Nobel-laureate Toni Morrison (whose debut novel, "The Bluest Eye," was banned in Wentzville, Mo., on Jan. 20), "The Daily Show" host Trevor Noah (whose memoir survived a ban attempt in Osseo, Minn., last month) and Margaret Atwood (whose "The Handmaid's Tale" was targeted in Goddard, Kan., in November) — as well as scores of other books, the vast majority of which have protagonists who are Black, or LGBTQ, or perceived as being anti-police.
McMinn County's banning of Spiegelman's mice comes almost a century after Tennessee tried to ban Darwin's monkeys in the Scopes trial. The Volunteer State, apparently, is not evolving. And the political right, it seems, has undergone reverse evolution. Its new theory: survival of the fussiest.
Virginia's new Republican governor, Glenn Youngkin, created a tip line so informants can report on teachers teaching anything "divisive." Texas's Republican governor, Greg Abbott, launched a statewide hunt for "pornography" (that is, books about gender and sexuality) in schools.
Among the works that have been on the chopping block: August Wilson's "Fences," an Oscar-nominated PBS documentary "I Am Not Your Negro" about James Baldwin, the bestseller "The Hate U Give" — and a coloring book with African Adinkra symbols.
https://www.washingtonpost.com/opinions/2022/01/28/tennessee-bans-maus-snowflake-red-states/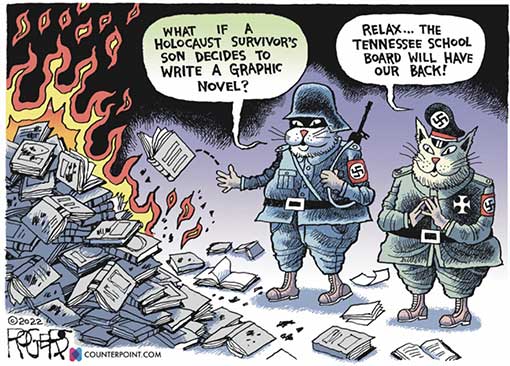 Yulia Latynina: Putin Is Caught in a Trap of His Own Making
The question is on everyone's lips. Will President Vladimir Putin go to war against Ukraine? To judge by Russia's propaganda machine, where media moguls are predicting a victory "in 48 hours," the answer is an emphatic yes.
Yet the truth is more complex. While Mr. Putin undoubtedly regards Ukraine as little more than a Russian province, as he argued in a lengthy pseudo-historical treatise in July, it's far from clear his aim was war. Outright conflict — as opposed to sudden swoops, covert operations or hybrid warfare — isn't really Mr. Putin's style. It's probable that the troop buildup in November was an attempt to force the West to relinquish any claims over Ukraine. That would be a great P.R. victory at minimal cost.
But the West called his bluff. In the past week especially, the United States and NATO have taken a markedly sharper tone when discussing Russia — and have, more important, sent military hardware across Eastern Europe and put troops on standby. The message is clear: If Russia won't de-escalate, then neither will the West.
Instead of trapping the United States, Mr. Putin has trapped himself. Caught between armed conflict and a humiliating retreat, he is now seeing his room for maneuver dwindling to nothing. He could invade and risk defeat, or he could pull back and have nothing to show for his brinkmanship. What happens next is unknown. But one thing is clear: Mr. Putin's gamble has failed.
Putin's options are limited. He can demand the West stop its military supplies. He might vent his frustrations on the opposition, all the while seeking to portray Russia as victim of the nefarious West. Or he could test the waters with a deniable provocation undertaken by supposedly private Russian citizens, those Mr. Putin once called "coal miners and tractor drivers." That may be a small way to save face, but it could easily spill out of control. The risk of outright war is enormous.
There is, perhaps, one certainty to hold on to: Mr. Putin will never start a war he's likely to lose. So the only way to ensure peace is to guarantee that in a military confrontation, Mr. Putin would never win. https://www.nytimes.com/2022/01/28/opinion/putin-russia-ukraine.html
Jennifer Medina, Nick Corasaniti and Reid J. Epstein: Campaigning to Oversee Elections, While Denying the Last One
Nearly two dozen Republicans who have publicly questioned or disputed the results of the 2020 election are running for secretary of state across the country, in some cases after being directly encouraged by allies of former President Donald J. Trump.
Their candidacies are alarming watchdog groups, Democrats and some fellow Republicans, who worry that these Trump supporters, if elected to posts that exist largely to safeguard and administer the democratic process, would weaponize those offices to undermine it — whether by subverting an election outright or by sowing doubts about any local, state or federal elections their party loses.
For decades, secretaries of state worked in relative anonymity, setting regulations and enforcing rules for how elections were administered by local counties and boards. Some held their jobs for many years and viewed themselves not as politicians but as bureaucrats in chief, tending to such arcane responsibilities as keeping the state seal or maintaining custody of state archives. https://www.nytimes.com/2022/01/30/us/politics/election-deniers-secretary-of-state.html
The aftermath of the 2020 presidential election changed all that.
https://www.nytimes.com/2022/01/30/us/politics/election-deniers-secretary-of-state.html
Aaron Blake: Trump toys with the mob — again
What's the worst that could happen?
Former president Donald Trump on Saturday night sent his strongest signal to date that he will fight his legal problems outside of a court of law. He encouraged people to engage in massive demonstrations in jurisdictions pursuing criminal investigations against him over Jan. 6 and tax-related issues. Then, minutes later, he said that if he's reinstalled as president, he would consider pardoning some of the Jan. 6 Capitol rioters.
Both Trump comments were, as with many earlier ones about ongoing legal matters, carefully tailored. (Trump seemed to be reading them off a teleprompter rather than speaking extemporaneously.) The combination of the two comments, though, can't help but conjure a repeat — or at least the suggestive prospect of a repeat — of the kind of lawlessness we saw just over a year ago.
One of the best legal protections he has right now is the fear that criminally charging a former president would inflame our divided country. And he served notice Saturday that he will happily stand by such a situation with a blowtorch in hand. https://www.washingtonpost.com/politics/2022/01/30/trump-toys-with-mob-again/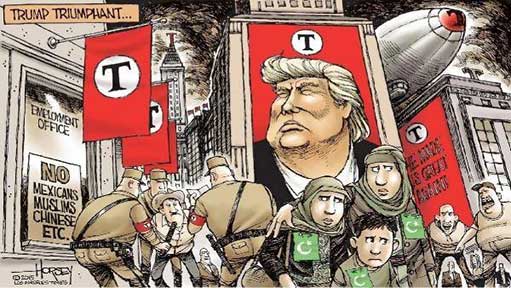 Paul Waldman: Trump's 2024 campaign is about revenge. We should be very frightened.
If and when Donald Trump runs for president in 2024, his will be a campaign devoted to revenge. Take all the ugliness, the anger, the race-baiting, the hate-mongering and the fetishization of violence that characterized his prior campaigns, and multiply them tenfold. That's what's in store for all of us.
Trump's revanchist campaign will have many targets, but his greatest enemies are democracy and the rule of law itself. He made that clear this past weekend, when he took a new step in his long campaign to turn the horrific Jan. 6 insurrection into a story in which he and his supporters are the real victims.
Trump has been unwavering in justifying the insurrection and defending those who carried it out, beginning while the violence was still in progress. "We had an election that was stolen from us," he said in a short video issued that day while the rioters were still rampaging, telling them, "We love you, you're very special."
But at a rally in Texas on Saturday, he went further than he has before.
"If I run and I win, we will treat those people from January 6 fairly," he said. "And if it requires pardons, we will give them pardons because they are being treated so unfairly."
The practical implications of this pledge for the insurrectionists themselves may be small; nearly all are likely to have completed their sentences by the time Trump would take office in 2025. But the symbolic importance is enormous.
Trump's malignant presidency ended with an attack on both the Capitol and the American system of government. If he gets another chance, do you doubt he'll bring even worse?
His threats are not just talk. They're a terrifying preview of what's to come, and we'd better pay attention. https://www.washingtonpost.com/opinions/2022/01/31/trumps-campaign-revenge/
Art Cullen: Bridges are failing in Iowa, but the legislature wants to ban books
Second on the Iowa Senate's order of business: draft a list of books to ban from schools involving race or sex. Here, Kansas already had the jump on Iowa. Not to be outdone, Iowa Senate President Jake Chapman, a Republican from the nearby suburbs, said that the media and teachers were complicit in a "sinister agenda" to push "deviant" materials onto children. He wants to impose criminal penalties on Marian the Librarian if she puts on the shelves something like "Lady Chatterley's Lover" — or whatever a farmer-legislator finds prurient without having read it. Republican Gov. Kim Reynolds in her Condition of the State address suggested that every school district should publish its entire curriculum online with a listing of assigned reading material. Some of this stuff could be X-rated, she claimed. She wants parents in charge.
It could all be harmless fun, banning reporters, censoring books and demonizing teachers.
Eventually it all washes into the past, like the Scopes Monkey Trial of 1925. But sometimes it doesn't and then you end up like some European countries in the run-up to World War II. https://www.washingtonpost.com/opinions/2022/02/01/what-book-banning-tells-us-about-politics-in-iowa/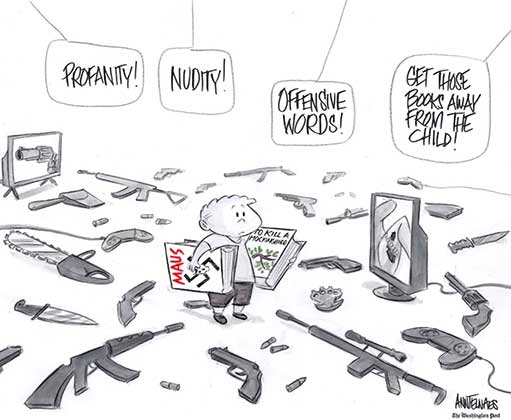 Jennifer Rubin: Ron DeSantis is following Trump's white supremacy playbook
The first rule of the MAGA movement: Never condemn white supremacists.
In 2016, then-candidate Donald Trump in an interview with Jake Tapper refused to disavow former Ku Klux Klan leader David Duke, who had publicly endorsed his campaign. (Trump later improbably claimed his refusal to disavow Duke was due to a faulty earpiece.) As president, Trump famously insisted there were "very fine people" on both sides in the 2017 clash between protesters and neo-Nazis in Charlottesville. And during his 2020 debate with Joe Biden, Trump repeatedly avoided condemning the white supremacist group Proud Boys, instead telling them to "stand back and stand by."
Florida Gov. Ron DeSantis, who apparently longs to inherit the mantle of MAGA leader, has paid attention. In his state, images of a Nazi flag-waving group shouting antisemitic slurs in Orlando flooded news coverage over the weekend. The governor's press secretary tweeted a bizarre suggestion: "Do we even know they're Nazis? https://www.washingtonpost.com/opinions/2022/02/01/desantis-refuses-condemn-nazis-follows-trump-white-supremacy/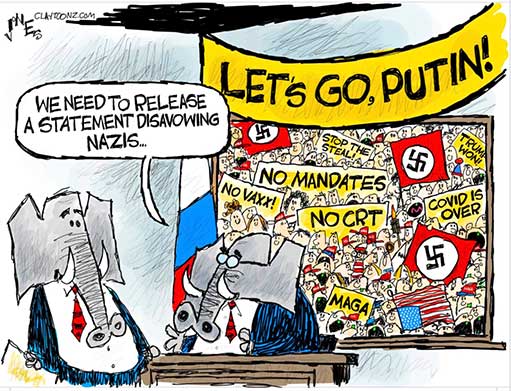 Dana Milbank: Glenn Youngkin's No-Guilt History of Virginia for Fragile White People
History has come alive for Trumpist Republicans. They're rewriting it every day.
This week, Rep. Thomas Massie (R-Ky.), in a tweet deriding Anthony Fauci, claimed to quote the 18th-century French philosopher Voltaire. The quote was actually uttered by a neo-Nazi pedophile.
But Massie's, er, Enlightenment is a footnote compared with the historical revisionism Republican governors are attempting. Florida's Ron DeSantis proposes a law (variations of which have been enacted in 10 states) to prohibit public schools from making (White) children "feel discomfort, guilt, anguish, or any other form of psychological distress on account of his or her race." Virginia's Glenn Youngkin opened a tip line so parents can report teachers mentioning anything "divisive." The clear intent and likely effect of such actions: excise any reference to America's racist past. Just in time for Black History Month!
So how would history sound denuded of anything potentially distressing for White kids? We don't have to guess, because we've already been there. I have an actual 7th-grade textbook used in Virginia's public schools from the 1950s through the 1970s — when Virginia began moving toward the current version of history: the truth.
For verbatim excerpts from the textbook ("Virginia: History, Government, Geography" by Francis Butler Simkins and others), shared with me by Hamilton College historian Ty Seidule, author of "Robert E. Lee and Me: A Southerner's Reckoning with the Myth of the Lost Cause." Let's call it "Glenn Youngkin's No-Guilt History of Virginia for Fragile White People," go to https://www.washingtonpost.com/opinions/2022/02/01/racist-virginia-textbooks-history-youngkin/