March 23, 2023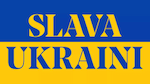 To subscribe to this FREE weekly newsletter simply email jellison@san.rr.comwith "subscribe" as the subject.
THE WEEK'S BEST QUOTES. . .
Former President Donald Trump was so detached from reality after losing the 2020 election that he would have believed aliens arrived on Earth and stole Republican ballots" -- Sen. Lindsey Graham (R-SC) to an Atlanta-area grand jury last year.
https://www.thedailybeast.com/lindsey-graham-told-grand-jury-trump-was-out-of-his-mind-after-losing-2020-election
So these SVB guys spend all their time funding woke garbage ("climate change solutions") rather than actual banking and now want a handout from taxpayers to save them. —Sen. Josh Hawley (R-MO
https://twitter.com/HawleyMO/status/1635349271632580613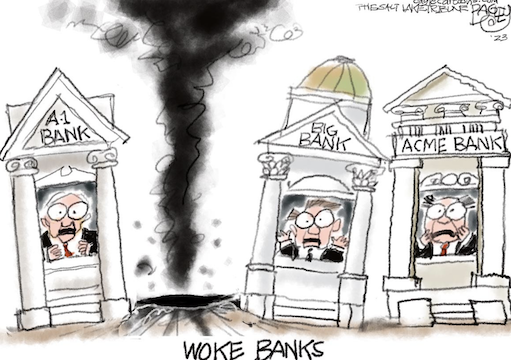 "The circus continues. I mean, look, he only profits and does well in chaos and turmoil. And so he wants to create the chaos and turmoil on his terms. He doesn't want anybody else's terms… he wants it on his terms. But look at the end, being indicted, never helps anybody." — Former Gov. Chris Christie on Donald Trump possibly being indicted this week.
https://thehill.com/homenews/sunday-talk-shows/3907418-chris-christie-the-circus-continues-on-trump-calling-for-protests-over-potential-arrest/
"America will never be the same… You've got to hope that for the sake of the country, the Biden White House, which will be running against Trump, will put the country above partisanship and stop this. And that Merrick Garland at the DOJ will issue a very public statement saying that this is wrong—which it is—and therefore preserve for our grandchildren our justice system." — Tucker Carlson pleading with President Biden to stop the possible indictment of Donald Trump for the sake of America.
https://www.thedailybeast.com/tucker-carlson-begs-biden-to-stop-trump-indictment-for-the-sake-of-the-country?ref=home
"
"Ron DeSanctimonious will probably find out about FALSE ACCUSATIONS & FAKE STORIES sometime in the future, as he gets older, wiser, and better known, when he's unfairly and illegally attacked by a woman, even classmates that are "underage" (or possibly a man!). I'm sure he will want to fight these misfits just like I do!" —Trump's post on Truth Social doesn't leave much to the imagination: It includes a picture of a man, allegedly a younger DeSantis, standing with a group of young women, one of whom is holding a bottle.
https://truthsocial.com/@realDonaldTrump/posts/110056905834442204
Here we go again — an outrageous abuse of power by a radical DA who lets violent criminals walk as he pursues political vengeance against President Trump. I'm directing relevant committees to immediately investigate if federal funds are being used to subvert our democracy by interfering in elections with politically motivated prosecutions.  — Speaker Kevin McCarthy
https://twitter.com/SpeakerMcCarthy/status/1637108358208421888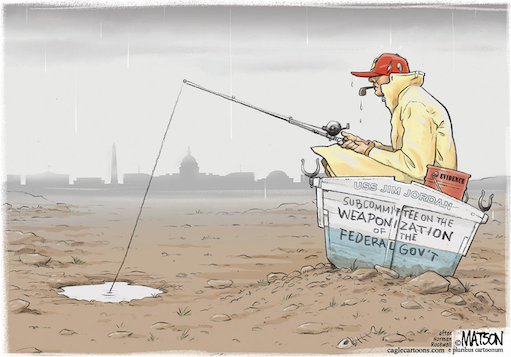 The Department of Justice probably has a "basis for legitimately indicting" former President Trump over the classified and sensitive documents law enforcement says were taken to Mar-a-Lago— Former AG William Barr.
https://thehill.com/policy/national-security/3742921-barr-doj-probably-has-basis-for-legitimately-indicting-trump-over-mar-a-lago-documents/
"Humanity is on thin ice, and that ice is melting fast." — UN Secretary-General, António Guterres, at the UN's United Nations' Intergovernmental Panel on Climate Change.
https://www.newyorker.com/news/daily-comment/the-un-secretary-generals-searing-message-for-the-fossil-fuel-industry
VIDEOS ...
Oh no! Putin's video diary was LEAKED!
https://twitter.com/saintjavelin/status/1636075550904131586
"Trump's lies about the Stormy Daniels hush payment weren't actually lies because he wasn't under oath and also he didn't want to violate a confidentiality clause." — Trump attorney Joe Tacopina. 
https://twitter.com/atrupar/status/1635769220561551360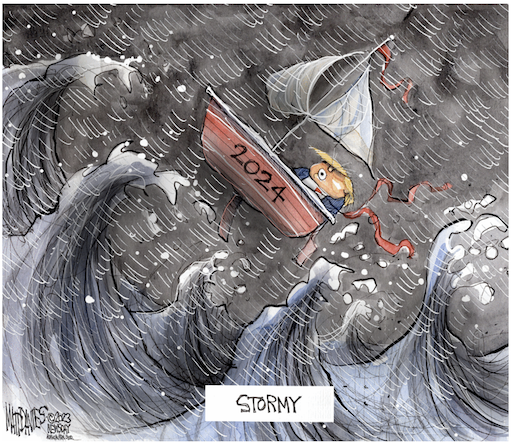 Trump's latest video is just an exhaustive breakdown of all of his crimes.
https://twitter.com/MeidasTouch/status/1638049610395705345
LITIGATION TRACKER
Pending Criminal and Civil Cases Against Donald Trump

. https://www.justsecurity.org/75032/litigation-tracker-pending-criminal-and-civil-cases-against-donald-trump/
---
IN THIS ISSUE
IN THE NEWS
OPINION
Andy Borowitz: Kevin McCarthy Claims Most Americans Pay Porn Stars
Offering a vehement defense of Donald J. Trump, Representative Kevin McCarthy told reporters that the former President should not be indicted because "most if not almost all Americans" pay porn stars.
"What you use your personal money for is your own personal business," the Speaker of the House said during a break at a G.O.P. retreat. "If you want to pay for a haircut, fine. If you want to pay for a car wash, also fine. And, if you want to pay a porn star, well, that's fine, too, and pretty much every American does it."
Asked if he had ever paid a porn star, McCarthy said, "You know what? I don't think I have. But, because of the way George Soros has weaponized this prosecution against Donald Trump, I think I'm going to start paying porn stars to show my solidarity with an innocent man."
Although McCarthy's words drew support from many within the G.O.P., he received pushback from one prominent House Republican. "Only an idiot pays for porn," said Representative Matt Gaetz.
https://www.newyorker.com/humor/borowitz-report
Silicon Valley Bank gets a spin on the anti-ESG turntable
Florida Gov. Ron DeSantis over the weekend battered Silicon Valley Bank leaders for being too focused on so-called "woke" initiatives to defuse the time bombs on its balance sheet. Meanwhile, social media fusillades from the likes of Sen. Josh Hawley ( R-Mo.) and Rep. Marjorie Taylor Greene (R-Ga.) injected a dose of identity politics into bone-dry debates over banking regulations.

As regulators raced to defuse worries over the prospect of a broader financial crisis, conservative policymakers who claim environmental, social and governance (ESG) initiatives portend the decline of modern capitalism are taking a victory lap. https://www.politico.com/news/2023/03/15/silicon-valley-bank-gets-a-spin-on-the-anti-esg-turntable-00087169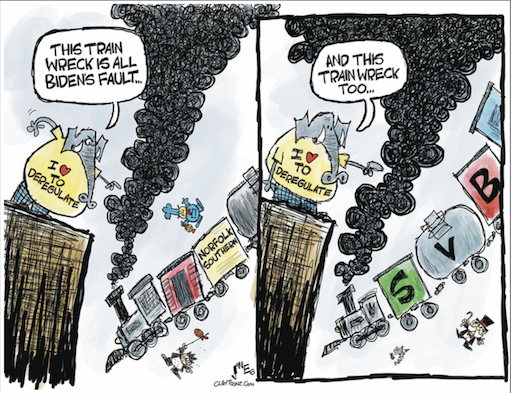 Much of the 2024 GOP field focuses on dark, apocalyptic themes
Much of the rhetoric from the declared and potential Republican candidates so far is remarkable for its dystopian tone. In many high-profile moments, these Republicans portray the nation as locked in an existential battle, where the stark combat lines denote not just policy disagreements but warring camps of saviors vs. villains, and where political opponents are regularly demonized.

They warn that Biden and a "radical," "woke mob" of liberals are determined to "destroy" and "ruin" the nation.

Frank Luntz, a pollster and communication analyst who said he "came of age in the days of Ronald Reagan," said that in the current Republican Party, gone is the era of Reagan's sanguine optimism.

"Trump has turned Republican politics on its head," Luntz said. "We were so much more positive and hopeful, and it was Republicans who looked to the future with excitement and energy, but those days are long gone."

Now, Luntz added, the cycle of darkness is self-perpetuating. "Pessimism and negativity breeds more pessimism and negativity," he said. "You get darker and darker and go deeper and deeper into a hole, and you cannot emerge." https://www.washingtonpost.com/politics/2023/03/16/republicans-2024-dark-apocalyptic/
Signature Bank Threw a Fundraiser for the Congressman Now Probing How It Failed
Ten days before Signature Bank collapsed, the House Republican overseeing an inquiry into the bank's failure was inside its boardroom on New York's Fifth Avenue. Rep. Patrick McHenry (R-NC) was there to raise thousands of dollars from bank executives.
https://www.bloomberg.com/news/articles/2023-03-20/signature-threw-a-fundraiser-for-mchenry-just-before-it-crumbled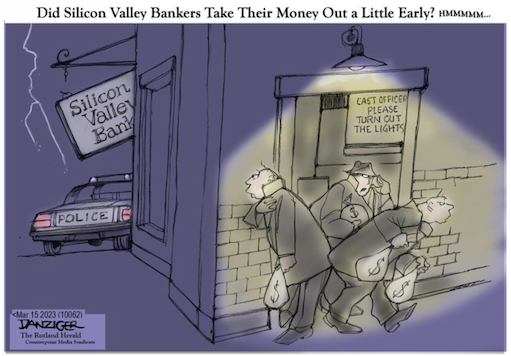 Florida Scoured Textbooks for 'Prohibited Topics'
A prominent conservative education group, whose members volunteered to review textbooks, objected to a slew of them, accusing publishers of 'promoting their bias.' … And in a sign of how fraught the political landscape has become, one publisher created multiple versions of its social studies material, softening or eliminating references to race — even in the story of Rosa Parks — as it sought to gain approval in Florida."

The New York Times compared three versions of the company's Rosa Parks story, meant for first graders: a current lesson used now in Florida, an initial version created for the state textbook review and a second updated version.

In the current lesson on Rosa Parks, segregation is clearly explained: "The law said African Americans had to give up their seats on the bus if a white person wanted to sit down."

But in the initial version created for the textbook review, race is mentioned indirectly.

"She was told to move to a different seat because of the color of her skin," the lesson said.

In the updated version, race is not mentioned at all.

"She was told to move to a different seat," the lesson said, without an explanation of segregation. https://www.nytimes.com/2023/03/16/us/florida-textbooks-african-american-history.html
World must act now to defuse 'climate time bomb,' UN scientists warn
The world needs immediate action now to defuse a "climate time bomb" that will unleash catastrophic environmental effects and climate breakdown, United Nation (UN) scientists have said in the last of its four major assessment reports to governments on Monday (March 20).

Governments must make "rapid, deep and immediate" cuts to global carbon dioxide emissions, a greenhouse gas that is the largest contributor to human-caused climate change, in order to start to decrease annual emissions by 2025 and halve them by 2030, according to the final summary report by the UN's Intergovernmental Panel on Climate Change (IPCC). These carbon dioxide cuts must be made globally and across all industries if temperature changes are to remain at or below the dangerous threshold of 2.7 degrees Fahrenheit (1.5 degrees Celsius) above pre-industrial temperatures, the IPCC said.

Scientists have warned that crossing this 1.5 C threshold greatly increases the risks of encountering tipping points that could unleash irreversible climate breakdown — such as the total collapse of most of the Greenland and West Antarctic ice sheets; extreme heat waves; severe droughts; water stress; and extreme weather across large parts of the globe. https://www.space.com/world-must-act-to-defuse-climate-time-bomb-scientists-warn
Wyoming Becomes First State to Outlaw the Use of Pills for Abortion
Wyoming on Friday became the first state to explicitly ban the use of pills for abortion, adding momentum to a growing push by conservative states and anti-abortion groups to target medication abortion, the method now used in a majority of pregnancy terminations in the United States. https://www.nytimes.com/2023/03/17/us/wyoming-abortion-pills-ban.html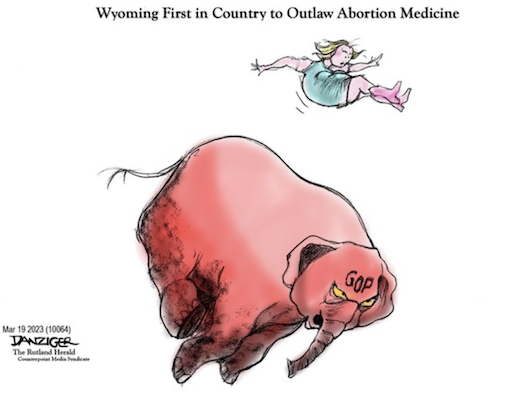 Federal Judge Hands Over Trump's Lawyer's Notes to DOJ
On her final day as the top judge in the District of Columbia on Friday afternoon—in her final act—Chief Judge Beryl A. Howell did more than grant the Justice Department permission to question former President Donald Trump's personal attorney. She actually took the rare step of handing over the lawyer's notes to federal prosecutors.

In doing so, Howell may have planted the seeds for a future constitutional challenge. But in the immediate term, she's handed Justice Department Special Prosecutor Jack Smith a parting gift: what she deemed as evidence of a crime involving the former president improperly hoarding classified documents after he left office. https://www.thedailybeast.com/federal-judge-beryl-howell-hands-over-donald-trumps-lawyer-evan-corcorans-notes-to-doj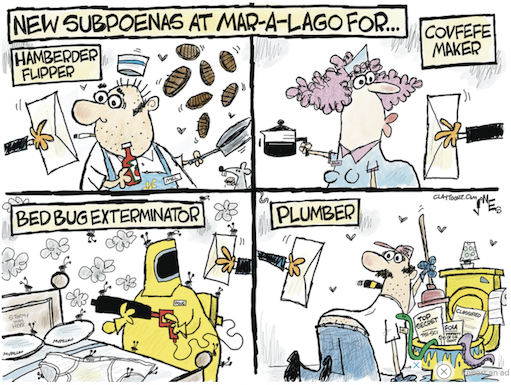 ICC issues arrest warrant for Putin over war crimes in Ukraine
Judges for the International Criminal Court in The Hague issued on Friday arrest warrants for Russian President Vladimir Putin and another top Russian official — the court's first such decision related to the war in Ukraine.

Putin and Maria Lvova-Belova, Russia's commissioner for children's rights, bear individual responsibility for the war crimes of "unlawful deportation" and "unlawful transfer" of children from occupied areas of Ukraine after Russia invaded the country last year, the judges allege.

The warrants come amid intense international pressure to hold Putin accountable for atrocities committed by Russian forces in Ukraine, and marked a highly unusual decision by the court during an ongoing conflict.

The move is largely symbolic: Russia, like the United States, does not accept the ICC's jurisdiction. The court does not try people in absentia — and international law experts say it's unlikely, barring major political change in Russia, for Putin to end up in front of the court.

But the warrants could create difficulties for those named to travel to countries that cooperate with the court. And for Putin — the first head of state of a permanent member of the U.N. Security Council for whom the ICC has issued an arrest warrant — it's a major reputational blow, as his war in Ukraine continues into its second year with no end in sight.

Top Ukrainian and European officials hailed the announcement as a crucial step toward holding Russia accountable. In an address, Ukrainian President Volodymyr Zelensky called the warrants an indictment of Russia's "state policy, state decisions, state evil." https://www.washingtonpost.com/world/2023/03/17/icc-hague-arrest-warrants-putin-russia-ukraine/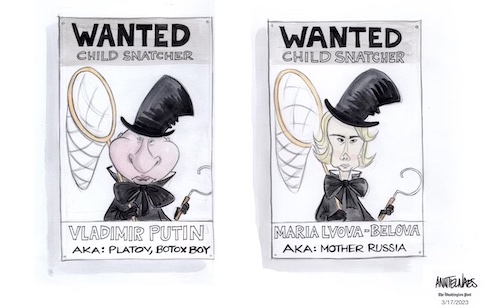 On Trump Force One, KFC Is On The Menu and 45 Is Still President
Donald Trump wants back in the White House — badly. Look no further Donald Trump's campaign plane — the Boeing 757 named "Trump Force One" — where the "vernacular and procedures evident in traveling with the former president and current front-runner for the GOP nomination cast light on Trump's yearning for the trappings of the White House."

"The small group of reporters traveling with Trump on March 13 were given gold, octagonal lanyards that said 'Trump Force One Press Pool,' near-replicas of those issued during his administration. President Joe Biden's White House has since changed the traveling badges to a longer, rectangular shape."

Classic detail: "Shortly after Trump's plane was wheels up from Iowa back to Palm Beach, a flight attendant walked to the front with a large red and white bucket of KFC chicken." https://www.bloomberg.com/news/articles/2023-03-16/on-trump-force-one-kfc-is-on-the-menu-and-45-is-still-president
Trump's Lead Grows Among GOP Primary Voters
A new Morning Consult poll of Republicans nationally finds Donald Trump leading the GOP primary field with 54%, while Ron DeSantis slipped to 26%.
https://morningconsult.com/2024-gop-primary-election-tracker/
DOJ Told Court to Expect a Deluge of New Jan. 6 Prosecutions
More than 1,000 additional people could still face charges in connection with the Jan. 6, 2021 attack on the US Capitol, according to a letter to the DC federal court from the US attorney in Washington.
https://www.bloomberg.com/news/articles/2023-03-15/doj-told-court-to-expect-a-deluge-of-new-jan-6-prosecutions
Two Americas Index: Ukraine divides conservatives
"Leading Republican voices are increasingly charting a course outside the mainstream," Ipsos pollster and senior vice president Chris Jackson said. "One in three Republicans say the U.S. was right to invade Iraq, but we shouldn't support Ukraine in its current conflict with Russia.

"This puts Republicans out of step with the rest of Americans, where the plurality support Ukraine and thinks that the Iraq war was a mistake."

The intrigue: Support for arming Ukraine is noticeably lower among people whose primary news source is Fox News or other conservative media (43%) than among people who mainly watch or read network news, major national papers or their local news (66%). https://www.axios.com/2023/03/16/ukraine-desantis-trump-fox-iraq-war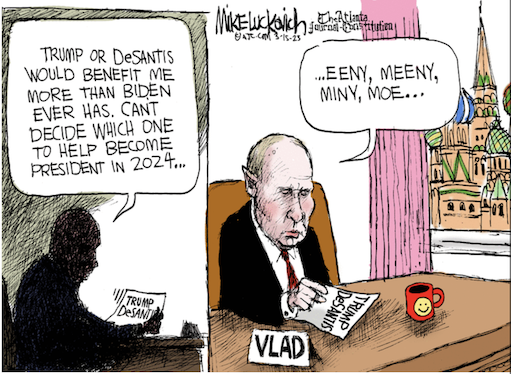 Looming Trump charges threaten to inject chaos into 2024 campaign
In a matter of days, a grand jury in Manhattan could turn the 2024 campaign on its head by making Donald Trump the first former president in U.S. history to face criminal charges, Axios reports.

The state investigation into Trump's alleged hush money payments to porn star Stormy Daniels in 2016 may be the tip of the spear when it comes to the many legal threats bearing down on the former president — the front-runner for the 2024 GOP nomination.

Victimhood and vengeance already are central themes of Trump's 2024 campaign. He has cast any and all investigations — even civil lawsuits — as a continuation of a "witch hunt" that he says began with the FBI investigation of his 2016 campaign's ties to Russia..

There's no way to predict how an indicted Trump would fare in a general election if he gets through "the prosecution primary," as Vice News has dubbed it. Either way, the U.S. political system is set to enter uncharted waters in the coming months. https://www.axios.com/2023/03/15/trump-indictment-charges-manhattan-2024
GOP lawmakers cringe over Trump's effort to destroy DeSantis
Senate Republicans are wincing over former President Trump's early barrage of attacks against his chief rival, Florida Gov. Ron DeSantis (R), fearing they're seeing a preview of a brutal primary to come that could leave both candidates weakened heading into the general election.

GOP lawmakers acknowledge DeSantis needs to show he can take a punch and aren't shocked Trump would take hard shots at a rival as the campaign heats up.

But some are surprised the former president is unloading such a heavy barrage before DeSantis is even in the race, and they worry that getting into a yearlong mudslinging battle with Trump isn't good look for the party heading into 2024.  

"I winced in 2016 and I'm wincing now," said Sen. Cynthia Lummis (R-Wyo.) when asked about Trump's hardball tactics. "That's just because that's not my style.

"I don't think you'll ever take the New York style out of Donald Trump. It's too much to ask, he's a fully-baked cake," she said. https://thehill.com/homenews/senate/3902508-gop-lawmakers-cringe-over-trumps-effort-to-destroy-desantis/
Banking Crisis Emboldens House Republicans
The recent collapse of two large regional banks rattled global markets, raising concerns about financial stability during a precarious moment for the U.S. economy. Would this backdrop of uncertainty, we wondered, cause House Republicans to grow wary of launching a debt limit showdown?
From conversations with top GOP lawmakers at the House Republican retreat this week in Orlando, the answer is a hard no. Instead of expressing caution, senior GOP lawmakers are leaning into their plans to demand spending cuts in return for raising the nation's borrowing limit."
https://punchbowl.news/archive/32223-punchbowl-news-am/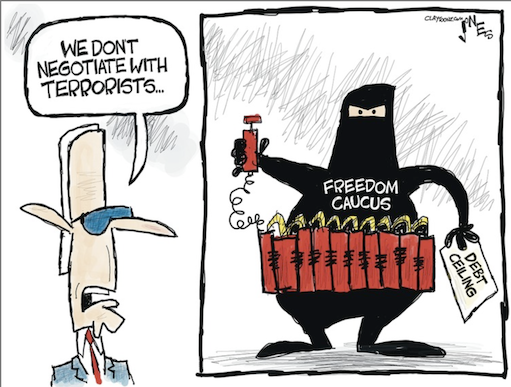 Cruz urges Texas bar for careful consideration of Stanford graduates following campus protests
Senator Cruz, in a letter to Texas officials, said there is a "fundamental" question over whether the students who protested the appearance by Kyle Duncan, a conservative circuit judge for the U.S. Court of Appeals for the Fifth Circuit, are "fit to practice law" in Texas.
https://thehill.com/homenews/senate/3906783-cruz-urges-texas-bar-for-careful-consideration-of-stanford-graduates-following-campus-protests/
A Four-Decade Secret: One Man's Story of Sabotaging Carter's Re-election
Former Texas Lieutenant Governor Ben Barnes, compelled by the news of President Jimmy Carter entering hospice care, has told the New York Times that there was, in fact, a secret GOP effort in 1980 to prevent Iran from releasing 53 American hostages until after that year's presidential election.
Barnes said that in the summer of 1980, he accompanied former Texas governor John Connally, on a trip to the Middle East during which Connally asked Arab leaders to communicate to Iranian officials that they should not release the hostages before Election Day because if they waited, Ronald Reagan would offer them a better deal.
https://www.nytimes.com/2023/03/18/us/politics/jimmy-carter-october-surprise-iran-hostages.html
Former NATO Chief: Trump Could Sabotage the War
Anders Fogh Rasmussen, the former secretary-general of NATO, a right-of-center politician who is now a white-shoe international consultant, remains scared of Trump. What disturbs him more immediately than the idea of Trump back in the White House is a far likelier scenario: Trump winning the Republican presidential nomination.

Just by winning the Republican nomination Trump could shatter the bipartisan front in favor of Ukraine, Rasmussen fears. Trump has been forthright about his views of Russia's invasion, praising Putin as a clever strategist in the early days of the war and recently suggesting that Ukraine should have ceded "Russian-speaking areas" in a deal with the invader.

"I call it a geopolitical catastrophe if Trump were to be nominated, because in the campaign his influence would be destructive," Rasmussen says. It would move Trump's terrible ideas closer to the mainstream and make it harder to secure congressional support for the war.

"I really hope that Republicans will get their act together," he says. "I do hope, I would say not only from a European perspective but from a global perspective, that Republicans will nominate a candidate that is much more attached to American global leadership than Trump and Trumpists." https://www.politico.com/news/2023/03/15/former-nato-chief-trump-could-sabotage-war-00087075
GOP Views of the U.S. Have Become More Pessimistic
Heading into the next presidential election, an analysis of CNN polls shows that Republicans have reverted to the deeply negative national outlook they held prior to Donald Trump's presidential victory in 2016.
They again are convinced the nation is in decline, and more often defensive against demographic and cultural changes in US society.
https://edition.cnn.com/2023/03/19/politics/poll-republican-outlook-pessimism/index.html
THE DAILY GRILL
Florida Republican Sen. Rick Scott criticized the U.S. military on March 17 as insufficiently "lethal," claiming that top leaders are forcing service members to be too "woke." As an example, he claimed that a Navy ship tracking a Chinese vessel had had to abandon that mission because of a mandatory training program about transgender people. https://americanindependent.com/rick-scott-claims-navy-mission-abandoned-to-train-transgender/

VERSUS

A Pentagon spokesperson told the American Independent Foundation that Scott's claim was too vague to verify: "Did they have training on a transgender policy? Very possible. Did it occur while tracking a Chinese boat...we have no record of that. https://americanindependent.com/rick-scott-claims-navy-mission-abandoned-to-train-transgender/
Bess Levin: The Wall Street Journal Goes Full White Supremacist, Blames Silicon Valley Bank Collapse On "1 Black" And "1 LGBTQ+"
As you've probably heard by now, on Friday, Silicon Valley Bank—a lender to some of the most notable names in the tech world—became the biggest bank to fail since the 2008 financial crisis. How did this happen? Not surprisingly, a multitude of factors appear to have contributed to the company's downfall, including its failure to account for rising interest rates; venture capital drying up; a prevalence of uninsured depositors, who usually ask for their money back when things are looking bad; and a lack of regulatory oversight, thanks to one Donald Trump. One reason SVB probably did not fail? The presence of a few women, one Black person, and an individual who identifies as LGBTQ+ on its board. Though The Wall Street Journal isn't so sure!

In an op-ed titled "Who Killed Silicon Valley Bank?" columnist Andy Kessler writes: "Was there regulatory failure? Perhaps. SVB was regulated like a bank but looked more like a money-market fund. Then there's this: In its proxy statement, SVB notes that besides 91% of their board being independent and 45% women, they also have '1 Black,' "1 LGBTQ+,' and '2 Veterans.' I'm not saying 12 white men would have avoided this mess, but the company may have been distracted by diversity demands."

Sure, Kessler is not flatly, literally saying "12 white men would have avoided this mess," because even David Duke knows you can't just come out and say that in 2023. But…he's basically saying exactly that, hence the claim that the bank might have failed because it was "distracted" by supposedly burdensome "diversity demands." (Here's where we'd like to point out that having "1 Black" person on a 12-person board means that that board is still 92% white. The same math goes for that "1 LGBTQ+" person.) https://www.vanityfair.com/news/2023/03/wall-street-journal-column-silicon-valley-bank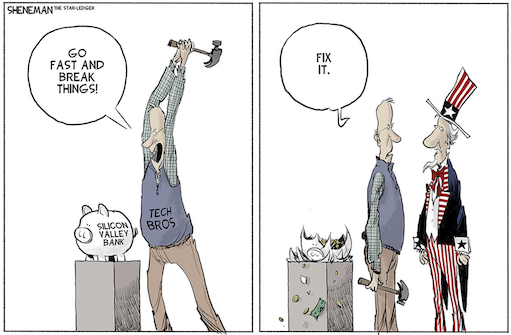 Ed Kilgore: Could a Criminal Indictment Actually Help Trump's 2024 Campaign?
Donald Trump broke a lot of the alleged rules of politics in his improbable rise to the presidency in 2016, his bizarre four-year term in office, and now his attempt at a 2024 comeback. Normally, you'd guess that a criminal indictment would be an instant disqualifier for a presidential candidate. But now that a Trump indictment seems likely in the days ahead — with additional charges from different prosecutors involving separate incidents of alleged criminal misconduct looming — Trump seems poised to break yet another norm.
Trump does not think an indictment would end his reelection bid. In fact, he told the Associated Press that criminal charges wouldn't deter him in the slightest. "Oh, absolutely, I won't even think about leaving," he said this week. "Probably, it'll enhance my numbers."
That may sound like just another outlandish Trumpian brag, but it's actually entirely plausible — in the short term at least. There is no reason to assume that a criminal indictment will change any minds among the MAGA faithful. Trump clearly benefited from both of his congressional impeachments among rank-and-file Republicans. And Trump's base has been instructed for years that the "deep state," with its tentacles extending into every branch of government, is determined to remove him from the picture in order to resume its persecution of "patriots" and its globalist destruction of the U.S.
https://nymag.com/intelligencer/2023/03/could-an-indictment-actually-help-trumps-2024-campaign.html
Alexander Burns: Stop Overthinking It: An Indictment Would Be Bad For Trump
Yes, the Trump diehards can be expected to rise up against Manhattan DA Alvin Bragg. But that still wouldn't earn him a single additional vote.
The widely expected indictment of Donald Trump in Manhattan has all the makings of a political disaster for him. It should be the climactic event in a yearslong saga involving marital infidelity, sleazy financial dealings and now the first-ever criminal charge against a former American president.
Naturally, the question arises: Could this actually be good for Trump?
Elections are unpredictable. But it is past time to give up the idea that stoking the anger of Trump's diehard fans is a victory unto itself.
If each scandal or blunder binds 99 percent of his base closer to him and unsettles 1 percent, that is still a losing formula for a politician whose base is an electoral minority. Trump cannot shed fractional support with every controversy but make it up on volume.
The question before Republicans is whether they need another lesson from the electorate in the perils of running on a version of Trumpism that is all about Trump. A campaign about Jan. 6 and Stormy Daniels is not one that is likely to end well for Republicans.
That is a mortal problem for Trump's candidacy.
He alone can fix it.
https://www.politico.com/news/magazine/2023/03/20/indictment-trump-bad-vote-00087892
Maggie Haberman: Out of Power, Trump Still Exerts It
An early-morning social media post amounted to a starter's gun for Republican officials: Many raced to the former president's side, denouncing a Democratic prosecutor investigating him.
Since he left office, Democrats and a smaller number of Republicans have vowed to ensure that former President Donald J. Trump never recaptures the White House, where he would regain enormous power over the nation and around the globe.
Yet, in his insistence on forging ahead with a campaign while facing multiple criminal investigations, his dismissiveness toward supporting Ukraine against Russian aggression and his continued provocations on social media and in campaign speeches, Mr. Trump has shown that he does not need control over the levers of government to have an effect on the country — and, in the minds of many, to do damage.
To those who believed that the secret to banishing Mr. Trump was to deprive him of attention — that ignoring him would make him go away — he has shown that to be wishful thinking.
https://www.nytimes.com/2023/03/20/us/politics/trump-indictment-republicans.html
Tom Nichols: Trump Did It Again
Donald Trump threatened to summon a mob—for the second time in two years—to his defense…. The last time he rallied his faithful supporters this way, they stormed the U.S. Capitol, which resulted in death and destruction and many, many prison sentences.
Trump himself upped the ante by saying, in effect, that it doesn't matter what's in the indictment. Instead, he is warning all of us, point-blank, that he will violate the law if he wants to, and if you don't like it, you can take it up with the mob that he can summon at will. This is pure authoritarianism, the flex of a would-be American caudillo who is betting that our fear of his goons is greater than our commitment to the rule of law. Once someone like Trump issues that kind of challenge, it doesn't matter if the indictment is for murder, campaign-finance violations, or mopery with intent to gawk: The issue is whether our legal institutions can be bullied into paralysis.
https://www.theatlantic.com/ideas/archive/2023/03/trump-arrest-indictment-protesters-mob/673437/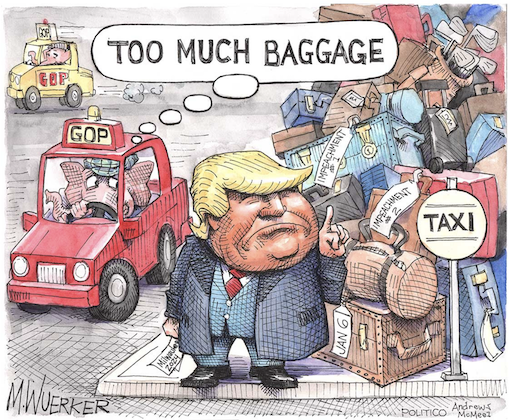 Elizabeth Kolbert: The U.N. Issues a Final Warning on the Climate—and a Plan
The "window of opportunity to secure a liveable and sustainable future" is "rapidly closing." So warns the United Nations' Intergovernmental Panel on Climate Change in its latest report, released on Monday. The findings in the document, officially known as the AR6 Synthesis Report, might be summed up as "Wake up! This is your last chance, humanity.

According to the I.P.C.C., average global temperatures have already increased 1.1 degrees Celsius—two degrees Fahrenheit—from the late nineteenth century, and this is causing "widespread adverse impacts" for people and for other living things. "Impacts on some ecosystems are approaching irreversibility," the report states. For every additional increment of warming, the chances of catastrophe will only increase, and the options for adaptation will contract. Climate-related and climate-unrelated disasters will begin to interact, resulting in risks that cascade "across sectors and regions." And those who are likely to suffer the most are those who have done the least to cause the problem. https://www.newyorker.com/news/daily-comment/the-un-issues-a-final-warning-on-the-climate-and-a-plan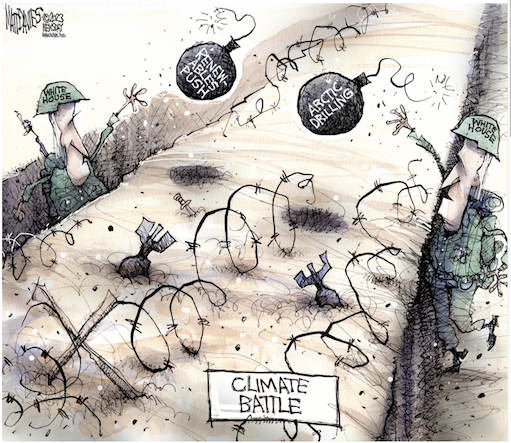 Molly Roberts: The right wing's 'woke' obsession could come back to haunt it
What, pray tell, is a "woke" bank?

Somehow, when House Oversight Committee Chairman James Comer (R-Ky.) suggested that Silicon Valley Bank had collapsed because it was "one of the most woke banks," his point, while nonsensical, was entirely clear.

After all, woke has turned into conservatives' favorite word for anything they dislike.

This week's bankruptcy brouhaha was typical. An army of partisans greeted SVB's downfall with musings on, of all things, the evils of diversity, equity and inclusion. Wall Street Journal columnist Andy Kessler called out the composition of its board ("I'm not saying 12 white men would have avoided this mess, but …"); Donald Trump Jr. summoned causal relationships out of thin air ("SVB is what happens when you push a leftist/woke ideology and have that take precedent over common sense business practices").

None of this has anything to do with the actual cause of the bank collapse — rising interest rates, overinvestment in long-term government bonds or bank deregulation — but, of course, solving the problem isn't the goal. The goal is to blame the libs. Case in shameless point: Sen. Ron Johnson (R-Wis.) insisted wokeness was to blame for the massacre of 19 young children in Uvalde, Tex. Apparently, we've stopped teaching "values" in our schools, and we're teaching "indoctrination" instead. Really, indoctrination? In Texas?

Woke is the word these days, and conservatives are shouting it whenever they can — to the point that what exactly it's supposed to mean, beyond "thing that I don't like," has become a mystery.

Wokeness has come to mean everything and nothing all at once, and SVB is far from the only example. Observe rising right-winger Bethany Mandel, asked to define the word. "So, I mean, woke is sort of the idea that, um … woke is something that's very hard to define." Finally, she managed, "It is sort of the understanding that we need to totally reimagine and reduce society in order to create hierarchies of oppression."

If you think that's gobbledygook, check out this helpful definition from former president Donald Trump: "You know what woke means, it means you're a loser. …Everything woke turns to sh--."

But putting a single Black person on the 12-member board of the 16th-largest bank in the country? Hardly the diversity cops running amok. Now some partisans are deriding Chairman of the Joint Chiefs of Staff Gen. Mark A. Milley as so woke he's destroying the military because of a voluntary seminar on "white rage." This is Mark Milley — an ROTC grad who exudes normie-boomer energy.

Mike Pompeo, when he was secretary of state, indicted wokeism as an -ism destroying the country, alongside, of all things, multiculturalism. Woke is now deployed against individuals, events and values that many Americans have at least some sympathy for. And perhaps with those Americans, right-wingers' own obsession with wokeness will backfire — just as liberals' overly zealous displays of anti-racism risk undermining their aims. These listeners may, in the end, do what the preachers of today's right-wing gospel want least. That is, they'll stay woke. https://www.washingtonpost.com/opinions/2023/03/20/svb-woke-insult-history/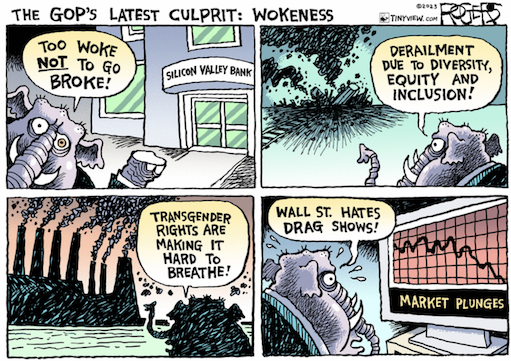 Rich Lowry: Biden Is Not Going to Be Easy to Beat
Republicans Are Delusional If They Think Biden Will Be Easy to Beat"At this juncture, no one else in the country is as likely to be president of the United States come January 2025 as Joe Biden.
Biden was never going to be the next LBJ or FDR as a cadre of historians had seemingly convinced him early in his presidency. But he punched above his weight legislatively during his first two years, getting more out of a tied Senate and slender House majority than looked realistically possible. He's set up to have the advantage in this year's momentous debt-limit fight, since it's hard to see how congressional Democrats aren't united and congressional Republicans divided.
Biden's age is a liability for him, but comes with a significant benefit — he does not look or sound like a radical any more than the average elderly parent or grandparent. This has enabled him to govern from the left — he would have spent even more the first two years if he could have — without appearing threatening or wild-eyed. He hasn't restored normality to Washington so much as familiarity as the old hand who has been there since 1973 and made his first attempt at national office in 1988.

There's no fortune quite like being lucky in your enemies, and Biden could well get a big break in this respect yet again. However much Republicans may wish he were a pushover, he's not, and they should be acting accordingly.
https://www.politico.com/news/magazine/2023/03/16/republicans-biden-trump-2024-election-00087242
Simon Rosenberg: The Republicans Have A DeSantis Problem
Perhaps the central insight of my 2022 election analysis was that I believed the Republicans had made a huge strategic blunder by running towards a politics – MAGA – which had just been overwhelmingly rejected by the American people in two consecutive high-turnout elections. As far back as late October 2021 I warned that if this "anti-MAGA majority" came to understand that the GOP was once again all MAGA it would make 2022 far more likely to be a close, competitive election than a red wave. And that's basically what happened.

Ron DeSantis looked at all this and decided to become even more MAGA, super MAGA. He's moved from a 15 week abortion ban to 6 weeks. He's sold his Presidential campaign as a war against woke. He's banning books, removing elected officials from office, mounting unprecedented assaults against undocumented immigrants and punishing businesses which don't agree with his agenda. His response to the Silicon Valley Bank implosion was buffoonish and embarrassing. He choose Putin over America and the West. Republican Senators have been dumping on him all week.

What in the world he is doing? As someone who has been in this business a long time it's not easy to understand.

For all those Rs hoping DeSantis would be a reasonable and capable alternative to Trump this has been a very bad week. It appears the Rs might be on the verge of another cycle of "candidate quality" problems. It is another reason why as we head into 2024 I would much rather be us than them. https://simonwdc.substack.com/p/the-republicans-have-a-desantis-problem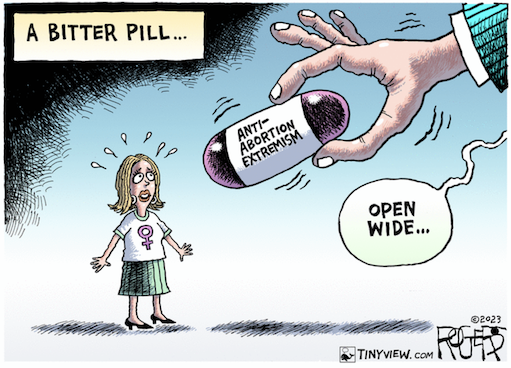 Tom Nichols: DeSantis Will Betray Ukraine for MAGA Votes
Both Donald Trump and Ron DeSantis have signaled their willingness to sell out Ukraine to the Kremlin, and the Russians have gleefully taken notice. How could this be happening in the party of Ronald Reagan?

State governors are not usually experts on foreign policy, but those who intend to run for president are advised to at least brush up on the subject. Alas, Florida Governor Ron DeSantis did not get that memo. Last week, DeSantis declared Russia's massive invasion—the largest operation in Europe since the defeat of the Nazis—to be a mere "territorial dispute," and said that the war is thus not "a vital American national strategic interest." This was too much for many elected Republicans and even for the editorial board of The Wall Street Journal, who described the comments as "Ron DeSantis's First Big Mistake."

This shining opportunity to stumble came courtesy of the Fox News host Tucker Carlson, who a few weeks ago sent out questionnaires about Ukraine policy to a group of possible GOP presidential candidates. Carlson's questions presented Republican contenders with a dilemma.

On the one hand, many faithful MAGA voters, who make up the core of the GOP base, are regular viewers of Carlson's show, and his questionnaire was a kind of early beauty pageant, an opportunity for Republican candidates to take a quick walk down the runway in front of MAGA World. On the other hand, Carlson is an irresponsible demagogue who has been exposed in the Dominion-lawsuit filings as a relentless opportunist who will bamboozle his own audience for ratings.

In foreign policy, amateurish pandering to Tucker Carlson's audience is dangerous. The Russian media are already crowing that the next American president will throw Ukraine to the wolves, a belief that could lead the Kremlin to take even greater risks than bumping into drones. Many elected Republicans and GOP presidential contenders—despite their constant fear of offending Trump—seem to recognize this, to their credit. If only Ron DeSantis were one of them.
https://www.theatlantic.com/newsletters/archive/2023/03/desantis-ukraine-maga-trump/673424/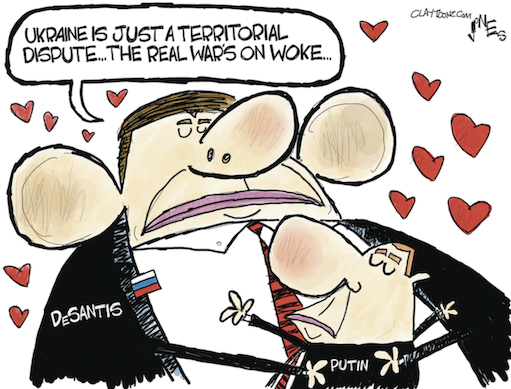 Margaret Hartmann: Ron DeSantis Eating Pudding With His Fingers Will End His 2024 Bid
Enshrined in DeSantis lore is an episode from four years ago: During a private plane trip from Tallahassee to Washington, D.C., in March of 2019, DeSantis enjoyed a chocolate pudding dessert—by eating it with three of his fingers, according to two sources familiar with the incident.
At first glance, this may not seem like such a big deal. Pudding is delicious. A finger makes an acceptable utensil in an emergency. And who among us hasn't tried an odd food maneuver when trapped on a plane? The Daily Beast doesn't even focus primarily on the pudding incident; it appears at the end of a piece about how the Florida governor "struggles with basic social skills" required of a politician. But I'm calling it now: This story will follow DeSantis like pudding sticks to fingers.
The devil is in the details. The report doesn't say DeSantis dipped a finger into his pudding sheepishly; he used three fingers, presumably as a scoop. And it's established in the preceding paragraph that he regularly ate during meetings, "like a starving animal who has never eaten before… getting shit everywhere." This paints a vivid picture of being trapped in a conference room with your boss as he shoves most of his hand into a pudding cup, scoops the goo into his mouth, licks his fingers, and goes back in for more, with chocolate still smeared around his lips. Disgusting!
Even worse for DeSantis is how funny the word "pudding" sounds. And it's a dessert for children. The Florida governor wants to look masculine and tough, and there are already reports that Donald Trump plans to mock his primary rival's height and weight. While I personally support people of all ages, body types, and gender expressions consuming a deliciously chocolatey treat, it's a bad look for a GOP presidential candidate.
To be clear, I'm not saying that voters are going to hear this story and instantly decide they can't vote for DeSantis. But I do think the image will lodge itself in people's subconsciouses. Pretend you're a GOP primary voter listening to the Florida governor touting his record on flouting public-health recommendations, harassing migrants, and ridding schools of "wokeness." Sounds pretty good, right? Now picture those same ideas coming out of a man who's been credibly accused of licking dessert from his paw like a cartoon bear. How do those talking points sound now?
I know what you may be thinking: Wait, isn't DeSantis's biggest rival a guy who loves ketchup on well-done steak? Yes, Donald Trump being weird with various foodstuffs — from a taco bowl to Diet Coke to "dangerous" fruit — is basically a genre unto itself. But the 45th president has so many strange peccadilloes that it's just become part of his oddball charm. And while Trump's fingers may be short, at least he didn't eat pudding with them.
https://nymag.com/intelligencer/2023/03/desantis-eating-pudding-with-his-fingers-will-end-2024-bid.html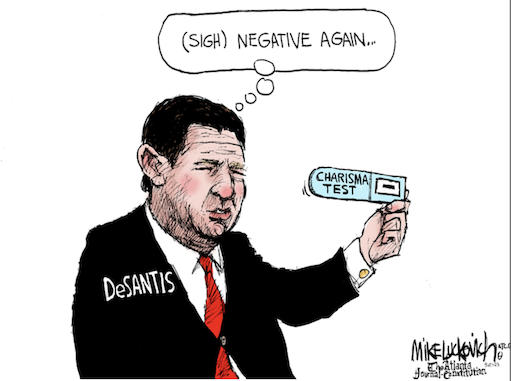 David Brooks: Trump and DeSantis Could Both Lose
If American politics worked as it should, then the Republican primaries would be contests between these two different narratives and governing styles — between populism and conservatism.

But that's not happening so far. The first reason is that Trump's supporters are so many and so loyal, and his political style is so brutal, he may be deterring governors from entering the campaign. My educated guess is that Youngkin will not run for president in 2024; he wants to focus on Virginia. And Kemp may not, either. Kemp has taken on Trump in the past, but who wants to get into a gutter brawl with a front-runner when you already have a fantastic job governing the state you love? It could be that the G.O.P. presidential field will be much smaller than many of us thought a couple of months ago.

The second reason we're not seeing the two narratives face off is Ron DeSantis. The Florida governor should be the ultimate optimistic, businesslike conservative. His state is growing faster than any other in the country. But instead, he's running as a dour, humorless culture war populist — presumably because that's what he is.

So right now the G.O.P. has two leading candidates with similar views, and the same ever-present anti-woke combativeness. The race is between populist Tweedledum and populist Tweedledee.

The conclusion I draw is that the Trump-DeSantis duopoly is unstable and represents a wing of the party many people are getting sick of. https://www.nytimes.com/2023/03/16/opinion/trump-desantis-lose.html
Bess Levin: Donald Trump, Under Criminal Investigation For January 6, Declares It Was All Mike Pence's Fault
Over the weekend, Mike Pence declared that his former boss had been "wrong" to demand he overturn the results of the 2020 election and that "history will hold Donald Trump accountable." While this might have sounded like a serious rebuke of the ex-president, in reality, it was merely the latest in a long line of remarks from the former VP that still manage to effectively let Trump off the hook for inciting a bloody insurrection that left multiple people dead. For one thing, Trump should clearly be judged for January 6 now, not by a history book in five or 10 years. For another, Pence has done everything in his power to ensure the ex-president evades any and all responsibility for the attack on the Capitol, first by refusing to speak to the January 6 committee and later by trying his hardest to dodge a subpoena from the special counsel criminally investigating Trump. Also? He can't even bring himself to say he wouldn't vote for the guy in 2024, presumably because, against all odds, he would!

Given all this, you might think Trump would have let Pence's most recent remarks slide. But obviously, that's not how the former guy rolls. Instead, he chose to respond to the former VP's weekend comments by arguing that January 6 was actually Mike Pence's fault.

Speaking to reporters on Monday, Trump insisted: "Had [Pence] sent the votes back to the legislatures, they wouldn't have had a problem with Jan. 6, so in many ways, you can blame him for Jan. 6. Had he sent them back to Pennsylvania, Georgia, Arizona, the states, I believe, number one, you would have had a different outcome. But I also believe you wouldn't have had 'Jan. 6' as we call it."

This is obviously an insane line of logic, but don't take our word for it—even the gang at Fox News couldn't quite believe their ears.

During the same interview, aboard his plane en route to Iowa, Trump reportedly opined that Pence said what he said over the weekend due to poor 2024 polling numbers. "I guess he figured that being nice is not working," Trump said. "But, you know, he's out there campaigning. And he's trying very hard. And he's a nice man, I've known him, I had a very good relationship until the end."

Of course, Monday wasn't the first time Trump had something completely absurd to say re: Pence's role in January 6. Back in November 2021, he said that his former VP deserved chants calling for his hanging. https://www.vanityfair.com/news/2023/03/donald-trump-mike-pence-to-blame-for-january-6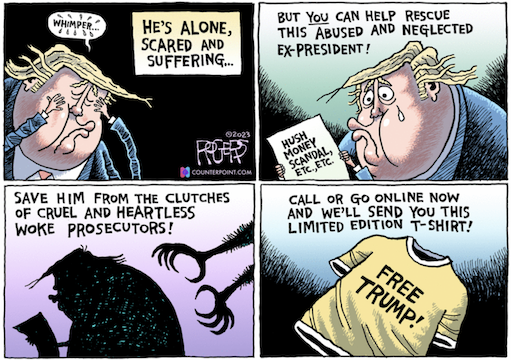 Molly Jong-Fast: GOP Elites Can't Simply Wish Donald Trump Away
Trumpism has cost the GOP in three consecutive elections, and yet it looks like the Republican base may continue to follow their basest ideological urges and stick with their guy in the next contest. A new CNN poll found that the majority of Republicans (and Republican-leaning independents) "care more about picking a 2024 GOP nominee who agrees with them on issues than one who can beat [Joe] Biden." This polling runs contrary to the GOP-elites wishcasting described Wednesday in Politico: "Even die-hard supporters of former president Donald Trump, they've reasoned, are finally sick of losing."

If this polling is right, the base is not "sick of losing." There is no tangible evidence to support the GOP braintrust's fantasy. If anything, the base seems stuck in 2016, as four polls last month showed Trump experiencing a February bump, expanding his lead over Ron DeSantis. It's been clear for months—to me, at least—that Trump shouldn't be counted out, whereas "several top Republicans," Axios noted Tuesday, "keep saying there's no way" he can win the nomination. 

Republican contenders find themselves in an awkward position: How do they win Trump's base without actually being the 76-year-old reality-television host, or how do they out-Trump Trump? DeSantis has worked hardest to out-Trump Trump by turning Florida into a mini authoritarian state—whether that's entailed removing an elected prosecutor or radically injecting his right-wing ideology into education. The latter has been a clear priority for DeSantis, from his takeover of New College and signing of the "Don't Say Gay" bill to his targeting of AP African American Studies and fostering of a climate where supposedly dangerous authors like Jodi Picoult, Toni Morrison, and James Patterson are being banned.

But, how do you switch cult leader mid-cult? How do you appeal to a base that is completely ideological but lacking a coherent ideology? Republicans have had numerous opportunities to uncouple from Trump—right after his first impeachment, right after he lost in 2020, right after he encouraged a riot at the Capitol, right after his second impeachment. Each time Republicans didn't want to take the pain of possibly alienating the base. The problem with fearing the base is that eventually it gets stronger. Now you have a Republican elite being held hostage by the party's base, and I am reminded of the old Lindsey Graham tweet from 2016: "If we nominate Trump, we will get destroyed.......and we will deserve it." https://www.vanityfair.com/news/2023/03/donald-trump-gop-ron-desantis-2024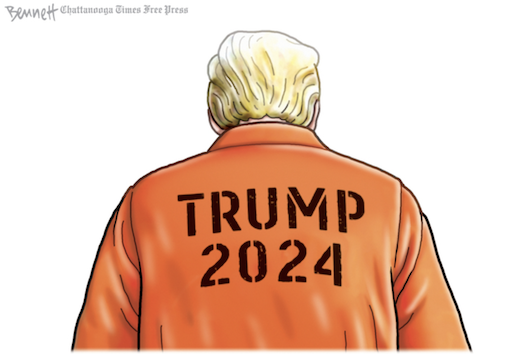 David Frum: Is Ron DeSantis Flaming Out Already?
Although Florida governor Ron DeSantis has long sought to avoid taking a position on Russia's war in Ukraine he did find time however, to admonish Ukrainian officials in October for not showing enough gratitude to new Twitter owner Elon Musk. (Musk returned the favor by endorsing DeSantis for president.)

More dangerous than the unpopular positions DeSantis holds are the popular positions he does not hold. What is DeSantis's view on health care? He doesn't seem to have one. President Joe Biden has delivered cheap insulin to U.S. users. Good idea or not? Silence from DeSantis. There's no DeSantis jobs policy; he hardly speaks about inflation. Homelessness? The environment? Nothing. Even on crime, DeSantis must avoid specifics, because specifics might remind his audience that Florida's homicide numbers are worse than New York's or California's.

DeSantis just doesn't seem to care much about what most voters care about. And voters in turn do not care much about what DeSantis cares most about.

Desantis will be a candidate of the Republican base, for the Republican base. Like Trump, he delights in displaying his lack of regard for everyone else. Trump, however, is driven by his psychopathologies and cannot emotionally cope with disagreement. DeSantis is a rational actor and is following what somebody has convinced him is a sound strategy. It looks like this:

    Woo the Fox audience and win the Republican nomination.
    ??
    Become president.

Written out like that, you can see the missing piece. DeSantis is surely intelligent and disciplined enough to see it too. But the programming installed in him prevents him from acting on what he sees. His approach to winning the nomination will put the general election beyond his grasp. He must hope that some external catastrophe will defeat his Democratic opponent for him—a recession, maybe—because DeSantis is choosing a path that cannot get him to his goal. https://www.theatlantic.com/ideas/archive/2023/03/desantis-ukraine-pro-russia-position-gop-presidential-nomination/673392/