October 21, 2021
ON THE RECORD. . .
"You all know that there is no evidence of widespread election fraud sufficient to changed the results of the election. You all know that the Dominion voting machines were not corrupted by a foreign power. You know these claims are false. Yet, former President Trump repeats them almost daily. He is now urged Republicans not to vote in 2022 and 2024. This is a prescription for national self destruction. I ask my colleagues, please consider the fundamental questions of right and wrong here. The American people must know what happened, they must know the truth, all of us who are elected officials must do our duty to prevent the dismantling of the rule of law, and to ensure that nothing like that dark day in January ever happens again." — Rep. Liz Cheney urging her fellow Republican colleagues to rebuke former President Trump's election lies during her opening statement at the Jan. 6 select committee's meeting to vote to hold Steve Bannon in criminal contempt.

Wonderful to see Colin Powell, who made big mistakes on Iraq and famously, so-called weapons of mass destruction, be treated in death so beautifully by the Fake News Media. Hope that happens to me someday. He was a classic RINO, if even that, always being the first to attack other Republicans. He made plenty of mistakes, but anyway, may he rest in peace! — Donald Trump's statement on the death of former Secretary of State Colin Powell.

"Trump is the first president in the Republican side at least to lose the House, the Senate and the presidency in four years. Elections are about winning." — Sen. Bill Cassidy (R-LA) saying he's not sure former President Donald Trump would win the Republican nomination if he ran in 2024 — a rare voice of criticism from within the GOP.

"Well if he's elected, I mean, we're done as a democracy, Because he's going to get elected on the back of a lie, and also no doubt on efforts to suppress the vote. There will be a massive crisis of legitimacy." — Fiona Hill.

"I hope for Democrat gridlock. Oftentimes in Washington DC gridlock is a better alternative, but when it's Democratic gridlock, pray for it." — Sen. Ron Johnson (R-WI).

"He (Manchin) plans to gut Biden's climate plan, and with it the chances for swift global progress. This is high on the list of most consequential actions ever taken by an individual Senator; you'll be able to see the impact of this vain man in the geologic record." -- Bill McKibben

"We first need a clear understanding of what Manchin and Sinema will agree to. It's all an exercise in make-believe until then." — Rep. Ro Khanna, (D-CA), a member of the Congressional Progressive Caucus.

"Isn't it terrible that a Republican Congressman from Nebraska just got indicted for possibly telling some lies to investigators about campaign contributions, when half of the United States Congress lied about made up scams, and when Mark Zuckerberg, in my opinion a criminal, is allowed to spend $500 million and therefore able to change the course of a Presidential Election, and nothing happens to them. … Is there no justice in our country?" — Trump supporting indicted Rep. Jeff Fortenberry (R-NE) who may have lied to the FBI about an illegal foreign campaign finance scheme.

In Rutherford County, NC this morning, Rep. Madison Cawthorn (R-NC) said that when Republicans regain power, he is going to make sure Fauci is prosecuted. He then says, "I will seize every single Chinese asset in America." (Good for Wall St and corporate donors to know.)

"If nobody in Rappahannock complies with the mask mandate, they can't stop everyone. If I was ya'll, I'd say none of ya'll wear a mask. What are they gonna do? They're still going to have school." — Rep. Bob Good (R-VA) encouraging a group of high school students to not wear masks in school.

"To be clear, again, Congress should proceed with caution on any additional spending and I will not vote for a reckless expansion of government programs. No op-ed from a self-declared Independent socialist is going to change that." — Sen. Joe Manchin on Sen. Sanders WV op-ed.

"Relitigating 2020 is a recipe for disaster in 2022. Let's talk about the future. The election is past. It's been certified. The states made decisions on the integrity of each of their elections and made improvements where need be. It's about the future. It's not about the last election." — Arkansas Gov. Asa Hutchinson (R)

VIDEOS

Rudy Giuliani manages to find one last scrap of dignity to lose with an inexplicable and borderline incomprehensible attack video featuring himself disguised as Abraham Lincoln.

Don Winslow Films | Joe Manchin: Senator For Sale: https://youtu.be/f_tFyZxQnrU

MeidasTouch | Trump in Hiding: Donald, why are you so scared to go to Virginia?: https://youtu.be/U27nXwnNnbI

Jordan Klepper vs. Iowans Who Think Trump Won | The Daily Show: https://youtu.be/4oXZXT3D0UE
Litigation Tracker: Pending Criminal and Civil Cases Against Donald Trump
---
IN THIS ISSUE
IN THE NEWS
OPINION
Andy Borowitz: El Chapo Refuses to Share a Prison Cell with Steve Bannon
Amid news that Steve Bannon could soon be jailed for criminal contempt, the convicted drug lord Joaquín (El Chapo) Guzmán said that "under no circumstances" would he agree to share a prison cell with the former Trump adviser.

The ex-kingpin said that, although he had not heard of any plans to house Bannon in his prison cell, he was speaking "out of an abundance of caution."

"If the Department of Justice is looking for a place to lock Bannon up, don't even think about putting him in with me," El Chapo, who is being held at ADX Florence, a maximum-security penitentiary, said. "It's not going to happen."

"I've tunnelled out of prison before, and I can do it again," he warned.

El Chapo's sentiments have been echoed by the nation's prison population, two million of whom have signed a petition refusing to share their cells with Bannon.

Speaking at the D.O.J., the Attorney General, Merrick Garland, commented on El Chapo's recoiling at the prospect of sharing a small space with Bannon. "I can't say I blame him," Garland said. https://www.newyorker.com/humor/borowitz-report/
Cheney: Bannon's actions suggest Trump was involved in Capitol riot
Rep. Liz Cheney (R-Wyo.) said late Tuesday that former White House strategist Stephen Bannon's refusal to cooperate with the House committee investigating the Capitol riot suggests former President Trump was "personally involved in the planning and execution of January 6th."
"Based on the committee's investigation, it appears that Mr. Bannon had substantial advance knowledge of the plans for Jan. 6 and likely had an important role in formulating those plans. Mr. Bannon was in the war room at the Willard on Jan. 6. He also appears to have detailed knowledge regarding the president's efforts to sell millions of Americans the fraud that the election was stolen," Cheney said as the panel voted unanimously to hold Bannon in contempt and refer him to the Justice Department for criminal charges.
Cheney also said that Bannon and Trump's privilege arguments "do appear to reveal one thing."
"They suggest that President Trump was personally involved in the planning and execution of Jan. 6," she said. "And we will get to the bottom of that." https://thehill.com/homenews/house/577515-cheney-bannon-refusal-to-cooperate-suggests-trump-personally-involved-in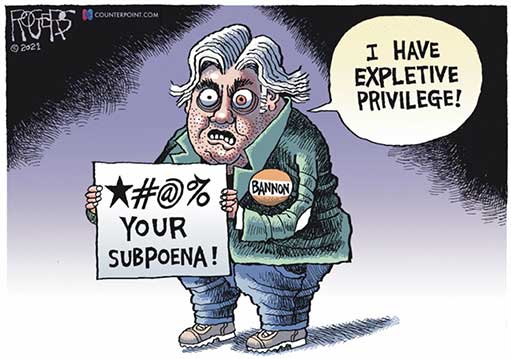 'Down the rabbit hole': Arizona GOP goes full fringe
Just when it seemed Arizona Republicans couldn't make more of a spectacle, they found another way.
As the party hardens around its fealty to former President Donald , the GOP is filling up its midterm ballot with a roster of conspiracy theorists and extremists that could threaten the party's prospects in a state that's drifted leftward in recent elections.
The latest of those candidates is Ron Watkins, a celebrity in the QAnon conspiracy world suspected of being Q, who announced his plans to run for Congress last week.
It isn't just that Watkins embraces the baseless claim that the November election was stolen. It's that an entire ticket is running on that falsehood now. The state's congressional delegation features Rep. Paul Gosar, who spoke earlier this year at a conference organized by a white nationalist, and Rep. Andy Biggs, who falsely maintains "we don't know" who won the presidential election in Arizona.
State Rep. Mark Finchem, one of the chief proponents of the discredited post-election ballot review in Arizona, has been endorsed by Trump in his bid for secretary of state. And Kari Lake, the former TV anchor who has become a frontrunner for governor, still insists Trump carried the state and said recently that she would not have certified the 2020 election. https://www.politico.com/news/2021/10/20/arizona-gop-fringe-516322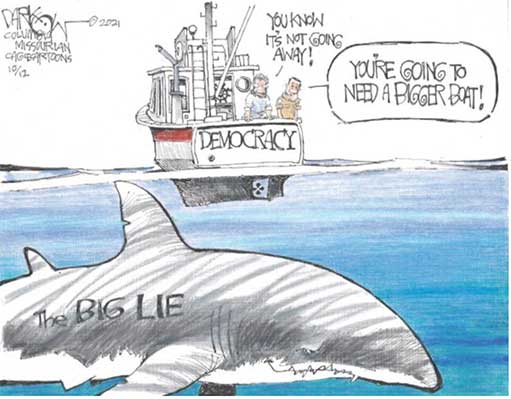 Major Russian hacking group linked to ransomware attack on Sinclair
A well-known Russian hacking group previously sanctioned by the United States is behind the crippling ransomware attack on Sinclair Broadcast Group that is continuing to impact news stations across the country, according to a new report. https://thehill.com/policy/cybersecurity/577599-major-russian-hacking-group-linked-to-ransomware-attack-on-sinclair
Opposing perspectives on the Holocaust? Try Texas
Can you think of an opposing view on the Holocaust that isn't antisemitic? A school administrator in Texas seems to think so.
Gina Peddy, the executive director of curriculum and instruction for the Carroll Independent School District in Southlake, Texas, was caught on an audio recording telling teachers to "make sure that if you have a book on the Holocaust, that you have one that has an opposing, that has other perspectives."
I hope she wasn't proposing that teachers supply students with neo-Nazi propaganda.
This all started with Republican lawmakers in Texas looking for ways to have teachers talk about American history without making white people look bad.
Of course, before the CRT "threat," Texas conservatives were already upset, because the state's new history standards point out that slavery played "the central role" in the Civil War — 155 years after the end of the Civil War. Until the 2019-20 school year, students were taught that the war was caused by sectionalism and state's rights, with slavery merely a third factor. https://enewspaper.latimes.com/infinity/article_share.aspx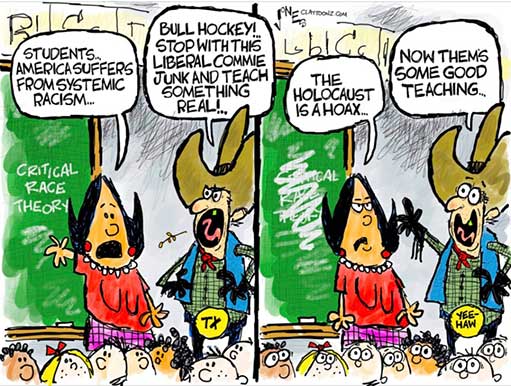 DOJ: 'Lionizing' Jan. 6 rioters fueling future political violence
The Justice Department said Monday that people "lionizing" the Jan. 6 rioters are heightening the risk of future political violence . "Indeed, the risk of future violence is fueled by a segment of the population that seems intent on lionizing the January 6 rioters and treating them as political prisoners, heroes, or martyrs instead of what they are: criminals," Assistant U.S. Attorney Michael Roman wrote in a court filing, "many of whom committed extremely serious crimes of violence, and all of whom attacked the democratic values which all of us should share." https://www.politico.com/news/2021/10/18/doj-jan-6-violence-516168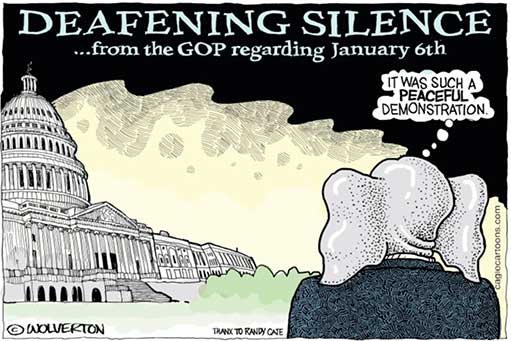 Key to Biden's Climate Agenda Likely to Be Cut Because of Manchin Opposition
Senator Joe Manchin III, the Democrat from coal-rich West Virginia whose vote is crucial to passage of the bill, has told the White House that he strongly opposes the clean electricity program, according to three of those people. As a result, White House staffers are now rewriting the legislation without that climate provision, and are trying to cobble together a mix of other policies that could also cut emissions. Read more at: https://www.nytimes.com/2021/10/15/climate/biden-clean-energy-manchin.html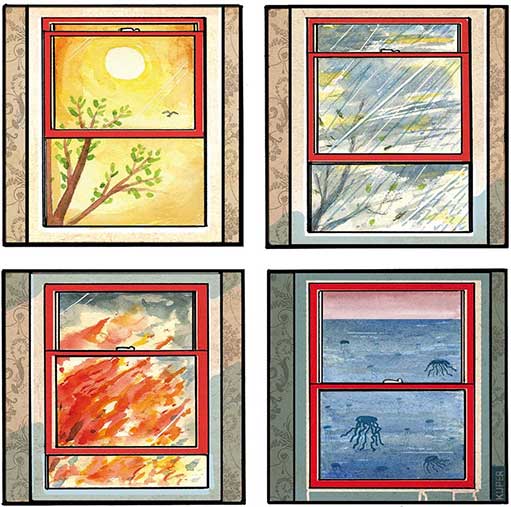 Sinema rakes in Pharma and finance cash amid reconciliation negotiations
Sen. Kyrsten Sinema (D-AZ) raised more campaign money in the last three months than in any quarter since she became a senator. And she hit that $1.1 million haul with a big assist from the pharmaceutical and financial industries, whose political action committees and top executives stuffed her coffers in the middle of negotiations on Democrats' massive infrastructure and social spending bills. Read more at: https://www.politico.com/news/2021/10/15/sinema-campaign-money-pharma-finance-516110
'Really embarrassing': GOP erupts into swing state civil war
Republicans have been feuding for months in Nevada's largest county after a pro-Donald Trump insurgency with ties to far-right activists threw the party into chaos.
Now the turmoil is spreading across the battleground state, consuming the GOP in a bonfire of lawsuits, counterclaims and resignations.
The meltdown — the latest iteration of the hostilities that have wracked the party nationally in the post-Trump era — could prove especially damaging if the fissures linger into next year. Trump lost to Joe Biden in Nevada by just more than 2 percentage points, and Republicans have a chance of knocking off Democratic Sen. Catherine Cortez Masto and Gov. Steve Sisolak in 2022. National GOP groups are pouring money into those races — but the dysfunction within the state's Republican Party is threatening to undermine those efforts. Read more at: https://www.politico.com/news/2021/10/15/nevada-gop-trump-516058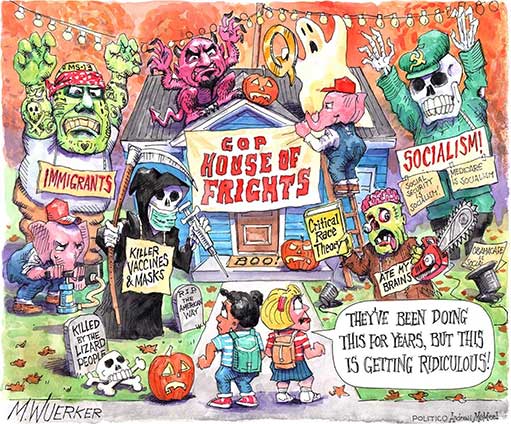 Trump won Florida, but online and at your door, his supporters are trying to force an audit
The push for a recount began months ago in states like Arizona, where Trump lost by a narrow margin. (A much-maligned review of ballots in that state's largest county, led by a Trump supporter, confirmed Biden's victory.) But the movement is now bleeding into states Trump won comfortably, including Florida.
This month, the Lake County Republican Party passed a resolution demanding Florida audit its election results. A state lawmaker from the same county filed a bill that would do just that.
The Tampa Bay Times reviewed thousands of Telegram messages and more than 100 emails to Tampa Bay election offices. They show the role these theories are playing in fueling the recount movement in a state that Trump won by 371,686 votes. Some emails take issue with the use of Dominion-provided voting machines, parroting a conspiracy that has sparked billion-dollar defamation lawsuits against conservative television networks. Others suggest that the vote totals were off in Florida, though amounts vary from a few hundred thousand to 1.5 million. They allege sophisticated schemes involving hacked voting software and hijacked mail-in ballots.
Election supervisors say the allegations show a lack of understanding of how voting works. Read more at: https://www.tampabay.com/news/florida-politics/2021/10/15/trump-won-florida-but-online-and-at-your-door-his-supporters-are-trying-to-force-an-audit/

Republicans believe they have a good shot at taking Congress next year. But there's a catch.
The G.O.P.'s ambitions of ending unified Democratic control in Washington in 2022 are colliding with a considerable force that has the ability to sway tens of millions of votes: former President Donald J. Trump's increasingly vocal demands that members of his party remain in a permanent state of obedience, endorsing his false claims of a stolen election or risking his wrath.
In a series of public appearances and statements over the last week, Mr. Trump has signaled not only that he plans to work against Republicans he deems disloyal, but also that his meritless claims that widespread voter fraud cost him the White House in 2020 will be his litmus test, going so far as to threaten that his voters will sit out future elections. https://www.nytimes.com/2021/10/17/us/politics/trump-voter-fraud-republicans.html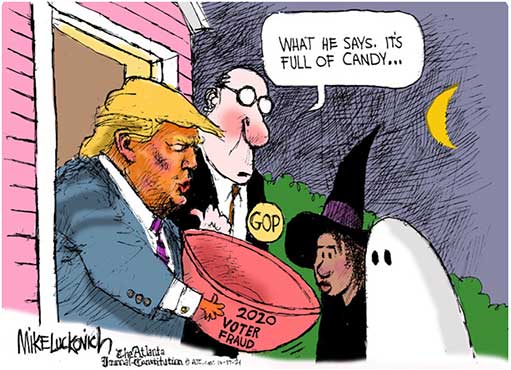 Top 1% of U.S. Earners Now Hold More Wealth Than All of the Middle Class
After years of declines, America's middle class now holds a smaller share of U.S. wealth than the top 1%. The middle 60% of U.S. households by income -- a measure economists often use as a definition of the middle class -- saw their combined assets drop to 26.6% of national wealth as of June, the lowest in Federal Reserve data going back three decades. For the first time, the super rich had a bigger share, at 27%. Read more at: https://www.bloombergquint.com/global-economics/top-1-earners-hold-more-wealth-than-the-u-s-middle-class
The DAILY GRILL
Tucker Carlson mocks Pete Buttigieg for taking leave: "Paternity leave, they call it, trying to figure out how to breastfeed, no word on how that went." https://twitter.com/NikkiMcR/status/1448803712344985600

VERSUS

"I guess he just doesn't understand the concept of bottle feeding, let alone the concept of paternity leave," Buttigieg said. "But what's really strange is you know this is from a side of the aisle that used to claim the mantle of being pro-family." — Secretary of Transportation Pete Buttigieg pushing back on some conservatives' criticism over his decision to take parental leave after the birth of his two newly adopted twins and his handling of supply chain issues. https://www.indystar.com/story/news/politics/2021/10/16/pete-buttigieg-pushes-back-tucker-carlson-paternity-leave-criticism/8486385002/

 

"Christmas presents were never late when President Trump was in charge." — Rep. Jim Jordan (R-OH) tweet: https://twitter.com/Jim_Jordan/status/1448705386090008580?s=20

VERSUS

Headline from January 2021: "A month after the holidays, some people are still getting Christmas packages in the mail." https://news.lee.net/news/national/a-month-after-the-holidays-some-people-are-still-getting-christmas-packages-in-the-mail/article_ee9fa360-82c9-56c7-a24c-b62ce8628dcd.html

 

"In recent days, Sen. Joe Manchin (D-WV) has told associates that he is considering leaving the Democratic Party if President Joe Biden and Democrats on Capitol Hill do not agree to his demand to cut the size of the social infrastructure bill from $3.5 trillion to $1.75 trillion," Mother Jones reports. https://www.motherjones.com/politics/2021/10/senator-joe-manchin-democratic-party-exit-plan-biden-infrastructure-deal-exclusive/

VERSUS

Sen. Joe Manchin (D-W.Va.) on Wednesday dismissed a report that he is actively thinking about dropping out of the Democratic Party as "bullshit" and "rumors." "It's bullshit," Manchin, a centrist, said bluntly after he was asked about a report published in Mother Jones that he has told "associates" he is actively thinking about leaving the Democratic Party. https://thehill.com/homenews/senate/577623-manchin-on-party-switch-its-bull
Susan B. Glasser: The Trump Presidency Is Still an Active Crime Scene
Every Administration produces a shelf full of memoirs, of the score-settling variety and otherwise. There's a few golden nuggets to be mined even from the most unreadable, obscure, and self-serving of such memoirs. Even before it ended, the Trump Administration produced a remarkable number of these accounts, as wave after wave of fired press secretaries, ousted Cabinet officials, and disgruntled former aides signed lucrative book deals. There were so many books seeking to explain Trump and his times that the book critic of the Washington Post wrote his own book about all of the books. Trump's fired executive assistant—ousted because she claimed, at a boozy dinner with reporters, that the President had said nasty things about his daughter Tiffany—wrote a book. Trump's first two press secretaries wrote books. First Lady Melania Trump's former best friend wrote a book. Trump's third national-security adviser, John Bolton, wrote an explosive book with direct-from-the-Situation-Room allegations of Presidential malfeasance that might have turned the tide in Trump's first impeachment trial had Bolton actually testified in it. And none of those even covered the epic, Presidency-ending year of 2020.

The bottom line is that the story of the Trump Presidency still has important unanswered questions that the forthcoming pile of books cannot answer. And they have an urgency about them that unanswered questions about past Administrations usually don't, given the ongoing threat to our democracy: Trump is not only preparing to run again but is determined to mold the G.O.P. into a single-issue Party, the ideology of which consists solely of disputing the legitimacy of the election that turned him out of office. The Trump Presidency is not yet, alas, simply a matter for booksellers and book writers; it's an active crime scene. https://www.newyorker.com/news/letter-from-bidens-washington/the-trump-presidency-is-still-an-active-crime-scene
Bess Levin: Trump Tells His Supporters Not To Vote In The Next Election, Which Would Actually Be Great For Humanity
If you've lived through the last five years and haven't been forced to medicate yourself to the point of unconsciousness, you're probably aware that Donald Trump has been very bad for society, on account of the racism and the corruption and the mass casualties and the general, ongoing assault on democracy. Because of that, it would be ideal if neither the 45th president nor his acolytes sat at the seat of power ever again, though, unfortunately, that's no sure thing. For one thing, Republicans have a shot at flipping the Senate in 2022, and there are a disturbing number of GOP lawmakers there whom Trump has wrapped around his morally bankrupt finger. For another, Trump is reportedly "laying the groundwork" for a 2024 run, and if you recall, 74 million people inexplicably voted for him in 2020, which wasn't enough to actually win but was a disturbing number nevertheless.
Obviously also at issue is that since Trump lost to Joe Biden, Republicans have responded by attempting to disenfranchise as many Democratic voters as possible. Allies of the former guy have been paving the way to meddle in future elections by passing bills that "allow Republican-controlled state legislatures or election boards to sideline or override local election administrations in Democratic strongholds," which would, per The Atlantic, let state legislatures or their appointees interfere "in local decision-making, purge voter rolls, and manipulate the number and location of polling places. It would also allow Republicans in Arizona, Georgia, and elsewhere to do something Trump tried and failed to do in 2020: throw out ballots in rival strongholds in order to overturn a statewide result." Which is bone-chillingly terrifying.
But you know what would be great? If somehow we could wave a magic wand and ensure that none of the people who support Trump or Trump-endorsed candidates show up to vote, which would be a tremendous turn of events for humanity, though one that would clearly never happen unless—what? What's that you say? Donald Trump has, in an incredible self-own, told his base to stay home and not vote in the next two elections?
Setting aside for a moment the idea of Trump instructing millions of people not to vote, which would have the obvious effect of helping the other side, it's important to note that Trump is still—still!—clinging to the idea that the 2020 election was stolen and there is a chance it could be overturned and he could be "reinstated" at the White House. That's extremely scary because, in case anyone missed it the first thousand times, there is absolutely zero evidence that fraud played a role in the last election, despite multiple attempts by conservatives to conduct "audits" of results in battleground states, which have thus far only proven how badly Trump lost.
Nevertheless, we absolutely love the idea of Trump throwing a hissy fit and saying, "Oh yeah? You won't overturn Joe Biden's win? My people will show you!" First, because it underscores how very, very stupid he is, and second, because he and his allies have done this in the past and it predictably worked out great for Democrats. https://www.vanityfair.com/news/2021/10/donald-trump-tells-supporters-not-to-vote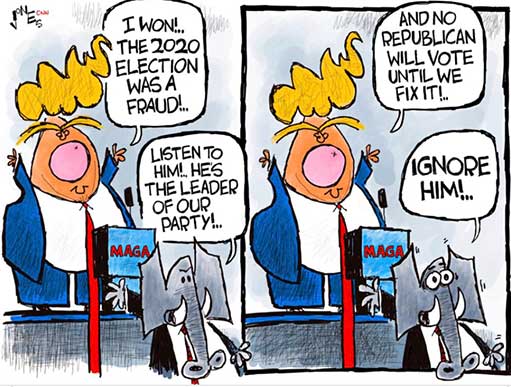 Dean Obeidallah: Biden should defund states that restrict voting rights. Period.
The GOP is willing to punish millions — even an entire state — to achieve its political goals. Why can't Democrats do the same?
Congressional Democrats have a golden opportunity to protect voting rights when the House of Representatives returns to session this week to lay the groundwork for approving two different infrastructure proposals: By taking a page from the GOP's playbook, they should use the infrastructure measures to "defund" states that are suppressing voting and enacting laws that make it easier for Republican officials to overturn election results they don't like.
Let's be blunt: Given the GOP's holy war on voting, time is running out for our democracy. According to the Brennan Center for Justice, since January, 17 GOP-controlled states have enacted 28 laws that "restrict access to the vote," from making it more challenging to vote in person and by mail to purging voter rolls — with many measures by design disproportionately affecting people of color. Alarmingly, at least for those who believe in democracy, some of these laws potentially allow Republican officials to overturn elections if they don't agree with the results. https://www.msnbc.com/opinion/biden-should-defund-states-restrict-voting-rights-period-n1277411/
Jonathan M. Winer: Road Map for a Constitutional Coup: The Republican Plan for Legislative Nullification of the Popular Vote for President
That plan, drafted by the then-number three at Justice, Jeffrey Bossert Clark, Assistant Attorney General for the Environment and Natural Resources Division, amounts to a road map for the current and future efforts by Trump and his Republican allies to ensure that he, or another Republican, secures the presidency in 2024 regardless of who wins the popular vote or the true Electoral College vote.
The coup doctrine enunciated by Clark remains alive. To date, there has been no reporting on whom he was working with in the Trump campaign, the Trump White House or beyond to develop it. Nor has any Congressional committee yet secured Clark's testimony to gather those facts. Similar gaps remain regarding the coordination of Eastman's activities, and how Eastman got connected to Trump. Since the elections, we have seen a coordinated nationwide strategy by which Republican-controlled state legislatures have been enacting election laws to give themselves greater control over the outcomes.
These new laws begin with voter suppression provisions to make it difficult for Democratic-leaning constituencies to vote. They also introduce new controls to allow partisan state legislatures to maintain control over elections to give Republicans greater control of vote-counting processes; reduce the authority of governors and secretaries of state to exercise independent judgment about who has won the popular vote in the state; and potentially even move certification dates to enable the legislature to invalidate a governor's certification after the fact.
The Republicans pushing this scheme on a national basis characterize their actions as entirely proper under the Independent State Legislature doctrine. But what the country now faces looking forward to in 2024 is a highly partisan Supreme Court that could accept the plan laid out by Clark, enabling partisan state legislatures to decide Presidential elections in what should rightly be called "Legislative Nullification." Nullification has a long and disgraced historical lineage, from nullification of federal tariffs (South Carolina in the 1830s), to federal desegregation orders (Arkansas in the 1950s), to health care policy (Texas in 2020). This latest nullification scheme aims at nullifying democracy itself. https://washingtonspectator.org/road-map-for-a-constitutional-coup/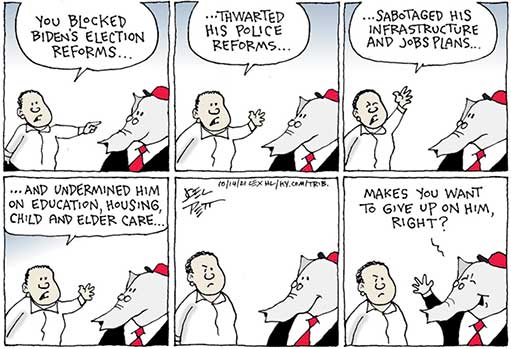 Bess Levin: Trump Will Be Deposed Under Oath This Week, And You Know What Happens When Trumps Are Under Oath
They tend to lie, is what they do. 
Since leaving office last January, Donald Trump has had his hands full trying and failing to overturn the 2020 election, blackballing Republicans who dared to hold him responsible for the Capitol attack, and crashing both weddings and memorial services, where he's no doubt made both the newlyweds and the newly deceased uncomfortable. Another area that's kept him quite busy? His ongoing legal woes, which are significant and could result in him being forced to turn over large sums of money, losing his business, and/or going to prison.
Obviously, the most significant legal matters facing the ex-president are the criminal probes, which are being conducted in Georgia, D.C., and New York. In New York, the Trump Organization and its longtime CFO, Allen Weisselberg, were charged with more than a dozen crimes in July—which they've both pleaded not guilty to—and recently, prosecutors have given Weisselberg many, many reasons to flip and cooperate against Trump. Elsewhere, Trump is the subject of numerous lawsuits, and in at least two cases, has been ordered to sit for depositions under oath, situations which tend not to bring out the best in people with whom he shares DNA.
In related news, in December 2020 and February 2021, respectively, Ivanka Trump and Donald Trump Jr. were deposed under oath by D.C.'s attorney general, and it certainly seemed as though they lied about their involvement in their father's 2017 inauguration. So there's probably at least a tiny possibility Trump will also fail to tell the truth. https://www.vanityfair.com/news/2021/10/donald-trump-under-oath-depositions
Max Boot: It's not Biden's fault that covid is still such a big problem. Blame his GOP critics.
Fox's anchors — most of whom are vaccinated themselves — elevate backward vaccine resisters such as basketball star Kyrie Irving to the status of folk heroes. Predictably, Fox used Colin Powell's death from covid to trash vaccines, even though his immune system had been compromised by cancer and Parkinson's disease.
Yet, despite this infuriating right-wing sabotage, the tide is turning. Between Sept. 9 and Oct. 18, the average number of daily vaccinations increased 26 percent while the average number of new cases fell 43 percent. This isn't all because of the mandates, but they certainly helped.
Biden gambled with vaccine mandates — and that gamble is now paying off. Our coronavirus vaccination rate is still too low, and our covid death rate is still too high compared with those of other Western countries, but that's hardly his fault. Blame Republicans: Only 58 percent of them are vaccinated, compared with 90 percent of Democrats.
There's not much Biden can do about masochistic right-wingers such as radio host Dennis Prager, who says he deliberately became infected with covid-19 to develop "natural immunity." But the president is doing almost everything within his power to combat the pandemic — and his efforts are paying off.
https://www.washingtonpost.com/opinions/2021/10/19/its-not-bidens-fault-that-covid-is-still-such-big-problem-blame-his-gop-critics/