September 28, 2017
ON THE RECORD. . .
The Russia hoax continues, now it's ads on Facebook. What about the totally biased and dishonest Media coverage in favor of Crooked Hillary? -- Donald J. Trump ✔@realDonaldTrump, upset as evidence mounts that he was elected because of the Kremlin's help.
Our intelligence community assessment did, I think, serve to cast doubt on the legitimacy of his victory in the election, and I think that, above all else, is what concerned him. And I think that transcends, unfortunately, the real concern here, which is Russian interference in our political process — which, by the way, is going to continue. -- Former Director of National Intelligence James Clapper who has been holding the line against Donald Trump's repeated lies about the intelligence community's assessment of Russia's interference in our election.
"By the time the French elections happened in the Spring, Facebook worked with the French and took down 50,000 accounts they felt were related to Russian activity. In America, Facebook has only identified 470 accounts. To me, that doesn't pass the smell test." -- Senator Mark Warner, who is leading the investigation into Russian interference.
"I doubt he's man enough to call any of those players a son of a bitch to their face." — Houston Rockets guard Chris Paul, responding to President Trump's criticism of Colin Kaepernick and Stephen Curry.  https://twitter.com/CP3/status/911623819361734657
"Trump is a man of ugliness, and the damage he does, speech after speech, tweet after tweet, deepens like a coastal shelf. Every day, his Presidency takes a toll on our national fabric. How is it possible to argue with the sentiment behind LeBron James's concise tweet at Trump: "U Bum"? It isn't." -- David Remnick in the New Yorker.
Recall him (Sen. McCain), let him fight successfully this terrible cancer, and let's get someone in here who will keep the word he gave last year. -- Rep. Louie Gohmert (R-TX) on Fox and Friends
One wonders why in the president's view a black man protesting racial injustice by kneeling during the anthem is a "son of a bitch," while whites marching along Nazis and the Klan to protest the removal of a statue of a Confederate general is a, quote, "very fine person," but I digress. -- Jake Tapper 9/25/17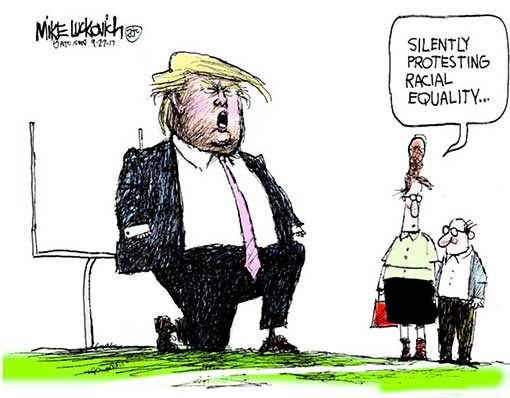 "Debating whether Sunday's travel ban is fairer or better thought out than its predecessors is beside the point. Its political function is the same — the latest gambit in a cynical, unceasing effort by an embattled president to inflame public fears and woo the xenophobes in his base." -- NY Times Editorial
"Tax reform is going to make health care look like a piece of cake." — Sen. Bob Corker (R-TN), quoted by ABC News.
As a 39-year military veteran, I think I know something about the flag, the anthem, patriotism, and I think I know why we fight. It's not to allow the president to divide us by wrapping himself in the national banner. I never imagined myself saying this before Friday, but if now forced to choose in this dispute, put me down with Kaepernick. -- General Michael Hayden
---
IN THIS ISSUE
FYI
OPINION
1.The Great Divider
Opinionated athletes have a lot of company. Other than white, straight, Christian men, it's hard to think of a group President Trump hasn't offended or attacked as a candidate or in office. That group includes Women, Establishment Republicans, Journalists ("sick people ... thieves and crooks"), Pollsters, NFL players, NBA players, Gold Star parents, POWs (McCain), The Freedom Caucus, "Hamilton" cast, Jews (Charlottesville), Catholics (Pope Francis criticisms "disgraceful"), Muslims, Seventh-day Adventists, Immigrants, African Americans, Latinos, Asians (impersonates negotiators: "We want deal"), LGBTQ community, New Hampshire residents ("a drug-infested den"), Iowans (retweeted "issues in the brain'"; deleted and attributed to "young intern"), Snoop Dogg.  https://www.axios.com/community/mikeallen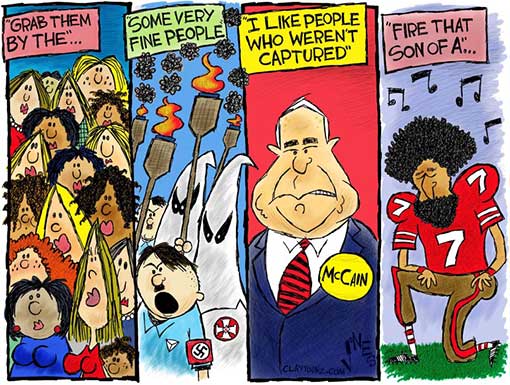 2. Andy Borowitz: Republicans Sadly Admit Their Dream of Keeping Poor People from Living Longer Is Over
Saddened and more than a little wistful, Senate Republicans acknowledged on Tuesday that their long-standing dream of keeping poor people from living longer was at its end.

Choking back tears, Senator Lindsey Graham admitted that his crusade to halt the longevity of the poor had turned out to be a quixotic one at best.

"We made a solemn promise to the American people that we would do everything in our power to keep the poor from living so darn long," he said, his voice quavering. "We didn't get it done."

While saying that he did not want to "play the blame game," Graham could not resist pointing fingers at senators who broke ranks with the G.O.P. leadership over its quest to stall the poor's unacceptably surging life expectancy.

"I always thought that preventing the poor from living longer was a bedrock Republican principle," he said bitterly. "I guess I was wrong."

On the House side, Speaker Paul Ryan urged Graham not to wallow in defeat but to move on to other Republican agenda items, like tax reform. "We may not be able to keep the poor from living longer, but we can still make them poorer," he said.

ELSEWHERE 1: Americans who feared that Barack Obama would come for their guns are happy that Donald Trump is coming for their health care, a new report finds.In interviews conducted across the country, people expressed satisfaction that, by taking away their ability to see a doctor rather than their ability to shoot people, the federal government "finally has its priorities straight."

ELSEWHERE 2: Donald J. Trump on Friday capped a busy week of diplomatic activity by naming the former Alaska governor Sarah Palin the United States Ambassador to Nambia.

ELSEWHERE 3: One day after rescinding his invitation to the Golden State Warriors, Donald J. Trump invited the entire Russian national basketball team to celebrate with him at the White House. Trump said that he looked forward to welcoming the Russian team, calling them "much, much better basketball players than those Golden State losers." https://www.newyorker.com/humor/borowitz-report/
3. Russian Interference in the 2016 Election
Russian Facebook Ads Backed Stein, Sanders and Trump: Green Party presidential candidate Jill Stein was the beneficiary of at least one Russian-bought ad on Facebook that federal government officials suspect were intended to influence the 2016 election. Other advertisements paid for by shadowy Russian buyers criticized Hillary Clinton and promoted Donald Trump. Some backed Bernie Sanders and his platform even after his presidential campaign had ended, according to a person with knowledge of the ads.  http://www.politico.com/story/2017/09/26/facebook-russia-trump-sanders-stein-243172

Russians Impersonated Real American Muslims to Stir Chaos on Facebook and Instagram: Using the account as a front to reach American Muslims and their allies, the Russians pushed memes that claimed Hillary Clinton admitted the U.S. "created, funded and armed" al-Qaeda and the so-called Islamic State; claimed that John McCain was ISIS' true founder; whitewashed blood-drenched dictator Moammar Gadhafi and praised him for not having a "Rothschild-owned central bank"; and falsely alleged Osama bin Laden was a "CIA agent." http://www.thedailybeast.com/exclusive-russians-impersonated-real-american-muslims-to-stir-chaos-on-facebook-and-instagram
4. Two-thirds say large corporations pay too little in federal taxes
Cutting corporate taxes looks like a hard sell for Donald Trump and Republican Party leaders -- a new ABC News/Washington Post poll shows that 65 percent of Americans feel large corporations pay too little in taxes.
Given what the public knows about it, they opposes Trump's tax plan by 44-28 percent, with a substantial 28 percent undecided. Half of those polled expect the administration's plan to reduce taxes on the wealthy, while just 10 percent think it'll reduce taxes on the middle class. A quarter expect equal treatment.http://abcnews.go.com/Politics/thirds-large-corporations-pay-federal-taxes-poll/story
5. Americans Say Trump Is 'Not Fit to Serve'
A new Quinnipiac poll finds that American voters believe President Trump is not "fit to serve as president," by a 56% to 42% margin. They are embarrassed to have him as president by a 51% to 27% margin.
Trump's approval rating is a dismal, 36% to 57%.
Said pollster Tim Malloy: "A divider, responsible for the deepening chasm of racial discord. That is the inescapable characterization of President Trump from voters who see race relations deteriorating on his watch."  https://poll.qu.edu/national/release-detail?ReleaseID=2487
6. Majority of adults disagree with Trump on firing athletes who kneel during anthem
A new Reuters/Ipsos poll finds that 57% of Americans disagree with President Trump's assertion that football players should be fired for kneeling during the national anthem, even though most say they would personally stand during the song. http://www.reuters.com/article/us-usa-trump-nfl-poll/a-majority-of-adults-disagree-with-trump-on-firing-athletes-who-kneel-during-anthem-reuters-ipsos-poll-idUSKCN1C1304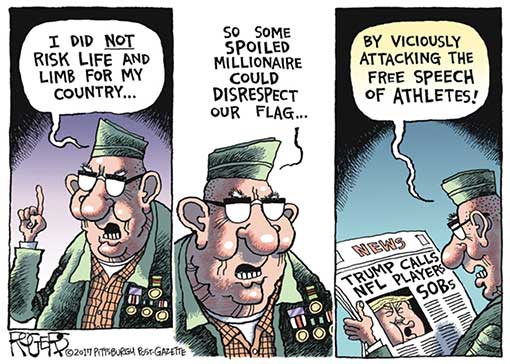 7. After Alabama, GOP anti-establishment wing declares all-out war in 2018
The stunning defeat of President Trump's chosen Senate candidate in Alabama on Tuesday amounted to a political lightning strike — setting the stage for a worsening Republican civil war that could have profound effects on next year's midterm elections and undermine Trump's clout with his core voters.
The GOP primary victory by conservative firebrand Roy Moore over Sen. Luther Strange could also produce a stampede of Republican retirements in the coming months and an energized swarm of challengers.  https://www.washingtonpost.com/politics/after-alabama-anti-establishment-wing-declares-all-out-war-in-2018/2017/09/26/96d1f54a-a2d0-11e7-b14f-f41773cd5a14_story.html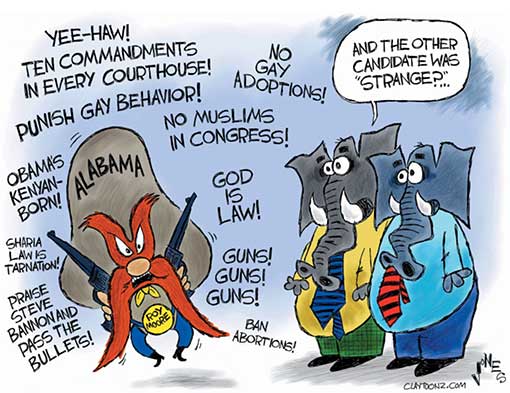 8. The DAILY GRILL
"Rocket man is on a suicide mission for himself and for his regime." -- Trump
If "forced to defend itself or its allies, we will have no choice but to totally destroy North Korea." -- Trump
"Kim Jong Un of North Korea, who is obviously a madman who doesn't mind starving or killing his people, will be tested like never before!" -- Trump tweet
Just heard Foreign Minister of North Korea speak at U.N. If he echoes thoughts of Little Rocket Man, they won't be around much longer! -- Trump tweet
VERSUS
"If he was thinking he could scare us with the sound of a dog barking, that's really a dog dream," -- Mr. Kim's foreign minister, Ri Yong-ho. In Korean, a dog dream is one that is absurd and makes little sense.
Trump is "unfit to hold the prerogative of supreme command of a country ... the president is "a rogue and a gangster fond of playing with fire." -- Kim
"I am now thinking hard about what response he could have expected when he allowed such eccentric words to trip off his tongue. Whatever Trump might have expected, he will face results beyond his expectation." -- Mr. Kim
"Action is the best option in treating the dotard who, hard of hearing, is uttering only what he wants to say. I will surely and definitely tame the mentally deranged U. S. dotard with fire." - Mr. Kim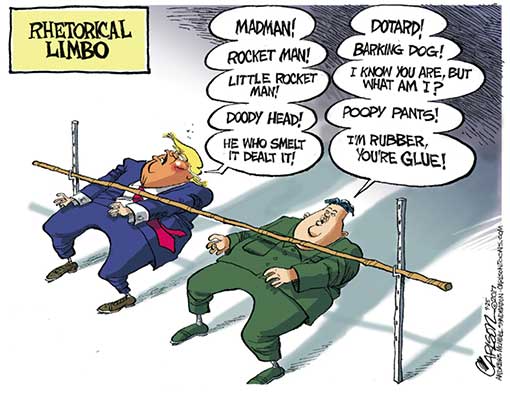 Going to the White House is considered a great honor for a championship team.Stephen Curry is hesitating,therefore invitation is withdrawn! -- Donald J. Trump @realDonaldTrump  

VERSUS
U bum @StephenCurry30 already said he ain't going! So therefore ain't no invite. Going to the White House was a great honor until you showed up!" -- LeBron James @KingJames
"We are U.S. citizens that just a few weeks ago went to the aid of other U.S. citizens even as we're going through our fiscal downturn and as we were hit by another storm…Now, we've been essentially devastated. Complete destruction of the power infrastructure, severe destruction of the housing infrastructure, food and water are needed. My petition is that we were there once for our brothers and sisters, our other U.S. citizens, now it's time that U.S. citizens in Rico are taken care of adequately, properly." -- Puerto Rico Governor Ricardo Rosselló
VERSUS
In response Republican lawmakers are racing against time ... to revise their ill-conceived health care bill that will leave millions of Americans uninsured and pass tax cuts that will result in "a massive windfall for the wealthiest Americans." -- Daily Kos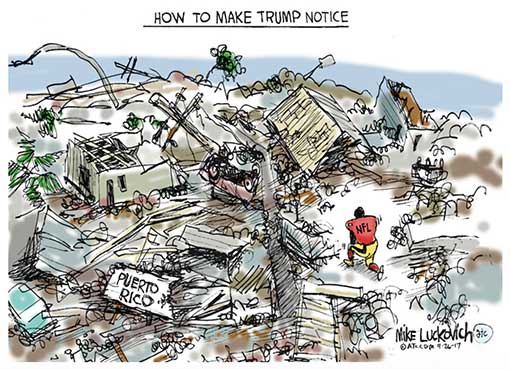 At least six of President Trump's closest advisers occasionally used private email addresses to discuss White House matters, current and former officials said on Monday. -- NY Times
VERSUS
During the 2016 presidential race, Mr. Trump repeatedly harped on Hillary Clinton's use of a private account as secretary of state, making it a centerpiece of his campaign and using it to paint her as untrustworthy. "We must not let her take her criminal scheme into the Oval Office," Mr. Trump said last year. His campaign rallies often boiled over with chants of "Lock her up!" -- NY Times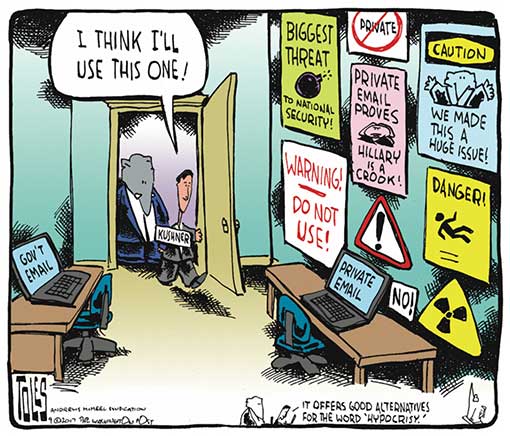 9. From MEDIA MATTERS (They watch Fox News so you don't have to)
Alex Jones tells Jimmy Kimmel to stop "pimping your kid out there to push Obamacare." Jones to Kimmel: "Why don't you actually save other kids instead of using your kid to bring in socialism and globalist control for big fat-cat corporations that want to make us buy overpriced health care?"  https://www.mediamatters.org/video/2017/09/21/alex-jones-tells-jimmy-kimmel-stop-pimping-your-kid-out-there-push-obamacare-s-designed-wreck-health/218005
Fox host: "All of Obamacare is immoral. All of Obamacare has resulted in human suffering."  https://www.mediamatters.org/video/2017/09/21/Fox-host-All-of-Obamacare-is-immoral-All-of-Obamacare-has-resulted-in-human-suffering/218004
CNN highlights how Russian Twitter bots spread pro-Trump messages throughout the 2016 election. Drew Griffin: "Automated accounts" originating in Russia "played a powerful role in determining the flow of information" https://www.mediamatters.org/video/2017/09/21/cnn-highlights-how-russian-twitter-bots-spread-pro-trump-messages-throughout-2016-election/218002
Tucker tells his black guest he understands his struggle with racism because "I'm an American." Carlson: "I'm an American ... don't pull that crap on me" https://www.mediamatters.org/video/2017/09/20/tucker-tells-his-black-guest-he-understands-his-struggle-racism-because-im-american/218000
"I read Breitbart": Tucker Carlson lashes out at Maxine Waters for calling Breitbart racist. Carlson: "I read Breitbart, I know most people who work over there, there's no Klansmen." https://www.mediamatters.org/video/2017/09/20/i-read-breitbart-tucker-carlson-lashes-out-maxine-waters-calling-breitbart-racist/217999
Charles Gasparino: The middle class doesn't pay a lot of tax, so we should cut taxes for the rich."It sounds good to say let's do a middle class tax cut" but "they don't pay a lot of the taxes."  https://www.mediamatters.org/video/2017/09/22/charles-gasparino-middle-class-doesnt-pay-lot-tax-so-we-should-cut-taxes-rich/218014
Fox & Friends host: Stephen Curry "dribbles a ball for a living, and somehow now he's preaching to this president about what leadership really looks like?"  https://www.mediamatters.org/video/2017/09/24/fox-friends-host-stephen-curry-dribbles-ball-living-and-somehow-now-he-s-preaching-president-about/218016
Fox guest falsely claims Trump didn't call peaceful NFL protesters sons of bitches. Trump's exact words were, "Wouldn't you love to see one of these NFL owners, when somebody disrespects our flag, to say, 'Get that son of a bitch off the field right now'?"  https://www.mediamatters.org/video/2017/09/24/fox-guest-falsely-claims-trump-didnt-call-peaceful-nfl-protesters-sons-bitches/218019
Alex Jones to "all the minorities" in America: "You live here, you get rich here, and then you piss all over it."  https://www.mediamatters.org/video/2017/09/25/alex-jones-all-minorities-america-you-live-here-you-get-rich-here-and-then-you-piss-all-over-it/218030
10. Opinion of Republican Party Falls to New Low
A new CNN poll finds that just 29% of Americans hold a favorable view of the Republican Party.
That is down 13 percentage points from March and is the lowest mark for the GOP since CNN began asking the question in 1992.  http://www.cnn.com/2017/09/24/politics/cnn-poll-republican-party-approval/index.html
11. More Racial Demagoguery of Trump's Assaults on Colin Kaepernick and Steph Curry
In these performances, Trump is making clear his moral priorities. He is infinitely more offended by the sight of a black ballplayer quietly, peacefully protesting racism in the United States than he is by racism itself. Which, at this point, should come as no surprise to any but the willfully obtuse…
What Trump is up to with this assault on athletes, particularly prominent black ones, is obvious; it is part of his larger culture war. Divide. Inflame. Confuse. Divert. And rule. He doesn't care to grapple with complexity of any kind, whether it's about the environment, or foreign affairs, or race, or the fact that a great American sport may, by its very nature, be irredeemable. Rather than embody any degree of dignity, knowledge, or unifying embrace, Trump is a man of ugliness, and the damage he does, speech after speech, tweet after tweet, deepens like a coastal shelf. Every day, his Presidency takes a toll on our national fabric. How is it possible to argue with the sentiment behind LeBron James's concise tweet at Trump: "U Bum"? It isn't."  https://www.newyorker.com/news/daily-comment/the-racial-demagoguery-of-trumps-assaults-on-colin-kaepernick-and-steph-curry
12. Trump Turns Sports Into a Political Battleground
Trump turned professional sports into a political battleground Friday night into Saturday morning, directing full-throated ire toward African American athletes who have spoken out against him and prompting a response from the National Football League, its players and the best basketball player in the world.  https://www.washingtonpost.com/sports/trump-sticks-to-sports-with-comments-on-nfl-players-and-owners-and-steph-curry/2017/09/23/50e76dd2-a071-11e7-9083-fbfddf6804c2_story.htm
13. Trump Will Shut Obamacare Site During Open Enrollment
The Trump administration plans to shut down the federal health insurance exchange for 12 hours during all but one Sunday in the upcoming Obamacare open enrollment season.
"The Department of Health and Human Services will also shut down the federal exchange — healthcare.gov — overnight on the first day of open enrollment, Nov. 1. More than three dozen states use that exchange for their marketplaces.  http://money.cnn.com/2017/09/22/news/economy/obamacare-open-enrollment/index.html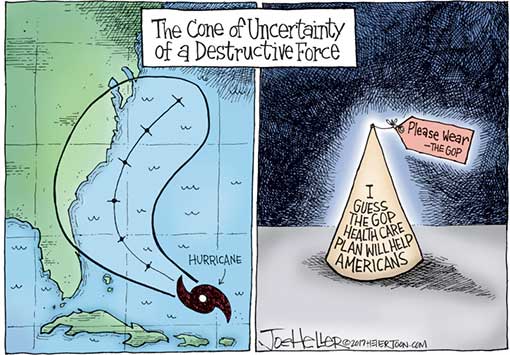 14. From the Late Shows
Last Week Tonight And Now, This: Megyn Kelly: https://youtu.be/EYF1_ORI21M

Jimmy Kimmel Grateful Health Care Bill is Dead: https://youtu.be/DV8REy2AgC0

The Daily Show with Trevor Noah: NFL Players take on Trump: https://youtu.be/G3THTzcJwXU

Stephen Colbert Monologue 9/25/17 - Trump NFL FireStorm, Trump vs #Noko:  https://www.youtube.com/watch?v=ZTlL3zl0LBQ&list=PLiZxWe0ejyv-lNeYtyxpvZEgMjvm-Xvs0
15. Late Night Jokes for Dems
-- Conan O'BrienIt's been revealed that a tweet President Trump sent out yesterday about Iran testing a ballistic missile was based on old news footage. Even worse, most of Trump's complaints about the NFL were based on the movie "Rudy." An employee for the Buffalo Bills quit after the entire team took a knee during the national anthem on Sunday. Meanwhile, an employee for the Los Angeles Chargers quit after watching them play on Sunday.

Today was President Trump's 250th day in office. Or, as he put it, "longer than any President in history."-- Jimmy Fallon

Senate Republicans announced today they will not hold a vote on the Graham-Cassidy bill to repeal and replace Obamacare after they were unable to secure enough support. But Republicans plan to come back with a new plan where they just slash the tires on all the ambulances. -- Seth Meyers

President Trump said today that getting relief efforts to Puerto Rico after the devastation caused by Hurricane Maria is tough because "It's an island." And then, proving he just learned it, yelled, "But Rhode Island isn't!!" -- Seth Meyers

Melania Trump this weekend took her first solo trip abroad as first lady, and everything was going great until the Secret Service found her and brought her back. -- Seth Meyers

As this point, the folks at the CBO must be so tired of analyzing healthcare bills, they're just free-balling it. "What, a new bill? Yeah, let me run the numbers. Yeah, yeah everybody dies!" -- Stephen Colbert

So that's it. It's over! And, "The GOP Is already eyeing the next chance to revive the Obamacare repeal." What! What! Already? Graham-Cassidy isn't even dead yet! That's like bringing a date to see your wife in the hospital. -- Stephen Colbert

On Friday, Trump addressed the football controversy. "Wouldn't you love to see one of these NFL owners, when somebody disrespects our flag, to say get that son of a b**** off the field right now, out, he's fired? Fired!" Wow. Son of a b****. That was unnecessary roughness. There should be a flag on that play, and I'm going to say a Confederate flag. -- Stephen Colbert

Now it is President Trump vs. the NFL. He took on the entire National Football League this weekend with his tweets. President Trump is angry at NFL players for their silent protests during the national anthem. Trump said, "Silent protests have no place anywhere outside my marriage." -- Conan O'Brien

Over the weekend, Donald Trump said NFL owners should respond to players kneeling during the national anthem by firing them. In a speech he said owners should say, quote, "Get that son of a b**** off the field right now, he's fired." And we can only hope and pray that's what Americans are also going to say in the next presidential election. -- James Corden

Trump also criticized the league for making efforts to prevent concussions, saying they are ruining the game. I don't think Trump realizes how dangerous the symptoms of these concussions are — headache, emotional instability, impulsive behavior. Basically they turn you into Donald Trump. -- James Corden

I saw that while discussing Puerto Rico, Trump said the Atlantic is "a very big ocean." Trump always sounds like he forgot about a class presentation and is just up there winging it. "The Atlantic is a very big ocean. A lot of people didn't know how big it was. It's one of the top five big oceans out there. It's very wet." -- Jimmy Fallon

Yesterday officials confirmed that at least six of President Trump's closest advisers used a private email to discuss official White House business. In a related story, Hillary Clinton was hospitalized today after rolling her eyes so hard she threw her back out. -- Jimmy Fallon

White House Press Secretary Sarah Huckabee Sanders said, from now on, "All White House personnel have been instructed to use official email to conduct all government-related work." Unfortunately, she made that statement in an email sent from "huckabizzle@hotmail.com." -- Jimmy Fallon
16. So much for draining the swamp: Trump hires campaign workers instead of farm experts at USDA
President Donald Trump's appointees to jobs at Agriculture Department headquarters include a long-haul truck driver, a country club cabana attendant and the owner of a scented-candle company.
A POLITICO review of dozens of résumés from political appointees to USDA shows the agency has been stocked with Trump campaign staff and volunteers who in many cases demonstrated little to no experience with federal policy, let alone deep roots in agriculture. But of the 42 résumés POLITICO reviewed, 22 cited Trump campaign experience. And based on their résumés, some of those appointees appear to lack credentials, such as a college degree, required to qualify for higher government salaries.  http://www.politico.com/story/2017/09/21/trump-agriculture-department-usda-campaign-workers-242951
17. Bannon Sought To Infiltrate Facebook Hiring
Steve Bannon "plotted to plant a mole inside Facebook," according to emails sent days before he took over Donald Trump's president campaign which were obtained by BuzzFeed News.
The email exchange with a conservative Washington operative reveals the importance that the giant tech platform — now reeling from its role in the 2016 election — held for one of the campaign's central figures. And it also shows the lengths to which the brawling new American right is willing to go to keep tabs on and gain leverage over the Silicon Valley giants they used to help elect Trump — but whose executives they also see as part of the globalist enemy.  https://www.buzzfeed.com/josephbernstein/steve-bannon-sought-to-infiltrate-facebook-hiring
18. Trump is 'prepping his base' for a constitutional crisis to stop the Russia probe
Rep. Mike Quigley (D-IL), a member of the House Intelligence Committee, said the probe has gotten deep into sensitive financial areas involving Trump and his family, and he "impulsive" president was almost certain to fire the special counsel.
"The Mueller investigation could take at least another year, maybe two, but (the House) investigation is closer to its infancy than conclusion," Quigley said Thursday, during a discussion at DePaul University College of Law. "In the meantime, we live with the very real threat that the Mueller investigation gets shut down."  https://www.rawstory.com/2017/09/trump-is-prepping-his-base-for-a-constitutional-crisis-to-stop-the-russia-probe-dem-lawmaker/
19. Is Trump All Talk on North Korea?
Mr. Trump's willingness to casually threaten to annihilate a nuclear-armed foe was yet another reminder of the steep risks inherent in his brute-force approach to diplomacy. His strengths as a politician — the ability to appeal in a visceral way to the impulses of ordinary citizens — are a difficult fit for the meticulous calculations that his own advisers concede are crucial in dealing with Pyongyang."
The disconnect has led to a deep uncertainty about whether Mr. Trump is all talk or actually intends to act. The ambiguity could be strategic, part of an effort to intimidate Mr. and keep him guessing. Or it could reflect a rash impulse by a leader with little foreign policy experience to vent his anger and stoke his supporters' enthusiasm.  https://www.nytimes.com/2017/09/24/us/politics/trump-north-korea-kim.htm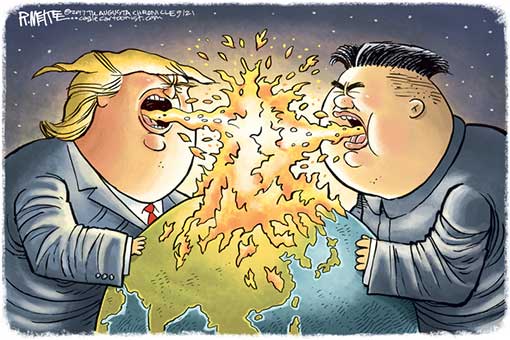 20. Obama Tried to Warn Zuckerberg About Fake News
Nine days after Facebook chief executive Mark Zuckerberg dismissed as 'crazy' the idea that fake news on his company's social network played a key role in the U.S. election, President Obama pulled the youthful tech billionaire aside and delivered what he hoped would be a wake-up call.
For months leading up to the vote, Obama and his top aides quietly agonized over how to respond to Russia's brazen intervention on behalf of the Trump campaign without making matters worse… Now huddled in a private room on the sidelines of a meeting of world leaders in Lima, Peru, two months before Trump's inauguration, Obama made a personal appeal to Zuckerberg to take the threat of fake news and political disinformation seriously. Unless Facebook and the government did more to address the threat, Obama warned, it would only get worse in the next presidential race. https://www.washingtonpost.com/business/economy/obama-tried-to-give-zuckerberg-a-wake-up-call-over-fake-news-on-facebook/2017/09/24/15d19b12-ddac-4ad5-ac6e-ef909e1c1284_story.html
1. Jelani Cobb: From Louis Armstrong to the N.F.L.: Ungrateful as the New Uppity
It's impossible not to be struck by Trump's selective patriotism. It drives him to curse at black football players but leaves him struggling to create false equivalence between Nazis and anti-Fascists in Charlottesville. It inspires a barely containable contempt for Muslims and immigrants but leaves him mute in the face of Russian election intervention. He cannot tolerate the dissent against literal flag-waving but screams indignation at the thought of removing monuments to the Confederacy, which attempted to revoke the authority symbolized by that same flag. He is the vector of the racial id of the class of Americans who sent death threats to Louis Armstrong, the people who necessitated the presence of a newly federalized National Guard to defend black students seeking to integrate a public school. He contains multitudes—all of them dangerously ignorant.
It has been convenient and politically profitable for Trump to paint the black athletes' protests as an inane attack upon the symbols of the United States, but he is deeply implicated, and is increasingly aggravating the actual cause of this discord. It was Trump who urged police officers in Brentwood, New York, to treat the suspects in their charge with casual brutality. Trump's Department of Justice has overseen the dismantling of the community-policing initiative, which was meant to encourage greater rapport between law enforcement and the neighborhoods they patrol. It is the President's D.O.J. that has displayed disdain for the federal consent decrees that had been used to reform dysfunctional police departments.
Amid Trump's nuclear brinksmanship and social-media provocation toward North Korea, amid the swollen gorges of water streaming through Puerto Rico, amid the craven and indefensible attempts to gut health care, amid the slower-moving crises of voting access, economic inequality, and climate change—amid all these things, Trump yet again found a novel way to diminish the nation he purportedly leads. He has authored danger in more ways than there are novel ways to denounce it. This is his singular genius. When this moment has elapsed, when some inevitably unsatisfactory punctuation has concluded the Trump era, we will be left with an infinitude of questions. But Trump, we will assuredly understand, is a small man with a fetish for the symbols of democracy and a bottomless hostility for the actual practice of it. https://www.newyorker.com/news/news-desk/from-louis-armstrong-to-the-nfl-ungrateful-as-the-new-uppity
2. Ryan Lizza: A Dizzying Week Of Trump-Russia Revelations
"We know that the Russians launched a cyber campaign to help Trump win. We know that the Trump campaign was willing to entertain assistance from the Russian government because Manafort, Jared Kushner, and Donald Trump, Jr., eagerly met with a Russian offering such assistance. This latest news suggests—though the reporting is still vague—what many people have long wondered: that Manafort may have been a crucial link between the Trump campaign and Russians seeking to defeat Hillary Clinton."
"If or congressional investigators unearth proof that Manafort colluded with the Russians, it will fortify the narrative that the Trump campaign worked with a foreign nation to alter the outcome of an American Presidential election—an unprecedented event in the country's history. Trump could dismiss the evidence, deny knowledge of the collusion, and dismiss the Mueller investigation as a 'witch hunt.' But this week's disclosures moved the theorizing about Trump and Russia one step closer to becoming a politically devastating blow to Trump's Presidency.  https://www.newyorker.com/news/ryan-lizza/a-dizzying-week-of-trump-russia-revelations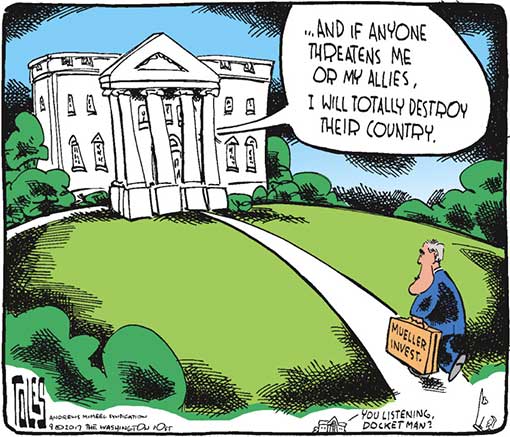 3. Charles E. Cook, Jr: The Urgent Need to Repair Our Broken Politics
"Saddled by a punitive peace imposed by its erstwhile enemies, post-World War I Germany, under the Weimar Republic, slid into fourteen years of political gridlock, civil unrest and social and economic chaos. … Corporate and labor leaders, the landed aristocracy, and other interest groups shortsightedly focused on their individual self-interests at the expense of the nation's. Wealth and income inequality grew." The Nazi Party and other extremist factions surged.
Germany between the wars creates an inflammatory analogy, but some of Bruno's words strike a chord today. "Years of political gridlock"—box checked. "Civil unrest"—box checked. "Social and economic chaos"—box checked. The United States is by no means the second coming of the Weimar Republic, but it's clear that our social fabric has been fraying for the last 20 or 30 years.
While the term 'winner-take-all' overstates America's economic imbalance, it is more right than wrong. Some experts say that social and economic mobility in the United States is now less than in Britain, a country that for centuries was known for its rigid class system. Sure, there are still Horatio Alger rags-to-riches stories in America, but social scientists and economists say these are far rarer than a half-century ago.  http://cookpolitical.com/analysis/national/national-politics/urgent-need-repair-our-broken-politics
4. Michael H Fuchs: Is Trump about to repeat George W Bush's worst mistake?
It's hard to overstate the potential disaster of destroying the Iran deal. Iran would be incentivized to race to get a nuclear weapon. The partners that helped make the Iran deal happen – Europe, China, Russia – would leave the US behind and continue doing business with Iran, making impossible any renewal of international pressure. And if Iran actually acquired a nuclear weapon, it could embolden Iran to escalate its regional provocations. All of this would result in more confrontation with the United States, and greater chances of war.
In fact, withdrawing from the Iran nuclear deal would undermine Trump's efforts to convince the world that he is looking for a diplomatic solution with North Korea: if Trump is willing to rip up a deal preventing Iran from getting a nuclear weapon, why should anyone believe he's willing to deal with North Korea? And why would North Korea deal with Trump if he doesn't live up to US commitments?
In 2002, less than a year after invading Afghanistan, President George W Bush used his speech before the UN general assembly to make the case to the world for action against Iraq. Let's hope, when history looks back on Trump's first UN speech, it's not viewed as the opening salvo in a completely preventable war with Iran.  https://www.theguardian.com/commentisfree/2017/sep/20/trump-george-w-bush-worst-mistake-iran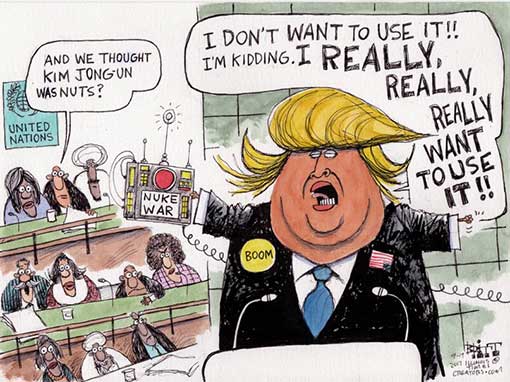 5. NY Times Editorial Board: Tax Cuts for the Rich by Another Name
Republicans on the Senate Budget Committee violated their supposedly sacrosanct principles of fiscal hawkishness this week, by saying that it would be just fine with them to add $1.5 trillion to the deficit over 10 years in order to cut taxes. They justify this hypocrisy by asserting what has been disproved time and again — that tax cuts spur the economy and compensate for any lost revenue.
In fact, these cuts could hurt the very people they purport to help — small-business owners, middle-class professionals and working-class Americans.
While even initial details of the tax plan are not expected before next week, deep corporate tax cuts have been a Republican priority for some time. Much of the discussion of that has revolved around the top rate, now 35 percent. President Trump has called for lowering it to 15 percent, while his economic aides and House Republicans favor a top rate around 25 percent.
But the rate cut on corporate profits is only part of the plan. A centerpiece of proposals made in the past by Mr. Trump and the House speaker, Paul Ryan, has been to tax so-called pass-through income at the same rate as corporate profits.
If pass-through income were taxed at the same proposed rate as corporate income, the real beneficiaries would be hedge fund managers, law firms and real estate developers like President Trump. Households making more than $1 million would receive more than two-thirds of the benefits if the rate was cut to 15 percent, according to the nonpartisan Tax Policy Center.
The average tax cut for millionaires would be $114,000 in 2018, raising their after-tax incomes by more than 5 percent. For multimillionaires, the tax savings would pile up even more. The 400 highest-income taxpayers in the country, with average annual incomes exceeding $300 million each, derive about one-fifth of their income from pass-through businesses.
Republicans claim to seek broad support, and a White House official said on Tuesday that the rich would not see a benefit from the tax plan. But the proposals they have floated would not benefit their middle-class constituencies in any lasting way and could actually harm them. If a pass-through plan is enacted, it will deprive the Treasury of revenue that might otherwise be used to invest in infrastructure, health care, science and education — in other words, the real priorities of most Americans.  https://www.nytimes.com/2017/09/21/opinion/tax-cuts-for-the-rich-by-another-name.html
6.  John Cassidy: There is No Trump Doctrine, Only Contradictions and Bluster
In calling Kim Jong Un "Rocket Man" and threatening to turn North Korea into a radioactive ashtray, Trump was presumably trying to goad the North Korean leader into opening negotiations about an agreement to denuclearize the Korean peninsula. But, immediately after his remarks about North Korea, Trump signalled his intention to tear up the nuclear deal that the Obama Administration reached with Iran—despite the fact that the other countries that signed the agreement—France, Germany, the United Kingdom, China, and Russia—all insist that Tehran is living up to its terms. Not only is Trump "courting a second major nonproliferation crisis, but he is putting a negotiated solution to reduce the North Korean threat even further out of reach," Kingston Reif, an expert at the Arms Control Association, told Vox. "If Trump unravels the deal, Kim will understandably conclude that the United States can't be counted on to live up to any agreement he might strike with it."
We can assume that Trump's sensible advisers recognize that the President was undercutting his own efforts to deal with Kim. Evidently, they have given up trying to impose some over-all coherence on his utterances. Trump hates being managed. The best they can do is to inject some reassuring passages into Trump's script and hope that he doesn't veer to far off it, and that nobody takes everything else he says too seriously. This is the man, after all, who during the campaign promised to bring U.S. troops home from Afghanistan, withdraw from nafta, and label China a currency manipulator.
It's become a truism with Trump: watch what he does, not what he says. This week at the U.N., many countries have adopted this approach. Among America's allies, the responses to Trump's General Assembly address were muted. The countries Trump referred to as "the wicked few" reacted more pointedly, but on the whole they were dismissive. The North Korean foreign minister, who is in New York, likened the speech to "the sound of a dog barking," adding that if Trump thought he could "scare us . . . that's really a dog's dream."
As a columnist for the People's Daily, an official newspaper of the Chinese Communist Party, noted, the "risky game of chicken" between Trump and Kim continues. On Thursday, Trump, after meeting with President Moon Jae-in of South Korea, announced that he is extending U.S. sanctions on individuals and firms that do business with Pyongyang. This move seemed to indicate that for now, at least, he is sticking to the diplomatic path. But that raised the question of how much of his fiery rhetoric is brinksmanship, and how much of it is real. The scary thing is, nobody knows for sure. Perhaps not even the President himself.  https://www.newyorker.com/news/john-cassidy/there-is-no-trump-doctrine-only-contradictions-and-bluster
7. Bloomberg Editorial: Trump Strikes a False Note at the United Nations
For President Donald Trump, apparently, encouraging greater international cooperation is not as important as getting off a good insult. In his first speech to the United Nations General Assembly, Trump threatened to "totally destroy North Korea" in the event of war and repeated his latest derogatory nickname for its leader, Kim Jong Un: "Rocket Man."
Trump's rhetoric, as well as his many references to the importance of sovereignty, will strike a chord with his American base of support. Before this audience, however, the style was inappropriate -- and the substance was puzzling. If the UN is such a threat to the sovereignty of its largest funder, for example, why has the U.S. seen fit to veto only one out of more than 600 United Nations Security Council Resolutions in the last 10 years?
Moreover, the scorn in Trump's speech for "unaccountable international tribunals and powerful global bureaucracies" ignores the reality that, at their best, the thousands of multilateral agreements the U.S. has signed have helped it meet challenges to sovereignty that no nation can meet by itself: the spread of communicable diseases, corruption, or weapons of mass destruction, for example. The existential threat of climate change -- which Trump failed to mention -- is another case in point.
With his focus on sovereignty, Trump also downplayed the UN's role as a force for spreading universal values, something that its American creators championed. Trump even saw fit to praise the U.S. Constitution's "first three beautiful words" -- neglecting to note that the UN Charter begins with a deliberate echo, "We the peoples."
It's all well and good to celebrate the contributions of "strong, sovereign nations" and to say that "we do not seek to impose our way of life on anyone." But if you're going to take on North Korea, Iran and Venezuela -- or counter the influence of opaque autocracies like China and Russia -- then it makes sense to start by pressing them to live up to the founding ideals of the charter.
None of this is to say that the UN doesn't need reform, which Trump to his credit pushed for. He was also right to draw forceful attention to the growing threats posed by Iran, North Korea and Venezuela.
But his overheated speech will make mustering support for both causes harder. Threatening a country with annihilation won't hearten its neighbors. And undermining the founding principles of an institution your nation did more than any other to establish won't help it to fulfill its promise.  https://www.bloomberg.com/view/articles/2017-09-20/trump-strikes-a-false-note-at-the-united-nations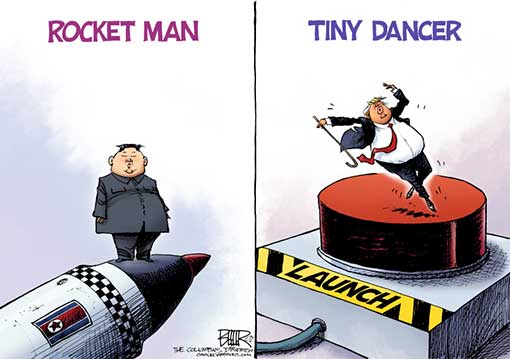 8. David Remnick: The Racial Demagoguery of Trump's Assaults on Colin Kaepernick and Steph Curry
Every day, and in countless and unexpected ways, Donald Trump, the President of the United States, finds new ways to divide and demoralize his country and undermine the national interest. On Tuesday, he ranted from the lectern of the U.N. General Assembly about "Rocket Man" and the possibility of levelling North Korea. Now he has followed with an equally unhinged domestic performance at a rally, on Friday evening, in Huntsville, Alabama, where he set out to make African-American athletes the focus of national contempt.
What Trump is up to with this assault on athletes, particularly prominent black ones, is obvious; it is part of his larger culture war. Divide. Inflame. Confuse. Divert. And rule. He doesn't care to grapple with complexity of any kind, whether it's about the environment, or foreign affairs, or race, or the fact that a great American sport may, by its very nature, be irredeemable. Rather than embody any degree of dignity, knowledge, or unifying embrace, Trump is a man of ugliness, and the damage he does, speech after speech, tweet after tweet, deepens like a coastal shelf. Every day, his Presidency takes a toll on our national fabric. How is it possible to argue with the sentiment behind LeBron James's concise tweet at Trump: "U Bum"? It isn't.  https://www.newyorker.com/news/daily-comment/the-racial-demagoguery-of-trumps-assaults-on-colin-kaepernick-and-steph-curry
9. NY Times Editorial: Mr. Trump Squanders the World's Trust
At a crucial moment, Donald Trump is forcing the world to confront core questions it really shouldn't have to ask: Can he be trusted? And, more saliently, can America be trusted? His threats to jettison the Iran nuclear deal are undermining America's credibility as a negotiating partner and weakening America's ability to lead the free world as it has for 70 years.
In his rush to bulldoze President Obama's accomplishments, Mr. Trump has withdrawn from the 12-nation Trans-Pacific Partnership trade agreement, leaving China with a freer hand to set trade rules in Asia; abandoned the hard-won 195-nation Paris Agreement to address climate change; and sowed grave doubts about his commitment to NATO, the bedrock alliance that has kept peace in Europe after World War II.
A bellicose stance toward Iran is just one part of the incoherent and inconsistent foreign policy that Mr. Trump described to the United Nations General Assembly. He elevated "sovereignty" as his guiding principle for international relations and used it as a rationale for threatening Iran, North Korea and Venezuela, then gave kid glove treatment to Russia — which has not only seized territory from Ukraine but has also sought to undermine America's own sovereignty — and China, which has expanded its territorial claims in the South China Sea.
Given the standard that Mr. Trump is setting for foreign policy reversals, his own decisions could eventually be overturned by his successor. But the damage to America's standing as a trusted, reliable partner won't be so easily repaired.  https://www.nytimes.com/2017/09/23/opinion/sunday/trump-trust-iran-korea.html
10. Pete Vernon: Dancing around the word 'racist' in coverage of Trump
Words matter, particularly when they are used to address the most divisive and politically fraught issue in America. But accurate reporting requires dealing honestly with the context of the situation. A president who launched his campaign with racist comments about Mexican immigrants, who built his political profile on the racist lie that Barack Obama was not born in America, and who saw "fine people on both sides" in Charlottesville last month has provided the evidence necessary to move beyond circumlocution.
A year ago, big media orgs like the NYT faced facts and called Trump a liar on the front page. It's time to use the word racist, too.
Trump's history of racism is long and well documented. He and his father, Fred Trump, were sued by the Department of Justice's Civil Rights Division in the the 1970s for discriminatory rental practices. (The Trumps and their company entered into a consent decree in which they admitted no wrongdoing, but agreed to several safeguards to ensure no discrimination in rental decisions occurred in the future.) In 1989, Trump took out full page ads in four New York City newspapers calling for the return of the death penalty so that it could be applied to the black and Latino teenagers known at the Central Park Five. Even after they were exonerated using DNA evidence, Trump refused to admit his error.
As The New Yorker's Jelani Cobb writes, "It's impossible not to be struck by Trump's selective patriotism. It drives him to curse at black football players but leaves him struggling to create false equivalence between Nazis and anti-Fascists in Charlottesville." Trump's attacks against Kaepernick, other black athletes, and ESPN sportscaster Jemele Hill are of a piece with previous actions in both his private and political life. Over the weekend, Cobb's colleague David Remnick wrote of Trump's speech in Alabama, "It is no longer a matter of 'dog whistling.' This is a form of racial demagoguerybroadcast at the volume of a klaxon."
Opinion writers and columnists have long felt free to label Trump's words for what they are. Given the surfeit of evidence, of which his castigation of NFL players is only the latest piece, it's time for reporters to do the same.  https://www.cjr.org/covering_trump/trump-racism.php
11. David Brooks: The Abbie Hoffman of the Right: Donald Trump
The members of the educated class saw this past weekend's N.F.L. fracas as a fight over racism. They felt mobilized and unified in that fight and full of righteous energy. Members of the working class saw the fracas as a fight about American identity. They saw Pittsburgh Steelers coach Mike Tomlin try to dissuade Alejandro Villanueva, a three-time combat veteran, from celebrating the flag he risked his life for. Members of this class also felt mobilized, unified and full of righteous energy.
I don't know which planet is bigger, or which would win an election, but that frankly doesn't matter. All that matters is that Trump is shredding the culture and ending the dominance of the meritocratic establishment.
He continually goes after racial matters in part because he's a bigot but also in part because multiculturalism is the theology of the educated class and it's the leverage point he can most effectively use to isolate the educated class from everyone else.
He is so destructive because his enemies help him. He ramps up the aggression. His enemies ramp it up more, to preserve their own dignity. But the ensuing cultural violence only serves Trump's long-term destructive purpose. America is seeing nearly as much cultural conflict as it did in the late 1960s. It's quite possible that after four years of this Trump will have effectively destroyed the prevailing culture. The reign of the meritocratic establishment will be just as over as the reign of the Protestant establishment now is.
Of course Donald Trump is a buffoon. Buffoonery is his most effective weapon. Because of him, a new culture will have to be built, new values promulgated and a new social fabric will have to be woven, one that brings the different planets back into relation with one another.
That's the work of the next 20 years.  https://www.nytimes.com/2017/09/26/opinion/abbie-hoffman-donald-trump.html
12. Christine Brennan: Donald Trump missed the memo: Don't pick on football players
Let it be noted that Trump mustered more anger Friday over Kaepernick's personal decision to not stand for the anthem than he did for the neo-Nazis and white Supremacists who marched in Charlottesville's deadly protest last month.
And this is as good a time as any to mention that Kaepernick is reported to be very close to completing his goal of donating $1 million to charity.
Trump's other rant -- against the NFL's attempts to make football safer -- could not have been more ill-timed. 
"They're ruining the game, right? They're ruining the game," Trump bellowed just a day after it was announced that Aaron Hernandez, the former New England tight end who hanged himself in his jail cell after being convicted of murder, had a severe form of CTE, the debilitating brain disease, at the very young age of 27.
One wonders how such comments play in living rooms across the nation, where parents continue to grapple with their son's (and the occasional daughter's) interest in playing such a popular and violent game that both delights and scares the masses. 
This isn't just an issue about calling penalties in the NFL. It's about the safety and long-term well-being of millions of young American athletes.
The President of the United States couldn't have cared less about that Friday night.  https://www.usatoday.com/story/sports/columnist/brennan/2017/09/23/donald-trump-missed-memo-dont-pick-football-players/696420001/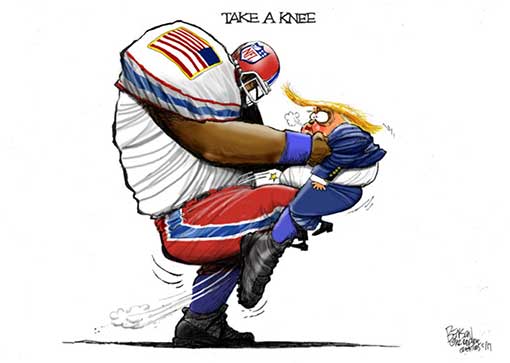 13. Dana Milbank: The sad suspicion about Trump's shameful treatment of Puerto Rico
Adm. Paul Zukunft, the Coast Guard commandant, said Monday that he understands why Puerto Rico's residents feel forgotten. "They feel isolated, and they're probably getting a sense of betrayal, of, well, 'Where is the cavalry?' " Zukunft said.
Good question. Phillip Carter, a military specialist with the Center for a New American Security, likening Trump's "anemic" response in Puerto Rico to President George W. Bush's response to Hurricane Katrina. Carter told me Puerto Rico conservatively needs a response of 50,000 U.S. troops. Even Haiti — a foreign country — got the help of more than 20,000 troops after its 2010 earthquake.
"The response to Harvey and Irma and previous disasters has been much more substantial," Carter said. Trump, he said, "is more interested in the NFL than Puerto Rico and the Virgin Islands."
No question the logistics are harder in Puerto Rico. But the 3.4 million U.S. citizens there have long endured second-class status: no voting members of Congress, no presidential vote, unequal benefits and high poverty. Now, the Trump administration's failure to help Americans in Puerto Rico with the same urgency it gave those in Texas and Florida furthers a sad suspicion that the disparate treatment has less to do with logistics than language and skin color.  https://www.washingtonpost.com/opinions/the-sad-suspicion-about-trumps-poor-treatment-of-puerto-rico/2017/09/26/5a54cde4-a2ef-11e7-8cfe-d5b912fabc99_story.html