December 22, 2016
ON THE RECORD. . .
"He's a poor person's idea of a rich person. They see him. They think, 'If I were rich, I'd have a fabulous tie like that. Why are my ties not made of 400 acres of polyester?' All that stuff he shows you in his house—the gold faucets—if you won the lottery, that's what you'd buy." -- Fran Lebowitz on Donald Trump

"That was the big thing, so thank you to the African-American community," -- Trump calling for the mostly white crowd to cheer for African-Americans who were "smart" to heed his message and "didn't come out to vote" for Hillary Clinton. 12/15/16

"Now they're getting nervous on television, and you see these anchors they're like sweating and crying and throwing up all over the place. All those months he's saying there is no path to 270 for Donald Trump. He's up with the red map, and he's going and his hands start to shake, and he's gasping for breath, he can't breathe, he's choking like a dog. And for months he's been saying I have no path to victory and you know, the bad news is a lot of people probably believed him and they didn't go out to vote. It's called suppressing the vote." -- Trump mocking CNN's John King.

"The hackers, whether or not they're Russian hackers, I don't know. I know the CIA and the FBI disagree as to who the hackers are. But whether they're Russian hackers or any other hackers, the only information that we were getting from hackers was accurate information, was truthful. And that's not gonna turn the tide. If the American people have been given more truthful information, that's terrific." -- Rep. Dana Rohrabacher (R-CA) saying it was "terrific" that voters got truthful information about Hillary Clinton's campaign, regardless of whether the hackers were Russian.

A big, big driver of Obamacare repeal is that it's a big tax cut for the super wealthy. Taxpayers in the top 1 percent see an average tax cut of $33,000. Those in the top .1 percent will get an average tax cut of $197,000. -- Tierney Sneed for TPM 12/15/16 

And, the truth is, is that there was nobody here who didn't have some sense of what kind of effectmight have. I'm finding it a little curious that everybody's suddenly acting surprised that this [hacking and leaking DNC emails] looked like it was disadvantaging Hillary Clinton, 'cause you guys wrote about it every day! Every single leak. About every little juicy tidbit of political gossip. Including John Podesta's risotto recipe. -- President Obama

California certifies its results: Clinton 8,753,788 (61.7%), Trump 4,483,810 (31.6%), Others 943,997 (6.7%). Largest Dem margin since 1936. -- Dave Wasserman @Redistrict

"In the end, Mr. Trump won for a simple reason: The Electoral College's (largely) winner-take-all design gives a lot of weight to battleground states. Mr. Trump had an advantage in the traditional battlegrounds because most are whiter and less educated than the country as a whole." -- Nate Cohn 12/19/16

People voted Trump to spite liberals who (they imagined) thought them ignorant, are now shocked that they may lose health care. Just saying. -- Paul Krugman on Twitter 12/13/16

"Democrats cannot just defend Medicare; they must loudly point out that repealing Obamacare means eliminating the taxes that subsidize health care for low- and middle-income people. That huge and immediate tax cut for the rich would lead to the demise of subsidized health insurance for millions of less privileged Americans in rural, suburban and urban communities." -- Theda Skocpol in the NY Times 12/21/16

"We have to end Medicare as we know it,"-- Rep. Mick Mulvaney (R-SC), Trump's pick to direct the Office of Management and Budget, in 2011.

A president intent on developing a base of enthusiastic supporters who believe boldface lies poses a clear threat to American democracy. This is how tyranny begins." -- Robert Reich 12/18/16 http://robertreich.org/post/154643782110
---
IN THIS ISSUE
1. Andy Borowitz: Inauguration Protesters Plan To Surround White House To Keep Obama From Leaving
2. The DAILY GRILL
3. From MEDIA MATTERS (They watch Fox News so you don't have to)
4. Repealing Obamacare would give the rich a huge tax cut
5. To combat Trump, Democrats ready a Republican tactic: lawsuits
6. Trump's Cabinet picks have more wealth than third of American households combined
7. DNC chair fight puts labor in tough spot
8. Why The GOP's Obamacare Repeal May Doom Their Replacement
9. Fox News poll: Most think Trump's presidency will be "one of the worst"
10. How Not to Help Trump
11 . From the Late Shows
12. The Crowdsourced Guide To Fighting Trump's Agenda
13. A First Family Album
14. Leak reveals Rex Tillerson is director of Bahamas-based US-Russian oil company 
15. Late Nite Jokes
1. Paul Krugman: Useful Idiots Galore
2. John Podesta: Something is deeply broken at the FBI
3. Steven W Thrasher: Democrats: Don't try to work with Donald Trump. Just say 'no'
4. Ruth Marcus: Trump needs to get over his victory
5. Joy-Ann Reid: Surviving Trump's Reality Show
6. Rebecca Mead: Betsy Devos And The Plan To Break Public Schools
7. NY Times Editorial: Donald Trump's Denial About Russia
8. Steven Levitsky and Daniel Ziblatt: Is Donald Trump a Threat to Democracy?
9. Jonathan Chait: The Scariest Thing About Trump's Presidency So Far Is Michael Flynn and His Team of Nutters
10. Paul Krugman: How Republics End 
1. Andy Borowitz: Putin To Sing At Trump Inauguration
After having difficulty persuading prominent entertainers to participate at the event, the Trump transition team announced on Sunday that the Russian President Vladimir Putin would sing at Donald J. Trump's Inauguration next month.

In a brief statement from the Kremlin, Putin said, "I will be most delighted to perform for my comrade."

The choice of Putin raised eyebrows in Washington, since the Russian, while famous for invading neighboring countries and imprisoning political opponents, is not particularly well known as a singer.

The Trump adviser Kellyanne Conway pushed back against such criticism during an appearance on CNN. "If we limited ourselves to people who had talent and experience, that would disqualify half of our Cabinet," she said.

Putin's choice of musical material also stirred controversy, as politicians on both sides of the aisle questioned his plan to perform the Russian national anthem.

According to those critics, the spectacle of Putin praising the glory and majesty of Russia in song would be inappropriate for the Inauguration of an American President.

In an attempt to quell that controversy, Putin said late on Sunday that he would instead serenade Trump by singing the Bette Midler classic, "Wind Beneath My Wings."Read more at http://www.newyorker.com/humor/borowitz-report/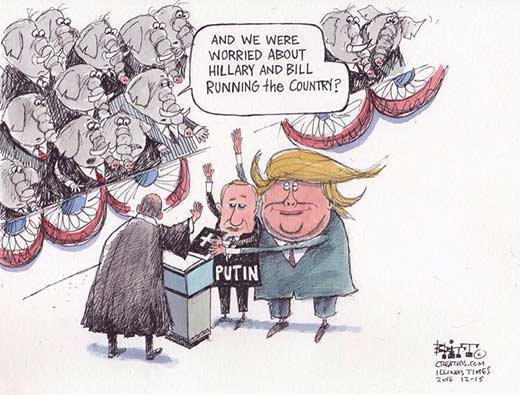 2. The DAILY GRILL
"There is probable cause to believe that the Subject Laptop contains evidence, contraband, fruits, and/or other items illegally possessed in violation of 18 U.S.C. § 793 (e) and (f)." -- FBI agent , citing felony Espionage Act provisions for illegal possessions of classified information in the court filings unsealed Tuesday show that the FBI said in an affidavit that Anthony Weiner's laptop was likely to contain evidence of illegal possession of classified information.

VERSUS

"Today's release of the FBI affidavit highlights the extraordinary impropriety of [FBI] Director [James] Comey's October 28 letter, publicized two days before the affidavit, which produced devastating but predictable damage politically and which was both legally unauthorized and factually unnecessary. The affidavit concedes that the FBI had no basis to conclude whether these e-mails were even pertinent to that closed investigation, were significant, or whether they had, in fact, already been reviewed prior to the closing of the investigation." -- Clinton lawyer David Kendall

 

"Lock her up. Lock her up. Damn right; exactly right. There's nothing wrong with that. ... If I, a guy who knows this business—if I did a tenth of what she did, I'd be in jail today." -- Lt. Gen. Michael Flynn, Trump's incoming national security advisor at the GOP convention.

VERSUS

Flynn's career shows "a pattern of egregious, unjustified security breaches during his career, for which he was never apparently held accountable. -- Susan Hennessey, a former NSA lawyer who specialized in cybersecurity. 12.14.16

 

White House press secretary Josh Earnest suggesting at his daily press briefing that Trump "obviously knew that Russia was engaged in malicious cyber activity that was helping him" and called on the President-elect's transition team to support an investigation into the attacks.

VERSUS

"This foolish guy Josh Earnest, I don't know if he's talking to President Obama. He is so bad, the way he delivers a message. He can deliver a positive message and it sounds bad. He could say, 'Ladies and gentlemen, today we have totally defeated ISIS,' and it wouldn't sound good." -- Donald Trump lashing out at Josh Earnest 

 

"Why did Barack Obama let Iran keep our drone? Now it is going straight to the Chinese. He should have taken it out." — Trump, on Twitter. 12/12, 2011.

VERSUS

"We should tell China that we don't want the drone they stole back. Let them keep it!" — Trump, on Twitter, 12/07/16.
3. From MEDIA MATTERS (They watch Fox News so you don't have to)
Alex Jones Threatens To Sue Facebook Over New Initiative To Fight Fake News, Which He Claims Is A CIA Plot http://mediamatters.org/blog/2016/12/15/alex-jones-threatens-sue-facebook-over-new-initiative-fight-fake-news-which-he-claims-cia-plot/214834

Sean Hannity Goes After "Idiot" Lindsey Graham To Refute Claims That Russia Was Involved In Election Hack. Hannity: "Lindsey Graham, The Idiot. What Is He Citing? Except That He Hates Trump" http://mediamatters.org/video/2016/12/15/sean-hannity-goes-after-idiot-lindsey-graham-refute-claims-russia-was-involved-election-hack/214833

Conservative Media Freak Out Over Facebook's Plan To Address The Fake News Problem http://mediamatters.org/research/2016/12/15/conservative-media-freak-out-over-facebook-s-plan-address-fake-news-problem/214832

Alex Jones Warns Trump That The CIA Is Trying To "Assassinate" The President-Elect.Jones Previously Said The CIA Was Involved In 9/11 And The Oklahoma City And Boston Marathon Bombings http://mediamatters.org/blog/2016/12/19/alex-jones-warns-trump-cia-trying-assassinate-president-elect/214865

"Triumvirate Of Idiocy": Possible Trump Press Secretary Laura Ingraham Slams Trump's GOP Critics For Criticizing His Cabinet Picks http://mediamatters.org/video/2016/12/19/triumvirate-idiocy-possible-trump-press-secretary-laura-ingraham-slams-trumps-gop-critics/214863

Ted Koppel: Trump Ally Alex Jones Is "Spreading The Manure That Fertilizes Conspiracy Theories All Over The Internet" http://mediamatters.org/video/2016/12/18/ted-koppel-trump-ally-alex-jones-spreading-manure-fertilizes-conspiracy-theories-all-over-internet/214857

Tucker Carlson: Michelle Obama "Gets Away" With "Really Nasty And Divisive" Comments. Carlson Also Accuses Michelle Obama Of Fomenting "A Cult Of Personality" http://mediamatters.org/video/2016/12/16/tucker-carlson-michelle-obama-gets-away-really-nasty-and-divisive-comments/214854
4. Repealing Obamacare would give the rich a huge tax cut
People wondering why Republicans are so hell-bent on repealing Obamacare even though that would cost 20 million Americans their health insurance haven't been heeding the old investigator's maxim to "follow the money."
The path leads to the Affordable Care Act's tax provisions, and the discovery that repeal would provide the wealthiest taxpayers with an immediate tax cut totaling $346 billion over 10 years. Every cent of that would go to taxpayers earning more than $200,000 a year ($250,000 for couples). As Nicholas Bagley of the University of Michigan observed a few days after the election, the imperative of handing their wealthy patrons a gift of this magnitude may well outweigh their solicitude for the mostly middle- and low-income constituents whose individual insurance plans would be at risk from repeal. 
The Tax Policy Center says nearly everyone in the top 1% would get a tax cut averaging $33,000, or about 2.1% of their after-tax income. Those in the top 0.1% do even better, pocketing an average tax cut of about $197,000, or 2.6% of after-tax income. The TPC says the top 1% includes households with incomes of $774,300 or more in 2016 dollars, and the top 0.1% starts at $4.76 million. -- Michael Hiltzik 12/16/16 http://www.latimes.com/business/hiltzik/la-fi-hiltzik-obamacare-tax-cut-20161216-story.html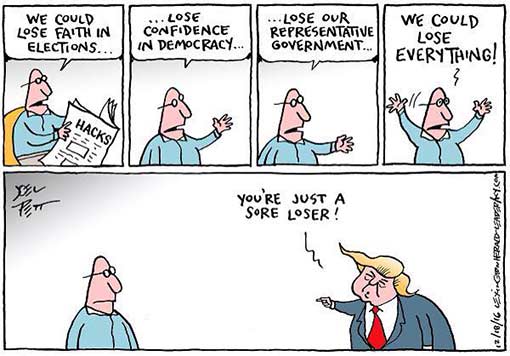 5. To combat Trump, Democrats ready a Republican tactic: lawsuits
As Democrats steel themselves for the day next month when the White House door will slam on their backs, some of the country's more liberal state attorneys general have vowed to use their power to check and balance Mr. Trump's Washington."
The strategy could be as simple as mirroring the blueprint laid out by their Republican colleagues, who made something of a legal specialty of tormenting President Obama. Conservative attorneys general in states including Texas, Virginia and Florida have sued the Obama administration dozens of times, systematically battering Mr. Obama's signature health care, environmental and immigration policies in the courts. 12/15/16 https://lasvegassun.com/news/2016/dec/15/to-combat-trump-democrats-ready-a-republican-tacti/
6. Trump's Cabinet picks have more wealth than third of American households combined
The 17 people filling President-elect Donald Trump's Cabinet and similar positions earn more money than a third of households in America combined, Quartz reported Thursday.
The amount of wealth possessed by the 17 picks, at least $9.5 billion, is greater than the 43 million least wealthy households in America.
The wealthiest members of Trump's Cabinet include Education pick Betsy DeVos, who is worth $5.1 billion, and Commerce pick Wilbur Ross, who is worth $2.9 billion. 12/15/16 http://thehill.com/blogs/blog-briefing-room/news/310566-trumps-cabinet-picks-have-more-money-than-third-of-american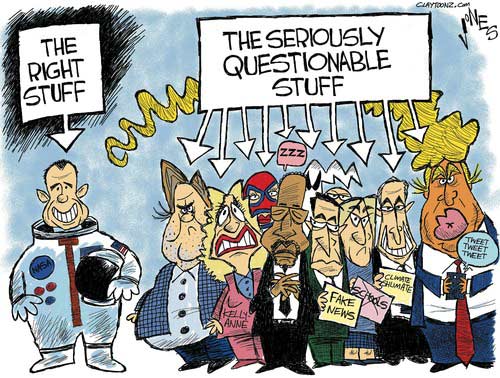 7. DNC chair fight puts labor in tough spot
Tom Perez's entry to the race for the Democratic National Committee chairmanship has put one of the party's most important constituencies in a bind: organized labor loves him from his work as Labor Secretary, but some of the most influential union players have already committed to his main rival, Keith Ellison.
And as party leaders debate the future of the party, it's still not likely to be Perez's progressive or union credentials that come into question from Ellison supporters, but rather his association with Clinton and President Barack Obama — the exact figures who embody the "political establishment" despised by Sanders acolytes. http://www.politico.com/story/2016/12/tom-perez-dnc-labor-232670
8. Why The GOP's Obamacare Repeal May Doom Their Replacement
The GOP's most likely path for repealing Obamacare immediately eliminates hundreds of billions of dollars in tax revenue that would otherwise be available to fund their replacement plan.
The large tax cut, which would go disproportionately to high earners, will seriously handcuff lawmakers as they try to cobble together a replacement plan to cover the millions of Americans dependent on Obamacare for health insurance, health care policy experts say.
With Republican Party's strict anti-tax orthodoxy, it is difficult to envision the new GOP-controlled Congress raising taxes down the road to fund their Obamacare replacement. So while the current plan of repeal and delay contemplates a future replacement plan, the lost tax revenues is perhaps the most telling sign that a viable replacement may be either impossible to achieve or a meager substitute.
So far, congressional leaders have signaled they're eying a version of the 2015 bill that delayed some aspects of Obamacare repeal for two years, but dismantled its taxes right away.
Not only would that mean a major tax break for the high-earners, with cuts that are directed towards individuals making more than $200,000. It would also shut down right off the bat a potential revenue source for whatever alternative -- if there ever is one -- that GOP lawmakers settle on. http://talkingpointsmemo.com/dc/obamacare-repeal-republicans-replacement-tax-cut
9. Fox News poll: Most think Trump's presidency will be "one of the worst"
Fox News poll found that 31% of registered voters believe history will judge Donald Trump's presidency as "one of the worst."
The poll, conducted Dec. 11-13 among 1,034 registered voters nationally, also found that 11 percent of those polled said they believed Trump's administration would go down as "one of the greatest;" 25 percent believe it would be considered above average; 16 percent believe it will be remembered as average; and 12 percent thought history would judge it as below average. The survey had a margin of error of three percentage points. http://talkingpointsmemo.com/livewire/fox-news-poll-trump-presidency-one-of-the-worst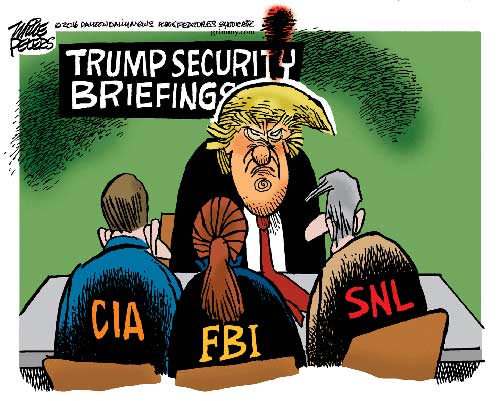 10. How Not to Help Trump
Without knowing it, many Democrats, progressives and members of the news media help Donald Trump every day. The way they help him is simple: they spread his message.
Think about it: every time Trump issues a mean tweet or utters a shocking statement, millions of people begin to obsess over his words. Reporters make it the top headline. Cable TV panels talk about it for hours. Horrified Democrats and progressives share the stories online, making sure to repeat the nastiest statements in order to refute them. While this response is understandable, it works in favor of Trump.
When you repeat Trump, you help Trump. You do this by spreading his message wide and far. -- George Lakoff: 12/15/16 https://georgelakoff.com/2016/12/15/how-to-help-trump/
11. From the Late Shows
SNL Cold Open: Donald Trump Christmas -

SNL: Hillary Actually

https://www.youtube.com/watch?v=IAhF8tPqafQ

Good Grief, It's A Stephen Colbert Christmas Special
12. The Crowdsourced Guide To Fighting Trump's Agenda
"Indivisible: A Practical Guide for Resisting the Trump Agenda" declares, "Our goal is to provide practical understanding of how your MoCs think, and how you can demonstrate to them the depth and power of the opposition to Donald Trump and Republican congressional overreach. This is not a panacea, nor is it intended to stand alone. We strongly urge you to marry the strategy in this guide with a broader commitment to creating a more just society, building local power, and addressing systemic injustice and racism." http://www.newyorker.com/news/news-desk/the-crowd-sourced-guide-to-fighting-trumps-agenda
13. A First Family Album
As the Obamas prepare to bid Washington adieu, TIME selected its favorite photographs from their political beginnings in Chicago to their last months in The White House. —Chelsea Matiash, 12/15/16 http://time.com/the-obamas-family-album/
14. Leak reveals Rex Tillerson is director of Bahamas-based US-Russian oil company
Rex Tillerson, the businessman nominated by Donald Trump to be the next US secretary of state, is the long-time director of a US-Russian oil firm based in the tax haven of the Bahamas, leaked documents show.
Tillerson – the chief executive of ExxonMobil – has been a director of the oil company's Russian subsidiary, Exxon Neftegas, since 1998. His name – RW Tillerson – appears next to other officers who are based at Houston, Texas; Moscow; and Sakhalin, in Russia's far east. 12/18/16 https://www.theguardian.com/us-news/2016/dec/18/leak-rex-tillerson-director-bahamas-based-us-russian-oil-company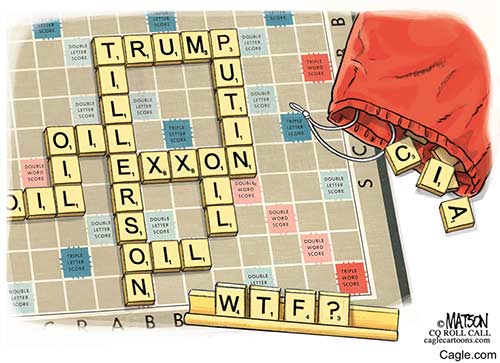 15. Late Nite Jokes
"We're just 10 days away from Christmas! And if you want to know if Santa has you on his 'nice' list or his 'naughty' list, just ask Russia to hack it for you." –Jimmy Fallon

"And it turns out that two separate Russian hacking groups named Cozy Bear and Fancy Bear were targeting the DNC. It's confusing, 'cuz 'Cozy Bear' and 'Fancy Bear' are also Trump and Putin's nicknames for each other." –Jimmy Fallon

"When an FBI agent first contacted the DNC to tell them they'd been hacked, the person who took the call thought it was a prank. 'Yeah, it happens more than you'd think,' said FBI Agent Seymour Butts." –Jimmy Fallon

"So far, President-elect Donald Trump's cabinet is over 75% white men. It's the first presidential cabinet in history to be sponsored by Dockers." –Conan O'Brien

"Kanye West tweeted a photo of a Donald Trump-signed copy of Time Magazine's Person of the Year issue. Trump signed it, 'To my good friend, Ben Carson.'" –Conan O'Brien

"Yesterday the president-elect met with Bill Gates, Jim Brown, and Kanye West. Today he met with executives from Amazon, Tesla, Apple, Google, and Facebook. He gathered all the major tech execs for a very important role: He wanted to see if any of them could figure out his iTunes login." –Jimmy Kimmel

"The CEO of Twitter, Jack Dorsey, did not meet with Donald Trump, I'm guessing for the same reason Dr. Frankenstein never went out of his way to meet the monster." –Jimmy Kimmel

"Mitt Romney tweeted that it was 'an honor' to be considered for secretary of state. Romney then tweeted, 'Oh, and has anyone seen my dignity?'" –Conan O'Brien

"A friend of Donald Trump's said that Trump dangled the office of secretary of state to Mitt Romney to 'torture him.' You can watch the whole thing in the new series 'White Billionaire Pranks.'" –Conan O'Brien

"Donald Trump's pick for secretary of state, Rex Tillerson, was once the president of the Boy Scouts of America. Or as Donald Trump calls that, 'government experience.'" –Conan O'Brien

"There are only 11 shopping days left until Christmas, and only 37 shopping days to fill your doomsday bunker with canned goods before Trump becomes the president." –James Corden

"Donald Trump has continued to make more surprising appointments in his cabinet. This morning, Trump chose the CEO of Exxon Mobil, Rex Tillerson, as his secretary of state. Because, you know, when you think responsible, ethical and trustworthy, you think Exxon Mobil." –James Corden

"On Twitter Trump announced his nominee for secretary of state, Rex Tillerson, CEO of a small mom-and-pop business called Exxon Mobil. He announced he's changing his slogan from 'drain the swamp' to 'fill 'er up!'" –Jimmy Kimmel

"These cabinet appointments are something else. I can't wait to see who he picks to actually be president of this country." –Jimmy Kimmel

"Jeb Bush told reporters today that he does not think Russia 'influenced' the election. And if anybody knows about not influencing elections, it's Jeb Bush." –Seth Meyers

"Former Texas Gov. Rick Perry has been named Donald Trump's pick for secretary of energy. And I have to say, he is the most qualified candidate from that particular season of 'Dancing with the Stars.'" –Seth Meyers

"This morning, the president-elect met at Trump Tower with Kanye West. You can tell it was a high-powered meeting because Kanye wore his formal sweat suit." –Stephen Colbert

"Tillerson is an interesting pick. For one thing, he's an oil main who believes in climate change. Well, of course he believes in it! He's from Exxon — he INVENTED it. It's pride of ownership. It's his baby!" –Stephen Colbert
1. Paul Krugman: Useful Idiots Galore
The pro-Putin tilt of Mr. Trump and his advisers was obvious months before the election — I wrote about it in July. By midsummer the close relationship between WikiLeaks and Russian intelligence was also obvious, as was the site's growing alignment with white nationalists.
Did Republican politicians, so big on flag waving and impugning their rivals' patriotism, reject this foreign aid to their cause? No, they didn't. In fact, as far as I can tell, no major Republican figure was even willing to criticize Mr. Trump when he directly asked Russia to hack Mrs. Clinton.
This shouldn't come as a surprise. It has long been obvious — except, apparently, to the news media — that the modern G.O.P. is a radical institution that is ready to violate democratic norms in the pursuit of power. Why should the norm of not accepting foreign assistance be any different?
The bigger surprise was the behavior of the news media, and I don't mean fake news; I mean big, prestigious organizations. Leaked emails, which everyone knew were probably the product of Russian hacking, were breathlessly reported as shocking revelations, even when they mostly revealed nothing more than the fact that Democrats are people.
Meanwhile, the news media dutifully played up the Clinton server story, which never involved any evidence of wrongdoing, but merged in the public mind into the perception of a vast "email" scandal when there was nothing there.
And then there was the Comey letter. The F.B.I. literally found nothing at all. But the letter dominated front pages and TV coverage, and that coverage — by news organizations that surely knew that they were being used as political weapons — was almost certainly decisive on Election Day.
So as I said, there were a lot of useful idiots this year, and they made the election hack a success. 12/16/16 http://www.nytimes.com/2016/12/16/opinion/useful-idiots-galore.html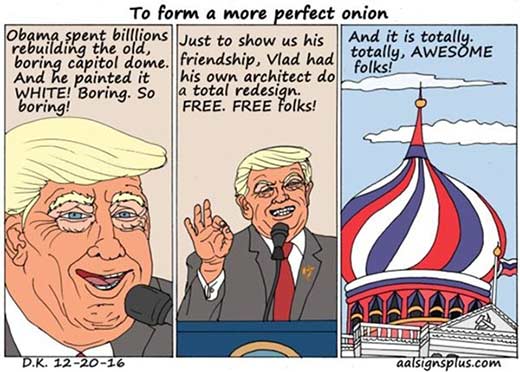 2. John Podesta: Something is deeply broken at the FBI
The more we learn about the Russian plot to sabotage Hillary Clinton's campaign and elect Donald Trump, and the failure of the FBI to adequately respond, the more shocking it gets. The former acting director of the CIA has called the Russian cyberattack "the political equivalent of 9/11." Just as after the real 9/11, we need a robust, independent investigation into what went wrong inside the government and how to better protect our country in the future.
As the former chair of the Clinton campaign and a direct target of Russian hacking, I understand just how serious this is. So I was surprised to read in the New York Times that when the FBI discovered the Russian attack in September 2015, it failed to send even a single agent to warn senior Democratic National Committee officials. Instead, messages were left with the DNC IT "help desk." As a former head of the FBI cyber division told the Times, this is a baffling decision: "We are not talking about an office that is in the middle of the woods of Montana."
What takes this from baffling to downright infuriating is that at nearly the exact same time that no one at the FBI could be bothered to drive 10 minutes to raise the alarm at DNC headquarters, two agents accompanied by attorneys from the Justice Department were in Denver visiting a tech firm that had helped maintain Clinton's email server.
This trip was part of what FBI Director James B. Comey describedas a "painstaking" investigation of Clinton's emails, "requiring thousands of hours of effort" from dozens of agents who conducted at least 80 interviews and reviewed thousands of pages of documents. Of course, as Comey himself concluded, in the end, there was no case; it was not even a close call.
Comparing the FBI's massive response to the overblown email scandal with the seemingly lackadaisical response to the very real Russian plot to subvert a national election shows that something is deeply broken at the FBI. https://www.washingtonpost.com/opinions/john-podesta-something-is-deeply-broken-at-the-fbi/2016/12/15/51668ab4-c303-11e6-9a51-cd56ea1c2bb7_story.html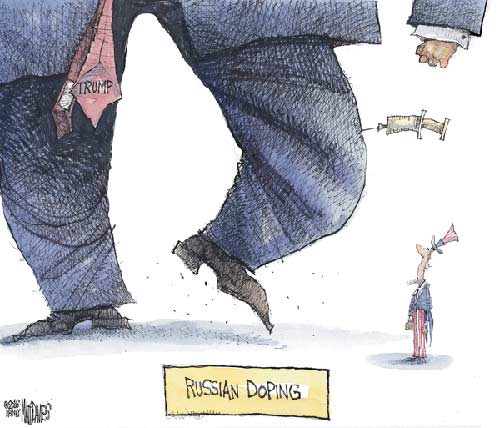 3. Steven W Thrasher: Democrats: Don't try to work with Donald Trump. Just say 'no'
ll Democrats must say "no" to working with Donald Trump and his lazy, shiftless thugs who want to steal the labor of our bodies, the sanity of our minds, and the beauty of our natural resources. Democrats need to say "no" to him, on everything, with the same forceful confidence Trump displays.
Any collaboration with Trump will yield nothing more than humiliation, anyway. Al Gore met with Ivanka Trump about climate justice only to have a climate denier nominated to helm the EPA, the ExxonMobil CEO named to lead the state department and a witch hunt against any government scientist who has gone to a climate change conference. Similarly, labor leaders who signaled they were interested in working with Trump in repealing Nafta were shown to be chumps when he named a fast-food CEO to oversee the labor department.
But there is a more important reason than salvaging dignity that Democrats shouldn't do business with the president-elect: every time they say "I hope to find common ground with him," they are saying that their pet issue is more important than the fact Trump has said Mexicans are rapists, "you can do anything" to women, Muslims should be registered or banned, the exonerated Central Park Five still deserve to be executed, and differently abled people deserve to be mocked. Each time a Democrat says "yes" to Trump's choices or meetings or policies, they are normalizing his hate, ceding any moral ground they might be able to muster in future fights.
Give America the chance women around Trump don't get, Democrats, and say "no" every time he tries to screw us. https://www.theguardian.com/commentisfree/2016/dec/14/democrats-donald-trump-presidency-normalize-administration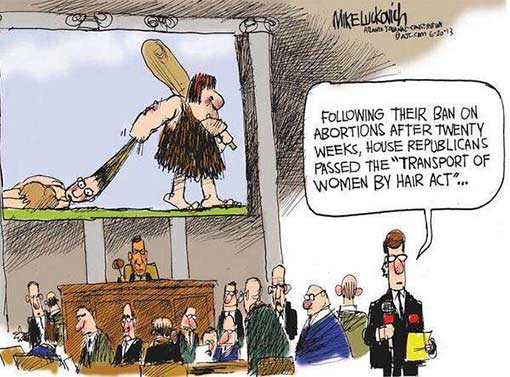 4. Ruth Marcus: Trump needs to get over his victory
President-elect Donald Trump needs to heal, not revel. That is, he must work on healing the divided country he is about to lead, not continue to revel in his victory with a round of thank-you rallies.
Instead, we see: Trump griping about the political correctness of being named "person of the year." Quieting, but not really, chants of "lock her up." Revving up the crowd against the "very dishonest" media. Thanking African Americans who "didn't come out to vote." Jabbing at the "foolish" White House press secretary for daring to point out that candidate Trump had encouraged Russian hacking.
Crybaby, the Trump supporters will tweet. He won, get over it. But the president-elect is the one who seems to be having a hard time getting over it, or rising above, or inhabiting the responsibility — the majesty — of his new role. 12/16/15 https://www.washingtonpost.com/opinions/who-needs-to-get-over-trumps-victory-trump/2016/12/16/e30c17e0-c3c1-11e6-9a51-cd56ea1c2bb7_story.html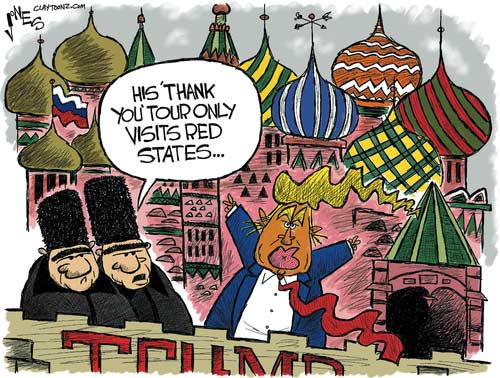 5. Joy-Ann Reid: Surviving Trump's Reality Show
But Obama's election convinced a large swath of the country of an opposite idea: that we were literally on the road to Hell; trading in America's white, Christian identity for a persona that's darkly European, multiculturalist, morally flexible and far too soft on Islam, which many Americans fear.
That part of America rewarded its Republican representatives handsomely at the ballot box over the last six years—especially in midterms—for battling Obama at every turn. When they rebelled against the GOP, it wasn't for fighting Obama; it was for losing to him. Many of these voters admire Vladimir Putin for being everything Obama is not: a bold enthnonationalist unafraid to use military muscle to fight Islam and stop the spread of its belief system and believers to the European continent. Many on the American right see the Russian strongman as the only world leader standing up to "the gays" and standing up for white Christians. They literally don't care if he enriches himself and a handful of fellow oligarchs in the process, kills a few unhelpful journalists, or even uses cyber warfare to help pick our president—as long as it's a president they like.
In Donald Trump, these voters demanded, and have gotten, a Putin of their own, albeit a lesser one.
Unlike the weirdly body conscious former KGB agent running Russia, Trump is obese—he'll be our heaviest president since William Howard Taft. He's crass, poorly spoken and juvenile. He loves conspiracy theories, and is obsessed with what people are saying about him, like a teenage girl fixated on taking the perfect selfie for her Instagram and fuming that the cheerleaders are talking trash about her. And he's desperately trying to hang on to his 1980s hair.
He has been called a "poor person's vision of a rich person." His tastes are garish; the gold on the gaudy fixtures in Trump Tower are painted on, and the food, apparently, is terrible. He trades in his wives for younger models once they do things that gross him out, like giving birth. He's self-aggrandizing and gross, measuring his worth in claimed but unproven billions and ready access to naked pageant women and girls. He hangs around beaters and cheaters and conspiracy cranks. And he loves rich people—especially big time oilmen and old guys who traffic in scantily clad blondes and robots—while he derides poor people as losers. As president-elect, he is surrounding himself with self-aggrandizing mediocrity.
To paraphrase D.L. Hughley: If Obama is who we wanted to be, Trump may be closer to who we are. http://www.thedailybeast.com/articles/2016/12/17/surviving-trump-s-reality-show.html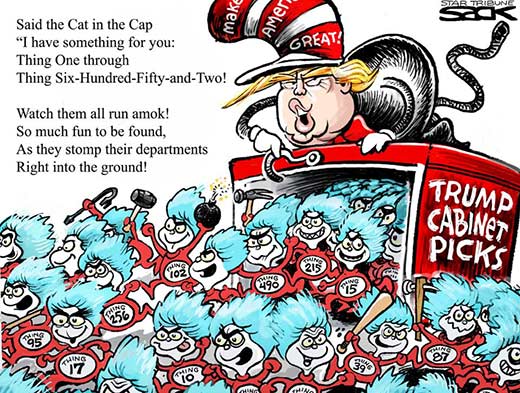 6. Rebecca Mead: Betsy Devos And The Plan To Break Public Schools
Among the points that can be made in favor of Betsy DeVos, Donald Trump's billionaire nominee for the position of Secretary of Education, are the following: She has no known ties to President Vladimir Putin, unlike Trump's nominee to head the State Department, Rex Tillerson, who was decorated with Russia's Order of Friendship medal a few years ago. She hasn't demonstrated any outward propensity for propagating dark, radical-right-leaning conspiracy theories, unlike Michael T. Flynn, Trump's designated national-security adviser. She has not actively called for the dismantling of the department she is slated to head, as have Rick Perry, Trump's nominee for Energy Secretary, and Scott , the nominee to head the Environmental Protection Agency.
That the absence of such characteristics should bear noting only underlines the dystopian scope of Trump's quest to complete his cabinet of cronies. On the other hand, DeVos has never taught in a public school, nor administered one, nor sent her children to one. She is a graduate of Holland Christian High School, a private school in her home town of Holland, Michigan, which characterizes its mission thus: "to equip minds and nurture hearts to transform the world for Jesus Christ."
How might DeVos seek to transform the educational landscape of the United States in her position at the head of a department that has a role in overseeing the schooling of more than fifty million American children? As it happens, she does have a long track record in the field. Since the early nineteen-nineties, she and her husband, Dick DeVos, have been very active in supporting the charter-school movement. They worked to pass Michigan's first charter-school bill, in 1993, which opened the door in their state for public money to be funnelled to quasi-independent educational institutions, sometimes targeted toward specific demographic groups, which operate outside of the strictures that govern more traditional public schools. (Dick DeVos, a keen pilot, founded one of his own: the West Michigan Aviation Academy, located at Gerald Ford International Airport, which serves an overwhelmingly white, overwhelmingly male population of students.). http://www.newyorker.com/news/daily-comment/betsy-devos-and-the-plan-to-break-public-schools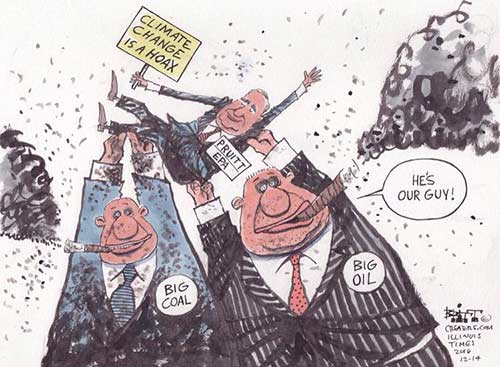 7. NY Times Editorial: Donald Trump's Denial About Russia
Extrapolating motive from evidence is always tricky. But after the C.I.A. provided classified briefings for Congress and the White House, members of both political parties were convinced.
But not President-elect Trump.
Mr. Trump's instant rejection of the C.I.A. findings as "ridiculous," based on no review of its work, echoed Moscow's. "This tale of 'hacks' resembles a banal brawl between American security officials over spheres of influence," Maria Zakharova, the spokeswoman for the Russian Foreign Ministry, wrote on Facebook. Mr. Trump said of American security officials, "They're fighting among themselves."
Kremlin meddling in the 2016 election warrants further investigation, with an eye toward preventive or retaliatory measures. President Obama has asked the nation's intelligence community to deliver a fuller report on its findings before he leaves office on Jan. 20, and a bipartisan group of lawmakers is pushing for a congressional investigation. The results of that inquiry should be made public, and the intelligence community should tell Americans as much as it can about the cyberattack and its goals.
Mr. Trump's reaction to the C.I.A.'s findings leaves him isolated, and underscores his dangerous unfamiliarity with the role of intelligence in maintaining national security. There could be no more "useful idiot," to use Lenin's term of art, than an American president who doesn't know he's being played by a wily foreign power. Or maybe it's as Mr. Trump says: He's "a smart person," and avoids presidential intelligence briefings because they repeat what he already knows. If so, what else does he know about Russia that the intelligence agencies don't? http://www.nytimes.com/2016/12/15/opinion/donald-trumps-denial-about-russia.html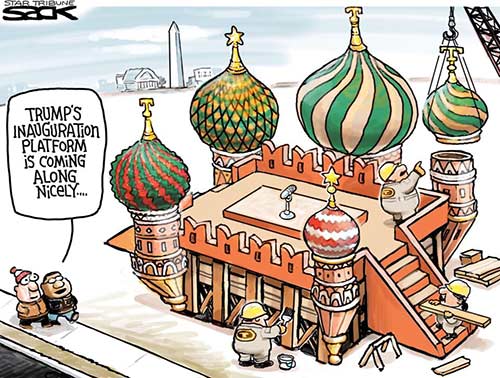 8. Steven Levitsky and Daniel Ziblatt: Is Donald Trump a Threat to Democracy?
Donald J. Trump's election has raised a question that few Americans ever imagined asking: Is our democracy in danger? With the possible exception of the Civil War, American democracy has never collapsed; indeed, no democracy as rich or as established as America's ever has. Yet past stability is no guarantee of democracy's future survival.
The Constitution's ambiguity regarding the limits of executive authority can tempt presidents to try and push those limits. Although executive power has expanded in recent decades, it has ultimately been reined in by the prudence and self-restraint of our presidents.
The idea of legitimate opposition has been entrenched in the United States since the early 19th century, disrupted only by the Civil War. That may now be changing, however, as right-wing extremists increasingly question the legitimacy of their liberal rivals. During the last decade, Ann Coulter wrote best-selling books describing liberals as traitors, and the "birther" movement questioned President Obama's status as an American.
Such extremism, once confined to the political fringes, has now moved into the mainstream. In 2008, the Republican vice-presidential candidate Sarah Palin linked Barack Obama to terrorism. This year, the Republican Party nominated a birther as its presidential candidate. Mr. Trump's campaign centered on the claim that Hillary Clinton was a criminal who should be in jail; and "Lock her up!" was chanted at the Republican National Convention. In other words, leading Republicans — including the president-elect — endorsed the view that the Democratic candidate was not a legitimate rival.
The risk we face, then, is not merely a president with illiberal proclivities — it is the election of such a president when the guardrails protecting American democracy are no longer as secure.
American democracy is not in imminent danger of collapse. If ordinary circumstances prevail, our institutions will most likely muddle through a Trump presidency. It is less clear, however, how democracy would fare in a crisis. In the event of a war, a major terrorist attack or large-scale riots or protests — all of which are entirely possible — a president with authoritarian tendencies and institutions that have come unmoored could pose a serious threat to American democracy. We must be vigilant. The warning signs are real. http://www.nytimes.com/2016/12/16/opinion/sunday/is-donald-trump-a-threat-to-democracy.html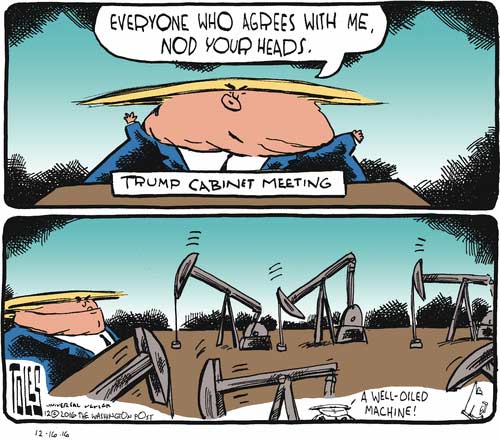 9. Jonathan Chait: The Scariest Thing About Trump's Presidency So Far Is Michael Flynn and His Team of Nutters
Michael Flynn's portrait seems to reflect the worst qualities of Dick Cheney, but in exaggerated form. Flynn avidly subscribes to conspiracy theories. He believes Islamists have infiltrated the Mexican border en masse, guided along the way by Arabic-language signs Flynn claims to have seen himself. He also believes that Democrats have imposed Sharia law in parts of Florida, and shared a now-deleted tweet that suggested Hillary Clinton could have been involved in child sex trafficking. These claims were frequent enough that his subordinates at the Defense Intelligence Agency gave them a name, "Flynn facts," which means a Flynn belief that is the opposite of a fact.
Compounding Flynn's susceptibility to conspiracy theories is his professed hostility to any information that undercuts his preconceived notions. According to a former subordinate speaking to the New York Times, in a meeting with his staff "Mr. Flynn said that the first thing everyone needed to know was that he was always right. His staff would know they were right, he said, when their views melded to his." What makes this so chilling is that it is the pathology that destroyed the Bush administration's foreign policy, except that what for Cheney was a tragic flaw is, to Flynn, an aspirational credo.
Perhaps the most powerful member of Flynn's team of nutters is his son and chief of staff, Michael Flynn Jr. The younger Flynn is active on white-supremacist social media, and has tweeted out bizarre claims like "the only reason minorities voted for BO is the color of his skin and NOT for the issues," or "soooo African-Americans can have B.E.T. but whites can't have their own dating site? Hmmm." Flynn also promoted the conspiracy theory that a Washington pizzeria had a secret back room with child sex slaves that was somehow connected to Hillary Clinton. When a gunman showed up there trying to liberate the imagined slaves, the ensuing publicity forced Trump's transition team to remove Flynn Jr. from his official role on the transition team. But there's no evidence his deep influence on his father has abated.
It is almost impossible to overstate the danger to American national security posed by the combination of Flynn and his staff. Because his appointment is not subject to Senate confirmation, and also because it has been overshadowed by the Rex Tillerson nomination and its connection to the fast-moving Russia story, Flynn has receded from the front pages. His appointment is unprecedented, like so many other other things Trump has done — indeed, the endless violations of precedent are what make Trump's election so surreal, and its dangers difficult to order.
But it is the specific, mutually reinforcing characteristics of Flynn and his staff that invite the most alarm. He is a conspiracy theorist averse to any challenge to his suspicions, surrounding himself with a staff of fellow conspiracy theorists seemingly designed to shut out any challenge to his biases, providing advice to a novice president who is himself a conspiracy theorist. It's under-informed, overconfident crackpots all the way down. As a comedic script, it would defy plausibility. Except there's a terrifying chance that a lot of innocent people will die as a result. http://nymag.com/daily/intelligencer/2016/12/scariest-thing-about-trump-michael-flynns-team-of-nutters.html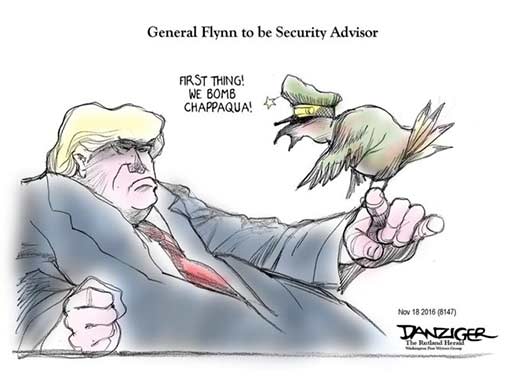 10. Paul Krugman: How Republics End
Many people are reacting to the rise of Trumpism and nativist movements in Europe by reading history — specifically, the history of the 1930s. And they are right to do so. It takes willful blindness not to see the parallels between the rise of fascism and our current political nightmare.
But the '30s isn't the only era with lessons to teach us. Lately I've been reading a lot about the ancient world. Initially, I have to admit, I was doing it for entertainment and as a refuge from news that gets worse with each passing day. But I couldn't help noticing the contemporary resonances of some Roman history — specifically, the tale of how the Roman Republic fell.
Here's what I learned: Republican institutions don't protect against tyranny when powerful people start defying political norms. And tyranny, when it comes, can flourish even while maintaining a republican facade.
But if there is any hope of redemption, it will have to begin with a clear recognition of how bad things are. American democracy is very much on the edge.12/19/16 http://www.nytimes.com/2016/12/19/opinion/how-republics-end.html
11. David Horsey: Americans who voted against Trump are feeling unprecedented dread and despair
Back in 1980, there was disappointment among Democrats when Ronald Reagan won. In 2000, after the long Florida recount and the intrusion of the Supreme Court into the decision, there were plenty of upset people who thought Al Gore, not George W. Bush, deserved to be president. But the losing voters in those elections were not despondent. They were not breaking out in tears weeks later. They were not waking up each morning with feelings of dread about what was to come.
This time it is different and, in my experience, unique. This is not simply a case of Hillary Clinton supporters being bad losers. For most of those who feel traumatized by what happened on Nov. 8, this is not about the candidate who won the popular vote, yet lost the election. It is about the candidate who was picked as president by the electoral college on Monday. People are mourning because the fate of their country will now be in the hands of an intellectually disinterested, reckless, mendacious narcissist.
There have been a number of commentaries written about the need for liberal "elites" to gain a better understanding of those who voted for Trump; the folks in the Rust Belt and rural America who feared for the future because they felt the country they knew was changing too dramatically and leaving them behind. Well, the fear is now on the other side, and not only among so-called elites. It is ordinary Americans of all classes and races who fear that, under Trump, environmental protections will be dismantled, limits on Wall Street greed will be removed, the rights of minorities and women will be undermined and American foreign policy will be run by dangerously unseasoned amateurs with a crush on Vladimir Putin. Such fears are not based on feelings or fake news stories; they are confirmed by the composition of Trump's Cabinet.

In the presidential campaign, the fears of one group of citizens morphed into a powerful anger that Trump harnessed to propel himself to the White House. Now, another set of Americans — a significantly larger group — is feeling profoundly distressed. If their fears are borne out, their anger, too, will become a political force that could upend an election yet to come. http://www.latimes.com/opinion/topoftheticket/la-na-tt-american-dread-20161220-story.html