April 22, 2021
ON THE RECORD. . .
"What we are confronted with here is a totally left-wing administration … trying to transform America into something no one voted for last year. — Sen. Minority Leader Mitch McConnell (R-KY) failing to note that 81 million Americans voted for Biden and this agenda to invest in infrastructure and people, and to reverse Trumpist/GOP policies that benefit billionaires and corporations.

"Mitch McConnell is not a force for good in our country. He is an enabler of some of the worst stuff, and an instigator of some of it on his own." — Nancy Pelosi (D-CA) quoted  in a new book by journalist Susan Page.

"It's almost paradoxical that on the one hand they want to be relieved of the restrictions, but on the other hand they don't want to get vaccinated. It just almost doesn't make any sense." — Dr. Anthony Fauci, discussing vaccine hesitant Republicans on CNN.

"There's still serious doubts about who's actually president." — One America News Network (OAN) correspondent Pearson Sharp, questioning the validity of the 2020 presidential election.

"We're gonna move forward rapidly. They have something to say? Now is the time to say it."— Sen. Bernie Sanders (I-VT), warning against spending lengthy amounts of time engaging and seeking compromise with Senate Republicans on infrastructure.

Tucker Carlson had a complete meltdown tonight in response to a former New York corrections officer who criticized Derek Chauvin for using excessive force on George Floyd. Here's how the interview (abruptly) ended. — VIDEO

"The jurors in the Derek Chauvin trial came to a unanimous and unequivocal verdict this afternoon: 'Please don't hurt us. Everyone understood perfectly well the consequences of an acquittal in this case. After nearly a year of burning and looting and murder by BLM, that was never in doubt." — Tucker Carlson suggesting the jury wasn't swayed by the testimony of more than three dozen witnesses or visceral video of Floyd pleading, "I can't breathe." Instead, Carlson argued, the jurors were intimidated into the guilty verdict by the months of racial justice protests that followed Floyd's death.

"Friends, today's verdict makes me sick. I am so concerned about our law enforcement right now quitting. And you should be, too." — Virginia state Sen. Amanda F. Chase, a Republican candidate for Virginia governor, to a gathering in King William County shortly after a jury found Chauvin guilty of murder and manslaughter in the killing of George Floyd.
REMINDER: Just Security is continuing to track every pending criminal and civil case against Donald Trump.
---
IN THIS ISSUE
IN THE NEWS
OPINION
Andy Borowitz: Marjorie Taylor Greene Calls for the Development of Anglo-Saxon Space Lasers
Representative Marjorie Taylor Greene, a leading member of the new America First caucus, is calling for the development of what she called "Anglo-Saxon space lasers."

"Anglo-Saxons have for too long ceded space-laser superiority to the airborne laser beams of foreign banking élites," she said. "This shall not stand on my watch."

She took the opportunity to reassure her concerned QAnon supporters that she would be able to serve both QAnon and Anglo-Saxonhood at the same time. "I can multitask," she promised.

Greene concluded her remarks by invoking the name of the mighty Anglo-Saxon deity who inspired her space-laser vow. "By Woden's will, we shall prevail!" she shouted, brandishing an oversized hammer. https://www.newyorker.com/humor/borowitz-report/
Roger Stone Got A Pardon From Trump, But Now The Feds Are Suing Him For $2 Million In Unpaid Taxes
Donald Trump pardoned his longtime ally Roger Stone in the final weeks of his presidency, wiping away the Republican political operative's convictions for lying to Congress, obstructing investigators, and tampering with witnesses during the Russia investigation.
But that wasn't the end of Stone's legal troubles. On Friday, federal tax prosecutors filed a civil lawsuit against him in Florida claiming nearly $2 million in unpaid taxes. The government is alleging that Stone and his wife, Nydia Stone, owe more than $1.5 million in federal income taxes from 2007 to 2011 — an amount that includes hundreds of thousands of dollars in late penalties and interest — plus an additional $400,000 in unpaid income taxes and penalties from 2018 alone.
Prosecutors are also accusing the Stones of placing more than $1 million into a corporate entity that their family controlled, Drake Ventures LLC, in 2018 and 2019 in order to keep it out of the hands of the IRS.
In response to the latest lawsuit, Stone provided a statement saying the claims were part of a "smear campaign" to tie him to the Jan. 6 riots (the lawsuit does not reference the events that day) and that it was "laughable" to say he was living a "lavish lifestyle" since he and his wife are "virtually bankrupt."
"This case against me is motivated by blood lust and liberal hysteria over the fact that President Trump saw the clear corruption of my trial and had the strength and the courage to correct this injustice by issuing me a grant of clemency," Stone wrote. https://www.buzzfeednews.com/article/zoetillman/roger-stone-sued-unpaid-taxes-trump
Biden's blinking red lights: Taiwan, Ukraine and Iran
Russia is menacing Ukraine's borders, China is sending increasingly ominous signals over Taiwan and Iran is accelerating its uranium enrichment to unprecedented levels.
Ukraine, Taiwan and Iran's nuclear program always loomed large on the menu of potential crises President Biden could face. But over the last several days, the lights have been blinking red on all three fronts all at once. https://www.axios.com/biden-crises-taiwan-ukraine-and-iran-4cd34240-309b-42a5-b6b6-8bb6127da206.html
Trump's grip on GOP looms as support falters for independent probe of Capitol riot
Initial negotiations aimed at establishing an independent commission in the style of the panel that investigated the Sept. 11 attacks ran aground earlier this year after Republican leaders insisted that it scrutinize left-wing extremism — including the amorphous antifa movement that Trump and other conservatives have blamed for fomenting violence in D.C. and other cities — alongside the far-right and white nationalist groups suspected of having planned or encouraged the mayhem. Democrats resisted, accusing the GOP of trying to distract the public from the fact that extremist groups in the Republican base were responsible for the riot.
Many rank-and-file Republicans have been forced to walk a political tightrope, as a majority still believe the election was stolen from Trump. The former president still wields outsize influence in the GOP, which is presently the minority party in Washington but is within striking distance of making a comeback in 2022 — if leaders can hold their ranks together. https://www.washingtonpost.com/national-security/capitol-riot-january-6-commission/2021/04/17/109572e6-9ed9-11eb-9d05-ae06f4529ece_story.html
MyPillow is doubling down on election conspiracy theories despite being hit by a massive lawsuit
Mike Lindell doubled down on his false conspiracy theory about the 2020 election in a new lawsuit against Dominion Voting Systems filed Monday. The lawsuit, filed in federal court in Minnesota and seeking $1.6 billion in damages, is a counter-suit against a previous lawsuit from Dominion. It was filed on behalf of Lindell's company, MyPillow, although Lindell promoted it on his new social network, Frank.
Dominion sued Lindell and MyPillow in February, asking for $1.3 billion in damages. The election technology company claimed Lindell defamed it when he falsely claimed it rigged the 2020 election in favor of Joe Biden against Donald Trump.
The new MyPillow lawsuit reiterates a version of the very same conspiracy theory.
"In its capacity as — and using its authority as — a governmental actor, Dominion allowed manipulation or changing of votes in the 2020 election, as well as suppressed public debate about the election which deprived MyPillow of its rights," the lawsuit says.
There is no evidence that Dominion allowed the manipulation or changing of votes in the 2020 election. Numerous audits, lawsuits, and analyses of technology used in the election have found no evidence of widespread voter fraud. https://www.businessinsider.com/mypillow-mike-lindell-lawsuit-dominion-doubles-down-election-conspiracy-theories-2021-4
G.O.P. Bills Target Protesters (and Absolve Motorists Who Hit Them)
Republican legislators in Oklahoma and Iowa have passed bills granting immunity to drivers whose vehicles strike and injure protesters in public streets. A Republican proposal in Indiana would bar anyone convicted of unlawful assembly from holding state employment, including elected office. A Minnesota bill would prohibit those convicted of unlawful protesting from receiving student loans, unemployment benefits or housing assistance. And in Florida, Gov. Ron DeSantis signed sweeping legislation this week that toughened existing laws governing public disorder and created a harsh new level of infractions — a bill he's called "the strongest anti-looting, anti-rioting, pro-law-enforcement piece of legislation in the country."
The measures are part of a wave of new anti-protest legislation, sponsored and supported by Republicans, in the 11 months since Black Lives Matter protests swept the country following the death of George Floyd.
But while Democrats seized on Mr. Floyd's death last May to highlight racism in policing and other forms of social injustice, Republicans responded to a summer of protests by proposing a raft of punitive new measures governing the right to lawfully assemble. G.O.P. lawmakers in 34 states have introduced 81 anti-protest bills during the 2021 legislative session — more than twice as many proposals as in any other year, according to Elly Page, a senior legal adviser at the International Center for Not-for-Profit Law, which tracks legislation limiting the right to protest. https://www.nytimes.com/2021/04/21/us/politics/republican-anti-protest-laws.html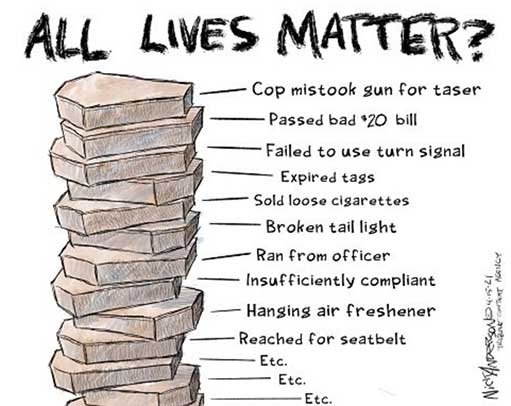 Immigrant Detention For Profit Faces Resistance After Big Expansion Under Trump
The Trump administration dramatically expanded the detention network — often over local objections — and private prison companies were riding high. Under former President Donald Trump, ICE detained a record 56,000 migrants, asserting they had to be locked up or they would abscond once they lost their immigration cases.
But the political winds have shifted. These days, privately run immigrant jails are facing mounting public opposition, state legislatures are considering measures to shut them down, and the prison industry has fallen out of favor with the new administration in Washington, D.C.
President Biden has instructed the Justice Department to phase out private prisons that incarcerate federal offenders, ordered ICE to arrest fewer immigrants, and signaled an interest in alternatives to immigrant detention. https://www.npr.org/2021/04/20/987808302/immigrant-detention-for-profit-faces-growing-resistance-after-big-expansion-unde
Biden's Postal Service nominees, who could add pressure on Louis DeJoy
President Biden's three nominees to the U.S. Postal Service's governing board could fundamentally tilt the balance of power at the beleaguered mail agency and add pressure on Postmaster General Louis DeJoy.
If they win Senate confirmation, the nominees — Democrats Ron Stroman and Anton Hajjar, and independent Amber McReynolds — would give Democrats and Biden appointees a one-seat majority and potentially the votes to remove DeJoy, under whose oversight the mail service has recorded sharp declines in mail delivery standards. https://www.washingtonpost.com/business/2021/04/21/biden-usps-nominees/
The GOP-Big Business Divorce Goes Deeper Than You Think
When a marriage falls apart, the fights are never really about what they appear to be. Another late night at the office isn't about the workload; it's a statement about your priorities. Anger over the takeout order isn't about the food; it's about the fact that you don't understand what your spouse actually likes.
So it is with the crumbling, century-long marriage of the Republican Party and the business community.
The recent spat between leading Republicans and major corporations like Delta, Coca-Cola and Major League Baseball criticizing Georgia's restrictive new voting law isn't just about voting rights; it's the sign of a deeper breakup that has been years in the making. For anyone confused about how Senate Republican Leader Mitch McConnell could admonish big companies to "stay out of politics," after building a career on corporate donations and business-friendly policies, this deeper breakup tells the story. https://www.politico.com/news/magazine/2021/04/15/republican-party-big-business-georgia-voting-rights-conservative-481978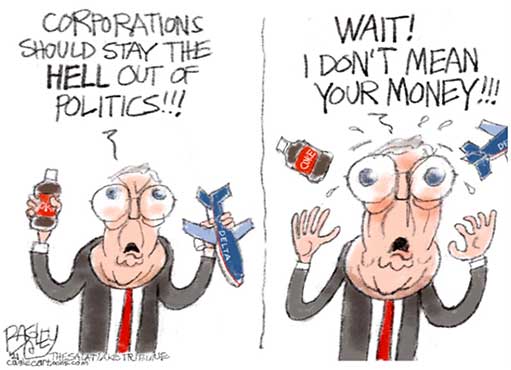 Anti- Vax Activists Are Quietly Bending State Politics To Their Will
Legislators in at least five states have introduced a so-called Vaccine Bill of Rights. The text of these bills is strikingly similar for a reason: they're all based on a document released in January by a group called America's Frontline Doctors, a pseudo-medical collection of physicians and not-at-all-physicians devoted to spreading the worst possible information about COVID. https://www.vice.com/en/article/epngqa/anti-vax-activists-are-quietly-bending-state-politics-to-their-will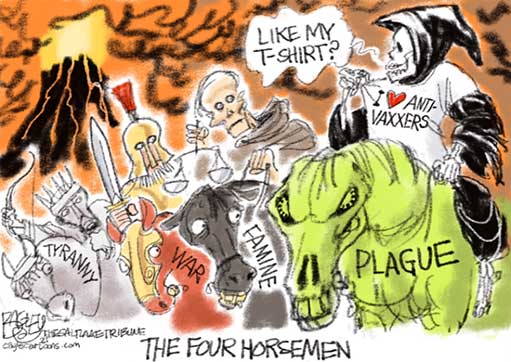 GOP used YouTube to win Latino voters who Democrats ignored
Republicans and conservative groups made inroads via YouTube in 2020 with low-information Latino voters often ignored by Democrats, a deep new analysis of U.S. voters shows.
The percentage of eligible Latino voters is expected to increase in every election, but traditional media isn't necessarily where these new voters are going for crucial information shaping their decisions.
Preliminary findings by research firm Equis, reviewed by Axios, found that YouTube played a major role in convincing Latino voters to support Trump in higher percentages than expected.
The research found that 64% of registered Latino voters — and 74% of Hispanic voters in Florida — got election information from YouTube.
Republicans, organically and through official campaigns, created quick, shareable YouTube bilingual videos that appeared as newscasts, to attack Joe Biden and promote Trump's economic plans. Democrats did not match the intensity. https://www.axios.com/republicans-youtube-latino-voters-democrats-trump-8119b29f-3d9b-4fb9-87d3-200536f531fb.html
New poll shows Americans overwhelmingly oppose anti-transgender laws
A new PBS NewsHour/NPR/Marist poll found that two-thirds of Americans are against laws that would limit transgender rights.
That opposition includes majorities of every political ideology from liberal to conservative and every age group. https://www.pbs.org/newshour/politics/new-poll-shows-americans-overwhelmingly-oppose-anti-transgender-laws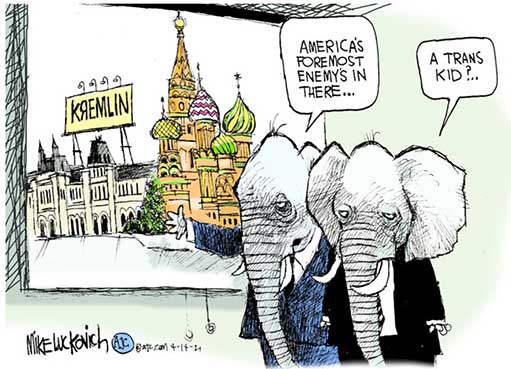 GOP unites against Biden's $2 trillion jobs plan. It's the counteroffer they can't agree on.
More than a week after President Joe Biden announced a sprawling $2.25 trillion package that includes proposals addressing bridges to nurses, Republicans are struggling to begin putting together their own package — underscoring the titanic effort that will be needed to reach a bipartisan agreement.
The parties don't even agree about what they're negotiating. The White House has conceded that Biden's proposal stretches the definition of infrastructure to include roads to child care, and it is calling it the "American Jobs Plan." But Republicans criticize the package as being too large and insist that it should be limited to projects that both parties consider infrastructure, like roads and bridges.
Republicans agree on one thing: They don't like Biden's proposal. But that's about all. https://www.nbcnews.com/politics/congress/republicans-struggle-craft-counteroffer-biden-s-2-trillion-jobs-plan-n1264228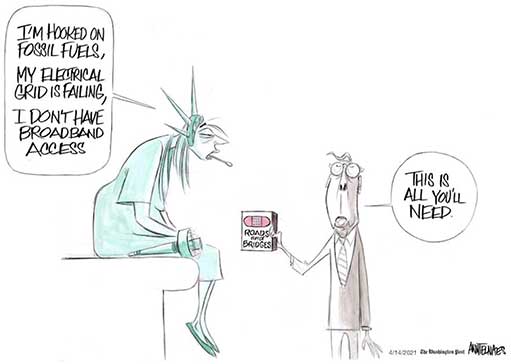 Republicans want to yank baseball's antitrust immunity after MLB reaction to Georgia voting law
Republican Senators Ted Cruz, Marco Rubio, Josh Hawley, Marsha Blackburn and Mike Lee introduced a bill on Wednesday to strip Major League Baseball of its immunity to antitrust law, saying the legal shield wasn't deserved after the league moved its All-Star game away from Georgia to protest a law that could make it harder to vote.
"If Major League Baseball is going to act dishonestly and spread lies about Georgia's voting rights bill to favor one party against the other, they shouldn't expect to continue to receive special benefits from Congress," Cruz said in a statement. https://www.reuters.com/world/us/republicans-want-yank-baseballs-antitrust-immunity-after-mlb-reaction-georgia-2021-04-14/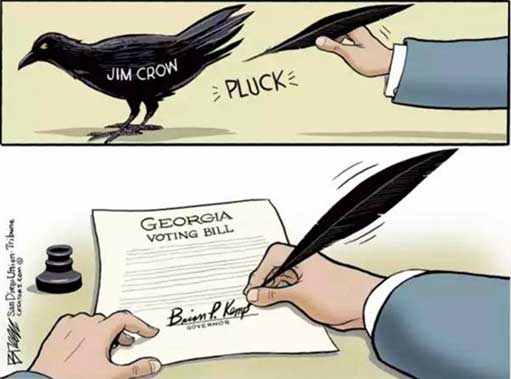 Foxconn mostly abandons $10 billion Wisconsin project touted by Trump
Taiwan electronics manufacturer Foxconn is drastically scaling back a planned $10 billion factory in Wisconsin, confirming its retreat from a project that former U.S. President Donald Trump once called "the eighth wonder of the world."
Under a deal with the state of Wisconsin announced on Tuesday, Foxconn will reduce its planned investment to $672 million from $10 billion and cut the number of new jobs to 1,454 from 13,000.
The Foxconn-Wisconsin deal was first announced to great fanfare at the White House in July 2017, with Trump boasting of it as an example of how his "America first" agenda could revive U.S. tech manufacturing. https://www.reuters.com/business/foxconn-sharply-scales-back-wisconsin-investment-2021-04-20/
Republicans and the Great Replacement
In August of 2017, far-right demonstrators marched through Charlottesville, Virginia, chanting "You will not replace us!".
That rally's organizers called it the Unite the Right rally. At the time, it seemed like this name was more than a little aspirational; the marchers, according to Wikipedia, included "the alt-right, neo-Confederates, neo-fascists, white nationalists, neo-Nazis, Klansmen, and various right-wing militias." That motley crew seemed unlikely to become the thought leaders of one of the United States' two great political parties.
And yet fast forward four years, and the idea that the people of the U.S. are being "replaced" is now a core part of conservative messaging:
What started as a fringe neo-Nazi chant is now a mainstream idea in the GOP. Given the taboo around the idea, it's probably even more common among Republican voters themselves; Tucker is a savvy operator who knows how to speak to his audience's fears, so if he feels confident enough to support the idea despite the taboo, you can bet a lot of Republicans are worried about the exact same thing. https://noahpinion.substack.com/p/republicans-and-the-great-replacement
Gov. Ricketts designates Nebraska as 'sanctuary state' for gun rights
Doubling down on his pro-gun rights credentials, Gov. Pete Ricketts signed a symbolic proclamation Wednesday designating Nebraska as a "Second Amendment Sanctuary State."
The proclamation comes as President Joe Biden recently announced a plan to address gun violence.
A growing number of Nebraska counties have adopted similar "sanctuary" resolutions. A bill also is pending in the Nebraska Legislature to allow counties to opt out of the state requirement that gun owners register and take a gun safety course to carry concealed weapons. https://omaha.com/news/state-and-regional/govt-and-politics/gov-ricketts-designates-nebraska-as-sanctuary-state-for-gun-rights/article_e8e64502-9d3b-11eb-a063-4fca6c88eaf8.html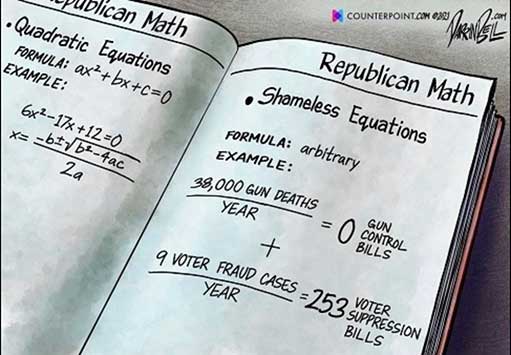 Biden Sparks Greater Party, Education Gaps Than Predecessors
An average of 86 percentage points have separated Democrats' (96%) and Republicans' (10%) ratings of Biden so far, eclipsing the 77-point gap in the early ratings of Trump. This difference results from Biden's higher scores among his fellow partisans than Trump received (87% among Republicans). Each got the same low 10% approval ratings from supporters of the opposition party.
Party gaps in approval ratings were about 30 points lower for Obama, Bush and Clinton than they have been for Biden. This is primarily because about one-third of opposition-party supporters approved of the job those presidents were doing early in their terms.
But Biden's approval rating among his fellow Democrats is also higher than those for Obama (89%) and Clinton (78%) among Democrats, and for Bush among his fellow Republicans (89%). https://news.gallup.com/poll/346622/biden-sparks-greater-party-education-gaps-predecessors.aspx
A Treasury Department document shed more light on links between the Trump campaign and Russian spies.
The Biden administration revealed on Thursday that a business associate of Trump campaign officials in 2016 provided campaign polling data to Russian intelligence services, the strongest evidence to date that Russian spies had penetrated the inner workings of the Trump campaign.
The revelation, made public in a Treasury Department document announcing new sanctions against Russia, established for the first time that private meetings and communications between the campaign officials, Paul Manafort and Rick Gates, and their business associate were a direct pipeline from the campaign to Russian spies at a time when the Kremlin was engaged in a covert effort to sabotage the 2016 presidential election.
Previous government investigations have identified the Trump aides' associate, Konstantin V. Kilimnik, as a Russian intelligence operative, and Mr. Manafort's decision to provide him with internal polling data was one of the mysteries that the special counsel, Robert S. Mueller III, sought to unravel during his two-year investigation into Russia's election meddling.
"During the 2016 U.S. presidential election campaign, Kilimnik provided the Russian Intelligence Services with sensitive information on polling and campaign strategy," the Treasury Department said in a news release. "Additionally, Kilimnik sought to promote the narrative that Ukraine, not Russia, had interfered in the 2016 U.S. presidential election." https://www.nytimes.com/2021/04/15/us/politics/russian-intelligence-trump-campaign.html
Arizona follows a model that lets the government ignore questions of cruelty.
Arizona's attorney general, Mark Brnovich, has a problem: There's no easy way to kill people. Arizona hasn't carried out any executions since it bungled the killing of Joseph Wood in 2014, leaving him gasping and gulping for air during the roughly two hours it took him to die from a lethal injection. In a country where cruel and unusual punishment is constitutionally prohibited, Mr. Wood's long and agonizing demise belied assurances that lethal injection is humane and scientific, providing a death akin to falling asleep.
But Arizona's pause in executions may be nearing an end — not because someone has produced a cruelty-free method of killing a person, but because the state is following the blueprint pioneered by the Trump administration when it pushed through 13 federal executions in its final months. https://www.nytimes.com/2021/04/15/opinion/death-penalty-arizona.html
Republicans Are Making Millions Pushing Trump's Election Lies
The politicians who bet big on backing President Trump's election lies are raking in the benefits.
Texas GOP Sen. Ted Cruz announced Tuesday that he'd raised $5.3 million in the first three months of this year, a massive sum for a senator who isn't up for reelection until 2024.
Missouri GOP Sen. Josh Hawley raised $3 million during that same stretch, his team leaked on Monday. That figure likely would have been even higher if he hadn't paused active fundraising for three weeks in the immediate aftermath of the Jan. 6 pro-Trump insurrection at the U.S. Capitol; that stretch brought in $600,000.
The senators have three things in common: They're both eyeing potential presidential bids in four years. They're Ivy League-trained lawyers who've rebranded themselves as anti-elite populists. And most importantly, they led the charge in the Senate to block the certification of President Biden's victory, a transparent move to curry favor with Trump's supporters, which they refused to back off even after Trump followers violently stormed the Capitol in attempt to stop the proceedings in their tracks.
The fundraising success Cruz, Hawley and Greene achieved in the wake of their embrace of the lie that the 2020 presidential election was rife with voter fraud shows that the GOP base will only reward such behavior. And it clearly illustrates the dangerous political and financial incentives that currently power the Republican Party. https://www.vice.com/amp/en/article/epngwj/trump-election-lies-fundraising-cruz-hawley-marjorie-taylor-greene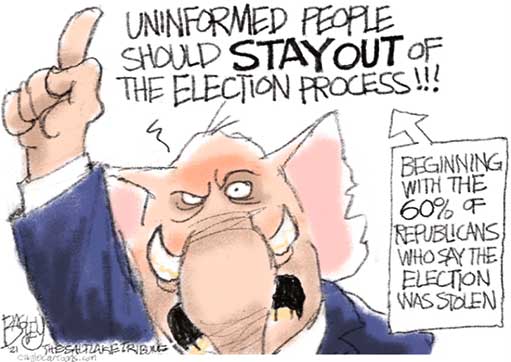 Ted Cruz threatens to burn John Boehner's book over criticisms
Republican senator Ted Cruz has responded to fiery criticism from John Boehner with a tactic beloved of authoritarian regimes: threatening to burn his book.
In fund raising email to supporters, the Texas politician said he also might machine-gun or chainsaw the memoir, depending on how much his supporters paid for the privilege to watch. https://www.theguardian.com/books/2021/apr/15/ted-cruz-john-boehner-burn-book
Pennsylvania GOP launches 'super MAGA Trump' primary
The likely GOP candidates in Pennsylvania's open Senate race come in three familiar flavors: anti-Trump, Trumpy and Trumpiest.
Though President Donald Trump lost Pennsylvania in 2020 and will have been out of office for nearly two years by the time voters cast their ballots in the Senate election, the Republican primary here is already revolving around him — creating a potential dilemma for the GOP in one of the nation's most important races next year.
Multiple former Trump administration officials are eyeing the Senate seat. One likely contender has close ties to the Trump family that could give him a major leg up in the primary. Behind the scenes, other candidates have fostered relationships with former Trump aides or are working hard to develop them. https://www.politico.com/news/2021/04/15/pennsylvania-senate-race-trump-481723
Matt Gaetz's Wingman Paid Dozens of Young Women—and a 17-Year-Old
As new details emerge about Rep. Matt Gaetz's role in an alleged sex ring, The Daily Beast has obtained several documents showing that the suspected ringleader of the group, Joel Greenberg, made more than 150 Venmo payments to dozens of young women, and to a girl who was 17 at the time.
The payment from Greenberg, an accused sex trafficker, to the 17-year-old took place in June 2017. It was for $300 and, according to the memo field, was for "Food."
Greenberg's relationship with Gaetz, and the money Greenberg paid to women, is a focal point for the Justice Department investigation into Gaetz. And the new documents obtained by The Daily Beast—containing years of online financial transactions—establish a clear pattern: Greenberg paid multiple young women (and at least one girl) hundreds, and sometimes thousands, of dollars on Venmo in one transaction after another. https://www.thedailybeast.com/matt-gaetzs-wingman-paid-dozens-of-young-womenand-a-17-year-old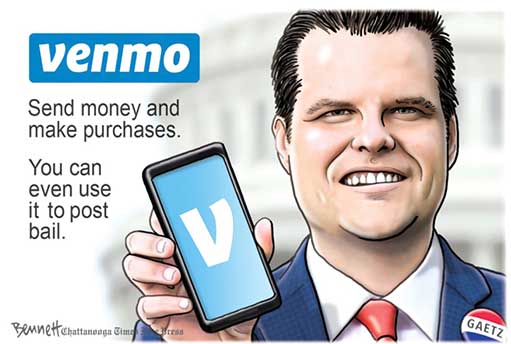 Rare bipartisan Senate vote advances measure to address anti-Asian hate crimes
In a rare bipartisan vote of 92-6, the Senate advanced legislation aimed at improving anti-Asian hate crime tracking and identification.
The bill had looked initially unlikely to garner the 60 votes necessary to end debate and move to a final vote. But Republicans decided to not filibuster, in part because Senate Minority Leader Mitch McConnell, whose wife Elaine Chao is Taiwanese American, signaled openness to working on it with Democrats prior to final passage, the Associated Press reports. https://www.axios.com/anti-asian-hate-crimes-senate-bipartisan-measure-36bc8872-7e6c-4fd6-966c-62bbbd841719.html
Infrastructure Plan Is More Popular If Corporate Taxes Fund It
A plurality of Americans (44 - 38 percent) support President Biden's $2 trillion infrastructure plan, while 19 percent did not offer an opinion.
However, support grows for the infrastructure plan if it is funded by raising taxes on corporations, as Biden has proposed. In that scenario, a majority support the infrastructure plan 53 - 39 percent, with 9 percent not offering an opinion.
The president's infrastructure bill, a $2 trillion national makeover, gets a lukewarm go ahead from Americans, but a warmer reception when the suggestion that big corporations, not taxpayers, should be forced to front the funding. https://poll.qu.edu/national/release-detail
Trump didn't bring White working-class voters to the Republican Party. The data suggest he kept them away.
Political analysts have widely embraced this view that Donald Trump uniquely attracted working-class voters to the GOP, in particular White working-class Americans. In 2016, one journalist marveled at the "working-class white people who make up the bulk of Trump's fan base." Another observer tried to make sense of "How Trump Seduced the White Working Class." The day after the 2016 election, the New York Times declared, "Donald J. Trump won the presidency by riding an enormous wave of support among white working-class voters."
Again and again over the last four years, pundits have wondered if anything would break Trump's spell on White working-class voters.
But is any of this true? Did Trump really bring a wave of White working-class voters over to the Republican camp, reshaping his party and American elections? In a new published study, we looked at survey data on voting behavior going back to the 1980s. The answer is no. In fact, our research shows the Trump's term in office stalled a long-term trend of White working-class voters moving to the Republican Party.
Data suggest that after Trump's term in office, the rate of White working-class support for the Republican presidential candidate fell for the first time since 2008 — and possibly even earlier, depending on which data source we use. Trump's presidency actually reversed the long-term trend of growing GOP support within this voting bloc.
https://www.washingtonpost.com/politics/2021/04/14/trump-didnt-bring-white-working-class-voters-republican-party-data-suggest-he-kept-them-away/
The DAILY GRILL
A new America First Caucus — led by Rep. Marjorie Taylor Greene (R-GA) and Rep. Paul Gosar (R-AZ) is recruiting people to join based on "Anglo-Saxon political traditions" architectural style that "befits the progeny of European architecture" -- Punchbowl News, saying it is "some of the most nakedly nativist stuff we've ever seen."

VERSUS

Dear @mtgreenee & @RepGosar: I have some questions about your Anglo-Saxon caucus: Will non Aryans be allowed to join? If so, do we have to sit in the back of the room because we're not white? Can we have fried rice and nachos during the meetings? Asking for a friend. --Ted Lieu @tedlieu

 

"Over the last year, American's First Amendment rights have been completely attacked. Your right to go to church, your right to assemble, your right to petition your government, freedom of the press, freedom of speech have all been assaulted." —  Rep. Jim Jordan (R-OH)

VERSUS

You're making this a personal thing, and it isn't ... my recommendations are not a personal recommendation. It is based on the CDC guidance ... we're not talking about liberties. We're talking about a pandemic that has killed 560,000 Americans" -- Dr. Fauci to Jim Jordan
Philonise Floyd: For my brother George Floyd, this is what justice feels like
So many people have shared with us how traumatized they were by George's death, reminding them that it could have been them or their children. And so many White people have shared that their eyes were opened by his death, that they didn't realize until now just how often people of color are brutalized, their lives trivialized, their right to justice denied. The video had a lot to do with it. People were horrified to literally see someone tortured to death for nine minutes, and they were shocked that the officer displayed no remorse. People around the world had to explain that to their kids, and they didn't know how.
We saw law enforcement officers such as Minneapolis Police Chief Medaria Arradondo break ranks and call out Chauvin's behavior for what it was, and Minnesota Attorney General Keith Ellison press for a vigorous prosecution. A crumbling of the blue wall and the start of a new era of law enforcement accountability? We hope and pray.
This verdict is historic, but it shouldn't be historic to punish people who do bad things, even if they wear a police uniform — especially if they wear a police uniform.
My brother told us a long time ago that his name would be all over the world. We didn't think it would be like this. This week, our family received a measure of justice because regular citizens and those in authority took the most basic human action: They did the right thing.
It's up to all of us to build on this moment. We must end the qualified immunity that too often shields law enforcement officers from responsibility, require police to maintain body-camera and dash-cam videos, and ban chokeholds and no-knock warrants. Now, it's time for the U.S. Senate to do its part and pass the George Floyd Justice in Policing Act, and begin the work of transforming policing in the United States.
What does justice feel like? It feels like maybe we can finally take a breath. https://www.washingtonpost.com/opinions/2021/04/21/philonise-floyd-chauvin-verdict-justice/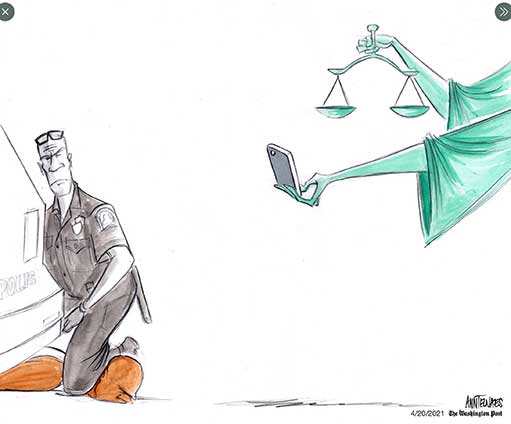 Audra D. S. Burch, Amy Harmon, Sabrina Tavernise and Emily Badger: The Death of George Floyd Reignited a Movement. What Happens Now?
But for many Black Americans, real change feels elusive, particularly given how relentlessly the killing of Black men by the police has continued, including the recent shooting death of Daunte Wright in a Minneapolis suburb.
There are also signs of backlash: Legislation that would reduce voting access, protect the police and effectively criminalize public protests has sprung up in Republican-controlled state legislatures.
Otis Moss III, pastor of Trinity United Church of Christ in Chicago, said to call what had transpired over the past year a racial reckoning was not right.
"Reckoning suggests that we are truly struggling with how to reimagine everything from criminal justice to food deserts to health disparities — we are not doing that," he said. Tuesday's guilty verdict, he said, "is addressing a symptom, but we have not yet dealt with the disease." https://www.nytimes.com/2021/04/20/us/george-floyd-protests-police-reform.html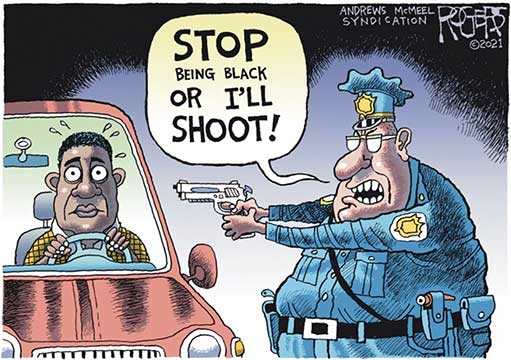 Jennifer Rubin: Two stats show why Republicans are so fixated on suppressing the vote
Why are Republicans so willing to incur the wrath of civil rights groups, to risk alienating college-educated voters and to alienate big business by engaging in flagrant voter suppression? Two statistics provide clarity.
The first comes from TargetSmart, a Democratic data firm that has compiled information on more than 98 percent of those who cast ballots last year from individual voter files. The firm finds: "Non-college educated whites dropped from 53.8% of the electorate in 2016 to 49.2% in 2020." Moreover, "Nationally, total turnout increased by 12% relative to 2016, turnout among [Asian American and Pacific Islander] voters surged by 43% and Latino turnout increased by almost a third of all votes cast." (While the disgraced former president may have done better among Hispanics in some states than he did in 2016, overall, he still lost 65 percent of these voters.)
TargetSmart's chief executive, Tom Bonier, told me this means that non-college-educated Whites increased turnout over 2016, but just not as fast as other groups. In other words, the GOP is "running out" of non-college-educated Whites.
Republicans' "solution" is to keep these voters at a fever pitch, sell them on fear and resentment, and to try to maximize their share of the electorate by making it harder for everyone else to vote — especially non-Whites and low-income Americans. https://www.washingtonpost.com/opinions/2021/04/21/why-republicans-fixate-suppressing-vote/
Max Boot: The Republican Party is beyond salvation — even without Trump
That was a very telling comment that Sen. John Cornyn (R-Tex.) posted on Twitter last week. He noted that tweets from President Biden's account "are limited and, when they come, unimaginably conventional" and that his "public comments are largely scripted." In Cornyn's mind, this "invites the question: is he really in charge?"
On one level, this shows a senior Republican senator — someone who is seen as a staid establishmentarian — trying to spread smarmy insinuations that the president has lost his marbles and is being manipulated by shadowy leftists. That's an article of faith on the conspiratorial far right that has now migrated to the mainstream despite the total lack of any substantiating evidence. When called out by Chris Wallace on Fox News, Cornyn retreated to the usual, despicable defense of conspiracy theorists: "I simply asked a question." I didn't say the moon landing was faked — I was only asking if it was!
But what is even more disturbing about Cornyn's tweet is the upside-down assumption that it's normal for a president to spew deranged, ungrammatical, abusive tweets — and that there is something wrong with a president who refuses to do so. Most people thought that President Donald Trump's tweets were bonkers — but for a large portion of the GOP, they have now become the standard by which his successors will be judged. Republicans have gone down the rabbit hole where sanity and sobriety are inexplicable and indeed suspicious.
This is a sign of how the Republican Party is adjusting to post-Trump life. It has embraced Trumpism without Trump. This is not really a set of policy preferences; the GOP in 2020 passed on a platform beyond allegiance to the Orange Emperor's whims. It is more of a mindless, obnoxious attitude — it's all about "owning the libs," spreading conspiracy theories, and waging culture wars as a way to rile up the rabid base and keep the cash register ringing. https://www.washingtonpost.com/opinions/2021/04/20/republican-party-is-beyond-salvation-even-without-trump/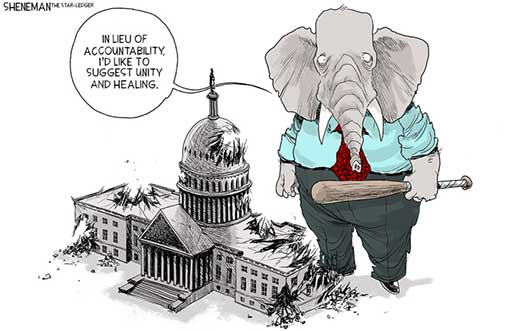 Justin Hendrix: US Treasury Provides Missing Link: Manafort's Partner Gave Campaign Polling Data to Kremlin in 2016
The U.S. Treasury Department said Thursday that Konstantin Kilimnik, an associate and ex-employee of Paul Manafort, "provided the Russian Intelligence Services with sensitive information on polling and campaign strategy," during the 2016 election, an apparently definitive statement that neither Special Counsel Robert Mueller nor the Senate Intelligence Committee investigation made in their final reports. 
"This is new public information that connects the provision of internal Trump campaign data to Russian intelligence," Andrew Weissmann, who led the prosecution of Manafort for the Special Counsel, told Just Security on Thursday. 
The eye-catching statement was included in an announcement of new sanctions related to Russian interference in U.S. elections. The Biden administration took a number of steps Thursday to punish Russia, not only for election interference, but also the SolarWinds cyberattack, its ongoing occupation of Crimea, and human rights abuses. https://www.justsecurity.org/75766/us-treasury-provides-missing-link-manaforts-partner-gave-campaign-polling-data-to-kremlin-in-2016/
Max Boot: Why is the GOP waging a culture war? Follow the money.
I recently received a fundraising email from Rep. Marjorie Taylor Greene (R.-Ga.), the kook who blames Jewish space lasers for wildfires. Alongside a picture of her holding an assault rifle, she writes that she will "fight" President Biden "with everything I have." "Will you stand with me against Joe Biden's tyranny?" she demands, seeking a "gift of $50, $100, or even $1,000 TODAY!" Such violent appeals work: According to Politico, Greene raked in a whopping $3.2 million in the first three months of 2021 despite (or, more likely, because of) being kicked off her House committees for her extremist rhetoric.
Of course, that's chump change compared to the kind of bucks Trump can rake in. The Trump campaign and its joint committees with the GOP raised $255.4 million in the eight weeks after the election to contest the results. Little wonder that Trump is so determined to steer donors to his own political action committee rather than to party organs: He has tapped a geyser of cash, and he doesn't want to share the spoils. The more outrageously he acts, the more money he brings in.
I'm no economic determinist, but if you want to understand how the right got the way it is, follow the money. The GOP highlights culture-war issues to shake down rank-and-file donors while cutting taxes to please wealthy donors. Republicans have won the presidential popular vote only once since 1988, but they can't afford to broaden their appeal by embracing a more populist economic agenda or by toning down the divisive social messages because either move would jeopardize the flow of fundraising. The right-wing money machine has become the tail wagging the Republican elephant. https://www.washingtonpost.com/opinions/2021/04/14/why-is-gop-waging-culture-war-follow-money/
NY Times Editorial: Why Spy Agencies Say the Future Is Bleak
Every four years, at the start of a new administration, American intelligence agencies put out "Global Trends," a weighty assessment of where the world seems headed over the next two decades. In 2008, for example, the report warned about the potential emergence of a pandemic originating in East Asia and spreading rapidly around the world.
The latest report, Global Trends 2040, released last week by the National Intelligence Council, finds that the pandemic has proved to be "the most significant, singular global disruption since World War II," with medical, political and security implications that will reverberate for years. That's not schadenfreude. It's the prologue to a far darker picture of what lies ahead.
The world envisioned in the 144-page report, ominously subtitled "A More Contested World," is rent by a changing climate, aging populations, disease, financial crises and technologies that divide more than they unite, all straining societies and generating "shocks that could be catastrophic." The gap between the challenges and the institutions meant to deal with them continues to grow, so that "politics within states are likely to grow more volatile and contentious, and no region, ideology, or governance system seems immune or to have the answers." At the international level, it will be a world increasingly "shaped by China's challenge to the United States and Western-led international system," with a greater risk of conflict. https://www.nytimes.com/2021/04/15/opinion/global-trends-intelligence-report.html
Catherine Rampell: Republicans desperate to oppose Biden's jobs plan settle on a nonsense reason
Republican lawmakers have been casting about for reasons to oppose President Biden's infrastructure plan, even though it looks an awful lot like initiatives they've supported in the past. Initially they complained about a too-expansive definition of "infrastructure," but that didn't seem to stick. Attacking the actual contents of the plan has been tricky too, since both the overall proposal and its individual components are popular among constituents. Aggressively opposing Biden's proposed investments in broadband or the electric grid or even elder care could easily backfire.
So, desperate Republicans have turned to their old standby, that last refuge of scoundrels: fearmongering about taxes.

Biden's proposal is paid for in part through a modest increase in corporate taxes. Whatever else might end up in the bill, Republicans say, opposition to this provision is their "nonnegotiable red line."
Unfortunately for Republicans, corporate tax increases also turn out to be phenomenally popular; for many years, Americans have believed that big companies haven't been paying their "fair share."
This argument has a few problems. Among them: Even one of the architects of then-President Donald Trump's tax cuts, former National Economic Council director Gary Cohn, acknowledged it's nonsense.
But the bigger problem for Republicans today is that the track record of the Trump tax cuts has been a bust. That's according to standards set by the law's own advocates.
Back in 2017, the law's boosters offered a very specific explanation for how the corporate tax cuts would provide "rocket fuel" to the U.S. economy. Reducing taxes on corporate profits would attract more capital, they argued, which would in turn increase business investment, which would lead to growth in economic activity, hiring and wages. Through additional economic growth, this entire law would "pay for itself."
The reality?
The law had no appreciable effect on business investment, as a 2019 International Monetary Fund analysis found. Growth in gross domestic product was also not terribly different in the post-tax-cut (and pre-covid) years than in the several years prior. Tax revenue was also much lower than had been forecast to be the case without the cuts, meaning that no, the law did not pay for itself. https://www.washingtonpost.com/opinions/2021/04/15/republicans-nonsense-corporate-tax-rate-biden-infrastructure-plan/
Nate Cohn: Why Political Sectarianism Is a Growing Threat to American Democracy
American democracy faces many challenges: New limits on voting rights. The corrosive effect of misinformation. The rise of domestic terrorism. Foreign interference in elections. Efforts to subvert the peaceful transition of power. And making matters worse on all of these issues is a fundamental truth: The two political parties see the other as an enemy.
It's an outlook that makes compromise impossible and encourages elected officials to violate norms in pursuit of an agenda or an electoral victory. It turns debates over changing voting laws into existential showdowns. And it undermines the willingness of the loser to accept defeat — an essential requirement of a democracy.
This threat to democracy has a name: sectarianism. It's not a term usually used in discussions about American politics. It's better known in the context of religious sectarianism — like the hostility between Sunnis and Shia in Iraq. Yet a growing number of eminent political scientists contend that political sectarianism is on the rise in America.
In recent years, many analysts and commentators have told a now-familiar story of how democracies die at the hands of authoritarianism: A demagogic populist exploits dissatisfaction with the prevailing liberal order, wins power through legitimate means, and usurps constitutional power to cement his or her own rule. It's the story of Putin's Russia, Chavez's Venezuela and even Hitler's Germany.
Sectarianism, in turn, instantly evokes an additional set of very different cautionary tales: Ireland, the Middle East and South Asia, regions where religious sectarianism led to dysfunctional government, violence, insurgency, civil war and even disunion or partition.
These aren't always stories of authoritarian takeover, though sectarianism can yield that outcome as well. As often, it's the story of a minority that can't accept being ruled by its enemy.
In many ways, that's the story playing out in America today.
https://www.nytimes.com/2021/04/19/us/democracy-gop-democrats-sectarianism.html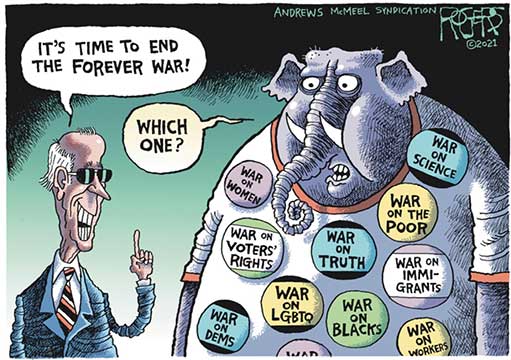 David Siders: 'It's almost like insanity': GOP base continues to lash out over Trump's defeat
In Cobb County, the archetype of the GOP's suburban erosion, Republican activists over the weekend were still relitigating former President Donald Trump's baseless claims of widespread voter fraud while drafting resolutions to rebuke the state's Republican governor, Brian Kemp, and other Republican officials for their unwillingness to overturn Trump's loss. The Republican secretary of state, Brad Raffensperger, has been all but excommunicated.
To traditionalist Republicans in Georgia, the infighting between fervent Trump supporters and the establishment wing of the party has become increasingly alarming as the midterm elections come into focus. The GOP is desperate to regain its footing in the suburbs after Trump's collapse there. But it was moderate Republicans and independent voters, not Trump loyalists, who abandoned Trump in November, and the party's fixation on the former president may only alienate them further, with potentially disastrous consequences for 2022 and beyond.
"I'm convinced that if infighting escalates, we could easily blow it, as well," Randy Evans said. "Making gains in the midterms is hard, if you're shooting at each other inside the tent."
https://www.politico.com/news/2021/04/20/trump-georgia-gop-election-fraud-483193