January 28, 2021
ON THE RECORD. . .
"That's become mainstream Republican politics. It used to be low taxes. It is now white grievance." — Mike Madrid, a former California state GOP political director saying that few should be shocked that the Governor Newsom recall has extremists and conspiracy theorists.

Twitter has permanently suspended the account of MYPillow guy Mike Lindell, fervent Trump devotee and serial utterer of false claims about the election, for repeat violations of its policy on election misinformation. -- Daniel Dale

"Bill Clinton lied under oath and they thought that... he needed to be removed from office for lying under oath. Donald Trump incites a terrorist attack and they have a different standard." — Jake Tapper, after 45 GOP senators vote to dismiss the impeachment trial.

"I've just filed articles of impeachment on President Joe Biden, we will see how this goes," -- Georgia conservative Rep. Marjorie Taylor Greene, a freshman Republican, who has supported QANON conspiracy theories and criticized the 25,000 National Guard deployed to Washington D.C. to protect the presidential inauguration, took to Twitter to make her announcement.

"To do a trial knowing you'll get 55 votes at the max seems to me to be not the right prioritization of our time. Obviously we do a trial — maybe we can do it fast." — Sen. Tim Kaine (D-VA), on the upcoming impeachment trail for Donald Trump.

"You have many of the Trump supporters in elected office, senators, congresspeople, governors, continuing to say the same thing, that the election was stolen. They should tell people is that the Trump campaign 'had a chance to take their message to the courts, the courts laughed them out of court. I've seen no evidence that suggests that there was widespread voter fraud.' Elected Republicans need to go on Fox News and say, 'You know what, I was a big Trump supporter, I was really pulling for Donald Trump, but he lost fair and square.'" — Sen. Mitt Romney (R-UT} on what every elected Republican ought to be telling voters that as a step toward bringing the country together.

"The only hope you have is to accept the fact that you're already dead." — Rep. Adam Kinzinger (R-IL), the only Republican to vote in favor of a resolution urging Vice President Mike Pence to invoke the 25th Amendment and strip Trump of his presidential powers and one of 10 Republicans to vote to impeach Trump for inciting a riot at the Capitol.
VIDEOS

U.S. Capitol domestic terrorist Jenna Ryan is now BEGGING for money after she did not receive a pardon from Trump. | The MeidasTouch: https://www.youtube.com/watch?v=q0-HPQ3F3Ls&feature=youtu.be

Goodbye, Donnie (Hello, Dolly! Parody) – A MeidasTouch & Bette Midler Production: https://youtu.be/yRBe7DIS2q0

"Fight For Trump"– Incitement at US Capitol | Just Security:
https://vimeo.com/504444733
---
IN THIS ISSUE
FYI
OPINION
1. Andy Borowitz: Republicans Against Impeachment Propose "Three Coup Attempts, You're Out" Law
Senate Republicans who opposed impeachment are proposing an alternative: a piece of legislation called "Three Coup Attempts, You're Out."

The bill's sponsor, Senator Rand Paul of Kentucky, said that the law would send a clear signal to future Presidents that "we will have zero tolerance for coup attempts if they try to do it three times."

"After the first coup attempt, a President would receive a warning, just as you would if you made an illegal left turn or had a broken tail light," Paul explained. "After the second coup attempt, the United States Senate will draft a resolution telling you that you'd better not try it a third time."

Paul was vague when asked what the punishment would be for a third coup attempt, saying, "As in most legislation, the devil is in the details. But the gist of it is, insurrect me once, shame on you; insurrect me twice, shame on me; insurrect me three times, it's time to have a serious talk about this." https://www.newyorker.com/humor/borowitz-report/
2. The GOP's answer to its post-Trump blues: More Trump
For a moment, it looked like Donald Trump might be losing his iron grip on the GOP. In the wake of the deadly Capitol riot, 10 House Republicans joined Democrats in their vote to impeach him. Several other Republicans openly suggested at least censuring the president.
Not anymore.
Local and state Republican parties are censuring Republicans for disloyalty in states across the country. The lawmakers who broke with him are weathering a storm of criticism from Trump-adoring constituents at home, with punitive primary challenges already taking shape. In Washington, party leaders who once suggested Trump bore some responsibility for the Jan. 6 violence are backtracking. https://www.politico.com/news/2021/01/27/post-trump-gop-462864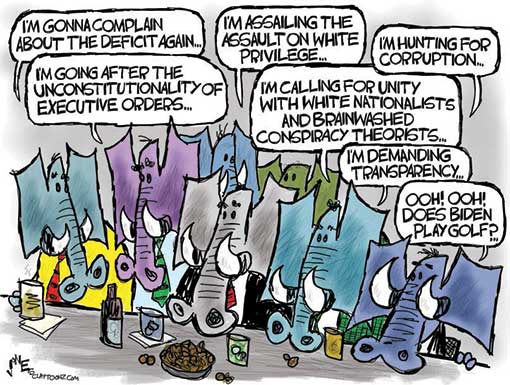 3. Far-right movements including QAnon, virus skeptics linked to Governor Newsom recall
A Times investigation found that recall campaign leaders, seeking to capitalize on the darkening public mood, allied with radical and extreme elements early on to help collect signatures. Those included groups promoting distrust of government, science and medicine; peddlers of QAnon doomsday conspiracies; "patriots" readying for battle and one organization allied with the far-right extremist group, the Proud Boys.
The recall gave those fringe factions a higher profile and a shared villain. They helped energize the campaign with large and often inflammatory rallies over masks, in support of Trump and against the election they falsely say was stolen from the former president — ripe venues to harvest petition signatures. https://www.latimes.com/california/story/2021-01-23/recall-newsom-effort-qanon-antivaxxer-extremist-ties
4. Supporters' words may haunt Trump at impeachment trial
The words of Donald Trump supporters who are accused of participating in the deadly U.S. Capitol riot may end up being used against him in his Senate impeachment trial as he faces the charge of inciting a violent insurrection.
At least five supporters facing federal charges have suggested they were taking orders from the then-president when they marched on Capitol Hill on Jan. 6 to challenge the certification of Joe Biden's election win. But now those comments, captured in interviews with reporters and federal agents, are likely to take center stage as Democrats lay out their case. It's the first time a former president will face such charges after leaving office. https://apnews.com/article/joe-biden-capitol-siege-donald-trump-trials-impeachments-64b8fee697d922bb75727e5781af815f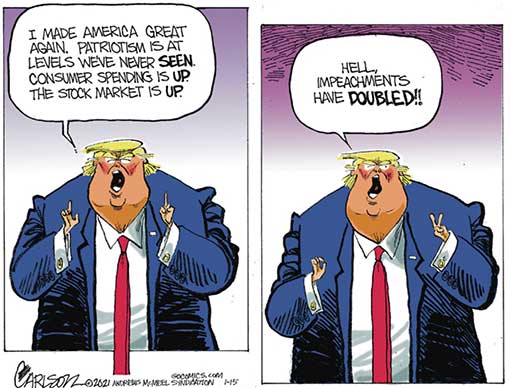 5. Biden Team Rushes to Take Over Government, and Oust Trump Loyalists
When President Biden swore in a batch of recruits for his new administration in a teleconferenced ceremony late last week, it looked like the country's biggest Zoom call. In fact, Mr. Biden was installing roughly 1,000 high-level officials in about a quarter of all of the available political appointee jobs in the federal government.
At the same time, a far less visible transition was taking place: the quiet dismissal of holdovers from the Trump administration, who have been asked to clean out their offices immediately, whatever the eventual legal consequences.
If there has been a single defining feature of the first week of the Biden administration, it has been the blistering pace at which the new president has put his mark on what President Donald J. Trump dismissed as the hostile "Deep State" and tried so hard to dismantle. https://www.nytimes.com/2021/01/27/us/politics/biden-government.html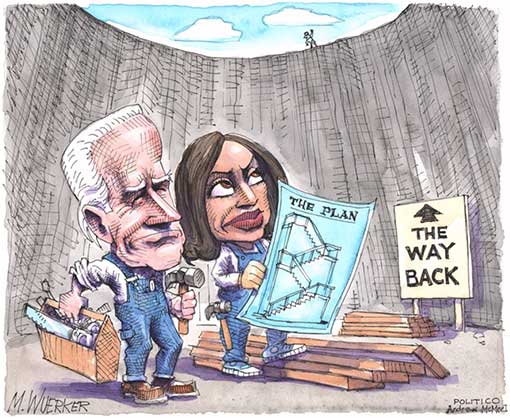 6. Biden starts staffing a commission on Supreme Court reform
The Biden administration is moving forward with the creation of a bipartisan commission to study reforms to the Supreme Court and the federal judiciary.
The commission will be housed under the purview of the White House Counsel's office and filled out with the behind-the-scenes help of the Biden campaign's lawyer Bob Bauer, who will co-chair the commission. Its specific mandate is still being decided. But, in a signal that the commission is indeed moving ahead, some members have already been selected, according to multiple people familiar with the discussions. https://www.politico.com/news/2021/01/27/biden-supreme-court-reform-463126
7. Top immigration court official replaced
The Biden administration on Wednesday made its first move to set the nation's immigration courts in a new direction, announcing plans to replace the official who has overseen the system for nearly four years. https://www.politico.com/news/2021/01/27/biden-replaces-immigration-court-463053
8. Members are quitting 'sad' Mar-a-Lago
Many once-loyal members of Mar-a-Lago are leaving because they no longer want to have any connection to former President Donald Trump, according to the author of the definitive book about the resort.
"It's a very dispirited place," Laurence Leamer, historian and author of "Mar-a-Lago: Inside the Gates of Power at Donald Trump's Presidential Palace," told MSNBC host Alex Witt on "Weekends with Alex Witt" Saturday. He said members are "not concerned about politics and they said the food is no good." https://www.cnn.com/2021/01/24/business/mar-a-lago-donald-trump-guests/index.html
9. Oklahoma trying to return its $2m stockpile of hydroxychloroquine
The Oklahoma Attorney General's Office has been tasked with attempting to return a $2 million stockpile of a malaria drug once touted by former President Donald Trump as a way to treat the coronavirus.
The state purchased the hydroxychloroquine stockpile in early April, days after Trump began to tout it as a treatment. While many acknowledged at the time that reports of the drug's effectiveness were purely anecdotal, Trump said at a briefing in March, "What do we have to lose?"  https://www.readfrontier.org/stories/oklahoma-trying-to-return-its-2m-stockpile-of-hydroxychloroquine/
10. Belief that voter fraud led to Biden win persists among 1 in 3
Despite the increase in confidence about the election, about one-third (32%) of the public believe that Biden only won the election due to voter fraud, while 65% believe he won it "fair and square." This result is virtually unchanged from November when 34% believed that fraud determined the outcome or that Biden's victory would be overturned. Fully 72% of Republicans persist in believing that Biden's win is due to voter fraud. Among Americans who still believe Trump lost due to fraud, nearly two-thirds say it is time to move on, but one-third of this group – which equates to 10% of all American adults – say they will never accept Biden as president. https://www.monmouth.edu/polling-institute/reports/monmouthpoll_US_012521/
11. The Lincoln Project co-founder says post-Trump he's going after Cruz
The Lincoln Project co-founder Rick Wilson said that now that former President Trump is out of office, he intends to turn the super PAC's attention to Sen. Ted Cruz (R-Texas).
Wilson told the Texas politics-focused podcast "Y'all-itics" the group would target Cruz over his support of a Republican challenge to the certification of President Biden's victory earlier this month. "We all know Ted Cruz is sort of a political force of nature. He is what he is. You either hate him or you hate him," Wilson said. "And he is a guy who went so far over the edge, not just to appease Donald Trump and Trump's base, but because he felt like [Sen.] Josh Hawley (R-Mo.) had gotten out ahead of him on it." https://thehill.com/homenews/senate/535188-the-lincoln-project-co-founder-says-post-trump-hes-going-after-cruz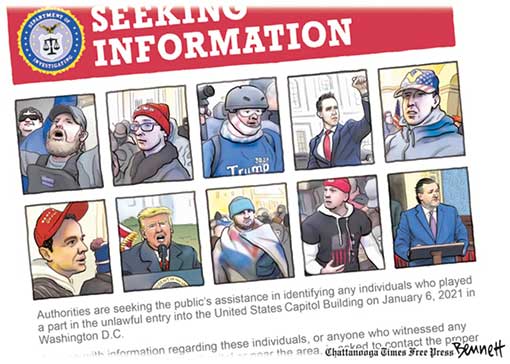 12. 'A Total Failure': The Proud Boys Now Mock Trump
After the presidential election last year, the Proud Boys, a far-right group, declared its undying loyalty to President Trump.
In a Nov. 8 post in a private channel of the messaging app Telegram, the group urged its followers to attend protests against an election that it said had been fraudulently stolen from Mr. Trump. "Hail Emperor Trump," the Proud Boys wrote.
But by this week, the group's attitude toward Mr. Trump had changed. "Trump will go down as a total failure," the Proud Boys said in the same Telegram channel on Monday.
As Mr. Trump departed the White House on Wednesday, the Proud Boys, once among his staunchest supporters, have also started leaving his side. In dozens of conversations on social media sites like Gab and Telegram, members of the group have begun calling Mr. Trump a "shill" and "extraordinarily weak," according to messages reviewed by The New York Times. They have also urged supporters to stop attending rallies and protests held for Mr. Trump or the Republican Party. https://www.nytimes.com/2021/01/20/technology/proud-boys-trump.html
13. A Digital Dragnet Is Coming For The U.S. Capitol Insurrectionists
The insurrectionists might have been able to leave without being arrested. Their friends and family members may not have turned them in yet. But slowly but surely, the digital surveillance net is tightening on the supporters of former President Donald Trump who stormed the U.S. Capitol on Jan. 6. https://www.huffpost.com/entry/capitol-attack-trump-fbi-surveillance_n_6009c26fc5b697df1a0d28f0
14. Biden wants to remove this controversial word from US laws
Biden's proposed bill, if passed, would remove the word "alien" from US immigration laws, replacing it with the term "noncitizen."
It's a deliberate step intended to recognize America as "a nation of immigrants," according to a summary of the bill released by the new administration.
The term "illegal alien," long decried as a dehumanizing slur by immigrant rights advocates, became even more of a lightning rod during the Trump era -- with some top federal officials encouraging its use and several states and local governments taking up measures to ban it. https://www.cnn.com/2021/01/21/politics/alien-biden-immigration-law/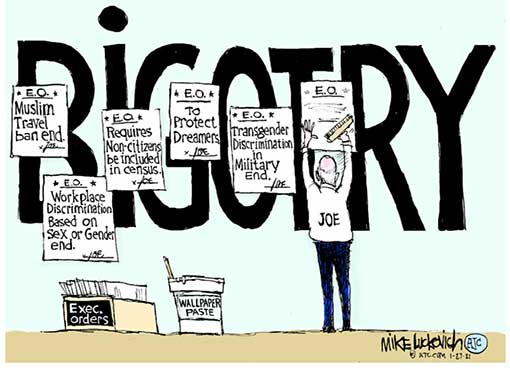 15. Biden cleans house at VOA after revolt over Trump changes
The Biden administration has moved quickly to remove a number of senior officials aligned with former President Donald Trump from the Voice of America and the agency that oversees all U.S.-funded international broadcasting.
The actions address fears that the U.S. Agency for Global Media was being turned into a pro-Trump propaganda outlet. The agency announced Thursday that VOA's director and his deputy had been removed from their positions and that the head of the Office of Cuba Broadcasting had resigned. https://apnews.com/article/biden-inauguration-joe-biden-donald-trump-cuba-media-744c7a32d2587753a17a88bdf123b6bc
16. Behind Trump Clemency, a Case Study in Special Access
Philip Esformes acquired a $1.6 million Ferrari and a $360,000 Swiss watch and traveled around the United States on a private jet, a spending spree fueled by the spoils from what federal prosecutors called one of the largest Medicare fraud cases in history.
"Philip Esformes is a man driven by almost unbounded greed," Denise M. Stemen, an agent in the F.B.I.'s Miami field office, said last year after Mr. Esformes, 52, a nursing home operator, was sentenced to 20 years in prison for the two-decade scheme that involved an estimated $1.3 billion worth of fraudulent claims.
That prison term ended suddenly this week, when President Trump commuted what remained of Mr. Esformes's sentence.
His rapid path to clemency is a case study in how criminals with the right connections and resources have been able to cut through normal channels and gain the opportunity to make their case straight to the Trump White House. https://www.nytimes.com/2020/12/24/us/politics/trump-pardon-clemency-access.html
17. In Trump's Pardons, Disdain for Accountability
Randy "Duke" Cunningham maintained a "bribe menu" on his congressional office stationery that featured different levels of payments he required from military contractors if they wanted his help to win corresponding levels of federal contracts.
As mayor of Detroit, Kwame M. Kilpatrick turned City Hall into what prosecutors called "a private profit machine," taking bribes, fixing municipal contracts and even using hundreds of thousands of dollars from a city civic fund to spend on friends and family, as well as campaign expenses.
Robin Hayes, a former member of Congress serving as chairman of the North Carolina Republican Party, pleaded guilty to lying to F.B.I. agents about his role in a plot to bribe a state insurance commissioner as part of an effort to secure $2 million worth of donations toward state re-election campaigns.
All received clemency from Donald J. Trump early Wednesday morning in one of his final acts as president.
And Mr. Trump's choice to use his unchecked clemency power on their behalf highlighted a theme that coursed through the more than 235 pardons and commutations he issued during his presidency — a disdain for a justice system that seeks to hold public officials to account for violations of the public trust. https://www.nytimes.com/2021/01/20/us/politics/trump-pardons-accountability.html
18. He Was Convicted in a Police Officer's Murder. Trump Gave Him Clemency.
Among the dozens of pardons and commutations former President Donald J. Trump issued before leaving office, one name has left some law enforcement officials reeling: Jaime A. Davidson, notorious in upstate New York for planning a 1990 robbery that ended in the murder of a police officer.
The commutation bypassed the typical federal process for seeking clemency, and was championed by an advocate who was herself granted a pardon in 2018. Experts said Mr. Trump's decision to cut Mr. Davidson's life sentence short was evidence of the problems that arise when presidential allies exert strong influence.
And after a re-election campaign that emphasized law and order, with rallies that sometimes featured the pro-police Blue Lives Matter flag, Mr. Trump's decision was a baffling anomaly that upstate politicians, prosecutors and police union officials received with dismay. https://www.nytimes.com/2021/01/26/nyregion/jaime-davidson-clemency-syracuse.html
19. Texas Supreme Court Silently Denies Alex Jones All Forms of Relief
An empire built on conjecture, conspiracy and a series of fake homeopathic cures for various ailments stands to be sued into oblivion after a Friday ruling by the Supreme Court of Texas.
Without comment, the Lone Star State's highest civil court found that America's foremost conspiracy theorist, Alex Jones, and his flagship media outlet, InfoWars, are subject to liability in four separate defamation lawsuits filed over the past two-plus years. Those lawsuits were filed by parents of children who were killed during the Sandy Hook massacre and by a man Jones and his network falsely identified as the perpetrator of the Parkland massacre at Marjory Stoneman Douglas High School. https://lawandcrime.com/high-profile/texas-supreme-court-silently-denies-alex-jones-all-forms-of-relief-sandy-hook-families-and-others-can-now-sue-conspiracy-theorist-and-infowars-into-the-ground/
20. Lewandowski group raising money to challenge Liz
A new political group founded by former Trump aide Corey Lewandowski is raising money to run a candidate against the third-ranking Republican in the House, Rep. Liz Cheney, whose vote to impeach Trump this month enraged his most committed supporters.
Cheney may be a target, but she also has a large political arsenal. Her father, former Vice President Dick Cheney, still commands respect among establishment Republicans, and both he and his daughter have been strong fundraisers. https://www.axios.com/lewandowski-group-raising-money-to-challenge-cheney-09d04b15-9d60-401c-81f2-00291f387181.html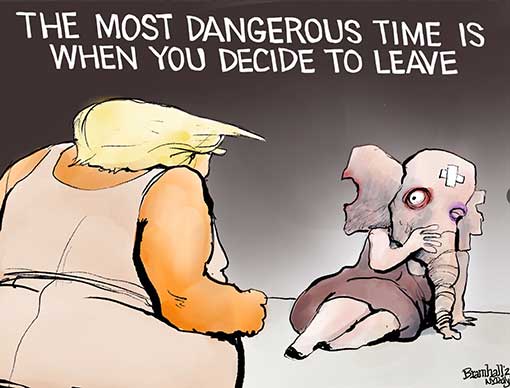 21. California Republican David Valadao voted to impeach Trump. Now he has a challenger for 2022
The only California Republican who voted to impeach President Donald Trump earlier this month already has three challengers planning bids to unseat him next year, including a Republican who said he's running because of the impeachment vote. https://www.fresnobee.com/news/local/article248775765.html
22. QAnon Believers Can't Figure out What Went Wrong
The Proud Boys aren't so proud of Donald Trump anymore. Losing an election, then failing to overturn the results, and then slinking out of Washington with your tail between your legs are not signs of "strength," as it turns out. And so, many of them have disembarked from the S.S. Trump.The QAnon folks have a very similar problem. According to the conspiracy theory, Trump was supposed to use his presidential powers to initiate a "Great Awakening" that would smash, once and for all, the enormous cabal of deep staters, global power brokers, and Satan-worshiping pedophile Democrats. The Donald did not do this before the election, he didn't do it after the election, he didn't manage to overturn the election, and now he's out of office and out of Washington. So much for the Great Awakening. Some QAnon-ers have lost faith in the whole thing, and in Trump. Others are carefully reviewing the story to figure out where the holes are—the Satan-worshiping Democratic pedophiles, perhaps?—so that they might patch them with additional conspiratorial thought. https://www.electoral-vote.com/evp2021/Pres/Maps/Jan22.html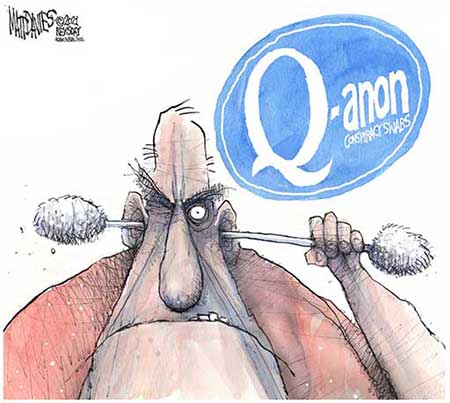 23. Biden administration weighs turning over Trump tax returns to House Democrats
House Democrats have renewed their long-stalled demand for Donald Trump's federal tax records, but the Biden administration has not decided whether it will drop its predecessor's objections and release the Treasury Department records to investigators, Justice Department attorneys told a federal judge Friday.
U.S. District Judge Trevor N. McFadden declined Friday to lift a stay on a pending House lawsuit. Instead, the judge agreed to give Treasury and Justice Department officials two weeks to report back to him, acknowledging that President Biden's team was just settling in after the inauguration this week.
Separation-of-powers issues that have slowed the case "may fall out" now that Trump is no longer in office, U.S. District Judge Trevor N. McFadden noted.
"It would be a former president trying to stop a political branch, rather than one branch suing another. At least that's my instinct," said McFadden, a 2017 Trump appointee to the federal bench in Washington.
House General Counsel Douglas N. Letter agreed, saying, "We're not dealing with a president anymore. We're dealing with a former president." https://www.washingtonpost.com/local/legal-issues/trump-taxes-house-lawsuit/2021/01/22/4f4df442-5cf1-11eb-8bcf-3877871c819d_story.html
24. They Have Not Legitimately Won: Pro-Trump Media Keeps the Disinformation Flowing
For some outlets, like One America News, it was as if Mr. Biden weren't president at all. The network, a favorite of Mr. Trump's because of its sycophantic coverage, didn't show its viewers Mr. Biden's swearing in or his inaugural address.
On One America News, viewers saw a lengthy documentary-style segment called "Trump: Legacy of a Patriot" instead of the inauguration. One of the network's commentators, Pearson Sharp, provided the voice-over and offered only flattering words about the former president while he leveled false claims about voter fraud.
Mr. Sharp repeated many of the discredited excuses that have formed the alternate version of events that Mr. Trump and his followers are using to explain his loss. The host claimed, for instance, that Mr. Trump couldn't have been defeated because he won the bellwether state of Ohio and carried so many more counties than Mr. Biden did. "And yet somehow we're still expected to believe that Joe Biden got more votes than any president in history," Mr. Sharp said.
Then he issued a rallying cry to Trump supporters. "Now it's up to the American people to continue President Trump's fight, or all the progress we've made as a nation will quickly unravel," Mr. Sharp said. https://www.nytimes.com/2021/01/20/business/media/misinformation-trump-media.html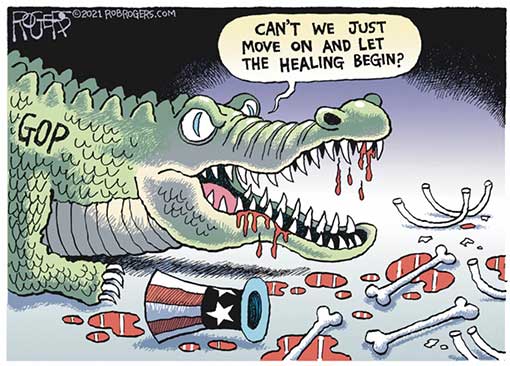 25. Marjorie Taylor Greene indicated support for executing prominent Democrats in 2018 and 2019 before running for Congress
Greene, who represents Georgia's 14th Congressional District, frequently posted far-right extremist and debunked conspiracy theories on her page, including the baseless QAnon conspiracy which casts former President Donald Trump in an imagined battle against a sinister cabal of Democrats and celebrities who abuse children.
In one post, from January 2019, Greene liked a comment that said "a bullet to the head would be quicker" to remove House Speaker Nancy Pelosi. In other posts, Greene liked comments about executing FBI agents who, in her eyes, were part of the "deep state" working against Trump.
if you want to see the tip of the spear of unrepentant MAGA fury, a good barometer is Marjorie Taylor Greene. https://www.cnn.com/2021/01/26/politics/marjorie-taylor-greene-democrats-violence/index.html
26. Biden orders DOJ to end private prison contracts as part of racial equity push
President Joe Biden ordered his Department of Justice on Tuesday to phase out its contracts with private prisons, one of multiple new planks of Biden's broad-focused racial justice agenda.
Biden signed four additional executive actions after laying out his racial equity plan at the White House. The actions are aimed at combating discriminatory housing practices, reforming the prison system, respecting sovereignty of Tribal governments and fighting xenophobia against Asian Americans, especially in light of the Covid pandemic. https://www.cnbc.com/2021/01/26/biden-to-announce-racial-equity-plan-and-sign-executive-actions.html
27. Trump's Pardon of Bannon Could Raise Risk for 3 Co-Defendants
The pardon also left three other men who were indicted with Steve Bannon in an unusual and unenviable predicament. None of them received pardons and so they still must face a trial in May. What's more, legal experts said, Mr. Bannon could now be called as a government witness to testify against them, potentially increasing their legal jeopardy. https://www.nytimes.com/2021/01/26/nyregion/steve-bannon-pardon-trump.html
28. Pentagon restricted commander of D.C. Guard ahead of Capitol riot
The commander of the D.C. National Guard said the Pentagon restricted his authority ahead of the riot at the U.S. Capitol, requiring higher-level sign-off to respond that cost time as the events that day spiraled out of control.
Local commanders typically have the power to take military action on their own to save lives or prevent significant property damage in an urgent situation when there isn't enough time to obtain approval from headquarters.
But Maj. Gen. William J. Walker, the commanding general of the District of Columbia National Guard, said the Pentagon essentially took that power and other authorities away from him ahead of a pro-Trump protest on Jan. 6. That meant he couldn't immediately roll out troops when he received a panicked phone call from the Capitol Police chief warning that rioters were about to enter the U.S. Capitol. https://www.washingtonpost.com/national-security/dc-guard-capitol-riots-william-walker-pentagon/2021/01/26/98879f44-5f69-11eb-ac8f-4ae05557196e_story.html
29. Oregon Republican Party calls U.S. Capitol riot a 'false flag' meant to 'discredit President Trump'
Last week, the Oregon state party released a resolution  passed by its executive committee that says "The violence at the Capitol was a 'false flag' operation designed to discredit President Trump, his supporters, and all conservative Republicans; this provided the sham motivation to impeach President Trump in order to advance the Democratic goal of seizing total power. https://www.washingtonpost.com/nation/2021/01/26/oregon-republican-false-flag-capitol/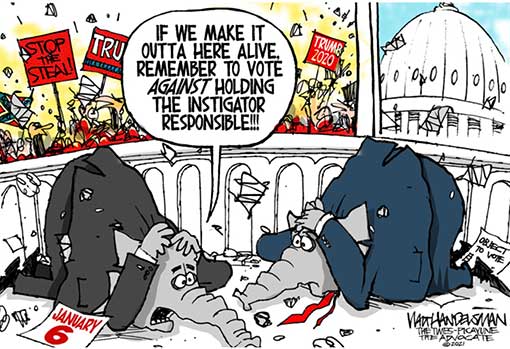 30. Biden halts new oil, gas and coal leases on federal lands and waters
The Biden administration announced Thursday the suspension of new oil and gas leasing and drilling permits for U.S. lands and waters, effective for 60 days, as officials moved quickly to reverse Trump administration policies on energy and the environment.
The suspension, part of a broad review of programs at the Interior Department, went into effect immediately under an order signed Wednesday by acting Interior Secretary Scott de la Vega. It follows President Biden's campaign pledge to halt new drilling on federal lands and end the leasing of publicly owned energy reserves to help address climate change.
Biden's move could be the first step toward an eventual goal to ban all leases and permits to drill on federal land. Mineral leasing laws state that federal lands are for many uses, including extracting oil and gas, but the Democrat could set out to rewrite those laws, said Kevin Book, managing director at Clearview Energy Partners.
National Wildlife Federation Vice President Tracy Stone-Manning welcomed the move, saying she expected Biden to make good on his promise to end leasing altogether, or at least impose a long-term moratorium on any new issuances. https://www.latimes.com/business/story/2021-01-21/biden-oil-coal-leases-federal-land
31. The DAILY GRILL
Joe Biden is "following the radical left agenda, take away your guns, destroy your Second Amendment, no religion, no anything, hurt the Bible, hurt God. He's against God." — Donald Trump on Aug. 6 in Cleveland.

VERSUS

Well, they were right. Joe Biden is the president and the first thing he did was hurt God, just as they told us he would. He went right up to God and smote God, and now God is crying and Nietzsche has had to clamber back out of Hell to provide comfort. (The thing between God and Nietzsche is very complicated.) Joe Biden knew from the get-go that hurting God was his priority, and that is exactly what he has gone and done. He settled into the West Wing and then he rolled up his sleeve and — pow! —  Alexandra Petri


A video from last year shows Rep. Marjorie Taylor Greene (R-GA) chasing after Parkland school shooting survivor David Hogg and berating him for supporting "red-flag gun laws."

VERSUS

Could someone PLEASE tell me where the "millions" I've been "paid" by Soros is? I'd love to have the rest of college and if I go- grad or law school paid for, a nice place for my parents and therapy paid for the rest of my life. — David Hogg (He / Him) @davidhogg111

 

A Dominion Voting Systems suit seeks damages of more than $1.3 billion and is based on more than 50 statements Mr. Giuliani made at legislative hearings, on Twitter, on his podcast and in the conservative news media, where he spun a fictitious narrative of a plot by one of the biggest voting machine manufacturers in the country to flip votes to President Biden.

VERSUS

Dominion's lawsuit "is another act of intimidation by the hate-filled left-wing to wipe out and censor the exercise of free speech, as well as the ability of lawyers to defend clients vigorously." -- Rudy Giuliani

 

The hosts at Fox News have been furious in recent days. The mainstream media, they say, has been "gushing" over Joe Biden, offering "nauseating" coverage of the new president and "not hiding their excitement." https://www.theguardian.com/media/2021/jan/27/fox-news-hosts-sean-hannity-tucker-carlson-laura-ingraham-biden-trump

VERSUS

Sean Hannity, Tucker Carlson and Laura Ingraham are some of the rightwing commentators at the conservative channel getting good mileage from the alleged Biden-fawning – but their accusations have raised eyebrows among those who watched Fox News's hosts spend four years largely functioning  as an extension of Donald Trump's White House. https://www.theguardian.com/media/2021/jan/27/fox-news-hosts-sean-hannity-tucker-carlson-laura-ingraham-biden-trump
1.  Eric Lutz: In A Post-Trump World, What Will Become Of Qanon? 
QAnon followers had thought that Inauguration Day would bring what they call the "Storm," in which Donald Trump would return, take power, and begin the mass arrests of the secret cabal of Satan-worshipping pedophile cannibals they believe run the government and Hollywood. But none of that happened: Trump pardoned a bunch of crooks, including accused fraudster Steve Bannon; he told his supporters to "have a good life" and boarded a plane to Florida; and Joe Biden was sworn in as president. "I'm about to puke," one QAnon devotee posted online as these events unfolded, according to the Daily Beast. "I feel stupid," wrote another.
The rise of conspiracy theories was one of the most dangerous hallmarks of Trump's time in Washington. He was as susceptible as his followers and gave voice to them from the highest office in the land. His supporters, meanwhile, built a massive cult around him. But the transfer of power from Trump to Biden on Wednesday laid waste to some of their core beliefs, leaving some followers—like those who awaited the apocalypse ten years ago, only to go right on living—disillusioned. "It's over," one person in a Q chat room wrote, per the New York Times.
Some, rather than accept that fact, tried to spin new theories to explain why the Storm hadn't come. Maybe it was all part of Trump's plan. Maybe Biden was even "part of the plan," as some suggested, according to the Washington Post. But others appeared to resign themselves to the fact that what they'd believed would never happen. "Wake up," one Q follower wrote in a chatroom, according to the Times. "We've been had." Ron Watkins, a prominent figure in the QAnon movement who has been rumored to be Q himself, more or less seemed to acknowledge as much on Wednesday, suggesting that others in the community "go back to our lives as best as we are able," and "remember all the friends and happy memories" they'd made.
But what form its future takes, and how much power it wields in U.S. politics going forward, is not clear. "With Trump gone, the head has been decapitated, but that doesn't mean this is going away," researcher Shane Creevy told Politico. "The big question is, what happens next?" https://www.vanityfair.com/news/2021/01/in-a-post-trump-world-what-will-become-of-qanon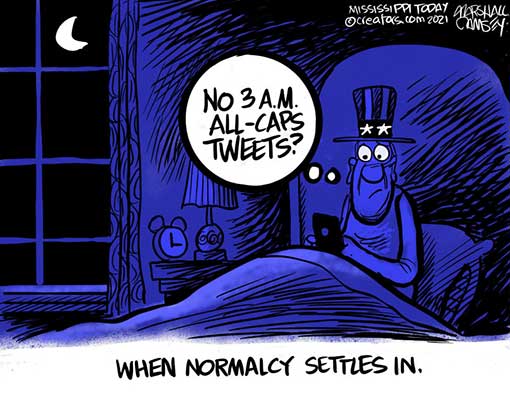 2. Steve Schmidt: 'We Must Have Justice'
No one is seeking revenge or retribution against Donald Trump.
The questions on the table are about justice and accountability. That is what the impeachment trial is about. Trump incited a mob to attack the United States Capitol to disrupt the constitutionally mandated certification of the election by the Congress. During that attack, the American flag was used as a weapon to bludgeon a Capitol Police Officer.
Six people were murdered by Trump's mob. During the attack, the Capitol of the United States fell into the hands of fascists, conspiracy theorists, seditionists and white supremacists. They were acting at Trump's urging.
The U.S. flag was ripped down, and the Trump MAGA flag was hoisted. The Confederate battle flag finally breached the Capitol Rotunda, nearly 156 years after Robert E. Lee's surrender to Ulysses S. Grant.
All of this was built on the "Big Lie" about a stolen election that wasn't. John Cornyn's colleagues Ted Cruz, Josh Hawley and Ron Johnson have blood on their hands for their involvement in fomenting insurrection and committing sedition against the people of the United States.
Here is something that should unify all of us. Thirteen generations of Americans have made blood sacrifices to create, defend and expand American democracy. All Americans are trustees of that sacred inheritance.
We are morally obligated to defend American democracy and preserve it for our posterity. That is why we must have justice. https://www.maxnewstoday.com/post/we-must-have-justice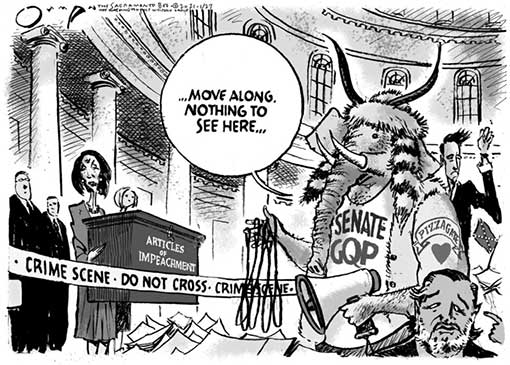 3. Jonathan Chait: Why Are Conservatives So Angry Biden Denounced White Supremacy?
The themes and rhetoric of President Biden's Inaugural Address — in a departure from his predecessor's odd decision to channel comic-book villain dialogue but a continuation of the choices used by normal presidents — were a dollop of vanilla ice cream. Biden praised the American spirit, called for unity, reminded his audience of our common history of overcoming challenges, promised to represent all Americans, and so on.
Whether or not one found this inspiring is a matter of personal taste. What's interesting is that certain quarters of the right found the speech actually objectionable. The portion of the speech that rankled was Biden's renunciation of racism and violent white-supremacist terrorism.
"If you read his speech and listen to it carefully, much of it is thinly veiled innuendo calling us white supremacists, calling us racists," protested Rand Paul on Fox News. "It's an odd way to seek national unity: Call a significant portion of the American public white supremacists, racists, and nativists," complained Manhattan Institute scholar Heather MacDonald. Tucker Carlson devoted an entire segment to angrily denouncing Biden for opposing white supremacy, which he interpreted, not unreasonably, as a veiled criticism of himself and his most fervent supporters.
None of these right-wingers self-identify as racist or white supremacist. And at no point did Biden say, or even imply, that all — or even most — Trump supporters are racist. Why, then, do they object to a fairly rote denunciation of ideas they claim to abhor themselves? https://nymag.com/intelligencer/2021/01/why-are-conservatives-angry-biden-denounced-white-supremacy.html
4. Catherine Rampell: Right on schedule, Republicans pretend to care about deficits again
It's almost like clockwork. As soon as a Democrat enters the White House, Republicans pretend to care about deficits again.
"The one thing that concerns me that nobody seems to be talking about anymore is the massive amount of debt that we continue to rack up as a nation," Sen. John Thune (R-S.D.) complained during a confirmation hearing this week for Treasury Secretary-nominee Janet Yellen. "For me," he continued, "that is a huge warning sign on the horizon, the fact that we have an ever-growing deficit, an ever-growing debt and no apparent interest in taking the steps that are necessary to address it."
His colleague Sen. Rob Portman (R-Ohio) likewise carped that U.S. deficit levels are "frightening." Sen. James Lankford (R-Okla.) piled on, saying that waiting for interest rates to rise to indicate that debts are unsustainable would be "too late."
And so Republicans laid the groundwork for blocking the Biden administration's request for more covid-19 fiscal relief, on the grounds that further spending is not merely unnecessary but also irresponsible. Despite ongoing economic and public health needs.
These foul-weather fiscal hawks neglect to mention, of course, that the GOP's prized 2017 cuts added nearly $2 trillion to deficits — back when the economy was doing okay.
Nor did they note that — again, before the coronavirus pandemic — the Republican-controlled Senate passed and President Donald Trump signed spending bills that added another $2 trillion to deficits. That was on top of what the country had already been expected to borrow over a decade, according to estimates from the Committee for a Responsible Federal Budget. https://www.washingtonpost.com/opinions/right-on-schedule-republicans-pretend-to-care-about-deficits-again/2021/01/21/a749e500-5c17-11eb-a976-bad6431e03e2_story.html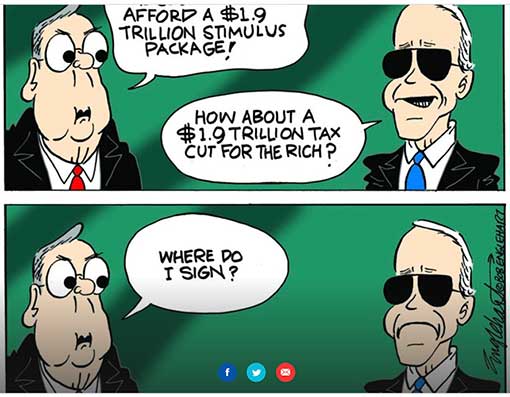 5. Ari Berman: The Insurrection Was Put Down. The GOP Plan for Minority Rule Marches On.
In 2018, Democrats swept every statewide race in Wisconsin, ending nearly a decade of Republican rule. "The voters spoke," Democrat Tony Evers said after defeating incumbent Gov. Scott Walker. "A change is coming, Wisconsin!"
Not so fast. A month later, the GOP-controlled legislature convened an unprecedented lame-duck session to strip the incoming governor of key administrative and appointment powers and shorten the early voting period to dampen future Democratic turnout. Though their opponents had won more votes, Republicans believed only they were entitled to exercise power. "If you took Madison and Milwaukee out of the state election formula," Assembly Speaker Robin Vos said of the state's two largest and most Democratic cities, home to 850,000 people, "we would have a clear majority."
In fact, they still did. Even though Democrats won 54 percent of votes cast for the state Assembly, Republican control of the last redistricting process in 2011 allowed the GOP to keep almost two-thirds of seats. The legislature set to work nullifying Evers' agenda. Republicans refused to confirm members of his Cabinet and cut his budget for priorities like health care, schools, and roads. They thwarted his efforts to fight COVID-19, persuading the courts to block his stay-at-home order and his attempt to push back the state's presidential primary.
Republicans had been preparing for this moment for years. Between gerrymandering and laws designed to reduce the influence of Democratic constituencies—by making it harder to vote, repealing limits on political giving, and stripping unions of collective bargaining rights—they had effectively made Wisconsin "a democracy-free zone," says Ben Wikler, chair of the Wisconsin Democratic Party. Those efforts helped conservative candidates win a majority on the state Supreme Court, which has upheld nearly every move by the legislature to weaken Evers' power, creating an almost-impenetrable anti-­democracy feedback loop in a state that Joe Biden narrowly won. https://www.motherjones.com/politics/2021/01/the-insurrection-was-put-down-the-gop-plan-for-minority-rule-marches-on/?scrolla=5eb6d68b7fedc32c19ef33b4
6. LA Times Editorial: Congress has to seize the moment Biden has given it to fix immigration
Amid his first wave of actions after his inauguration Wednesday, President Biden took direct aim at the nation's dysfunctional immigration system by rescinding some of the Trump administration's more extreme approaches to enforcement and pushing Congress to finally adopt comprehensive reforms. That's a refreshing — and responsible — change from his predecessor's unconscionably nativist approach.
Biden seeks to embrace a humane and pragmatic view of immigration reform. The executive directives halt further construction of President Trump's vanity wall along the U.S.-Mexico border; reinvigorate the Obama-era Deferred Action for Childhood Arrivals program that Trump sought to end; lift the entry ban on people from about a dozen countries, most with significant Muslim populations; and withdraw an order that ramped up immigration sweeps in the interior of the country.
Separately, the Department of Homeland Security announced a 100-day suspension of deportations as it reviews procedures and a freeze on new enrollments in the program that requires border-crossing asylum seekers to remain in Mexico, though it did not offer relief for the 60,000 asylum seekers currently stranded along the border. In a sense, the new directives reset federal polices to those of the Obama administration, which is good enough for now.
Biden's more ambitious efforts lie within the bill he proposed to Congress this week, the U.S. Citizenship Act of 2021. Among other things, the measure would let some 11 million people now living in the shadows apply for temporary legal status and provide them an eight-year path to citizenship.
Biden also would use financial aid again to try to stabilize the governments and economies of Guatemala, Honduras and El Salvador, where migrants have been leaving in the tens of thousands to escape crime and grinding poverty exacerbated by the effects of climate change, including two major hurricanes this season in a matter of weeks. Reducing the "push factors" is an important part of the mix, though even Pollyanna would recognize that endemic corruption in the region is a strong headwind to success.
Other elements of Biden's proposal call for developing better technological methods to monitor the U.S.-Mexico border, improving processing of new arrivals at ports of entry and expanding efforts to counter international trafficking in people and drugs. The plan doesn't give as much attention to border security as conservatives typically demand, however. And based on overviews of the proposal, it appears to ignore the problem of people who arrive legally but then don't leave once their visa expires, which accounts for half of the people who fall into unauthorized status.
There are, of course, no quick fixes to the broken immigration system, which rivals the tax code in its complexity. The specifics of Biden's proposed legislation will emerge and be debated in the coming weeks or months, and we fervently hope the reform effort doesn't get caught up in the same web of resistance that has doomed previous efforts. A Democratic president proposing an immigration overhaul to a Congress in which not even the Democrats are unified means this will be a long slog. But Congress must seize the moment. https://www.latimes.com/opinion/story/2021-01-21/biden-congress-immigration-reform
7. Jamelle Bouie: We Have to Make the Republican Party Less Dangerous
Congress, designed to check and challenge a lawless president, struggled to do its job on account of partisanship and party loyalty. With just 34 senators on his side, a president can act with virtual impunity, secure in the knowledge that he won't be removed from office, even if the House votes to impeach him and a majority of senators wants to see him go.
Yes, we held an election, and yes, Trump actually left the White House — the Secret Service did not have to drag him out. But the difference between our reality and one where Trump overturned a narrow result in Biden's favor is just a few tens of thousands of votes across a handful of states. If it were Pennsylvania or Arizona alone that meant the difference between victory and defeat, are we so sure that Republican election officials would have resisted the overwhelming pressure of the president and his allies? Are we absolutely confident the Supreme Court would not have intervened? Do we think the Republican Party wouldn't have done everything it could to keep Trump in the White House?
But one thing is certain. The crisis of our democracy is far from over. The most we've won, with Trump's departure, is a respite from chaos and a chance to make whatever repairs we can manage. https://www.nytimes.com/2021/01/22/opinion/biden-trump-democracy-prevailed.html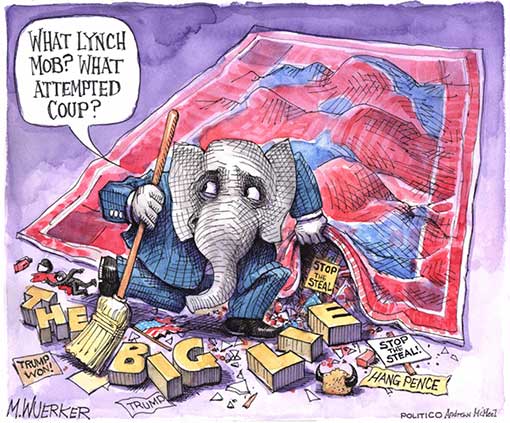 8. Doyle McManus: You thought McConnell was tough as majority leader? Wait until you see him as minority leader
Obstruction is where McConnell excels. He's never been much of a visionary: After 36 years in the Senate, he has no landmark laws bearing his name. But give him a monkey wrench, and he knows precisely where to throw it to jam up the works.
That will be a problem for Biden, whose agenda includes ambitious proposals for immigration reform, climate change programs and a $15 minimum wage, among many other goals.
White House aides say Biden plans to seek bipartisan buy-in for his initial legislation on the COVID pandemic and economic relief — but if Republicans stand in the way, he'll resort to reconciliation, the Senate procedure that allows budget measures to pass with a simple majority.
Biden, a Senate traditionalist, says he doesn't seek repeal of the filibuster rule. Some of his allies think he may have occasion to reconsider that stance in the years ahead.
Either way, they should harbor no doubt about where McConnell will stand. He will plant himself squarely in their way. https://www.latimes.com/politics/story/2021-01-23/mcconnell-senate-republicans-minority-obstruction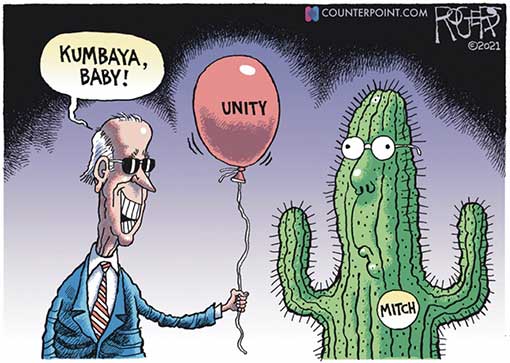 9. Max Boot: It's not just Trump on trial. It's the whole Republican Party
When the impeachment proceedings begin in the Senate, it will not be just Donald Trump in the dock. The entire Republican Party will be on trial. And there is every reason to believe that the GOP will fail this test — as it failed every other during the past four years.
Trump's guilt is clear — and getting clearer all the time. The Center for Responsive Politics reports that the Trump campaign paid more than $2.7 million to the individuals and firms responsible for organizing the Jan. 6 rally on the Ellipse where Trump told his supporters to "to fight much harder" against "bad people." At least five individuals who face federal charges in connection with the Capitol assault have said that they were following orders from the then-president.
Trump's incitement of a violent insurrection against another branch of government is the worst wrongdoing that any president — who is sworn to "preserve, protect, and defend the Constitution" — can commit. Members of Congress and Trump's own vice president were lucky to escape injury in the riot that he fomented.
For one fleeting moment, it appeared that the shock of these events was sufficient to scare at least some Republicans straight. Ten House Republicans voted for impeachment, including a member of the leadership, Rep. Liz Cheney (Wyo.), who declared, "There has never been a greater betrayal by a President of the United States of his office and his oath to the Constitution." Then-Senate Majority Leader Mitch McConnell (R-Ky.) was almost equally scathing, saying: "The mob was fed lies. They were provoked by the president and other powerful people."
And yet the momentum to impeach Trump among Republicans is waning as rapidly as the evidence of his guilt is accumulating. "The chances of getting a conviction are virtually nil," Sen. Roger Wicker (R-Miss.) told CNN. https://www.washingtonpost.com/opinions/2021/01/25/trump-impeachment-trial-republicans-senate/