February 20, 2020
ON THE RECORD. . .
"It is happening again to Crazy Bernie, just like last time, only far more obvious. They are taking the Democrat Nomination away from him, and there's very little he can do. A Rigged System!" — Trump trying again to sow division among Democrats on Twitter, while possibly elevating the candidate he most wants to face.
"If you're asking me a hypothetical about whether this Republican Senate would confirm a member of the Supreme Court due to a vacancy created this year — yeah, we would fill it." — Mitch McConnell (R-KY), on Fox News.
"I think Mike Bloomberg is best-suited to take on Donald J. Trump." — Fmr. ABC News anchor Sam Donaldson, saying of Trump, "We are in the grip, Anderson, of a sick, ignorant man."
"As Bob Mueller said — and the entire intelligence community confirmed — Russia is still coming at us. Not only is the president offering a false narrative to the American people about that threat, but there is no leadership from him on this incredibly important issue. We are still being attacked. It is as if the Russians invaded Alaska and the president either said they are not actually there or that they are there but it does not really matter because we have 49 other marvelous states." — Chuck Rosenberg, a former U.S. attorney and former counsel to Mueller at the FBI.
BROOK BALDWIN (CNN): If Senator Sanders ends up being the nominee — and we know Mike Bloomberg has pledged to donate as much as one billion dollars in an effort to defeat President Trump — would you accept his money?
JEFF WEAVER, CAMPAIGN MANAGER FOR BERNIE SANDERS: No.
"I don't know how you win an election [at] 78 years old, screaming in a microphone about the revolution. It's like we're losing our damn minds." — James Carville, in an especially pungent expression of the old guard's anxiety.
"What you're seeing right now is really reminiscent of some of the kind of smear, kind of skepticism campaigns that have been run against a lot of different candidates in the past, questioning where they're from, aspects of their lineage, et cetera, et cetera." -- Bernie Sander's press secretary, Briahna Joy Gray, seemingly comparing calls for the 78-year-old senator to release additional medical records to the racist birther conspiracy theory Donald Trump and others leveled at Barack Obama before and during his presidency.
"One thing about my marriage is it's never involved me having to send hush money to a porn star after cheating on my spouse with him or her, So they wanna debate family values? Let's debate family values. I'm ready. — Pete Buttigieg
---
IN THIS ISSUE
FYI
OPINION
1. Andy Borowitz: Bloomberg Enrages Trump By Buying Greenland
In an apparently successful attempt to get under the skin of Donald Trump, former New York City mayor Michael Bloomberg has purchased Greenland from Denmark.

In an official statement released on Tuesday, the Prime Minister of Denmark, Mette Frederiksen, would not disclose the price that Bloomberg paid for Greenland but indicated that it was an "all-cash offer."

"Mr. Bloomberg has a lot of money," Frederiksen added.

News of Bloomberg's purchase of Greenland reportedly infuriated Trump, who immediately ordered his son-in-law, Jared Kushner, to make an offer to buy the Faroe Islands from Denmark.

Within minutes, however, Denmark rebuffed Kushner's bid. "We do not believe Donald Trump is capable of running the Faroe Islands," Frederiksen said.

As for Bloomberg, his campaign released a brief statement about the historic purchase of the 836,330-square-mile landmass, saying only, "Mike gets it done." https://www.newyorker.com/humor/borowitz-report/
2. Campaigner or commander in chief? No difference for Trump
Dispatching Cabinet secretaries across the country to woo Iowa voters. Using private cash to finance an official made-for-TV moment. Delivering a State of the Union address that doubled as a campaign kickoff speech. Holding an impeachment acquittal victory rally in the White House East Room.
President Donald Trump made clear this week that he has no qualms about using the powers of his office to court voters in an election year. As he emerges from the impeachment drama, claiming vindication, Trump appears all the more emboldened to blur the lines between public and private endeavors.
That mindset was on full display Thursday as he used the White House as the setting for a scorched-earth victory speech celebrating his acquittal by the Senate following his impeachment by the House. Just days earlier, Trump delivered a speech in front of a joint session of Congress that could have been mistaken for a low-key Trump rally, complete with partisan incantations from Republicans in the chamber of "Four more years!" Similar chants have rung out through various rooms of the White House as Trump has hosted events that took on sharply partisan tones. https://apnews.com/d787793d28c51adbda2facf7498eb989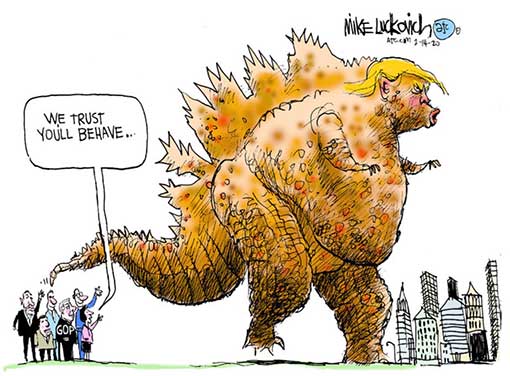 3. Odds of Contested Convention Rise
The latest FiveThirtyEight forecast shows the odds of Bernie Sanders winning the Democratic nomination (36%) are now nearly the same as no candidate winning a majority of delegates (37%.) https://projects.fivethirtyeight.com/2020-primary-forecast/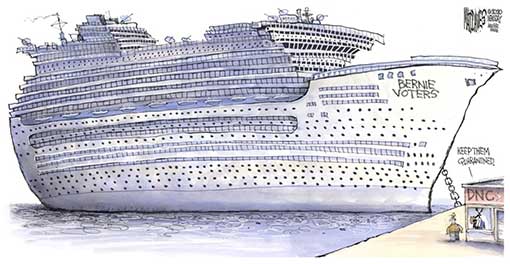 4. Mike Bloomberg's philanthropy pays dividends with emerging political network
Mike Bloomberg may have been a late addition to the 2020 race for president, but the billionaire businessman and former New York City mayor has for years been quietly using his wealth to build what would become a national political network -- with a massive scope that's just now becoming visible.
Bloomberg has pumped hundreds of millions of dollars into political donations and philanthropic urban grants that benefited progressive candidates and mayors, records reviewed by ABC News show. Through his nonprofit, Bloomberg Philanthropies, he financed a program at Harvard University to groom rising political stars that align with his vision for the country.
Dozens of politicians who benefited from his early support have surfaced to endorse his campaign, and his unprecedented spending habits are changing the way political analysts and operatives view the viability of self-funded candidates. https://abcnews.go.com/Politics/mike-bloombergs-philanthropy-pays-dividends-emerging-political-network/story
5. Trump Takes Up Call for Barr to 'Clean House' at Justice Dept.
Ignoring appeals from his attorney general to stop tweeting about the Justice Department, President Trump on Wednesday renewed his attacks on the agency, demanding "JUSTICE" for himself and all future presidents.
With a series of retweets, Mr. Trump appeared to embrace the suggestion that Attorney General William P. Barr "clean shop" at the department. And the president promoted the idea of naming a special counsel to investigate what Tom Fitton, the head of the conservative nonprofit Judicial Watch, described as a "seditious conspiracy" at the department and the F.B.I. https://www.nytimes.com/2020/02/19/us/politics/trump-barr-justice-department.html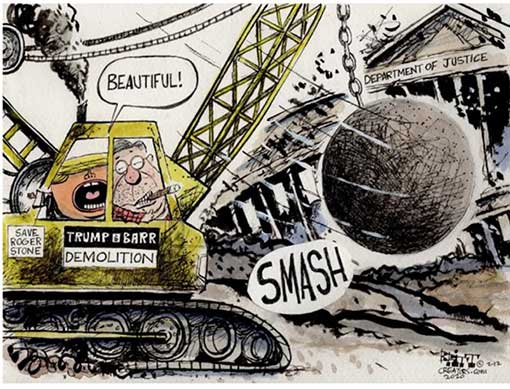 6. The DAILY GRILL
"The president has never asked me to do anything in a criminal case"—but should stop tweeting about the Justice Dept. because his tweets "make it impossible for me to do my job." -- Attorney General Bill Barr tells @ABC News

VERSUS

"It's like the get away driver telling the bank robber to stop shooting at the bank as they speed away from the bank after the robbery." — Andrew Kennerly tweeted in response.

 

Ralph Waldo Emerson seemed to foresee the lesson of the Senate Impeachment Trial of President Trump. 'When you strike at the King, Emerson famously said, "you must kill him.' Mr. Trump's foes struck at him but did not take him down. A triumphant Mr.Trump emerges from the.....biggest test of his presidency emboldened, ready to claim exoneration, and take his case of grievance, persecution and resentment to the campaign trail." Peter Baker @nytimes The Greatest Witch Hunt In American History! — Donald J. Trump @realDonaldTrump

VERSUS

The president today literally implied he's a king. Maybe he didn't mean to, but it fits a pattern of behavior we have come to expect. Today's tweet, moreover, underscores an argument I've made recently: that he doesn't think of himself as above the law. He thinks of himself as the law. He can't break it, because he is the embodiment of it. I am the state, he may as well have said. — John Stoehr

 

Is corrupt Bloomberg News going to say what a pathetic debater Mini Mike is, that he doesn't respect our great farmers, or that he has violated campaign finance laws at the highest and most sinister level with "payoffs" all over the place? — Donald J. Trump @realDonaldTrump

VERSUS

"Impeached president says what?" — Mike Bloomberg @MikeBloomberg.
7. Obama Auto Standards May Survive Because Trump Staff Can't Do Math
The courts will soon be fighting over Trump's plan to weaken auto-emission standards. Trump is highly likely to lose, because, as two new reports show, the incompetence of his regulators reached almost mind-boggling proportions.
The main problem, in a nutshell, is that regulations have to show they pass some rational cost-benefit analysis. Trump's actual goals — humiliating Obama, increasing short-term employment in the auto sector — can't actually be included in the analysis. So they're left trying to fudge the numbers to make it look like Americans win by buying less-efficient cars that spew more pollution into the atmosphere. It's a hard case to make even if you're good at spelling words and adding correctly, which Trump's political staffers clearly are not.
However, if Trump wins a second term, he'll have four more years, which is plenty of time to hire the best minds the oil industry can find and redo the regulation in a way that can pass legal muster. So this turns out to be yet another reason why defeating Trump with a Democrat — any Democrat — is a socially paramount goal. https://nymag.com/intelligencer/2020/02/trump-obama-auto-standards-climate-change-fuel-tailpipe.html
8. From MEDIA MATTERS (They watch Fox News so you don't have to)
Now, right-wing media figures are rallying to protect Stone and defend and Barr's seemingly corrupt actions. Some are continuing their calls for the president to pardon Stone, while others decry the proceedings against him as unfair, rigged, or hypocritical. Like Trump, right-wing media has also attacked individuals involved in the case, including smearing a juror based on past social media posts despite the fact that her anti-Trump opinions were posted after the trial. The smear against the juror originated with far-right Pizzagate conspiracy theorist Mike Cernovich. Conservative media is also defending Barr's apparent role in the proceedings, arguing that it is within Barr's rights to interfere in the case and claiming his actions are understandable. https://www.mediamatters.org/roger-stone/right-wing-media-go-bat-donald-trumps-politicization-justice-department

Rush Limbaugh: Trump told me not to apologize for homophobic attacks on Pete Buttigieg. Trump said, "Rush, I just got to tell you something. Never apologize, don't ever." https://www.mediamatters.org/rush-limbaugh/rush-limbaugh-trump-told-me-not-apologize-homophobic-attacks-pete-buttigieg

Trump's Rod Blagojevich commutation is another win for the Fox News Cabinet. President Donald Trump announced on Tuesday that he has commuted the sentence of Rod Blagojevich, the disgraced former Illinois governor who is currently serving 14 years in prison on political corruption charges, demonstrating the influence Fox News holds on the president. Blagojevich's commutation marks the 10th time Trump has granted executive clemency due to his Fox News obsession. It likely won't be the last; network personalities have called for pardons for several Trump associates convicted in cases begun by then-special counsel Robert Mueller, including his longtime adviser Roger Stone and former national security adviser Michael Flynn. And as Trump becomes increasingly successful in politicizing the Justice Department, there is every reason to suspect he will follow the advice of his Fox cabinet. https://www.mediamatters.org/fox-news/trumps-rod-blagojevich-commutation-another-win-fox-news-cabinet
9. The most unpopular qualities for a presidential candidate from the new NBC/WSJ poll
• Socialist: 67%
• Heart attack in the past year: 57%
• Older than 75 years old: 53%
• Self-funder: 41%
• Under 40 years old: 40%
• Gay or lesbian: 27%
• Woman: 14%
Feb 14-17, RVs, MOE +/- 3.3%
https://twitter.com/mmurraypolitics/status/1229889293398822916
10. Temperature in Antarctica soars to near 70 degrees, appearing to topple continental record set days earlier
The Antarctic Peninsula is one of the fastest-warming parts of the world. Most of the glaciers in that region are retreating rapidly. According to a 2018 study, ice-shelf collapse and the speedup of glacier movement into the sea at the Antarctic Peninsula caused an increase of 25 billion metric tons of ice loss per year from the region between 1992 and 2017.
The region has most famously seen the sudden breakups of two large floating ice shelves: the Larsen B Ice Shelf in 2002 and the Wilkins Ice Shelf in 2008. The rapid warming here has led to more consistent scientific monitoring, as researchers' concerns about ice loss shift to include virtually the entire continent. https://www.washingtonpost.com/weather/2020/02/13/antarctica-hottest-temperature-70-degrees/
11. Fossil Fuels Are to Blame for Soaring Methane Levels, Study Shows
Oil and gas production may be responsible for a far larger share of the soaring levels of methane, a powerful greenhouse gas, in the earth's atmosphere, new research has found.
The findings, published in the journal Nature, add urgency of efforts to rein in methane emissions from the fossil fuel industry, which routinely leaks or intentionally releases the gas into air.
Atmospheric concentrations of methane have more than doubled from preindustrial times. A New York Times investigation into "super emitter" sites last year revealed vast quantities of methane being released from oil wells and other energy facilities instead of being captured.
Researchers at Rochester's Department of Earth and Environmental Studies who examined ice cores from Greenland, as well as data from Antarctica stretching back to about 1750, before the industrial revolution, found that methane emissions from natural phenomena were far smaller than estimates used to calculate global emissions. That means fossil-fuel emissions from human activity — namely the production and burning of fossil fuels — were underestimated by 25 to 40 percent, the researchers said. https://www.nytimes.com/2020/02/19/climate/methane-flaring-oil-emissions.html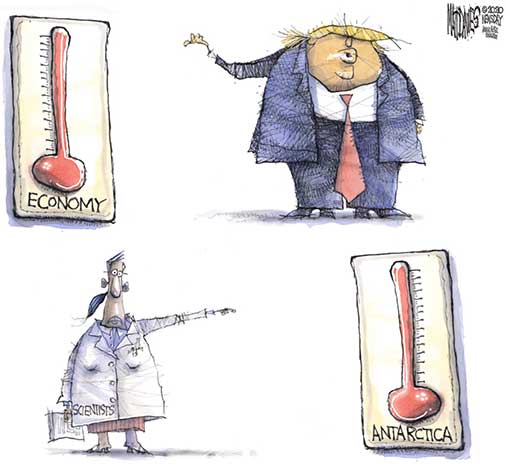 12. Trump's 29th Trip To Mar-a-Lago Brings Golf Tab To 334 Years Of Presidential Salary
Donald Trump returned to Mar-a-Lago on Friday evening for the 29th golf-related trip of his presidency to his for-profit Palm Beach, Florida, resort, raising his total taxpayer golf tab to $133.8 million.
That figure translates to 334 years of the presidential salary that Trump and his supporters frequently boast he is not taking. https://www.huffpost.com/entry/trump-golf-mar-a-lago-taxpayers_n_5e4712b9c5b64d860fcab86c
13. Federal court strikes down Trump administration's Medicaid work requirements
A federal appeals court rejected a Trump administration rule that allowed Arkansas and other states to impose work requirements on its low-income residents who received Medicaid benefits, further blocking a marquee issue for the president.
The U.S. Court of Appeals for the District of Columbia Circuit ruled Friday that the White House had acted unlawfully and that Health Secretary Alex Azar's approval of the program, known as Arkansas Works, was "arbitrary and capricious."
The appeals court opinion criticized Azar for only considering positive secondary outcomes that did not deal with the central objective of the law and for ignoring Congress's direction within the law itself, noting that "when Congress wants to pursue additional objectives within a social welfare program, it says so in the text."
https://www.nbcnews.com/news/us-news/federal-court-strikes-down-trump-administration-s-medicaid-work-requirements-n1137136
14. New EPA chief of staff pushed Trump to exit the Paris climate agreement and roll back environmental rules
Mandy Gunasekara, who pressed for President Trump to exit the Paris climate agreement as the Environmental Protection Agency's top air-policy adviser, is poised to return to the agency as its next chief of staff, according to two individuals briefed on the matter.
Gunasekara left the EPA a year ago to start what she called a "pro-Trump nonprofit" in her home state of Mississippi. As head of the advocacy group Energy 45, she has argued on behalf of the president's support for fossil fuels and other energy policies, writing that his approach "has brought both economic prosperity and cleaner air and water." Trained as a lawyer, she played a key role in working to scale back federal rules aimed at cutting greenhouse gas emissions and other forms of pollution, including replacing the Obama-era Clean Power Plan and federal gas-mileage standards. https://www.washingtonpost.com/climate-environment/2020/02/14/she-pushed-trump-exit-paris-climate-agreement-rollback-environmental-rules-shes-returning-epa-chief-staff/
15. Giuliani associates' company promised to build a bizarre temple over Jerusalem
The Wall Street Journal has uncovered new details about the strange work done by Fraud Guarantee, the company founded by Lev Parnas, the indicted henchman of Trump attorney Rudy Giuliani.
Specifically, the Journal was given information from an investor who says he plugged $250,000 into Fraud Guarantee after Parnas told him that he could use his connections with President Donald Trump to help promote his initiative to create peace in the Middle East.
The initiative in question was a massive temple that would be built over the entirety of Jerusalem, which has now been recognized by the United States government as Israel's official capital.
As shown in the photo below, the structure would span practically the entire city and would feature a temple at the very top that would reside thousands of feet above the ground.
The investor tells the Journal that he now has no idea if Parnas ever promoted the proposed temple to Trump and that he now wants to recover the $250,000 he gave to Fraud Guarantee. The investor also said that he has been subpoenaed by federal prosecutors and is cooperating with their investigation.
https://www.rawstory.com/2019/12/giuliani-associates-company-promised-to-build-a-bizarre-temple-over-jersusalem/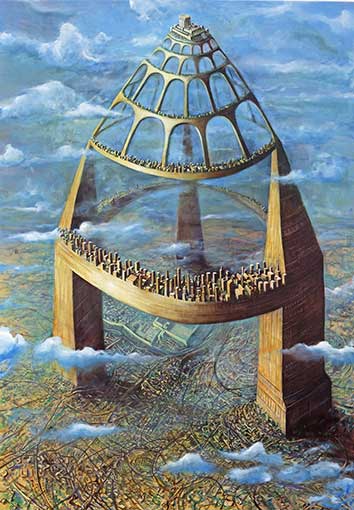 16. More than 2,000 ex-DOJ employees call for Attorney General Barr's resignation
More than 2,000 ex-employees of the Department of Justice have signed a letter calling on Attorney General William Barr to resign, writing that his handling of the Roger Stone case "openly and repeatedly flouted" the principle of equal justice under the rule of law. https://www.usatoday.com/story/news/politics/2020/02/16/william-barr-doj-alumnus-call-ag-resign/4779721002/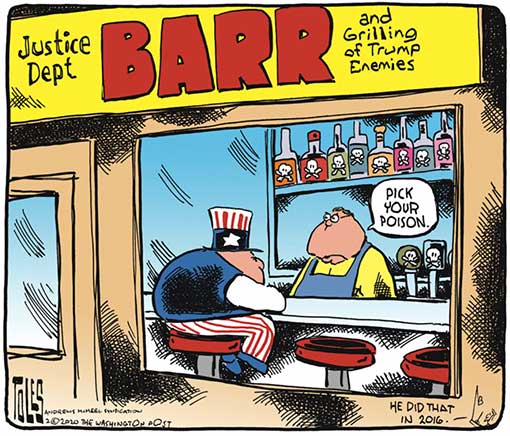 17. Michael Bloomberg's Campaign Is Huge. That's The Point
The sheer hugeness of the former New York City mayor's campaign is its defining feature. It is the Death Star of presidential campaigns. Bloomberg employs more — much more — staff than any other candidate, and pays them unusually well. And not only that, he offers them three meals a day and iPhone 11s. Bloomberg's campaign events have everything: catered food, more than enough free t-shirts for everyone, highly produced stages with themed backdrops and lecterns. Bloomberg is carrying out the largest advertising campaign in the history of American presidential politics, with over $400 million spent on ads so far and counting. Bloomberg is cornering the market on available staff for other campaigns that might need them. https://www.buzzfeednews.com/article/rosiegray/michael-bloomberg-campaign-2020-democratic-primary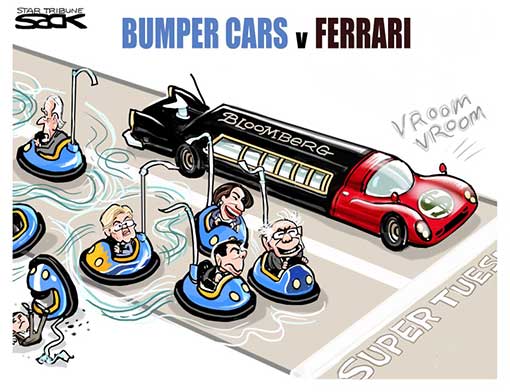 18. Trump Threatens to Sue Mueller, Backs Mistrial for Stone
In the space of an hour on Twitter, President Trump threatened to sue former special counsel Robert Mueller, and suggested that Roger Stone should get a new trial because one of the members of the jury allegedly sent some mean tweets about him. https://twitter.com/realDonaldTrump/status/1229752039040782336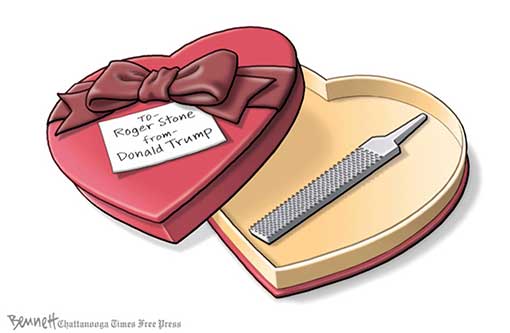 1. Paul Rosenzweig: George Washington has a warning for us
Washington seems especially prescient in his warning against demagoguery and its link to factions and political parties, which he worried would over time "become potent engines, by which cunning, ambitious, and unprincipled men will be enabled to subvert the power of the people and to usurp for themselves the reins of government, destroying afterwards the very engines which have lifted them to unjust dominion."
Washington also predicted how a party leader would gain and keep power. At worst, he said, a party head "agitates the community with ill-founded jealousies and false alarms, kindles the animosity of one part against another, [and] foments occasionally riot and insurrection. [This] opens the door to foreign influence and corruption, which finds a facilitated access to the government itself through the channels of party passions." Surely that, too, echoes in today's heated Twitter-filled rhetoric.
Today, I think Washington would look at the party system and see his fears rather than his hopes realized. He would see a small minority faction of one of the parties, led by an unprincipled man dedicated to his own elevation and built on the ruins of public liberty. Were Washington to speak to the leaders of the Republican Party, to which I formerly belonged, he would warn: "That way lies despotism." https://www.latimes.com/opinion/story/2020-02-16/op-ed-george-washington-warning-donald-trump
2. Bess Levin: Trump Goes On Pardoning Spree For Rich Friends, Apprentice Contestant Rod Blagojevich
When Donald Trump was running for office, he famously vowed to "drain the swamp" and end the pay-to-play schemes that have long plagued Washington. That pledge, of course, was one of his bigger whoppers, on par with how he was going to eliminate the national debt, bring peace to the Middle East via Jared Kushner, get Mexico to pay for the wall, and leave Medicare alone. (It's almost as though the guy lies every time he opens his mouth.) Instead, the Trump administration has cemented its reputation as arguably the most corrupt executive branch in modern history, one in which the "swamp" has flourished and everyone from the top down seemingly starts the day by asking, "How can I use the government to enrich myself today?" a morning routine recently declared a-OK by Senate Republicans. But just in case it wasn't abundantly, ridiculously, overwhelmingly obvious that Trump values corruption over nearly everything else, he's decided to put a fine point on it by commuting the 14-year sentence of a Celebrity Apprentice contestant who went to prison for trying to sell Barack Obama's Senate seat, among other things.
Happily for convicted criminals everywhere, Blagojevich isn't the only lucky recipient of Trump's generosity/campaign to send a message that not only will he be completely and fully flouting the law moving forward but also rewarding others who do. Also on Tuesday, the president announced a pardon for Edward DeBartolo Jr., the former owner of the San Francisco 49ers who pleaded guilty to failing to report a felony; ex-NYPD chief and Rudy Giuliani pal Bernie Kerik, who pleaded guilty to eight felony charges, among them tax fraud and lying to White House officials; and the poster child for Wall Street greed whom Gordon "Greed is Good" Gekko would be partially based on, junk-bond king Michael Milken, who pleaded guilty to securities fraud in 1990. (Seven other people had their sentences commuted or received pardons as well.)
Today's slew of what can be best described as "f**k you I can do whatever I want" executive actions brings Trump's total number of pardons and commutations to more than two dozen. https://www.vanityfair.com/news/2020/02/donald-trump-blagojevich-milken-kerik-pardons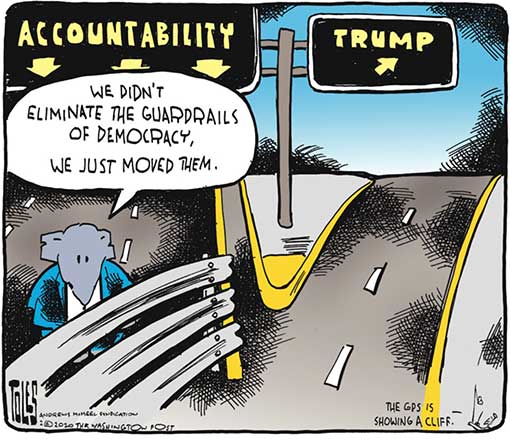 3. Hannah Natanson, John Woodrow Cox and Perry Stein: Trump's words, bullied kids, scarred schools
Two kindergartners in Utah told a Latino boy that President Trump would send him back to Mexico, and teenagers in Maine sneered "Ban Muslims" at a classmate wearing a hijab. In Tennessee, a group of middle-schoolers linked arms, imitating the president's proposed border wall as they refused to let nonwhite students pass. In Ohio, another group of middle-schoolers surrounded a mixed-race sixth-grader and, as she confided to her mother, told the girl: "This is Trump country."
Since Trump's rise to the nation's highest office, his inflammatory language — often condemned as racist and xenophobic — has seeped into schools across America. Many bullies now target other children differently than they used to, with kids as young as 6 mimicking the president's insults and the cruel way he delivers them.
Trump's words, those chanted by his followers at campaign rallies and even his last name have been wielded by students and school staff members to harass children more than 300 times since the start of 2016, a Washington Post review of 28,000 news stories found. At least three-quarters of the attacks were directed at kids who are Hispanic, black or Muslim, according to the analysis. Students have also been victimized because they support the president — more than 45 times during the same period.
"It's gotten way worse since Trump got elected," said Ashanty Bonilla, 17, a Mexican American high school junior in Idaho who faced so much ridicule from classmates last year that she transferred. "They hear it. They think it's okay. The president says it. . . . Why can't they?" https://www.washingtonpost.com/graphics/2020/local/school-bullying-trump-words/
4. Bess Levin: Trump And Mike Bloomberg's Twitter War Has Entered "You're A Virgin Who Can't Drive" Territory
Donald Trump has a long history of attacking anyone and anything he's threatened by, be they political opponents or showers and toilets. Typically, those on the receiving end of the president's abuse have not struck back, whether they're inanimate objects or living, breathing things, the thinking presumably being that they don't want to dignify the insults with a response. Michael Bloomberg, however, apparently has no such qualms. The former New York City mayor has launched a campaign that appears to be designed with the express purpose of driving Trump insane first and winning the Democratic nomination second, with the former goal achieved via nonstop ads attacking both the president's abysmal record and his pant size. And it appears to be working! Of course, any attempt to get under Trump's skin would be nothing without a strategy to go after him on Twitter, i.e., his den, and Bloomberg has a plan for that too.
As his longtime rival, Bloomberg knows exactly how to push Trump's already-overstretched buttons, hitting not only on how he made his money—by inheriting it—but also his reputation as a terrible businessman, which obviously hurts given the image the former real estate developer has attempted to sell to the masses. To then toss in a "behind your back they laugh at you" when Trump has a documented history of being unable to cope with his peers mocking him, and a reference to being worth approximately 17 times as much as the guy? Those are fighting words. https://www.vanityfair.com/news/2020/02/mike-bloomberg-donald-trump-twitter-war
5. Peter Hamby: The Grim Logic Of Money Makes Bernie And Bloomberg The Only Candidates Who Matter
The feel-good days of the presidential primary season, with its parades and door knocks and small-town quirks, are about to come to a sudden and jarring end. In just two weeks, the Democratic race will transition overnight from the charming theaters of the early caucus and primary states into a full-scale national campaign, dominated by Gross Ratings Points and pre-roll ads and media appearances instead of handshakes and whimsy.
If the Democrats are holding onto the precious myth that the first four states can somehow level the political playing field and lift up underdog campaigns—the idea that there isn't a national primary—they're in for a brutal reality check when Super Tuesday arrives. "To run a competent ballot chase program in say, California, you need real sustained money, not money you get from one good night," said Lily Adams, a former adviser to Kamala Harris and Hillary Clinton. "It's a massive issue." Buttigieg, Warren, and Biden all have staffers on the ground in Super Tuesday states, with Buttigieg clearly in a stronger position than both, according to polls, delegates and money. But only two Democrats, Sanders and Bloomberg, have the financial resources to wage the long and costly battle ahead, regardless of what happens in Nevada or South Carolina.
"The challenge for Democrats is that since nothing is winner-take-all, there's even less incentive to drop out than there was in the GOP race," said Schrimpf, who advised Kasich's 2016 bid. "So you hang on, just like Republicans did, until you don't have to be super self-aware to realize you aren't going to be the nominee." The question those dead-enders will have to ask themselves in a few weeks, if nothing drastic changes, will be an uncomfortable one, a prospect almost no smart person in politics considered just three months ago: Do you get behind the socialist, or the billionaire? https://www.vanityfair.com/news/2020/02/grim-logic-of-money-makes-bernie-bloomberg-only-candidates-who-matter
6. Eric Lutz: Mike Bloomberg's Big Spending Strategy Is Making A Lot More Sense
Skip Iowa and New Hampshire? Don't worry about debates? Multibillionaire Michael Bloomberg's late entry into the crowded 2020 race and his Super Tuesday strategy, which was met with deep skepticism, is looking more prescient as moderate Democrats are divided and increasingly desperate for a savior. "I'm feeling a momentum shift to Bloomberg right now," Representative Lou Correa, a Joe Biden supporter, told Politico.
But Bloomberg, a former New York City mayor and media mogul with unlimited resources and a willingness to spend billions to unseat Donald Trump, could benefit the most from Biden's stumbles. While Buttigieg and Klobuchar duke it out for the chance to represent the moderate wing against Sanders, Bloomberg is steadily building momentum, saturating the market with advertisements, getting under the Trump's skin, and rolling out endorsements nearly every day—including from three members of the Congressional Black Caucus Wednesday, who suggested he had succeeded Biden as the electability candidate. "There's a number of [candidates] who are ideologically where I am," Representative Gregory Meeks, a senior member of the CBC, told Politico. "But I also had to add to that electability. And that's a tremendous consideration we'll have to make because you can have the best ideology but if you're not electable, then where are we?"
But if his vast sums of money help him weather the political storms ahead, he might find himself in a two-way race with Sanders, his ideological opposite—particularly if the center lane remains up for grabs by the time Super Tuesday rolls around. "The longer the waters are muddy," former South Carolina Governor Jim Hodges, a Biden supporter, told the Times, "the better off Bloomberg is." https://www.vanityfair.com/news/2020/02/mike-bloombergs-big-spending-strategy-is-making-a-lot-more-sense
7. Jonathan Chait: Barr Wants to Hide Trump's Authoritarian Plans, But Trump Keeps Confessing
Asked by the New York Times if he wanted the Justice Department to reopen its investigation of Hillary Clinton's email server, he explained, "What I've done is, I have absolute right to do what I want to do with the Justice Department. But for purposes of hopefully thinking I'm going to be treated fairly, I've stayed uninvolved with this particular matter." He wasn't investigating Clinton just then, but he could — it all depended on whether Trump himself was "treated fairly."
Since this epiphany, Trump has proclaimed the "absolute right" to pardon himself for any crimes (not that there were any!). He has also insisted that he has the "absolute right" to ask any country to investigate any American for any reason he sees fit. On many occasions, Trump has gestured to Article II of the Constitution as the source of this authority. He has barely hidden his enthusiasm for this clause and the powers he believes it confers upon him. "It gives me all of these rights, at a level nobody has ever seen before," he gushed at one point.
Trump's allies like to pretend that he is not using the Department as his own private detective agency. Conservative media is filled with busy justifications for each individual instance. Of course the DOJ is right to scale back Roger Stone's sentence, and create a process for sifting Rudy's Russian-funded dirt, and investigate James Comey and Peter Strzok and Lisa Page and Andrew McCabe and James Brennan, and look into the Clinton email case and the Foundation again.
Not even conservative ideologues are prepared to openly defend the principle Trump insists he believes, because the nakedness of it is self-defeating. Trumped-up charges against your adversaries are worthless if they're labeled as such.
A more dangerous and effective authoritarian party would find a leader who understands how to maintain appearances. That fact helps explain the habit Trump's allies have of complaining about his tweets — and only his tweets, the one tiny flaw in his otherwise masterful handling of the job. Trump keeps blowing their cover.
https://nymag.com/intelligencer/2020/02/trump-authoritarian-barr-justice-roger-stone-dictator-rule-of-law.html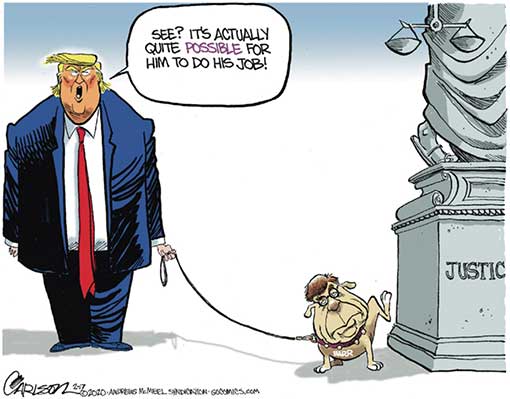 8. Sally Yates: Trump thinks the Justice Department is his personal grudge squad
Presidents and department leaders from both parties have recognized that for case decisions to have legitimacy, they must be made without political influence — whether real or perceived. Implementation of these restrictions has not always been perfect, but the department's independence has remained honored and unquestioned.
Until now.
From virtually the moment he took office, President Trump has attempted to use the Justice Department as a cudgel against his enemies and as a shield for himself and his allies. He ran off Jeff Sessions after Sessions's recusal in the Russia investigation rendered Sessions useless to protect him. The president has attempted to order up investigations of his perceived political enemies and enlist the department to protect his friends. With every blow, the wall of Justice independence has wobbled a bit more. This week, it teetered on the verge of collapse.
The Justice Department is not a tool of any president to be used for retribution or camouflage. In all of government, the Justice Department uniquely functions in a trusted bond with Americans to dispense justice without fear or favor. Over the almost three decades that I served at the department, through Democratic and Republican administrations, I witnessed lawyers across the country embracing their responsibility to do their jobs in a manner that engendered the trust of the people they served. That is what it means to represent the people of the United States. https://www.washingtonpost.com/opinions/2020/02/14/sally-yates-trump-thinks-justice-department-is-his-personal-grudge-squad/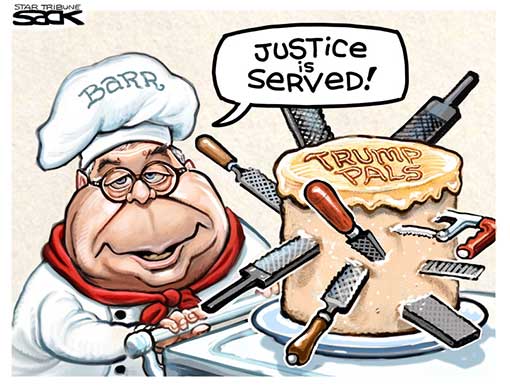 9. John McWhorter: Bloomberg Flunks the Wokeness Test
Is the American left about to prioritize virtue signaling over keeping an unqualified monomaniac from a second term as president? This is what would happen if Michael Bloomberg's failed stop-and-frisk policy is treated as automatically disqualifying him from serious consideration as the Democratic presidential nominee.
For some, stop-and-frisk is a deal-breaker. Note how modern—up-to-the minute, even—it seems to disqualify Bloomberg for one mistake on race, even if he would govern better than Trump has in all ways. It's straight from the woke playbook. Freezing out the former mayor would also be a kind of atonement for the left's having let pass Hillary Clinton's "superpredator" comment in the 1990s. Atonement is the operative word here. To shout down Bloomberg because of that one policy would constitute a strain of anti-racism that has all the characteristics of religion rather than rationality. By denouncing a candidate as formidable as Bloomberg, people will show one another that they understand the evil of racism and go in grace—even on the pain of an impeached, amoral Trump being reelected.
This gives new meaning to the idea that the personal is political, and it should alarm all good people. Bloomberg has apologized again—and the truth is, there is no way for him to do so in a fashion that would reveal to us the actual contours of his heart. Especially if this man can dislodge Trump, a president whom most Americans of color abhor, the apologies should be enough. https://www.theatlantic.com/ideas/archive/2020/02/bloomberg-flunks-wokeness-test-it-doesnt-matter/606634/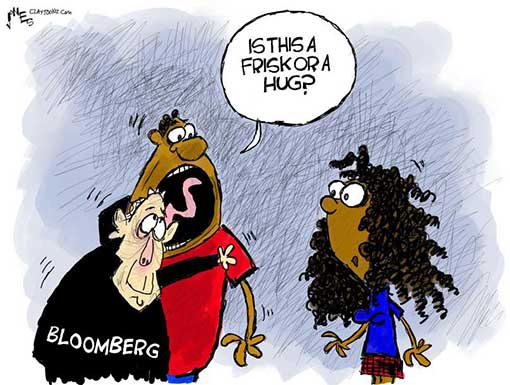 10. Doyle McManus': Who will be the Un-Bernie?
Again, most Democratic voters aren't Sanders fans or socialists. A CBS News study found a three-way ideological divide: about one third described themselves as "very liberal," which is Sanders' base; another third said they were "somewhat liberal," and the last third called themselves "moderate" or "conservative." In other words, die-hard progressives are a minority.
Party leaders are reluctant to intervene in a way that would alienate Sanders supporters, since their votes will be crucial in November even if he's not the nominee.
"They seem to know they don't want Sanders, but they can't do much about it," said Hans Noel, a political scientist at Georgetown University who studies the role of parties in the nominating process.
If no one amasses a majority of delegates during the primaries, several candidates could try to cut bargains before the Democratic convention in Milwaukee in mid-July.
But those hypothetical plot twists are months away. Until then, the choice is out of the establishment's control and up to the voters. Like it or not, the Democrats are going to have to solve their problem through democracy. https://www.latimes.com/politics/story/2020-02-16/who-will-be-the-un-bernie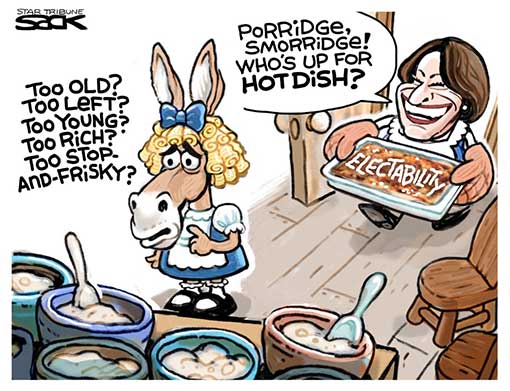 11. Eli Stokols: Flush with cash and confident after impeachment, Trump campaign revs up the road show
Four years after his hostile takeover of the White House, President Trump's second campaign bears little resemblance to the first — he's flush with cash, buoyed by an uptick in poll numbers, and brimming with confidence after surviving investigations, an impeachment and myriad controversies that have helped unite once-wary Republicans behind him.
Unlike his slapdash 2016 campaign, Trump now can rely on a massive, professionalized apparatus that has helped raise more than $200 million, deployed eager surrogates to early primary states, and built an extensive field operation and advertising network months before Democrats are likely to choose their nominee.
It's an in-your-face strategy hashed out largely by campaign manager Brad Parscale and, of course, the president, an intense manager of his own brand who is determined to remain on offense and to create the appearance of dominance and popularity that, he hopes, becomes a self-fulfilling prophecy in November.
https://www.latimes.com/politics/story/2020-02-14/flush-with-cash-and-confident-after-impeachment-trump-campaign-revs-up-the-road-show
12
. Michael Gerson: Republicans owe Vindman a public apology
In the large category of things that justice demands but will never come to pass: The elected Republicans who voted against the impeachment and removal of President Trump owe Army Lt. Col. Alexander Vindman a public apology.
The National Security Council staffer, Iraq War veteran and Purple Heart recipient obeyed a lawful subpoena, gave truthful testimony and was rewarded by his commander in chief with unceremonious removal from the White House and vicious criticism designed to destroy his life and career. A pathetic smattering of Trump's congressional enablers criticized this calumny. But most winced, fidgeted and said nothing. All of them knew that Trump unremoved would be Trump unbound. And that utter predictability makes them personally responsible for all that has followed.
Cowardice on this scale is not a single act; it includes all the guilty silences that complicity continues to require. And the consequences of Republican cravenness are still unfolding.. https://www.washingtonpost.com/opinions/how-republicans-have-failed-vindman/2020/02/17/50b2825a-51a1-11ea-9e47-59804be1dcfb_story.html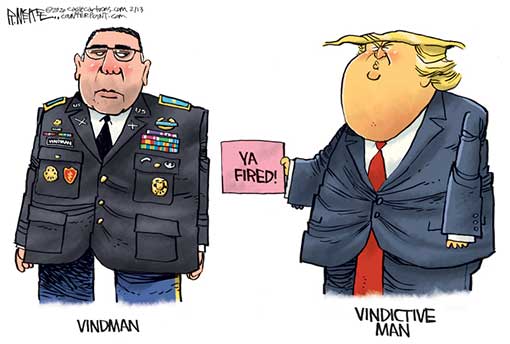 13. Philip Rucker: 'Something has to be done': Trump's quest to rewrite history of the Russia probe
The U.S. intelligence community long ago produced evidence of Russia's illegal interference in the 2016 presidential election to try to boost Donald Trump's candidacy. Then the special counsel investigating the matter detailed myriad ways President Trump sought to stymie the probe. And then Robert S. Mueller III testified to Congress about Trump's conduct — and warned of Russia's continued interest in thwarting U.S. elections.
But it is Trump who is trying to have the last word.
"The whole Mueller investigation was a shakedown and a disgrace. It probably should be expunged," Trump said in an interview last week with radio commentator Geraldo Rivera, a longtime friend.
Referring to Mueller, Trump added: "I don't call him special counsel because special counsel is not an accurate term. It's a special prosecutor, because what he and his 13 angry Democrats — all horrible, just horrible people — what they did to destroy the lives of people that you know, but to destroy the lives of many, Geraldo, should never be forgiven, should never be forgotten, and something has to be done about it.". https://www.washingtonpost.com/politics/something-has-to-be-done-trumps-quest-to-rewrite-history-of-the-russia-probe/2020/02/15/ea7a1b06-4f61-11ea-9b5c-eac5b16dafaa_story.html
14. Aaron Blake: Trump keeps pardoning himself
One of Trump's earliest pardons was for conservative provocateur Dinesh D'Souza. D'Souza, like Trump, was a major proponent of the racist "birther" conspiracy theory about former president Barack Obama's birthplace. He was also convicted of a campaign finance violation, which is the crime Michael Cohen pleaded guilty to and implicated Trump in.
Trump's first pardon was for Joe Arpaio, who might be the most pronounced embodiment of Trump's hard-line immigration policies in American politics. Arpaio's crimes also involved disobeying a judge's orders against racial profiling of suspected undocumented immigrants; Trump as a candidate in the months before the pardon advocated racial profiling and for a ban on Muslim immigration and, in one of his first acts as president, banned immigration from several majority-Muslim nations.
Several of Trump's pardons also involve people who made false statements to investigators or obstructed justice, including I. Lewis "Scooter" Libby, Black and another man granted clemency Tuesday, former New York City police commissioner Bernard Kerik. Trump has defended allies who lied to investigators and was personally the subject of extensive evidence of obstruction in the special counsel report. He has also repeatedly downplayed the severity of meddling in such investigations.
It's perhaps understandable that a president would find cause to grant clemency to people whose situations carry certain parallels to his own. Trump's sympathy for an immigration hard-liner and a conspiracy theorist, for example, would certainly be greater than that of your average politician. And if you think someone's crimes aren't as serious, it makes granting them a break much easier.
But the Blagojevich commutation and the dual billionaire pardons Tuesday drive home the idea that Trump may sometimes see himself in these pardons. That's too much coincidence for one day. Trump has maintained before that he has the "absolute right" to pardon himself if need be. He kind of already has. https://www.washingtonpost.com/politics/2020/02/19/trump-keeps-pardoning-himself/