November 4, 2021
ON THE RECORD. . .
"Any Republican that votes yes to an infrastructure bill that helps Biden pass his agenda when bumbling Biden doesn't even know what he's doing, then that Republican is a traitor to our party."
— Rep. Marjorie Taylor Greene (R-GA).

"If Donald Trump's new social media platform actually gets off the ground—unlikely as that is—it will surely supplant Mos Eisley spaceport as the galaxy's most wretched hive of scum and villainy." — Electoral-Vote.Com

Kansas state Rep. Brenda Landwehr (R) has twice compared COVID-19 masking and vaccine requirements to the treatment of Jews in Nazi Germany.

"At this point, we're living under a corporate and medical fascism. This is tyranny. When do we get to use the guns?" (crowd cheers and applauds). That's not a joke, I'm not saying it like that. I mean, literally, where's the line? How many elections are they going to steal before we kill these people?" — Audience member questioning Charlie Kirk at a TPUSA rally.

No wonder parts of the public in the U.S. are confused about whether what happened on January 6 at the Capitol was simply a petty offense of trespassing with some disorderliness, or shocking criminal conduct that represented a grave threat to our democratic norms. Let me make my view clear: The rioters were not mere protesters." — Chief Judge Beryl Howell, criticizing the Justice Department's prosecution of Capitol rioters, saying fiery rhetoric about the event's horror did not match plea offers involving minor charges.

"Any Republican that votes yes to an infrastructure bill that helps Biden pass his agenda when bumbling Biden doesn't even know what he's doing, then that Republican is a traitor to our party." — Rep. Marjorie Taylor Greene (R-GA).

"They're probably going to put us back into power. There's an old saying: 'When your enemy is trying to commit suicide, never get between him and the gun.'" — Rep. Randy Weber (R-TX) on why the House GOP isn't lifting a finger to help Democrats out of their infrastructure jam.

"They're Democrats. They're going to try to steal it. They can't win elections they don't steal, right? They understand this. This is what they did in '20. It's time now to start calling them out." — Steve Bannon, the once-indicted-and-Trump-pardoned strategist appearing on a Virginia-based talk show.

"Can we be surprised that after years of being told that they are the problem, that their manhood is the problem, more and more men are withdrawing into the enclave of idleness and pornography and video games?" — Sen. Josh Hawley (R-MO) arguing that feminism is pushing men towards pornography and video games.

"They're ruining our country, these vaccine Nazis. I'm sorry. I know I'm using the word Nazi and everybody gets mad when I say it, but that's exactly what they are." —Rep. Marjorie Taylor Greene (R-GA). who earlier this year compared mask mandates to the Holocaust.

It's a badge of honor to be attacked by hate-peddler, liar-for-hire Tucker Carlson.Proud to be on opposite side of those defending insurrectionists who breached our Capitol and threatened our democracy. Oh, and thanks for looking at my Twitter posts, Fuc…oops, I mean Tucker. — Ana Navarro-Cárdenas (video)

"The No. 1 concern voters have raised with me over the last several weeks has been inability of Congress and government in general to get things done at a time of great need for the country, so the best thing we can do in Congress is to pass these damned bills, immediately." — Rep. Tom Malinowski (D-NJ).
Litigation Tracker: Pending Criminal and Civil Cases Against Donald Trump
---
IN THIS ISSUE
IN THE NEWS
OPINION
Andy Borowitz: Republicans Name Joe Manchin Employee of the Month
In a big win for the senator from West Virginia, congressional Republicans have named Joe Manchin Employee of the Month for October.

Speaking to reporters at the Capitol, Manchin seemed overwhelmed by the award, saying that he was "humbled and honored."

"When I work hard to keep benefits out of the hands of poor children, I'm not doing it to win a prize," he said. "I'm just doing what I love."

Kyrsten Sinema, the senator from Arizona, sent her congratulations to Manchin after learning that she had been the runner-up for the award.

"I knew it wouldn't be easy beating a great competitor like Joe," she said. "Maybe next month." https://www.newyorker.com/humor/borowitz-report/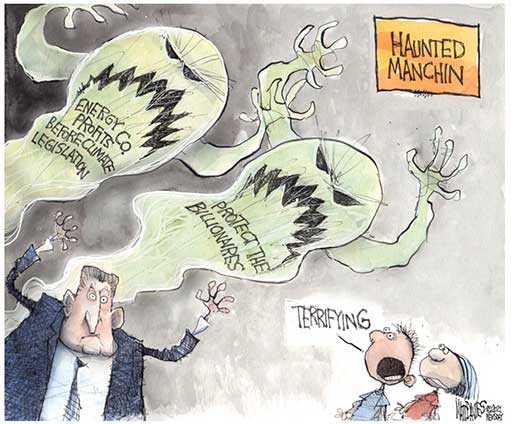 Virginia shellacking gives Dems added resolve to pass Biden priorities
Democrats' Virginia drubbing has has added fresh resolve to the push by Speaker Nancy Pelosi and her leadership team for quick passage of key Biden priorities. But she and other Democratic leaders have to contend with the wreckage of the election, as progressives and centrists angrily point fingers over their party's loss in a state Biden won by 10 points, with each side insisting that the other's political antics have stalled the president's agenda.
Pelosi is forging ahead anyway, declaring on Wednesday that a final deal on Biden's roughly $1.75 trillion bill was imminent while vowing to add back paid family leave, one of her key priorities, despite opposition from Manchin.
Yet there's no sign of a real, immediate breakthrough that will put that bill — or the bipartisan infrastructure legislation — on Biden's desk. Just getting Biden's priorities through the House will still be a heavy lift, with the party's internal conflicts suffering further exposure after Terry McAuliffe's loss. Getting a party-line social spending bill through a 50-50 Senate with Manchin's deliberative pace is another beast altogether.

"I think the protracted endless negotiations have taken their toll on our party," Senate Majority Whip Dick Durbin (D-Ill.) said, adding, "If anything, this is a shot across the bow, fair warning to all of us that we should be producing responses to America's needs on a timely basis and selling our message." https://www.politico.com/news/2021/11/03/democrats-virginia-congress-519051
Trump: Youngkin 'would have lost by 15 points without MAGA'
Trump says if he had not supported Virginia Republican Glenn Youngkin, the new governor-elect would have lost by a sizable margin in Tuesday's election. 
"I would like to thank my BASE for coming out in force and voting for Glenn Youngkin. Without you, he would not have been close to winning," the former president said in a statement. "The MAGA movement is bigger and stronger than ever before." https://thehill.com/homenews/579809-trump-youngkin-would-have-lost-by-15-points-without-maga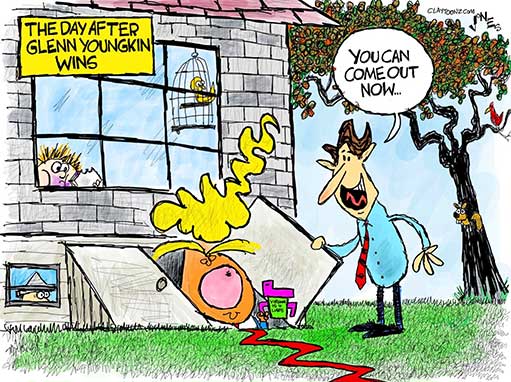 Trump campaign payments for 'command centers' at D.C. hotels could undermine executive privilege claim in Jan. 6 investigation
In mid-December last year, the Trump campaign made more than $225,000 in campaign payments to firms owned by Bernard Kerik and Rudy Giuliani — "including more than $50,000 for rooms and suites at the posh Willard hotel in Washington that served as a 'command center' for efforts to deny Biden the presidency in the days leading up to the attack on the Capitol on Jan. 6.
The fact that campaign funds were used to finance efforts to subvert Biden's victory could complicate the former president's ongoing attempt to use claims of executive privilege to shield documents and testimony from the congressional committee investigating Jan. 6, according to some legal scholars. https://www.washingtonpost.com/investigations/trump-campaign-payments-for-command-centers-at-dc-hotels-could-undermine-executive-privilege-claim-in-jan-6-investigation/2021/11/02/f05297bc-3680-11ec-8be3-e14aaacfa8ac_story.html
During Jan. 6 riot, Trump attorney told Pence team the vice president's inaction caused attack on Capitol
As Vice President Mike Pence hid from a marauding mob during the Jan. 6 invasion of the Capitol, an attorney for President Donald Trump emailed a top Pence aide to say that Pence had caused the violence by refusing to block certification of Trump's election loss.
The attorney, John C. Eastman, also continued to press for Pence to act even after Trump's supporters had trampled through the Capitol — an attack the Pence aide, Greg Jacob, had described as a "siege" in their email exchange.
"The 'siege' is because YOU and your boss did not do what was necessary to allow this to be aired in a public way so that the American people can see for themselves what happened," Eastman wrote to Jacob, referring to Trump's claims of voter fraud. https://www.washingtonpost.com/investigations/eastman-pence-email-riot-trump/2021/10/29/59373016-38c1-11ec-91dc-551d44733e2d_story.html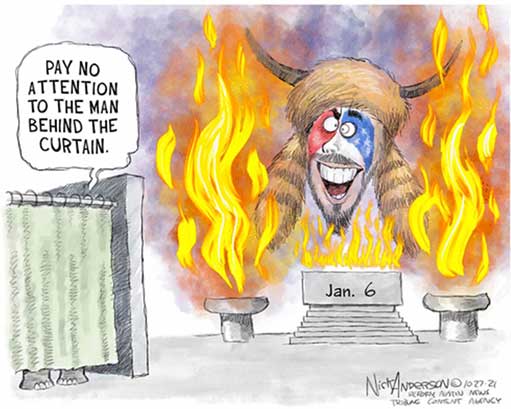 Rupert Murdoch is letting his media empire spread January 6 and election conspiracy theories
The conservative media mogul hasn't weighed in directly on the conspiracy that the 2020 election was stolen or the insurrection that took place at the US Capitol earlier this year, and his spokesperson didn't respond to a request for comment Thursday morning when asked that very question.
But if you were to judge Murdoch by the content featured in his most prominent media organizations this week, you would be forgiven if you were to arrive at the conclusion that he subscribes to such conspiratorial views.
Tucker Carlson, the Fox News host who is easily the most influential personality in Murdoch's media empire and who espouses fringe views, teased later on Wednesday night a three-part special promoting 1/6 trutherism.
The trailer for the special promoted by Carlson, which is titled "Patriot Purge" and will air on the network's Fox Nation streaming platform, featured rhetoric that is difficult to discern from the standard fare seen on conspiracy-ridden outlets such as InfoWars. It included a mention of a "false flag," or the idea that the attack was an inside job planned by the government, and the idea that the government has effectively declared war on Trump supporters.
Those programming decisions are ones that are apparently agreeable to Murdoch. If they were not, he could easily reverse them. The same goes with The Journal's decision to publish Trump's letter promoting the Big Lie. He could have stopped it if he wanted. https://www.cnn.com/2021/10/28/media/rupert-murdoch-january-6-insurrection-election/index.html
82% of Fox News Viewers Believe the Election Was Stolen: New Poll
A new national poll from the Public Religion Research Institute (PRRI) published on Monday shows that 31 percent of Americans believe the 2020 presidential election was stolen from Donald Trump. That figure includes an overwhelming 82 percent of Americans who trust Fox News more than any other media outlet, 97 percent of those who trust One America News Network and Newsmax, and two-thirds of Republicans generally.
The poll also finds that 30 percent of Republicans believe violence may be needed to resolve domestic issues in the United States. Only 17 percent of Independents and 11 percent of Democrats felt the same way. https://www.mediaite.com/politics/82-of-fox-news-viewers-believe-the-election-was-stolen-new-poll/
Trump Blasts Fox News For Supposedly Airing 'Untruthful Anti-Trump Commercials'
Donald Trump blasted Fox News on Sunday, claiming the network "continually allow[s] horrible and untruthful anti-Trump commercials to be run."
"What good is it if FOX News speaks well of me when they continually allow horrible and untruthful anti-Trump commercials to be run—and plenty of them," Trump said in a statement. "In the good old days, that would never have happened and today it happens all of the time."
He went on to complain about the "forces" working against him.
"Ratings-challenged CNN and MSNBC would never run a positive Trump ad—never," he said. "With so many forces against us, Big Tech, the Fake News Media, the Radical Left, the RINOs, and more, we are at such a disadvantage, but we will win anyway!" https://www.mediaite.com/donald-trump/trump-blasts-fox-news-for-supposedly-airing-untruthful-anti-trump-commercials/
NOTE: This may be one of the ads Trump was referring to https://twitter.com/MeidasTouch/status/1452445328381124611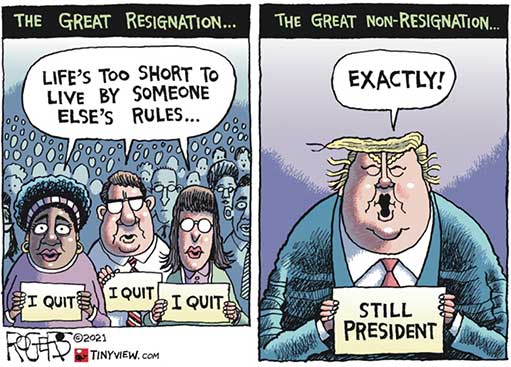 Supreme Court embarks on most dramatic reckoning for abortion rights in decades
The Supreme Court will face a bramble of unsettled legal questions when it reviews Texas's most-restrictive-in-the-nation abortion law Monday, but the inquiry itself is evidence of a changed court whose view of abortion as a constitutional right is in doubt.
Monday's hastily scheduled hearing opens the most dramatic month for reproductive rights at the Supreme Court in three decades. That was when a surprising majority of Republican-nominated justices did the unexpected and affirmed rather than renounced the right to abortion established in Roe v. Wade in 1973.
Such an outcome this time around — as the court considers the Texas law and, on Dec. 1, a Mississippi ban on abortion after 15 weeks, far earlier than current Supreme Court precedent allows — would be a bitter disappointment for antiabortion activists who feel this is their chance. https://www.washingtonpost.com/politics/courts_law/supreme-court-abortion/2021/10/30/13f53be2-3830-11ec-9bc4-86107e7b0ab1_story.html
Trump looks to 2024, commanding a fundraising juggernaut, as he skirts social media bans
Facebook has banned former president Donald Trump from posting on its platform, and he is barred by law from using his current fundraising to finance another campaign for the White House.
But Trump has found a way around both barriers as he rebuilds his political operation to clear the way for a potential 2024 presidential campaign.
His primary political action committee, Save America, has been spending more than $100,000 a week this month on Facebook ads, according to the company, many of which seek donations with deceptive claims about corruption in the last election and public support for the belief that "Trump is the true president." 
Facebook allows the ads because Trump is not posting them personally through his suspended account and the ads do not speak in Trump's "voice," according to a company spokeswoman. The money raised can be used to finance his current political operation — his staff, his rallies, his travel — until he announces another campaign. At that point, he would have to start fresh with a new account, but with a significant advantage: Advisers may rent back the updated list of donors that Save America has collected to give him a head start. And advisers say he could transfer the money to another outside group that buttresses his bid.
The gambit is one of several ways Trump is blowing up the traditional path for a president after leaving office, reaping millions for his political efforts in the process. Rather than shrink from the scene to focus on the blueprints of a presidential library or philanthropy, he is attempting to build one of the largest operations in American politics by continuing many of the tactics that dominated his two presidential campaigns. https://www.washingtonpost.com/politics/trump-fundraising/2021/10/29/5b5a2e64-31b1-11ec-a1e5-07223c50280a_story.html
Iowa governor signs law granting unemployment benefits to those fired for not being vaccinated
Iowa Republican Gov. Kim Reynolds signed a bill into law on Friday that grants unemployment benefits to those who lose their jobs because they refuse to get vaccinated against Covid-19.
The measure states that "an individual who is discharged from employment for refusing to receive a vaccination against COVID-19" shall not be "disqualified for benefits."
After signing the legislation, Reynolds said in a statement that the new law allows Iowans "freedoms and their abilities to make healthcare decisions based on what's best for themselves and their families." https://www.cnn.com/2021/10/29/politics/iowa-vaccine-mandate-unemployment-law-kim-reynolds/index.html
Trump's real-estate empire pays the price for poisonous politics
Donald Trump's slashing rhetorical style and divisive politics allowed him to essentially take over the Republican Party. His supporters are so devoted that most believe his false claim that he lost the 2020 election because of voter fraud.
But the same tactics that have inspired fierce political loyalty have undermined Trump's business, built around real-estate development and branding deals that have allowed him to make millions by licensing his name.
Trump's business brand was once synonymous with wealth and success, an image that now clashes sharply with a political brand rooted in the anger of his largely rural and working-class voter base. His presidency is now associated in the minds of many with its violent end, as supporters stormed the U.S. Capitol on Jan. 6.
Those searing images, along with years of bitter rhetoric, are costing Trump money. Revenues from some of his high-end properties have declined, vacancies in office buildings have increased and his lenders are warning that the company's revenues may not be sufficient to cover his debt payments, according to Trump's financial disclosures as president, Trump Organization records filed with government agencies, and reports from companies that track real-estate company finances. https://www.reuters.com/world/us/trumps-real-estate-empire-pays-price-poisonous-politics-2021-10-29/
WS Journal: The Facts on Trump's Fraud Letter: His 2020 monomania is news, and it reflects on his fitness for 2024
The progressive parsons of the press are aflutter that the Wall Street Journal published a letter to the editor Thursday from former President Trump, objecting to our editorial pointing out that he lost Pennsylvania last year by 80,555 votes.
We trust our readers to make up their own minds about his statement. And we think it's news when an ex-President who may run in 2024 wrote what he did, even if (or perhaps especially if) his claims are bananas. https://www.wsj.com/articles/the-facts-on-donald-trumps-fraud-letter-2020-election-11635449578
January 6 committee is losing patience with Trump's former chief of staff Mark Meadows as it seeks his testimony
Members of the House select committee investigating January 6 are losing patience with the pace of talks with former White House chief of staff Mark Meadows, and some are considering whether more aggressive steps are needed to force his compliance in the sweeping probe. https://www.cnn.com/2021/10/28/politics/january-6-committee-eyes-contempt-proceedings-mark-meadows/index.html
Backers of Trump's false fraud claims seek to control next elections
Reuters interviewed nine of the 15 declared Republican candidates for secretary of state in five battleground states -- Arizona, Georgia, Wisconsin, Michigan, Nevada -- and reviewed public statements by all of the candidates. Ten of the 15 have either declared that the 2020 election was stolen or called for their state's results to be invalidated or further investigated.
Only two of the nine candidates Reuters interviewed said that Biden won the election. https://www.reuters.com/world/us/backers-trumps-false-fraud-claims-seek-control-next-us-elections-2021-09-22/
Half of Republicans Doubt Their Votes Will Be Counted
A new NBC News poll finds 50% of Republicans say they are not confident their vote will be counted accurately. https://www.nbcnews.com/politics/meet-the-press/nbc-news-poll-50-percent-republicans-doubt-their-vote-will-n1282849
The DAILY GRILL
Steve Scalise on Fox News Sunday repeatedly refuses to acknowledge that the 2020 election was not stolen from Donald Trump. Video

VERSUS

Millions of Americans have been sold a fraud that the election was stolen. Republicans have a duty to tell the American people that this is not true. Perpetuating the Big Lie is an attack on the core of our constitutional republic.— Liz Cheney
Dana Milbank: Democrats let Biden down. McAuliffe — and democracy — paid the price

.

Democrats: Wake up!

And for those who consider themselves lower-d democrats: This is your wake-up call, too.

Democrats in Congress had months to prove that they could legislate, to demonstrate that a government of the people, by the people and for the people could still function despite the creeping authoritarianism, the daily assaults on truth and the conspiracy-minded paranoia.

They let President Biden down. They let the country down. And on Tuesday night, Terry McAuliffe paid the price.

Tuesday's loss will be as nothing compared to the shellacking Democrats will receive a year from now.

The Manchins and the Sinemas on the right side of the Democratic caucus and the Jayapals on the left must recognize that their carping over relative trifles has imperiled an agenda they (and their constituents) overwhelmingly support, and increased the likelihood that the people who brought us the Jan. 6 insurrection will be returned to power in next year's midterms. The Manchins and the Sinemas and the Jayapals, by making the perfect the enemy of the (very) good, have handed an advantage to an illiberal faction that is stoking White nationalism.

In an address to a joint session of Congress in April, Biden exhorted lawmakers: "We have to prove democracy still works — that our government still works and we can deliver for our people."

Progressive and moderate holdouts failed to deliver, and on Tuesday night we saw the result. Democrats, you are running out of time to save democracy.
https://www.washingtonpost.com/opinions/2021/11/03/democrats-let-biden-down-mcauliffe-democracy-paid-price/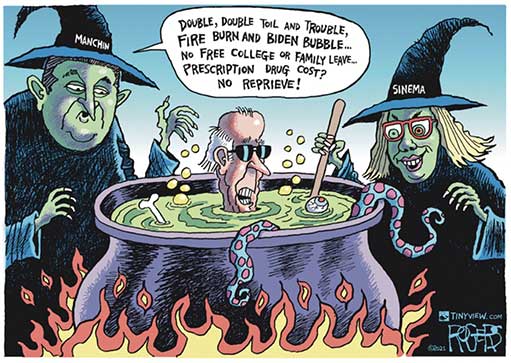 Zachary D. Carter: The Democratic Unraveling Began With Schools
In 2009, a Republican winning back the governor's mansion wasn't particularly frightening for Democrats as a national party. But in the years since, Virginia has become a model for the party's strategy in other states: maintain big margins with Black voters, win over immigrant families by pointing to GOP xenophobia, and turn suburban homeowners into Democrats with appeals to competence and moderation.
This became a model because it worked, at least in Virginia. In 2002, both Virginia senators were Republicans, along with eight of its 11 House members. Today the governor, both senators, and seven House members are Democrats. The key to those wins was a shift in suburban and exurban voting, a phenomenon familiar to people who follow national political demographics. Republicans have figured out how to swing a bunch of these voters back into their camp. If they can sustain this trend in other suburbs in other states, the Democratic Party's national viability is in serious trouble.
The good news for Democrats is that education is only narrowly beating out the economy as the top issue for Virginia voters, and that McAuliffe came close, despite running a clueless and lethargic campaign. Democratic leaders in Washington also can't do that much more damage to local politics than they have this year. By holding up Biden's economic agenda for more than six months, Senators Kyrsten Sinema of Arizona and Joe Manchin of West Virginia have made it all but impossible for Democrats to highlight achievements on the national stage. Frustrations over COVID-19 school closures may well abate with the passage of time. And Democrats may refocus political attention on issues where they perform better with voters, by simply passing some legislation.
But I wouldn't put a lot of money on a turnaround. Barring a wild new development over the next year, Democrats should expect to lose Virginia's Second, Seventh, and Tenth Congressional Districts a year from now, and be ready for a dogfight for the Fourth District. These losses alone would be enough to eliminate the current Democratic majority in the House of Representatives, absent offsetting victories elsewhere.
If you project similar troubles in suburban districts in other swing states, you get a disastrous midterm for the Democrats. COVID-19 has fundamentally changed American politics, and the Democratic Party hasn't figured out how to navigate those changes. https://www.theatlantic.com/ideas/archive/2021/11/virginia-election-youngkin-education/620596/
Philip Bump The long-dead '2020 was stolen' claim gets more nails in its coffin
If Democrats could inject a bunch of votes to give the Democrat a narrow win one year ago, why couldn't they one day ago?
Well, the conspiracy website Gateway Pundit has an answer: It was a classic double-cross.
"Where were the magical votes this year?" the site's Jim Hoft frothed. "Was this omission on purpose? Was this part of a larger psyop on the American public? Was this part of their game? Throw in McAuliffe as a sacrificial lamb knowing they can steal any future election at will?"
This followed a breathless explanation of how Biden benefited from fraudulent votes last year, something that Hoft insisted has "yet to be explained." It has been explained, of course; there was no rampant or significant fraud. It's just that Hoft and the like are uninterested in reality when surreality is so much more interesting and lucrative.
Conservative writer Erick Erickson, a denizen of the real world, has for months anguished at Republican insistences that fraud occurred. After the Virginia result was clear, he offered some thoughts to others in his party.
"Shut up about stolen elections that weren't stolen," he wrote on Facebook, "because I assure you the Democrats would have stolen some of the 2021 elections if they could have, but they could not so they did not."
Ah, so Erick Erickson is part of the psyop, too! Good to know. https://www.washingtonpost.com/politics/2021/11/03/long-dead-2020-was-stolen-claim-gets-more-nails-its-coffin/
Wash Post PR: The Washington Post releases "The Attack: Before, During and After," an investigation of the Jan. 6 Capitol insurrection and its aftermath
The Washington Post today released a three-part investigation into the forces that led to the insurrection at the U.S. Capitol on Jan. 6 and the growing distrust in America's elections that has spread in its aftermath. "The Attack: Before, During and After" reveals through new reporting how law enforcement officials failed to heed warnings of impending violence in Washington, documents the bloody consequences of President Donald Trump's inaction during the siege and shows how a deep distrust of the voting process has taken root across the country.
"An event of the magnitude of the Capitol attack demands deep and revelatory reporting," said Matea Gold, national political enterprise and investigations editor. "This newsroom-wide collaboration provides our readers with a definitive account of Jan. 6 and its lasting impact on American democracy."
"The Attack: Before, During and After" lays out striking new details about the cascade of warnings law enforcement officials received before Jan. 6 and uses social media posts, text messages, videos and photographs to show how Trump radicalized his supporters and mobilized them to action. The project also features voicemails of threats made against election officials around the country, and includes intimate reporting about six individuals whose lives were affected by Jan. 6.
More than 75 journalists in the Post newsroom contributed to The Attack, including more than 25 reporters. The findings are based on interviews with more than 230 people and thousands of pages of court documents and internal law enforcement reports, along with hundreds of videos, photographs and audio recordings.
Readers can access "The Attack" on The Post's website and across Post platforms at www.wapo.st/theattack.https://www.washingtonpost.com/pr/2021/10/31/washington-post-releases-attack-before-during-after-an-investigation-jan-6-capitol-insurrection-its-aftermath/
Caleb Ecarma: Tucker Carlson Goes Full 1/6 Truther In New Fox Doc
Tucker Carlson faced widespread condemnation from media figures, Republican lawmakers, and even one of his own Fox News colleagues after airing a trailer for his upcoming project that seemingly portrays the January 6 Capitol riot as a "false flag" operation orchestrated by the government. The promo for Carlson's documentary series, titled Patriot Purge and airing next week on the Fox Nation streaming service, features one voice suggesting the U.S. government is waging a "domestic war on terror" against "half of the country."
The trailer, which opens with onscreen text that reads, "The true story behind 1/6" and "The War on Terror 2.0 and the plot against the people," includes interviews with a man who claims "the left is hunting the right" and "sticking [American citizens] in Guantanamo Bay…leaving them there to rot." Later in the promo, a woman asserts that "false flags have happened in this country. One of which may have been January 6." A man is then shown firing a rifle at a shooting range as a narrator states "We are dealing with an insurgency in the United States," before the ad cuts to Joe Biden giving a speech in which he describes white supremacy as "the most lethal threat" in America. 
While discussing the three-part series on Tucker Carlson Tonight, Fox's most popular host said that he believes "it answers a lot of the remaining questions" regarding the Capitol riot. "Our conclusion? The U.S. government has in fact launched a new war on terror. But it's not against al-Qaida, it's against American citizens," he added.
Wajahat Ali, a columnist at The Daily Beast, suggested that Carlson's conspiracy theory about January 6 is representative of the conservative base as a whole. "We kept telling you they were going to become a radicalized, weaponized, death cult. Here it is," he wrote in response to the trailer.
GOP Representatives Adam Kinzinger and Liz Cheney condemned Fox News for granting airtime to Carlson's false flag claims. "Anyone working for [Fox News] must speak out," Kinzinger wrote on Twitter. "This is disgusting. It appears [Fox News] isn't even pretending anymore." Cheney, who serves as the vice chair on the House Select Committee investigating the January 6 attack, tagged Fox Corporation chairman Rupert Murdoch and Fox News CEO Suzanne Scott in a tweet describing Carlson's claim as an outright lie. "It appears that [Fox News] is giving Tucker Carlson a platform to spread the same type of lies that provoked violence on January 6," she wrote. "As [Fox News] knows, the election wasn't stolen and January 6 was not a 'false flag' operation."
Additionally, former Republican lawmaker Joe Walsh asked Brit Hume, a former anchor and senior political analyst, and Bret Baier and Chris Wallace, two of Fox's most respected hosts, if they have "the courage or the decency to condemn" the series, while Denver Riggleman, another former GOP congressman, noted that "at least 7 white nationalist groups" are actually the parties that participated in January 6. "Tucker's lies will focus on FBI, Antifa & other false flag conspiracies. Flynn insanity. QAnon ignorance. Replacement theory," he added. "Propaganda inciting violence on [Fox News]." https://www.vanityfair.com/news/2021/10/tucker-carlson-january-6-truther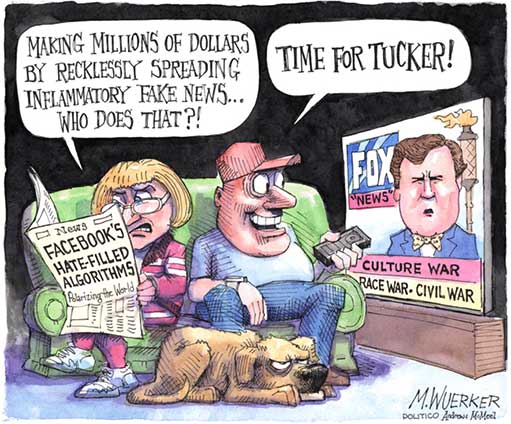 Amy Davidson Sorkin: When Will January 6th Be Over?
After Donald Trump lost the Presidential election last year, a law professor named John Eastman drafted, for Trump's use, a two-page manual for unlawfully throwing out the electoral votes of certain states as they were being tallied in Congress, on January 6th. The name he mentions most often in the memo is that of Vice-President Mike Pence. It appears in such statements as "Pence then gavels President Trump as re-elected" and, regarding disrupting the count, "The main thing here is that Pence should do this without asking for permission." Eastman also spoke at Trump's January 6th rally, where he said that what "we are demanding of Vice-President Pence" is that he intervene in the electoral count. Trump, speaking shortly afterward, cited Eastman's authority when he said, "If Mike Pence does the right thing, we win the election."

But one person who doesn't appear eager to dwell on that question, at least not publicly, is Pence himself, who has been biding his time giving speeches and setting up an organization called Advancing American Freedom. Last month, in an interview with Sean Hannity, on Fox News, he said that the media is trying to use January 6th to distract from President Biden's "failed agenda" and to "demean the character and intentions" of people who voted for Trump. He assured Hannity that he and Trump had "parted amicably" after leaving office, and had stayed in touch. On social media and in a podcast he has launched, he steadily repeats the phrase "Trump-Pence Administration"—linking his name with that of a man who was ready to abandon him to a mob.
Pence's position is intriguing on a human level, but it is significant in political terms, too, because it captures so much about the state of the G.O.P., where the 2024 Presidential race is headed, and how much the contest over the legacy of January 6th matters in setting that course. Trump seems to realize that as much as anybody. After Pence appeared on Fox News, Trump put out a statement saying that the interview "very much destroys and discredits the Unselect Committees Witch Hunt on the events of January 6th." The interview does not do that, of course. But the Trump-Pence dance underscores how high the stakes are for the committee. Trump, in trying to obstruct the investigation into January 6th—with spurious claims of executive privilege, for example—is fighting not only to impose his view of the past but to insure his political future. https://www.newyorker.com/magazine/2021/11/08/when-will-january-6th-be-over
Dana Milbank: Republican response to Build Back Better? Rhymes with 'Let's go Brandon.'
At 7:30 Thursday morning, White House officials rolled out President Biden's roughly $1.75 trillion framework to cut taxes for ordinary Americans and make it easier for them to afford health care and housing, send their kids to prekindergarten and college, and adopt clean new power for their homes and cars.
An hour later came the Republican response, from the office of Senate Minority Leader Mitch McConnell of Kentucky. It was succinct and to the point: "F--- Joe Biden."
Technically, the message, a tweet from McConnell press secretary Doug Andres, showed a photo of a roadside sign that said "Let's go Brandon." For the uninitiated, that's a MAGA meme in which the phrase stands for the slightly homophonous "F--- Joe Biden." It's a way to flip the bird at the president "without running afoul of technology censors," as the right-wing Washington Times put it.
The substitute phrase has been chanted at rallies for Virginia Republican gubernatorial candidate Glenn Youngkin; used by Sen. Ted Cruz (R-Tex.), Republican Reps. Bill Posey of Florida (on the House floor) and Jim Banks of Indiana, and Donald Trump Jr.; and, on Thursday, adopted by the former president himself. He offered "Let's Go Brandon" T-shirts for those sending at least $45 to his grifter organization Save America.
Democrats clear the way for passage of a $1.2 trillion infrastructure bill that will provide broadband Internet and lead-free drinking water to every American, and better roads, bridges and ports for all to enjoy. And Republicans reply: Let's go Brandon.
Republican lawmakers responded to Biden's rollout Thursday with the usual name-calling: Liar! Socialism! Green New Deal!
Sen. John Neely Kennedy (R-La.) called it "class warfare" that would "crush small business." (How many small businesses have $1 billion in annual profits?)
Rep. Darin LaHood (R-Ill.) tweeted that it would "raise taxes on working families." (Shed a tear for those "working families" earning more than $10 million annually!)
Rep. Greg Steube (R-Fla.) claimed Biden is "bankrupting Americans." (By reducing the deficit?)
The National Republican Campaign Committee released ads this week targeting 15 Democrats, falsely saying the plan would let the IRS "spy on your bank account." (There is no such proposal; as The Post's Jeff Stein noted, requirements that banks report large transactions were removed from the bill.)
And House Minority Leader Kevin McCarthy (R-Calif.) suggested that Republicans are so angry about Build Back Better that they would vote against the bipartisan infrastructure bill, too — even though, he admitted, "America needs infrastructure."
Voting against what America needs, and Republicans support, out of spite?
There's a name for that, and it almost rhymes with "Let's go Brandon." It's the GOP's governing agenda. https://www.washingtonpost.com/opinions/2021/10/29/lets-go-brandon-republican-build-back-better-response/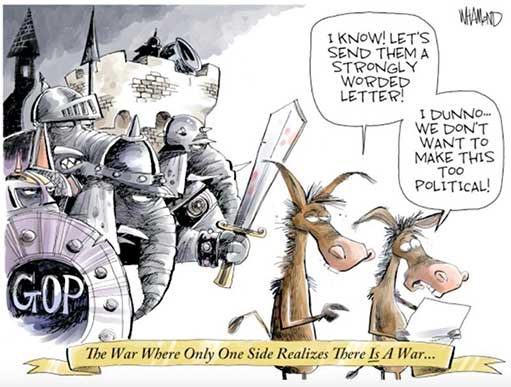 William Saletan: The Entire Republican Leadership Is Covering Up Trump's Coup Attempt
On Jan. 6, two months after President Donald Trump lost the 2020 election, his supporters attempted a coup to keep him in power. The attack shook congressional Republicans, and many spoke out against it. That resistance has since collapsed. In the past month, statements by the party's most powerful lawmakers, culminating in their attempt last week to eviscerate the House investigation of the Jan. 6 attack—show that the entire Republican leadership has decided to accept Trump's lies about the election and to shield the coup plotters from accountability.
Trump remains a grave threat. In polls, he holds a prohibitive lead over his rivals for the 2024 Republican presidential nomination, and he's running almost even with President Joe Biden in a hypothetical rematch. He continues to claim that the election was stolen and that Biden's presidency is illegitimate, but he has added a new twist. The "real insurrection," says Trump, was the election itself—and therefore, the attempt to overturn it on Jan. 6 was righteous. Trump claims that the people arrested in the assault on the Capitol are political prisoners, and he rejects the House inquiry into the assault as an "illegitimate investigation."
Congressional Republicans have formed a phalanx to protect Trump and bury the truth about Jan. 6. In May, House Republicans ousted Rep. Liz Cheney from their leadership for contradicting Trump's lies about the election. Last week, they tried to block the House from holding former Trump adviser Steve Bannon—who has defied a subpoena from the select committee in charge of the investigation—in contempt of Congress. Democrats managed to pass the contempt resolution, but Republicans voted overwhelmingly against it, 202 to 9, essentially voting not to enforce the law.
Statements from 10 of the most powerful Republicans in Congress—five in the Senate, five in the House—show that authoritarian corruption has permeated the party's power structure. No Republican in leadership is willing to challenge the former president's lies about the election. Every Republican in leadership is determined to bury the investigation of his coup attempt. The story of the Trump presidency and its aftermath is no longer the story of one failed tyrant. It's the story of a party that has become a platform for autocrats—and is ready for its next master. https://slate.com/news-and-politics/2021/10/trump-jan-6-republican-leadership-cover-up-coup-attempt.html
Eugene Robinson: The smart money on climate seems to be barely mitigated doom
The climate change summit of world leaders in Scotland was billed as a make-or-break moment for the future of the planet. So far, I'm afraid, the smart money is betting on barely mitigated doom.
The weekend's Group of 20 meeting of rich countries in Italy, meant to be a warm-up (pun intended) for Glasgow's main event, inspired scant confidence. "I leave Rome with my hopes unfulfilled — but at least they are not buried," U.N. Secretary General António Guterres concluded, in a tweet that did not exactly convey unbridled joy.
In a later tweet Sunday, U.N. Secretary General António Guterres repeated the stark message he tried to drive home to the G-20 and will try again to get leaders to understand this week: "All countries need to realize that the old, carbon-burning model of development is a death sentence for their economies and our planet. We need decarbonization now, across every sector in every country."
"Decarbonization" is what we must have, and I have little doubt we'll get it someday. But that transformation may come too late to avoid a level of global warming that climate experts agree will be catastrophic.
If the world's nations keep all the promises to cut carbon emissions they made under the 2015 Paris agreement, temperatures will still rise by around 2.7 degrees Celsius (nearly 5 degrees Fahrenheit) by the year 2100, U.N. scientists estimate. That is better than the 4 degrees Celsius once projected — emissions in the United States, Europe and Japan have fallen somewhat — but still well beyond the disaster threshold. As it is, even those commitments are not being met so far. https://www.washingtonpost.com/opinions/2021/11/01/cop26-glasgow-climate-summit-ugly-start