March 11, 2021
ON THE RECORD. . .
"I have done some research and would like to share with you the physical and emotional and even mental injuries to our bodies and possibly even our souls as healthy individuals are required to wear face masks." — State Representative Karey Hanks (R-St. Anthony) speaking in support of a bill that would ban any sort of face mask mandate issued by local governments in Idaho.

"I'm wondering if there's a place that I could stay in detention where I don't have cockroaches crawling everywhere while I attempt to sleep. I haven't slept very much." — Federico Klein, a former Trump political appointee charged with battling police during the Capitol riot was held at the Washington, D.C., jail on six charges against him, two of which carry a maximum of 20 years in prison.

"You'd better be spending a lot more time developing an economic agenda that benefits working people than re-litigating a lost presidential election. The question is, how long will it take the Republicans to figure out that driving out heretics rather than winning new converts is a losing strategy right now?" — GOP pollster Whit Ayres.

"Stop whining. How long are you going to keep crying about it? How much longer will you stay at home and close everything? No one can stand it anymore. We regret the deaths, again, but we need a solution." — Brazilian President Jair Bolsonaro criticizing measures to curb the virus despite a surge in cases and deaths.

"The US shouldn't ease restrictions in place to prevent Covid-19 before the number of new coronavirus cases falls below 10,000 daily, and maybe even considerably less than that," — Dr. Anthony Fauci, adding that states doing away with mask mandates, allowing businesses to fully open and increasing the number of people allowed at mass gatherings Is "inexplicable."

Russian state TV program 60 Minutes played the clip of former U.S. President Donald Trump asking CPAC: "Do you miss me yet?" The co-host Olga Skabeeva eagerly replied: "Yes, we do!"

"I will not be endorsing, under any circumstances, the failed candidate from the great State of Alaska, Lisa Murkowski. She represents her state badly and her country even worse. I do not know where other people will be next year, but I know where I will be — in Alaska campaigning against a disloyal and very bad Senator." — Donald Trump making official his plans to target Republican Sen. Lisa Murkowski, vowing to travel to Alaska to campaign against her ahead of the 2022 midterm elections.

"There's no way under the sun that in 2021 that we are going to allow the filibuster to be used to deny voting rights. That just ain't gonna happen. That would be catastrophic. If Manchin and Sinema enjoy being in the majority, they had better figure out a way to get around the filibuster when it comes to voting and civil rights." — House majority whip Jim Clyburn.

"Do you ever notice how all the scary internet conspiracy theorists – the radical QAnon people – when you actually see them on camera or in jail cells, as a lot of them now are, are maybe kind of confused with the wrong ideas, but they're all kind of gentle people now waving American flags? They like this country." — Fox News host Tucker Carlson.

On 3/20, all the Senate Democrats voted for Trump's Covid stimulus/relief bill.
On 12/20, nearly every Senate Democrat voted for Trump's second Covid stimulus/relief bill.
On 3/21, no Senate Republicans voted for Biden's Covid stimulus/relief package. Asymmetric Polarization. — Julian Zelizer @julianzelizer

"The magic is racism." — Democratic pollster Cornell Belcher in an interview on MSNBC, responding to Sen. Lindsey Graham saying that he's trying to harness Donald Trump's "magic."

"Heaven forbid we pass something that's going to help the damn workers in the United States of America… Now stop talking about Dr. Seuss, and work with us." — Rep. Tim Ryan (D-OH), yelling at the GOP on the House floor over a union organizing bill.

"Apparently this is an effort to ensure an institutional revolutionary Democratic Party of sorts that can remain in power for many decades to come." — Sen. Mike Lee (R-UT) on HR-1, the massive election reform bill, saying the proposal was "written by the devil himself."

In a normal world one might have expected Trump to call Pence up and say something like, "Thanks for always having my back, and hey, sorry about almost getting you lynched," or, hell, even pretend to still find the guy politically useful. Unfortunately for Pence, he hitched his wagon to the wrong unhinged megalomaniac, and instead, his old boss's handlers have made it known he's out in MAGA-land. https://www.vanityfair.com/news/2021/03/donald-trump-2024-vp

VIDEOS

Revisited: Trump pressures a Georgia official to overturn the State's election results: https://www.newyorker.com/video/watch/in-a-taped-call-trump-pressures-a-georgia-official-to-overturn-the-states-election-results

Workers in Alabama – and all across America – are voting on whether to organize a union in their workplace. It's a vitally important choice – one that should be made without intimidation or threats by employers. Every worker should have a free and fair choice to join a union. -- President Biden expressing solidarity with workers attempting to unionize an Amazon facility in Alabama.'
REMINDER: Just Security is continuing to track every pending criminal and civil case against Donald Trump.
---
IN THIS ISSUE
IN THE NEWS
OPINION
Andy Borowitz: Rand Paul Saddened to See Government Flagrantly Helping People
Just minutes after the House of Representatives passed President Biden's coronavirus-relief bill, an emotional Rand Paul said that he was "deeply saddened to see the government helping people."

Despite his best efforts "to keep this dark day from happening," Paul said that soon the government would be interfering in people's lives by sending them money to pay their bills.

"In a matter of days, people will be eating food—just as, history tells us, people did under Communism," he warned.

In closing, Paul castigated his Senate colleagues who voted for the bill, accusing them of "ushering in a dangerous new era of Washington politicians intrusively abetting people's efforts to survive."

"You have broken your most solemn oath, which is, 'First, do no good,' " he said. https://www.newyorker.com/humor/borowitz-report/
Republicans Are Using Race-Baiting Attacks to Block Biden's Civil Rights Picks
Republicans have launched a series of misleading and racially charged attacks against a pair of prominent civil rights leaders in a transparent effort to block Joe Biden's nominees from top slots in the Justice Department. 
Vanita Gupta, an Indian-American woman who is Biden's nominee for associate attorney general, and Kristen Clarke, a Black woman whom Biden picked to head the DOJ's Civil Rights Division, have faced increasingly nasty attacks seeking to paint them as cop-hating, anti-Semitic reverse racists. 
Republicans have faced heat for seeking to block a number of Biden's BIPOC female appointees from senior administration posts. But it's more than that: Their attacks against Gupta and Clarke are aimed at keeping a pair of civil rights veterans from two of the most powerful civil rights positions in the federal government at a time of surging white supremacist violence, a tidal wave of new vote-suppressing GOP state-level legislation, and a GOP legal push to further dismantle the Voting Rights Act that's made it all the way to the Supreme Court. https://www.vice.com/amp/en/article/m7aya3/republicans-are-using-race-baiting-attacks-to-block-bidens-civil-rights-picks
Manhattan Prosecutors Advance Probe Into Trump's Seven Springs Estate
The Manhattan district attorney's office has issued new subpoenas and requested recordings of local government meetings related to the Trump Organization's failed attempt to create a luxury subdivision at Seven Springs, a 213-acre property that the former president bought for $7.5 million in 1995.
Mr. Trump has valued the property at up to $291 million in financial statements that the New York attorney general's office, which is also investigating Seven Springs, said were given to financial institutions. Inflating assets to help secure loans or other financial benefits can be a state criminal offense, legal experts said. https://www.wsj.com/articles/manhattan-prosecutors-advance-probe-into-trumps-seven-springs-estate-11615333894
In court filing, ICE says it is effectively ending use of family detention
As of Friday, only 13 families remained in ICE detention, and seven had been scheduled for release that day. The remaining six families are scheduled to be released March 7 unless they test positive for Covid-19, in which case they will be required to remain for a quarantine period before they are released. https://www.nbcnews.com/politics/immigration/court-filing-ice-says-it-effectively-ending-use-family-detention-n1259818
GOP voters could decide whether the U.S. reaches herd immunity
A Kaiser Family Foundation poll released last month found that 28 percent of Republicans said they would "definitely not" get vaccinated, and another 18 percent said they would "wait and see" before getting a shot. As a result, millions of Republicans could remain unvaccinated, a potential roadblock to efforts to achieve the high levels of immunity needed to stop the virus in the United States — an irony that isn't lost on Trump officials who worked to end the pandemic. https://www.washingtonpost.com/health/2021/03/07/republicans-covid-vaccine/#click=https://t.co/yjZiWUQzKU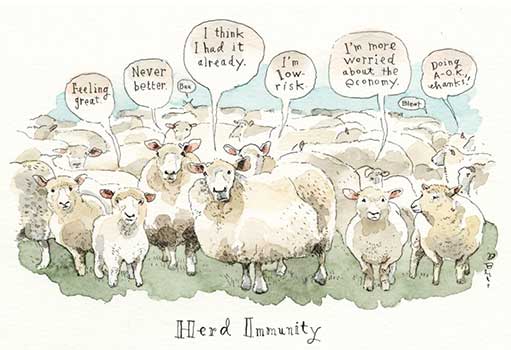 Georgia prosecutor probing Trump taps leading racketeering attorney
Fulton County District Attorney Fani Willis has enlisted the help of Atlanta lawyer John Floyd, who wrote a national guide on prosecuting state racketeering cases. Floyd was hired recently to "provide help as needed" on matters involving racketeering, including the Trump investigation and other cases, said the source, who has direct knowledge of the situation.
The move bolsters the team investigating Trump as Willis prepares to issue subpoenas for evidence on whether the former president and his allies broke the law in their campaign to pressure state officials to reverse his Georgia election loss. Willis has said that her office would examine potential charges including "solicitation of election fraud, the making of false statements to state and local governmental bodies, conspiracy, racketeering" among other possible violations. https://www.reuters.com/article/us-usa-election-georgia-racketeering-exc-idUSKBN2AY0L0
Biden Signs Order Intended to Make Voting Easier
 President Biden signed an executive order on Sunday that directed the government to take steps to make voting easier, marking the 56th anniversary of the Bloody Sunday march in Selma, Ala., which swiftly turned voting rights into a national cause.
The multipart order is aimed at using the far-flung reach of federal agencies to help people register to vote and to encourage Americans to go to the polls on Election Day. In a speech for the Martin and Coretta King Unity Breakfast on Sunday, Mr. Biden argued that such actions were still necessary despite the progress of the last half-century. https://www.nytimes.com/2021/03/07/us/politics/biden-executive-order-voting.html
Giuliani probe awaits Garland as he nears AG confirmation
With Merrick Garland poised to be confirmed as attorney general as early as next week, one of the first major questions he is likely to encounter is what to do about Rudy Giuliani.
A federal probe into the overseas and business dealings of the former New York City mayor and close ally of former President Donald Trump stalled last year over a dispute over investigative tactics as Trump unsuccessfully sought reelection and amid Giuliani's prominent role in subsequently disputing the results of the contest on Trump's behalf.
But the U.S. attorney's office in Manhattan has since returned to the question of bringing a criminal case against Giuliani, focusing at least in part on whether he broke U.S. lobbying laws by failing to register as a foreign agent related to his work, according to one current and one former law enforcement official familiar with the inquiry. The officials weren't authorized to discuss the ongoing case and spoke on the condition of anonymity.
The arrival of a new leadership team in Washington is likely to guarantee a fresh look at the investigation. No matter how it unfolds, the probe ensures that a Justice Department looking to move forward after a tumultuous four years will nonetheless have to confront unresolved, and politically charged, questions from the Trump era — not to mention calls from some Democrats to investigate Trump himself. https://apnews.com/article/giuliani-probe-awaits-merrick-garland-ag-confirmation-6ae5e84e151bf0550536dfbb1eac9d20
F.B.I. Finds Contact Between Proud Boys Member and Trump Associate Before Riot
A member of the far-right nationalist Proud Boys was in communication with a person associated with the White House in the days just before the Jan. 6 assault on the Capitol, according to a law enforcement official briefed on the investigation.
Location, cellular and call record data revealed a call tying a Proud Boys member to the Trump White House, the official said. The F.B.I. has not determined what they discussed, and the official would not reveal the names of either party.
The connection revealed by the communications data comes as the F.B.I. intensifies its investigation of contacts among far-right extremists, Trump White House associates a nd conservative members of Congress in the days before the attack. https://www.nytimes.com/2021/03/05/us/politics/trump-proud-boys-capitol-riot.html
O'Rourke is criss-crossing Texas, igniting Democratic hopes he'll run for governor
Beto O'Rourke is on the road again, criss-crossing Texas and broadcasting his stops in small towns live.
His efforts have been focused on the crises that have gripped the state: Widespread power outages brought on by the failure of the state's electric grid during last month's freezing temperatures, and the battle against the coronavirus pandemic -- which Republican Gov. Greg Abbott effectively abandoned this week by dropping the state's mask mandate and its business restrictions.
But O'Rourke's public re-emergence -- and with it, the return of his from-the-road livestreams on Facebook, with 35 videos in the last two weeks -- has ignited hopes in his supporters and among prominent Democrats in the state that the former congressman will take on Abbott next year. Increasingly, Democrats say they see Abbott as politically wounded and believe the former congressman who reinvigorated a moribund state party with his 2018 Senate run could offer the best chance of winning the governor's office in more than a quarter-century. https://www.cnn.com/2021/03/05/politics/beto-orourke-texas-governor/index.html
"Cat in the Hat" puts cash in the bank for GOP
The House Republicans' campaign arm is offering donors copies of the Dr. Seuss classic "The Cat in the Hat," seeking to capitalize on a new front in the culture war.
The offer, while gimmicky, shows how potent appeals to "cancel culture" can be for grassroots Republicans, even amid debates about more weighty policy matters like coronavirus relief and voting rights. https://www.axios.com/dr-seuss-books-republican-fundraiser-b2522c87-586f-418c-a208-9fc2216e49af.html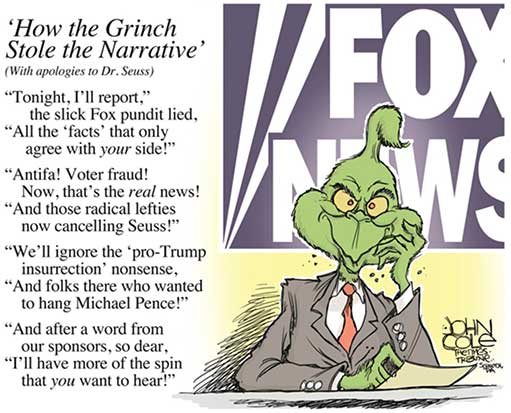 Democratic lawmaker releases social media report on GOP members who voted to overturn election
Rep. Zoe Lofgren (D-Calif.) has released a sprawling report detailing social media posts by Republican lawmakers who voted against certifying the Electoral College results of the 2020 presidential election.
The nearly 2,000-page report documents posts on social media platforms right before the Nov. 3 election and after the Jan. 6 insurrection on Capitol Hill.
The report covers the posts of 120 House Republicans, including several top Trump allies. https://thehill.com/homenews/house/541871-dem-lawmaker-releases-social-media-report-on-gop-members-who-voted-to-overturn
The Long Fuse Misinformation and the 2020 Election
On January 6, 2021, an armed mob stormed the US Capitol to prevent the certification of what they claimed was a "fraudulent election." Many Americans were shocked, but they needn't have been. The January 6 insurrection was the culmination of months of online mis- and disinformation directed toward eroding American faith in the 2020 election.
Misleading and false claims and narratives coalesced into the meta-narrative of a "stolen election," which later propelled the January 6 insurrection.
• Right-leaning "blue-check" influencers transformed one-off stories, sometimes based on honest voter concerns or genuine misunderstandings, into cohesive narratives of systemic election fraud.

• Warped stories frequently centered on mail-in voting and accusations of found, discarded, or destroyed ballots, particularly in swing states. Misleading framing of real-world incidents often took the form of falsely assigning intent, exaggerating impact, falsely framing the date, or altering locale.

• The meta-narrative of a "stolen election" coalesced into the #StopTheSteal movement, encompassing many of the previous narratives. The narrative appeared across platforms and quickly inspired online organizing and offline protests, leading ultimately to the January 6 rally at the White House and the insurrection at the Capitol. https://stacks.stanford.edu/file/druid:tr171zs0069/EIP-Final-Report-v2.pdf
Trump blasts 'RINOs and fools' while urging supporters to donate directly to his PAC
 Donald Trump is urging supporters to send donations directly to his political action committee, Save America, amid clashes with the Republican National Committee over its fundraising efforts.
"I fully support the Republican Party and important GOP Committees, but I do not support RINOs and fools, and it is not their right to use my likeness or image to raise funds," the former president said. "So much money is being raised and completely wasted by people that do not have the GOP's best interests in mind. If you donate to our Save America PAC at DonaldJTrump.com, you are helping the America First movement and doing it right. We will WIN, and we will WIN BIG! Our Country is being destroyed by the Democrats!" https://abcnews.go.com/Politics/trump-blasts-rinos-fools-urging-supporters-donate-directly/story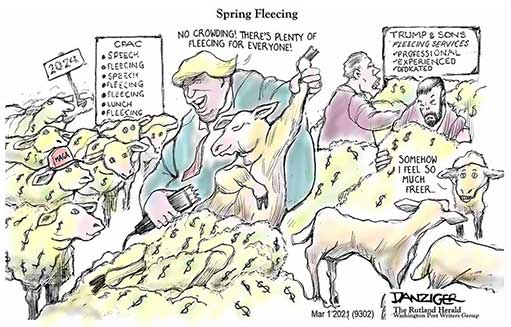 Republicans have a message for Donald Trump: stay out of our primary races
As Trump ramps up his revenge tour against the House Republicans who voted to impeach him, lawmakers are sounding the alarm that his attempts to meddle in primaries could hurt the party's efforts to win back the House next year, especially in critical swing districts in New York, Michigan and California. With just five seats between the GOP and the House majority, any one race could determine the balance.
The loudest warning shot came Wednesday from Minnesota Rep. Tom Emmer, the head of the National Republican Congressional Committee, who told POLITICO Playbook he planned to urge the former president to refrain from playing in primaries. "That's not going to be helpful," he said. "It's probably better for us that we keep these people."
That's not to say Republicans don't see Trump still playing a role in the future of the party. But an increasing number of them from across the conference are echoing Emmer, pleading with Trump to back off even as they simultaneously acknowledge the former commander in chief is a private citizen and can do whatever he wants. https://www.politico.com/news/2021/03/04/house-gop-trump-free-primaries-473533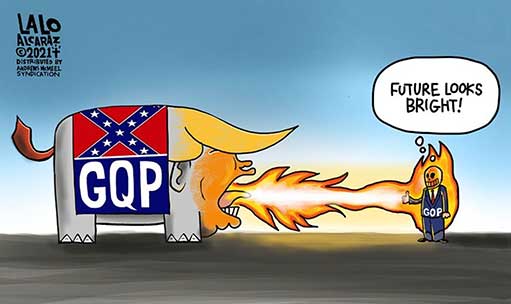 Casper lawmaker will challenge Cheney in 2022 Republican primary
Wyoming state Rep. Chuck Gray  called Cheney's vote to impeach Trump after the Jan. 6 insurrection at the Capitol as "disgraceful," and has pressed for her resignation and censorship.
During this year's general session at the Wyoming Legislature, he has sponsored a suite of legislation, including bills to increase photo identification requirements for voting, keep coal-fired power plants running longer, ban sanctuary cities and stop funding abortions, among others.
Trump's allies in Congress have pushed for a challenger who can knock off Cheney, the third-ranking Republican in the House. Cheney has faced major criticism from Republicans in Wyoming since her impeachment vote. The Wyoming Republican Party voted to censure her, as did many county-level parties. https://trib.com/news/state-and-regional/casper-lawmaker-chuck-gray-will-challenge-cheney-in-2022-republican-primary/article_82870cb8-ad0c-5fce-bf34-a2286404be38.html
Biden World gives a shoulder shrug to the raging culture wars
Over the past few weeks, Republicans have simmered over the "cancellation" of seemingly innocent family favorites, including the venerated Mr. Potato Head toy and Dr. Seuss books. Glenn Beck has likened it to fascism. Fox News has covered it obsessively. In recent days, conservative legislators have made speeches at confabs and in the halls of Congress, warning about what they describe as out of control PC culture.
And yet, even as it becomes all consuming on the right, White House advisers and Biden aides insist they're unbothered by the culture-wars-du-jour. Unbothered, they say. They respond with a snore. (Okay, we're done).
Aides to the president agree, pointing to the often-fleeting nature of the stories burning up conservative airwaves as proof there's no need to weigh in.
The divide over what the right sees as "cancel culture" and what the left considers "concern trolling" is somehow growing larger in the post-Trump political landscape. And neither side is showing signs of retreating. While Biden World may find it all a tiresome distraction, Republicans see a salve. Lacking power and a unifying political message, a relentless focus on "cancel culture" has proven to be a galvanizing force for their base. https://www.politico.com/news/2021/03/04/joe-biden-culture-wars-473824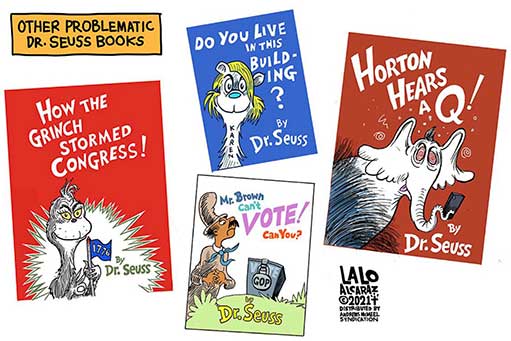 Lindsey Graham, Racketeer?
"Racketeering is among the charges that Georgia authorities are considering charging Donald Trump with. They are much more likely to make that stick, however, if they can identify a confederate. So, who might that confederate be? It turns out that question may already have been answered, because the folks in Georgia are investigating Sen. Lindsey Graham (R-SC) for racketeering as well. Graham, you will recall, made his own "overturn the election results" phone call to Georgia Secretary of State Brad Raffensperger (R) more than a week before Trump did.
Racketeering carries big-time penalties, often decades rather than just years. It would also be well within the realm of possibility here that the game is to put pressure on the Senator in order to get him to flip on Trump. If there is anyone in Washington who is willing to throw anyone and everyone else under the bus to save his own neck, it's surely Lindsey Graham. https://www.electoral-vote.com/evp2021/Pres/Maps/Mar10.html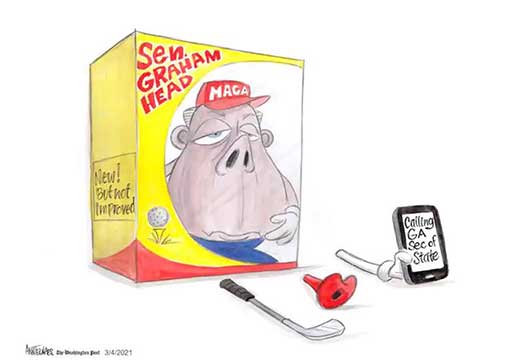 GOP grapples with extremist episodes among its own
The House GOP's No. 3 leader recently urged Republicans to make clear they're not the party of white supremacy. Two days later, one of their members spoke at a conference organized by a known white nationalist.
The whiplash between Rep. Liz Cheney's (R-Wyo.) plea and Rep. Paul Gosar's (R-Ariz.) public speech underscores just how tough it is for GOP leaders to rein in members who cater to the extreme wings of the party. As Republicans increasingly grapple with how — or even whether — to exorcise the most radical elements from their party, their leaders' jobs won't get any easier.
https://www.politico.com/news/2021/03/04/gop-extremism-473806
House impeachment manager Eric Swalwell sues Trump and close allies over Capitol riot in second major
Washington(CNN)Former House impeachment manager Eric Swalwell has sued former President Donald Trump, his son Donald Trump Jr., Rudy Giuliani and Republican Rep. Mo Brooks in a second major lawsuit seeking to hold Trump and his allies accountable for inciting the insurrection at the US Capitol on January 6.
The new lawsuit filed on Friday by Swalwell, a California Democrat who helped to lead impeachment arguments against Trump for inciting insurrection, follows a similar suit filed last month by Rep. Bennie Thompson against Trump, Giuliani and the extremist groups the Oath Keepers and Proud Boys. Swalwell's case makes some of the same claims as Thompson's -- citing a civil rights law meant to counter the Ku Klux Klan's intimidation of elected officials.
But it also alleges Trump, Trump Jr., Giuliani and Brooks broke Washington, DC, laws, including an anti-terrorism act, by inciting the riot, and that they aided and abetted violent rioters and inflicted emotional distress on the members of Congress. https://amp.cnn.com/cnn/2021/03/05/politics/trump-lawsuit-insurrection-eric-swalwell/index.html
GOP struggles to define Biden, turns to culture wars instead
The conservatives' relentless focus on culture wars rather than the new president highlights both their strategy for regaining power in Washington and their challenge in doing so. Unlike previous Democratic leaders, Biden himself simply isn't proving to be an easy target or animating figure for the GOP base, prompting Republicans to turn to the kind of cultural issues the party has used to cast Democrats as elitist and out of touch with average Americans.
"There's just not the antipathy to Biden like there was Obama. He just doesn't drive conservative outrage," said Alex Conant, a longtime GOP operative, who worked for the Republican National Committee in 2009 as they labored to undermine then-President Barack Obama. https://apnews.com/article/2d2833016a4816eb42be3d7390ac1305
Trump's House GOP fans don his mantle as they seek higher office
At least half a dozen of Donald Trump's staunchest allies in the House are exploring bids for higher office, eager to carry the Trump mantle into the Senate — as well as into governors' mansions. A wave of retirements by veteran Senate Republicans has created fresh opportunities for the House's hard-liners in deep red states such as Alabama, Ohio and Missouri. But even in states won by President Joe Biden, such as Arizona and Georgia, some of the former president's most loyal devotees are willing to test their political fortunes, hoping to seize on a deep but baseless belief on the right that the election was stolen.
The potential crop of Trumpworld candidates could usher in a new era for the more reserved Senate, with negotiators traded in for bomb throwers. And should this new breed of conservative candidate succeed, it could spell even more bad news for Biden's pledges of bipartisanship during the end of his first term in office. https://www.politico.com/news/2021/03/09/trump-allies-congress-474509
Republican donations surge to biggest backers of Trump's false election-fraud narrative
Missouri Senator Josh Hawley and Georgia Representative Marjorie Taylor Greene have been rewarded with a flood of grassroots donations, more than offsetting the loss of corporate money. And contributions from both small donors and rich individuals looking to fight the Democratic agenda have poured into the party's fundraising apparatus. https://www.reuters.com/article/us-usa-politics-republican-donations-ins/republican-donations-surge-despite-corporate-boycott-after-capitol-riots-idUSKBN2B118K
NYC prosecutors' probe into Trump finances expands to include millions loaned for Chicago skyscraper
(CNN)The Manhattan district attorney's office subpoenaed documents from an investment company that loaned the Trump Organization millions of dollars for its Chicago skyscraper in a sign that the investigation into the former president's finances continues to expand, according to people familiar with the investigation.
Prosecutors issued the grand jury subpoena to Fortress Investment Management late last year, the people said, as part of their wide-ranging investigation into former President Donald Trump and his company.. https://amp.cnn.com/cnn/2021/03/08/politics/trump-chicago-subpoena/index.html
The DAILY GRILL
The Republican Party is not the party of the country clubs, it's the party of hardworking, blue-collar men and women. — Senator Ted Cruz @SenTedCruz

VERSUS

Senator Cruz, you own a multi-million-dollar house jn Houston. You regularly stay at the Ritz-Carlton Resort & Club.Your wife is a high-level executive at Goldman-Sachs. Donald Trump lives in Mar-a-Lago, a country club with a $200k membership fee.You are such a demagogic fraud. — Ana Navarro-Cárdenas

 

"There is no evidence that white supremacists are responsible for what happened on Jan. 6 — that's a lie." — Fox's Tucker Carlson on January 7th.

VERSUS

"The attackers on Jan. 6 included a number — and the number keeps growing as we build out our investigations — of what we would call militia violent extremism. And we have had some already arrested who we would put in the category of racially motivated violent extremism, white as well. Those would be the categories so far that we're seeing as far as Jan. 6." — FBI Director Christopher Wray on the deadly Jan. 6 Capitol riot by former President Donald Trump's supporters.

 

"Not only did he refuse to answer questions at the hearing. not only did he refuse to answer questions for the record, but Judge Garland is also one of the few Biden Cabinet nominees refusing to take in person meetings with Senators – categorically refusing to take them. Multiple other Biden nominees are taking them." — Senator Cruz, failing to note that Judge Garland offered to meet with him via Zoom which Cruz refused.

VERSUS

Chairman Durbin reminded Cruz that Republicans sent Garland in writing nearly 850 questions, including 127 from Cruz. Garland answered them all. As he did in his in-person confirmation hearing.

 

"I requested … I definitely gave the number of 10,000 National Guardsmen, and [said] I think you should have 10,000 of the National Guard ready. They took that number. From what I understand, they gave it to the people at the Capitol, which is controlled by Pelosi. And I heard they rejected it because they didn't think it would look good. So, you know, that was a big mistake." — Donald Trump, in an interview with Steve Hilton of Fox News, Feb. 28, 2021

VERSUS

"Trump says he requested 10K National Guard troops at Capitol on day of riot. It would be significant if Trump actually requested the dispatch of National Guard troops at the Capitol — especially if, as Trump suggests, House Speaker Nancy Pelosi (D-Calif.) then blocked that deployment. But it did not happen." — Glenn Kessler, the Washington Post Fact Checker.
From MEDIA MATTERS (They watch Fox News so you don't have to)
To watch Fox News is to be immersed in a bizarre alternate reality ruled by tyrannical leftists who are obsessed with eliminating America's most treasured cultural artifacts, a world in which "cancel culture" ranks as a high priority in the mind of the average voter. It's a world of perpetual anger and grievance. On Tuesday and Wednesday, Fox spent almost two hours bemoaning the supposed "cancellation" of beloved children's author Dr. Seuss. Last week, network figures mourned the loss of The Muppet Show at the hands of the "woke mob" and decried the newly ambisexual Mr. Potato Head, devoting 28 and 24 minutes to the topics, respectively. https://www.mediamatters.org/fox-news/fox-news-dr-seuss-obsession-reveals-dishonest-desperation-right-wing-war-cancel-culture

Former White House chief strategist Steve Bannon's latest unhinged fantasy involves fearmongering about "transhumanism," suggesting that elites in the tech industry are attempting to control the human race and eradicate religious practices through advanced gene editing, robotics, and forced microscopic implants. https://www.mediamatters.org/steve-bannon/steve-bannons-latest-crackpot-theory-globalists-want-eradicate-religion-biotechnology

According to The Times, Mr. Gosar and a handful of other Republican members of the House had deeper ties to extremist groups who push violent ideas and conspiracy theories, and whose members were prominent among those who stormed the halls of Congress. Now, of course, The Times evidence of these deeper ties doesn't go beyond giving speeches, attending similar events, maybe even posing for photos. And the evidence that the groups in question are white supremacy militias? Well, that comes from the smear group the Southern Poverty Law Center. -- Laura Ingraham (Fox News Host). https://www.mediamatters.org/laura-ingraham/laura-ingraham-defends-rep-biggs-and-rep-gosars-ties-radical-antigovernment-group


"First of all, the Oath Keepers are pretty much a group -- it's a paper tiger of people who love this nation and who try to make their lives safer by coming together. Because there were certain people who are gear-hungry and are glory hounds and hero worshippers showed up and did what they did, they wanted to do that long before the president said come to D.C. on January 6. I didn't agree with the president telling people to come there. But the fact is, these people showed up with an agenda that went into the Capitol."  -- NEWSMAX Guest Jonathan Gilliam. https://www.mediamatters.org/newsmax/newsmax-guest-refers-militia-group-oath-keepers-people-who-love-nation

"Well, he (Trump) was surrounded by bad people. Well, whose fault was that? It was his own fault. And he's still the commander-in-chief -- or he was the commander-in-chief -- he had a duty and responsibility to step up. But he failed to do that and he allowed a ChiCom puppet into the White House and I think we now need to just declare that to be illegitimate and refuse to comply with anything that comes out of his mouth, anything he signs, anything passed as so-called legislation. Label it "pretend legislation" like the Founding Fathers did." -- INFOWARS Guest Oath Keepers Founder Stewart Rhodes. https://www.mediamatters.org/oath-keepers/oath-keepers-leader-stewart-rhodes-calls-militia-members-prepare-violence-against
Derek Brahney: Our Reality Crisis
Last month, millions of Americans watched as President Biden took the oath of office and, in a high-minded Inaugural Address, called for a new era of American unity.
But plenty of other Americans weren't paying attention to Mr. Biden's speech. They were too busy watching YouTube videos alleging that the inauguration was a prerecorded hoax that had been filmed on a Hollywood soundstage.
Or they were melting down in QAnon group chats, trying to figure out why former President Donald J. Trump wasn't interrupting Mr. Biden's speech to declare martial law and announce the mass arrest of satanic pedophiles.
Or maybe their TVs were tuned to OAN, where an anchor was floating the baseless theory that Mr. Biden "wasn't actually elected by the people."
Hoaxes, lies and collective delusions aren't new, but the extent to which millions of Americans have embraced them may be. Thirty percent of Republicans have a favorable view of QAnon, according to a recent YouGov poll. According to other polls, more than 70 percent of Republicans believe Mr. Trump legitimately won the election, and 40 percent of Americans — including plenty of Democrats — believe the baseless theory that Covid-19 was manufactured in a Chinese lab.
The muddled, chaotic information ecosystem that produces these misguided beliefs doesn't just jeopardize some lofty ideal of national unity. It actively exacerbates our biggest national problems, and creates more work for those trying to solve them. And it raises an important question for the Biden administration: How do you unite a country in which millions of people have chosen to create their own version of reality? https://www.nytimes.com/2021/02/02/technology/biden-reality-crisis-misinformation.html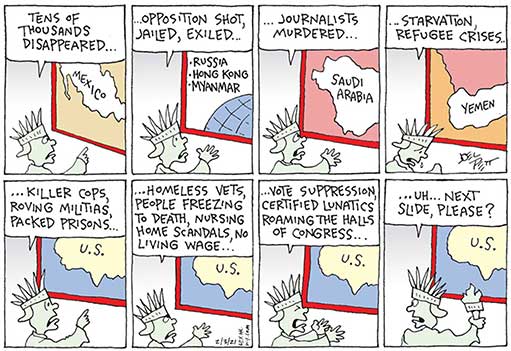 Masha Gessen: Trump's Strategy for Returning to Power Is Already Clear
Viktor Orbán became the Prime Minister of Hungary in 1998. Four years later, with a record number of Hungarians turning up to the polls, his party lost power. The next day, Orbán's allies claimed voter fraud and demanded recounts, and although these demands were rejected, Orbán continued to claim that the election had been stolen. In 2010, after eight years leading the opposition, Orbán and his party, Fidesz, returned to power with a supermajority—enough to change the constitution and begin rapidly consolidating autocratic power. Orbán has not left office in the decade since.
Of course, Orbán, Trump, and other populists do not deliver actual solutions. The challenge for the party in power is to create solutions, proving in practice that solidarity can be more rewarding than selfishness. The Hungarian government in power during Orbán's period in the opposition faced all the familiar pitfalls: it responded to a budgetary shortfall by requiring tuition payments at public universities and co-payments for medical services. These wildly unpopular and painful austerity measures only solidified support for Fidesz. The secret to saving the American system of government, according to Magyar, is not much of a secret. Will the Biden Administration and the Democratic Congress raise the minimum wage; provide all Americans with accessible and reliable health care; introduce a wealth tax; cancel student debt; and invest in infrastructure, particularly in rural areas? These are existential questions for both American society and the American political system. https://www.newyorker.com/news/our-columnists/trumps-strategy-for-returning-to-power-is-already-clear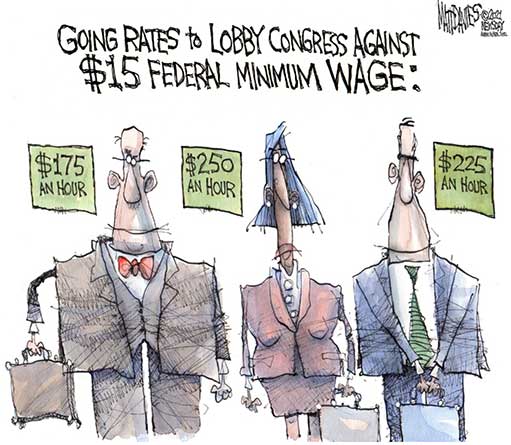 Caleb Ecarma: On Fox News, Dr. Seuss Is The Latest Battle In The Cancel Culture Wars
While America has changed drastically since Obama's first term, Fox News has not. Less than two months have passed since Joe Biden's inauguration, and the network is already responding to the country's new era by obsessing over similarly absurd and imaginary battlefronts. Even as the coronavirus pandemic approaches its one-year anniversary this month, and more than half a million people in the U.S. have died and counting, Fox News is preoccupied with fighting back the woke mobs who are hellbent on erasing every cultural signifier beloved by conservative America.
Last week Fox News decided that The Muppet Show was the latest cultural entity to be victimized by cancel culture––an overreaction in light of a content disclaimer being added to the streaming versions of some episodes. After Hasbro announced its Mr. Potato Head product would become gender-neutral, the network then aired numerous outraged segments aimed at the toy company's decision. "I haven't gotten past the assassination of Mr. Potato Head,"  said Fox News contributor Jason Chaffetz earlier this week, adding that the same people were now "trying to take out Dr. Seuss." (In reality, most Dr. Seuss books are still very much in circulation and will remain so; The Muppet Show is still fully available to stream on Disney+; and Mr. Potato Head has not been assassinated.)
The Dr. Seuss-gate began last week, when the Daily Wire claimed that a Virginia public school district was taking "marching orders" from a progressive group "demanding that Dr. Seuss be canceled," as it requested that the annual Read Across America Day drop its connection to the author. In fact, the county school board had merely suggested that its schools "not connect Read Across America Day with Dr. Seuss's birthday exclusively."
Two days later Fox & Friends was still going strong on "the rise of cancel culture," airing a Thursday morning segment in which the child of Fox News contributor Rachel Campos-Duffy spoke out against the decision to drop the Dr. Seuss books. But by the early afternoon, the network had found its next inane hill to die on: Jeep considering whether to drop the "Cherokee" name from one of its models. https://www.vanityfair.com/news/2021/03/fox-news-dr-seuss-cancel-culture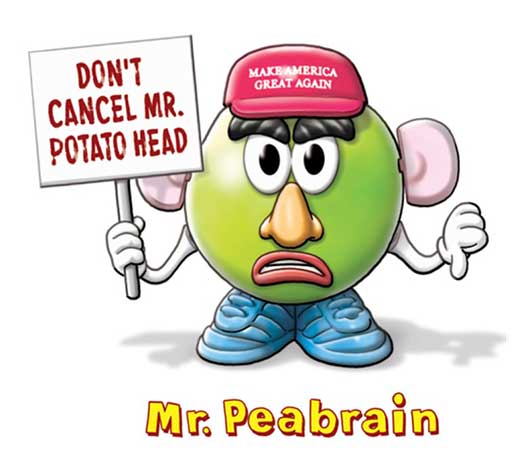 Laurie Roberts: Why are no Republicans condemning Rep. Paul Gosar for cozying up to white nationalists?
Rep. Paul Gosar, the congressman who promoted an astonishing number of baseless claims about a stolen election in 2020 and helped organize at least one "Stop the Steal" rally with his pal Ali Alexander. One who, according to Alexander, helped "scheme up" the Jan. 6 rally that led to the deadly Capitol attempt to stop Congress from certifying the election results.
Now he's paling around with white nationalists and the response of his fellow Republicans is … silence?
It began on Friday when Gosar sent word to the House that he wouldn't be physically present for a vote on COVID-19 relief due to "the ongoing public health emergency." A few hours later, he turned up in Orlando, Fla., to speak to the America First Political Action Conference.
In the days leading up to the event, America First founder Nick Fuentes announced that there would be a special guest at his conference. Then he delivered on that promise, landing Gosar as his headliner.
It's a big score, after all, for white nationalists to lure a sitting member of Congress to their stage, something they can promote as a a signal of tacit support for their movement. No other elected official appeared at the event.
Gosar gave the evening's keynote speech, waxing on about immigration and Donald Trump's loss and social media censorship.
"I suggest that senators and members of Congress that fail to put America first should be held accountable at the ballot box," Gosar told the group. "This is the era of America first, not some reincarnation of neocon control."
Gosar posed for pictures with former Rep. Steve King, the Iowa Republican who in 2019 wondered aloud when the term "white supremacist" became offensive.  https://www.azcentral.com/story/opinion/op-ed/laurieroberts/2021/03/01/paul-gosar-cozying-up-afpac-bad-what-happened-next-worse/6873068002/
James Hohmann: The fake anger of Neander-gate shows how desperate Republicans are to keep the base riled up
Neanderthals went extinct about 30,000 years ago, but that did not stop Sen. Marsha Blackburn (R-Tenn.) from speaking affectionately about them on Thursday in the present tense. "Neanderthals are hunter-gatherers," she said on Fox Business. "They're protectors of their family. They are resilient. They're resourceful. They tend to their own. So I think Joe Biden needs to rethink what he is saying."
What President Biden said, correctly, is that the Republican governors of Texas and Mississippi are making "a big mistake" by rescinding mask mandates when new coronavirus variants are spreading. "The last thing we need is Neanderthal thinking," Biden said on a day when 2,492 more Americans died of the contagion.
Conservative media figures and their GOP guests rushed to strip the president's comment of context and feign injury, presenting the remark as if Biden had referred to all Republicans as Neanderthals. "Simply giving freedoms causes Joe Biden — 'the great uniter' — to call us Neanderthals," former White House press secretary Kayleigh McEnany said on her debut appearance as a paid Fox analyst.
The familiar chorus of faux indignation from the bad-faith brigade illustrates more than just how reflexive and juvenile the discourse has become. This week also put into stark relief how leading Republicans hope to fight their way out of the wilderness by leaning into grievance and picking culture war battles. Dr. Seuss and Mr. Potato Head generated more commentary from the most popular pundits on the right than the $1.9 trillion covid relief bill that passed the Senate on a party-line vote Saturday. https://www.washingtonpost.com/opinions/2021/03/06/-neanderthal-republicans-fake-anger/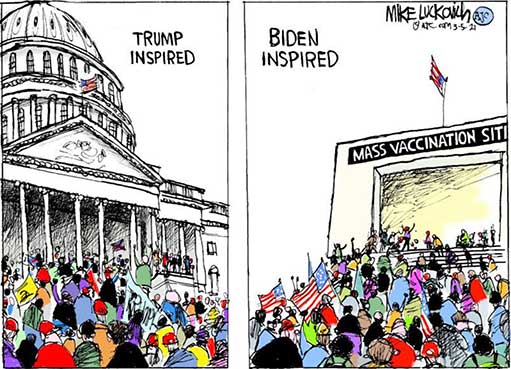 Jonathan Chait: Joe Manchin Says He Might Reform the Filibuster and Save American Democracy
Manchin can propound on the need to allow consideration of bills, and permit Republicans to speak on them extensively, because those are not the actual goals of filibuster supporters. The real purpose of the mechanism is to impose a 60-vote requirement (one that has already been eliminated for executive-branch appointments, fiscal policy, and judges).
What makes the cause so pressing is that, in the wake of Donald Trump's failed autogolpe, Republicans are undertaking a national wave of voter suppression. Their professed goal is to "restore confidence" in elections. But since the only reason for voters to lack confidence in the accuracy of election results is lies circulated by Trump and his allies, the only conditions under which confidence can be restored is Republican victories. Fair elections with high levels of participation is what Republicans don't have confidence in.
Vote-suppression measures currently racing through legislatures in states like Georgia include bans on Sunday voting, a staple of the Black community's mobilization, and even bans on giving water and snacks to voters standing in lines. The latter may seem like a trivial change, but the Republican vote-suppression agenda is designed to create long voting lines in Black areas, in part be preventing early and mail voting that reduce the pressure on Election Day turnout. Attending to the hunger and thirst of voters in lines that can last for hours is the most minimal palliative, and even that is too much for Republicans to concede.
All this is to say that the status quo is not one of the possible options. Either Republicans will crack down on voting and re-gerrymander legislative maps to lock in their majorities for a decade starting with the midterm elections, or else Democrats will pass reforms to give voters a chance. Manchin seemed to have closed the door on allowing such reforms. Now he has cracked it open. https://nymag.com/intelligencer/2021/03/joe-manchin-reform-filibuster-senate-democracy-voting-rights.html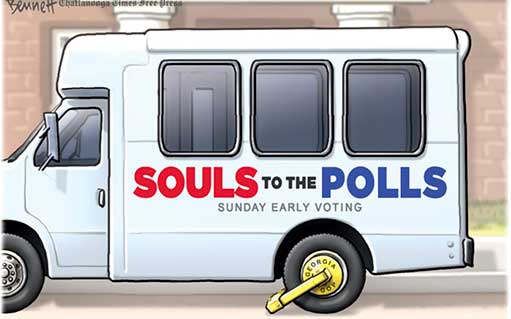 Jelani Cobb: What Is Happening to the Republicans?
The most widely debated political question of the moment is: What is happening to the Republicans? One answer is that the Party's predicament might fairly be called the revenge of "the kooks." In just four years, the G.O.P., a powerful, hundred-and-sixty-seven-year-old institution, has become the party of Donald Trump. He began his 2016 campaign by issuing racist and misogynistic salvos, and during his Presidency he gave cover to white supremacists, reactionary militia groups, and QAnon followers. Trump's seizure of the Party's leadership seemed a stunning achievement at first, but with time it seems more reasonable to ponder how he could possibly have failed. There were many preexisting conditions, and Trump took advantage of them. The combination of a base stoked by a sensationalist right-wing media and the emergence of kook-adjacent figures in the so-called Gingrich Revolution, of 1994, and the Tea Party, have redefined the Party's temper and its ideological boundaries. It is worth remembering that the first candidate to defeat Trump in a Republican primary in 2016 was Ted Cruz, who, by 2020, had long set aside his reservations about Trump, and was implicated in spurring the mob that attacked the Capitol.
The fraught discussions over the G.O.P.'s future are really debates about whether the current Party is capable of adapting to modern circumstances again—or whether it will turn into a more malign version of itself, one even more dependent on white status anxieties. As Heather Cox Richardson, a historian at Boston College and the author of "To Make Men Free," a history of the Republican Party, told me, "When you see the collapse of parties it is usually because you have some problem of the existing party system coming up against a major new change."
The Republican Party itself was built on the ruins of the Whigs, a party that broke apart in the tempests leading up to the Civil War. Marsha Barrett mentioned a passage to me from Herbert Hoover's address to the 1936 Republican Convention, four years after he had lost the White House to Franklin Roosevelt, in which he issued a warning about what becomes of parties that fail to navigate the critical issues and circumstances of their time. "The Whig Party," Hoover said, "temporized, compromised upon the issue of slavery for the Black man. That party disappeared. It deserved to disappear." Hoover was speaking in the midst of the Great Depression, but his larger point was that parties are not necessarily permanent political fixtures. Considering that history, it's worth asking whether the party of Lincoln, now the party of Trump, is engaged in conflicts so intense that it will go the way of the Whigs. https://www.newyorker.com/magazine/2021/03/15/what-is-happening-to-the-republicans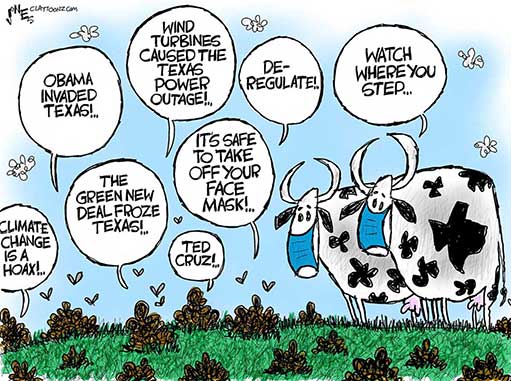 Eugene Robinson: Democrats shouldn't wait for Republicans to come to their senses
I think the GOP is misreading the moment and the country. But even Republicans who know how to read poll numbers have to deal with the fact that the party's base is still in thrall to former president Donald Trump, which pretty much takes subtlety and nuance off the table. "Trump good, Biden bad" is what passes for a GOP platform these days. 
There may come a day when Trump's influence over his party has waned to the point where it would make sense for Biden and the Democrats to attempt to boost the GOP's small anti-Trump wing. Such efforts would be futile now, however. If Biden can't get Republicans to vote for a bill that three-quarters of the public supports, he probably can't get them to vote for anything. He should keep reaching across the aisle but shouldn't expect anyone to reach back — and he shouldn't let that stop him from acting once he's made the effort.
That means the next big spending measure on the administration's agenda — an infrastructure bill — may also have to be passed via the Senate's no-filibuster reconciliation process, however West Virginia's Joe Manchin III (D) may balk at the prospect. Infrastructure used to be the one thing both parties could always agree on, because there are roads and bridges in every congressional district. Now, once again, even an infrastructure bill might be legislation that is highly popular across the country, but that Republicans are too frightened to vote for.
Republicans are genuinely united against another issue of vital importance to Democrats: expanding and guaranteeing the right to vote. The GOP fears, with good reason, that unless they can suppress the votes of major Democratic constituencies, especially people of color, the Republican Party will be reduced to long-term minority status. If the ambitious For the People Act is to make it through the Senate, Democrats are going to have to get around the filibuster. Suspending it for one piece of legislation isn't the same as abolishing it for all time.
Do Biden and the Democrats risk overplaying their hand if they plow ahead in this manner? Perhaps, but Republicans are leaving them little choice. And so far in the Biden era, good policy looks like good politics. https://www.washingtonpost.com/opinions/democrats-shouldnt-wait-for-republicans-to-come-to-their-senses/2021/03/08/5fac222a-8044-11eb-ac37-4383f7709abe_story.html