April 4, 2019
ON THE RECORD. . .
"No thank you Mr. Attorney General. We do not need your interpretation. Show us the report and we can draw our own conclusions. We don't need you interpreting for us. It was condescending, it was arrogant and wasn't the right thing to do. The sooner they can give us the information, the sooner we can make a judgment about it." — Speaker Nancy Pelosi
"If the bully gets close, I'll punch the bully in the mouth. It would be a mistake to confuse courtesy with courage." — Puerto Rico Gov. Ricardo Rosselló saying that he would not sit back and allow his officials to be bullied by the White House.
"You look at the fact that we would have been powered by wind which wouldn't have worked by the way because it only blows sometimes and lots of problems come about." (Trump on Fox News) ..... "If Hillary got in… you'd be doing wind. Windmills. Weeeee. And if it doesn't blow, you can forget about television for that night. 'Darling, I want to watch television.' 'I'm sorry! The wind isn't blowing.' I know a lot about wind." (Trump at a rally in Michigan).
"I'm smarter than they are, I went to better schools than they did, I have better apartments than they have, I'm better educated all around. I have a much more beautiful house, much more beautiful anything. And I'm president and they're not."  — Trump comparing himself to "liberal elites."
"To say 'Donald Trump cheats' is like saying 'Michael Phelps swims. He cheats at the highest level. He cheats when people are watching and he cheats when they aren't. He cheats whether you like it or not. He cheats because that's how he plays golf … if you're playing golf with him, he's going to cheat." — Rick Reilly in his new book, "Commander in Cheat: How Golf Explains Trump."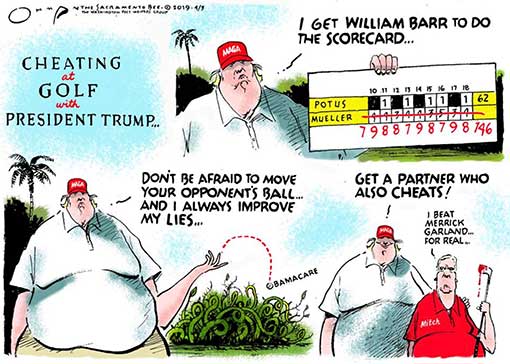 "We are safe not despite the fact that we are a city of immigrants and asylum seekers. We are safe because we are a city of immigrants and asylum seekers. We have learned not to fear our differences, but to respect and embrace them."— Beto O'Rourke
Barr has acted from the very beginning as Donald Trump's Roy Cohn. He has served the president and not the country. His initial letter was inexcusable in seizing from Congress, for as long as he could get away with it, the role of deciding on his own, in the inexplicable absence of a determination by Robert Mueller, whether Trump was guilty of obstruction and would be indictable but for the DOJ policy against prosecuting a sitting president." — Constitutional scholar Laurence Tribe, referring to Trump's former fixer and attack dog.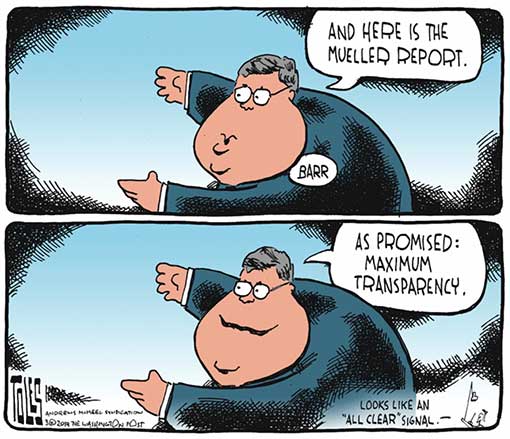 "He proceeded to plant a big slow kiss on the back of my head. My brain couldn't process what was happening. I was embarrassed. I was shocked. I was confused. I couldn't move and I couldn't say anything. I wanted nothing more than to get Biden away from me. My name was called and I was never happier to get on stage in front of an audience." — Lucy Flores, about an "inappropriate encounter" with former Vice President Joe Biden when he campaigned for her in 2014.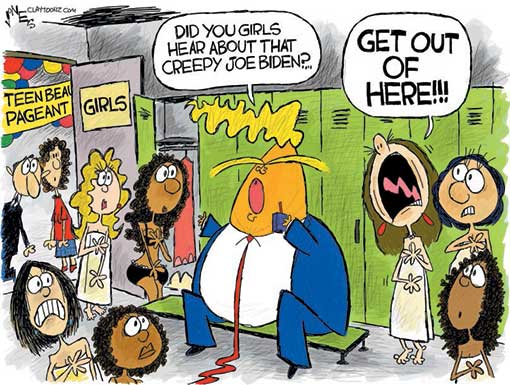 "The best thing that ever happened to Puerto Rico is President Donald J. Trump. …" — Trump tweet.
Republicans are developing a really great HealthCare Plan with far lower premiums (cost) & deductibles than ObamaCare. In other words it will be far less expensive & much more usable than ObamaCare. Vote will be taken right after the Election when Republicans hold the Senate & win…… — Trump tweet.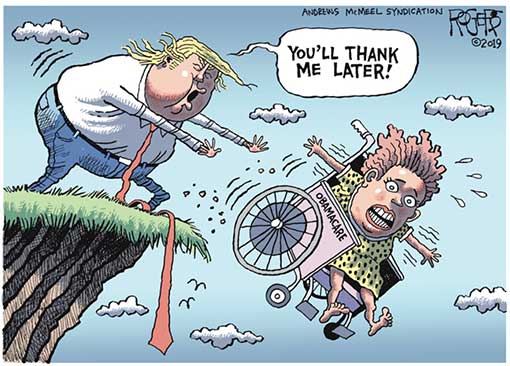 "After three years of lies and smears and slander, the Russia hoax is finally dead. "The collusion delusion" is over. They're on artificial respirators right now. They're giving mouth-to-mouth resuscitation. Little pencil-neck Adam Schiff. He's got the smallest, thinnest neck I've ever seen."-- Donald Trump at the Grand Rapids rally
---
IN THIS ISSUE
FYI
OPINION
1. Andy Borowitz: Germany Demands Apology After Trump Claims Father Was Born There
German Chancellor Angela Merkel demanded that Donald Trump issue a "complete and sincere apology" to the German people, after Trump claimed incorrectly, on Tuesday, that his father was born in Germany.

"Of the many insulting things that Donald Trump could say to the German people, alleging that his father was born here is by far the most hurtful," she said. "He must take it back at once."

Merkel said that Germany would consider breaking off diplomatic relations with the U.S. immediately if Trump did not acknowledge "that his father was born somewhere else."

Despite widely available evidence that Trump's father, Fred Trump, was born in the Bronx, the White House press secretary, Sarah Huckabee Sanders, stuck by Trump's story on Tuesday afternoon. "The President is proud that his father was born in a great foreign country like Germany, and not in a bad foreign country like Puerto Rico," she said. https://www.newyorker.com/humor/borowitz-report/
2. Trump has made 9,451 false or misleading claims over 801 days
It was only 200 days ago, on his 601st day in office, that President Trump exceeded 5,000 false or misleading claims.
Now, on his 801st day, the count stands at 9,451, according to The Fact Checker's database that analyzes, categorizes and tracks every suspect statement the president utters. That's a pace of 22 fishy claims a day over the past 200 days, a steep climb from the average of nearly 5.9 false or misleading claims a day in Trump's first year in office." https://www.washingtonpost.com/politics/2019/04/01/president-trump-has-made-false-or-misleading-claims-over-days/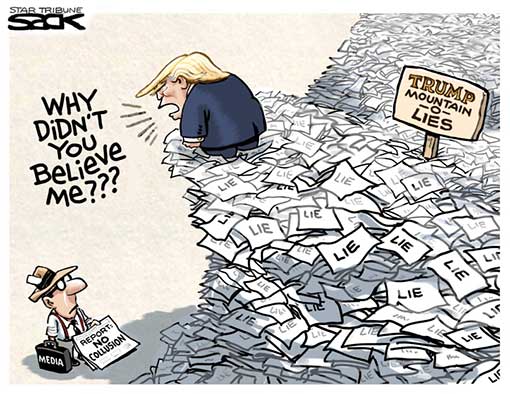 3. Trump's 2020 Platform: A Magical Healthcare Plan That Doesn't Exist
Last week, the Justice Department came out in support of litigation brought by the attorneys general of several Republican-controlled states that would effectively strike down the Affordable Care Act. Trump was delighted, tweeting in response that the "Republican Party will become the Party of Great HealthCare!" while bashing the ACA, also known as Obamacare. He soon began touting a new Republican healthcare plan that was allegedly being developed.
But on Tuesday, the New York Times reported that no such effort was underway, nor would it be until after the 2020 election. "I pointed out to him the Senate Republicans' view on dealing with comprehensive healthcare reform with a Democratic House of Representatives," Senate Majority Leader Mitch McConnell told the Times of his conversations with Trump, adding that he "made it clear to him that we were not going to be doing that in the Senate."
Nevertheless, Trump continued to promise that a Republican plan is in the works while speaking at a National Republican Congressional Committee fundraiser Tuesday night. "We're going to come up with a healthcare plan. We're not going to vote on it until after the election. We'll all promise it's going to be our first vote. We blew it last time. Some of you… I'm still a little bit angry, but not all of you. It wasn't even your fault. We should have done it when we had the position. We're going to get it back, and it's going to be a better plan. We're going to give a great healthcare plan, and we're going to campaign on that plan. It's going to be much less expensive than Obamacare and much more usable in terms of deductibles." https://www.rollingstone.com/politics/politics-news/trumps-2020-platform-817163/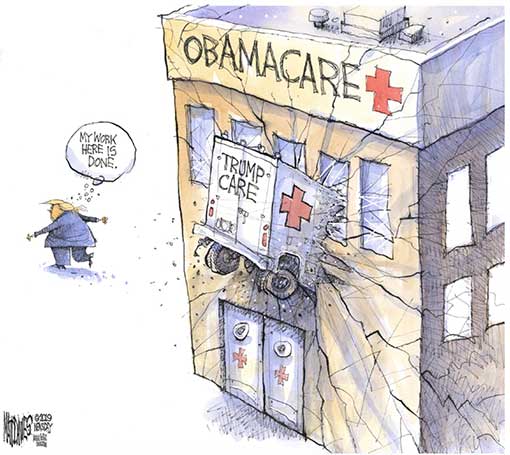 4. Trump Tests Post-Mueller Vengeance Campaign
Donald Trump feels vindicated. And now he's out for blood.
Wearing the same red tie he wore on Inauguration Day, Trump took the stage in Michigan on Thursday for the first time since being cleared of Russian conspiracy charges and proceeded to tear through a vengeance-laced speech that felt as much like a second inaugural as it did a campaign rally.
One by one in front of a packed audience, Trump ticked through those who he felt wronged him over the 22-month Russia probe that dogged his presidency — from lawmakers to television pundits — egging the adoring crowd on as it chanted, "Lock them up." And he expressed sympathy for those caught up in the probe, describing them as "innocent" individuals badly damaged by "an elaborate hoax," amid speculation that he will pardon former aides facing Mueller-related prison time. https://www.politico.com/story/2019/03/28/trump-campaign-rally-michigan-1243156
5. Trump Ally Jerry Falwell's Liberty University Has Pentagon Contracts
Just months after President Trump took office, the federal government signed a contract to buy hundreds of thousands of dollars worth of jet fuel from a university run by one of the president's top political supporters."
The Pentagon's energy-procurement arm inked the contract, valued at nearly $900,000, with a company called Freedom Aviation on May 9, 2017, and has purchased more than $400,000 in turbine fuel from the company since then. Freedom Aviation is wholly owned by Liberty University, a conservative school in Lynchburg, Virginia, led by high-profile Trump supporter Jerry Falwell Jr." https://www.thedailybeast.com/jerry-falwells-liberty-university-landed-pentagon-contract-months-after-trumps-election
6. Trump Fed pick was held in contempt for failing to pay ex-wife over $300,000
Stephen Moore, the economics commentator chosen by Donald Trump for a seat on the Federal Reserve board, was found in contempt of court after failing to pay his ex-wife hundreds of thousands of dollars in alimony, child support and other debts.
Court records in Virginia obtained by the Guardian show Moore, 59, was reprimanded by a judge in November 2012 for failing to pay Allison Moore more than $300,000 in spousal support, child support and money owed under their divorce settlement.
Moore continued failing to pay, according to the court filings, prompting the judge to order the sale of his house to satisfy the debt in 2013. But this process was halted by his ex-wife after Moore paid her about two-thirds of what he owed, the filings say.
In a divorce filing in August 2010, Moore was accused of inflicting "emotional and psychological abuse" on his ex-wife during their 20-year marriage. Allison Moore said in the filing she had been forced to flee their home to protect herself. She was granted a divorce in May 2011. https://www.theguardian.com/us-news/2019/mar/30/trump-stephen-moore-federal-reserve-board
7. 'Enemy of the People' Attacks Are Working
President Trump's inflammatory rhetoric about the media is not his only rhetoric that presents a sharp departure from the behavior of his predecessors. Trump's criticisms of Democrats, the FBI, the Justice Department, and others are unprecedented and are amplified both in terms of scope and legitimacy by his role as president of the United States. Our analysis finds this is having a major impact on partisan animosity, particularly among Republican voters.
Pew Research Center's Political Polarization in the American Public report found that in 2014, 27% of Democrats and 36% of Republicans believed their political counterparts presented a threat to the well-being of the country. Just 5 years later, in our survey, these numbers have doubled for both parties, reaching catastrophic levels among Republican voters. Heading into the 2020 election, 7 out of 10 Republican voters believe that the views of Democrats threaten the well-being of the country, up 35 points since Pew's study. A new Wason Center poll finds that 86% of Republican voters and 61% of independent voters say major American news organizations publish fake news stories for political purposes. http://wasoncenter.cnu.edu/wp-content/uploads/2019/04/Wason-Center-2020-National-Survey-Report-Final.pdf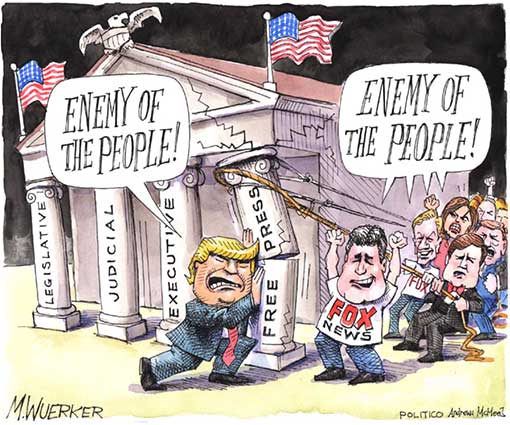 8. Homeland Security Disbands Domestic Terror Intelligence Unit
The Department of Homeland Security has disbanded a group of intelligence analysts who focused on domestic terrorism, The Daily Beast has learned. Numerous current and former DHS officials say they find the development concerning, as the threat of homegrown terrorism—including white supremacist terrorism—is growing.
In the wake of this move, officials said the number of analytic reports produced by DHS about domestic terrorism, including the threat from white supremacists, has dropped significantly. People in and close to the department said this has generated significant concern at headquarters.
"It's especially problematic given the growth in right-wing extremism and domestic terrorism we are seeing in the U.S. and abroad," one former intelligence official told The Daily Beast. https://www.thedailybeast.com/homeland-security-disbands-domestic-terror-intelligence-unit
9. E-Mails Show Ivanka's Lawyer Asked For Changes To Michael Cohen's Congressional Testimony
An e-mail exchange between Cohen and his then attorney, Stephen Ryan, outlined changes that Ryan said Lowell had asked them to make in order to distance Ivanka from the Moscow deal. Attached to the e-mail were drafts he said were Lowell's suggested edits.  https://www.vanityfair.com/news/2019/03/how-ivankas-lawyer-sought-to-influence-cohens-testimony
10. Republicans warn Trump to back off economy-wrecking tariffs
Republicans are trying to head off their next potentially explosive conflict with President Donald Trump.
In a series of private meetings and conversations with Trump over the past few months, Senate Republicans have pleaded with him not to impose a new round of tariffs on foreign automakers — fearing they could debilitate Trump-backed states and cast the economy into a recession ahead of the 2020 election.
But Trump isn't heeding the warnings so far.
Behind closed doors, GOP senators push back on Trump consistently when he brings up existing tariffs on steel and aluminum or potential tariffs on automakers, according to Republican senators. But Trump doesn't back down from his position: He says the threat of tariffs gets the attention of trading partners — like China — who need to permit more imports of American products.
"The president likes tariffs as a threat. I hope he understands that the auto tariffs damage the autoworkers" in Midwest and southeastern states. "And I know he cares a lot about them. So I'm hopeful that he won't do that," said Sen. Lamar Alexander of Tennessee, where Nissan and Volkswagen have plants. But, he added: "If I were Japan and Europe, I wouldn't relax."
Whether GOP senators can head off another round of tariffs ultimately lies with the whims of the president. Administration officials have tried to reassure worried Republicans that the president has hit pause as he considers a trade report that would allow him to declare tariffs on the basis of national security. https://www.politico.com/story/2019/03/27/trump-auto-tariff-republicans-1240519
11. The DAILY GRILL
"The special counsel completed its report and found no collusion and no obstruction. … Total exoneration, complete vindication." — Trump at a rally in Michigan 

VERSUS

Mr. Barr quoted the special counsel as stating that "while this report does not conclude that the President committed a crime, it also does not exonerate him," and wrote that Mr. Mueller did not draw conclusions about whether Mr. Trump's conduct amounted to obstruction of justice.-- Linda Qiu in the NY Times

 

"I'm going to get, in honor of my friends, full funding of $300 million for the Great Lakes Restoration Initiative, which you have been trying to get for over 30 years." — Trump at a rally in Michigan 

VERSUS

The Great Lakes Restoration Initiative, a program for restoring the ecosystem of the Great Lakes, was first implemented by the Obama administration in 2010. Federal funding ranged from nearly $300 million to $450 million every year under Mr. Obama. Mr. Trump requested no funding at all for the initiative in his 2018 budget request, effectively eliminating the program, though Congress ended up appropriating nearly $300 million. His latest budget proposes a 90 percent cut to the program, reducing funding to $30 million. — Linda Qiu in the NY Times

 

The Trump administration said Saturday that it intends to end foreign assistance programs for Guatemala, Honduras and El Salvador, a move that Democrats called "reckless" and "counterproductive" in addressing the problems that cause people to flee to the U.S.  -- NBC News reports.

VERSUS

"We can try to solve the problems of Central America here at our front door, at the Texas-Mexico border. Or we can invest in the opportunities to help the people of Central America — where they are at home." — Beto O'Rourke

 

"I think that it's been very well stated that we've done a fantastic job. ... The father gave the child no water for a long period of time - he actually admitted blame." — to reporters Friday. — Trump is misrepresenting the circumstances of a 7-year-old migrant girl's death as he seeks to steer any potential blame for it away from his administration. — Trump

VERSUS

The El Paso County Medical Examiner's office said traces of streptococcus bacteria were found in Jakelin's lungs, adrenal gland, liver, and spleen, and she experienced a "rapidly progressive infection" that led to the failure of multiple organs. — Robert Moore and Maria Sacchetti in the WA Post


Puerto Rico got 91 Billion Dollars for the hurricane, more money than has ever been gotten for a hurricane before, & all their local politicians do is complain & ask for more money. -- Donald J. Trump@realDonaldTrump

VERSUS

That's simply false. This was a 20-year estimate subject to change. The island so far has only received about $11 billion. -- Washington Post
12. From MEDIA MATTERS (They watch Fox News so you don't have to)
Fox wants President Trump to pardon Robert Mueller's "victims." The Trump propaganda network's clemency list includes Stone, Flynn, and Papadopoulos. https://www.mediamatters.org/blog/2019/03/28/fox-wants-president-trump-pardon-robert-mueller-s-victims/223272

Fox's Kilmeade suggests there's no need to release Mueller report because of previous reporting on Trump officials' wrongdoings. Kilmeade: "I'm sure there's going to be some things negative on the president," but "we know all about it." https://www.mediamatters.org/video/2019/03/29/foxs-kilmeade-suggests-theres-no-need-release-mueller-report-because-previous-reporting-trump/223284

"You guys on this network have tortured this man for two years with collusion, and nobody has apologized for it," Giuliani said. "Apologize for the overreaction to collusion," White House press secretary Sarah Huckabee Sanders said, "I think Democrats and the liberal media owe the president and they owe the American people an apology. They wasted two years and created a massive disruption and distraction." https://www.mediamatters.org/blog/2019/03/29/no-news-outlets-do-not-owe-right-wing-media-apology-their-coverage-muellers-russia-investigation/223268

Fox News dominates coverage of caged migrants in El Paso with anti-immigrant fearmongering, pro-government spin, and calls for stricter laws. Fox coverage frequently framed the inhumane conditions as an unfortunate necessity, and suggested solutions including "deport Central Americans right away." https://www.mediamatters.org/blog/2019/03/29/fox-news-dominates-coverage-caged-migrants-el-paso-anti-immigrant-fearmongering-pro-government-spin/223288

Fox host complains that the pope "is weak on the border wall." Pope Francis taking a shot at President Trump, saying that those who close borders, quote, "will become prisoners of the walls that they build." Liz? Pope's getting political again. https://www.mediamatters.org/video/2019/04/01/fox-host-complains-pope-weak-border-wall/223300

Fox regular argues closing the border is worth economic cost: "It's about time Americans in this generation were subjected to sacrifice." Brad Blakeman: "I will sacrifice my avocados to have a safe border. And it's about time Americans in this generation were subjected to sacrifice." https://www.mediamatters.org/video/2019/04/02/fox-regular-argues-closing-border-worth-economic-cost-its-about-time-americans-generation-were/223306

On Fox, Sean Hannity delivers the show QAnon believers want to watch. As Fox News increasingly winks at the conspiracy theory, QAnon followers cheer Hannity after "Q" tells them to watch his show. https://www.mediamatters.org/blog/2019/04/02/On-Fox-Sean-Hannity-delivers-the-show-QAnon-believers-want-to-watch/223301
13. From the Late Shows
Full Frontal with Samantha Bee: Collusion Conclusion: https://www.youtube.com/watch?v=0de_G4z_nVo

Mueller Report Cold Open - SNL: https://youtu.be/O22U8JDxGuM

Weekend Update: Jeanine Pirro - SNL: https://youtu.be/b_y7gs4QTTU

John Oliver - The Mueller Report on Last Week Tonight 03/31/2019 (HBO): https://youtu.be/O5xPJe8ocpA

The Late Show with Stephen Colbert: Trump Promises A Healthcare Plan, Someday. https://youtu.be/-twm7ldMOtI
14. Trump's North American trade deal at risk of stalling in Congress
Trump's effort to rework a major trade deal with Canada and Mexico is showing increasing signs of faltering on Capitol Hill, straining under a variety of angry complaints from lawmakers of both parties who won't commit to backing the plan.
Trump reached agreement with Canada and Mexico last year to update the 1994 North American Free Trade Agreement. But Congress must approve the deal, and the White House has been unable to mollify the growing group of critics.
The administration's goal is to get the pact approved ahead of Congress's annual August recess. It's not clear whether that timeline is realistic. But delaying action past Labor Day could greatly increase political risk because of the accelerating presidential campaign. https://www.washingtonpost.com/business/economy/north-american-trade-deal-faces-early-headwinds-on-capitol-hill/2019/03/29/ef5b0d0c-5178-11e9-88a1-ed346f0ec94f_story.html
15. Pirro Calls for Jailing of Trump's 'Traitorous' Accusers
Jeanine Pirro returned to Fox News after two weeks off the air and let loose with a tirade against the "traitorous, treasonous" investigators who probed President Trump's ties to Russia, claiming another "coup" may be in the works if Trump's accusers don't "face behind the bars justice."
Among her guests was Trump lawyer Rudy Giuliani, who praised her as a "crusader for justice." Giuliani also called for the Justice Department to investigate those "who tried to perpetrate a fraud against the American people" and said former acting FBI Director Andrew McCabe "should be in jail for perjury." https://twitter.com/JudgeJeanine/status/1112162646651006982
16. The Company offering detained migrants, who can't afford their bonds, freedom—at a Price
Libre by Nexus offers a path to reunite with their families, but with heavy trade-offs. Video at: https://thescene.com/watch/thenewyorker/the-company-offering-detained-migrants-freedom-at-a-price
17. Most Americans are a-OK with a gay presidential candidate
A new NBC News/Wall Street Journal poll finds that a combined 68% of Americans are either enthusiastic (14%) or comfortable (54%) with a presidential candidate who is gay or lesbian.
As recently as 2006, more than half of Americans said they would be "very uncomfortable" (34%) or have "reservations" (19%) about a gay or lesbian person running for president. https://www.nbcnews.com/card/most-americans-are-ok-gay-presidential-candidate-s-big-shift-n98954
18. Number of refugees down sharply, again, under restrictions set by Trump administration
The latest refu­gee statistics show the dramatic impact of the Trump administration's overhaul of the U.S. immigration system, beginning with an executive order in the president's first week in office. He suspended refu­gee admissions, blocked refugees from some predominantly Muslim countries and lowered the admissions ceiling by more than half. Refugee numbers have plummeted so much that some resettlement centers have closed offices around the country.
Last year's admissions were the lowest since Congress created the refu­gee program in 1980 for people fleeing persecution — just half the maximum of 45,000 were actually accepted to resettle in the United States. https://www.washingtonpost.com/world/national-security/number-of-refugees-down-sharply-again-under-restrictions-set-by-trump-administration/2019/04/02/94251ef4-54b7-11e9-814f-e2f46684196e_story.html
1. Jonathan Chait: The President As Adolescent Bully
Trump's use of bullying tactics against his rivals for the Republican nomination in 2015–2016 played a critical role in endearing him to the Republican base. Trump's rollouts of new terms of abuse for his rivals have become mini-events celebrated by his fans. The Trump campaign capitalized on the new insult by hawking celebratory T-shirts. His continued use of these methods, and the delight it gives his supporters reveals something important about what binds them together.
Bullying is most closely associated with adolescence, because teenagers are most naturally prone to it. Children that age tend to lack empathy or well-developed moral worldviews, and they often gravitate toward peers who engage in displays of dominance and cruelty. It is also the age when people are most prone to judge themselves and others by their appearance, and when social relations tend to be the most hierarchical.
Like a teenage bully, Trump fixates on a superficial characteristic in his target. He mocks male targets (Marco Rubio, Schiff, Bob Corker) as short, and a variety of women as fat or ugly. When reporter Serge Kovaleski challenged one of his lies, Trump mimicked his disability. He mocked Senator Charles Schumer for tearing up over Trump's Muslim ban, either disgusted or unable to comprehend that somebody would empathize with the plight of immigrants.
Trump's innovation of winning the election through adolescent-style bullying has carried over to his presidency. Presidents traditionally inculcate the virtues of decency, gentleness, and generosity as part of their role as ceremonial head of state. One little-noticed feature of Trump's presidency is how little time and attention he devotes to what used to be the banal presidential work of celebrating charitable good works and public service. Speeches and photo ops with volunteers, do-gooder business leaders, hospital visits and the like, once the barely noticed daily bread of presidential messaging, has all but disappeared.
What is so remarkable about Trump is that he has no interest or need to conceal his cruelty. Trump is a highly familiar social type: the leader of a gang, taunting his targets while his flunkies guffaw. Before he came along, it was never possible to imagine such a person occupying the Presidency of the United States. http://nymag.com/intelligencer/2019/04/president-trump-is-an-adolescent-bully.html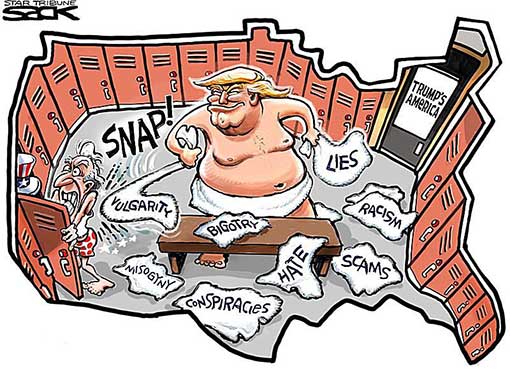 2. Max Boot: Sorry, Trump fans, but here on Planet Earth, Devin Nunes is no hero
"Devin Nunes was proven correct. That's what the report says. We should praise him."— House Minority Leader Kevin McCarthy (R.-Calif.)

"Congressman Adam Schiff, who spent two years knowingly and unlawfully lying and leaking, should be forced to resign from Congress!" — President Trump
In April 2018, Nunes and the other committee Republicans put out a report claiming there was "no evidence that the Trump campaign colluded, coordinated, or conspired with the Russian government." Nunes may think he is now vindicated, but he's wrong. All that Barr's summary said was that Mueller could not prove beyond a reasonable doubt that Trump and his aides engaged in a criminal conspiracy with Russia. That's very different from claiming there was "no evidence" of "collusion."
In fact, as Schiff has rightly and repeatedly said, there is copious evidence of collusion. While the Russians were helping to elect Trump, Trump was promoting their findings ("I love WikiLeaks"), encouraging them to hack Clinton, covering up their attacks, and expressing admiration for their dictator.
Schiff was eloquent last week in rebutting the GOP's misrepresentation of Mueller's findings after all the Republicans on the House Intelligence Committee disgraced themselves by calling for his resignation as chairman. He tweeted: "I say this to the President, and his defenders in Congress: You may think it's okay how Trump and his associates interacted with Russians during the campaign. I don't. I think it's immoral. I think it's unethical. I think it's unpatriotic. And yes, I think it's corrupt."
Schiff is smart, fearless and credible. He is no liar — unlike Trump, who has told more than 9,400 falsehoods in office. Schiff looks especially good compared with Nunes, a bumbling political hit man who can't shoot straight. Nunes actually sued a fictional cow and is now bottom-fishing for $20 donations with the wacko boast that he "uncovered widespread corruption at the highest levels of the DOJ and FBI."
Only in the Bizarro "wrong is right" world inhabited by Trump and his cult followers could anyone imagine that Nunes has been vindicated and Schiff discredited. In the real world, Schiff is a serious legislator and Nunes is a laughingstock. https://www.washingtonpost.com/opinions/2019/04/01/sorry-trump-fans-here-planet-earth-devin-nunes-is-no-hero/
3. NY Times Editorial Board: No Collusion, No 'Exoneration'
That Mr. Mueller couldn't find sufficient evidence that Mr. Trump or anyone involved in his campaign had coordinated directly with the Russians may be explained by the fact that they didn't need to. They were already getting that help.
We also know that what began as a counterintelligence investigation quickly turned into a criminal investigation, in large part because Mr. Trump surrounded himself with criminals. To date, his campaign chairman, Paul Manafort; his deputy campaign chairman, Rick Gates; his national security adviser, Michael Flynn; his campaign foreign policy adviser, George Papadopoulos; and his personal lawyer and fixer, Michael Cohen, have all pleaded guilty or been convicted of federal crimes. In January, Mr. Mueller charged Roger Stone, Mr. Trump's longtime aide, with multiple counts of witness tampering, obstructing justice, and making false statements.
One might expect Mr. Trump to feel happiness at Sunday's news, but for him, that emotion seems to transform into a desire for vengeance. It's no surprise that he and his allies are once again floating the idea of prosecuting Mrs. Clinton. Remember her? She was the candidate who, during a presidential debate all the way back in 2016, said: "It's pretty clear you won't admit that the Russians have engaged in cyberattacks against the United States of America, that you encouraged espionage against our people, that you are willing to spout the Putin line, sign up for his wish list, break up NATO, do whatever he wants to do and that you continue to get help from him because he has a very clear favorite in this race."
Mr. Putin did have a clear favorite. He interfered on his behalf, and his favorite was elected president. Trump campaign officials knew about this and were more than happy for the help. Then they lied about receiving that help. This isn't so complicated. And while Mr. Mueller may not be able to do anything about it, Congress, and the American people, certainly can. https://www.nytimes.com/2019/03/24/opinion/mueller-report-trump-investigation.html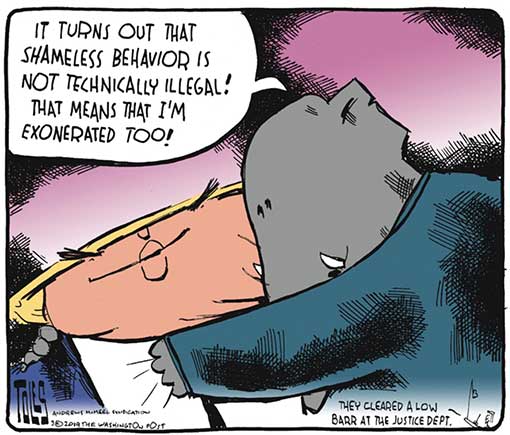 4. David Leonhardt: William Barr, Media Handler
William Barr did a skillful job of managing the news media this weekend. He released a four-page letter summarizing Robert Mueller's investigation, which rightly received blanket coverage, since it was the only official description of the investigation.
But I think much of the media was too credulous about Barr's letter, producing banner headlines and chyrons that treated it as an objective summary of Mueller's work rather than as a political document meant to make President Trump look good. And it was very much a political document.

Barr, the attorney general, works for Trump. Before he joined the administration, he made clear that he felt some disdain for the Mueller investigation — especially about whether Trump obstructed justice. That disdain surely increased his chances of being appointed attorney general. Trump fired the previous holder of the job, after all, for not doing more to control the Russia investigation.
It's still possible that Barr's summary of Mueller's report is fair. But the longer that Barr waits to release a fuller version of the report, the more suspicious we should be. Barr has been around Washington a long time. He understands that an initial story line can matter more than the details that emerge later. Barr has to be very happy with the media coverage he has received over the past two days. https://www.nytimes.com/2019/03/26/opinion/william-barr-mueller-report.html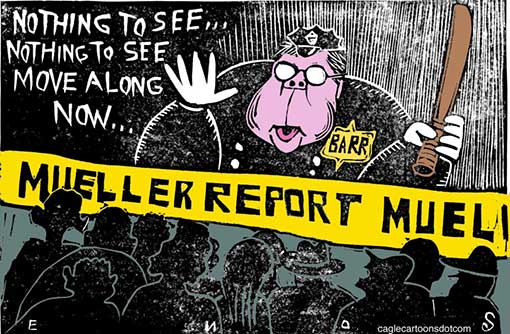 5. Susan B. Glasser: Our President of the Perpetual Grievance
Trump appears to have been freed from the fear of impeachment and removal from office, but he remains the public figure he has always been: a weird combination of perpetual victim and perpetual bully, whose one constant is to remain on the attack. In case the President's plan wasn't already abundantly clear, on Thursday morning he tweeted out a Fox commentary segment: "Now is the time for President Trump to Counter Punch." And counterpunch he did. The closest thing to an overture to Democrats in his rally on Thursday night was when he called on the Party "to decide whether they will continue defrauding the public with this ridiculous bullshit . . . or whether they will apologize to the American people" and work with Trump on priorities like fixing "broken trade deals" and building a wall on the southern border. As political overtures go, it wasn't much of one.
In the immediate aftermath of the release of Barr's letter, some of Trump's Republican supporters called on him to be magnanimous in victory. Or, at least, they hoped he would move on, perhaps recalling the politically astute course followed by the Clinton Administration, in 1999, after Republicans failed to convict Bill Clinton in a Senate trial and the President, though privately fuming, publicly heeded his advisers' counsel to make the White House a "gloat-free zone." As anyone who's been watching Trump for the last few years could have told you, that was not going to happen.
In fact, Trump seems to be getting more exercised about the whole ordeal the further away he gets from his initial relief that it appeared to be over. His interview with Hannity was particularly revealing. He complained about a long list of enemies, from "dirty cops" to John Brennan, the former C.I.A. director and one of Trump's toughest public critics, whom the President said was "a sick person." He continued to simply ignore or mischaracterize Barr's statement that the special counsel did not "exonerate" the President on obstruction of justice, and proclaimed himself, in fact, "the most innocent human being." https://www.newyorker.com/news/letter-from-trumps-washington/our-president-of-the-perpetual-grievance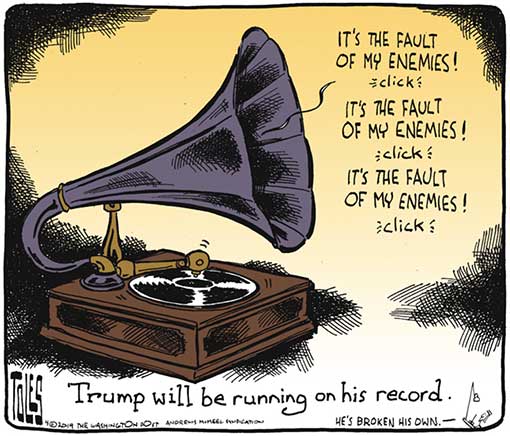 6. David Corn: Here's the Real Trump-Russia Hoax
The Russian attack on the 2016 election was an attempt to subvert the foundation of American society: the democratic process. How can Americans have faith in their government, if elections are undermined by secret schemers, including a foreign government? It is certainly arguable that the Russian intervention—particularly the stealing and drip-drip-drip dumping of the John Podesta emails across the final four weeks of the election—was one of several decisive factors in a contest that had a narrow and tight finish. Consequently, there is a strong case that Moscow helped shift the course of US history by contributing to the election of Trump. (And recognizing this is not the same as defending Hillary Clinton or concocting an excuse for the Democrats' embarrassing loss to Trump.)
This is the original sin of the Trump presidency: he and his crew aided and abetted the Russian attack by lying about it and running interference for the Russians.
The gleeful Russiagate deniers now exploiting the minimalist Barr letter to diminish or suppress the Trump-Russia scandal are conducting an exercise of diversion that is of tremendous benefit to two men—Donald Trump and Vladimir Putin—and a disservice to the American public. https://www.motherjones.com/politics/2019/03/heres-the-real-trump-russia-hoax/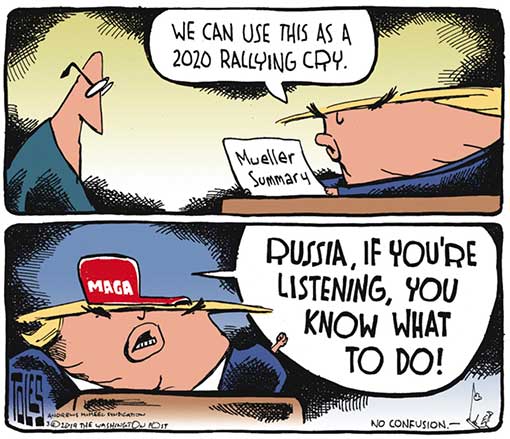 7. Jonathan Allen: 'Lock them up'? Trump's attention turns to his enemies list
At a raucous campaign rally in Grand Rapids, Michigan — his first since Attorney General William Barr reported that the president would not be prosecuted for obstruction of justice and that special counsel Robert Mueller had not established the existence of a conspiracy between the 2016 Trump campaign and Russian operatives — Trump listed them by name and occupation.
"Little pencil-neck Adam Schiff," Trump said of the House Intelligence Committee chairman, who continues to oversee a Russia probe as the president's campaign seeks his resignation or expulsion from Congress.
"Jerry Nadler," he said, invoking the name of the House Judiciary chairman, who is looking into the obstruction-of-justice allegations for which Mueller, in the still-secret report to Barr, laid out evidence for and against concluding the president had committed criminal conduct.
"I have beat him many times, and now I have to come here and beat him again," Trump said of the New York Democrat.
"These people are sick," he continued. "All of the Democrat politicians, the media bosses, bad people. ... crooked journalists, the totally dishonest TV pundits. ... And all the current and former officials who paid for, promoted, and perpetuated the single greatest hoax in the history of politics in our country. They have to be — I am sorry, they have to be accountable."
The crowd chanted a solution for that: "Lock them up!"
In this moment, as he tries to turn the corner from two years of a special counsel investigation toward 18 months or so of campaigning for re-election, Trump is using Barr's four-page letter to portray himself and his supporters as the victims of a conspiracy of left-wing "deep state" elitists bent on defeating their movement at any cost to the country.
Rudy Giuliani, one of Trump's lawyers, told The Atlantic that the president is intent on investigating people involved in launching the Russia probe now that the special counsel's work is done.
When his adoring fans chanted "Lock them up" Thursday night, Trump silently soaked in the moment. https://www.nbcnews.com/politics/white-house/lock-them-trump-turns-his-attention-enemies-his-state-n988711
8. Michael Gerson: Trump may not be a Russian agent. He's just a Russian stooge.
Trump supporters are doing a victory dance over the fact that he isn't a Russian agent, just a Russian stooge. And Trump's supporters are spiking the ball following an investigation that did not clear the president of obstruction charges. So it is still a legal judgment call whether the president is a crook.
Though Trump and his team are savaging the media for its coverage of the scandal, the president is benefiting from its shallowness. Much news coverage is based on an electoral paradigm: Who won, and who lost? These events are more complex. Barr's summary of the Mueller report is the most favorable interpretation Trump is likely to get. The report itself may be a catalogue of horrible judgment, unethical behavior and noncriminal corruption. It may put Trump Inc. in a very bad light. If and when it comes out in full. In the meantime, the Trump administration is defendant, judge and jury.
The full report, however, may require revised judgments from some of Trump's critics, as well. Perhaps the president is not a foreign agent or a criminal mastermind. Perhaps he is a weak leader who surrounds himself with clowns and criminals. Perhaps his lack of character attracts and enables other corrupt men. Perhaps he is more pathetic than dictatorial, more fool than knave. Perhaps behind the compulsive, simplistic, narcissistic exterior, there is a compulsive, simplistic, narcissistic interior. Perhaps he has moved beyond good and evil, enforcing only one code: loyalty to his person. Integrity and competence be damned.
All this may not be criminal. But it mocks our country in a different way. https://www.washingtonpost.com/opinions/trump-may-not-be-a-russian-agent-hes-just-a-russian-stooge/2019/03/28/a9c2a2f4-5183-11e9-88a1-ed346f0ec94f_story.html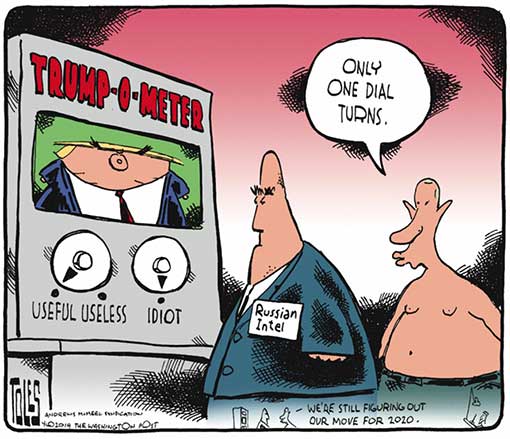 9. Eric Levitz: Trump's NAFTA 2.0 Puts Big Pharma First, America Second
If there's anything Donald Trump hates more than globalist trade deals that restrict U.S. sovereignty, it's the exorbitant cost of pharmaceuticals in this country.
"The next major priority for me, and for all of us, should be to lower the cost of health care and prescription drugs," the president said in his most recent State of the Union Address. "It is unacceptable that Americans pay vastly more than people in other countries for the exact same drugs, often made in the exact same place."
And yet, the president's new version of NAFTA — the uncreatively named United States-Mexico-Canada Agreement (USMCA) — actually forbids the U.S. Congress from curtailing Big Pharma's patent monopolies on some of the world's most expensive drugs. In other words: Trump's "America First" trade deal restricts U.S. sovereignty, for the sake of locking in high drug prices. http://nymag.com/intelligencer/2019/03/trumps-nafta-2-0-usmca-trade-deal-puts-big-pharma-first-america-second.html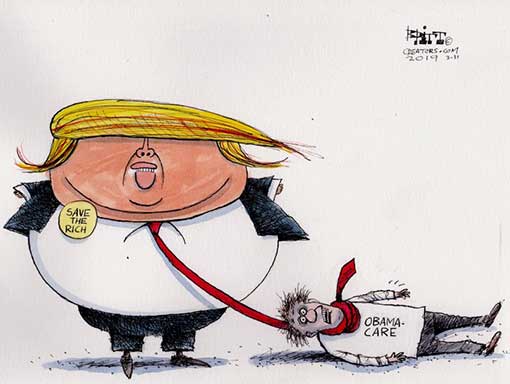 10. Rick Wilson: 'Ridiculous Bullshit' as 'Better,' 'Smarter' Trump Rages Against the Losers
After claiming "totally exoneration" and "complete vindication," Trump turned to vindictiveness. He didn't quite hit "lock her up," but he made it clear he wasn't going to claim victory and move on, instead predicting "big problems" to come for the Justice and FBI officials who asked for warrants—approved by judges—to surveil members of his campaign. The guy who refused to release his taxes and openly asked the Russians to hack his opponent wants to pretend that a report that didn't charge him means he's now innocent of all wrongdoing.
"I beat my case," he said. "When you beat something, you beat it."
Actually, that last quote came from R. Kelly, complaining about facing new charges for the crimes a lot like those he'd already gotten away with.
Back to the president, he reminded us just how thin-skinned and class-conscious he remains:
"I have a better education than them, I'm smarter than them, I went to the best schools they didn't. Much more beautiful house, much more beautiful apartment. Much more beautiful everything. And I'm president, and they're not."
Yes, Don. We know you're president. Trust us, we noticed.
We know you have a trophy wife, a castle in Florida, and an apartment that looks like it was decorated by a coked-up Liberace with a metric ton of gold leaf during his "Saddam was too restrained" phase. Got it.
As Trump went on delivering wildly exaggerated promises and boasts, short on deliverables as usual, what struck me was its large-scale incoherence. https://www.thedailybeast.com/trump-mocks-ridiculous-bullshit-at-post-mueller-report-grand-rapids-rally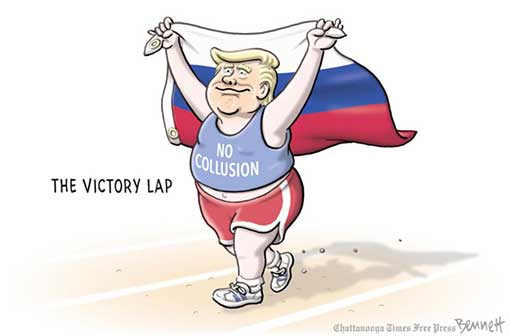 11. Sarah Jones: The Mueller Report Was Never Going to Take Down Donald Trump
The fantasy that Mueller would provide Congress the tools it needed to take down Trump and our national nightmare would be over at last was dependent on the whims of a Trump-appointed attorney general and limited by the reasons for Trump's victory. It's early yet, and we may ultimately conclude that Barr sidestepped his legal responsibilities by dismissing evidence that Trump obstructed justice, as Marcy Wheeler argued on Sunday afternoon. But even if the DOJ had decided to pursue new indictments, we would be left, still, with political problems the government is in no position to resolve. As damaging as new indictments would be to Trump's chances for re-election, they would not strip away the white nationalism that made him president. The Russian government did not plant racism and jingoism in American hearts.
Thus, Barr's inaction does not alter the bedrock facts of our situation. It does not rebut the case for impeachment. The Mueller investigation had proven to be a story of legitimate importance months ago; the probe produced indictments that reveal profound corruption at the highest levels of power. Whatever the full text of the report shows, it won't diminish the urgency of our political crisis. We already knew that Trump had likely committed tax fraud, that corruption infects his inner circle and his administration. More to the point, we already knew that he was a bigot whose temperament, antipathy for the poor, and hostility to the human rights of immigrants made him unfit for the office of president. The Mueller investigation did not concern itself with those matters. The FBI was never in any position to rescue Americans from the full threat Trump poses to their liberties.
So we occupy the same position today that we did on Friday. Even if the report had somehow led to the removal of Trump from office, the forces that made Trump president would persist. America would be just as unequal and as violent as it's always been, damaged by the same inequalities that our norms failed to prevent and even helped to flourish. Change will not come from the pen of Robert Mueller, but through mass movement and electoral change. There's no point in waiting for a savior. http://nymag.com/intelligencer/2019/03/mueller-report-was-never-going-to-take-down-donald-trump.html
12. Frank Rich/Alex Carp: Why the Mueller Investigation Wasn't Watergate
No one thought Mueller's work was more of a Watergate investigation than Donald Trump, who outdid the Nixon template in trying to derail it, to the point of vilifying his own attorney general, Jeff Sessions, because he didn't prevent it. But given that Mueller's narrow brief was to determine if Trump and his campaign had conspired with Russia's efforts to sabotage the 2016 election, it was never in the cards that he could adjudicate all the wrongdoing of a kleptocratic administration laced with grifters and liars from the top down. And if you believe, as I did and do, that there was a near-zero chance that the Vichy Republicans of the Senate would convict Trump in an impeachment trial, it is arguable that Trump might have escaped even if Mueller had recommended prosecution for conspiracy. His base would have rallied around him as a victim of a deep-state conspiracy, with Mueller and James Comey as co-conspirators taking orders from George Soros, Hillary Clinton, Jussie Smollett, and the ghost of John McCain.
The first post-Mueller report week is not yet over, and already this liberated Trump has followed his health-care hand grenade by threatening to close the Mexican border, intervene in the Smollett case, and declare war on OPEC. He is appointing an unqualified political hack and IRS deadbeat to the Federal Reserve. His secretary of Education, the inimitable Betsy DeVos, has called for defunding the Special Olympics. The Mueller finding on collusion does nothing to alter the reality that we have a mentally unstable and lawless Putin-Kim wannabe running amok in the White House, perhaps more empowered than ever, with no one applying the brakes. What will happen next is anyone's guess and everyone's problem. http://nymag.com/intelligencer/2019/03/frank-rich-why-the-mueller-investigation-wasnt-watergate.html
13.  William D. Cohan: "No One Else Will Go On With The Guy": Stephen Moore And The Trumpification Of The Federal Reserve
Like nearly everything he touches, Donald Trump is now in the process of thoroughly debasing the Federal Reserve, one of the few still-respected institutions left in Washington.
Moore, like Larry Kudlow, Trump's national economic adviser, is one of the architects—along with economist Arthur Laffer—of the infamous Reagan-era policies of so-called supply-side economics, or what George H. W. Bush called "voodoo" economics. The idea is that if you cut taxes on the rich, and put even more money in their pockets, it will "trickle down" to the poor saps stuck in the middle and lower classes. The idea didn't work for Reagan, and it hasn't worked for Trump, despite Trump's claims that his 2018 tax law did just that.
For the record, G.D.P. growth in 2018 was around 3 percent; it is forecast at around 2.4 percent this year. I'm still waiting to hear the roar of the crowd from all the middle-class people jumping up and down with excitement because their biweekly paychecks increased $50, if that even happened. https://www.vanityfair.com/news/2019/03/stephen-moore-and-the-trumpification-of-the-federal-reserve
14. David Brooks: Why You Love Mayor Pete
The Trump era has been all about dissolving moral norms and waging vicious attacks. This has been an era of culture war, class warfare and identity politics. It's been an era in which call-out culture, reality TV melodrama and tribal grandstanding have overshadowed policymaking and the challenges of actually governing.
The Buttigieg surge suggests that there are a lot of Democrats who want to say goodbye to all that. They don't want to fight fire and divisiveness with more fire and divisiveness. They don't want to fight white identity politics with another kind of identity politics.
They are sick of the moral melodrama altogether. They just want a person who is more about governing than virtue-signaling, more about friendliness and basic decency than media circus and rhetorical war.
Buttigieg's secret is that he transcends many of the tensions that run through our society in a way that makes people on all sides feel comfortable.
But maybe that's Buttigieg — he squares a lot of circles. He deftly detaches progressive policy positions from the culture war. He offers change without Sturm und Drang. https://www.nytimes.com/2019/04/01/opinion/pete-buttigieg-2020.html
15. Sarah Jones: Donald Trump Is Lying About Puerto Rico
Donald Trump's hostility to the island of Puerto Rico may have helped stall two congressional bills that would have allocated more aid for the hurricane-devastated island. On Monday, the Senate failed to pass either a Republican bill that included $600 million in food aid to Puerto Rico, or a $14.3 billion bill that wrapped additional assistance for the island into unrelated legislation. Puerto Rico's governor, Ricardo Rosselló, told Reuters that though the territory needed the food aid, the amount allocated in the Republican bill still fell short of the island's actual needs.
The discrepancy between Puerto Rico's needs and what the U.S. government is willing to provide isn't a recent development, but it has widened under Trump. The Washington Post reported in March that Trump seems to have a vendetta against the island and its elected officials, who criticized the administration's slow response to Hurricane Maria. The president is willing to provide nothing beyond some further food assistance to Puerto Rico, and in a series of tweets sent on Monday evening and Tuesday morning, Trump reiterated that position:
As is usual for Trump, the tweets contain a number of inaccuracies and outright falsehoods. Puerto Rican politicians don't control the island's budget; that's up to Congress. Puerto Rico is a part of the United States: The people who live on the island are citizens who pay taxes, even though they don't have voting representation in Congress. And the people of Puerto Rico did not actually receive $91 billion in federal aid after the hurricane. Since Hurricane Maria struck in 2018, the federal government spent $11.2 billion to help rebuild the island. The $91 billion figure estimates the island's total liabilities, according to a Post fact-check. Trump's statement is a bald-faced lie. http://nymag.com/intelligencer/2019/04/donald-trump-is-lying-about-puerto-rico.html
16. Jennifer Rubin: Trump is unraveling before our eyes. He isn't fit for reelection.
Far too much media time has been devoted to mulling whether former vice president Joe Biden, as svelte and vigorous as he has ever been and showing no sign of mental deterioration, is too old to run for president and not nearly enough considering whether President Trump is.
In the past 24 hours, Trump — who will be 74 in November 2020 and is "tired," according to aides — has:
Falsely declared multiple times that his father was born in Germany. (Fred Trump was born in New York.)

Declared that wind turbines cause cancer.

Confused "origins" and "oranges" in asking reporters to look into the "oranges of the Mueller report."

Told Republicans to be more "paranoid" about vote-counting.
He is increasingly incoherent. The Post quotes him at a Republican event on Tuesday: "We're going into the war with some socialist. It looks like the only non, sort of, heavy socialist is being taken care of pretty well by the socialists, they got to him, our former vice president. I was going to call him, I don't know him well, I was going to say 'Welcome to the world Joe, you having a good time?'" Even when attempting to defend himself, he emits spurts of disconnected thoughts. "Now you look at that [presidential announcement] speech and you see what's happening and that speech was so tame compared to what is happening now, that trek up is one of the great treacherous treks anywhere, and Mexico has now, because they don't want the border closed."
I don't presume to diagnose him or to render judgment on his health. All of us, however, should evaluate his words and actions. If you had a relative who spoke this way, you would urge him to get checked out or advise him to slow down (although Trump's schedule, with its hours of "executive time," is already lighter than the schedules of many retirees). Remember that this guy is the commander in chief, holder of the nuclear codes.
Collectively, we need to stop treating his conduct as normal. Politicians should start saying aloud what we all intuitively understand: Trump is unraveling before our eyes. There is reason to be concerned about how he'll make it through the rest of his term. Giving him another four years is unimaginable. https://www.washingtonpost.com/opinions/2019/04/03/we-should-be-asking-if-trump-is-too-old-stand-re-election/