October 25, 2018
ON THE RECORD. . .
You think you're having a hard time. I've got $5 million of negative ads against me. How do you think I'm feeling? Nothing's easy for anyone. You think I'm a congressman. Oh life's easy, this guy's off having steaks… No one out there's got some easy life. -- Rep. Dave Brat (R-VA) met with members of an addiction support group at a county jail and when an inmate expressed concerns about the challenges she'd face upon release, the congressman responded that he has it even worse.
Here we have a situation where the president goes to Montana and praises again a Republican congressman for body-slamming a reporter, and we're supposed to be the mob? Give me a break.
— Sen. Dick Durbin (D-IL), in an interview with CNN.
Grab your family, grab your friends, grab your neighbors, and get to the polls, because if not, you are going to have another two or another six years of this craziness. — Former Trump personal lawyer Michael Cohen, in an interview with CNN.
"Let me say first of all the idea that the Democrats were somehow behind this caravan coming from Honduras of these women and children is preposterous and there's been no evidence offered on that any more than there was evidence that the protestors on Capitol Hill during the Kavanaugh hearings were paid protestors." — Fox News host Chris Wallace.
"I think it's insulting to anyone who's analyzing this with any kind of intelligent background to think that, 'Oh, a fist fight led to a dismemberment with a bone saw.'" — Sen. Rand Paul (R-KY) on the Saudi explanation for the death of journalist Jamal Khashoggi.
"Is it really that hard to understand that rejecting these agreements is, as the people say, not the work of a great mind. Do they really not understand in Washington what this can lead to? All agreements aimed at nuclear disarmament and limiting nuclear weapons must be preserved, for the sake of preserving life on earth." — Former Soviet Union leader Mikhail Gorbachev, one of the original signatories of the Intermediate-Range Nuclear Forces Treaty along with former President Ronald Reagan, on Trump's decision to withdraw from a treaty.
"Is there anything that qualifies Jared Kushner to be dealing with any of these issues? He's an unsuccessful real estate developer who inherited millions of dollars and married the president's daughter. He's completely unqualified. This is gross nepotism and it's just an embarrassment that he has any power at all." —
Jeffrey Toobin
, quoted by The Hill.
"Fear of undocumented immigrants is the president's go-to rallying cry. The president's spreading falsehoods in rapid fashion." --Jake Tapper fact checking Trump's fearmongering about migrant caravan.
As Election Day approaches, the president is running the only play he knows: fear. He's seeking to suppress the vote of those who oppose him with the threat of prosecution and trying to motivate his supporters with round-the-clock talk of the caravan. This strategy reflects Trump's bankruptcy of ideas and a realization that it's not mobs going to the polls, but moms. Lots of moms. -- Rep. Eric Swalwell (D-CA).
"One day, maybe we won't have two Americas, but a single America, where every eligible voter will be able to easily register and cast a ballot that will be fairly and accurately counted. One might have expected we would have had that by 2018." -- Richard Hansen in Slate 
---
IN THIS ISSUE
FYI
OPINION
1. Andy Borowitz: Trump Dispatches Sarah Huckabee Sanders to Saudi Arabia to Provide Lying Advice
Donald J. Trump has dispatched the White House press secretary, Sarah Huckabee Sanders, to Saudi Arabia to provide what the White House on Thursday called essential lying advice and assistance.

According to the counselor to the President Kellyanne Conway, The President was not happy with the quality of lies coming out of the Saudi royal family, and who better to fix that than Sarah Sanders?

Sources close to Sanders said that the press secretary was horrified during her first meeting in Riyadh to discover that the crown prince's lying skills were rudimentary at best.

The absence of a free press in Saudi Arabia means that M.B.S.—Crown Prince Mohammed bin Salman—has had virtually zero experience lying to reporters, Sanders reportedly told one of her aides. The learning curve is going to be steep.

In perhaps her most withering comment on the state of the Saudis' lying, Sanders said, These clowns could never have gotten Kavanaugh confirmed. https://www.newyorker.com/humor/borowitz-report/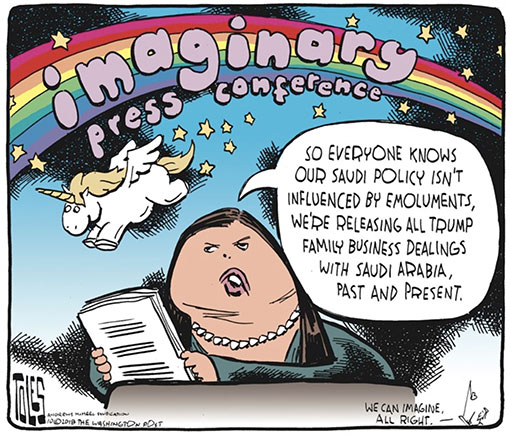 2. Donald Trump's strategy as midterms approach: lies and fear-mongering
Democrats will kick seniors off their health insurance. Democrats will end insurance protections for people with health problems. Democrats will destroy the Social Security retirement system. Democrats will give illegal immigrants free cars. Democrats will abolish America's borders. Democrats are behind the latest migrant caravan from Latin America. That caravan includes people from the Middle East.
False, false, false, false, false, false, false.
Donald Trump made a brief attempt to campaign on his record of accomplishments but, as the November congressional elections approach, he has traded that shiny new positivity for the well-worn tactic that helped him win the presidency in 2016: a blizzard of fear-mongering and lies, many of them about darker-skinned foreigners.
Trump has been a serial liar about just about everything for his entire tenure in office, but he has rarely before deployed so many complete fabrications about so many important subjects at the same time. https://www.thestar.com/news/world/2018/10/22/donald-trumps-strategy-as-midterms-approach-lies-and-fear-mongering.html
3. 'In the service of whim': Officials scramble to make Trump's false assertions real
When President Trump abruptly told reporters over the weekend that middle-income Americans would receive a 10 percent tax cut before the midterm elections, neither officials on Capitol Hill nor in his administration knew anything about such a tax cut. The White House released no substantive information. And although cutting taxes requires legislation, Congress is not scheduled to be back in session until after the Nov. 6 elections.
Yet Washington's bureaucratic machinery whirred into action nonetheless — working to produce a policy that could be seen as supporting Trump's whim.
One such option now under discussion by administration officials is a symbolic nonbinding "resolution" designed to signal to voters ahead of the elections that if Republicans hold their congressional majorities they might pass a future 10 percent tax cut for the middle class. And House Ways and Means Committee Chairman Kevin Brady (R-Tex.) said Tuesday that he would work with the White House and the Treasury Department to develop a plan "over the coming weeks."
The mystery tax cut is only the latest instance of the federal government scrambling to reverse-engineer policies to meet Trump's sudden public promises — or to search for evidence buttressing his conspiracy theories and falsehoods. https://www.washingtonpost.com/politics/in-the-service-of-whim-officials-scramble-to-make-trumps-false-assertions-real/2018/10/23/0c271586-d6de-11e8-83a2-d1c3da28d6b6_story.html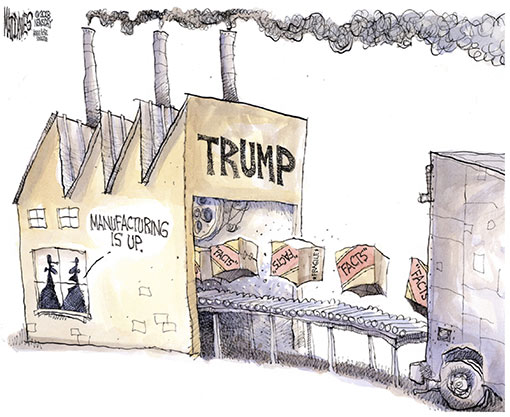 4. In Leaked Audio, Brian Kemp Expresses Concern Over Georgians Exercising Their Right to Vote
Brian Kemp (R), Georgia Secretary of State and the Republican nominee for Georgia governor, expressed at a ticketed campaign event that his opponent Stacey Abrams' (D) voter turnout operation "continues to concern us, especially if everybody uses and exercises their right to vote," according to audio obtained by Rolling Stone.
Not long after Kemp began his remarks, the candidate expressed worry about early voting and "the literally tens of millions of dollars that they [the Abrams camp] are putting behind the get-out-the-vote effort to their base."
Kemp then asserted that much of that Abrams effort is focused on absentee ballot requests. "They have just an unprecedented number of that," he said, "which is something that continues to concern us, especially if everybody uses and exercises their right to vote — which they absolutely can — and mail those ballots in, we gotta have heavy turnout to offset that. https://www.rollingstone.com/politics/politics-news/brian-kemp-leaked-audio-georgia-voting-745711/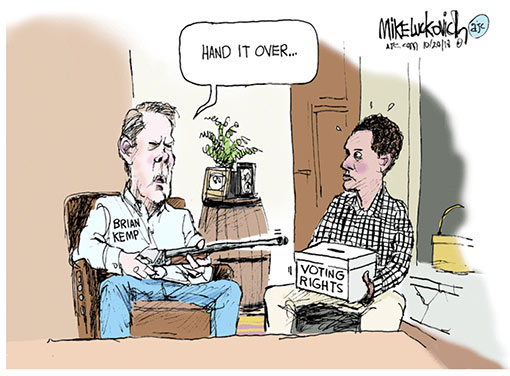 5. Judge Orders Georgia to Stop Tossing Absentee Ballots
A federal judge on Wednesday ordered Georgia election officials to stop summarily tossing absentee ballots because of mismatched signatures, delivering a crucial win to voting-rights advocates — and to Democratic gubernatorial candidate Stacey Abrams — less than two weeks before Election Day. https://www.washingtonpost.com/politics/judge-orders-ga-officials-to-stop-tossing-absentee-ballots-over-signatures/2018/10/24/9c5a5b06-d7bd-11e8-a10f-b51546b10756_story.html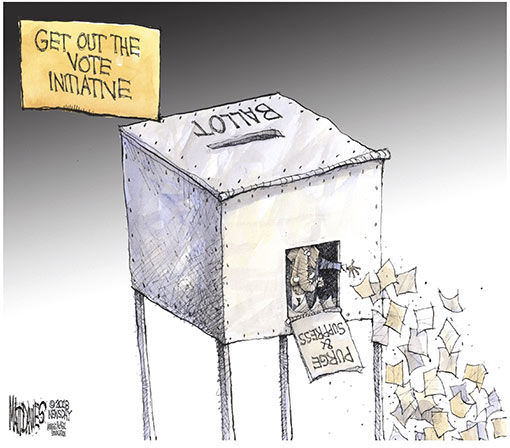 6. Trump obliterates his one-week record for dishonesty in a wave of pre-midterm appearances
U.S. President Donald Trump made 170 false claims in the second week of October, obliterating his previous record of 133, which he set in August.
U.S. President Donald Trump arrives at a campaign rally in Lebanon, Ohio, on Oct. 12. He made 3,086 false claims in the first 633 days of his term, an average of 4.9 per day.  (EVAN VUCCI / AP)
The 170 false claims took him past 3,000 false claims for his term, up to 3,086.
The frequency of his dishonesty has continually increased over time. He took 343 days to utter his first 1,000 false claims, 197 to utter his second 1,000, and just 92 days to utter his third 1,000.
Trump makes more false claims the more he talks, and he has never talked more as president than he did in that record-setting October week. As the November midterm elections came into view, Trump uttered 78,542 words, according to the website Factba.se, beating his previous record — the week prior — by 22,000 words.
In addition to four campaign rallies, Trump did interviews with 60 Minutes, Fox News, the Washington Examiner, Time, New York magazine and with local media wherever he travelled; a speech to police chiefs; multiple events at the White House; multiple brief interactions with the White House press corps; and a highly dishonest op-ed in USA Today.
As always, some of Trump's false claims were minor exaggerations. But many of them were whoppers — complete fabrications that appeared to be intended to scare people into voting Republican. On separate occasions, Trump lied that Democrats plan to abolish America's borders, dismantle law enforcement, and kick seniors off of their Medicare health insurance.
He also gave some of his supporters a personal experience with his self-aggrandizing lying.
Speaking at his campaign rally in Richmond, Kentucky, Trump declared that "25,000" or "35,000" people were outside the venue watching the speech on a screen. That was news to the couple hundred people, tops, who were actually out there watching, with a Washington Post reporter watching them. https://www.thestar.com/news/world/analysis/2018/10/23/trump-obliterates-his-one-week-record-for-dishonesty-in-a-wave-of-pre-midterm-appearances.html
7. Election Update: Democrats' Unprecedented Fundraising Edge Is Scary For Republicans … And Our Model
The fundraising numbers are so good for Democrats — and so bad for Republicans — that it's hard to know quite what to make of them. From a modeling standpoint, we're extrapolating from years in which fundraising was relatively even, or from when one party had a modest edge, into an environment where Democrats suddenly have a 2-1 advantage in fundraising in competitive races. Moreover, this edge comes despite the fact that a large number of these competitive races feature Republican incumbents (incumbents usually have an easier time raising money than challengers) and that most of them are in red terrain.
If Democrats beat their projections on Nov. 6 — say, they win 63 House seats, equalling the number that Republicans won in 2010, an unlikely-but-not-impossible scenario — we may look back on these fundraising numbers as the canary in the coal mine.
That data, plus Democrats' very strong performances in special elections, could look like tangible signs of a Democratic turnout surge that pollsters and pundits perhaps won't have paid enough attention to. Right now, in fact, the polls are not showing a Democratic turnout advantage. https://fivethirtyeight.com/features/election-update-the-democrats-unprecedented-fundraising-edge-is-scary-for-republicans-and-for-our-model/
8. The DAILY GRILL
"On Tuesday, Sen. Ted Cruz (R) joked that his opponent, Rep. Beto O'Rourke (D), could share a jail cell with Hillary Clinton and spoke darkly of Democratic mobs." -- Dallas Morning News.

VERSUS

"Stumping in Dallas on Wednesday, Cruz denounced overheated rhetoric and political violence of any kind -- and lay the bulk of blame on the left for poisoning the nation's civic discourse.

 

Taxpayers are paying a fortune for the use of Air Force One on the campaign trail by President Obama and Crooked Hillary. A total disgrace! -- Donald Trump on Twitter

VERSUS

"For someone who complained about President Obama traveling a lot, he's going to supersede President Obama's travel, all eight years [of it], within a year, which is just absolutely ridiculous," -- Democratic Rep. Ruben Gallego of Arizona
You know what I am? I'm a nationalist, as the crowd roars back: USA! USA! -- Trump in Houston

VERSUS

The President of the United States openly identifies himself as a nationalist, calls for the jailing of his political opponents, attacks the press & cozies up to dictators, while Republicans in Congress stand idly by. The stakes of this elections couldn't be higher for democracy. — Robert Reich (@RBReich)
9. From MEDIA MATTERS (They watch Fox News so you don't have to)
Rush Limbaugh: So-called Washington Post journalist Jamal Khashoggi's murder doesn't matter because Benghazi. Limbaugh floats conspiracy theory that Khashoggi may still be alive. https://www.mediamatters.org/video/2018/10/18/rush-limbaugh-so-called-washington-post-journalist-jamal-khashoggis-murder-doesnt-matter-because/221732

Trump runs with absurd right-wing media lie about terrorists infiltrating the migrant caravan. How the baseless claim moved from fringe right websites to the president. https://www.mediamatters.org/blog/2018/10/22/trump-runs-absurd-right-wing-media-lie-about-terrorists-infiltrating-migrant-caravan/221765

Rush Limbaugh suggests bombs mailed to Democrats are a false flag: "Republicans just don't do this kind of thing."https://www.mediamatters.org/video/2018/10/24/rush-limbaugh-suggests-bombs-mailed-democrats-are-false-flag-republicans-just-dont-do-kind-thing/221822

Alex Jones: Bombs delivered to Democrats are "a false flag, trillion percent." Jones: "It's funny, none of them are blowing up, nobody's getting hurt. They'll blow up a mail handler or something at the end of this in a few days just to give it a little blood, make it look real."  https://www.mediamatters.org/video/2018/10/24/alex-jones-bombs-delivered-democrats-are-false-flag-trillion-percent/221826

NRA spokesperson Dana Loesch says supporters may need to bring guns to polls to protect themselves from progressives. https://www.mediamatters.org/video/2018/10/24/nra-spokesperson-dana-loesch-says-supporters-may-need-bring-guns-polls-protect-themselves/221818

Liberty Counsel's leadership says trans youth have high rates of suicide because they're defying God. https://www.mediamatters.org/video/2018/10/24/Liberty-Counsels-leadership-says-trans-youth-have-high-rates-of-suicide-because-theyre-def/221828

Michael Savage: "It's a high probability" that serial bombings are "a false flag to gain sympathy." Savage: "All your fear buttons have been hit. That's exactly what Soros and company want you to feel."  https://www.mediamatters.org/video/2018/10/24/michael-savage-its-high-probability-serial-bombings-are-false-flag-gain-sympathy/221832
10. From the Late Shows
GOP Voter Suppression Ramps Up in Georgia | The Daily Show: https://youtu.be/fQft4Rr5J-k

Trump Campaigns for Republicans, Calls Democrats an Angry Mob: A Closer Look: https://youtu.be/VFi2dWv_3OI

The Late Show with Stephen Colbert: Trump Brags About His 'Natural Instinct For Science': https://youtu.be/dQeylLZNblE

The Late Show with Stephen Colbert: How Saudi Arabia Is Reporting The News: https://youtu.be/HSpBm89NoCE
11. Trump Personally Stopped the FBI's Move Out of Washington
Trump personally intervened to stop the FBI from moving its headquarters in Washington, D.C., to the Maryland or Virginia suburbs, emails made public Thursday reveal.
The decision that the bureau will not move will help the president's bottom line by reducing competition for his flagship hotel property located in the Old Post Office building across the street from the current FBI building. https://www.huffingtonpost.com/entry/trump-hotel-fbi-headquarters-pennsylvania-ave_us_5bc8a70de4b0a8f17eea199c
12. Three secretaries of state are refereeing the election while running in the field
In three states, the referee for the midterm elections is also on the field as a player.
Elected secretaries of state in Georgia and Kansas — who in their official capacities oversee the elections in their states — are running for governor. Ohio's secretary of state is running for lieutenant governor. All are Republicans.
They have faced scattered calls to resign but have refused to do so. Election reformers say the situation underscores the conflict of interest when an official has responsibilities for an election while also running as a candidate. https://www.mcclatchydc.com/news/politics-government/election/midterms/article220228190.html
13. 'I am on the ticket': Trump seeks to make the election about him, even if some don't want it to be
Trump has deliberately placed himself at the center of the November elections, explicitly telling voters to imagine they're casting a ballot for him, rather than their local representative… The president, meanwhile, has told White House aides that his supporters won't come out to the polls if they don't believe the election matters to him.
He wants to campaign for Republicans six days a week — and sees these mega-rallies as a testing ground for his own 2020 reelection… While aides around Trump have grown increasingly concerned about the prospect of Republicans losing the House, the president himself privately insists the polls are fake and that his performances at rallies will carry Republicans to victory. https://www.washingtonpost.com/politics/i-am-on-the-ticket-trump-seeks-to-make-the-election-about-him-even-if-some-dont-want-it-to-be/2018/10/17/069406f6-d0bc-11e8-a275-81c671a50422_story.html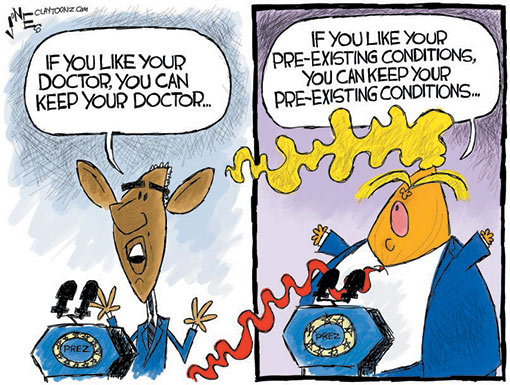 14. Trump Believed His Stormy Daniels 'Horseface' Tweet Was Politically Brilliant
Donald Trump caught various West Wing officials off-guard on Tuesday when he decided to describe the woman alleging that they'd had an affair as having a 'horseface.' But privately, the president not only thought that it was strategically smart to go after the adult film star Stormy Daniels in such a visceral way; he workshopped the insult prior to tweeting it.
Well before Trump mocked Daniels' physical appearance, he trial-ballooned the 'horseface' dig privately—among White House aides, close friends, and acquaintances… The president often tosses around ideas for snide new nicknames in smack-talk sessions with associates, if only to gauge their reactions. And, as in past cases, the 'horseface' incident saw Trump defying presidential norms (whatever those are anymore) and ignoring senior aides and confidants who advised him simply to let the matter go. https://www.thedailybeast.com/trump-believed-his-stormy-daniels-horseface-tweet-was-politically-brilliant
15. McConnell's laser focus on transforming the judiciary
A handful of Republican senators did something unusual on Wednesday: With the Senate not even in session, and no Democrats in sight, they convened the Judiciary Committee to advance a half-dozen of Donald Trump's judicial nominees,
For Republicans, there's nothing that matters more. They aren't pitching a big visionary agenda to persuade voters to return them to power next year — there's only passing mention in the midterms of repealing Obamacare, and little talk of making Trump's border wall a reality. It's all about the judiciary. Senate Majority Leader Mitch McConnell has given every indication that his primary focus — through Election Day and, assuming Republicans still control the Senate, in the two years to follow, will be the ongoing reshaping of the courts. https://www.politico.com/story/2018/10/17/senate-gop-judges-911935
16. Another Trump-branded building has decided to take down the president's name
The residents of a Manhattan condominium called Trump Place have voted to remove the president's name from the tower's facade, the latest in a string of properties that have distanced themselves from the Trump brand since Election Day 2016. https://www.washingtonpost.com/politics/another-trump-branded-building-had-decided-to-take-down-the-presidents-name/2018/10/17/4a2497a8-d0be-11e8-b2d2-f397227b43f0_story.html
17. Hecklers curse and call Nancy Pelosi a 'communist' as far right disrupts a political event
A group of hecklers angrily confronted House Minority Leader Nancy Pelosi during a campaign stop for a congressional hopeful in South Florida, cursing at her and calling her a communist in a moment that was captured on video,
It was yet another incident which stoked fears that the country's bitter and emotional political environment is at risk of leading to violence. https://www.washingtonpost.com/politics/2018/10/20/hecklers-curse-call-nancy-pelosi-communist-far-right-disrupts-political-event/
18. Missouri GOP sent 10,000 voters false absentee voting information
The Missouri Republican Party sent mailers to 10,000 voters across the state with false information about when their absentee ballots are due, the party's executive director acknowledged Friday.
It also says, ballots must be returned by 5 p.m. on Tuesday, Oct. 30, which is not the case. Ballots are due on election day, Nov. 6, and requests for mail-in ballots aren't due until Wednesday, Oct. 31. https://www.kansascity.com/news/politics-government/election/article220334185.html
19. As Other Republican Candidates Struggle Financially, Trump Stockpiles Cash
Reports filed this week show that President Trump sits atop a sophisticated data-driven fund-raising machine that has already brought in more than $106 million — a majority of which came from small donors, with none coming from Mr. Trump's own pocket — and has spent more on his 'Make America Great Again' hats, $2 million, than his 2016 effort had spent on the entire campaign in its first report.
Even after the costly investments in digital advertising, data analytics and other tools of modern campaigning, the three committees that make up Mr. Trump's campaign apparatus entered this month with a remarkable $47 million in the bank.
But the stockpiling has prompted grumbling among some Republican strategists, who contend — mostly in private — that the cash would be better allocated to the party's at-risk congressional candidates, many of whom are being drastically outraised by their Democratic opponents. https://www.nytimes.com/2018/10/17/us/politics/trump-campaign-finance-midterms.html
20. Nevada GOP Plans Campaign for Dead Candidate
Nevada Republicans are planning a campaign to persuade voters to cast ballots for former Assembly candidate and brothel owner Dennis Hof, who died suddenly on Tuesday.
Although details are sparse, the effort is a clear indication of Republican efforts to ensure they hold a reliably Republican-leaning Assembly District despite the untimely death of the candidate. https://thenevadaindependent.com/article/republicans-plan-campaign-for-deceased-hof-to-keep-assembly-seat/
21. GOP women's group backs Dem candidates in Michigan
A Michigan Republican women's PAC is backing two Democratic candidates in November over their Trump-supporting opponents, pointing to President Trump's rhetoric and Supreme Court Justice Brett Kavanaugh's confirmation hearings as key reasons for the move.
The Metro Times reported Wednesday that the political action committee Republican Women for Progress will take out ad buys for two Democratic House candidates facing Trump-aligned GOP challengers as the group seeks a Congress willing to serve as a "check" on the president.
"We think the best thing that we can do for the party and for the country right now is to make sure there are good women — Democrat or Republican — that are elected to office and who can serve as a check on this administration and on the president," the group's founder Meghan Milloy told the newspaper. https://thehill.com/homenews/campaign/412202-michigan-gop-womens-group-backs-dem-candidates
22. Trump Voters Think Men Face Most Discrimination
A new YouGov/Economist poll finds that people who voted for Donald Trump in the 2016 presidential election believe men are discriminated against more than LGBTQ people, women and most ethnic minorities.
Forty-nine percent of Trump voters surveyed said men face either 'a great deal' (18 percent) or 'a fair amount' (31 percent) of discrimination in America today. By contrast, this same group found 41 percent of LGBTQ people, 30 percent of women, 38 percent of African-Americans and 42 percent of Mexican-Americans faced either 'a great deal' or a 'fair amount' of discrimination. https://www.cnn.com/2018/10/21/politics/cnn-poll-florida-senate-governor/index.html
23. Bernie 2016 alums wary of 2020 sequel
Bernie Sanders has a problem as he decides whether to run in 2020: Many of his former staffers are looking elsewhere.
With the Vermont senator kicking off a nine-state tour on Friday with stops in Iowa, South Carolina, Nevada and California, a sizable contingent of the people who helped build his insurgent 2016 campaign is ambivalent about a second run, according to interviews with more than a dozen former staffers. Many of them are looking for a different progressive champion to finish what Sanders started. https://www.politico.com/story/2018/10/18/bernie-sanders-2020-president-912082
1. Adam Davidson: Is Fraud the Trump Organization's Business Model?
It is becoming increasingly clear that, in the language of business schools, the Trump Organization's core competency is in profiting from misrepresentation and deceit and, potentially, fraud.
This month, two incredible investigative stories have given us an opportunity to lift the hood of the Trump Organization, look inside, and begin to understand what the business of this unusual company actually is. It is not a happy picture. The Times published a remarkable report, on October 2nd, that showed that much of the profit the Trump Organization made came not from successful real-estate investment but from defrauding state and federal governments through tax fraud. This week, ProPublica and WNYC co-published a stunning story  and a 'Trump, Inc.' podcast that can be seen as the international companion to the Times piece. They show that many of the Trump Organization's international deals also bore the hallmarks of financial fraud, including money laundering, deceptive borrowing, outright lying to investors, and other potential crimes. https://www.newyorker.com/news/swamp-chronicles/is-fraud-part-of-the-trump-organizations-business-model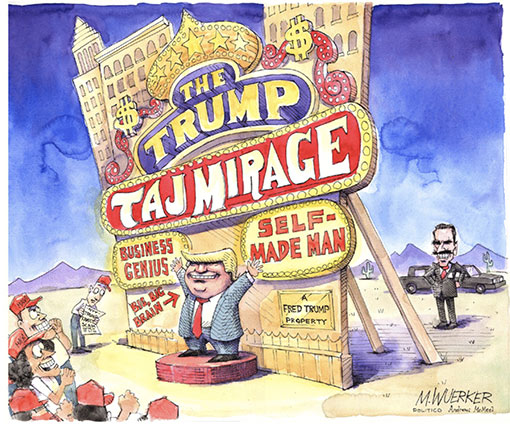 2. Kalena Thomhave: Trump's big metaphorical wall
The midterm elections are quickly approaching, and the Trump administration is busily constructing policy levees in hopes to stave off a blue wave. With seemingly no time for nuance, they're hitting the big selling points of why Trump voters love the president, like his promise to build a wall on the U.S.-Mexico border. But since we're almost two years into the Trump presidency and the wall still hasn't been built (and probably never will be), the administration is proposing new obstacles to limit immigration and excite their base.
Up first: keeping out the tired, poor, huddled masses. Although Republicans claim to favor immigration as long as it's legal, the White House has chosen to introduce new hurdles to it — based on wealth. A new rule proposed by the administration would make it more difficult for poorer immigrants to come to the U.S. legally and also penalize immigrants who use public assistance programs. If the rule is enacted, low-income people who are already here may find it difficult to get green cards, incentivizing them to forego public assistance for which they're eligible and advancing hunger, sickness, and further poverty.
At the heart of the rule is redefining what it means for an immigrant to be a public charge, that is, reliant on the government. In the past, you were a public charge if the government provided more than half of your income through a program like cash welfare, which was exceptionally rare for immigrants (and in general). But in order to paint as many immigrants as possible as welfare moochers, the administration is broadening the scope of who they consider a public charge. Now, it could apply to any immigrant who uses — or is even deemed likely to use — virtually any public benefit, like food stamps, housing assistance, and Medicare's prescription subsidies. That means if you're hoping to come to the U.S. but aren't rich, your application might be rejected merely because an immigration official doesn't think you'd be able to afford medical care as soon as you step off the plane. http://theweek.com/articles/798321/trumps-big-metaphorical-wall
3

. William Falk: When amoral becomes immoral
Morality is such an encumbrance. Once any shame is shed, dilemmas dissolve; everything gets so much easier. Take the quandary presented by Saudi Arabia. For decades, U.S. presidents have resorted to extreme realpolitik in order to treat the Saudis as a valued ally — a status bestowed on the sheikhs by the billions of barrels of oil under their sands, and the broad influence their enormous wealth has purchased. The oilmen of the Bush family treated the Saudis like cousins, even after 9/11; President Barack Obama irritated the Saudis with talk of human rights and democracy, but in the end backed their brutal war against Yemen and offered to sell them $115 billion in arms. President Trump has taken realpolitik to a new level. Virtually no one believes the Saudi royals' risible claim that they didn't know about the 15-member Saudi hit team that murdered and dismembered dissident journalist Jamal Khashoggi. But the president says it's possible "rogue killers" committed this atrocity. "The king firmly denied any knowledge of it," Trump helpfully explained.
Problem solved. Punishing the Saudis for kidnapping and executing a journalist living and working in the U.S. would be highly inconvenient. Trump has sold millions of dollars of real estate and hotel rentals to the Saudis, wants the U.S. to sell them billions more in weapons, and needs their help (and their oil) in his struggle to subdue Iran. If King Salman and Crown Prince Mohammed bin Salman insist they had nothing to do with Khashoggi's regrettable demise, why quibble? Trump's eagerness to swallow the Saudi cover story prompted Richard Haass, president of the Council on Foreign Relations, to say this week: "At some point, an amoral foreign policy becomes an immoral foreign policy." Just think, though, how many "great deals" we can cut with Kim Jong Un, Vladimir Putin, and other murderous tyrants if we dispense with morality and human rights entirely. http://theweek.com/articles/802635/when-amoral-becomes-immoral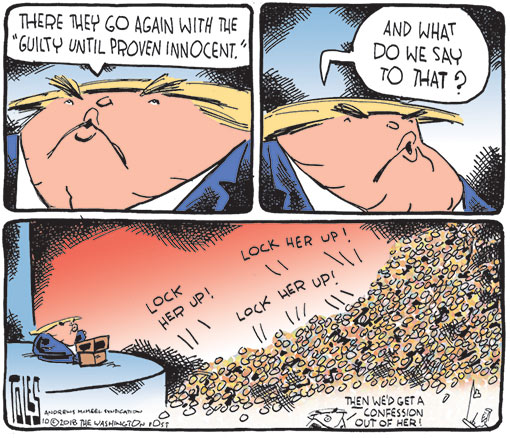 4.  Maureen Dowd: Step Away From the Orb
Hollywood, Silicon Valley, presidential libraries and foundations, politically connected private equity groups, P.R. firms, think tanks, universities and Trump family enterprises are awash in Arab money. The Saudis satisfy American greed, deftly playing their role as dollar signs in robes.
Donald Trump, who may be the only person more fond of lavish displays of arriviste gilt than the Saudis, is bedazzled by a Saudi pledge to buy billions worth of American weapons, just as he was flattered by the Saudi sword dance and weird luminescent orb séanceon his visit to the kingdom.
Image
Even before the bloodcurdling execution of Jamal Khashoggi for his just criticism of Crown Prince Mohammed bin Salman, it was clear that the chump Trump and jejune Jared had bet their entire Middle East strategy on a chillingly autocratic and reckless person.
The prince was easing up on the draconian restrictions on women to get a gloss as a liberal visionary. But he was simultaneously jailing women activists, imprisoning and torturing royals and top businessmen and making America an accomplice in a grotesque war in Yemen, dropping bombs supplied by the U.S. with little care about whether civilians died, including in an attack on a school bus, killing dozens of children. This, as the self-styled children's advocate Ivanka was out on the town, talking about the fabulous "deliverables" she and Jared were bringing to their BFFs in Riyadh. https://www.nytimes.com/2018/10/20/opinion/sunday/saudi-arabia-united-states.html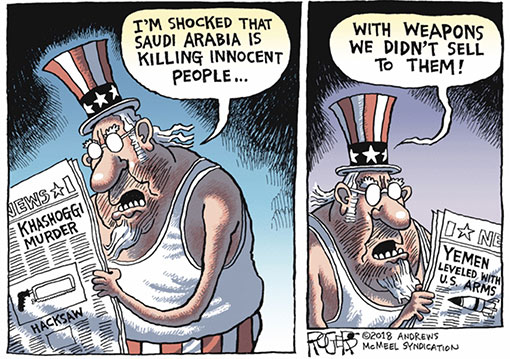 5. Joel Mathis: Trump is planting the seeds for a new age of nuclear terror
But Trump is reversing the work of a generation of American leaders who advocated drawing down, not building up, the world's nuclear forces. The INF Treaty was an important symbol of that commitment. The president, whose bigger-is-better beliefs about power have long been his calling card, is recommitting the United States to the logic of nuclear terror.
"We'll have to develop those weapons," the president told reporters in Nevada. "We're going to terminate the agreement and we're going to pull out."
For those opposed to Trump's move, the equation is simple: The more weapons that exist, the more likely it is one will be used. If even one is used, it is much more likely that others will be used. It's difficult to envision a "limited" nuclear war. The logic of deterrence has always been that such weapons, once used, will lead to a full-scale conflict. Why would anybody gamble on the possibility?
"A nuclear war cannot be won and must never be fought," Reagan said in his 1984 State of the Union address. "The only value in our two nations possessing nuclear weapons is to make sure they will never be used. But then would it not be better to do away with them entirely?"
Trump doesn't follow such logic. He instead is planting the seeds for a new age of nuclear terror. New generations of Americans — and people all around the globe — have new cause to worry about the end of the world. The shadow has returned. http://theweek.com/articles/803112/trump-planting-seeds-new-age-nuclear-terror
6. Jelani Cobb: Voter-Suppression Tactics in the Age of Trump
The events in Georgia are part of a broader political project. The xenophobia and the resentment that Donald Trump stirred up during the 2016 election are fundamentally concerns about the future of the American electorate. (His reported comment that too many people are immigrating from "shithole countries" in Africa and the Caribbean was paired with a lament that not enough are coming from Europe.) He has repeatedly stated that he lost the popular vote because non-citizens voted for Hillary Clinton. Last Thursday, at a rally in Montana, he suggested that Democrats were responsible for a caravan of migrants now heading north from Honduras, because they "figure everybody coming in is going to vote Democrat." Kemp, likewise, claimed that Abrams wants to let undocumented people vote in Georgia. The suppression of minority votes is the homegrown corollary of this strategy—an attempt to place a white thumb on the demographic scale.
According to the Brennan Center for Justice, ninety-nine bills designed to diminish voter access were introduced last year in thirty-one state legislatures. Many of the recent Republican-led efforts stem from the Supreme Court's 2013 decision in Shelby v. Holder. In an opinion that eviscerated the Voting Rights Act of 1965, Chief Justice John Roberts wrote that discrimination still exists, but not sufficiently to warrant the "extraordinary" remediation measures that the act imposed on the states of the former Confederacy. That argument is roughly equivalent to saying that a decline in the prevalence of an infectious disease means that we should stop vaccinating against it. Within hours of the decision, Texas announced a strict new voter-I.D. law. Mississippi and Alabama shortly afterward began enforcing similar laws that previously had been barred. https://www.newyorker.com/magazine/2018/10/29/voter-suppression-tactics-in-the-age-of-trump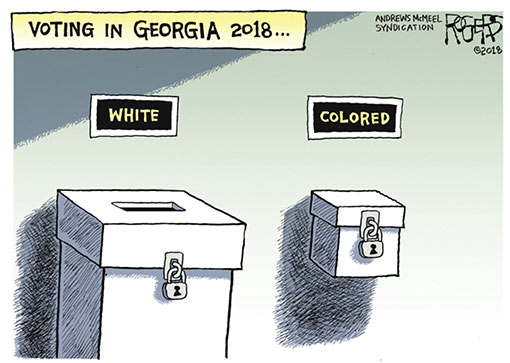 7. Matthew Yglesias: The hack gap: how and why conservative nonsense dominates American politics
The hack gap explains why Clinton's email server received more television news coverage than all policy issues combined in the 2016 election. It explains why Republicans can hope to get away with dishonest spin about preexisting conditions. It's why Democrats are terrified that Elizabeth Warren's past statements about Native American heritage could be general election poison in 2020, and it's why an internecine debate about civility has been roiling progressive circles for nearly two years even while the president of the United States openly praises assaulting journalists.
The hack gap has two core pillars. One is the constellation of conservative media outlets — led by Fox News and other Rupert Murdoch properties like the Wall Street Journal editorial page, but also including Sinclair Broadcasting in local television, much of AM talk radio, and new media offerings such as Breitbart and the Daily Caller — that simply abjure anything resembling journalism in favor of propaganda.
The other is that the self-consciousness journalists at legacy outlets have about accusations of liberal bias leads them to bend over backward to allow the leading conservative gripes of the day to dominate the news agenda.
Journalists take their cues about what's important from partisan media outlets and partisan social media.
Thus, the frenzies of partisan attention around deplorables and lock her up served to focus on controversies that, while not objectively significant. are perhaps particularly resonant to people who don't have firm ideological convictions.
Meanwhile, similar policy-neutral issues like Trump's insecure cellphone, his preposterous claim to be too busy to visit the troops, or even his apparent track record of tax fraud don't get progressives worked into a lather in the same way.
This is a natural tactical advantage that, moreover, serves a particular strategic advantage given the Republican Party's devotion to plutocratic principles on taxation and health insurance that have only a very meager constituency among the mass public. https://www.vox.com/2018/10/23/18004478/hack-gap-explained
8. LA Times Editorial: Tearing up a nuclear arms treaty with Russia would be catastrophic
President Trump has made a habit of repudiating international agreements negotiated by Barack Obama, his Democratic predecessor. Now he seems to be on the verge of withdrawing the United States from a landmark arms control agreement signed more than 30 years ago by a Republican president, Ronald Reagan.
Trump's stated reason for abrogating the 1987 Intermediate-Range Nuclear Forces Treaty — that Russia is violating its terms — seems superficially plausible. But withdrawal would still be a catastrophic mistake.
A U.S. repudiation of the INF treaty also would also further damage relations with America's closest European allies already dismayed by Trump's withdrawal from the Iran nuclear agreement and the Paris climate accord. On Monday a spokeswoman for the European Union, while calling on Russia to address concerns about its compliance, said: "We also expect the U.S. to consider the consequences of its possible withdrawal from the INF on its own security, on the security of its allies and of the whole world. The world doesn't need a new arms race."
In addition to complaining about Russian violations, Trump has pointed out that China is not bound by the INF treaty. "If Russia's doing it and if China's doing it, and we're adhering to the agreement, that's unacceptable," he said. Some arms-control experts have spoken about "globalizing" the INF treaty to add China and other Asian nations. But the idea that the U.S. needs to be freed from the treaty's restrictions to deter China isn't serious given this country's other military assets not constrained by the agreement.
On too many occasions this administration has acted impulsively on the world stage and scrambled to contain the damage later. Trashing the INF treaty would be another such blunder. The president should pull back from the precipice. http://www.latimes.com/opinion/editorials/la-ed-trump-inf-201810223-story.html
9. David Leonhardt: What if the Republicans Win Everything Again?
If Republicans do manage to keep both chambers of Congress, it would cause a political shock. So far, much of the speculation has focused on what a Democratic House takeover might mean — attempts to rein in Trump's executive actions, subpoenas, investigations, maybe even impeachment. But it's important to understand that a Republican victory would also change Washington.
It would be validation for Trump, who could then brag that he had defied the experts once again. It would mean he had outperformed Barack Obama, Bill Clinton, Ronald Reagan, Lyndon Johnson and Harry Truman, all of whom suffered drubbings in the first midterm election of their presidency. It would embolden Trump to push even harder toward the America he wants — where corporate oversight is scant, climate change is ignored, voting rights are abridged, health care is a privilege, judicial independence is a fiction and the truth is whatever he says it is.
I obviously find this prospect alarming. I'd much rather spend time imagining the ways the Congress could act as a check on Trump after the Democrats gain some control. And the polls say that's still likely. The political website FiveThirtyEight put the Democrats' odds at around 84 percent on Friday. https://www.nytimes.com/2018/10/19/opinion/sunday/midterm-elections-republican-party-trump-senate-house.html
10. Bess Levin: White House Staff Can Barely Keep Up With Trump's Stream Of Bulls--t
As you've probably noticed by now, Donald Trump has a penchant for saying things that are not true, or what laymen would call "lying through his caps." Having a compulsive liar as president would be hard enough for the staff of any administration to contend with. But in Trump's case, the problem is compounded by the fact that he routinely and publicly spews such falsehoods wherever he sees fit (rallies, Twitter, Rose Garden press conferences), and then, because he essentially lives in a parallel universe, believes them to be true. When confronted by reporters about these claims, another administration might say, "Well, that's not entirely the case," or, "What the president meant was . . . " But this is no such administration! Instead, Trump's staff—and his Republican allies on Capitol Hill—have scrambled to support his bogus talking points after the fact.
Moreover, at least some of Trump's staffers are fully aware that they're bullshitting the American people—they just don't seem to care. "It doesn't matter if it's 100 percent accurate," a senior Trump administration official told the Daily Beast of the president's immigration fear-mongering. "This is the play." https://www.vanityfair.com/news/2018/10/white-house-staff-can-barely-keep-up-with-trump-lies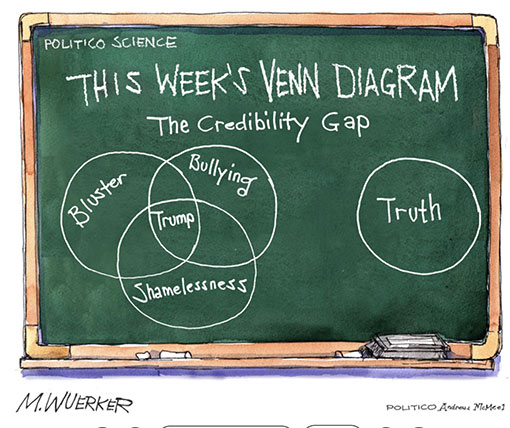 11. Jonathan Bernstein: The Republicans Are Running on a Fictional Platform
Here's a puzzle: Why are Republicans running on fictional versions of their own platform? And how big of a deal is it?
On health care, Republicans from Donald Trump down say they are protecting people with pre-existing conditions. In reality, as Jonathan Cohn explains, the administration is in court to wipe out protections for those people, and Trump supported both repeal of Obamacare and replacement bills that would do little or nothing about the problem. 
At the same time, Trump is pretending that he's about to slash middle-class taxes. He's not. Had Republicans wanted to do that, they could have included the measure in their previous tax cut. Or they could have passed it this year. Or Trump could at least have put forward a plan. Or at least the White House or Treasury would be working on a plan, perhaps in conjunction with the House Ways and Means and the Senate Finance Committees. But the president is just saying stuff that sounds good to him, or perhaps stuff that gets positive responses at his rallies, without any sign there will be any real policy follow-up.
Trump makes up stuff because, well, he's a person who makes up stuff. But one important reason why Republicans tolerate him is because so many of them simply don't care very much about what their elected officials do, at least beyond judicial selections and lower taxes for the rich, as long as they stick to partisanship. Yes, this tends to make actually governing quite difficult. But it sure does free the party's politicians to say all sorts of nutty things on the campaign trail, and Republican-aligned media to support whatever that might be.   https://www.bloomberg.com/opinion/articles/2018-10-24/on-obamacare-trump-and-republicans-run-on-a-fictional-platform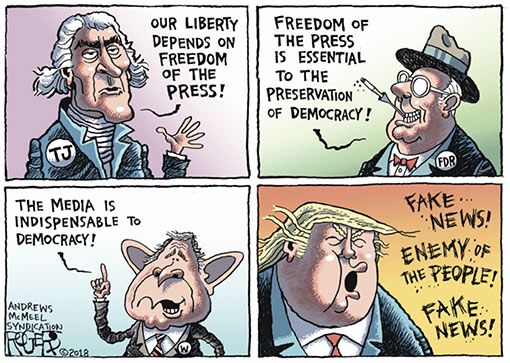 12. Ed Kilgore: The Right's 'Caravan' Panic
Last week Donald Trump launched a tweetstorm over the gradual approach to the U.S. border of a "caravan" of Central Americans (a few thousand people at the most):
I am watching the Democrat Party led (because they want Open Borders and existing weak laws) assault on our country by Guatemala, Honduras and El Salvador, whose leaders are doing little to stop this large flow of people, INCLUDING MANY CRIMINALS, from entering Mexico to U.S.....

— Donald J. Trump (@realDonaldTrump) October 18, 2018

....In addition to stopping all payments to these countries, which seem to have almost no control over their population, I must, in the strongest of terms, ask Mexico to stop this onslaught - and if unable to do so I will call up the U.S. Military and CLOSE OUR SOUTHERN BORDER!..

— Donald J. Trump (@realDonaldTrump) October 18, 2018

...The assault on our country at our Southern Border, including the Criminal elements and DRUGS pouring in, is far more important to me, as President, than Trade or the USMCA. Hopefully Mexico will stop this onslaught at their Northern Border. All Democrats fault for weak laws!

— Donald J. Trump (@realDonaldTrump) October 18, 2018
At some point, we have to take people seriously when they treat migrants as an existential threat to civilization, and the use of force against them as a sad but necessary measure of self-defense. Yes, it requires an unusual combination of paranoia and racism to view a few thousand poor people fleeing violence as justifying a panic. But the president of the United States has no compunctions about it:
Sadly, it looks like Mexico's Police and Military are unable to stop the Caravan heading to the Southern Border of the United States. Criminals and unknown Middle Easterners are mixed in. I have alerted Border Patrol and Military that this is a National Emergy. Must change laws!

— Donald J. Trump (@realDonaldTrump) October 22, 2018
What's a little excessive violence when it's needed to make a point and win an election? http://nymag.com/intelligencer/2018/10/is-the-caravan-panic-a-reenactment-of-a-racist-novel.html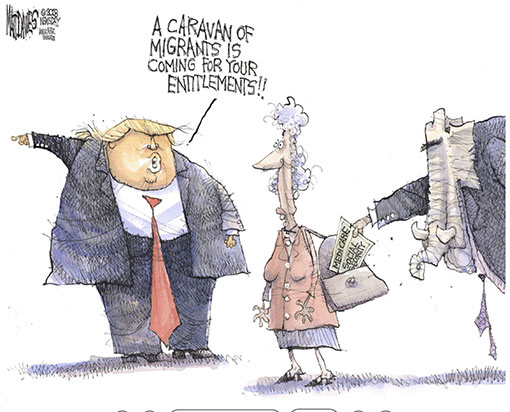 13. Windsor Mann: Trump can horrify us, annoy us, embarrass us — but he cannot shock us
No one was surprised when President Trump called Stormy Daniels Horseface on Twitter. After all, this is the man who called Hillary Clinton a nasty woman, Arianna Huffington a dog, Bette Midler an extremely unattractive woman, and Rosie O'Donnell a disgusting pig with a fat, ugly face.
The only shocking thing about Trump's Horseface tweet was how unshocking it was. We know he sleeps with porn stars, disparages women's looks, and can't spell horse face properly. We know we're supposed to be shocked by these things, but it's hard to remain shocked when you're shocked all the time — not just daily, but hourly. It's shocking when good people do bad things, not when bad people do bad things.
After a rumor spread that there might be a tape of Trump saying the N-word, people were more surprised by the absence of the tape than by the rumor itself. Of course Trump said the N-word was the operating premise.
Regarding The New York Times' investigation into the dubious tax schemes of Trump's family over decades, almost no one cared. The story was, as Politico's Jack Shafer put it, a bombshell that bombed. It bombed because it was predictable. It's not a surprise when a newspaper finds out that a guy who won't release his tax returns has a shady reason for keeping them secret. http://theweek.com/articles/802346/trump-horrify-annoy-embarrass--but-cannot-shock