June 3, 2021
ON THE RECORD. . .
"We are watching a slow-motion insurrection being carried out by Republicans in suits & ties in states all across the country. They are putting in place the pieces to do in the next elections what the mob failed to do on Jan 6." @chrislhayes bullseye. — Steven Beschloss

"We've got to get to the bottom of this shit. Jesus. It's a nonpartisan investigation of what happened. And if it's because they're afraid of Trump then they need to get out of office. It's bullshit. You make tough decisions in this office or you shouldn't be here." — Sen. Jon Tester (D-MT), on Republicans blocking the formation of a commission to investigate the Capitol insurrection. .

Auschwitz was the end of the tragedy. It is worth understanding how it all began. In the end, it came from a lie, a lie conceived for political power that was fueled by hate, delusion and grievance. That lie grew, mutated and metastasized into the greatest crime in human history. It reminds us all to rise and fight against the lie. — Steve Schmidt

"If Donald Trump disappeared tomorrow, I don't think you'd have many Republicans in the search party. Maybe a few prosecutors. But not Republicans." — Former Rep. Barbara Comstock (R-VA)

"This vote has made it official. Donald Trump's Big Lie has now fully enveloped the Republican party. Trump's Big Lie is now the defining principle of what was once the party of Lincoln." —Senate Majority Leader Chuck Schumer (D-NY),

"I'm very disappointed, very frustrated that politics has trumped — literally and figuratively — the good of the country." — Sen. Joe Manchin (D-WV) on the defeat of the Jan 6 commission.

Paul Ryan has been a curse to the Republican Party. He has no clue as to what needs to be done for our Country, was a weak and ineffective leader, and spends all of his time fighting Republicans as opposed to Democrats who are destroying our Country." — Trump after former House Speaker Paul Ryan (R-WI) criticized Trump's continued grip on the Republican Party.

"It became clear that to stay in that position, I would have to perpetuate the 'Big Lie.' I would have to be willing to go along with the idea that the election was stolen." —Rep. Liz Cheney (R-WY), on why she didn't fight to remain in the House GOP leadership.

"To be making a decision for the short-term political gain at the expense of understanding and acknowledging what was in front of us on Jan. 6, I think we need to look at that critically. Is that really what this is about, one election cycle after another?" — Sen. Lisa Murkowski (R-AK) on Mitch McConnell blocking the Jan. 6 Commission.

"And then there are those who take this sacrifice for granted, waxing patriotic while salivating for civil war. Claiming they need to destroy the Republic in order to save it in the ultimate betrayal of oaths sworn. Those treacherous snakes can go straight to hell. "— Rep. Peter Meijer (R-MI) on Memorial Day.

"I don't think anybody's going to get away with anything. I think we'll know everything we need to know. We were all witnesses, we were right there when it happened. And I simply think the is not necessary." —Senate Minority Leader Mitch McConnell (R-KY) defending blocking the bill to create a bipartisan commission to study the January 6 insurrection.

 

"If 10 Republican Senators cannot even vote for a bipartisan commission to investigate the January 6th insurrection, 10 Republican Senators will not vote for anything meaningful to improve the lives of the American people. We must abolish the filibuster and act now." — Sen. Bernie Sanders (I-VT). https://twitter.com/SenSanders/status/1399198044554465294

"Just because history is silent, it does not mean that it did not take place. Hell was unleashed, literal hell was unleashed." And now, he said, the nation must come to grips with the subsequent sin of denial.We can't just choose what we want to know, and not what we should know. I come here to help fill the silence, because in silence wounds deepen." — President Joe Biden in Tulsa.

Ukrainian lawmaker Andriy Derkach accused by both the Biden and Trump administrations of being an "active Russian agent" described Trump attorney Rudy Giuliani as "very useful for me. He records everything. He writes everything down in his notebook. He never relaxes."
VIDEOS
Michael Flynn said today that covid was a conspiracy to control the American people and divert attention away from stealing the election. He said it is not a problem in the rest of world, and he doesn't worry about it because he has been taking hydroxychloroquin for 30 years. VIDEO

Donald Trump Jr is charging $599 for videos on celebrity website Cameo to get MAGA messages across after Trump's Twitter ban. — VIDEO

Many have argued that President Donald Trump's efforts amounted to an attempted coup on Jan. 6. Was it? And why does that matter? VIDEO

Retire Rubio | MeidasTouch:

Karine Jean-Pierre, the White House Principal Deputy Press Secretary was just asked about her place in history as the first Black woman at the White House briefing podium in 30 years. Here's how she answered.
REMINDER: Just Security is continuing to track every pending criminal and civil case against Donald Trump.
---
IN THIS ISSUE
IN THE NEWS
OPINION
Andy Borowitz: Greg Abbott Tries to Lure Back Democratic Lawmakers by Offering NPR Tote Bags
In a video message posted on Sunday, the governor of Texas, Greg Abbott, attempted to lure Democratic lawmakers back to work by offering them free NPR tote bags.

Displaying one of the canvas bags on offer, Abbott said that it was "perfect for carrying around all your liberal needs."

"Let's say you want to bring a copy of Michelle Obama's 'Becoming' to work, or perhaps some amazing book by Rachel Maddow," he said. "With this limited-edition tote, you'll be the envy of all your lib friends."

Abbott told lawmakers that the tote bag, which comes with a "Fresh Air" mug, could be theirs, free of charge, but only if they return to work on Monday.

"Come and get it, snowflakes," he said. https://www.newyorker.com/humor/borowitz-report/
Most GOP Voters Think Liberals Rioted at the Capitol
A new Yahoo/YouGov poll reveals that 73% of Republicans believe that left-wing protestors are to blame for the January 6th attack on the Capitol because they wanted "to make Trump look bad." https://www.mediaite.com/news/poll-3-in-4-republicans-believe-trump-supporters-are-not-to-blame-for-january-6th-capitol-attack/
Jeff Bezos and Amazon may own all of The Apprentice US with Donald Trump when MGM takeover is approved
Numerous individuals involved in the show have claimed the former president used racist and other offensive language during filming
Amazon CEO Jeff Bezos now owns MGM after a $8.45bn deal, which means he may also have all of the footage from The Apprentice.
The Late Show host Steven Colbert suggested Mr Bezos release outtake footage from the reality TV show in order to shame former President Donald Trump, who hosted the show. https://youtu.be/6ntoJPlMRF8
Matt Gaetz Urges 'Armed Rebellion'
Rep. Matt Gaetz (R-FL) told an audience in Georgia Thursday that the purpose of the Second Amendment is to "maintain an armed rebellion against the government if that becomes necessary."
Said Gaetz: "We have a Second Amendment in this country, and I think we have an obligation to use it," going on to suggest that conservatives shoot people in Silicon Valley for their "cancel culture." https://twitter.com/shannonrwatts/status/1398094811169624065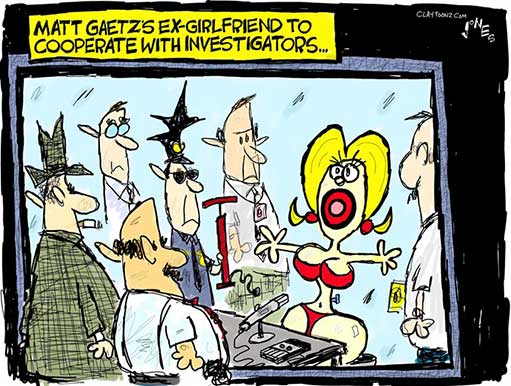 Michael Calls for Coup In the U.S.
Retired Lt. Gen. Michael Flynn, who served briefly as former President Trump's national security adviser, called for a Myanmar-like military coup in America at a QAnon conference in Dallas.
Flynn insisted that he's "not a conspiracy theorist," but then declared: "Trump won! He won! He won the popular vote, and he won the Electoral College vote." https://www.huffpost.com/entry/michael-flynn-qanon-conference-myanmar-military-coup_n_60b424eee4b0ead2796a24a4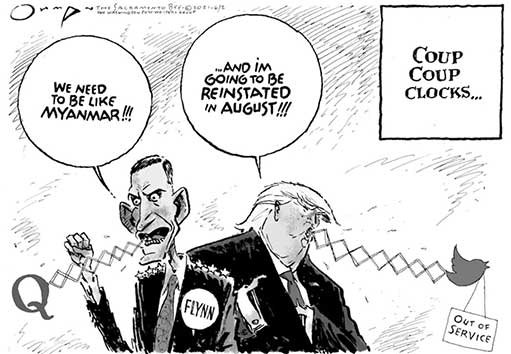 America Strong PAC wants to replace the "fake" Republicans who voted to impeach.
A handful of Donald Trump campaign alumni have formed the America Strong PAC to try to unseat the 10 Republican House members who crossed party lines to vote to impeach the former president earlier this year. https://americastrongpac.com/
For Democrats, GOP filibuster of Jan. 6 commission tests 'limits of bipartisanship'
A Republican filibuster Friday of an independent commission to investigate the Jan. 6 attack on the Capitol sparked outrage among Senate Democrats ranging from Senate Majority Leader Chuck Schumer to centrist West Virginia Sen. Joe Manchin.
"We have seen the limits of bipartisanship and the resurgence of Republican obstructionism," Schumer told reporters after the Jan. 6 commission vote, which won 54 senators. Six Republicans crossed the aisle.
When it comes to changing filibuster rules, the New York Democrat said "everything is on the table."
"I think the events of the last few days probably made every member of our caucus realize that a lot of our Republican colleagues are not willing to work with us on a whole lot of issues, even issues where we try to be bipartisan," Schumer said. https://www.nbcnews.com/politics/congress/democrats-gop-filibuster-jan-6-commission-tests-limits-bipartisanship-n1269073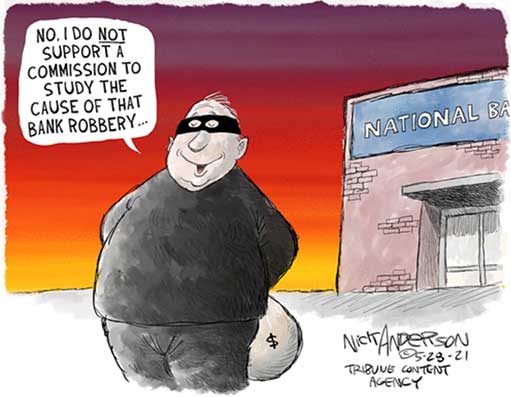 Scholars warn democracy is threatened, call for voting rights protections
A group of university professors and scholars on Tuesday signed onto a Statement of Concern calling for increased federal voting protections, warning that U.S. democracy is "now at risk" with the wave of recent GOP-led legislative proposals across the country seeking to implement sweeping voting overhauls.
The dozens of academics, which included political science and government professors at schools like Stanford, Harvard and Cornell, in the letter called themselves "scholars of democracy who have watched the recent deterioration of U.S. elections and liberal democracy with growing alarm." 
"Specifically, we have watched with deep concern as Republican-led state legislatures across the country have in recent months proposed or implemented what we consider radical changes to core electoral procedures in response to unproven and intentionally destructive allegations of a stolen election," they added. 
"Collectively, these initiatives are transforming several states into political systems that no longer meet the minimum conditions for free and fair elections," the scholars added in the statement, which was published by public policy think tank New America. 
The scholars went on to say that with these proposed election changes, "our entire democracy is now at risk."  https://thehill.com/homenews/state-watch/556284-scholars-warn-democracy-is-threatened-call-for-voting-rights-protections
Facebook says U.S. is the top target of disinformation campaigns
Of the 150 disinformation campaigns that Facebook has caught and removed in the past four years, the U.S. has been the most frequent target by far, according to a new threat intelligence report from Facebook.
While most of the campaigns targeting the U.S. have originated abroad, Facebook found that a significant number of campaigns targeting people in the U.S. have originated from inside the U.S.
One campaign the company points to was the network operated by a U.S. based marketing firm working on behalf of its clients, including a pro-Trump organization. https://www.axios.com/facebook-disinformation-campaigns-globally-8859f7a8-f846-4899-93cb-dab635461c87.html
272,000 Georgia voters don't have identification required for absentee ballots
Over 272,000 registered voters don't have a driver's license or state ID on file with election officials, meaning they'd have to submit additional documents to vote by mail under Georgia's new voting law, state election records show.
The ID requirements disproportionately affect Black voters, who are much less likely than white voters to have ID numbers matched to their voter registrations, according to election data. https://www.ajc.com/politics/georgia-absentee-id-law-has-outsized-impact-on-black-and-metro-voters/ZFAZVG46EZEL5MUICUQI6SHQ44/
Bannon has his MAGA megaphone back. GOP candidates know it.
Steve Bannon has a new MAGA megaphone, and Republicans eager to shine in a party still tethered to former President Donald Trump know it.
Bannon, the former Breitbart News executive and one of the architects of Trump's Make America Great Again movement, has increasingly leveraged his "War Room: Pandemic" podcast into a kind of proxy primary. Ambitious Republicans are flocking there for the chance to demonstrate loyalty to Bannon's former boss and pitch themselves to Trump's voters — and, more indirectly, to Trump himself. https://www.nbcnews.com/politics/donald-trump/bannon-has-his-maga-megaphone-back-gop-candidates-know-it-n1269050
POLL: 3 in 4 Republicans Believe Trump Supporters Are NOT to Blame for January 6th Capitol Attack
A new Yahoo/YouGov poll reveals that 73% of Republicans believe that left-wing protestors are to blame for the January 6th attack on the Capitol because they wanted "to make Trump look bad."  https://www.mediaite.com/news/poll-3-in-4-republicans-believe-trump-supporters-are-not-to-blame-for-january-6th-capitol-attack/
Trump appointee on West Point Board spreads conspiracy that Biden is replacing White people of European ancestry
Rretired Army Col. Douglas Macgregor, a Trump appointee serving on West Point's advisory board has repeatedly spread a conspiracy that the Biden administration is bringing in non-White immigrants as part of a "grand plan" to have them outnumber White Americans of European ancestry in the United States.
In another interview, he also attacked women serving in the military in combat roles. https://www.cnn.com/2021/05/27/politics/kfile-macgregor2/index.html
President of Belarus willing to flood EU with drugs and migrants to stop new sanctions
President Lukashenko of Belarus has threatened to allow migrants and drugs to pour into western Europe if sanctions are imposed on his regime for the forced landing of a Ryanair flight.
European Union foreign ministers began talks in Lisbon yesterday on economic measures that could target the former Soviet state's most important industries and its financial sector.
Lukashenko, 66, warned Europe: "We stopped drugs and migrants. Now you will eat them and catch them yourselves." https://www.thetimes.co.uk/article/lukashenko-willing-to-flood-eu-with-drugs-and-migrants-to-stop-new-sanctions-vtrwndw82
In Texas, the most conservative legislative session in a generation is wrapping up
May 31st marks the end of the current legislative session in Austin, but the impact of the past few months will be felt for longer. "This was the most conservative session I've seen in 30 years," says Evan Smith of the Texas Tribune, which keeps tabs on the state capitol.
If Texas is dancing the two-step, it is doing so with two right feet. Bills that might not have even been given a hearing in previous legislative sessions are passing both Republican-controlled chambers of the state legislature and being signed by the Republican governor, Greg Abbott. This includes one of the most restrictive abortion laws in the country, which bans the procedure as early as six weeks and makes no exception for rape or incest.
"Permitless carry", which enables those over the age of 21 to carry a handgun with them in public without going through training, fingerprinting or a background check, has also passed the legislature and will soon be signed into law. What once seemed a fringe preoccupation of a few lawmakers is now mainstream among Texas Republicans. https://www.economist.com/united-states/2021/05/29/in-texas-the-most-conservative-legislative-session-in-a-generation-is-wrapping-up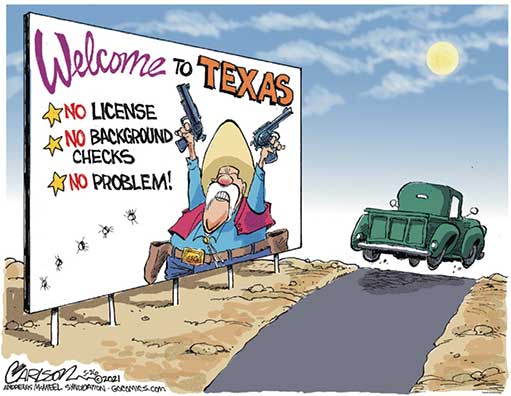 Trump ends blog after 29 days, infuriated by measly readership
Donald Trump's blog, celebrated by advisers as a "beacon of freedom" that would keep him relevant in an online world he once dominated, is dead. It was 29 days old.
Upset by reports from The Washington Post and other outlets highlighting its measly readership and concerns that it could detract from a social media platform he wants to launch later this year, Trump ordered his team Tuesday to put the blog out of its misery, advisers said. https://www.washingtonpost.com/technology/2021/06/02/trump-blog-dead/
Tulsa isn't the only race massacre you were never taught in school.
With President Biden commemorating the 100th anniversary of the Tulsa Race Massacre Tuesday, many Americans are learning for the first time about the nation's long history of racist rampages, particularly during (but not limited to) the period from the 1870s to the 1920s — considered by many a nadir in the fight for Black civil rights.
This new awareness has prompted calls from many, including musician and activist Common, to learn more about these incidents. On Monday he posted to social media a map of part of the United States with locations and dates of other massacres against Black people. "Pick a massacre and research it!" it read.
For accurate accounts of many of the incidents that occurred during this bleak period, the ones Washington Post's Retropolis has covered are at https://www.washingtonpost.com/history/2021/06/01/tulsa-race-massacres-silence-schools/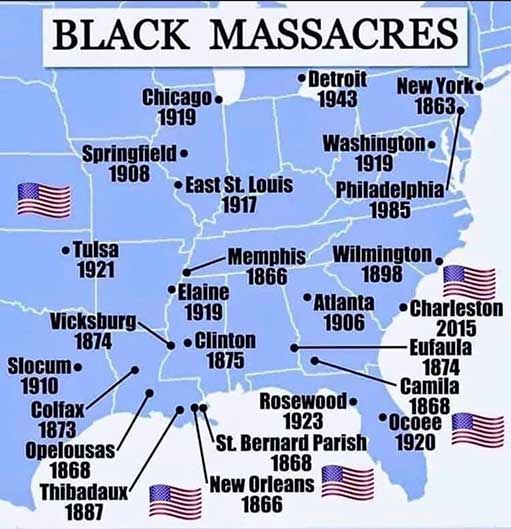 Schumer to force vote on sweeping election overhaul next month
Senate Majority Leader Charles Schumer (D-N.Y.) said Friday he is planning to force a vote next month on a sweeping bill to overhaul elections, setting the stage for a high-profile clash over the filibuster.
The bill is a top priority for Democrats, who have characterized it as necessary to bolster democracy as GOP state legislators across the country propose new voting restrictions in the wake of the 2020 presidential election, which former President Trump has falsely claimed was stolen from him. Republicans view the legislation as a federal takeover of elections. https://thehill.com/homenews/senate/555977-schumer-to-force-vote-on-sweeping-election-overhaul-next-mont
Republicans are not in disarray. They're united in their attack on democracy.
On the surface, the GOP is a party in disarray. Party leaders in Congress struggle to deal with elected nutballs such as Rep. Marjorie Taylor (R-Ga.). Far-right extremists try to take over state parties. A member of the House leadership is ousted for refusing to pander to the lie that President Biden stole the 2020 election from Donald Trump.
But underneath, there is a striking — and frightening — degree of unity. For all the disagreement about the 2020 election, Republicans are in lockstep on the question of power — namely, that by rights it belongs exclusively to Republicans and steps must be taken to ensure that Democrats not be allowed to wield it, no matter what the voters might want. https://www.washingtonpost.com/opinions/2021/05/27/republicans-are-not-disarray-theyre-united-their-attack-democracy/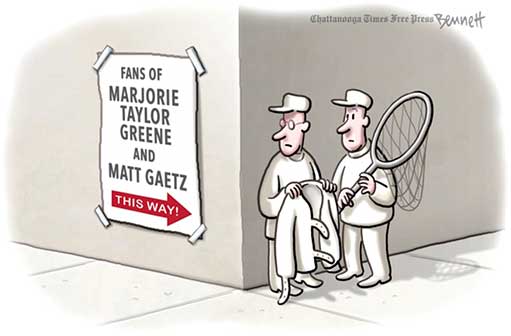 Emails Tie Top Trump Exec Allen Weisselberg to Yet Another Trump Financial Scandal
Allen Weisselberg is in the hot seat—and that's bad news for Donald Trump and his family. Assorted news reports have identified Weisselberg, the chief financial officer of the Trump Organization, as a key figure in the criminal and civil investigations of the Trump business being conducted by the New York attorney general and the Manhattan district attorney, who recently empaneled a grand jury to review evidence against the Trump company, its executives, and possibly Trump. Moreover, the New York Times recently reported that Weisselberg himself is being criminally investigated for possible tax fraud, raising the prospect that investigators are looking to flip the longtime Trump executive into a cooperating witness. Now there's more trouble for Weisselberg and Trump World.
Previously unreported emails attached to a little-noticed court document filed last year show that Weisselberg is tied to another Trump financial scandal: the Trump inauguration case, which is currently being investigated by the attorney general of Washington, DC.  https://www.motherjones.com/politics/2021/05/emails-tie-trump-exec-allen-weisselberg-to-inaugural-scandal-racine/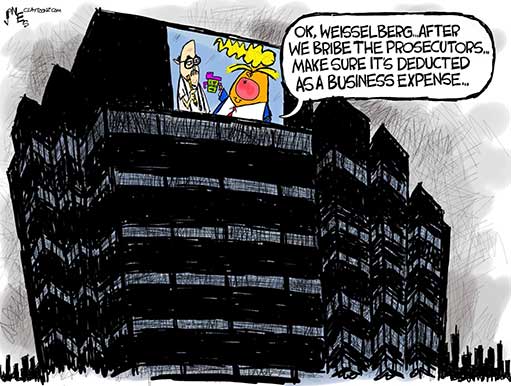 Judge says Trump's 'steady drumbeat' of the Big Lie could continue to inspire his supporters to take up arms
A federal judge on Wednesday wrote that Donald Trump's "Big Lie" that the 2020 election was stolen from him could still inspire some of the former President's supporters to take up arms, as they did in January during the deadly US Capitol insurrection.
The judge's blunt assessment of the current, charged political climate came in a legal decision about a defendant who was drawn to Washington, DC, in January. And it adds to a growing chorus of warnings from the officials most closely weighing the aftermath of the Capitol riot about what the threat level still might be.
"The steady drumbeat that inspired defendant to take up arms has not faded away; six months later, the canard that the election was stolen is being repeated daily on major news outlets and from the corridors of power in state and federal government, not to mention in the near-daily fulminations of the former President," Judge Amy Berman Jackson of the DC District Court wrote in an opinion to keep defendant Cleveland Meredith Jr. in jail because he could endanger the public if released.
Meredith allegedly had texted that he wanted to shoot House Speaker Nancy Pelosi, a California Democrat, on live TV and had hauled a trailer of guns and ammo to Washington in January. https://www.cnn.com/2021/05/26/politics/trump-supporters-big-lie-capitol-riot/index.html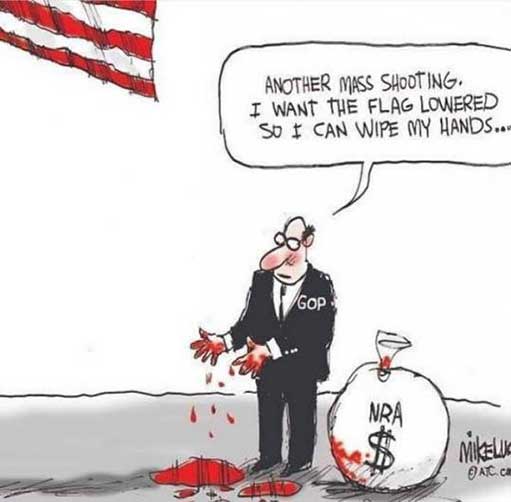 Study finds nearly one-in-five Americans believe QAnon conspiracy theories
Washington, we have a problem — politically, informationally and societally — when 15 percent of Americans agree with the QAnon statement that the U.S. government, media and financial worlds "are controlled by a group of Satan-worshipping pedophiles who run a global child sex trafficking operation."
Or when 20 percent agree with this statement: "There is a storm coming soon that will sweep away the elites in power and restore the rightful leaders."
Or when another 15 percent agree that "Because things have gotten so far off track, true American patriots may have to resort to violence in order to save our country." https://www.nbcnews.com/politics/meet-the-press/study-finds-nearly-one-five-americans-believe-qanon-conspiracy-theories-n1268722
Senate GOP doubts grand jury charges would weaken Trump
Senate Republicans see a special grand jury investigation into President Trump's business practices by Manhattan District Attorney Cy Vance Jr. as more evidence that Democrats want to keep Trump in the spotlight to drag them down in the midterm elections.
Republicans think the investigation will only further deepen partisan divisions over the former president and believe that even if he's indicted, it won't diminish him as a political force in 2022 and beyond. https://thehill.com/homenews/senate/555644-senate-gop-doubts-grand-jury-charges-would-weaken-trump
GOP frets behind the scenes over potential Trump 2024 bid
Trump is confiding in allies that he intends to run again in 2024 with one contingency: that he still has a good bill of health, according to two sources close to the former president. That means Trump is going to hang over the Republican Party despite its attempts to rebrand during his exile and its blockade of a Trump-centric investigation into January's insurrection.
And amid news that the Manhattan district attorney has convened a grand jury that could decide to indict Trump, other executives working for him or the business itself, Trump publicly signaled this week that he's considering another run. But he may face skepticism from surprising corners of the GOP, as some Republicans who supported him consistently during his presidency have mixed opinions about the possibility of a Trump 2024 campaign, according to interviews with 20 Republicans in both the House and Senate. https://www.politico.com/news/2021/05/27/trump-2024-gop-skepticism-491002
GOP dreads the return of Trump rallies
They'll never say it publicly. But Republicans in Washington are dreading DONALD TRUMP'S return to the stump, predicting his rallies will cause a major headache for the party as it mounts a bid to take back Congress in 2022.
Even as they tee off against Twitter and Facebook for banning Trump, GOP lawmakers are privately relieved he no longer has those megaphones. But the resumption of rallies gives Trump a new platform to spout conspiracy theories about the election and air his grievances — at the same time most Republicans are desperate to move on and talk about the Biden agenda.
"If we win the majority back in 17 months, it's going to be in spite of Trump — not because of Trump," said one senior House Republican aide for a lawmaker considered one of Trump's top supporters on Capitol Hill. "He will totally take credit if we win the House back — but it won't be because of him. This guy is a disaster."
Most Republicans are expecting a rerun of the oldies: false claims of voter fraud, witch hunts and the like — only to be hounded by reporters for their comment on the outrage of the moment. https://www.politico.com/newsletters/playbook/2021/05/27/gop-dreads-the-return-of-trump-rallies-493023
Influencers say they were offered money to discredit the Pfizer vaccine. In France, some suspect Russia is behind it.
 Several European influencers say they have been offered money to use their social media presence to discourage their millions of followers from receiving the Pfizer-BioNTech coronavirus vaccine by a suspicious agency that French officials reportedly think could be linked to Russia.
According to the influencers, they were approached online and asked to tell their large followings that the Pfizer vaccine is dangerous and has sparked more deaths than the one developed by AstraZeneca and Oxford University. The Oxford-AstraZeneca vaccine has been plausibly linked to extremely rare but in some cases fatal blood clots. European and U.S. regulators have not linked the Pfizer vaccine to any such side effects. https://www.washingtonpost.com/world/2021/05/26/influencers-offered-money-pfizer-discredit-russia/
The partisan vaccination divide
The divide, per new The Economist/YouGov polling:
Among Biden voters: Fully vaccinated 76%, won't get vaxxed 2%.
Trump voters: Fully vaccinated 54%, won't get vaxxed 26%. https://twitter.com/gelliottmorris/status/1397609331810619397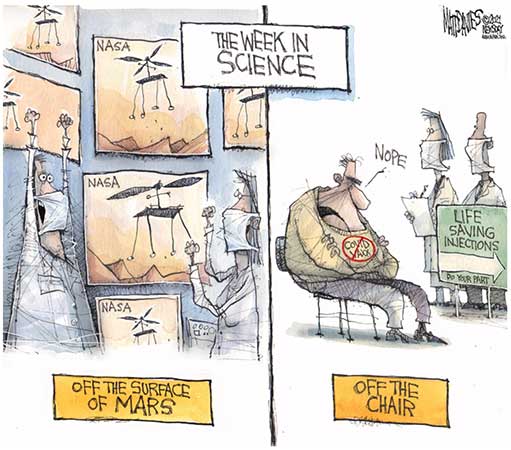 Ariel Edwards-Levy: Polls find most Republicans say 2020 election was stolen and roughly one-quarter embrace QAnon conspiracies
Most Americans reject QAnon-linked conspiracy theories and believe that Donald Trump lost legitimately in 2020, a set of new polling finds. But a substantial minority within the Republican party endorses some of those theories, and most continue to baselessly question the outcome of last year's election.
About one-quarter of Republicans, 23%, agree with a set of conspiratorial beliefs linked to the QAnon movement, according to a PRRI report released Thursday. These believers said they mostly or completely agreed that "the government, media, and financial worlds in the U.S. are controlled by a group of Satan-worshipping pedophiles who run a global child sex trafficking operation," that "there is a storm coming soon that will sweep away the elites in power and restore the rightful leaders," and, finally, that "because things have gotten so far off track, true American patriots may have to resort to violence in order to save our country." Among the full American public, 14% mostly or completely agree with all those statements, with a broad majority saying they disagree.
Beyond partisanship, belief in QAnon conspiracy theories is also strongly associated with consumption of far-right media, the report finds. Only a fraction of the public, about 3%, report that their most trusted TV news sources were right-wing networks like One America News and Newsmax. But nearly half of that group say they believed in "a storm coming soon," with 42% agreeing that "patriots may have to resort to violence" and 40% that "a group of Satan-worshipping pedophiles" control US government, media and finance. The findings don't indicate whether consuming far-right media instills these beliefs in viewers, or whether believers in those theories tend to gravitate to such news sources. https://www.cnn.com/2021/05/28/politics/poll-qanon-election-conspiracies/index.html
Nate Silver: A few observations
1) Parties usually course-correct after defeats and the GOP is doing the very opposite. It's not clear how well empirical precedents about mean-reversion during the midterms holds up under these conditions.

2) Swing voters tend to elect the out-party in midterms to create a balance of power. If they're convinced that the GOP will not wield its power responsibly or will even use control of Congress to permanently seize power, that calculation changes.

3) Even if swing voters don't care, Democratic base voters are likely to be very motivated by the claim that Democrats must keep control of Congress to prevent the presidency from being stolen in 2024. This may reduce the typical "enthusiasm gap" in midterm voting.

4) After GOP turnout declined in the Georgia runoffs, I wouldn't totally dismiss the idea that a party can sabotage its own turnout when it claims that elections are stolen. https://twitter.com/NateSilver538/status/1398334790781243393
Biden expected to use budget to strengthen abortion rights bona fides
As a presidential candidate, Joe Biden told Democratic primary voters that he "could no longer continue to abide by the Hyde Amendment" — the prohibition written into annual congressional spending bills since 1976 barring almost all federal funding for abortion.
The first real test of his resolve will come when Biden sends his fiscal 2022 budget proposal to Capitol Hill on Friday.
Yet such action in Friday's budget would be largely symbolic, as the policy change is almost certain not to clear the 50-50 Senate. And yet, Biden could still use the moment to showcase his transformation from one of the Democratic Party's most vocally anti-abortion lawmakers to one of its most progressive presidents. https://www.politico.com/news/2021/05/27/biden-hyde-amendment-abortion-rights-491030
Democrats plot Medicaid expansion backdoor in red states refusing program
Expanding coverage to the estimated 2.2 million people lacking affordable health insurance options in the Medicaid expansion holdout states would fulfill a Biden campaign pledge while his other key health care promises, like government drug price negotiations and a public option, face tough odds in Congress. Democrats also believe it would deliver a major win for their party heading into tightly contested midterm elections next year, given that Medicaid expansion has polled well — including in states where Republican leaders have blocked it for years.
However, the new effort carries risks that Democratic lawmakers, White House officials and health care advocates have been struggling to resolve in behind-the-scenes discussions over the past few months, say people involved in those talks. One challenge is designing a program that won't invite backlash from a health care industry ready to battle Democrats on other sweeping changes. Another concern is inadvertently rewarding states that blocked Medicaid expansion for years. Any plan would also come with a steep price tag.
"There is pretty universal acknowledgment that action is needed to address the population," said Henry Connelly, spokesperson for House Speaker Nancy Pelosi. "Everyone is exploring ways to get it done." https://www.politico.com/news/2021/05/29/medicaid-expansion-red-states-491353
Biden's budget goes big on spending in bid to lift middle class
President Joe Biden has released a $6 trillion budget request that stitches his most ambitious spending plans into one massive proposal, pitching historic investments in highways, child care and climate change.
Assuming a federal budget gap of more than $1 trillion for the next decade, the long-delayed document focuses on lifting the middle class, expanding the social safety net and boosting American competitiveness across the globe. It combines Biden's $2.3 trillion infrastructure plan, his $1.8 trillion families proposal and $1.5 trillion in discretionary spending to fund federal agencies for the upcoming fiscal year.
"Put together, this budget is an agenda for robust, durable economic growth and broadly shared prosperity," said Shalanda Young, Biden's acting White House budget director. "It will deliver a strong economy now and for decades into the future." https://www.politico.com/news/2021/05/28/biden-releases-6t-budget-request-491318
GOP Stands Alone in Backing Arizona State Senate Audit
As Legislative leaders attempt to secure every Republican vote to pass a budget, the audit becomes a good lens to see why legislative leaders have only one seat majorities in both the House and the Senate. In 2012, Republicans enjoyed super majorities in both chambers and controlled every statewide office in Arizona. 
"The issues that Republicans are running on today – fraud and tax cuts – are not issues that a majority of the Arizona electorate supports," said Paul Bentz, Senior V.P for Research & Strategy at HighGround, Inc., "As we pointed out earlier this week, a majority of the Arizona electorate would far prefer investments in education and Arizona's cities and towns over tax cuts.  The same data set reveals that a majority of likely 2022 voters oppose the audit and less than a third of voters were willing to give the auditors passing marks for their work thus far." https://azhighground.com/gop-stands-alone-in-backing-arizona-state-senate-audit/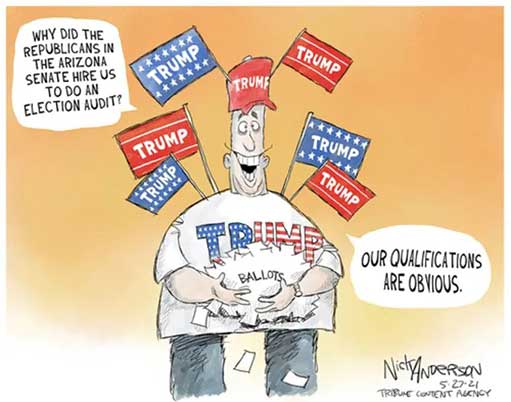 The DAILY GRILL
Trump has been telling a number of people he's in contact with that he expects he will get reinstated by August. — Maggie Haberman

VERSUS

I think it is more accurate to replace "reinstated" with institutionalized. —Matthew Dowd
Meridith McGraw, David Siders and Sam Stein: Republicans fear Trump will lead to a 'lost generation' of talent
As Donald Trump ponders another presidential bid, top Republicans have grown fearful about what they're calling the party's "lost generation."
In conversations with more than 20 lawmakers, ex-lawmakers, top advisers and aides, a common concern has emerged — that a host of national and statewide Republicans are either leaving office or may not choose to pursue it for fear that they can't survive politically in the current GOP. The worry, these Republicans say, is that the party is embracing personality over policy, and that it is short sighted to align with Trump, who lost the general election and continues to alienate a large swath of the voting public with his grievances and false claims that the 2020 election was stolen.
Trump has driven sitting GOP lawmakers and political aspirants into early retirements ever since he burst onto the scene. But there was hope that things would change after his election loss. Instead, his influence on the GOP appears to be as solid as ever and the impact of those early shockwaves remain visible. When asked, for instance, if he feared the 45th president was causing a talent drain from the GOP ranks, former Florida Gov. Jeb Bush — perhaps inadvertently — offered a personal demonstration of the case. https://www.politico.com/news/2021/06/01/trump-lost-generation-491474
Max Boot: Biden's Tulsa speech offers a powerful rebuke to the GOP's whitewash of history
Republicans are determined to whitewash U.S. history. Under the rubric of fighting critical race theory, they have been pushing legislation at the federal, state and local level to prevent schools from teaching about the pervasive role of racism in U.S. history. Presumably they would like to return to the old-fashioned narrative in which Robert E. Lee is presented as a hero, "carpetbaggers" (the officials trying to protect civil rights during Reconstruction) are villains, and the 1921 Tulsa race massacre doesn't appear at all.
With his speech in Tulsa on Tuesday — on the 100th anniversary of a pogrom that killed as many as 300 African Americans and left 10,000 "destitute and homeless" — President Biden offered a highly effective rebuke to the "love it or leave it" school of conservative historiography. In the process he delivered what is probably the most thoughtful presidential statement on race since President Barack Obama spoke in Charleston, S.C., in 2015 after the murder of nine African Americans by a white supremacist. Every American — and, in particular, every Republican — should listen to Biden's entire speech, but, to my mind, this was the most important part:
"For much too long the history of what took place here was told in silence, cloaked in darkness. But just because history is silent, it doesn't mean that it did not take place. And while darkness can hide much, it erases nothing, it erases nothing. Some injustices are so heinous, so horrific, so grievous they can't be buried no matter how hard people try …. Only with truth can come healing, and justice, and repair, only with truth, facing it. … We can't just choose to learn what we want to know and not what we should know. We should know the good, the bad, everything. That's what great nations do. They come to terms with their dark sides. And we're a great nation. The only way to build a common ground is to truly repair and to rebuild."
Biden is absolutely right. Only by acknowledging and addressing past wrongs can America do better in the future. That doesn't mean teaching only about our sins, but it does mean admitting them. Trying to erase the past will only stymie attempts to build a more just society. https://www.washingtonpost.com/opinions/2021/06/02/bidens-tulsa-speech-offers-powerful-rebuke-gops-whitewash-history/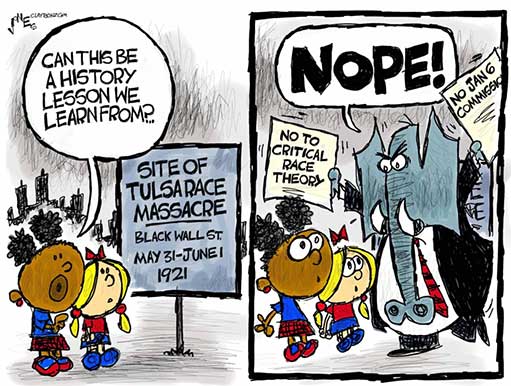 James Carville: Democrats Are the Anticrime Party
From beginning to the end, Mr. Trump's presidency was one long crime wave. He broke laws, obstructed justice and incited violence knowing he wouldn't be held accountable while in office. Eight of his campaign associates were put in shackles. He pardoned five of them. Corruption became the administration's oxygen, and Mr. Trump's stunning display of lawlessness set an example for criminals to crawl out of the shadows and believe they would never be brought to justice. It was also no coincidence that Mr. Trump presided over an low in white-collar crime enforcement.
Crime flourished in the streets as well as the suites. The murder rate shot up 26%. Mass shootings spiked. The administration even attempted to slash community policing. Mr. Trump rambled into office inciting racism and, according to the Federal Bureau of Investigation, hate crimes spiked more than 20% during his presidency.
All of this culminated with the Jan. 6 attack on the U.S. Capitol, in which Republicans are now on the record defending violent attacks on law enforcement and voting against funds for the Capitol Police. So who really voted to defund the police? And who did it to cover up the investigation of a host of crimes? Not the Democrats.
So, Democrats, listen up: When it comes to crime, don't pivot, don't take it off the table—hold Mr. Trump and the Republicans accountable. Make them own the crime wave they created. Democrats shouldn't stop at police reform. We need to get the whole job done. Reform the police and clean up the Trump crime wave.
All too often, our consultant class and political operatives are insecure in confronting tough issues—and are scared to pursue the winning strategy. Those who are rightly intent on police reform shouldn't shy away from holding Republicans accountable for the crime wave they created.
Democrats, don't pivot on crime. Own the issue or the issue will own you. https://headtopics.com/us/opinion-democrats-are-the-anticrime-party-20304005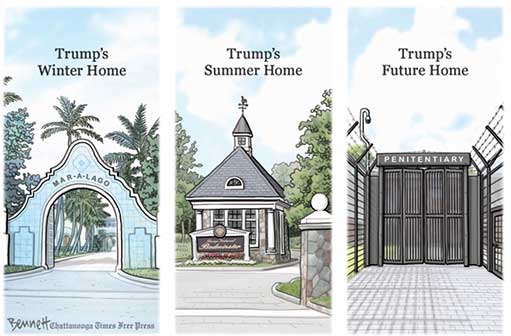 Jonathan Chait: Ron DeSantis Forces Cruise Ships to Take Unvaccinated Passengers
A few years ago, conservatives became obsessed with the legal travails of a bakery that refused to sell a wedding cake to a gay couple. Until its more recent eclipse by cancel culture, the anti-gay bakery was the premier symbol of conservative cultural martyrdom. And, to be sure, the case did pit two sympathetic values against each other: on the one hand, a gay couple's right to enjoy the same ability as a straight couple to walk into a bakery and order a wedding cake, and on the other, an individual business owner's freedom of conscience to abstain from actively endorsing ideas they disagree with.
Now we are facing a different kind of conflict between freedom of contract and the government. In this case, the conflict revolves around state requirements that businesses allow unvaccinated people as customers, even if the business operates in tight indoor quarters. Only now the Republican Party stands firmly on the side of heavy-handed state regulation.
Several Republican-run states have enacted laws forbidding private businesses from requiring proof of vaccination. The reductio ad absurdum of this stance comes via Florida governor Ron DeSantis, who is threatening to block a cruise line from resuming service if it requires passengers to be vaccinated. But the law DeSantis signed in Florida would impose a fine of $5,000 per person required to show proof of vaccination, and the governor says he will not back down.
The DeSantis position is that both the public interest in suppressing virus transmission, and the private interest of businesses in protecting their workforce and reassuring customers, are overridden by an even more compelling interest: safeguarding the rights of individuals who refuse to get vaccinated. https://nymag.com/intelligencer/article/ron-desantis-cruise-ships-unvaccinated-passengers-florida.html
Orlando Sentinel Editorial: Time to give up on Marco Rubio, who will never do the right thing if there's any risk
So Marco Rubio declared on Twitter he's a no vote on creating a commission to get to the bottom of the Jan. 6 insurrection.
That's the least surprising news since Rubio voted against convicting Donald Trump after the former president encouraged the insurrection, the clearest case for impeachment and removal of a president in U.S. history.
We always hold out hope Rubio will do the right thing and he almost always disappoints. Well, he did join 92 other U.S. senators in voting not to throw out the votes of nearly 7 million Pennsylvanians in the 2020 presidential election, which is more than Rick Scott can say.
That's where we are today: A U.S. senator from Florida gets credit for not tossing out an entire state's vote for president because Trump and the pillow guy didn't like the outcome and promoted insane election conspiracy theories. https://www.orlandosentinel.com/opinion/editorials/os-op-marco-rubio-january-6-commission-vote-20210527-yxvdv4ovejfkrbnsjq3zms7uje-story.html
Tim Miller: Mitch McConnell Saw the Insurrection Clearly and Then Decided He Liked It
CNN's Jamie Gangel reports that McConnell is deeply concerned that lobbying from the late officer Brian Sicknick's mother will cause Republican members to lose their resolve and agree to a bipartisan that looks into the events of January 6. Gangel says that McConnell is now asking members to vote against said commission as a "personal favor."
Let's not split hairs here. A person who is capable of normal human emotions, a person who could actually feel genuine rage over a bloody siege of a place he claimed to love, could not, three months later, look at the mother of the deceased and tell her to pound sand because there's a midterm election to consider. That is the action of a coldhearted, conniving, calculating monster.
A monster who has decided that he wants to team up with the person he knows orchestrated the attempted coup and the resulting carnage.
Mitch McConnell himself said Donald Trump was "morally and practically responsible" for trauma that Sicknick and others suffered at the Capitol. Now he wants to protect the perpetrator of that crime for accountability—for a second time.
And after that McConnell wants to put this perpetrator back in charge of the government in 2024.
When a person shows you exactly what they think, you should believe them.
Mitch McConnell has had four months to think about Donald Trump's deadly coup attempt. He decided that he liked it. And now he's doing everything in his power to give Trump a chance at an encore. https://thebulwark.com/mitch-mcconnell-saw-the-insurrection-clearly-and-then-decided-he-liked-it/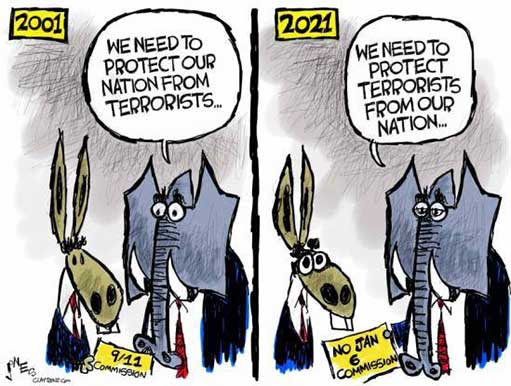 Susan B. Glasser: American Democracy Isn't Dead Yet, but It's Getting There
When Joe Biden was a Presidential candidate, he carried around a wonkish book of international comparative politics by two Harvard professors, "How Democracies Die," from 2018, to explain the urgency of his campaign against Donald Trump. He touted the book in an interview with my colleague Evan Osnos, marked up passages with notes and observations, and even, one of the book's authors told me this week, recommended it to a random stranger he met while riding his beloved Amtrak. Now that he is President,  Biden has characterized his efforts to restore American democracy as part of a global struggle with resurgent autocracies, in places such as China and Russia. "This generation is going to be marked by the competition between democracies and autocracies," Biden said, in April, as he lobbied Republicans to support his sweeping, multitrillion-dollar infrastructure bill. "The autocrats are betting on democracy not being able to generate the kind of unity needed to make decisions to get in that race. We can't afford to prove them right. We have to show the world—and, much more importantly, we have to show ourselves—that democracy works, that we can come together on the big things." He ended with a typical Biden flourish: "It's the United States of America, for God's sake."
United we are not. A month later, prospects for Biden's ambitious legislative agenda remain uncertain, G.O.P.-controlled state legislatures are passing measures that will make it harder for many Americans to vote, and the White House may be only days away from giving up on bipartisan talks over the infrastructure bill, which have come nowhere close to a deal. Far from embracing Biden's call for unity, Republicans remain in thrall to the divisive rants and election conspiracy theories of their defeated former President. As a result, Congress is at such a partisan impasse that it cannot even agree on a commission to investigate the January 6th attack by a pro-Trump mob on its own building.
It all brought to mind a scene from my time as a correspondent in Moscow. I was at a conference where Grigory Yavlinsky, a leading democratic opposition figure, was asked about the parlous state of Russian democracy under its then new President, Vladimir Putin. He responded with an old Soviet joke about an ambulance driver who picks up a critically ill patient and decides to drive him straight to the morgue. The patient protests that he's not dead, to which the ambulance driver responds, "We're not there yet." Hopefully, we are not witnessing the slow-motion death of American democracy. At least, not yet. https://www.newyorker.com/news/letter-from-bidens-washington/american-democracy-isnt-dead-yet-but-its-getting-there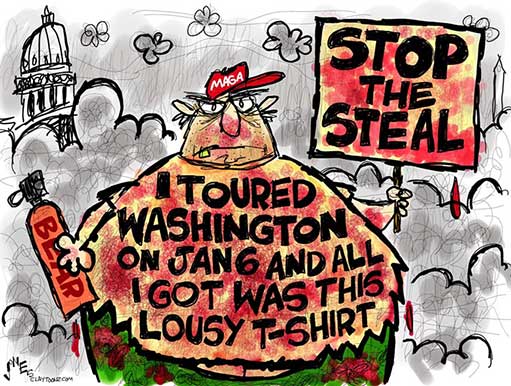 Giovanni Russonello: QAnon Now as Popular in U.S. as Some Major Religions, Poll Suggests
A federal judge warned in an opinion yesterday that Mr. Trump's insistence on the "big lie" — that the November election was stolen from him — still posed a serious threat. Presiding over the case of a man accused of storming Congress on Jan. 6, Judge Amy Berman Jackson of the United States District Court in Washington wrote: "The steady drumbeat that inspired defendant to take up arms has not faded away. Six months later, the canard that the election was stolen is being repeated daily on major news outlets and from the corridors of power in state and federal government, not to mention in the near-daily fulminations of the former president."
But it's not just the notion that the election was stolen that has caught on with the former president's supporters. QAnon, an outlandish and ever-evolving conspiracy theory spread by some of Mr. Trump's most ardent followers, has significant traction with a segment of the public — particularly Republicans and Americans who consume news from far-right sources.
Those are the findings of a poll released today by the Public Religion Research Institute and the Interfaith Youth Core, which found that 15 percent of Americans say they think that the levers of power are controlled by a cabal of Satan-worshiping pedophiles, a core belief of QAnon supporters. The same share said it was true that "American patriots may have to resort to violence" to depose the pedophiles and restore the country's rightful order.
The Public Religion Research Institute and the Interfaith Youth Core found a strong correlation between where people get their news and how much they believe in QAnon's ideas. Among those who said they most trusted far-right news outlets, such as One America News Network and Newsmax, two in five qualified as full-on QAnon believers. Fully 48 percent of these news consumers said they expected a storm to wipe away the elites soon.
Those who expressed belief in QAnon's premises were also far more likely than others to say they believe in other conspiracy theories, the P.R.R.I./IFYC poll found. Four in 10 said they thought that "the Covid-19 vaccine contains a surveillance microchip that is the sign of the beast in biblical prophecy." https://www.nytimes.com/2021/05/27/us/politics/qanon-republicans-trump.html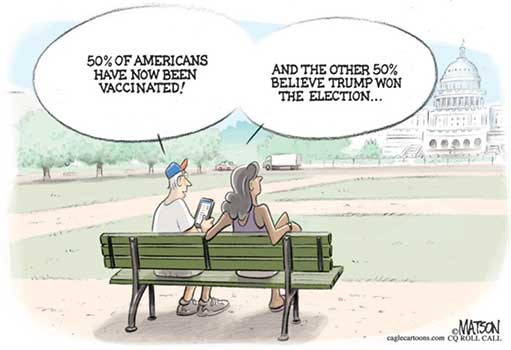 Dan Merica and Donie O'Sullivan: Democrats fight to keep up with the changing landscape of political disinformation
Democrats are bracing for a deluge of disinformation in next year's midterm elections, and they view leading Republicans, not foreign actors or armies of online trolls, as the biggest disinformation threat.
Democrats believe the disinformation perpetuated by Republicans and right-wing outlets played a key role in some 2020 races, particularly in areas like South Florida and South Texas, two places that experienced significant swings toward former President Donald Trump. Groups like Media Matters, a left-leaning media watchdog, and Voto Latino, a group focused on registering Latino voters, have partnered to create The Latino Anti-Disinformation Lab, an effort that will both study and combat the issue.
Over the four years of the Trump administration, disinformation evolved and was mainlined by political leaders like Trump himself and other top Republicans. The ongoing perpetuation of the falsehood that the election was stolen from Trump and the resulting insurrection at the US Capitol earlier this year further highlighted that the United States has a major domestic disinformation problem.
The Latino Anti-Disinformation Lab plans to test the best ways to combat disinformation on platforms like WhatsApp, getting data on how and whether targeted ad campaigns work and how effective appealing to the platform can be. One of the biggest early takeaways is that Democrats can't be afraid to take on messy narratives that are spreading in tight communities. https://www.cnn.com/2021/05/27/politics/democrats-disinformation-2022/index.html
Bess Levin: Republicans Are As Excited For Trump's Upcoming Rallies As They Are For Their Next Colonoscopy
Earlier this month we learned that Donald Trump is expected to bring back his campaign-style rallies this summer, and, like a reboot of a show that no one asked for or wants, few people are thrilled about the development. Democrats obviously are unenthused about the trio of events the guy who tried (and is still trying!) to overturn the election has planned, but apparently some Republicans are equally unhappy about Trump's return to the stump.
Politico reports that Republicans in Washington are "dreading" the 45th president's upcoming rallies, fearful that the new platform—from which he'll no doubt spew baseless election-fraud conspiracy theories, among other grievances—could derail their chances in the midterm elections, when they're hoping to take back the Senate and House. "If we win the majority back in 17 months, it's going to be in spite of Trump—not because of Trump," one senior House Republican aide, who works for a lawmaker considered to be one of Trump's top supporters, told Politico. "He will totally take credit if we win the House back—but it won't be because of him. This guy is a disaster."
Trump is slated to kick off his rallies in June, and while he's Of course he'll also use the rallies to tease a 2024 run, which some members of the GOP are also not jazzed about:
Trump is confiding in allies that he intends to run again in 2024 with one contingency: that he still has a good bill of health, according to two sources close to the former president. That means Trump is going to hang over the Republican Party despite its attempts to rebrand during his exile and its blockade of a Trump-centric investigation into January's insurrection.
And amid news that the Manhattan district attorney has convened a grand jury that could decide to indict Trump, other executives working for him, or the business itself, Trump publicly signaled this week that he's considering another run. But he may face skepticism from surprising corners of the GOP, as some Republicans who supported him consistently during his presidency have mixed opinions about the possibility of a Trump 2024 campaign, according to interviews with 20 Republicans in both the House and Senate. https://www.vanityfair.com/news/2021/05/donald-trump-rallies-return
Jonathan Chait: McConnell to Trump: "What's a Little Insurrection Between Friends?"
The logic of the party's about-face on the January 6 commission is ultimately pretty simple. When they first conceived the idea, they imagined that they would be moving into a post-Trump era, and an exploration of the former president's culpability would not impair their political message. It might have even aided it — after all, a key element to the right-wing backlash against President Obama was the pretense that Republicans had learned from George W. Bush's errors and could no longer be blamed for them."
"But once they realized they couldn't repudiate Trump, at least not without a cost, the political math of the commission no longer penciled out. Now such a spectacle threatened to indict a man still very much the party's face. The vote has become another symbolic demonstration of the party's continued fealty to its self-styled president in exile." https://nymag.com/intelligencer/2021/05/mcconnell-blocks-january-6-commission-senate-filibuster-trump-riot.html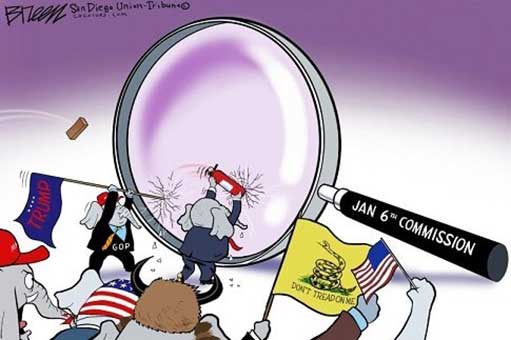 Des Moines Register Editorial: The GOP uses its unchecked power to make life better for a precious few in Iowa. How long will we put up with it?
The Republican Party has a stranglehold on Iowa. Indeed, it seems intent on strangling the state into something unpalatable to brilliant scientists, people of color and, most recently, parents of children who won't be able to be safely vaccinated against COVID-19 for months.
This is not your grandfather's GOP. This is not your father's GOP. It does not remotely resemble the party with anti-slavery origins. It is not the refugee-welcoming party of former Iowa Gov. Robert Ray. It is not the party of George W. Bush's compassionate conservatism.
Votes cast by legislators this session show the GOP in Iowa today is against democracy and public education and is dismissive of science that infringes on its policy preferences. It latches onto and runs with kooky ideas floated by national party operatives and right-wing special interests and calls them progress. 
Moving Iowa a step closer to outlawing abortion doesn't raise wages or increase access to child care. Ensuring landlords can reject tenants who use housing vouchers will not help anyone pay a bill or secure a cancer treatment. 
Even though Iowa's existing election system worked well for Republicans by landing them in power, they felt compelled to make it even harder for Iowans to vote. New legislation shortens the early voting period, closes polls earlier and limits who can return a voter's absentee ballot. https://www.desmoinesregister.com/story/opinion/editorials/2021/05/26/iowa-legislature-republican-party-improve-your-life-probably-not-editorial-kim-reynolds-gop-election/7420603002/
Steve Schmidt: GOP, Not VP, Dishonor Dead Military
Fox News is the most divisive, dishonest and damaging institution in the United States.
It has poisoned our democracy with conspiracy theories and lies, while stoking division and fear. The latest nonsense attacking Vice President Kamala Harris for wishing the American people a long weekend is a great case study.
It does seem like perfect evidence around the enduring insight, apocryphally credited to Sinclair Lewis, that when "fascism comes to America it will be wrapped in the flag and carrying a cross."
The only outrage about Kamala Harris wishing Americans a good, long Memorial Day weekend are the hypocrites attacking her. The phony outrage was manufactured at the Fox News sewer and has been dutifully repeated by people who dishonor America's war dead with their faithlessness to the cause they gave the "last full measure of devotion" toward.
That cause is freedom and democracy. The people attacking Kamala Harris are the same people who helped incite an insurrection against the United States and ended the peaceful transition of power in this country. The people attacking Kamala Harris are the same people who poisoned faith and belief in democracy with the big lie about the stolen election. https://www.maxnewstoday.com/post/gop-not-vp-dishonor-dead-military
Bryan Anderson: State GOP lawmakers try to limit teaching about race, racism
Teachers and professors in Idaho will be prevented from "indoctrinating" students on race. Oklahoma teachers will be prohibited from saying certain people are inherently racist or oppressive, whether consciously or unconsciously. Tennessee schools will risk losing state aid if their lessons include particular concepts about race and racism.
Governors and legislatures in Republican-controlled states across the b country are moving to define what race-related ideas can be taught in public schools and colleges, a reaction to the nation's racial reckoning after last year's police killing of George Floyd. The measures have been signed into law in at least three states and are being considered in many more.
Educators and education groups are concerned that the proposals will have a chilling effect in the classroom and that students could be given a whitewashed version of the nation's history. Teachers are also worried about possible repercussions if a student or parent complains.
"Once we remove the option of teachers incorporating all parts of history, we're basically silencing the voices of those who already feel oppressed," said Lakeisha Patterson, a third-grade English and social studies teacher who lives in Houston and worries about a bill under consideration in Texas.
At least 16 states are considering or have signed into law bills that would limit the teaching of certain ideas linked to "critical race theory," which seeks to reframe the narrative of American history. Its proponents argue that federal law has preserved the unequal treatment of people on the basis of race and that the country was founded on the theft of land and labor. Those states include Arizona, Arkansas, Idaho, Iowa, Louisiana, Mississippi, Missouri, New Hampshire, North Carolina, Ohio, Oklahoma, Rhode Island, South Carolina, Tennessee, Texas and West Virginia. https://www.detroitnews.com/story/news/politics/2021/05/29/school-ban-critical-race-theory/116680634/