July 11, 2019
ON THE RECORD. . .
"The Continental Army suffered a bitter winter of Valley Forge, found glory across the waters of the Delaware, and seized victory from Cornwallis of Yorktown. Our army manned the air, it rammed the ramparts, it took over the airports, it did everything it had to do, and at Fort McHenry, under the rockets' red glare, it had nothing but victory." — Trump during his speech on Independence Day.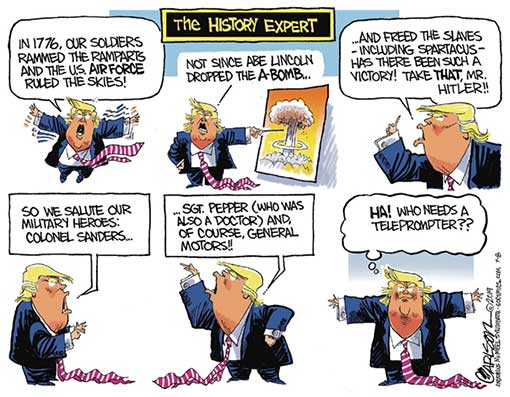 If Michelle Obama were remotely interested in running, which, after reading her book, seems about as likely as me winning the Tour de France next year, she would have a better chance to win than just about anyone in the field. — Isaac Chotiner in the New Yorker
The Republican platform does not directly embrace bigotry because it does not need to. A party that actively seeks to suppress the vote of racial minorities; actively works to weaken anti-discrimination laws; actively seeks to undercount minorities and non-citizens to determine congressional representation and how the country's revenues are spent; and has enthusiastically embraced a leader whose policies invoke and stoke white grievance and racism does not need to be explicit about its leanings. Because there are only two major parties in this country, their followers and voters know fully well what they are voting for. Some may hold their noses and claim that they are voting for "fiscal responsibility" or some other "conservative" trope, but the reality is that they are voting for exclusion and racism. — Daily Kos
Watching @FoxNews weekend anchors is worse than watching low ratings Fake News @CNN, or Lyin' Brian Williams (remember when he totally fabricated a War Story trying to make himself into a hero, & got fired. A very dishonest journalist!) and the crew of degenerate...........Comcast (NBC/MSNBC) Trump haters, who do whatever Brian & Steve tell them to do. Like CNN, NBC is also way down in the ratings. But @FoxNews, who failed in getting the very BORING Dem debates, is now loading up with Democrats & even using Fake unsourced @nytimes -- Donald J. Trump@realDonaldTrump slamming Fox News in a series of tweets, claiming the conservative network is being staffed with Democrats.
The Fourth had always been a touchy holiday for us Brits. In fact, the President made a very good point in his speech the other night. He said, 'If only the British had held on to the airports, the whole thing might have gone differently for us.'" — Mick Jagger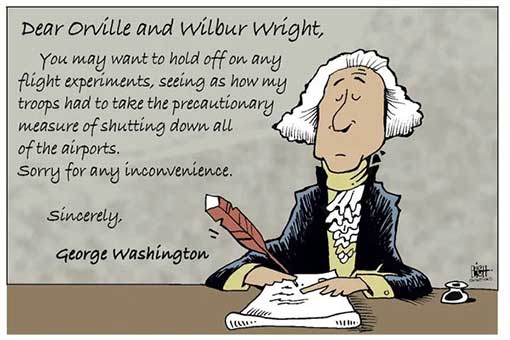 The only significant difference between the U.S. Republican Party and the far-right neo-fascists is that the Republican platform does not directly and explicitly espouse bigotry as policy. Instead, it uses culturally coded dog whistles. — Daily Kos
"I've known Jeff (Epstein) for fifteen years. Terrific guy. He's a lot of fun to be with. It is even said that he likes beautiful women as much as I do, and many of them are on the younger side." - Donald Trump, 2002
"I don't even want to address him. He has lied to Congress as the attorney general of the United States. He's lied under oath. I'm not speaking to anything more that he has to say." — Speaker Nancy Pelosi (D-CA) declining to answer a reporter's question about an assertion by Attorney General William Barr
---
IN THIS ISSUE
FYI
OPINION
1.  Andy Borowitz: U.K. Unable to Find Replacement Ambassador Who Does Not Think Trump Is an Idiot
Following the resignation of its Ambassador to the United States, Kim Darroch, the government of the United Kingdom has disclosed that it has been unable to find a replacement for Darroch who does not also think that Donald J. Trump is a blithering idiot.

At a press conference at 10 Downing Street, the British Prime Minister, Theresa May, revealed that the search for a new ambassador who does not believe that Trump is an imbecile has thus far come up empty.

"We did not want a repeat of the unfortunate Kim Darroch incident, so we made the first question on the job application, 'Do you think Donald Trump is a moron?' " May said. "So far, none of the applicants has checked the 'no' box."

While affirming her government's determination to find someone in the U.K. who does not think Trump is an unmitigated bonehead, May warned that the difficulty of the task must not be underestimated. "This is turning out to be harder than Brexit," she said. https://www.newyorker.com/humor/borowitz-report/
2. Barr: Mueller's Hill testimony will be 'public spectacle'
Attorney General William Barr told the AP that Democrats are trying to create a "public spectacle" by subpoenaing special counsel Robert Mueller to testify before Congress about the Russia investigation.
"I'm not sure what purpose is served by dragging him up there and trying to grill him," Barr said. "I don't think Mueller should be treated that way or subject himself to that, if he doesn't want to." https://apnews.com/413061794ba14c6eb15173251388fcbc
3. Cuomo Signs Bill Allowing Release of Trump Taxes
New York Gov. Andrew Cuomo (D) signed a bill to allow congressional committees to access the president's state tax returns, the New York Times reports.
The bill requires state tax officials to release the president's state returns for any "specified and legitimate legislative purpose" on the request of the chair of one of three congressional committees: the House Ways and Means Committee, the Senate Finance Committee and the Joint Committee on Taxation. It is effective immediately. https://www.nytimes.com/2019/07/08/nyregion/trump-ny-taxes-cuomo.html
4. Justice Dept. Tells Mueller Deputies Not to Testify, Scrambling an Agreement
The Justice Department is seeking to discourage Robert Mueller's deputies from testifying before Congress, potentially jeopardizing an agreement for two of the former prosecutors to answer lawmakers' questions in private next week.
The department told the House Intelligence and Judiciary Committees last week that it was opposed to the testimony and had communicated its view to the two former members of Mr. Mueller's team, Aaron Zebley and James L. Quarles III, according to a senior congressional official familiar with the discussions. A Justice Department official confirmed that account and said that the department had instructed both men not to appear.
Both Mr. Zebley and Mr. Quarles have left the Justice Department and are now private citizens, meaning that the department most likely cannot actually block their testimony. But the department's view — depending on how strongly it is expressed — could have a chilling effect on two longtime employees and give them cover to avoid testifying. https://www.nytimes.com/2019/07/09/us/politics/mueller-testimony-justice-department.html
5. Migrant kids in overcrowded Arizona border station allege sex assault, retaliation from U.S. agents
The poor treatment of migrant children at the hands of U.S. border agents in recent months extends beyond Texas to include allegations of sexual assault and retaliation for protests, according to dozens of accounts by children held in Arizona collected by government case managers and obtained by NBC News.
A 16-year-old Guatemalan boy held in Yuma, Arizona, said he and others in his cell complained about the taste of the water and food they were given. The Customs and Border Protection agents took the mats out of their cell in retaliation, forcing them to sleep on hard concrete.
A 15-year-old girl from Honduras described a large, bearded officer putting his hands inside her bra, pulling down her underwear and groping her as part of what was meant to be a routine pat down in front of other immigrants and officers.
The girl said "she felt embarrassed as the officer was speaking in English to other officers and laughing" during the entire process, according to a report of her account. https://www.nbcnews.com/politics/immigration/migrant-kids-overcrowded-arizona-border-station-allege-sex-assault-retaliation-n1027886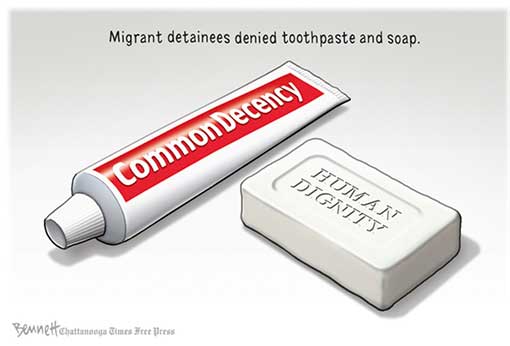 6. Trump administration ending in-person interpreters at immigrants' first hearings
The Trump administration is preparing to replace in-court interpreters at initial immigration court hearings with videos informing asylum seekers and other immigrants facing deportation of their rights.
The administration portrays the change as a cost-saving measure for an immigration court system bogged down under a growing backlog. But advocates for immigrants are concerned the new procedure could jeopardize their due-process rights, add confusion and potentially make the system less efficient by causing more of them to go underground or appeal cases. https://www.sfchronicle.com/politics/article/Trump-administration-ending-in-person-14070403.php
7. Trump's July Fourth event and weekend protests bankrupted D.C. security fund, mayor says
President Trump's overhauled July Fourth celebration cost the D.C. government $1.7 million, an amount that — combined with police expenses for demonstrations through the weekend — has bankrupted a special fund used to protect the nation's capital from terrorist threats and provide security at events such as rallies and state funerals.
In a letter to the president Tuesday, D.C. Mayor Muriel E. Bowser (D) warned that the fund has now been depleted and is estimated to be running a $6 million deficit by Sept. 30. The mayor also noted that the account was never reimbursed for $7.3 million in expenses from Trump's 2017 inauguration. https://www.washingtonpost.com/local/dc-politics/trumps-july-fourth-event-and-weekend-protests-bankrupted-dc-security-fund-mayor-says/2019/07/10/fb0d1de4-a316-11e9-b732-41a79c2551bf_story.html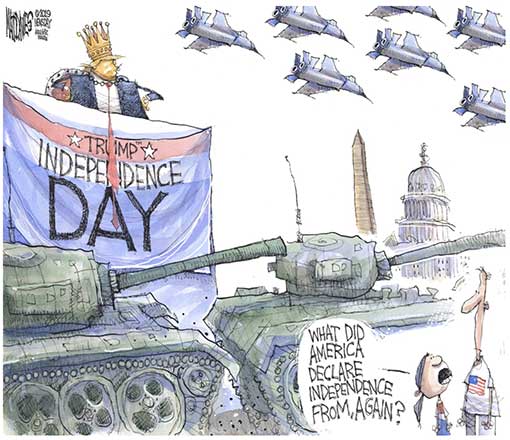 8. Trump says he will hold another military celebration next Fourth of July
Days after presiding over a Fourth of July military celebration on the Mall in Washington, President Trump said Monday that he plans to hold a similar extravaganza next year. https://www.washingtonpost.com/politics/trump-says-he-will-hold-another-military-celebration-next-fourth-of-july/2019/07/08/5b285a00-a1bd-11e9-bd56-eac6bb02d01d_story.html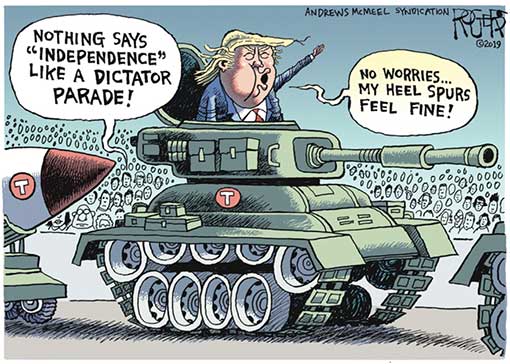 9. Crowd Chants 'F**k Trump' After World Cup Win
A crowd in a sports bar in France chanted "F**k Trump" as Fox News reported the news of the U.S. Women's national team winning their fourth FIFA Women's World Cup on Sunday. https://twitter.com/skenigsberg/status/1147923363169480706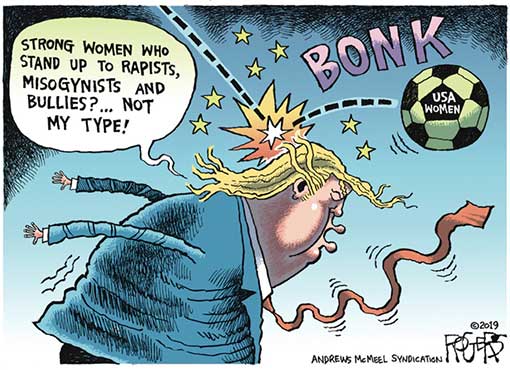 10. The Trump Tariff Twist That Has Cost U.S. Steel $5.6 Billion
President Donald Trump's tariffs on foreign steel have sped the decline of some of the U.S. mills he vowed to help.
Exuberance over the levies dramatically boosted U.S. output just as the global economy was cooling, undercutting demand. That dropped prices, creating a stark divide between companies like Nucor Corp., which use cheaper-to-run electric-arc furnaces to recycle scrap into steel products, and those including U.S. Steel Corp. with more costly legacy blast furnaces.
Since Trump announced the tariffs 16 months ago, U.S. Steel has lost almost 70% of its market value, or $5.6 billion, and idled two American furnaces in mid-June that couldn't be run profitably at the lowest prices since 2016. Meanwhile, Nucor, down around 20%, has touted $2.5 billion in expansion projects. https://www.bloomberg.com/news/articles/2019-07-07/the-trump-tariff-twist-that-s-cost-u-s-steel-5-5-billion
11. Amazon rainforest destruction accelerates 60% to one and a half soccer fields every minute
Amazon deforestation accelerated more than 60% in June over the same period last year, in what environmentalists say is a sign that the policies of President Jair Bolsonaro are starting to take effect.
Over the past six months, Bolsonaro and his environment minister have been devoting themselves to the dismantling of the Brazilian environmental governance and neutralizing regulatory bodies", Carlos Rittl, executive secretary of the environment NGO network Observatorio do Clima (Climate Observatory) told CNN.
The Amazon forest is often referred to as the planet's lungs, producing 20 per cent of the oxygen in the earth's atmosphere. It is considered vital in the ongoing efforts to slow down global warming and it is also home to uncountable species of fauna and flora. With roughly half the size of the United States of America, it is the largest rainforest on the planet.
Its area has been steadily shrinking over the past century with deforestation reaching its peak in 1995, when 29.059 km² were lost. The rate of destruction had then been decreasing, reaching its lowest point in 2012. It has been accelerating ever since. https://www.cnn.com/2019/07/02/americas/amazon-brazil-bolsonaro-deforestation-scli-intl/index.html
12. The DAILY GRILL
"They couldn't have meetings. Nobody was going to meet. President Obama wanted to meet, and Chairman Kim would not meet him. The Obama administration was begging for a meeting. They were begging for meetings constantly. And Chairman Kim would not meet with him. And for some reason, we have a certain chemistry or whatever." — President Trump, at a news conference with South Korean President Moon Jae-in, Seoul, June 30, 2019

VERSUS

No public records or news articles show that Obama ever tried to meet with Kim. Former U.S. intelligence officials and experts on North Korea said they knew of no evidence for Trump's claim. Many of Obama's top advisers on North Korea said Trump's claim was false. -- Washington Post

 

"I actually came up with the idea. I said, 'Why don't we just have the veterans go out and see a private doctor and we'll pay the cost of the doctor and that will solve the problem?' — Trump on approving private-sector health care for veterans.

VERSUS

Congress approved the private-sector Veterans Choice health program in 2014 and Obama signed it into law. -- AP News


 

"The remains are coming back as they get them, as they find them. The remains of our great heroes from the war. And we really appreciate that." — Trump, on Sunday to Korean business leaders in Seoul.

VERSUS

No remains of U.S. service members have been returned since last summer and the U.S. suspended efforts in May to get negotiations on the remains back on track in time to have more repatriated this year. -- AP News

 

"Workers are back on the job, and we're once again pouring new American steel into the spine of our country. U.S. Steel is back." — Trump

VERSUS

"Be careful what you wish for. The industry's push to add capacity without enough demand is "Steelmageddon." It's "ironic" that the tariffs are "punishing some steel companies." — Timna Tanners, an analyst at Bank of America

 

"I've heard and studied the Laffer curve for many years in the Wharton School of Finance." — Trump, continuing to cite his Wharton background, sometimes in misleading ways.

VERSUS

Trump graduated from Wharton in 1968, and Laffer didn't outline his tax-cutting theory on the back of a napkin until 1974, according to Laffer's account in a book he co-wrote called "The End of Prosperity." Thus, studying the Laffer curve during Trump's time at the school would have been impossible. — Michael Kranish in the Washington Post

 

"For the life of me, and I'll never know how to explain it, when I met that young man, I felt like I was the one shaking hands with a president." — President Trump tweeted a photo of him shaking hands with President Ronald Reagan with a "Reagan quote" superimposed.

VERSUS

 "Reagan did not ever say that about Donald Trump." -- Joanne Drake, chief administrative officer of the Ronald Reagan Presidential Foundation and Institute..

 

There's no reason to have Robert Mueller appear before Congress other than to create a "public spectacle" & the Justice Department would support Mueller if he decides he doesn't want to testify.-- Attorney General Bill Barr in an interview with @AP

VERSUS

It's no surprise Barr doesn't welcome Mueller's testimony. Barr misled the public about Mueller's report, and wants his own deception to stand. The public has a right to hear the truth, from Mueller himself, about Trump's misconduct and ongoing national security risks. — Adam Schiff @RepAdamSchiff
13. Everything We Know About the Inhumane Conditions at Migrant Detention Camps
The third week in June began with a broad political discussion on whether Alexandria Ocasio-Cortez's designation of migrant detention centers as "concentration camps" was the correct nomenclature for holding rooms in which 41 detainees live in a cell built for eight. It ended with heinous reports of the conditions at said camps, where undocumented migrant children are being held away from their families in conditions "worse than jail," according to physician Dolly Lucio Sevier, who wrote up a medical declaration obtained by ABC News after visiting Border Patrol holding facilities along the border in Texas. Here's everything we've learned about conditions in the detention camps in recent weeks.
Sevier, a private-practice physician in the Rio Grande Valley, was granted access to a facility in McAllen, Texas in mid-June, after attorneys discovered a flu outbreak that sent five infants to a neonatal intensive-care unit. At the detention center — the largest such Border Patrol facility in the country — Sevier examined 39 children under the age of 18 facing conditions including "extreme cold temperatures, lights on 24 hours a day, no adequate access to medical care, basic sanitation, water, or adequate food." All 39 exhibited signs of trauma.
Sevier told ABC News that the teenagers she observed were not able to wash their hands while in custody, which she called "tantamount to intentionally causing the spread of disease." Teen mothers in custody told her they were not able to clean their children's bottles: "To deny parents the ability to wash their infant's bottles is unconscionable and could be considered intentional mental and emotional abuse," Sevier wrote. In summary, she determined that "the conditions within which they are held could be compared to torture facilities."
In mid-June, attorney and children's-rights advocate Warren Binford gained access to a Clint, Texas Border Patrol facility where 351 migrant children were detained; over 100 were under 13, and the youngest was just over 4 months. Binford reported that many of the kids had been held for three weeks or longer, and that guards had created a "child boss" who was rationed extra food in an attempt to control the other children. http://nymag.com/intelligencer/2019/07/the-inhumane-conditions-at-migrant-detention-camps.html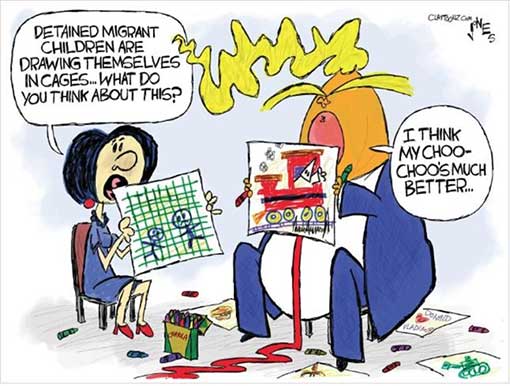 14. Britain's man in the the US says Trump is 'inept': Leaked secret cables from ambassador say the President is 'uniquely dysfunctional and his career could end in disgrace'
Sir Kim Darroch, one of Britain's top diplomats, used secret cables and briefing notes to impugn Trump's character, warning London that the White House was 'uniquely dysfunctional' and that the President's career could end in 'disgrace'. 
In the memos, seen by The Mail on Sunday following an unprecedented leak, Sir Kim:
Describes bitter conflicts within Trump's White House – verified by his own sources – as 'knife fights';

Warns that Trump could have been indebted to 'dodgy Russians';
Claims the President's economic policies could wreck the world trade system;

Says the scandal-hit Presidency could 'crash and burn' and that 'we could be at the beginning of a downward spiral... that leads to disgrace and downfall';

Voices fears that Trump could still attack Iran.
In one of the most sensitive documents, Sir Kim writes: 'We don't really believe this Administration is going to become substantially more normal; less dysfunctional; less unpredictable; less faction riven; less diplomatically clumsy and inept.' https://www.dailymail.co.uk/news/article-7220335/Britains-man-says-Trump-inept-Cables-ambassador-say-dysfunctional.html
15. Two Years Into Trump's Presidency, Obama Remains a Top Target for Criticism
It took all of one minute and nine seconds for President Trump to go after his predecessor on Friday — just one minute and nine seconds to re-engage in a debate that has consumed much of his own time in office over who was the better president.
It was former President Barack Obama who started the policy of separating children from their parents at the border, Mr. Trump claimed falsely, and it was Mr. Obama who had such a terrible relationship with North Korea that he was about to go to war. Mr. Obama had it easy on the economy, Mr. Trump added, but let America's allies walk all over him.
The litany of criticisms, often distorted, are familiar, but Mr. Trump has turned increasingly to Mr. Obama in recent days as a political foil. https://www.nytimes.com/2019/07/05/us/politics/trump-census-citizenship-executive-order.html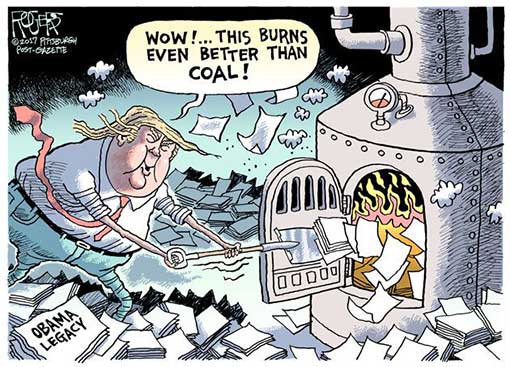 16. Barr says Trump administration can legally add citizenship question to census
Attorney General William Barr said Monday that he believes the Trump administration can legally add a citizenship question to the 2020 census, though the Supreme Court ruled against its inclusion last month.
In an interview with The Associated Press, Barr said he has been in regular contact with President Trump about the question, which the president is determined to see featured on the decennial survey.
"I agree with him that the Supreme Court decision was wrong," Barr told the AP. The attorney general added that he thinks there is "an opportunity potentially to cure the lack of clarity that was the problem and we might as well take a shot at doing that." https://thehill.com/homenews/administration/452043-barr-says-trump-admin-can-legally-add-citizenship-question-to-census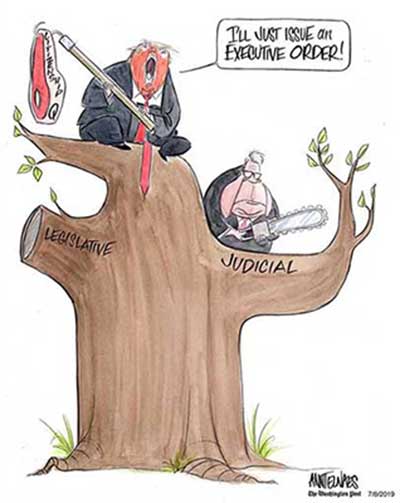 17. From MEDIA MATTERS (They watch Fox News so you don't have to)
Right-wing media were furious over exclusion of citizenship question from census. https://www.mediamatters.org/blog/2019/07/03/Right-wing-media-were-furious-over-exclusion-of-citizenship-question-from-census/224126

"A magical event": Fox & Friends propagandists swoon over Trump's authoritarian-style July 4 makeover. https://www.mediamatters.org/blog/2019/07/03/magical-event-fox-friends-propagandists-swoon-over-trump-s-authoritarian-style-july-4-makeover/224122

Fox host says Trump "can't hijack" the 4th of July because "you can't hijack something you already own." https://www.mediamatters.org/video/2019/07/03/fox-host-says-trump-cant-hijack-4th-july-because-you-cant-hijack-something-you-already-own/224128

Fox contributor blames Alex Acosta's lenient Jeffrey Epstein plea deal on a "Democratic administration." It happened during the Bush administration. https://www.mediamatters.org/video/2019/07/09/fox-contributor-blames-alex-acostas-lenient-jeffrey-epstein-plea-deal-democratic-administration-it/224155

Rush Limbaugh defends Trump Labor Secretary Alex Acosta, who gave Jeffrey Epstein a sweetheart plea deal: "He's not the story." https://www.mediamatters.org/video/2019/07/09/rush-limbaugh-defends-trump-labor-secretary-alex-acosta-who-gave-jeffrey-epstein-sweetheart-plea/224154

Fox's Stuart Varney says Amazon Prime Day worker strikes are "outrageous" and "a rotten thing to do." https://www.mediamatters.org/video/2019/07/09/foxs-stuart-varney-says-amazon-prime-day-worker-strikes-are-outrageous-and-rotten-thing-do/224150

Fox host: "Thank God we live in the kind of country" where you can work multiple jobs. Ainsley Earhardt: "I love those types of people." https://www.mediamatters.org/video/2019/07/09/Fox-host-Thank-God-we-live-in-the-kind-of-country-where-you-can-work-multiple-jobs/224144

The Trump administration is detaining migrants in horrid conditions. Fox News is trying to dismiss concerns by attacking Rep. Alexandria Ocasio-Cortez. https://www.mediamatters.org/research/2019/07/09/The-Trump-administration-is-detaining-migrants-in-horrid-conditions-Fox-News-is-trying-to-/224139
18. White House blasts federal judge in asylum case as 'at war with the rule of law'
The White House on Wednesday blasted a federal judge in Seattle as being "at war with the rule of law" in response to her blocking an administration plan that would detain thousands of migrants indefinitely while they wait for asylum cases to be heard.
"The decision only incentivizes smugglers and traffickers, which will lead to the further overwhelming of our immigration system by illegal aliens," White House press secretary Stephanie Grisham said in a statement. "No single district judge has legitimate authority to impose his or her open borders views on the country."
The order issued Tuesday by Judge Marsha J. Pechman of United States District Court for the Western District of Washington blocked an order issued in April by Attorney General William P. Barr that would have denied some asylum seekers a bail hearing.
Pechman said that was unconstitutional and issued a preliminary injunction in a class-action lawsuit brought by migrants and their advocates. https://www.washingtonpost.com/politics/white-house-blasts-federal-judge-in-asylum-case-as-at-war-with-the-rule-of-law/2019/07/03/ccc080fe-9d97-11e9-85d6-5211733f92c7_story.html
19. Kamala Harris unveils $100 billion black homeownership plan
Sen. Kamala Harris unveiled a $100 billion plan to invest in black homeownership -- a proposal the 2020 presidential candidate said that, if elected, would set in motion her broader plan to tackle the US racial wealth gap.
"So we must right the wrong and -- after generations of discrimination -- give black families a real shot at homeownership -- historically one of the most powerful drivers of wealth," Harris said in a speech Saturday at the Essence Festival in New Orleans in what promises to be the beginning of a series of policy rollouts focusing on the black community.twitter.com
Harris entered the room inside the Ernest N. Morial Convention Center to a standing ovation. Speaking at the lectern, she greeted the majority black woman crowd cast in purple and yellow set lights with a proper welcome, "Good morning, my beautiful sisters."
Under Harris' proposal, home buyers who rent or live in historically redlined communities can apply for a federal grant of up to $25,000 to assist with down payments or closing costs. Harris' campaign estimates that this will help up to 4 million families. https://www.cnn.com/2019/07/06/politics/kamala-harris-black-homeownership-plan-racial-wealth-gap/index.html
20. Affordable Care Act threatened as Trump administration, GOP states fight US House, Democratic states in court
 Pop quiz: The Affordable Care Act became law in 2010, was upheld by the Supreme Court in 2012 and 2015, and has survived dozens of repeal efforts in Congress. So is it finally safe?
Answer: Not yet.
The latest threat looms in New Orleans, where a three-judge panel of the U.S. Court of Appeals for the Fifth Circuit will hear 90 minutes of oral argument Tuesday in a challenge that threatens the law's key features – and possibly the entire 974-page statute.
We have been here before: in 2012, when the Supreme Court ruled 5-4 that the law, known as Obamacare, was constitutional under Congress' power of taxation; and again in 2015, when it saved the law's critical tax credits in federal as well as state insurance exchanges.
But in December, federal District Judge Reed O'Connor ruled that by repealing the tax on people who refuse to buy insurance, Congress in 2017 rendered the individual mandate unconstitutional and, by extension, the law itself. The repeal was included in the $1.5 trillion tax cut pushed through the Republican-controlled Congress and signed by President Donald Trump.
That ruling has not been implemented pending appeal, but the implications are huge. If the law is wiped out, so too would be insurance for 20 million people, protection for people with preexisting conditions, subsidies for low-income people, Medicaid expansions in many states, coverage for young adults up to age 26 and more. https://www.usatoday.com/story/news/politics/2019/07/07/affordable-care-act-obamacare-faces-doom-federal-appeals-court/1633128001/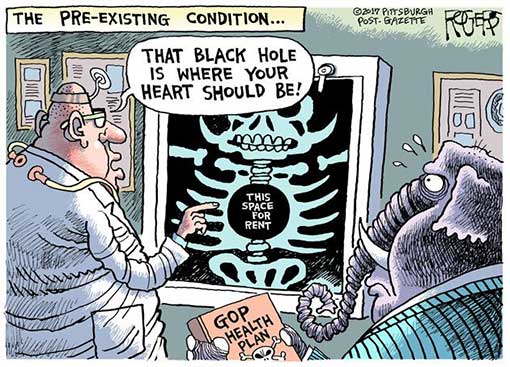 21. What Happened to America's Political Center of Gravity?
The Manifesto Project reviewed and categorized each line in party manifestos, the documents that lay out a group's goals and policy ideas. The resulting scores capture how the groups represent themselves, not necessarily their actual policies. They are one way to answer a difficult question: If we could put every political party on the same continuum from left to right, where would the American parties fall?
According to its 2016 manifesto, the Republican Party lies far from the Conservative Party in Britain and the Christian Democratic Union in Germany — mainstream right-leaning parties — and closer to far-right parties like Alternative for Germany, whose platform contains plainly xenophobic, anti-Muslim statements.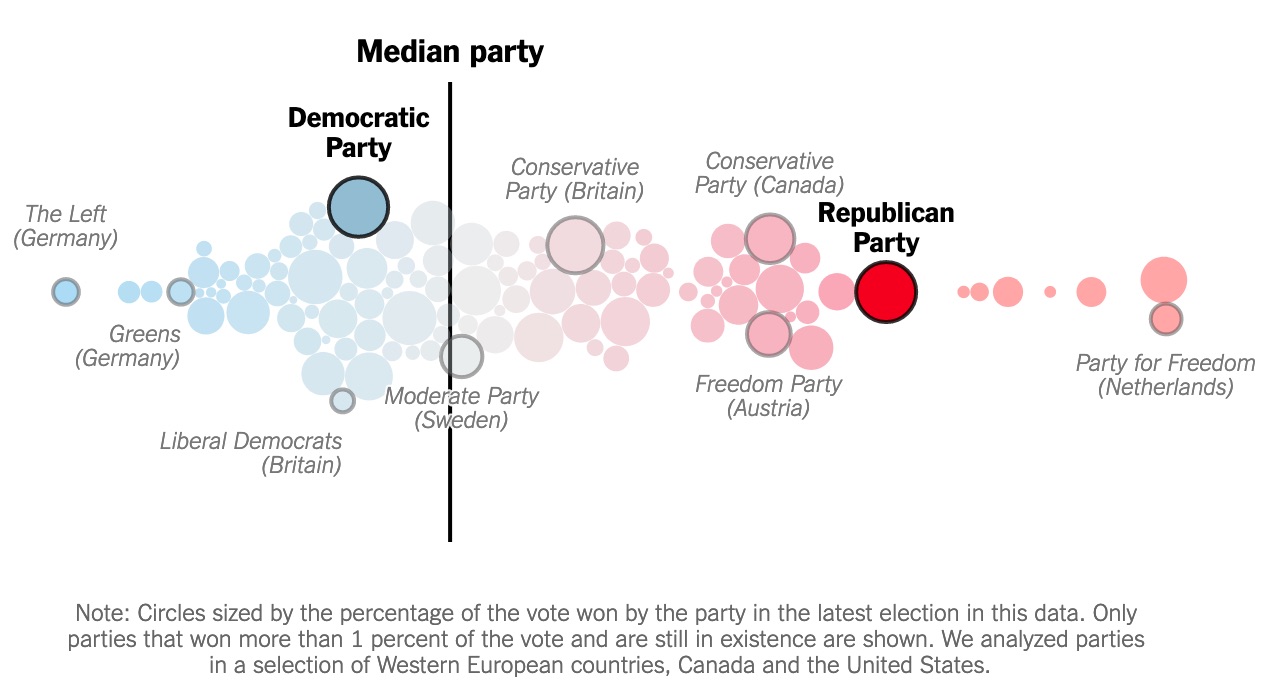 https://www.nytimes.com/interactive/2019/06/26/opinion/sunday/republican-platform-far-right.html
22. 'Insider" commissioned a movie-like treatment of special counsel Robert Mueller's report.
As a narrative, the Mueller report is a disaster. And at 448 pages, it's too long to grind through. For long stretches, it reads less like a story and more like a terms-of-service agreement. The instinct to click "next" is strong.And yet, buried within the Mueller report, there is a narrative that reads in parts like a thriller, like a comedy, like a tragedy — and, most important — like an indictment. The facts are compelling, all the more so because they come not from President Donald Trump's critics or "fake news" reports, but from Trump's own handpicked colleagues and associates. The story just needed to be rearranged in a better form.
The interviews and facts laid out in the Mueller report (plus those from reliable, fact-checked sources and published firsthand accounts) are used to tell a story that's so gripping it will hold your attention.
https://www.insider.com/mueller-report-rewritten-trump-russia-mark-bowden-archer-2019-7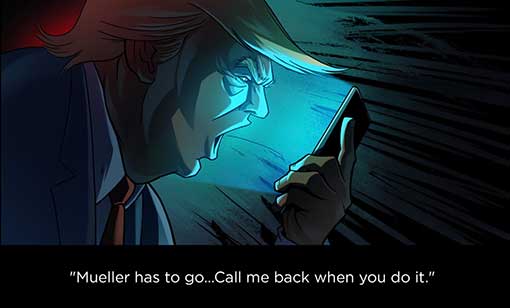 23. Trump defends environmental record that critics call disastrous
President Trump delivered a full-throated defense of his administration's environmental record Monday, despite relaxing nationwide limits on air and water pollution and reversing course on U.S. climate policy.
Facing Cabinet members including his Environmental Protection Agency and Interior Department chiefs, the president said he had urged his deputies to tackle environmental challenges "so we can provide the highest quality of life to all Americans."
"We want the cleanest air, we want crystal clear water. And that's what we're doing," he said. "These are incredible goals that everyone in this country can rally behind, and they are rallying behind."
But Trump's recounting of his accomplishments prompted howls of incredulity from environmentalists, who noted that he had systematically dismantled dozens of policies over the past two and-a-half years aimed at safeguarding human health and the planet. Last month the EPA eased curbs on carbon emissions from power plants; next month it is slated to finalize a rule freezing tougher mileage standards for cars and pickup trucks.
These moves come as federal data suggests that U.S. air quality is worsening and its overall greenhouse gas emissions are on the rise. The number of unhealthy days for ozone and soot pollution reached 799 in 2018 and 721 in 2017, according to EPA data, the highest levels they've hit since 2012. The nation's carbon dioxide emissions increased more than 3 percent last year, according to the federal government, their biggest increase since 2010.
"Donald Trump lecturing the world about America's environmental leadership is completely at odds with reality," said Wenonah Hauter, executive director of the advocacy group Food & Water Watch, in a statement. "This administration has never met an environmental protection it wasn't eager to overturn." https://www.washingtonpost.com/climate-environment/trump-defends-environmental-record-that-critics-call-disastrous/2019/07/08/e46d390e-a193-11e9-bd56-eac6bb02d01d_story.html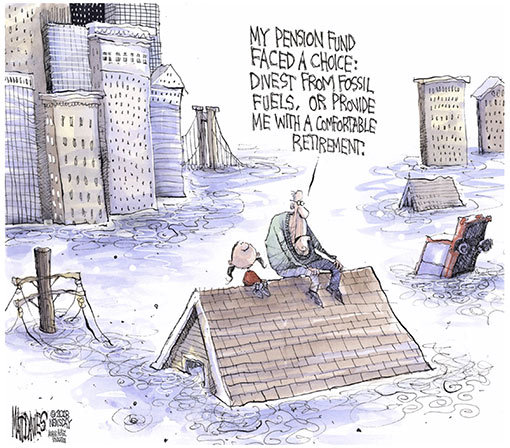 24. Chances of a Government Shutdown are Skyrocketing
There's been next to no progress on a deal to lift mandatory government spending caps that take effect in January, so aides in both parties have said they believe that a shutdown is becoming more and more likely. Remember: Funding expires at the end of September. https://www.politico.com/newsletters/playbook/2019/07/09/trump-team-sure-liked-to-party-with-the-british-ambassador-454555
1. Jed Shugerman: Mueller Missed the Crime: Trump's Campaign Coordinated With Russia
Ever since the release of the Mueller Report, countless commentators have implored everyone to just #ReadtheReport. The problem is not who is reading it—the problem is the report itself, and its many errors. 
Robert Mueller made a significant legal error and, based on the facts he found, he should have identified Trump campaign felonies. Mueller's errors meant that, first, he failed to conclude that the Trump campaign criminally coordinated with Russia; second, he failed to indict campaign chairman Paul Manafort and his deputy Rick Gates for felony campaign coordination (see in a concise timeline below); third, the 10 acts of felony obstruction in Volume II fell flat among the general public because it lacked compelling context of these underlying crimes between the campaign and Russia. On top of these errors, the former special counsel said he deliberately wrote the report to be unclear because it would be unfair to make clear criminal accusations against a president. 
The bottom line is that the Mueller Report is a failure not because of Congress or because of public apathy, but because it failed to get the law, the facts, or even the basics of writing right. When Mueller testifies before Congress on July 17, he should be pressed on all of this. https://www.thedailybeast.com/robert-mueller-missed-the-crime-trumps-campaign-coordinated-with-russia
2. Jonathan Chait: Trump Angry Iran Is Breaking Deal Trump Already Broke
"Iran has long been secretly 'enriching,' in total violation of the terrible 150 Billion Dollar deal made by John Kerry and the Obama Administration," charges President Trump today. "Remember, that deal was to expire in a short number of years. Sanctions will soon be increased, substantially!"
This is a strange complaint. The International Atomic Energy Agency has repeatedly ascertained that Iran was complying with the terms of its 2015 nuclear deal. Now, of course, since Trump negated the deal, Iran is no longer complying. This seems to hint at the deeper problem underlying Trump's relations with Iran: He does not seem to grasp the meaning of the term "deal."
While I, unlike the president, have never passed myself off as a specialized expert on deals, I do have some working knowledge of the concept. I have an ongoing deal with a company called Netflix. The terms require me to give the company $12.99 every month in return for a suite of streaming content. I could decide the Netflix deal is terrible and cancel it. But if I made that choice, I would not then turn around and rail at Netflix for failing to provide me with any video to watch. If I wrote angry letters to Netflix complaining that since I stopped paying for the service, I have tried to watch several shows and they're all unavailable, very few of my friends would agree with me that Netflix had violated our deal.
There is an important difference between Trump's dealings with Iran and my dealings with Netflix. Trump could try to threaten violence to force Iran to comply with the deal, whereas if I warned Netflix I would bomb them unless it gives me free shows, I would go to prison. But Trump does not want to attack Iran. He wants to make a deal with Iran; the deal he wants is basically the deal Obama made, yet he's convinced any deal Obama made is terrible. He's left in the position of negotiating a deal without having a clear understanding of what this even means. http://nymag.com/intelligencer/2019/07/trump-angry-iran-is-breaking-deal-trump-already-broke.html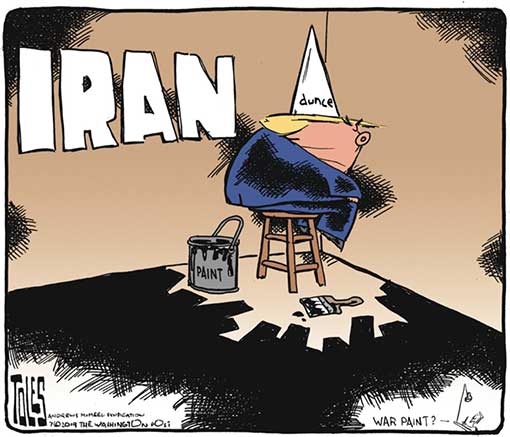 3. Charles M. Blow: It's the Cruelty, Stupid
Why does the American president have such an affinity, a fetish even, for the world's dictators while at the same time spurning many of America's traditional allies? And how does this turn to the darkness reposition this country in the annals of history?
I believe that it speaks to a blindness, or more precisely, an indifference to cruelty. This also crops up in domestic policy, where the indifference is particularly acute when those who suffer are somehow other: black or brown, female or trans, Muslim or migrant.
How else could this administration have executed for so long its zero-tolerance approach to family separation of immigrants and asylum seekers? I don't believe in open borders, but I do believe in humane borders. I do not believe that a parent seeking asylum — which is still legal in this country, it bears repeating — should have a child ripped from his or her arms. I don't believe that people — including children — should be caged like animals and deprived of basic human necessities and basic human dignity.
What is happening at our border is unconscionable, a violation of basic human rights, a complete moral violation. And yet the president on Thursday will make a mockery of the country's freedom celebration by turning it into a muscle-flexing political pep rally. https://www.nytimes.com/2019/07/03/opinion/trump-human-rights.html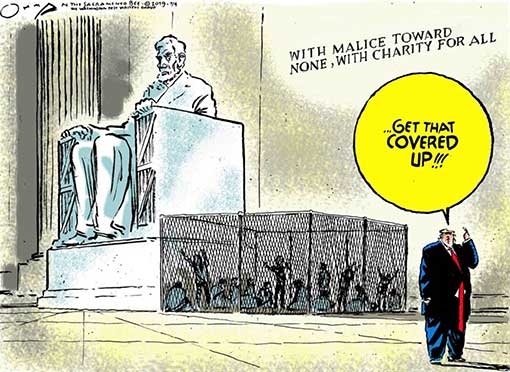 4. Eric Levitz: Trump's Fed Nominee Pledges to Serve As a Partisan Hack
Donald Trump has threatened to fire Federal Reserve chairman Jerome Powell for refusing to lower interest rates at a time when the (official) unemployment rate in the U.S. is approaching record lows.
Judy Shelton implored the Fed to tighten the money supply in 2010, when unemployment sat near 10 percent. Her argument at the time: Condemning tens of millions of workers to joblessness was morally preferable to risking even 2 percent inflation — because any policy that reduces the value of the dollar by a cent constitutes "an egregious violation of your property rights" (assuming "you" are a person who owns lots of U.S. dollars).
Shelton has endorsed similar views throughout her career as an economist. She's a classic conservative inflation hawk, the kind who believes that U.S. monetary policy should be determined by the global supply of gold, rather than the material needs of its working people. Which is to say: She is ostensibly the exact opposite of what Donald Trump is looking for in a central banker.
And yet, Trump just nominated her to the Fed, anyway.
Shelton won that nomination Tuesday night after a weeks-long campaign that included a stay at the Trump International Hotel, and repeated, public assurances that she is not a principled crank, but merely a partisan hack. http://nymag.com/intelligencer/2019/07/trump-fed-pick-shelton-pledges-to-serve-as-a-partisan-hack.html
5. Paul Krugman: Trump and the Merchants of Detention
Is it cruelty, or is it corruption? That's a question that comes up whenever we learn about some new, extraordinary abuse by the Trump administration — something that seems to happen just about every week. And the answer, usually, is "both."
For example, why is the administration providing cover for Saudi Arabia's crown prince, who almost surely ordered the murder of The Washington Post's Jamal Khashoggi? Part of the answer, probably, is that Donald Trump basically approves of the idea of killing critical journalists. But the money the Saudi monarchy spends at Trump properties is relevant, too.
And the same goes for the atrocities the U.S. is committing against migrants from Central America. Oh, and save the fake outrage. Yes, they are atrocities, and yes, the detention centers meet the historical definition of concentration camps.
One reason for these atrocities is that the Trump administration sees cruelty both as a policy tool and as a political strategy: Vicious treatment of refugees might deter future asylum-seekers, and in any case it helps rev up the racist base. But there's also money to be made, because a majority of detained migrants are being held in camps run by corporations with close ties to the Republican Party.
And when I say close ties, we're talking about personal rewards as well as campaign contributions. A couple of months ago John Kelly, Trump's former chief of staff, joined the board of Caliburn International, which runs the infamous Homestead detention center for migrant children.
How much of a role has this played in policy? It would, I think, be going too far to claim that the private-prison industry — merchants of detention? — has been a driving force behind the viciousness of Trump's border policy. But the fact that crony capitalists close to the administration profit from the viciousness surely greases the path.
And this fits the general pattern. As I suggested at the beginning, cruelty and corruption are intertwined in Trump administration policy. Every betrayal of American principles also seems, somehow, to produce financial benefits for Trump and his friends. https://www.nytimes.com/2019/07/08/opinion/trump-migrants-detention-centers.html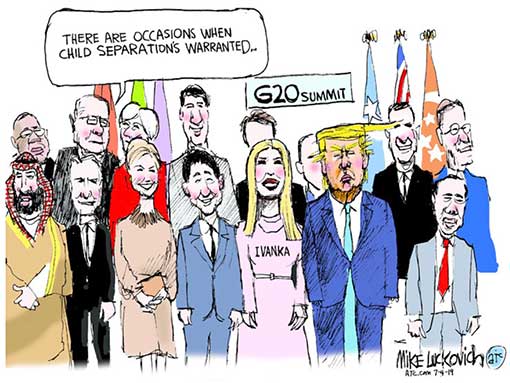 6.  Elliott D. Woods: Why Trump Likes Tanks
These hulking relics are part of the insidious nostalgia that undergirds his "Make America Great Again" ideology.
Mr. Trump is a wannabe strongman, and no doubt he sees in the tank what all strongmen see in tanks: a weapon to be used against his enemies, foreign or domestic. Though tanks over the past half century have been used only rarely in their strategic combat role, they have been used often to repress popular uprisings — a tool of practical and psychological warfare against unarmed civilians from the Eastern Bloc of the Soviet Union to Tiananmen Square. By displaying tanks in our nation's capital, Mr. Trump signals that he is willing to use the military for personal political purposes, as he did in May when the White House asked the Navy to hide the U.S.S. John McCain during his trip to Japan.
During Thursday's Fourth of July celebration, Mr. Trump's cherished tanks were stationed in a "static display," because driving them into position would have damaged Washington's streets. A stationary display is all too fitting, for it is the most common posture of tanks on the modern battlefield. Like President Trump's false promises, they won't be going anywhere. https://www.nytimes.com/2019/07/04/opinion/trump-tanks.html
7. Jason Stanley: Is Alexandria Ocasio-Cortez's 'Fascism' Claim Too Extreme?
On July 2, Representative Alexandria Ocasio-Cortez, after a visit to migrant detention facilities run by Customs and Border Protection in Texas, claimed that the United States is "headed toward fascism." Much of the response that followed was expected, but little or none of it examined the statement closely or detailed to what degree the United States' immigration policy justifies such comparisons. So how apt is this analogy between the current situation and early years of fascist regimes?
Liberal democracy organizes society around respect for the dignity, equality and freedom of all human beings. Fascism, by contrast, organizes society around the vilification of outsiders. In this administration's rhetoric toward undocumented immigrants from Central America and religious minorities, we have been subject to classic fascist tropes for some time. The obsessive focus on immigration and the representation of immigrants as invaders is particularly indicative of this ideology. In the 1930s, Oswald Mosley, the head of the British Union of Fascists, ran on a platform of ending immigration entirely. "Britain for the British" was its motto.
Comparisons to the Nazi regime, one of which Ms. Ocasio-Cortez made last month when she called American detention facilities "concentration camps," are also routinely met with outrage. But Hitler, too, was obsessed with immigration. In "Mein Kampf" he praised the "national State," and he saw foreign immigration as the obstacle. He wrote of America's anti-immigration policies as a model for a nationalistic Germany. https://www.nytimes.com/2019/07/04/opinion/fascism-trump-ice.html
8. Masha Gessen: Donald Trump's "Inoffensive" War on Reality
Two days before the July 4th celebration, the Department of Homeland Security's Inspector General issued an urgent report on the conditions in migrant detention facilities in the Rio Grande Valley. Photographs in the report showed children and adults in crowded cages. Other pictures showed people in extremely crowded holding rooms raising up signs in windows, apparently attempting to attract the attention of government inspectors. The document reported "serious overcrowding" and prolonged detention that violated federal guidelines. Children had no access to showers and hadn't been provided with hot meals. At one facility, the report said, adults were held in standing-room-only conditions. "Most single adults had not had a shower . . . despite several being held for as long as a month," the report said. A diet of bologna sandwiches had made some of the detainees sick. The report left no doubt that "concentration camps" was an accurate term for the facilities it described. On the eve of Independence Day, the media reported the story, which looked obscene among other stories. How could we read, write, or talk about anything else?
The President responded in a series of tweets in which he blamed the Democrats and the immigrants themselves. "If Illegal Immigrants are unhappy with the conditions in the quickly built or refitted detentions centers, just tell them not to come. All problems solved!" he tweeted. Most of Trump's tweeting day, though, was spent on other issues: railing against the Supreme Court's decision not to allow a citizenship question on the census, for example, and hyping expectations for his Fourth of July extravaganza. In the Trumpian universe, immigrants pose a superhuman threat but are themselves of subhuman significance. Through his tweets, his attacks on the media, and his lying, Trump has been waging a battle to define reality to the exclusion of documented facts. In Trump's reality, it's not just that the Administration refuses to be held accountable for running concentration camps—it's that the camps, and the suffering in them, do not exist. https://www.newyorker.com/news/our-columnists/donald-trumps-inoffensive-war-on-reality
9. Zak Cheney-Rice: AOC Put a Spotlight on Migrant Detention Conditions. Conservative Media Focused on Her Manners.
The entire news cycle surrounding the congresswoman's behavior was an example of how debates about political violence get subsumed by debates about civility. It is hard to imagine conditions more worthy of an outburst than those in which the U.S. government has killed seven migrant children and imprisoned thousands more. Yet accounts of Ocasio-Cortez losing her cool — false or devoid of context though they may be — are framed as scandalous and characterized as threats against the law officers who maintain those conditions. It is a familiar standard, echoing the same logic by which many critics oppose nonviolent protests against racist police violence: By objecting to the method of protest — blocking traffic, kneeling during the national anthem — they obscure the fact that it is the protest that actually bothers them.
Ocasio-Cortez is now compelled to defend behavior that, had she even engaged in it, would have been reasonable given the circumstances. Instead, it is being used to illustrate her unreasonableness relative to those who incarcerate and functionally torture people for not having immigration papers. Meanwhile, the Trump administration's crackdown on immigrants and asylum seekers continues unabated. http://nymag.com/intelligencer/2019/07/aoc-detention-camp-etiquette.html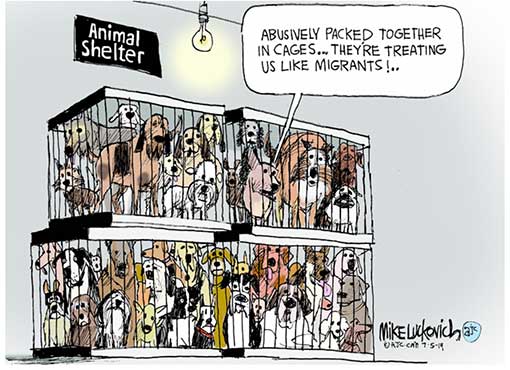 10. David Wallace-Wells: The Uninhabitable Earth
In the jungles of Costa Rica, where humidity routinely tops 90 percent, simply moving around outside when it's over 105 degrees Fahrenheit would be lethal. And the effect would be fast: Within a few hours, a human body would be cooked to death from both inside and out. Fossils by Heartless Machine
It is, I promise, worse than you think. If your anxiety about global warming is dominated by fears of sea-level rise, you are barely scratching the surface of what terrors are possible, even within the lifetime of a teenager today. And yet the swelling seas — and the cities they will drown — have so dominated the picture of global warming, and so overwhelmed our capacity for climate panic, that they have occluded our perception of other threats, many much closer at hand. Rising oceans are bad, in fact very bad; but fleeing the coastline will not be enough.
Indeed, absent a significant adjustment to how billions of humans conduct their lives, parts of the Earth will likely become close to uninhabitable, and other parts horrifically inhospitable, as soon as the end of this century.
The Earth has experienced five mass extinctions before the one we are living through now, each so complete a slate-wiping of the evolutionary record it functioned as a resetting of the planetary clock, and many climate scientists will tell you they are the best analog for the ecological future we are diving headlong into. Unless you are a teenager, you probably read in your high-school textbooks that these extinctions were the result of asteroids. In fact, all but the one that killed the dinosaurs were caused by climate change produced by greenhouse gas. The most notorious was 252 million years ago; it began when carbon warmed the planet by five degrees, accelerated when that warming triggered the release of methane in the Arctic, and ended with 97 percent of all life on Earth dead. We are currently adding carbon to the atmosphere at a considerably faster rate; by most estimates, at least ten times faster. The rate is accelerating. This is what Stephen Hawking had in mind when he said, this spring, that the species needs to colonize other planets in the next century to survive, and what drove Elon Musk, last month, to unveil his plans to build a Mars habitat in 40 to 100 years. These are nonspecialists, of course, and probably as inclined to irrational panic as you or I. But the many sober-minded scientists I interviewed over the past several months — the most credentialed and tenured in the field, few of them inclined to alarmism and many advisers to the IPCC who nevertheless criticize its conservatism — have quietly reached an apocalyptic conclusion, too: No plausible program of emissions reductions alone can prevent climate disaster. http://nymag.com/intelligencer/2017/07/climate-change-earth-too-hot-for-humans.html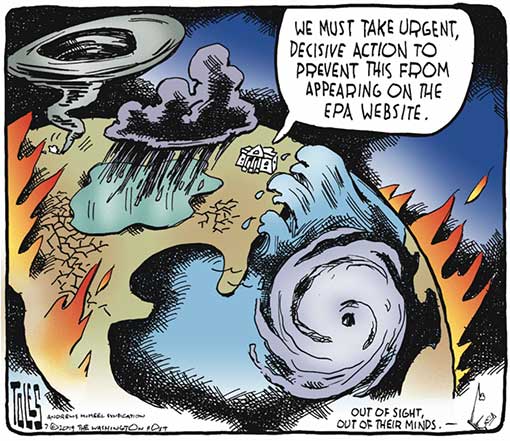 11.  Jennifer Rubin: Census farce: Trump, Barr and the Justice Department make a mockery of the law
The Supreme Court found late last month that the administration's explanation for inclusion on the 2020 Census of a question asking about citizenship didn't match the facts. In other words, Commerce Secretary Wilbur Ross lied when he said the Justice Department had initiated the process by asking for such a question to enforce the Voting Rights Act, a blatant misrepresentation.
We now know from evidence belatedly uncovered that the real reason was to produce a census that favored white voters and hence the Republican Party (thereby acknowledging that the party's political survival is entirely dependent on artificially inflating the white share of the electorate). The government actually tried to halt discovery in a Maryland lawsuit over the census question while it comes up with a new explanation, a cheeky move slapped down by U.S. District Judge George J. Hazel. They want to keep litigating the real reason for the citizenship question? Fine, let's have at it.
Constitutional scholar Laurence Tribe observes, "The district court's refusal to go along with the antics of the Justice Department's legal team has been a reassuring reminder that this dictator-admiring president has not yet succeeded in breaking the judicial guardrails completely." However, Tribe argues that Trump "has left little doubt about his willingness to do so if he senses at any given moment that it would serve his theatrical or political interests — interests that he seems incapable of distinguishing."
As Trump continues to mow down one democratic norm after another and tries to defy Congress and the courts on a regular basis, one has to reevaluate the efficacy and urgency of impeachment. "To refrain from promptly beginning formal impeachment proceedings against a president who conducts his office in this chaotically lawless manner, on top of everything else he has done, would be an abdication of constitutional responsibility," Tribe asserts.
At the very least, this new example of deceitful lawyering should be added to the list of topics for House Judiciary Committee hearings. https://www.washingtonpost.com/opinions/2019/07/07/census-farce-trump-barr-doj-make-mockery-law/
12. Greg Sargent: Trump's corruption is getting worse. He has a hidden enabler.
Extraordinary new details are emerging about President Trump's efforts to rig the census to benefit the Republican Party — and those details provide an occasion to take stock of William P. Barr's role as hidden enabler of the president's deepening corruption.
We are now seeing Trump's attorney general assume this role on multiple fronts — and we are only beginning to glimpse the damage that could result from all of it.
The Justice Department just announced that it will swap out the lawyers who are representing the administration in the legal battle over the effort to add a citizenship question to the 2020 Census. This battle continues because Trump ordered the administration to keep fighting to add the question, even though officials had surrendered after the Supreme Court ruled against it.
As The Post reports, the change in the legal team might signal "legal or ethical concerns" about Trump's handling of the affair. One source said such concerns were harbored by some "career attorneys."
Finally, there's Barr's enabling of Trump's attacks on the rule of law. Barr has tried to lend credibility to Trump's conspiracy theory that law enforcement tried to derail his candidacy, which suggests that his ongoing review of the genesis of the Russia investigation may be tailored to baselessly undermine perceptions of the probe's legitimacy.
Barr has also suggested that Trump's "witch hunt" language is reasonable, and has insisted we must appreciate how victimizedTrump felt by the probe when evaluating his obstruction of it. Arguably, these things seem designed to legitimize Trump's thoroughly corrupt attacks on Barr's own Justice Department.
"This is not business as usual," Bagley told me, in summing up all we've seen. Indeed it isn't — and we still haven't seen how much damage it could yet do. https://www.washingtonpost.com/opinions/2019/07/08/trumps-corruption-is-getting-worse-thanks-his-hidden-enabler/
13. Jamelle Bouie: Why Isn't Trump Trying to Win the Center?
What is President Trump going to do to win the voters who rejected him in 2016?
It's a serious question. Roughly 137 million people voted in the last presidential election. Most of them — about 74 million people, or 54 percent of all ballots cast — did not vote for Trump. His self-proclaimed "massive landslide" rests on a thin margin of victory in just three states.
Once in office, Trump abandoned the heterodox Republicanism of his campaign for hard-right policies opposed by most Americans. He fought to repeal the Affordable Care Act. When that failed, he pushed for an unpopular upper-income tax cut. He reveled in cruelty toward immigrants and took the side of racist demonstrators in Charlottesville, Va. He governs for his base alone, with no sense or understanding of the collective good.
"I have a base that's a phenomenal — it's just a phenomenal base," Trump said in a recent interview with Time magazine. "It's a very loyal base and I'm loyal to them also." When asked if he should reach beyond his supporters, he answered simply, " I think my base is so strong, I'm not sure that I have to do that."
https://www.nytimes.com/2019/07/08/opinion/trump-2020.html
14. Jonathan Chait: Why Trump Fears the Secret British Memo Calling Him a Clown
The weekend leak of a British diplomatic cable savaging President Trump was a minor event by Trump-era standards. That's in part because it came via the British press on an American holiday weekend, but also because the memo's author, British ambassador Kim Darroch, didn't break new ground in assessing the president and his administration. Trump, he wrote, is dim-witted ("you need to make your points simple, even blunt"), susceptible to flattery ("you need to start praising him for something that he's done recently"), lies constantly, potentially compromised by Russia ("the worst cannot be ruled out"), and generally incompetent ("we don't really believe this administration is going to become substantially more normal; less dysfunctional; less unpredictable; less faction riven; less diplomatically clumsy and inept").
We knew all that already. What's more, we knew that the world (whose diplomatic strategy with the 45th president mixes delicate flattery with low-grade bribes ) knew it already. Even many members of Trump's own administration know this. Yet Trump's reaction to the story indicates that he regards it as especially offensive and even dangerous.
Trump told reporters, "The ambassador has not served the U.K. well. I can tell you that. We're not big fans of that man … So, I can understand it and I can say things about him as well, but I won't bother." Later he tweeted out a similar message:
The case against Trump contains so many damning particulars, it is difficult to narrow it down. But the existence of a written memo confirming the view of a close American ally that Trump is utterly unfit for office might qualify as one of those facts the opposition should bring to the public's attention. http://nymag.com/intelligencer/2019/07/trump-fears-secret-british-memo-kim-darroch.html