June 13, 2019
ON THE RECORD. . .
"Let me tell you, he made such a fool out of himself . . . because what people don't report is the letter he had to do to straighten out his testimony because his testimony was wrong." — Donald Trump about former special counsel Robert Mueller.
It's not a modest proposal—it's brilliant. Nothing in the Constitution dictates the procedure by which the House decides whether to pass a bill of impeachment. No reason why it can't hold a trial for the American people to see. Let the chips fall where they may. --George Conway@gtconway3d agreeing with Laurence Tribe's proposal to build into the very design of this impeachment inquiry an offramp that would make bypassing the Senate an option
Would someone get Trump a dog. He needs a friend so he won't endlessly vent on Twitter. He's uninterested in government and policy. He doesn't read. He doesn't exercise. He has no real friends. A dog might save humankind. Admittedly, it a lot to ask of a dog. But help is needed. — John Dean(@JohnWDean
"The Fake (Corrupt) News Media said they had a leak into polling done by my campaign which, by the way and despite the phony and never ending Witch Hunt, are the best numbers WE have ever had. They reported Fake numbers that they made up & don't even exist. WE WILL WIN AGAIN!" — Trump denying reports of internal polling that show him losing to Joe Biden in key states he needs to win re-election.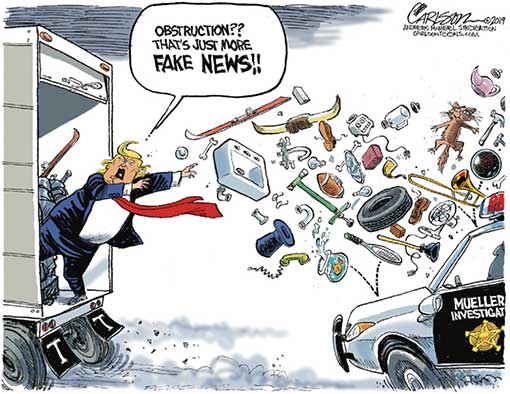 "The president manufactures a crisis, galvanizes his base around the challenge, leaves the definition of success undefined, pretends to play hardball and, lo and behold, finds a solution that entails little more than window-dressing, if that. For Trump, it's a win-win." But "the loser tends to be the American people, oftentimes Trump's base first and foremost. — Ned Price, a former C.I.A. official who worked on President Barack Obama's National Security Council staff and is now director of policy at National Security Action, a progressive foreign policy advocacy organization.
Trump -- and his surrogates, including those at Fox -- showed they were willing to do anything and everything to get him elected in 2016. These baseless hits on Biden's health -- more than a year before the election -- suggest they'll be following that same blueprint again. —  Chris Cillizza
"I'm going to be the first president in history to use PowerPoint in the  State of the Union. How do you feel about that?" Cheers. "Yeah, break out the PowerPoint chant! No — don't do it — ." --Andrew Yang to a crowd in Seattle in early May, demonstrating the demagogic potential of Microsoft Office Suite
"He left. I don't leave. A big difference." — Trump on the difference between him and Richard Nixon.
"Much of the media unfortunately in this country is corrupt. I have to tell you that, Mr. President." — Trump, in a media availability with Polish President Andrzej Duda.
"I think you might want to listen. There's nothing wrong with listening. It's not an interference, they have information. I think I'd take it. If I thought there was something wrong I'd go maybe to the FBI. If I thought there was something wrong." — Trump telling ABC News that he wouldn't commit to calling the FBI if a foreign power offered damaging information on a political opponent.
---
IN THIS ISSUE
FYI
OPINION
1. Satire by Andy Borowitz: Woman Quits Job After Being Forced to Spend Week with Trump
A British woman quit her job, on Friday, after being forced to spend the better part of a week with Donald J. Trump, the woman has confirmed.

Speaking to reporters at her office in London, the woman said that, although she had spent years trying to get the job, having to endure several days in the company of Trump convinced her that "life is too short."

When I started this job, I knew that a certain amount of my responsibilities would involve dealing with members of the public," she said. "But had I known that I also would have to spend hours listening to Donald Trump talk, I certainly would have applied for a different position."

Compounding the woman's nightmare, she was required to spend time not only with Trump but with his adult children as well. "Having to talk to that Eric person reduced me to tears," she said.

The woman said that she has been amazed to learn that more than ten people have come forward to say that they would like to be her replacement. "Whoever gets my job should be warned: at some point, you may have to spend a week with Donald Trump," she said. "Are you really up for that?" https://www.newyorker.com/humor/borowitz-report/
2. Trump Has Gotten China to Lower Its Tariffs. Just Toward Everyone Else.
China increased its retaliatory tariffs hitting US exports on June 1 in response to President Donald Trump's latest escalation of his trade war. Yet, this action is only half of the bad news for US exporters. The other half is that China has begun rolling out the red carpet for the rest of the world. Everyone else is enjoying much improved access to China's 1.4 billion consumers, a fact that has been little noticed or reported in accounts of the US-China economic confrontation.
While Trump shows other countries nothing but his tariff stick, China has been offering carrots.  Beijing has repeatedly cut its duties on imports from America's commercial rivals, including Canada, Japan, and Germany.
Trump's provocations and China's two-pronged response mean American companies and workers now are at a considerable cost disadvantage relative to both Chinese firms and firms in third countries. The result is one more eerie parallel to the conditions US exporters faced in the 1930s. https://piie.com/blogs/trade-investment-policy-watch/trump-has-gotten-china-lower-its-tariffs-just-toward-everyone
3. For Iowa Democrats, winning more important than ideology
Here's what caught First Read's eye in the Des Moines Register/CNN Iowa poll  that was released over the weekend: 
Beating Trump is more important than ideology: Two-thirds of likely Democratic caucus-goers say it's more important to them that the Iowa winner has a strong chance of beating Trump, while just a third say it's more important that the winner shares their position on key issues.

The most popular candidates when it comes to the fav/unfav numbers among in-person caucus-goers: Elizabeth Warren (+54), Kamala Harris (+50), Pete Buttigieg (+49), Joe Biden (+48), Bernie Sanders (+45), Cory Booker (+36) and Beto O'Rourke (+33). https://www.nbcnews.com/politics/meet-the-press/iowa-democrats-winning-trumps-ideology-n1015691
4. Fox News Stars Begin Pushing Rumors About Joe Biden's Health
One month after Joe Biden announced his run for president, several Fox News stars have already begun quietly pushing rumors that the 76-year-old ex-veep is in poor health.
Since the end of May, Fox Business Network and Fox News star Lisa "Kennedy" Montgomery and Fox News prime-time host Sean Hannity have speculated on-air, on at least four separate occasions, that the current Democratic presidential frontrunner is secretly dealing with health issues, often comparing his condition to illness-related conspiracy theories the network pushed about Hillary Clinton during the 2016 election.
The Biden rumor-mongering seemingly began May 29, during the broadcast of Fox News' afternoon gabfest The Five. While assessing Biden's candidacy, Kennedy claimed to know Democratic operatives engaged in a whisper campaign about Biden's health. https://www.thedailybeast.com/fox-news-stars-begin-pushing-rumors-about-joe-bidens-health
5. Age matters more than sexual orientation to U.S. presidential voters: Reuters/Ipsos poll
In a sign that a presidential hopeful's sexual orientation has diminished as a concern for voters, Americans are more likely to say they would reject a candidate older than 70 than a candidate who is gay, according to a Reuters/Ipsos poll on Monday.
Overall, the poll found that 48% of adults in the United States said they were "much" or "somewhat" less likely to support someone for the White House if the person was older than 70, while 34% were less likely to vote for someone who is gay.
And 12% said they were more likely to vote for a gay candidate, compared with 11% who said they were more likely to support a candidate who is over 70. https://www.reuters.com/article/us-usa-lgbt-stonewall-poll/age-matters-more-than-sexual-orientation-to-u-s-presidential-voters-reuters-ipsos-poll-idUSKCN1TB145
6. Donald Trump's sons still haven't paid the tab on their Doonbeg pub crawl
THEY ENJOYED a warm welcome during their tour around the pubs of Doonbeg, but Eric and Donald Trump Jr may have forgotten one important detail from their epic bar crawl – the bill. https://www.irishpost.com/news/donald-trump-sons-doonbeg-pub-crawl-bill-167831
7. Mexico Doesn't Back Up Trump's Twitter Claims of Big Farm Deal
On Saturday Trump told his 61 million Twitter followers in an all-caps message that Mexico had agreed to "immediately begin buying large quantities of agricultural product from our great patriot farmers" following the border security deal. He retweeted the message overnight.
Three Mexican officials said Saturday they were not aware of any side accord in the works, and that agricultural trade hadn't been discussed during three days of negotiations in Washington that culminated in a joint communique late Friday. https://finance.yahoo.com/news/mexico-never-agreed-farm-deal-205443863.html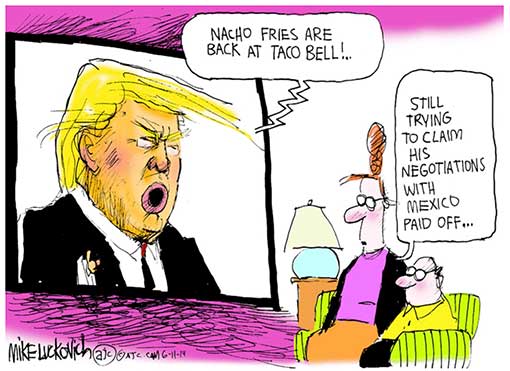 8. Pompeo downplays climate change, suggests 'people move to different places'
Secretary of State Mike Pompeo downplayed climate change as a longstanding trend, suggesting that that modern societies could adapt to a changing environment, possibly with people moving to different places.
"The climate's been changing a long time. There's always changes that take place," Pompeo said during an interview with the Washington Times published Friday, when asked whether he thought climate change was man-made and how best to address it. He did not mention anything about man-made pollution in his remarks.
"Societies reorganize, we move to different places, we develop technology and innovation," he added. "I am convinced, I am convinced that we will do the things necessary as the climate changes." https://www.cnn.com/2019/06/07/politics/pompeo-climate-change-washington-times/index.html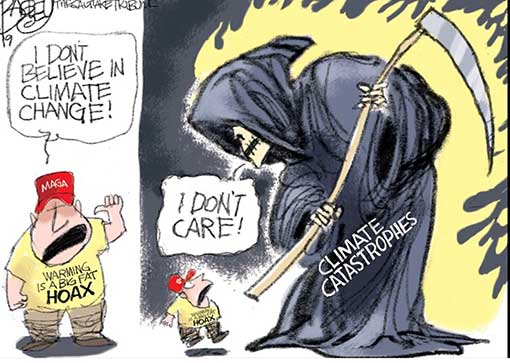 9. White House poised to relax mileage standards, rebuffing automakers and setting up probable fight with California
A last-minute push by automakers appears unlikely to sway the Trump administration from abandoning President Barack Obama's signature climate policy to improve mileage standards for cars and light trucks, two government officials said Friday.
"On Thursday, 17 U.S. and foreign firms sent a letter to both President Trump and California Gov. Gavin Newsom (D), urging them to "resurrect" talks to avoid harming the industry and American consumers. They warn that only a nationally agreed-upon set of rules would avert "an extended period of litigation and instability, which could prove as untenable as the current program."
But White House officials rebuffed the automakers' request Thursday, saying there was no prospect of further negotiation with the California Air Resources Board (CARB). The two government officials, who were briefed on the discussions, spoke on the condition of anonymity to describe internal deliberations. https://www.washingtonpost.com/climate-environment/white-house-poised-to-relax-mileage-standards-rebuffing-automakers-and-setting-up-likely-fight-with-calif/2019/06/07/7dc1174c-8939-11e9-98c1-e945ae5db8fb_story.html
10. New Election Security Bills Face a One-Man Roadblock: Mitch McConnell
A raft of legislation intended to better secure United States election systems after what the special counsel, Robert S. Mueller III, called a "sweeping and systematic" Russian attack in 2016 is running into a one-man roadblock in the form of the Senate majority leader, Mitch McConnell of Kentucky.
The bills include a Democratic measure that would send more than $1 billion to state and local governments to tighten election security, but would also demand a national strategy to protect American democratic institutions against cyberattacks and require that states spend federal funds only on federally certified "election infrastructure vendors." A bipartisan measure in both chambers would require internet companies like Facebook to disclose the purchasers of political ads.
Another bipartisan Senate proposal would codify cyberinformation-sharing initiatives between federal intelligence services and state election officials, speed up the granting of security clearances to state officials and provide federal incentives for states to adopt paper ballots.
But even bipartisan coalitions have begun to crumble in the face of the majority leader's blockade. Mr. McConnell, long the Senate's leading ideological opponent to federal regulation of elections, has told colleagues in recent months that he has no plans to consider stand-alone legislation on the matter this term, despite clamoring from members of his own conference and the growing pressure from Democrats who also sense a political advantage in trying to make the Republican response to Russia's election attack look anemic. https://www.nytimes.com/2019/06/07/us/politics/election-security-mitch-mcconnell.html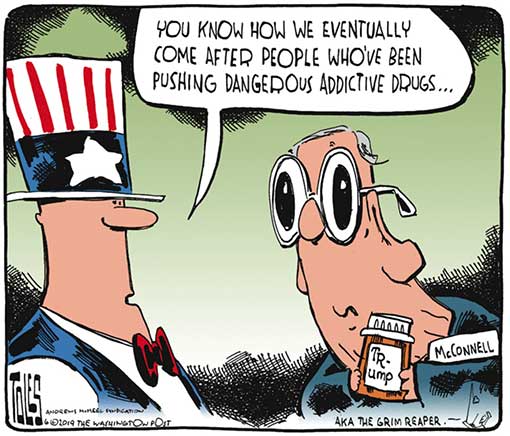 11. White House blocked intelligence agency's written testimony calling climate change 'possibly catastrophic'
White House officials barred a State Department intelligence agency from submitting written testimony this week to the House Intelligence Committee warning that human-caused climate change is "possibly catastrophic." The move came after State officials refused to excise the document's references to federal scientific findings on climate change. https://www.washingtonpost.com/climate-environment/2019/06/08/white-house-blocked-intelligence-aides-written-testimony-saying-human-caused-climate-change-could-be-possibly-catastrophic/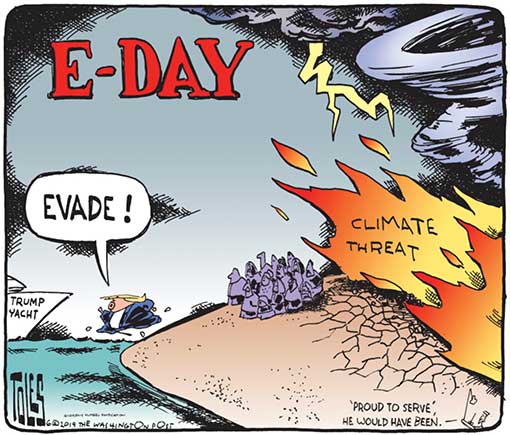 12. 24 immigrants have died in ICE custody during the Trump administration
Twenty-four immigrants have died in ICE custody during the Trump administration, according to an NBC News analysis of federal data. At least four others, including Medina Leon, died shortly after being released from ICE custody. The number of in-custody deaths remains below the peak of 32 deaths in 2004, the first full calendar year records were kept.
The tally does not include migrants, including five children, who have died in the custody of other federal agencies.
"What we're seeing is a reckless and unprecedented expansion of a system that is punitive, harmful and costly," said Katharina Obser, senior policy adviser at the Women's Refugee Commission, an advocacy group. "The U.S. government is not even doing the bare minimum to ensure [immigrants] are getting the medical care and the mental health care they need." https://www.nbcnews.com/politics/immigration/24-immigrants-have-died-ice-custody-during-trump-administration-n1015291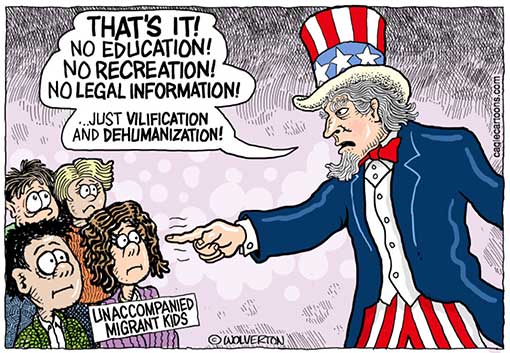 13. Larry Kudlow once said Trump's proposed trade policies 'will pose incalculable damage' to US economy
Larry Kudlow, the President's chief economic adviser, once said Donald Trump's proposed policies on trade would lead to a bad recession, cause "incalculable damage" to the economy and kill consumers and businesses alike.
Kudlow made those comments in 2015 on the Larry Kudlow Show, a radio program he hosted before joining the White House in March 2018. Trump at the time was in the early stages of his ultimately successful campaign to secure the Republican nomination and eventually the presidency.
In July 2015, Kudlow linked trade protectionism to the Great Depression.
"He wants to stop trading with China. He wants to stop trading with Mexico. Lord knows who else he wants to stop trading with," he said. "These are huge trading partners of ours. There are political issues that need to be resolved, but you never cut off your nose to spite your face, do you? That's what Trump is doing. Too many Republicans are flirting with protectionism. Protectionism is anti-growth, protectionism, protectionism led to the depression of the 1930s." https://www.cnn.com/2019/06/06/politics/kudlow-trade-incalculable-damage-economy/index.html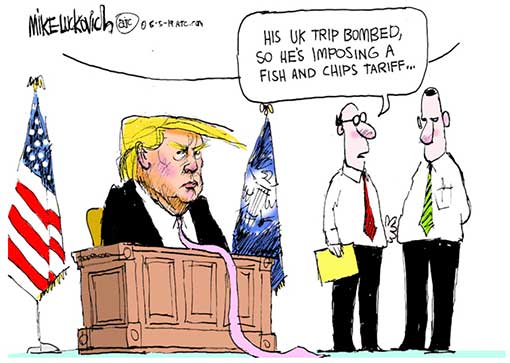 14. Lies? The news media is starting to describe Trump's 'falsehoods' that way.
It's (almost) official: The president of the United States is a liar.
This will not come as a revelation to people who have closely followed President Trump's public statements and Twitter feed and have long doubted his veracity. It is, instead, a late-dawning recognition by mainstream news organizations, which until fairly recently shied away from branding the president's many questionable utterances as outright lies.
Nowadays, many in the news media are no longer bothering to grant Trump the benefit of the doubt. In routine news and feature stories, Trump's dishonesty carries no fig leaf. It is described baldly. https://www.washingtonpost.com/lifestyle/style/lies-the-news-media-is-starting-to-describe-trumps-falsehoods-that-way/2019/06/05/413cc2a0-8626-11e9-a491-25df61c78dc4_story.html
15. 'These boys were on a holiday': Trump family members promote themselves, and businesses, on European trip
They sat for the white-tie dinner with Queen Elizabeth, toured the Churchill War Rooms, attended the 75th anniversary commemoration of the D-Day invasion in Normandy and, for the Trump sons, checked in on the family business at Trump International Golf Links & Hotel in Doonbeg, where the president is spending two nights before returning to Washington on Friday.
The question of who is paying for the family members' participation — and whether American taxpayers will be on the hook — has emerged as an unresolved subplot, with newspapers in Scotland and London scouring State Department databases and reporting on the fancy hotels and expensive limousines contracted by the U.S. government.
During the trip, the Trump children have documented their exploits in Instagram posts — touring Buckingham Palace! observing the aerial flyover in Normandy! pouring pints behind the bar in Doonbeg! — in a modern-day slide show of "wish-you-were-here!" family vacation moments for the public back home. At times, the images appeared discordant with the aims of a U.S. government delegation representing the nation's geostrategic interests. https://www.washingtonpost.com/politics/these-boys-were-on-a-holiday-trump-family-members-promote-themselves-and-businesses-on-european-trip/2019/06/06/0a5c83fc-8869-11e9-98c1-e945ae5db8fb_story.html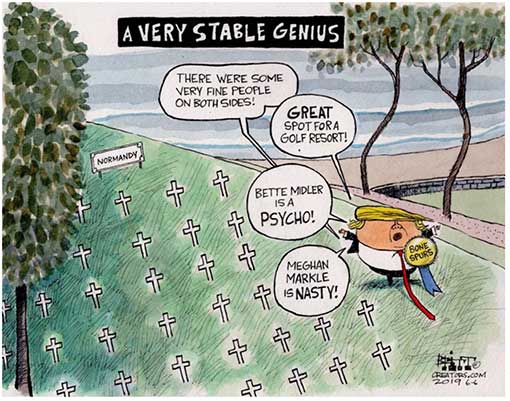 16. 3 Republican former EPA chiefs accuse Trump of 'undermining of science'
Three Republican former heads of the Environmental Protection Agency accuse the agency's current leadership of supporting the "undermining of science" and a potentially "catastrophic" approach to climate change.
"If we continue business as usual, it's catastrophic," said William Reilly, who led the agency under President George H.W. Bush. https://abcnews.go.com/Politics/republican-epa-chiefs-accuse-trump-undermining-science/story
17. The DAILY GRILL
NASA is "refocusing on the moon, the next sort of quest, if you will, but didn't we do this moon thing quite a few decades ago?" -- Fox's Neil Cavuto 12:26 pm

VERSUS

For all of the money we are spending, NASA should NOT be talking about going to the Moon - We did that 50 years ago. They should be focused on the much bigger things we are doing, including Mars (of which the Moon is a part), Defense and Science! — Trump 1:38 pm

 

"I think Hillary should be in jail. Lock her up. Lock her up." — Sean Hannity, January 2018.

VERSUS

"Based on no actual crimes, she wants a political opponent locked up in prison. Um, that happens in banana republics. Beyond despicable behavior." — Hannity, on Friday night, on the reported comments by Speaker Nancy Pelosi that she wants President Trump in prison.

 

MEXICO HAS AGREED TO IMMEDIATELY BEGIN BUYING LARGE QUANTITIES OF AGRICULTURAL PRODUCT FROM OUR GREAT PATRIOT FARMERS! —Donald J. Trump@realDonaldTrump

VERSUS

The U.S.-Mexico Joint Declaration released Friday mentions nothing about agriculture sales as part of the agreement. Three officials also said that increasing Mexico's purchases from the U.S. wasn't discussed during the talks in Washington that led up to Friday's agreement. The White House declined to comment, according to Bloomberg. -- Bloomberg News

 

We pay for Obama's travel so he can fundraise millions so Democrats can run on lies. Then we pay for his golf. — Donald J. Trump@realDonaldTrump
 

VERSUS

The tab for Trump's visit earlier this week to his golf resort in Doonbeg in Ireland — at least $3.6 million — was particularly steep because he brought along a substantial entourage following his official state visit in London. The club used Trump's stay to try to drum up business for the money-losing operation by tweeting about his visit — something the Trump Organization had pledged would never happen because of ethics concerns. -- HuffPost.

 

"We've spent $4 trillion trying to topple various people that, frankly, if they were there and if we could have spent that $4 trillion in the United States to fix our roads, our bridges, and all of the other problems — our airports and all the other problems we have — we would have been a lot better off," -- Trump a debate in December 2015, decrying America's wars in the Middle East as "a tremendous disservice to humanity.

VERSUS

I'm a budget cutter, and I have cut the budget. But on defense, I don't want to do any cutting because … I was left a very depleted military. I feel just the opposite. I'm very much a cost cutter, I want to have a great budget, but before a budget, I have to have a great military." — Trump replying to CNBC's Joe Kernan.
18. From Media Matters (They watch Fox News so you don't have to)
In recent months, Fox Nation hosts have participated in multiple campaign activities for Republican groups, including starring in campaign videos and headlining party fundraisers. Fox News has previously claimed that Fox "talent" are prohibited from participating in campaign events. https://www.mediamatters.org/blog/2019/06/06/fox-nation-hosts-have-been-campaigning-republicans-violation-networks-supposed-standards/223873

Fox host attacks House Democrats for passing bill to protect Dreamers. Last year, the same Fox host claimed Democrats didn't really want a DACA deal. https://www.mediamatters.org/blog/2019/06/06/fox-host-attacks-house-democrats-passing-bill-protect-dreamers/223878

"Lock her up" and Sean Hannity's "beyond despicable" hypocrisy. Following reports that House Speaker Nancy Pelosi (D-CA) wants to see President Donald Trump in prison after his presidency rather than impeaching him now, Fox host Sean Hannity lashed out, saying Pelosi "wants a political opponent locked up in prison? That happens in banana republics -- beyond despicable behavior." Hannity's response is ironic considering that his show (like the Trump rallies) has featured numerous calls for former presidential candidate Hillary Clinton to be imprisoned. https://www.mediamatters.org/blog/2019/06/07/lock-her-and-sean-hannitys-beyond-despicable-hypocrisy/223890

Fox Business contributor attacks "idiot children" in college admissions scandal: "If the kid is so stupid they can't get into Yale or USC why does it matter?" Dagen McDowell: "The parents of idiot children, who they were embarrassed by, had to go out and ... basically commit crimes to get their kids into school." https://www.mediamatters.org/video/2019/06/07/Fox-Business-contributor-attacks-idiot-children-in-college-admissions-scandal-If-the-kid-i/223892

Julie Banderas, a news-side correspondent and anchor, claimed Mueller "said that he had confidence the president clearly did not commit a crime." (Mueller actually said the opposite.) https://www.mediamatters.org/video/2019/06/07/fox-news-anchor-gets-called-out-claiming-mueller-said-trump-didnt-commit-crimes/223893

Laura Ingraham: Congress wants to change America "demographically" and "in ways that nobody voted for." Ingraham: "They want to change it demographically, or bring so many people into the country that don't have an affinity for our country." https://www.mediamatters.org/video/2019/06/11/laura-ingraham-congress-wants-change-america-demographically-and-ways-nobody-voted/223903

The DHS watchdog reported disturbing conditions at its detention centers. Fox News spent months describing them as humane.  The new report shows that immigrants in detention centers are facing "unsafe and unhealthy conditions," including "dilapidated and moldy" bathrooms and raw food contamination. https://www.mediamatters.org/blog/2019/06/12/The-DHS-watchdog-reported-disturbing-conditions-at-its-detention-centers-Fox-News-spent-mo/223912
19. Company part-owned by Jared Kushner got $90m from unknown offshore investors since 2017
A real estate company part-owned by Jared Kushner has received $90m in foreign funding from an opaque offshore vehicle since he entered the White House as a senior adviser to his father-in-law Donald Trump.
'Investment has flowed from overseas to the company, Cadre, while Kushner works as an international envoy for the US, according to corporate filings and interviews. The money came through a vehicle run by Goldman Sachs in the Cayman Islands, a tax haven that guarantees corporate secrecy. https://www.theguardian.com/us-news/2019/jun/10/jared-kushner-real-estate-cadre-goldman-sachs
20. From the Late Shows
Trump's Favorite Problems to Fix Are the Ones He Created | The Daily Show: https://youtu.be/GSX6EA8X-oY

The Late Show with Stephen Colbert: Trump Turns Down An Irish Castle For An Irish Airport: https://youtu.be/NBh3V-6P3kE
21. Mcconnell's Wife Gave Him A Special Reelection Present: $78 Million In Federal Funding
Last month, Senate Majority Leader Mitch McConnell stonewalled a plan to fix the nation's roads, bridges, mass transit, and other crumbling infrastructure, despite the urgency of the issue and the outline of the deal receiving rare support from both Democrats and the White House. But, as it turns out, McConnell isn't opposed to all infrastructure spending. In fact, he's quite open to it when it's flowing specifically to towns in his home state, thanks to a special arrangement with the Transportation Department set up by his Cabinet secretary wife.
Politico reports that Elaine Chao, spouse of Mitch, "designated a special liaison to help with grant applications and other priorities from her husband Mitch McConnell's state of Kentucky, paving the way for grants totaling at least $78 million for favored projects as McConnell prepared to campaign for reelection." That liaison, Chao's current chief of staff, Todd Inman, wrote in an email to McConnell's office that Chao had "personally asked him to serve as an intermediary"—a benefit bestowed on no other state—and that he should be contacted if there were any "Ky-specific issue[s]" that should be flagged for the secretary's attention. According to reporters Tucker Doherty and Tanya Synder, that included grants with special significance to the senator, such as a highway-improvement project that had twice been rejected. https://www.vanityfair.com/news/2019/06/mitch-mcconnell-elaine-chao-kentucky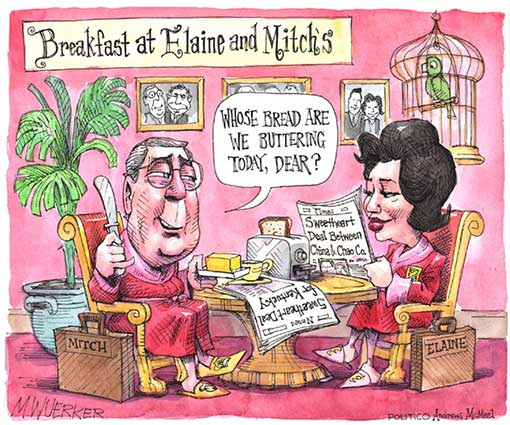 22. The GoFundMe Border Wall Blocked Access To A Monument. It's Been Ordered To Keep A Gate Open Indefinitely.
The viral crowdfunding effort to build a wall on the southern border aimed at deterring immigrants from crossing illegally was only recently completed, but on Monday the newly installed wall suffered a major setback — a large gate built into the barrier was ordered opened by officials.
The controversial half-mile wall constructed along the US–Mexico border near Sunland Park, New Mexico, was erected earlier this month after organizers raised more than $23 million on GoFundMe, the online crowdfunding site. But We Build the Wall organizers failed to obtain the required authorization to build the barrier on federal land, cutting off access to waterways and a public monument. https://www.buzzfeednews.com/article/salvadorhernandez/gofundme-border-wall-gate-access-monument-water
23. Reps of 22 foreign governments have spent money at Trump properties
Representatives of at least 22 foreign governments appear to have spent money at Trump Organization properties, an NBC News review has found, hinting at a significant foreign cash flow to the American president that critics say violates the U.S. Constitution.
The extent and amount of foreign spending at Trump's hotels, golf clubs and restaurants is not known, because the Trump Organization is a private company and declines to disclose that information.  https://www.nbcnews.com/politics/donald-trump/reps-22-foreign-governments-have-spent-money-trump-properties-n1015806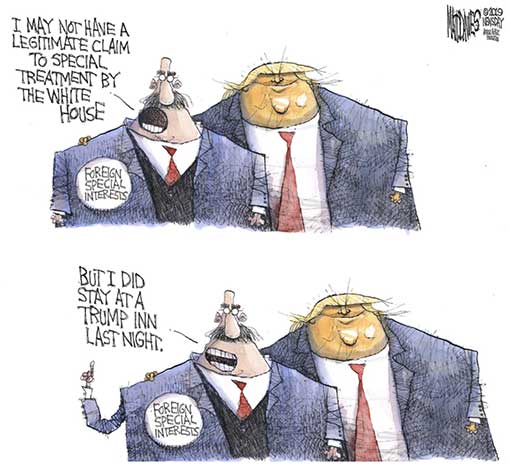 1. Jonathan Chait: Why All of Trump's Deals Are Bad
Donald Trump's negotiating style as president borrows heavily from the negotiating style Trump used in his business career. Sometimes — as with Friday's immigration deal with Mexico, which merely reiterated promises Mexico made months ago — his threats fail to win any substantive concessions. Other times his counterparties are willing to throw him a bone or two for the sake of appeasement. (The renegotiated/rebranded NAFTA deal does have slightly more favorable terms for the United States, though hardly different enough to justify Trump's hyperbolic attacks on the old version.)
Trump's method of irrational threats and bad-faith negotiating did work, to an extent, in private business. Stiffing contractors and lenders was one of Trump's signature business maneuvers. It worked because he could always find more people to do business with, and the fame he cultivated through his manipulation of the media — also a legitimate Trump business skill — helped draw in a never-ending supply of suckers.
The problem is that the supply of foreign countries is finite. The bad will Trump engenders with his irrational charges and crazy threats alienates partners he will need to deal with again. (How can Mexico or anybody make a trade deal with a man who is willing to unilaterally impose tariffs over completely unrelated policy disagreements?)
Trump's deals are designed with the purpose of creating "wins" that he can tout as evidence of his negotiating prowess. His goal is to extract value for Donald Trump, and he is counting on the fact that nobody will think very hard about who will pay the bill. http://nymag.com/intelligencer/2019/06/why-all-of-trumps-deals-are-bad.html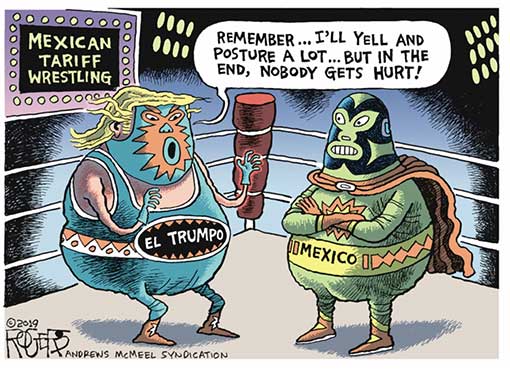 2. Stuart Rothenberg: The 2020 Race: Still tilting Democratic
Questions about the Democratic field — and particularly about the party's eventual nominee — remain unanswered.
Biden's positioning as a pragmatic liberal is ideal. But it isn't clear whether he will be his party's nominee or whether the party will select a more progressive (and riskier) standard-bearer next year.
A strong economy surely gives Trump good talking points and a rationale for re-election, but a clear plurality of Americans (maybe even a majority) now believe the country cannot take another four years of him, no matter how low the employment rate falls.
They are concerned about his character, judgment, intelligence, integrity, churlishness and lack of empathy, as well as the chaos and controversy that follow him.
Dozens of important questions remain unanswered, but the 2020 contest still looks to be more of a referendum on the president than anything else. And because of that, and the polarization evident in the nation, a close race is likely.
Given Trump's inability to broaden his appeal and the likelihood that Democrats will be more united and energized than they were in 2016, the Democratic ticket deserves to be given a narrow but clear advantage.
"Tilting Democratic" still seems a reasonable rating to me at this early stage of the race. https://www.rollcall.com/news/campaigns/the-2020-presidential-race-still-tilts-democratic
3. David Wallace-Wells: The Uninhabitable Earth
The Earth has experienced five mass extinctions before the one we are living through now, each so complete a slate-wiping of the evolutionary record it functioned as a resetting of the planetary clock, and many climate scientists will tell you they are the best analog for the ecological future we are diving headlong into. Unless you are a teenager, you probably read in your high-school textbooks that these extinctions were the result of asteroids. In fact, all but the one that killed the dinosaurs were caused by climate change produced by greenhouse gas. The most notorious was 252 million years ago; it began when carbon warmed the planet by five degrees, accelerated when that warming triggered the release of methane in the Arctic, and ended with 97 percent of all life on Earth dead. We are currently adding carbon to the atmosphere at a considerably faster rate; by most estimates, at least ten times faster. The rate is accelerating.
The many sober-minded scientists I interviewed over the past several months — the most credentialed and tenured in the field, few of them inclined to alarmism and many advisers to the IPCC who nevertheless criticize its conservatism — have quietly reached an apocalyptic conclusion, too: No plausible program of emissions reductions alone can prevent climate disaster. http://nymag.com/intelligencer/2017/07/climate-change-earth-too-hot-for-humans.html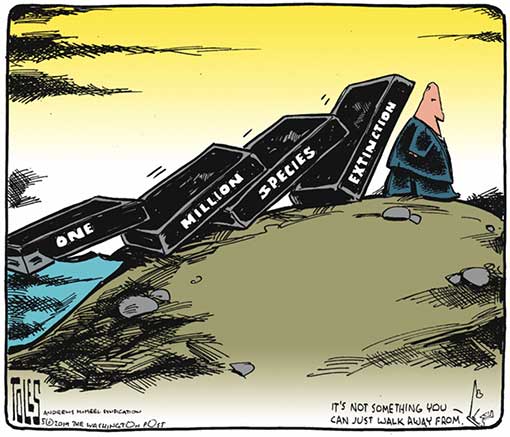 4. Bess Levin: U.S. Troops To Spend Month Painting Border Wall For "Aesthetic" Purposes
Donald Trump has long been known for his obsession with aesthetics as they relate to both humans and inanimate objects. In addition to a disturbing fixation with his eldest daughter Ivanka's looks, he's also commented on the beauty of sleeping gas, coal, the Dakota Access Pipeline, his temperament, a mask of his own face, military weapons, Confederate statues, and chocolate cake consumed while bombing another country. He's also described his wildly unpopular wall on the Mexican border as "beautiful," and apparently, the government wants to make sure it remains an object of desire in his eyes.
CBS News reports that members of the military deployed near the border have been "assigned to spend a month painting a mile-long stretch of barriers" in the California town of Calexico, according to an email sent to lawmakers from the Department of Homeland Security on Wednesday. While DHS attempted to rationalize the absurd use of time, resources, and personnel by saying the paint may combat "camouflaging tactics of illegal border crossers," it admitted "the primary purpose is to improve the aesthetic appearance of the wall." https://www.vanityfair.com/news/2019/06/mexico-border-wall-painting
5. Kimberly Kindy: How a watchdog whitewashed its oversight of FEMA's disaster response with 'feel good' reports
After catastrophic floodwaters submerged wide stretches of southern Louisiana in 2016, displaced homeowners and officials criticized the federal recovery effort as dangerously slow, leaving thousands of people homeless for months.
Auditors in the Department of Homeland Security inspector general's office confirmed problems with the Federal Emergency Management Agency's performance in Louisiana — and in 11 other states hit over five years by hurricanes, mudslides and other disasters.
But the auditors' boss, John V. Kelly, instead directed them to produce what they called "feel good reports" that airbrushed most problems and portrayed emergency responders as heroes overcoming vast challenges, according to interviews and a new internal review.
The watchdog concluded that FEMA's response in Louisiana, where 13 people died in the disaster, was a huge success, a "remarkable," "resilient and mission focused" effort that "provided hope and a way forward" for flooded communities. https://www.washingtonpost.com/national/how-a-watchdog-whitewashed-its-oversight-of-femas-disaster-response-with-feel-good-reports/2019/06/05/427b1040-87a7-11e9-a491-25df61c78dc4_story.html
6. Susan B. Glasser: Why House Dems Shouldn't Impeach the President
Republicans are against tariffs—except when Trump imposes them. Which strikes me as a perfect rationale for this political moment. They are also presumably against stonewalling investigators, refusing to comply with congressional subpoenas, shutting down the government, running up the national debt, labelling close American allies national-security threats, and praising dictators—except when Trump does it. So far, this has been the story of the Republican Senate in the Trump era and, indeed, of the national G.O.P. At a time when no one is really sure anymore just what constitutes Republican ideology, you could do worse than to call it the Except-When-Trump-Does-It Party.
For Republicans, Trump now trumps all. Even D Day, the Party's national chairwoman, Ronna McDaniel, said, should be an occasion to praise and acclaim the President. Appearing on Fox Business, McDaniel said Wednesday that the commemorations in Europe were a "time where we should be celebrating our President" and avoiding all the usual "negativity." McDaniel is such a Trump loyalist that she even recently stopped using her maiden name, "Romney," because it might remind Trump of her uncle, the 2012 Republican nominee, Mitt Romney, who had been one of Trump's fiercest critics. As for Romney, he is now a newly elected senator from Utah with a restrained view of what constitutes Presidential criticism. Asked about the Mexico tariffs this week, he told reporters that he would prefer that Trump not impose them on a "friend." The previously outspoken opponent of tariffs didn't, however, even commit to voting against them. If this is the rebellion, no wonder Trump seems so confident. https://www.newyorker.com/news/letter-from-trumps-washington/republicans-have-become-the-except-when-trump-does-it-party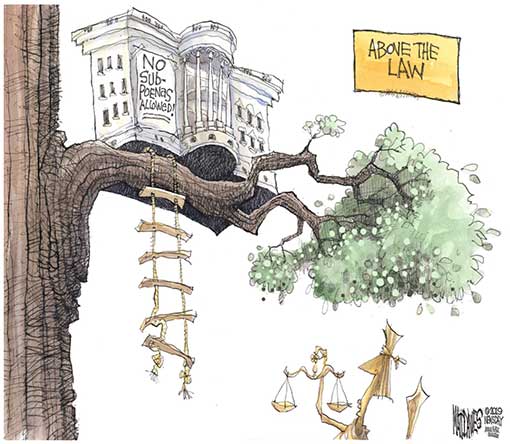 7. Maureen Dowd: Yankee Doodle Donnie
But we could always count on the Fourth of July.
It's a great big national picnic, especially in Washington, where we have a sparkling, sprawling party every year on the Mall. Last year, I went to hear Jimmy Buffett sing with the remnants of the Beach Boys, surrounded by surf boards and beach balls, with pyrotechnics lighting up the monuments.
I must have taken 50 blurry pictures of the Washington Monument and the Lincoln Memorial framed by red and green starbursts. It was one of those nights when you're just happy to be an American.
But now Donald Trump, certified Roman candle, is spoiling America's fireworks show. On a whim, he has decided to bollix up one of the better days in the nation's capital.
Trump is going to turn a holiday that had somehow managed to remain nonpartisan and playful into a MAGA rally, dragging his perpetual resting bitch face and American carnage onto the Mall. So much for Good Vibrations.  https://www.nytimes.com/2019/06/08/opinion/sunday/maureen-dowd-trump-july-4th.html
8. Josh Kraushaar: Why Trump Isn't Likely to Win a Second Term
Trump is in the weakest political shape of any sitting president since George H.W Bush. Despite a historically strong economy, his job approval ratings are still badly underwater. He's never hit 50 percent job approval in any reputable national poll throughout his presidency. At least 40 percent of voters are fired up to vote against him, no matter what happens in the next year. He's already lost ground with the working-class voters that defected from the Democrats to support him in 2016, with his favorability rating dropping 19 points among that critical Obama-Trump constituency in the last two years.
The latest wave of polling is even more alarming for Trump. His campaign's own internal polling reportedly shows him trailing in many of the must-win battleground states. A new Quinnipiac survey shows Trump trailing all six Democrats tested against him; what's more, he couldn't win more than 42 percent of the vote against anyone. He's running 13 points behind Joe Biden, 9 points behind Bernie Sanders, and 7 points behind Elizabeth Warren.
In the latest Morning Consult tracking survey, Trump hits 50 percent disapproval ratings in North Carolina, Arizona, Wisconsin, Ohio, Pennsylvania, Michigan, and Iowa—all states he carried in 2016. Two recent polls show Trump trailing Biden in reliably Republican Arizona (by 5) and Texas (by 4), while holding only small leads against weaker competition. He trails Sanders by 12 points in Michigan, matching his deficit against Biden. https://www.nationaljournal.com/s/679444?unlock=VS0W4YHQQJ60NPVT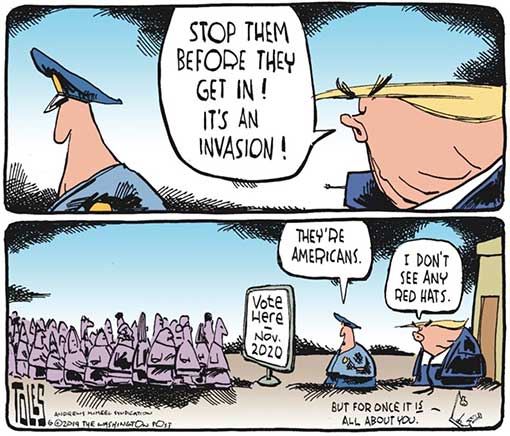 9. Frank Rich: Trump and Biden Are Just Grumpy Old Men
I have no idea who is going to be the Democratic nominee, but I don't think it's going to be Biden. One of the several reasons is that by focusing solely on Trump 17 months before Election Day and refusing to engage with any of his Democratic opponents, he is disrespecting not just those opponents but the majority of voters in his own party. He looked presumptuous when he blew off an Iowa event with 19 other Democratic candidates over the weekend, no matter how commendable his excuse (a grandchild's high-school graduation). In a party where every major politician (and presidential candidate) is fiercely anti-Trump, Biden isn't even the most clever at goading him. Nancy Pelosi is the gold standard, with Pete Buttigieg and Elizabeth Warren coming up strong.
As for Trump, he is making the mistake of refighting the last war. He is lazy, and by assuming that he'll face Biden, an Establishment party figure, he's betting that he can recycle his Jeb Bush–Hillary Clinton playbook from four years ago. Indeed, he's already smearing Biden's energy ("he's even slower than he used to be") and health (also a big Fox News smear campaign), as he did, respectively, with those 2016 opponents. That he was so at a loss for a nickname for Buttigieg that he likened him to Alfred E. Neuman is an indicator of how his cultural antennae have atrophied with age since his prime-time heyday in The Apprentice. Unless he's facing a fellow septuagenarian he's likely to be off his very limited game. Presidents are always isolated from reality in the White House bubble but none ever to the degree of Trump. Mar-a-Lago is his idea of getting out among the folks.
"In a party where every major politician (and presidential candidate) is fiercely anti-Trump, Biden isn't even the most clever at goading him. Nancy Pelosi is the gold standard, with Pete Buttigieg and Elizabeth Warren coming up strong." http://nymag.com/intelligencer/2019/06/frank-rich-trump-and-biden-are-grumpy-old-men.html