April 23, 2020
ON THE RECORD. . .
"As a Jewish American who lost family in the Holocaust, I'm offended by any comparison to Nazism. We act to save lives — the exact opposite of the slaughter of 6 million Jews and many gypsies and Catholics and gays and lesbians and Russians and so many others." — Colorado Gov. Jared Polis (D) responding Wednesday to a top Republican official comparing stay-at-home orders to the actions of the Gestapo, the secret police of Nazi Germany and European countries under Nazi occupation during World War II.

"Who believes him?" — Preet Bharara about Trump saying he doesn't know anything about his name appearing on stimulus checks.

"You're in some serious trouble." — Jerry Falwell Jr. called a New York Times reporter around midnight and left this ominous voicemail.

"I call these people the modern-day Rosa Parks — they are protesting against injustice and a loss of liberties." — Trump adviser Stephen Moore equating protesting stay-at-home orders to those who protested against racial injustice. 

"We are full steam ahead. We're ready to go. A virtual convention is not on the table for us. So no matter what, we will be having a physical convention — or, a physical nominating process." — RNC Chairwoman Ronna McDaniel saying there are no plans to scale down the August convention to renominate President Trump.

The uncomfortable truth is that Trump left America exposed and vulnerable — Joe Biden For President video.

"Trump claims the powers of a tyrant, behaves like one, talks like one, struts like one, has broken every norm a liberal democracy requires, and set dangerous precedents that could enable a serious collapse in constitutional norms in the future." — Andrew Sullivan

With sights set on the general election, Joe Biden's campaign is launching "Unprepared," the first of a set of targeted digital ads in battleground states that focus on President Trump's lack of preparation in handling coronavirus.

"Frankly, I don't pay that much attention to the president's tweets against me. As I've said, he's a poor leader. He's always trying to avoid responsibility and assign blame." — Speaker Nancy Pelosi responds as President Trump ramps up attacks against her.

"Schools are a very appetizing opportunity. I just saw a nice piece in The Lancet arguing the opening of schools may only cost us 2 to 3%, in terms of total mortality. Any, you know, any life is a life lost, but ... that might be a tradeoff some folks would consider." — DR. OZ

"It could have been billions of people if we had not done what we did." — Trump absurdly claimed he saved "billions" of lives with his measures against the coronavirus.

"There's an incentive also monetarily for these hospitals, and hospital conglomerates to have COVID patients and COVID fatalities in their care."-- Fox News contributor Raymond Arroyo suggesting hospitals are inflating COVID-19 deaths for financial gain.

"I mean, that's no different than Nazi Germany, where you had government telling people, 'You are an essential worker or a nonessential worker,' and the nonessential workers got put on a train." — Idaho state Rep. Heather Scott (R) saying that workers deemed "nonessential" during the coronavirus pandemic are being treated like Jews during the Holocaust.

'It has a very dangerous combination and this is happening … like the 1918 flu that killed up to 100 million people .But now we have technology, we can prevent that disaster, we can prevent that kind of crisis. Trust us. The worst is yet ahead of us. Let's prevent this tragedy. It's a virus that many people still don't understand." -- WHO Director-General Tedros Adhanom Ghebreyesus raising alarm about the pandemic just as many countries are beginning to ease restrictive measures.

"I've seen the interviews of people. These are great people." — Trump, when asked if he's concerned that he's inciting violence with his tweets in support of anti-social distancing protesters.

"If you jump the gun, and go into a situation where you have a big spike, you're going to set yourself back. So as painful as it is to go by the careful guidelines of gradually phasing into a reopening — it's going to backfire. That's the problem." — NIAID director Dr. Anthony Fauci about protests against stay-at-home orders.

"There are more important things than living ... I don't want to die, nobody wants to die but man we've got to take some risks" — Texas Lt. Gov. Dan Patrick, on Fox News, urging a reopening of the country despite a pandemic.

"We have to give businesses more freedom to operate in a way that's reasonably safe. To the extent that governors don't and impinge on either civil rights or on the national commerce — our common market that we have here — then we'll have to address that." — AG Barr saying that the Justice Department will consider taking legal action against governors who continue to impose stringent rules for dealing with the coronavirus that infringe on constitutional rights once the crisis subsides in their states.

"It's bipolar down there. We had a good, constructive meeting with the vice president's commission… Then you hear the press conference of the president. You sometimes feel like the governors are being used as a campaign prop." — Connecticut Gov. Ned Lamont (D) on the White House response to the pandemic.

TRUMP: Watched the first 5 minutes of poorly rated Morning Psycho on MSDNC just to see if he is as "nuts" as people are saying. He's worse. Such hatred and contempt! I used to do his show all the time before the 2016 election, then cut him off. Wasn't worth the effort, his mind is shot!

SCARBOROUGH: Donald, thanks for being our most loyal viewer. Now please get to work. Over 40,000 Americans have died from the pandemic. America has the most gifted scientists, doctors, and technology leaders. Please use them and take charge of testing so we can get America working again! #USA.

"There's a Boy Scout saying, 'Proper preparation prevents poor performance.' Well, that is exactly where the president gets an F. He was not properly prepared, not with the truth, with the facts, or the admission of what was happening in our country — delay, whatever, delay, denial, death." — Nancy Pelosi
---
IN THIS ISSUE
FYI
OPINION
1.  Andy Borowitz: Texas's Lieutenant Governor Says Dying Not as Bad as Living in State Where He Is Lieutenant Governor
Urging Texans to "keep things in perspective," Texas's lieutenant governor, Dan Patrick, said on Wednesday that dying is "surely not as bad" as living in a state where he is lieutenant governor.

Patrick, whose vehement anti-living message has stirred controversy across the country, said that he was speaking out to remind Texans that there are "some things worse than dying."

"It's time for a reality check, folks," Patrick said. "If you wake up every morning and remember that I am the second-highest-ranking elected official in your state, maybe dying doesn't look so bad, after all."

Arguing that "dying has got a bad rap," he blasted the media for what he called its "flagrant anti-death bias."

"All these media people who go on about how dying is the worst thing in the world have never spent any time with me," he said. https://www.newyorker.com/humor/borowitz-report/
2. Coronavirus pandemic 'will cause famine of biblical proportions'
The world is facing widespread famine "of biblical proportions" because of the coronavirus pandemic, the chief of the UN's food relief agency has warned, with a short time to act before hundreds of millions starve.
More than 30 countries in the developing world could experience widespread famine, and in 10 of those countries there are already more than 1 million people on the brink of starvation, said David Beasley, executive director of the World Food Program. https://www.theguardian.com/global-development/2020/apr/21/coronavirus-pandemic-will-cause-famine-of-biblical-proportions
3. CDC director warns second wave of coronavirus is likely to be even more devastating
Even as states move ahead with plans to reopen their economies, the director of the Centers for Disease Control and Prevention warned Tuesday that a second wave of the novel coronavirus will be far more dire because it is likely to coincide with the start of flu season.
Having two simultaneous respiratory outbreaks would put unimaginable strain on the health-care system, he said. The first wave of covid-19, the disease caused by the coronavirus, has already killed more than 42,000 people across the country. It has overwhelmed hospitals and revealed gaping shortages in test kits, ventilators and protective equipment for health-care workers. https://www.washingtonpost.com/health/2020/04/21/coronavirus-secondwave-cdcdirector/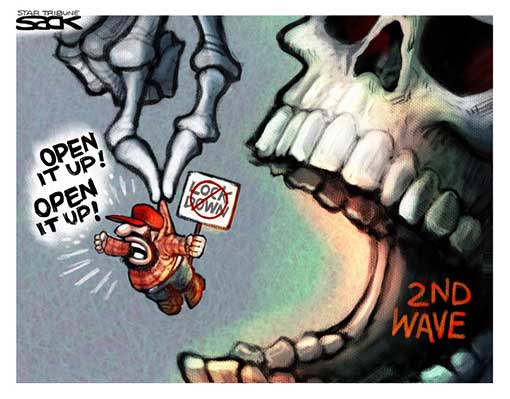 4. The anti-quarantine protests seem spontaneous. But behind the scenes, a powerful network is helping.
A network of right-leaning individuals and groups, aided by nimble online outfits, has helped incubate the fervor erupting in state capitals across the country. The activism is often organic and the frustration deeply felt, but it is also being amplified, and in some cases coordinated, by longtime conservative activists, whose robust operations were initially set up with help from Republican megadonors.
The Convention of States project launched in 2015 with a high-dollar donation from the family foundation of Robert Mercer, a billionaire hedge fund manager and Republican patron. It boasts past support from two members of the Trump administration — Ken Cuccinelli, acting director of U.S. Citizenship and Immigration Services, and Ben Carson, secretary of housing and urban development. https://www.washingtonpost.com/politics/inside-the-conservative-networks-backing-anti-quarantine-protests/2020/04/22/da75c81e-83fe-11ea-a3eb-e9fc93160703_story.html
5. Barr Threatens Legal Action Against Governors Over Lockdowns
 The Justice Department will consider taking legal action against governors who continue to impose stringent rules for dealing with the coronavirus that infringe on constitutional rights even after the crisis subsides in their states, Attorney General William Barr said.
"We're looking carefully at a number of these rules that are being put into place," Barr said. "And if we think one goes too far, we initially try to jawbone the governors into rolling them back or adjusting them. And if they're not and people bring lawsuits, we file statement of interest and side with the plaintiffs." https://news.yahoo.com/barr-threatens-legal-action-against-174136375.html
6. Pentagon barred from discussing Trump in cloud computing contract probe
The Pentagon's inspector general "could not definitively determine" whether the White House influenced the procurement process for a major cloud computing contract because senior Defense Department officials were barred from answering questions on the subject during interviews, according to a 313-page report released on Wednesday.
Department personnel who evaluated proposals and awarded the Joint Enterprise Defense Infrastructure contract were not pressured by any senior DoD leaders, the IG found. But investigators were unable to rule out whether the White House interfered with the contract award because DoD's general counsel instructed senior DoD witnesses not to verbally answer questions about communications between the White House and Pentagon because of "the assertion of a 'presidential communications privilege.'" https://www.politico.com/news/2020/04/15/pentagon-amazon-trump-contract-187850
7. New poll: Nearly half of frequent Fox viewers say COVID-19 death toll is inflated
Forty-five percent of people who frequently watch Fox News say that fewer Americans have been killed by the novel coronavirus that causes COVID-19 than the official count indicates, according to a new poll. 
Fox personalities and other conservative media figures have tried to defend President Donald Trump from criticism that he botched the federal response to the coronavirus by offering the ghoulish and absurd argument that the COVID-19 death toll is "inflated" because it includes people who died with preexisting conditions shared by many Americans.
In fact, the official figure -- which currently stands at more than 22,000 U.S. deaths -- is almost certainly an undercount. It does not include many cases, particularly home-deaths, involving people who likely died of the virus but were never tested. https://www.mediamatters.org/fox-news/new-poll-nearly-half-frequent-fox-viewers-say-covid-19-death-toll-inflated
8. COVID-19 Hot spots erupt in farm belt states where governors insist lockdowns aren't needed
Trump and red state governors for weeks have fairly bragged about how large parts of the farm belt have escaped the ravages of the virus without the enforced shelter-in-place policies common on both coasts. It's still unclear whether the states actually "flattened the curve," or if the virus just reached there later. But now, cases are erupting, threatening a local population that doesn't always have easy access to the same health care as more urban areas. And the outbreaks are striking the heart of the nation's farming and meatpacking industry, potentially disrupting the national distribution of food as meat processing plants close down and truckers who move food across the country are sidelined by illness. https://www.politico.com/news/2020/04/15/coronavirus-hot-spots-farm-belt-189272
9. Army Decides a Pandemic Is a Good Time to Give GOP Donors $569 Million to 'Build the Wall'
In the middle of a pandemic that has killed 27,000 Americans and counting, the Army this week gave a politically connected Montana firm half a billion dollars—not to manufacture ventilators or protective gear to fight the novel coronavirus, but to build 17 miles of President Trump's southern border wall.  
On Tuesday, the Army Corps of Engineers announced it awarded BFBC, an affiliate of Barnard Construction, $569 million in contract modifications for building "17.17 miles" of the wall in two California locations, El Centro and San Diego. That works out to over $33 million per mile—steeply above the $20 million-per-mile average that the Trump administration is already doling out for the wall. Construction is supposed to be completed by the end of June 2021.
And it's only the latest wall contract the firm has gotten. BFBC, a reliable contributor to Republican politicians, has gotten over $1 billion in taxpayer money in less than a year to build a mere 37 miles worth of wall. Scott Amey, the general counsel at the Project on Government Oversight, urged federal watchdogs to investigate the new BFBC contract. https://www.thedailybeast.com/army-decides-a-coronavirus-pandemic-is-a-good-time-to-give-gop-donors-dollar569-million-to-build-the-wall
10. Bill Gates attacked by conspiracy theorists
In a 2015 speech, Bill Gates warned that the greatest risk to humanity was not nuclear war but an infectious virus that could threaten the lives of millions of people.
That speech has resurfaced in recent weeks with 25 million new views on YouTube — but not in the way that Mr. Gates probably intended. Anti-vaccinators, members of the conspiracy group QAnon and right-wing pundits have instead seized on the video as evidence that one of the world's richest men planned to use a pandemic to wrest control of the global health system.
Mr. Gates, 64, the Microsoft co-founder turned philanthropist, has now become the star of an explosion of conspiracy theories about the coronavirus outbreak. In posts on YouTube, Facebook and Twitter, he is being falsely portrayed as the creator of Covid-19, as a profiteer from a virus vaccine, and as part of a dastardly plot to use the illness to cull or surveil the global population. https://www.nytimes.com/2020/04/17/technology/bill-gates-virus-conspiracy-theories.html
11. Major blow to Keystone XL pipeline as judge revokes key permit
The controversial Keystone XL tar sands pipeline has been dealt a major setback, after a judge revoked a key permit issued by the US army corps of engineers without properly assessing the impact on endangered species.
In a legal challenge brought by a coalition of environmental groups, a federal judge in Montana ordered the army corps to suspend all filling and dredging activities until it conducts formal consultations compliant with the Endangered Species Act.
The ruling revokes the water-crossing permit needed to complete construction of the pipeline, and is expected to cause major delays to the divisive project. https://www.theguardian.com/environment/2020/apr/15/keystone-xl-pipeline-montana-judge-environment
12. Smugglers sawed into Trump's border wall 18 times in one month in San Diego area
Smugglers sawed into new sections of President Trump's border wall 18 times in the San Diego area during a single one-month span late last year, according to U.S. Customs and Border Protection records. https://www.washingtonpost.com/immigration/sawing-trump-border-wall/2020/04/17/39df8926-8007-11ea-8de7-9fdff6d5d83e_story.html
13. Trump's unspoken factor on reopening the economy: Politics
Trump aides and allies say they are growing confident that an earlier restart amid the coronavirus pandemic could help the president in his reelection campaign, according to six people close to the White House or Trump campaign.
They point to emerging signs around the country. Trump-supported activists are protesting strict stay-at-home orders. Conservative groups' internal polling in red-leaning and swing states show a significant uptick in Americans who favor reopening the country. A growing chorus of Republican lawmakers across the nation are on board.
"If you don't see something start to happen … you're going to see a conservative revolt by our base," said Adam Brandon, president of FreedomWorks, a conservative group which recently polled on reopening the economy. "The worst strategy for him is to keep things shut until August. Trump is basically going to win or lose his election right now, in the next month."
A swift economic restart, however, could backfire politically for Trump if it causes a flare up. Public health experts caution that the country currently lacks the robust testing capacity needed to relax social-distancing guidelines, and cases in many states have yet to peak. https://www.politico.com/news/2020/04/18/trump-reopening-economy-193885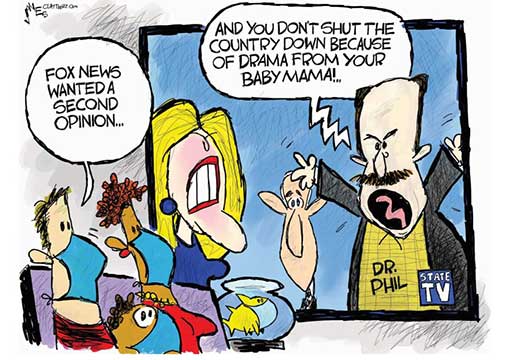 14. #FloridaMorons trends after people flock to reopened Florida beaches
Aerial snapshots of people flocking to a reopened beach in Jacksonville, Fla., made waves on the Internet on Saturday.
Local news aired photos and videos of Florida's shoreline dotted with people, closer than six feet apart, spurring #FloridaMorons to trend on Twitter after Gov. Ron DeSantis (R) gave the go-ahead for local beachfront governments to decide whether to reopen their beaches during a news briefing Friday. Duval and St. Johns counties have reopened their beaches, while Miami-Dade County officials said they are considering following suit.
On the same day that Florida reported 58 deaths from the novel coronavirus — its highest daily toll since the pandemic began — DeSantis told reporters that it's essential that Floridians get exercise outdoors. https://www.washingtonpost.com/nation/2020/04/18/florida-beaches-reopen-coronavirus/
15. Wall Street Titans Finance Democratic Primary Challenger To Rep. Alexandria Ocasio-Cortez
Disclosures show that over four dozen finance industry professionals, including several prominent private equity executives and investment bankers, made early donations to Michelle Caruso-Cabrera, a former CNBC contributor who is challenging Ocasio-Cortez. Caruso-Cabrera was a registered Republican until a few years ago and authored a 2010 book advocating for several conservative positions, including an end to Medicare and Social Security, which she called "pyramid schemes." https://theintercept.com/2020/04/15/aoc-primary-challenger-cabruso-cabrera-wall-street/
16. Trump plan for coronavirus supplies yields payoff for favored companies
A secretive Trump administration project that enlists private companies to bring masks and other medical equipment to the U.S. to fight the coronavirus outbreak has provided tens of millions of dollars in taxpayer subsidies to the nation's largest medical-supply companies with little public accounting.
Over the last three weeks, taxpayers have paid to fly the companies' supplies to the U.S. from Asia on government-chartered cargo flights, while the firms have been free to sell the material to hospitals, clinics and others at prices they choose.
That has saved the companies more than $25 million in shipping costs, savings they are not required to pass on to the medical systems, state governments and others who buy their products. The supply companies' profits topped $2 billion last year, financial statements show.
The administration has refused to disclose crucial details of the operation, known as Project Air Bridge, including its financial arrangements with the companies involved. These include multibillion-dollar firms such as McKesson Corp., Cardinal Health Inc., FedEx and UPS.
Five of the six medical distributors involved in Project Air Bridge — including the biggest companies — also wouldn't answer questions about their participation. https://www.latimes.com/politics/story/2020-04-16/trump-plan-coronavirus-supplies-big-payoffs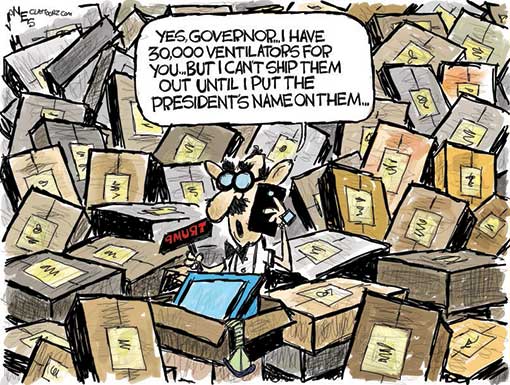 17. Trump's Virus Plan Sets Him Up to Claim Credit and Pass Blame
Donald Trump's decision to hand pandemic recovery over to states and businesses amounts to a bet that Americans won't hold him responsible if there are setbacks -- and that he can still claim credit if governors succeed.
The risk for Trump is that governors and top executives may be far more cautious than he'd like in reopening the U.S. for business. That's setting up a collision over how fast to lift social-distancing restrictions that have crushed the economy, and less than 24 hours after announcing his plan, Trump couldn't disguise his impatience. https://www.bloomberg.com/news/articles/2020-04-18/trump-s-virus-plan-sets-him-up-to-claim-credit-and-pass-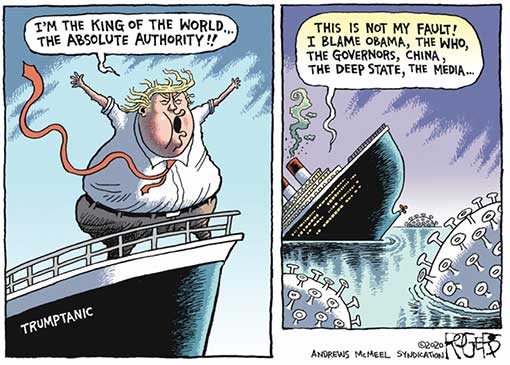 18. Americans at World Health Organization transmitted real-time information about coronavirus to Trump administration
More than a dozen U.S. researchers, physicians and public health experts, many of them from the Centers for Disease Control and Prevention, were working full time at the Geneva headquarters of the World Health Organization as the novel coronavirus emerged late last year and transmitted real-time information about its discovery and spread in China to the Trump administration, according to U.S. and international officials.
A number of CDC staff members are regularly detailed to work at the WHO in Geneva as part of a rotation that has operated for years. Senior Trump-appointed health officials also consulted regularly at the highest levels with the WHO as the crisis unfolded, the officials said.
The presence of so many U.S. officials undercuts President Trump's assertion that the WHO's failure to communicate the extent of the threat, born of a desire to protect China, is largely responsible for the rapid spread of the virus in the United States. https://www.washingtonpost.com/world/national-security/americans-at-world-health-organization-transmitted-real-time-information-about-coronavirus-to-trump-administration/2020/04/19/951c77fa-818c-11ea-9040-68981f488eed_story.html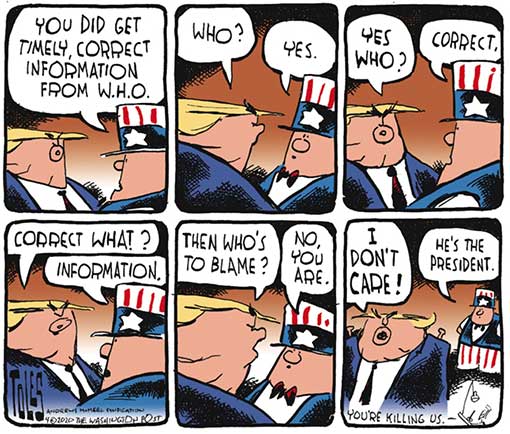 19. In Trump's 'LIBERATE' tweets, extremists see a call to arms
When President Donald Trump tweeted "LIBERATE MINNESOTA!" on Friday morning, some of his most fervent supporters in far-right communities — including those who have agitated for violent insurrection — heard a call to arms.
The tweet was one of three sent from the president's account, along with "LIBERATE MICHIGAN!" and "LIBERATE VIRGINIA, and save your great 2nd Amendment. It is under siege!"
Trump's tweets pushed many online extremist communities to speculate whether the president was advocating for armed conflict, an event they've termed "the boogaloo," for which many far-right activists have been gearing up and advocating since last year.
Posts about the "boogaloo" on Twitter skyrocketed in the hours after the president's tweets, with more than 1,000 tweets featuring the term, some of which received hundreds of retweets. https://www.nbcnews.com/tech/security/trump-s-liberate-tweets-extremists-see-call-arms-n1186561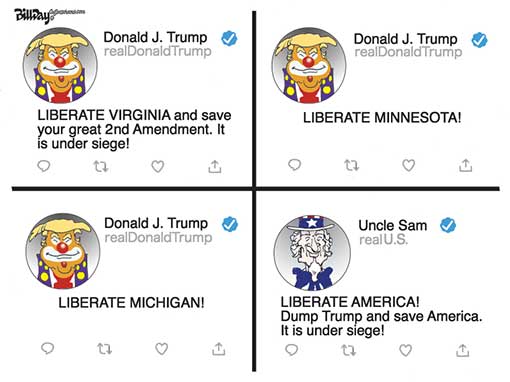 20. Trump revs up for a state-by-state fight over coronavirus shutdowns
Donald Trump is preparing for a long battle with America's governors to save himself from the political fallout from coronavirus.
Over the next two weeks at the urging of the Trump administration, the map of the U.S. will start to resemble a patchwork quilt, with some states open for business while others remain locked down because of the spread of the virus.
Trump has said the onus for reopening states lies with their leaders, but he has simultaneously tried to pressure governors into restarting businesses and relaxing health guidelines as soon as possible.
https://www.politico.com/news/2020/04/20/trump-revs-up-state-fight-coronavirus-shutdowns-195443
21. The IRS is drowning in unopened tax refund requests amid pandemic
The IRS is piling unopened business tax refund requests into storage trailers and advising companies to file by fax instead. It's stopped answering phone calls on taxpayer assistance lines. And it's not processing millions of paper tax returns filed by individual Americans.
The coronavirus pandemic has nearly crippled the tax collection agency, which relies on antiquated technology and still does a lot of business on paper, just as it is most needed to help pump money into the ailing economy. https://www.politico.com/news/2020/04/20/irs-tax-refund-delays-snail-mail-193786
22. Senate Intel report confirms Russia aimed to help Trump in 2016
The Senate Intelligence Committee on Tuesday reaffirmed its support for the U.S. intelligence community's conclusion that the Russian government interfered in the 2016 presidential election with the goal of putting Donald Trump in the Oval Office.
Tuesday's bipartisan report, from a panel chaired by North Carolina Republican Richard Burr, undercuts Trump's years of efforts to portray allegations of Kremlin assistance to his campaign as a "hoax," driven by Democrats and a "deep state" embedded within the government bureaucracy. https://www.politico.com/news/2020/04/21/senate-intel-report-confirms-russia-aimed-to-help-trump-in-2016-198171
23. Trump's Coronavirus Task Force Increasingly Ignores Trump
As the country enters its second month of a social lockdown and shuttered economy, the White House's coronavirus response has diverged into two camps: one that defends whatever the president has chosen to care about or watch on TV, and another that actively works to ignore and paper over those excesses.
The most recent, glaring example of that wild discrepancy came over the weekend, when Trump began encouraging protests against stay-at-home orders overseen by Democratic governors in several states. The president's messaging took on the language of uprising, calling on these states to be "LIBERATE[D]," with some of his loudest allies and friendly media personalities immediately joining the chorus.
But within Trump's coronavirus task force, his latest Twitter outburst is being treated as simply another speed bump. Trump's own aides and officials are aware that the president's missives are at odds with the recommendations embraced by his top public-health experts. But rather than correct the record or even push back internally, they have tried to proceed as if the president didn't just do what he had so clearly done.
"It is a pain in the ass sometimes, for sure," said a senior official working with the task force. "There isn't much more [some of us] can do in that, except continue making sound policy recommendations and hope they sink in. Sometimes the president backs off on some things, sometimes he doesn't. It's his call." https://www.thedailybeast.com/trumps-coronavirus-task-force-increasingly-ignores-trump
24. At least 7 new coronavirus cases appear to be related to Wisconsin's election, Milwaukee health commissioner says
Officials have identified seven people who appear to have contracted COVID-19 through activities related to the April 7 election, Milwaukee Health Commissioner Jeanette Kowalik said Monday.
Six of the cases are in voters and one is a poll worker, Kowalik said.  https://www.jsonline.com/story/news/local/milwaukee/2020/04/20/coronavirus-milwaukee-7-new-cases-may-tied-april-7-election/5168669002/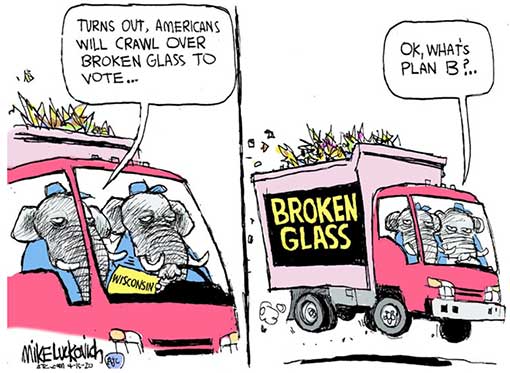 25. More deaths, no benefit from malaria drug in VA virus study
Hydroxychloroquine, a malaria drug widely touted by President Trump for treating the new coronavirus showed no benefit in a large analysis of its use in U.S. veterans hospitals. https://apnews.com/a5077c7227b8eb8b0dc23423c0bbe2b2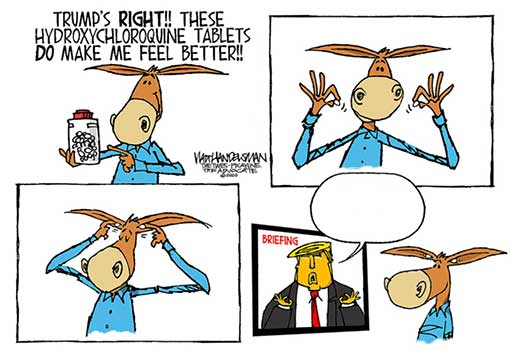 26. Attorney General Barr Refuses to Release 9/11 Documents to Families of the Victims
Months after Trump promised to open FBI files to help families of the 9/11 victims in a civil lawsuit against the Saudi government, the Justice Department has doubled down on its claim that the information is a state secret. https://www.propublica.org/article/attorney-general-barr-refuses-to-release-9-11-documents-to-families-of-the-victims
27. The DAILY GRILL
Kentucky's heavily Republican legislature voted Tuesday to require voters to show a government-issued photo ID, overriding Democratic Gov. Andy Beshear's veto in the process. -- VOX

VERSUS

If a Kentucky voter heads to the state's webpage hoping to learn how to obtain such an ID, they will encounter a message telling them ID-issuing offices are closed. -- VOX

 

"We have given New York far more money, help and equipment than any other state, by far, & these great men & women who did the job never hear you say thanks. Your numbers are not good. Less talk and more action!" — Trump tweet

VERSUS

"First of all, If he's sitting home watching TV, maybe he should get up and go to work, right?" — Gov. Andrew Cuomo responding to the attack from Donald Trump: Watch his full remarks HERE

 

"Leaders -- leaders take responsibility. So I said he's a weak leader. He doesn't take responsibility. He places blame -- blame on others. And that might have been OK before, but we cannot continue down a path that is, again I'll come back to science, science, science, evidence, data on how we should go forward." — Speaker Nancy Pelosi on 'Fox News Sunday'

VERSUS

Nervous Nancy is an inherently "dumb" person. She wasted all of her time on the Impeachment Hoax. She will be overthrown, either by inside or out, just like her last time as "Speaker". Wallace & @FoxNews are on a bad path, watch! — Donald J. Trump @realDonaldTrump

 


"If What I'm hearing is true, that DeWine has ordered all, bars and restaurants to be closed, I Say Bullshit! He doesn't have the authority. If you are paranoid about getting sick just don't go out. It shouldn't keep those of us from Living our Lives. The Madness has to stop." — John W. McDaniel, Mar 15, 2020.

VERSUS

John W. McDaniel, age 60, of Marion, died peacefully on Wednesday, April 15, 2020, at Riverside Methodist Hospital with his loving family by his side from complications from Covid-19. -- WV Forums

 

 "Health care workers go through a misting tent going into the hospital and it kills the coronavirus completely dead not only right then, but any time in the next 14 days that the virus touches anything that's been sprayed it is killed." — U.S. Rep. Louie Gohmert, R-Tyler.

VERSUS

"What your congressman said is absolute nonsense. There are no such tents and there's no powder or magical cure." — Dr. Jörn Wegner, a spokesman for the German Hospital Association.

 

"We inherited a lot of garbage. We took, ah, they had tests that were no good, they had, all the stuff was no good. It came from somewhere, so whoever came up with it. Our stockpiles were empty," he added. "We had horrible stockpiles, we had horrible ventilators, we had very few of them too ... CDC had obsolete tests, old tests, broken tests, and a mess." — Trump when asked if testing failures were "a function of lax oversight from the Obama/Biden administration."

VERSUS

This is totally nonsensical. The CDC couldn't have bad tests left over from the Obama administration, because the coronavirus test didn't exist until this year. And the stockpile was far from empty — its problem was that it was poorly maintained, an issue that rests on the Trump administration's shoulders. —  Aaron Rupar

 

"We are still in the midst of this fight against a deadly and highly contagious virus. Let's make sure, as much as we're looking at those benchmarks and we're looking at the future, that we are acting in the present and we are doing the things that it takes to protect one another." — Kentucky Governor Andy Beshear (D) at a press briefing on the day Kentucky set a grim record with 273 new confirmed cases of coronavirus, the highest single-day rise to date. https://www.newsweek.com/kentucky-reports-highest-coronavirus-infection-increase-after-week-protests-reopen-state-1498835

VERSUS

"Open up Kentucky … You're not a king." — Demonstrators outside the room where Beshear's press briefing was taking place.

 

"Biden/Obama were a disaster in handling the H1N1 Swine Flu. Polling at the time showed disastrous approval numbers. 17,000 people died unnecessarily and through incompetence! Also, don't forget their 5 Billion Dollar Obamacare website that should have cost close to nothing!" — Trump in a tweet, April 17.

VERSUS

Reviewing this history, we can only assume that Trump has simply heard a death-toll figure — remembering it incorrectly — and presumably concluded that anything associated with Obama was a debacle. But in reality, the government under Obama worked relatively smoothly, even if it was not tested as in the current pandemic. As of April 3, when we last updated the database, Trump had criticized Obama's handling of the swine flu 10 times. Including this most recent tweet, the count now stands at 14. It's a mystery why Trump persists in this false attack when the facts have turned against him, but this Four-Pinocchio claim looks like it will quickly be another Bottomless Pinocchio. — Glenn Kessler in theWashington Post
28. From MEDIA MATTERS (They watch Fox News so you don't have to)
Dr. Oz solicits Fox News viewers to join an at-home hydroxychloroquine clinical trial encouraged viewers to get the medication in the mail, take it, and report what happened next. https://www.mediamatters.org/coronavirus-covid-19/dr-oz-solicits-fox-news-viewers-join-home-hydroxychloroquine-clinical-trial

Fox co-host Greg Gutfeld attacks Michigan governor for criticizing swastikas at social distancing protest, claims they were being displayed ironically. "There's a distinction, the protestors were comparing her action to fascist dictators. It wasn't that there were Nazis there." https://www.mediamatters.org/coronavirus-covid-19/fox-co-host-attacks-michigan-governor-criticizing-swastikas-social-distancing

Donald Trump endorsed conservative protests against social distancing measures in three states immediately after Fox News aired a segment on the efforts, dumping gasoline on a movement that threatens the fragile consensus on steps public health experts say are preventing nightmarish death figures from the novel coronavirus. https://www.mediamatters.org/coronavirus-covid-19/trump-tweets-praise-right-wing-protests-against-social-distancing-measures

Fox News hosts claim that a model's lowered projections for COVID-19 deaths show that the novel coronavirus is less deadly than originally anticipated and that the U.S. economy can be swiftly reopened, failing to note that the model they cite assumes that social distancing measures are extended through the end of May and are then replaced by an expansive regime of testing, tracing, and quarantining that does not currently exist. https://www.mediamatters.org/coronavirus-covid-19/major-flaw-foxs-argument-about-coronavirus-death-projections

Rush Limbaugh: "This a political hit job taking place right before our very eyes. Whether we reopen schools or have elections or reopen the economy, I don't think Dr. Fauci should be turned to as the decision-maker." https://www.mediamatters.org/coronavirus-covid-19/rush-limbaugh-coronavirus-shutdowns-political-hit-job-taking-place-right-our

Right-wing Trump supporters Diamond and Silk have been pushing a conspiracy theory that 5G towers are fueling coronavirus infections. In a livestream posted on platforms like Youtube, Twitter, and Facebook, they have speculated that 5G -- the fifth generation of mobile technology that's being rolled out across the world -- can "throw your body off" and mess with "your genetics." They also asked whether "somebody" has "the power to turn things on and off to make sure that certain things go down so those hospital beds can be filled." https://www.mediamatters.org/coronavirus-covid-19/trump-surrogates-and-fox-hosts-diamond-and-silk-pushed-unhinged-5g-coronavirus
1. Michael Stevenson: British Writer Pens The Perfect Description Of Trump
Trump lacks certain qualities which the British traditionally esteem. For instance, he has no class, no charm, no coolness, no credibility, no compassion, no wit, no warmth, no wisdom, no subtlety, no sensitivity, no self-awareness, no humility, no honour and no grace – all qualities, funnily enough, with which his predecessor Mr. Obama was generously blessed. So for us, the stark contrast does rather throw Trump's limitations into embarrassingly sharp relief.  
Plus, we like a laugh. And while Trump may be laughable, he has never once said anything wry, witty or even faintly amusing – not once, ever. I don't say that rhetorically, I mean it quite literally: not once, not ever. And that fact is particularly disturbing to the British sensibility – for us, to lack humor is almost inhuman.  
Trump is a troll. And like all trolls, he is never funny and he never laughs; he only crows or jeers.   And scarily, he doesn't just talk in crude, witless insults – he actually thinks in them. His mind is a simple bot-like algorithm of petty prejudices and knee-jerk nastiness.  
God knows there have always been stupid people in the world, and plenty of nasty people too. But rarely has stupidity been so nasty, or nastiness so stupid.   He makes Nixon look trustworthy and George W look smart. In fact, if Frankenstein decided to make a monster assembled entirely from human flaws – he would make a Trump. https://pasdemerde.com/2019/10/18/british-writer-pens-the-best-description-of-trump-ive-read/ 
2. Rick Wilson: Trump Leads Pro-Plague States of America to a COVID Civil War
Donald Trump fired the first shots in the COVID Civil War this week, a modern-day Jefferson Davis of the Pro-Plague States of America sending his opening salvo from Fort Twitter at Democratic governors who dared to question if it wasn't just a wee bit early to end the stay-at-home orders in states still far to the left of the peak.
He started the week with claims of "total authority" and then cried about a supposed mutiny by mouthy state leaders. By Friday, he was up to calls to "liberate" states. 
Who does he want people to rise up against, exactly: People who don't want to die? People who don't want protesters spreading a deadly disease that's already killed 34,000 Americans? Governors who swore an oath to serve their states and protect their citizens? Science? Medicine? https://www.thedailybeast.com/trump-leads-pro-plague-states-of-america-to-a-covid-19-civil-war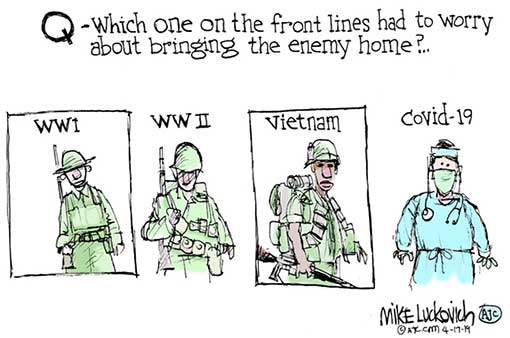 3. Bess Levin: Front-Runner for Country's Dumbest Governor to Reopen Essential Bowling Alleys, Nail Salons Friday
Approximately two weeks ago, Georgia governor Brian Kemp made a name for himself when he announced on the steps of his state's capitol that he was a massive imbecile. Sure, he didn't use the exact words "Citizens of Georgia, I've gathered you here today to announce that I've tested positive for an I.Q. of less than nine," but he might as well have. Because it was then—on April 2, 2020!— that Kemp revealed he had only just learned that asymptomatic carriers of the novel coronavirus could spread the disease. Despite his office being located roughly 6.5 miles from the Centers for Disease Control and Prevention, and children having known for at least a month how the virus could be transmitted, Kemp told reporters: "Those individuals could've been infecting people before they ever felt bad. But we didn't know that until the last 24 hours."
Kemp was overwhelmingly criticized for his astonishing lack of knowledge about the disease and, obviously, rightly so. But apparently, instead of laying low for a while, listening to experts, and taking the steps necessary to slow the spread of COVID-19 in his state—where cases have continued to rise—he's decided to double down on his image as a wildly ignorant politician who doesn't avail himself of easily accessible information, listen to public health experts, or take the necessary steps to avoid reopening the economy too early and causing an even greater spike in cases. https://www.vanityfair.com/news/2020/04/brian-kemp-georgia-bowling-alley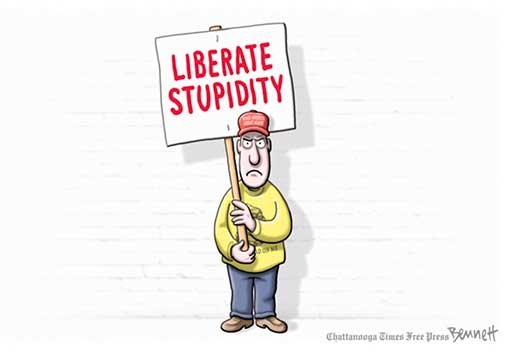 4. John Pavlovitz: The Bill for MAGA is Due
This President didn't create this virus,
but he
ignored it,
denied it,
minimized it,
joked about it,
weaponized it,
politicized it,
exacerbated it.
He systematically removed qualified people and replaced them with genuflecting, sycophantic traitors—or with no one at all.
He generated a steady stream of partisan attacks and conspiracy theories and abject lies created in the moment, and the kind of "I am smarter than anyone in the room" sermonizing that cult leaders bellow all the way to the terrible and tragic end.
He is culpable for the chaos and the unnecessary illness, and yes the preventable deaths because of it—and you are too.
This is the human cost of the MAGA cult delusion, and we're all paying for it now equally, however we voted. https://johnpavlovitz.com/2020/03/12/the-bill-for-maga-is-due/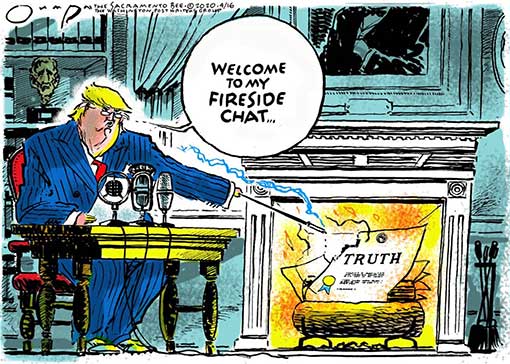 5. Michael Tomasky: Trump's Culture Warriors Are a Literal Death Cult Now
You know where this is headed, right? We all know. Donald Trump and the Republicans are going to turn the election into a red vs. blue culture war battle—not over abortion, not over climate change, not over guns, but this time, over death itself. 
Because death is every authoritarian's last play. An authoritarian leader makes demands of his people. They must cheer more lustily than non-authoritarian people cheer. They must salute in a particular way. They must exonerate him of all error, whether stupidly invading Russia or massively screwing up a pandemic response or shooting someone on Fifth Avenue. And finally, they must prove they are willing to at least flirt with death, if the leader's hold on power requires it. It's the final demand on loyalty, and every authoritarian gets there eventually, in one way or another, even those forced to operate within democratic contexts.
Thus, the question of the 2020 election, as Trump and his party attempt to frame it: Are you manly enough to sneer at death, like real men do in the movies (which are fake, of course, but never mind that), or are you one of those pusillanimous patsies who quivers under the bed sheets like some avocado toast-eating intellectual, whining that we have to listen to the experts?  https://www.thedailybeast.com/trumps-coronavirus-culture-warriors-are-a-literal-death-cult
6. Susan Glasser: Trump's Pandemic Plan: "Absolute Authority," No Responsibility
Many of Trump's claims to "absolute" power, however, have proved to be exactly the sort of bluster that accompanied his overblown rhetoric this week: he wants to be seen as all-powerful in the fight against the pandemic, but without actually exercising the powers he purports to have. This, also, is vintage Trump. He has, after all, previously asserted the "absolute right" to order American businesses out of China, to eliminate the Constitution's guarantee of birthright citizenship, and to shut down the U.S.'s entire southern border without ever actually doing any of those things. Trump repeatedly said he had the "absolute right" to fire the special counsel Robert Mueller, who was investigating Russia's interference in the 2016 election on Trump's behalf, although he never did so. He also said that, had the Mueller investigation worked out differently, "I have the absolute right to PARDON myself." He has not done that yet, either. Just this week, Trump asserted his power to unilaterally adjourn Congress, a power which has never before been exercised by any President. Has there ever been another President to articulate a view of the Constitution as sweeping as the one that Trump asserts? "I have an Article II, where I have the right to do whatever I want as President," Trump famously said last summer.
President I Can Do Whatever I Want may not have reckoned on a virus as his enemy, but these past few weeks of national emergency have displayed a Trump who has never been more Trumpian. He is the same flawed President he has been for the past three years and eighty-nine days. His political playbook is the same. He has no new moves. He has not grown, or even changed much, in the office. Nor will he. https://www.newyorker.com/news/letter-from-trumps-washington/trumps-pandemic-plan-absolute-authority-no-responsibility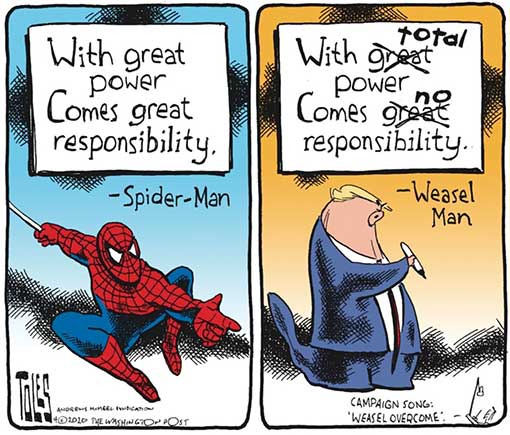 7. Jonathan Chait: Trump's Entire Coronavirus Response Is Massive Political Corruption
When Congress enacted an emergency plan to send $1,200 checks to every American adult, Republicans joked that President Trump would want to sign his name on the checks. A few weeks later, after the Wall Street Journal reported that Trump was exploring this outlandish desire, a reporter asked, "Is that right? Do you want to sign those checks?" Trump denied it: "No. Me sign? No."
Last night, the Washington Post reported that Trump's name will be displayed on every check. A measure passed by both parties to alleviate an economic emergency has been expropriated by his reelection campaign. Trump's presidency has largely consisted of outrageously corrupt notions proceeding from fearful accusation to accepted reality. Within a few days, this one will also probably be forgotten.
Trump has never respected any meaningful distinction between the federal government and the Trump Organization. He expects every federal employee, especially its law-enforcement agents, to advance his personal political agenda. He has functionally mixed its budget with his own by having the government pour money into his properties, and he has treated its official powers as if they are his own personal chits. The authority he has gained through the emergency response to the coronavirus has vastly expanded the potential for corruption, and every sign indicates that Trump is already engaging in systemic abuse.
Some of the corruption is lingering just below the surface. Trump is speaking constantly with corporate leaders, who can position themselves at the front of the line for federal contracts or relief payments. He supports bailouts for industries with a shaky claim to the public purse, like cruise lines, and has staunchly opposed any rescue for the United States Postal Service, which handles essential government communication. Trump of course has been trying to force the post office to raise rates on Amazon, in retaliation for Jeff Bezos's ownership of the Washington Post. The economic crisis has put the post office on life support, giving Trump the leverage he wants to make it punish a detested rival. https://nymag.com/intelligencer/2020/04/trump-coronavirus-checks-name-slush-fund-ventilators.html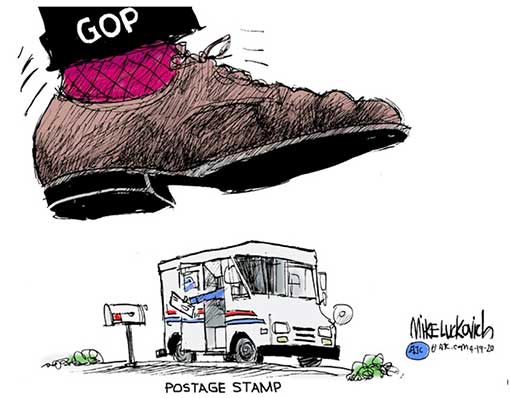 8. David Masciotra: Trump is insane: And it's time for leading Democrats to say that out loud
Psychologists warn of the deadly consequences of the "silent partner" in abusive homes. When a father beats or sexually assaults a child, the family will often react by refusing to discuss the abuse, allowing silence to enable the predator and protect against confronting a reality that is too painful and frightening. 
The United States of America is now an abusive household. Donald Trump is the lunatic authority figure stalking and traumatizing the victims — the American people — while the Democratic Party, along with the mainstream media, act as the silent partner.
It becomes increasingly evident, with Trump's every social media post, public utterance and policy directive, that our president suffers from a severe form of mental illness. His insanity threatens millions of lives, and has become particularly dangerous during the most devastating public health crisis in the last 100 years.
For all the criticism that Democrats and pundits advance against Trump, their refusal to state the obvious forces the American public to feel as if we are the ones confined to a mental institution. It also emboldens Trump, even as he prioritizes his fragile ego, his compulsion to appear infallible and political expediency above the lives of countless human beings.
The reality that is too painful and frightening for many Americans to confront is that the wealthiest and most militarily powerful country in the world, during a pandemic, is under the leadership of someone who is certifiably nuts. https://www.salon.com/2020/04/18/trump-is-insane-and-its-time-for-leading-democrats-to-say-that-out-loud/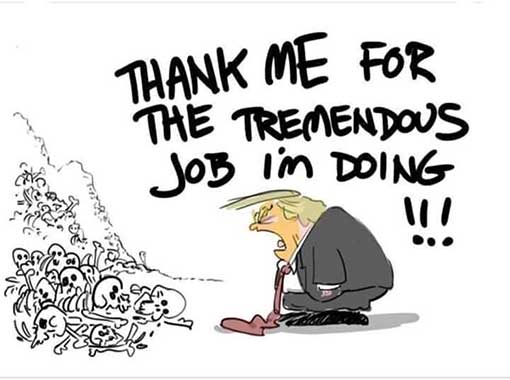 9. Jonathan Chait: Trump's Plan to Contain the Coronavirus by Unleashing Anarchy Seems Risky
President Trump has two basic modes of governing: abnegation and abuse. Throughout the coronavirus pandemic, Trump has alternately — and, at times, simultaneously — claimed absolute authority and zero responsibility for the crisis. On Thursday, he seemed to lurch back toward abnegation, telling governors they could "call their own shots" about when to reopen public spaces, and they are also "going to lead the testing."
Today, he is lurching back toward abuse. In a series of wild, all-caps tweets, he called for unspecified revolutionary activity against three states with Democratic governors:
The source of Trump's peripatetic swings is his inability to competently manage the pandemic. He wants to ease up on social-distancing rules soon, but public-health officials have unanimously insisted that doing so requires an effective testing system. (Otherwise, those states could be vulnerable to new outbreaks that could spread before state authorities have the chance to stop them.) But despite Trump's absurd lies that the United States has the best tests in the world, and that other countries are trying to copy our tests, the testing system has been in a state of shambles all along.
That failure necessitated his decision yesterday to throw all responsibility to the states. Administration officials tell the Washington Post this posture "is largely designed to shield himself from blame should there be new outbreaks after states reopen or for other problems."
There is nothing remotely strategic about this course of action. Polls show the governors he is attacking, and the social-distancing measures they are currently enforcing, are popular. Trump is fomenting anarchy in his own country, undermining the prospects for the orderly recovery he needs in order to win reelection, and creating the risk of a violent tragedy. (The Confederate-flag-waving protesters blocking the entrance to a hospital in Michigan yesterday is the sort of episode that, if repeated, could go very badly.) He is raging angrily against the system because he is hopelessly out of his depth. https://nymag.com/intelligencer/2020/04/trump-coronavirus-liberate-michigan-minnesota-virginia-lockdowns-tests.html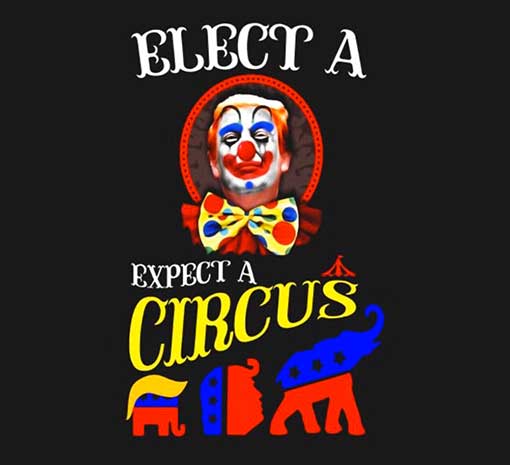 10. Eric Lutz: Stephen Miller Is Exploiting The Coronavirus Crisis For His Immigration Crackdown
For all the worst people in the United States government, the coronavirus crisis has been something of an opportunity. Republican lawmakers used the pandemic to give another gift to their billionaire buddies. Donald Trump has exploited the national emergency to take his autocratic fantasies to the next level and further erode democratic norms. And now, it seems, the White House's resident anti-immigrant zealot is getting in on the action.
According to Politico, Stephen Miller has enjoyed a resurgence during the COVID pandemic, using the chaos wrought by the deadly virus as cover to once again push his pet anti-immigrant policies at the Department of Health and Human Services. According to the outlet, the Office of Refugee Resettlement is becoming a tool for Miller and others in the Trump administration, who are pushing to "delay placing migrant children in shelters operated by the health department, which would instead leave those children in the custody of the border patrol for an extended length of time," Politico's Daniel Diamond reported:
So far, Miller's attempts to use the pandemic as cover haven't gotten quite as much attention as Trump's, who has carried out a purge of officials meant to serve as checks on his power and asserted his "total" authority as president. But that could change, particularly as the news cycle evens out, and focus shifts to the ways in which the administration has hidden behind coronavirus while it works away in other areas. "It's only a matter of time before the situation blows up again like it did in 2018," an administration official told Politico. "It's a team of people with very little management experience and an agenda that isn't going to end well given the current laws." "The White House wants ORR to be an immigration enforcement office," another official said. "That's not its role." https://www.vanityfair.com/news/2020/04/stephen-miller-exploiting-coronavirus-crisis-for-his-immigration-crackdown
11. Masha Gessen: We Won't Know the Exact Moment When Democracy Dies
In the early days of the Trump Presidency, there was a lot of speculation about when, if, and how we would pass the point of no return, when we would know that American democracy had been destroyed. That conversation faded after a while, drowned out by the din of Trumpian news. The coronavirus pandemic has brought it back. Will Trump use the virus to establish autocracy? Is American democracy dead? Just in the past few days, Trump has asserted that the Presidency gives him "total" authority, made sure that his name will appear on the stimulus checks that Americans will receive, and threatened to adjourn Congress in order to fill Administration vacancies without waiting for Senate confirmation. Is this the definitive end of American democracy? No, but only because when a democracy dies there is rarely a definitive time of death. Democracy is never pronounced dead at the scene. https://www.newyorker.com/news/our-columnists/we-wont-know-the-exact-moment-when-democracy-dies
12. John Stoehr: Are Dead People the Cost of GOP Politics?
The president needs Americans to go back to work in order to jumpstart a depressed economy threatening his reelection. Governors privileging human lives over business output won't play along, of course, but governors privileging Republican power will. Just as Carnival executives kept the party going knowing that passengers would die, some governors will return to normal life in the hope that doing so will gin up the economy in time for Election Day, after which workers can die at their convenience. It won't matter by then. Dead people seem to be the cost of doing presidential politics.
Will the petty bourgeoisie recognize the president's betrayal? On the contrary.
The president spent the past two weeks talking up the need to "reopen" America, even declaring the total authority to overrule state governors in pursuit of that goal. Then last night, the White House issued the plan. It was anti-climactic. After weeks of table-pounding on Trump's part, the plan ceded almost all authority to governors. It was a textbook example of this president being all bark, no bite, and categorically weak.
The petty bourgeoisie will love it. They are weak. Trump is weak. But they will never admit either. It's their bond. The refuge they seek in the president and the Republican Party might be illusory, but it is part of their identity. This president doesn't just (appear to) represent their interests. He represents who they are. The hair, the makeup and the gilded Greek columns are fake, but fake doesn't matter. It's worth dying for. https://stoehr.substack.com/p/are-dead-people-the-cost-of-gop-politics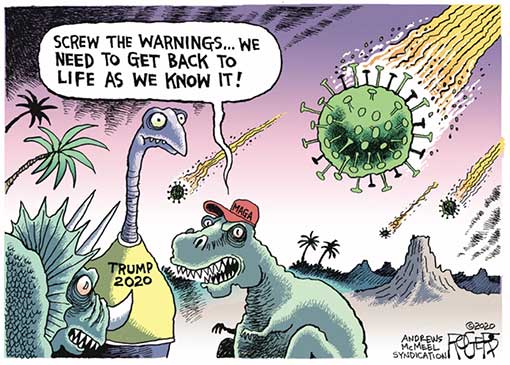 13. Charles Blow: Stop Airing Trump's Briefings!
Around this time four years ago, the media world was all abuzz over an analysis by mediaQuant, a company that tracks what is known as "earned media" coverage of political candidates. Earned media is free media.

The firm computed that Donald Trump had "earned" a whopping $2 billion of coverage, ...even as he had only purchased about $10 million of paid advertising.
I fear that history is repeating itself.

For over a month now, the White House has been holding its daily coronavirus briefings, and most networks, cable news channels and major news websites have been carrying all or parts of them live, as millions of people, trapped inside and anxious, have tuned in.
We are in the middle of a pandemic, but we are also in the middle of a presidential campaign, and I shudder to think how much "earned media" the media is simply shoveling Trump's way by airing these briefings, which can last up to two hours a day.

Let me be clear: Under no circumstance should these briefings be carried live. Doing so is a mistake bordering on journalistic malpractice. Everything a president does or says should be documented but airing all of it, unfiltered, is lazy and irresponsible. https://www.nytimes.com/2020/04/19/opinion/trump-coronavirus-briefings.html