May 25, 2017
ON THE RECORD. . .
"The danger he faces is his own party, with a growing chorus of leading Republicans who want to distance themselves from Trump because he has the smell of a wounded animal. Right now, there aren't many Republicans in Congress facing reelection who are going to want to be in photo opportunities with him. He's a man without coattails." — Historian Douglas Brinkley, quoted by the Washington Post.
Roger Ailes leaves behind one of the largest legacies of any media figure of the past century: He made our country nastier, stupider, cruder, and more bigoted. Even as the memory of Ailes the man fades, we will always be able to look back on what he built. -- Isaac Chotiner in Slate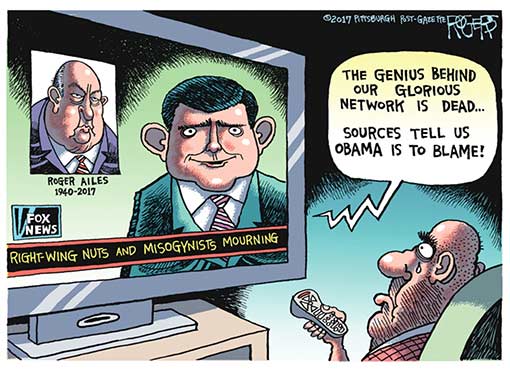 Ordinarily, whistle-blowers have to decide between following the moral course of action and looking out for their own material security. For officials contemplating jumping off the sinking ship of the Trump presidency, however, ethical and venal incentives are in unusual alignment. The time is ripe to get out. -- Michelle Goldberg in the NY Times
"I just fired the head of the F.B.I. He was crazy, a real nut job. I faced great pressure because of Russia. That's taken off. ... I'm not under investigation." -- Trump to Russian officials in the Oval Office
"He's nothing but a bullsh*ter." -- Obama describing an election night phone call with Trump, in which the businessman suddenly professed his "respect" and "admiration" for Obama—after years of hectoring. MAY 17, 2017
"When I ran for office, I said he is a chaos candidate and would be a chaos president. Unfortunately, so far chaos organizes the presidency right now, -- Jeb Bush on CNN
This is the single greatest witch hunt of a politician in American history! -- Donald J. Trump Verified account@realDonaldTrump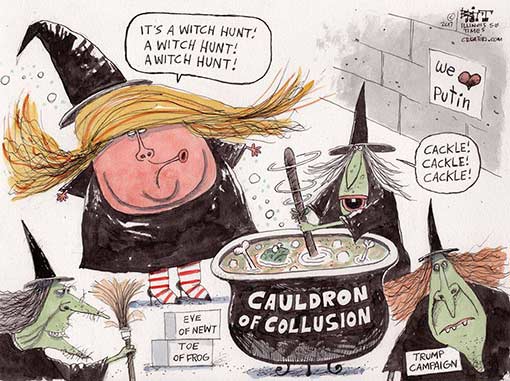 "I never was crazy about Trump. I'm convinced that he's nuts. I thought he belonged in an institution. He was crazy before he became president. Now he's really crazy." -- J. Brien Comey, FBI Director James Comey's father
The White House is just oozing poison at this point, and the growing toxicity is undermining everything the president and his aides are trying to do. The accelerating Russia investigation paired with Trump's penchant for political self-destruction guarantee that things won't improve any time soon. -- Simon Maloy in "The Week" 5/22/17
There is a sense that blood is in the water, that Trump's erratic, self-destructive behavior, aversion to honesty and authoritarian desire for absolute control may in some way, at some point, lead to his undoing and that the pace of that undoing is quickening. -- Charles M. Blow in the NY Times MAY 22, 2017
"Trump's effort to use the director of national intelligence and the NSA director to dispute Comey's statement and to say there was no evidence of collusion echoes President Richard Nixon's "unsuccessful efforts to use the CIA to shut down the 's investigation of the Watergate break-in on national security grounds is an appalling abuse of power." -- Jeffrey H. Smith, former general counsel at the CIA.
"You have to understand that I like Ted Cruz probably more than my colleagues like Ted Cruz, and I hate Ted Cruz. Ted is "just a special guy." — Sen. Al Franken (D-MN), in an interview with USA Today.
---
IN THIS ISSUE
1. The Borowitz Report: Remaining Countries On Trump's Itinerary Say They'd Rather Wait A Month And Meet With Next President
2. Polls
3. The DAILY GRILL
4. From MEDIA MATTERS (They watch Fox News so you don't have to)
5. From the Late Shows
6. Trump Tax Plan Would Give 400 Highest-Income Americans More Than $15 Million a Year in Tax Cuts
7. Vulnerable Republicans Flee from Trump
8. Trump Campaign Had 18 Undisclosed Contacts with Russia
9. Trump Asked Intelligence Chiefs to Push Back on Probe
10. Trump's Big, Cruel Budget Proposal Would Decimate The Safety Net 
11. Health insurers plan big Obamacare rate hikes — and they blame Trump
12. Remembering Roger Ailes
13. Mark Fiore cartoon: Taxcutiva
14. Donald of Arabia
15. Late Nite Jokes for Dems 
16. GOP Worried They'll Have No Legislative Wins
1. Paul Krugman: What's the Matter With Republicans?
2. Richard Cohen: The definitive book about the Trump administration was written in 1951
3. Michael Tomasky: Donald Trump's Paths All Lead Down
4. Rick Wilson: If you work for Trump, it's time to quit
5. Jonathan Chait: Trump's Russia Scandal Is Becoming a Corruption Scandal 
6. NY TImes' Editorial: Trumpcare Is Already Hurting Trump Country
7. Charles Krauthammer: The Guardrails of American Democracy Can't Contain Trump
8. Jill Abramson: Trump is a president gripped by delusions of absolute power
9. Joy-Ann Reid: Donald Trump Knows Just How Bad the Russia Investigation Can Get
10. Eric Posner and Emily Bazelon: Will the Presidency Survive This President?
11. Michael Tomasky:The Spring of G.O.P. Discontent
12. Alison Gopnik: 4-Year-Olds Don't Act Like Trump
13. Richard Clarke: Trump's anti-terror call to 'drive them out' will actually make things worse 
14. NY Daily News Editorial: A slash-and-burn budget 
1. The Borowitz Report: Remaining Countries On Trump's Itinerary Say They'd Rather Wait A Month And Meet With Next President
Citing the exorbitant costs of hosting a President, the Belgian said it "would be insane" to spend such sums on someone who "only has a few weeks left" in office.

"When a President comes to your country, you have to feed not only him but a whole plane full of people that he brings," the minister added. "Jared Kushner, for example, eats a ton, and no one even knows what he does."

NATO ministers, who had been slated to meet with Trump in Brussels on Thursday, voted unanimously last night to reschedule the meeting for June to accommodate his replacement.

According to one nato minister, "We don't see why we should be speaking to Donald Trump when even Melania isn't doing that." Read more at http://www.newyorker.com/humor/borowitz-report
2. Polls
Trump Approval Sinks to New Low: The RealClearPolitics polling average shows President Trump's approval rate at 39.7%. May 19, 2017 http://www.realclearpolitics.com/epolls/other/president_trump_job_approval-6179.html

Most Think Trump 'Loses Touch with Reality': A new SurveyUSA poll finds that 56% of Americans (including 1 in 4 Republicans) say President Trump "sometimes loses touch with reality. Also interesting: 37% say Trump "is unable to distinguish between what is true and what is made up." May 19, 2017 http://www.surveyusa.com/client/PollReport.aspx?g=e07dfa19-3915-4992-9533-bbc3861d2dbf

According to the Betfair prediction market, there's a roughly 50 percent chance that President Trump will not serve out his four-year term. https://www.betfair.com/exchange/plus/politics/market/1.129133401
3. The DAILY GRILL
"I never mentioned the word or the name . Never mentioned during that conversation," he said. "They're all saying I did, so you have another story wrong. Never mentioned the word Israel." -- Trump in Israel

VERSUS

No reports ever suggested the president directly mentioned that any intelligence was from Israel. In fact, H.R. McMaster pointedly said Trump did not know the source of the intelligence. -- Politico

 

Many people are saying it was wonderful that Mrs. Obama refused to wear a scarf in Saudi Arabia, but they were insulted.We have enuf enemies. -- Donald J. Trump ✔@realDonaldTrump

VERSUS

Both Melania and Ivanka Trump eschewed covering their heads during the stop (in Saudi Arabia). --NY Magazine

 

"I won't talk about how much I saved you on the F-35 fighter jet. I won't even talk about it." — Trump at the Coast Guard Academy

VERSUS

Trump has repeatedly taken credit for cost savings that began before his presidency on this jet. Pentagon officials took steps before the election to reduce costs on the Lockheed contract and announced savings Dec. 19, a month before Trump was sworn in. -- AP FACT CHECK

 

The White House is looking at whether it can use a federal ethics rule to limit the scope of the special counsel investigation into Russian interference in the 2016 election and alleged ties between members of President Donald Trump's campaign and Russia. ---- Reuters

VERSUS

"Next week, House Democrats will introduce legislation making clear that Director Mueller's independence is without question and calling upon the Department of Justice to issue the appropriate waiver immediately." -- Nancy Pelosi 5.21.17
4. From MEDIA MATTERS (They watch Fox News so you don't have to)
Report: Congressional Trump/Russia Probe Looking Into Breitbart And Cambridge Analytica https://www.mediamatters.org/blog/2017/05/18/Report-Congressional-TrumpRussia-Probe-Looking-Into-Breitbart-And-Cambridge-Analytica/216551

"Alt-Right" Outlets And Fake News Purveyors Hype Fox Analyst's Claim That Obama Wiretapped The Supreme Court https://www.mediamatters.org/research/2017/05/18/Alt-Right-Outlets-And-Fake-News-Purveyors-Hype-Fox-Analysts-Claim-That-Obama-Wiretapped-Th/216545

House Science Committee Dems tell Trump: Stop falling for fake news. Democrats are alarmed that the president was duped by a climate-denier internet hoax https://www.mediamatters.org/blog/2017/05/19/House-Science-Committee-Dems-tell-Trump-Stop-falling-for-fake-news/216570

On NRATV, Fabio promotes gun ownership in California because "there's going to be a lot of raping going on" Fabio Lanzoni: CA Gov. Jerry Brown "is releasing all the rapists https://www.mediamatters.org/video/2017/05/19/nratv-fabio-promotes-gun-ownership-california-because-there-s-going-be-lot-raping-going/216563
5. From the Late Shows
The Tonight Show Starring Jimmy Fallon: Trump Defines Legal Terms, Diverse Bachelorette Cast: https://youtu.be/BB1AV4TW6B8

The Tonight Show Starring Jimmy Fallon: Donald Trump Plagiarizes Legally Blonde Grad Speech: https://youtu.be/SSLyFiHOC5I

SNL Cold Open: Hallelujah: https://youtu.be/70i8gTb3fZQ

Last Week Tonight with John Oliver: Stupid Watergate: https://youtu.be/FVFdsl29s_Q
6. Trump Tax Plan Would Give 400 Highest-Income Americans More Than $15 Million a Year in Tax Cuts
Even accounting for Trump's tax plan's proposal to restrict most itemized deductions, the top 1 percent would still receive annual tax cuts averaging at least $250,000 per household. But the tax cuts at the very top would be far larger. The 400 highest-income taxpayers — whose incomes average more than $300 million a year — would get average tax cuts of at least $15 million a year each, we estimate from IRS data. Their annual tax cuts would be more than five times the typical college graduate's lifetime earnings. http://www.cbpp.org/research/federal-tax/trump-tax-plan-would-give-400-highest-income-americans-more-than-15-million-a
7. Vulnerable Republicans Flee from Trump
House Republicans facing tough reelection bids are running for cover from Donald Trump — an early sign that they believe the president's deepening scandals could cost them their seats and even put the House in play.
More than 10 centrist Republicans over the past 48 hours have criticized Trump for reportedly sharing classified information with Russian officials or allegedly trying to quash an FBI investigation. Many joined Democrats in calling for a special prosecutor to take the reins of the Justice Department investigation into possible collusion between the Trump campaign and Moscow. Others want a select congressional committee to be appointed. May 18, 2017 http://www.politico.com/story/2017/05/18/trump-republicans-russia-238518
8. Trump Campaign Had 18 Undisclosed Contacts with Russia
"Michael Flynn and other advisers to Donald Trump's campaign were in contact with Russian officials and others with Kremlin ties in at least 18 calls and emails during the last seven months of the 2016 presidential race," current and former U.S. officials familiar with the exchanges told Reuters.
"The previously undisclosed interactions form part of the record now being reviewed by FBI and congressional investigators probing Russian interference in the U.S. presidential election and contacts between Trump's campaign and Russia." May 18, 2017 http://www.reuters.com/article/us-usa-trump-russia-contacts-idUSKCN18E106
9. Trump Asked Intelligence Chiefs to Push Back on Probe
President Trump "asked two of the nation's top intelligence officials in March to help him push back against an FBI investigation into possible coordination between his campaign and the Russian government.
Trump made separate appeals to the director of national intelligence, Daniel Coats, and to Adm. Michael S. Rogers, the director of the National Security Agency, urging them to publicly deny the existence of any evidence of collusion during the 2016 election."
Coats and Rogers refused to comply with the requests, which they both deemed to be inappropriate. May 22, 2017 https://www.washingtonpost.com/world/national-security/trump-asked-intelligence-chiefs-to-push-back-against-fbi-collusion-probe-after-comey-revealed-its-existence/2017/05/22/394933bc-3f10-11e7-9869-bac8b446820a_story.html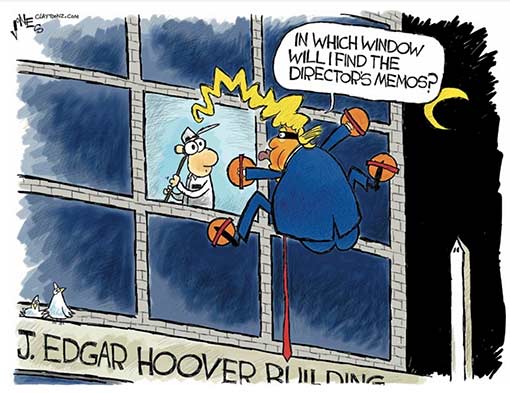 10. Trump's Big, Cruel Budget Proposal Would Decimate The Safety Net
The annual White House budget proposal may be little more than a wish list for Congress, but even as a mission statement, the spending plan the Trump administration will release Tuesday is a startlingly severe document. While the proposal will reportedly leave Medicare and most of Social Security untouched—ostensibly keeping with Trump's campaign promises—it is expected to slash some $1.7 trillion from other programs over the next decade, with the bulk of the savings taken from Medicaid, food stamps, the Children's Health Insurance Program, and the Social Security Disability program, among others. MAY 22, 2017 http://www.vanityfair.com/news/2017/05/donald-trump-budget-proposal-entitlement-programs
11. Health insurers plan big Obamacare rate hikes — and they blame Trump
Health insurers across the country are making plans to dramatically raise Obamacare premiums or exit marketplaces amid growing exasperation with the Trump administration's erratic management, inconsistent guidance and seeming lack of understanding of basic healthcare issues.
At the same time, state insurance regulators — both Democrat and Republican — have increasingly concluded they cannot count on the Trump administration to help them ensure that consumers will have access to a health plan next year.
The growing frustration with the Trump administration's management — reflected in letters to state regulators and in interviews with more than two dozen senior industry and government officials nationwide — undercuts a key White House claim that Obamacare insurance marketplaces are collapsing on their own. http://www.latimes.com/politics/la-na-pol-obamacare-trump-mismanagement-20170518-story.html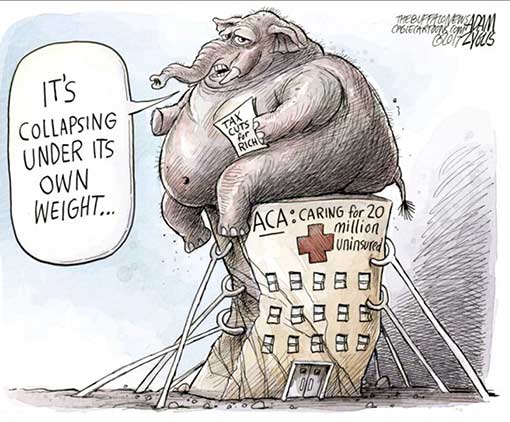 12. Remembering Roger
Ailes was the Christopher Columbus of hate. When the former daytime TV executive and political strategist looked across the American continent, he saw money laying around in giant piles. He knew all that was needed to pick it up was a) the total abandonment of any sense of decency or civic duty in the news business, and b) the factory-like production of news stories that spoke to Americans' worst fantasies about each other. May 19, 2017 http://www.rollingstone.com/politics/features/taibbi-roger-ailes-was-one-of-the-worst-americans-ever-w483013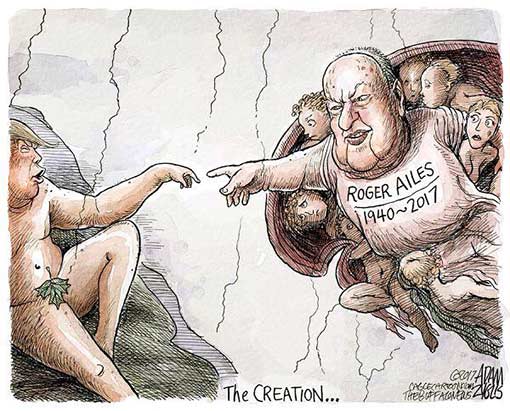 13. Mark Fiore cartoon: Taxcutiva
https://www.nytimes.com/2017/05/19/opinion/trump-white-house-staff.html
14. Donald of Arabia
Trump only hinted at the complicity of Gulf Arab regimes in promoting a radical, sectarian version of Islam, praising their apparent newfound willingness to crack down on extremism and terrorist financing… There was little effort to reach out to the 40 million Iranians who had just voted to reelect Hassan Rouhani, the pragmatic president who won by pledging greater openness to the world, albeit within the severe constraints of Iran's theocratic system. As for the Sunni monarchies and military dictatorships like that run by Abdel Fattah el-Sisi of Egypt, Trump promised to stop pestering them about human rights and political freedoms." http://www.politico.com/magazine/story/2017/05/21/donald-of-arabia-215170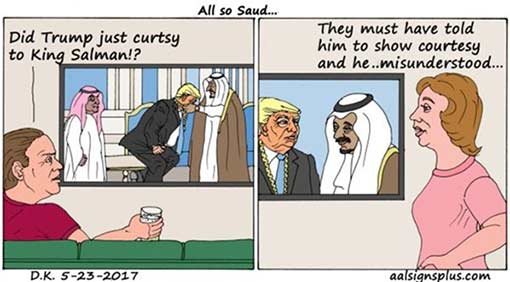 15. Late night jokes for Dems
Trump became the first sitting U.S. president to visit the Western Wall in Jerusalem. His staff said he was praying but people nearby heard him counting Mississippi. -- Jimmy Fallon

A company has released a GPS with President Trump's voice as a navigator. It doesn't guide you anywhere. It just keeps reminding you that he won the Electoral College. -- Conan O'Brien

There's another viral video of Melania Trump rejecting President Trump's attempt to hold her hand. Now even Israelis and Palestinians are saying "Geez, work it out, you two." -- Conan O'Brien

It's come out that President Trump asked two intelligence chiefs to push back against the Russia probe. Trump also asked them to make Melania hold his freakin' hand. -- Conan O'Brien

Donald Trump was away from the White House this weekend, so it was pretty much like every other weekend since he became the president. But this time he was on his first international trip visiting several countries in the Middle East. His first stop was Saudi Arabia. Trump is visiting the Muslim nations as part of his "don't come to us, we'll come to you tour." -- James Corden

While in Israel, Trump visited a sacred historical site, the Western Wall. He wasn't praying at the wall, he was shopping. "This is beautiful stone, beautiful stone. How much does 2,000 miles of this wall cost?" -- James Corden

Before his visit to Israel, Trump was in Saudi Arabia. This is where the wheels came off. First of all, his commerce secretary was on TV raving about how there were no protesters in Saudi Arabia. Because protesters are beheaded in Saudi Arabia. That's why. People without heads tend not to speak out. -- Jimmy Kimmel

Trump has a meeting with the Pope tomorrow at the Vatican. And you know he's dreading that. It's like getting called to the principal's office. Only instead of detention you go to hell as a result. -- Jimmy Kimme

l

President Trump was given an official welcome ceremony in Saudi Arabia this weekend where he was greeted with an honorary collar. As opposed to Michael Flynn who could soon be presented with an honorary anklet. -- Seth Meyers

Now, I don't know about you, but I've got a little extra pep in my step tonight because Donald Trump has left the country. Breathing a little easier. Federal judges, now would be a good time to reinstate that travel ban. -- Stephen Colbert

Somehow, the Saudi king always gets the U.S. president to bow. It happened to George Bush in 2008, and Obama in 2009. Trump gave Obama a lot of grief for that. So, there was "no way" Trump was going to bow when King Salman gave him the medal. Here he is going from the knees -- trying not to -- and the bow, and a little curtsy at the end there. -- Stephen Colbert

16. GOP Worried They'll Have No Legislative Wins
Republican leaders are coming to the bleak conclusion they will end summer and begin the fall with ZERO significant legislative accomplishments. Privately, they realize it's political malpractice to blow at least the the first nine of months of all Republican rule, but also realize there's little they can do to avoid the dismal outcome."
In fact, they see the next four months as MORE troublesome than the first four. They're facing terrible budget choices and headlines, the painful effort to re-work the healthcare Rubik's Cube in the House (presuming it makes it out of the Senate), a series of special-election scares (or losses) — all with scandal-mania as the backdrop. May 24, 2017 https://www.axios.com/new-gop-fear-nine-months-of-failure-2420113108.html
1. Paul Krugman: What's the Matter With Republicans?
The Democratic Party is a coalition of interest groups, with some shared views but also a lot of conflicts, and politicians get ahead through their success in striking compromises and finding acceptable solutions.
The G.O.P., by contrast, is one branch of a monolithic structure, movement conservatism, with a rigid ideology — tax cuts for the rich above all else. Other branches of the structure include a captive media that parrots the party line every step of the way. Compare the coverage of recent political developments on Fox News with almost everywhere else; we're talking North Korea levels of alternative reality.
And this monolithic structure — lavishly supported by a small number of very, very wealthy families — rewards, indeed insists on, absolute fealty. Furthermore, the structure has been in place for a long time: It has been 36 years since Reagan was elected, 22 years since the Gingrich takeover of Congress. What this means is that nearly all Republicans in today's Congress are apparatchiks, political creatures with no higher principle beyond party loyalty.
The fact that the G.O.P. is a party of apparatchiks was one crucial factor in last year's election. Why did Marine Le Pen, often portrayed as the French equivalent of Trump, lose by a huge margin? Because France's conservatives were only willing to go so far; they simply would not support a candidate whose motives and qualifications they distrusted. Republicans, however, went all in behind Trump, knowing full well that he was totally unqualified, strongly suspecting that he was corrupt and even speculating that he might be in Russian pay, simply because there was an "R" after his name on the ballot. https://www.nytimes.com/2017/05/19/opinion/whats-the-matter-with-republicans.html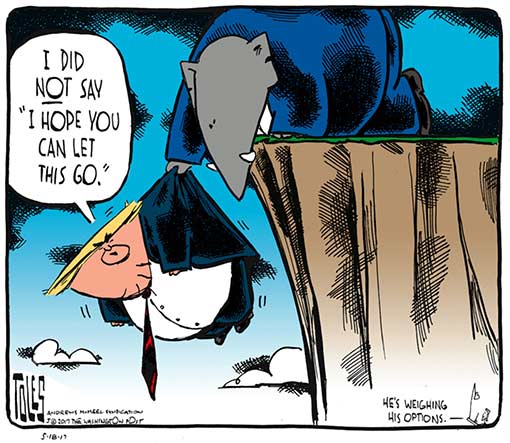 2. Richard Cohen: The definitive book about the Trump administration was written in 1951
Back in 1951, Herman Wouk published the definitive book about the Trump administration. He set it in the 1940s, during the war in the Pacific, aboard a destroyer-minesweeper skippered by a paranoid man with a compulsion to blame others for his mistakes. The captain was named Philip Francis Queeg, his ship was called the USS Caine, and the novel was "The Caine Mutiny." It won the Pulitzer Prize. It's a dead certainty President Trump never read it.
In "The Caine Mutiny," our first hint that Queeg is unbalanced comes when he tries to cover up a serious mistake — running over a towline in a gunnery drill. Later, when the Caine has to participate in an invasion of a Pacific island, Queeg cuts and runs and then demands his officers support his decision. They choose instead to keep silent.
We have many such similarities with Trump. Maybe the most psychologically egregious occurred right after the inauguration when he sent out Sean Spicer to lie about the size of the crowd. This was seemingly a small matter, but the inability to distinguish between the trivial and the consequential is, we now know, a Trump character malfunction.
The reason "The Caine Mutiny" was successful in many forms is that it spoke the truth about character and competence. Queeg was a fictional creation, but especially in Bogart's interpretation, he oozed a sloppy humanity, a man who foundered long before his ship did. The same is true of Trump. His typhoon is coming. https://www.washingtonpost.com/opinions/the-definitive-book-about-the-trump-administration-was-written-in-1951/2017/05/22/89686858-3f16-11e7-9869-bac8b446820a_story.html
Watch the Caine Mutiny on YouTube at https://www.youtube.com/watch?v=faa4qJp7Rpk
3. Michael Tomasky: Donald Trump's Paths All Lead Down
The president is a caged and cornered animal.
Forget his statement about how "I look forward to this matter concluding quickly," and know that he has to be livid about the appointment of Robert Mueller as special prosecutor, in the middle of a week when he's already bouncing off the walls. People are talking impeachment and 25th Amendment scenarios seriously now. I still remember clearly the hour when the Monica Lewinsky scandal broke, and ABC's Sam Donaldson said "this presidency could be numbered in days." We're probably not at that point yet, but a couple more of these bombshells, and we could easily be talking weeks.
Trump will not just take this. He'll do… something. And can anyone now doubt that that something could be anything? There is no act he isn't capable of.
In fhe end, Trump , and we, might just slog along until Mueller finishes his work, or until the Democrats take back the House in 2018 if they do. But the point is this: Every one of these things—war, constitutional crisis, presidential smear campaign, spontaneous raising of a street-fighting army—could happen. No person who's paid any attention to this man over the last two years can deny it.
And that fact tells us that the republic is in danger as long as this man is the president. 05.18.17 http://www.thedailybeast.com/articles/2017/05/18/donald-trumps-paths-all-lead-down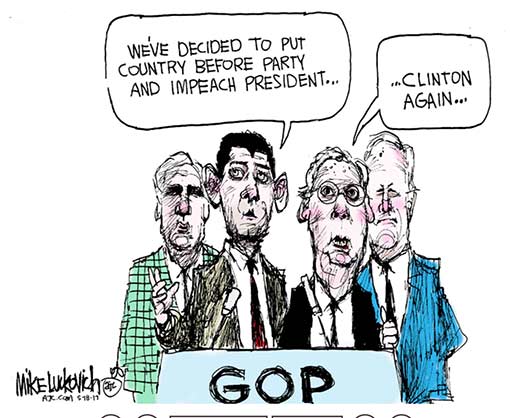 4. Rick Wilson: If you work for Trump, it's time to quit
You already know there's not another, better version of Trump getting ready to show up. You're smart. You're loyal. You're sniffing the wind like a gazelle, nose filled with the scents of predators. You don't want to break from the pack too soon, but there's greater risk in waiting too long.
When regimes collapse, dead-enders are the most fascinating to watch — the ones who end up with the profitable concessions and sought-after mistresses. You know already, though, that's probably not you. So, when this regime falls, ask yourself, do you want to be among those who said not me, or do you want to go out like a Ba'ath Party generalissimo?
Sticking with Trump to the bitter end and pretending the unfolding chaos is just "fake news" won't save your reputation as the walls close in. It won't ease the judgment of history. It won't do anything to polish up your future Wikipedia entry.
Cutting ties with a man who is destructive to our values, profoundly divisive, contemptuous of the rule of law and incontrovertibly unfit to serve in the highest office in the land just might. Do it now. https://www.washingtonpost.com/posteverything/wp/2017/05/18/if-you-work-for-trump-its-time-to-quit/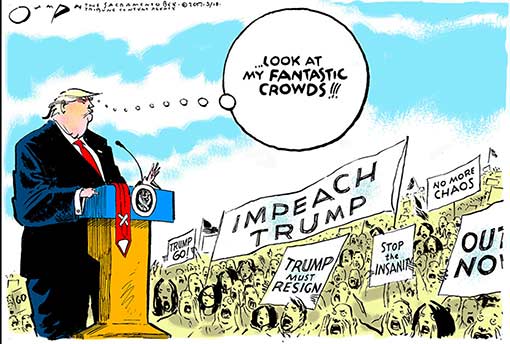 5. Jonathan Chait: Trump's Russia Scandal Is Becoming a Corruption Scandal
During his brief tenure, Flynn engaged in breathtaking corruption of his official duties. As national security adviser, Flynn ordered a delay in a key assault on ISIS in Raqqa, Syria. The delay comported with the desires of the Turkish government, which had paid Flynn more than half a million dollars. While largely blotted out by the shock of daily revelations about Trump, in a normal news environment this revelation would have mushroomed into a first-tier scandal of its own. It is hard to think of a historical case in which a major American military action has been influenced so corruptly by a foreign power.
And while the broad contours of Flynn's relations with Turkey and, especially, Russia have been known, the depths have not. One report found Russians boasting privately that they believed they could use Flynn to manipulate Trump. Another report, vindicating the first, reveals that Trump continues to profess loyalty to Flynn. The president regrets having fired him and remains angry at the investigation of his reported misdeeds. Yet another scoop recounts that Flynn told friends that Trump had contacted him after his firing and seemed to encourage him not to to flip. "I just got a message from the president to stay strong," Flynn told friends last month.
What do these new revelations tell us? Flynn's legal risk, and Trump's personal investment in him, are both much higher than we understood. And we are seeing that financial corruption is playing a more central role in the scandal.
The official White House line maintains — or has tried to maintain — that the administration welcomes special prosecutor Robert Mueller and sees his work as a chance to dispel the cloud of suspicion needlessly hanging over the presidency. Their actions suggest a very different calculation. From Trump's campaign to ensure the loyalty of his FBI director, to his subsequent firing of him, to his tweet-rages against the special prosecutor as an unfair witch hunt — all of this indicates high levels of panic in the Oval Office. Trump has almost certainly engaged in obstruction of justice for the simple reason that there is a lot of justice to obstruct. http://nymag.com/daily/r/2017/05/trumps-russia-scandal-is-becoming-a-corruption-scandal.html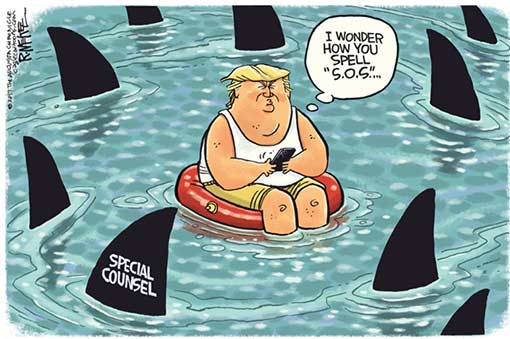 6. NY TImes' Editorial: Trumpcare Is Already Hurting Trump Country
The mere threat that Obamacare will be dismantled or radically changed — either by Congress or by President Trump himself — has persuaded several big insurance companies to stop selling policies or significantly raise premiums. The practical effect is that some lower-income and middle-class families may have no good options for insurance and will have to spend more on health care.
What's bizarre about the Republican strategy is that it is likely to cause the most damage where many of Mr. Trump's supporters live. Rural and suburban areas are more likely to lose insurers and see big premium increases if Obamacare goes down, because companies have less incentive to stay in markets where there are fewer potential customers and where it is harder to put together networks of hospitals and doctors.
Republicans might hope that blame for any future problems with Obamacare will fall on former President Barack Obama and the Democrats. A Kaiser poll, however, shows that 61 percent of Americans already know where the fault should lie: with the Republicans who are now in charge. Another poll from Gallup found that Obamacare became more popular than ever after Republicans began trying to destroy it. Senate Republicans ought to keep these polls in mind as they come up with their version of Trumpcare. https://www.nytimes.com/2017/05/19/opinion/trumpcare-health-care-bill.html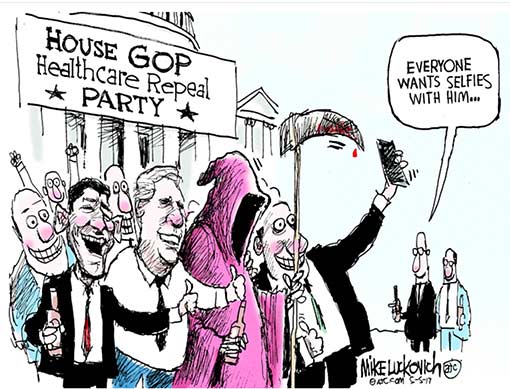 7. Charles Krauthammer: The Guardrails of American Democracy Can't Contain Trump
Donald Trump's character — volatile, impulsive, often self-destructive — had not changed since the campaign. But it seemed as if the guardrails of our democracy — Congress, the courts, the states, the media, the cabinet — were keeping things within bounds.
Then came the last ten days. The country is now caught in the internal maelstrom that is the mind of Donald Trump. We are in the realm of the id. Chaos reigns. No guardrails can hold.
Trump's behavior is deeply disturbing but hardly surprising. His mercurial nature is not the product of a post-inaugural adder sting at Mar-a-Lago.
It's been there all along. And the American electorate chose him nonetheless. What to do? Strengthen the guardrails. Redouble oversight of this errant president. Follow the facts, especially the Comey memos. And let the chips fall where they may.
Read more at: http://www.nationalreview.com/article/447748/donald-trump-american-democracy-25th-amendment-removal-bad-idea
8. Jill Abramson: Trump is a president gripped by delusions of absolute power
'I have the absolute right" to share classified information with Russia. So tweeted the United States president in defence of having spilled national security secrets to the Russians. Note that well, and put the emphasis on the word absolute, because the president's use of the word shows that he lacks any understanding of the US constitution.
America's founding fathers were deathly afraid of centralised, absolute power. This is why the government they structured had three equal branches, and plenty of checks and balances. And the first amendment is first for a reason. Freedom of the press is guaranteed because the founders envisaged the press as a bulwark against absolute power. This goes to the heart of who we are, and what we might become.
This is American law for dummies, but Trump gives no indication of knowing its basic tenets. Fundamentals bear repeating. No one in the United States has absolute power or an absolute right to do anything that violates the constitution. But apparent violations seem to be occurring almost daily.
It's hard to see the legal overreach by Trump as rooted in anything other than the service of his own elevation. He is truly the kind of despot that Washington feared could ruin the country.
The writer Gabriel García Márquez saw where delusions of absolute power inevitably lead. "When one reaches absolute power," he wrote, "one loses total contact with reality." A president so adrift from the US constitution surely meets that terrible criterion. https://www.theguardian.com/commentisfree/2017/may/17/trump-president-absolute-power-constitution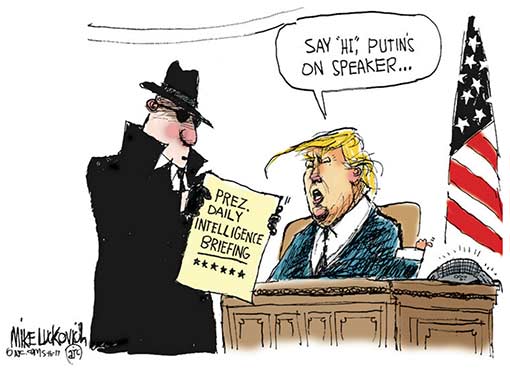 9. Joy-Ann Reid: Donald Trump Knows Just How Bad the Russia Investigation Can Get
What does "consciousness of guilt" look like? How do you know it when you see it? President Donald Trump and his band of kakistocrats seem to be putting on a clinic.
Trump, while not the canniest or most articulate fellow, fully understands that the investigation into his campaign and his friends presents a clear and present danger. He is hugging Flynn close because Flynn could hurt him. He repeatedly tried to recruit Comey into The Family to keep Comey from bringing him down. He's keeping the whole band of misfits on the ship to keep them from scratching out holes in the hull. 
Who knows if Trump fully understood what his team was doing to help get him his precious election "win." After November he probably thought making friends with Putin, through the back channels Flynn was setting up, would enable him to set the whole world at peace, making him the Greatest President of All Time (take THAT, Obama!)—and also a real billionaire, with Trump hotels, Trump condos and Trump licensing deals strewn the world over, all managed by The Family.
Clearly, Russia thought having Flynn on the inside would be a goldmine of influence for them. (Even without him, they managed to get within bugging distance of the Resolute Desk.)
The problem is that Trump thinks the danger of Russiagate is merely to his plan and to his pride; his desperate need to believe he won the election because of his sheer awesomeness and not through a confluence of unfortunate events. What he fails to comprehend is that the real danger is to his presidency itself, and to the country he doesn't have the slightest idea how to lead. 5.20.17 http://www.thedailybeast.com/articles/2017/05/20/donald-trump-knows-just-how-bad-the-russia-investigation-can-get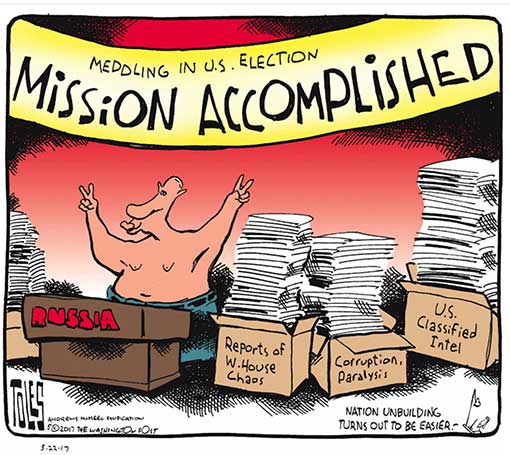 10. Eric Posner and Emily Bazelon: Will the Presidency Survive This President?
As President Trump stumbled from crisis to crisis this past week, he reminded the country of a lesson it didn't really need to learn: A president's greatest asset is trust. Once he has lost it, he can't govern. Mr. Trump's serial recklessness may change not just the course of his presidency but also the office itself. Whatever happens to him, it's not too soon to wonder what will happen to the presidency when he's gone.
For decades, the power of the executive branch has been growing, a trend that Congress has encouraged, both actively and by default. And the courts, the other check on the executive, have often been willing to defer to the president's prerogatives.
But President Trump's words and actions are straining the relationship between the executive and the other branches of government in ways that may ultimately diminish the power of the office. By showing he's unworthy of the trust that a president customarily enjoys, Mr. Trump has essentially been daring Congress, the courts and even the bureaucracy to act against him.
With the courts and the intelligence community increasingly arrayed against him, and Congress now investigating his campaign and actions in office, Mr. Trump finds himself in a much diminished presidency. If he remains in office for an extended period in this weakened state, it's possible that Congress and the courts will essentially put the presidency into a kind of constitutional receivership until his term ends.
The country at risk of serious harm from Mr. Trump, the damage to the office is secondary. The next president will just have to pick up the pieces. MAY 20, 2017 https://www.nytimes.com/2017/05/20/sunday-review/donald-trump-will-presidency-survive.html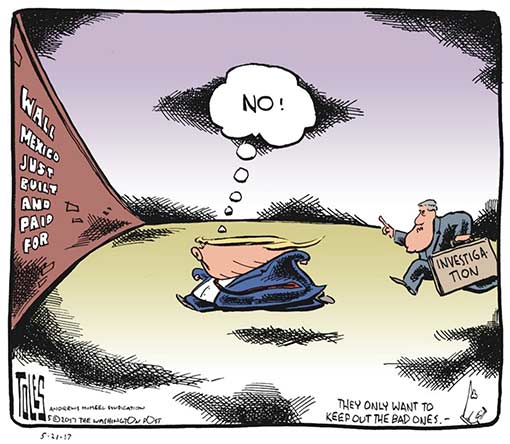 11. Michael Tomasky: The Spring of G.O.P. Discontent
Now that Robert Mueller has been named special counsel, we can expect congressional Republicans to attempt a return to business as usual. Of course, that's all relative: President Trump will presumably continue to issue Twitter attacks on the investigation, leaks about his behavior are likely to continue (see the news on Friday about his comments on James Comey to the Russians) and the topic of obstruction of justice will still occupy many blocks of cable programming.Still, you could almost hear the sigh of relief coming from Speaker Paul Ryan's office. The pressure is off Congress to bear down on Mr. Trump, allowing the Republicans to bear down on cutting taxes and gutting Obamacare. It might even be easier this time, with Mr. Trump distracted.
But they may soon find themselves wishing for the good old days of pure presidential chaos. They're about to learn just how ill conceived and unpopular the Republican legislative agenda really is. https://www.nytimes.com/2017/05/19/opinion/the-spring-of-gop-discontent.html?ref=opinion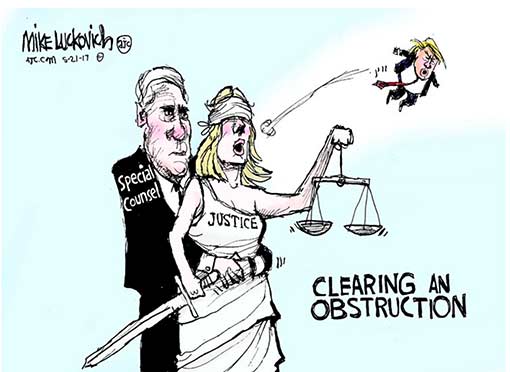 12. Alison Gopnik: 4-Year-Olds Don't Act Like Trump
The analogy is pervasive among his critics: Donald Trump is like a child. Making him the president was like making a 4-year-old the leader of the free world.
But the analogy is profoundly wrong, and it's unfair to children. The scientific developmental research of the past 30 years shows that Mr. Trump is utterly unlike a 4-year-old.
Four-year-olds care deeply about the truth. They constantly try to seek out information and to figure out how the world works. Of course, 4-year-olds, as well as adults, occasionally lie. But Mr. Trump doesn't just lie; he seems not even to care whether his statements are true.
Four-year-olds are insatiably curious. One study found that the average preschooler asks hundreds of questions per day. Just watch a toddler "getting into everything" — endangering his own safety to investigate interesting new objects like knives and toasters. Mr. Trump refuses to read and is bored by anything that doesn't involve him personally.
Now, all this is not to say that a 4-year-old would make a good chief executive. Being president is certainly a grown-up job. Still, most adults, even most presidents, and certainly the best presidents, manage to retain some of their childlike traits — curiosity, openness to experience, intuitive sensitivity to others.
We'd all be better off if Mr. Trump were more like that. https://www.nytimes.com/2017/05/20/opinion/sunday/4-year-olds-children-trump-gopnik.html
13. Richard Clarke: Trump's anti-terror call to 'drive them out' will actually make things worse 
Trump's solution to terrorism was as simplistic as the phrase he repeated: "Drive them out." The more sophisticated Arab and other Islamic leaders in the assembly no doubt thought as they listened, "If only it were that easy." They would have reflected on the practical problems with which they have dealt for decades: the attractiveness of the terrorists' message to young and disaffected youth, the difficulty of creating an alternative path, the high unemployment of young men, and the lack of a counter ideology to that of Daesh (ISIS) and Al Qaeda.
The experienced leaders in Trump's audience would have thought about why people join the terrorist groups in the first place. Unless governments and Islamic religious leaders can address the underlying causes of the terrorist movements, they will be unable to "drive them out." Oppressive regimes that attempt to solve the terrorist problem simply with force actually strengthen the terrorist's cause, by pushing more young men to the cause. Thus, Trump's blank check to do whatever it takes to "drive them out" will actually make things worse.
Whatever the U.S. pundits may say about the Trump address in Riyadh, the truth is that most of the leaders of 50 Islamic nations there likely thought Trump's analysis of terrorism sophomoric. Worse yet, some of them heard encouragement for the kind of crackdowns that are at best counter-productive. "Drive them out" campaigns may end up driving many young Islamic men in those nations into the hands of Islamist terrorists. May 22, 2017 http://www.nydailynews.com/opinion/trump-anti-terror-call-drive-worse-article-1.3185752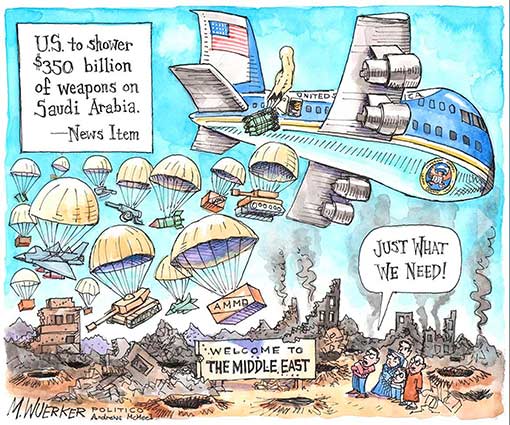 14. NY Daily News Editorial: A slash-and-burn budget 
Campaigning for President, Donald Trump repeatedly proclaimed the economy to be rigged by the powerful and well-connected against the little guy.
As President, Trump has delivered a federal budget that slashes every imaginable form of assistance for said little guy, even as it delivers billions of new dollars spent on the military and border protection, not to mention huge tax cuts primarily benefiting the wealthy.
Trump's trick is to project, based more on faith than any responsible economic expectation, that those reductions in corporate and income tax rates, inheritance taxes and more will unleash growth unseen in a generation.
And so, abracadabra, kalamazoo, $2 trillion will get socked away in the bank — funds that Trump and budget director Mick Mulvaney are simultaneously accounting as paying for those tax cuts. What's a few trillion dollars in fantastical, double-counted revenue between friends?
It takes creativity and dedication to produce a budget simultaneously this stingy and this preposterous. The plan even includes $1.6 billion for the border wall Trump promised, and promised, and promised again that Mexico would pay for.
The Republican-dominated House, led by Speaker Paul Ryan, can be expected to lap this poison up. The more sensible Senate must bring sensitivity to its review — without losing a few good ideas buried in a big pile of bad. http://www.nydailynews.com/opinion/slash-and-burn-budget-article-1.3190178