April 6, 2023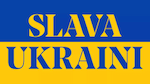 To subscribe to this FREE weekly newsletter simply email jellison@san.rr.comwith "subscribe" as the subject.
LITIGATION TRACKER
Pending Criminal and Civil Cases Against Donald Trump

.

https://www.justsecurity.org/75032/litigation-tracker-pending-criminal-and-civil-cases-against-donald-trump

Read Trump's indictment in full at https://www.manhattanda.org/wp-content/uploads/2023/04/Donald-J.-Trump-Indictment.pdf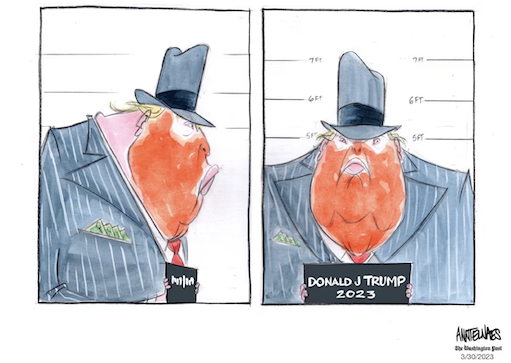 THE WEEK'S BEST QUOTES. . .
"Karma." — Yusef Salaam, one of the five boys wrongly accused of gang raping a female jogger in New York's Central Park in 1989. Will Trump get the presumption of innocence the five boys in Central Park jogger case did not?
https://www.usatoday.com/story/news/nation/2023/03/31/yusef-salaam-calls-trump-indictment-karma/11578222002/
Republican lawmakers efforts to conduct oversight into his investigation of Donald Trump represents a "dangerous usurpation" by Congress that could impinge upon the former president's rights.  — Manhattan District Attorney Alvin Bragg (D)
https://thehill.com/regulation/court-battles/3927692-bragg-warns-gop-effort-to-oversee-ongoing-trump-case-is-dangerous-usurpation/
"Donald Trump, who has spent his life ruthlessly maneuvering to get his way now is at the mercy of a justice system he can't bully — and, ultimately, in the hands of a Manhattan jury." —  Axios
https://www.axios.com/2023/03/31/trump-indictment-control
"I have so many messages coming in that I can't respond…also don't want to spill my champagne.  #Teamstormy merch/autograph orders are pouring in, too! Thank you for that as well but allow a few extra days for shipment." — Stormy Daniels@StormyDaniels
https://twitter.com/StormyDaniels/status/1641586707853082624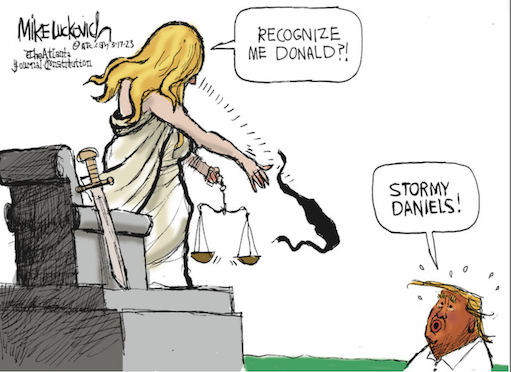 "The Regime occupying our country and systematically killing America is most afraid of President Donald J. Trump. Period. He's our guy." — Rep. Paul Gosar (R-AZ),
https://twitter.com/RepGosar/status/1641563235034841089
"Donald Trump is asking advisers for battle plans to attack Mexico if he's re-elected as president." -- Rolling Stone
https://www.rollingstone.com/politics/politics-features/donald-trump-mexico-military-cartels-war-on-drugs-1234705804/
"Any Republican who's not prepared to answer a question about the indictment, if it should come, and not prepared to pivot away from questions about Trump and back to the economy, crime and Biden's shortcomings is going to have a really hard time." — GOP strategist
https://abcnews.go.com/Politics/republicans-hope-trump-indictment-spares-ballot-races-warn/story
"Bring unchristian anti-immigrant bills to the floor and I am a NO on the debt ceiling." — Rep. Tony Gonzales (R-TX), who's feuding with other House Republicans over immigration legislation plans.
https://twitter.com/TonyGonzales4TX/status/1641087258756370432
"This is Political Persecution and Election Interference at the highest level in history. From the time I came down the golden escalator at Trump Tower, and even before I was sworn in as your President of the United States, the Radical Left Democrats – the enemy of the hard-working men and women of this Country – have been engaged in a Witch-Hunt to destroy the Make America Great Again movement. You remember it just like I do: Russia, Russia, Russia; the Mueller Hoax; Ukraine, Ukraine, Ukraine; Impeachment Hoax 1; Impeachment Hoax 2; the illegal and unconstitutional Mar-a-Lago raid; and now this." -- Part of Trump's lengthy tirade in response to his indictment.
https://thehill.com/homenews/campaign/3926855-read-trumps-response-to-indictment-in-hush-money-case/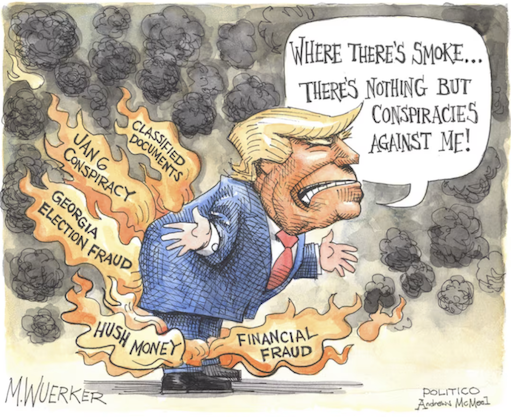 "The real tragedy of @NYTimes is that their propaganda isn't even interesting." -- Elon Musk, because the NY Times has decided not to pay for the check-mark that has previously been free to news outlets.
https://twitter.com/elonmusk/status/1642395451209940993
"Alvin Bragg is attempting to interfere in our democratic process by invoking federal law to bring politicized charges against President Trump, admittedly using federal funds, while at the same time arguing that the peoples' representatives in Congress lack jurisdiction to investigate this farce."
"Not so. Bragg's weaponization of the federal justice process will be held accountable by Congress."— Speaker Kevin McCarthy.
https://twitter.com/SpeakerMcCarthy/status/1643357957164511232
"I'm sorry, I'm so upset, but please help President Trump" … Give "five or 10 bucks" or "just pray" … "Make sure you vote as early as you can in your state. Don't risk anything anymore. Vote as soon as you can, pray for this country, pray for this president. And if you got any money to give, give it. LindseyGraham.com — it doesn't go to me. It goes to helping this president and taking back the Senate." — Sen. Lindsey Graham to Hannity.
https://www.washingtonexaminer.com/news/justice/lindsey-graham-emotional-battle-call-trump-indictment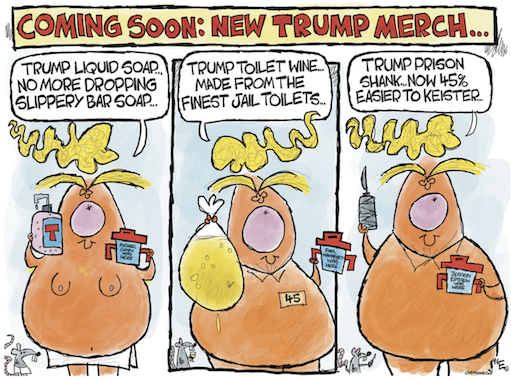 "Before this indictment it was already tough for any Republican to attack Trump, and the reason is because for the last five years voters were under the belief that if you attack Trump you're a RINO or establishment Republican. Now that got even harder. You're attacking him while Democrats are going after Trump in New York — how does that not make you look allied with the people who are trying to take him down?" — A Republican operative close to Donald Trump's campaign.
https://www.politico.com/news/2023/04/04/trump-campaign-arraingment-00090515
"The 34 felony-count indictment was underwhelming, but Trump's continued viability as a presidential candidate shows Americans no longer care about morality in their leaders." — Matt Lewis.
https://www.thedailybeast.com/trump-has-made-politician-sex-scandals-passe
VIDEOS ...
"Trump is joining some of the most incredible people in history being arrested today. Nelson Mandela was arrested, served time in prison. Jesus! Jesus was arrested and murdered." — Rep. Marjorie Taylor Greene (R-GA).
https://twitter.com/therecount/status/1643270948714426370
"We did everything for him. I like people that are loyal. When you help somebody, you expect there will be a certain amount of dignity and loyalty. We didn't get that from Ron. But that's OK. We're gonna beat him and beat him very badly." — Donald Trump, in a video attacking Gov. Ron DeSantis. 
https://twitter.com/RonFilipkowski/status/1640828614030622723
General Milley conspired with Nancy Pelosi and China to overthrow former then President Trump. -- Rep. Paul Gosar (R-AZ)
https://twitter.com/Acyn/status/1640811805814693888
"When she heard, Stormy Daniels was like, 'Oh, so this is what it feels like to be satisfied?'" — Jimmy Fallon about Donald Trump's indictment .
https://twitter.com/FallonTonight/status/1641645861040975873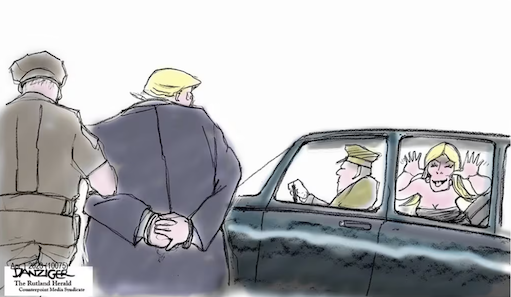 "I think it's important to stress that in this case that involves hush-hush money to a porn star to cover up an affair that later involves cooking his company's books, you have not heard a single Trump defender stand up and say, oh, that's not the Donald Trump I know." — Former National Security Adviser John Bolton on CBS News.
https://www.cbsnews.com/news/john-bolton-face-the-nation-transcript-04-02-2023/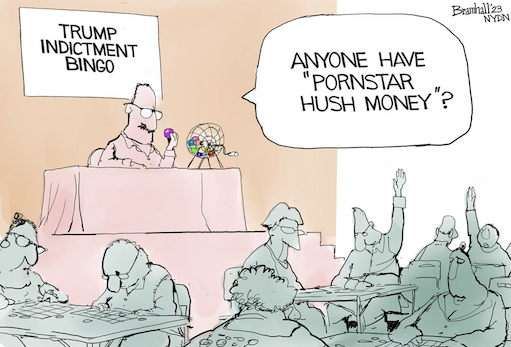 "I think there's no question about it, that he wants to humiliate 'President Fraud' — er, President Trump." — Fox News guest Brian Claypool's Freudian slip on DA Alvin Bragg's indictment of Donald Trump.
https://twitter.com/AccountableGOP/status/1642947532052414464
Happy Arraignment Week, Donald! I wrote you a new campaign song for the occasion.   #GrumpyTrumpyFelon. -- Randy Rainbow.
https://twitter.com/RandyRainbow/status/1642875666067517440
---
IN THIS ISSUE
IN THE NEWS
OPINION
Andy Borowitz: Melania Trump Seen Wearing "I Don't Care" Jacket
Melania Trump, who made headlines in 2018 by wearing a jacket emblazoned with the words "I REALLY DON'T CARE, DO U?," was spotted wearing the garment again Thursday evening.
Mrs. Trump, who was seen in the controversial jacket while taking a stroll around the grounds of Mar-a-Lago, offered no explanation for donning it other than that she "was really in the mood to wear it tonight."
The former President's wife projected an air of calm that was in sharp contrast with the tense scenes unfolding inside the residence, according to reports.
Sources said that an emergency cleaning crew had to be summoned to Mar-a-Lago to mop up what was described as a "river of ketchup."
https://www.newyorker.com/humor/borowitz-report/
Republicans Erupt in Outrage and Rush to Defend the Defendant
Republican leaders in Congress lamented the moment as a sad day in the annals of United States history. Conservative news outlets issued a call to action for the party's base. One prominent supporter of Donald Trump suggested that the former president's mug shot should double as a 2024 campaign poster.
Up and down the Republican Party, anger and accusations of injustice flowed from both backers and critics of the former president, even before the charges had been revealed. Many said Mr. Trump could benefit from a wave of sympathy from across the party, with a base of supporters likely to be energized by a belief that the justice system has been weaponized against him.
In some quarters, there was a darker reaction. On Fox News, the host Tucker Carlson said the ruling showed it was 'probably not the best time to give up your AR-15s.'
https://www.nytimes.com/2023/03/30/us/politics/trump-indicted-republican-response.html
Liberal Wins Wisconsin Court Race, in Victory for Abortion Rights Backers
Wisconsin voters on Tuesday chose to upend the political direction of their state by electing a liberal candidate, Janet Protasiewicz, to the State Supreme Court, flipping majority control from conservatives. The result means that in the next year, the court is likely to reverse the state's abortion ban and end the use of gerrymandered legislative maps drawn by Republicans.
Her election to a 10-year term for an officially nonpartisan seat gives Wisconsin's liberals a 4-to-3 majority on the court, which has been controlled by conservatives since 2008. Liberals will hold a court majority until at least 2025, when a liberal justice's term expires. A conservative justice's term ends in 2026.
https://www.nytimes.com/2023/04/04/us/politics/wisconsin-supreme-court-protasiewicz.html
Twitter Adds 'State-Affiliated Media' Label To NPR Account Putting It On Par With Russia Today
Twitter added a warning to NPR's Twitter account on Tuesday, declaring it as state-affiliated media, a label that's typically been reserved for foreign media outlets that represent the official views of the government, like Russia's RT and China's Xinhua.
https://www.forbes.com/sites/mattnovak/2023/04/05/twitter-adds-state-affiliated-media-label-to-npr-account-putting-it-on-par-with-russia-today/
Fox News CEO said correspondent's fact-check of Trump's election lies was 'bad for business'
Fox News CEO Suzanne Scott sounded the alarm inside the company about the financial fallout that the right-wing network would suffer if it continued fact-checking then-President Donald Trump's lies after the 2020 election, according to messages that became public on March 29th.
In one instance, Scott emailed Meade Cooper, executive vice president of prime time programming, and laced into correspondent Eric Shawn for fact-checking Trump.
Said Scott: "This has to stop now. This is bad for business and there is a lack of understanding what is happening in these shows. The audience is furious and we are just feeding them material. Bad for business.
https://www.cnn.com/2023/03/29/media/fox-news-dominion-messages/index.html
Majority Say Criminal Charges Should Disqualify Trump
A new Quinnipiac poll finds that Americans, by a 57% to 38% margin, think criminal charges should disqualify Donald Trump from running for president again.
https://poll.qu.edu/poll-release?releaseid=3870
Kentucky GOP lawmakers override veto of transgender bill in Kentucky
Republican lawmakers in Kentucky on Wednesday swept aside the Democratic governor's veto of a bill regulating some of the most personal aspects of life for transgender young people — from banning access to gender-affirming health care to restricting the bathrooms they can use,.
The votes to override Gov. Andy Beshear's veto were lopsided in both legislative chambers — where the GOP wields supermajorities — and came on the next-to-last day of this year's legislative session.
https://apnews.com/article/transgender-care-bill-kentucky-legislature-e7c0bfb0e6cdfb1144451efe677108d6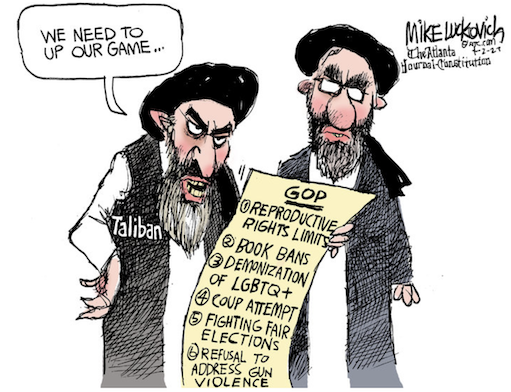 Michigan Democrats Rise, Try to Turn a Battleground Blue
Seven years after Michigan helped cement Donald Trump's presidential victory, the state has transformed into a new — if fragile — focal point of Democratic power, testing the promise and pitfalls of complete Democratic governance in one of the nation's pre-eminent political battlegrounds.
https://www.nytimes.com/2023/03/29/us/politics/michigan-democrats-whitmer.html
Do Congressional Republicans really want to emulate China by banning TikTok?
The banning TikTok strategy also comes while the GOP simultaneously complains of liberal U.S. social media companies canceling and censoring conservatives. So, without a hint of irony, many of these same "conservatives" now agitate to ban a platform owned by an international group that includes several American investors.
https://www.courier-journal.com/story/opinion/2023/03/29/rand-paul-does-the-us-really-want-to-emulate-china-by-banning-tiktok/70056172007/
After Mass Shootings, Republicans Expand Access to Guns
In Kentucky, Ohio, Nebraska, Texas and Virginia, Republicans have pushed this year to limit gun-free zones, remove background checks and roll back red-flag laws that seek to remove firearms from those who are a danger to themselves or others. Missouri last year enacted a measure that made it illegal for local law enforcement to cooperate with federal authorities in many gun investigations. In 25 states, no permits are required to carry a handgun — nine more than in 2020.
https://www.nytimes.com/2023/03/29/us/nashville-gun-laws.html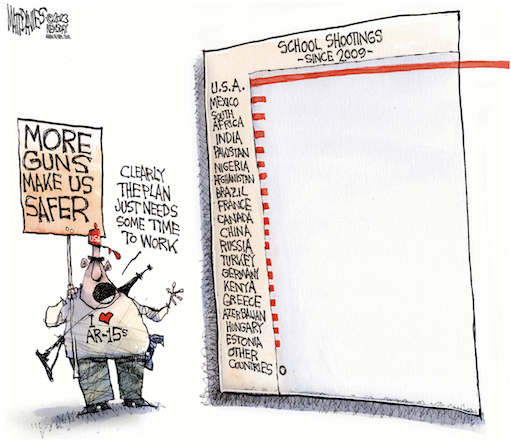 Texas Judge strikes down Obamacare provision requiring insurers cover some preventive care services
A federal judge in Texas has struck down Affordable Care Act provisions that require health insurers to provide some free preventive care services.
The ruling could jeopardize coverage nationwide for people relying on the health care law for preventive services such as screenings for cancer as well as HIV drugs.

In the decision, U.S. District Judge Reed O'Connor mentioned his previous ruling on the structure of the U.S. Preventive Services Task Force, which was created under Obamacare and helps determine preventive services coverage, saying it violates the appointments clause of the Constitution and thus its related preventive care mandates are unlawful.

O'Connor also said Obamacare's requirement to cover drugs preventing HIV, known as PrEP, violates the religious rights of plaintiffs under the Religious Freedom Restoration Act of 1993.  https://www.nbcnews.com/politics/politics-news/judge-strikes-obamacare-provision-requiring-insurers-cover-preventive-rcna77399
House GOP approves broad bill to 'unleash' American energy
House Republicans are set to approve a sprawling energy package that seeks to undo virtually all of President Joe Biden's agenda to address climate change.
The massive GOP bill up for a vote Thursday would sharply increase domestic production of oil, natural gas and coal, and ease permitting restrictions that delay pipelines, refineries and other projects. It also would boost production of critical minerals such as lithium, nickel and cobalt that are used in products such as electric vehicles, computers and cellphones.
https://www.nbcnews.com/politics/congress/house-gop-pushes-sprawling-bill-unleash-american-energy-rcna77377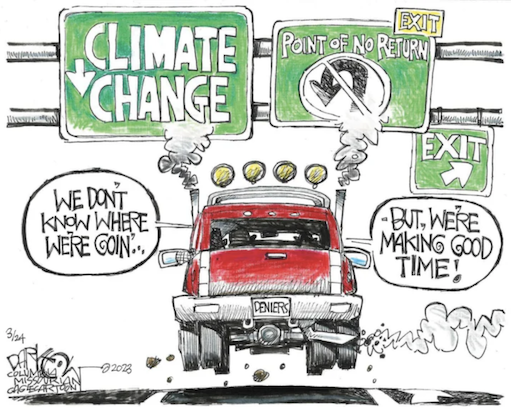 Right-wing pundits, with Musk's encouragement, respond to mass shooting with anti-trans propaganda
Benny Johnson, a right-wing provocateur and admitted plagiarist with 1.4 million followers on Twitter, said the Nashville shooting was proof that "the modern trans movement is radicalizing activists into terrorists." His commentary received a boost from Elon Musk, who owns Twitter and has 132 million followers.
Benny Johnson also posted "Trans activists have now slaughtered Christians in a mass shooting and staged an insurrection at the Tennessee Capitol, all in a matter of days."
https://twitter.com/bennyjohnson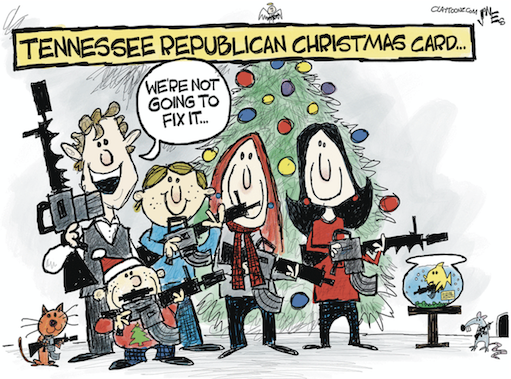 GOP Downplays Importance of a Budget
House Republicans are deemphasizing the importance of a GOP budget in the context of debt-ceiling talks, signaling their blueprint might not even be finalized until after the conference figures out its moves on raising the federal government's borrowing limit.
It's a significant shift for the GOP that comes after hard-line lawmakers during the 15-ballot Speaker's election demanded a budget showing sharp spending reductions for the upcoming 2024 fiscal year that would balance the budget in 10 years.
https://thehill.com/homenews/house/3924737-gop-downplays-importance-of-budget-with-debt-ceiling-looming/
DeSantis' Reedy Creek board says Disney stripped its power
Ahead of an expected state takeover by the Florida Republicans,  the Walt Disney Co. quietly pushed through the pact and restrictive covenants that would tie the hands of future board members for decades, according to a legal presentation by the district's lawyers on Wednesday.
This agreement essentially makes Disney the government, board member Ron Peri said. This board loses, for practical purposes, the majority of its ability to do anything beyond maintain the roads and maintain basic infrastructure.
Among other things, a declaration of restrictive covenants spells out that the district is barred from using the Disney name without the corporation's approval or fanciful characters such as Mickey Mouse.
That declaration is valid until 21 years after the death of the last survivor of the descendants of King Charles III, king of England, if it is deemed to violate rules against perpetuity, according to the document.
A development agreement allows Disney to build projects at the highest density and the right to sell or assign those development rights to other district landowners without the board having any say, according to the presentation by the district's new special legal counsel.
https://www.orlandosentinel.com/news/os-ne-disney-new-reedy-creek-board-powerless-20230329-qalagcs4wjfe3iwkpzjsz2v4qm-story.html
Texas GOP Proposes Bill To Allow Sec Of State To Overturn Election Results In State's Largest Blue County
Republican members of the Texas state legislature introduced a slate of bills Thursday designed to subvert election processes and curb voting rights in the state. One of them would even allow the Texas Secretary of State to overturn election results in the state's largest Democratic-leaning county, with very little rationale for doing so.
On Thursday, Republican state senators introduced Senate Bill 1993, a bill targeting Harris County, a diverse region that includes Houston and is also the most populous county in Texas.
https://talkingpointsmemo.com/news/texas-gop-proposes-bill-to-allow-sec-of-state-to-overturn-election-results-in-states-largest-blue-county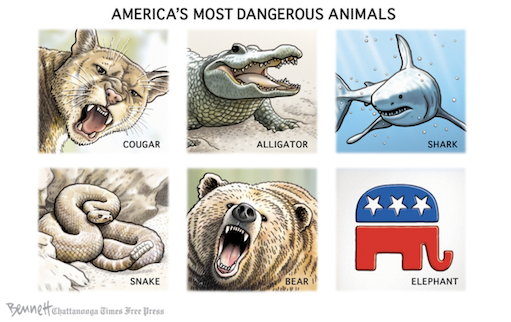 Twitter pushes hate speech, extremist content into 'For You' pages
A Washington Post analysis found that accounts following dozens of Twitter handles pushing hate speech were subjected to an algorithmic echo chamber, in which Twitter fed a mix of other racist and incendiary speech.
Many were from users previously suspended by Twitter and let back on by new owner Elon Musk, who pledged to de-boost hate speech following his takeover of the site.
The tweets appeared on Twitter's new For You page, which the company unveiled in January as part of Musk's redesigned site. Twitter says the timeline includes suggested content powered by a variety of signals, including how popular it is and how people in your network are interacting with it.
https://www.washingtonpost.com/technology/2023/03/30/elon-musk-twitter-hate-speech/
Kushner Firm Got Hundreds of Millions From 2 Persian Gulf Nations
Wealth funds in the United Arab Emirates and Qatar have invested hundreds of millions of dollars with Jared Kushner's private equity firm, joining Saudi Arabia in backing the venture launched by former President Donald J. Trump's son-in-law as he left the White House.
The infusion of money from interests in the two rival Persian Gulf monarchies reflects the continued efforts by Mr. Trump and his aides and allies to profit from the close ties they built to the Arab world during his presidency and the desire of leaders in the region to remain on good terms with Mr. Kushner as his father-in-law seeks the presidency again.
https://www.nytimes.com/2023/03/30/us/politics/jared-kushner-qatar-united-arab-emirates.html
Secret trove offers rare look into Russian cyberwar ambitions
Russian intelligence agencies worked with a Moscow-based defense contractor to strengthen their ability to launch cyberattacks, sow disinformation and surveil sections of the internet, according to thousands of pages of confidential corporate documents.
The documents detail a suite of computer programs and databases that would allow Russia's intelligence agencies and hacking groups to better find vulnerabilities, coordinate attacks and control online activity.
https://www.washingtonpost.com/national-security/2023/03/30/russian-cyberwarfare-documents-vulkan-files/
Senate Democrats led by Elizabeth Warren press federal bank regulators to implement stronger capital requirements
Senate Democrats are pressing federal banking regulators to toughen bank capital requirements following back-to-back congressional hearings where officials testified about the failures of Silicon Valley Bank and Signature Bank, CNBC reports.
https://www.cnbc.com/2023/03/30/silicon-valley-bank-democrats-press-regulators-on-capital-requirements.html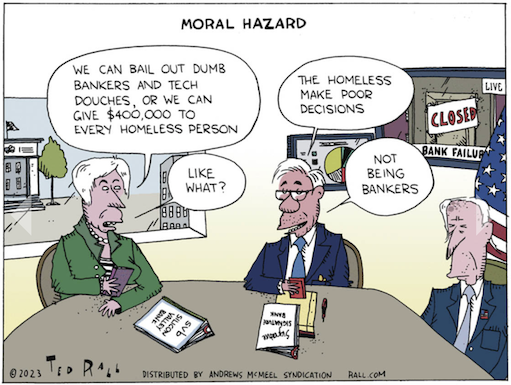 DeSantis Signs Permitless Carry Gun Bill
Gov. Ron DeSantis on Monday signed into law a bill that lets people carry guns without a permit and without any training.
https://www.tampabay.com/news/florida-politics/2023/04/03/desantis-permitless-carry-open-carry-gun-bill-signed/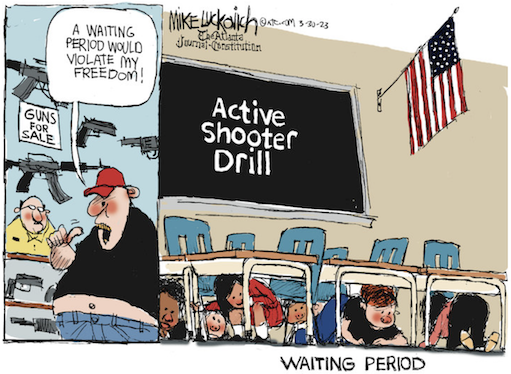 Gov. Newsom forms new group to fight 'rising authoritarianism' in red states
Gov. Gavin Newsom is launching a new political organization that will take the Democrat to red states across the country as he pushes back against restrictive abortion laws, loosened gun regulations, curriculum restrictions and other initiatives Republican elected officials are spearheading.
Newsom, who is widely viewed as a potential future Democratic White House contender, plans to travel to states where freedom is most under attack, he says in a
video
, to meet with like-minded activists, students, candidates and elected officials in places Democrats don't typically visit.
https://www.washingtonpost.com/politics/2023/03/30/gavin-newsom-political-group/
Bragg warns GOP effort to oversee ongoing Trump case is 'dangerous usurpation'
Manhattan District Attorney Alvin Bragg (D) warned Republican lawmakers on Friday that their efforts to conduct oversight into his investigation of former President Trump represents a "dangerous usurpation" by Congress that could impinge upon the former president's rights.
https://thehill.com/regulation/court-battles/3927692-bragg-warns-gop-effort-to-oversee-ongoing-trump-case-is-dangerous-usurpation/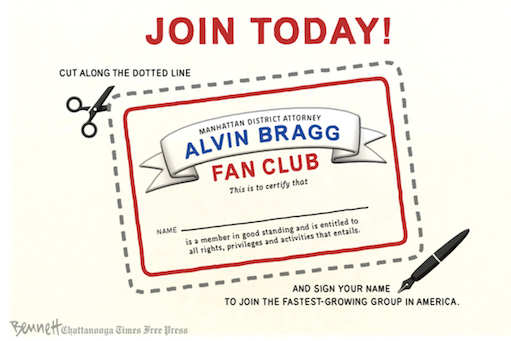 In a loss for Fox News, judge allows Dominion's defamation case to go to trial
A judge denied granting summary judgment to Fox News in its attempt to get Dominion Voting System's $1.6 billion defamation lawsuit thrown out Friday, meaning the case will go to trial in mid-April.
https://www.nbcnews.com/politics/politics-news/judge-refuses-dismiss-dominion-lawsuit-fox-news-rcna76422
Under fire, Trump builds a wall in Congress
Donald Trump "has been endorsed by 37 House Republicans — including more than a third of the GOP members on Judiciary and Oversight, two committees he's pushing to investigate President Biden and Manhattan's district attorney.
Trump's 37 endorsements, which also include five Republican senators, reflect the congressional wall of support he has built to boost his 2024 presidential campaign — and help him dig up dirt on his political and legal foes.
https://www.axios.com/2023/04/01/under-fire-trump-builds-wall-in-congress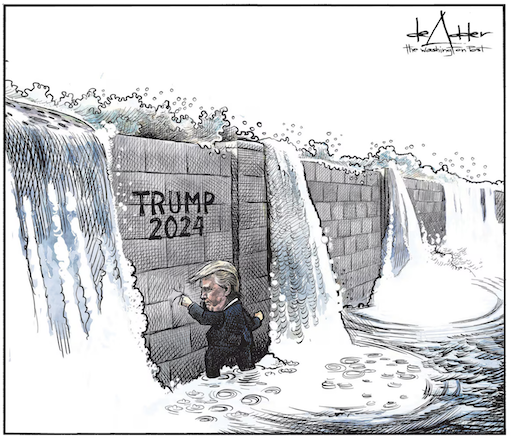 What to know about the Trump-E. Jean Carroll case set for an April trial
That case involves E. Jean Carroll, who has accused Trump of raping her in the mid-1990s. Carroll, an author and former magazine columnist, made her accusations public during Trump's presidency. Trump denounced Carroll and denied her allegations. Carroll later filed two civil lawsuits against Trump, accusing him of defamation and sexual assault.

One of the lawsuits — in which Carroll accuses Trump of battery and defamation — is scheduled for a late April trial. If the schedule holds, this means Carroll's allegations against Trump will be litigated in one New York City court while he is beginning to mount his defense against a criminal indictment in another. https://www.washingtonpost.com/national-security/2023/04/01/trump-e-jean-carroll-rape-lawsuit/
Trump raises over $5 million since indictment news
Donald Trump has raised more than $5 million since news of his indictment broke late Thursday — over $4 million in the first 24 hours and over $1 million in the second 24 hours.
The donation gusher validates the view of most top Republicans that the expected indictment from Manhattan District Attorney Alvin Bragg, at least in the short term, will help Trump's effort to build a formidable lead for the 2024 Republican presidential nomination. https://www.axios.com/2023/04/02/trump-indictment-2024-campaign-donations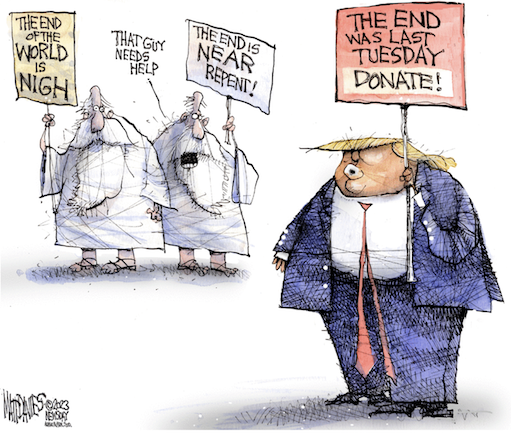 Trump's Lead Grows After Indictment
A new Morning Consult poll  finds Donald Trump is backed by 55% of potential Republican primary voters, up 3 percentage points from last Wednesday, the day before news broke that a Manhattan grand jury voted to indict him.
It gives him a 29-percentage-point lead over his closest polling potential rival, Gov. Ron DeSantis — marking his second-best advantage since tracking began in December. 
https://morningconsult.com/2024-gop-primary-election-tracker/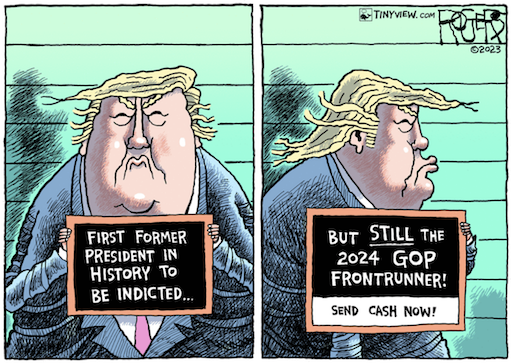 Russia Confiscates Passports of Senior Officials
Russia's security services are confiscating the passports of senior officials and state company executives to prevent overseas travel, as paranoia over leaks and defections spreads through President Vladimir Putin's regime.

The increased pressure reflects deep suspicion in the Kremlin and FSB, the KGB's successor agency, about the loyalty of Russia's civilian elite, many of whom privately oppose the war in Ukraine and are chafing over its impact on their lifestyles. https://www.ft.com/content/c41be6b0-f625-46f2-91e4-d03eb4b6372b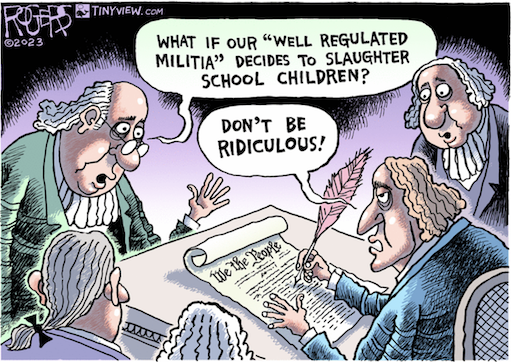 THE DAILY GRILL
 
"Our hearts go out to the trans community, as they are under attack right now." — White House Press Secretary Karine Jean-Pierre. https://twitter.com/DonaldJTrumpJr/status/1641536934810886144
VERSUS
Honestly fuck off, I've seen exactly ZERO sympathy for the Christian children shot up by the trans sociopath this weekend from the Biden Admin… Instead, I've seen a lot of victim blaming and empathy for the sociopathy coming from a growing militant part of this community. — Donald Trump Jr. https://twitter.com/DonaldJTrumpJr/status/1641536934810886144
Yes, he's going to go to jail and he should be indicted. He knew what he was doing was wrong. He was diverting campaign money. He was complicit in making sure that he hid his affair. He lied to us about it and he is going to end up serving jail time for this. Whether or not he knew it was wrong and against the law, which I believe he did know it was against the law, he is going to jail because you are charged with knowing the laws that apply to you. That applied and he broke the law. — Fox News' Sean Hannity regularly featured guests, such as former prosecutor Kelly Saindon, who arguing that Senator John Edwards had committed a serious crime. https://popular.info/p/flashback-when-right-wing-pundits
VERSUS
Manhattan D.A., Alvin Bragg, he has literally thrown the rule of law to the wind in exchange for a cheap act of petty political vengeance and he has brought the criminalization of political differences now to an entire new level. This is repulsive. It's a disgusting political hit job, the likes of which we have never seen in this country. It's never happened before. Now, Pandora's box has now officially been open. We have a new era of political revenge and a weaponized justice system is now upon all of us…This is not a strong case by any stretch of the imagination and frankly, no fair, honest or honorable DA would ever bring these charges. — Hannity's opening monologue last Thursday, after news of the Trump indictment first broke. https://www.foxnews.com/media/sean-hannity-indictment-against-trump-political-hit-job-alvin-bragg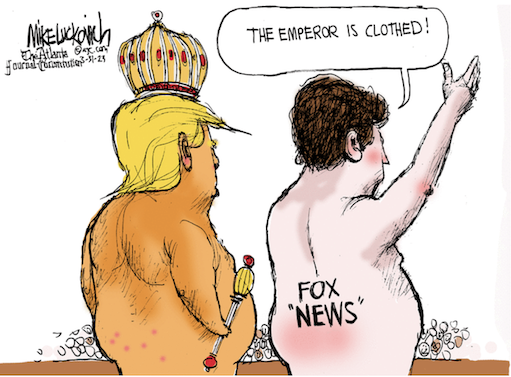 John Cassidy: The People Versus Donald J. Trump
In a sixteen-page indictment, The People of the State of New York Against Donald J. Trump, Manhattan District Attorney Bragg's office accused the former President of Falsifying Business Records in the First Degree in violation of Penal Law §175.10—a New York statute—thirty-four times between February and December of 2017. The charges all relate to payments Trump made to Michael Cohen, his former personal lawyer, who, just before the election in 2016, had quietly paid off Stormy Daniels, an adult-film actress who claimed to have had an affair with Trump. (Trump denies this latter allegation.) For each of the thirty-four counts, the indictment accused Trump of acting with intent to defraud and intent to commit another crime and aid and conceal the commission thereof. Under New York law, intent to break another law is necessary to charge falsifying business records as a felony rather than a misdemeanor.
With Trump facing the possibility of more serious criminal charges elsewhere, the New York case could turn into a sideshow. In Fulton County, Georgia, the district attorney, Fani Willis, is investigating the efforts of Trump and his associates to overturn the results of the 2020 election in that state. In Washington, D.C., a special counsel is looking into Trump's actions following the 2020 election and into his alleged mishandling of classified documents after leaving office. Whatever happens in those investigations, though, Tuesday's criminal indictment marks a low—for him and for the office of the Presidency. https://www.newyorker.com/news/our-columnists/the-people-versus-donald-j-trump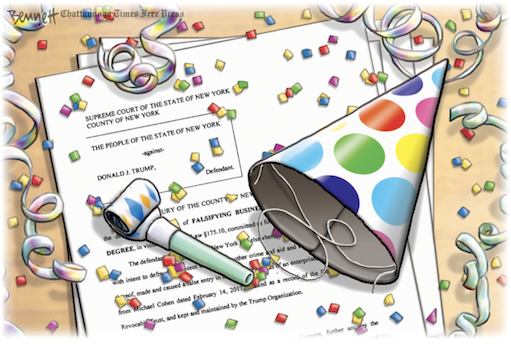 Susan B. Glasser: America's First Indicted Ex-President Is Very Sorry—for Himself
By the time Donald Trump marched out from behind a phalanx of American flags and emerged into the gilded Mar-a-Lago ballroom to speak to cheering supporters on Tuesday night, America's first indicted ex-President hardly seemed chastened by his historic day as a defendant in a Manhattan courtroom. He told the crowd that prosecutors investigating him were racist or lunatic. He criticized the judge in his case. He criticized the judge's daughter. He lied about matters large and small, and expounded at length on everything from Russia, Russia, Russia to Hunter Biden's laptop from Hell. He even attacked the National Archives and Records Administration as a radical-left troublemaking organization.
Indicted and Arraigned Trump, in other words, turned out to be just like his most recent previous incarnation, Impeached and Defeated Trump: a rambling, unrepentant grievance machine so beloved by his superfans in the Republican Party that he remains the front-runner for the G.O.P. nomination in 2024, even after everything.

In the meantime, Bragg's filing of the charges has had an electrifying effect on Trump's reëlection campaign, offering the ex-President a new grievance to fuel his comeback bid at just the moment when he needs something to galvanize his effort and distract the Republican Party from the growing concerns about his losing record. The short-term boon is real, if possibly quite temporary: since news of the case broke, polls have shown Trump with his biggest leads in the G.O.P. primary so far, and even Trump-skeptical Republicans, such as Mitt Romney, found themselves leaping to his defense against what they insist is a politically motivated prosecution.

None of this may matter several months from now. Trump faces far more serious potential prosecutions in cases involving his efforts to overturn the 2020 election and his possession at Mar-a-Lago of classified documents from his Presidency. If charges are forthcoming in any of those investigations, Manhattan indictment No. 71543-23 may end up as little more than a footnote to history, the first but not the last time that a prosecutor dared to call a former President a crook in a court of law. But what a footnote it will be. https://www.newyorker.com/news/letter-from-bidens-washington/americas-first-indicted-ex-president-is-very-sorry-for-himself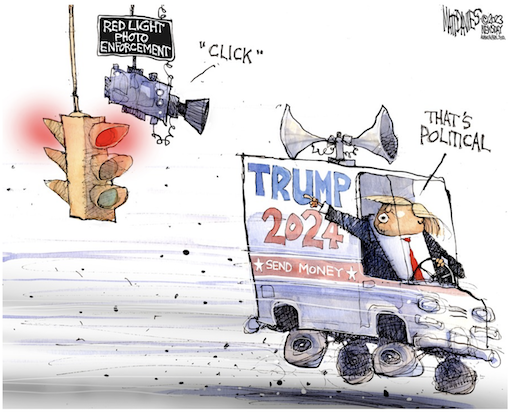 David Graham: He's Back
David Graham: Donald Trump is back—or at least, the 2016 version of Donald Trump is back on the campaign trail, just hours after he was arrested and arraigned in a New York court earlier today.

The former president has become no more honest and no less irritable since leaving office in disgrace in 2021, but the man who has been campaigning for president these past few months has been a diminished version of himself. Oh, he's still full of vitriol, and the man doesn't seem to visibly age, but his heart hasn't been in it, and he has slipped from the center of the political conversation. He was tired.

That's the man who appeared in court in Manhattan today for his unprecedented arraignment: subdued, silent, and maybe even looking a little scared. But by the time Trump took the dais at Mar-a-Lago tonight, he seemed to have stepped back in time eight years. https://www.theatlantic.com/ideas/archive/2023/04/trump-indictment-speech-mar-a-lago/673618/
George Will: Maybe, just maybe, this is rock bottom for embarrassing U.S. politics
Florida Gov. Ron DeSantis is defining himself before his rivals can define him, but not to his advantage. He seems intelligent but unpleasant, forthright but prickly, accomplished but incapable of political grace notes. He also seems tightly scripted — perhaps for good reasons.
His unforced errors include describing Russia's war of annihilation against Ukraine as a 'territorial dispute.' And backing a ban on abortion after six weeks, which is before women often know they are pregnant. (Is he trying to forfeit the female vote in suburbia, where the 2024 election might be decided?) And vowing, unintelligibly (see the Constitution's Article IV, Section 2), that he will 'not assist' any extradition of Trump from Florida.

'In politics as in baseball, at which the young DeSantis excelled, 'AAAA players' are those who excel in AAA ball, the highest minor league, but fail above that. A presidential campaign is a rigorous apprenticeship that DeSantis, although still not an announced candidate, is, less than a mile into the marathon, flunking. https://www.washingtonpost.com/opinions/2023/04/04/trump-indictment-presidential-election-george-will/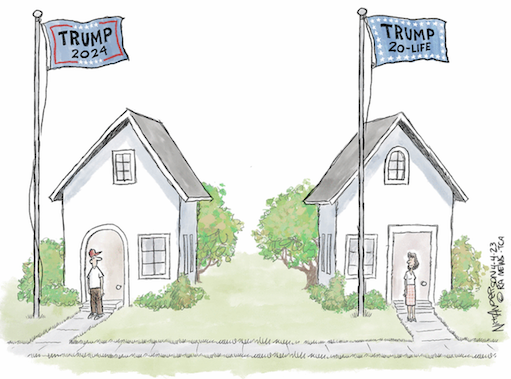 Catherine Rampell: The GOP has no idea what it wants on the budget, but it's definitely not that
How do you negotiate with someone who has no idea what they want?
That's the challenge for President Biden as Republicans say he must (A) satisfy their fiscal demands before they'll raise the debt limit; even though they (B) can't decide what those demands actually are; and they (C) have zero credibility for delivering 218 House votes for whatever those demands eventually turn out to be.

Republicans were fine with the last president signing $4.7 trillion in new deficits into law even before covid-19 hit (plus trillions more thereafter). Now that a Democrat is president, though, the GOP's born-again deficit hawks decided that Something Must Be Done about the nation's fiscal health.

It's not clear what Something is, however, beyond taking a valuable hostage: the nation's debt ceiling. https://www.washingtonpost.com/opinions/2023/04/04/republican-debt-demands-nonexistent-elusive/
Matthew Chapman: Trump dusts off 'racist' 1980s tactics to intimidate Manhattan prosecutors
As the criminal case against former President Donald Trump's alleged $130,000 hush payment to Stormy Daniels unfolds in New York, the accused has resorted to white supremacist intimidation tactics he perfected in the 1980s to try to intimidate Manhattan District Attorney Alvin Bragg, wrote Symone D. Sanders for MSNBC on Tuesday.

"Trump has called Bragg an animal, and he warned of 'death and destruction' from his supporters if he was indicted on charges related to the hush money payment to adult film actress Stormy Daniels," wrote Sanders. "He posted a now-deleted image of himself holding a baseball bat positioned next to a picture of Bragg's head.

"The racist and escalatory rhetoric Trump is using to speak about Bragg isn't just business as usual, nor mere political rhetoric. It is serious. Bragg has reportedly received at least one death threat (among hundreds of other threats) in the form of a package that was mailed to his office. The package contained a note that said 'Alvin — I'll kill you.' https://www.rawstory.com/trump-2659735387/
David Frum: Never Again Trump
Many prominent Republicans want Trump gone. But they are caught in a trap of their own bad faith: They want prosecutors to do for them the job they are too scared and broken to do for themselves. But they also, for their own crass political advantage, want to pretend to be on Trump's side during the prosecution—while inwardly cheering on the prosecutors.
Bad faith is a coward's method, and these bad-faith Republicans are earning the coward's reward. They hope that the legal system will rescue them from their own humiliating submission, but they are acting to deliver the Republican nomination to Trump for a third time. If Trump does win the nomination, they'll submit again.

When Trump ran for president in 2016, he at least paid lip service to issues Republican voters cared about: immigration, opioid addiction, trade disparities, and so on. The corruption, authoritarianism, and incitements to violence were present even then, of course. And they continued. In 2020, ABC News counted 54 instances in which people who committed or plotted violence specifically cited Trump's words as their motive or their justification.

This time, however, Trump is offering no lip service. On his social media and in his opening-rally speech in Waco, Texas, on March 25, Trump has celebrated and justified the deadly events of January 6, 2021. On Truth Social, he predicted "death & destruction" when he was indicted. https://www.theatlantic.com/ideas/archive/2023/04/trump-indictment-gop-desantis/673589/
Jonathan Last: What If DeSantis Doesn't Run?
For starters, it means that all of the questions about Biden running stop. If DeSantis pulls the plug, Trump becomes the overwhelming favorite—at which point there is zero chance that Biden declines to run for reelect.
The next thing that happens is Trump pops higher in both national and early-state polls. That's because Trump is the second choice of about half of the voters who support DeSantis. Which means that you'd expect Trump to almost immediately add >10 points to his poll numbers, putting him close to the 60 percent mark nationally.

Then comes the time for fear.
The Republican establishment, which has been pushing DeSantis relentlessly for two years, would freak the eff out. They'd look around and see that Nikki Haley has moved backwards since declaring her candidacy. Mike Pompeo seems to have disappeared. Maybe Chris Christie is in the race sitting at 3 percent. The point is: No declared Republican candidate will have demonstrated viability.

So the money will go searching for someone who has upside potential. https://thetriad.thebulwark.com/p/what-if-desantis-doesnt-run
Amanda Carpenter: Why Does DeSantis Keep Letting Trump Take Shots at Him?
How many times can you let someone punch you before everyone else thinks you're a sucker?

Ron DeSantis is about to find out.

Donald Trump has disgustingly smeared DeSantis on social media, gone after DeSantis at his presidential campaign rally in Waco on Saturday, and used a primetime interview on Fox News on Monday to question DeSantis's ability to win Florida without his help.
So far, DeSantis has accepted it all as if he were being initiated into the 2024 race with a 'Thank you, sir, may I have another?' plastered-on smile. https://plus.thebulwark.com/p/desantis-keeps-letting-trump-take
Michael Hiltzik: How Disney's lawyers brutally mauled DeSantis over control of Disney World
Did you really believe that Florida's arrogant Gov. Ron DeSantis would get the better of Walt Disney Co. in their fight over Disney's supposed "wokeness"?

If so, you don't know your Disney.
DeSantis handpicked a board of cronies to take over control of Reedy Creek Improvement District — the quasi-governmental entity that Disney and Florida established more than 55 years ago to control development and management of the land on which Walt Disney World,

DeSantis' board has now revealed that, while they were snoozing, Disney executed an agreement with their predecessors that strips the new board of all its powers except the authority to "maintain the roads and maintain basic infrastructure," according to one of the new board members.

Hilariously, the agreement Disney reached will remain in effect at least until 21 years "after the death of the last survivor of the descendants of King Charles III, King of England," currently living.
Here's the rub. Days before the takeover, Disney reached a development agreement with the old Reedy Creek board while it was still in power. The agreement prohibits the newly constituted district from using the name "Disney" or its trademarks — specifically including Mickey Mouse — in any way without the company's written permission. The agreement also leaves the new board without the ability to make design changes to buildings or constructing new ones without Disney's permission.

Using the British royal family as a touchstone for the term of a trust became a tradition in the 19th century, when the typical life span ran to the 30s or 40s except for royals, who were presumed to receive healthcare that kept them alive longer. Also, royal families were the only ones that kept accurate and detailed genealogical records, so tracing descendants was relatively easy.

All this has reduced the DeSantis camp to fulminating powerlessly. The governor's office called Disney's move a "last-ditch" effort that may have "significant legal infirmities" that would render it "void as a matter of law." Disney says all T's were crossed and I's dotted in accordance with the law.

Who's got the upper hand? A multinational corporation intent on protecting franchises that bring it more than $80 billion a year has thus far made its adversary look like a blustering nincompoop.. https://www.latimes.com/business/story/2023-03-30/disneys-lawyers-outmaneuvered-desantis-control-disney-world
Peter Baker: A President Faces Prosecution, and a Democracy Is Tested
For the first time in American history, a former president of the United States has been indicted on criminal charges. It is worth pausing to repeat that: An American president has been indicted for a crime for the first time in history.

So many unthinkable firsts have occurred since Donald J. Trump was elected to the White House in 2016, so many inviolable lines have been crossed, so many unimaginable events have shocked the world that it is easy to lose sight of just how astonishing this particular moment really is.

For all of the focus on the tawdry details of the case or its novel legal theory or its political impact, the larger story is of a country heading down a road it has never traveled before, one fraught with profound consequences for the health of the world's oldest democracy. For more than two centuries, presidents have been held on a pedestal, even the ones swathed in scandal, declared immune from prosecution while in office and, effectively, even afterward.

No longer. That taboo has been broken. A new precedent has been set. Will it tear the country apart, as some feared about putting a former president on trial after Watergate? Will it be seen by many at home and abroad as victor's justice akin to developing nations where former leaders are imprisoned by their successors? Or will it become a moment of reckoning, a sign that even someone who was once the most powerful person on the planet is not above the law? https://www.nytimes.com/2023/03/30/us/politics/trump-indictment-democracy.html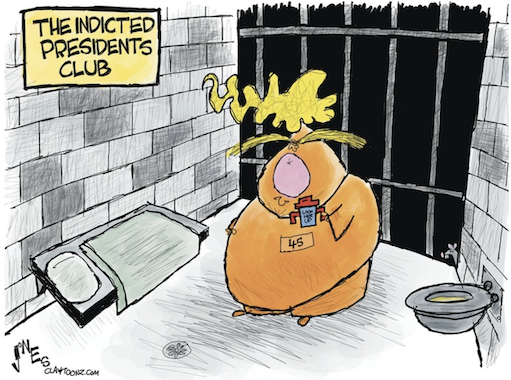 Paul Rosenzweig: Trump's Attorneys and the Crimes They Enabled
It's rare that a court breaks attorney-client privilege, even rarer that the reason is that the lawyer was wittingly or unwittingly contributing to a crime or fraud, and rarer still that it happens twice to the same guy. Yet, for the second time, a federal judge has invoked a doctrine known as the "crime-fraud exception" to force one of Donald Trump's attorneys to give evidence against him. The first was when Judge David Carter ordered John Eastman to turn over evidence of his conversations with Trump about the attempted coup on January 6, 2021. The second was on March 17, when Judge Beryl Howell told attorney Evan Corcoran that he had to provide evidence about Trump's obstruction of justice in refusing to return classified national security documents stored at Mar-a-Lago. Though these latter proceedings remain sealed, public reports suggest that Trump deliberately misled his lawyer. He is said to have lied to Corcoran about the completeness of his search for classified documents at Mar-a-Lago—a lie that Corcoran then dutifully passed along to the government as the truth.

When a court invokes the crime-fraud exception, they have necessarily concluded that the prosecutor has made a prima facie showing that the client (in this case, Trump) has committed criminal violations and either: a) the lawyer participated in the crime with the client; or b) the lawyer's legal advice and services were used by his client to commit a crime unbeknownst to the lawyer. That by itself is significant. https://www.thebulwark.com/trumps-attorneys-and-the-crimes-they-enabled/
Tom Nichols: What Donald Trump's Indictment Reveals
Trump, like the Republican opportunists who cling to him like remoras under a shark, doesn't care about shame—he cares about getting away with it. Indeed, rather than leaving the public arena, Trump has reveled in it all, rolling around in the garbage of his own life and grunting happily about how the rules don't apply to the real elites like him. Forget about Richard Nixon, who publicly resigned; Trump isn't even Spiro Agnew, a man who seethed with rage at the felony corruption charges against him but had the sense not to brag about them. (Agnew insisted on his innocence for two months and then took a plea of "no contest" to a single tax-evasion charge, after which he mostly vanished from public view.)

No such luck this time. Win or lose in court, Trump is determined to bring us all into a summer-heat dumpster with him for as long as he can. And that leads to the last and most shocking thing about today's news: Late this afternoon, New York local media reported that security was tightening up in certain areas of the city. That's how we knew something was coming: The former president had already told us that he fully intended to trigger violence if the institutions of the law tried to touch him.

We no longer even blink when New York, a city scarred by multiple terror attacks against its innocent citizens, has to go on alert just to charge Trump with a crime. That one fact, more than any other, tells you how far down the long slide into vice and venality—and violence—Trump has dragged this country.

Every defendant, including Donald Trump, deserves the presumption of innocence. But when it comes to our civic and political innocence, Americans long ago lost whatever is left of ours. https://www.theatlantic.com/newsletters/archive/2023/03/donald-trump-indicted/673577/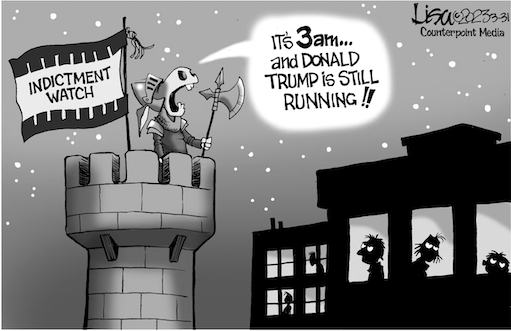 David Remnick: An American Tragedy, Act III
The indictment of the former President by a Manhattan grand jury begins a perilous new phase of the Trump saga.
Former President Donald Trump, twice impeached, yet impervious to shame, was indicted Thursday on criminal charges related to the payment of hush money to a porn star. There was a time in American history, almost impossible to recollect now, when such a sentence, such a plot point, would have been beyond our imagining. That has not been the case for a very long time.

In early 2016, the ascent of such a clownish demagogue, a sleazy real-estate hustler who had only begun to reveal the full depths of his bigotry and authoritarian impulses, was a laugh line. At the time of his last State of the Union address, Barack Obama gave an airily confident interview to Matt Lauer, of NBC, asserting that the "overwhelming majority" of the electorate would see through Trump's "simplistic solutions and scapegoating" and elect Hillary Clinton. Lauer pressed Obama: "In no part of your mind and brain can you imagine Donald Trump standing up one day and delivering the State of the Union address?"

Trump is, if anything, more unhinged than he was in his final days in the White House. At the recent CPAC convention his speech had a quality of wildness that made the ranting nativism of his 2016 inaugural seem as mild as the murmurings of Martin Van Buren or Warren G. Harding. As you read, remember this is the leading candidate for the Republican nomination:

The indictment in New York will deepen the conviction among some loyalists that Trump is a victim of the "deep state" and even more deserving of their devotions than before. Trump, of course, does not care what bonfire he lights. "For those who have been wronged and betrayed," he said recently, "I am your retribution." Trump is practically promising trouble. Any judge who encounters him in court—in New York or beyond—will be hard-pressed to prevent the former President from issuing threats of violence.

So, yes, many of Trump's most ardent supporters will be enraged by this indictment and any others. There is no telling if that will lead to trouble in the streets. But will it win Trump back the Presidency? Will his getting arrested in the middle of a national campaign really win back suburban voters and independents who voted for him in 2016 but abandoned him in 2020 for Joe Biden? How many voters will say, in effect, Yes, I was deeply embarrassed and ashamed by the spectacle of January 6th, but now having seen Donald Trump in the dock and hearing the resonant phrases "porn star," "catch and kill," and "hush money"—much less "incitement to insurrection" and "election fraud"—I am summoned back to the maga fold? Once more, the American political imagination reels and the stakes for American democracy could not be higher. https://www.newyorker.com/news/daily-comment/an-american-tragedy-act-iii
Dana Milbank: The GOP response to Trump is one hell of an indictment
It's no surprise that House Republicans leaped to Donald Trump's defense after news of his indictment broke late Thursday. What was striking, though, was how many elected GOP officials now sound like Trump.
"Political Persecution," Trump alleged in his statement.
"Political persecution," parroted Reps. Diana Harshbarger (Tenn.), Josh Brecheen (Okla.), Claudia Tenney (N.Y.), and Paul Gosar (Ariz.).
"Blatant Election Interference," Trump announced.
"This is unprecedented election interference," echoed GOP conference chair Elise Stefanik (N.Y.).
"An attempt to interfere in our Presidential election," echoed House Speaker Kevin McCarthy (R-CA).
"Witch hunt," complained Trump.
"Witch hunt," repeated Reps. George Santos (N.Y.), Lauren Boebert (Colo.), Ralph Norman (S.C.), Matt Gaetz (Fla.) and more, including House Majority Whip Tom Emmer (Minn.).
"Weaponizing our justice system," Trump inveighed.
"Weaponizing," chorused Majority Leader Steve Scalise and Reps. David Rouzer (N.C.), Austin Scott (Ga.), Rich McCormick (Ga.) and more.
Trump blamed George Soros. Reps. Wesley Hunt (TX), Mike Johnson (LA), Harshbarger, Gosar and Sens. Rick Scott (FL) and Ron Johnson (WIS) blamed Soros.
They aped Trump in other ways, too.
In their vulgarity:
"Enough of this witch hunt bulls---," tweeted Rep. Marjorie Taylor Greene (GA)
"This is complete and utter bulls---," asserted Rep. Brian Mast (FL).
In using ALL CAPS:
"WITCH HUNT!" screamed Rep. Ronny Jackson (TX) and "Alvin Bragg is a NATIONAL EMBARRASSMENT."
In demanding vengeance: "Hunter Biden: Call your lawyers," suggested Rep. Darrell Issa (CA).
"The House of Representatives will hold Alvin Bragg and his unprecedented abuse of power to account," declared McCarthy.
"When Trump wins, THESE PEOPLE WILL PAY!!" tweeted Jackson.
In voicing deep-state conspiracy theories: "The Regime occupying our country and systematically killing America is most afraid of President Donald J. Trump," warned Gosar.
And in stoking paranoia among the unstable:
"If they can come for him, they can come for anyone," tweeted Rep. Andy Biggs (AZ).
The Republicans' mimicry (conscious or unconscious) of Trump should put one thing into sharper focus. The debate about whether this helps or hurts Trump's fight for the GOP nomination is beside the point. When it comes to any would-be Republican standard-bearer, the mantra is clear: We are all Trumpians now. https://www.washingtonpost.com/opinions/2023/03/31/house-gop-debates-public-urination/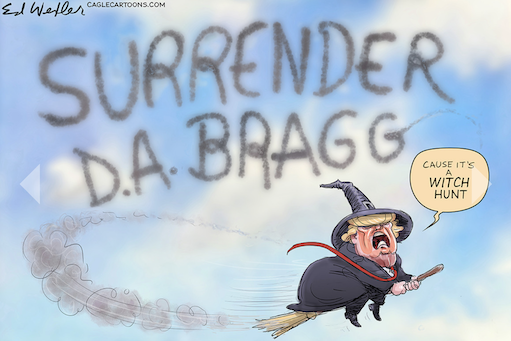 Michael M. Grynbaum: Welcome Back to The Trump Show
The indictment of former President Donald J. Trump is an unprecedented political event that may have enormous consequences for democracy.
It's also, effectively, a season premiere.
After a brief hiatus, The Trump Show is back. Americans, ready or not, are now along for another roller-coaster ride with a protagonist whose pre-eminence in the media universe had begun to fade.
Banned from Twitter, Mr. Trump's outbursts and grievances had stopped shaping the news cycle. Out of office, he became inherently less newsworthy. He even vanished from Fox News, his usual television home, for about four months beginning in November.
Now Mr. Trump has well and truly returned. He turned up on "Hannity" this week, railing against the "fake news" media. His posts on Truth Social, usually ignored in day-to-day political coverage, are circulating widely in the press. Gov. Ron DeSantis of Florida, after gaining some momentum with Fox News pundits and Republican leaders, is temporarily off the collective front page. https://www.nytimes.com/2023/03/31/business/media/trump-indictment-media.html
David Lauter: The GOP made a devil's bargain with Trump; the bill is coming due
Nearly seven years ago, the GOP made what many party officials privately called a devil's bargain with Donald Trump. The bill just came due.
It's not possible yet to assess the strength of Manhattan Dist. Atty. Alvin Bragg's case against Trump. The investigation was known to involve hush money payments to a porn star to cover up an alleged affair, but its full dimensions and the precise charges on which a New York grand jury indicted the former president Thursday afternoon remain under seal and may not be known until his arraignment, scheduled for Tuesday.
Nor is there much point in trying to guess the impact on a general election that remains more than 19 months — and perhaps several indictments — in the future.
But what is clear is that Republicans now face what may be a worst-case scenario: For at least some time, the front-runner for their nomination will be campaigning while facing criminal charges. That's likely to strengthen him in the eyes of a significant share of the party's voters even as a majority of Americans view it as disqualifying.
If Trump wins the nomination, the party's fate could be lashed to the outcome of a criminal trial. If he loses, the indictment will give him every incentive to once again cry foul and denounce whoever beat him. https://www.latimes.com/politics/newsletter/2023-03-31/the-gop-made-a-devils-bargain-with-trump-the-bill-is-coming-due-essential-politics
Jonathan Chait: Take Your Eye Off Jack Smith
Manhattan, as always, likes to take the glory. But Washington is where the real power resides.
Donald Trump knows that—there's a reason he left New York to go into politics. It's also a good way to think about the news around Trump this week. The eyes of the world will be on Manhattan, where the former president was arraigned. But the clearest threat to Trump is quietly still the one posed by the Justice Department's investigation into his handling of classified documents.
The strength of Manhattan District Attorney Alvin Bragg's case, which public evidence suggests relates to the 2016 payment of hush money to the adult-film actor Stormy Daniels, is unclear. Some legal observers worry that the case depends too much on novel or tenuous legal theories. But even if it is strong, it is an odd (and old) footnote to Trump's worst behavior once he was elected president.
The documents matter is different. Unlike the DOJ probe into Trump's attempts to steal the 2020 election (which, like the documents investigation, is being run by Special Counsel Jack Smith) or an investigation into the 2020 election in Fulton County, Georgia, it does not cut straight to Trump's worst damage to American democracy. Yet absconding with presidential records is a crime that only a high-ranking official like the president could commit. Beyond that, the case has long appeared to be the most straightforward to prosecute, as I explained in January. The law is simple, and the general outline is clear: Trump took the documents, and he refused to give them back when asked.
Smith's probe has perhaps gotten less attention than the others because, like Robert Mueller before him, he has overseen an investigation with few leaks. Mueller, too, ended up zeroing in on obstruction, and provided clear evidence that Trump had obstructed justice—though he refused to say so plainly or bring charges, citing DOJ guidance against indicting a sitting president. Smith faces no such procedural hurdle.
At the time of the Mueller probe, Trump's defenders took to writing off any instances of obstruction as mere "process crimes," as though some crimes are somehow not really crimes. Often, prosecutors do bring obstruction charges when the act impedes prosecuting an underlying crime. But in this case, obstruction is not just an effort to avoid prosecution; it's a perpetuation of the crime itself—keeping the documents. Smith has an opportunity to recognize that and act where the previous special counsel couldn't or wouldn't. https://www.theatlantic.com/ideas/archive/2023/04/mar-a-lago-classified-documents-trump-indictment/673605/