February 28, 2019
ON THE RECORD. . .
"I recognize that I let the court down. I let you down. I let myself down. I let my family down. I let my attorneys down. I can only say I'm sorry. it was a momentary lapse in judgment. Perhaps I talk too much… I am kicking myself over my own stupidity." — Roger Stone to U.S. District Court Judge Amy Berman Jackson for violating her gag order.
"The science is clear: Time is not our friend here. So I have to say I'm as excited about this (the Green New Deal) as I have been about anything in the environmental space in a long time." — Carol Browner, a White House climate adviser to Mr. Obama and chief of the Environmental Protection Administration under President Clinton.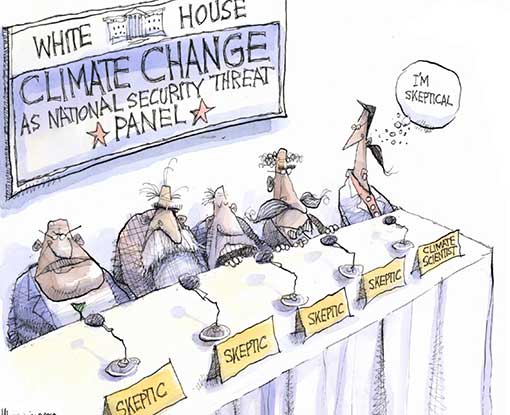 "The same congressional Republicans who joined me in blasting President Obama's executive overreach now cry out for a king to usurp legislative powers. If your faithfulness to the Constitution depends on which party controls the White House, then you are not faithful to it." — Rep. Justin Amash (R-MI)
"I think 2019 will be the most vitriolic year in American politics since before the Civil War. And I include Vietnam in that. I think we're in for a very nasty 2019." — Stephen Bannon on Face The Nation
"We will obviously subpoena the report. We will bring Bob Mueller in to testify before Congress. We will take it to court if necessary. And in the end, I think the Department of Justice understands they're going to have to make this public. I think Attorney General William Barr will ultimately understand that, as well." — Rep. Adam Schiff (D-CA) on This Week.
"We know he's indicted 37 people and 199 different counts, including Trump's inner circle. People like Michael Flynn, his national security adviser, Paul Manafort, his campaign manager, Michael Cohen, his personal lawyer. So if this is a witch hunt Mueller's found a coven at this point." — Former acting Solicitor General Neil Katyal, on Meet The Press 
"All Members take an oath of office to support and defend the Constitution. The President's decision to go outside the bounds of the law to try to get what he failed to achieve in the constitutional legislative process violates the Constitution and must be terminated. We have a solemn responsibility to uphold the Constitution, and defend our system of checks and balances against the President's assault." — House Speaker Nancy Pelosi (D-CA) on setting the wheels in motion to lift Trump's contrived declaration of emergency.
"I've been pleased by what I've been hearing across the country. That people do want a president that will act on a real emergency, which is climate change." — Washington Gov. Jay Inslee (D) who is moving closer to a decision on a 2020 presidential run.
If Mueller doesn't land a single additional indictment (and, to be clear, I think there will be more), he will have conducted one of most important counterintelligence investigations in US history, something that will stand with cases like Aldrich Ames or the Rosenbergs. Moreover, he will have exposed and prosecuted what is—already—surely the most criminal and corrupt presidential campaign in modern US history, even if there is "NO COLLUSION"! Just imagine the headlines and GOP outrage that would resulted from the reverse scenario: — Garrett M. Graff@vermontgmg
"If you don't want to get re-elected, you're in the wrong business." — Sen. Lindsey Graham (R-SC), explaining how he went from Trump skeptic to Trump sidekick.
The president's 2016 campaign team has been unfairly targeted by a "Stalinist" special counsel, Robert S. Mueller III. They're not investigating actual crimes anymore. There are no actual crimes. There's only things that people did in past lives, in 2006 before we even thought we'd ever get into this crazy world. And that's what it is. "It's that old Stalinist tactic: Show me the men, I'll show you the crime," he said. -- Donald Trump, Jr., in a Monday morning appearance on Fox News.
"I've had so many guys who did business with him in real estate say you know he'd have a $15 million dollar profit from a real estate deal which he would call $150 million and then he would call everybody and beg them not to contradict the press because he was going to tell them it was 150 million not 15 million. That's how he sees negotiations. So if he can put lipstick on a pig and he can say OK this is what we're going to do with North Korea. And he keeps saying it over and over again and Fox News says it over and over again and other outlets say it over and over again.  And the so-called mainstream media does their both sides ism. Well he said this but then somebody else says that he wins the news he wins the news cycle." — Hillary Clinton, in an interview with Tina Brown, on President Trump's negotiating style.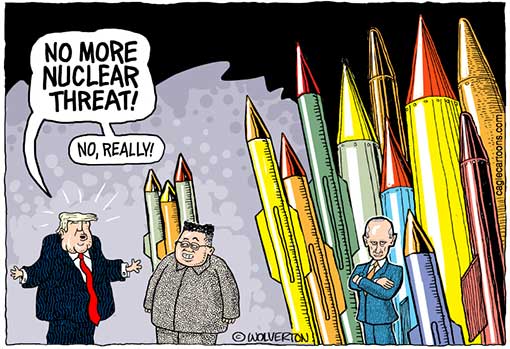 Sen. Bernie Sanders on releasing his tax returns: You'll see them "soon." -- The Hill@thehill Video

"I haven't reached a total conclusion." — Senate Majority Leader Mitch McConnell (R-KY) on whether President Trump's emergency declaration to build border barriers is legal.
Republicans spent years saying Barack Obama acted inappropriately when using executive authority to do what Congress couldn't do. Now Republicans are completely permissive of Trump doing the exact same thing. Early in the Trump presidency, they said he could use executive authority to undo what Democrats had done. Now, they don't care. It's open season." — Jake Sherman, Anna Palmer, Daniel Lippman, Garrett Ross and Eli Okun
"Hey @MichaelCohen212 - Do your wife & father-in-law know about your girlfriends? Maybe tonight would be a good time for that chat. I wonder if she'll remain faithful when you're in prison. She's about to learn a lot..." — Rep. Matt Gaetz' (R-FL) thinly-veiled threat to Cohen in the hours before he is set to discuss his time working as Trump's right-hand man and his involvement in hush-money payments to alleged mistresses. (Note: Gaetz is under investigation by Florida State Bar over Michael Cohen's threat -- The Daily Beast)
"Further isolating the marginalized among the population you serve is far from your duty. Hate has no place in public policy. I respectfully request an apology on behalf of my family and beloved friends that this cruel attempt at legislation impacts." — A letter from Christel Highland, who describes herself as a "proud member of Kansas City's LGBTQ+ community," addressed to her father, Kansas Republican Ron Highland. Highland subsequently removed his name from an anti-gay bill he co-sponsored.
"Now Madame President, for years and years, every Republican who dared to call for common-sense safeguards for Americans' ballots was demonized by Democrats and their allies. We were hit with left-wing talking points insisting that voter fraud wasn't real. Never happens, they said. That fraud just didn't happen. That modest efforts to ensure that voters are who they say they are and are voting in a proper place were really some sinister right-wing plot to prevent people from voting." —  Senate Majority Leader Mitch McConnell dishonestly conflating in-person, change-your-hat fraud with what happened in North Carolina, which wasn't that.
"The interesting thing is that there hasn't been one Republican yet who has tried to defend the president on the substance, and I think that's something that should be concerning to the White House. Why are no Republicans standing up and defending the president on the substance?" abcn.ws/2EkiLIL — Former Gov. Chris Christie (R).
---
IN THIS ISSUE
FYI
OPINION
1. Andy Borowitz: Sarah Huckabee Sanders Warns Michael Cohen to Leave Lying to Professionals
As he prepared to testify to Congress on Wednesday, the former Trump lawyer Michael D. Cohen received a thorough scolding from the White House press secretary, Sarah Huckabee Sanders, who warned Cohen to "leave lying to the professionals."

"You probably think you can step up to the microphone and lie like it's the easiest thing in the world," she said. "Well, you should try doing it each and every day, and then tell me how easy it is."

Sanders drew a sharp distinction between professional liars who take pride in their work and liars like Cohen, whom she called "strictly amateur."

"Michael Cohen has never demonstrated that he is willing to put in the hard work, practice, and sheer drudgery of becoming a great liar," she said. "This is definitely one of those ten-thousand-hours things."

She said she hoped if American children watch Cohen's "pathetic performance" before Congress that they do not get the wrong idea about America's liars. "Kids need to know that there are many well-trained and highly professional liars in this country, and many of them are right here in the White House," she said.https://www.newyorker.com/humor/borowitz-report/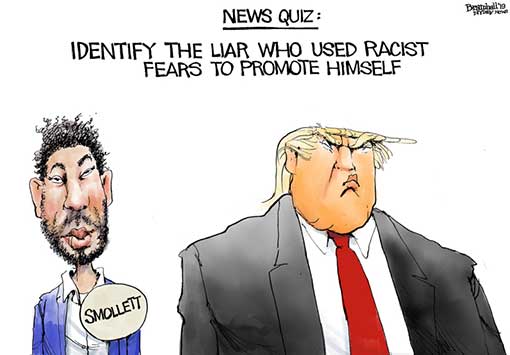 2. Michael Cohen's opening statement
The Washington Post's annotated version of Cohen's explosive opening statement is at: https://www.washingtonpost.com/politics/2019/02/27/michael-cohens-explosive-opening-statement-annotated/
3. Donald Trump's plan for 2020 Democrats: Cause chaos and sow division
Inside the White House, the President is watching announcement rallies, tuning into televised town hall sessions with voters and listening carefully to commentary on the Democratic presidential race. His opinions fluctuate on who he will, or would like to, run against. But one sntiment is unwavering — he has no plans to sit idly by and watch."
The President intends to play an active role in the Democratic primary and has instructed his aides to look for ways he can, according to more than a dozen Republicans involved in his campaign. His team is working to sow divisions among rivals and looking for opportunities to 'cause chaos from the left and right,' in the words of one adviser." https://www.cnn.com/2019/02/22/politics/trump-2020-democratic-primary/index.html
4. Every 2020 Candidate Except Trump Promises: No Stolen Data
Nearly three years after hacked materials upended the 2016 presidential campaign, each Democratic candidate running for the White House has pledged not to knowingly use such material should they end up being published during the current election cycle.
Only one 2020 campaign chose not to respond: President Donald Trump's. https://www.thedailybeast.com/every-2020-candidate-but-trump-promises-no-stolen-data
5. Drawing to a close
An illustrated guide to the many, many people in the Russia investigation's orbit. https://www.washingtonpost.com/news/posteverything/wp/2019/02/23/feature/a-whos-who-of-the-many-many-people-in-the-russia-investigations-orbit-illustrated-by-steve-brodner/
6. Bill would keep Trump off 2020 NJ ballot unless he releases his tax returns
"New Jersey Democrats are reviving a controversial effort to force President Trump to release his tax returns or be denied a spot on the state's 2020 ballot," North Jersey reports.
The state Senate on Thursday approved a bill — which the Legislature passed once before, in 2017, but which then-Gov. Chris Christie blocked by issuing a scathing veto — that would prohibit candidates for president and vice president from appearing on the ballot unless they make their tax returns public.
Similar legislation has been introduced in at least 30 states but never enacted. https://www.northjersey.com/story/news/new-jersey/2019/02/21/nj-bill-trump-2020-ballot-releases-tax-returns/2926652002/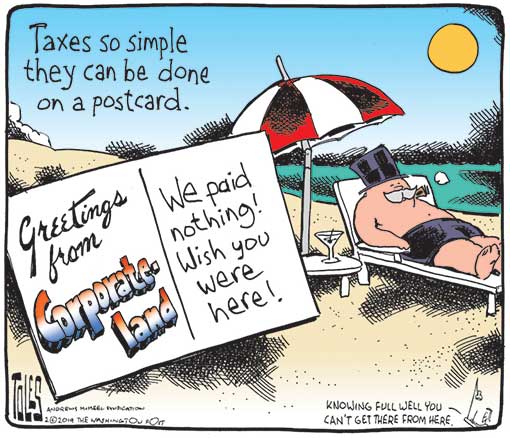 7. Trump administration begins effort to strip work permits for immigrant spouses
After nearly two years of delays, the Trump administration is moving ahead with its plan to stop granting work permits to the spouses of many high-skilled visa holders, an effort that could jeopardize tens of thousands of immigrant families in California alone.
Rolling back the permits could have sweeping consequences for the Bay Area, where tech companies heavily rely on high-skilled immigrants. Many of those workers come to the U.S. with spouses and children, and the loss of the spousal work permits could imperil families' ability to stay in the country or deter workers from accepting jobs here to begin with.
At issue are work permits for nearly 100,000 immigrants who are here with spouses, working on high-tech visas and seeking green cards. (Spouses and children of H-1B visa holders have H-4 visas granting residence.) The largest share of those, nearly 30,000 of them, live in California, according to a Congressional Research Service report.
Still, the uncertainty of future job status and symbolism of the Trump administration proposal could have immediate ripple effects for families that rely on the visas, and companies struggling to attract top talent.
"I feel like it's just another part of Trump's larger agenda, which is to expel immigrants, prevent them from coming in and make life uncomfortable for them here and compel them to leave," said Amanda Baran, an attorney and advocate with the San Francisco-based Immigrant Legal Resource Center and a veteran of the Department of Homeland Security. https://www.sfchronicle.com/business/article/Trump-administration-begins-effort-to-strip-work-13634442.php
8. McConnell Underwater in Kentucky
A new Public Policy Polling survey of registered voters in Kentucky finds an unnamed Democratic challenger within the margin of error against Senator Mitch McConnell. McConnell gets 45% of the vote compared to 42% of voters who say they'd vote for his Democratic opponent. Just 32% say they think he deserves to be reelected, while 61% think it's time for someone new. https://ditchmitchfund.com/wp-content/uploads/2019/02/KentuckyMemoFeb21.pdf
9. The DAILY GRILL
THE WALL IS UNDER CONSTRUCTION RIGHT NOW! We have just built this powerful Wall in New Mexico. Completed on January 30, 2019 – 47 days ahead of schedule! Many miles more now under construction! #FinishTheWall — Donald J. Trump@realDonaldTrump

VERSUS

The U.S. government, of course, is not constructing a massive new wall along the southern border.The video Trump tweeted week is of a project in New Mexico where existing vehicle barriers were replaced with higher bollard fencing along a 20-mile stretch, using money appropriated in 2017 (during Trump's first year in office).-- Aaron Blake in the Washington Post

 

"The 2020 election is right around the corner," he said. "Let's all mobilize, let's all be on the right side of history. Make the moral choice between love versus hate. Let's do the right thing." — Spike Lee at the Oscars delivering a short, powerful, and relatively nonpartisan acceptance speech for his Best Adapted Screenplay award, which Trump saw as a personal attack.

VERSUS

Be nice if Spike Lee could read his notes, or better yet not have to use notes at all, when doing his racist hit on your President, who has done more for African Americans (Criminal Justice Reform, Lowest Unemployment numbers in History, Tax Cuts,etc.) than almost any other Pres! — Donald J. Trump@realDonaldTrump

 

"I don't know if anyone knows that, but she's created millions of jobs." — Trump, in a speech on Monday, claimed that his daughter, Ivanka, has created millions of jobs in her business.

VERSUS

"No matter how you spin it, that's not true." — Holmes Lybrand, on CNN

 

Our planet is going to be a disaster if we don't turn this ship around, and so it's basically, like, there's scientific consensus that the lives of children are going to be very difficult. And it does lead, I think, young people to have a legitimate question, you know, should -- is it OK to still have children? — Rep. Alexandria Ocasio-Cortez (D-NY) in an Instagram video about the concerns young people have about having children in a world that scientists predict will become increasingly uninhabitable due to climate change

VERSUS

Fox News misrepresents Alexandria Ocasio-Cortez to claim she wants to "get rid of children." -- Fox Video

 

Just landed - a long trip, but everybody can now feel much safer than the day I took office. There is no longer a Nuclear Threat from North Korea. Meeting with Kim Jong Un was an interesting and very positive experience. North Korea has great potential for the future! — Donald Trump Jun 13, 2018

VERSUS

Secretary of State Mike Pompeo was forced to humiliate himself in a Sunday interview on CNN, continuing to insist that the president understands that North Korea remains a dangerous nuclear power as host Jake Tapper read him Trump's tweets to the contrary, including this one from June, 2018. -- NY Magazine
10. From MEDIA MATTERS (They watch Fox News so you don't have to)
Tucker Carlson says government-sponsored child care will "no doubt" be used "to justify more immigration." Carlson: "The Democratic Party started by outsourcing manufacturing -- you remember that. Then they outsourced farm labor and yard work. And now they decided to outsource parenting." https://www.mediamatters.org/video/2019/02/21/tucker-carlson-says-government-sponsored-child-care-will-no-doubt-be-used-justify-more-immigration/222934

Fox News has spent years promoting claims of a "coup" against Donald Trump. Since Donald Trump won the 2016 presidential election, Fox News has been airing dire warnings that the "deep state" is plotting a "coup" to "ruin" Trump's administration. Fox personalities have warned that the FBI, the Department of Justice, the Democratic Party, and others "hate" Trump and are attempting to "overthrow the government" with a "bloodless coup," "a political coup," a "soft coup," a "silent coup," a "slow-motion coup," and "the first attempted coup d'etat in American history." Trump is now channeling Fox's "coup" nonsense, and that could end badly. VIDEOhttps://www.mediamatters.org/blog/2019/02/21/fox-news-has-spent-years-promoting-claims-coup-against-donald-trump/222935

Frequent Fox News guest, Joe diGenova, tells Laura Ingraham "we are in a civil war;" suggests everyone buy guns to prepare for "total war."  https://www.mediamatters.org/video/2019/02/21/frequent-fox-news-guest-tells-laura-ingraham-we-are-civil-war-suggests-everyone-buy-guns-prepare/222940

Conservative media are testing attacks on 2020 Democratic candidates to see what sticks. As the first Democratic presidential hopefuls declare their candidacy, right-wing media outlets are launching a campaign of their own. The goal? Planting seeds of doubt about each of the potential nominees so that by the time the Democratic National Convention in July 2020 rolls around, voters will harbor negative feelings toward whoever comes out on top. https://www.mediamatters.org/blog/2019/02/22/conservative-media-are-testing-attacks-2020-democratic-candidates-see-what-sticks/222939

Fox & Friends ignored report that Republican fraud has spurred a new election in North Carolina. Tucker Carlson, Sean Hannity, and Laura Ingraham also failed to cover the election fraud story. https://www.mediamatters.org/blog/2019/02/22/fox-friends-ignored-report-republican-fraud-has-spurred-new-election-north-carolina/222945

Alex Jones goes to bat for employee Roger Stone, comparing judge in his criminal case to Hitler and attempting to connect Robert Mueller to Jeffrey Epstein. https://www.mediamatters.org/blog/2019/02/25/alex-jones-goes-bat-employee-roger-stone-comparing-judge-his-criminal-case-hitler-and-attempting/222966

Fox Business guest suggests students seek loan forgiveness by suing "the colleges that gave them the bogus degrees" for fraud. https://www.mediamatters.org/video/2019/02/26/Fox-business-guest-suggests-students-seek-loan-forgiveness-by-suing-the-colleges-that-gave/222976
11. From the Late Shows
The Late Show with Stephen Colbert: The Mueller Probe Enters The Home Stretch: https://youtu.be/ChWDWi8y2ok

Trump Prepares for Mueller's Final Report: A Closer Look: https://youtu.be/gBI0_PYlr48

The Late Show with Stephen Colbert: Trump's Climate Committee, Assemble! https://youtu.be/gepypyiNkqA

The Late Show with Stephen Colbert: It's Not Easy Being The Green New Deal https://youtu.be/zIN0heCLOd0
12. 2020 Presidential Election Map
Check out the new interactive Electoral Vote Map for the 2020 presidential election at https://electoralvotemap.com/
13. Report: Families Are Being Separated at the Border Over False Allegations
Eight months after the official end of the Trump administration's family separation policy, the practice continues, according to the Texas Civil Rights Project, which claims that border agents are making plenty of mistakes.
In a report examining cases between June 22 and December 17 in McAllen, Texas, the group identified 38 cases of migrant families getting torn apart, NBC News reports. The Department of Homeland Security maintains that, since the end of the "zero tolerance" policy last summer, it is only separating families when the adult is not the child's parent or guardian, the child's safety is at risk, or the parent is judged to have committed "serious criminal activity."
One problem with the recent separations though, according to the Texas Civil Rights Project, is that some are being made due to "uncorroborated allegations." Take, for instance, the story of one Guatemalan man and his 2-year-old daughter.
Why are these mistakes being made? One possibility, outlined today in USA Today, is that the process for determining which families are separated is, in the words of U.S. Customs and Border Protection, "brief and expeditious in nature." The decision is also left solely to the discretion of CBP agents, who observe families during processing and make a judgement on whether they think abuse has occurred.
This is the type of work that, outside of migrant processing centers, is done by child welfare experts. Vivek Sankaran, an expert on the subject, told USA Today: "It is universal among mental health professionals that the idea of removing a child from a parent is one of the most traumatic things we as a society can do to the child. So you want somebody who has been very well-trained to make sure that we need to inflict (a separation) on the child."
Families are also being separated when a parent has a criminal history that may not call for separation, Michelle Brané of the Women's Refugee Commission told USA Today. "If you have a shoplifting conviction, or didn't pay child support, or you stole a car, does that really put the child at risk?" http://nymag.com/intelligencer/2019/02/migrants-families-are-being-separated-over-false-allegations.html
14. As 2020 candidates turn left, some Democrats worry about the center
Liberal Democratic presidential contenders' rush to embrace the left's most ambitious proposals has some Democrats worried there could be a price to pay when they try to defeat President Donald Trump next year.
Party activists have been energized as Cory Booker, Kirsten Gillibrand, Kamala Harris and other candidates endorsed plans to provide Medicare coverage to every American, some form of tuition-free college, a national $15 minimum wage and the so-called "Green New Deal" advocated by U.S. Representative Alexandria Ocasio-Cortez.
But Trump and his allies in the Republican Party have seized on those stances to attack the Democratic 2020 field as outside the American political mainstream — a claim the president plans to make throughout his re-election campaign, according to sources with knowledge of his strategy.
Some Democrats fear the argument has potency. They worry the primary may produce a nominee who will not appeal to centrist working and middle-class voters who voted for Trump in 2016 but whom Democrats believe they can win back.
"The big progressive programs are popular in a caucus or primary electorate, but probably don't move the needle among voters who want to find someone who will change Washington by tilting the system to favor people in the middle — not the very rich or the very poor," said Jeff Link, an Iowa Democrat who worked for former President Barack Obama's campaign. https://www.reuters.com/article/us-usa-election-democrats/as-2020-candidates-turn-left-some-democrats-worry-about-the-center-idUSKCN1QC0BM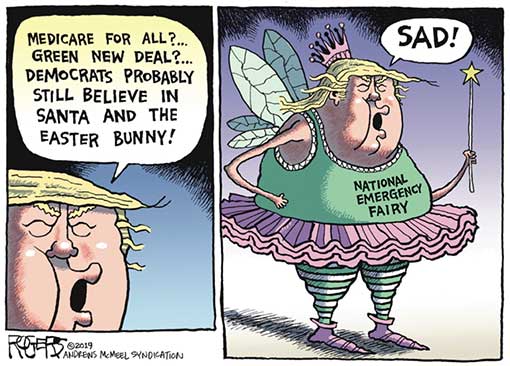 15. 'That was my idea': How Trump claims credit for nearly everything
Trump routinely bemoans the lack of credit he receives for things, whether real or made up. Video at: https://wapo.st/2GzrlHd
16. In Hanoi, Kim Jong Un and a culture clash with the White House press corps
What happens when the authoritarian ruler of North Korea checks into a hotel teeming with American journalists filing round-the-clock news reports?
Kim was staying at the Melia hotel tower in the heart of the city, but the hotel also happened to have been booked by the White House as the filing center for the traveling press corps to cover the summit.
Not long before Kim arrived, a notice was distributed to the press corps that the filing center would be moved to a separate site for the international press corps at the Cultural Friendship Palace.
A tweet from the Vietnamese government, complete with three megaphone emojis, confirmed the switch.
That left the U.S. press contingent scrambling to make the move. Television network producers had spent weeks setting up cameras, lights, monitors and other equipment shipped halfway across the world. A person with knowledge of the situation said the networks were told they could no longer do live shots from the Melia, although the correspondents booked to stay in the hotel were not told they had to leave.
When Kim set foot in the Melia Hanoi, a person inside the hotel said they witnessed a tense standoff between a North Korean official who yelled at Vietnamese security and hotel staff, demanding they tell journalists in the lobby not to take pictures or even look at the scene. One member of hotel management called the North Korean moves "unprecedented" and said he was forced to turn over control of the entire hotel to the North Koreans.
"Security forces prohibited us from taking pictures from inside the hotel though we could see (state?) camera rolling on him as his entourage came thru. Guards were literally right up on us saying no cameras," said Margaret Talev, a White House reporter for Bloomberg News. https://www.washingtonpost.com/politics/in-hanoi-kim-jong-un-and-a-culture-clash-with-the-white-house-press-corps/2019/02/26/5a3c02cc-3985-11e9-a2cd-307b06d0257b_story.html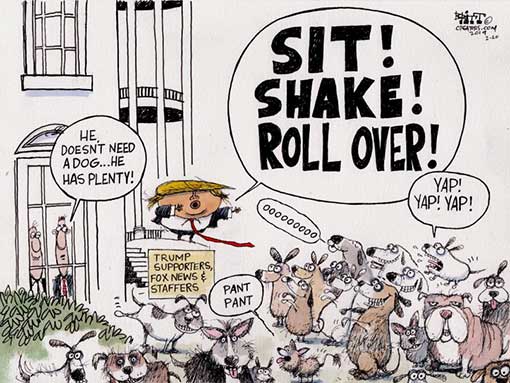 17. Trump bets it all on friendship with Kim
Thirty years apart in age and separated by decades of enmity between the US and North Korea, Trump and Kim have forged a bond built on mutual displays of effusive praise. In back-and-forth letters over the past seven months, each has used flowery language to describe the other and appeal to his sense of ego, a trait both men carry in spades. https://edition.cnn.com/2019/02/26/politics/donald-trump-kim-jong-un-friendship-chemistry/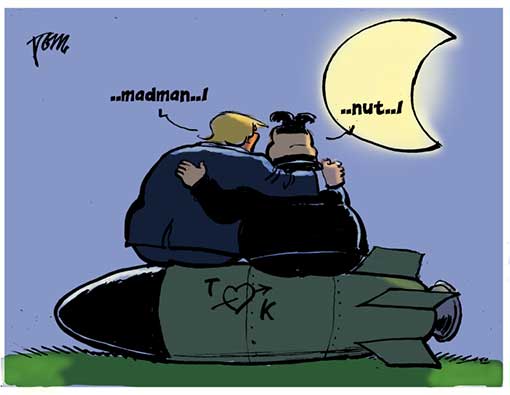 18. Bernie Sanders staff shake-up: Top strategists leave his presidential campaign
In major shake-up to Bernie Sanders' just-launched presidential bid, some of his top strategists have left the campaign.Tad Devine, Mark Longabaugh and Julian Mulvey, colleagues in a political consulting firm who all played leading roles in Sanders' 2016 campaign for the White House, are parting ways with the senator, citing creative differences. https://www.nbcnews.com/politics/2020-election/bernie-sanders-staff-shakeup-top-strategists-leave-his-presidential-campaign-n976221?cid=public-rss_20190226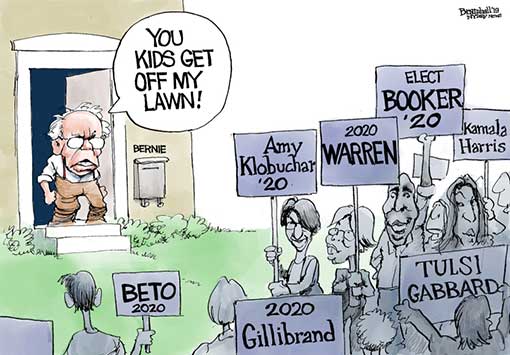 19. Public's 2019 Priorities: Economy, Health Care, Education and Security All Near Top of List
The Pew Research Center survey, conducted Jan. 9-14 among 1,505 adults, finds that Republicans and Democrats continue to stake out markedly different priorities for the country.
Majorities of both parties place top priority on strengthening the economy, but a significantly larger share of Republicans and Republican-leaning independents (79%) than Democrats and Democratic leaners (64%) say this.
The pattern is the reverse when it comes to reducing health care costs, improving the educational system and taking steps to make the Medicare system financially sound; in all three cases, larger majorities of Democrats than Republicans call these issues top priorities for the country.
Partisans are even further apart when it comes to defending the country from future terrorist attacks: A large majority of Republicans (83%) calls this a top priority for the country, compared with a about half of Democrats (53%). And while most Republicans place top priority on strengthening the military (65%) and dealing with immigration (68%), fewer than half of Democrats say the same.
By contrast, a majority of Democrats (71%) place the highest priority on dealing with the problems of poor and needy people, compared with 49% of Republicans.
When it comes to the environment, Democrats are 43 percentage points more likely than Republicans to say protecting the environment should be a top priority (74% vs. 31%) and 46 points more likely to call global change a top priority (67% vs. 21%).
Taking steps to make the Social Security system financially sound is one of the only issues where comparable majorities of Republicans (68%) and Democrats (65%) say this should be a top priority for the country.
As the public stakes out its agenda for the president and Congress, Americans increasingly see a big difference in what the two parties stand for. For the first time since the question was first asked more than two decades ago, more than half (54%) now say there is a great deal of difference in what the Democratic and Republican parties stand for, compared with smaller shares who say there is a fair amount of difference (30%) or hardly any (13%). The share that sees a great deal of difference between the two parties is up from 45% who said this in 2015 and from just 35% who said this in 2007.
Among Democrats and Democratic leaners, 63% describe the Democratic Party as united in its views on issues and vision for the future; in the fall of 2017, 56% said this. http://www.people-press.org/2019/01/24/publics-2019-priorities-economy-health-care-education-and-security-all-near-top-of-list/
20. HHS docs show thousands of alleged incidents of sexual abuse against unaccompanied minors in custody
The Department of Health and Human Services received more than 4,500 complaints of sexual abuse against unaccompanied minors from 2014-2018, according to internal agency documents released Tuesday by Florida Democratic Rep. Ted Deutch.
In addition,1,303 complaints were reported to the Justice Department during that same time frame, according to the documents.
"This works out on average to one sexual assault by HHS staff on unaccompanied minor per week," he added. https://www.cnn.com/2019/02/26/politics/hhs-documents-minors-sexual-abuse/
1. David Frum: Uncontradicted
Michael Cohen's testimony to the House Oversight Committee was uncontradicted. The former personal attorney of the president of the United States today accused him of a litany of crimes, improprieties, immoralities, and betrayals of national security. And not one Republican member of the committee breathed one word in defense of the leader of their party.
Those Republicans have learned the hard way never to trust President Donald Trump's denials.
Did he direct payoffs to a porn star? Trump denied it. It was true.
Was the Trump Organization pursuing a hotel project in Moscow while he was running for president? Trump denied it. That was true too.
Did his campaign meet with someone claiming to be an agent of the Russian state to seek dirt on Hillary Clinton? Denied. True.
Was there fraud at the Trump Foundation? Denied. True.
Who wants to be the member of Congress recorded for posterity rejecting Cohen's testimony that Roger Stone informed Trump in advance of the impending WikiLeaks dump?
Who doubts that Trump helped shape Michael Cohen's false testimony to Congress? Who wants to take the other side of the bet from Representative Ocasio-Cortez that Trump provided false financial information to insurance companies and local tax authorities? Who feels confident that Donald Trump Jr. did not lie to Congress when he denied that Trump had foreknowledge of the June 9, 2016, Trump Tower meeting? https://www.theatlantic.com/ideas/archive/2019/02/michael-cohen/583783/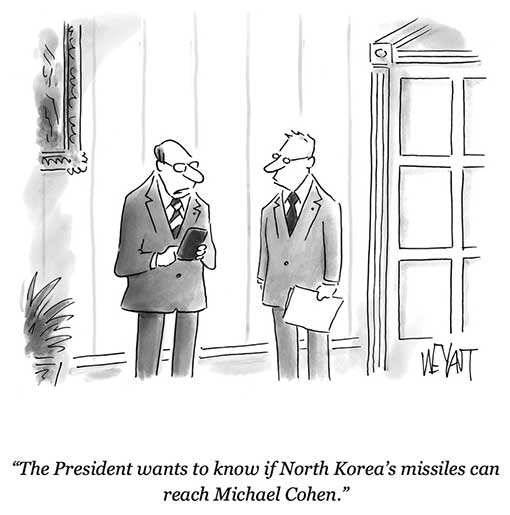 2. Adam Schiff: An open letter to my Republican colleagues
To my Republican colleagues: When the president attacked the independence of the Justice Department by intervening in a case in which he is implicated, you did not speak out. When he attacked the press as the enemy of the people, you again were silent. When he targeted the judiciary, labeling judges and decisions he didn't like as illegitimate, we heard not a word. And now he comes for Congress, the first branch of government, seeking to strip it of its greatest power, that of the purse."
Many of you have acknowledged your deep misgivings about the president in quiet conversations over the past two years. You have bemoaned his lack of decency, character and integrity. You have deplored his fundamental inability to tell the truth. But for reasons that are all too easy to comprehend, you have chosen to keep your misgivings and your rising alarm private.
That must end. The time for silent disagreement is over. You must speak out." https://www.washingtonpost.com/opinions/adam-schiff-an-open-letter-to-my-republican-colleagues/2019/02/21/9d411414-3605-11e9-af5b-b51b7ff322e9_story.html
3. William Falk: Consciousness of guilt
During trials, prosecutors often cite a legal concept called "consciousness of guilt." When a defendant repeatedly lies about his behavior or orchestrates a cover-up, it suggests he knows he committed crimes.
Soon after he took office, Trump took extraordinary steps to halt the investigation into Russia's attack on the election, and celebrated his firing of FBI Director Jim Comey with Russia's grinning ambassador in the Oval Office, saying "great pressure" had been "taken off." Trump's obstruction was so flagrant, former FBI acting director Andrew McCabe reveals in a new book, it led top FBI and Justice Department officials to wonder if the president was "a Russian asset."
Over the past two years, Trump has publicly attacked the Russia investigation more than 1,100 times. He has berated a succession of underlings for failing to protect him from Mueller and other What does this indicate about what Trump thinks about his innocence or guilt? https://theweek.com/articles/825061/consciousness-guilt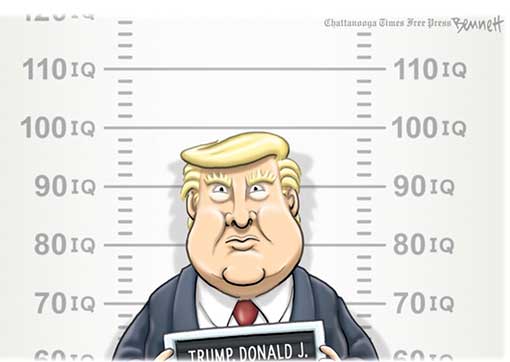 4. Susan B. Glasser: Audience of One: Why Flattery Works in Trump's Foreign Policy
The U.S. may be the world's leading power, but its foreign policy has become contorted, and essentially overtaken, by the toxic court politics of Trump. There's a reason, after all, for all that over-the-top flattery, and it's not just that Graham and Pence are particularly brazen in their use of this political art. Telling the truth in public can have real consequences in Trumpworld, and those who surround him are under no illusions about it. Just this week, reports continued to emanate from the White House that Trump was considering firing the director of National Intelligence, Dan Coats, whose sin was to have testified truthfully about the contradictions between Trump's foreign-policy assumptions and the conclusions of Trump's own intelligence agencies.
Contrast his standing with that of Lindsey Graham, whose public obsequiousness once again appears to have paid off. By this Thursday evening, Graham's office was sending out a delighted press release, headlined "Graham Applauds Trump Decision to Leave Troops in Syria," as wire services reported that the President had apparently conceded to lobbying by Graham and others, deciding to leave around two hundred troops in Syria after the April pullout. At least for now. But there was no ambiguity in Graham's praise for the modest move. "Well done Mr. President," his statement concluded. https://www.newyorker.com/news/letter-from-trumps-washington/audience-of-one-why-flattery-works-in-trumps-foreign-policy
5. George Will: Republicans who abide Trump's trashing of the Constitution should be expelled from public life
In 1786, in response to a dispute between Virginia and Maryland over rights of navigation and commerce on the bay, Virginia's Legislature asked all the states to send delegates here to a convention to consider how conflicts about interstate commerce could be handled under the Articles of Confederation. Only 12 men from five states attended, but two of them were prodigiously talented, Alexander Hamilton and James Madison. The meeting decided that there should be (in the words of Hamilton's report to Congress) a conclave "at Philadelphia on the second Monday in May next" to consider measures to make the Articles "adequate to the exigencies of the Union." The result was the Constitution.
Today, in the U.S. Capitol, 28.3 miles west of where the Annapolis meeting occurred (in a tavern, long gone), a majority of congressional Republicans seem poised to support Trump's evisceration of the Constitution's architecture of checks and balances. By opposing a binding resolution disapproving the president's declaration of an emergency, they would approve Congress' acquiescence in the loss of its core power, that of controlling spending. These Republicans raise two questions: Why is there a Congress? And why are such Republicans receiving salaries?
Every Republican who supports the president in this trashing of the Constitution whose creation began here thereby violates his or her sworn oath to defend it and to "bear true faith and allegiance" to it. Voters should expel all of them from public life. https://www.tulsaworld.com/opinion/columnists/george-will-republicans-who-abide-trump-s-trashing-of-the/article_fb62f205-b81e-5ebf-89aa-c4f8601c7722.html
6. Michael Grunwald: Trump's War on California
President Donald Trump loves bashing California—its "ridiculous" sanctuary cities, its "gross mismanagement" of its forests, even the "disgusting" streets of San Francisco. He also enjoys slagging California liberals, like House Intelligence Committee Chair "Liddle" Adam Schiff, House Financial Services Committee Chair "Low IQ" Maxine Waters, and House Speaker Nancy Pelosi, who "has behaved so irrationally & gone so far to the left that she has now officially become a Radical Democrat." On Wednesday, after Democratic Governor Gavin Newsom decided to scale back the state's troubled high-speed rail project, the president gleefully mocked it as a green fiasco: "Send the Federal Government back the Billions of Dollars WASTED!"
Now that progressive Democrats are pushing for a California-style Green New Deal to fight climate change, and progressive California Senator Kamala Harris has become a front-runner for the Democratic nomination to challenge Trump, the president's allies have begun framing 2020 as a last stand against the hippie-lefty Californication of America. Turning Point USA founder Charlie Kirk has warned that "Democrats want California to be the blueprint for America," while Dan Patrick, the Republican lieutenant governor of Texas, has suggested that Trump's reelection slogan should be: "I'm not going to let the Democrats turn America into California." https://www.politico.com/magazine/story/2019/02/21/trump-california-attacks-economy-225191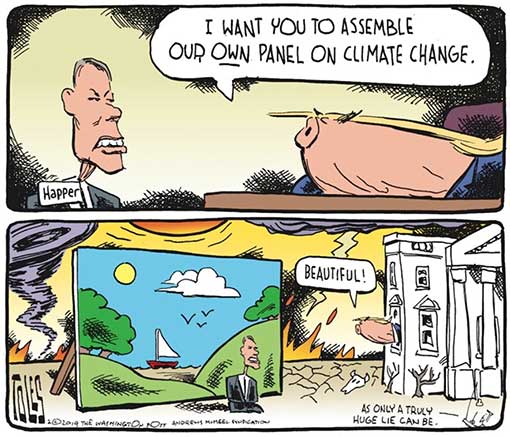 7. Ed Kilgore: Will 2020 Democrats Help Trump By Destroying Each Other?
We're now well under a year away from the Iowa Caucuses, and an unusually–perhaps uniquely–large Democratic field is forming to compete for the opportunity to face Donald J. Trump in 2020. It is highly appropriate that before the festivities intensify, multiple voice are being raised to remember the wolf at the door before engaging in any intramural fisticuffs.
At the American Prospect, veteran labor political operative Steve Rosenthal offers four "rules" for 2020 Democrats in order to avoid a "circular firing squad" that helps Trump win the general election.
* Don't try to stifle new ideas, new opinions, or new plans.

* Democrats need a robust debate on the issues instead of misleading or attack ads aimed at tearing each other down.

* Every Democratic candidate should sign a pledge that they will give their wholehearted support to whoever eventually wins the party's nomination.

* Rosethal's fourth guideline he calls the "Two-For-One Rule" - any time a candidate feels tempted to say or write something bad about one of the candidates, he/she would precede it with two positive things.
A debate about ideas is healthy, a debate about motives is not. The Democrats should hash out their differences in 2020 without slashing up one another — not casting aspirations on each other's integrity, motivation or intentions. It is that latter path that creates an opening for Trump's reelection in 2020.
Soon we will be into the heat of the nomination race, and making up rules for civility on the fly won't be practicable. It would be smart for Democrats right now to make sure that on November 4, 2020, they aren't looking down the barrel of an eight-year Trump presidency and wondering how their party blew it again. http://nymag.com/intelligencer/2019/02/will-2020-democrats-help-trump-by-destroying-each-other.html
8. Jonathan Greenberg: Cons define Trump's success
Nearly four decades ago, Donald Trump deceived me into including him on the first Forbes 400 list of the richest Americans. He claimed a net worth of $100 million but was actually worth less than a tenth of that. Last week, President Trump declared a national state of emergency to bypass the constitutional budgeting powers of Congress and divert money to build a wall on the border with Mexico. What do these acts have in common? Only that they are the first and latest entries on the continuum of cons that have defined Trump's success.
A real estate insider told me back in the 1980s that Trump's win-at-all-costs father, Fred, "loves a crook and he loves a showman." Donald Trump has built his extraordinary career by exhibiting the characteristics of both. He is a self-promoter willing to lie, swindle and destroy to advance his insatiable self-interest. I am not the first journalist to observe that for Trump, the "Art of the Deal" has been the art of the con. But as the first journalist to enable the consummate con man's career-boosting deceptions, I have a completist's view of the pernicious racket that is his playbook. Here, in roughly chronological order, are the six essential cons around which Trump has built and sustained his success: https://www.washingtonpost.com/outlook/2019/02/22/essential-cons-that-define-trumps-success/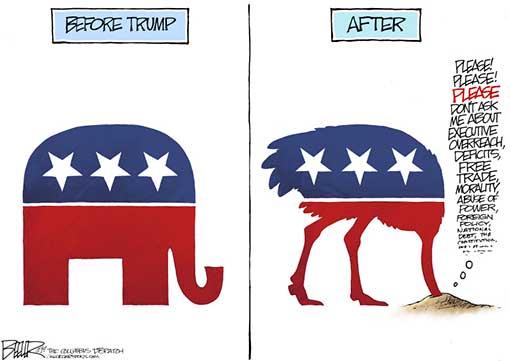 9. Chad Day and Eric Tucker: Court records reveal a Mueller report right in plain view
"Russia, if you're listening," said Trump, looking directly into a television camera, "I hope you're able to find the 30,000 emails that are missing" — messages Clinton was reported to have deleted from her private email server.
Actually, Russia was doing more than listening: It had been trying to help Republican Trump for months. That very day, hackers working with Russia's military intelligence tried to break into email accounts associated with Clinton's personal office.
It was just one small part of a sophisticated election interference operation carried out by the Kremlin — and meticulously chronicled by special counsel Robert Mueller.
We know this, though Mueller has made not a single public comment since his appointment in May 2017. We know this, though the full, final report on the investigation, believed to be in its final stages, may never be made public. It's up to Attorney General William Barr.
We know this because Mueller has spoken loudly, if indirectly, in court — indictment by indictment, guilty plea by guilty plea. In doing so, he tracked an elaborate Russian operation that injected chaos into a U.S. presidential election and tried to help Trump win the White House. He followed a GOP campaign that embraced the Kremlin's help and championed stolen material to hurt a political foe. And ultimately, he revealed layers of lies, deception, self-enrichment and hubris that followed.
Woven through thousands of court papers, the special counsel has made his public report. https://apnews.com/2b8513d4a4224a559d7048edb396cdfd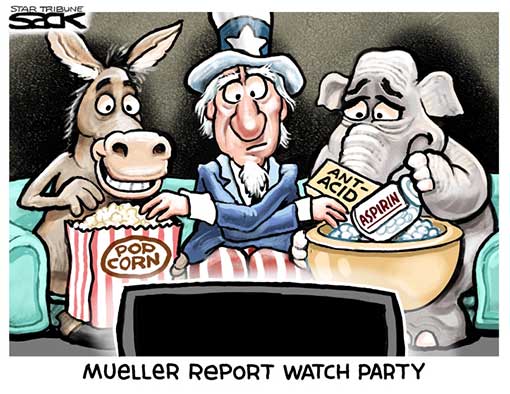 10. Eric Levitz: Trump Condemns All Forms of Voter Fraud — Real and Imaginary
On Thursday, North Carolina's Board of Elections unanimously ordered a new House election in the state's Ninth Congressional District, in the face of overwhelming evidence that the Republican who "won" that narrow race had done so with aid of an absentee-ballot fraud operation.
During an Oval Office press conference Friday afternoon, Trump was asked about this conspicuous silence. Here's how he replied:
Well, I condemn any election fraud. And when I look at what's happened in California with the votes, when I look at what happened — as you know, there was just a case where they found a million fraudulent votes — when I look at what's happened in Texas, when I look at that catastrophe that took place in Florida, where the Republican candidates kept getting less and less and less and less. Fortunately, Rick Scott and Ron ended up winning their election, but it was disgraceful when it happened there. I condemn any voter fraud of any kind whether it's Democrat or Republican. But when you look at some of the things that happened in California in particular. When you look at what's happened in Texas with all of those votes that they recently found were not exactly properly done. I condemn all of it, and that includes North Carolina — if anything, I guess they're going to be doing a final report. But I'd like to see the final report.
Proven instances of voter fraud deserve loud condemnation because they undermine the legitimacy of all our nation's elections — and thus, our collective capacity to settle our political conflicts nonviolently. Trump's remarks in the Oval Office Friday deserve such condemnation for the same reason. http://nymag.com/intelligencer/2019/02/trump-condemns-all-forms-of-voter-fraud-real-and-imagined.html
11.  Ronald A. Klain: Time for Democrats to stare down Trump's red scare
It's time for Democrats to stand up and stare down the great "red scare" of 2019: President Trump's desperate effort to label Democrats "socialists" and the intraparty hand-wringing over whether Trump's attacks are working. 
The biggest mistake Democrats could make would be to back away from bold ideas on health care, income inequality and climate change — believing that less compelling ideas can still rally voters while avoiding the "socialism" charge from the GOP. The party's "realists" are unrealistic in thinking that any progressive policies will be spared the "socialism" label from the GOP, and wrong to worry that this label will do any more damage now than it has in the countless earlier failed efforts by Republicans to campaign on such fear mongering.   
The GOP's assertion that any social legislation is "socialism" didn't start in the Obama era. Democrats longing for the centrism of the Clinton administration should recall that in 1996, when Jack Kemp stood on the vice presidential debate stage and called the Clinton-Gore empowerment zone program "socialism."
This is as it always has been. In 1964, George H.W. Bush called Medicare "socialized medicine"; Barry Goldwater said it was like giving away free beer and vacations to pensioners. A generation before, when President Franklin D. Roosevelt proposed the New Deal and Social Security, congressional Republicans railed about "socialism."
Democrats did not cower in the face of these attacks. They won great legislative — and political — gains by brushing them aside and fighting for health security and greater economic fairness. https://www.washingtonpost.com/opinions/trump-will-call-anything-socialism-democrats-might-as-well-go-big/2019/02/22/a78fca9a-354d-11e9-854a-7a14d7fec96a_story.html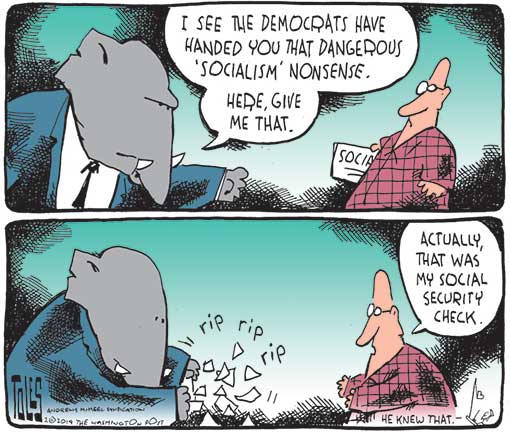 12. Washington Post Editorial: The Trump administration cannot be allowed to make orphans out of migrant children
LAWYERS FOR the Trump administration object to the suggestion that officials have a moral and humanitarian duty to track children and reunify them with their parents after they have been separated by the government. Sure, said Justice Department attorneys in federal court the other day, hundreds and possibly thousands more migrant children remain split from their parents than previously acknowledged. But it really would be a headache to patch up families torn apart by the administration's war on immigrants.
That's a paraphrase, but not by much. Requiring the government to determine the number and whereabouts of migrant babies, toddlers and teens wrenched from their parents during a nine-month span when family separations were carried out covertly would "blow the case into some other galaxy of a task." So said Justice Department lawyer Scott Stewart, who pleaded the administration's case.
Fortunately, U.S. District Judge Dana M. Sabraw, who has overseen the lawsuit seeking to reunify migrant families, is clear-eyed on the issue facing him. "It's important to recognize we are talking about human beings," the judge said Thursday. "Every person needs to be accounted for."
The government argues speciously that the first group of children constitute a completely different case. In fact, the only distinction is between the administration's covert and overt cruelty. The U.S. government cannot be permitted to leave migrant children indefinitely orphaned on the grounds that reunifying them with parents would be a pain in the neck. https://www.washingtonpost.com/opinions/the-trump-administration-cannot-be-allowed-to-make-orphans-out-of-migrant-children/2019/02/24/024628a8-36e3-11e9-af5b-b51b7ff322e9_story.html
13. Darren Samuelsohn: Federal prosecutors and Democratic committees are just getting started
Federal prosecutors in New York are examining Trump's 2016 campaign, inauguration and businesses. Congress has given the Justice Department dozens of hearing transcripts that could contain lies told under oath. State and local prosecutors have reportedly prepped new charges that can't be erased with a presidential pardon. And a slate of sealed indictments sit in the Washington, D.C., federal courthouse, raising the prospect that some in Trump's circle may have already been indicted and just don't know it.
"If anyone in Trump world is breathing easy right now, I'd say they are very foolish," said Shanlon Wu, a defense lawyer who previously represented Trump's former deputy campaign chairman, Rick Gates. "Even if Mueller's report were to appear and didn't implicate the president, all these other criminal investigations will continue. That's not going to be the magic bullet that solves everything. I'd be very concerned if I was a lawyer or a potential target in that world right now." https://www.politico.com/story/2019/02/26/trump-associates-mueller-investigation-1186392