May 19, 2022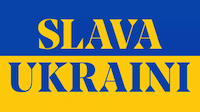 If you have a friend, family member, or neighbor who would like to subscribe to this FREE weekly newsletter they should simply email jellison@san.rr.com with "subscribe" as the subject.
THE WEEK'S BEST QUOTES. . .
"The American experiment in democracy is in a danger like it hasn't been in my lifetime. It's in danger this hour. Hate and fear are being given too much oxygen by those who pretend to love America but who don't understand America." — President Biden, in remarks given in Buffalo.
"The We've all made mistakes. You just want to learn from those mistakes and how you can correct them going forward." — Golf legend Greg Norman attempted to brush off questions about the murder of the dissident Saudi Arabian journalist Jamal Khashoggi.
"How do you find points of agreement when you can't reach common ground on facts so basic that they could be used in a field sobriety test?— The Philadelphia Inquirer announcing the newspaper won't make endorsements of any candidates in the Republican primaries, noting that of the GOP candidates in the Senate primary, only one would even acknowledge that Joe Biden won the 2020 presidential election.
"If you are going to force everyone to take a meaningless messaging vote for public-relations purposes, consider choosing a bill that hurts the other party's popularity, not your own!"— Tim Miller on Sen. Schumer making Democratic senators vote on abortion legislation that is both unpopular, takes a position most Americans disapprove of and which does not have the votes to pass.
"Just once, I'd love to see a Republican candidate stand up in a primary and say, 'I am a moderate, establishment squish. I stand for absolutely nothing.' It would be refreshingly honest at least. But nobody says that. And by the way, they all pledge their love for Donald Trump. 'I love Donald Trump.' "No, no. I love Donald Trump more.' 'No, no, I have Donald Trump tattooed on my rear end.'" - Sen. Ted Cruz (R-TX), seeming to not grasp the irony of his words.
"No Books. No Money. Just the Truth." — Steve Schmidt writes about Senator John McCain's failed 2000 presidential campaign.
"Being worried about replacement theory is not a radical stance, The war on White people is VERY REAL." — Laura Loomer (R), candidate for Congress, FL District 11.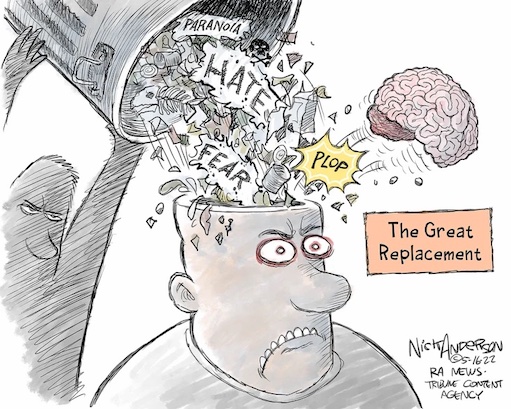 "The Buffalo killer's manifesto reads like a job application for a junior producer on Tucker Carlson. And no, I'm not being flippant."  — Lincoln Project co-founder Rick Wilson
"I spent a decade working in counter-terrorism. The rhetoric we are seeing from leaders of my party — the Republican Party — is directly fueling violence and a spike in domestic terrorism. This is not a partisan observation. This is a public safety warning." — Former DHS Chief of Staff Miles Taylor
"Fed boy summer has started in Buffalo," — AZ State Sen. Rep Wendy Rogers (R) suggesting the racially motivated mass shooting at a Buffalo, NY, supermarket was staged by government agents.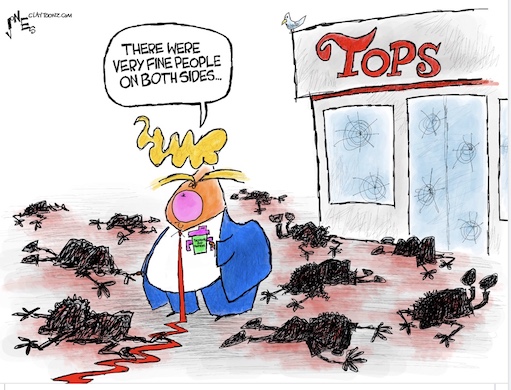 The House GOP leadership has enabled white nationalism, white supremacy, and anti-semitism. History has taught us that what begins with words ends in far worse. @GOP leaders must renounce and reject these views and those who hold them. -- Liz Cheney
"The leading GOP candidate for governor, Doug Mastriano, is so batshit bizarre that GOP leaders launched an eleventh-hour attempt to derail him and avert almost certain defeat in November… only to have Trump endorse him." — Charlie Sykes
"400 shows spewing fear and hate... 10 people died in Buffalo. Will Tucker Carlson take 10 minutes to say he's sorry for any role he might have played in that outcome?"  — Sen. Dick Durbin (D) calling Tucker Carlson a "leading ideologue in the white supremacist movement." 
"It doesn't require a huge leap to figure out why one of the wealthiest individuals on Earth oppose an economic agenda for the middle class that cuts some of the biggest costs families face, fights inflation for the long haul, and adds to the historic deficit reduction the president is achieving by asking the richest taxpayers and corporations to pay their fair share," — WH spokesperson Andrew Bates responding to Amazon's Jeff Bezos accusation that the president is misleading the public on inflation by arguing that hiking taxes on corporations and the rich would lower consumer costs. 
Even though I think a less divisive candidate would be better in 2024, I still think Trump should be restored to Twitter. — Elon Musk @elonmusk 
Democrats "have decided that they can't win reelection in 2022 unless they bring a large number of new voters to replace the voters that are already here." — Republican Senate nominee JD Vance warning of an immigrant "invasion" as Democrats try to "transform the electorate."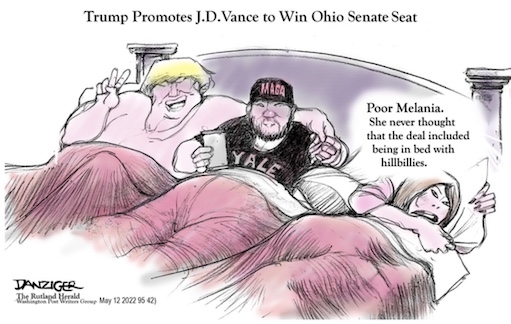 VIDEOS
The Daily Show: Coup Mobile: America's Most Reliable Insurrectionist Network:
https://youtu.be/rwSSjv-GuQc
"Somehow, in my lifetime, the Democrats have gone from being the party of the factory floor to the party of the faculty lounge." — Democratic strategist Paul Begala on why the #CancelStudentDebt movement could be a losing issue for liberals.
https://twitter.com/RealTimers/status/1523437593060429824
When you go to bed at night, put your head on that soft pillow, you'll know Oz will be doing exactly what you want him to do if you were there next to him. — Dr. Oz

The Lincoln Project: Here's to the crazy ones… https://twitter.com/ProjectLincoln/status/1524736501556432897
LITIGATION TRACKER
Pending Criminal and Civil Cases Against Donald Trump. 
https://www.justsecurity.org/75032/litigation-tracker-pending-criminal-and-civil-cases-against-donald-trump/
---
IN THIS ISSUE
IN THE NEWS
OPINION
Andy Borowitz: Nation's Doctors Praying for Dr. Oz to Win and Quit Medicine
With the G.O.P. Senate primary in Pennsylvania too close to call, thousands of American doctors are praying that Dr. Mehmet Oz ekes out a win and quits medicine.
Dr. Harland Dorrinson, a neurosurgeon based in Wichita, Kansas, has been funnelling thousands of dollars to the Oz campaign, all donations from doctors hell-bent on seeing the TV host leave their profession.
"Like doctors all across the nation, I salivate at the thought of Dr. Oz talking about taxes, infrastructure, and foreign policy instead of the healing powers of magic coffee beans," Dorrinson said.
The physician said that his colleagues' hearts sank when it became apparent that an easy win for Oz was not in the cards, but they "haven't given up hope" that his departure from medicine could be nigh.
"If Dr. Oz wins, millions of lives could be saved," Dorrinson said. https://www.newyorker.com/humor/borowitz-report/
A Fringe Conspiracy Theory, Fostered Online, Is Refashioned by the G.O.P.
Three shootings, three different targets — but all linked by one sprawling, ever-mutating belief now commonly known as replacement theory. At the extremes of American life, replacement theory — the notion that Western elites, sometimes manipulated by Jews, want to "replace" and disempower white Americans — has become an engine of racist terror, helping inspire a wave of mass shootings in recent years and fueling the 2017 right-wing rally in Charlottesville, Va., that erupted in violence.
In recent months, versions of the same ideas, sanded down and shorn of explicitly anti-Black and antisemitic themes, have become commonplace in the Republican Party — spoken aloud at congressional hearings, echoed in Republican campaign advertisements and embraced by a growing array of right-wing candidates and media personalities.
No public figure has promoted replacement theory more loudly or relentlessly than the Fox host Tucker Carlson, who has made elite-led demographic change a central theme of his show since joining Fox's prime-time lineup in 2016. A Times investigation published this month showed that in more than 400 episodes of his show, Mr. Carlson has amplified the notion that Democratic politicians and other assorted elites want to force demographic change through immigration, and his producers sometimes scoured his show's raw material from the same dark corners of the internet that the Buffalo suspect did.
One in three American adults now believe that an effort is underway "to replace native-born Americans with immigrants for electoral gains," according to an Associated Press poll released this month. The poll also found that people who mostly watched right-wing media outlets like Fox News, One American News Network and Newsmax were more likely to believe in replacement theory than those who watched CNN or MSNBC.
Underlying all variations of replacement rhetoric is the growing diversity of the United States over the past decade, as the populations of people who identify as Hispanic and Asian surged and the number of people who said they were more than one race more than doubled, according to the Census Bureau. https://www.nytimes.com/2022/05/15/us/replacement-theory-shooting-tucker-carlson.html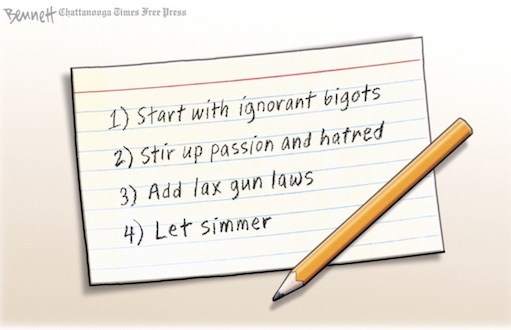 Ukraine Aid Splinters the GOP
Congress' nearly $40 billion package of help for the war-torn nation is taking heat from a growing number of conservative lawmakers, candidates, activists and even former President Donald Trump. Their case against spending on Ukraine's battle against Russia is all about redirecting taxpayer money to domestic problems — but it's alarming fellow Republicans who see it as a flawed argument and part of a disturbing trend toward isolationism.
That tension is putting the sprawling aid package, which is set to clear the Senate later this week, at the center of the ongoing battle to define the modern GOP. Much of the party, from the rank and file all the way up to Senate Minority Leader Mitch McConnell, is forcefully rejecting the MAGA wing's opposition to the aid as misguided.
Yet the nationalist camp, determined to create a questionable either-or choice between foreign assistance and help for Americans in need, is growing ever larger and louder. And senior Republicans are taking on their colleagues more openly, defending the $40 billion aid package at a critical time for Ukraine's war effort. https://www.politico.com/news/2022/05/17/ukraine-aid-divides-the-gop-00033078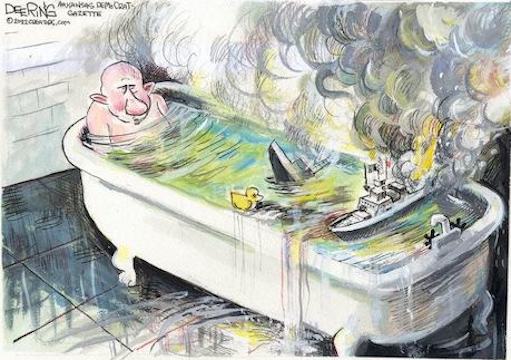 Supreme Court makes it easier for rich donors to bankroll candidates
The Supreme Court has boosted high-dollar donors' abilities to personally enrich candidates — including ones like the wealthy individuals pouring millions into their own campaigns this year — if they prevail on Election Day.
The court's ruling Monday is one more decision bypassing post-Watergate and other campaign finance restrictions. A 6-3 majority struck down rules limiting candidates from raising funds after their elections to repay the money they loaned to their campaign.
Wealthy candidates, who often argue they will avoid any conflicts of interest while in office by self-financing their campaigns, now have an unfettered way to make themselves whole after voters have gone to the polls. https://www.axios.com/2022/05/17/supreme-court-makes-it-easier-for-rich-donors-to-bankroll-candidates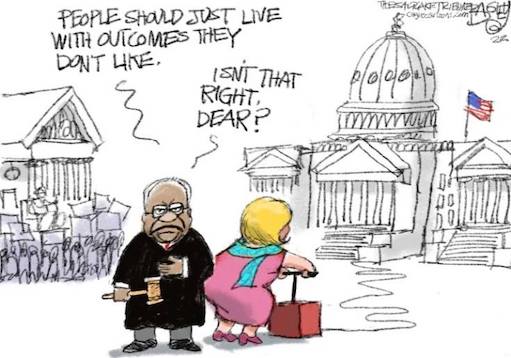 The Right's Violence Problem
Over the past decade, the Anti-Defamation League has counted about 450 U.S. murders committed by political extremists.
Of these 450 killings, right-wing extremists committed about 75 percent. Islamic extremists were responsible for about 20 percent, and left-wing extremists were responsible for 4 percent.
Nearly half of the murders were specifically tied to white supremacists:
The American political right has a violence problem that has no equivalent on the left. And the 10 victims in Buffalo this past weekend are now part of this toll. "Right-wing extremist violence is our biggest threat," Jonathan Greenblatt, the head of the ADL, has written.
"The pattern extends to violence less severe than murder, like the an. 6 attack on Congress. It also extends to the language from some Republican politicians — including Donald Trump — and conservative media figures that treats violence as a legitimate form of political expression. A much larger number of Republican officials do not use this language but also do not denounce it or punish politicians who do use it; Kevin McCarthy, the top House Republican, is a leading example. https://www.nytimes.com/2022/05/17/briefing/right-wing-mass-shootings.html
Overturning Roe Could Reverse Economic Gains
Legalizing abortion was one of the most meaningful economic policies of the past 50 years for women — bolstering their educational attainment and career advancement, as well as reducing poverty rates for women and families, research shows.
"If Roe v. Wade goes away, some of that progress will likely be reversed, which could slow economic growth more broadly. https://www.axios.com/2022/05/12/abortion-women-jobs-families-economics-yellen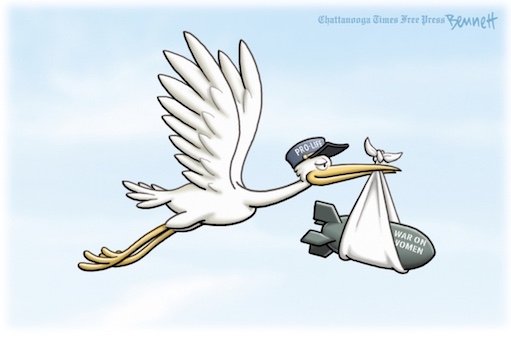 Support for abortion rights hits new high as midterm outlook stays mostly unchanged
Support for abortion rights has reached a record high, and nearly two-thirds of Americans oppose the U.S. Supreme Court overturning Roe v. Wade, according to a new national NBC News poll conducted after the leak of a draft opinion that would strike down the constitutional right to abortion.
What's more, the survey finds abortion climbing up the list of issues that Americans believe are the most important, and that Democratic interest in the upcoming midterms has increased since earlier this year.
But the poll also found that this Supreme Court draft opinion hasn't substantially altered the overall political environment heading into November's elections — with inflation and the economy remaining the public's top issues, President Joe Biden's job rating falling below 40 percent and a whopping 75 percent of Americans saying the country is headed in the wrong direction. https://www.nbcnews.com/politics/2022-election/support-abortion-rights-hits-new-high-midterm-outlook-stays-mostly-unc-rcna28869
Poll: Over Two-Thirds Of Republicans Think President Biden Should Be Impeached If The GOP Retakes The House
The results of a new national University of Massachusetts Amherst Poll released today show that more than two-thirds of Republicans believe that the House of Representatives should impeach President Joe Biden, if the GOP retake the House in this fall's midterm elections.
While just over one-third of the poll's 1,000 respondents (34%) say that a GOP-controlled House should impeach Biden, 68% of Republicans and Trump voters and 66% of conservatives all would like to see the President charged by Congress for treason, bribery or other high crimes and misdemeanors, the formal criteria for impeachment laid out in the Constitution. Asked if they think that a Republican-controlled House actually will impeach Biden, 44% of the poll's respondents said they think it will, while over half of Republicans (53%) said they think it will. https://www.umass.edu/news/article/over-two-thirds-republicans-think-president-biden-should-be-impeached-if-gop-retakes
Red states race to enact new abortion restrictions
Conservative legislatures are passing a raft of controversial new laws, many of which push the envelope further than the courts have ever allowed. But with the court poised to significantly weaken Roe v. Wade, if not overturn it altogether, red states appear confident that these new measures will stand.
As of May 5, 86 bills to restrict or outright ban the procedure have been introduced in 31 states this year alone, according to Guttmacher Institute data. Eight bans have been enacted in 2022, with two being blocked by lower courts. https://www.axios.com/2022/04/16/abortion-ban-red-states-tracking-roe-supreme-court
How America Lost One Million People
The magnitude of the country's loss is nearly impossible to grasp. More Americans have died of Covid-19 than in two decades of car crashes or on battlefields in all of the country's wars combined.
"Experts say deaths are the result of many factors, including elected officials who played down the threat posed by the coronavirus and resisted safety measures; a decentralized, overburdened health care system that struggled with testing, tracing and treatment; and lower vaccination and booster rates than other rich countries, partly the result of widespread mistrust and resistance fanned by right-wing media and politicians." https://www.nytimes.com/interactive/2022/05/13/us/covid-deaths-us-one-million.html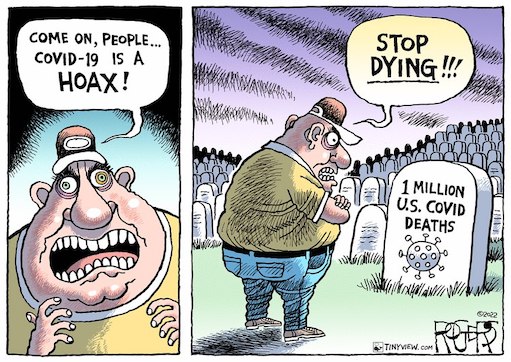 Senate Republicans' electability headache
While it's too early to compare the GOP's plight to the debacles in 2010 and 2012 that frittered away competitive Senate races, there's a rising sense of unease among party insiders that Republicans could end up with candidates who make a Senate takeover more difficult. Barnette is the most immediate worry, though former Gov. Eric Greitens in Missouri, state Rep. Ron Hanks in Colorado and Arizona's Wild West primary are all viewed as potential stumbling blocks to a GOP takeover. https://www.politico.com/news/2022/05/14/kathy-barnette-pennsylvania-gop-primary-00032367
'Provide some cover': New Eastman emails shed light on his push to overturn Biden's win
Attorney John Eastman urged Republican legislators in Pennsylvania to retabulate the state's popular vote — and throw out tens of thousands of absentee ballots — in order to show Donald Trump with a lead, according to newly unearthed emails sent in December 2020, as Trump pressured GOP lawmakers to subvert his defeat.
This recalculation, he posited in an exchange with one GOP state lawmaker, "would help provide some cover" for Republicans to replace Joe Biden's electors from the state with a slate of pro-Trump electors, part of a last-ditch bid to overturn the election results. https://www.politico.com/news/2022/05/10/eastman-emails-pennsylvania-legislators-biden-00031668
"Green Lanternism" holding down Biden's approval ratings
Only 38 percent of Americans approve of the job Joe Biden is doing as President, and the latest survey results from the FDU Poll show that this is largely due to the belief that Presidents have a lot of influence over things that they actually have very little control over. Political scientists refer to the belief that Presidents could do more if they just tried as "Green Lanternism," referring to the DC Comics superhero whose power is limited only by his willpower, and it has become a major obstacle for Biden and Democrats going toward the 2022 midterm elections.
In the survey, Americans were asked to choose between two statements: that the President could get a lot more done if he really tried, or that the President is constrained by factors like the composition of Congress and the Courts. Americans were almost evenly split on the options, with 45 percent saying that the President is limited, and 47 percent saying that he could do more if he tried.
"Americans want someone to fix things. The President is someone, so they want him to fix things," said Dan Cassino, a Professor of Government and Politics at Fairleigh Dickinson University and the Director of the Poll. "The problem is that there just isn't a lot that any President can actually do about most of these issues." https://www.fdu.edu/news/fdu-poll-green-lanternism-holding-down-bidens-approval-ratings/
The Looming End to Abortion Rights Gives Liberal Democrats a Spark
Around the country — from South Texas to Chicago, Pittsburgh to New York — the looming loss of abortion rights has re-energized the Democratic Party's left flank, which had absorbed a series of legislative and political blows and appeared to be divided and flagging. It has also dramatized the generational and ideological divide in the Democratic Party, between a nearly extinct older wing that opposes abortion rights and younger progressives who support them.
President Biden and Democrats in Congress have told voters that the demise of Roe means that they must elect more "pro-choice" candidates, even as the party quietly backs some Democrats who are not.
The growing intensity behind the issue has put some conservative-leaning Democrats on the defensive. https://www.nytimes.com/2022/05/12/us/politics/abortion-rights-liberal-democrats.html
Missouri Looks to Ban Pharmacists From Disputing Efficacy of Ivermectin
When the Missouri state legislature on Wednesday passed a standard-issue licensure bill for physical therapists, few noticed a clandestine provision on its 32nd page banning pharmacists from telling patients about the potential dangers of using unproven drugs touted by conspiracy fringe groups as "forbidden cures" for COVID-19.
The bill, passed unanimously by the state's General Assembly, specifically bars pharmacists from disputing "the efficacy of ivermectin or hydroxychloroquine sulfate tablets for human use." https://www.thedailybeast.com/missouri-lawmakers-pass-bill-barring-pharmacists-from-disputing-efficacy-of-ivermectin-hydroxychloroquine
Sen. Josh Hawley's Move to Strip Disney's Copyrights Called 'Blatantly Unconstitutional'
Sen. Josh Hawley introduced a bill on Tuesday that l would dramatically rewrite U.S. copyright law, shortening the total term available to all copyright holders going forward by several decades. It would also seek to retroactively limit Disney's copyrights, effectively stripping the company of much of its intellectual property, in a move that would face several legal obstacles.

Hawley's move comes on the heels of Gov. Ron DeSantis, who signed a bill last month that aims to dissolve the Reedy Creek Improvement District, a 40-square-mile area that Disney controls in Orlando. DeSantis took the action in retaliation for Disney's opposition to the Parental Rights in Education bill — dubbed "Don't Say Gay" by its opponents — that restricts classroom discussion of sexual orientation and gender identity. https://variety.com/2022/politics/news/hawley-copyright-disney-1235263563/
Red states plan special sessions to target abortion
If Republicans in Congress have any qualms about announcing new abortion restrictions in the event Roe v. Wade is overturned, they are not shared by their state-level counterparts.
GOP governors and state legislators are planning to hold special legislative sessions later this spring and summer to consider new measures to remove or restrict abortion rights, after the Supreme Court's conservative majority is expected to reverse the landmark decision half a century ago guaranteeing those rights.
https://thehill.com/news/state-watch/3485445-red-states-plan-special-sessions-to-target-abortion/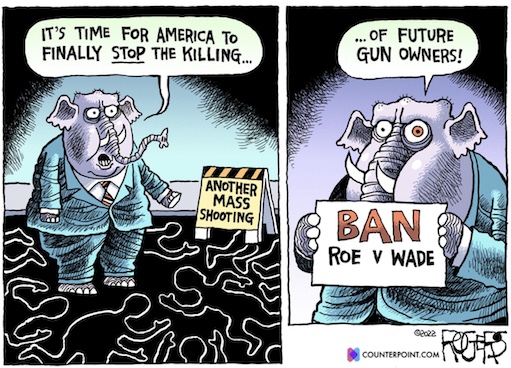 How a long-fought Democratic win could pose trouble for Amazon and Elon Musk
Federal Trade Commission Chair Lina Khan now has the Democratic majority she needs to turn her progressive vision for antitrust and privacy into reality.

The Senate's confirmation of Georgetown University law professor Alvaro Bedoya on Wednesday will end a 2-2 partisan deadlock that kept many of Khan's priorities on ice since October.

Now Khan has the leeway to pursue a potential antitrust suit against Amazon, crack down on employers' non-compete agreements and go after middlemen blamed for increasing pharmaceutical prices — while taking steps to protect consumer privacy. And she may be able to cause headaches for Elon Musk's deal to buy Twitter. https://www.politico.com/news/2022/05/11/senate-vote-lina-khan-antitrust-00029129
Texas governor signs bill prohibiting social media giants from blocking users based on viewpoint
Texas Gov. Greg Abbott (R) on Thursday signed a bill that would prohibit large tech companies from blocking or restricting people or their posts based on their viewpoint, setting the stage for a legal battle with the tech industry.

The law applies to social media companies with more than 50 million monthly active users in the United States, including Facebook, Twitter and Google's YouTube, and requires them to create reports on any illegal or potentially policy-violating content, as well as build a complaint system, where people could challenge companies' decisions to remove content or flag illegal activity. Individuals and the state attorney general could file lawsuits if they believe that the tech companies wrongfully banned them from their platforms.

"It is now law that conservative viewpoints in Texas cannot be banned on social media," Abbott said. Conservatives have long claimed without evidence that Silicon Valley social media companies are censoring them based on their political affiliation. The companies deny those accusations. https://www.washingtonpost.com/technology/2021/09/09/govgregabbott-social-media-censorship-bill/
New Trump venture: Trump Hits the Speaking Circuit
Donald Trump has found a new way to milk his ex-presidency — and test another — hitting the lucrative motivational speaking circuit with more fervor than any other active U.S. politician in history.

It's a way to build support for a possible 2024 presidential bid while potentially pocketing large speaking fees as many of his iconic properties are struggling.

Trump stands to benefit on both ends. He headlines a rally-type event with a third party footing the bill, and stands to gets a hefty payout for his time. https://www.axios.com/2022/05/13/trump-motivational-speaking-tour-campaign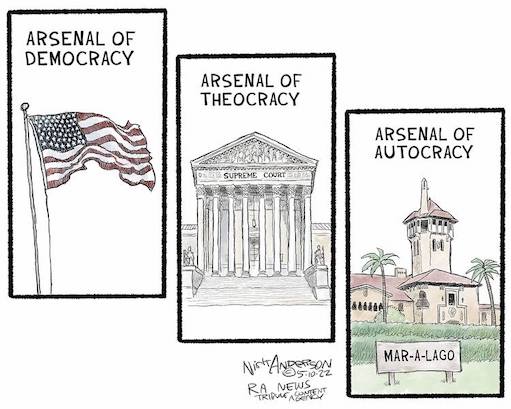 The DAILY GRILL
"That's right, he had them all. Chris Christie, Doug Ducey from Arizona, and Pete Ricketts from Nebraska. That tells you all you need to know about what you are getting in Georgia—just a continuation of bad elections and a real RINO if you vote for Brian Kemp."  Trump derides 'RINO' governors backing Kemp.

VERSUS

Insightful commentary about three Republican Governors who were overwhelmingly re-elected by their people from a former President who lost to Joe Biden. Maybe the "R" in RINO really stands for re-elected. Proud to stand with @DougDucey @GovRicketts supporting@BrianKempGA -- Governor Christie



"While mothers and fathers stare at empty grocery store shelves in a panic, the Biden administration is happy to provide baby formula to illegal immigrants coming across our southern border. This is yet another one in a long line of reckless, out-of-touch priorities from the Biden administration when it comes to securing our border and protecting Americans." — Rep. Kat Cammack (R-Fla.)

VERSUS

This is a ridiculous faux outrage. The shortage of baby formula is a serious issue that the administration is seeking to address. But at the same time, the administration cannot be faulted for following the law and providing baby formula to undocumented immigrants. Anyone who suggests this is the result of specific Biden policies, i.e., his "reckless, out-of-touch priorities," earns Four Pinocchios.  -- Glen Kessler



The energy is markedly more negative outside Kavanaugh's house. The anger has become much more palpable than outside any other justices' house.
VERSUS
The court didn't think clinics needed a buffer zone from protestors. I would like to ask him how it feels.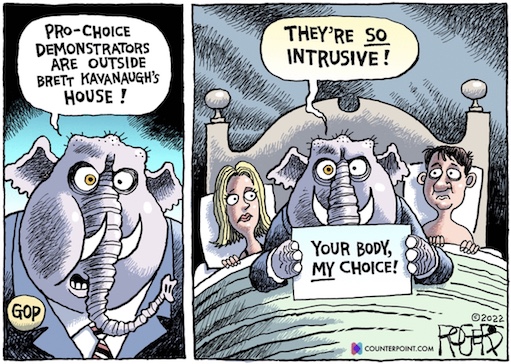 Maureen Dowd: Too Much Church in the State
During her Supreme Court confirmation hearings, Amy Coney Barrett tried to reassure Democrats who were leery of her role as a "handmaid" in a Christian group called "People of Praise."
The group has a male-dominated hierarchy and a rigid view of sexuality reflecting conservative gender norms and rejecting openly gay men and women. Men, the group's decision makers, "headed" their wives.
Justice Barrett said then that she would not impose her personal beliefs on the country. "Judges can't just wake up one day and say 'I have an agenda — I like guns, I hate guns, I like abortion, I hate abortion' — and walk in like a royal queen and impose their will on the world," she said amicably. "It's not the law of Amy. It's the law of the American people."
Yet that's what seems to be coming. Like a royal queen, she will impose her will on the world. It will be the law of Amy. And Sam. And Clarence. And Neil. And Brett.
It's outrageous that five or six people in lifelong unaccountable jobs are about to impose their personal views on the rest of the country. While they will certainly provide the legal casuistry for their opinion, let's not be played for fools: The Supreme Court's impending repeal of Roe will be owed to more than judicial argumentation. There are prior worldviews at work in this upheaval.
The explosive nature of Alito's draft opinion on Roe has brought to the fore how radical the majority on the court is, willing to make women fit with their zealous worldview — a view most Americans reject. It has also shown how radical Republicans are; although after pushing for this result for decades, because it made a good political weapon, they are now pretending it's no big deal. We will all have to live with the catastrophic results of their zealotry. https://www.nytimes.com/2022/05/14/opinion/catholic-roe-abortion-supreme-court.html
Talia Lavin: The Buffalo Shooter Isn't a 'Lone Wolf.' He's a Mainstream Republican
There's no such thing as a lone wolf — an appellation often given, in error, to terrorists who act alone, particularly those of the white supremacist variety. There are only those people who, fed a steady diet of violent propaganda and stochastic terror, take annihilatory rhetoric to its logical conclusion.
Such was the case on Saturday, when a teenaged white supremacist named Payton Gendron opened fire in a supermarket in a Black neighborhood in Buffalo, New York, killing 10 people, while livestreaming the carnage on the live-video site Twitch. Prior to the shooting, he had posted a 180-page manifesto in which he laid out his rationale clearly: He was an adherent of what is called Great Replacement Theory, the idea that white people, in the United States and white-majority countries around the world, are being systematically, deliberately outbred and "replaced" by immigrants and ethnic minorities, in a deliberate attempt to rid the world of whiteness. It's a conspiracy theory that has inspired terror attacks in New Zealand and Pittsburgh, San Diego, and El Paso – an ideology that marries demographic panic with the idea of a cunning, nefarious plot. Reading through the document, what struck me hardest, however, was how very close the killer's ideas were to the American mainstream – the white-hot core of American politics.
There has never been a lone wolf when it comes to racist terror in the United States; it suffuses every aspect of our politics and policy, and in latter years the mass howl of fear at change comes from a jaw that drips with blood. As long as we fail to recognize the wellspring of racial animus that animates the right wing in this country, the corpses will continue to accrue. https://www.rollingstone.com/politics/political-commentary/buffalo-shooter-white-supremacist-great-replacement-donald-trump-1353509/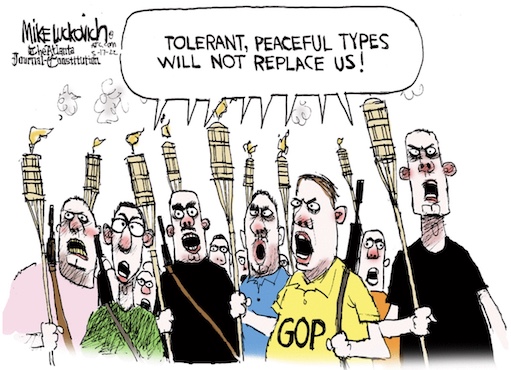 John Della Volpe: Young Americans Are Stressed. They Are Angry. And They Can Swing Congress
Yet there's a reason to believe that Democrats can run their own once-in-a-century, Rich Strike-style derby and maintain control of Congress in November's elections. A trifecta of events and likely developments create a narrow window for Mr. Biden and Democrats to regain their footing and shock the world.
The growing presence of Mr. Trump's voice back on the national stage; the leak of Justice Samuel Alito's draft opinion on abortion and the likely fall of Roe v. Wade; and the opportunity for Mr. Biden to make good on a campaign commitment to address the student debt crisis have formed ideal conditions for Democratic renewal. While older voters will prioritize each party's pledges to reduce inflation this fall, younger voters will additionally weigh the broad set of values and vision for the future held by Democrats and Republicans.
Young Americans are more likely to vote when they see a tangible difference between the parties and feel the consequences of election outcomes. As Generation Z and young millennials were tuning into politics more closely, millions watched Mr. Trump roll back climate policy, undermine the Affordable Care Act, deliver tax breaks for the wealthy and pave the way for white nationalist theorists to enter the public square — all moves that were antithetical to the values of reducing inequality and standing up for those without a voice. These are values that we've found in young Americans across most points on the ideological spectrum. As Mr. Trump's regressive MAGA message gains newfound traction through Republican primaries and in Elon Musk's vision for Twitter, the fear of Trumpism on the march can be weaponized by Democrats to motivate young voters, as it was in the last midterms.  https://www.nytimes.com/2022/05/16/opinion/young-voters-midterms-democrats.html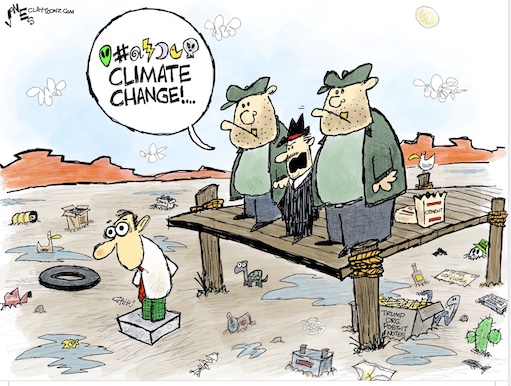 Bany Sheelah Kolhatkar: The Devastating Economic Impacts of an Abortion
Last December, oral arguments were held before the Supreme Court in Dobbs v. Jackson Women's Health Organization, the case leading to the leaked draft opinion last week that, if finalized, would overturn Roe v. Wade. During one especially illuminating moment, Chief Justice John Roberts attempted to draw Julie Rikelman—the litigation director of the Center for Reproductive Rights, who was arguing to have a ban on abortions after fifteen weeks in the state of Mississippi overturned—into a back-and-forth about the significance of the cutoff for having access to an abortion. Rikelman made a broader argument, that narrowing women's access to the procedure could disproportionately harm low-income women or those experiencing personal crises. She turned to numbers to bolster her argument. "In fact," Rikelman said, "the data has been very clear over the last fifty years that abortion has been critical to women's equal participation in society. It's been critical to their health, to their lives, their ability to pursue—"
"I'm sorry, what—what kind of data is that?" Roberts interrupted.
When Rikelman tried to answer, Roberts interrupted again. "Well, putting that data aside," he said, "why would fifteen weeks be an inappropriate line?"
Last fall, Caitlin Myers, an economics professor at Middlebury College who studies gender, race, and the effects of reproductive-health policies on people's lives marshalled a hundred and fifty-four economists to file an amicus brief against the abortion ban, in which they outlined decades of research on how unwanted pregnancies can affect women's education, employment, and earning prospects, and can impact the labor market more broadly. "Economists as a whole don't have disagreement about this," Myers said. "This is not a question about the minimum wage—if you bring that up, then they'll start arguing. But, if you ask about the role of childbearing in women's lives, they don't argue on many of the facts."
The legalization of abortion, in the seventies, had dramatic effects on the ages at which and the circumstances under which women became mothers. It reduced the number of teen-age mothers by a third, and that of women who got married as teen-agers by a fifth. "Those effects are concentrated among young women and women of color," Myers said. "Even when abortion was illegal, women who had the means would find a way." Women who were able to delay motherhood through legal access to abortion were much more likely to finish college, pursue higher degrees, spend longer in the labor force, and enter higher-paying occupations; they were much less likely to fall into poverty later in life. "Fifty years later, the question is: does it still matter?" Myers said, of abortion access. "In short, the answer is yes."
The draft opinion suggests that the conservative members of the Court accepted as fact the fantasy version of reality presented by the Dobbs argument—or perhaps that they simply don't think that the potential economic effects of an abortion ban on women's lives are relevant to the discussion. In truth, most people don't have access to paid family leave: the U.S. is one of the few nations that doesn't guarantee paid leave to new parents. The cost of child care is prohibitively expensive, averaging more than a thousand dollars a month for infants. Research conducted by economists such as Claudia Goldin, at Harvard, and Francine Blau, at Cornell University, has shown that the gender pay gap begins to widen once women become mothers. The workplace protections that do exist for mothers apply mostly to people with college degrees; at the lower end of the economic spectrum, where hourly workers may be engaged in shift work with unpredictable hours, there are few safeguards in place. "I think we need the data. And we have it. And we gave it to them," Myers told me. "And it just seems to not be reflected in that draft." https://www.newyorker.com/business/currency/the-devastating-economic-impacts-of-an-abortion-ban
Jamelle Bouie: The Slaughter in Buffalo Hasn't Quieted the Great Replacement Caucus
Make no mistake: The idea that apparently inspired a white supremacist who is accused of killing and injuring more than a dozen people last Saturday at a supermarket in Buffalo — that nefarious elites are using immigration to "replace" white Americans with pliant foreigners — is virtually indistinguishable from mainstream Republican rhetoric.
"This administration wants complete open borders," said Senator Ron Johnson of Wisconsin in an interview last month. "And you have to ask yourself, why? Is it really [that] they want to remake the demographics of America to ensure that they stay in power forever?"

"The media calls us racist for wanting to build Trump's wall," said J.D. Vance, the Republican nominee for the U.S. Senate in Ohio, in a campaign ad. "They censor us, but it doesn't change the truth. Joe Biden's open border is killing Ohioans, with more illegal drugs and more Democrat voters pouring into this country."

Hours after the shooting, a Republican Senate candidate in Arizona, Blake Masters, said on Twitter, "The Democrats want open borders so they can bring in and amnesty tens of millions of illegal aliens — that's their electoral strategy." And on Monday, the No. 3 Republican in the House of Representatives, Elise Stefanik of New York, tweeted that it was a "FACT that DEMOCRATS have been explicitly pushing for amnesty for years — specifically for political and electoral purposes."

Republican politicians aside, there's also Tucker Carlson, whose Fox News program is a direct conduit for white nationalist ideas, including the idea of "the great replacement." There are more than 400 episodes of his show, according to a recent Times investigation, in which Carlson has either amplified or promoted the theory that Democrats and other members of the liberal elite (like the billionaire philanthropist George Soros) are using immigration to replace the native-born majority with a new, foreign-born electorate.

The reason Joe Biden has not ended illegal immigration to the United States, Carlson charged in a monologue last year, is that he wants to "change the racial mix of the country" and "reduce the political power of people whose ancestors lived here, and dramatically increase the proportion of Americans newly arrived from the third world." This policy, Carlson continued, is "sometimes called the great replacement — the replacement of legacy Americans with more obedient people from faraway countries."

The point of making the connection between this rhetoric and that of the accused shooter is not to say that Carlson or Republican politicians are directly responsible for the ideas in his manifesto or for the slaughter itself. But the shooting in Buffalo is only the latest in a series of mass shootings inspired by this particular racist conspiracy theory. In the United States, there have been at least two others: the 2018 Tree of Life synagogue shooting in Pittsburgh that killed 11 people and the 2019 shooting in El Paso that killed 23 people. And abroad, there was the shooting in Christchurch, New Zealand, in 2019 where a gunman attacked a mosque, killing 51 people. (The accused killer in Buffalo singled out the Christchurch shooter for praise in his manifesto.) https://www.nytimes.com/2022/05/17/opinion/buffalo-great-replacement-republicans.html
Margaret Atwood: I Invented Gilead. The Supreme Court Is Making It Real.
"In the early years of the 1980s, I was fooling around with a novel that explored a future in which the United States had become disunited. Part of it had turned into a theocratic dictatorship based on 17th-century New England Puritan religious tenets and jurisprudence. I set this novel in and around Harvard University—an institution that in the 1980s was renowned for its liberalism, but that had begun three centuries earlier chiefly as a training college for Puritan clergy."
"In the fictional theocracy of Gilead, women had very few rights, as in 17th-century New England. The Bible was cherry-picked, with the cherries being interpreted literally. Based on the reproductive arrangements in Genesis—specifically, those of the family of Jacob—the wives of high-ranking patriarchs could have female slaves, or 'handmaids,' and those wives could tell their husbands to have children by the handmaids and then claim the children as theirs."
"Although I eventually completed this novel and called it The Handmaid's Tale, I stopped writing it several times, because I considered it too far-fetched. Silly me. Theocratic dictatorships do not lie only in the distant past: There are a number of them on the planet today. What is to prevent the United States from becoming one of them?"
For instance: It is now the middle of 2022, and we have just been shown a leaked opinion of the Supreme Court of the United States that would overthrow settled law of 50 years on the grounds that abortion is not mentioned in the Constitution, and is not "deeply rooted" in our "history and tradition." True enough. The Constitution has nothing to say about women's reproductive health. But the original document does not mention women at all.
The Alito opinion purports to be based on America's Constitution. But it relies on English jurisprudence from the 17th century, a time when a belief in witchcraft caused the death of many innocent people. The Salem witchcraft trials were trials—they had judges and juries—but they accepted "spectral evidence," in the belief that a witch could send her double, or specter, out into the world to do mischief. Thus, if you were sound asleep in bed, with many witnesses, but someone reported you supposedly doing sinister things to a cow several miles away, you were guilty of witchcraft. You had no way of proving otherwise.
Similarly, it will be very difficult to disprove a false accusation of abortion. The mere fact of a miscarriage, or a claim by a disgruntled former partner, will easily brand you a murderer. Revenge and spite charges will proliferate, as did arraignments for witchcraft 500 years ago.
If Justice Alito wants you to be governed by the laws of the 17th century, you should take a close look at that century. Is that when you want to live? https://www.theatlantic.com/ideas/archive/2022/05/supreme-court-roe-handmaids-tale-abortion-margaret-atwood/629833/
 
The Lancet: Why Roe v. Wade must be defended
In the USA, Black women have an unintended pregnancy rate double that of non-Hispanic White women. And the maternal mortality rate for Black women, to which unsafe abortion is an important contributor, is almost three times higher than for white women. These sharp racial and class disparities need urgent solutions, not more legal barriers. The fact is that if the US Supreme Court confirms its draft decision, women will die. The Justices who vote to strike down Roe will not succeed in ending abortion, they will only succeed in ending safe abortion. Alito and his supporters will have women's blood on their hands.
The 2018 Guttmacher–Lancet Commission on Sexual and Reproductive Health and Rights For All concluded that these rights, which included the right to safe abortion services and the treatment of complications from unsafe abortion, were central to any conception of a woman's wellbeing and gender equality. The availability of an essential package of sexual and reproductive health interventions should be a fundamental right for all women—including, comprehensive sexuality education; access to modern contraceptives; safe abortion services; prevention and treatment of HIV and other sexually transmissible diseases; prevention and treatment for gender-based violence; counselling for sexual health; and services for infertility. What kind of society has the USA become when a small group of Justices is allowed to harm women, their families, and their communities that they have been appointed to protect?
The route forward is unclear and perilous. This Court's argument suggests possible future attacks on a raft of other civil rights, from marriage equality to contraception. Despite urgent pleas from some members of Congress, the long-overdue encoding of Roe into law by the Biden administration is highly unlikely. That a Court is about to force through a health policy supported by only 39% of Americans is dysfunctional. Indeed, if the Court denies women the right to safe abortion, it will be a judicial endorsement of state control over women—a breathtaking setback for the health and rights of women, one that will have global reverberations. https://www.thelancet.com/journals/lancet/article/PIIS0140-6736(22)00870-4/fulltext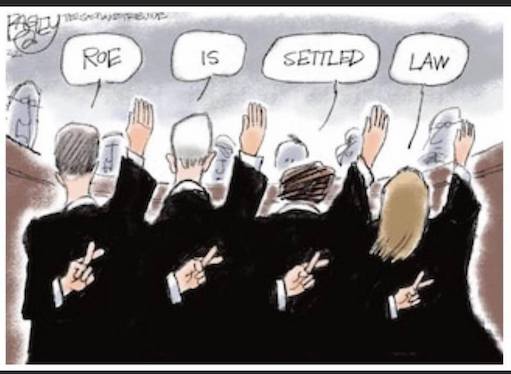 Amy Davidson Sorkin: How Alito's Draft Opinion on Abortion Rights Would Change America
Those who have watched Samuel Alito during his sixteen years as a Supreme Court Justice will not have been surprised to learn that his draft opinion in the case of Dobbs v. Jackson Women's Health Organization, a challenge to a restrictive Mississippi abortion law, is written in a register of scorn. Alito's 2015 dissent in Obergefell v. Hodges, the case that recognized the right of same-sex couples to marry, complains that "those who cling to old beliefs" will be forced to "whisper their thoughts in the recesses of their homes," lest they be subject to "turn-about" persecution by gays and lesbians and their sympathizers. What's different about his Dobbs opinion, which was leaked to Politico last week, though, is that it's not a dissent. It was, apparently, circulated in February as the draft "opinion of the court," with four other Justices joining Alito to overturn Roe v. Wade (decided in 1973) and its successor, Planned Parenthood v. Casey (1992). Alito calls Roe "egregiously wrong" and writes that there is no constitutional right to seek an abortion—not at any stage, in any pregnancy, or for any reason he acknowledges. His signature note of grievance may still be present, but it is accompanied by a blast of triumphalism.
Assuming that Alito's majority stays intact—and that the final opinion resembles the draft—Dobbs will mark a shift in the country that goes beyond access to abortion. (The decision had been expected in late June.) Alito's companions in aiming to throw out Roe are, it seems, Justices Clarence Thomas, Neil Gorsuch, Brett Kavanaugh, and Amy Coney Barrett, the last three of whom were nominated by Donald Trump. Chief Justice John Roberts had reportedly hoped that a majority could be found to uphold the Mississippi law while leaving Roe, in some form, in place. But his vote hardly matters. The ambitions of the Court's five most conservative members seem unrestrained.
The most immediate effect of Dobbs, if the draft opinion holds, will be that tens of millions of women will abruptly lose access to abortion. The ruling itself would not institute a ban, but it would give states almost boundless power to do so. More than twenty states already have measures in place that would severely curtail access: "trigger laws," designed to go into effect once Roe is overturned; restrictions in state constitutions; or laws that predate Roe but were left on the books. After the draft was leaked, Louisiana legislators moved forward with a bill that would not only ban almost all abortions but would define them as homicides. Sixteen states, meanwhile, have laws protecting abortion rights. This should be cold comfort to people who live in those jurisdictions or who have the financial means to travel. Their own rights will be conditional; they may feel that their choice of where to live is constrained; their country will be more divided and unequal than it is now. But the burden will fall most heavily on Americans with less money.
An effect of his draft opinion would be that Americans who care about reproductive rights will be asked to expend a great deal of energy carrying their fight to every level of government, perhaps most especially in elections for state legislatures, which is where, for the immediate future, access to abortion will be doled out or withheld. For many, it will be dispiriting and deeply sad to be asked to wage battles long thought won, when there are so many other struggles to be fought—child care, climate change, Trump. The light that Dobbs casts on each party's priorities could nonetheless be bracing. Elections are worth the effort. It may be Alito's Court, but it's not yet his America. https://www.newyorker.com/magazine/2022/05/16/how-alitos-draft-opinion-on-abortion-rights-would-change-america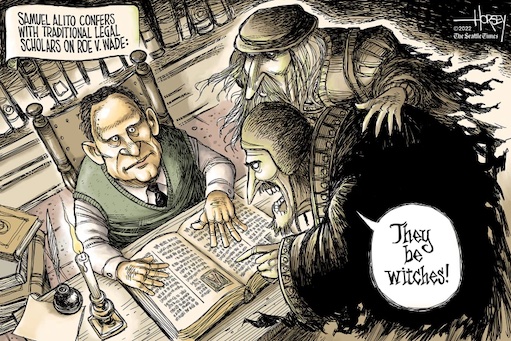 David Lauter: Essential Politics: Conspiracy theories and fear of immigrants — a toxic mix
Long before Donald Trump descended the escalator to the Trump Tower lobby, where he launched his presidential campaign while labelling Mexican immigrants as "rapists," immigration was playing a powerful role in motivating voters on the right.
Along with opposition to the Affordable Care Act, the effort to stop immigration reform played a key role in mobilizing conservatives during President Obama's two terms in office. Trump's candidacy further ramped up the political focus on immigration. It also allowed the spread of toxic falsehoods that had been largely relegated to the fringe.
One of the most pernicious is "replacement theory" — the belief that elites (big business, Democratic politicians, major cultural figures and so on) have conspired to bring large numbers of immigrants to the U.S. in a deliberate effort to replace the native-born population with more subservient people who will work for less and vote for whom they're told.
The conspiracy theory, which gained traction on the far right in Europe before being popularized in the U.S., has become a staple of some prominent cable television figures, such as the Fox News host Tucker Carlson, who said last year that President Biden wanted to increase immigration "to reduce the political power of people whose ancestors lived here and dramatically increase the proportion of Americans newly arrived from the Third World."
Support for immigration restriction continues to be a major rallying cry for the Republican base. A lot of the rhetorical ire is aimed at illegal border crossing, but proposals to dramatically reduce legal immigration became official White House policy under Trump and remain important to a large segment of his core supporters.
The AP-NORC study asked a number of questions about immigration, including two aimed specifically at gauging how many Americans believe key parts of the replacement theory.
One question asked whether "there is a group of people in this country who are trying to replace native-born Americans with immigrants who agree with their political views."
About 1 in 7 Americans said they "strongly agree" with that. A similar share said they were "very concerned" that "native-born Americans are losing economic, political, and cultural influence in this country because of the growing population of immigrants."
About 1 in 5 Americans agreed with both of those tenets of replacement theory to at least some extent.
That finding was "the primary thing that got our attention" when analyzing the study results, said Jennifer Benz of NORC. The researchers were struck by "how widespread the belief in these core arguments of replacement theory are," Benz said. "It's a larger segment of the population than we may have expected going into this who have this fairly extreme view."

Viewers of right-wing media especially shared those ideas: Among people who said they most often watch OANN or Newsmax, 45% agreed with both of the replacement theory statements. So did 31% of Fox viewers, compared with 13% of CNN viewers.

That reflects the partisan nature of America's immigration debate, but something else as well: The most widespread support for ideas central to replacement theory came from Americans who believe generally in conspiracy theories.

The AP-NORC study used a four-question scale to measure a person's belief in conspiracies. The questions ask if people believe that major events are the result of plots executed in secret, whether events are directed by a small group of powerful people, whether those people are unknown to voters and whether that group controls the outcome of elections, wars, economic recessions and other major developments.

People who scored high on the conspiracy scale were, in The problem for American democracy is not so much the share of Americans who believe in conspiracies, but the political system's weakened ability to keep those ideas at bay.

Through most of U.S. history, "we've generally counted on our elites" to not exploit conspiratorial thinking among their followers, Uscinski noted. Some presidents "would dabble in conspiracy theories now and then," but mostly, they steered clear of them. Trump changed all that.

"The way that Trump used it was at a level and volume we haven't seen," he said. And other ambitious political figures have taken note. "They've seen the prototype," he said. "It works."  https://www.latimes.com/politics/newsletter/2022-05-13/conspiracy-theories-and-fear-of-immigrants-a-toxic-mix-essential-politics