December 13, 2018
ON THE RECORD. . .
"Totally clears the President. Thank you!" — Trump on Twitter, presumably commenting on sentencing recommendations made by prosecutors for his former personal lawyer, Michael Cohen.
"The Paris Agreement isn't working out so well for Paris. Protests and riots all over France. People do not want to pay large sums of money, much to third world countries (that are questionably run), in order to maybe protect the environment. Chanting 'We Want Trump!' Love France." —  Trump, inaccurately claiming that the riots in Paris are a backlash against the Paris Agreement.
"There's a very real prospect that on the day Donald Trump leaves office, the Justice Department may indict him. That he may be the first president in quite some time to face the real prospect of jail time." — Rep. Adam Schiff (D-CA) about the Russia Investigation on to Face the Nation.
"The president has now stepped into the same territory that ultimately led to President Nixon resigning the office. President Nixon was an unindicted co-conspirator. Was certainly a different set of facts, but this investigation is now starting to put the president in serious legal crosshairs and he should be worried and the whole country should be worried." -- Sen. Chris Murphy (D-CT) to ABC News.

"I understand the Democrats have important debates now over who their candidate should be, but they have to win. They have to win." — Former FBI Director James Comey all but begging Democrats to set aside their ideological differences and nominate the person best suited to defeating Trump in a landslide in the 2020 election.
"We've had limited success in dealing with this President. His word isn't good. Within 48 hours he reverses himself. It's very difficult to enter into a long-term agreement." — Senate Minority Whip Dick Durbin (D-IL) on negotiations to avoid a government shutdown.
"It goes to show you: you get into a tinkle contest with a skunk, you get tinkle all over you. It's like a manhood thing with him — as if manhood can be associated with him. This wall thing." — House Minority Leader Nancy Pelosi in a private meeting with House Democrats, after a very public showdown with Trump over his border wall with Mexico.
"I am proud to shut down the government for border security. I will take the mantle. I will be the one to shut it down. I'm not going to blame you for it. The last time you shut it down, it didn't work. I will take the mantle of shutting down. And I'm going to shut it down for border security." — Donald Trump threatening to shut down the government during a heated argument with Democratic congressional leaders in the Oval Office on Tuesday.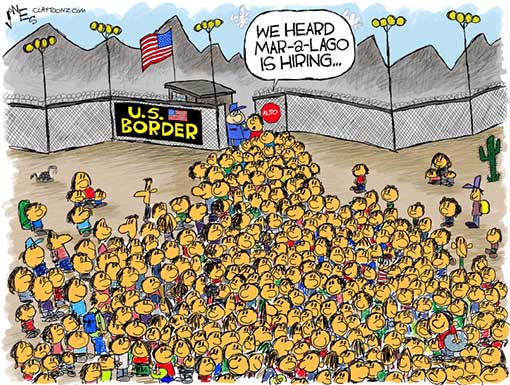 "Truth isn't truth," — Rudolph W. Giuliani, 2018′s most notable quote made in a back-and-forth with NBC's Chuck Todd about the Russia investigation.
"If we close down the country, I'll take it because we're closing it down for border security and I think I win that every single time." — Trump on Tuesday
---
IN THIS ISSUE
FYI
OPINION
1. Andy Borowitz: Trump Suddenly Expresses Deep Concern About Conditions in Nation's Prisons
In a sudden departure from his previous views on incarceration, Donald J. Trump said on Monday that he was "very, very concerned" about conditions in the nation's prisons.

"These are very, very bad places," Trump told reporters. "These are not places you would want to be."

Trump criticized the "total lack of amenities" in the country's federal penitentiaries, calling those prisons "a disgrace."

"If you are locked up in one of those places, there is no TV in your cell," he said. "And good luck getting a Diet Coke. You can yell and yell and no one will go get you one. It's a very sad, very sick situation."

In addition to blasting the conditions inside the nation's prisons, Trump also questioned whether "putting someone in jail for one or two felonies serves any purpose."

"I've been thinking about this a lot lately," he said. "Prison solves nothing." https://www.newyorker.com/humor/borowitz-report/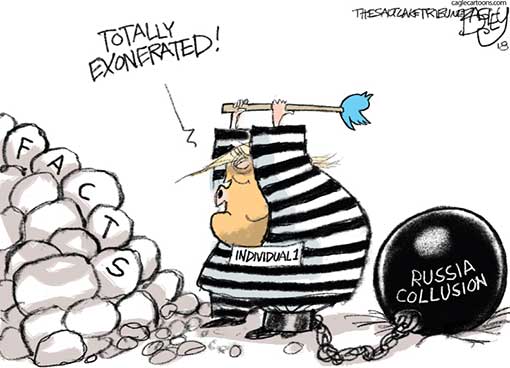 2. Incoming New York attorney general plans wide-ranging investigations of Trump and family
New York Attorney Gen.-elect Letitia James (D) told NBC News that she plans to launch sweeping investigations into President Trump, his family and "anyone" in his circle who may have violated the law once she settles into her new job next month.
Said James: "We will use every area of the law to investigate President Trump and his business transactions and that of his family as well." https://www.nbcnews.com/politics/donald-trump/incoming-new-york-attorney-general-plans-wide-ranging-investigations-trump-n946706
3. Playing by His Own Rules, Trump Flips the Shutdown Script
The trick in Washington has always been to make sure a government shutdown is pinned on the other guy. President Trump is the first to ever pin one on himself.
"In a new twist on the old game of shutdown politics dating to the 1990s, Mr. Trump was essentially goaded on Tuesday by Rep. Nancy Pelosi and Sen. Chuck Schumer into embracing ownership of a shutdown yet to come if Democrats do not accede to his request for $5 billion to build a wall on the southern border with Mexico."
Said Trump: "I will take the mantle. I'm not going to blame you for it. The last time you shut it down, it didn't work. I will take the mantle of shutting down, and I'm going to shut it down for border security."
A smiling Mr. Schumer seemed more than satisfied with Mr. Trump's retort: "O.K., fair enough." https://politicalwire.com/2018/12/12/trump-flips-the-shutdown-script/
4. Bottomless Pinocchios
The bar for the Bottomless Pinocchio is high: The claims must have received three or four Pinocchios from The Fact Checker, and they must have been repeated at least 20 times. Twenty is a sufficiently robust number that there can be no question the politician is aware that his or her facts are wrong. The list of Bottomless Pinocchios will be maintained on its own landing page. https://www.washingtonpost.com/graphics/politics/fact-checker-most-repeated-disinformation/
Note: In 649 days, Trump has made 6,420 false or misleading claims. https://www.washingtonpost.com/graphics/politics/trump-claims-database/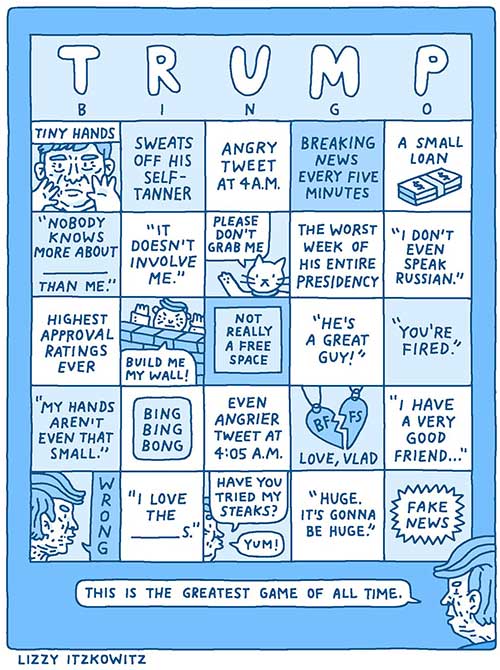 5. Trump's next chief of staff may be walking into a nightmare
The job of White House chief of staff is close to impossible at the best of times, but Donald Trump's new West Wing enforcer faces an even tougher mission -- one that may eventually evolve into an effort to save his presidency itself.
The next chief will walk into a White House engulfed in scandal, in the sights of special counsel Robert Mueller and newly empowered Democrats, at what is shaping up as one of the most grave constitutional moments in US history.
The long-expected departure of the current incumbent, John Kelly, announced by Trump on Saturday, comes at a time of instability and crisis that is remarkable even for this riotous administration where turbulence is the rule.
He or she will also inherit a White House that is more deeply threatened by a criminal investigation and allegations of abuse of power than at any time since the Nixon administration. And every week, the situation gets darker with the President under threat from formidable prosecutors on two fronts -- from Mueller who works under the supervision of the Justice Department and from the US Attorney for the Southern District of New York.
Anyone coming into the Trump White House from outside will do so in the knowledge that they are entering a situation that could expose them to reputational, political and even personal legal jeopardy. https://www.cnn.com/2018/12/10/politics/trump-next-chief-of-staff/index.html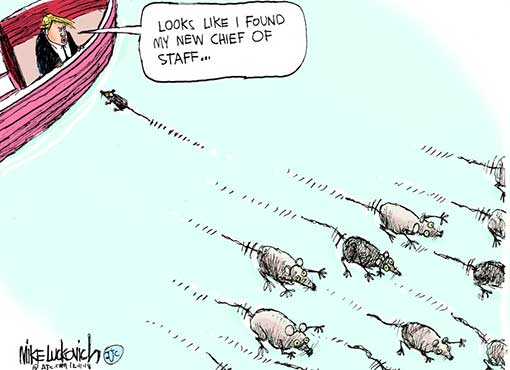 6. GOP power grabs pour gas on 'resistance' in key Midwest states
Republican efforts to weaken incoming Democratic governors in Michigan and Wisconsin have reignited the grass-roots fervor that flipped both states in November, turning the typically sleepy post-election period into a key organizing moment ahead of the 2020 presidential election. https://www.politico.com/story/2018/12/08/wisconsin-michigan-lame-duck-sessions-democrats-1052221
7. The DAILY GRILL
"It was challenging for me. Coming from the disciplined, highly process-oriented Exxon Mobil corporation, to go to work for a man who is pretty undisciplined, doesn't like to read, doesn't read briefing reports, doesn't like to get into the details of a lot of things, but rather just kind of says, 'This is what I believe.' — Former Secretary of State Rex Tillerson

VERSUS

Mike Pompeo is doing a great job, I am very proud of him. His predecessor, Rex Tillerson, didn't have the mental capacity needed. He was dumb as a rock and I couldn't get rid of him fast enough. He was lazy as hell. Now it is a whole new ballgame, great spirit at State! — Trump on Twitter fighting back in characteristic style, insisting that Tillerson is the dummy.

 

Totally clears the President. Thank you! — Donald Trump on Twitter

VERSUS

Except for that little part where the US Attorney's Office says that you directed and coordinated with Cohen to commit two felonies. Other than that, totally scot-free. — George Conway, the husband of Kellyanne Conway responds.

 

"It's like the party is a frog slowly boiling in water, being conditioned to not be worried, to not think too hard about what's happening around them. They feel at a loss about what to do because it's the president's party, without any doubt. So, there's a lot of whistling by the graveyard these days." — Sen. Jeff Flake (R-Ariz) warns that the drumbeat of Trump loyalists in Congress, along with the president's relentless clashes with Mueller, have lulled Republicans into a dangerous place.

VERSUS

"He's a bitter, bitter man. It's sick. Nobody likes him and they would like him gone." — Rudy Giuliani dismissing Flake's criticism in much the same way he and the president have taken on Mueller — with a barbed character attack rather than a measured rebuttal.

 

Democrats can't find a Smocking Gun tying the Trump campaign to Russia after James Comey's testimony. No Smocking Gun...No Collusion." @FoxNews That's because there was NO COLLUSION. So now the Dems go to a simple private transaction, wrongly call it a campaign contribution,.......which it was not (but even if it was, it is only a CIVIL CASE, like Obama's - but it was done correctly by a lawyer and there would not even be a fine. Lawyer's liability if he made a mistake, not me). Cohen just trying to get his sentence reduced. WITCH HUNT! -- Donald J. Trump @realDonaldTrump

VERSUS

"No, the criminal campaign-finance violations were found by professional line prosecutors in a Republican-controlled United States Department of Justice. It looks like a pretty good case. Kudos to them." — George Conway, seizing on Trump's assertion that Democrats were behind the scrutiny of the payments.
8. From MEDIA MATTERS (They watch Fox News so you don't have to)
Fox News' leading propagandists have been begging for President Donald Trump to install an attorney general who will turn their conspiracy theories into federal investigations. With William P. Barr, the reported front-runner to fill the position, they may finally get their wish. https://www.mediamatters.org/blog/2018/12/06/Fox-is-going-to-love-possible-Trump-attorney-general-pick-William-Barr/222252

Fox fails to tell its viewers that the benefactor of the alleged Carolina election fraud is a Republican candidate, even though at least six sworn affidavits make clear that "the Republican nominee was the one who stood to gain from it." Fox & Friends First reported on the story for less than 30 seconds, claiming that "ballots may have been illegally collected" without making it clear which party's candidate is facing allegations. https://www.mediamatters.org/blog/2018/12/07/three-ways-fox-news-reacted-or-didn-t-news-election-fraud-north-carolina/222260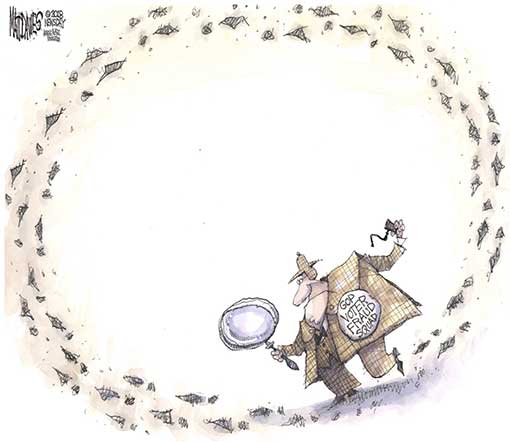 Fox host repeats Trump's lie that disease-ridden terrorists are coming over the border. The Department of Homeland Security has previously found no evidence to support these claims. https://www.mediamatters.org/video/2018/12/11/fox-host-repeats-trumps-lie-disease-ridden-terrorists-are-coming-over-border/222284

Fox figures push a government shutdown over funding a border wall. Tomi Lahren, host of Fox Nation's First Thoughts, expressed strong support for a government shutdown, telling Trump to "shut it down" because "the promise of a big, beautiful border wall" was at the "top of [her] list" when voting for Trump. She doubled down on her support by saying, "A good old-fashioned government shutdown spanking might be exactly what our politicians need." https://www.mediamatters.org/blog/2018/12/11/Fox-figures-push-a-government-shutdown-over-funding-a-border-wall/222282
9. From the Late Shows
Trump Brothers Bedtime Cold Open - SNL: https://youtu.be/Nb0ftN84LUk

Weekend Update: Trump Calls for End to Mueller Probe - SNL: https://youtu.be/1My95L88M2g
10. Poll: Republicans Are Only Group That Mostly Sees Mueller Probe As A 'Witch Hunt
A new NPR/PBS NewsHour/Marist Poll finds that 71% of Republicans agree with President Trump that special counsel Robert Mueller's investigation in a "witch hunt," while 55% of independents and 82% of Democrats see the investigation as "fair."
Said pollster Lee Miringoff: "The base is solidified, but that doesn't get you more than that."
https://www.npr.org/2018/12/07/674315848/poll-republicans-are-only-group-that-mostly-sees-mueller-probe-as-a-witch-hunt
11. Beto O'Rourke narrowly tops wide-open MoveOn 2020 presidential straw poll; Biden is runner-up
An early straw poll of members of the progressive group MoveOn.org shows a wide-open competition for liberal voters in the forthcoming 2020 Democratic presidential contest, with Beto O'Rourke narrowly beating out Joe Biden, NBC News reports.
The most popular potential candidate was O'Rourke at 15.6%, followed by Biden at 14.9%, and then Sen. Bernie Sanders with 13.1%. https://www.nbcnews.com/politics/elections/beto-o-rourke-narrowly-tops-moveon-2020-presidential-straw-poll-n946501
12. In potential blow to Manafort, Supreme Court unlikely to change double jeopardy rule
The U.S. Supreme Court appeared unlikely Thursday to change its long-standing rule that putting someone on trial more than once for the same crime does not violate the Constitution's protection against double jeopardy.
That outcome — keeping existing rules in place — would potentially be a blow to Paul Manafort, who faces prison time for violating federal fraud laws. A presidential pardon could keep him out of federal prison, but it would not free him from being prosecuted on similar state charges — unless the Supreme Court changes the rule. But that did not seem possible after Thursday's oral argument before the justices. https://www.dallasnews.com/news/texas-politics/2018/12/06/beto-orourkes-bid-ted-cruz-ended-raising-record-80m-sum-sure-stoke-2020-buzz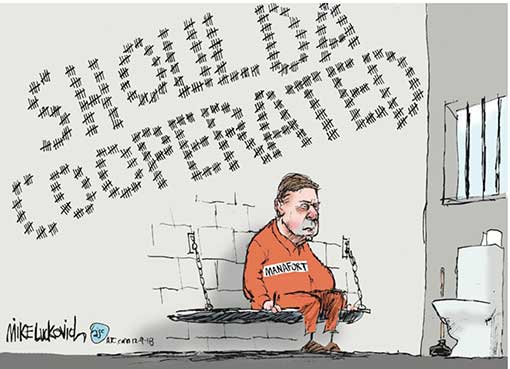 13. The Wisconsin power grab is part of a bigger Republican attack on democracy
On Wednesday morning, the Republican-controlled state legislature passed a bill that would seize key powers from incoming Democratic Gov. Tony Evers, who defeated incumbent Gov. Scott Walker in November.
Michigan Republicans are currently weighing similar plans, and both are following in the footsteps of North Carolina Republicans, who passed a power-stripping bill after a Democratic victory in the 2016 governor's race.
These power grabs highlight one of the most disturbing facts about American politics today: The Republican Party has become institutionally indifferent to the health of democracy. It prioritizes power over principle to such an extreme degree that it undermines the most basic functioning of democracy.
In the long run, the GOP's turn against democracy could well be a greater threat to the American experiment than anything President Trump has done. https://www.vox.com/policy-and-politics/2018/12/6/18127332/wisconsin-state-republican-power-grab-democracy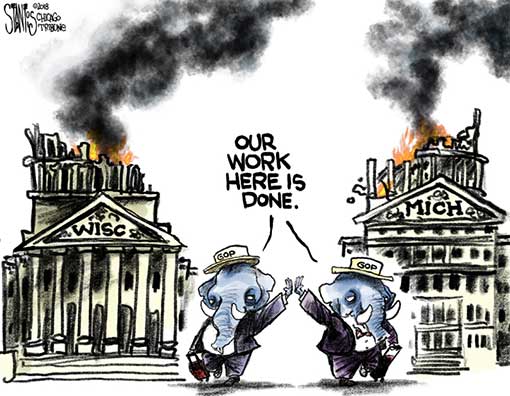 14. Trump, Noted Garbage Enthusiast, Wants Kids to Be Free to Eat More Garbage
President D.J. Trump reportedly subsists on a diet almost exclusively composed of fat, salt, white bread, and sugar, and his administration seems to think you should, too. On Thursday, the U.S. Department of Agriculture unveiled new guidelines that will promote a wider range of presidentially approved options. White bread, chocolate milk, and sodium snacks for all.
Still, this move has been coming down the pike for quite some time: The Trump administration first set its sights on school nutrition in May 2017, with Perdue pledging to "Make School Meals Great Again." The final rule makes good on that promise, and will be published next week. Somewhere, our president is doubtless palming a celebratory McDonald's burger into his face, whole. https://www.thecut.com/2018/12/usda-allows-schools-to-serve-more-sodium-fat-white-bread.html
15. 18 Trump toys that are guaranteed to ruin Christmas morning
https://theweek.com/articles/811006/18-trump-toys-that-are-guaranteed-ruin-christmas-morning
16. Mueller is putting the puzzle pieces together on Trump
The puzzle pieces fit together. Trump needed Russia for his business dealings. Russia wanted Trump to win because they could influence or control him. And the Trump team wanted Russian help simply because they thought the Russians could help Trump win the election. Everyone profits, everyone gets what they want.
All of that depended, of course, on the truth remaining hidden. Mueller already has exposed plenty of truth -- much of it in court filings these past two weeks -- and he has made clear that much more is to come. Soon even the staunchest Trump defender will not be able to argue credibly that Mueller has come up empty on his core mandate to investigate Russian interference in the 2016 election. It won't be long until "no collusion" is no more. https://www.cnn.com/2018/12/07/opinions/mueller-is-putting-the-puzzle-pieces-together-on-trump-honig/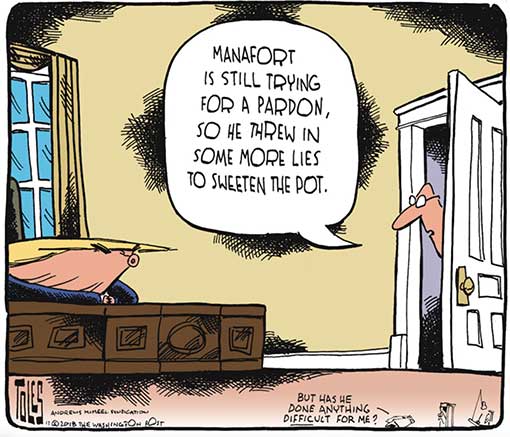 17. Trump administration resists global climate efforts at home and overseas
The United States joined a controversial proposal by Saudi Arabia and Russia this weekend to weaken a reference to a key report on the severity of global warming, sharpening battle lines at the global climate summit in Poland aimed at gaining consensus over how to combat rising temperatures.
The U.S. position lines up with the views of the Trump administration, which is plowing ahead with a raft of aggressive policies on coal power and oil exploration that are likely to worsen the effects of climate change — steamrolling over dire environmental warnings issued by the administration's own team of experts in a major report just two weeks ago. https://www.washingtonpost.com/politics/trump-administration-resists-global-climate-efforts-at-home-overseas/2018/12/09/b94a9ef0-fa41-11e8-863c-9e2f864d47e7_story.html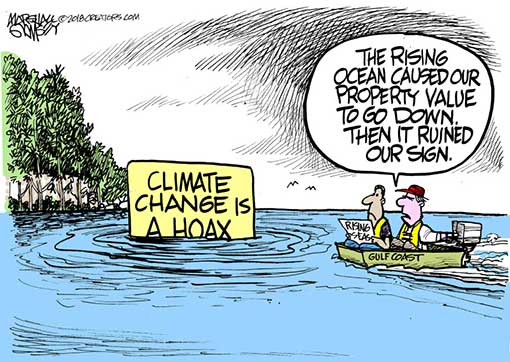 18. Supreme Court declines to review rulings that blocked efforts to end Planned Parenthood funding
"The U.S. Supreme Court on Monday declined to review lower court decisions that blocked efforts in two states to end public funding to Planned Parenthood, refusing for now to get involved in state battles over abortion rights," the Washington Post reports.
The cases did not touch on abortion itself, but three justices who said the court should have accepted the cases said that was the reason the court declined to get involved. https://www.washingtonpost.com/politics/courts_law/supreme-court-declines-to-review-rulings-that-blocked-efforts-to-end-planned-parenthood-funding/2018/12/10/01061018-fc8a-11e8-83c0-b06139e540e5_story.html
19. Some Trump allies starting to worry about investigations
Trump's "intensifying legal troubles are unnerving some of his fellow Republicans. Despite his brash stance, they believe the turmoil has left him increasingly vulnerable as he gears up for what is sure to be a nasty fight for re-election.
Trump, ever confident of his ability to bend story lines to his will, mocks the investigations into his conduct as candidate and president as a 'witch hunt' and insists he will survive the threats.
But a shift began to unfold over the weekend after prosecutors in New York for the first time linked Trump to a federal crime of illegal hush payments. That left some of his associates fearful that his customary bravado is unwarranted. For some Republicans, the implication that the president may have directed a campaign finance violation, which would be a felony, could foreshadow a true turning point in the Republican relationship with him when special counsel Robert Mueller releases his report on the Russia investigation. https://apnews.com/dc558078d0bb4b3e8aec63960a7091f0
20. The Arctic Ocean has lost 95 percent of its oldest ice — a startling sign of what's to come
Over the past three decades of global warming, the oldest and thickest ice in the Arctic has declined by a stunning 95 percent, according the National Oceanic and Atmospheric Administration's annual Arctic Report Card.
The finding suggests that the sea at the top of the world has already morphed into a new and very different state, with major implications not only for creatures such as walruses and polar bears but, in the long term, perhaps for the pace of global warming itself. https://www.washingtonpost.com/energy-environment/2018/12/11/arctic-is-even-worse-shape-than-you-realize
1. Paul Waldman: The latest filings show that nobody can save Trump now
One of the remarkable things about the discussion we've been having lately is that the president still seems to think that he can be saved from whatever this investigation uncovers. He just announced that William Barr will be his next attorney general, and the New York Times reported that in private, "Mr. Trump has also repeatedly asked whether the next pick would recuse himself from overseeing the special counsel investigation into whether his campaign conspired with Russia in its interference in the 2016 election." It's as though he thinks this investigation is in its early stages and can be quashed by a properly loyal underling.
But at this point it doesn't matter. It's far too late. Trump's former aides have cooperated, they've conducted their interviews with the special counsel, they're being sentenced, the documents have been reviewed, the connections have been traced, and the full picture is soon to be revealed.
This scandal can't be hidden away. Republicans in Congress can't save Trump, his attorney general can't save him, and no amount of desperate tweets can save him. Accountability is on its way, and it's arriving very soon. https://www.washingtonpost.com/opinions/2018/12/07/latest-filings-show-that-nobody-can-save-trump-now/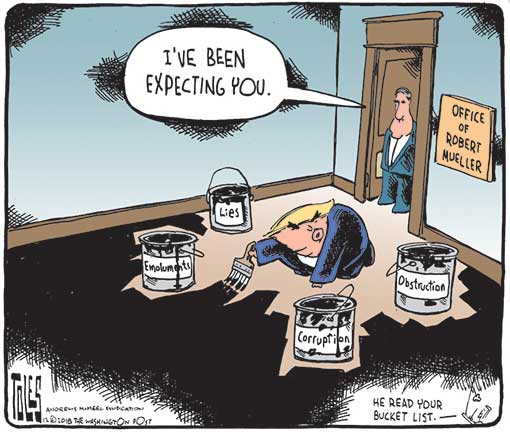 2. Barry Berke, Noah Bookbinder And Norman Eisen: Is This the Beginning of the End for Trump?
On Friday, federal prosecutors in Manhattan and the special counsel, Robert Mueller, delivered a potentially devastating one-two punch against President Trump. Coming late in the day, they made for bracing end-of-the-week reading.
Calling on the court to impose a sentence of substantial imprisonment against Michael Cohen, the president's former personal attorney, prosecutors in the Southern District of New York stated that Mr. Trump, the Trump Organization and the campaign were all directly involved in an illegal scheme to silence two women who claimed they had affairs with Mr. Trump. Prosecutors wrote that payments made by Mr. Cohen and other actions were taken "with the intent to influence the 2016 presidential election" and pursued "in coordination with and at the direction of Individual 1" — that is, Mr. Trump.
The Trump Organization's reimbursements to Mr. Cohen for payments were fraudulently disguised as legal fees — and, according to the memo, were approved by senior executives at the organization. The New York prosecutors also disclosed that they are investigating additional unspecified matters involving Mr. Cohen and, presumably, the Trump Organization. In light of these disclosures, the likelihood that the company and the Trump campaign face charges is now high.
Although President Trump may avoid a similar fate because the Justice Department is unlikely to indict a sitting president, he could be named as an unindicted co-conspirator, as was President Richard Nixon, or charged if he leaves office before the statute of limitations runs out (most likely in 2022). https://www.msn.com/en-us/news/newspresident/is-this-the-beginning-of-the-end-for-trump/ar-BBQEGLp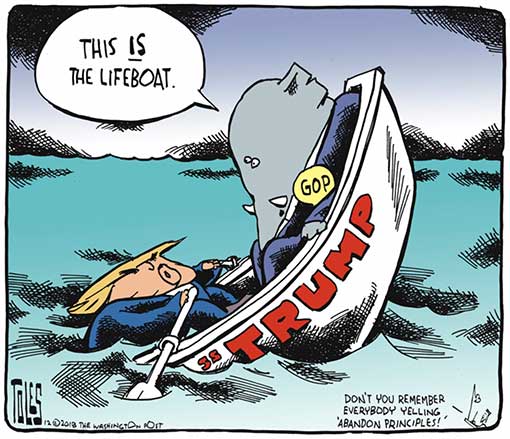 3. Dana Milbank: The utterly lawless 'Individual-1'
"Individual-1" has a singular problem: His own Justice Department just said he directed a crime.
Late Friday, U.S. prosecutors — ordinary prosecutors, not the ones working for Robert S. Mueller III's supposed rogue witch hunt — filed papers in court saying President Trump's former fixer Michael Cohen admitted "he acted in coordination with and at the direction of Individual-1."
This means that it is the considered view of Individual-1's Justice Department that Individual-1 participated in a felony violation of campaign finance law by directing, in order to influence the presidential election, the payoff of two women who alleged affairs with Individual-1.
Mueller and his team will decide in the coming months whether to accuse Trump of crimes. But in one sense, these are just details. That Trump is fundamentally lawless can no longer be seriously disputed. His own prosecutors now say he took part in a crime — and his former secretary of state says Trump had little concern about what was legal. https://www.washingtonpost.com/opinions/the-utterly-lawless-individual-1/2018/12/08/7d85b53e-fb19-11e8-8d64-4e79db33382f_story.html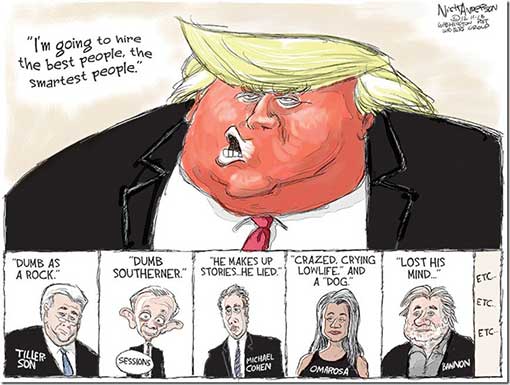 4. Garrett M. Graff: The Mueller Investigation Nears The Worst Case Scenario
WE ARE DEEP into the worst case scenarios. But as new sentencing memos for Trump associates Paul Manafort and Michael Cohen make all too clear, the only remaining question is how bad does the actual worst case scenario get?
The potential innocent explanations for Donald Trump's behavior over the last two years have been steadily stripped away, piece by piece. Special counsel Robert Mueller and investigative reporters have uncovered and assembled a picture of a presidential campaign and transition seemingly infected by unprecedented deceit and criminality, and in regular—almost obsequious—contact with America's leading foreign adversary.
The Cohen and Manafort court documents all provide new details, revelations, and hints of more to come. They're a reminder, also, that Mueller's investigation continues alongside an investigation by federal prosecutors in the Southern District of New York that clearly alleges that Donald Trump participated in a felony, directing Cohen to violate campaign finance laws to cover up extramarital affairs.
Through his previous indictments against Russian military intelligence and the Russian Internet Research Agency, Mueller has laid out a criminal conspiracy and espionage campaign approved, according to US intelligence, by Vladimir Putin himself. More recently, Mueller has begun to hint at the long arm of that intelligence operation, and how it connects to the core of the Trump campaign itself.
In fact, what's remarkable about the once-unthinkable conclusions emerging from the special counsel's investigation thus far is how, well, normal Russia's intelligence operation appears to have been as it targeted Trump's campaign and the 2016 presidential election. What intelligence professionals would call the assessment and recruitment phases seems to have unfolded with almost textbook precision, with few stumbling blocks and plenty of encouragement from the Trump side.
Put together all the clues, and Occam's Razor comes to mind: The most obvious scenario is the most likely scenario. And the most likely scenario now is that there was no division between the apparent Trump-Russian collusion on business matters and in the election. The coincidences are piling up. The conversations are piling up.
And Mueller's evidence is clearly piling up as well.
https://www.wired.com/story/manafort-cohen-sentencing-trump-mueller-investigation-worst-case-scenario/
5. Peter Hamby: "They're All Too Old": Democrats Face A Generational Reckoning
Over the last few weeks, a couple of Wall Street Journal reporters did what any smart political journalist should be doing in the run-up to a presidential campaign. They dialed up all 99 Democratic Party county leaders in Iowa, and quizzed them on the emerging field of 2020 candidates. It was a valuable exercise: with our elite political conversation ever more narrowed by the distorted reality of Twitter, outside-the-Beltway voices remain depressingly hard to to find in mainstream political news. Party activists like those in Iowa, the first state to vote come 2020, still matter. Not because they wield the same kind of grassroots influence that they used to, but because they're just earnest, highly engaged voters in what might be the country's most important political state. They pay close attention to politics without being jaded. Their opinions tell us more about the Democratic psyche than any current poll of the 2020 race can.
What did the Journal team find? The biggest emerging divide in the early field was not about ideology or race or anything directly related to President Donald Trump. The overwhelming takeaway was that Democrats want generational change. It was bad news for the three Democrats already seen as front-runners for the nomination: Bernie Sanders (age 77), Joe Biden (76), and Elizabeth Warren (69). The same can be said of former New York City mayor Michael Bloomberg, age 76, who toured Iowa on Tuesday as he ponders a White House bid.
"They're all too old," Chris Henning, the 71-year-old Democratic chairwoman in Greene County, told the Journal. "It's not white-bread America anymore; we've got to get with the program." https://www.vanityfair.com/news/2018/12/democrats-face-a-generational-reckoning
6. Jonathan Chait: The Department of Justice Calls Donald Trump a Felon
Federal prosecutors released sentencing recommendations for two alleged criminals who worked closely with Donald Trump: his lawyer Michael Cohen, and campaign manager Paul Manafort. They are filled with damning details. But the most important passage by far is this, about Trump's fixer: "Cohen himself has now admitted, with respect to both payments, he acted in coordination with and at the direction of Individual-1."
The payments in question, as the document explains, concern a payoff to two women who claimed to have affairs with Trump. The payments, according to prosecutors, were intended to influence the campaign, and thereby constituted violations of campaign finance law. They have not formally charged Trump with this crime — it is a sentencing report for Cohen, not Trump — but this is the U.S. Department of Justice calling Trump a criminal.
There is more. Under normal circumstances, the long list of charges federal prosecutors cited against Michael Cohen would be a political catastrophe for President Trump. One of the president's closest associates turns out to have allegedly committed a long string of crimes, from tax evasion to making false statements to a financial institution, that would besmirch the good name of the man who worked at his side for years.
Of course Trump has no good name. But the fact that he is being called a felon by the United States government is a historic step. And it is likely the first of more to come. http://nymag.com/intelligencer/2018/12/trump-felony-michael-cohen-paul-manafort-collusion-payment.html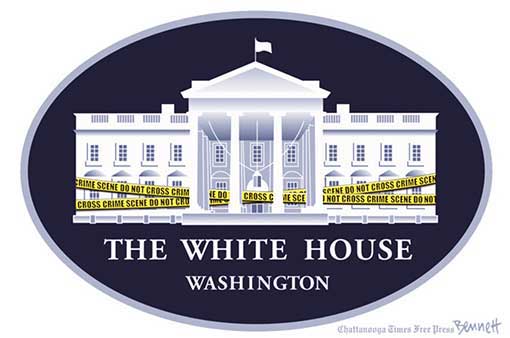 7. Robby Mook: The sad truth about Russian election interference
Election Day was long gone before Russia's interference in the campaign — and the possibility of the Kremlin's coordination with agents of the Trump campaign — was widely accepted. Even today, some people still muse about whether the Trump political operation could have been in contact with culprits of the DNC hack. Yet longtime Trump associate Roger Stone said repeatedly in 2016 that he had been communicating with WikiLeaksfounder Julian Assange. Lately, Stone has denied being in touch with Assange, and last week Stone's lawyer informed the Senate Judiciary Committee that his client would invoke his Fifth Amendment right not to testify in the committee's Russia investigation.
Obviously, much more evidence about Russia's interference has come out since 2016. But I'm not sure we've learned the bigger lesson: Why did it take two years and dozens of indictments for so many to believe that Russia was not only behind the DNC hack but may also have been in cahoots with the Trump campaign, when there was so much evidence at the time?
It's as if something needs to be secret or hidden to truly matter. If it's sealed in a courtroom, it must be a bombshell, but if it's out in the open, it's just not as serious.
Trump will not be the last of his kind. The next time so much evidence about a candidate is sitting out in plain view, let's hope it gets a good look before Americans cast their votes. https://www.washingtonpost.com/opinions/the-sad-truth-about-russian-election-interference-is-that-we-knew-about-it-before-election-day/2018/12/09/0d13d30c-fb06-11e8-8d64-4e79db33382f_story.html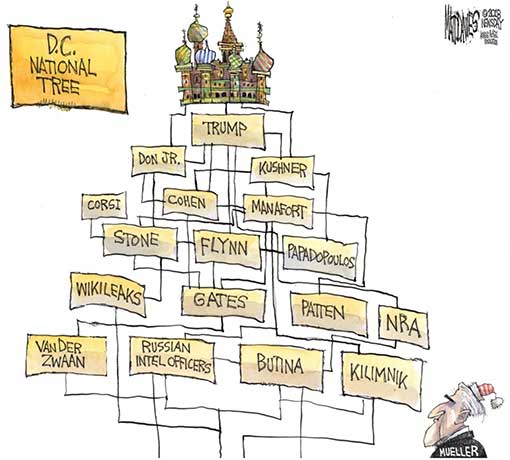 8. 
Paul Waldman: All the ludicrous defenses Republicans offer on the Russia scandal
Defending Donald Trump has been a challenge and a headache for Republicans ever since he became their party's nominee for president in 2016. After every appalling tweet, every racist statement and every ludicrous policy idea, Republicans are called upon to explain why this is really no big deal and everything's fine.
But with Trump's scandals deepening and the law closing in, justifying the president's words and actions is getting harder and harder.
Fortunately for them, Republicans have always been good at this sort of thing, unencumbered as they are by logic or principle. So how are they reacting to the latest developments, including the allegation by federal prosecutors that Trump instructed his attorney Michael Cohen to break the law in concealing the hush money payoff to Stormy Daniels, the fact that 16 different Trump associates had contact with Russians during the campaign and the transition, and the growing list of indictments, convictions and guilty pleas?
Now let's step back and look at the broader context. Republicans offering up these ridiculous arguments probably feel that they have no choice, because their fates are inextricably tied to that of the president who leads their party. Of course, every politician is self-interested, so in theory there could come a point where your average Republican member of Congress no longer sees their self-interest in defending Trump, if doing so does more harm than good to their own political interests. But even as these scandals pile up, that point remains extremely far off.
Any worsening of Trump's scandals will always be bad news for the Republican Party in general, and something on the order of impeachment, resignation, or even just defeat in 2020 will be disastrous for every Republican. Don't forget that most of them represent conservative districts and states where they fear only opposition from the right. And even those who come from more closely divided areas still depend for their reelection on Republican voters mobilizing for them.
As a result, Trump could murder a puppy on live TV and about the worst thing they'd bring themselves to say about it would be, "That was unfortunate, but it's time we all moved on." No matter how hard it will be to do with a straight face, they'll have to keep defending him. https://www.washingtonpost.com/opinions/2018/12/11/all-ludicrous-defenses-republicans-offer-russia-scandal/
9. Frank Rich: Will Trump Follow Through on His Incredibly Dumb Shutdown Threat?
With funding for some federal agencies set to expire in less than two weeks, President Trump turned his Oval Office meeting with Nancy Pelosi and Chuck Schumer into a reality-TV standoff over his border wall. Did their exchange increase or decrease the chance of a shutdown?
My profound hope is that Trump makes good on his threat and shuts down the government right before Christmas. He will set his party back even further than he already has, and do so at a time when congressional Republicans are going to be trapped with angry constituents back home during the holiday break. I still can't get over that Trump actually declared on camera that he was "proud to shut down the government" and then addressed these immortal words to Chuck Schumer: "I will be the one to shut it down. I'm not going to blame you for it." Polls consistently show that few events in American politics are more toxic with a broad public than government shutdowns. Voters logically blame Republicans for them because their party is the anti-government party, yet the GOP always tries to wriggle out of culpability, however unsuccessfully. Now Trump has taken away that argument by owning (as he put it) the "mantle" of a government shutdown in a vivid Oval Office performance that will be a staple of Democratic campaign ads for as long as he is in Washington.
This is not all Trump accomplished in his 17 minutes of sparring with the Democratic leaders. He revealed that he really has no idea what divided government means and is in denial about just how devastating the blue wave was in the House. He gave Nancy Pelosi an opportunity to show off her toughness and smarts, both during the meeting and after, when she mocked the president for linking his "manhood," such as it is, to a wall that he keeps claiming is already under construction when in fact the huge erection he
describes is wholly imaginary. http://nymag.com/intelligencer/2018/12/frank-rich-trumps-incredibly-dumb-shutdown-threat.html
10. Jonathan Chaitz: Don't Blame Trump for Losing the Shutdown Battle to These Legislative Geniuses
For a quarter-century now, it has been a hallowed ritual in Washington for Democrats and Republicans to use negotiations over funding to blame the opposing side for shutting down the government. Democrats appear to have won this latest round. Republicans, or at least those speaking on the record, express mystification at just how they pulled off this tricky feat. "I think [Senator] Schumer was very shrewd in his efforts to make certain that whatever blame is to be had for a shutdown doesn't rest with the Democrats," Republican senator Jerry Moran told Politico.
Just how did the Democrats prevail in this complex and mystifying ritual? A close analysis of the steps in this delicate dance reveals that very little shrewdness was required.
• Trump demanded to hold a meeting in front of the media."Trump likes the visual of him at the center of a room leading a meeting with lawmakers because he looks like he is 'in charge,' according to a former White House official."

• Trump loudly and repeatedly claimed responsibility for shutting down the government. At this point, it would have been hard for Democrats to take the blame for the shutdown even if they wanted to.

• Trump said he was shutting down the entire country."If we have to close down the country over border security, I actually like that in terms of an issue," he announced, equating a shutdown of the federal government with a shutdown of the entire nation.

• Trump flung a folder. "One administration official, speaking on the condition of anonymity, said Trump appeared upset after leaving the meeting, flicking a folder and sending its papers flying out," reports the Los Angeles Times.
During this negotiation, Schumer's main strategic contribution was trying not to laugh. He was largely unsuccessful. http://nymag.com/intelligencer/2018/12/blame-trump-shut-down-government-wall.html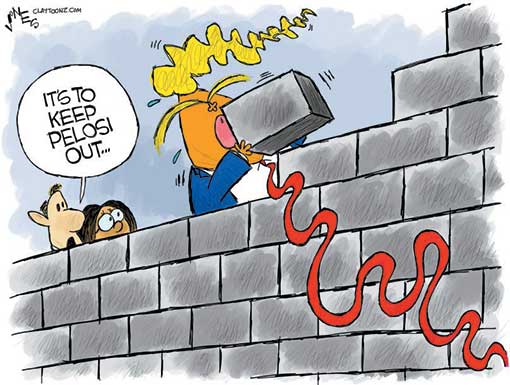 11. Matthew Walther: Trump discovers the real wall
On Tuesday, President Trump acknowledged, seemingly for the first time, the existence of some 580 miles of extant fencing along our southern border. These makeshift defenses, he added, have proven more than capable of holding back the non-existent foreign hordes intent upon carrying bubonic plague to various Houston-area Bed, Bath and Beyond locations.
The image of a vast monument whose ruins will stretch from Brownsville to San Diego, worshipped by primitive shamans and providing shelter from the elements to birds and beasts thousands of years after the United States is a dim memory is, to me, an appealing one. But this is also the best argument against the wall. Who would wish to bequeath the spirit and the trappings of our age to anyone? The private imagination that has conceived the border wall has already given us the disemboweled Rubik's Cube on Fifth Avenue. In place of earth, brick, stone, and wood he would offer transparent, electrified glass 30 feet in height as far as the eye could see.
It would not last half a millennium. It would stand for a few hundred years, perhaps less, as a reminder of the ugliness of the American imagination, her narrowness, her cruelty, her greed and philistinism, and her denial of her imperial destiny as the humane capital of the Western hemisphere before the glass is swallowed into the desert. These are not themes which any of us should desire to prolong. Conceived in purely aesthetic terms, it is chiefly on moral grounds that the wall should be dismissed. https://theweek.com/articles/812021/trump-discovers-real-wall
12. Jonathan Capehart: Trump's 'real housewives of the Oval Office': 'Chuck and Nancy' edition
The Oval Office was the perfect trap for House Minority Leader Nancy Pelosi (D-Calif.) and Senate Minority Leader Charles E. Schumer (D-N.Y.) — or so President Trump thought.
Trump tried everything to get one over on Chuck and Nancy. There was racist and debunked bluster about criminal, disease-carrying migrants. There was that unsubstantiated claim of stopping 10 terrorists from entering the United States. The entire spectacle was indeed what Schumer later called a "temper tantrum," as Vice President Pence sat with the mien of a child who suddenly found himself in the middle of a nasty divorce proceeding.
When Trump started beating his chest over gaining seats in the Senate, Schumer delivered a rhetorical paper cut, the kind you don't realize until the sting comes moments later. "When the president brags that he won North Dakota and Indiana," the New York Democrat snarked, "he's in real trouble."
And when Trump tried to play Pelosi by saying she might be unable to speak fully because she is still in the process of securing the votes she needs to officially take the speaker's gavel next year, the former speaker checked him. "Mr. President," Pelosi said, "please don't characterize the strength that I bring to this meeting as the leader of the House Democrats who just won a big victory."
With that, Pelosi showed she meant business and wasn't going to put up with any of Trump's foolishness. This is what he has to look forward to for the next two years. Democrats should be happy. The nation should feel relieved. https://www.washingtonpost.com/opinions/2018/12/11/trumps-real-housewives-oval-office-chuck-nancy-edition/