June 16, 2016
ON THE RECORD. . .
Trump's Lies - all in one place! http://trumplies.com/
"What Todd Akin said was nothing compared to what this guy said his entire life about women, marginalizing women, being disrespectful of women." — Sen. Claire McCaskill (D-MO), comparing Donald Trump to former Rep. Todd Akin (R-MO), who said women can't get pregnant from a "legitimate rape."
"When you're talking about banning 1.4, 1.5 million people simply because of the god they worship, that's as un-American as anything he said, as un-American as what he said about this judge. I'm with you, Willie, where was the outrage then? Like we said on this show asking on this show when it first came out, is this like Germany 1933? It's just as offensive, why no outrage from right and left?" -- Joe Scarborough on Trump's Muslim ban. 6/09/16
"Trump denies operating and managing the 'fraudulent marketing scheme' alleged here because he only starred in the marketing materials; signed the marketing materials; corrected the marketing materials; and approved the marketing materials. And therefore, he deserves summary judgment…." -- Michael Isikoff on Trump's new motion in federal court. 6/09/16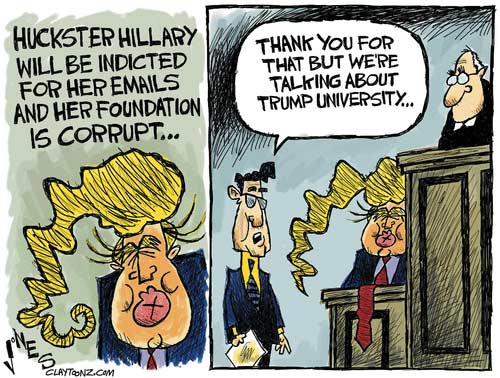 "And as people focus more closely on this race, they will surely come to recognize that Trump is not a generic Republican candidate but rather an unscrupulous and vulgar narcissist, a pathological liar, a bigot and a xenophobe. That will overwhelm what any model would predict. Because, in the end, we do think." -- Fareed Zakaria 6/09/16
"But don't worry, Donald assures us that, as president, he'll be - and I quote again - 'the best for women.' Anyone who wants to defund Planned Parenthood and wipe out safe, legal abortion has no idea what's best for women. And after all, this is a man who has called women 'pigs,' 'dogs,' and 'disgusting animals.' Kind of hard to imagine counting on him to respect our fundamental rights." -- Hillary Clinton at the Planned Parenthood Action Fund. 6/09/16
"There's no question in my mind, he will never release his tax returns. He will follow one excuse after another to say why he can't." — Mitt Romney, insisting there is a "bombshell" in Donald Trump's tax returns.
"These things are personal. I love this country. I love the founders, I love what this country is built upon and its values, and seeing this is breaking my heart, for the party that means so much." -- Mitt Romney explaining why he cannot back Donald Trump for president.
Trump is "a person who easily lies, who creates an environment where the truth doesn't seem to matter, who has never demonstrated any interest in anyone or anything but himself and his own enrichment. He is an infantile, bullying man, who depending on his mood is willing to discard old and established alliances, treaties and long-standing relationships. His candidacy is a political Ponzi scheme. -- Documentary filmmaker Ken Burns Stanford University commencement address. 6/12/16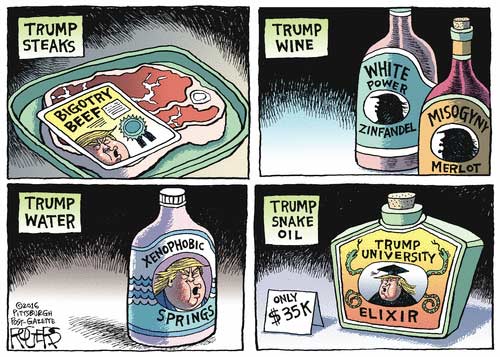 "From my perspective, it matters what we do more than what we say. And it mattered we got bin Laden, not what name we called him. I have clearly said we -- whether you call it radical jihadism or radical Islamism, I'm happy to say either. I think they mean the same thing." -- Hillary Clinton 6/13/16
"We may have our disagreements about gun safety regulations, but we should all be able to agree on a few essential things. If the FBI is watching you for a suspected terrorist links, you shouldn't be able to just go buy a gun with no questions asked." -- Hillary Clinton 6/13/16
"Yesterday's dueling speeches by Hillary Clinton and Donald Trump on the Orlando shooting revealed it to be an even bigger fight over what kind of country the United States of America should be — open, inclusive and tolerant, or closed, divided and intolerant? That's the choice." -- First Read 6/14/16
"At some point, the talk about a new Donald Trump, or a reined in Donald Trump, or a 'presidential' Donald Trump – all of it will fade away. What's left is a man who has played to the anger and fears of the American people to astounding effect, and apparently won't stop until he's either elected, or not." -- Rick Klein 6/14/16
"Trump has declared war on the media, which unfortunately creates a never-ending negative feedback loop." -- First Read 6/14/16
---
IN THIS ISSUE
1. Trump's white backlash strategy faces a huge challenge
2. The DAILY GRILL
3. Hundreds allege Donald Trump did not pay his bills
4. From MEDIA MATTERS (They watch Fox News so you don't have to)
5. Clinton Leads In Swing States
6. Late Night Jokes for Dems
7. From the Late Shows
8. Political Ads/Statements
9. Mark Fiore Cartoon: Grrl Power
10. Donald Trump moves to block the release of his video testimony in university lawsuit
11. Clinton hires Sanders' top student organizer
12. Benghazi Investigation: The Cost to Taxpayers
13. America's gun problem, explained
14. FLASHBACK: When Millions Of Lost Bush White House Emails (From Private Accounts) Triggered A Media Shrug
15. Trump Unfavorable Rating Soars
16. Trump Accuses Veterans of Stealing Money In Iraq 
1. Stuart Rothenberg: Trump continues to Violate Campaign Rule No. 1
2. Anna North: What Hillary Clinton Faces
3. Peter Wehner: The Indelible Stain of Donald Trump
4. Eugene Robinson: You can't be for and against Trump
5. Ronald Brownstein: How Much Will Trump Cost the Republican Party?
6. Michael Tomasky: Hillary Clinton Is About to Clean Donald Trump's Clock 
7. LA Times Editorial: Bernie Sanders supporters have to face the facts: Hillary Clinton has won
8. David Remnick: Donald Trump's Exploitation Of Orlando
9. Paul Krugman: A Party Agrift
10. John Cassidy: Gun Laws And Terrorism: An American Nightmare
11. Washington Post Editorial: Donald Trump's assault on our values 
12. NY Times Editorial: What Donald Trump Gets Wrong About Orlando
13. Eugene Robinson: Assault Weapons Must Be Banned
1. Trump's white backlash strategy faces a huge challenge
The campaign of the presumptive Republican nominee, Donald Trump, is sparking a surge in the number of citizenship applications and voter registrations among Hispanics fearful of his immigration policies. Since January, California alone has seen a boost of 218 percent in Democratic registration and among Hispanics, registration is up 123 percent. 6/09/16 http://wapo.st/1U3QN6J
2. The DAILY GRILL
"Hillary Clinton … took in hundreds of millions of dollars for a hospital in Haiti that went to the Clinton Foundation, that was never built — that was years ago. Where is that money?" — Donald Trump surrogate Michael Cohen. 6/1/16

VERSUS

"Cohen's claim that Hillary Clinton raised hundreds of millions of dollars through the Clinton Foundation for a hospital that was never delivered is not credible. We've done our part to check out his claim, but the burden of proof still lies with Cohen. If he wants to respond and point us to a specific source, we're eager to take a look. In the meantime, he earns Four Pinocchios." -- WA Post Fact Checker 6/13/16

 

"Based on the incredibly inaccurate coverage and reporting of the record setting Trump campaign, we are hereby revoking the press credentials of the phony and dishonest Washington Post." -- Donald J. Trump on Facebook.

VERSUS

Trump's decision is "nothing less than a repudiation of the role of a free and independent press. When coverage doesn't correspond to what the candidate wants it to be, then a news organization is banished. The Post will continue to cover Donald Trump honorably, honestly , accurately, energetically, and unflinchingly. We're proud of our coverage, and we're going to keep at it." -- Statement from Washington Post executive editor Marty Baron

 

"I also think that now that Islamic terrorism is going to be front and center, there's going to be a new focus on whether this administration, the administration of Hillary Clinton at State was permeated at the highest levels by Saudi intelligence and others who are not loyal Americans. I speak specifically of Huma Abedin, the right-hand woman, now vice-chairman or co-chairman of vice—of Hillary Clinton's presidential campaign." -- Donald Trump's longtime friend and informal adviser Roger Stone who previously tweeted that Abedin is a "Muslim Brotherhood spy" and Clinton's "Muslim Brotherhood handler," and compared her to accused Soviet spy "Alger Hiss."6/13/16

VERSUS

"Put simply, Huma represents what is best about America: the daughter of immigrants, who has risen to the highest levels of our government on the basis of her substantial personal merit and her abiding commitment to the American ideals that she embodies so fully. I am proud to know Huma and to call her my friend." -- Senator McCain when Abedin's family ties came under scrutiny in 2012 by House Republicans, McCain called her a "fine and decent American" facing "an unwarranted and unfounded attack." July 18, 2012

 

"Because she is a nasty person, a terrible U.S. Senator, and it drives her crazy." -- Trump on why he persists in calling SenatorWarren "Pocahontas." 6/10/16

VERSUS

"This is a sick guy, and Americans are not longing for a president who's going to go out and use ethnic slurs against people. It's amusing in the same way telling dirty jokes around a frat house can get laughs, but most people grow out of that. It's childish." -- Stuart Stevens, chief strategist on Romney's 2012 presidential bid on Trump's use of "Pocahontas" to attack Warren. 6/10/16

 

Gun ownership rate for U.S. (2007): 88.8 guns per 100 people
Gun homicide rate for U.S. (2012): 29.7 per 1 million people

VERSUS

Gun ownership rate for England and Wales (2007): 6.2 guns per 100 people
Gun homicide rate for England and Wales (2012): 0.7 per 1 million people. 6/12/16 http://www.vox.com/policy-and-politics/2015/12/4/9850572/gun-control-us-japan-switzerland-uk-canada
3. Hundreds allege Donald Trump did not pay his bills
Donald Trump often portrays himself as a savior of the working class who will "protect your job." But a USA TODAY NETWORK analysis found he has been involved in more than 3,500 lawsuits over the past three decades — and a large number of those involve ordinary Americans who say Trump or his companies have refused to pay them. Read more at http://www.usatoday.com/story/news/politics/elections/2016/06/09/donald-trump-unpaid-bills-republican-president-laswuits/85297274/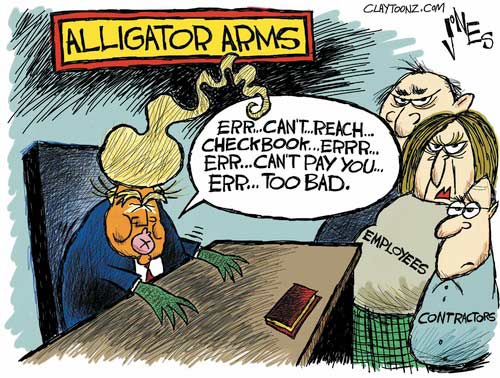 4. From MEDIA MATTERS (They watch Fox News so you don't have to)
Right-Wing Media Suggest Obama's Clinton Endorsement Will Interfere With FBI Email Inquiry http://mediamatters.org/research/2016/06/10/right-wing-media-suggest-obama-s-clinton-endorsement-will-interfere-fbi-email-inquiry/210859

ABC Was The Only Broadcast Network To Ignore Report That "Trump Doesn't Pay His Bills" http://mediamatters.org/blog/2016/06/10/abc-was-only-broadcast-network-ignore-report-trump-doesn-t-pay-his-bills/210861

After Trump Says Obama May Sympathize With Terrorists, Howard Kurtz Worries About The Press Being Too Harsh On Trump http://mediamatters.org/research/2016/06/13/after-trump-says-obama-may-sympathize-terrorists-howard-kurtz-worries-about-press-being-too-harsh/210900

MSNBC's Katy Tur Fact Checks Trump's "Errors" In His Speech After Orlando Massacre http://mediamatters.org/video/2016/06/13/msnbcs-katy-tur-fact-checks-trumps-errors-his-speech-after-orlando-massacre/210902

President Obama Dismantles Right-Wing Talking Point About "Radical Islam" -- "Calling A Threat By A Different Name Does Not Make It Go Away. This Is A Political Distraction" http://mediamatters.org/video/2016/06/14/president-obama-dismantles-every-conservative-talking-point-about-radical-islam-and-political/210940
5. Clinton Leads In Swing States
As the 2016 general election begins, Clinton holds a 5-point overall advantage in the Politico Battleground States polling average over Trump, 44.8 percent to 39.8 percent.
Clinton also has the advantage in eight of the 11 individual swing states.
The debut of the Battleground States polling average sets a baseline for the race to 270 electoral votes, focusing only on the 11 states most likely to determine the outcome in November — Colorado, Florida, Iowa, Michigan, Nevada, New Hampshire, North Carolina, Ohio, Pennsylvania, Virginia and Wisconsin. The basics of the average are straightforward: it's based on the most recent public polls from each of the 11 states and weighted by each state's representation in the Electoral College." 6/15/16 Read more at http://www.politico.com/story/2016/06/battleground-states-clinton-trump-224202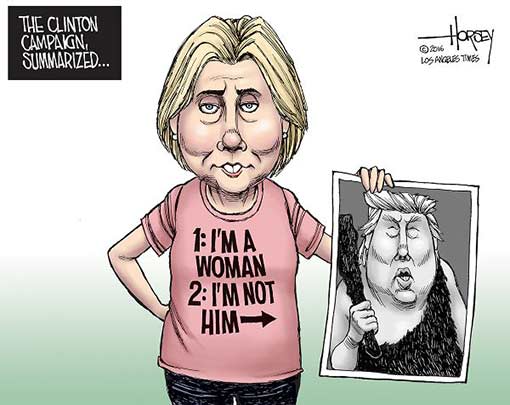 6. Late Night Jokes for Dems
"In the general election, Donald Trump plans on painting Hillary Clinton as money-grubbing and unethical. Meanwhile, Hillary Clinton plans on painting Donald Trump as Donald Trump." –Conan O'Brien

"Bernie Sanders is vowing to stay in the race until the Democratic convention. He says he owes it all to his supporters, who need something to do until Burning Man." –Conan O'Brien

"In an interview, Donald Trump said he won't have to ask God for 'much forgiveness.' Unless, of course, God turns out to be a Mexican woman who's a Muslim." –Conan O'Brien

"It's being reported that Bernie Sanders is planning on cutting half of his campaign staff. Bernie said, 'I'm saving money by only keeping the most delusional.'" –Conan O'Brien

"Even though Hillary has more votes and delegates and superdelegates and states, Bernie Sanders still isn't giving up. He says he will continue to fight. He's like one of those old Japanese guys on an island who thinks the war is still going on." –Jimmy Kimmel

"It's official now, Hillary Clinton and Donald Trump have both clinched the nomination for their respective parties. Which means we could be looking at our first female president or our last president." –Seth Meyers

"Hillary Clinton told supporters last night that her status as the Democratic nominee is thanks to the generations who struggled and sacrificed before her. 'You're welcome,' said Bernie Sanders." –Seth Meyers

"Despite Hillary Clinton clinching the Democratic nomination, Bernie Sanders vowed to stay in the race and told supporters in Los Angeles that the struggle continues. The struggle to understand math?" –Seth Meyers

"In a prepared speech last night, Donald Trump told supporters he is going to take care of our African-American people. Though, I don't think he should have added, 'Once and for all.'" –Seth Meyers

"And last night he shocked the world when he gave his victory speech using a teleprompter. A teleprompter. This from a guy who got this far by shouting whatever comes into his mind. Trump using a teleprompter is like the Flash calling an Uber, Aquaman taking a ferry, or Bernie Sanders using a comb." – Stephen Colbert
7. From the Late Shows
Full Frontal with Samantha Bee: Again? Again.

The Tonight Show Starring Jimmy Fallon : "Slow Jam the News" with President Obama

The Daily Show (Revisited): Gun Control Whoop-de-doo

Conan O'Brien: On The Orlando Shooting

http://teamcoco.com/video/conan-orlando-shooting

Daily Show withTrevor Noah: Trump's 'Crazy Dangerous' Orlando Response
8. Videos
The Briefing: Trump University Informercial

President Barack Obama endorses Hillary Clinton for president

Hillary Clinton: Who We Are

Trump University: Pad Donald's pockets and put your own finances at risk—all for the low price of $35,000!

https://twitter.com/HillaryClinton/status/741694471000072192
9. Mark Fiore Cartoon: Grrl Power
10. Donald Trump moves to block the release of his video testimony in university lawsuit
Attorneys for Donald Trump are seeking to block the filing of a portion of his video-recorded deposition in a class-action lawsuit by former Trump University students, a move that could prevent the public release of the videos, according to a court document filed Friday.
Trying to block the release of the videos is a losing battle for Trump, said Fred Smoller, an associate professor of political science at Chapman University. "If he opposes it, he looks like Richard Nixon during Watergate," Smoller said. "When they come out, and they inevitably will, they will certainly be used by Hillary Clinton as examples of him lacking the temperament for the job." 6/10/16 Read more at http://www.latimes.com/local/lanow/la-me-ln-trump-video-20160610-snap-story.html
11. Clinton hires Sanders' top student organizer
Hillary Clinton's team is moving to shore up an area where she urgently needs help — the campaign has hired Kunoor Ojha <https://www.facebook.com/kunoor.ojha>Bernie Sanders' Student Organizing Director to serve as her national campus and student organizing director.
Ms. Ojha is the Clinton campaign's first major hire from the Sanders campaign, and her move to a role where she will work with the state teams to mobilize young voters represents a significant step in the former secretary of state's outreach to the Vermont senator's most ardent backers. 6/10/16 Read more at http://www.politico.com/story/2016/06/clinton-hires-sanders-student-organizer-224166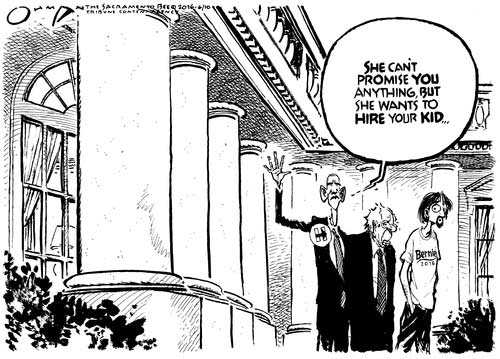 12. Benghazi Investigation: The Cost to Taxpayers
As of June 11th, the amount spent by the Select Committee on Benghazi: $6,987,454.57*
*This calculation does not include the costs of: the independent Accountability Review Board; the eight previous reports by seven Congressional committees; the time, money, and resources consumed by federal agencies to comply with Select Committee requests; or the opportunity cost of not spending this money elsewhere, like improving security for our diplomatic officers abroad. Read more at http://askedandanswered-democrats.benghazi.house.gov/cost/
13. America's gun problem, explained
No other developed country in the world has anywhere near the same rate of gun violence as America. The US has nearly six times the gun homicide rate as Canada, more than seven times as Sweden, and nearly 16 times as Germany, according to UN data compiled by the Guardian.
Americans make up about 4.43 percent of the world's population, yet own roughly 42 percent of all the world's privately held firearms. Read more at http://www.vox.com/2015/10/3/9444417/gun-violence-united-states-america
14. FLASHBACK: When Millions Of Lost Bush White House Emails (From Private Accounts) Triggered A Media Shrug
Even for a Republican White House that was badly stumbling through George W. Bush's sixth year in office, the revelation on April 12, 2007 was shocking. Responding to congressional demands for emails in connection with its investigation into the partisan firing of eight U.S. attorneys, the White House announced that as many as five million emails, covering a two-year span, had been lost.
The emails had been run through private accounts controlled by the Republican National Committee and were only supposed to be used for dealing with non-administration political campaign work to avoid violating ethics laws. Yet congressional investigators already had evidence private emails had been used for government business, including to discuss the firing of one of the U.S. attorneys. The RNC accounts were used by 22 White House staffers, including then-Deputy Chief of Staff Karl Rove, who reportedly used his RNC email for 95 percent of his communications.
As the Washington Post reported, "Under federal law, the White House is required to maintain records, including e-mails, involving presidential decision- making and deliberations." But suddenly millions of the private RNC emails had gone missing; emails that were seen as potentially crucial evidence by Congressional investigators.
The White House email story broke on a Wednesday. Yet on that Sunday's Meet The Press, Face The Nation, and Fox News Sunday, the topic of millions of missing White House emails did not come up. At all.
As then-Fox co-host, Fred Barnes said, "I mean, deleted e-mails, who cares?"
Indeed. 3/10/15 Read more at http://mediamatters.org/blog/2015/03/10/flashback-when-millions-of-lost-bush-white-hous/202820
15. Trump Unfavorable Rating Soars
A new ABC News/Washington Post poll finds that 70% of Americans see Donald Trump unfavorably, up 10 points in just the past month to a new high since he announced his candidacy for president. In favorability Clinton leads Trump, 43% to 29%. 6/15/16 Read more at http://abcnews.go.com/Politics/trumps-unfavorables-spike-clintons-challenged-poll/story?id=39856303
16. Trump Accuses Veterans of Stealing Money In Iraq
Donald Trump suggested at a rally that U.S. combat veterans stole money from Iraq reconstruction efforts. 6/14/16 Read more at https://www.youtube.com/watch?v=DoAriULv1P8
1. Stuart Rothenberg: Trump continues to Violate Campaign Rule No. 1
Trump's braggadocio may have worked in a crowded primary with weaker-than-anticipated opponents and a GOP grassroots that wanted red meat and a pure outsider with a flair for entertainment. But it is much less likely to work in a two-way sprint for the White House.
Instead of offering detailed criticisms of Clinton's record in office or of the Obama Administration's performance, Trump invariably prefers to make himself the issue. Instead of using the new May jobs numbers to rail against the Obama administration's failings, Trump spent a weekend talking about the judge in the Trump University case and inviting his critics – and even some friends – to skewer him repeatedly.
On MSNBC's "Morning Joe" on Tuesday, Tennessee GOP Sen. Bob Corker insisted that there is still time for Trump to change his message and style, to "pivot to the general election."
Really? If a new Donald Trump appeared tomorrow (maybe a bit like the one who spoke on Tuesday night), would anyone seriously believe that that would be the "real" Trump?
It's a lot easier to call your opponent names and brag about your own successes than it is to prosecute a political campaign that exposes your opponent's weaknesses and holds her responsible for the last eight years.
But for Trump, nothing seems to be as much fun as talking about himself. 6/09/16 Read more at https://www.washingtonpost.com/news/powerpost/wp/2016/06/09/trump-continues-to-violate-campaign-rule-no-1/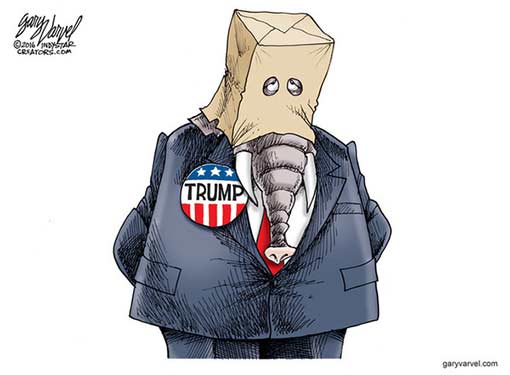 2. Anna North: What Hillary Clinton Faces
That's because Mrs. Clinton's historic candidacy is matched by another, less inspiring milestone: The presumptive Republican nominee has made more overtly sexist comments than any presidential candidate in recent memory.
The first woman running for president from a major party, Mrs. Clinton would have a difficult trail to blaze regardless of her opponent. But Mr. Trump has already accused her of playing the "women's card" to drum up support, and argued that if she were male, "I don't think she'd get 5 percent of the vote." When she used the restroom during a break in a Democratic debate, he was unable to contain his disgust.
Mr. Trump's crudeness may work to Mrs. Clinton's advantage. In arecent poll, 54 percent of women said they'd vote for Mrs. Clinton, while just 30 percent pledged support for Mr. Trump. That margin could grow if the Republican nominee subjects his rival to sexist attacks on the debate stage.
Though Mrs. Clinton has dealt with sexism before — recall the man who told her to iron his shirt in 2008 — neither she nor the country has experienced what may be coming.
But voters have the opportunity to deliver a clear message in November: that a woman can be president, regardless of how her opponent talks about her. 6/9/16 Read more at http://takingnote.blogs.nytimes.com/2016/06/09/what-hillary-clinton-faces/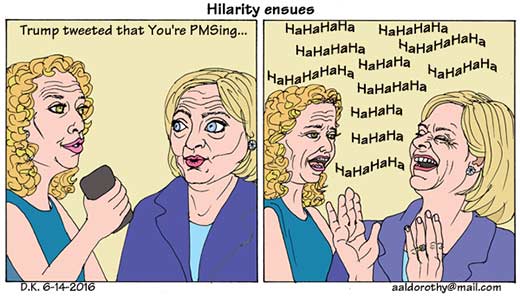 3. Peter Wehner: The Indelible Stain of Donald Trump
When a narcissist like Mr. Trump is victorious, as he was in the Republican primary, and when he has done it on his terms, he's not going to listen to outside counsel from people who think they can change the patterns of a lifetime. Republicans have not changed Mr. Trump for the better; he has changed them for the worse.
The stain of Trump will last long after his campaign. His insults, cruelty and bigotry will sear themselves into the memory of Americans for a long time to come, especially those who are the targets of his invective.
Mr. Trump is what he is — a malicious, malignant figure on the American political landscape. But Republican primary voters, in selecting him to represent their party, and Republican leaders now rallying to his side, have made his moral offenses their own.
There will be a fearsome price for Republicans to pay for their embrace of Donald Trump. Especially after theattacks on Judge Curiel, Mr. Ryan and Mr. McConnell, decent men who have already criticized Mr. Trump harshly, should rescind their endorsement of him — as Mr. McConnell just hinted that he might. Mr. Trump's bigotry should earn him their enmity, not their loyalty. 6/12/16 Read more at http://www.nytimes.com/2016/06/12/opinion/campaign-stops/the-indelible-stain-of-donald-trump.html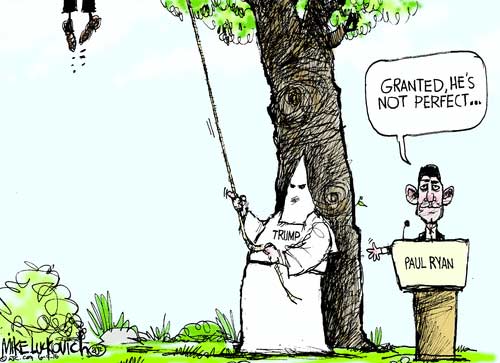 4. Eugene Robinson: You can't be for and against Trump
Why are Republicans gasping as if Trump's racist screed about U.S. District Judge Gonzalo Curiel, who is presiding over a lawsuit against Trump University, came as a complete surprise? You mean they're just now noticing Trump's bigotry?
Have McConnell and the rest forgotten that Trump launched his campaign a year ago with a vicious attack on Mexican immigrants? "When Mexico sends its people, they're not sending their best," he declared. "They're bringing drugs. They're bringing crime. They're rapists. And some, I assume, are good people."
Those were practically the first words out of candidate Trump's mouth. Then, in due course, came his call to bar all foreign Muslims from entering the country — religious bigotry to go along with the ethnic-racial kind. Anyone paying attention must notice how Trump habitually speaks of "the Hispanics" and "the African Americans" as if we were foreign and unknowable, the way a 19th-century British colonialist might have held forth about "the Malays." Now, all of a sudden, Republicans are shocked and outraged?
It is ridiculous for Trump supporters to hope he will be able to maintain a facade of dignity and decorum until Election Day — or even that he will try to do so. First of all, he's not very good at it. His "on-message" performance Tuesday was wooden and, frankly, boring. Scripted Trump is more likely to put the world to sleep than set it on fire.
At the end of the GOP convention, one presumes, balloons and confetti will rain down from the rafters. Republican leaders can stand and cheer the nomination of Donald Trump — or they can stay home and denounce it as the travesty it is. They can't do both. 6/09/16 Read more at https://www.washingtonpost.com/opinions/you-cant-be-for-and-against-trump/2016/06/09/d287a622-2e7b-11e6-9de3-6e6e7a14000c_story.html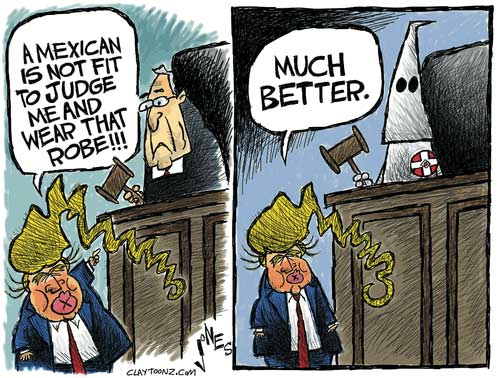 5. Ronald Brownstein: How Much Will Trump Cost the Republican Party?
Trump's tribal, racial appeal threatens the GOP in both the near and long term. Yet it's also understandable that Trump seemed blindsided by the heated Republican reaction to his attacks on the Indiana-born Curiel as a "Mexican" who cannot judge him impartially—and his indication on Face the Nation that he might not get a fair hearing from a Muslim judge either. (It's reasonable to ask: would a President Trump demand that Supreme Court Justice Sonia Sotomayor recuse herself from all cases involving his administration because of her Hispanic heritage?
Supporters hope Trump can beat presumptive Democratic nominee Hillary Clinton by triggering a turnout tsunami among culturally conservative whites. But even if Trump could squeeze out one more victory that way, strategists like Ayres warn he could lastingly scar the GOP's image in an irreversibly diversifying country. The damage, in fact, could be even greater if Trump wins and attempts to implement his agenda than if he loses. Those Republican leaders who hoped they could mobilize Trump's supporters without directly confronting the racist signaling infecting his message now face what Ronald Reagan would recognize as "a time for choosing." Read more at http://www.theatlantic.com/politics/archive/2016/06/trump-gop-demographics/486320/
6. Michael Tomasky: Hillary Clinton Is About to Clean Donald Trump's Clock
The very early scorecard looks awfully good for Team Blue—Clinton 358, Trump 180.
People in my line of work try to be careful about predictions, because, you know, the future comes eventually, and you might be wrong. When I do make predictions, I'm always careful to add the conditions—if this, assuming that.
So let's not call this a prediction, but an observation: I hereby observe that it is entirely possible that this election could—could—be a blowout. A humiliation. A decapitation. A world-historical debacle for one party. And I bet you can guess which one.
This observation is occasioned by the appearance this week of the first full-blown general-election Electoral College forecast, from frontloadingHQ.com. The folks at FHQ looked at polls and recent electoral history and voting trends to take a stab at what the Electoral College might look like on the night of Nov. 8 if things don't change much from today. And if you're a fan of the candidate who's a person of color—orange—it isn't pretty.
They have it at Clinton 358, Trump 180. And if anything, they're being a little conservative.
It's what the man himself deserves. There's one word Trump hates more than any other in the English language, and it's not "Mexican" or "Muslim." It's "loser." How sweet it would be for him to have to live out his remaining years as a history-making loser. To a "girl," no less! FHQ, from your spreadsheets to God's ears. 06.14.16 Read more at http://www.thedailybeast.com/articles/2016/06/14/hillary-clinton-is-about-to-clean-donald-trump-s-clock.html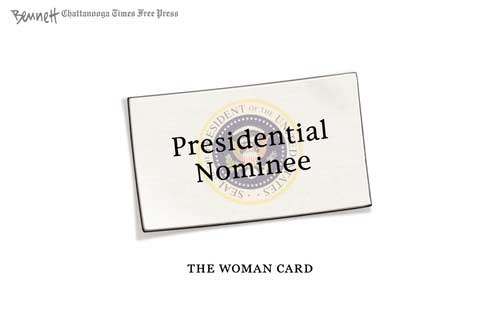 7. LA Times Editorial: Bernie Sanders supporters have to face the facts: Hillary Clinton has won
Sanders has been a formidable contender, but he will not be the party's nominee. That doesn't mean he and his delegates can't play an influential part in the drafting of the party platform or in the shaping of the message Clinton and her running mate take to the campaign trail. In fact, Sanders already has succeeded in moving Clinton in his direction on a wide range of issues, including opposition to the Trans-Pacific Partnership trade agreement and support for a dramatic increase in the minimum wage.
As for Clinton, she is now in sight of a political personal best that would have huge historical significance. As we said in endorsing her, the former first lady, U.S. senator and secretary of State has demonstrated a mastery of foreign and domestic policy that would position her well, even if she were facing a similarly knowledgeable and well-prepared Republican opponent.
Clinton is on notice that, even with such problematic competition as Donald Trump, she must show that she not only is competent but capable of articulating a vision of prosperity and national renewal. Sanders can provide valuable assistance in that undertaking, and he should start doing so now. Read more at http://www.latimes.com/opinion/editorials/la-ed-democratic-primary-20160607-snap-story.html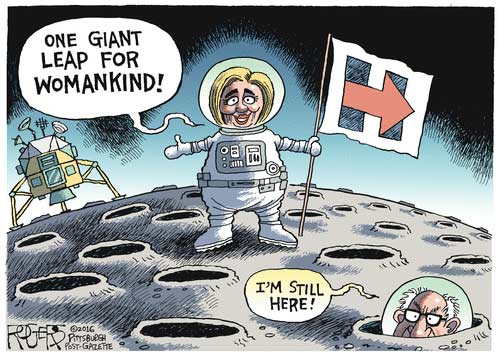 8. David Remnick: Donald Trump's Exploitation Of
In the rhetoric of Donald Trump, mendacity and cynicism compete for equal time. It is hard to say which prevailed today as the Republican Party standard-bearer, a man who pretends to the most powerful political office in the land, tweeted this at his followers: "Appreciate the congrats for being right on radical Islamic terrorism."
This came in the wake of the most horrific mass shooting in the history of the United States—a slaughter of fifty men and women in an L.G.B.T. night club called Pulse, in Orlando, early Sunday morning. Trump allowed that he didn't want "congrats" so much as he wanted "toughness & vigilance." Just as profoundly, he announced, "We must be smart!"
Trump also told his followers—and hence the world—that President Obama should "immediately resign in disgrace" for failing to "mention the words radical Islam" in his remarks on the shooting. And, he suggested, Hillary Clinton might want to get out of the Presidential race for making the same sin of omission in her statement.
With every month, it has become clearer that Trump is a makeshift politician, whose rancid wit resides in his willingness to say whatever it takes to arouse the fears of a political base. He might have started his campaign with the idea of winning some votes and publicity, increasing his profile as a marketing whiz, and then dropping out. Good for business! But now that he has stunned the political world—and, likely, himself—he has shown little inclination (or, perhaps, capacity) to grow into his role, to modify his language, be it for the sake of the Republican establishment or of simple decency. He'll have none of that. Whatever inflates his sense of self and prods the anxieties of the country—that's what works for him.
The horror in Orlando was unspeakable. And we will learn much more about it in the days ahead. But today the event was made that much worse by a Presidential candidate who seeks to lead the country in complicated times and in its darker moments with self-aggrandizing tweets and hollow words. 6/12/16 Read more at http://www.newyorker.com/news/daily-comment/donald-trumps-exploitation-of-orlando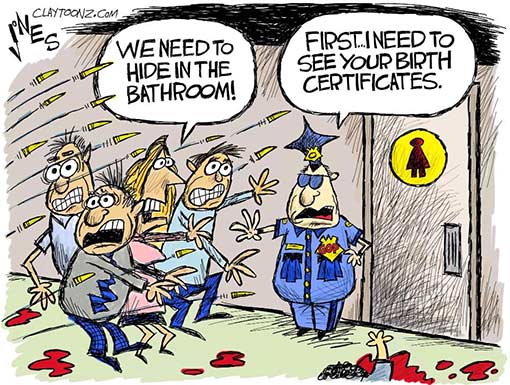 9. Paul Krugman: A Party Agrift
This is not a column about Donald Trump.
It's not about the fraudulent scheme that was Trump University. It's not about his history of failing to pay contractors, leading to hundreds of legal actions. It's not about how he personally profited while running his casinos into the ground. It's not even concerned with persistent questions about whether he is nearly as rich as he claims to be, and whether he's ever done more than live off capital gains on his inheritance.
No, my question, as Democrats gleefully tear into the Trump business record, is why rival Republicans never did the same. How did someone who looks so much like a cheap con man bulldoze right through the G.O.P. nomination process?
I mean, it's not as if any of this dirt was deeply hidden. The Trump U. story was out there long before it became the big deal it is today. It took some real reporting to flesh out the details of Mr. Trump's other business practices, but we're talking about ordinary if skillful journalistic legwork, not revelations from Deep Throat.
So why didn't any of Mr. Trump's primary opponents manage to make an issue of his sleazy business career? Were they just incompetent, or is there something structural about the modern Republican Party that makes it unable to confront grifters?
The answer, I'd argue, is the latter.
In the months ahead Republicans will claim ... that Mr. Trump doesn't reflect their party's values. But the truth is that in a very deep sense he does. And that's why they couldn't stop him. 6/13/16 Read more at http://www.nytimes.com/2016/06/13/opinion/a-party-agrift.html?emc=edit_ty_20160613&nl=opinion&nlid=74243604
10. John Cassidy: Gun Laws And Terrorism: An American Nightmare
Four days after the San Bernardino shootings, President Obama delivered a prime-time address from the Oval Office, in which he said that Farook and Malik "had gone down the dark path of radicalization, embracing a perverted interpretation of Islam that calls for war against America and the West." Obama called on Congress to "make sure no one on a no-fly list is able to buy a gun," and added, "What could possibly be the argument for allowing a terrorist suspect to buy a semi-automatic weapon? This is a matter of national security."
The Republican-controlled Congress ignored these words, just as it had frustrated the Obama Administration's efforts to strengthen gun laws after the Sandy Hook massacre, which took place in December, 2012. "Sandy Hook marked the end of the US gun control debate," Dan Hodges, a British journalist,tweeted in June of last year. "Once America decided killing children was bearable, it was over."
If Hodges was right and the United States will never take action on gun control, then it is heading toward a future where much of the country is a fortified camp, with stricter rules governing who is allowed in, heavily armed police permanently patrolling urban hubs, more public buildings adopting airport-style security, and many more millions of guns sold, as alarmed citizens seek to protect themselves and their families against a perceived threat.
The two versions of the United States would feel very different to live in: one would be more like other advanced countries; the other would be a nightmare. 6/13/16 Read more at http://www.newyorker.com/news/john-cassidy/gun-laws-and-terrorism-an-american-nightmare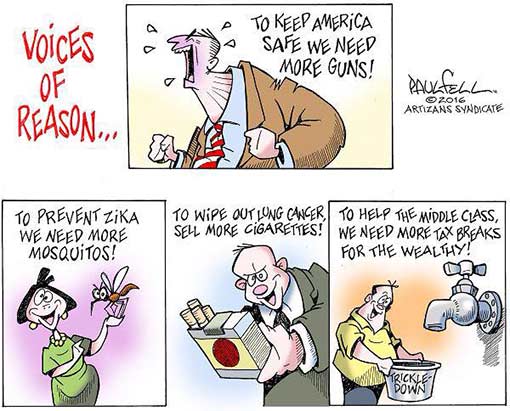 11. Washington Post Editorial: Donald Trump's assault on our values
In a Monday speech, Mr. Trump painted a false picture of a nation infiltrated by waves of unscreened Muslim refugees and immigrants, who, abetted by Democrats, are destroying American values and threatening the public. Among other things, he chillingly accused Muslim Americans of complicity with terrorists: "The Muslims have to work with us," he said. "They know what's going on. They know that [the Orlando shooter] was bad. They knew the people in San Bernardino were bad. But you know what? They didn't turn them in. And you know what? We had death, and destruction."
The following shouldn't have to be repeated, but Mr. Trump makes it necessary. Most American Muslims are as patriotic and law-abiding as most American Christians, Jews and Hindus. Many have fought for and are fighting for the United States in dangerous theaters far away. To generalize as Mr. Trump does about "the Muslims" is to set the nation down a dangerous road it has trod, to its eventual regret, in the past: banning Chinese immigrants a century ago, rounding up U.S. citizens and noncitizens of Japanese descent in the 1940s, expelling "wetbacks" a decade later.
Before the Orlando shooting, Beltway analysts speculated about how a terrorist attack might affect the presidential election. Now we know at least part of the answer: Mr. Trump would reveal himself more clearly than ever as a man unfit to lead. 6/13/16 Read more at https://www.washingtonpost.com/opinions/an-assault-on-our-values/2016/06/13/a0eadc98-31ae-11e6-8758-d58e76e11b12_story.html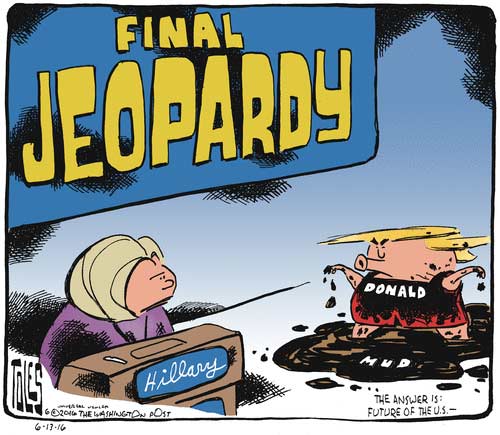 12. NY Times Editorial: What Donald Trump Gets Wrong About Orlando
Washington's cowardly lawmakers have only made it easier by repeatedly refusing to pass even the most obvious and least burdensome measures, like universal background checks and a strong assault weapons ban, as well as not empowering the F.B.I. to block firearms sales to people on a terror watch list. Mr. Mateen — whom the F.B.I. investigated in 2013 and 2014 for suspected terrorist ties — may well have been stopped from purchasing his guns if such laws had been in place. And he was not alone in his choice of weapon. Before the slaughter in Orlando, 95 percent of the deaths resulting from domestic terrorist attacks since Sept. 11 were inflicted by guns,according to a 2015 analysis. Radical Islamic terrorist groups openly advertise America's lax gun laws to encourage those who want to carry out attacks here.
This is not complicated. Hillary Clinton, the presumptive Democratic nominee for president, gets it. In a speech on Monday afternoon, she said, "If the F.B.I. is watching you for a suspected terrorist link, you shouldn't be able to just go buy a gun with no questions asked."
Common-sense measures like these do not infringe on the Second Amendment, however much the National Rifle Association likes to pretendthat the words "well regulated" have somehow disappeared from the amendment's opening clause. Without history or logic on its side, the gun industry and its supporters instead continue to hawk only one solution: more guns, and more "good guys" carrying them, prepared to kill someone if they feel they need to. As President Obama said on Sunday, "We have to decide if that's the kind of country we want to be." The answer should be no.
In any case, the events of early Sunday morning once again demolished that particular Wild West fantasy. The nightclub was, in fact, protected by a good guy with a gun — an off-duty police officer, who was unable to stop the carnage. 6/13/16 Read more at http://www.nytimes.com/2016/06/14/opinion/what-donald-trump-gets-wrong-about-orlando.html
13. Eugene Robinson: Assault Weapons Must Be Banned
The only reasonable response to the massacre in Orlando is to ban the sale of military-style assault weapons. All else, I'm afraid, is just noise.
If this ensconces me in an ideological corner, I'm fine with that. If it insults the Constitution, so be it -- any other response would do far greater harm to our freedoms. Or we could argue for a while and then do nothing. We've tried that course of action many times, and it doesn't work.
An Islamic State sympathizer was able to go into a gun store days or weeks ago and buy both a pistol and an AR-15-style semiautomatic assault rifle, which he used to kill 49 men and women at the Pulse nightclub in Orlando. Had he been armed with the pistol alone, he still would have killed people -- but not so many. Keeping military-grade combat weapons out of the hands of maniacs should not be a controversial idea. 6/14/16 Read more at http://www.realclearpolitics.com/articles/2016/06/14/assault_weapons_must_be_banned_130866.html