April 12, 2018
ON THE RECORD. . .
Donald Trump appears determined to win his trade fight with China by his own definition of winning, even if it means the rest of us lose. -- Jonah Shepp in the Daily Intelligencer.

"In many places, like California, the same person votes many times. "You probably heard about that. They always like to say 'Oh, that's a conspiracy theory.' Not a conspiracy theory, folks. Millions and millions of people. And it's very hard because the state guards their records. They don't want [you] to see it." -- Donald Trump

"I sort of feel that the press is so bad, it's so fake, it's so made up. I mean 'sources say,' and they have no sources. They're like novelists. I call them novelists." — Trump, on why he won't attend the White House Correspondent's Association dinner.

"A poll just came out now, Rasmussen, it's now 51. They say that it's 51 but add another 7 or 8 points to it. They don't want to talk about it, but when they get into the booth they're going to vote for Trump." -- Trump insisting that his approval rating is considerably higher than a recent survey suggests, and that voters will ultimately cast their ballots for him, regardless of what they tell pollsters.

Checks are being ignored or have been eliminated, and critics purged as the president is filling time by watching Fox, and by eating dinner with people who feed his ego and conspiracy theories, and who drink in his rants. Both sides are getting more polarized and dug in — making the daily reality more absurd, and the potential consequences less urgent and able to grab people's serious attention.  -- Mike Allen in Axios

"It's like Forrest Gump won the presidency, but an evil, really f**king stupid Forrest Gump." — An unnamed Republican congressman, in an interview with conservative writer Erick Erickson.
---
IN THIS ISSUE
FYI
OPINION
1.  Andy Borowitz: Fox News Says It Will Decide Trump's Syria Response in Next 48 Hours
Fox News Channel announced on Monday that it would decide what Donald J. Trump's Syria response will be in the next forty-eight hours.

At a press conference at the network's headquarters, Sean Hannity, Judge Jeanine Pirro, and the "Fox & Friends" co-host Steve Doocy said that, as the people who have been entrusted with the decision of whether to use military force, they were not taking their responsibility lightly.

"The U.S. military is the mightiest force in all the world," Hannity said. "However we decide that President Trump will use that force in Syria, we promise that it will be a decision he will be proud of."

Pirro said that she and her colleagues were taking "full advantage of the entire Fox News brain trust" to craft Trump's Syria response. "The American people should sleep well at night knowing that we are keeping Tucker Carlson in the loop," she said.

Ending the press conference on an urgent note, Doocy spoke directly to President Trump. "Mr. President, we'll have a decision for you in the next forty-eight hours," he said. "Don't change the channel." https://www.newyorker.com/contributors/andy-borowitz
2. Tired of Winning Yet? You're not alone.
If he became president, Trump said, America would all of a sudden start winning again… We'd win so much, Trump said, that we'd eventually grow tired of winning. He knew what he was talking about. Because Trump had been winning all his life… Winning, in Trump's mind, wasn't about us. It was about him. It's about ratings and primacy. Trump wants more than anything to exist outside of himself, to occupy your screens and your emotions.
Of course Trump's idea of winning feels deflating to most of us. It's exhausting. It's disorienting. It's like putting your face up to an industrial fan every hour of the day… But you can't really blame the president. He told us right from the start that we'd get tired of the whole noisy routine. We were just too busy gawking to listen. https://www.yahoo.com/news/tired-winning-yet-youre-not-alone-090032927.html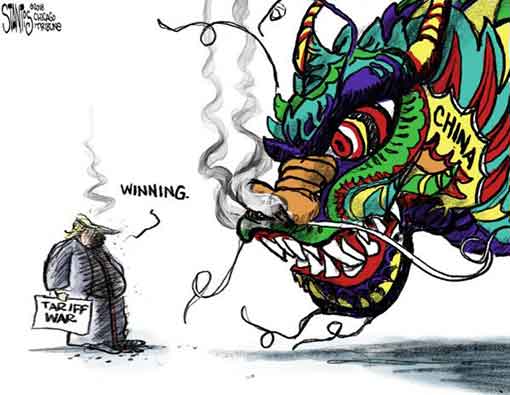 3. CBO: Trump's Tax Cuts, Spending Bill To Catapult Gov't Deficit To $1T In 2019
The combined effects of Trump's tax cuts and last month's budget-busting spending bill is sending the government's budget deficit toward the $1 trillion mark next year, according to a new analysis by the Congressional Budget Office.
The report paints an unrelentingly bleak picture of federal deficits, which would permanently breach the $1 trillion mark in 2020 unless Congress stems the burst of red ink. The government would borrow about 19 cents of every dollar it spends this year. Deficits would grow to $1.5 trillion by 2028 — and could exceed $2 trillion if the tax cuts are fully extended and if Washington doesn't cut spending. https://talkingpointsmemo.com/news/cbo-analysis-trump-tax-cuts-spending-bill-2019-deficit
4. The DAILY GRILL
"Not a conspiracy theory." -- Trump on of the conspiracy theory that 3 million people voted illegally in the 2016 election

VERSUS

"He's looking at this with a simple perspective. Being the liar-in-chief works. It's worked from day one. You open a campaign saying 'The president, the former president isn't really an American citizen'. People still believe that in this country." -- Ex-CIA officer Phil Mudd

 

"I'm not saying there won't be a little pain so we might lose a little of it, but we're going to have a much stronger country when we're finished, and that's what I'm all about," -- Trump to WABC radio.

VERSUS

"We Chinese do disdain that Washington, which is in no position to initiate a trade war with China, persists in wielding the tariff baton. We are fully able to inflict as same losses on the US as those on China. The US will have to repay whatever loss and harm it has caused on China with huge economic and political cost. ...Chinese are aware that the only option now is to hit the US hard enough so that it will remember the pain. Otherwise Washington will go more recklessly and cause more losses. -- China Global Times Editorial 
5. From MEDIA MATTERS (They watch Fox News so you don't have to)
NRA's Ted Nugent compares Democrats to "rabid coyotes": "Keep your gun handy, and every time you see one, you shoot one."  https://www.mediamatters.org/video/2018/04/06/nra-s-ted-nugent-compares-democrats-rabid-coyotes-keep-your-gun-handy-and-every-time-you-see-one-you/219877

Fox's Brian Kilmeade parrots Trump's lie that "people in California are voting four or five times."  https://www.mediamatters.org/video/2018/04/06/foxs-brian-kilmeade-parrots-trumps-lie-people-california-are-voting-four-or-five-times/219873

Ann Coulter wants the US military to kill immigrants attempting to enter the country. Coulter: The National Guard should "shoot the illegals" because "Just standing there doesn't do a thing."  https://www.mediamatters.org/blog/2018/04/04/ann-coulter-wants-us-military-kill-immigrants-attempting-enter-country/219861

As a fringe right-wing political commentator, Ximena Barreto claimed that "African-Americans are way more racist than white people," labeled Islam "a fucking cult" that has "no place" in the United States, pushed the false Pizzagate conspiracy theory, and attacked the "retarded" 2017 Women's March. In December, she became a deputy communications director at the Department of Health and Human Services (HHS).  https://www.mediamatters.org/blog/2018/04/09/hhs-official-pizzagate-conspiracy-theorist-who-said-african-americans-are-way-more-racist-whites-and/219888 Video at https://youtu.be/4Tiddap8H14

Sinclair personality faces boycott after saying he wants to "ram a hot poker up David Hogg's ass." Jamie Allman's abusive tactics may finally be catching up with him. https://www.mediamatters.org/blog/2018/04/09/sinclair-personality-faces-boycott-after-saying-he-wants-ram-hot-poker-david-hogg-s-ass/219889

Fox's Marc Thiessen on Syria: Trump should "think about what would Barack Obama do, and then do the opposite."  https://www.mediamatters.org/video/2018/04/09/foxs-marc-thiessen-syria-trump-should-think-about-what-would-barack-obama-do-and-then-do-opposite/219884

On Fox & Friends, Andrew Napolitano pressures Trump to fire Jeff Sessions. Napolitano: "[Sessions] should never have accepted the appointment ... Mr. President, you are entitled to an attorney general in whom you have great confidence." https://www.mediamatters.org/video/2018/04/10/fox-friends-andrew-napolitano-pressures-trump-fire-jeff-sessions/219899
6. From the Late Shows
Donald Trump Baltic States - SNL Cold Open: https://youtu.be/1iCm8tYX-Vw

Weekend Update: Mark Zuckerberg on Cambridge Analytica: https://youtu.be/GqRo9xYKnfA

Trump Sends National Guard to the Border, Attacks Amazon: A Closer Look: https://youtu.be/t8yUKzMnlFU

Stephen Falls Victim To CNN's 'Fake News': https://youtu.be/06tb-P7Ijgo

Crisis Pregnancy Centers: Last Week Tonight with John Oliver: https://youtu.be/4NNpkv3Us1I
7. Late Night Jokes for Dems
According to The Washington Post, special counsel Robert Mueller informed President Trump's attorneys last month that he is continuing to investigate Trump but does not consider him a criminal target at this point. Of course, that could change if Trump slips up and makes 50 more mistakes. -- Seth Meyers

The manager at a Sonic restaurant in Mississippi recently posted a message asking customers not to smoke weed in the drive-thru. Meanwhile Taco Bell offered them a light. -- Seth Meyers

There's new information about Donald Trump and the Russia investigation. According to The Washington Post, last month special counsel Robert Mueller told the president's lawyers he was a subject of the investigation but not the target of the investigation. Which is kind of like when the principal at your school says, "I got my eye on you, mister." -- Jimmy Kimmel

But Mueller told Trump that, while he is not a criminal target, he still needs to ask him some questions. Basically he's treating the president like the guy who used to work with the woman who turned up dead on this week's "Law & Order." -- Jimmy Kimmel

Some people think he could be saying this to bait Trump into sitting down at an interview. If you want to bait Trump, you leave a trail of cheeseburgers. That's how you bait him. -- Jimmy Kimmel

In a press conference, President Trump said that nobody has been tougher on Russia than him. In fact, last night he made sure to hit Putin extra hard during their pillow fight. -- Jimmy Fallon

Speaking of Putin, Hillary Clinton just called the Russian president a world-class misogynist. When Trump heard that, he was like, "Wait, he gives massages too?" -- Jimmy Fallon

I read that dozens of Facebook accounts linked to the Kremlin have been taken down. Russian hackers didn't mind. They were like, "Eh, even we don't trust Facebook anymore." -- Jimmy Fallon

A lawyer for Stormy Daniels went on Megyn Kelly's show today and said, "She can describe the president's genitalia in great detail." Then Americans were like, "PLEASE give her some more hush money." -- Jimmy Fallon

Trump has been keeping busy. He just met with the leaders of Latvia, Estonia, and Lithuania. And until that meeting, Trump thought Latvia, Estonia, and Lithuania were cast members on "Real Housewives." [imitates Trump] "Do you know Melania?" -- Jimmy Fallon

This week Trump said that two of the most incredible days of his life were spent in China – mainly because it was the closest he'll ever get to seeing a great wall. -- Jimmy Fallon
8. Fox News Posts Graphic Showing It's Least Trustworthy
Fox News inadvertently posted a graphic showing it trails other cable news networks in trustworthiness, the Guardian reports.
Said host Howard Kurtz: "That is not the graphic we are looking for. Hold off. Take that down, please." https://www.theguardian.com/media/2018/apr/09/fox-news-accidentally-displays-graphic-showing-it-is-least-trusted-cable-network Video at https://youtu.be/z5G6un-uKVc
9. The Moscow Midterms - how Russia could steal our next election
While Americans are well-acquainted with Russian online trolls' 2016 disinformation campaign, there's a more insidious threat of Russian interference in the coming midterms. The Russians could hack our very election infrastructure, disenfranchising Americans and even altering the vote outcome in key states or districts. Election security experts have warned of it, but state election officials have largely played it down for fear of spooking the public. We still might not know the extent to which state election infrastructure was compromised in 2016, nor how compromised it will be in 2018. https://fivethirtyeight.com/features/how-russia-could-steal-the-midterms/
10. Report: Robert Mercer Bankrolled Group That Pushed Anti-Muslim Ads to Swing-State Voters
Robert Mercer, the hedge-fund investor and major donor to Donald Trump's 2016 campaign, pumped money into a secretive group that targeted swing-state voters with anti-Muslim ads on Facebook and Google, the watchdog group Open Secrets reports. The research site, run by the nonprofit Center for Responsive Politics, reported that Mercer was one of three financial backers of Secure America Now, which used social media to target swing-state voters likely to be receptive to its anti-Muslim rhetoric. https://www.thedailybeast.com/report-robert-mercer-bankrolled-group-that-pushed-anti-muslim-ads-to-swing-state-voters
11. Rachel Maddow Beats Sean Hannity For March, Takes Title As Most-Watched Cable News Host
In March, The Rachel Maddow Show finished as the highest-rated show in cable news, with an average total audience of 3.058 million viewers–the show's best-ever performance in the 9 p.m. ET hour. FNC's Hannity was second, with 3.000 million viewers. Maddow also won among viewers 25-54, the demographic most valued by advertisers, finishing March with an average audience of 671,000 compared to Hannity's 616,000. CNN finished a distant third in the hour, with 382,000 viewers 25-54. https://www.forbes.com/sites/markjoyella/2018/04/04/rachel-maddow-beats-sean-hannity-takes-title-as-most-watched-cable-news-host/#6d2925dc5eea
12. Trump's easy campaign promises run into the difficulties of reality
An emboldened President Trump is discovering that the policies he once described as easy fixes for the nation are a lot more complicated in reality — creating backlash among allies, frustrating supporters and threatening the pocketbooks of many farming communities that helped get him elected.
Freed from the caution of former advisers, Trump has spent recent weeks returning to the gut-level basics that got him elected: tough talk on China, a promise of an immigration crackdown and an isolationist approach to national security. 
But at every front he has faced resistance from within his own coalition. Immigration hawks have been infuriated by his inability to build the border wall with funding from either Mexico or U.S. taxpayers. Many military leaders and foreign policy strategists have been alarmed by his promise to remove troops from Syria. And Republicans on Capitol Hill have protested the rising signs of a trade war with China. 
The Dow Jones industrial average — once used by Trump as a symbol of his success in office — has fallen nearly 5 percent since he announced new tariffs on March 1. Commodities markets, which are more closely watched in rural communities, have also been under pressure as China has threatened to impose retaliatory taxes on U.S. products from pork to soybeans.  https://www.washingtonpost.com/politics/trumps-easy-campaign-promises-run-into-the-difficulties-of-reality/2018/04/04/410dcb3a-3820-11e8-acd5-35eac230e514_story.html
13. Rex Tillerson's $12 million army of consultants
"It was one of Secretary of State Rex Tillerson's core goals: radically reshaping the State Department to make it leaner, cheaper and modernized to the standards of a former private-sector CEO. Now that Tillerson has been fired, the vaunted 'Redesign' initiative he launched faces an uncertain future, but at least one clear legacy: around $12 million dollars spent just for private consultants who in some cases charged the State Department more than $300 an hour.
As many as 90 consultants worked on the project, according to one document. Many of the consultants have spent extensive time at the State Department, meeting with top officials, collecting and analyzing data, creating PowerPoint presentations and leading group discussions with skeptical employees. https://www.politico.com/story/2018/04/05/tillerson-state-department-consultants-503557
14. The case for extreme worry
To White House insiders, this is the most dangerous phase of Donald Trump's presidency so far, from the brewing trade war with China that he denies is a trade war, to the perilously spontaneous summit with North Korea.
Checks are being ignored or have been eliminated, and critics purged as the president is filling time by watching Fox, and by eating dinner with people who feed his ego and conspiracy theories, and who drink in his rants. Both sides are getting more polarized and dug in — making the daily reality more absurd, and the potential consequences less urgent and able to grab people's serious attention. 
Trump's closest confidants speak with an unusual level of concern, even alarm, and admit to being confused about what the president will do next —  and why. https://www.axios.com/donald-trump-foreign-policy-polarization-success-325dfeaa-115a-433d-a975-afabbf77e6fe.html
15. Trump Can't Decide If Pruitt Is Too Corrupt to Lead the EPA – Or Just Corrupt Enough to Be His Attorney General
One of the (many, many) odd things about the Trump presidency is the fact that administration officials routinely lose their jobs for offenses that the president has unambiguously committed himself. For example, this week, a Defense Department staffer resigned after CNN revealed that he had once shared birther conspiracy theories and anti-Muslim sentiments over Facebook. Ostensibly, there is now a consensus that such conduct disqualifies a person from a low-level Executive branch appointment — but not for unilateral command of the world's largest nuclear arsenal.
A similar dissonance has hung over the Trump Cabinet's (many, many) corruption scandals. Tom Price was clearly a shady figure who abused his power to feather his nest — but that is also obviously true of a president who literally rents personal access to himself for $200,000 a year. http://nymag.com/daily/intelligencer/2018/04/trump-cant-decide-whether-to-fire-pruitt-or-promote-him.html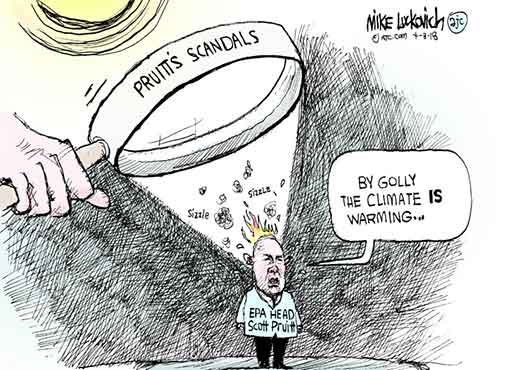 16. History repeats itself? South Carolina Republicans offer secession over guns
South Carolina debated seceding from the Union more than 150 years ago, one of the opening salvos of the Civil War. Now, the topic has come up again, amid a national debate over firearms and gun rights.
A trio of South Carolina state House Republicans quietly introduced a bill that would allow lawmakers to debate seceding from the U.S. "if the federal government confiscates legally purchased firearms in this State. https://apnews.com/fe96e0e8a68c4e0881179391e78a999c
17. One big thing: Trump's freak-out moment
We can't overstate the severity of President Trump's buyer's remorse from signing last month's spending bill. It could even be a turning point in his presidency, on the issue of immigration and his level of cooperation with Republican leaders."
Sources who've discussed it with Trump say it freaked him out to see the array of usually friendly faces on Fox News' opinion shows — Pete Hegseth, Laura Ingraham, Tucker Carlson, et al. — ripping into him for signing a bill that spent a ton of money, but gave lots away to liberal priorities and did little for his signature promise to build a wall."
Truth is that Trump had little clue what was in the largest spending bill ever passed. https://www.axios.com/newsletters/axios-am-056b95f2-c28b-4c76-b6fa-6fa77ebdd68c.html
18. Democrats' Best Recruitment Tool? President Trump
President Trump's surprise victory and divisive governing style have galvanized Democrats in ways the party could have only dreamed of in the Obama years, when enthusiasm for its candidates sagged whenever Barack Obama was not on the ballot.
There is perhaps no better illustration of Mr. Trump's impact on the midterm campaign than in the soaring number of Democratic House candidates running for their party's nomination in the primaries. https://www.nytimes.com/interactive/2018/04/06/us/surge-in-democratic-candidates-for-the-house.html
19. Inside the Decade-Long Russian Campaign to Infiltrate the NRA and Help Elect Trump
The NRA spent an unprecedented $30 million to install Trump in the White House. Putin has a long track record of illegally financing nationalist opposition groups in the West. If the Kremlin's NRA outreach culminated in pumping vast sums into the group's coffers, America's lax campaign-finance regulations would have posed no obstacle. "There are so many ways that a group like the NRA could be used to channel Russian money into a race, it's shocking," says Robert Maguire, who investigates "dark money" for the Center for Responsive Politics. In a letter to Congress, the NRA has denied wrongdoing; it has not denied accepting Russian money.
The notion that the flag-waving NRA of Eddie Eagle has allied itself with the Russian bear, and the government of former KGB colonel Vladimir Putin, can be hard to fathom. But an investigation by Rolling Stone establishes deeper ties between the NRA and Russia than previously reported. The record reveals this union was the product of a sophisticated Russian influence campaign nearly a decade in the making. By November 2016, Torshin greeted Trump's election victory as a foregone conclusion, specifically pointing to his and the president-elect's joint connection to the NRA. "This striking personality has fascinated me for a long time," he tweeted, in Russian. "Was sure of his victory."  https://www.rollingstone.com/politics/features/russian-campaign-to-infiltrate-nra-elect-trump-w518587
20. The Trumpification of the GOP Is Complete
With 11 states holding primaries next month, a clear pattern is emerging from the messages of GOP candidates across the country: They're all aboard the Trump train. In Indiana, all three of the candidates vying to challenge Sen. Joe Donnelly are testing messages that mimic themes from Trump's successful presidential campaign. In West Virginia, one of the GOP Senate candidates launched an ad showing a boulder crashing on the Capitol, with a distinctly Trumpian message of 'blowing up' Washington. Down-ballot GOP candidates running in competitive primaries, even those in suburban districts, privately concede there's no benefit to creating any space between their campaigns and the White House.
Indeed, it now feels like ancient history when Republicans believed they could make the midterm elections about tax cuts and the growing economy. Trump isn't cooperating with that strategy, instead engaging in trade wars and picking polarizing cultural fights that do little to boost his party's bottom line. Senate Majority Leader Mitch McConnell, dismayed by the gloomy trends, all but conceded a Democratic wave and the likelihood of the House flipping in a home-state interview this week.
There's little Republicans can do to turn things around at this point. They're marching to the beat of Trump's drum and heading closer to the political cliff. https://www.nationaljournal.com/s/666268?unlock=S5D689ZBBYHQQWN4
21. Trump Jr.: Dad's ambassador to the fringe
It was far from the first time President Trump's eldest son dabbled in online conspiracy theories, using his 2.7 million Twitter followers to promote questionable or outright false information that, in many cases, even his father had refrained from spreading."
The 40-year-old Trump Jr. has emerged as one of his father's key ambassadors to the fringe, promoting theories that added drama and visceral energy to the grass-roots right: in this case, the fast-growing theory that tech giants are arrayed against conservatives."
"In the recent past, Trump Jr. has spread stories about the 'deep state' to push for the release of a GOP memo on alleged FBI wrongdoing, liked and shared tweets questioning the motives of a Parkland, Florida, student who is pushing for gun control and liked actor James Woods' tweet that 'more known Democrats have murdered people with guns than all @NRA members combined.'" https://www.politico.com/story/2018/04/08/trump-jr-conspiracy-theories-far-right-506795
22. Farmers' Anger at Trump Tariffs Puts Republican Candidates in a Bind
As President Trump moves to fulfill one of the central promises of his campaign — to get tough on an ascendant China — he faces a potential rebellion from a core constituency: farmers and other agricultural producers who could suffer devastating losses in a trade war.
Mr. Trump's threat to impose tariffs on Chinese goods came with a presidential declaration that trade wars are good and easily won. But the action has injected damaging uncertainty into the economy as Republicans are already struggling to maintain their hold on the House and the Senate in a difficult election year. https://www.nytimes.com/2018/04/07/us/politics/trump-trade-china-politics-heartland.html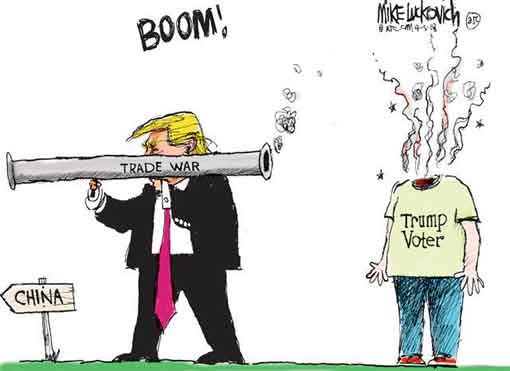 23. Trump's Retail Website Only Pays Sales Taxes In 2 States. Amazon Pays Taxes In 45.
President Trump has railed against Amazon, falsely claiming the company fails to pay state and local sales taxes on online shipments. But it turns out the Trump Organization retail website collects sales taxes only on goods shipped to two states — while Amazon collects sales taxes in 45 states. https://www.huffingtonpost.com/entry/trump-store-only-pays-taxes-to-2-states_us_5ac95a99e4b09d0a11946b1c
24. As elections near, many older, educated, white voters shift away from Trump's party
Older, white, educated voters helped Donald Trump win the White House in 2016. Now, they are trending toward Democrats in such numbers that their ballots could tip the scales in tight congressional races from New Jersey to California, a new Reuters/Ipsos poll and a data analysis of competitive districts shows.
Nationwide, whites over the age of 60 with college degrees now favor Democrats over Republicans for Congress by a 2-point margin, according to Reuters/Ipsos opinion polling during the first three months of the year. During the same period in 2016, that same group favored Republicans for Congress by 10 percentage points. 
The 12-point swing is one of the largest shifts in support toward Democrats that the Reuters/Ipsos poll has measured over the past two years. If that trend continues, Republicans will struggle to keep control of the House of Representatives, and possibly the Senate, in the November elections, potentially dooming President Trump's legislative agenda. https://www.reuters.com/article/us-usa-election-healthcare-poll/exclusive-as-elections-near-many-older-educated-white-voters-shift-away-from-trumps-party-idUSKBN1HG1I6
25. GOP increasingly fears loss of House, focuses on saving Senate majority
Republicans are increasingly worried they will lose control of the House in the midterm elections, spurring an urgent campaign to hold the Senate with a simple message: Only the majority will ensure confirmation of conservative judges and President Trump's nominees.
To many, the Senate is emerging as a critical barrier against Democrats demolishing Trump's agenda beginning in 2019. Worse yet, some in the GOP fear, Democrats could use complete control of Congress to co-opt the ideologically malleable president and advance their own priorities.
Democratic enthusiasm is surging in suburban districts that House Republicans are struggling to fortify, causing GOP officials, donors and strategists to fret. They have greater confidence in more-rural red states that Trump won convincingly and that make up the bulk of the Senate battlefield. https://www.washingtonpost.com/politics/gop-increasingly-fears-loss-of-house-focuses-on-saving-senate-majority/2018/04/08/6483ffc0-39bb-11e8-acd5-35eac230e514_story.html
26. How Trumpworld is winging a trade war
When the president threatened China with $100 billion in new tariffs, there had hardly been any White House discussion.
There wasn't one single deliberative meeting in which senior officials sat down to debate the pros and cons of this historic threat. Trump didn't even ask for advice from his new top economic adviser, Larry Kudlow, instead presenting the tariffs as a fait accompli. Chief of Staff John Kelly knew Trump wanted more tariffs but was blindsided by the speed of the announcement. And Legislative Affairs Director Marc Short — the White House's liaison to Capitol Hill — was totally in the dark.
Trump had melted down Capitol Hill and roiled the markets with zero substantive internal debate. https://www.axios.com/winging-a-trade-war-donald-trump-d5a36398-22e8-4428-8a53-54095e04d759.html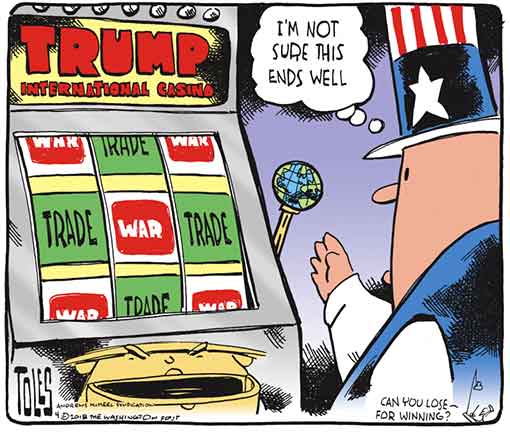 27. Trump's company asked Panama president to help in hotel spat
U.S. President Donald Trump's company appealed directly to Panama's president to intervene in its fight over control of a luxury hotel, even invoking a treaty between the two countries, in what ethics experts say was a blatant mingling of Trump's business and government interests.
That appeal in a letter last month from lawyers for the Trump Organization to Panamanian President Juan Carlos Varela was apparently unsuccessful — an emergency arbitrator days later declined to reinstate the Trump management team to the waterfront hotel in Panama City. But it provides hard proof of exactly the kind of conflict experts feared when Trump refused to divest from a sprawling empire that includes hotels, golf courses, licensing deals and other interests in more than 20 countries. https://www.washingtonpost.com/world/the_americas/trump-family-hotel-business-asked-panama-president-for-help/2018/04/09/569b4836-3bf1-11e8-955b-7d2e19b79966_story.html
28. Harvard youth poll finds a majority of young Democrats "definitely voting" in midterm elections,
A new national poll of America's 18- to 29-year-olds by Harvard's Institute of Politics (IOP), located at the Kennedy School of Government, finds a marked increase in the number of young Americans who indicate that they will "definitely be voting" in the upcoming midterm Congressional elections. Overall, 37 percent of Americans under 30 indicates that they will "definitely be voting," compared to 23 percent who said the same in 2014, and 31 percent in 2010, the year of the last "wave" election.
Young Democrats are driving nearly all of the increase in enthusiasm; a majority (51%) report that they will "definitely" vote in November, which represents a 9-percentage point increase since November 2017 and is significantly larger than the 36 percent of Republicans who say the same. At this point in the 2014 election cycle, 28 percent of Democrats and 31 percent of Republicans indicated that they would "definitely" be voting. In the Spring of 2010, 35 percent of Democrats and 41 percent of Republicans held a similar interest in voting. http://iop.harvard.edu/spring-2018-poll
29. How Dems Could Get Trump's Tax Returns If They Win The House
This hasn't gotten a ton of attention outside of the Capitol, but if Democrats win either chamber of Congress they'd be able to get their hands on Trujmp's tax returns. This is something that key GOP players on the Hill are well aware of. https://www.politico.com/newsletters/playbook/2018/04/10/donald-trump-nec-shahira-knight-263761
30. A Second Paul Manafort Associate Has Turned on Him
Former Trump campaign chief Paul Manafort has trouble in his own house. According to court documents, one of Manafort's former employees led an FBI agent to a storage locker filled with paperwork on Manafort's businesses and finances. The person's name is redacted from the filings. But he's now at the center of a fight over evidence that could play a significant role in the government's case against Manafort.
This makes the second Manafort associate known to have aided the government in the sprawling investigation into foreign influence in U.S. politics. Rick Gates, Manafort's long-time right hand, began cooperating with Special Counsel Robert Mueller's office in February. https://www.thedailybeast.com/a-second-paul-manafort-associate-has-turned-on-him
31. Why the F.B.I. Raid Is Perilous for Michael Cohen — and Trump
The Stormy Daniels payout may be outside the scope of the Russia investigation, but it's possible that Mr. Cohen's records are full of materials that are squarely within that scope. And the law is clear: If investigators executing a lawful warrant seize evidence of additional crimes, they may use that evidence. Thus Mr. Trump and Mr. Cohen, with their catastrophically clumsy handling of the Daniels affair, may have handed Mr. Mueller devastating evidence.
It's easy to conclude that after so many bombshells, this is just another overfrantic news cycle. It's not. It's highly dangerous, and not just for Mr. Cohen. It's perilous for the president, whose personal lawyer now may face a choice between going down fighting alone or saving his own skin by giving the wolves what they want. https://www.nytimes.com/2018/04/10/opinion/trump-michael-cohen-fbi-raid.html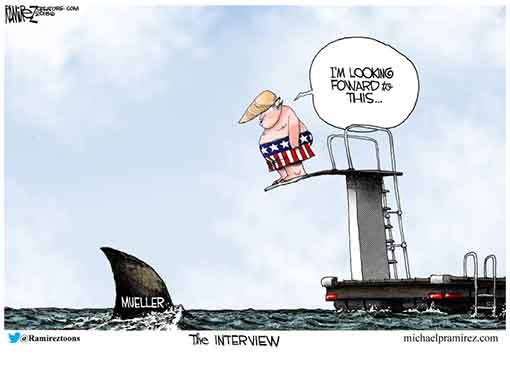 32. How Trump's staunchest allies are covering the Cohen raid
If the president watched Fox News' Hannity or Fox Business' Lou Dobbs Tonight -- both among his favorite programs, each hosted by a conservative commentator Trump frequently consults for advice -- he would have seen an extensive attack on the investigations. Highlights include:
Lou Dobbs: "I would fire the SOB (Mueller} in three seconds if it were me."

Sebastian Gorka; "Mueller has to be dealt with. He has to be fired or he has to be asked, 'What are you investigating that has anything to do with Russia?'"

Joe diGenova: Rod Rosenstein, the deputy attorney general overseeing Mueller's investigation, and FBI Director Christopher Wray should be held "in contempt of Congress" for failing to provide documents on the Trump investigation quickly enough, and "if they don't produce the documents, they should move to impeach both of them."

NRATV host Dan Bongino: "Fire Bob Mueller, fire this guy now. This is a disgrace. We investigate crimes, we don't investigate people."

Hannity: "This is now officially an all-hands-on-deck effort to totally malign and, if possible, impeach the president of the United States. Now, Mueller and Rosenstein have declared what is a legal war on the president." https://www.mediamatters.org/blog/2018/04/10/Theres-a-sharp-divide-in-how-Trumps-staunchest-allies-are-covering-the-Cohen-raid/219902
33. After Cohen raid, Trump flirts with a point of no return
It's hard to call an investigation a "witch hunt" when it has already resulted in 19 individuals being charged with crimes, including five who pleaded guilty and one who's been sentenced to jail (for 30 days). That's quite a rap sheet for an ongoing probe.It's also hard to overstate the gravity of the FBI raiding the offices of an attorney – let alone when that attorney represents the president of the United States. "According to Department of Justice policy, an application for a search warrant of a lawyer's office such as this is so serious that it usually requires approval of either the U.S. Attorney for the district, or the Assistant Attorney General," NBC legal analyst Danny Cevallos writes. FYI: The U.S. attorney here is a Republican who donated to the president's 2016 campaign. https://www.nbcnews.com/politics/first-read/after-cohen-raid-trump-flirts-point-no-return-n864261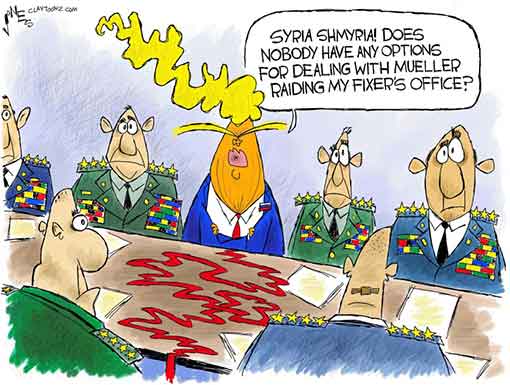 1. Gabriel Sherman : "He's Sitting There Bitching And Moaning'': Inside Trumpworld, Allies Fear The Boss Could Go Postal And Fire Mueller
It was supposed to be the most somber and impressive of presidential moments, a gathering of the national security team at the White House to discuss military options to punish Syrian President Bashar al-Assad for a suspected chemical weapons attack on a Damascus suburb that killed at least 60 people, including children. But as the meeting began, Donald Trump was more enraged by a crossed red line much closer to home: the F.B.I.'s raid on his longtime lawyer Michael Cohen. "I just heard that they broke into the office of one of my personal attorneys . . . it's frankly a real disgrace. It's an attack on our country in a true sense," Trump said to reporters, as his new national security adviser, John Bolton, sat beside him looking uncomfortable.
There have been times during Robert Mueller's investigation—Mueller's subpoenaing of Trump business records, for instance—when White House advisers worried Trump seemed on the verge of triggering a constitutional crisis by firing Mueller, Attorney General Jeff Sessions, or Deputy Attorney General Rod Rosenstein. The stunning Cohen raid is another one of these moments. "He's sitting there bitching and moaning. He's brooding and doesn't have a plan," a Republican close to the White House said last night. "I could see him having a total meltdown and saying, 'Fuck it, I'm firing all of them,'" a Trump friend told me. "This is very dry tinder. If someone strikes a match to it, you could see it catching fire," added a former official. https://www.vanityfair.com/news/2018/04/inside-trumpworld-allies-fear-the-boss-could-go-postal-and-fire-mueller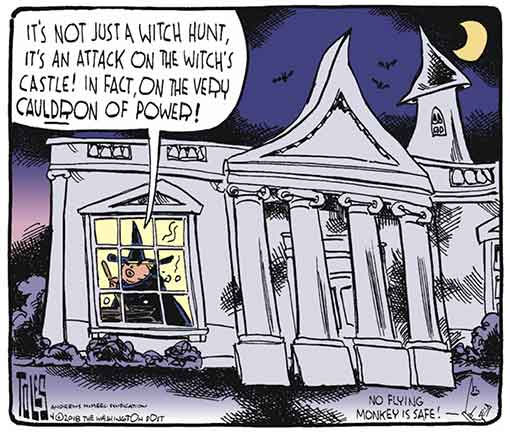 2. Rick Wilson: FBI Raid on Michael Cohen Is the Most Dangerous Day of Donald Trump's Life
Monday's FBI raids on Michael Cohen's Rockefeller Center office, his hotel room, and his home all provided a proper dose of comeuppance to a man more accustomed to screaming threats, shittier legal theorizing, and putting his strip-mall law degree to work in service of Donald Trump.
Cohen, far from being the super-lawyer to a billionaire real-estate tycoon, really only has one important job: covering up Trump's alleged dalliances. It was Cohen batting cleanup, dealing with an army of models, escorts, Mistresses (large "M" and small "m"), actresses, porn stars, models, Real Dolls, fangirls, groupies, and random topiary at Mar-a-Delicto with a wall of nondisclosure agreements. Master of the NDA, Cohen thought attorney-client privilege would protect him.
He forgot he had a fool for a client. https://www.thedailybeast.com/fbi-raid-on-michael-cohen-is-the-most-dangerous-day-of-donald-trumps-life
3. Norman Eisen, Noah Bookbinder and Conor Shaw: The FBI Raids on Trump's Attorney Are Bad News for Trump
Monday's FBI raids on Michael Cohen's office, home and hotel room are the clearest sign yet that the president's longtime attorney is in serious legal jeopardy. They also represent yet another threatening development facing Donald Trump after more than a year of investigations into his campaign and presidency—perhaps the most direct danger yet.
No wonder he's lashing out wildly—calling the raids "a disgraceful situation" and, absurdly, "an attack on our country."
The evidence sought by investigators reportedly relates to bank fraud and campaign finance violations, both of which primarily point to one thing. Cohen apparently used a home equity credit line to borrow the $130,000 he paid Stormy Daniels for her silence just weeks before the 2016 election. If Cohen lied to obtain credit from a federally insured financial institution, that is a felony punishable by up to 30 years' imprisonment. And because the payment was likely an in-kind contribution to the Trump campaign, it could constitute a willful violation of campaign contribution limits, a separate felony punishable by up to five years' imprisonment.
That the president of the United States is one file cabinet of seized evidence away from possible exposure to a felony charge is a remarkable thing. That the facts giving rise to such a possibility have nothing to do with obstruction of justice or the various crimes that might fall under the "collusion" umbrella is even more noteworthy given the dizzying speed at which Mueller has proceeded. If Mueller referred this matter, one wonders whether he caught Cohen in any Russia-related malfeasance and whether Trump was involved.
For Trump, then, the trouble is that even if he is able to weather this particular storm, the roof shielding him may be blown away in the process. https://www.politico.com/magazine/story/2018/04/09/fbi-raid-michael-cohen-donald-trump-robert-mueller-217841
4. Jonathan Chait: New Budget Estimate Shows Trump Tax Cuts Created a Fiscal Disaster
The neoclassical economists of the late 19th and early 20th century believed the government should always balance its budget. Eventually, they mostly gave way to the theories of John Maynard Keynes, who argued that the government should deliberately run deficits during recessions. The modern Republican Party has pioneered a completely novel theory: Governments should balance their budgets when run by Democrats, and run extremely large deficits when run by Republicans.
The new projections by the Congressional Budget Office, the first federal budget analysis to be released since the Trump tax cuts were passed into law, shows how fully the Republican government has operationalized its theory. CBO now estimates the 2018 deficit will be $242 billion higher than it had estimated last June, before the tax cuts. And the tax cut is the major reason: "Accounting for most of that difference is a $194 billion reduction in projected revenues, mainly because the 2017 tax act is expected to reduce collections of individual and corporate income taxes."
Republicans treated deficits of this scale as dangerous portents of civilizational collapse during Barack Obama's first term, when the economy was recovering from the greatest financial crisis in three-quarters of a century. Now they are perfectly comfortable jacking the deficit back up to recession-crisis levels, merely because they want to hand out tax cuts to owners of wealth while increasing defense, and without forcing their constituents to bear the cost of the necessary trade-offs. http://nymag.com/daily/intelligencer/2018/04/new-budget-estimate-trump-tax-cuts-created-fiscal-disaster.html
5. NY Times Editorial Board: Trump's Irrational Border Plan
President Trump escalated his verbal fusillade against immigrants this week by announcing a foolish plan to deploy troops along the Mexican border. Such a move has at best a tenuous basis in law and none in logic, and it will burn through federal funds better spent elsewhere.
Mr. Trump has long stoked a xenophobic fear of newcomers among his political base. Ahead of the 2018 midterm elections, he seems increasingly desperate to find ways to compensate for his failure to deliver on his promise to build a "big, beautiful" border wall on Mexico's dime.
Mr. Trump is once again demonstrating an inability to make sound, considered judgments about what's needed to lead the nation and keep it safe. He is resorting to the demagogue's tactic of inspiring fear and appears not to understand why the Posse Comitatus Act was enacted — to limit the powers of the federal government in using military personnel to enforce domestic policies within the United States. He should recognize that the move is costly and should be used sparingly, if at all — and certainly not for crass political purposes. https://www.nytimes.com/2018/04/04/opinion/trumps-national-guard-border.html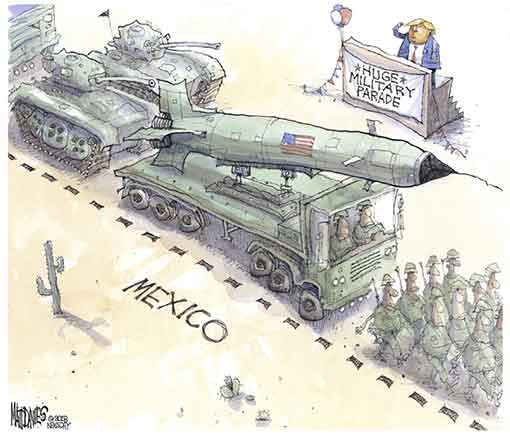 6. James Pethokoukis: Trump's dangerous economic gambles
President Nixon famously observed that the U.S. economy was so strong "it would take a genius" to wreck it. But maybe that's not quite right. Maybe it only takes an American president who thinks he's a genius — or to be more specific, "a very stable genius." At the very least, it might take only a reckless American president who is willing to take tremendous risks with little potential upside based on either misinformation or raw emotion.
It is hard to fully explain the level of self-sabotage happening right now in Washington thanks to Trump, all of which is being reflected in the market's current woes. Let's start with trade. Although Trump might think "trade wars are good, and easy to win," the historical evidence strongly suggests they are not. There's a reason why all the economists in a recent survey agreed that Trump's February plan for sweeping steel and aluminum tariffs would make most Americans worse off
The stock market isn't the economy. But politicians ignore it at their own peril. When stocks went nowhere in the 1970s, it was a powerful vote of no confidence in American economic policy and the volatile, stagflationary economy. Likewise, soaring stocks in the 1980s and 1990s symbolized a resurgent America. Trump probably grasps all that at some level. Since becoming president, he has argued that the ever-rising Dow was telling the truth about Trumponomics — even if the Fake News mainstream media refused to.
But what truth has Mr. Market been telling us in recent months? Maybe it's that Trumponomics has veered wildly off course. Maybe Trump should start listening. http://theweek.com/articles/765055/trumps-dangerous-economic-gambles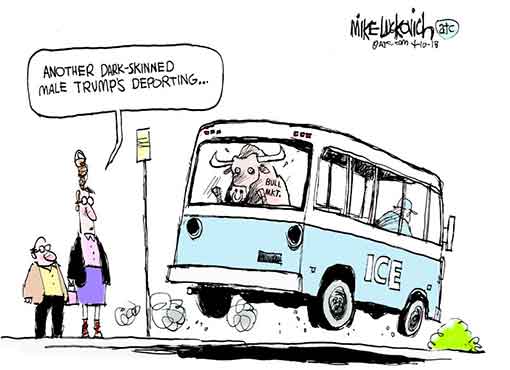 7. NY Times Editorial: The True Damage of Trump's 'Fake News'
"Trump seems to be succeeding just through the force of his daily verbal assaults in shaking trust in the press and in other institutions that are crucial to our democracy," says Jameel Jaffer, director of the Knight First Amendment Institute at Columbia University.
When the president calls every piece of information he does not like "fake news," he also encourages politicians in other countries who are not constrained by constitutional free speech protections or independent judiciaries to more aggressively squelch the press. They know that there will be little international condemnation of their actions because one of the most important standard bearers for a free press — the American government — is led by a man trying to discredit the free press.
Mr. Trump is unlikely to change his ways, and his most loyal supporters will support him no matter what he does. It is up to everybody else, Republicans and Democrats alike, to stand up and speak out against his destructive attacks on the press and the truth. https://www.nytimes.com/2018/04/04/opinion/trump-washington-post-amazon.html
8.  Daniel Griswold: There's no 'pot of gold' at the end of a trade war with China
Amid our escalating trade war with China this week, President Trump's top economic advisor, Larry Kudlow, tried to assure investors that, despite roiling stock markets, a "pot of gold" lies at the end of the dispute. But the brinkmanship on both sides is more likely to cost Americans a pot of gold in disrupted trade and lost economic opportunity.
The spat between the world's two largest trading nations started last month with U.S. tariffs on steel and aluminum; China responded in kind with tariffs on $3 billion worth of U.S. exports. This week's round two — over Chinese appropriation of U.S. intellectual property — marks an exponential escalation, with each side first threatening tariffs on $50 billion of the other's exports. On Thursday, Trump told the U.S. trade representative to look for $100 billion more.
The risks for Americans are clear and present. Although the people of China certainly will pay, so too will millions of American farmers, ranchers, manufacturing workers and consumer households. The most immediate casualties will be U.S. exporters. China bought $130 billion worth of U.S. goods in 2017, making it the third-largest market for our exports, behind only Canada and Mexico.
Contrary to the much-referenced tweet by Trump, trade wars are not good nor are they easily won, as we may soon learn at great cost. http://www.latimes.com/opinion/op-ed/la-oe-griswold-china-tariffs-20180406-story.html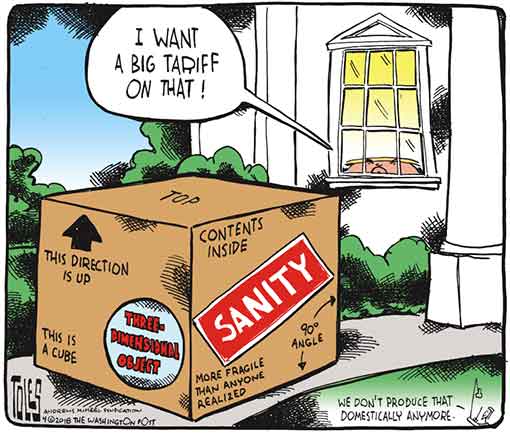 9. Ryan Cooper: Scott Pruitt is too corrupt to be corrupted
EPA Administrator Scott Pruitt is in hot water over a condo. It turns out that in 2017 he stayed for several months in a room co-owned by the wife of a bigshot energy lobbyist, and at one point met with a representative of that firm in his EPA office while he was staying there. He paid only a piddling $50 per night — and only when he actually slept there, not on a monthly basis. Then it turns out his daughter also stayed in another room in the same condo while she was working as a White House intern, and effectively they had the run of the entire place, not just the rooms. It was, in essence, a huge clandestine payment in the form of drastically under-market rent.
Speculation is rising that Pruitt might be the latest casualty of President Trump's firing spree, and EPA ethics staff are investigating. But it's important to emphasize that even outside his alleged corruption, he has been the worst EPA administrator in history.
Taking what look very much like bribes from energy lobbyists is just par for the course for Pruitt. Indeed, he may not have seen the ethical problem because he views his job as dismantling the agency for which he works on behalf of the fossil fuels industries. What's the big deal? It's not like it changed his views in any substantive way. He would have eagerly done the bidding of any energy lobbyist no matter how much money they were giving him. It's just what he did as the attorney general of Oklahoma, during which he repeatedly sued the EPA working hand-in-glove with oil and gas companies. http://theweek.com/articles/765439/scott-pruitt-corrupt-corrupted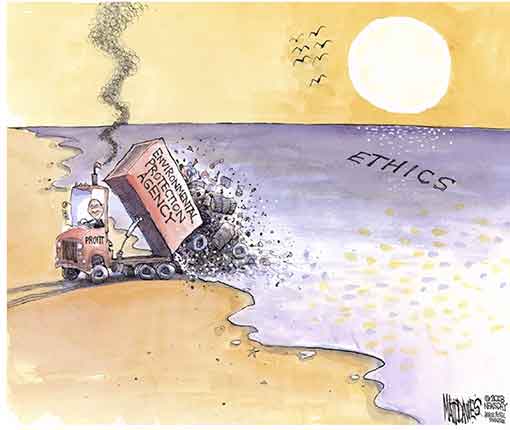 10. William Falk: The authoritarian impulse
Trump doesn't hide his cards. His Twitter feed is a running MRI of his mind, revealing his obsessions, personal vendettas, and motives. The same week he was hurling threats at Amazon, he was tweeting lavish praise of the Sinclair Broadcast Group, whose owners have ordered its 173 stations to run pro-Trump commentary and attack "fake" news from other media, such as CNN. Sinclair, as it happens, is seeking both Justice Department and FCC waivers to acquire another 42 stations. Does anyone doubt Sinclair will get a green light? Meanwhile, the Justice Department is blocking a merger of CNN's parent company, Time Warner, with AT&T. Is that because Trump despises CNN?
Other presidents have criticized individual companies and complained about press bias, but Trump's blatant use of state power to punish specific TV networks, newspapers, and private companies who don't kowtow to his will has no precedent — except in autocracies like Russia, Turkey, and Venezuela, where it was the first step in the erosion of freedom. That couldn't happen here, of course. Trump's own party wouldn't stand for it. Would it? http://theweek.com/articles/765278/authoritarian-impulse
11. Madeleine Albright: Will We Stop Trump Before It's Too Late?
Instead of mobilizing international coalitions to take on world problems, Trump touts the doctrine of "every nation for itself" and has led America into isolated positions on trade, climate change and Middle East peace. Instead of engaging in creative diplomacy, he has insulted United States neighbors and allies, walked away from key international agreements, mocked multilateral organizations and stripped the State Department of its resources and role. Instead of standing up for the values of a free society, Mr. Trump, with his oft-vented scorn for democracy's building blocks, has strengthened the hands of dictators. No longer need they fear United States criticism regarding human rights or civil liberties. On the contrary, they can and do point to Mr. Trump's own words to justify their repressive actions.
What is to be done? First, defend the truth. A free press, for example, is not the enemy of the American people; it is the protector of the American people. Second, we must reinforce the principle that no one, not even the president, is above the law. Third, we should each do our part to energize the democratic process by registering new voters, listening respectfully to those with whom we disagree, knocking on doors for favored candidates, and ignoring the cynical counsel: "There's nothing to be done."
We should reflect on the definition of greatness. Can a nation merit that label by aligning itself with dictators and autocrats, ignoring human rights, declaring open season on the environment, and disdaining the use of diplomacy at a time when virtually every serious problem requires international cooperation?
To me, greatness goes a little deeper than how much marble we put in our hotel lobbies and whether we have a Soviet-style military parade. America at its best is a place where people from a multitude of backgrounds work together to safeguard the rights and enrich the lives of all. That's the example we have always aspired to set and the model people around the world hunger to see. And no politician, not even one in the Oval Office, should be allowed to tarnish that dream. https://www.nytimes.com/2018/04/06/opinion/sunday/trump-fascism-madeleine-albright.html
12. Tina Nguyen: Running Out Of Punching Bags, Trump Turns On Mattis
Until recently, Donald Trump's campaign to purge naysayers had spared the Pentagon. In the absence of more proximate targets, however, it appears the president has turned his attention to foreign policy, jeopardizing his relationship with perhaps his only remaining sane adviser. Indeed, in the past week, Trump has made James Mattis's job nearly impossible by declaring that he would send the military to guard the border with Mexico (the White House later clarified that he meant the National Guard), and insisting that the U.S. pull out of Syria (something Mattis promised last year would not happen), leading to a spectacular showdown on Tuesday, when the conflict between Trump and his generals reportedly boiled over during a meeting of top aides in the Situation Room.
The president's choice to eschew his own foreign-policy strategy seems characteristic of the new, "liberated" stage of his presidency, which has seen him gleefully shake off the shackles imposed by the likes of H.R. McMaster and Rex Tillerson. In his August speech, Trump noted that he had decided to remain in Afghanistan against his better judgment: "My original instinct was to pull out and, historically, I like following my instincts," he said. "But all of my life, I've heard that decisions are much different when you sit behind the desk in the Oval Office." Now that he's rid himself of those pesky moderating voices, Trump is doing things his way. Despite his advisers' reported efforts to sway him by presenting a binary choice in Syria—and by making the option of withdrawal as unappealing as possible—the "most militant military human being who ever lived" chose the nuclear option anyway. https://www.vanityfair.com/news/2018/04/donald-trump-timeline-syria-troop-withdrawal
13. NY Times Editorial: Putting Trump's Trade Bombast to the Test
President Trump's recent threat to escalate his trade skirmish with China into a full-scale trade war is a foolish gambit with little historical precedent. It is also hard to take seriously, given how quickly Mr. Trump changes his mind and how rarely and clumsily he tends to follow through on tough talk.
Mr. Trump said on Thursday that he wants to slap tariffs on an additional $100 billion in Chinese imports in response to Beijing's plan to retaliate against an earlier American proposal that was aimed at $50 billion in Chinese goods. The president also said he was seeking ways to protect American farmers hurt by Chinese retaliation — a move that could result in fresh trade fights with other countries as they seek to defend their farmers from subsidized American grain.
If you're confused or shocked by these announcements, you are not alone. Most experts say that a trade war between the world's two largest economies would hurt American businesses, farmers and workers whose profits and livelihoods depend in part on commerce with China. That's probably why the Standard & Poor's 500-stock index fell more than 2 percent on Friday.
It is hard to see this administration striking an effective and comprehensive deal with China. That's because Mr. Trump and his officials seem incapable of putting in the time and hard work required to hammer out such agreements with other countries or political adversaries. They have also displayed little of the finesse and diplomacy needed to strike international deals.
Mr. Trump has dramatically raised the stakes on trade with his brash pronouncements about tariffs. But there's little cause to hope he and his team can deliver the big economic gains that they argue can come only from such a combative approach. https://www.nytimes.com/2018/04/06/opinion/trump-trade-china.html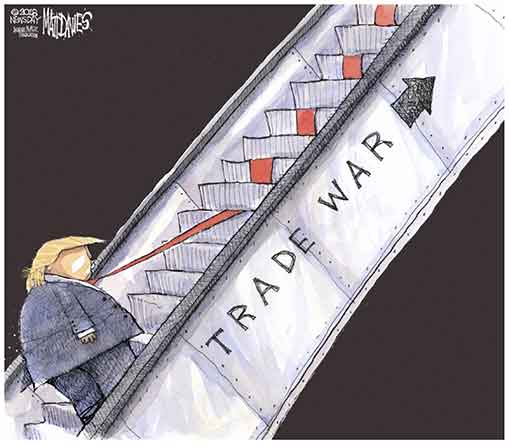 14. Ed Kilgore: Trump Thinks He's Wildly Popular
To the president, America is one big Trump rally.
The 45th president of the United States is such a powerful font of misinformation that it's often difficult to isolate and analyze specific things he says that are factually dubious or flat-out wrong. But this week he's been promoting a particularly odd and potentially significant meme: that he's a whole lot more popular than is indicated by any objective measurements.
Thank you to Rasmussen for the honest polling. Just hit 50%, which is higher than Cheatin' Obama at the same time in his Administration. -- Donald J. Trump✔@realDonaldTrump
The "honest polling" bit was presumably an allusion to his past unsupported claims that most polls–i.e., the ones that don't give him the kind of numbers he gets from Rasmussen–are "fake." This in turn apparently depends on his belief–debunked repeatedly–that most of the polls were way off in 2016 (that's true only if buy his massive-voter-fraud fantasy).
Touting Rasmussen as the only "honest" poll was not enough for Trump, though. In a radio interview today, the president suggested that his job approval number should have been higher:
"A poll just came out now, Rasmussen, it's now 51," Trump said. "They say that it's 51 but add another 7 or 8 points to it. … They don't want to talk about it, but when they get into the booth they're going to vote for Trump."
What we cannot really know, of course, is whether the president really believes what he's saying, or just wants other people to believe what he's saying. But the circular nature of his disinformation can be seductive to people who are inclined in his direction anyway. If the mainstream news about him is "fake" and so are the non-Rasmussen polls, then there's only one source of information you can trust: the man himself. Evil as it is, it's as good a method as any to keep his troops feeling upbeat and ready to vote. http://nymag.com/daily/intelligencer/2018/04/trump-thinks-hes-wildly-popular.html
15.  Emma Stefansky: Signer's Remorse: Trump Scrambling To Reverse Effects Of Spending Bill He Signed
Just weeks after Donald Trump threatened to veto, and then signed, a massive spending bill, the president is reportedly scrambling to undo its effects. The new developments follow massive blowback from his base of loyal supporters, who allege the $1.3 trillion spending bill advances too many liberal projects, and, most notably, does not allow for the building of the president's much touted border wall.
Democrats pounced on the turn-around, accusing the White House and G.O.P. leaders of panicking over criticism from conservative news outlets. Trump was reportedly shocked at the vitriol his spending bill fostered, with much of it coming from usually friendly outlets like Fox News. His base is furious, mainly, about the president dragging his feet when it comes to funding the border wall, even Fox's Sean Hannity letting his disappointment show in his opening monologue a few weeks ago. "I personally wish the president vetoed this bill, made them stay in Washington. Make them keep their promises," Hannity said. "What happened to the Republican Party? Whatever happened to the party that believed in fiscal responsibility?"
One uncomfortable coda to the melodrama: it's not entirely clear that the president had any idea what was in the omnibus package. https://www.vanityfair.com/news/2018/04/trump-spending-bill-regret-omnibus