November 21, 2019
ON THE RECORD. . .
So they now convict Roger Stone of lying and want to jail him for many years to come. Well, what about Crooked Hillary, Comey, Strzok, Page, McCabe, Brennan, Clapper, Shifty Schiff, Ohr & Nellie, Steele & all of the others, including even Mueller himself? Didn't they lie? A double standard like never seen before in the history of our Country? — Trump tweet about Roger Stone's conviction.

"One of the critical components of this story is the absolute moral degeneration of the Republican Party. They're behaving like members of a religious cult." — Rep. Jamie Raskin (D-MD) on Republicans conduct during the impeachment inquiry of President Trump.

"He does nothing without a quid pro quo. Nothing. Whatever deal has got to be to his advantage." — A former White House official.

"If the president has something that it--is exculpatory, Mr. President, that means you have anything that shows your innocence, then he should make that known and that's part of the inquiry. And so far, we haven't seen that, but we welcome it." — Speaker Nancy Pelosi

"I do wonder why it was necessary to smear my reputation." — Former Ukraine ambassador Marie Yovanovitch, acknowledging President Trump had the right to remove her for any reason.

Donald Trump is running the U.S. government not like a corrupt politician or a bumbling fool. He is running the U.S. government like a gangster. This is not normal. But if this president is not held accountable, it will be. -- Jonathan Last

"Voters, including Democrats, are not driven by the same views that are reflected on certain left-leaning Twitter feeds, or the activist wing of our party. And that's not a criticism to the activist wing — their job is to poke and prod and text and inspire and motivate. But the candidate's job, whoever that ends up being, is to get elected." — Barack Obama

Yesterday AG Barr addressed a radical political group and gave one of the most vicious partisan screeds ever uttered by a US cabinet officer. Barr says trump should have king-like powers. Barr is a liar and a fanatic and should be impeached and stripped of his law licenses.— Rep. Bill Pascrell (D-N.J.)

"Our democracy is at risk, more so now than any time in my life. … The greatest threat to our democracy comes from within: a president without ethical compass. There is nothing more dangerous than an unethical president who believes he is above the law." -- Rep. Adam Schiff at a state Democratic Party gathering.

"Our shared love for Louisiana is always more important than the partisan differences that sometimes divide us. And as for the president: God bless his heart." —Louisiana Gov. John Bel Edwards (D) in his victory speech.

"If Donald Trump doesn't agree with what he's hearing, doesn't like what he's hearing, he shouldn't tweet. He should come to the committee and testify under oath and he should allow all those around him to come to the committee and testify under oath." — Senate Minority Leader Chuck Schumer

"If you had any doubt that Trump was a human repellent spray for suburban voters who have a conservative disposition, Republicans getting wiped out in the suburbs of New Orleans, Louisville and Lexington should remove it." — GOP strategist Tim Miller

"I think that when he actually calls reporters names, says they're un-American, says they're enemies of the people ... that phrase has a deep history. I think when he says that, it is an appalling attack on the press." — Dean Baquet, executive editor of The New York Times, accused President Trump of putting his reporters' lives at risk by subjecting them to personal abuse and describing them as "enemies of the people."

Every day Stephen Miller remains in the White House is an emergency." — Hillary Clinton, on Twitter.

Congress and the Constitution stipulate it is the duty of the POTUS to investigate crimes and/or corruption in countries we give money to. @realDonaldTrump was fulfilling his legal obligation. Schiff and Pelosi are making a mockery out of our system of justice! — Rudy Giuliani falsely claiming that the U.S. Constitution requires the president to root out corruption in countries that receive foreign aid.
---
IN THIS ISSUE
FYI
OPINION
1. Andy Borowitz: "Everywhere She Went Turned Bad," Says Man with Six Bankruptcies
In a blistering tweet on Friday, the former U.S. Ambassador to Ukraine, Marie Yovanovitch, was accused of leaving a trail of destruction by a man with six bankruptcies and multiple business failures.

"Everywhere Marie Yovanovitch went turned bad," wrote the man, who ran the now defunct United States Football League into the ground and paid twenty-five million dollars to settle fraud charges against a fake university bearing his name.

"She started off in Somalia, how did that go?" tweeted the man, whose lengthy roster of bankruptcies includes the Trump Taj Mahal (1991), Trump Plaza Hotel and Casino (1992), the Plaza Hotel (1992), Trump Castle Hotel and Casino (1992), Trump Hotels & Casino Resorts (2004), and Trump Entertainment Resorts (2009).

"Then fast forward to Ukraine, where the new Ukrainian President spoke unfavorably about her," continued the man, who founded such business fiascoes as the Trump Shuttle airline, Trump Vodka, and Trump Steaks.

At the House of Representatives, Representative Devin Nunes vigorously defended the man's controversial tweets. "He is calling out someone for creating disasters everywhere she goes, and no one is more qualified to talk about that than he is," Nunes said. https://www.newyorker.com/humor/borowitz-report/everywhere-she-went-turned-bad-says-man-with-six-bankruptcies
2. Transcript Shows WH Made Up Details of Trump's Zelensky Call
The release of the transcript of President Trump's first call in April with Ukrainain president-elect Volodomyr Zelensky was meant to bolster the case that Trump had nothing but good intentions in his dealings with Ukraine—but it also showed a White House summary of the same call released to the public shortly after it occurred was largely fabricated. https://www.thedailybeast.com/transcript-shows-wh-made-up-details-of-trumps-zelensky-call
3. Photographer Captures Image of Trump's Handwritten 'No Quid Pro' Notes
President Trump's giant, handwritten talking points about the Ukraine scandal were photographed Wednesday as he spoke to reporters on the White House lawn, providing a glimpse into the mind of a man who has to remind himself to say "no quid pro quo" and still doesn't know how to spell the name of Ukraine's president.
"I want nothing," begins the note, which is not the first of Trump's scribblings to be made public by a prying photographer. "I want nothing. I want no quid pro quo. Tell Zellensky (sic) to do the right thing. This is the final word from the Pres of the U.S." http://nymag.com/intelligencer/2019/11/heres-an-image-of-trumps-handwritten-no-quid-pro-notes.html
4. $35 million in Pentagon aid hasn't reached Ukraine, despite White House assurances
More than $35 million of the roughly $400 million in aid to Ukraine that President Trump delayed, sparking the impeachment inquiry, has not been released to the country, according to a Pentagon spending document obtained by the Los Angeles Times.
Instead, the defense funding for Ukraine remains in U.S. accounts, according to the document. It's not clear why the money hasn't been released, and members of Congress are demanding answers. https://www.latimes.com/politics/story/2019-11-19/documents-show-nearly-40-million-in-ukraine-aid-delayed-despite-white-house-assurances
5. Gordon Sondland Accuses the President of Bribery
Was Trump here acting "corruptly"? Seeking investigations of political foes for personal political gain is a prototypically corrupt. But beyond that, Sondland was clear in his testimony that Trump wasn't actually asking for the investigations themselves, but merely the announcement of them. In other words, he wanted not an investigation of corruption, but the political optics of Ukraine's declaring that his political opponents were under investigation. What's more, Sondland also confirmed that Trump seemed not to care a whit about Ukraine—that he only cared about the investigations that could benefit him.
In short, a witness with first-hand knowledge of both U.S. interactions with the Ukrainians and the president's own conduct today accused President Trump of soliciting a bribe from a foreign head of state. Whether or not this would qualify as a bribe under the criminal law, I would have no hesitation describing it as one if I were a member of Congress considering the impeachment of a president. https://www.lawfareblog.com/gordon-sondland-accuses-president-bribery
6. The Cost of Trump's Aid Freeze in the Trenches of Ukraine's War
Even the most sophisticated weapons the United States offers are of little use here — at least, not in the way they are intended.
In 2018, the Trump administration authorized sales to Ukraine of a shoulder-fired anti-tank missile called the Javelin, reversing an Obama administration policy of supplying only non-lethal aid.
But there is a big catch. The Trump administration provided the missiles on the condition that they not be used in the war, Ukrainian officials and American diplomats have said, lest they provoke Russia to slip more powerful weaponry to the separatists.
"They are not to be on the front line," Iryna Herashchenko, a former chief settlement negotiator, said of the missiles. Their precise deployment positions are kept secret.
So, Ukrainian soldiers at the front have improvised: They prop up the dummies of straw and extra uniforms that appear to hold the missiles, as a ruse, an army spokesman said.
Soldiers at Lieutenant Molchanets's position said the fake missiles are conjured from logs and empty ammunition boxes, roughly mimicking the silhouette of a Javelin. https://www.nytimes.com/2019/10/24/world/europe/ukraine-war-impeachment.html
7. Vindman's Lawyer Asks Fox News to Retract Espionage Allegation
A lawyer for Colonel Vindman, the National Security Council's Ukraine expert, sent a warning letter to Fox News on Wednesday seeking a retraction or correction of an October segment hosted by one of the network's biggest personalities, Laura Ingraham, which baselessly suggested that the colonel, a decorated Iraq war veteran, might be guilty of espionage. https://www.nytimes.com/2019/11/20/us/alexander-vindman-fox-news-espionage.html
8. Trump's aides eye moving impeachment witnesses out of White House jobs
President Donald Trump's aides have explored moving some impeachment witnesses on loan to the White House from other agencies, such as Lt. Col. Alexander Vindman, back to their home departments ahead of schedule, according to people familiar with the conversations.
As public hearings bring the officials' allegations to his television screen, Trump is asking anew how witnesses such as Vindman and Ambassador Bill Taylor came to work for him, people familiar with the matter said. He has suggested again they be dismissed, even as advisers warn him firing them could be viewed as retaliation.
The possible move of officials out of the White House could still be viewed by some as evidence of retribution for their testimony. Trump's frustration at his own officials comes as he attacks witnesses on Twitter, including during Friday's public hearing with the ousted ambassador to Ukraine Marie Yovanovitch. Trump appears to have adopted a strategy of maligning the officials, despite some allies encouraging him not to. https://www.cnn.com/2019/11/18/politics/donald-trump-never-trump-white-house-staff/index.html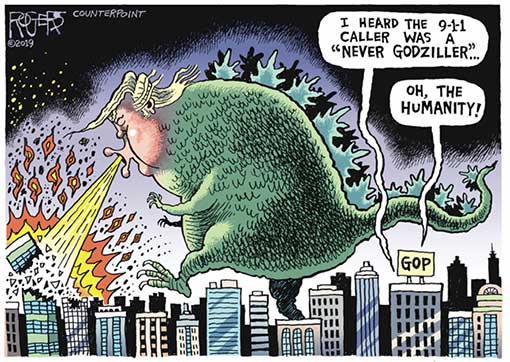 9. Pelosi Points to Possible Bribery Charge Against Trump
Speaker Nancy Pelosi sharpened the focus of Democrats' impeachment case against President Trump on Thursday, accusing the president of committing bribery when he withheld vital military assistance from Ukraine at the same time he was seeking its commitment to publicly investigate his political rivals.
The speaker's explicit allegation of bribery, a misdeed identified in the Constitution as an impeachable offense, was significant. Even as Ms. Pelosi said that no final decision had been made on whether to impeach Mr. Trump, it suggested that Democrats are increasingly working to put a name to the president's alleged wrongdoing, and moving toward a more specific set of charges that could be codified in articles of impeachment in the coming weeks.
"The devastating testimony corroborated evidence of bribery uncovered in the inquiry, and that the president abused his power and violated his oath by threatening to withhold military aid and a White House meeting in exchange for an investigation into his political rival — a clear attempt by the president to give himself an advantage in the 2020 election," Ms. Pelosi told reporters at her weekly news conference in the Capitol. https://www.nytimes.com/2019/11/14/us/politics/pelosi-impeachment-bribery.html
10. Trump's Made-for-TV Trade War Keeps World Guessing
When President Trump's advisers suggested that Beijing resume buying around $20 billion in American farm products as part of a trade deal, Mr. Trump wasn't satisfied. In a dramatic public retelling in the Cabinet Room, he said he pressed his team to more than triple that figure, then trimmed that a little and asked for up to $50 billion in annual purchases.
"My people had $20 billion done," Mr. Trump recounted in an Oct. 21 cabinet meeting. "And I said, 'I want more.' They said, 'The farmers can't handle it.' I said, 'Tell them to buy larger tractors. It's very simple.'" The cabinet members gathered around Mr. Trump laughed.
Mr. Trump has brought his characteristic love of show business to trade talks with China, injecting public drama into typically staid proceedings. He has alternated displays of anger and warmth toward Beijing and assumed the role of the insatiable negotiator, pairing ambitious goals for a trade pact with even bigger threats should China not accede to his terms. https://www.nytimes.com/2019/11/18/business/trump-trade-war-china.html
11. Ohio House passes bill allowing student answers to be scientifically wrong due to religion
Ohio lawmakers are weighing in on how public schools can teach things like evolution.
The Ohio House on Wednesday passed the "Student Religious Liberties Act." Under the law, students can't be penalized if their work is scientifically wrong as long as the reasoning is because of their religious beliefs. https://local12.com/news/local/ohio-house-passes-bill-allowing-student-answers-to-be-scientifically-wrong-due-to-religion
12. Trump admin preparing to take over private land in Texas for border wall
The Trump administration is preparing court filings to begin taking over private land to build its long-promised border wall as early as this week — without confirming how much it will pay landowners first, according to two officials familiar with the process.
The Declaration of Taking Act is meant to be reserved for emergencies. Earlier this year the Trump administration declared the situation at the border a national emergency. A federal judge ruled in October that President Donald Trump violated federal law when he used his declaration of a national emergency to pull millions from military funding for building the wall. The ruling did not apply to other sources of funds, however. https://www.nbcnews.com/politics/immigration/trump-admin-preparing-take-over-private-land-border-wall-n1082316
13. Senate Confirms Wildly Problematic Trump Court Pick Steven Menashi
The Senate voted Thursday to make Steven Menashi a lifetime federal judge, despite his inflammatory writings about women's rights and diversity, his refusal to answer senators' questions and his role in devising an illegal Education Department effort to deny debt relief to students cheated by for-profit colleges.
Every Democrat present voted against confirming Menashi, who is President Donald Trump's choice for a lifetime seat on the U.S. Court of Appeals for the 2nd Circuit. Every Republican present but one, Sen. Susan Collins (Maine), voted to confirm him.
https://www.huffpost.com/entry/steven-menashi-republicans-senate-confirms-trump-judge_n_5dcd9beae4b00b9293bff09a
14. Steve King Goes Full Steve King: Posts Photos of George Soros' Son Falsely Claiming He's Whistleblower
Rep. Steve King (R-IA) posted photos of the son of left-wing billionaire George Soros on Thursday, absurdly accusing him of being the White House whistleblower.
Alexander Soros is not the whistleblower. He does not work at the CIA, or in government. While King deleted the tweet after this article was published. https://www.mediaite.com/politics/steve-king-goes-full-steve-king-posts-photos-of-george-soros-son-falsely-claiming-hes-whistleblower/
15. Rudy Giuliani says Trump will stay loyal to him but jokes that he has 'insurance'
Rudy Giuliani, Donald Trump's personal lawyer, has said he is confident the president will remain loyal to him as an impeachment inquiry unfolds in which the former New York mayor has become a central figure.
But Giuliani joked that he had good "insurance" in case Trump did turn on him, amid speculation Republicans will seek to frame him as a rogue actor.
In a telephone interview with the Guardian, in response to a question about whether he was nervous that Trump might "throw him under a bus" in the impeachment crisis, Giuliani said, with a slight laugh: "I'm not, but I do have very, very good insurance, so if he does, all my hospital bills will be paid." https://www.theguardian.com/us-news/2019/nov/14/rudy-giuliani-donald-trump-insurance-loyal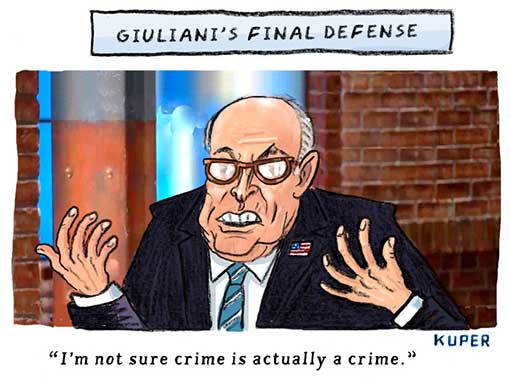 16. Impeachment hearings have created a rift between the president and one of his staunchest allies
Trump has fumed for weeks that Pompeo is responsible for hiring State Department officials whose congressional testimony threatens to bring down his presidency, the officials said. The president confronted Pompeo about the officials — and what he believed was a lackluster effort by the secretary of state to block their testimony — during lunch at the White House on Oct. 29, those familiar with the matter said.
Trump particularly blames Pompeo for tapping Ambassador Bill Taylor in June to be the top U.S. diplomat in Ukraine, the current and former senior administration officials said. https://www.nbcnews.com/politics/trump-impeachment-inquiry/trump-s-impeachment-ire-turns-pompeo-amid-diplomats-starring-roles-n1082716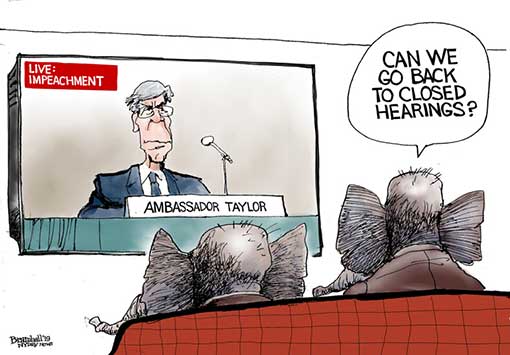 17. A Trump Tax Break To Help The Poor Went To a Rich GOP Donor's Superyacht Marina
The Rybovich superyacht marina lies on the West Palm Beach, Florida, waterfront, a short drive north from Mar-a-Lago. Superyachts, floating mansions that can stretch more than 300 feet and cost over $100 million, are serviced at the marina, and their owners enjoy Rybovich's luxury resort amenities.
Rybovich owner Wayne Huizenga Jr., son of the Waste Management and Blockbuster video billionaire Wayne Huizenga Sr., has long planned to build luxury apartment towers on the site, part of a development dubbed Marina Village.
Those planned towers, and the superyacht marina itself, are now in an area designated as an opportunity zone under President Donald Trump's 2017 tax code overhaul, qualifying them for a tax break program that is supposed to help the poor.
Then-Florida Gov. Rick Scott bestowed the tax break on the marina after a direct appeal from Huizenga Jr., according to a 2018 letter Huizenga Jr. wrote that was obtained by ProPublica. Huizenga and his family have been major donors to Scott. Even though the opportunity zone program is supposed to subsidize only new investment, Huizenga cited the already-planned Marina Village in his appeal to Scott. https://www.propublica.org/article/superyacht-marina-west-palm-beach-opportunity-zone-trump-tax-break-to-help-the-poor-went-to-a-rich-gop-donor
18. RNC to hold winter meetings at Trump resort that was considered for G-7 summit
The Republican National Committee will hold its winter meetings at President Trump's Doral golf course in Florida next year — awarding another of the party's most lucrative events to the president's private business, a party spokesman said Thursday.
The multiday event will be held in January at the Trump National Doral near the Miami airport, the spokesman said. https://www.washingtonpost.com/politics/rnc-to-hold-winter-meetings-at-trump-resort-that-was-considered-for-g-7-summit/2019/11/14/8562c10a-071d-11ea-b17d-8b867891d39d_story.html
19. Climate Change Might Hit The Economy Harder And Faster Than Thought
The economic effects of global warming may arrive sooner and with a bigger impact than previously thought, according to Oxford Economics in a report that compares recent scientific research with the economic literature on the costs of climate change.
In the absence of efforts to curb greenhouse gas emissions, the earth could warm by 2 degrees celsius by 2050, cutting global gross domestic product by 2.5% to 7.5%, Oxford estimates, with the worst affected countries being in Africa and Asia. Longer term, a rise in temperatures of 4 degrees by 2100 could cut output by as much as 30%.
Economist James Nixon partly based his analysis on the Intergovernmental Panel on Climate Change's Special Report on Global Warming of 1.5°C. Older studies tended to predict the effects of even 4 or 5 degree of warming at no more than a few percent of global GDP and becoming significant only in the second half of the century, Nixon said, yet latest scientific findings show profound climate alterations already happening, including drought, flooding and extreme weather that affect economic activity.
"While over a 10-year horizon the costs seem unlikely to be significant enough to affect our forecasts, the window of indiscernibility looks to be closing rapidly," Nixon said in the report.
The effects are "big enough to be considered in our short-term economic forecasts for the first half of this century."
Global greenhouse-gas pollution has risen for a second year, ending a lull in emissions and putting the world on track for further increases through 2040 unless governments take radical action. https://www.bnnbloomberg.ca/climate-change-might-hit-the-economy-harder-and-faster-than-thought-1.1347380
20. The DAILY GRILL
"Your former boss, Dr. [Fiona] Hill, had concerns about your judgment. Your colleagues had concerns about your judgment. And your colleagues felt that there were times when you leaked information. Any idea why they have those impressions, Colonel Vindman?" — Rep. Jim Jordan.

VERSUS

"Alex is a top 1% military officer and the best Army officer I have worked with in my 15 years of government service. He is brilliant, unflappable, and exercises excellent judgment...Exemplary during numerous visits...I think you get the idea."  — Lt. Col Vindman responding by quoting the fitness report he received from Dr. Fiona Hill.

 

"Ambassador Taylor testified that President Trump was the first president to see that Ukraine was afforded Javelin antitank weapons. This was a very strong message that Americans are willing to provide more than blankets. This was the Obama administration's approach." — Rep. Devin Nunes (R-CA)

VERSUS

While the Trump administration supplied the Javelin antitank weapons long sought by Ukraine, the weapons came with the restriction that they cannot be used in the ongoing conflict with the Russian-led separatists — precisely because of the escalation issues that had concerned the Obama administration. -- Washington Post

 

"The Democrats cooperated in Ukrainian election meddling. … What is the full extent of Ukrainian election meddling against the Trump campaign?" — Rep. Devin Nunes (R-CA)

VERSUS

"It is a fiction that the Ukrainian Government was launching an effort to upend our election, upend our election to mess with our Democratic systems. I'm extremely concerned that this is a rabbit hole that we're all going to go down in between now and the 2020 election, and it will be to all of our detriment." — Fiona Hill to investigators.

 

"I don't see objectively that Trump has had the level of intent necessary to do anything. I don't think he's had the level of intent necessary to eat a hamburger. I think it's half-accident when he eats a hamburger. … I yield to almost no one in my low estimation of Trump's mental aptitude .— Ben Shapiro

VERSUS

 Shapiro is prepared to argue — with a lawyer's skill, per the newspaper of record — in favor of entrusting the presidency for another four years to a man he claims lacks the mental power to eat a hamburger. — Jonathan Chait

 

Everywhere Marie Yovanovitch went turned bad. She started off in Somalia, how did that go? Then fast forward to Ukraine, where the new Ukrainian President spoke unfavorably about her in my second phone call with him. It is a U.S. President's absolute right to appoint ambassadors. — Donald J. Trump @realDonaldTrump

VERSUS

"What we saw today: witness intimidation in real time by the president of the United States." — Rep. Adam Schiff on Pres. Trump's attack on Marie Yovanovitch during her testimony.
21. From MEDIA MATTERS (They watch Fox News so you don't have to)
Fox News regular tells Lou Dobbs that George Soros controls a large part of the State Department and activities of FBI agents. https://www.mediamatters.org/lou-dobbs/lou-dobbs-guest-joe-digenova-says-george-soros-controls-large-part-state-department-and

The many, many conflicting and shifting defenses of Trump's Ukraine scandal from right-wing media. By now, it's apparent that right-wing media outlets are taking a "Gish Gallop" approach of overloading their audiences with a flood of factually dubious arguments to defend Donald Trump through his impeachment inquiry, and that's made for an exhausting and confusing couple of months. Conservative commentators have staked out virtually every imaginable position on Trump's Ukraine scandal -- provided those positions all conclude that Trump didn't do anything wrong, of course. https://www.mediamatters.org/trump-impeachment-inquiry/many-many-conflicting-and-shifting-defenses-trumps-ukraine-scandal-right

Fox's Katie Pavlich lies that Joe Biden "did something illegal" when he "demanded the firing of a prosecutor." On the November 18 edition of America's Newsroom, Fox News contributor Katie Pavlich erroneously claimed that Democratic presidential candidate Joe Biden "did something illegal" when he pushed for disgraced Ukrainian Prosecutor General Viktor Shokin to be fired. In reality, Shokin's dismissal was the well-established position of the United States ... and there is no evidence that Biden did anything illegal in carrying out that policy.  https://www.mediamatters.org/katie-pavlich/foxs-katie-pavlich-lies-joe-biden-did-something-illegal-when-he-demanded-firing

Witnesses testify under oath about someone at the top of the State Department reaching out to Hannity. Three witnesses have testified that they are under the impression that someone -- possibly Secretary of State Mike Pompeo or State Department counselor Ulrich Brechbuhl -- reached out directly to Hannity regarding smears about Ambassador to Ukraine Marie Yovanovitch that were repeated on his show. Hannity denies it. https://www.mediamatters.org/sean-hannity/three-witnesses-testified-under-oath-they-were-told-state-department-contacted-sean
22. From the Late Shows
Days of Our Impeachment Cold Open - SNL: https://youtu.be/cbXdOLttnF8

The Late Show with Stephen Colbert: Lt. Col. Vindman Claps Back At Republicans During Impeachment Testimony: https://youtu.be/shTfXVONjG0
23. "Sickening" And "Proof" Of Racism: DHS Officials Said Stephen Miller Must Go After His Emails Were Released
A cache of emails revealed this week in which White House senior policy adviser Stephen Miller, in the run-up to the 2016 election, shared articles and websites affiliated with white nationalism has disturbed officials working in the Department of Homeland Security and Justice Department, who called the emails "sickening" and "proof" that Miller has been steering a racist immigration policy under President Trump.
The emails sent from Miller to editors of the far-right website Breitbart and obtained by the Southern Poverty Law Center show Miller sharing a story from the white nationalist site VDare, pushing for Breitbart to write about a novel popular among white nationalists, and linking to a report detailing second-generation Muslims with the subject line "Huge Surge in US newborns named 'Mohammed.'"
The civil rights nonprofit said that after reviewing 900 emails, it was "unable to find any examples of Miller writing sympathetically or even in neutral tones about any person who is nonwhite or foreign-born." In one such email chain, the SPLC said Miller directed Breitbart reporter Katie McHugh, who supplied the emails to the group, to aggregate information from American Renaissance, a white supremacist journal, for a story on crimes committed by nonwhite people.
"It's sickening to know that someone with these viewpoints held a position of trust for a United States Senator," said one DHS official, referring to former senator and attorney general Jeff Sessions, "and now in the White House. Not that it wasn't clear before — these emails just confirm what we all know. I'm disgusted that my venerable agency has turned into his personal tool for hate."
Miller's influence in shaping a hardline immigration policy, including overhauling and restricting asylum to those seeking protection, is well known. Under the Trump administration, DHS has attempted to ban people from several Muslim-majority countries, bar asylum for those who traveled through Mexico or crossed the border without authorization, and force immigrants seeking protection to remain in Mexico for months while their cases proceed. At the same time, Trump has cut refugee levels to historically low numbers. https://www.buzzfeednews.com/article/hamedaleaziz/stephen-miller-emails-dhs-officials-react-racism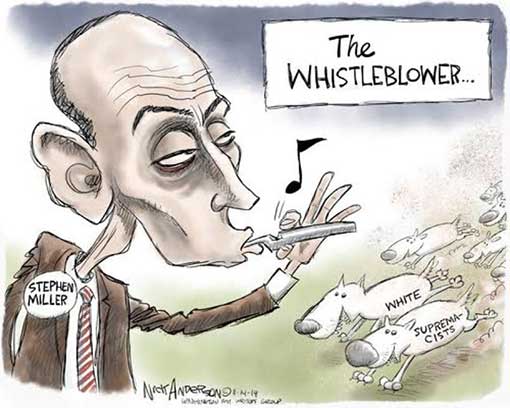 24. Ohio House passes bill allowing student answers to be scientifically wrong due to religion
Ohio lawmakers are weighing in on how public schools can teach things like evolution.
The Ohio House on Wednesday passed the "Student Religious Liberties Act." Under the law, students can't be penalized if their work is scientifically wrong as long as the reasoning is because of their religious beliefs.
Instead, students are graded on substance and relevance.
Every Republican in the House supported the bill. It now moves to the Republican-controlled Senate. https://local12.com/news/local/ohio-house-passes-bill-allowing-student-answers-to-be-scientifically-wrong-due-to-religion
25. Trump appeals to Supreme Court again, this time to block House committee's subpoena seeking his financial records
For the second day in a row, President Trump asked the Supreme Court on Friday to protect his personal and business financial records from disclosure, this time to a congressional committee.
Trump's private lawyers asked Chief Justice John G. Roberts Jr. to put a hold on an appeals court decision that said the House Oversight and Reform Committee was within its rights to subpoena the information from Trump's longtime accounting firm, Mazars USA. https://www.washingtonpost.com/politics/courts_law/trump-appeals-to-supreme-court-again-this-time-to-block-house-committees-subpoena-seeking-his-financial-records/2019/11/15/1ad33108-07cc-11ea-818c-fcc65139e8c2_story.html
26. Federal Prosecutors Probe Giuliani's Links to Ukrainian Energy Projects
Federal prosecutors are examining whether US President Donald Trump's personal lawyer Rudy Giuliani stood to profit from a Ukrainian natural gas business pushed by two associates who aided his efforts to launch investigations that could help the president, the 'Wall Street Journal' reported yesterday.
The associates, Lev Parnas and Igor Fruman, pitched their company, and plans for a Poland-to-Ukraine pipeline carrying US natural gas, to Ukrainian officials and energy executives this year, and said the project had White House support, the newspaper said, citing people briefed on the meetings.
Mr Parnas and Mr Fruman also told Ukrainian officials that Mr Giuliani was a partner in the pipeline venture, a project of their company Global Energy Producers, the newspaper said.
Mr Giuliani has not been accused of criminal wrongdoing. In an interview with the newspaper, he denied involvement in the energy company and pipeline pitch, and said he had no indication prosecutors were looking into the matter. https://www.independent.ie/world-news/north-america/giuliani-being-probed-over-link-to-gas-firm-in-ukraine-report-38697478.html
27. After private White House meeting, Giuliani associate Lev Parnas said he was on a 'secret mission' for Trump
Among the many guests who had their pictures taken with President Donald Trump at the White House's annual Hanukkah party last year were two Soviet-born businessmen from Florida, Lev Parnas and Igor  Fruman. 
In the picture, which Parnas posted on social media, he and Fruman are seen smiling alongside Trump, Vice President Mike Pence and Rudy Giuliani, the President's personal lawyer.
At one point during the party that night, Parnas and Fruman slipped out of a large reception room packed with hundreds of Trump donors to have a private meeting with the President and Giuliani, according to two acquaintances in whom Parnas confided right after the meeting.
Word of the encounter in the White House last December, which has not been previously reported, is further indication that Trump knew Parnas and Fruman, despite Trump publicly stating that he did not on the day after the two men were arrested at Dulles International Airport last month.
Eventually, according to what Parnas told his confidants, the topic turned to Ukraine that night. According to those two confidants, Parnas said that "the big guy," as he sometimes referred to the President in conversation, talked about tasking him and Fruman with what Parnas described as "a secret mission" to pressure the Ukrainian government to investigate Joe Biden and his son Hunter. https://www.cnn.com/2019/11/15/politics/parnas-trump-special-mission-ukraine/index.html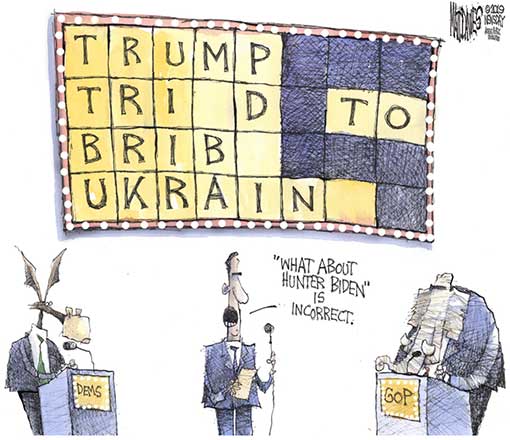 28. Judge orders Florida to stop rigging the ballot to help Republicans win elections
On Friday, a federal judge ordered the state of Florida to stop consistently listing Republicans first on election ballots, a tactic that gives Republican candidates for all offices an electoral advantage.
"Florida may not continue to order candidates' names on its ballots in a way that systematically awards the statistically significant advantage ... on the basis of their partisan affiliation," Walker wrote in his decision. https://americanindependent.com/florida-ruling-federal-judge-republicans-gop-state-elections-ballot/
29. What if the U.S. Were a Multi-Party Democracy?
Echelon Insights looked at U.S. registered voter support in a hypothetical multi-party democracy.
1,002 Registered Voters were read a description of 5 new political parties (but not their names or party leaders) and asked which they would support. A pro-worker, economically-left party earned the most support, followed by a traditionally conservative party.
NATIONALIST 19%. The Trump Republican Party: Anti-Illegal immigration & political correctness, assert American national identity

CONSERVATIVE 21%. The Pre-Trump Republican Party: Pro-Free Enterprise, socially conservative, strong on defense ACELA 12% The Acela Corridor's idea of centrism: Socially liberal, globalist, fiscally responsible

LABOR 28%. A "hard-hat" version of today's Democratic Party, focused on bread-and-butter economic issues, not cultural issues.

GREEN 10%. The political home of the Squad, pushing for a Green New Deal and socialist policies. http://echeloninsights.com/wp-content/uploads/Omnibus-October-2019_Party.pdf
30. Fact check: A list of 45 ways Trump has been dishonest about Ukraine and impeachment
President Donald Trump is dishonest about a whole lot of things. But he is rarely as comprehensively dishonest as he has been about his dealings with Ukraine and the impeachment inquiry they have triggered.
Relentless deceit has seemed to be his primary strategy in the court of public opinion. Trump has made false claims about almost every separate component of the story, from his July phone call with Ukrainian President Volodymyr Zelensky to the whistleblower who complained about the call to Democrats' impeachment inquiry hearings.
The President is dissembling about so many different topics at once that it can be difficult to keep track of what is true and what isn't. To help you fight Trump-induced dizziness, here are brief fact checks of 45 separate false claims Trump has made on the subject of Ukraine or impeachment. https://www.cnn.com/2019/11/16/politics/fact-check-trump-dishonesty-ukraine-and-impeachment/index.html
31. Navy Wants to Eject Sailor Cleared by Trump
The Navy SEAL at the center of a high-profile war crimes case has been ordered to appear before Navy leaders Wednesday morning, and is expected to be notified that the Navy intends to oust him from the elite commando force, two Navy officials said on Tuesday.
The move could put the SEAL commander, Rear Adm. Collin Green, in direct conflict with President Trump, who last week cleared the sailor, Chief Petty Officer Edward Gallagher, of any judicial punishment in the war crimes case. Military leaders opposed that action as well as Mr. Trump's pardons of two soldiers involved in other murder cases. https://www.nytimes.com/2019/11/19/us/navy-seals-edward-gallagher-trident.html
1. Laurence H. Tribe: Donald Trump Is America's Anti-President
After just one week of public impeachment hearings, Donald Trump has unmistakably emerged as America's anti-president, the very model of the charlatan George Washington warned might be overtaken by "the insidious wiles of foreign influence."
More than unpresidential, Trump represents the exemplar of what Alexander Hamilton darkly envisioned when he described the danger that a demagogue might one day assume the presidency and require removal through the awesome power of impeachment. Such a demagogue, Hamilton prophesied, would be "a man unprincipled in private life[,] desperate in his fortune, bold in his temper...despotic in his ordinary demeanor." Such a man, Hamilton wrote, would one day "mount the hobby horse of popularity—to join in the cry of danger to liberty—to take every opportunity of embarrassing the General Government & bringing it under suspicion—to flatter and fall in with all the non sense of the zealots of the day" with the object of "throw[ing] things into confusion that he may 'ride the storm and direct the whirlwind.'" Such a man, we should all be able to see now, is Donald J. Trump. https://www.newsweek.com/donald-trump-americas-anti-president-opinion-1472384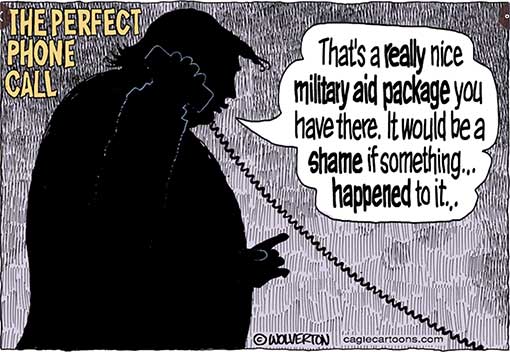 2. Philip Bump: The other knife Gordon Sondland stuck in Trump's back
President Trump's defense of his interactions with Ukraine hinges on the idea that he was fervently concerned about corruption in that country, so much so that he prioritized corruption investigations during his call with Ukrainian President Volodymyr Zelensky on July 25.
That argument is undermined by nearly all available evidence. Trump seldom talks about corruption as president — at least in the context of foreign countries — and never raised corruption during the Zelensky call. The investigations he requested then were predicated not on corruption but, instead, on pet theories promoted by his attorney Rudolph W. Giuliani: that something was fishy with a server in the 2016 campaign interference; and that former vice president Joe Biden had maybe done something untoward. In neither case is there evidence that the Trump-Giuliani concerns were warranted.
If Trump's requests to Zelensky weren't about corruption but, instead, about his own political gain, Trump is in trouble. It's illegal to solicit aid from a foreign actor to benefit a campaign, which a Ukrainian probe into Biden in particular likely would be. Moreover, efforts to withhold a White House meeting until Zelensky launched new investigations — as E.U. Ambassador Gordon Sondland testified Wednesday had happened — or to withhold security assistance with the same aim might be an explicit use of presidential power for personal benefit. https://www.washingtonpost.com/politics/2019/11/20/other-knife-gordon-sondland-stuck-trumps-back/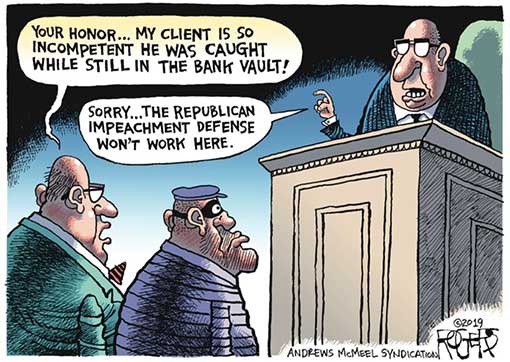 3. Susan B. Glasser: The Spectacular Failure of the Trump Wranglers Kurt Volker and many others tried to manage the President.
On Tuesday, nearly seven hours into the marathon third day of public impeachment hearings, Kurt Volker tried to explain to the House Intelligence Committee what it was like to carry out the nearly impossible task of wrangling U.S. policy toward Ukraine during the Presidency of Donald Trump. Volker, a veteran Republican diplomat who had been serving, since 2017, as Trump's Special Representative to Ukraine, said that he realized last spring that he had a "problem," and that it was Trump himself.
When Volker took the job, he testified, "I believed I could steer U.S. policy in the right direction," an ambitious statement given that Trump had already been publicly skeptical of Ukraine and supportive of its adversary Russia. Still, Volker insisted that he thought he could maintain the long-standing U.S. policy of supporting Ukraine, a bipartisan priority ever since Russia illegally annexed Ukraine's Crimean Peninsula, in 2014, and launched a proxy civil war in the country's east. "If a problem arose, I knew that it was my job to try to fix it," Volker said. In May, he learned that there was, in fact, a "significant problem": the attitude of the President toward Ukraine. Trump, as Volker heard firsthand in an Oval Office meeting that month, believed that Ukraine was corrupt, "out to get" him, and harbored an animus going back to the 2016 election; he even embraced a discredited conspiracy theory that Ukraine, not Russia, had intervened in the U.S Presidential race. As a result, Trump was deeply skeptical toward the Administration's own policy of supporting Ukraine and had no desire to meet with the country's reformist new President, Volodymyr Zelensky. Volker believed that Trump was being fed misinformation about Ukraine by his private lawyer, Rudy Giuliani. "I found myself faced with a choice: to be aware of a problem and to ignore it or to accept that it was my responsibility to try to fix it," Volker testified. "I tried to fix it."
To say that he failed would, of course, be an understatement.  https://www.newyorker.com/news/letter-from-trumps-washington/the-spectacular-failure-of-the-trump-wranglers
4. Peter Baker: A White House Now 'Cannibalizing Itself'
As Lt. Col. Alexander S. Vindman sat in a stately chamber testifying on Tuesday, the White House posted on its official Twitter account a message denouncing his judgment. His fellow witness, Jennifer Williams, had barely left the room when the White House issued a statement challenging her credibility.
In President Trump's Washington, where attacks on his enemies real or perceived have become so routine that they now often pass unnoticed, that might not seem all that remarkable — but for the fact that Colonel Vindman and Ms. Williams both still work for the very same White House that was publicly assailing them.
With the president's allies joining in, the two aides found themselves condemned as nobodies, as plotting bureaucrats, as traitors within and, in Colonel Vindman's case, as an immigrant with dual loyalties. Even for a president who rarely spares the rhetorical howitzer, that represents a new level of bombardment.
Mr. Trump has publicly disparaged cabinet secretaries, former aides and career officials working elsewhere in the government, but now he is taking aim at people still working for him inside the White House complex by name. https://www.nytimes.com/2019/11/19/us/politics/trump-alexander-vindman-jennifer-williams.html
5. Jonathan Chait: 'We Followed the President's Orders': Trump's Scheme Was Directed by Trump
Gordon Sondland, the European Union ambassador, was a lynchpin of President Trump's defense in the Ukraine scandal. Sondland had been a loyal functionary throughout, carrying out the president's directives dutifully if reluctantly. Republicans publicly telegraphed their plan to pin the whole scheme on Sondland and portray him as having acted alone. Sondland's initially foggy testimony seemed to indicate his pliability in the cover-up.
But his public testimony Wednesday has destroyed that plan. Sondland has confirmed what is obvious to everybody: The entire scheme was directed by Trump all along. "We followed the president's orders," he said. "Everyone was in the loop. It was no secret."
Trump's operation has been painfully clear since May, when Rudy Giuliani boasted about his plans to the New York Times, telling the world that he was acting on the president's orders, and conceding that his actions were possibly "improper" though not, in his view, illegal. The investigation has largely consisted of connecting Trump and his henchmen to these boasts. Sondland testified today that, while he did not want to, he — along with Rick Perry and Kurt Volker — "worked with Mr. Rudy Giuliani on Ukraine matters at the express direction of the president of the United States."
Sondland undercut the Republican defense that Trump somehow cared about corruption, testifying that Trump didn't even care about Ukraine conducting the investigations he demanded. Trump merely demanded the announcement of the investigations, which he could tout as evidence of the apparent criminality of Joe Biden and the FBI. Sondland also destroyed the defense that Ukrainians were unaware that military aid had been held up, testifying, "Before the September 1 Warsaw meeting, the Ukrainians had become aware that the security funds had yet to be disbursed." http://nymag.com/intelligencer/2019/11/sondland-trump-ukraine-impeachment-testimony-hearings-followed-orders.html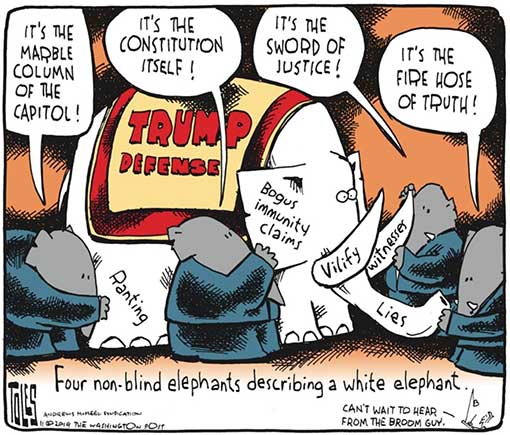 6. Bess Levin: Gordon Sondland Throws Trump, Giuliani Under The Bus (Backs Up, Does It Again)
When Republican lawmakers on the House Intelligence Committee sat down for Gordon Sondland's testimony this morning, they likely breathed a sigh of relief. Finally, after days of hearings with traitorous government officials hell-bent on taking the president down with facts, they'd get to hear from the Trump donor turned E.U. ambassador, who would no doubt testify that this whole impeachment inquiry is a sham, and that Donald Trump is an innocent, noble man with an IQ of 390 and a body from the gods. We know they thought this because, mortifyingly, ranking member Devin Nunes's opening remarks suggested he thought Sondland was in the GOP's corner.
But as Sondland's opening statement made evident, such was not the case! Noting that "a few critical points have been obscured by noise over the last few days," Sondland made clear to the committee that he, Energy Secretary Rick Perry, and Ambassador Kurt Volker "did not want to work with Mr. [Rudy] Giuliani," but did so "at the express direction of the president of the United States." Sondland noted that to refuse would mean losing "an important opportunity to cement relations between the United States and Ukraine. So we followed the president's orders." He added that, at the time, he didn't think Giuliani's role was improper, nor did he know that the ex-mayor was working with individuals now under indictment, but, in retrospect, knowing what he knows now, he "would not have acquiesced to [Giuliani's] participation."
Then he dropped the bomb that Republicans will have difficulty spinning on Fox News, though they'll no doubt rise to the occasion:
...as I testified previously, Mr. Giuliani's requests were a quid pro quo for arranging a White House visit for President Zelensky. Mr. Giuliani demanded that Ukraine make a public statement announcing investigations of the 2016 election/DNC server and Burisma. Mr. Giuliani was expressing the desires of the president of the United States, and we knew that these investigations were important to the president.
In sum, per Sondland, not only was there a quid pro quo, but it came at the behest of the president, blowing up the GOP's arguments that nothing of the sort occurred and that Trump was just an innocent pawn. (In reference to his revised testimony delivered privately to lawmakers earlier this month, Sondland said his lawyer had made "multiple requests to the State Department and the White House" for his "phone records, State Department emails, and other State Department documents," all of which were denied.) https://www.vanityfair.com/news/2019/11/gordon-sondland-public-testimony
7. Jonathan Chait: Impeachment and the Stone Verdict Show Trump Is Surrounded by Criminals
In all probability, the parade of charges is probably not over. Trump's lawyer, Rudy Giuliani, is reportedly being investigated for a number of alleged federal crimes, including bribing foreign officials, conspiracy, violating federal campaign-finance laws, and failing to register as a foreign agent. The Wall Street Journal reports today that federal prosecutors are investigating whether Giuliani personally stood to profit from a natural-gas shakedown run by his partners, Lev Parnas and Igor Fruman.
Parnas and Fruman, two figures linked to the Russian mob who have been arrested, were helping Giuliani run his off-the-books diplomatic work in Ukraine. The benefit to Trump, who was not paying Giuliani anything, was getting muscle on the ground who would get the Ukrainians to understand a message regular diplomats had been too squeamish to convey directly: that Trump wanted investigations of his enemies. But at the same time they were doing this work for Trump, they were allegedly working to get themselves a taste of the proceeds from the shakedown. Parnas and Fruman were pushing Ukraine to give them some natural-gas importing business as a kind of payoff, and using their connection to Trump as clout.
If Rudy himself was involved in the gas shakedown, as the Journal story suggests, it would be an even deeper form of corruption. Trump's lawyer and personal representative would have sent gangsters to extort Ukraine for Trump's political gain and his own profit. The false accusations Trump has hurled against Biden are pale versions of the very real crimes Trump's cronies have tried to carry out.
American politics has rarely been a pristine affair. Trump exploited widespread cynicism to indict the entire political Establishment in hyperbolic terms as wholly corrupt, presenting himself as a reformer from the outside. Surely nobody expected him to fulfill this promise literally. Yet the full scale of his betrayal is staggering. Trump will probably not become the first president to be impeached and removed from office, but he will go down in history as the most criminal president in American history. http://nymag.com/intelligencer/2019/11/impeachment-roger-stone-guilty-yovanovitch-giuliani-trump-ukraine.html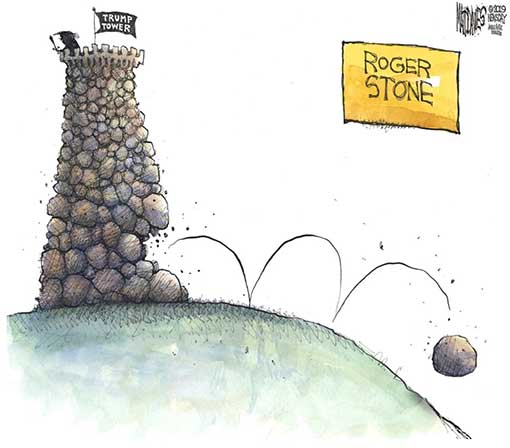 8. Fred Hiatt: While Trump stands by, the world's tyrants are trying to make the world safe for dictatorship
A strange reversal is taking place across the world.
America — or at least, America's president — is no longer trying to make the world safe for democracy. But dictators are working hard to make the world safe for dictatorship.
The United States is retreating, almost apologizing for ever having thought about promoting democracy. Everyone from Rand Paul to Bernie Sanders and many in between agrees we should stay home and mind our business.
But the result is not a world in which every country is free to go its own way.
Instead, the world's tyrants — while still complaining about color revolutions and U.S. interference — roam far and wide, promoting their ideologies and their corporations, bullying and buying and burrowing and shooting their way to influence. https://www.washingtonpost.com/opinions/global-opinions/while-trump-stands-by-the-worlds-tyrants-are-trying-to-make-the-world-safe-for-dictatorship/2019/11/17/9d455780-07ca-11ea-818c-fcc65139e8c2_story.html
9. Jonathan Chait: Trump's Retribution Against the Washington Post Owner Is His Gravest Abuse of Power
The saga of President Trump's reprisals against Amazon has lurked on the margin of the news, largely overshadowed by the Ukraine scandal. Late Thursday night, Amazon revealed it had filed a protest in federal court of a Pentagon decision to deny it a $10 billion cloud-computing contract, the most recent piecemeal iteration of a saga that attracted precious little media attention even before the Ukraine scandal obscured it.
Yet the story here is almost certainly a massive scandal, probably more significant than the Ukraine scandal that spurred impeachment proceedings. Trump improperly used government policy to punish the owner of an independent newspaper as retribution for critical coverage. It resembles the Ukraine scandal because it is a flagrant abuse of power, and has been hiding in plain sight for months (as the Ukraine scandal did, until a whistle-blower report leaked in September). The scale of the abuse, though, is far more serious, because it is a concrete manifestation of Trump's authoritarian ambitions. http://nymag.com/intelligencer/2019/11/trump-amazon-bezos-defense-cloud-washington-post-pentagon-scandal.html
10. Susan B. Glasser: Crazy for Trump: On the G.O.P. Plan to Keep Impeachment Partisan
The Republican playbook here is a time-honored one: delay, deny, obfuscate, and, if that fails, beg Americans to turn off the TV. In his opening statement, the House Intelligence chairman, Adam Schiff, had contended that there was not much debate over the facts. Throughout the long day, I did not hear much, if any. Although they are very different Presidents faced with very different accusations, this was the case with the impeachment of Bill Clinton, too—a proceeding that began in the House of Representatives almost twenty-one years ago to the day. In Clinton's case, it was pretty clear all along that the President had had an affair with his former intern, Monica Lewinsky, and lied about it under oath. The issue was what, if anything, Congress should do about it.
In this case, Trump is accused of what appears to be a much more serious abuse of the power of his office to extort a foreign leader into acting in the President's personal interest, rather than the national interest. "If this is not impeachable conduct, what is?" Schiff asked. Ultimately, this is what the debate will come down to, when the articles of impeachment are drawn up, and when the Senate has to deal with the President's conduct in a trial. Trump appears to have done what he is accused of doing. The question is whether any Republicans will join Democrats in arguing that it is impeachable and warrants his removal from office. https://www.newyorker.com/news/letter-from-trumps-washington/crazy-for-trump-on-the-gop-plan-to-keep-impeachment-partisan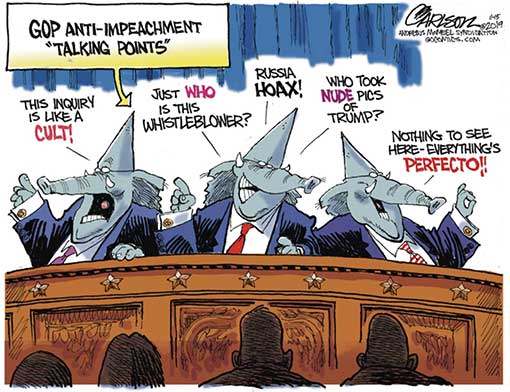 11. Masha Gessen: The Two Irreconcilable Realities of the Impeachment Hearings
Two Americas began watching two very different sets of hearings on Wednesday. In one, President Donald Trump is guilty of abusing power in many ways and on many occasions, and one such occasion is being dissected and laid out in great detail on national television. In the other America and the other set of hearings, Democrats are out to get Trump at any cost, have latched onto a muddled and inconsequential incident, and are laying it out in great detail on national television in the hopes of convincing the public that the President has done something wrong. These two realities do not overlap.
Of course, these realities do not have equal validity—although, unlike other Trump-era conflicts, this argument is not primarily one between facts and lies. This is an argument about what political power means. In Reality One, political power is governed by values, norms, history, procedure, and law. In Reality Two, political power aims to be absolute—its limit is what the President can get away with. Neither side is explicitly stating its position in this argument. Schiff came close when he said, at the beginning of his opening statement, that the outcome of the hearings will "affect not only the future of this Presidency but the future of the Presidency itself, and what kind of conduct or misconduct the American people may come to expect from their Commander-in-Chief." But then he turned to laying out the Ukraine case. The side of Reality One is acting as though this were a legal prosecution. The side of Reality Two is denying the prosecution's legitimacy. The differences between these realities are less factual than they are moral and political (in the deep, rather than partisan, sense of the word "politics"). https://www.newyorker.com/news/our-columnists/the-two-irreconcilable-realities-of-the-impeachment-hearings
12. John Cassidy: The House Republicans' Impeachment Defense Is Full of Holes
Despite the White House's efforts to stonewall the impeachment committees, the over-all picture should be clear to anybody who isn't willfully blind. The timetable of events, which the Democrats are sure to return to again and again during the hearings, is highly incriminating. So is the testimony of nonpartisan public servants, some of them Trump appointees, and the repeated public calls by Trump for someone to investigate the Bidens. In the words of John Bolton, the former national-security adviser, as relayed to the impeachment committees by a member of his staff, the Ukraine caper was "a drug deal"—one orchestrated by the President and some of his closest associates. https://www.newyorker.com/news/our-columnists/the-house-republicans-trump-impeachment-defense-is-full-of-holes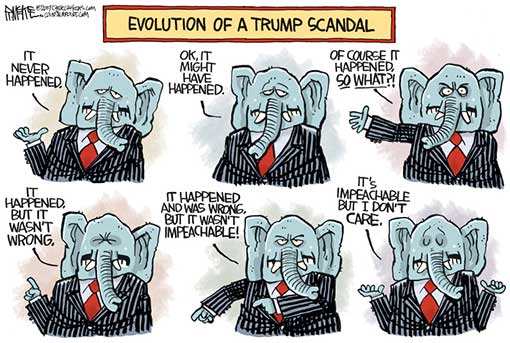 13. David Brooks: In Praise of Washington Insiders
All around the world voters are electing comedians, celebrities and outsider performers to high office. All around the world people are responding to demagogues who tell them that our problems are easy to solve if we just get rid of the bad people. Everywhere rule-breakers like Trump, Recep Tayyip Erdogan and Nicolás Maduro are in power and corruption is in the air.
People have messed-up theories of how you do social change. On the right many think that you need to elect some authoritarian strongman who will whip everybody into shape. On the left many put their faith in social movements, without explaining how social movements are going to write and pass legislation.
In reality, institutions are the only vehicles for legislative change. That's because they are the way to wield power safely. They have rules and structures and norms precisely because power is so dangerous when it is wielded by a lone strongman or by a mob.
People have lost faith in institutions for some very good reasons, and the need to reform them is urgent. But the disenchantment is overblown and self-destructive. We don't pay enough attention to all the planes that take off and land safely. We underestimate the value of experience. As Heclo writes in "On Thinking Institutionally," "It is when you deal with someone who does not perform in a 'professional' manner that you learn to appreciate those who do."
Watching Taylor and Kent, I had a feeling of going back in time. Why did it feel so strange? It was because I was looking at people who are not self-centered. They've dedicated themselves to the organization that formed them, and which they serve. https://www.nytimes.com/2019/11/14/opinion/taylor-kent-impeachment-hearings.html
14. David Greenberg: Trump's Trying to Get Away With Something Even Nixon Couldn't
One of the great puzzles in the impeachment hearings against Donald Trump is why so many administration officials are getting away with defying congressional demands to testify. So far, on the president's instructions, Defense Secretary Mike Esper, Energy Secretary Rick Perry, Secretary of State Mike Pompeo, and acting White House Chief of Staff Mick Mulvaney have refused House subpoenas; Rudy Giuliani, Trump's attorney, has vowed to do the same. Two other former officials, former National Security Adviser John Bolton and his aide Charles Kupperman — both called to testify before Congress — have asked U.S. District Judge Richard J. Leon to decide between the two branches' claims, with a hearing set for the distressingly distant date of December 10.
United States v. Nixon remains a landmark Supreme Court case. It reaffirmed, above all, that the president is not above the law — as the cliché of the day had it. But, more specifically, it put the kibosh on the kind of blanket claims of executive privilege that Eisenhower had invented and that Nixon had enlisted for his own self-preservation.
Now Donald Trump is trying to resurrect that doctrine. We are already seeing its weakness, as several lower-level administration officials have shown their courageous willingness to defy the president and come before Congress in open hearings to reveal what they know.
Now it's time for the judiciary to push back against the White House, too. A court ruling that executive privilege cannot prevent vital testimony in a case of allegedly impeachable behavior would go a long way not only toward helping Congress get to the bottom of the Ukraine scandal, but also in limiting once again the dangerously amorphous and expandable concept of executive privilege. https://gen.medium.com/trumps-trying-to-get-away-with-something-even-nixon-couldn-t-135ecf924417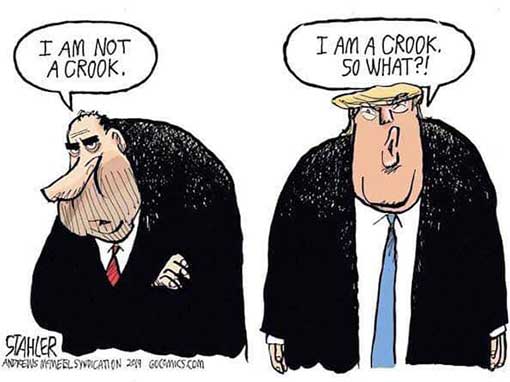 15.  Bess Levin: Is Rudy Giuliani Totally Screwed?
Last Saturday, Rudy Giuliani was spotted dining out at a Manhattan hotspot and loudly gabbing about his plans to start a podcast, like a man without a care in the world. And in fairness, it's possible that, thanks to the brain decay the ex-mayor has clearly suffered, he thinks he has nothing to worry about. Other people in his position, though, would likely be more than a bit concerned about their future, given that, based on a new report, the president's lawyer is now the subject of three different investigations.
According to Bloomberg, Giuliani is being investigated by federal prosecutors for potential campaign-finance violations and failure to register as a foreign agent, as "part of an active investigation into his financial dealings, according to three U.S. officials." (Giuliani, his lawyers, and the White House did not respond to Bloomberg's requests for comment.) The probe could also reportedly include possible charges for conspiracy or violating laws against bribing foreign officials.
Incidentally, that probe is on top of a counterintelligence investigation as well as a criminal investigation into Giuliani's business relationship with Lev Parnas and Igor Fruman, the two men who've been charged with conspiracy, falsification of records, and lying to the FEC about their political donations. (Parnas and Fruman have both pleaded not guilty.) Giuliani's work with Parnas was reportedly related to a company called Fraud Guarantee, though in addition, Parnas and Fruman are said to have introduced Giuliani to "several current and former senior Ukrainian prosecutors to discuss" Joe Biden, and in July, Parnas accompanied Giuliani to a breakfast meeting with Kurt Volker, then the U.S. special representative for Ukraine, where Giuliani allegedly mentioned that he was looking into Biden and 2016 election interference, according to the Wall Street Journal. In the indictment of Parnas and Fruman, prosecutors claimed that Parnas sought the assistance of a U.S. congressman in "causing the U.S. Government to remove or recall the then-U.S. Ambassador to Ukraine." That ambassador, Marie Yovanovitch, was subsequently removed from her post after Giuliani told Donald Trump that she was undermining him and obstructing efforts to investigate Biden. https://www.vanityfair.com/news/2019/11/rudy-giuliani-ukraine-investigations
16.  Abigail Tracy: "This Is The Way Gangsters Operate": A Hero Is Born As Yovanovitch Gives Voice To Widespread Rage At State
The diplomatic rank and file believe Mike has allowed Trump to pollute the State Department with politics. Marie Yovanovitch made their case. "I think people are feeling huge pride in Masha," says a former ambassador.
In contrast to the appearances of State Department officials William Taylor, whose deep baritone launched a thousand tweets about his radio career, and George Kent, with his flashy bow tie and matching pocket square, Marie Yovanovitch cut a subdued figure before the House Intelligence Committee on Friday. Testifying before lawmakers about her politicized ouster from her post as the U.S. ambassador to Ukraine, Yovanovitch was soft-spoken—if firm—throughout. Sedate though she was, however, diplomats mostly saw her as the week's hero. "Masha's testimony was a powerful moment in the impeachment drama," Nicholas Burns, a former U.S. ambassador to NATO, told me Friday afternoon. "She was compelling and utterly persuasive in asking how the president permitted corrupt individuals to convince him to fire her. 'How could our system fail like this?' she was right to ask."
More in sadness than in anger, she laid the failure to insulate her against the Trump administration's politicization of diplomacy in Ukraine at the feet of her bosses at the State Department, starting with Mike Pompeo. "I remain disappointed that the department's leadership and others have declined to acknowledge that the attacks against me and others are dangerously wrong. This is about far more than me or a couple of individuals. As Foreign Service professionals are being denigrated and undermined, the institution is also being degraded. This will soon cause real harm, if it hasn't already," she said in her opening statement. "The attacks are leading to a crisis in the State Department…This is not a time to undercut our diplomats. It is the responsibility of the department's leaders to stand up for the institution and the individuals who make that institution the most effective diplomatic force in the world." https://www.vanityfair.com/news/2019/11/ambassador-masha-yovanovitch-state-department-ukraine-impeachment-inquiry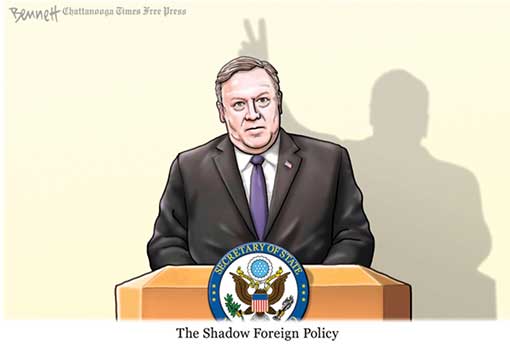 17. Paul Waldman: Yovanovitch hearing confirms that Trump is running a thugocracy
As former U.S. ambassador to Ukraine Marie Yovanovitch testified about the successful smear campaign engineered against her by Trump allies and explained how intimidating it was to learn that Trump told the president of Ukraine that she was "bad news" and is "going to go through some things," Trump decided she didn't feel quite intimidated enough. So he tweeted this:
Everywhere Marie Yovanovitch went turned bad. She started off in Somalia, how did that go? Then fast forward to Ukraine, where the new Ukrainian President spoke unfavorably about her in my second phone call with him. It is a U.S. President's absolute right to appoint ambassadors. — Donald J. Trump @realDonaldTrump
Whether this is technically witness tampering, it's undeniably appalling. Even on Fox News, Ken Starr called Trump's attack on Yovanovitch during her testimony "extraordinarily poor judgment."
What it shows — as does all of the former ambassador's testimony, along with lots of other evidence we have seen — is that Trump has been running a thugocracy, one in which the president talks and acts like a Mafioso and so do the people who have the greatest influence over him. https://www.washingtonpost.com/opinions/2019/11/15/yovanovitch-hearing-confirms-that-trump-is-running-thugocracy/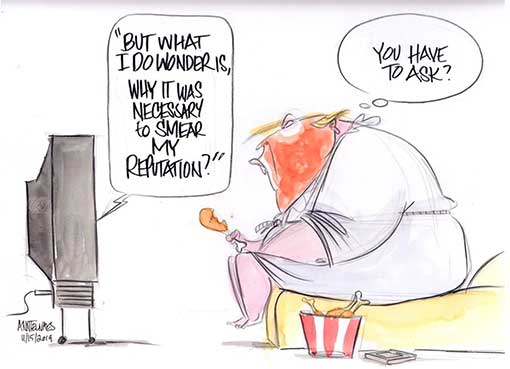 18. Greg Miller, Greg Jaffe and Paul Sonne: How a CIA analyst, alarmed by Trump's shadow foreign policy, triggered an impeachment inquiry
The United States has embarked on an impeachment proceeding against a president for only the fourth time in its history. The voluminous testimony so far has revealed a government at war with itself over how to respond to Trump's frequent conflation of the country's interests with his own. After casting itself as a force against corruption, condemning politically driven prosecutions in other countries, the United States now appears to have sought to coerce such actions from a partner nation.
It is not clear whether any of this would have come to light were it not for the actions of a relatively junior CIA employee, who is now the target of almost daily attacks by Trump and right-wing efforts to make his identity widely public.
Dozens of senior officials — including the national security adviser, the secretary of state and the acting White House chief of staff — were either aware of or involved in the Ukraine scheme and failed to expose or stop it. More than a half-dozen lower-ranking officials made futile attempts to intervene.
Ultimately, it came down to a lone analyst, in a cubicle miles from the White House, drafting an unprecedented document in the detached manner he had learned in his CIA training. https://www.washingtonpost.com/national-security/how-a-cia-analyst-alarmed-by-trumps-shadow-foreign-policy-triggered-an-impeachment-inquiry/2019/11/15/042684a8-03c3-11ea-8292-c46ee8cb3dce_story.html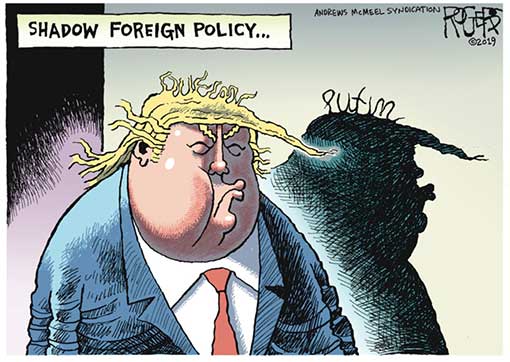 19. Sarah Jones: Stop Entering the Democratic Party Primary
Current Bain Capital employee and former Massachusetts governor Deval Patrick is probably going to enter the Democratic Party's primary race. There is no good reason for him to do so. He is not going to win. The masses do not pine for him. But hubris is a ruthless master, and it is driving Patrick the way it is driving former New York City mayor and current billionaire Michael Bloomberg. Reportedly concerned about a weak Joe Biden and the prospect of higher taxes on his massive fortune, Bloomberg has filed paperwork to enter the primary too. This is, to put it modestly, insane.
The clown car is full. It cannot accept any more passengers. Really, it was pushed beyond its capacity some time ago, but John Delaney simply will not get out of the vehicle. http://nymag.com/intelligencer/2019/11/the-case-for-quilty-democratic-candidate-for-president.html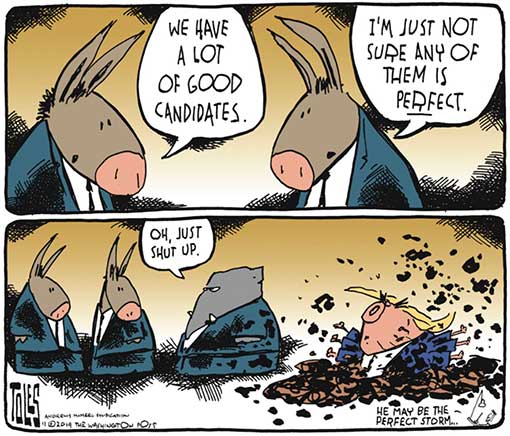 20. Max Moran: Don't Stop With Donald Trump, Democrats: Impeach Attorney General Bill Barr
It's beyond redundant to say that Donald Trump must be impeached over the Ukraine scandal. The so-called transcript of his July phone call with Ukrainian President Volodymyr Zelevsky released last week — really a collection of notes — was already damning evidence of the president manipulating foreign policy for his personal political goals. Then the actual whistleblower complaint reconfirmed and solidified the case. Trump's White House counsel, Donald McGahn, even wrote a memo cautioning him that using law enforcement powers to target a political adversary would be illegal and clearly impeachable.
But if Democrats are going to uncover more information through aggressive hearings and ultimately impeach the president, they need to recognize their most powerful adversary: Attorney General William Barr.
Barr has not just failed in his duty to carry out and enforce the law as attorney general. He has also used the power of his office to go after Trump's enemies. We now know that he has served as a leading "diplomat" for a sort of shadow "the president is the state" foreign policy, conducted with at least the United Kingdom, Italy, and Australia. Barr is a leader in a broad administration effort to demand that U.S. allies aide Trump in legitimizing, maintaining and strengthening his personal hold on power. https://www.thedailybeast.com/dont-stop-with-donald-trump-democrats-impeach-attorney-general-bill-barr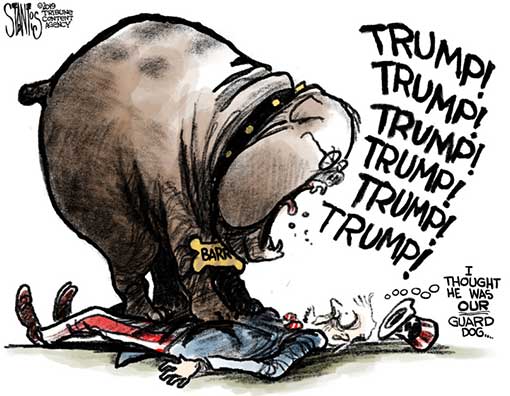 21. Julia Davis: Russia Loves the Impeachment Hearings Because GOP Is Parroting Kremlin Propaganda
As Russia's state media watch impeachment proceedings against U.S. President Donald J. Trump they're loving what they see. They don't think the man they brag about getting elected is in much danger. They listen in delight as Republicans parrot conspiracy theories first launched by  Russians. And they gloat about the way Trump removed U.S. Ambassador to Ukraine Marie Yovanovitch, because they blame her for promoting democratic "color revolutions" that weakened Moscow's hold on the former Soviet empire. Best of all, from the Kremlin's point of view, they see Trump pushing Ukraine back into the Russian fold.
Russian experts and state media propagandists constantly reiterate that President Trump cannot and will not be impeached, because the Republicans are controlling the Senate. On 60 Minutes, Skabeeva mockingly told some sacrificial Ukrainian panelists: "We appointed Trump and you can't unseat him." 
Leading Russian state media outlets repeatedly publicize the name of the alleged whistleblower. State TV channel Rossiya-1 smeared Ambassador Marie Yovanovitch as a Soros-linked architect of post-Soviet color revolutions. The co-host of 60 Minutes, Evgeny Popov, warned Ukraine of the threat if faces if it does not cooperate with Trump's demands: "If Trump gets re-elected, and you don't investigate Biden... [Ukraine] won't get anything from America. Not a thing."
The Kremlin is eager to help Trump, in fact, because his presidency has proven to be exceedingly beneficial for the Kremlin—having brought chaos into American politics, undermined trust in democratic institutions, weakened transatlantic alliances, delivered Syria into the hands of Putin, Syria's Bashar al-Assad and Turkey's Recep Tayyip Erdogan, thereby elevating the international image of Russia as a global force to be reckoned with. https://www.thedailybeast.com/watching-impeachment-russian-media-delighted-trump-doesnt-give-a-s-t-about-ukraine
22. Ed Kilgore: Trump's War-Crimes Pardons Invite the Mayhem He Loves
Morality and military discipline aside, Trump's pardons violate the traditional understanding that humane treatment of civilians and POWs by the U.S. military has significant national-security value, as David Frum noted:
The armed forces of the United States do their utmost to fight lawfully and humanely not only because it is the right thing to do. They do their utmost because it is also the smart thing to do. Every war ends. The memories from that war persist for decades.
So will memories of these pardons. I'm sure Trump thinks they will strike fear into the hearts of America-hating Muslims everywhere, but they brand the United States as a nation that loves its outlaws, from the White House right on down through the ranks. http://nymag.com/intelligencer/2019/11/trumps-war-crimes-pardons-invite-the-mayhem-he-loves.html