August 6, 2020
ON THE RECORD. . .
"What gives each new generation purpose is to take up the unfinished work of the last and carry it further than any might have thought possible. John Lewis not only embraced that responsibility, but he made it his life's work." — Barack Obama, speaking at the funeral for Rep. John Lewis.

"My doctor and I are all-in." — Rep. Louie Gohmert (R-TX) saying he will take an anti-malaria drug that experts have warned doesn't treat the coronavirus after he tested positive for the virus.

"So I say to you, walk with the wind, brothers and sisters, and let the spirit of peace and the power of everlasting love be your guide." — The late Rep. John Lewis, D-Ga., essay in the New York Times that was published on the day of his funeral.

"This will be catastrophic for our nation. You'll see it. I'm always right about things like this. I guess I must be, or I wouldn't be sitting here." — Trump continuing to deliver warnings of chaos surrounding the use of mail-in ballots in November's election, predicting that the upcoming general election will be "the greatest election disaster in history."

REPORTER: Is there any concern that Herman Cain contracted Covid at the president's rally in Tulsa?
KAYLEIGH McENANY: I will not politicize Herman Cain's passing..
From Thursday's White House briefing

If your notion of addressing food security is a tax deduction for expensive business dinners but not making sure that no child in America goes to bed hungry, you may be a Republican Senator. — Speaker Nancy Pelosi on negotiations with Republicans over a coronavirus relief bill.

"If Trump is so concerned about the election, why isn't he directing his energy to secure more funding and staffing to make sure it's conducted safely and fairly." — Peter Alexander

"I am frankly appalled by the president's recent tweet seeking to postpone the November election. Until recently, I had taken as political hyperbole the Democrats' assertion that President Trump is a fascist. But this latest tweet is fascistic and is itself grounds for the president's immediate impeachment again by the House of Representatives and his removal from office by the Senate." — Steven G. Calabresi, co-founder of the Federalist Society..

"I feel very strongly that this man has taken on strongarm tactics. And I feel very strongly that he is Mussolini, Putin is Hitler. … I don't think he plans to leave the White House. He doesn't plan to have fair and unfettered elections. I believe that he plans to install himself in some kind of emergency way to continue to hold onto office. And that's why the American people had better wake up." — House Majority Whip Jim Clyburn (D-SC)

 "Imagine if some greasy politician showed up at your loved one's funeral and started throwing around stupid partisan talking points about Senate procedure. Can you imagine that?"  — Tucker Carlson saying Barack Obama 'desecrated' John Lewis' funeral

"With each passing day, COVID-19 continues to careen out of control in Florida. Your daily upbeat message is hopelessly at odds with what Floridians are going through. You make it sound like everything is headed in the right direction. But it's not." — The Sun Sentinel editorial board pleading for more action by Florida Gov. Ron DeSantis (R) to battle the coronavirus, saying "We're dying here."  

"Wearing a mask is a non-partisan issue. The advice of medical experts shouldn't be politicized. My father ignored medical expertise and now he has COVID. This has been a heartbreaking battle because I love my dad and don't want him to die. Please please listen to medical experts. It's not worth following a president who has no remorse for leading his followers to an early grave." — Rep. Louie Gohmert's (R-TX) daughter Caroline

"What is the point of the mask? The point of the mask is to basically kind of dehumanize, it's to frighten people. You don't know who's behind the mask. It's to give people cover, it's exactly what the anarchists and the protesters need. It strikes fear, there is something going on. There are all kinds of subliminal messages to that mask. And he's always in that black mask.— Fox's Jeanine Pirro

JONATHAN SWAN: "How do you think history will remember John Lewis?"
DONALD TRUMP: "I don't know...I don't know John Lewis. He chose not to come to my inauguration."
JONATHAN SWAN: "Oh, you're doing death as a proportion of cases. I'm talking about death as a proportion of population. That's where the U.S. is really bad. Much worse than South Korea, Germany, etc."
DONALD TRUMP: "You can't do that."
SWAN: "Why can't I do that?"

"They are dying, that's true. And it is what it is." —  Trump's answer to Axios's Jonathan Swan regarding the accelerating U.S. death toll from the coronavirus pandemic, which has again reached over 1,000 per day.

Has any reasonable American ever
--doubted the validity of mail-in ballots?
--questioned the value of the postal service?
--questioned the legitimacy of an election before a single vote is cast?
Why are these being questioned now? — Mary L. Trump

"No… there was no information that the Russians were working to aid another candidate other than Donald Trump." — Sally Yates responding to Ted Cruz who asked if the FBI was surveilling any other candidates for president.

POLITICAL ADS.....

Wake Up | The Lincoln Project: https://youtu.be/4TogbPPyQQM

Nationalist Geographic | The Lincoln Project: https://youtu.be/8x1-CVsoEBU

Moms | The Lincoln Project: https://youtu.be/rwaklEmDn_0

Trump Vs. Trump: Hire / Fire: | Brave New Films (BNF): https://youtu.be/SrMR9YZobfw

Note: The complete "Axios on HBO" interview with Dolnald Trump is at https://www.axios.com/full-axios-hbo-interview-donald-trump-cd5a67e1-6ba1-46c8-bb3d-8717ab9f3cc5.html
---
IN THIS ISSUE
FYI
OPINION
1. Andy Borowitz: Americans Insanely Jealous of Spain After Corrupt Head of State Flees Country
Americans are insanely jealous of Spain after its disgraced former head of state Juan Carlos announced on Monday that he was fleeing the country.

In interviews across the U.S., Americans expressed dismay and frustration that multiple criminal investigations were "all it took" for the former Spanish ruler to voluntarily leave Spain forever.

"So wait, in Spain, if a leader is being investigated for financial crimes and tax evasion, he just writes a letter saying goodbye and then he leaves?" Carol Foyler, who lives in Topeka, Kansas, said. "Whoa."

Tracy Klugian, who hails from Butte, Montana, harbored similar feelings of jealousy when he learned of Juan Carlos's self-exile. "So, basically, the people of Spain will never have to see or hear from this corrupt narcissist again?" he said. "Man."

Harland Dorrinson, who lives in St. Louis, said that he was seething with envy when he learned that Juan Carlos might have already fled to the Dominican Republic, some four thousand miles away from Spain.

"Four thousand miles away from Washington is basically the North Pole," he said. "Why does Spain get all the good things?" https://www.newyorker.com/humor/borowitz-report/
2. Because of mail-in ballots most Trump voters say they will not accept the 2020 results if Biden wins
Most Americans now believe that President Trump will not accept the results of November's election if he loses to Joe Biden, according to a new Yahoo News/YouGov poll — and an even larger majority of Trump voters say they too will refuse to accept a narrow loss if mail-in ballots contribute to Biden's victory.
In the midst of a pandemic that has seen many states expand their mail-in balloting systems to limit dangerous crowding on Election Day, the issue of postal voting took center stage Thursday when Trump escalated his months-long campaign to delegitimize the practice and possibly the election itself. 
The results of the latest Yahoo News/YouGov survey suggest that Trump's efforts to sow doubt about the validity of mail-in voting may be starting to have their desired effect. Asked whether Trump would "accept the result" if he "loses in a close election" this November, 52 percent of Americans say no. Only 25 percent say yes. 
Voters who support Trump, meanwhile, share their candidate's unfounded suspicions about postal balloting, with a full 55 percent saying they would not "accept the result" if Biden wins "because of an advantage in mail-in votes." Only 21 percent say they would accept a Biden victory under those circumstances.  https://news.yahoo.com/new-yahoo-news-you-gov-poll-most-trump-voters-say-they-will-not-accept-the-2020-results-if-biden-wins-because-of-mailin-ballots-143828759.html
3. Trump can't postpone the election, but officials worry he and the GOP could starve it
The viral pandemic has put the nation's election system under a level of stress with little precedent.
And, although figures in both parties rejected President Trump's suggestion of postponing the November election when he flirted with the idea Thursday, they haven't provided the money that officials need to get ready for it.
The House months ago approved $3.6 billion to aid local and state elections officials in dealing with an expected flood of mail-in ballots this fall, something that threatens to overwhelm elections officials in states where voting by mail is a relative novelty. The money has stalled in the Republican-controlled Senate — part of the larger stalemate over a new round of help for people and businesses devastated by the economic impact of the pandemic. https://www.latimes.com/politics/story/2020-07-31/election-offices-november-election-meltdown-congress-dawdles
4. Manhattan District Attorney Cyrus Vance Is Out For Blood
At the moment, Manhattan District Attorney Cyrus Vance and attorneys representing Donald Trump are duking it out in court, trying to figure out if Vance can have access to the President's financial records, consistent with the terms of the recent Supreme Court ruling on the matter. Recent developments in the case aren't going to make it any easier for the Trump family to sleep at night.
In a filing made yesterday, Vance explained that his office is looking into a wide variety of misdeeds, including insurance and bank fraud by the Trump Organization and its officers, as well as various tax-related shenanigans, as part of "possibly extensive and protracted criminal conduct." The DA also reminded U.S. District Court Judge Victor Marrero that his office has already filed a detailed but secret declaration outlining all the crimes The Donald and his businesses may have committed.
At this point, it is all-but-impossible that Team Trump will prevail here. They may win at trial, and they may lose, but it's clear that Vance has enough of the goods to make it to discovery and, likely following that, to issue indictments of the President and/or members of his inner circle.
Judge Marrero has given the Trump legal team until Aug. 4th to respond, and has indicated that he intends to rule pretty quickly. So, we might even be looking at a September surprise, depending on what rabbits the Trump legal team can pull out of their hats. https://www.electoral-vote.com/evp2020/Pres/Maps/Aug04.html
5. Democrats warn GOP: Don't fill a Supreme Court vacancy in 2020 or we'll retaliate
Democrats are warning Republicans not to fill a possible Supreme Court vacancy this year after denying President Barack Obama the chance in 2016, saying it would embolden a push on the left to add seats to the court whenever they regain power.
"We knew basically they were lying in 2016, when they said, 'Oh, we can't do this because it's an election year.' We knew they didn't want to do it because it was President Obama," Sen. Tim Kaine, D-Va., said in an interview.
Kaine, the party's last vice presidential nominee and a lawmaker with a reputation as an institutionalist, said confirming a nominee of President Donald Trump this year could compel Democrats to consider adding seats to the high court.
"If they show that they're unwilling to respect precedent, rules and history, then they can't feign surprise when others talk about using a statutory option that we have that's fully constitutional in our availability," he said. "I don't want to do that. But if they act in such a way, they may push it to an inevitability. So they need to be careful about that." https://www.nbcnews.com/politics/supreme-court/democrats-warn-gop-don-t-fill-supreme-court-vacancy-2020-n1234885
6. "Outright Lies": Voting Misinformation Flourishes on Facebook
While Facebook says it opposes voter suppression, the data shows a stark picture: Nearly half of all top-performing posts that mentioned voting by mail were false or misleading. https://www.propublica.org/article/outright-lies-voting-misinformation-flourishes-on-facebook
7. German ambassador pick disparaged immigrants and refugees, called for martial law at US-Mexico border
Donald Trump's nominee to become the US ambassador to Germany has a history of making xenophobic and racist comments about immigrants and refugees in both Germany and the US.
Retired Army Col. Douglas Macgregor, a decorated combat veteran, author and frequent guest on Fox News, claimed that Muslim migrants were coming to Europe "with the goal of eventually turning Europe into an Islamic state." He criticized Germany for giving "millions of unwanted Muslim invaders" welfare benefits rather than providing more funding for its armed services. https://www.cnn.com/2020/08/04/politics/kfile-douglas-macgregor-german-ambassador-pick/index.html
8. Trump says Gov. Sisolak, Dems using COVID-19 to 'steal the state' in voting
Donald Trump charged that Nevada Gov. Steve Sisolak (D) and Democratic lawmakers are "using COVID to steal the state" election, a day after the Senate passed a bill to hold a mostly mail-in election and allow ballot "harvesting" during an emergency.
Trump called the action "an illegal late night coup" which "made it impossible for Republicans to win the state." https://www.reviewjournal.com/news/politics-and-government/trump-says-sisolak-dems-using-covid-19-to-steal-the-state-in-voting-2086941/
9. Gov. Kim Reynolds signs executive order restoring felon voting rights, removing Iowa's last-in-the-nation status
Thousands of Iowans with felony convictions who have served their sentences will be allowed to vote in November's presidential election after Gov. Kim Reynolds (R) signed an executive order Wednesday restoring their voting rights.
"Quite simply, when someone serves their sentence and pays the price our justice system has set for their crimes, they should have their right to vote restored, automatically, plain and simple," she said Wednesday morning. https://www.desmoinesregister.com/story/news/politics/2020/08/05/iowa-governor-kim-reynolds-signs-felon-voting-rights-executive-order-before-november-election/5573994002/
10. U.S. Small Business Bailout Money Flowed to Chinese-Owned Companies
Trump has blamed China for the coronavirus pandemic and the ensuing economic crisis, but as the White House looks to stabilize small businesses in the United States, the rescue effort has had an unintended beneficiary: Chinese companies.
Millions of dollars of American taxpayer money have flowed to China from the $660 billion Paycheck Protection Program that was created in March to be a lifeline for struggling small businesses in the United States. But because the economic relief legislation allowed American subsidiaries of foreign firms to receive the loans, a substantial chunk of the money went to America's biggest economic rival, a new analysis shows.
According to a review of publicly available loan data by the strategy consulting firm Horizon Advisory, $192 million to $419 million has gone to more than 125 companies that Chinese entities own or invest in. Many of the loans were quite sizable; at least 32 Chinese companies received loans worth more than $1 million, with those totaling as much as $180 million. https://www.nytimes.com/2020/08/02/us/politics/virus-china-ppp-small-business-loans.html
11. Foreign threats loom ahead of US presidential election
Foreign interference largely remains an afterthought in the 2020 contest, even as Republicans and Democrats alike concede it poses a serious threat that could fundamentally reshape the election at any moment. Biden's campaign is increasingly concerned that pro-Russian sources have already shared disinformation about Biden's family with President Donald Trump's campaign and his Republican allies on Capitol Hill designed to hurt the Democratic candidate in the days leading up to the election.
When asked directly, the Trump campaign refused to say whether it had accepted materials related to Biden from any foreign nationals. Trump was impeached last year after being caught pressuring Ukrainian leaders to produce damaging information about work Biden's son did in the country, even though repeated allegations of corruption against the Bidens have been widely discredited.
A Biden spokesman said "absolutely not" when asked if the campaign had received any materials from foreign actors. https://apnews.com/13461c385696bc5fb77ef631130f813c
12. Iran Will Expand Nuclear Program and Won't Talk to U.S., Ayatollah Says
Iran's supreme leader, Ayatollah Ali Khamenei, has said in a televised address that Iran will expand its nuclear program and will not negotiate with the United States, doubling down on his defiance of the Trump administration's "maximum pressure" policy. https://www.nytimes.com/2020/08/01/world/asia/iran-khamenei-us-sanctions.html
13. VIDEO: 'Outright quackery': John Avlon on right-wing media's conspiracy theories
CNN's John Avlon reports on the fringe conspiracy theories and misinformation that some conservative media outlets are spreading. https://www.cnn.com/videos/politics/2020/07/29/right-wing-media-conspiracy-theories-avlon-reality-check-newday-sot-vpx.cnn
14. House committee subpoenas Pompeo for records on Biden investigations
Rep. Eliot Engel (D-N.Y.), the chairman of the House Foreign Affairs Committee, on Friday subpoenaed Secretary of State Mike Pompeo for records related to the State Department's involvement in attempts to link former Vice President Joe Biden to corruption in Ukraine.
Why it matters: Engel alleges that Pompeo has turned over similar documents to Senate Republicans but not House Democrats and claims that he "has turned the State Department into an arm of the Trump campaign" by using its resources to attempt to investigate Biden. https://www.axios.com/house-foreign-affairs-pompeo-subpoena-biden-ukraine-0577661f-2491-433b-8870-4b6e644f0843.html
15. School reopening plans linked to politics rather than public health
There is no relationship—visually or statistically—between school districts' reopening decisions and their county's new COVID-19 cases per capita. In contrast, there is a strong relationship—visually and statistically—between districts' reopening decisions and the county-level support for Trump in the 2016 election.
Districts located in counties that supported Trump are much more likely to have announced plans to open in person. On average, districts that have announced plans to reopen in person are located in counties in which 55% voted for Trump in 2016, compared to 35% in districts that have announced plans for remote learning only. https://www.brookings.edu/blog/brown-center-chalkboard/2020/07/29/school-reopening-plans-linked-to-politics-rather-than-public-health/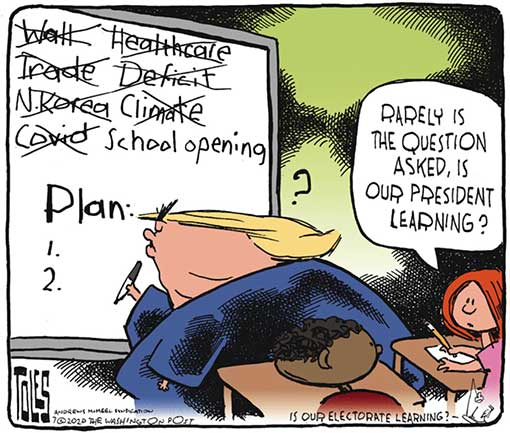 16. Born-again fiscal conservatives are sign of Trump's weakening hand in Congress
From the presidentially ambitious Sens. Ted Cruz (R-TX) and Josh Hawley (R-MO), to onetime deficit hawks like Sen. Patrick Toomey (R-PA), conservatives are abandoning the president as his top aides struggle with negotiations on a pandemic relief bill that is Trump's last, best chance to pass legislation that could help his floundering reelection bid.
Ignoring their own record of support for adding trillions of dollars to the national debt, these conservatives have signaled that they think, in a post-Trump Republican Party, that deficits will return to the forefront just as they did in the first years of the Obama administration. https://www.washingtonpost.com/powerpost/born-again-fiscal-conservatives-are-sign-of-trumps-weakening-hand-in-congress/2020/07/29/fa4da31a-d1a5-11ea-8d32-1ebf4e9d8e0d_story.html
17. Postal Service backlog sparks worries that ballot delivery could be delayed in November
The U.S. Postal Service is experiencing days-long backlogs of mail across the country after a top Trump donor running the agency put in place new procedures described as cost-cutting efforts, alarming postal workers who warn that the policies could undermine their ability to deliver ballots on time for the November election.
As President Trump ramps up his unfounded attacks on mail balloting as being susceptible to widespread fraud, postal employees and union officials say the changes implemented by Trump fundraiser-turned-postmaster general Louis DeJoy are contributing to a growing perception that mail delays are the result of a political effort to undermine absentee voting. https://www.washingtonpost.com/politics/postal-service-backlog-sparks-worries-that-ballot-delivery-could-be-delayed-in-november/2020/07/30/cb19f1f4-d1d0-11ea-8d32-1ebf4e9d8e0d_story.html
18. Postmaster general pick probed
Minority Leader Charles Schumer, D-N.Y., wrote to Postal Service Board of Governors Chairman Robert Duncan questioning whether the  new Postmaster General Louis DeJoy, a seasoned businessman and top fundraiser for President Donald Trump who took office Monday, was "selected for reasons of politics or patronage" and how he'll distance himself from the GOP and his vast financial portfolio.
The letter is the latest salvo in a growing political battle over the future of the Postal Service. As the Trump administration has sought to leverage the agency's deteriorating finances to exert more control over its operations, congressional Democrats have pushed back to keep the Postal Service independent. DeJoy is an unusual selection as postmaster general because of his business and political ties -- he ran a former Postal Service contractor that processed mail and maintained postal infrastructure -- but it remains to be seen how he'll run the agency.
DeJoy and his wife Aldona Wos, the ambassador-nominee to Canada, have between $30.1 million and $75.3 million in assets in Postal Service competitors or contractors, according to Wos's financial disclosure paperwork filed with the Office of Government Ethics. Postal Service mail processing contractor XPO Logistics -- which acquired DeJoy's company New Breed Logistics in 2014 -- represents the vast majority of those holdings. Their combined stake in competitors UPS and trucking company J.B. Hunt is roughly $265,000. https://www.arkansasonline.com/news/2020/jun/16/postmaster-general-pick-probed/
19. The DAILY GRILL
"The Post Office for many, many years has been, you know, run in a fashion that hasn't been great -- great workers and everything, but they have old equipment, very old equipment, And I don't think the Post Office is prepared for a thing like this. You have to ask the people at the Post Office, but how can the Post Office be expected to handle?" — Trump on Monday

VERSUS

"The Postal Service has ample capacity to adjust our nationwide processing and delivery network to meet projected Election and Political Mail volume, including any additional volume that may result as a response to the COVID-19 pandemic," — USPS on Monday, saying that it had the capacity to handle the added volume of mail-in ballots in November's general election after President Donald Trump questioned its ability to do so.

 

"I don't have confidence in anyone who stands there while the President says swallow Lysol and it's going to cure your virus." — Speaker Nancy Pelosi doubling-down on criticism of Dr. Deborah Birx.

VERSUS

So Crazy Nancy Pelosi said horrible things about Dr. Deborah Birx, going after her because she was too positive on the very good job we are doing on combatting the China Virus, including Vaccines & Therapeutics. In order to counter Nancy, Deborah took the bait & hit us. Pathetic! — Donald J. Trump

 

With Universal Mail-In Voting (not Absentee Voting, which is good), 2020 will be the most INACCURATE & FRAUDULENT Election in history. It will be a great embarrassment to the USA. Delay the Election until people can properly, securely and safely vote??? -- Donald J. Trump

VERSUS

The line between autocracy and democracy just become threadbare. Every GOP leader and candidate needs to be asked to respond to this desperate attempt to cling to power.-- David Plouffe

AND

"Those are the incoherent, conspiracy theory ramblings of a lost candidate who is out of touch with reality." — Trump campaign spokesman Tim Murtaugh.

AND

"Never in the history of the country, through wars, depressions, and the Civil War have we ever not had a federally scheduled election on time, and we'll find a way to do that again this Nov. 3. We'll cope with whatever the situation is and have the election on Nov. 3 as already scheduled." — Senator Mitch McConnell.

AND

"It is a fragrant and flagrant expression of his current weakness. A person who is in a strong position would never, never suggest anything like that. So Trump may be making a tactical error here by further telegraphing his weak position in the polls and his weak position for re-election." — Fox News politics editor Chris Stirewalt

 

"I've met with some of our great generals and they just seem to feel that it was not a -- some kind of manufacturing explosion type of event. This was a -- seems to be according to them, they would know better than I would, but they seem to think it was an attack. It was a bomb of some kind." - Trump on the explosion in Beirut, saying it was a bomb.

VERSUS

Three US Defense Department officials told CNN that as of Tuesday night there was no indication that the massive explosion that rocked Beirut on Tuesday were an "attack," contradicting an earlier claim from President Donald Trump. — CNN
20. From MEDIA MATTERS (They watch Fox News so you don't have to)
"Well, a lot of Americans don't trust the U.S. postal system, because they've had budget cuts, they've had so many problems in the past, you know, decade or whatever, however long it's been," said Fox co-host Ainsley Earhardt. "And everyone knows if you go in-person to vote, you know your vote is counted. But if you try to mail something in, there's a big chance that it's not going to get to the folks who are counting these ballots." Not mentioned, of course, is that the Trump administration has opposed measures to shore up the Postal Service's finances during the pandemic, and it has also put in place new measures to slow down mail delivery. It is these acts that have election officials worried about potential problems with mail-in voting — but which Fox News and other conservative media will use as a reason to oppose the expansion of voting, rather than work to counter those harmful obstacles that have been put in place. https://www.mediamatters.org/voter-fraud-and-suppression/help-stephen-miller-fox-friends-uses-trumps-delay-election-tweet-lie

The Pro-Trump PAC America First Action ran at least 397 ads on Facebook and Instagram since July 24 featuring a video that falsely suggests Democratic presidential candidate Joe Biden supported efforts to defund the police. While Facebook finally removed many of the ads on August 4, a number of them had already run for over 10 days, earning more than 5.7 million impressions -- and the false information will still be allowed in other posts on the platform. https://www.mediamatters.org/facebook/facebook-allowed-pro-trump-pac-run-hundreds-ads-false-information-about-joe-biden 

Fox News star Tucker Carlson—currently facing outrage from network colleagues over his racist rhetoric—upped the ante on Monday night, claiming it was "probably illegal" for presumptive Democratic presidential nominee Joe Biden to prioritize Black women in his running mate search while calling those candidates unqualified.  https://www.thedailybeast.com/tucker-carlson-says-it-is-probably-illegal-for-biden-to-only-consider-a-black-woman-vp
1. Mark Joseph Stern: How Trump Could Steal the Election
It is the late evening of Nov. 3, 2020—Election Day. The race is tight. It's come down to the three states that President Donald Trump barely won in 2016: Michigan, Pennsylvania, and Wisconsin. Most in-person votes have been counted, and Trump holds a small lead in each state. But there are millions of mail-in ballots that election officials have not yet processed. Hundreds of thousands of voters dropped their ballots in the mail days ago, but they haven't been received. Meanwhile, thousands of ballots that were mailed in time have been rejected due to alleged technical defects. The outcome of the election turns on all these outstanding votes. But Trump, on the basis of the results so far, declares victory and dismisses the remaining mail-in ballots as fraudulent and illegitimate. The Republican-controlled legislatures of all three states agree, assigning their electoral votes to the president. Trump has secured a second term in the White House.
This scenario is not paranoid or outlandish. It is now chillingly plausible. Trump has spent several months laying the groundwork to steal the 2020 election this way. He has tweeted that mail-in voting will make this "the most INACCURATE & FRAUDULENT Election in history." Trump probably senses the vote count will not be completed on Election Day and seems to be seeding doubt before a single vote is cast. The Republican Party has largely backed the presidents' schemes, and the courts have resisted intervening to protect voting rights. Three months out from Election Day, the nation appears to be barreling toward a crisis of Trump's own design. https://slate.com/news-and-politics/2020/08/election-night-mail-in-voting-sabotage.html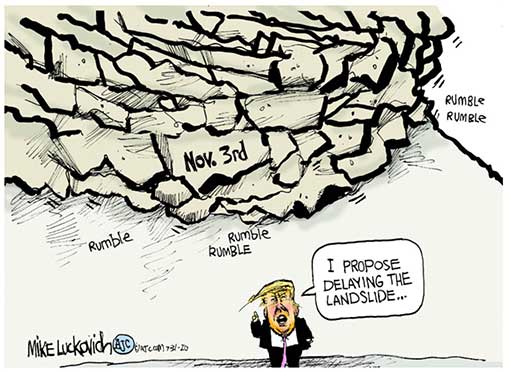 2. Ed Yong: How the Pandemic Defeated America
How did it come to this? A virus a thousand times smaller than a dust mote has humbled and humiliated the planet's most powerful nation. America has failed to protect its people, leaving them with illness and financial ruin. It has lost its status as a global leader. It has careened between inaction and ineptitude. The breadth and magnitude of its errors are difficult, in the moment, to truly fathom.
Despite ample warning, the U.S. squandered every possible opportunity to control the coronavirus. And despite its considerable advantages—immense resources, biomedical might, scientific expertise—it floundered. While countries as different as South Korea, Thailand, Iceland, Slovakia, and Australia acted decisively to bend the curve of infections downward, the U.S. achieved merely a plateau in the spring, which changed to an appalling upward slope in the summer. "The U.S. fundamentally failed in ways that were worse than I ever could have imagined," Julia Marcus, an infectious-disease epidemiologist at Harvard Medical School, told me.
Since the pandemic began, I have spoken with more than 100 experts in a variety of fields. I've learned that almost everything that went wrong with America's response to the pandemic was predictable and preventable. A sluggish response by a government denuded of expertise allowed the coronavirus to gain a foothold. Chronic underfunding of public health neutered the nation's ability to prevent the pathogen's spread. A bloated, inefficient health-care system left hospitals ill-prepared for the ensuing wave of sickness. Racist policies that have endured since the days of colonization and slavery left Indigenous and Black Americans especially vulnerable to ‑19. The decades-long process of shredding the nation's social safety net forced millions of essential workers in low-paying jobs to risk their life for their livelihood. The same social-media platforms that sowed partisanship and misinformation during the 2014 Ebola outbreak in Africa and the 2016 U.S. election became vectors for conspiracy theories during the 2020 pandemic. https://www.theatlantic.com/magazine/archive/2020/09/coronavirus-american-failure/614191/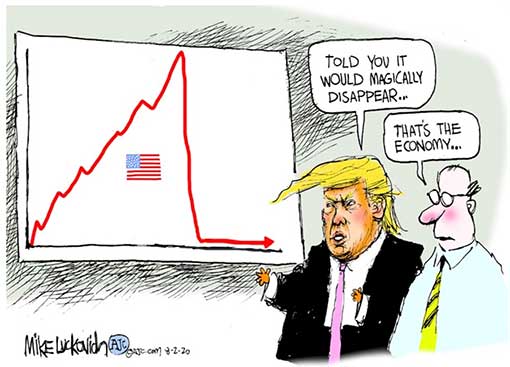 3. Dana Milbank: Mark Meadows isn't saving Trump. He's sabotaging the country.
This is what happens when you put a saboteur in charge of governing.
On Capitol Hill, talks for a new pandemic relief package are going nowhere fast, even though enhanced unemployment benefits have already lapsed for many of the 32 million Americans out of work — while schools lack funds to protect teachers and students, and states and cities run out of money to pay for cops and public health.
At the White House, meanwhile, the Trump administration's pandemic response, after a brief feint in the direction of responsible behavior, has again devolved into chaos, with President Trump warring with his own "pathetic" pandemic task force coordinator and regarding 1,000 dead Americans a day with nonchalance: "It is what it is," he told Axios during an interview broadcast Monday night.
The common denominator, the man with a lead role in both, is Mark Meadows, the new White House chief of staff. During his seven years in Congress, he developed an unsurpassed reputation for blowing things up and making sure bills didn't pass. But he has virtually no experience at getting things done.
Meadows's anti-government vandalism probably won't save Trump, but it could bring us all down with him. https://www.washingtonpost.com/opinions/2020/08/04/mark-meadows-isnt-saving-trump-hes-sabotaging-country/
4. Eric Boehlert: Don't blame "Congress" for GOP ending $600 unemployment benefit
Purposefully allowing emergency, $600-a-week unemployment payments to expire on July 31, Trump and Republicans are creating chaos and looming poverty for tens of millions of jobless Americans as Covid-19 spreads nationwide. Amidst inner-party squabbling, the GOP was incapable of coming up with a coherent plan to extend enhanced benefits until hours before the payments ran out, leaving no way for a bill to be passed. Yet the press for days has described the fiasco as "Congress" failing to act, and "Congress" not being able to meet the challenge of America's burgeoning crisis.
The press needs to leave "Congress" out of this and be more direct about what's going on — Republicans just ruined the lives of millions of struggling Americans as the economy falls off the cliff. The reason more than 20 millions Americans will no longer receive the $600 checks is because Republicans don't want them to receive the $600 checks. Not because "Congress" couldn't agree on more relief. And not because Congress "dissolved into partisan bickering," as the New York Times insisted.
Back in May, Democrats in the House passed their emergency, $3 trillion legislation to extend the crucial $600 payments, as well as provide more money to states and help hospitals. Republicans in the Senate, who refused to take up the House bill, diddled for months. The crucial fact about the House bill being passed months ago is often omitted in news coverage regarding how "Congress" can't get unemployment benefits extended.
Now is not the time for the media to embrace Both Sides coverage and blame the GOP debacle on "gridlock" and "bickering." Not when the issue at stake is truly life or death, and not when Republican incompetence and indifference remains so glaring. https://pressrun.media/p/dont-blame-congress-for-gops-unemployment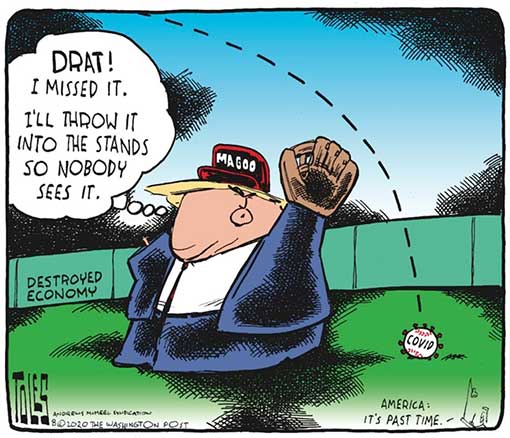 5. Paul Krugman: The Nightmare on Pennsylvania Avenue
Trump is the kind of boss who can't do the job — and won't go away.
Over the past week the U.S. death toll from Covid-19 averaged more than 1,000 people a day, compared with just four — four! — per day in Germany. Vice President Mike Pence's mid-June declaration that "There isn't a coronavirus 'second wave'" felt like whistling in the dark even at the time; now it feels like a sick joke.
And all those extra deaths don't seem to have bought us anything in terms of economic performance. America's economic contraction in the first half of 2020 was almost identical to the contraction in Germany, despite our far higher death toll. And while life in Germany has in many ways returned to normal, a variety of indicators suggest that after two months of rapid job growth, the U.S. recovery is stalling in the face of a resurgent pandemic.
Wait, it gets worse. Trump, his officials and their allies in the Senate have been totally committed to the idea that the U.S. economy will experience a stunningly rapid recovery despite the wave of new infections and deaths. They bought into that view so completely that they seem incapable of taking on board the overwhelming evidence that it isn't happening.
Just a few days ago Larry Kudlow, Trump's top economist, insisted that a so-called V-shaped recovery was still on track and that "unemployment claims and continuing claims are falling rapidly." In fact, both are rising.
But because the Trump team insisted that a roaring recovery was coming, and refused to notice that it wasn't happening, we've now stumbled into a completely gratuitous economic crisis.
Thanks to Republican inaction, millions of unemployed workers have seen their last checks from the Pandemic Unemployment Compensation program, which was meant to sustain them through a coronavirus-ravaged economy; the virus is still raging, but their life support has been cut off. https://www.nytimes.com/2020/07/30/opinion/trump-coronavirus-economy.html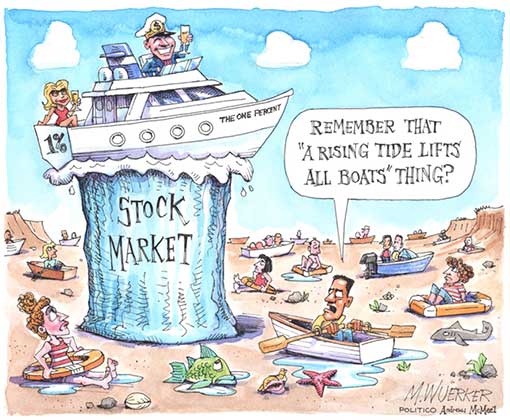 6. Kenzie Bryant: Okay. Wow. All Right. Okay. "Demon Sperm," Now? Fine! This must be hell, huh?
Demon sperm. What is it? Why is it? Why are we yelling about it? These are questions we're made to answer because, in short, we live in hell. There appears to be no immediate escape from the daily affliction of Donald Trump's presidency, and this time is no different. Where to start on this week's heinous development? Where to begin? What is it all about? How to stop stalling and just get into it already?
Okay, here we go. Just going to dive in. Here we go. Okay: Understanding how "demon sperm" entered the discourse should start, I suppose, with the woman who inadvertently introduced the phrase to the broader public in the first place, pediatrician and fire-and-brimstone-type minister Stella Immanuel. The Houston doctor joined the group of other medical professionals on Monday in D.C. in what they've called the "White Coat Summit," a Tea Party–driven gathering meant to drive a wedge of distrust into COVID-19 consensus. They have some pretty kooky ideas in general. Immanuel, for example, recounts in sermons and books the devil's various plots to take over the world, which is obviously wrong because as I stated above, we are already living in hell.
Anyway, their main claim is that there is a cure for coronavirus and it's hydroxychloroquine (there isn't yet and it is not). And yet, Breitbart posted the video of the speeches that same day, and within hours, it was the second-most popular video on Facebook, reportedly getting 14 million views in that short time. Madonna's Instagram co-signed Immanuel's words, calling her "my hero." Donald Trump Jr. said the video is a "must watch" (for which he got temporarily suspended from Twitter for promoting false information). And, of course, the president retweeted it to his millions of followers on Twitter.
The drug hydroxychloroquine is meant to treat malaria, and the president has touted it repeatedly as a one-stop shop for all your COVID-cure needs, despite several studies saying that it has limited success with coronavirus patients and puts some people at risk for heart rhythm problems. https://www.vanityfair.com/style/2020/07/demon-sex-donald-trump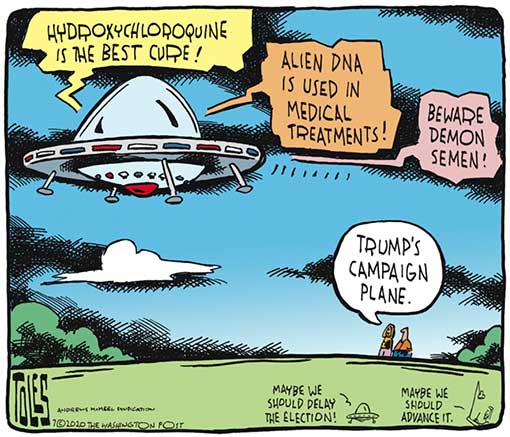 7. Jonathan Last: Incentives
What is Donald Trump's incentive structure right now? The hierarchy pretty obviously goes something like this:
1. Win the election.

2. Avoid blame for losing the election.

3. Bind his voters more tightly to his own person.

4. Establish a framework for his next venture.
You will note that 'Protecting Congressional Republicans' is not on that list.
It is becoming clear—even to Trump—that barring extreme outside events, his primary goal is off the table. While it remains possible that some event intercede—a meteor strike, a shooting war, a health crisis—there is nothing that Trump himself can really do to change the outcome of the election. And so as you move down Trump's incentive structure, he has pivoted to items 2, 3, and 4."
In furtherance of those goals, we should expect Trump to be more erratic and outlandish, more openly racist, and to flirt even more openly with outright delegitimization of the election." https://mailchi.mp/thebulwark/actually-trump-is-the-one-burning-it-all-down
8. Susan Glasser: Trump Is the Election Crisis He Is Warning About
On Thursday morning, minutes after the worst U.S. economic data in seventy years were released and barely two hours before an American hero who risked his life for the right to vote was laid to rest, the President of the United States proposed delaying this fall's election. Amid the coronavirus pandemic and widespread remote voting, Donald Trump said that it would be the most "INACCURATE & FRAUDULENT Election in history." Why shouldn't the U.S. "Delay the Election," he asked, "until people can properly, securely and safely vote???"
It was not the first time that the President has raised this particular canard—and a canard it is, a radical move that is not within his power to make happen—but it was by far his most inflammatory, destabilizing, and provocative attempt yet to call into question the legitimacy of the November election, in which he is trailing the Democratic candidate, Joe Biden, in virtually every poll. Has there ever been a President who has done more to undermine American democracy? Trump himself has become the crisis of confidence in our political system that he warns about. He is his own self-fulfilling prophecy.
Don't be sucked in, Trump's critics immediately warned. He is trolling us. He is distracting us. Of course, they had a point. It was no accident that the tweet came at 8:46 a.m., sixteen minutes after the government reported that the U.S. economy had contracted by nearly ten per cent in the second quarter, the biggest drop in quarterly G.D.P. ever. There is so very much for Trump to distract us from. Trump's tweet came just a day after a grievous milestone was reached: a hundred and fifty thousand Americans dead from covid-19. And it was only a couple of hours before John Lewis, the longtime congressman and civil-rights leader, was laid to rest in what amounted to a state funeral—minus the decidedly unwelcome head of state. https://www.newyorker.com/news/letter-from-trumps-washington/trump-is-the-election-crisis-he-is-warning-about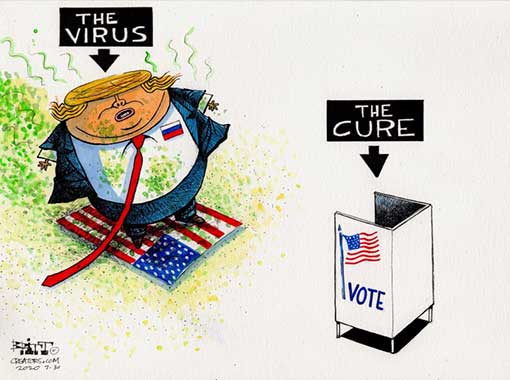 9. Michael Gerson: Trump has made Republicans complicit in his revolt against American principles
Jefferson Davis always wanted to see a Confederate battle flag raised over the White House. At least in spirit, he has finally gotten his wish.
In Trump's approach to politics, all is flexible, all is negotiable, except the driving instinct of us vs. them. And it is not just a coincidence that the us is overwhelmingly White. Trump's most consistent, defining goal has been the preservation of white supremacy against growing diversity. As we now see fully, he holds out the promise of a suburban, segregated promised land.
Those who dismiss this criticism as "playing the race card" must ignore Trump's constant employment of the racism card. Those who dismiss these concerns as "identity politics" must somehow overlook the White identity politics that drives his public appeal. Trump's approach is apostasy from the American ideal. It is the kind of thing that can lead to the breaking of nations.
This is the main reason that Republicans — in the Oval Office, in the Senate, in the House — must lose, and lose decisively. Trump has made national Republicans fully complicit in his revolt against American principles. Party loyalty now consists of defending the indefensible. By the nature of our constitutional order, a firm decision against bigotry is an entry-level commitment of American politics. Trump's pervasive influence among Republicans has necessitated their repudiation.
The president is ignorant of America's history, indifferent to its ideals and blind to the nobility of the political enterprise. For most elected Republicans, the stain of complicity is probably indelible. But a presidential election can be a window — a short window — for recovery and renewal. Assuming our nation still has ambitions higher than the Suburban Lifestyle Dream. https://www.washingtonpost.com/opinions/trumpisms-most-persistent-goal-is-the-preservation-of-white-supremacy/2020/07/30/0a3a6aec-d291-11ea-8c55-61e7fa5e82ab_story.html
10. David Siders: 'Rigged election' goes from Trump complaint to campaign strategy
Donald Trump's suggestion that he might try to delay the election — or might not accept the result — is rapidly coming to the forefront of the presidential campaign, foreshadowing a final stretch roiled not only by the coronavirus and the economy, but by clashes over the nation's most fundamental democratic norms.
Though Trump has no authority to move the election — an idea he floated Thursday — Democrats are already bracing for Republican challenges to absentee ballots and at vote counting on Election Day. They have good cause to be prepared: the president has repeatedly raised the prospect of a "rigged election" and recently declined to say if he'll accept the results.
Trump's rhetoric points increasingly to the possibility that he will dispute the outcome in a year marked by primary election administration meltdowns — a prospect that is heightened by his absolute control of state and national party machinery and an attorney general who has amplified Trump's unsubstantiated claims about mail-in voting fraud. https://www.politico.com/news/2020/07/31/trump-rigged-election-campaign-strategy-388884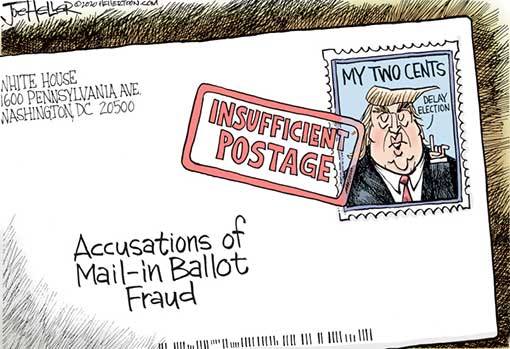 11. Roxanne Roberts: The Lincoln Project's plan for preserving the union: Drive Trump out of office by driving him nuts
Your house is on fire. Do you care who the firemen are?
That is a central question of the 2020 election. Donald Trump has managed to do one thing no other president has done: Bring Republicans and Democrats, conservatives and progressives, boomers and millennials together in unprecedented numbers to try to defeat him in November. For Americans who believe the president is a raging threat to democracy, purity tests are out. Results are in.
Which explains the spectacular rise of the Lincoln Project, a group of Republican Never Trumpers who have moved rent free into the president's head. Their viral videos and tweets mocking his leadership, his intelligence and his patriotism — aimed both at Republican voters who are wavering and Trump himself — have attracted millions of dollars, via donors from both parties. More than 10,000 people showed up for a virtual town hall last month. Lifelong Democrats are organizing fundraisers for the project.
The "Mourning in America"  ad attacks Trump's mismanagement of the coronavirus outbreak. "#TrumpIsNotWell" questions his mental and physical fitness. "Bounty"  asks why Trump won't confront Vladimir Putin about U.S. intelligence reports that Russia offered bounties for the killing of American soldiers in Afghanistan.
The ads are slick, scathing and more shocking than anything Joe Biden's official campaign has produced. The newest release, "Wake Up," is a dark comic satire about a coma victim hearing about Trump's last three years. "Republicans, we need to wake up. This guy was in a coma. What's your excuse?"
"Donald Trump is so completely at odds with every institution in America and so completely at odds with anything that the Republican Party allegedly stood for: the rule of law, constitutional fealty, institutions, norms, traditions, all of those things are out the window," says Rick Wilson, a co-founder of the group. "So you're either going to make a choice between Trump or this country. We made the choice for the country, even if it doesn't immediately seem to fit with all of our ideological or political priors." https://www.washingtonpost.com/lifestyle/style/lincoln-project-george-conway-ads-trump/2020/07/31/e9542a6a-d278-11ea-9038-af089b63ac21_story.html
12. Charles Sykes: Trump Just Made the Election About Democracy Itself
When Napoleon ordered the execution of the Duke d'Enghien, it was described as "worse than a crime, it's a mistake."
Thursday exposed the extent of Donald's Trump's own miscalculation on the election: He's not necessarily planning a crime, but he is committing an epic blunder.
As you know by now, the president began his day with a tweet complaining about the possibility of fraudulent mail-in ballots and raising the possibility of delaying the November election. To underline his apparent seriousness, he made it his pinned tweet. But, as every constitutional scholar in the country quickly pointed out, he lacks to the power to move the election and there's absolutely no support in Congress for such a move, so that leaves three alternative explanations.
(1) He wanted a distraction from truly ghastly economic numbers that had just been released.

(2) He is continuing to stigmatize mail-in voting in an effort to suppress that vote.

(3) As Amanda Carpenter writes, Trump is "gaslighting the nation," to lay the groundwork for delegitimizing and possibly challenging the election. "Trump is spreading such lies and rumors about the 2020 election," she writes, "because he's afraid of losing it."
You can see the talking point taking shape: Trump is not a loser, he is a victim. https://thebulwark.com/newsletter-issue/trump-just-made-the-election-about-democracy-itself/
13. Peter Baker: More Than Just a Tweet: Trump's Campaign to Undercut Democracy
Nothing in the Constitution gives President Trump the power to delay the November election, and even fellow Republicans dismissed it out of hand when he broached it on Thursday. But that was not the point. With a possible defeat looming, the point was to tell Americans that they should not trust their own democracy.
The idea of putting off the vote was the culmination of months of discrediting an election that polls suggest Mr. Trump is currently losing by a wide margin. He has repeatedly predicted "RIGGED ELECTIONS" and a "substantially fraudulent" vote and "the most corrupt election in the history of our country," all based on false, unfounded or exaggerated claims.
It is the kind of language resonant of conspiracy theorists, cranks and defeated candidates, not an incumbent living in the White House. Never before has a sitting president of the United States sought to undermine public faith in the election system the way Mr. Trump has. He has refused to commit to respecting the results and, even after his election-delay trial balloon was panned by Republican allies, he raised the specter on Thursday evening of months of lawsuits challenging the outcome.
Mr. Trump has put on the line not merely the outcome of this fall's contest but the credibility of the system as a whole, according to even scholars and operatives normally sympathetic to the president. Just floating the possibility of postponing a presidential election, an idea anathema in America and reminiscent of authoritarian countries without the rule of law, risks eroding the most important ingredient in a democracy — the belief by most Americans that, whatever its manifest flaws, the election result will be fundamentally fair. https://www.nytimes.com/2020/07/31/us/politics/trump-tweet-democracy.html
14. Joshua A. Geltzer and  Ryan Goodman: Barr may try to spin his 'investigation' before the election. Don't believe him.
There's every reason to suspect Barr will soon try again to mislead — this time regarding one of his most important initiatives to date, an investigation by his handpicked U.S. attorney, John Durham — in an effort to skew the 2020 elections.
Criminally investigating the investigators without any apparent wrongdoing is a bizarre step to take, and the very issues being explored by Durham already have been investigated by the Justice Department's inspector general, who found that the opening of the Russia investigation (code-named "Crossfire Hurricane") was properly predicated, with no evidence it was influenced by political bias. Yet Barr has pressed ahead — hard — with demanding that Durham investigate the FBI and, apparently, even other components of the intelligence community for their counterintelligence work in 2016. In a wild step for an attorney general, Barr has reportedly personally traveled the world to urge foreign governments to cooperate with Durham.
There are signs that Barr has already enabled Durham's unorthodox behavior, which could foreshadow his own efforts to distort the public's understanding of whatever conclusions Durham will reach, whether those take the form of criminal charges, a written report or some combination. When the inspector general issued his much-anticipated report, Durham was in the midst of an ongoing criminal investigation — a situation in which a federal prosecutor should, according to Justice Department policy, refrain from commenting publicly. Yet Durham did the opposite: He released a public statement indicating that, even though he was still conducting his investigation, he disagreed with the inspector general's conclusions. This was extraordinary, in addition to being a mid-investigation public commentary. It was also a public rebuke of the Justice Department's inspector general by another department official, and one that, it turns out, was misleading about where exactly Durham and the inspector general differed.
But Barr's spin works only if others take his word for it or imbue him with the credibility of an attorney general faithfully executing his oath of office. Whatever conclusions Durham actually reaches, Barr's history indicates that he'll make them sound better for Trump and worse for the counterintelligence work of America's public servants. As The Washington Post's Amber Phillips wrote about Barr's most recent testimony, takeaway number one is: "He is all in as a partisan player."
When it comes to spin, being forewarned is being forearmed: Don't buy it. It's essential that Congress, the media and the public refuse to accept what Barr says at face value. Wait till we see what Durham's investigation actually concludes — then we can applaud or criticize those results as we all see fit, but at least we'll elude the grasp of Barr's distortions. https://www.washingtonpost.com/outlook/2020/08/01/barr-durham-investigation-election/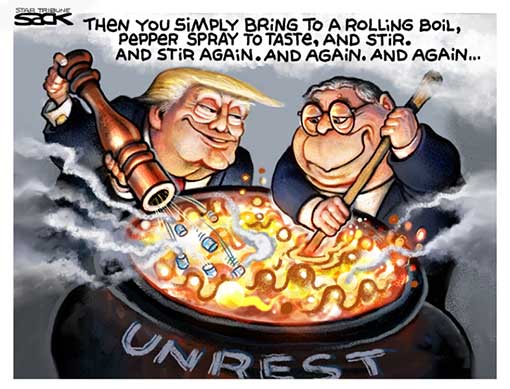 15. Alexander Vindman: Coming forward ended my career. I still believe doing what's right matters.
After 21 years, six months and 10 days of active military service, I am now a civilian. I made the difficult decision to retire because a campaign of bullying, intimidation and retaliation by President Trump and his allies forever limited the progression of my military career.
This experience has been painful, but I am not alone in this ignominious fate. The circumstances of my departure might have been more public, yet they are little different from those of dozens of other lifelong public servants who have left this administration with their integrity intact but their careers irreparably harmed.
A year ago, having served the nation in uniform in positions of critical importance, I was on the cusp of a career-topping promotion to colonel. A year ago, unknown to me, my concerns over the president's conduct and the president's efforts to undermine the very foundations of our democracy were precipitating tremors that would ultimately shake loose the facade of good governance and publicly expose the corruption of the Trump administration.
At no point in my career or life have I felt our nation's values under greater threat and in more peril than at this moment. Our national government during the past few years has been more reminiscent of the authoritarian regime my family fled more than 40 years ago than the country I have devoted my life to serving. https://www.washingtonpost.com/opinions/2020/08/01/alexander-vindman-retiring-oped/b6i7
16. Jennifer Rubin: It's time for Senate Republicans to answer for their toadyism
Majority Leader Mitch McConnell (R-Ky.) "has signaled to vulnerable GOP senators in tough races that they could distance themselves from the President if they feel it is necessary, according to multiple senior Republicans including a source close to McConnell." The extent of their latitude is unclear, however. ("These vulnerable senators can't afford to explicitly repudiate Trump," a senior unnamed Republican in Congress told CNN. "They just need to show they are independent on issues important in their states.")
You wonder how that is going to work when they get asked questions such as these:
• Are you supporting the lawsuit to take away all Obamacare protections for people with preexisting conditions? If not, what have you done about it?

• Will you denounce attempts to undermine mail-in voting?

• Will you pledge to recognize the results of the election and rebut efforts to delegitimize it?

• Was it appropriate to send without the permission of the governor unidentified federal forces to gas and attack protesters in Portland, Ore.? What did you do about it?

• Why did you vote to confirm Cabinet officials such as Scott Pruitt for the Environmental Protection Agency (only Collins voted against him), Tom Price for the Department of Health and Human Services, Ryan Zinke for the Interior Department and Alexander Acosta for the Labor Department — all of whom left office under the cloud of ethics violations (including Acosta, for his participation in Jeffrey Epstein's plea deal)?

• When have you condemned Trump's racist rhetoric?

• Have we "won" the trade war against China? If not, why haven't you reclaimed Congress's power over tariffs?

• What reason do voters have to believe you would stand up to Trump if he is reelected?
If Republicans cannot answer these questions and prove they really have separated themselves from Trump, then McConnell's advice is fanciful. https://www.washingtonpost.com/opinions/2020/08/03/its-time-senate-republicans-answer-their-toadyism/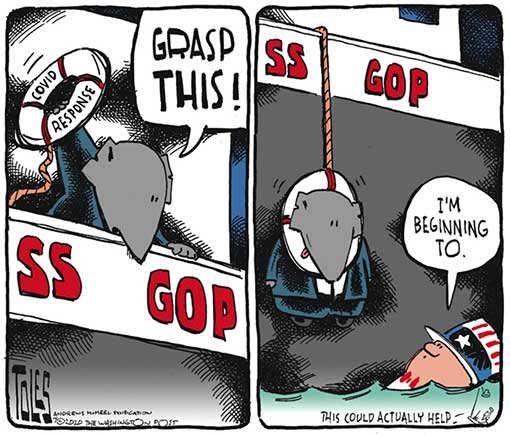 17. Karen Tumulty: Trump promised a health-care plan in two weeks. It's been two weeks.
Here's what didn't happen on Sunday: The signing of a "full and complete" health-care plan, which Trump had promised in an interview with Fox News' Chris Wallace that had aired July 19.
Wallace, as good an interviewer as there is, had tweaked Trump over the fact that he had yet to deliver on one of his signature campaign promises, which was to replace the Affordable Care Act with "something terrific."
"You're going to have such great health care, at a tiny fraction of the cost — and it's going to be so easy," he boasted the month before the 2016 election. Back when their party still had control of all the levers of government, Republicans in Congress made a stab at replacing Obamacare and failed. Turns out, overhauling an industry that accounts for one-sixth of the U.S. economy isn't so simple after all.
In his mid-July interview with Wallace, Trump was unabashed:
"We're signing a health-care plan within two weeks, a full and complete health-care plan."
Then, Trump's fevered imagination went into overdrive, explaining that he had the power to do it on his own, without a congressional vote, thanks to the Supreme Court's decision to leave in place President Barack Obama's Deferred Action for Childhood Arrivals program.
The truth is, when Trump is stumped, he likes to throw out promises of big policy initiatives — his infrastructure push, for instance — that always seem to be just two weeks away. They are mirages. His assumption is that people will just forget about them as they choke on the dust cloud of distraction that he kicks up every day. https://www.washingtonpost.com/opinions/2020/08/03/trump-promised-health-care-plan-two-weeks-its-been-two-weeks/
18. Tim Miller: Trump's Unreality Forcefield
Trump is fundamentally incapable of recognizing the true nature of what he calls the "invisible enemy."
His malignant narcissism means that he is consumed by the need for constant praise. He is completely incapable of giving a shit about whether Americans are dying, since it's so much less important than whether people are nice to him on TV.
Then there's the selective info he receives from his diet of Fox News propaganda, phone calls with random golfing buddies, and F-list aides who coddle him with happy talk and cherry-picked data.
On top of that is his tendency to put his finger in his ears and scream "la la la la la" when someone tries to break through his forcefield of bullshit by telling the truth on one of the propaganda shows he watches.
In two incidents yesterday this willful ignorance was on full display. First was his shameful tweet calling Deborah Birx—an adviser who has gone out of her way to feed his need for happy talk—"pathetic" for simply stating the facts about how the virus has reached community spread in more rural parts of America. Birx wanted to encourage more diligent adherence to social-distancing guidelines, thus protecting a population that is largely made up of the president's supporters. People who, you would think, he would have an interest in not dying.
Then in an absolutely devastating exchange with Jonathan Swan, Trump thinks he has his interlocutor nailed when he provides charts that his staff has prepared about the percentage of COVID-19 deaths relative to the number of cases in the United States. On this largely worthless metric, the country appears to be doing well. Swan presses Trump on the more relevant metric, the number of deaths per capita and Trump is completely confused. He can't even follow the premise of this very basic argument because he is an ignoramus who was either not prepped or simply refuses to acknowledge the troubling data provided to him.
Like a child, Trump lashes out at Swan—"you can't do that"—when the reporter tries to break through his unreality forcefield. https://thebulwark.com/trumps-unreality-forcefield/