January 23, 2020
ON THE RECORD. . .
The documents are "scribble scrabble. This is ridiculous. This has nothing." — Fox prime-time host Laura Ingraham dismissing the new evidence emerged revealing more details about President Donald Trump's efforts to pressure Ukraine into investigating one of his political rivals, Democratic presidential candidate Joe Biden.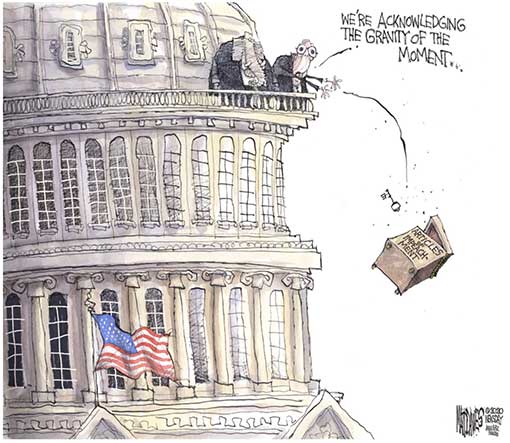 Your 2nd Amendment is under very serious attack in the Great Commonwealth of Virginia. That's what happens when you vote for Democrats, they will take your guns away. Republicans will win Virginia in 2020. Thank you Dems!— Donald J. Trump @realDonald Trump backing right-wing organizations threatening violence at Virginia's capital.
"They tried to keep me quiet." — Lev Parnas claiming on MSNBC that he was visited in jail by John Dowd, a former attorney for President Trump, who told him to cooperate and sacrifice himself for the president. 
I JUST GOT IMPEACHED FOR MAKING A PERFECT PHONE CALL! — Donald J. Trump @realDonald Trump
"We always are trying to compare presidents to each other, but we haven't had an outlaw president before, and that's what you have with Donald Trump." — Presidential historian Douglas Brinkley telling CNN its impossible to compare President Trump to past holders of the office.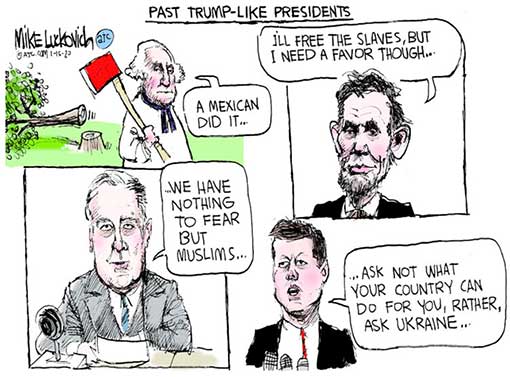 "When it comes to whether or not you're going to impeach a president of your own party, particularly over a policy difference or whether or not he has lack of decorum or whatever, I think that's something that a lot of voters will not excuse." — Sen. Rand Paul (R-KY) warning Senate Republicans in an interview in The Hill that a vote to impeach President Trump would be a career-ending decision.
"I welcome him to say that even more. Every time he says that I'll show him another picture. He's lying." — Lev Parnas, Rudy Giuliani's former associate, threatening to release a new photo of himself with Donald Trump every time the president denies knowing him.
"They are rigging the election again against Bernie Sanders, just like last time, only even more obviously. They are bringing him out of so important Iowa in order that, as a Senator, he sit through the Impeachment Hoax Trial. Crazy Nancy thereby gives the strong edge to Sleepy Joe Biden, and Bernie is shut out again. Very unfair, but that's the way the Democrats play the game. Anyway, it's a lot of fun to watch!" — Trump claims Speaker Nancy Pelosi is rigging the Democratic presidential primary against Bernie Sanders by forcing an impeachment trial.
"This is definitely an 'are you fucking kidding me?' kinda day." — Monica Lewinsky reacts to news that Ken Starr is on President Trump's impeachment defense team:
"Sometimes the best defense is the 'so what' defense. If everything the Democrats said is true, it's still not impeachable. If everything Lev Parnas said is true, it's still not impeachable. That's what this is about. — Former White House chief of staff Reince Priebus previewing on Fox News what might be President Trump's final defense in his impeachment trial.
Democrats will force votes on witnesses and documents. Trials have witnesses and documents. Cover-ups don't." — Sen Chuck Schumer (D-NY), on Twitter.
"We're looking at 'Midnight Mitch' and the so-called world's greatest deliberative body, really embracing a cover-up that is there for all to see. That's what this is about."-- Journalist Carl Bernstein reacts to Mitch McConnell's proposed trial rules.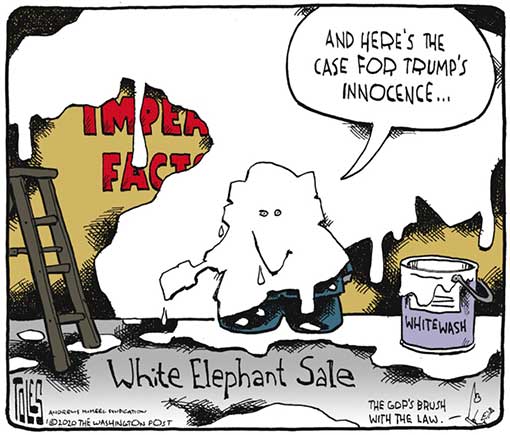 "We don't have a left party in the United States. The Democratic Party is not a left party. The Democratic Party is a center or center-conservative party." — Rep. Alexandria Ocasio-Cortez (D-NY).
"If Sen. McConnell makes this the first impeachment trial in history without witnesses or documents, it will not prove the President innocent — it will merely prove the Senate guilty of working with the President to obstruct the truth from coming out." — House impeachment manager Adam Schiff.
"We must reject the perennial prophets of doom and their predictions of the apocalypse. They are the heirs of yesterday's foolish fortune tellers." — Trump bragged about the American economy, rejecting warnings that the world is barreling toward an environmental crisis, a key concern at this year's World Economic Forum. — Trump
"This president won't be there forever. He'll either be gone by this time next year or four years from now. Then what happens to the Republican Party? My fear is people out there know that, even if this is not an impeachable offense, that the president did something wrong, and for Republicans to maintain that he didn't is just wrong, and this has long-term ramifications for the party if we act as if we are just devoted to the president no matter what, and this cult of personality that we've seen, we certainly saw it in the House." — Former Sen. Jeff Flake (R-AZ) told CBS News that the Republicans' "cult of personality" around Trump will hurt the party even after the president leaves office.
"So, we're doing very well. I got to watch enough. I thought our team did a very good job. But honestly, we have all the material. They don't have the material."— Trump, admitting he's obstructed Congress by not honoring House subpoenas.
"If there's any unfairness in these proceedings, it's the astounding mismatch between the high skill and preparation of the House managers and the rambling, dissembling and gaslighting of @realDonaldTrump's counsel. It's like the New York Yankees versus the Bad News Bears." — George Conway, a conservative lawyer and prominent Trump critic on Twitter.
"This isn't like fantasy football, here. We are not making trades or we shouldn't be: We'll trade you one completely irrelevant, immaterial witness that allows us to smear the President's opponent in exchange for ones that are really relevant, that you should hear. Is that really a fair trial?" — House impeachment manager Adam Schiff dismissing a suggestion that former National Security Adviser John Bolton could be called to testify in exchange for calling Hunter Biden.
"I wonder, what will you tell your children was the reason to fail and leave them facing the climate chaos you knowingly brought upon them? Our house is still on fire. Your inaction is fueling the flames by the hour. Stop investing in fossil fuels immediately, or explain to your children why you did not protect them from the "climate chaos" you created. — Greta Thunberg, 17, at the annual gathering of the world's rich and powerful in Davos.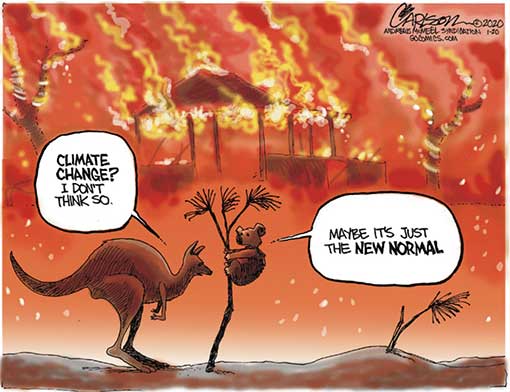 Trump admits to CNBC's Joe Kernen this AM that he is looking to CUT Social Security and Medicare at the end of this year. — Jennifer Baty@JenBaty
"Government must never stand between the people and God - we call this the right to pray." -- Trump at an event on school prayer hosted in the Oval Office.
---
IN THIS ISSUE
FYI
OPINION
1. Andy Borowitz: Susan Collins Takes Hours to Decide on Lunch Before Ordering Exactly What Mitch McConnell Is Having
On the first day of the impeachment trial in the United States Senate, Senator Susan Collins, a Republican of Maine, spent hours trying to decide what she would have for lunch before ultimately ordering exactly what Senator Mitch McConnell was having.

Clutching the Senate takeout menu in her hands, Collins told reporters mid-morning that the decision of what to have for lunch was a matter of serious consideration and that she wanted to review all of the available options before selecting one.

"I'm deeply troubled and concerned about getting this order right," Collins said. "There are many valid choices on this menu and I don't want to give any of them short shrift."

Around 11 a.m., rumors swirled that Collins was leaning toward ordering a quinoa salad, a choice that would have set her apart from the rest of her Republican colleagues in the upper chamber.

By noon, however, Collins emerged from her office to tell reporters that she had ordered the exact same thing that the Senate Majority Leader had chosen, a roast beef sandwich on a roll.

"At the end of the day, there was just not enough evidence that ordering anything else would have been better," she said.

According to sources, Collins spent the lunch hour eating her sandwich alone at her desk and trying to determine why everyone hates her. https://www.newyorker.com/humor/borowitz-report/t
2. Trump Tax Cut Hands $32 Billion Windfall to Top Banks
Savings for the top six U.S. banks from President Donald Trump's signature tax overhaul accelerated last year, now topping $32 billion as the lenders curbed new borrowing, pared jobs and ramped up payouts to shareholders. https://www.bloomberg.com/news/articles/2020-01-16/trump-tax-cut-hands-32-billion-windfall-to-america-s-top-banks
3. Trump berates Azar over bad health care polling
Donald Trump lashed out at HHS Secretary Alex Azar on Thursday after senior aides presented him with polling data showing that voters prefer Democrats on health care, according to six people with knowledge of the conversation.
Trump's outburst sent White House staff scrambling to convene a meeting on drug pricing this morning with potentially more to come. Some predicted Trump could look to push harder on stalled drug pricing proposals, including one opposed by many in his party. https://www.politico.com/news/2020/01/17/trump-berates-azar-over-bad-health-care-polling-100650
4. More pizza, fewer vegetables: Trump administration further undercuts Obama school-lunch rules
The U.S. Department of Agriculture has taken another whack at former first lady Michelle Obama's signature achievement: Establishing stricter nutritional standards for school breakfasts and lunches. And on her birthday.
On Friday, USDA Deputy Under Secretary Brandon Lipps proposed new rules for the Food and Nutrition Service that would allow schools to cut the amount of vegetables and fruits required at lunch and breakfasts while giving them license to sell more pizza, burgers and fries to students. The agency is responsible for administering nutritional programs that feed nearly 30 million students at 99,000 schools. https://www.washingtonpost.com/business/2020/01/17/usda-proposes-changing-school-menus-allow-more-fries-pizza-fewer-vegetables-fruits-reversing-michelle-obama-effort/
5. Black Americans are deeply pessimistic about the country under Trump, whom more than 8 in 10 describe as 'a racist,' Post-Ipsos poll finds
More than 8 in 10 black Americans say they believe Trump is a racist and that he has made racism a bigger problem in the country. Nine in 10 disapprove of his job performance overall.
The pessimism goes well beyond assessments of the president. A 65 percent majority of African Americans say it is a "bad time" to be a black person in America. That view is widely shared by clear majorities of black adults across income, generational and political lines. By contrast, 77 percent of black Americans say it is a "good time" to be a white person, with a wide majority saying white people don't understand the discrimination faced by black Americans.
Trump's overall approval rating among black Americans stands at 7 percent, with 90 percent disapproving, including 75 percent who disapprove "strongly." https://www.washingtonpost.com/politics/black-americans-deeply-pessimistic-about-country-under-president-who-more-than-8-in-10-describe-as-a-racist-post-ipsos-poll-finds/2020/01/16/134b705c-37de-11ea-bb7b-265f4554af6d_story.html
6. The DAILY GRILL
"Who the hell cares about the budget? We're going to have a country." — Trump, during a private dinner with deep-pocketed donors at Mar-a-Lago after boasting about increasing the defense budget by $2.5 trillion.

VERSUS

"For most of Barack Obama's time in office, Republicans seemed to care very much about the budget." As Oliver Darcy pointed out, can you even imagine how, say, Rush Limbaugh would have reacted to Obama saying "who the hell cares about the budget?" — Brain Stelter
7. From MEDIA MATTERS (They watch Fox News so you don't have to)
Fox News tells people to not even watch Trump's impeachment trial: It's too boring. "If you watch some of it, there were snippets — and we're showing you the good stuff — it was unbelievably boring," said Steve Doocy. "And I don't know how people can follow it."  Pete Hegseth also chimed in: "We watched so that you don't have to watch the entire thing." 

"I don't think the majority of people watched," added Ainsley Earhardt. "I think they just turn to us to be able to summarize it for them, because it was so long." https://www.mediamatters.org/trump-impeachment-inquiry/fox-news-tells-people-not-even-watch-trumps-impeachment-trial-its-too

Fox News figures complain that Pelosi wore pink while signing articles of impeachment, liken her pens to bullets. After House Speaker Nancy Pelosi (D-CA) signed the articles of impeachment against President Donald Trump for abuse of power and obstruction of Congress and sent them to the Senate, pro-Trump media figures lashed out at her over her choice of clothing and made bizarre comments about the commemorative pens she used and then handed out. One Fox News anchor even allowed a Republican senator to liken Pelosi to a sorority girl without any objection. https://www.mediamatters.org/trump-impeachment-inquiry/fox-news-figures-complain-pelosi-wore-pink-while-signing-articles

Fox News has been busy hyping President Donald Trump's signing of the "Phase 1" trade deal with China. There's just one problem: Experts say there isn't much of a deal here. Trump signed the trade deal on Wednesday in a ceremony at the White House. Fox Business host Lou Dobbs was present and Trump gave him a shout-out, calling him "the great Lou Dobbs." On his show Wednesday night, Dobbs touted the agreement as possibly "the beginning of what would be a new era of prosperity for much of the globe." He went on to play the clip of Trump talking about him and indicated again that he thinks Trump is the greatest president in American history. https://www.mediamatters.org/fox-news/fox-news-hypes-non-accomplishments-trumps-phase-1-china-trade-deal

Fox News and Wash. Examiner deny new story of Russian hacking of Burisma. And if it did happen, they say, it was really Hunter Biden's fault. Right-wing media outlets are now waging an assault against this week's reporting in The New York Times and The Washington Post that Russian hackers had successfully targeted Ukrainian energy company Burisma -- an apparent effort to dig up (and eventually disseminate) dirt on Democratic presidential candidate Joe Biden and his son Hunter, who previously served on the board of Burisma, in the same manner as Russia had targeted Hillary Clinton through hacks of her campaign and the Democratic National Committee back in 2016. https://www.mediamatters.org/laura-ingraham/fox-news-and-wash-examiner-deny-new-story-russian-hacking-burisma

Trump sent 681 live tweets in 2019, 657 of them in response to Fox shows. Trump's 2019 live tweets demonstrate that he spent the year consuming vast quantities of Fox programming, to the virtual exclusion of other television news outlets. Of his 681 live tweets, 657 came in response to either the conservative network Fox News (559 live tweets) or its sister network, Fox Business (98 live tweets). Trump also sent eight live tweets in response to One America News Network, a far-right Fox competitor that Trump has praised in order to encourage Fox to hew even closer to his line. His remaining 16 live tweets over the course of the year were split between CBS (1 live tweet), CNBC (3), CNN (2), MSNBC (5) and NBC (5).  https://www.mediamatters.org/fox-news/study-trump-sent-657-live-tweets-fox-programming-2019
8. Trump Plans to Expand Travel Restrictions to Seven Countries
The Trump administration plans to add to the number of countries covered under its travel restrictions, including Nigeria, Africa's most populous country, along with others in Africa and Asia, according to administration officials who have seen the list.
The administration plans to place visa restrictions limits on travelers from seven new countries: Belarus, Eritrea, Kyrgyzstan, Myanmar, Nigeria, Sudan and Tanzania. The countries wouldn't all face blanket bans on travel to the U.S., but could have restrictions placed on specific types of visas, such as business or visitor visas, administration officials said. https://www.wsj.com/articles/trump-administration-plans-to-add-seven-countries-to-travel-ban-list-11579638341
9. How Trump fused his business empire to the presidency
Trump's early decision to maintain his grip on his sprawling real estate empire — despite his pledge to put his business aside while in the White House — has created a vast web of potential conflicts of interest, accusations about his policies being driven by his business interests and even possible violations of the law, according to documents and interviews.
Even as Trump kicks off his fourth year as president this week facing the stain of an impeachment trial, he has managed to skirt accountability for widespread possible conflicts of interest that critics say represent a blatant abuse of power and create dangerous risks to the integrity of the presidency. https://www.politico.com/news/2020/01/20/trump-businesses-empire-tied-presidency-100496
10. Biden campaign video hitting debunked GOP claims on his Ukraine involvement
Joe Biden's Rapid Response Director Andrew Bates breaks down what really happened in Ukraine at https://youtu.be/9N0tUHCpt00
11. Cipollone's Lies
Cipollone says "Not even Mr. Schiff's Republican colleagues were allowed into the SCIF" during impeachment investigation. That's 100% false. Any member of the three investigating committees could attend, and many Republicans did! https://twitter.com/GarrettHaake/status/1219704299669872645
Cipollone on Schiff's summary of the call: "He read it to the American people, and he didn't tell them it was a complete fake." In fact, Schiff disclosed up-front that his summary of what Trump said on the call was "shorn of its rambling character and in not so many words." https://twitter.com/AaronBlake/status/1219704931541749760
12. From the Late Shows
The Late Show with Stephen Colbert: Giuliani Acted With Trump's "Knowledge And Consent" When Conspiring With Parnas In Ukraine: https://youtu.be/vzMHLDZh0Yo

The Late Show with Stephen Colbert: Parnas Implicates Trump & Co. In Ukraine Crimes, And He Has Receipts: https://youtu.be/DnvTA9T_WfY
1. Washington Post Editorial: Trump's impeachment defense is designed to destroy guardrails on presidential power
SENATE REPUBLICANS on Tuesday were laying the groundwork for a truncated trial of President Trump that would be a perversion of justice. Proposals by Democrats to obtain critical evidence were voted down. Unless several senators change their positions, votes to acquit Mr. Trump on the House's charges of abuse of power and obstruction of Congress could come as soon as next week without any testimony by witnesses or review of key documents. That would be unprecedented compared with previous presidential impeachments. It would gravely damage the only mechanism the Constitution provides for checking a rogue president.
Impeachment trial live updates
Yet the rigging of the trial process may not be the most damaging legacy of the exhibition Republican Majority Leader Mitch McConnell (Ky.) is orchestrating in full collaboration with the White House. That might flow from the brazen case being laid out by Mr. Trump's . The defense brief they filed Monday argues that the president "did absolutely nothing wrong" when he pressed Ukrainian President Volodymyr Zelensky to launch investigations of Joe Biden and a Russian-promoted conspiracy theory about the 2016 election. It further contends that Mr. Trump was entirely within his rights when he refused all cooperation with the House impeachment inquiry, including rejecting subpoenas for testimony and documents. It says he cannot be impeached because he violated no law.
By asking senators to ratify those positions, Mr. Trump and his lawyers are, in effect, seeking consent for an extraordinary expansion of his powers. An acquittal vote would confirm to Mr. Trump that he is free to solicit foreign interference in the 2020 election and to withhold congressionally appropriated aid to induce such interference. It would suggest that he can press foreign leaders to launch a criminal investigation of any American citizen he designates, even in the absence of a preexisting U.S. probe, or any evidence.
The defense would also set the precedent that presidents may flatly refuse all cooperation with any congressional inquiry, even though the House's impeachment power is spelled out in the Constitution. And it would establish that no president may be impeached unless he or she could be convicted of violating a federal statute — no matter the abuse of power. Those are principles that Republicans will regret if they conclude that a Democratic executive has violated his or her oath of office. Yet Mr. Trump demands they adopt his maximalist position regardless of the consequences. https://www.washingtonpost.com/opinions/trumps-impeachment-defense-is-designed-to-destroy-guardrails-on-presidential-power/2020/01/21/5d4f19fa-3c6c-11ea-b90d-5652806c3b3a_story.html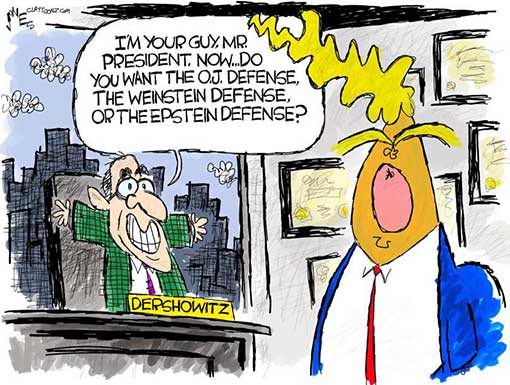 2. Jonathan Chait: Senate Republicans Will Pay a Price for Helping Trump Conceal Evidence
The first day of President Trump's impeachment trial centered on the rules of evidence. Democrats want to admit documents and testimony the administration has blocked, and Republicans want to, well, block them. So far, Mitch McConnell is winning. He held his entire caucus together in a series of votes to block any new evidence from being admitted before the trial begins.
But the victory is Pyrrhic. Given that a vote to remove is almost inconceivable — Trump could shoot somebody on Fifth Avenue and all that — the trial is fundamentally an exercise in shaping public opinion about Donald Trump and his abuses of power. By voting to withhold evidence, Republicans are placing themselves in the unpopular position of abetting a cover-up.
From the outset, Trump announced that he was declaring his conduct in the Ukraine affair exempt from any congressional investigation or scrutiny. The president not only refused to personally testify (as Bill Clinton did with Kenneth Starr) but ordered his bureaucrats to likewise boycott all congressional proceedings, and blocked all documents. His clear plan was to drag the debate out in the courts so long it would either go beyond the election, or be resolved so late in the process that impeachment seemed to be superseding the election.
McConnell has held his handful of wavering members together by delaying any decision on new evidence. It is obviously not a choice he relishes. The impeachment trial is an exercise in displaying the Republican Party's institutional culpability in Trump's contempt for the rule of law. At some point, they will have to decide to damn the president or to damn themselves. http://nymag.com/intelligencer/2020/01/impeachment-senate-evidence-testimony-trial-mcconnell-trump-ukraine.html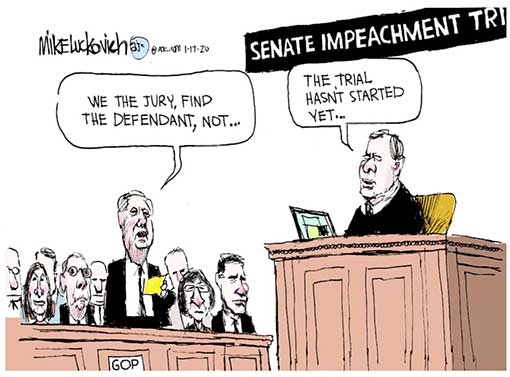 3. Susan B. Glasser: "Ass-Backwards" And (So Far) Witness-Free, Trump's Senate Impeachment Trial Begins
It was only a couple hours into the first day of arguments in the Senate impeachment trial of Donald John Trump when Adam Schiff, the lead House manager prosecuting the case, summed up the day's proceedings. The Senate's proposed process for the trial, he said, was simply "ass-backwards," requiring the House to present its case before considering whether to call witnesses and demand White House documents that Trump has been withholding.
Schiff's edgy remark caused a jolt in the chamber. Senators who had been nodding off or staring down at their legal pads suddenly looked up. But it turns out that you can swear like that on the Senate floor. Schiff wasn't even the first person to use the phrase, although David Vitter, the former senator from Louisiana, got in trouble back in 2008 when he did, and he had the remark stricken from the official record. Whether or not it was appropriate, in a stodgy institution that does not even allow reporters to wear denim in its hallowed chamber, Schiff's remark certainly was incisive and to the point.
But after many hours of debate on Tuesday afternoon and evening, the Republican rules proposed by Senate Majority Leader Mitch McConnell finally prevailed, in a party-line vote, as Schiff knew they would. Backwards it will be. A trial may not be a trial without any testimony, but that is how the Senate will proceed with this one. "Have you ever heard of a trial that doesn't have evidence? That doesn't have witnesses?" Zoe Lofgren, another one of the House managers, asked. https://www.newyorker.com/news/letter-from-trumps-washington/ass-backward-and-so-far-witness-free-trumps-senate-impeachment-trial-begins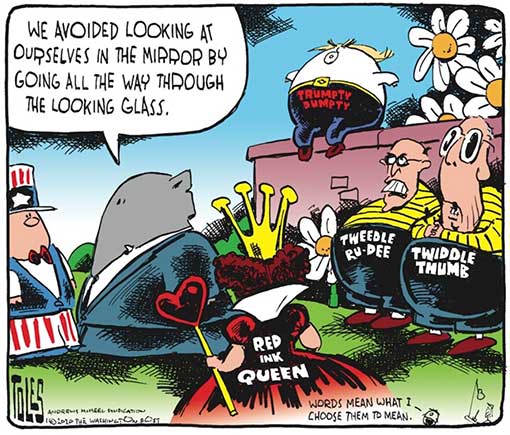 4. John Stoehr: Mitch McConnell and the Senate Republicans Neuter Themselves for Donald Trump
Deliberation isn't what we saw Tuesday. Deliberation isn't what we'll see during the rest of the trial. Just as he rammed through one mirror-fogging judicial nominee after another without complaint from his conference, the Senate majority leader is stuffing a month's worth of deliberation (at least) into three days. He is turning "the greatest deliberative body" into the world's fastest kangaroo court. Roberts' admonishment was met with howls of derision. It should have been met with howls of laughter.
Our sympathies should be with the Democrats. They were not asking the Senate to convict Trump (though they argued strenuously for his guilt). They were asking senators to behave normally by subpoenaing records, entering new evidence, and calling new witnesses. They were asking for transparency, accountability and due process. They were asking for normal things, things you see on "Law & Order." But instead of behaving normally, instead of living up to their reputations, every single Republican (53 in all) voted down half a dozen and more amendments creating rules and conditions rising to the Senate's title as "the world's most deliberative body."
But they did something else. Before they have determined whether the president is guilty of charges against him, they have decided to surrender their power to even ask the question. The US Constitution gives the Senate, and only the Senate, the sole power to prosecute a president. By voting against normal and ordinary due process, however, every Senate Republican has said they have no such power. They have muzzled themselves. They have neutered their institution. They have created an anti-democratic and anti-republican grounds for future presidents to declare themselves untouchable.
Why not allow due process, then come to a conclusion, even if that conclusion is not guilty? Why not allow due process? One answer is that due process would reveal the president's guilt to the American people. The solution is getting the trial over with as fast as possible to allow memories to fade before Election Day. But there's a better way of understanding this. Due process is the quintessential American way. But due process, for Trump and his GOP, is getting in the way. In other words, it's the problem.
There's a word for individuals who not only flout the rules but attack their legitimacy. There's a word for individuals who not only break democratic norms but undermine the institutions enforcing them. That word isn't republican. Nor is it Republican.
It's fascist. https://stoehr.substack.com/p/mitch-mcconnell-and-the-senate-republicans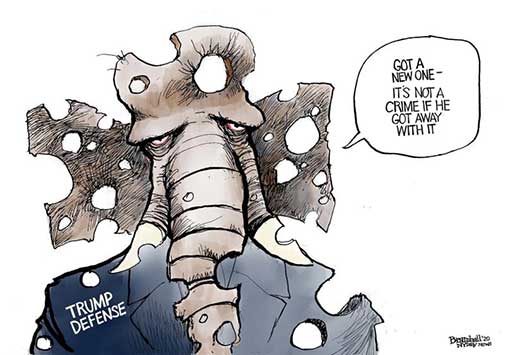 5. George Conway and Reed Galen: Trump's Senate impeachment hearings will be driven by the GOP's fear
On Tuesday, the impeachment trial of President Donald John Trump began in the United States Senate. It ought to be a moment of pride in our constitutional order, a testament to the framers' vision that no one, not even a president, is above the law. And as such, it also ought to be a moment of patriotic duty, when all members put the Constitution and the rule of law above party and personal interests.
But instead it's an occasion dominated by something quite different.
Fear.
Fear of Trump drives the actions of the spineless GOP caucus, as does fear of the truth, and fear of a partisan base to which none dare speak the truth.
Perhaps that should come as no surprise. For it was fear that brought us to this critical juncture in American history.
Fear was what Trump used to spin up the Republican base, using stereotypes, lies and hyperbole to dismantle decades of American political discourse.
Fear of facing off against former Vice President Joe Biden was what led Trump to demand, as a price for vital military and security aid, that Ukraine help him smear Biden.
Fear drives Republican members of the Senate today. Fear is what Senate Majority Leader Mitch McConnell is acting upon as he attempts to limit the length and scope of Trump's trial. Fear of Trump drives the actions of the spineless GOP caucus, as does fear of the truth, and fear of a partisan base to which none dare speak the truth. https://www.nbcnews.com/think/opinion/trump-s-senate-impeachment-hearings-will-be-driven-gop-s-ncna1118071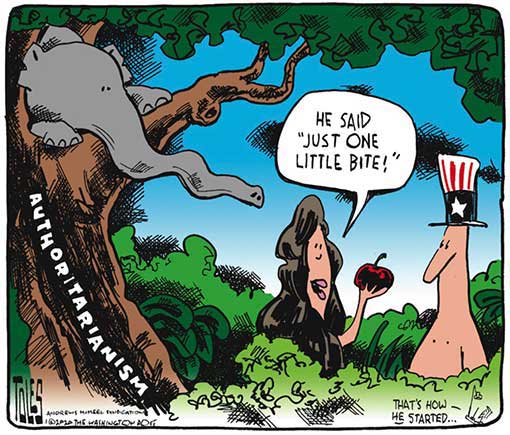 6. NY Times Editorial: Amy Klobuchar and Elizabeth Warren, The Democrats' Best Choices For President
American voters must choose between three sharply divergent visions of the future.
The incumbent president, Donald Trump, is clear about where he is guiding the Republican Party — white nativism at home and America First unilateralism abroad, brazen corruption, escalating culture wars, a judiciary stacked with ideologues and the veneration of a mythological past where the hierarchy in American society was defined and unchallenged.
On the Democratic side, an essential debate is underway between two visions that may define the future of the party and perhaps the nation. Some in the party view President Trump as an aberration and believe that a return to a more sensible America is possible. Then there are those who believe that President Trump was the product of political and economic systems so rotten that they must be replaced.
The Democratic primary contest is often portrayed as a tussle between moderates and progressives. To some extent that's true. But when we spent significant time with the leading candidates, the similarity of their platforms on fundamental issues became striking.
Nearly any of them would be the most progressive president in decades on issues like health care, the economy and government's allocations of resources. Where they differ most significantly is not the what but the how, in whether they believe the country's institutions and norms are up to the challenge of the moment.
There are legitimate questions about whether our democratic system is fundamentally broken. Our elections are getting less free and fair, Congress and the courts are increasingly partisan, foreign nations are flooding society with misinformation, a deluge of money flows through our politics. And the economic mobility that made the American dream possible is vanishing.
Both the radical and the realist models warrant serious consideration. If there were ever a time to be open to new ideas, it is now. If there were ever a time to seek stability, now is it.
That's why we're endorsing the most effective advocates for each approach. They are Elizabeth Warren and Amy Klobuchar.
Senator Warren is a gifted storyteller. She speaks elegantly of how the economic system is rigged against all but the wealthiest Americans, and of "our chance to rewrite the rules of power in our country," as she put it in a speech last month. In her hands, that story has the passion of a convert, a longtime Republican from Oklahoma and a middle-class family, whose work studying economic realities left her increasingly worried about the future of the country. The word "rigged" feels less bombastic than rooted in an informed assessment of what the nation needs to do to reassert its historic ideals like fairness, generosity and equality.
She is also committed to reforming the fundamental structures of government and the economy — her first commitment is to anti-corruption legislation, which is not only urgently needed but also has the potential to find bipartisan support. She speaks fluently about foreign policy, including how to improve NATO relations, something that will be badly needed after Mr. Trump leaves office.
Amy Klobuchar has emerged as a standard-bearer for the Democratic center. Her vision goes beyond the incremental. Given the polarization in Washington and beyond, the best chance to enact many progressive plans could be under a Klobuchar administration.
The senator from Minnesota is the very definition of Midwestern charisma, grit and sticktoitiveness. Her lengthy tenure in the Senate and bipartisan credentials would make her a deal maker (a real one) and uniter for the wings of the party — and perhaps the nation.
Ms. Klobuchar and Ms. Warren right now are the Democrats best equipped to lead that debate.
May the best woman win. https://www.nytimes.com/interactive/2020/01/19/opinion/amy-klobuchar-elizabeth-warren-nytimes-endorsement.html
7. Bess Levin: Trump's "Phase One" Trade Deal Is Another Classic Trump Scam
Many moons ago, Donald Trump boldly proclaimed that "trade wars are good, and easy to win." That statement was obviously absurd at the time and 22 months later, the assessment still stands considering what the U.S. economy, consumers, and companies had to go through to get today's "phase one" trade deal with China—which accomplishes almost none of the things that the administration insisted a long, protracted trade war would extract.
Trump, of course, has described the deal as a historic achievement the likes of which the world has never seen. "Today we take a momentous step, one that has never been taken before with China toward a future of fair and reciprocal trade with China," he said at a ceremony at the White House. "Together we are righting the wrongs of the past." And, to be fair, the U.S. did get a few things out of Beijing, like an agreement to purchase roughly $200 billion in U.S. goods over a two-year period, some concessions on intellectual property, and access to financial services, and a pledge to stop the practice of forcing foreign companies to turn over their technology. As is typically the case with any of Trump's branding exercises, though, it's not enough to trust him when he claims to have struck the most important, significant deal ever.
For one thing, as the New York Times notes, just 16% of the $200 billion in purchases will be of goods produced by farmers, who were hit extremely hard by the trade war (banks, the energy industry, and drug companies are major beneficiaries), and whose recovery won't happen overnight. For another, as Vox's Jen Kirby points out, China desperately needs agricultural products like soybeans and pork, so it was already prepared to buy such items, and might have done so anyway. And there's the question of whether U.S. farmers can even produce the amount China says it will purchase, which some experts believe may not be achievable.
While the U.S. has halted additional tariffs on Chinese goods that were scheduled to go into effect in December 2019 and will halve tariffs on $110 billion in goods announced last September, duties will remain on approximately $360 billion in Chinese goods, which of course U.S. companies and consumers will continue to pay for. In addition, China refused demands to include a clause promising not to hack American firms and will continue to heavily subsidize many of its state-run and private companies, a major point of contention that Trump cited as recently as September as a reason to reject a proposed deal. Despite the administration's claims, what was agreed on today is not exactly a lot to write home about, particularly considering the carnage Trump has caused over the last two years in order to get it.
Per the New York Times:
...those wins have come at a heavy price. The uncertainty created by Mr. Trump's tariff threats and approach to trade has weighed on the economy, raising prices for businesses, delaying corporate investments and slowing growth around the globe. Businesses with exposure to China, like Deere & Company and Caterpillar, have cut some workers and lowered revenue expectations, in part citing the trade war. And although Mr. Trump claims that China is paying for his tariffs, studies show that American companies are bearing much of the cost. Since July 6, 2018, when the first tariffs went into effect, companies have paid more than $42 billion in tariffs related to the trade war with China. https://www.vanityfair.com/news/2020/01/trump-phase-one-china-deal
8. Adam K. Raymond: Lev Parnas and His Powerful Republican Friends: A Photo Album
Republicans have spent months distancing themselves from Lev Parnas, the indicted businessman who worked with Rudy Giuliani to carry out President Trump's scheme to pressure Ukraine to investigate his domestic political opponents.
"I don't know those gentlemen," President Trump said last October after Parnas and his partner Igor Fruman were arrested as they attempted to flee the U.S. The claim quickly proved preposterous. Trump had personally met with Fruman and Parnas at least ten times, CNN reported, and many of those encounters were memorialized in photo form.
On MSNBC Wednesday, Parnas told Rachel Maddow that Trump's claims about not knowing him and Fruman are absurd. "He knew exactly who we were. He knew exactly who I was especially because I interacted with him at a lot of events," Parnas said. On CNN Thursday, he added that if Trump continues denying their relationship, he'll continue releasing new pictures of them together.
Trump is far from the only powerful Republican to have said "cheese" with Parnas, who has amassed an impressive collection of pictures with high-profile members of the Trump administration, the Trump family, and the GOP. For the public portion of the Parnas collection go to http://nymag.com/intelligencer/2020/01/lev-parnas-and-powerful-republican-friends-a-photo-album.html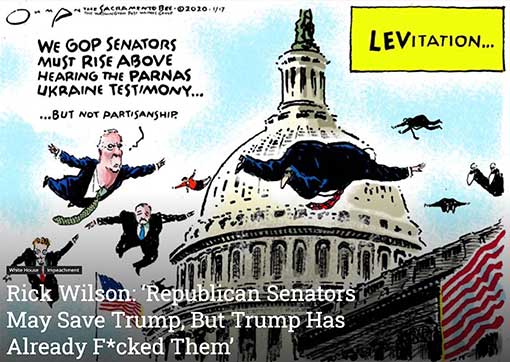 9. Abigail Tracy: "He Is On Fox News. He Is In California. He Is Everywhere But Doing His Job": As The Ukraine Plot Thickens, Mike Pompeo Is Missing In Action
With Pompeo's two-year anniversary at the helm of the State Department around the corner, it has become increasingly clear that Pompeo is not a typical secretary of state. He is a Trumpian secretary of state. "I actually can't even imagine what he can possibly be thinking to behave this way other than doing things that are out of the ordinary, doing things that are not the usual is exactly what the Trump crowd loves. Trump especially," a second former high-ranking State Department official told me earlier this week. "He is catering to his boss and nobody else. That is my only explanation for it."
Much like Trump, Pompeo appears far less interested in foreign policy than the reaction back home. "Pompeo, in my estimation, is simply a very ambitious domestic politician who doesn't represent the complexities of the world to the administration but rather sees his role and broadcasting whatever Trump thinks to the rest of the world. He apparently doesn't have a lot of ideological depth—despite the talk about Christian motivation and strong America rhetoric—but rather understands that what Trump wants is what America wants," a former senior diplomat told me. "Why should he care about legal precedents, historical traditions, strategic plans for the country in the next decade, or being very careful about the truth he learns from intelligence briefings? Taking a stand will only, eventually, put you at cross purposes with the president, and that—above all—is what he wants to and does avoid."
"He is on Fox News. He is in California. He is everywhere but doing his job," the former ambassador sighed. https://www.vanityfair.com/news/2020/01/mike-pompeo-masha-yovanovitch-ukraine-state-department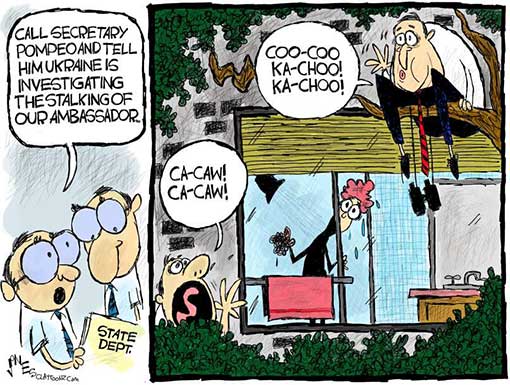 10. Jonathan Chait: William Barr Is Going After Trump's Enemies One by One
Trump is not arbitrarily having his opponents arrested. He is doing something more subtle, but still extremely dangerous: using the Department of Justice to selectively hold his opponents to the most exacting levels of legal scrutiny that are not broadly applied. It doesn't even matter that not every investigation brings charges, and the charges themselves probably won't hold up in court. The time, expense, and reputational cost of the investigations will be damaging enough.
Wittes's 2016 warning was chillingly prescient on this score. "A prosecutor — and by extension, a tyrant president who directs that prosecutor — can harass or target almost anyone, and he can often do so without violating any law," he wrote. "He doesn't actually need to indict the person, though that can be fun." It's easy to see how even honest figures — as Durham is reputed to be — can be brought along into this corrupt pattern. Each one is directed to investigate a single case. They're not charged with determining whether the law in question is being applied in a broadly consistent manner, only whether it was violated in a single instance.
The message Trump has sent to his bureaucracy is unmistakable. Political loyalists will be granted broad latitude, and displays of troublesome independence will be held to the strictest accountability. Fascism is not descending on Trump's America, and the rule of law has not disappeared. But its slow disintegration has crossed a dangerous threshold. http://nymag.com/intelligencer/2020/01/william-barr-going-after-trumps-enemies-one-by-one-comey-fbi-department-justice.html
11. Timothy Egan: Trump's Evil Is Contagious
On any given day, Trump is vindictive, ignorant, narcissistic, a fraud — well, his pathologies are well known. But it's time to apply the same word to him as the brave Navy man did to the renegade in his unit. Under Trump, the United States is a confederacy of corruption, driven by a thousand points of evil. And that evil is contagious.
We all grew up hearing an ageless warning about public morality: that the only thing necessary for the triumph of evil is for good people to do nothing.
The presumed outcome is reassuring, a story we tell ourselves. But in the last three years, that homily has been proved right, in the country where it was not supposed to happen. The Trump presidency has shown just how many ostensibly good people will do nothing, and how evil, when given a free rein at the top, trickles down.
"Do not, as my party did, underestimate the evil, desperate nature of evil, desperate people," writes Rick Wilson, the Republican operative and witty Never-Trumper, in "Running Against the Devil," his new book. "There is no bottom. There is no shame. There are no limits."
Here's the two-step that all good people must take now: First, realize the level of depravity that has taken over the White House, and second, fight accordingly.
"Do not come to this fight believing that the Trump team views any action, including outright criminality, as off limits," writes Wilson. This doesn't mean you have to cheat, lie or coerce. But it means you do have to fight, or be counted among the do-nothings who allowed evil to flourish. https://www.nytimes.com/2020/01/17/opinion/trump-america.html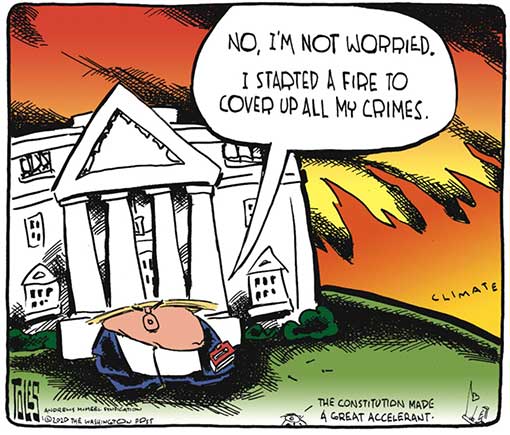 12. Ashwin Phatak: Trump Judges Are Playing Keep-Away With His Tax Returns and Other Financial Records
On Tuesday, Judge Trevor McFadden of the U.S. District Court for the District of Columbia issued a surprising order further delaying any potential release of President Donald Trump's tax returns to the House Ways and Means Committee. McFadden, who was appointed by Trump to the federal bench, has had that committee's subpoena of Trump's tax returns before his court since July and has yet to issue a ruling. In Tuesday's order, the judge continued to delay, putting the proceedings on hold until the U.S. Court of Appeals for the District of Columbia Circuit decides a completely separate matter. The tax returns case—which has nothing to do with the ongoing impeachment inquiry of Trump—is now on hold until the circuit court rules on the House's subpoena of testimony for former White House counsel Don McGahn in the impeachment inquiry. Because these cases have few similarities, it is difficult to understand McFadden's latest order as anything other than an effort to delay the release of Trump's tax returns for as long as possible. Coupled with D.C. Circuit Judge Neomi Rao's effort to block a subpoena of Trump's financial records in the Mazars USA case, this is another instance of one of Trump's appointees to the federal bench taking a position that could undermine Congress' ability to access critical information about this president's finances. https://slate.com/news-and-politics/2020/01/trump-judges-trevor-mcfadden-neomi-rao-tax-returns.html
13. Bess Levin: Not A Joke: Trump Is Looking Into Making Bribery Legal
The trouble with the Trump administration, beyond the moral bankruptcy, rampant nepotism, sheer incompetence, mass corruption, white nationalism, idiot children, assault on the concept of truth, and pure evil, is that oftentimes it's beyond parody. For instance, we know Donald Trump is a wildly shady businessman who believes the purpose of the presidency is to enrich his family and friends, that he thinks the law is for suckers, and that he might be a tax cheat, but it would just be too much to learn that he was actively looking into making bribery legal. And yet!
Larry Kudlow told reporters at the White House on Friday, responding to a question about the Foreign Corrupt Practices Act. "I would just say: We are aware of it, we are looking at it, and we've heard complaints from some of our companies," Kudlow said. "I don't want to say anything definitive policy-wise, but we are looking at it."
Kudlow is, of course, beyond parody himself, having once praised the Trump administration for almost exclusively hiring millionaires, because, and we quote, "Wealthy folks have no need to steal or engage in corruption." https://www.vanityfair.com/news/2020/01/donald-trump-bribery-laws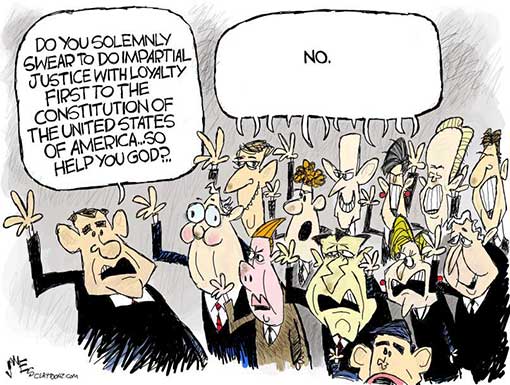 14. Windsor Mann: If Trump loves America, why does he call our cities 'disgusting' and 'embarrassing'?
What's revealing about so many self-described nationalists is their contempt for the nation they claim to love. When President Trump talks about America, he talks about how people who don't love it should leave it — and then he talks about how awful it is and how much he doesn't love it.
Trump's vilification of America's cities and coasts feeds the notion that urban America isn't "Real America." Last month, Republican National Committee Chairwoman Ronna McDaniel tweeted a picture of seven Democrats leading impeachment efforts and said, "A picture is worth a thousand words: 3 liberals from California, 3 from New York, and 1 from Massachusetts. The Democrats pushing impeachment couldn't be more out of touch with most Americans if they tried!"
But who are these "most Americans"? The three states McDaniel cited account for 66 million people, or 20% of the U.S. population. According to McDaniel, states with the most Americans are the least American. Americans who live on farms tens of miles away from other Americans are somehow more "in touch with Americans" than are Americans who live in densely populated cities with other Americans. But if you get on a crowded subway, where you can literally touch other Americans, you're "out of touch" with Americans.
This makes no sense, of course, but it isn't supposed to. McDaniel was making a moral claim, not an empirical one. Empirically, it is Republicans, not Democrats, who are out of touch with most Americans. The Republican Party is getting more rural, more male, less educated, less wealthy, older, whiter and smaller — in short, less like the country.
Trump appeals to people who feel alienated in modern America. Today, more Americans do yoga than watch NASCAR, and there are more yoga instructors in America than coal miners.
Nationalists are not patriots. Patriots love America as it is. Nationalists love America as they imagine it once was and detest America as it actually exists. Trump's revulsion for real America is personal. He hates every part of America that doesn't love him, which is most of America. https://www.latimes.com/opinion/story/2020-01-19/trump-says-he-loves-america
15. Jacob Levy: The Metastasizing Crisis: Executive Authority and the Crumbling of the Separation of Powers
The Supreme Court's decision in July to allow the Trump administration to divert Pentagon funds budgeted for other purposes to the construction of a wall on the Mexican border was not the most important or dramatic moment of the week. It probably wasn't even the most important or dramatic moment of the day; who can remember anymore? It pales in moral importance compared with either the proposal to cut the number of admitted refugees to near zero, or the ongoing regime of mass detention in inhumane conditions and family separation, or the proposed increase in fast-track deportations without judicial process or oversight when even now immigration officials seize and detain U.S. citizens, sometimes for weeks at a time.
But it stands out to me as a particularly clear moment when the assault on immigration, driven by an ideology of racist nationalism, intersects with the crumbling of the separation of powers and the falling away of constraints on the presidency. Legislative control over the "power of the purse" is a foundational principle of the separation of powers, and Congress has not only repeatedly refused to fund construction of a wall, but passed a resolution expressly disapproving of President Trump's declaration of a state of emergency to allow himself to repurpose funds. Trump vetoed the disapproval, and an override failed. The Court's precedent seems to decisively shift budgetary control to the executive, subject to legislative reclamation only with two-thirds majorities. https://www.niskanencenter.org/the-metastasizing-crisis-executive-authority-and-the-crumbling-of-the-separation-of-powers/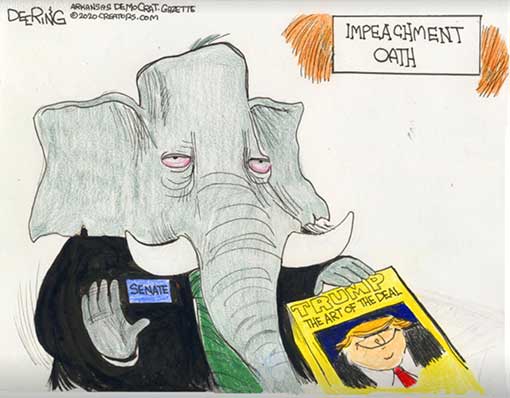 16. Jonathan Chait: Now We Know What Would Have Happened If Joe McCarthy Became President
At times throughout his presidency, Donald Trump has described various antagonists as forms of "McCarthyism." The Obama administration's imagined wiretap of his office, the Mueller investigation, the House Judiciary Committee probe into his finances, and actress Debra Messing's request that donors at a Trump fundraiser be identified — they all reminded Trump of the notorious red-baiting Wisconsin senator.
Trump obviously has no principled opposition to smear tactics or casually accusing his domestic opponents of working on behalf of American enemies. In recent days, he has circulated mocked-up images of Nancy Pelosi and Chuck Schumer wearing Muslim garb in front of an Iranian flag, and told rallygoers that he declined to brief Congress on the attack on Qasem Soleimani because Adam Schiff supposedly would have betrayed the government by revealing the plan. Trump baselessly accuses his critics of treason so casually it barely makes news any more, a feat even McCarthy couldn't manage.
Yet for all the frequency with which his name is invoked, McCarthy's rise and fall has received surprisingly little attention as a historical Rosetta Stone. McCarthy is surely the closest parallel to Trump that can be found in post-war history. Those who recall the period of social terror he helped unleash would be the least surprised at another right-wing demagogue's rise to power. Thinking about McCarthy's era in juxtaposition to Trump's should change the way we think about both. http://nymag.com/intelligencer/2020/01/joe-mccarthy-donald-trump-conservatism-history-roy-cohn.html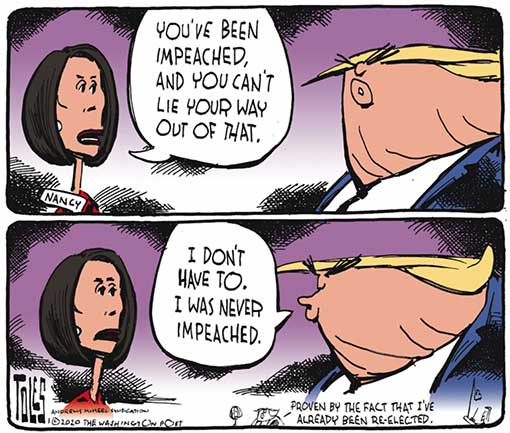 17. Rex Huppke: Virginia gun rally shows I might be doing this whole 'white man' thing wrong
As I watched thousands of white men proudly spend Martin Luther King Jr. Day toting firearms down the streets of Virginia's capital city, angrily protesting proposed gun laws supported by a large majority of the state's residents, I reached an inescapable conclusion: I might be white-man-ing incorrectly.
The Monday protest seemed to highlight my many failings as a white man in his late 40s. For example, I have spent most of my adult life thinking it would be, at the very least, rude for a civilian to carry an assault rifle around in public, even if that civilian had the right to do so.
Apparently I was mistaken. Monday's rally showed that a large adult male holding a high-powered weapon in public while demanding something most people oppose is the purest expression of freedom and patriotism and not, as I previously suspected, a selfish display aimed at making others feel threatened and uncomfortable.
How I could be so wrong is beyond me.
What brought pro-gun protesters, militia members, conspiracy theorists and a sprinkling of neo-Nazis to Richmond, Virginia, is gun control legislation proposed by the state's newly Democratic-controlled General Assembly. The legislation, which I idiotically thought sounded sensible, includes:
A one-handgun-purchase-per-month limit.
Universal background checks on gun sales.
Language that allows localities to ban guns in some public places.
A "red flag" law that would help authorities remove guns from anyone deemed dangerous to themselves or others.
Turns out I should view those ideas as "tyranny." I regret the error.
The other fundamental error I made was not realizing that the views of a small number of predominantly white, male gun worshippers should take precedent over everyone else's view.
Democrats took control of the state legislature and the governor's office on a platform of tougher gun laws.
A September Washington Post-Schar School poll found 88% of Virginians support expanding background checks and 82% support "red flag" legislation. The poll also showed that more than 80% of Republicans, Democrats and independents support universal background checks.
Some of that thinking might have been spurred by actual data. The gun-control advocacy group Gun Violence Archive reported Monday that in the first 20 days of the new year, there have been: 763 gun deaths; 1,427 gun injuries; 28 children ages 11 and younger shot; 150 kids and teenagers ages 12 to 17 shot; 15 police officers shot; and 14 mass shootings.
Just Sunday night, two people were killed and 15 wounded when a gunman fired at a line of people waiting outside a bar in Kansas City, Missouri, to celebrate the Super-Bowl-bound Kansas City Chiefs' victory. https://www.chicagotribune.com/columns/rex-huppke/ct-virginia-rally-richmond-gun-control-northam-trump-huppke-20200120-gb74ysw2anbh5h25cfv6auhefy-story.html
18. John Stoehr: The Democrats' Best Move Is Highlighting Mitch McConnell's Corruption of a Fair Trial
Someone needs to invent an expression to describe the experience of being surprised by the surprise of others. Maybe the Germans have a long word for what I'm feeling. To me, it seems pretty clear Mitch McConnell does not care about the Constitution. He does not care about the rule of law. He does not care about the common good or commitments to a democratic covenant. These are nice things to pay lip-service to. These are impediments to get around. The point of politics is power. Power is all.
That the Senate majority leader is doing everything possible to create procedural conditions with which to expedite Donald Trump's acquittal should not be surprising. It should be expected, especially by serious and sober intellectuals engaging in public affairs. And yet, on this opening day of the Senate's impeachment trial, these same people seem to be downright shocked—shocked!—to witness McConnell's cold-blooded and cynical moves to protect the most criminal president of our lifetimes.
But, even as I expect the worst from a fascist Republican Party, I don't feel hopeless. The same people expressing shock also claim democracy is doomed if the president is exonerated for cheating. He will surely cheat again! Yes, indeed, that's what lying, thieving, philandering sadists do. But that doesn't mean the end of our democracy. That's merely more of the same. As Jerry Nadler put it, Trump "welcomed" foreign interference in 2016 and he "demanded" it for 2020. Undermining the will of the people is treasonous, but that's nothing compared to Vladimir Putin's approval. https://stoehr.substack.com/p/the-democrats-best-move-is-highlighting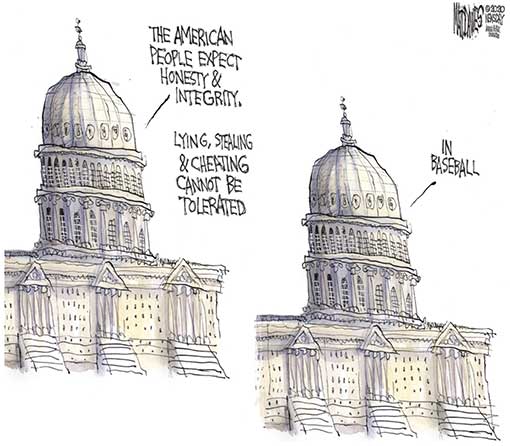 19. Michael Gerson: Trump pushes his party to normalize corruption 
With the impeachment trial of President Trump beginning in earnest, right-wing populism has come full circle. Trump was elected on the theory that American politics had become corrupt and broken. Now he is calling upon his party and his followers to normalize corruption and brokenness as essential features of our political order. It is a bold maneuver by a skilled demagogue. Trump has cultivated disrespect for politics as a dirty business and now seeks to benefit from dramatically lowered public standards.
The question at stake in the Senate trial is plain: Is the use of public funds as leverage to gain private, political benefits from a foreign government an impeachable abuse of presidential power? The matter is so simple that Trump's Republican defenders are reduced to babbling incoherence in trying to avoid it. When asked whether Trump's solicitation of foreign interference in the 2020 presidential election was proper, Sen. Richard C. Shelby (R-Ala.) responded, "Well, those are just statements, political. They make them all the time. . . . People do things. Things happen."
"Things happen." This is a revealingly ludicrous response to a charge of public corruption. No, trying to cheat in a presidential election is not like losing your keys or getting caught in the rain without your umbrella. Those are the kinds of "things" that just happen. The evidence that Trump cut off military aid to a friendly government in the middle of an armed conflict to compel that government to announce the investigation of a political rival is overwhelming. Several administration officials found this action so unethical, dangerous and disturbing that they expressed their alarm to relevant authorities. Those who dismiss such accusations as a political vendetta or a coup attempt are engaged in willful deception. https://www.washingtonpost.com/opinions/trump-pushes-his-party-to-normalize-corruption/2020/01/20/0922102c-3bc1-11ea-b90d-5652806c3b3a_story.html