March 5, 2020
ON THE RECORD. . .
"I'm going to go home and pray on it." — Pence's response when the idea of using a needle exchange to slow the infection rate of the illness was presented to him. His slow response to the quick spread of HIV in Scott County, Indiana in 2015 led to the infection of over 200 people.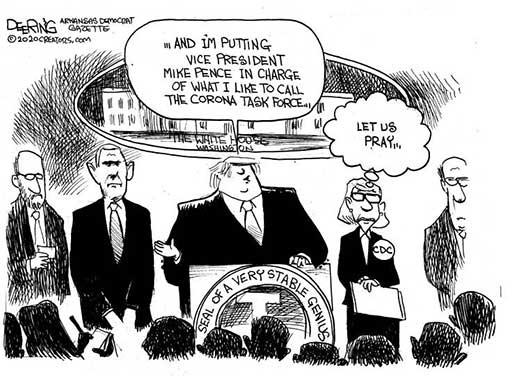 "He could personally suck the virus out of every one of the 60,000 people in the world, suck it out of their lungs, swim to the bottom of the ocean and spit it out, and he would be accused of pollution for messing up the ocean." — Former Gov. Mike Huckabee telling  Fox & Friends that President Trump didn't get enough credit for what he's done to halt the spread of coronavirus. The comments sent the hashtag #SuckItTrump soaring on Twitter.
"It's going to disappear. One day it's like a miracle, it will disappear." — Trump on the coronavirus crisis.
"The Democrats are politicizing the coronavirus. They're politicizing it. They don't have any clue. They can't even count their votes in Iowa. No, they can't. They can't count their votes. One of my people came up to me and said, 'Mr. President, they tried to beat you on Russia, Russia, Russia.' That did not work out too well. They could not do it. They tried the impeachment." The coronavirus "their new hoax." — Trump trying to cast the global outbreak of the coronavirus as a liberal conspiracy intended to undermine his first term, lumping it alongside impeachment and the Mueller investigation.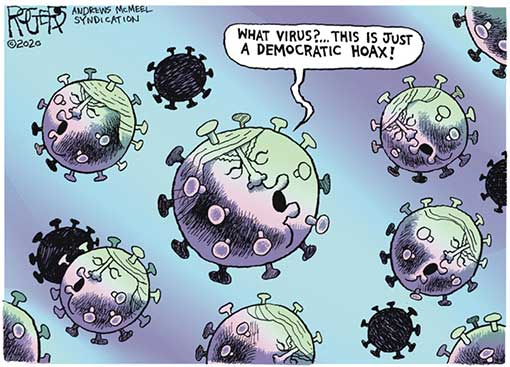 He didn't "have anything else to do," — Trump on why Vice President Mike Pence was picked to lead the federal government's response to the coronavirus outbreak.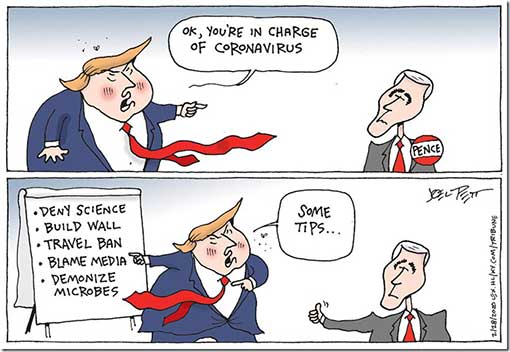 "The rules have been set. You don't change the rules in the middle of the game." — Joe Biden saying he would fight for the presidential nomination at the Democratic National Convention in Milwaukee in July if Bernie Sanders leads in the delegate count but does not have at least 1,991 pledged delegates, a number that constitutes a majority.
Pete Buttigieg goes out with style, grace and a bright future. — Jennifer Rubin.
"I think it's rigged against Bernie." — Trump to reporters at the White House before departing for a campaign rally in North Carolina, later tweeting that the Democrats were "staging a coup against Bernie."
"The only thing better for Trump than Bernie Sanders getting screwed out of the nomination is if Bernie Sanders wins the nomination. It's a win-win situation." --Michael Caputo, who worked on the Trump's 2016 campaign.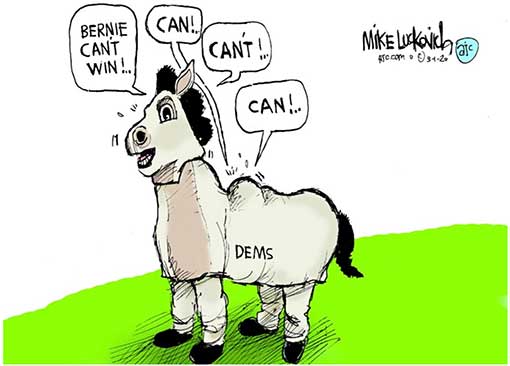 "We have the most dangerous person in the history of our country sitting in the White House. That's different from what happened in 2016. People thought Hillary would win so they didn't all turn out. Nobody could possibly think that somebody like Donald Trump could be elected president of the United States. But if you don't turn out, those who do turn out will call the shots." — Speaker Nancy Pelosi, in an interview with Variety.
"The thing that Biden lacked that literally, every other candidate had more of than he did: money and organization. Sanders and Warren had invested in field operations and the early vote for months. Bloomberg, of course, spent more than $500 million on TV ads and campaign infrastructure. But, in the end, Biden had the more powerful GOTV operation: Donald J. Trump. Democrats want to beat Trump. Biden is the guy who is most likely to do it. The end." — Amy Walter, National Editor, Cook Political Report.
---
IN THIS ISSUE
FYI
OPINION
1. Andy Borowitz: Tulsi Gabbard's Nine Supporters Urge Her To Drop Out Of Race
Representative Tulsi Gabbard (D-Hawaii) is under intense pressure to drop out of the 2020 race for the Democratic Presidential nomination, her nine supporters announced on Monday.

The announcement from Gabbard's nine followers surprised many Democrats, who had been unaware that the Hawaii congresswoman was still running.

In a conference call after the South Carolina primary, the nine members of Team Tulsi concluded that Gabbard's path to the nomination had grown "dauntingly narrow."

"We believe that Tulsi would be an amazing President of the United States," Harland Dorrinson, a spokesman for the other eight Gabbard supporters, said. "But we have regretfully come to the conclusion that this is not her time."

Dorrinson had nothing but praise for the way Gabbard had conducted her campaign, noting, "By not appearing in the past two debates, she did much better than Mike Bloomberg."

Reached at her office in Washington, a defiant Gabbard said that she was "in it to win it" and that she still had the strong support of her imaginary friends. https://www.newyorker.com/humor/borowitz-report/
2. Trump shifts his attention to surging Biden, stokes Sanders grievances
"Not only has the last 96 hours brought a seismic shift in the Democrat primary but the trajectory of the general election is now completely different," said Sam Nunberg, a former Trump aide.
The assault on Biden is partly focused on personal matters. As the results came in Tuesday evening, the Trump political apparatus amplified a message that Trump voiced at a rally earlier in the week — that Biden's mental faculties are diminished. "WOW! Sleepy Joe doesn't know where he is, or what he's doing. Honestly, I don't think he even knows what office he's running for!" Trump wrote.
But Republicans are also preparing to go after the former vice president on ideology. While Biden has associated himself with the Democratic Party's moderate wing, Republicans are eager to brand him as a foot soldier in a party governed by Sanders' socialist brand of liberalism. https://www.politico.com/news/2020/03/04/republicans-biden-super-tuesday-120697
3. Republicans lean into Biden probe as he surges in Democratic primary
Just hours after Joe Biden surged to the top of the Democratic presidential pack, Senate Republicans announced a new phase of their investigation targeting the former vice president and his son Hunter.
Senate Homeland Security Committee Chairman Ron Johnson (R-Wis.) told reporters on Wednesday that he is likely to release an interim report within one to two months on his panel's probe of Hunter Biden's ties to a Ukrainian gas company, Burisma.
"These are questions that Joe Biden has not adequately answered," Johnson said. "And if I were a Democrat primary voter, I'd want these questions satisfactorily answered before I cast my final vote."
Johnson insisted that the timing of his probe has nothing to do with the election calendar. But the renewed focus on Biden, coinciding with his surge to frontrunner status, has alarmed House Democrats as they brace for an all-out GOP assault on Biden and his son over an issue that was litigated at length during President Donald Trump's impeachment trial. https://www.politico.com/news/2020/03/04/joe-biden-probe-2020-election-120924
4. Fox News hosts accuse Democrats and journalists of 'weaponizing' corona to attack Trump
Some of President Donald Trump's most ardent supporters in media have downplayed concerns about the novel coronavirus this week and misled their audiences by telling them that news organizations and members of the Democratic Party are weaponizing fear in a bid to hurt the President's re-election efforts.Fox News hosts such as Sean Hannity and Laura Ingraham have advanced this conspiratorial line of thinking, as has conservative radio talk show host Rush Limbaugh, among others. https://www.cnn.com/2020/02/27/media/coronavirus-hannity-ingraham-limbaugh/index.html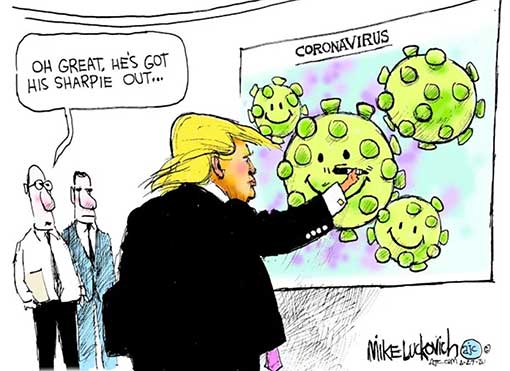 5. Trump campaign's biggest legal costs are to firm that sues and threatens media
The Trump campaign has shelled out more than $2 million in two years to a law firm known for suing media companies, a signal President Donald Trump's reelection strategy will be about going to war with the media as well as taking on his eventual Democratic rival.
Harder LLP -- the Trump campaign's highest-paid law firm in recent months, according to campaign finance data -- is a boutique Beverly Hills firm led by Charles Harder that is best-known for sending letters to newsrooms alleging defamation and for a lawsuit that gutted the website Gawker. The firm's profile couldn't be further away from the typical campaign ecosystem, where large teams of Washington lawyers advise campaigns on everything from campaign spending and to campaign finance, to voter issues and ballot access.
The mystery of why the campaign was paying Harder LLP became clearer Wednesday, when the firm representing the Trump campaign filed a lawsuit against The New York Times. The lawsuit alleged libel in an opinion piece. The Times responded to Trump's lawsuit by predicting that the news organization would triumph in the case.
"Fortunately, the law protects the right of Americans to express their judgments and conclusions, especially about events of public importance," a New York Times spokesperson said. "We look forward to vindicating that right in this case." The First Amendment provides broad protections for opinions about and news coverage of public figures, who face a higher bar than average people in proving defamation claims. https://www.cnn.com/2020/02/28/politics/charles-harder-trump-lawsuits/index.html
6. Federal appeals court blocks President Trump's 'Remain in Mexico' policy but stays its own ruling
A federal appeals court in California halted the Trump administration's "Remain in Mexico" asylum policy on Friday, removing one of the key tools the president has used to curb mass migration across the southern U.S. border.
The ruling was in effect for only a few hours, however, as the judges later granted a Trump administration request for an emergency stay "pending further order of this court." Justice Department lawyers said in court filings that 25,000 migrants have been ­waiting in Mexico and argued that they feared the ruling would lead to an influx on the southern border. https://www.washingtonpost.com/immigration/trump-remain-in-mexico-halted-federal-court/2020/02/28/87bbf85e-e481-11e9-b403-f738899982d2_story.html
7. Wisconsin appeals court rules voters targeted for purge will remain on the rolls
A Wisconsin appeals court Friday struck down an Ozaukee County judge's ruling that thousands of people had to be quickly removed from the state's voter rolls because they are believed to have moved.
The appeals judges also unanimously overturned a finding that state election officials were in contempt of court for not taking people off the rolls. 
The ruling comes a month after the District 4 Court of Appeals in Madison temporarily blocked the decisions by Circuit Judge Paul Malloy. Friday's ruling puts a more permanent block on the effort to take voters off the rolls, but those who brought the lawsuit promised to ask the Supreme Court to reverse the latest ruling. 
The appeals decision affects more than 200,000 voters who were targeted to be taken off the rolls in one of the most closely watched states for this year's presidential election. State officials believe the voters have moved, and supporters of the lawsuit argued they must be taken off the rolls until they re-register to vote. https://www.jsonline.com/story/news/politics/2020/02/28/wisconsin-appeals-court-friday-struck-down-ozaukee-county-judges-ruling-thousands-people-had-quickly/4903600002/
8. Federal judge rules Ken Cuccinelli unlawfully ran immigration agency
A federal district judge in D.C. ruled on Sunday that Ken Cuccinelli's placement as the acting top official at U.S. Citizenship and Immigration Services (USCIS) violated the Federal Vacancies Reform Act.
Why it matters: Policies that were put in place under Cuccinelli are now void, including a directive that gave asylum-seekers less time to consult with legal counsel before their initial "credible fear" interview with a USCIS officer. https://www.axios.com/federal-court-ken-cuccinelli-illegal-uscis-director-8479c5d1-0130-4477-bf98-a1e23be19ae0.html
9. The Head Of Trump's CDC Believes AIDS Was God Judgement Against Homosexuals
Centers for Disease Control and Prevention Director Robert Redfield faced scrutiny even as Donald Trump installed him as chief of the CDC back in 2018, largely regarding his religious views and how they might impact his work at the agency, as well as concerns over Redfield's lack of qualifications.
Laurie Garrett, a former senior fellow for global health at the Council on Foreign Relations, noted in an op-ed for CNN at the time that "Redfield's early engagement with the AIDS epidemic in the US in the 1980s and 90s was controversial."
Garrett explained: "As an Army major at Walter Reed Medical Institute, he designed policies for controlling the disease within the US military that involved placing infected personnel in quarantine and investigating their pasts to identify and track possible sexual partners. Soldiers were routinely discharged and left to die of AIDS, humiliated and jobless, often abandoned by their families."
Redfield also worked closely with the Christian organization Americans for a Sound AIDS/HIV Policy (ASAP) in the 1980s, she noted — a group which "maintained that AIDS was 'God's judgment' against homosexuals, spread in an America weakened by single-parent households and loss of family values."
In his 1990 book, "Christians in the Age of AIDS," Redfield and his co-author W. Shepherd Smith, Jr. — who headed ASAP — "denounced distribution of sterile needles to drug users and condoms to sexually active adults, and described anti-discrimination programs as the efforts of 'false prophets,'" Garrett wrote.
A couple of years later, Redfield and ASAP supported a House bill that would have subjected HIV positive individuals to "testing, loss of professional licenses and would have effectively quarantined them."
Now, the agency is knee-deep in dealing with the coronavirus, and Redfield is not receiving rave reviews. Politico reported that inside the agency, "officials have complained that Redfield and CDC have been slow to resolve essential problems, like clarifying whether dozens of public health labs around the nation will soon have diagnostics capable of testing for coronavirus." https://mavenroundtable.io/theintellectualist/news/the-head-of-trump-s-cdc-believes-aids-was-god-judgement-against-homosexuals-rDIzhOIAJ0W_AayBGh1KzQ
10. The DAILY GRILL
"Mr. Trump is in frequent contact with his youngest son, calling to check in on him and let him know of his whereabouts. But the press would never show you that because it doesn't fit that image of him, the press wants him to be this terrible monster.'" — Acting White House chief of staff Mick Mulvaney criticized the news media for refusing to cover what he described as President Trump's loving relationship with his 13-year-old son, Barron.

VERSUS

"Mr. Mulvaney's decision to discuss Barron Trump was curious, especially when Melania Trump, the first lady, and senior White House officials have gone to great lengths to make sure he enjoys the privacy afforded to other children of presidents growing up in the uncomfortable spotlight of the White House. The White House press corps has generally agreed to grant Barron Trump the same privacy." — Annie Karni in the NY Times.
11. From MEDIA MATTERS (They watch Fox News so you don't have to)
The Fox-Trump feedback loop is channeling Trump's coronavirus attacks on journalists, Democrats. The network hosts who influence Trump the most are fixating his attention on Democrats and the media, who they claim are deliberately politicizing coronavirus in order to damage his reelection campaign. And Trump is apparently listening to them and is spouting the same talking points. https://www.mediamatters.org/fox-news/fox-trump-feedback-loop-channeling-trumps-coronavirus-attacks-journalists-democrats

Amid coronavirus fears, Fox News tries its best to blame Bernie Sanders and socialism for the stock market downturn. https://www.mediamatters.org/fox-news/amid-coronavirus-fears-fox-news-tries-its-best-blame-bernie-sanders-and-socialism-stock

Fox & Friends agrees with Trump that coronavirus is a "hoax." https://www.mediamatters.org/coronavirus-covid-19/fox-friends-agrees-trump-coronavirus-hoax

At CPAC, Glenn Beck says the Bernie Sanders "revolution" will lead to "another Holocaust." Beck: "You can tell by the people [Bernie Sanders] surrounds himself with. Have you looked at that? The self-proclaimed communist. The founders and leaders of antifa, Black Lives Matter, Occupy Wall Street. Yes, the modern versions of the Weather Underground terrorist organization are all on his campaign staff. These are not grassroot groups of Democrats, they are Marxist revolutionaries who believe in nothing short of the complete overthrow of the United States and destruction of the Constitution and the free market system. And, please, let us stop calling them Bernie bros. Because they are not my brother. They are not something that is funny. They are Bernie Bolsheviks. They are Bernie Brownshirts. That's what they are. And their revolution will result in death and misery. Another Holodomor. Or another Holocaust. Or whatever we call the next great socialist atrocity." https://www.mediamatters.org/glenn-beck/cpac-glenn-beck-says-bernie-sanders-revolution-will-lead-another-holocaust

Alex Jones' Infowars is attempting to profit from the coronavirus outbreak. Jones: "I am very sad about this virus and very sad about the bioweapons and things that are going on, but it is an opportunity for people to take advantage of the products we have." The far-right conspiracy theory outlet Infowars has been aggressively hawking bulk food packages at inflated prices while spreading wild conspiracy theories about the coronavirus outbreak. Since December, the price of bulk food at Infowars' online store has more than doubled with the biggest package costing nearly $3,000. https://www.mediamatters.org/coronavirus-covid-19/alex-jones-infowars-attempting-profit-coronavirus-outbreak

Broadcast networks and major newspapers continue to ignore Trump's firing of pandemic leadership in coronavirus coverage. Since February 13, the major broadcast news networks have largely ignored President Donald Trump's 2018 firings of the "entire pandemic response chain of command" put into place by former President Barack Obama in response to the 2014 Ebola crisis. Aside from a handful of clips that show Democratic presidential candidates criticizing Trump's response to the coronavirus outbreak in the United States, this critical context has gone completely unmentioned by broadcast newscasters. https://www.mediamatters.org/coronavirus-covid-19/broadcast-networks-and-major-newspapers-continue-ignore-trumps-firing-pandemic

While praising Roger Stone's newfound religiosity, Alex Jones casually mentions he has beaten people to death. Jones: "I've had a few girlfriends and done a few things and beat people to death and things like that. I mean, I'm Mr. Worldly." https://www.mediamatters.org/alex-jones/while-praising-roger-stones-newfound-religiosity-alex-jones-casually-mentions-he-has
12. Glenn Beck, Steve King Go Conspiracy Crazy Over DHS Official's Death
The death of Philip Haney, a former Department of Homeland Security employee has caught the attention of prominent conspiracy theorists, who are pinning it on none other than Barack Obama's deep state agents. But so far, the people promoting the conspiracy theories—including Glenn Beck and Rep. Steve King (R-IA)—don't really have any evidence that the death is even a murder. Haney, 66, had been briefly famous on the right as a DHS "whistleblower" during the Obama administration, appearing at a congressional hearing and on Fox News to promote his claims that Obama officials had squashed his investigations into Islamic terrorism in the United States. Since then, Haney had claimed he was on a "special covert assignment" against prominent Minnesota Attorney General Keith Ellison, a prominent Muslim-American Democrat.  https://www.thedailybeast.com/glenn-beck-steve-king-go-conspiracy-crazy-over-dhs-officials-death
13. Texas closes hundreds of polling sites, making it harder for minorities to vote
Last year, Texas led the US south in an unenviable statistic: closing down the most polling stations, making it more difficult for people to vote and arguably benefiting Republicans.
"The fact of the matter is that Texas is not a red state," said Antonio Arellano of Jolt, a progressive Latino political organization. "Texas is a nonvoting state." https://www.theguardian.com/us-news/2020/mar/02/texas-polling-sites-closures-voting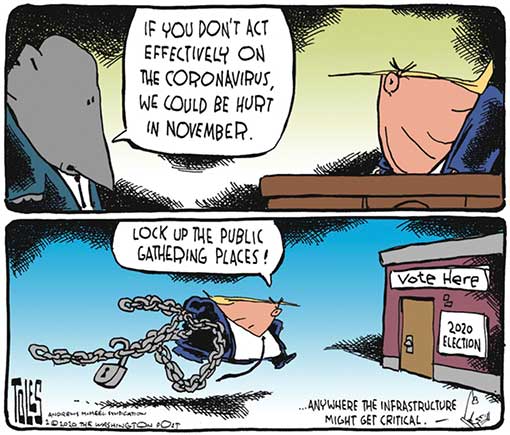 14. From the Late Shows
Coronavirus Cold Open - SNL: https://youtu.be/H4qvO0StKto

Weekend Update: Trump Talks Coronavirus - SNL: https://youtu.be/sGFkad-N-kk

The Late Show with Stephen Colbert: President Trump Is Purging The U.S. Government Of Anyone Not Blindly Loyal To Him: https://youtu.be/a8fHdf_7vcs

Coronavirus: Last Week Tonight with John Oliver (HBO): https://youtu.be/c09m5f7Gnic
1.  Jonathan Chait: As the World Reaches for Face Masks, Trump Buries His Head in the Sand
Trump inherited from his predecessor a large and capable corps of disease-prevention experts, including ones who guided the country through the 2014 Ebola outbreak and deliberately pared it back. Several officials in charge of pandemic response — Homeland Security adviser Tom Bossert; Dr. Luciana Borio, the National Security Council director for medical and biodefense preparedness; and Tim Ziemer, the NSC senior director for global health security and biodefense — have left or were fired since 2018. The global health community has been raising alarms for two years about the administration's lack of preparedness. "These moves make us materially less safe. It's inexplicable," complained the Center for Global Development's Jeremy Konyndyk when Ziemer departed and his staff was dissolved. An administration official explained the rationale to the Washington Post at the time, "In a world of limited resources, you have to pick and choose." And since there was no terrifying global pandemic at that moment, preparing for one didn't seem like a priority.
Bleeding the department charged with protecting our health seems bafflingly risky. From Trump's perspective, though, it looks like a shrewd streamlining process. Throughout his first term, the president has grown increasingly obsessed with internal subversion. He has reportedly been working through lists of officials his loyalists suspect of harboring impure thoughts about the president. The coronavirus has hit at the moment when Trump is intensifying an ongoing purge of the entire federal bureaucracy of any official suspected of disloyalty. "The federal government is massive, with millions of people — and there are a lot of folks out there taking action against this president, and if we find them, we will take appropriate action," warned White House spokesman Hogan Gidley just last week.
It is fair to assume that the supply of employees possessing both high levels of technical expertise and hearts purely devoted to Donald Trump is finite. Even as the crisis has appeared, though, the president has evinced far deeper concern with his staff's loyalty than its competence. https://nymag.com/intelligencer/2020/02/trump-coronavirus-response.html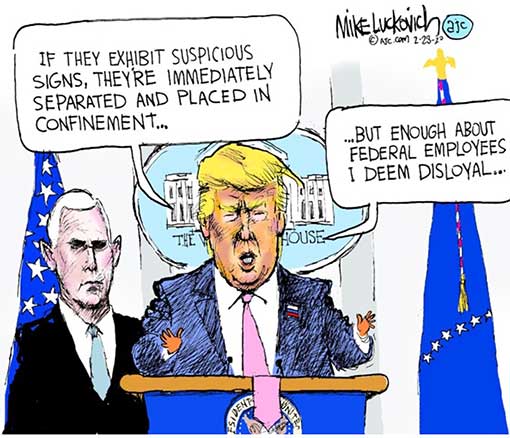 2
. Greg Sargent: Trump just pushed one of his worst conspiracy theories yet
Trump is now fully embracing the conspiracy theory that his assorted enemies are deliberately hyping the coronavirus threat, all to damage him politically. At his Wednesday news conference, Trump agreed with Rush Limbaugh's suggestion that Trump's foes are "weaponizing" the outbreak against him.
By telling voters that this is solely about hurting him, Trump is casting aside that imperative as a dead letter. This is of a piece with Trump's constant downplaying of the threat: Everything is absolutely under control, and anyone who tells you otherwise is just out to get him.
Trump's biggest cheerleaders in the media are aggressively feeding this instinct. As Matthew Gertz documents, numerous Fox News segments are pushing this line: "You can't trust the other party, you can't trust the media, you can't trust the experts, you can only trust Trump and those loyal to him."
Time will tell just how badly this ends up misleading the American public about the coronavirus threat, and what the consequences will be. But we already know this is really about placing Trump's response to it beyond accountability entirely. https://www.washingtonpost.com/opinions/2020/02/27/trump-just-pushed-one-his-worst-conspiracy-theories-yet/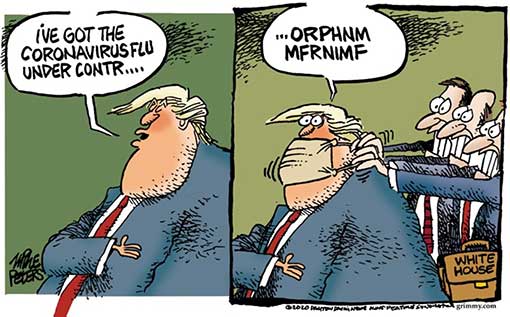 3. Lisa Lerer and Reid J. Epstein: Democratic Leaders Willing to Risk Party Damage to Stop Bernie Sanders
Dozens of interviews with Democratic establishment leaders this week show that they are not just worried about Mr. Sanders's candidacy, but are also willing to risk intra-party damage to stop his nomination at the national convention in July if they get the chance. Since Mr. Sanders's victory in Nevada's caucuses on Saturday, The Times has interviewed 93 party officials — all of them superdelegates, who could have a say on the nominee at the convention — and found overwhelming opposition to handing the Vermont senator the nomination if he arrived with the most delegates but fell short of a majority.
Such a situation may result in a brokered convention, a messy political battle the likes of which Democrats have not seen since 1952, when the nominee was Adlai Stevenson.
From California to the Carolinas, and North Dakota to Ohio, the party leaders say they worry that Mr. Sanders, a democratic socialist with passionate but limited support so far, will lose to President Trump, and drag down moderate House and Senate candidates in swing states with his left-wing agenda of "Medicare for all" and free four-year public college.
Mr. Sanders and his advisers insist that the opposite is true — that his ideas will generate huge excitement among young and working-class voters, and lead to record turnout. Such hopes have yet to be borne out in nominating contests so far.
Jay Jacobs, the New York State Democratic Party chairman and a superdelegate, echoing many others interviewed, said that superdelegates should choose a nominee they believed had the best chance of defeating Mr. Trump if no candidate wins a majority of delegates during the primaries. Mr. Sanders argued that he should become the nominee at the convention with a plurality of delegates, to reflect the will of voters, and that denying him the nomination would enrage his supporters and split the party for years to come.
In a reflection of the establishment's wariness about Mr. Sanders, only nine of the 93 superdelegates interviewed said that Mr. Sanders should become the nominee purely on the basis of arriving at the convention with a plurality, if he was short of a majority.
https://www.nytimes.com/2020/02/27/us/politics/democratic-superdelegates.html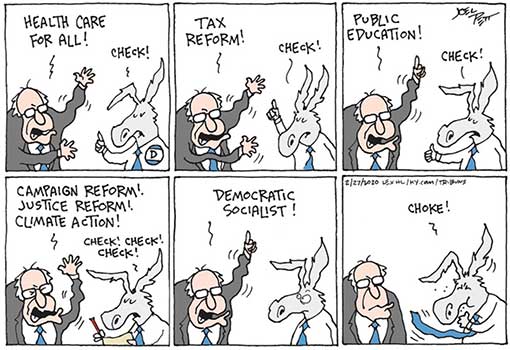 4. Gail Collins: Let's Call It Trumpvirus
Losing faith in presidential appointees for health protection? Stop being so negative. They're all vetted by the Presidential Personnel Office, which is now headed by John McEntee, 29, who was previously fired from another White House job because of concerns about a history of gambling problems and issues.
McEntee will be getting plenty of help from other stellar appointees, the newest being a 23-year-old college undergraduate. Together they're going to be cleaning house, getting rid of folks who are insufficiently loyal to the president. Or maybe aren't qualified or something. Never can tell. https://www.nytimes.com/2020/02/26/opinion/coronavirus-trump.html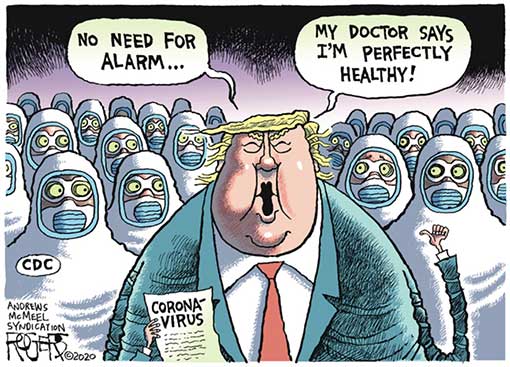 5. Paul Krugman: The Trump team confirms all of our worst fears.
So, here's the response of the Trump team and its allies to the coronavirus, at least so far: It's actually good for America. Also, it's a hoax perpetrated by the news media and the Democrats. Besides, it's no big deal, and people should buy stocks. Anyway, we'll get it all under control under the leadership of a man who doesn't believe in .
From the day Donald Trump was elected, some of us worried how his administration would deal with a crisis not of its own making. Remarkably, we've gone three years without finding out: Until now, every serious problem facing the Trump administration, from trade wars to confrontation with Iran, has been self-created. But the coronavirus is looking as if it might be the test we've been fearing.
And the results aren't looking good.
The story of the Trump pandemic response actually began several years ago. Almost as soon as he took office, Trump began cutting funding for the Centers for Disease Control and Prevention, leading in turn to an 80 percent cut in the resources the agency devotes to global disease outbreaks. Trump also shut down the entire global-health-security unit of the National Security Council.
Experts warned that these moves were exposing America to severe risks. "We'll leave the field open to microbes," declared Tom Frieden, a much-admired former head of the C.D.C., more than two years ago. But the Trump administration has a preconceived notion about where national security threats come from — basically, scary brown people — and is hostile to science in general. So we entered the current crisis in an already weakened condition. https://www.nytimes.com/2020/02/27/opinion/coronavirus-trump.html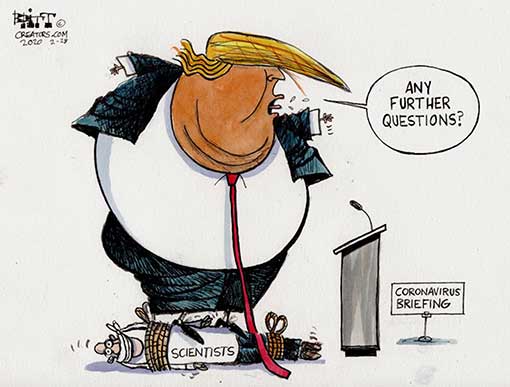 6. Fareed Zakaria: Bernie Sanders's Scandinavian fantasy
Sen. Bernie Sanders (I-Vt.) says that his proposals "are not radical," pointing again and again to countries in Northern Europe such as Denmark, Sweden and Norway as examples of the kind of economic system he wants to bring to the United States. The image he conjures up is of a warm and fuzzy social democracy in which market economics are kept on a tight leash through regulation, the rich are heavily taxed and the social safety net is generous. That is, however, an inaccurate and highly misleading description of those Northern European countries today.
Take billionaires. Sanders has been clear on the topic: "Billionaires should not exist." But Sweden and Norway both have more billionaires per capita than the United States — Sweden almost twice as many. Not only that, these billionaires are able to pass on their wealth to their children tax-free. Inheritance taxes in Sweden and Norway are zero, and in Denmark 15 percent. The United States, by contrast, has the fourth-highest estate taxes in the industrialized world at 40 percent.
Sanders's vision of Scandinavian countries, as with much of his ideology, seems to be stuck in the 1960s and 1970s, a period when these countries were indeed pioneers in creating a social market economy. In Sweden, government spending as a percentage of gross domestic product doubled from 1960 to 1980, going from approximately 30 percent to 60 percent. But as Swedish commentator Johan Norberg points out, this experiment in Sanders-style democratic socialism tanked the Swedish economy. Between 1970 and 1995, he notes, Sweden did not create a single net new job in the private sector. In 1991, a free-market prime minister, Carl Bildt, initiated a series of reforms to kick-start the economy. By the mid-2000s, Sweden had cut the size of its government by a third and emerged from its long economic slump.
It is true that these countries have a generous safety net and, in order to fund it, high taxes. What is not often pointed out, however, is that in order to raise enough revenue, these taxes fall disproportionately on the poor, middle and upper middle class. Denmark has one of the highest top income tax rates in the Organization for Economic Cooperation and Development, 55.9 percent, but that rate is applied to anyone making 1.3 times the average national income. In the United States, this would mean that any income above $65,000 would be taxed at the rate of 55.9 percent. In fact, the highest tax rate in the United States, 43 percent, applies to income that is 9.3 times the national average, which means that only those with incomes over approximately $500,000 pay this rate.
The biggest hit to the poor and middle classes in Northern Europe comes because they, like everyone, pay a national sales tax (value-added tax) of about 25 percent. These countries raise more than 20 percent of their taxes this way. In the United States, the average sales tax rate is 6.6 percent and accounts for only 8 percent of tax revenue.
One final statistic: A 2008 OECD report found that the top 10 percent in the United States pay 45 percent of all income taxes, while the top 10 percent in Denmark pay 26 percent and in Sweden 27 percent. Among wealthy countries, the average is 32 percent. The basic point is worth underlining because the American left seems largely unaware of it, and it has only become more true over the past decade: The United States has a significantly more progressive tax code than Europe, and its top 10 percent pays a vastly greater share of the country's taxes than their European counterparts.
In other words, bringing the economic system of Denmark, Sweden and Norway to the United States would mean embracing more flexible labor markets, light regulations and a deeper commitment to free trade. It would mean a more generous set of social benefits — to be paid for by taxes on the middle class and poor. If Sanders embraced all that, it would be radical indeed.
https://www.washingtonpost.com/opinions/bernie-sanderss-scandinavian-fantasy/2020/02/27/ee894d6e-599f-11ea-9b35-def5a027d470_story.html
7. Jonathan Chait: Here's What I Do Like About Bernie Sanders
I have devoted a lot of space to criticizing Bernie Sanders (and, especially, bad arguments made on his behalf). I will probably continue to do so, in part because I have disagreements with his worldview, and mainly because I think the available evidence says his nomination would increase President Trump's odds of reelection. But we should be cognizant of the distorting effect a primary can have on our perspective. The flaws of candidates we oppose feel more irritating over time, even if they haven't actually grown, while their virtues seem to recede. As an exercise in maintaining perspective, I'm devoting a column to the virtues of Bernie Sanders.
Sanders is motivated by an ideological vision that is fundamentally humane. For all his attacks on the "millionaires and billionaires," the only true visceral rage he shows is at poverty in the midst of one of the world's wealthiest societies. His anger at the inaccessibility of health care, housing, and basic needs for all Americans is the through line of his career, through all of its idiosyncratic turns.
Sanders is generally pragmatic about how he advances this goal, and has spent decades working with people who do not share his values in order to make incremental advances. He is not motivated by wealth. (While Sanders has a lot of money, he accumulated it by saving what he earned; like his Larry David caricature, he does not enjoy creature comforts.) His passion to lift the unfortunate is pure and admirable.
Finally, and most importantly, Sanders is not an authoritarian. Far from it: He is a passionate small-d democrat. This fact has been distorted by conservatives, who believe that Sanders's socialist economics along with his noninterventionist foreign policy — which has in the past brought him uncomfortably close to communist governments overseas — add up to some form of left-wing revolutionary program.
There is nothing Sanders would need to do to earn my vote against Donald Trump, and nothing he could do to lose it. All I can hope is that everybody else who opposes Trump and his war on democracy and the rule of law feels the same about every other candidate. https://nymag.com/intelligencer/2020/02/bernie-sanders-praise-critic-vote-2020.html
8. LA Times Editorial: Trump's war against immigration is grinding on — with unfortunate success
Immigration was a highly contentious issue in the U.S. long before President Trump took office, but his ascension to power, his predisposition to unilateral action, and his willful ignorance about immigrants and their value to the American economy have made the discussion even more fractious, if that's possible. The situation is especially fraught because of Trump's racially framed view of the world, and because Congress is too ineffectual to stand up to him.
In fact, over the last three years, the Trump administration has simply ignored Congress, and in some cases, federal law, to reshape U.S. immigration policy through a series of executive orders, departmental rulings and internal directives. It has been a broad, multipronged assault on decades of U.S. policy that had encouraged immigrants from a cross-section of the world to come to this country.
Among those the U.S. had encouraged were aging parents reunifying with their immigrant children, workers with in-demand skills, wealthy entrepreneurs willing to invest their money here, and the lucky — people who won visas in annual lotteries from nations underrepresented in the other immigration categories. And the U.S. lived up to a long-standing commitment to take in refugees from war zones and those who suffer persecution in their home countries.
That has all changed not because of congressional action, but because of congressional inaction.
Into the void leapt Trump and his nationalistic minions, who have dramatically redefined the criteria to determine who is allowed to become an American, how they must get here, where they must come from, and what kinds of reasons are acceptable — all without congressional input. And, in some cases, in flat-out defiance of congressional intent. https://www.latimes.com/opinion/story/2020-03-01/trump-immigration-border-asylum-detention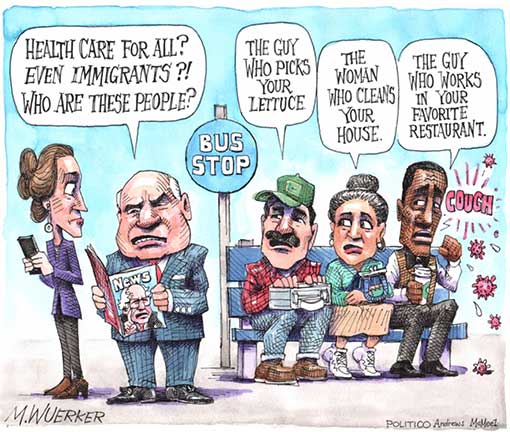 9. David Von Drehle: Vladimir Putin's virus. How the Russian president has infected our national trust
The president of the United States fires his director of national intelligence after aides brief a congressional committee on new Russian efforts to interfere in the 2020 election. His acting replacement is a man whose main qualification appears to be his skepticism that Russia is meddling in our politics at all.
Meanwhile, intelligence officials tell Sen. Bernie Sanders, the leading candidate to unseat the president, that Russian bots have infiltrated his online army to sow discord in the Democratic Party. They say the goal is to help Sanders, but Sanders thinks it is a leak designed to hurt him.
Millions of us are unsure whether elections will be free and fair, whether the news we consume is real or fake, whether our foreign policy serves national or personal interests. This is a massive victory for America's enemies. A climate of mutual suspicion at home erodes our ability to affect events abroad. Foreign governments lose confidence in a nation whose leaders — and followers — lack confidence in one another. https://www.washingtonpost.com/opinions/2020/03/02/did-vladimir-putin-turn-america-itself/
10. Maureen Dowd: Trump Makes Us Ill
For three decades, I talked to Trump about his fear of germs. When I interviewed him at the Trump Tower restaurant during the 2016 race, the famous germophobe had a big hospital-strength bottle of hand sanitizer on the table, next to my salad, ready to squirt.
He told me about the nightmarish feeling he had when a man emerged from the bathroom in a restaurant with wet hands and shook his hand. He couldn't eat afterward.
Today, in a stunning twist of fate, germs are infecting his presidency and threatening a bad prognosis for his re-election prospects.
The scaremonger in chief has been downplaying the possibility of a coronavirus pandemic and joining Fox News hosts in accusing the "anti-Trump" media and "Do Nothing Democrats" of scaremongering about the virus.
Trump seems more consumed with how the Democrats might blame him for a coronavirus recession than with the virus itself.
Trump had tweet-shrieked at President Barack Obama about how he should handle Ebola. ("Obama should apologize to the American people & resign!")
At the White House press conference, Trump preened: "Because of all we've done, the risk to the American people remains very low." He later said that one day, like a miracle, the virus "will disappear."
https://www.nytimes.com/2020/02/29/opinion/sunday/trump-coronavirus-response.html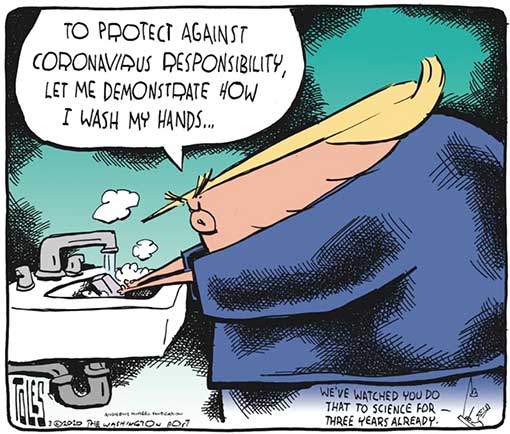 11. Nick Bilton: Coronavirus Is Creating A Fake-News Nightmarescape
Donald Trump Jr.'s comments to Fox & Friends on Friday might be the purest example of the sort of misinformation that's spreading almost as quickly as the coronavirus. "For [Democrats] to try to take a pandemic and seemingly hope that it comes here and kills millions of people, so that they could end Donald Trump's streak of winning, is a new level of sickness," he said. "You know, I don't know if this is coronavirus or Trump derangement syndrome, but these people are infected badly." To some extent, propaganda has always cropped up alongside mass disease—the whole black-cats-and-bubonic-plague thing, for example—but as technology has evolved, and information reaches exponentially more people exponentially faster, the potential for misinformation to spread has become correspondingly voluminous. "The scariest thing about this virus is the fact that there are a lot of people out there who don't believe this is a scary virus," a biomedical investor told me. "This is a bad one, and you've got people conspiring that it's a hoax made to get Trump thrown out of office."
This time around, the president is proclaiming at his rallies that coronavirus is a "hoax" constructed by the Democrats. Conspiracy theorists on YouTube say it's a false flag (I'm not even going to link to the videos), and QAnon theorists on Reddit are regurgitating the insanity that it's all part of another deep state plot to overthrow the government. Other false stories have deduced that the Defense Department created the virus to target China. Millions of tweets argue a number of conspiracy theories, including that the Bill & Melinda Gates Foundation cooked up the virus—for what purpose, God only knows. Rush Limbaugh is telling his millions of listeners that media emphasis on the virus is designed to destabilize the stock markets in a threat to Trump's presidency, and that coronavirus is "the common cold, folks." (Fact-check: It is not.) https://www.vanityfair.com/news/2020/03/coronavirus-is-creating-fake-news-nightmarescape-social-media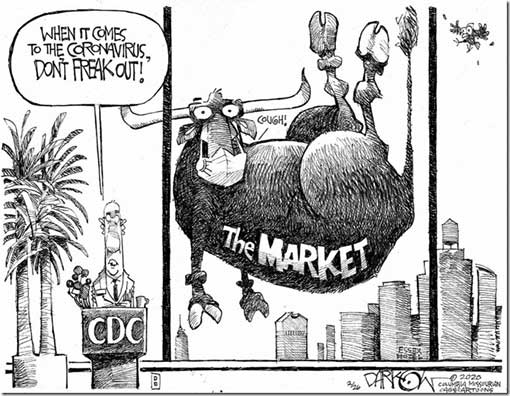 12. Max Boot: Bernie Sanders would be an awful president
I misjudged Trump's electability in 2016, and I might be misjudging Sanders's today. I was right, however, that Trump would turn out to be an awful president — and I am convinced that Sanders would be awful, too.
Part of the problem is Sanders's hectoring personality. He is a closed-minded ideologue who shows little willingness to compromise and little ability to bring people together. He prefers denouncing those who disagree with him as sellouts rather than trying to persuade them. That helps to explain why in 29 years in Congress he has been the lead sponsor of only three bills that became law — and two of those were to name post offices.
Sanders claims to be a Scandinavian-style socialist, but the Scandinavian countries are far more fiscally responsible. He is really a Santa-style socialist offering goodies to everyone whether they've been naughty or nice. His generosity with other people's money would risk a debt crisis and endanger our prosperity. Please, Democrats, don't give him the chance to wreck either your election prospects or our economy. https://www.washingtonpost.com/opinions/2020/03/02/bernie-sanderss-free-stuff-everyone-plan-would-bankrupt-america/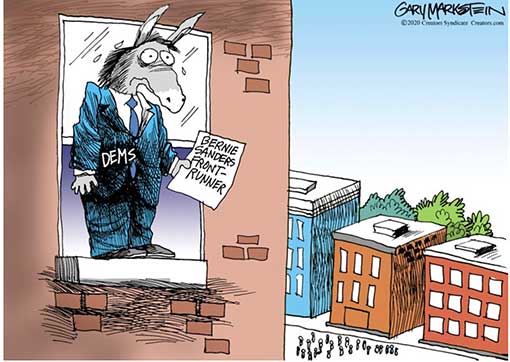 13. George Packer: The President Is Winning His War on American Institutions
When Trump came to power, he believed that the regime was his, property he'd rightfully acquired, and that the 2 million civilians working under him, most of them in obscurity, owed him their total loyalty. He harbored a deep suspicion that some of them were plotting in secret to destroy him. He had to bring them to heel before he could be secure in his power. This wouldn't be easy—the permanent government had defied other leaders and outlasted them. In his inexperience and rashness—the very qualities his supporters loved—he made early mistakes. He placed unreliable or inept commissars in charge of the bureaucracy, and it kept running on its own.
But a simple intuition had propelled Trump throughout his life: Human beings are weak. They have their illusions, appetites, vanities, fears. They can be cowed, corrupted, or crushed. A government is composed of human beings. This was the flaw in the brilliant design of the Framers, and Trump learned how to exploit it. The wreckage began to pile up. He needed only a few years to warp his administration into a tool for his own benefit. If he's given a few more years, the damage to American democracy will be irreversible. https://www.theatlantic.com/magazine/archive/2020/04/how-to-destroy-a-government/606793/