September 15, 2022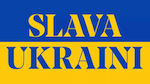 If you have a friend, family member, or neighbor who would like to subscribe to this FREE weekly newsletter they should simply email jellison@san.rr.com with "subscribe" as the subject.
THE WEEK'S BEST QUOTES. . .
So for me, this day is not just about what has happened. It's also about what could happen. Because a girl like me, she was never supposed to be up there next to Jacqueline Kennedy and Dolley Madison. She was never supposed to live in this house, and she definitely wasn't supposed to serve as first lady. —
Michelle Obama
at the unveiling of her White House portrait.
https://www.latimes.com/politics/story/2022-09-07/white-house-portrait-unveiling-michelle-obama
"There is a simple way to disqualify President Trump He clearly violated the 14th Amendment of the Constitution's Article III when he gave aid and comfort and three hours of inaction with regard to what was happening on the grounds of the Capitol. That clearly gave aid and comfort to the insurrectionists." —
Former Trump White House lawyer Ty Cobb
called Donald Trump a "deeply wounded narcissist" who acted as a "criminal" when he pushed then-Vice President Mike Pence to block Congress from certifying President Joe Biden's 2020 election win.
https://www.cnbc.com/2022/09/09/ty-cobb-former-trump-white-house-lawyer-says-he-violated-constitution.html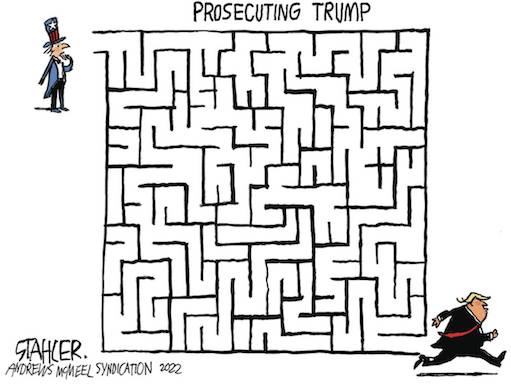 "They ain't got no shame! They don't have any shame!" —
President Biden
on Republicans taking credit for legislation that they opposed.
https://thehill.com/homenews/administration/3635721-biden-on-gop-touting-projects-they-didnt-back-they-aint-got-no-shame/
"He'll be the worst speaker and he won't last because he's going to be led around by insurrectionists." —
Rep. Adam Kinzinger (R-IL)
about Rep. Kevin McCarthy (R-CA).
https://www.wsj.com/articles/kevin-mccarthy-republican-house-speaker-midterm-elections-11662505517
"There are a lot of candidates out there feeling their oats and boasting, 'I'm running no matter what. I don't care what Donald Trump says.' Anyone who says that is lying. That's an idiotic statement for someone to make who's actually thinking about running. The whole world will change depending on what Donald Trump decides. That's true for every candidate. That's true of every potential candidate." —
Sen. Ted. Cruz (R-TX)
.
https://www.washingtonexaminer.com/news/campaigns/ted-cruz-2024-bid-waits-trump
Happy Freedom Day to Dr. Simone Gold! I'm honored to be here with you after some vindictive DOJ personnel decided to lock you down in a MAXIMUM SECURITY prison. YOU are a national treasure! —
Rep. Louie Gohmert (R-TX)
meeting with Dr. Simone Gold, who was sentenced to 60 days for helping storm the US Capitol on January 6th. 
https://twitter.com/replouiegohmert/status/1568304424661008386
"There cannot be one set of rules for everyday people and another for the wealthy and powerful – we all must play by the same rules and must obey the law. Mr. Bannon took advantage of his donors' political views to secure millions of dollars which he then misappropriated. Mr. Bannon lied to his donors to enrich himself and his friends. —

New York Attorney General Letitia James

, whose office participated in the investigation of Steve Bannon's border wall scam.  https://www.cnbc.com/2022/09/08/trump-white-house-aide-steve-bannon-surrenders-to-face-criminal-charges.html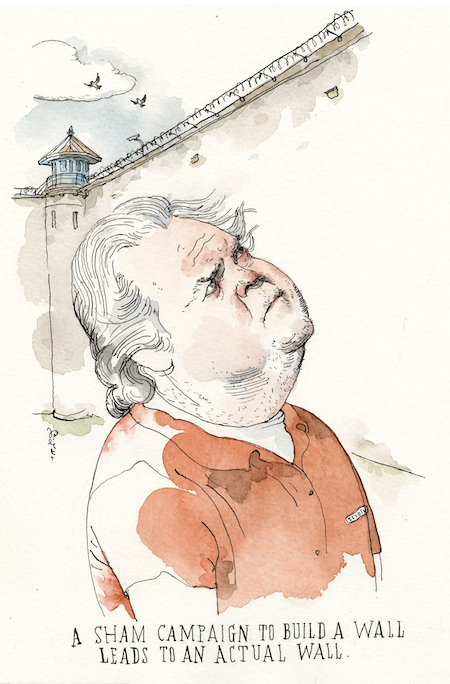 "I pray that… we'll seize the power that we had given to us by the Constitution, and as well by You, providentially. I pray for the leaders also in the federal government, God, on the Sixth of January that they will rise up with boldness."—
Doug Mastriano
, now the Republican nominee for governor of Pennsylvania, a week before Jan. 6, on a Zoom call organized by far-right Christian Nationalists.
https://www.youtube.com/watch?v=LX95kTloZBU
The Lincoln Project
: This is the ad that pissed off Trump on Thursday morning.
https://twitter.com/ProjectLincoln/status/1567877713506992129
Unfortunately, debating a conspiracy theorist like Kari Lake – whose entire campaign platform is to cause enormous chaos and make Arizona the subject of national ridicule – would only lead to constant interruptions, pointless distractions, and childish name-calling.  —
Katie Hobbs' campaign manager, Nicole DeMont
, who repeatedly voiced the campaign's concerns that debating Lake would just create another spectacle, like in the GOP primary debate. .
https://www.newsnationnow.com/politics/hobbs-says-no-to-arizona-governor-debate-with-lake/
The temptation on our side is always going to be that all we have to do is say we're not California. It is just such an ugly picture, the homeless poop, people pooping all over the place, it's the ridiculous rat-infested apartments that don't work anymore, it's the woke insanities, there's so much that it feels like shooting fish in a barrel. It's so easy, so ridiculous to denounce. —
PayPal co-founder Peter Thiel
during a Sunday addressing the National Conservatism Conference in Miami.  
https://www.vanityfair.com/news/2022/09/peter-thiel-gop-positive-agenda
"I'm just not going to leave."  "We're never leaving," "How can you leave when you won an election?" —
Donald Trump
telling his aides that he would remain in the White House rather than let incoming President Joe Biden take over, according to a forthcoming book by New York Times reporter Maggie Haberman.
https://www.cnn.com/2022/09/12/politics/trump-vowed-to-stay-in-white-house-haberman-book/index.html
"It would be totally inappropriate. Mike committed political suicide." —
Trump
on why he will not pick Mike Pence as his running mate if he runs for the presidency again, according to an interview with the authors of a new book on his time in the White House.
https://www.theguardian.com./books/2022/sep/14/trump-pence-running-mate-2024-book.
"My opponent, Raphael Warnock, wants to bring wokeness into our schools, tell white kids in school, you've got to apologize for your whiteness and tell black kids you have been taken advantage of," Herschel Walker said, "Well, that's not right." —
Georgia Republican Senate candidate Herschel Walker
attacking the the "wokeness" of his Democratic rival Raphael Warnock during an interview Sunday with Maria Bartiromo of FNC's "Sunday Morning Futures."
https://www.realclearpolitics.com/video/2022/09
Queen Elizabeth
had more fun with me than she'd ever had with anyone else during her 90-something years on earth. —
Donald Trump
, a famously delusional man, on returning from a state visit to the UK in 2019.
https://www.vanityfair.com/news/2022/09/queen-elizabeth-donald-trump-funeral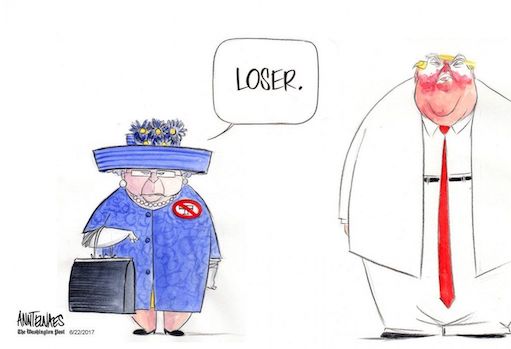 VIDEOS
"
Too bad there's no miracle cure for being a total fraud:
Pennsylvania U.S. Senate candidate John Fetterman (D)

 
released a new ad
 

attacking challenger Dr. Mehmet Oz's long history of promoting unproven medical treatments.
https://twitter.com/JohnFetterman/status/1569366725296066566
LITIGATION TRACKER
Pending Criminal and Civil Cases Against Donald Trump
. 
https://www.justsecurity.org/75032/litigation-tracker-pending-criminal-and-civil-cases-against-donald-trump/
---
IN THIS ISSUE
IN THE NEWS
OPINION
Andy Borowitz: Benedict Arnold Wishes He Had Had Special Master
In a rare public statement, the late Benedict Arnold said that he would never have been remembered as the worst traitor in American history if he had had the benefit of a special master.

The disgraced military officer called his switching sides in the Revolutionary War "the kind of evidence that any special master worth his salt would have ruled out."

"I think a special master would have taken a look at that and said, 'Hold on, here—switching sides is a personal decision, so that's privileged,' " he said. "That would have been a game changer for me."

"I would have gone from 'Benedict Arnold, notorious traitor,' to 'Benedict Arnold, victim of government witch hunt,' " he said.

Arnold added that, over the past few centuries in Hell, he has had ample time to ruminate about another event that occurred before he switched sides: his 1779 court-martial. "That would have played out differently if I had gotten to appoint the judge," he said.
https://www.newyorker.com/humor/borowitz-report/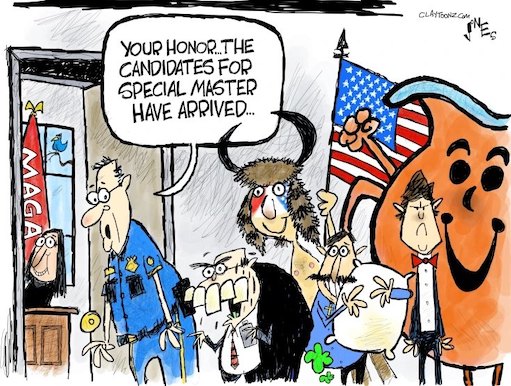 Justice Dept. Issues 40 Subpoenas in a Week, Expanding Its Jan. 6 Inquiry
Justice Department officials have seized the phones of two top advisers to former President Donald J. Trump and blanketed his aides with about 40 subpoenas in a substantial escalation of the investigation into his efforts to subvert the 2020 election, people familiar with the inquiry said on Monday.
The seizure of the phones, coupled with a widening effort to obtain information from those around Mr. Trump after the 2020 election, represent some of the most aggressive steps the department has taken thus far in its criminal investigation into the actions that led to the Jan. 6, 2021, assault on the Capitol by a pro-Trump mob. https://www.nytimes.com/2022/09/12/us/politics/trump-aides-jan-6-doj.html
Trump backers flood election offices with requests as 2022 vote nears
Supporters of former president Donald Trump have swamped local election offices across the nation in recent weeks with a coordinated campaign of requests for 2020 voting records, in some cases paralyzing preparations for the fall election season.
In nearly two dozen states and scores of counties, election officials are fielding what many describe as an unprecedented wave of public records requests in the final weeks of summer, one they say may be intended to hinder their work and weaken an already strained system. The avalanche of sometimes identically worded requests has forced some to dedicate days to the process of responding even as they scurry to finalize polling locations, mail out absentee ballots and prepare for early voting in October, officials said. https://www.washingtonpost.com/nation/2022/09/11/trump-election-deniers-voting/
A Long-Shot Push to Bar Trump in 2024 as an 'Insurrectionist'
Democrats and liberal groups, determined to find a way to bar former President Donald Trump from returning to office, are preparing a variety of ways to disqualify him, including drafting new legislation and readying a flurry of lawsuits seeking to use an obscure clause in the Constitution to brand him an insurrectionist.

The plans amount to an extraordinarily long-shot effort to accomplish what multiple investigations of Mr. Trump have failed to do: foreclose any chance that the former president could regain power, whether voters want him to or not. They reflect the growing concern among Democrats and liberal activists seeking to find a way to end the political careers of the former president and the officials who helped him try to cling to the presidency, including through several new and in some cases arcane strategies. https://www.nytimes.com/2022/09/07/us/politics/trump-election-insurrection.html
The Demise of Roe v. Wade Has Fired Up Democrats
In this final stretch before the midterm elections on November 8th, Republicans should be preparing to seize power amid deep discontent with President Joe Biden. Michigan, which went for Donald Trump in 2016, should be the least of their worries. Instead they are fretting that they could lose all three of the major statewide elections, as well as control of at least one state legislative chamber and some competitive congressional seats. https://www.economist.com/united-states/2022/09/08/the-demise-of-roe-v-wade-has-fired-up-the-democrats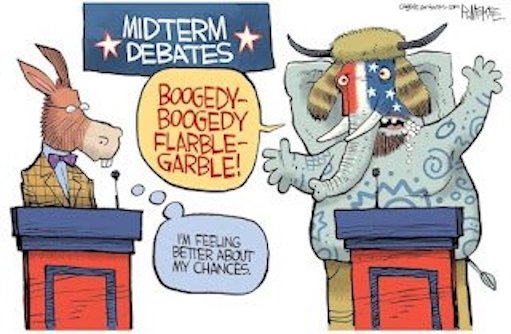 Lawsuit Calls for Michigan to 'Re-Run' 2020 Election
A federal lawsuit against Gov. Gretchen Whitmer (D) and Secretary of State Jocelyn Benson (D) calls for Michigan to re-run the 2020 presidential election over unproven and debunked claims of election fraud nearly two years after Michigan voters elected now-President Joe Biden by more than 150,000 votes. https://www.freep.com/story/news/politics/elections/2022/09/08/2020-michigan-election-lawsuit-likely-to-be-tossed-experts-say/65742489007/
Trump Threatens to Sue Fox News Over Lincoln Project Ads
Donald Trump threatened Fox News with a lawsuit for running political ads produced by the perverts and lowlifes of the Lincoln Project.

Said Trump: I thought they ran away to the asylum after their last catastrophic campaign, with charges made against them that were big time sleaze, and me getting many millions more votes in 2020 than I got in 2016. The Paul Ryun (sic) run Fox only has high standards for 'Trump' ads, but not for anyone else. The Perverts should not be allowed to 'false advertise,' and Fox News should not allow it to happen. See you all in Court!!! https://truthsocial.com/@realDonaldTrump/posts/108962947464465218
Trump Told White House Team He Needed to Protect 'Russiagate' Documents
IN HIS FINAL days in the White House, Donald Trump told top advisers he needed to preserve certain Russia-related documents to keep his enemies from destroying them.

The documents related to the federal investigation into Russian election meddling and alleged collusion with Trump's campaign. At the end of his presidency, Trump and his team pushed to declassify these so-called "Russiagate" documents, believing they would expose a "Deep State" plot against him.

According to a person with direct knowledge of the situation and another source briefed on the matter, Trump told several people working in and outside the White House that he was concerned Joe Biden's incoming administration — or the "Deep State" — would supposedly "shred," bury, or destroy "the evidence" that Trump was somehow wronged.

Trump's concern about preserving the Russia-related material is newly relevant after an FBI search turned up a trove of government documents at the former president's Mar-a-Lago residence. https://www.rollingstone.com/politics/politics-news/donald-trump-russia-investigation-maralago-1234588357/
Pregnant women held for months in one Alabama jail to protect fetuses from drugs
Under normal circumstances, the 23-year-old from Gadsden would have been able to post bond and leave jail until her criminal trial. But Banks admitted to smoking pot on the same day she found out she was pregnant – two days before her arrest. In Etowah County, that meant she couldn't leave jail unless she entered drug rehab, leaving her in limbo for three months.

She's not the only one, according to attorneys involved in her case. Several pregnant women and new moms accused of exposing their fetuses to drugs have been held for weeks or months inside the Etowah County Detention Center under special bond conditions that require rehab and $10,000 cash. https://www.al.com/news/2022/09/pregnant-women-held-for-months-in-one-alabama-jail-to-protect-fetuses-from-drugs.html
Michigan Supreme Court rules abortion amendment should go to voters this November
The Michigan Supreme Court ruled that a proposed state constitutional amendment that would protect abortion rights should be placed on November's ballot. https://www.npr.org/2022/09/08/1121858922/michigan-supreme-court-abortion-amendment-voters-ballot
Federal grand jury probing Trump PAC's formation, fundraising efforts
A federal grand jury investigating the activities leading up the Jan. 6 attack on the U.S. Capitol and the push by former President Donald Trump and his allies to overturn the result of the 2020 election has expanded its probe to include seeking information about Trump's leadership PAC, Save America.

The interest in the fundraising arm came to light as part of grand jury subpoenas seeking documents, records and testimony from potential witnesses.

The subpoenas, sent to several individuals in recent weeks, are specifically seeking to understand the timeline of Save America's formation, the organization's fundraising activities, and how money is both received and spent by the Trump-aligned PAC. https://abcnews.go.com/US/federal-grand-jury-probing-trump-pacs-formation-fundraising/story?id=89507528
Snap's political data slip-up
A slip-up by social media giant Snap allowed leading Democratic campaigns and party committees to unwittingly tap into a vast repository of Republican voter data to hone their midterm ads, Axios reports.

There's no indication Snap was aware of or facilitated that data sharing, and the company said it's taking steps to rectify the oversight. But the blunder underscores the sensitivities surrounding reams of voter data that have become a highly valuable political commodity. https://www.axios.com/2022/09/08/snap-voter-data-republican-democrats
Dr. Oz owns shares of companies that supply hydroxychloroquine, a drug he has backed as a Covid treatment
Dr. Mehmet Oz, the Republican candidate for Pennsylvania's open Senate seat, owns stock in Thermo Fisher Scientific, a supplier of the drug hydroxychloroquine, and McKesson, a distributor of the anti-malaria medicine.

Oz backed the use of the drug as a Covid-19 treatment early in the pandemic, and has downplayed warnings about its efficacy as a candidate. https://www.cnbc.com/2022/09/07/dr-oz-has-ties-to-hydroxychloroquine-companies-as-he-backs-covid-treatment.html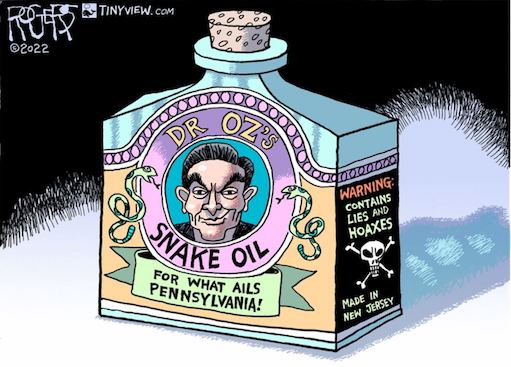 Republicans dodge national security implications of Trump having classified documents at Mar-a-Lago
Republican defenders of Donald Trump won't or can't answer the questions that are at the root of the intrigue over why classified documents were at Mar-a-Lago and the troubling question of whether national security was put at risk.

The fact that top Senate Republicans are continuing to downplay Trump even having the documents, in favor of casting doubt on the conduct of the Justice Department and FBI, speaks to his enduring clout in the party, regardless of the depth of his legal issues and the potential national security implications for the country. https://www.cnn.com/2022/09/08/politics/republicans-trump-national-security-implications-classified-docs/index.html
Former Trump White House special assistant subpoenaed in Justice Department's January 6 investigation
Federal prosecutors issued a subpoena to a senior adviser to former President Donald Trump Wednesday afternoon as part of the probe into January 6, 2021, and the events leading up to the deadly riot at the US Capitol.
Early Wednesday, federal agents in Florida attempted to serve William Russell, a former White House special assistant and deputy director of presidential advance, at his home but were unable to reach anyone. He was served with the subpoena after that.

Russell was one of a few White House staffers to continue working for Trump after he left office. https://www.cnn.com/2022/09/08/politics/william-russell-former-trump-white-house-special-assistant-subpoenaed/index.html
Executives warn abortion law is hurting Georgia companies
Dozens of bipartisan business executives signed an open letter  that warns Georgia's anti-abortion law and other Republican policies will risk the state's pro-business reputation.. https://www.ajc.com/politics/politics-blog/the-jolt-executives-warn-abortion-law-is-hurting-georgia-companies/XZESV45Z75CFZORXON6EIHGWNM/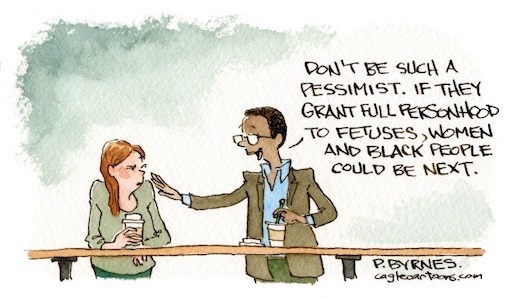 FBI on High Alert After Mar-a-Lago Search
Federal law enforcement officers scoured social media to identify threats to FBI buildings and agents and issued internal warnings about possibly armed protests in the days after the FBI searched former President Donald Trump's Florida estate. https://www.bloomberg.com/news/articles/2022-09-09/mar-a-lago-search-spurred-us-alert-on-risk-of-anti-fbi-violence
Judge Throws Out Trump Lawsuit Against Hillary Clinton
Trump, who initiated this lawsuit on March 24, 2022, alleged that "the Defendants, blinded by political ambition, orchestrated a malicious conspiracy to disseminate patently false and injurious information about Donald J. Trump and his campaign, all in the hopes of destroying his life, his political career and rigging the 2016 Presidential Election in favor of Hillary Clinton."

Trump also brought  a claim for violations of the Racketeer Influenced and Corrupt Organizations Act ("RICO"), predicated on the theft of trade secrets,  obstruction of justice, and wire fraud. Trump additionally brought claims for: injurious falsehood, malicious prosecution (Count V); violations of the Computer Fraud and Abuse Act, theft of trade secrets under the Defend Trade Secrets Act of 2016 \); and violations of the Stored Communications Act. The Amended Complaint also contains counts for various conspiracy charges and theories of agency and vicarious liability.

The federal judge dismissed Donald Trump's lawsuit against Hillary Clinton, saying the former president "is seeking to flaunt a two-hundred-page political manifesto outlining his grievances against those that have opposed him." https://storage.courtlistener.com/recap/gov.uscourts.flsd.610157/gov.uscourts.flsd.610157.267.0.pdf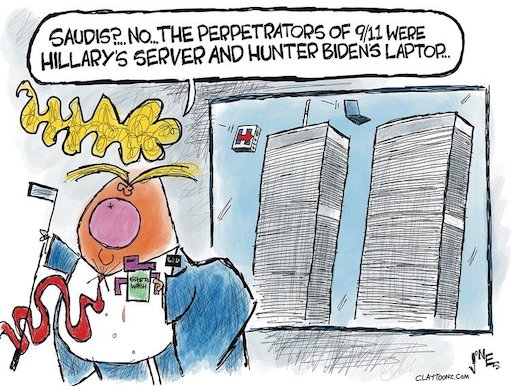 Club for Growth Looks Beyond Trump for 2024
The Club for Growth was once one of former President Donald Trump's most outspoken champions. But it's now taking steps to bolster his potential rivals for the 2024 Republican presidential nomination.

The deep-pocketed conservative group is holding events with would-be 2024 contenders and funneling millions of dollars to political outfits aligned with other candidates. The Club for Growth has also conducted polling looking at how Florida Gov. Ron DeSantis — widely seen as the party's leading non-Trump contender — would stack up against the former president in a Republican primary. https://www.politico.com/news/2022/09/09/trump-2024-gop-00055830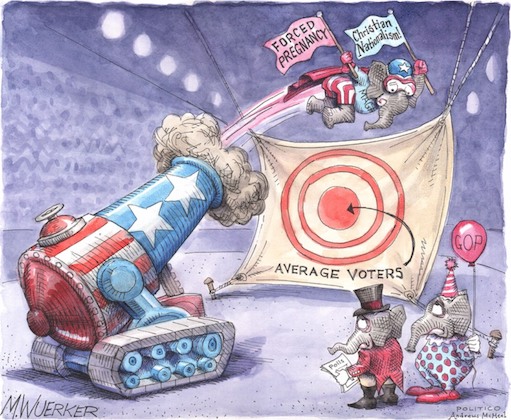 'The environment is upside down': Why Dems are winning the culture wars
It's already the consensus that abortion is going to be a good issue for Democrats in November.

What's only now becoming clear — as Republicans scrub their campaign websites of prior positions on abortion and labor to turn the focus of the midterms back to President Joe Biden and the economy — is just how much the issue is altering the GOP's standard playbook.

For the first time in years, Republican and Democratic political professionals are preparing for a general election campaign in which Democrats — not Republicans — may be winning the culture wars, a wholesale reversal of the traditional political landscape that is poised to reshape the midterms and the run-up to 2024. https://www.politico.com/news/2022/09/09/democrats-culture-wars-abortion-00055818
MAGA Sweeps New Hampshire
If there were any doubt as to where the base of the GOP resides, the results of the New Hampshire primary made it very clear that it is with Trump. In states like Maryland, Vermont, Massachusetts, and now New Hampshire, GOP voters have chosen the more Trump-ified candidate over the candidate that has either been endorsed by, or run in the mold of those states' popular, centrist and more establishment GOP governors.

For Democrats, who are eager to make 2022 a referendum on the polarizing former president, GOP voters have helped make their job a bit easier. https://www.cookpolitical.com/analysis/senate/2022-primaries/maga-sweeps-new-hampshire
Mike Pence: Abortion Bans 'More Important Than Short-Term Politics'
Former Vice President Mike Pence called for a national abortion ban, saying that banning abortion "is profoundly more important than any short-term politics."

Said Pence: "I welcome any and all efforts to advance the cause of life in state capitals or in the nation's capital. And I have every confidence that the next Republican president, whoever that may be, will stand for the right to life. It is imperative that Republicans and conservatives resolve, here and now, that we will not shrink from the fight." https://www.realclearpolitics.com/articles/2022/09/14/mike_pence_abortion_bans_more_important_than_short-term_politics_148191.html
Justice Department criminal investigation now touches nearly all efforts to overturn 2020 election for Trump
Justice Department criminal prosecutors are now examining nearly every aspect of former President Donald Trump's efforts to overturn the 2020 election – including the fraudulent electors plot, efforts to push baseless election fraud claims and how money flowed to support these various efforts. https://www.cnn.com/2022/09/13/politics/trump-justice-department-election-investigation/index.html
GOP Elections Commissioner Arrested by the FBI
Jason Schofield, the Republican Rensselaer County Board of Elections commissioner, was arrested outside his residence Tuesday morning by the FBI and charged with fraudulently obtaining and processing absentee ballots last year using personal information of at least eight voters without their permission. https://www.timesunion.com/state/article/Rensselaer-County-s-Republican-elections-17438122.php
Governor Helped Favre Get Welfare Funds for Stadium
Text messages show that former former Mississippi Gov. Phil Bryant (R) helped retired NFL player Brett Favre secure welfare funds for his $5 million volleyball stadium at the University of Southern Mississippi.

Bryant has denied any involvement with the project, which has emerged as the centerpiece of a massive criminal scandal in which prominent officials misspent or stole millions in welfare funds intended for the nation's poorest residents. https://mississippitoday.org/2022/09/13/phil-bryant-brett-favre-welfare/
Election Deniers Advance to Ballots in 27 States
Candidates who deny the results of the 2020 election have advanced to November ballots in statewide races for positions that will oversee, defend or certify elections in more than half of the states," NBC News reports.

"In the races in 27 states for governor, attorney general and secretary of state, at least one election-denying candidate will be on the ballot who has echoed former President Donald Trump's continuing false claims that the 2020 election was stolen from him. https://www.nbcnews.com/politics/election-deniers-advanced-november-ballots-27-states-report-finds-rcna46409
Ginni Thomas's links to anti-abortion groups who lobbied to overturn Roe
Ginni Thomas, the self-styled "culture warrior" and extreme rightwing activist, has links to more than half of the anti-abortion groups and individuals who lobbied her husband Clarence Thomas and his fellow US supreme court justices ahead of their historic decision to eradicate a woman's right to terminate a pregnancy. https://www.theguardian.com/us-news/2022/sep/09/ginni-thomas-abortion-roe-v-wade-supreme-court
Senate Republicans Have Put Stranglehold on Nominations
The process of confirming judges and executive branch officials has been dysfunctional for some time, and it's getting worse. Republicans are largely to blame for a situation that has left hundreds of senior government roles vacant. But Senate Majority Leader Chuck Schumer and the Democrats have failed to do what they can to make things better.

By the end of this week, Joe Biden will have been president for 600 days. During that time, the Senate has confirmed 442 of his nominees for key jobs in the top echelons of government and 78 federal judges, or well under one per day. The problem? There are an additional 140 executive branch nominations and 62 judicial nominations either before the Senate or on their way there. That's 202 pending nominations, and there are only about 120 days remaining until the 118th Congress is sworn in on Jan. 3. https://www.bloomberg.com/opinion/articles/2022-09-08/senate-republicans-have-put-a-stranglehold-on-nominations
The Sordid Saga of Hunter Biden's Laptop
When you look at it as merely a political object, the laptop may not seem all that remarkable. But the implications of what happened to Hunter Biden go far beyond politics. Whether or not he turns out to be the perpetrator of a crime, he is certainly the victim of a violation — an invasion of privacy that is staggering in its totality. Even the people who are responsible for disseminating the laptop admit that, on a human level, what happened to Hunter is horrifying. "A lot of stuff I do, I don't feel great about," says one of them, Steve Bannon. "But we're in a war."

The act of investigation, once the discrete province of professionals, has been crowdsourced. And if you believe the story told by some famously unreliable narrators, it all begins with the eyewitness account of a computer repairman. Who is legally blind. https://nymag.com/intelligencer/article/hunter-biden-laptop-investigation.html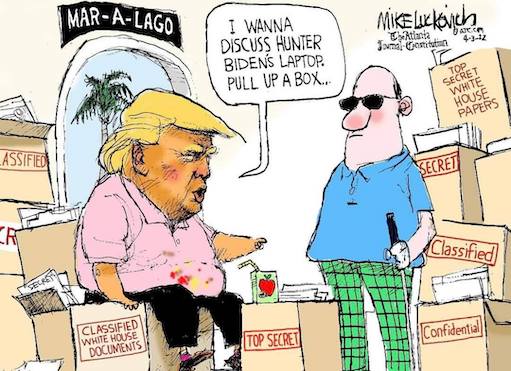 THE DAILY GRILL
"I've been consistent. I think states should decide…the issue of abortion." — Senator Lindsey Graham less than a month and a half ago. https://www.vanityfair.com/news/2022/09/lindsey-graham-hypocrite-nationwide-abortion-ban
VERSUS
On Tuesday Senator Graham introduced the "Protecting Pain-Capable Unborn Children From Late-Term Abortions Act," a legislative assault on reproductive rights that would ban abortion after 15 weeks of pregnancy. This bill would constitute an extreme attack on reproductive freedom and healthcare — and on states' rights that Republicans say are near and dear to their heart. https://www.vanityfair.com/news/2022/09/states-rights-republicans-are-eyeing-a-national-abortion-ban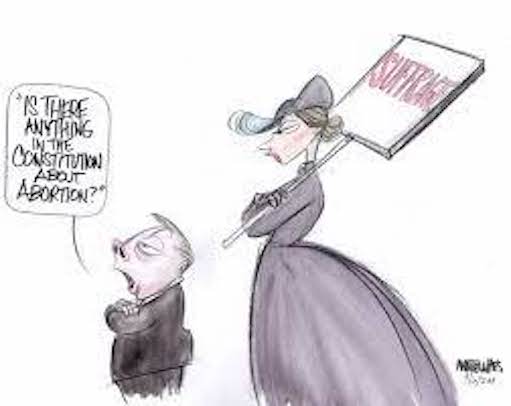 POLLS ...
A new University of Houston/Texas Southern University poll finds Gov. Greg Abbott (R) leading challenger Beto O'Rourke (D), 49% to 42%. https://www.bloomberg.com/news/articles/2022-09-07/texas-governor-abbott-holds-leads-over-o-rourke-in-new-poll

But Republicans' 75% chance of flipping the House is the only good news that the Economist forecast offers them. The model assigns a 78% probability to the Democrats' retaining control of the Senate. Only a few months ago, any Democrat would have been thrilled with a one-in-four chance of holding the House. https://www.economist.com/united-states/2022/09/07/the-democrats-are-likely-to-lose-the-house-but-keep-the-senate

A new PBS Newshour/NPR/Marist poll finds Democrats have a
48% to 44%

advantage over the Republicans, among registered voters, in this November's midterm elections despite concerns about the U.S. economy, 48% to 44%. https://maristpoll.marist.edu/polls/npr-pbs-newshour-marist-national-poll-the-2022-midterm-elections-sep-2022/

A new CBS News poll finds overwhelming support for a maximum age limit for elected officials, 73% to 27%. So what should that age be? When offered a list of ages, Age 70 is the top answer chosen. This is older than the current average age of members of Congress, but about a third of current U.S. senators are 70 years of age or older. https://www.cbsnews.com/news/elected-officials-maximum-age-limits-opinion-poll-2022-09-08/

FiveThirtyEight polling averages for some key Senate races: here's where the Democratic candidate is leading:
Georgia: Warnock +1
North Carolina: Beasley +1
Ohio: Ryan +2
Nevada: Cortez Masto +4
Arizona: Kelly +7
Pennsylvania: Fetterman +8
Colorado: Bennet +9
Washington: Murray +11
Here's where the Republican candidate is leading:
If the actual election results mirror these polls, Democrats will have flipped 3 Senate seats and expanded their majority in the Senate.
https://projects.fivethirtyeight.com/polls/

President Joe Biden's approval rating jumped 6.6 points to 49, the highest since April., helped by lower gas prices and a series of legislative wins, a new IBD/TIPP Poll finds. Younger Americans, in particular, rallied around Biden following approval of the climate-focused Inflation Reduction Act and his decision to forgive up to $20,000 in college loans. https://www.investors.com/politics/biden-approval-rating-gets-big-bounce-from-young-americans/

A new Monmouth poll in Pennsylvania finds John Fetterman (D) leading Mehmet Oz in the U.S. Senate race, 49% to 39%. https://www.monmouth.edu/polling-institute/reports/monmouthpoll_pa_091422/

By 51% to 32%, battleground state voters say Republicans are more extreme on abortion than Democrats, according to polling exclusively provided to NBC News by WPA Intelligence, a GOP political consulting firm. The poll showed 41% of likely voters surveyed said the Dobbs decision, which did away with constitutional protections for abortion, made them more likely to vote for a Democrat; 24% said it made them more likely to back Republicans." https://www.nbcnews.com/politics/2022-election/republicans-tried-sidestep-issue-abortion-now-seeking-reset-rcna47415
Jonathan Chait: The GOP Respose to Biden's Democracy Speech Proves His Point
Last week, President Biden delivered a speech warning that Donald Trump's authoritarian movement posed a threat to American democracy. The Republican response did more to confirm his point than anything he said.

Biden's main argument was simple: A wing of the Republican Party aligned with Trump refuses to renounce violence, respect the integrity of elections, or accept the rule of law. Biden argued that this faction composes a minority of the party, but has been able to bully the party's officials into compliance:
Now, I want to be very clear — (applause) — very clear up front: Not every Republican, not even the majority of Republicans, are MAGA Republicans. Not every Republican embraces their extreme ideology.
The conservative fantasy that Biden attacked the motives of the majority of the Republican electorate has naturally produced a fantasy that he is planning steps to persecute them. "The president's continued assaults on MAGA Republicans should be properly seen as an attempt both to marginalize the opposition and to intimidate it into submission and silence," claims Wall Street Journal columnist Daniel Henninger, "The implicit threat in Mr. Biden's thought-out aggression is that the legal and investigative powers of the state may be deployed against disfavored beliefs."

The "implicit threat" refers to actions Biden has not taken, but which Henninger likes to imagine he will. (He cites as precedent the Obama administration's alleged use of the IRS to harass conservatives, which was hysterically alleged but proven to have never occurred, and Biden's alleged refusal to condemn the 2020 riots, which he in fact did on multiple occasions.) The twisted logic here is that Henninger can ignore the multiple documented abuses of power Trump actually employed as the lesser evil in comparison with the hypothetical future abuses by Biden he is dreaming up.

Bret Stephens, a conservative columnist driven out of the Journal over his refusal to stop criticizing Trump, continues to oppose Trump, but he argues that the entire problem with the party lies with him alone: "The gravest threat American democracy faces today isn't the Republican Party, MAGA or otherwise. It's Trump. He's one man, sinister but also buffoonish."

This is the very premise Biden was disputing. The threat is not just one man. It is a whole movement dedicated to his authoritarian principles. Trump's acolytes are running for office across the country, in many cases explicitly dedicated to his agenda of undermining fair elections and using state power to harass their critics.

But what Republicans have shown is that, even when they personally oppose Trump, or even deem him dangerous, they are unwilling to oppose the power structure that makes him dangerous. They see attacks on Trump's movement as an attack on themselves. At the end of the day, they see any measures to fight authoritarianism as worse than authoritarianism itself.

Biden generously offered that the majority of the Republican Party is "dominated, driven, and intimidated" by Trump's movement, unwilling to stand up to it out of fear. But the harsher truth is that many Republicans are not merely afraid of Trump's wrath, but actively complicit.
https://nymag.com/intelligencer/2022/09/gop-response-to-bidens-democracy-speech-proves-his-point.html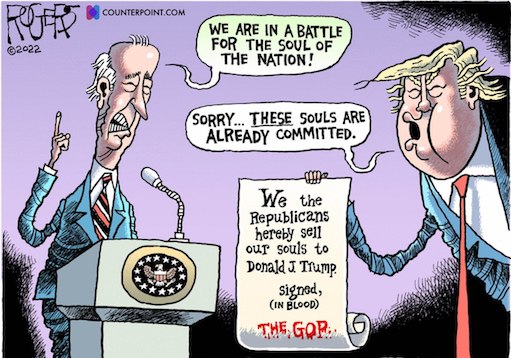 Frank Bruni: Live by the Trump, Die by the Trump
Democrats were doomed. We prediction-mad pundits felt predictable certainty about that. The recent history of midterm elections augured disaster for the party in power. Inflation would make the damage that much worse.

So why are Republicans sweating?

Their overreach on abortion and the subsequent mobilization of women voters explain a great deal but not everything. There's another prominent plotline. Its protagonist is Donald Trump. And its possible moral is a sweet and overdue pileup of clichés — about reaping what you sow, paying the piper, lying in the bed you've made.

Republicans chose to kneel before him. Will he now bring them to their knees?

Thanks in large part to Trump, they're stuck with Senate candidates — Mehmet Oz in Pennsylvania, Herschel Walker in Georgia, Blake Masters in Arizona — whose ineptness, inanity, immoderation or all three significantly diminish their chances in purple states at a propitious juncture.

Thanks in even larger part to Trump, voters ranked threats to democracy as the most pressing problem facing the country in a recent NBC News poll. That intensifying concern is among the reasons that President Biden went so big and bold last week in his intensely debated speech about extremism in America. He was eyeing the midterms, and he was wagering that Republican leaders' indulgence of Trump's foul play and fairy tales might finally cost them.

Trump is also a factor in Republicans' vulnerability regarding abortion rights. For his own selfish political purposes, he made grand anti-abortion promises. He appointed decidedly anti-abortion judges, including three of the Supreme Court justices who voted to overturn Roe v. Wade. He as much as anyone fired up the anti-abortion movement to the point where Republicans may now get burned.

With two months until Election Day, Republicans want to focus voters' attention on unaffordable housing, exorbitant grocery bills and the generally high cost of living. They want to instill deeper and broader fear about immigration and crime. They want to portray Democrats as the enemies of the American way.

But that's more than a little tricky when Trump had America's secrets strewn throughout the bowels of Mar-a-Loco. When his excuses for mishandling those classified documents change at a dizzying clip, contradict previous ones and often boil down to his typical infantile formula of I-know-you-are-but-what-am-I. When he uses Truth Social, the media penal colony to which Twitter and Facebook sentenced him, for all the old falsehoods plus new ones. When criminal charges against him aren't out of the question.

The progressive excesses of some Democrats pale beside the madness of this would-be monarch. https://www.nytimes.com/2022/09/08/opinion/trump-republicans-midterms.html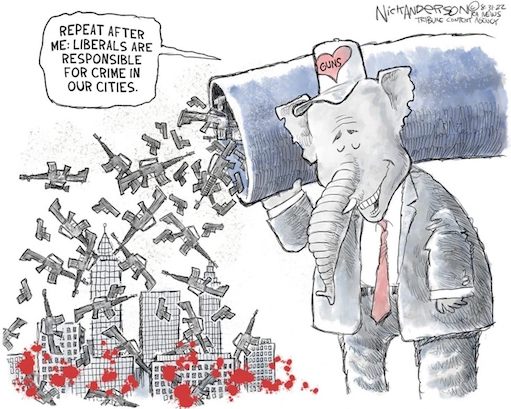 Jamelle Bouie: Biden Is Telling You That Trump Is a Threat, and the Proof Is Everywhere
President Biden is right. The so-called MAGA movement, led by Donald Trump, is a direct threat to democratic self-government in the United States.

"Too much of what's happening in our country today is not normal," as Biden put it in Philadelphia last week. "Donald Trump and the MAGA Republicans represent an extremism that threatens the very foundations of our Republic."

The proof is everywhere you look. Of the 540 Republican nominees nationwide this year in races examined by FiveThirtyEight, 199 deny the legitimacy of the 2020 presidential election. An additional 62 candidates have raised doubts about the legitimacy of the election, and 118 candidates didn't answer the question. Pro-insurrection candidates lead the Republican ticket in Arizona, Michigan and Pennsylvania — key presidential swing states — and Trump-aligned Republican activists are targeting election officials across the country with harassment and threats of violence.

On the more respectable, suit-and-tie side of the MAGA movement, the Claremont Institute and the right-wing Honest Elections Project (the latter of which is a production of Leonard Leo, a former vice president of the Federalist Society, an influential conservative legal group) have submitted amicus briefs to the Supreme Court on the side of North Carolina Republicans in a case that could give state legislatures the power to unilaterally change election laws unbound by state courts or even state constitutions.

The goal, as was clear when lawyers from the Trump campaign pushed this "independent state legislature" theory before and after the 2020 election, is to create a path by which Republican state lawmakers can toss out results they don't like. It is not for nothing that the author of the Claremont brief is none other than John Eastman, one of the legal architects of the plan to keep Trump in office against the will of the voters. "When performing federal functions, the legislatures of the several states are not operating pursuant to state authority," Eastman writes, "but rather pursuant to federal authority, and cannot be constrained by anything in state law or even a state constitution to the contrary."

A large part of the Republican Party is, as Biden says, working to ensure that the next time Trump is on the ballot, he cannot lose. For Biden's critics, however, there's nothing — not even overwhelming evidence of MAGA subversion — that justifies his sweeping condemnation of Trump and his followers. "I was stunned at how divisive this speech was last night," said Gov. Glenn Youngkin of Virginia, a Republican who has kept his distance from Trump even as he campaigns for candidates in Michigan and Nevada who believe the 2020 election was stolen or who question the result  https://www.nytimes.com/2022/09/09/opinion/biden-philadelphia-trump-maga.html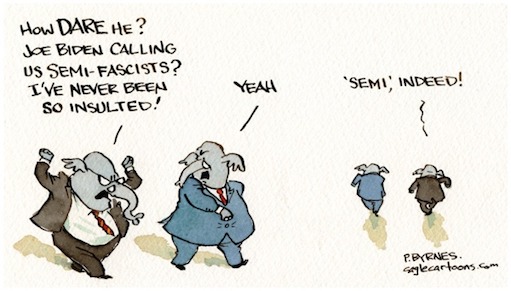 Tom Bonier: Women Are So Fired Up to Vote, I've Never Seen Anything Like It
I've watched Americans in recent years acclimate to some very grim realities. Especially since the ascension of Donald Trump, numerous tragedies and extreme policies have been met with little political consequence: schools targeted by mass murderers, immigrants treated as subhuman and autocratic regimes around the globe affirmed as allies. While Mr. Trump failed in his re-election bid, a swing of just over 20,000 votes in the three states with the narrowest margins would have produced a win for him, and Democrats hold razor-thin majorities in the House and the Senate.

In the weeks following the leak of a draft ruling in the Dobbs v. Jackson Women's Health Organization case, which all but guaranteed the end of abortion protections under Roe v. Wade, it initially seemed this pattern would hold. About three weeks after the leak, a CNN analyst claimed that "the Republican wave is building fast" heading into the midterm elections. In late May, the highly respected election analysts at The Cook Political Report increased their estimate of how many House seats the G.O.P. would gain. The discussion was focused on not whether the November general election would be a red wave but rather just how big a wave it would be.

But once the actual Dobbs decision came down, everything changed. For many Americans, confronting the loss of abortion rights was different from anticipating it. In my 28 years of analyzing elections, I had never seen anything like what's happened in the past two months in American politics: Women are registering to vote in numbers I never witnessed before. I've run out of superlatives to describe how different this moment is, especially in light of the cycles of tragedy and eventual resignation of recent years. This is a moment to throw old political assumptions out the window and to consider that Democrats could buck historic trends this cycle.

With over two months until Election Day, uncertainty abounds. Election prognostication relies heavily on precedent. Yet there is no precedent for an election centered on the removal of a constitutional right affirmed a half-century before. Every poll we consume over the closing weeks of this election will rely on a likely voter model for which we have no benchmark.

The stakes are high. Going into the midterms this fall, the G.O.P. needs to gain only six seats in the House and one seat in the Senate to retake control of those chambers, thwarting any hope of advancing federal abortion protections or any number of other liberal priorities.

Already, several Republicans seem to be sensing that they're in trouble. In Arizona, the Republican Senate candidate Blake Masters, an ardent abortion opponent, recently wiped language advocating extreme abortion restrictions from his website.

Whether the coming elections will be viewed as a red wave, a Roe wave or something in between will be decided by the actions of millions of Americans — especially, it seems, American women. As Justice Samuel Alito wrote in the majority decision in Dobbs: "Women are not without electoral or political power." He was right about that. Republicans might soon find out just how much political power they have. https://www.nytimes.com/2022/09/03/opinion/women-voters-roe-abortion-midterms.html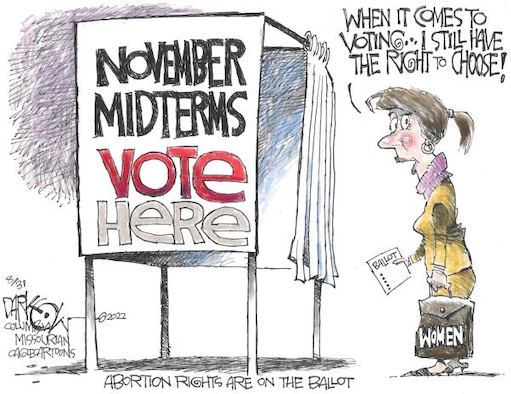 Edward Luce: The Republicans are trying hard to defeat themselves
"The storm is coming,' according to Donald Trump in his latest nod to QAnon, the far-right conspiracy hive. Nobody will be less delighted about that than Mitch McConnell, the Republican Senate leader, whose party's chances of regaining Congress are waning by the day. Midterm elections are normally a referendum on the party in power, which ought to be bad news for Joe Biden's Democrats. But history is an increasingly useless guide. There is nothing normal about today's US politics.
If, as McConnell dreads, this November's elections are turning into a referendum on Trump rather than Biden, the party chiefly has itself to blame. This is especially true of the Senate, where a batch of Trump-endorsed candidates is befouling Republican hopes of the one-seat net gain it needs. The libertarian billionaire Peter Thiel has also played a role. His bets on controversial figures such as Arizona's Blake Masters have made McConnell's task harder. https://www.ft.com/content/c45c1dd7-7fe3-4442-81fd-31d58765c6dd
Philip Bump: A new reminder of the advantage misinformation has over reality
Dangerous nonsense burrows deep, while accountability is still drafting subpoenas

It's vitally important that Americans be able to speak freely, of course. That free speech allows for the spread of false ideas is a hiccup in an essential system. The challenge is that we have no effective countervailing mechanism. Those who point out that misinformation is false or unsupported have no audience with the people who want to believe it. Legal tools for preventing the spread of falsehoods necessarily include stopgaps that slow the process down. So misinformation spreads.

Speaking on MSNBC over the weekend, Homeland Security Secretary Alejandro Mayorkas pointed to misinformation as a specific danger. The department was focused (as it has been even before President Biden's inauguration) on the threat of "domestic violent extremists," people who, among other things, embrace "an ideology of hate, anti-government sentiment, false narratives propagated on online platforms, even personal grievances."

My Pillow CEO Mike Lindell is not a terrorist, of course. He doesn't even appear to have been the direct target of the FBI's search, though who knows? But he is pumping misinformation into the public discussion, misinformation centered on the idea that the federal government is illegitimate and the 2020 election flawed. It's precisely the same misinformation that prompted hundreds of people to attack police as they sought to overrun the Capitol on Jan. 6, 2021.

And here, 20 months later, Lindell is still amplifying the same idea without any immediate repercussions besides scolding newspaper articles.  https://www.washingtonpost.com/politics/2022/09/14/election-misinformation-mike-lindell/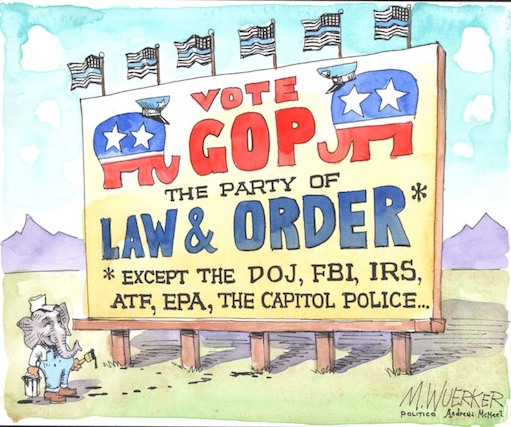 Susan B. Glasser: So Many Trump Scandals, So Little Time
Outrage has steadily lost its power in American politics throughout the past few years. Among Donald Trump's many political weapons, his ability to brazen his way through scandals that would derail other politicians has long been perhaps his strongest asset. His signature move is to displace talk of one mind-blowing violation by committing yet another mind-blowing violation—a habit that has now produced numerous investigations of him and once again led the former President to dominate our daily discourse. It's easy to forget about the last controversy because, with Trump, you're always onto the next one.

Even now, nearly two years after he left office, this familiar debilitating dynamic applies. There are currently multiple serious, ongoing inquiries into Trump and his associated entities, ranging from investigations of the former President's business to his role in fomenting the January 6th insurrection at the Capitol. Trump has so many legal problems that he is employing no fewer than nineteen lawyers to represent him, Politico found—a full law firm's worth of legal D-listers. There's the Georgia probe into his efforts to pressure state election officials not to certify Joe Biden's victory, and, as last month's F.B.I. search of Mar-a-Lago made public so dramatically, a Justice Department criminal investigation of his refusal to turn over reams of classified information after he left the White House. Which one to focus on?

This past Tuesday, the Washington Post revealed that Trump apparently left office with classified information about another country's nuclear secrets and kept it at his Mar-a-Lago country club in an unsecured storeroom. Some of the classified documents that the F.B.I. found there were so secret that even many senior national-security officials were not cleared to have access to them, the Post reported. This, surely, is an outrage worth dwelling on. Yet, by Thursday, the Trump news cycle had moved on to reports of a new wave of federal grand-jury subpoenas into Trump's fund-raising operation after the 2020 election, in which his Save America pac raised more than a hundred million dollars by spreading baseless lies about widespread voter fraud.

Trump may not now, and may not ever, face the legal reckoning that so many of his critics have craved for so long. If nothing else, he remains an expert at running out the clock. It's worth remembering, however, that Trump's record suggests a political comeuppance is possible—even if the spectacle of him being hauled away in handcuffs is still hard to imagine. He is already, after all, the first incumbent President since Herbert Hoover to lose the White House, Senate, and House in just four years. If Democrats manage to defy history and hold one or both houses of Congress this November, you can bet the fear of the former President's return will be a major factor. That's why both the forty-fifth and the forty-sixth Presidents want the upcoming elections to be all about Trump, Trump, Trump.  https://www.newyorker.com/news/letter-from-bidens-washington/so-many-trump-scandals-so-little-time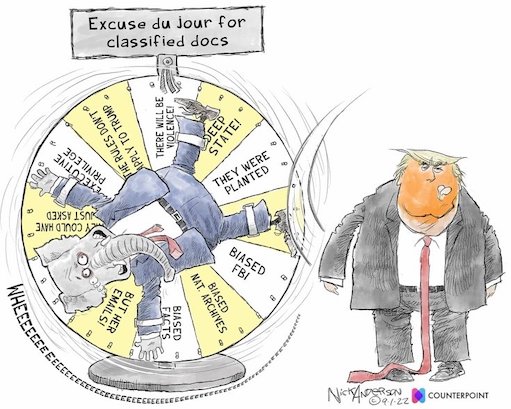 Carol C. Lam: Why the DOJ-Trump special master fight on Mar-a-Lago is a red herring
Ever since an alarmed and exasperated FBI finally executed a search warrant at former President Donald Trump's Mar-a-Lago estate on Aug. 8., Trump has hurled one monkey wrench after another into the government's investigation of highly sensitive government documents being retained at Mar-a-Lago. There were angry statements on Truth Social, outrage about the agents taking his passports (the location of the passports, in the former president's desk drawer alongside classified documents, is evidence of Trump's knowledge of the classified document) and, most recently, a disputed request that the court appoint a special master to review the seized documents for attorney-client and executive privileges.
Trump's tactics have gotten some traction. Federal Judge Aileen Cannon approved the appointment of a special master and forbade the government from reviewing any of the seized documents or using them in its investigation pending the special master's review. That, according to the Department of Justice, is an untenable position. The DOJ asked the judge to stay her injunction with respect to seized classified documents, arguing, sensibly, that pre-existing classified government documents could not in any way implicate the attorney-client privilege or the executive privilege. The DOJ stands ready to appeal her ruling. Trump and his lawyers have asked Cannon to ignore the DOJ's request, and keep the injunction in place.
So there's a tussle underway in West Palm Beach about who gets to control the government's investigation. The DOJ? Trump? The court?
At the end of the day, it doesn't matter. Donald Trump and the court in Florida can't change the fact that Trump wrongly had classified documents at Mar-a-Lago. Whether the DOJ ultimately charges Trump with a crime will depend on
a lot of things, but not on the special master ruling.
Even Trump's former Attorney General William Barr recently called Trump's special master motion "a red herring." And he was right about that. A red herring is an oily, smelly fish from the northern seas of Europe. When hounds used by fox hunters in England to sniff out their prey became too good at their jobs, the hunters had to find a way to prolong the thrill of the chase. Eventually, they started dragging around smelly red herrings, temporarily diverting the hounds from the scent of the foxes.
With the mantle of his former position, Trump has a lot of red herrings that he can use to distract and delay the government investigation. But when it comes to obstruction of justice and possession of sensitive government documents, eventually the hounds will find the foxes.
Trump's motion for a special master, and a court's acquiescence to it, is all in a day's work for the DOJ. https://www.nbcnews.com/think/opinion/judges-trump-special-master-fight-fbi-search-red-herring-rcna47161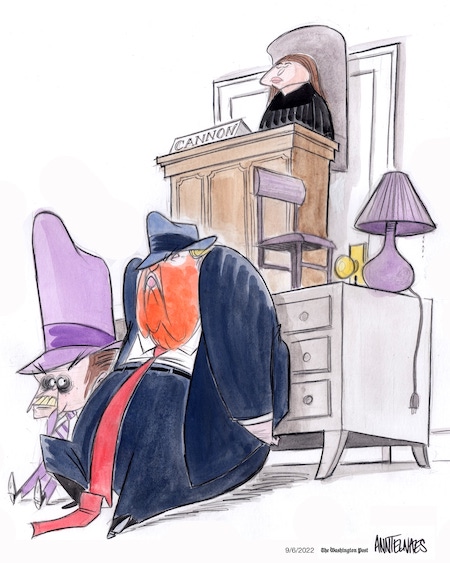 Francis Fukuyama: Why Ukraine Will Win
A Russian military failure—meaning at minimum the liberation of territories conquered after 24 February 2022—will have enormous political reverberations around the world. Russia and China prior to the war argued that liberal democracies, particularly the United States, were in decline. They argued that their authoritarian systems were better at accomplishing big tasks and acting decisively. What has happened instead is that the Russian model of centralized decision-making, centered around one man, has committed one of the gravest political blunders in recent history. Putin, isolated during the pandemic and out of touch with the reality both of his own military and of public opinion in Ukraine, believed that he would be greeted there as a liberator. China, for its part, is seeing its rate of growth tanking as the result of a  zero-Covid  policy that its paramount leader, Xi Jinping, seems determined not to waver from. Western democracies, by contrast, have appeared united and determined in the face of this challenge.
If the Ukrainians don't simply hold out against Russia but actually defeat Russia's massive army and force it to retreat, the positive reverberations will be felt across the globe. Populist nationalists around the world, from Viktor Orbán to Matteo Salvini to Marine Le Pen to Donald Trump, have expressed admiration for Putin's style of strongman rule. A Russian defeat and humiliation will puncture this narrative of the advantages of authoritarian government, and might lead to a rekindling of democratic self-confidence. It has been easy for publics in Western democracies to take for granted the peace and prosperity brought about by the liberal world order. It may be the case that every generation needs to relearn the lesson that the alternatives to liberal democracy lead to violence, repression, and ultimately economic failure. Such a lesson will be driven home if the world sees brave Ukrainians fighting for their country succeed beyond all expectations.
Ukraine will win. Slava Ukraini! https://www.journalofdemocracy.org/why-ukraine-will-win/