May 7, 2020
ON THE RECORD. . .
ACOSTA: You say you had inherited "broken tests" from Obama — the coronavirus is a new virus, so how could the tests be broken?
TRUMP: We have broken tests. We had tests that were obsolete. We had tests that didn't take care of people.

The Governor of Michigan should give a little, and put out the fire. These are very good people, but they are angry. They want their lives back again, safely! See them, talk to them, make a deal. -- Donald Trump on the hundreds of angry armed men in militia- type clothing and carrying semi automatic weapons crowded into the Michigan state house.

"It's not true. It never, never happened."  … "In every case, the truth is what matters. In this case, the truth is the claims are false."— Joe Biden personally addressing Tara Reade's sexual assault allegation in an interview with Mika Brzezinski on MSNBC's Morning Joe.

"Had any credible issue been raised, you can be sure Biden would not have been the nominee. Obama would not have tolerated it, even if he and Biden were close then, which they were not. Their friendship grew only after Biden joined the ticket and through their eight-year partnership in the White House." — David Axelrod writes that the team of lawyers who did an in-depth vetting of Joe Biden for VP did not find any claims of sexual misconduct.

McConnell's dismissive remark that States devastated by Coronavirus should go bankrupt rather than get the federal assistance they need and deserve is shameful and indefensible. To say that it is "free money" to provide funds for......cops, firefighters and healthcare workers makes McConnell the Marie Antoinette of the Senate. — Rep. Pete King (R-NY)

"You think I like sizing up my neighbor, how I'm gonna haul him up by a chain? Chop his ass up? I'll do it. My children aren't going hungry. I'll admit it. I will eat my neighbors… I'm just gonna be honest… I'm literally looking at my neighbors now going 'Am I ready to hang them up and gut them and skin them and chop them up?' and you know what, I'm ready … I'll eat my neighbors … I'll eat your ass, I will." — Alex Jones ranting about eating his neighbors on his radio show.

As President, I will restore a relationship with the independent press that is grounded in mutual respect, even — and especially when — they critique policies or positions of my administration. In a Biden White House, there will be no bullying of the media from the press room podium or by tweet. We will have regular, fact-based briefings across my Administration's major departments and agencies. We must return to civility and transparency in America's civic discourse. — From the statement by Vice President Joe Biden on World Press Freedom Day

"Those who don't learn from history are doomed to repeat it. The 1918 Influenza Epidemic lasted over 10 months and came in three waves. The 2nd wave was worse than the first wave. We must be cautious. The war isn't won yet." — NY Gov. Andrew Cuomo (D), on Twitter.

"What is it about President Obama that really gets under your skin? Is it because he's smarter than you? Better educated? Made it on his own—didn't need Daddy's help? Wife is more accomplished? Better looking? I don't know, what is it, what is it about him? That he's a black man that's accomplished being president? That he punked you on the whole birth certificate thing? What is it about him? Just wondering." — Don Lemon addressing President Trump directly on CNN

"Getting great reviews, finally, for how well we are handling the pandemic, especially our strong production of desperately needed ventilators, the building of field hospitals & beds, and soon, the great things we are doing on testing. People are really working well together!" — Trump gave himself high marks in dealing with the crisis even as the death toll from coronavirus neared 70,000,

"They always said Lincoln. Nobody got treated worse than Lincoln. I believe I am treated worse." — Trump, even though Lincoln was assassinated, but that's nothing compared to Trump having to answer questions from the press.

"The Enemy of the People," "Horrible and totally dishonest," "Failing and Corrupt," "a disgrace to journalism," "a fraud on the American Public"— strangely, these are not pet names for Trump's favorite media outlets but are what he thinks of anyone writing a truthful assessment of his work on the job. — Bess Levin

"Because the House is a set up. The House is a bunch of Trump haters… they, frankly, want our situation to be unsuccessful, which means death. — Trump explaining why he won't let Dr. Anthony Fauci testify before the House.

"This is not the entire world. This is the greatest nation on earth founded on Judeo-Christian Principles. One of those principles is that we are all created in the image and likeness of God. That image is seen the most is our face. I will not wear a mask." — Ohio state Rep. Nino Vitale (R) explaining why he would not wear a mask as recommended by Gov. Mike DeWine (R).

 "If you look at the evolution of the virus in bats and what's out there now, the scientific evidence is very, very strongly leaning toward this could not have been artificially or deliberately manipulated… Everything about the stepwise evolution over time strongly indicates that [this virus] evolved in nature and then jumped species." — Dr. Anthony Fauci refuting Trump's claim that coronavirus was released from a Chinese lab.

ABC's @SashaPezenik owes @JoeBiden an apology for posting tweets implying that he sexually harassed the 14-year-old niece of Christine "I Am Not A Witch" O'Donnell. Pezenik later tweeted that it never happened — Biden wasn't even at the event but was home recovering from surgery. — Jon Cooper tweet

"I'm viewing our great citizens of this country to a certain extent and to a large extent as warriors. They're warriors. We can't keep our country closed. We have to open our country… Will some people be badly affected? Yes. But we have to get our country open." — Trump, on why businesses should reopen.

"DC will never be a state. You mean District of Columbia, a state? Why? So we can have two more Democratic — Democrat senators and five more congressmen? No thank you. That'll never happen." — Trump to the New York Post.

"The fundamental question, which we're not articulating, is how much is a human life worth… I say a human life is priceless. Period." … — NY Gov. Andrew Cuomo

"Of course, everybody wants to save every life they can — but the question is, towards what end, ultimately?" … "The message is that the American people have gone through significant death before. The first and second World Wars as examples of how we've gone through it and we've survived it. We sacrificed those lives." — Former NJ Gov. Chris Christie (R)

"I'm viewing our great citizens of this country to a certain extent and to a large extent as warriors. They're warriors. We can't keep our country closed. We have to open our country ... Will some people be badly affected? Yes." — Trump on why businesses should reopen.

"The fact is if you undermine science, if you underfund testing, if you exaggerate the opportunity that is out there for the economy at the risk of people dying, that's not a plan. Death is not an economic motivator, stimulus."— Speaker Nancy Pelosi
---
IN THIS ISSUE
FYI
OPINION
1. Andy Borowitz: New Claim That Enemies of U.S. Developed Trump in Lab
Enemies of the United States developed Donald J. Trump in a top-secret biotech lab with the goal of wreaking untold havoc on the nation, a leading conspiracy theorist claimed on Monday.

The theorist, Harland Dorrinson, said that he has "conclusive evidence" that Trump was created by enemy scientists as the "ultimate weapon" to bring the United States to its knees.

"Having combed through binders of secret documents, I can say with a hundred per cent confidence that the person we have been calling Donald Trump was grown in a recombinant-DNA lab," Dorrinson said.

"It's the only possible explanation," he added.

While the organism known as Trump appeared to be little more than a curiosity for the first seven decades of his existence, "seemingly designed for our amusement," in recent days he has become "fully weaponized," the conspiracy theorist asserted.

"In the past two weeks, he has urged Americans to defy public-health orders, to insert ultraviolet light inside their bodies, and to ingest bleach," he said. "In a secret lab somewhere, enemy scientists are popping champagne." https://www.newyorker.com/humor/borowitz-report/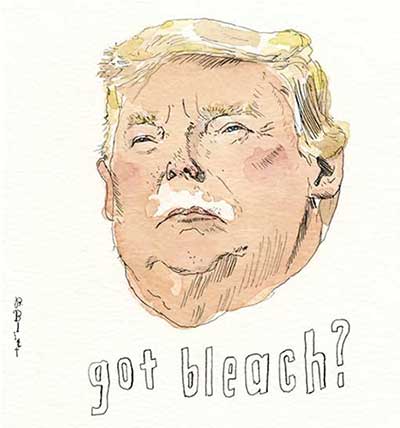 2. Fact check: Trump peppers Fox News town hall with false claims on coronavirus and other topics
Some of the people and things Trump made false or misleading claims about on Sunday night at the Fox News town hall — Daniel Dale
Fauci
Biden
Obama/AIDS
His travel restrictions and testing
Hydroxychloroquine
The pandemic trendlines
Ammunition
Trade with China
Trade with Japan
NATO
His rally crowds
Details at https://www.cnn.com/2020/05/03/politics/fact-check-fox-news-townhall-trump-may-3/index.html
3. The Lincoln Project video: Mourning in America
4. Trump can't resist the role of flamethrower, even in sobering times
At a time when large majorities of Americans support the stay-at-home orders that their governors have issued to keep them safe, President Donald Trump once again stepped into the role of rabble-rouser on Friday by siding with the small group of agitators who turned up at Michigan's state Capitol the previous day to protest Democratic Gov. Gretchen Whitmer's stringent stay-at-home order.
Though a mere 400 to 700 people joined the protest -- some of them armed -- in a critical swing state of nearly 10 million people, Trump once again gambled that the smart political play was to back the fiery few rather than worrying about how he might alienate the many middle-of-the-road voters in the Great Lakes State who remain concerned about the coronavirus' ravages of their state. https://www.cnn.com/2020/05/02/politics/trump-protests-reelection-2020/index.html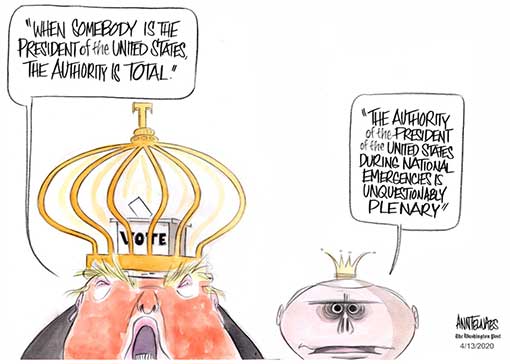 5. Trump's Pick for Intelligence Chief Follows a Slew of QAnon Accounts
For a nominee to helm the U.S. government's intelligence apparatus, Rep. John Ratcliffe (R-Texas) draws on some unusual sources of information. 
Ratcliffe's official, verified campaign Twitter account follows several accounts on the political fringe, including a 9/11 truther account with just one follower besides himself and four promoting the outlandish QAnon conspiracy theory, which posits that the world is run by a cabal of Democratic pedophile-cannibals—and has been ruled a potential source of domestic terrorism by the FBI. 
The conspiracy theorists followed by Ratcliffe, whose nomination for director of national intelligence goes before the Senate intelligence committee Tuesday morning, cover a bizarre range of beliefs. They posit that John F. Kennedy Jr. faked his death to help Trump to take down the Deep State. Others claim a Democratic sex dungeon exists in in a Washington pizzeria. But Ratcliffe and the QAnon promoters he follows have one thing in common: utter loyalty to Trump. https://www.thedailybeast.com/john-ratcliffe-trumps-pick-for-intelligence-chief-follows-a-slew-of-qanon-accounts
6. Trump will urge Supreme Court to strike down Obamacare
Donald Trump on Wednesday said his administration will urge the Supreme Court to overturn Obamacare, maintaining its all-out legal assault on the health care law amid a pandemic that will drive millions of moreAmericans to depend on its coverage.
The administration appears to be doubling down on its legal strategy, even after Attorney General Bill Barr this week warned top Trump officials about the political ramifications of undermining the health care safety net during the coronavirus emergency. https://www.politico.com/news/2020/05/06/trump-supreme-court-obamacare-240366
7. Coronavirus concerns drop in 2020 swing states as Republican fears fall, CNBC/Change Research poll finds
Fears about the coronavirus have fallen in key 2020 swing states as Republican worries about the pandemic slide, according to a new CNBC/Change Research survey. 
About two-thirds, or 68%, of likely voters in the election battlegrounds of Arizona, Florida, Michigan, North Carolina, Pennsylvania and Wisconsin said they have "very" or "somewhat" serious concerns about Covid-19, the States of Play poll found. The share of respondents with major worries about the pandemic dropped from 76% in mid-April. 
A partisan split appeared to drive the shift. Only 39% of Republicans said they had at least somewhat serious concerns about the coronavirus disease, down from 55% last month. At the same time, 97% of Democrats said they had significant worries, nearly identical to the 98% share in mid-April. https://www.cnbc.com/2020/05/06/coronavirus-updates-concerns-fall-in-2020-election-swing-states-cnbcchange-poll-finds.html
8. Trump Moves to Replace Watchdog Who Identified Critical Medical Shortages
Trump moved on Friday night to replace a top official at the Department of Health and Human Services who angered him with a report last month highlighting supply shortages and testing delays at hospitals during the coronavirus pandemic.
The White House waited until after business hours to announce the nomination of a new inspector general for the department who, if confirmed, would take over for Christi A. Grimm, the principal deputy inspector general who was publicly assailed by the president at a news briefing three weeks ago. https://www.nytimes.com/2020/05/01/us/politics/trump-health-department-watchdog.html
9. Texas attorney general says election officials offering mail ballots because of COVID-19 could face criminal punishment
Attorney General Ken Paxton on Friday said that election officials in Texas who offer mail ballots to people who normally wouldn't qualify but are afraid of catching the coronavirus could be subjected to criminal punishment. https://www.dallasnews.com/news/public-health/2020/05/01/texas-attorney-general-says-election-officials-offering-mail-ballots-because-of-covid-19-could-face-criminal-punishment/\
10. More Than 70% of Inmates Tested in Federal Prisons Have Coronavirus
More than two thirds of the small number of federal prisoners who have been tested for the new coronavirus had positive results, top Bureau of Prisons officials said Wednesday, suggesting the outbreak behind bars may be more widespread than previously known. https://www.wsj.com/articles/more-than-70-of-inmates-tested-in-federal-prisons-have-coronavirus-11588252023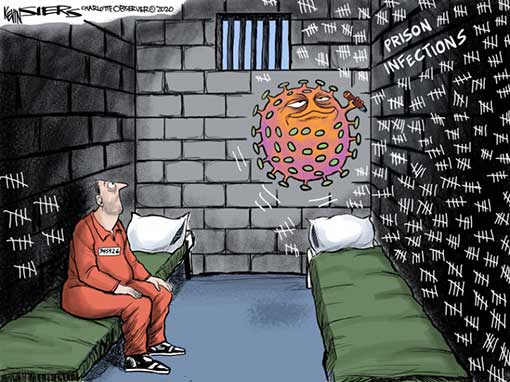 11. Coronavirus was 'not manmade or genetically modified': U.S. spy agency
The top U.S. spy agency said for the first time on Thursday the American intelligence community believes the COVID-19 virus that originated in China was not manmade or genetically modified.
The Office of Director of National Intelligence statement contradicted conspiracy theories floated by anti-China activists and some supporters of President Donald Trump suggesting the new coronavirus was developed by Chinese scientists in a government biological weapons laboratory from which it then escaped.
It also echoed comments by the World Health Organization (WHO), which on April 21 said all available evidence suggests the coronavirus originated in animals in China late last year and was not manipulated or made in a laboratory.
"The Intelligence Community (IC) also concurs with the wide scientific consensus that the COVID-19 virus was not manmade or genetically modified," the Office of Director of National Intelligence (ODNI) said in a statement. https://www.reuters.com/article/us-health-coronavirus-usa-intelligence-idUSKBN22C2PN
12. Trump contradicts US intel community by claiming he's seen evidence coronavirus originated in Chinese lab
Trump contradicted a rare on-the-record statement from his own intelligence community by claiming that he has seen evidence that gives him a "high degree of confidence" the novel coronavirus originated in a laboratory in Wuhan, China, CNN reports.
The comments undercut a public statement from the Office of the Director of National Intelligence issued just hours earlier which stated no such assessment has been made. https://www.cnn.com/2020/04/30/politics/trump-intelligence-community-china-coronavirus-origins/index.html
13. #AskTheAG: Barr is taking Twitter questions on coronavirus issues, and it's getting ugly
The Justice Department offered the public a rare opportunity on Wednesday morning to submit questions to Attorney General William P. Barr for a "nationwide #AskTheAG Q&A session on May 1." Specifically, it asked via Twitter for questions "on how DOJ is protecting public safety & combatting fraud, price gouging, hoarding, & more" during the coronavirus pandemic.
The response, as of early Thursday morning, was voluminous but surely not what the department had in mind when it asked for questions about the pandemic.
"If you're considering action against Governors who don't reopen fast enough, will you take action against those who open unsafely?"

"How does it feel defending a criminal responsible for the death of 58,471 Americans and counting?"

"What is your justification for using religion as a wedge to prevent State Governors from imposing the necessary controls to prevent the spread of Covid-19?"

There were many variations of "When are you resigning?" and a paraphrase of the memorable question once put to Sen. Joseph R. McCarthy (R) of Wisconsin: "Have you no decency sir?"

"Why did you lie to the American people about the Mueller Report?" said another.

"Why are you covering up for the president who invited and welcomed election interference from a foreign power?" another asked.
There was a whole category of non-question questions suggesting Barr had become another Trump sycophant, a "toady," as in "#AskAGBarr about being a Toady," punctuated with a toad-like emoji, and another tweet, emoji-less, asking, "Exactly when did you sell your soul?" https://www.washingtonpost.com/nation/2020/04/30/barr-coronavirus-twitter-questions/
14. Amid a Rising Death Toll, Trump Leaves the Grieving to Others
As he presides over the coronavirus pandemic and resulting economic collapse, Mr. Trump has hosted or called many people affected by the devastation, including health company executives, sports commissioners, governors, cruise boat company heads, religious leaders, telecommunications executives and foreign heads of state. One category that has yet to make his list: Americans who have lost someone to the pandemic.
Empathy has never been considered one of Mr. Trump's political assets. He views public displays of sadness as weakness and has made a point of stressing resolve, even at the risk of overlooking the deep pain afflicting so much of the country. His favorite words in his televised appearances of recent weeks are "powerful" and "strong." He talks of "incredible" days ahead without dwelling on the miserable days of now. He plans fireworks while Americans plan funerals. days of now. He plans fireworks while Americans plan funerals." https://www.nytimes.com/2020/04/30/us/politics/trump-coronavirus-grieving.html
15. A QAnon Devotee Live-Streamed Her Trip to N.Y. to 'Take Out' Joe Biden
An Illinois woman inspired by pro-Trump QAnon conspiracy theory videos traveled to New York City on Wednesday with more than a dozen illegal knives and threatened to kill former Vice President Joe Biden, according to police and her own social media posts. 
New York police officers arrested dancer Jessica Prim, 37, on Wednesday after she began to act strangely on a city pier. In a live video Prim posted on Facebook of her arrest, she ranted about saving children and claimed she had come to New York because of an internet conspiracy theory video about a "cabal" of pedophile Democrats. 
"Have you guys heard about the kids?" a tearful Prim said as she was arrested. "OK, I'm not lying." 
Shortly before her arrest, Prim posted on Facebook that Hillary Clinton and Biden "need to be taken out." 
"Hillary Clinton and her assistant, Joe Biden and Tony Podesta need to be taken out in the name of Babylon!" Prim wrote. "I can't be set free without them gone. Wake me up!!!!!"
At another point during her arrest, Prim said she believed Donald Trump was talking to her directly during his coronavirus press conferences. Prim is facing more than a dozen counts of criminal possession of a weapon over the knives, as well as a marijuana possession charge, according to the New York Daily News. https://www.thedailybeast.com/a-qanon-devotee-live-streamed-her-trip-to-ny-to-take-out-joe-biden
16. Covid-19 Pandemic Likely to Last Two Years, Report Says
The coronavirus pandemic is likely to last as long as two years and won't be controlled until about two-thirds of the world's population is immune, a group of experts said in a report.
Because of its ability to spread from people who don't appear to be ill, the virus may be harder to control than influenza, the cause of most pandemics in recent history, according to the report from the Center for Infectious Disease Research and Policy at the University of Minnesota. People may actually be at their most infectious before symptoms appear, according to the report.
After locking down billions of people around the world to minimize its spread through countries, governments are now cautiously allowing businesses and public places to reopen. Yet the coronavirus pandemic is likely to continue in waves that could last beyond 2022, the authors said. https://www.bloomberg.com/news/articles/2020-05-01/covid-19-pandemic-likely-to-last-two-years-report-says
17. Virus-afflicted 2020 looks like 1918 despite science's march
Despite a century's progress in science, 2020 is looking a lot like 1918.
In the years between two lethal pandemics, one the misnamed Spanish flu, the other COVID-19, the world learned about viruses, cured various diseases, made effective vaccines, developed instant communications and created elaborate public-health networks.
Yet here we are again, face-masked to the max. And still unable to crush an insidious yet avoidable infectious disease before hundreds of thousands die from it.
As in 1918, people are again hearing hollow assurances at odds with the reality of hospitals and morgues filling up and bank accounts draining. The ancient common sense of quarantining is back. So is quackery: Rub raw onions on your chest, they said in 1918. How about disinfectant in your veins now? mused President Donald Trump, drawing gasps instead of laughs over what he weakly tried to pass off as a joke. https://apnews.com/6c45a08d3c2ea96e4edeb7e55a6a107e
18. Money for Welfare Instead Funded Concerts, Lobbyists and Football Games, Audit Finds
According to a state audit, Mississippi allowed tens of millions of dollars in federal anti-poverty funds to be used in ways that did little or nothing to help the poor.
The state of Mississippi allowed tens of millions of dollars in federal anti-poverty funds to be used in ways that did little or nothing to help the poor, with two nonprofit groups instead using the money on lobbyists, football tickets, religious concerts and fitness programs for state lawmakers, according to a scathing audit released on Monday.
According to the report, released by the state auditor's office, the money also enriched celebrities with Mississippi ties, among them Brett Favre, a former N.F.L. quarterback whose Favre Enterprises was paid $1.1 million by a nonprofit group that received the welfare funds. The payments were for speaking engagements that Mr. Favre did not attend, the auditors said.
Other large sums went to a family of pro wrestlers whose flamboyant patriarch, Ted DiBiase, earned national fame performing as the "Million Dollar Man." In a news conference on Monday, Shad White, the state auditor, said it was possible that many recipients of the money did not know it had come from the federal welfare program.
Mr. Favre could not be reached for comment Monday. Mr. DiBiase declined to comment. https://www.nytimes.com/2020/05/04/us/mississippi-department-human-services.html
19. The DAILY GRILL
"We are way ahead on testing. We are the best in the world on testing. We've tested much more than anybody else, times two — or every country combined. We've tested more than every country combined." — Trump's remarks at the White House.

VERSUS

More than every other country combined? Not by a long shot. As of the end of April 28, the United States has conducted 5.9 million tests, according to one metric. (The crowdsourced Covid Tracking Project reports almost 5.8 million tests but it does not have international comparisons.) The next five countries — Russia, Germany, Italy, Spain and United Arab Emirates — had conducted 10 million tests as of that date. The total for all non-U. S. countries is about 25 million. So Trump's bravado is ridiculously wrong. — Glenn Kessler

 

"The core reasons our states are open for business are the tenacity, grit and heart of our residents. Their clear-eyed, common-sense approach helped keep our states on track and have set us up to come out of this pandemic stronger than ever. We look forward to leading the way." — The Republican governors of Arkansas, Iowa, Missouri and Nebraska and Wyoming.

VERSUS

"It's not often that you can recognize — in real time — the kind of mistake that will haunt a politician every remaining day of their blessed lives, but it helps when five of them co-sign it together, under a headline like this." — Rachel Maddow tweet.

 

"The only reason the U.S. has reported one million cases of CoronaVirus is that our Testing is sooo much better than any other country in the World. Other countries are way behind us in Testing, and therefore show far fewer cases!" —Trump  tweet, April 29
"The reason [for 1 million cases] is because of testing, because other countries don't test. So, if you don't test, you're not going to find cases." — Trump remarks, April 29

VERSUS

Trump is trying to make lemonade out of lemons. Many countries with significant case loads are testing, often at greater rates than the United States. The United States has such a huge case load because it failed to ramp up testing at the speed of other countries, so the virus spread silently before Trump finally took the problem seriously and advocated mitigation and social distancing efforts. Having 1 million cases of covid-19 is nothing to brag about, but Trump still finds a way.  — Glenn Kessler

 

"I will never lie to you." --  Kayleigh McEnany promised journalists at the first official briefing by a White House press secretary in 417 days.

VERSUS

McEnany misquoted an FBI agent's written comment about former national security adviser Michael Flynn. She mischaracterized a Friday tweet by President Donald Trump about protesters in Michigan. She gave an inflated figure for the cost of special counsel Robert Mueller's investigation. And she said Mueller offered a "complete and total exoneration" of the President, something Mueller explicitly said he was not doing.-- CNN

 

A woman related to a former Republican Senate candidate is accusing former Vice President Joe Biden of sexual harassment, claiming he complimented her breasts at a political event in Delaware when she was 14 years old in 2008.— Fox News

VERSUS

J. Brian Murphy, the former vice president of the dinner in question, also said in a statement over the weekend that he reviewed the records and can "conclusively say" Biden "was not at the dinner."
"The year 2008 is particularly noteworthy because it is the only year where the Senator agreed to appear in a video, which was a spoof of Meet the Press.  It was taped earlier that week.  It was our hope the Senator would attend the dinner to see the video, but he sent regrets.  Had he been there, myself as well as others would have known and in fact, I would have acknowledged him from the stage," he said. "Senator Biden was not at the Gridiron Dinner in May of 2008." -- Fox News

 

"Let us remember how small our differences are in the face of this shared threat. We are not partisan combatants, we are human beings … we rise and fall together, and we are determined to rise." — Former president George W. Bush released a video calling for national unity during a pandemic that has killed at least 67,000 Americans.

VERSUS

.@PeteHegseth "Oh bye the way, I appreciate the message from former President Bush, but where was he during Impeachment calling for putting partisanship aside." @foxandfriends He was nowhere to be found in speaking up against the greatest Hoax in American history! — Trump responds to Bush on Twitter.

 

it's "a great time for people to explore America" for summer vacation. A lot of people haven't seen many parts of America. I wish I could get back on the road soon." — Treasury Secretary Steve Mnuchin to Fox Business.

VERSUS

CDC recommends you stay home as much as possible, especially if your trip is not essential. … Travel increases your chances of getting and spreading COVID-19. -- CDC
20. From MEDIA MATTERS (They watch Fox News so you don't have to)
Right-wing groups are using the same playbook against COVID-19 measures they've used to fight LGBTQ rights. Groups have used litigation, right-wing media, and connections with the Trump-Pence administration to advance their narratives stay-at-home orders put in place to protect Americans from the coronavirus by pushing for exemptions for churches and pastors, including by filing lawsuits, pressuring local and state governments, and working with the Trump-Pence administration.These groups -- which often use the guise of religious liberty to fight against LGBTQ rights and other progressive causes -- have also used or mirrored right-wing media coverage to spread their message. https://www.mediamatters.org/alliance-defending-freedom/right-wing-groups-are-using-same-playbook-against-covid-19-measures

Tucker Carlson criticizes government officials for listening to an "elderly power drunk epidemiologist. TUCKER CARLSON (HOST): Millions of people, probably your ancestors, fled to this country from around the world precisely because our Bill of Rights gave them this guarantee. It's why this country was founded, and in a moment, it's gone. How? Where did politicians get the authority to do this? Because some elderly power drunk epidemiologist told them to do it? That's not how our system works. It can't work that way. https://www.mediamatters.org/coronavirus-covid-19/tucker-carlson-criticizes-government-officials-listening-elderly-power-drunk

Sean Hannity complains about New York's "mansion taxes. "Real estate, New York, you know they have all these mansion taxes, this taxes, I mean, you can't sell a place without the government taking 5% of everything. 
LYNDA MCLAUGHLIN: Yeah, and the problem is -- 
HANNITY: Like legalized stealing, all of it. https://www.mediamatters.org/sean-hannity/sean-hannity-complains-about-new-yorks-mansion-taxes
1. Eric Lutz: They're Starting To Feel Good": In Trump's Mind, Coronavirus Is Already Over
By virtually any indicator, the U.S. is still at the beginning of this public health crisis—not at the end. But Trump has once again reverted to the unrealistic optimism of February and March, when he downplayed the crisis as it escalated. All but declaring the U.S. victorious over the "invisible enemy" of coronavirus, the president has repeatedly suggested the worst of COVID is behind us and the country is now mounting a comeback over the pandemic. "I think [Americans are] starting to feel good now," Trump said in an Oval Office interview Monday with the New York Post. "The country's opening again." Suggesting there's "great optimism" among Americans, Trump insisted that he will "keep the virus at bay" amid his aggressive push to "reopen" the nation's COVID-ravaged economy.
"If we have a flare up, we can put it out," the president said. "We've learned a lot."
How would he "put it out?" Who knows. There's no proven treatment so far, a vaccine remains far off, and the administration is still failing to provide the adequate testing Dr. Anthony Fauci has repeatedly said is necessary to begin reopening the country.
Nevertheless, Trump and his allies continue to push for a return to normalcy, even if that means tens of thousands more deaths. "Everybody wants to save every life they can," former New Jersey Governor Chris Christie said on CNN Monday. "But the question is, towards what end, ultimately?" Asked by CNN's Dana Bash if Americans would accept perhaps 3,000 casualties a day, Christie replied: "They're gonna have to." But despite highly-publicized—often armed—protests across the country against stay-at-home orders, which Trump has encouraged, polls continue to show that Americans strongly oppose lifting the restrictions prematurely, apparently unwilling to sacrifice themselves and their loved ones for the sake of the economy. Trump may feel "great optimism" that the U.S. has turned a corner—but a majority of Americans don't share in it. https://www.vanityfair.com/news/2020/05/theyre-starting-to-feel-good-in-trumps-mind-coronavirus-is-already-over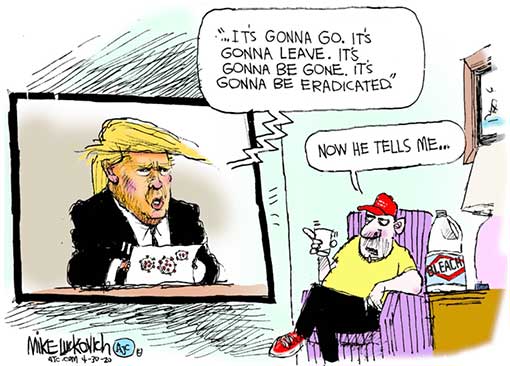 2. Virginia Heffernan: As virus deaths rise, where's Trump's 'great story'?
In late 2019, Jared Kushner, President Trump's son-in-law, counseled a Saudi prince in his time of need. Poor Mohammed bin Salman. He was in hot water, you'll recall, for ordering up an assassination that included sawing off the limbs of an American resident.
Kushner told MBS the gruesome killing could be smoothed over. The Saudis' sadism, in other words, was merely a PR speed bump.
Kushner is treating American death as a personal publicity project once again. With his fingers all over the White House's catastrophic coronavirus policy, he's been lying about the pandemic with increasing rashness.
"We're on the other side of the medical aspect of this," he told Fox News on Wednesday with a smooth smile. "The federal government rose to the challenge, and this is a great success story."
Note the past tense. Note the callousness.
The national death toll shot past 61,000 this week. My father's sister was among the casualties — along with so many aunts, uncles, brothers, daughters, sisters, sons, mothers and fathers that the badly managed coronavirus crisis has killed — more Americans in three months than in 19 years of warfare in Vietnam.
On Wednesday, Kushner didn't utter a word of condolence to the American people. Instead, he called their deaths his triumph.
No sane person buys what Kushner is selling. People are still dying by the thousands each day, and, in new hot spots, cases are mounting. The roller-coaster trend in Los Angeles is worrisome even as the state has overall succeeded in flattening the curve. And as Dr. Anthony Fauci keeps explaining, the COVID-19 pandemic is far from over.
But Kushner is smearing his patented formula of shellac, Brylcreem and greasy lies — oh, and bleach — over these facts and the latest set of ghoulish Trumpian misdeeds. https://www.latimes.com/opinion/story/2020-04-30/jared-kushner-donald-trump-covid-19-federal-response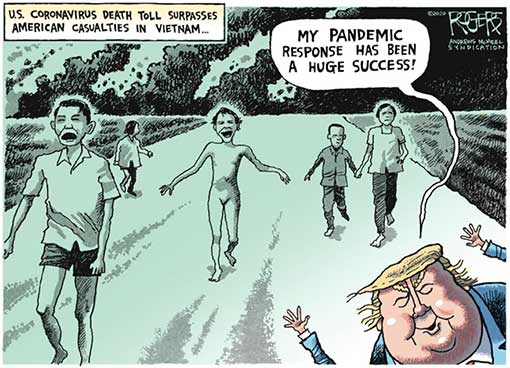 3. Michael J. Stern: Why I'm skeptical about Reade's sexual assault claim against Biden: Ex-prosecutor

.

 https://www.usatoday.com/story/opinion/2020/04/29/joe-biden-sexual-assault-allegation-tara-reade-column/3046962001/
4. John Pavlovitz: The White Privilege to Terrorize
As a white man watching the Michigan protests of Governor Gretchen Whitmer's stay-at-home orders, all I could think was: 
Black people don't get to do this.
Muslims don't get to do this.
Latinos don't get to do this.
People who don't look like this don't get to do this.
They don't get to swarm American capitol buildings in tactical gear with high-powered weapons, screaming in close proximity to police officers.
They don't get to dress up like Call of Duty cosplayers and attempt to physically intimidate politicians into bending to their wills.
They don't get to get to stop traffic in city streets decked out like they work at the Death Star and brazenly wield semi-automatic rifles.
They don't get to terrorize decent people and walk away.
Only white people get to do this. 
This violence is a singular privilege afforded to caucasian men in America. 
People of color aren't afforded this luxury.
They can't even get close to such ugliness.
Heck, they barely get to breathe.
No, they're shot as 12-year olds walking through the park with toy guns.
They're choked out selling cigarettes on street corners.
They're assassinated while unarmed in their cars during routine traffic stops.
They're gunned down in their homes by uninvited police officers.
They're driven into the pavement by overzealous security guards.
They're demonized as mothers declaring that their murdered children's lives mattered.
They're publicly vilified by white presidents for silently kneeling on NFL sidelines.
Black people don't get to to wear menacing masks or flash handguns on courthouse steps or accost strangers looking like dollar store stormtroopers, in an attempt to frighten people. https://johnpavlovitz.com/2020/05/01/the-white-privilege-to-terrorize/
5. Edward Luce: The golden age of Jared Kushner
George W Bush declared mission accomplished in Iraq just before the war fell off a cliff. Jared Kushner, Donald Trump's son-in-law, has just gambled the same on coronavirus.
The US economy would be "rocking by July", Mr Kushner promised Fox News. The Trump administration's handling of the epidemic had been a "great success story", he said. "We've achieved all of the different milestones that are needed." 
It is possible Mr Kushner knows something others do not — a breakthrough vaccine, for example, or a new therapy. Failing that, America's milestones are not the type any country should emulate.
Having lost more than 60,000 people, the US accounts for a quarter of the world's Covid-19 deaths with just 5 per cent of its population. America has a third of global infections. Forty-two countries have higher per capita rates of testing than the US — some by a considerable multiple.  Other countries, notably Belgium, Italy, Spain, the UK, France, Sweden and Switzerland, have higher death rates. America is on course to catch up with most of them. It took two months for the US to go from its first infection in late January to 1,000 deaths in late March. From there it took 15 days to reach 10,000 deaths. In the three weeks since then, the US has lost more than 50,000 people. America's curve is not yet bending downwards. Now is not a good time to declare victory. 
Covid-19 has crystallised Washington's descent into patrimonialism. The word of the ruling family holds more weight than science. For now America must live with government of the Trumps, by the Trumps and for the Trumps.  https://www.ft.com/content/1c079f85-2c61-4bd0-a7c6-39356ea6a6eb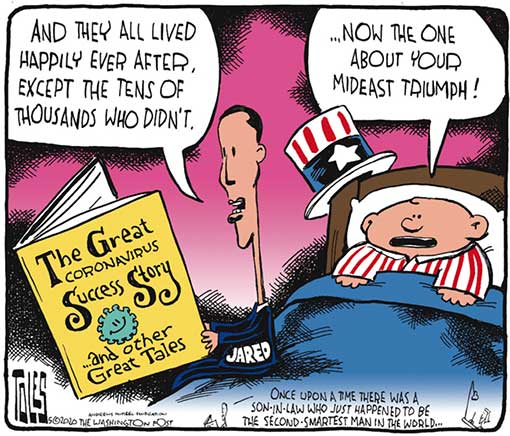 6. Eric Levitz: Ending Lockdowns Won't Revive the Economy
In recent days, many Republicans and advisers to Donald Trump have called for an immediate "reopening" of the U.S. economy to halt this historic contraction.
"You're talking about real devastation. So that's why I have been such a bull on getting the economy open quickly," Stephen Moore, an economic adviser to the president, told Yahoo Finance this week. "Really, it's just heartbreaking, and you see what's happening with the food lines, with people at the Salvation Army, where trucks in some cities are a mile long. We are facing real devastation here, and the human toll is growing with each passing day."
Moore's position is morally odious in several respects. The supply-side economist has been fighting to deny the Americans in those food lines expanded unemployment benefits. When Moore calls on states to prioritize economic recovery over public health, he is not volunteering to sacrifice his own physical well-being on the altar of GDP; white-collar workers like himself need not choose between employment and the safety of social distancing. Rather, Moore is demanding that service workers be coerced (through the suspension of UI benefits) and coaxed (through official reassurances that the worst has passed) into subordinating their health to the restoration of the profitability of the enterprises that provide Moore and his ilk with streams of unearned income.
But the fundamental problem with Moore's argument is less its dodgy ethics than its delusional substance. Formal lockdown orders are not what ail our economy. A highly contagious, unusually lethal virus, as well as the shock that virus has already delivered to consumers' finances and confidence in the future, are. GOP governors may be able to "reopen" their states' economies. But absent a COVID-19 vaccine and more robust income and payroll supports than Congress has yet mustered, no one will be able to revive growth anytime soon.
The U.S. is now suffering Great Depression levels of job losses, which will take many years to undo — no matter how prematurely the U.S. economy "reopens." https://nymag.com/intelligencer/2020/04/coronavirus-reopen-economy-lockdowns-jobless-claims-sweden-south-korea.html
7. Ed Kilgore: Trump Blasts 'Fake Polling' (Unless It Makes Him Look Good)
Nothing illustrates the self-interested moral relativism characterizing our president's worldview quite like his purely instrumental view of public-opinion research. If it redounds to his power and glory, it's wonderful and worth proclaiming to the whole world like some sort of heathen gospel. If it doesn't, then it's "fake" and the mendacious work of his anti-American enemies.
For the president polling results are nothing more than agitprop to be praised or attacked, depending on how well they show him faring. Since recent head-to-head polls matching Trump against Joe Biden have been pretty generally negative for him (he trails the Democrat by 6.3 percent in the RCP polling averages), he's on the warpath again. According to multiple accounts, his campaign's internal polls show pretty much the same thing, and he's sufficiently upset about it to lash out at the people around him, which is par for the course. Here's how Vanity Fair reported a recent blowup with campaign manager Brad Parscale:
After Trump's disinfectant comments set off a new political firestorm — the president reportedly took his anger over his dimming electoral prospects out on Parscale, whom he shouted at over the phone. "[Trump is] pissed because he knows he messed up in those briefings," one Republican close to the White House told CNN about the president's attack. CNN, which first reported the news of Trump's call with Parscale, notes that Trump "berated" the campaign manager for the president's poor polling numbers, and even threatened to sue Parscale, though the Post reports the comment was intended as a joke. 
All in all, it's clear Trump wants to undermine the credibility of adverse polls as part of a broader project of undermining the credibility of unfriendly media. The erroneous but pervasive myth that polls got 2016 terribly wrong will help him in this endeavor, and if his polling performance improves, he will have no inhibitions about boasting that "even" the fake-news media's fake polls acknowledge his towering popularity among a grateful populace. The scarier prospect is that he's preparing to declare adverse election returns "fake" unless they confirm he's won. https://nymag.com/intelligencer/2020/04/trump-blasts-fake-polling-unless-it-makes-him-look-good.html
8. Bess Levin: Trump Is Losing His Mind Over Reports He's Losing His Mind
Donald Trump has never been the picture of mental stability, but over the last few weeks he's appeared to crank up the crazy from about a 45 to a 337. From seemingly proposing intravenous Lysol as a coronavirus  to claiming the United States is close to testing 5 million people a day for COVID-19—a number so completely absurd that he might as well have said we'll soon be running 8 billion tests a day—to reportedly threatening to sue his campaign manager over a dimming 2020 outlook, the president has well and truly lost whatever remaining shred of sanity he once had on reserve.
That people have had the audacity to point out how having a full-fledged lunatic in charge of the country during an unprecedented crisis is not exactly ideal has of course not gone over well in the Oval Office, whose inhabitant believes he's the most reasonable, compos mentis person on earth (just ask him—he'll tell you). After claiming in an interview with Reuters on Wednesday that he simply doesn't "believe the polls" showing his reelection prospects circling the drain, the president—who is working so hard to overcome the pandemic that he sometimes only has 10 minutes for lunch—proceeded to tuck in for roughly 12 hours of screeching in a pitch only dogs can hear, tweeting and retweeting more than 56 times on everything from "DIRTY COP JAMES COMEY" to the wisdom of forcing meatpacking plants to stay open without worker protections to a plot by Democrats to "steal" the election. Mostly, though, he trained his fire on various journalists reporting his blowup with campaign manager Brad Parscale, sounding like a guy explaining to his cellmate at the asylum that this is all a big mix-up, he was framed, and he doesn't actually belong here.
So anyway, the president is clearly well beyond the point where, were he not president, he would have been dropped off by his kids at a nice facility for "some rest." Only in this case, we're just letting him carry on running the country. https://www.vanityfair.com/news/2020/04/donald-trump-coronavirus-meltdown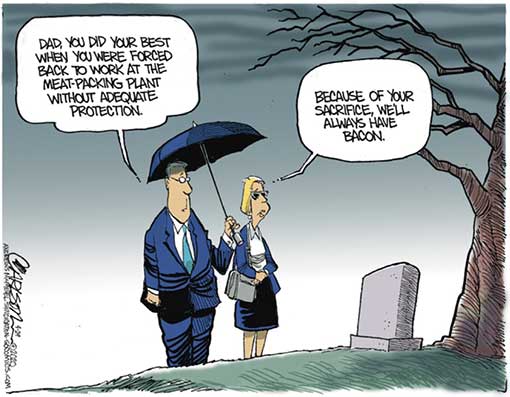 9. Jonathan Chait: Trump Thinks He Can Make China Pay for the Virus Like Mexico Paid for the Wall
During the run-up to the Iraq war, the Bush administration pressured intelligence agencies to support its preferred conclusion that Iraq was hiding weapons of mass destruction. Since Iraq was a totalitarian state that had resisted international demands for transparency, its behavior provoked suspicion that both encouraged Bush administration officials to suspect the worst and made their manipulation of intelligence appear more plausible.
In keeping with its apparent commitment to repeating all the abuses and failures of the last Republican presidency, along with inventing many new ones, the Trump administration is running the same play, this time with China. The New York Times reports the administration is pressuring intelligence officials to find evidence that COVID-19 escaped from a lab in Wuhan.
The bulk of scientific evidence points to a different conclusion — that the coronavirus was transmitted from animals to humans. The lab theory remains theoretically possible but unlikely and difficult to prove. Conservatives have obsessed over the lab theory for strange reasons. It seems to fulfill an elemental impulse to recast the coronavirus as a moral struggle against communism — the kind of problem conservatives instinctively grasp and can use as a bludgeon against liberals — rather than as a matter of public-health management. Republicans have privately conceded that they need to deflect attention onto China because Trump's record on handling the pandemic is literally indefensible.
But the campaign to blame China has always run into the problem of: What are you going to do about it? Suppose China did cause the coronavirus to escape through neglectful security protocol at a research lab. Heck, suppose the full Tom Cotton conspiracy is true and China manufactured the coronavirus as a bioweapon and then it escaped the lab. What recourse do we have?
The answer is, fortunately, much more ridiculous than it was under the Bush administration. Trump wants to "set the stage for holding China responsible" and is interested in suing China for damages. The Washington Post has a dedicated story on the administration's plans to pursue a lawsuit or seek reparations.
The idea of suing China for damages has obvious intuitive appeal to Trump, a lifelong abuser of the legal system who is currently pursuing frivolous lawsuits against several media outlets and who just last week threatened to sue his own campaign manager for polls that show him losing the election. But in real international relations, you generally can't just make other countries give you money.
The only discernible endgame here seems to be creating a predicate for Trump to publicly demand repayments from China as his solution to the crisis. If he could insist Mexico would pay for the wall, he can say China will pay for the coronavirus. The obvious fact that neither is going to happen is immaterial to their value as nationalistic campaign slogans. History is repeating itself, the first time as tragedy (the Iraq intelligence scandal) and second time as farce. https://nymag.com/intelligencer/2020/04/trump-china-lab-intelligence-coronavirus-reparations.html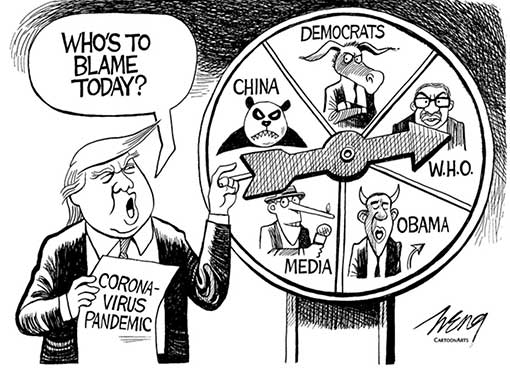 10. Jennifer Rubin: No, the media isn't fair. It gives Republicans a pass.
Let's start with the big picture: Right-wing groups persistently engage in conduct for which Republicans are not held to account. The latter are allowed to remain silent after instances of conduct with a strong stench of white nationalism, but pay no penalty for their quietude. Right-wing demonstrators at Michigan's statehouse this week — angrily shouting, not social distancing, misogynistic in their message, some carrying Confederate garb — were not engaged in peaceful protest. This was a mob endangering the health of police officers and others seeking to intimidate (small "d") democratic government. Some protesters compared Michigan Gov. Gretchen Whitmer (D) to Adolf Hitler and displayed Nazi symbols. Newsweek reported:
"What happened in Lansing today is dangerous in so many ways," said Michigan Democratic Congressman Dan Kildee in a Thursday statement. "Today's protest will come at the expense of public health. Protesters openly defied the advice of medical experts, putting their own lives and the health of all Michiganders at risk."
"The political rhetoric on display was also appalling. Republican elected officials compared Michigan's stay at home order to the Holocaust, and protesters carried signs calling for the execution of those they disagree with. This behavior is especially appalling the week after Holocaust Remembrance Day. Every leader in our state must condemn the use of hate speech, racism or threats of violence," Kildee added.
"There was a lot of really disgusting symbols of hate," Michigan Democratic Senator Dayna Polehanki told Newsweek in a Thursday interview. "You've got your Confederate flags still, disgusting, misogynistic signs about our governor, signs suggesting she may be killed . . . and then lots of people bearing arms."
On Twitter, Trump insisted: "These are very good people, but they are angry." Where was the media outrage? Where were the questions to every Republican member of the House and Senate? Could anyone imagine Black Lives Matter protesters, armed to the teeth and shouting disgusting comments about a Republican female governor, without the media demanding comment from Democrats? Once more, the media normalizes entirely abhorrent conduct from the right and fails to even try to hold Republicans to account. https://www.washingtonpost.com/opinions/2020/05/01/no-media-isnt-fair-it-gives-republicans-pass/
11. Bess Levin: Trump Casually Doubles the Number of Americans He'd Be Okay Losing to the Coronavirus
If your sense of time has become a flat circle these last couple of months, it might be hard to remember what was going on in February 2020. But as a reminder, that was when Donald Trump declared that there would be no more than 15 coronavirus cases total in the U.S. Shortly thereafter, he nudged that number up just slightly, claiming that the disease would prove nowhere near as bad as the 2009 H1N1 flu outbreak, which killed roughly 12,500 Americans. At the end of March, he shifted expectations a tad, saying that if the U.S. death toll clocked in between 100,000 and 200,000, it would mean his administration had "done a very good job." Later, when strict social distancing measures began to flatten the curve, he opined that 60,000 dead Americans would be a win. Now, as the U.S. has surpassed that figure, the president has adjusted his yardstick for success once again, casually declaring that, actually, maybe 100,000 people will die.
Speaking to reporters before departing for a weekend at Camp David, Trump shared that "hopefully we're going to come in under 100,000 lives lost," and if that's the case, it'll mean he saved something like 1 millions lives, or 1.5 million or hey, let's just call it 2.5 million lives.
The president did not take questions but if he had, and someone had asked him about the fact that he tacked on another 40,000 Americans from his latest prediction, one can assume he would have claimed to have never said such a thing because that's what he does every time he's caught in a monumental lie which is frequently. Presumably this won't be the last time between now and November that he revises both the number of dead Americans the country should consider a success, and how many he'll take credit for saving. Next month, 250,000 coronavirus deaths will presumably mean he did a bang-up job and hey, how about those 300 million people he saved? https://www.vanityfair.com/news/2020/05/donald-trump-coronavirus-death-toll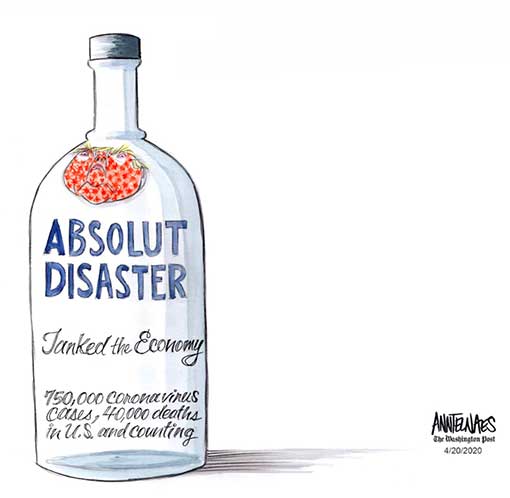 12. Dana Milbank: Trump's gun-toting supporters are firing blanks
Four years ago, Donald Trump's core supporters embraced Hillary Clinton's "deplorables" label because it encapsulated their class struggle against the perceived ruling elite.
Now, as Trump's reelection nears, the Deplorables are back, but this time they're gunning for a new moniker: the Discombobulateds.
If his supporters are unified by anything in 2020, it is a shared confusion about his rationale for a second term. This has become a movement without a message.
At the American Patriot Rally at the state Capitol in Lansing, Mich., on Thursday, many of the hundreds of protesters wore red "Make America Great Again" caps or flew "Trump 2020" banners and "Build the Wall" or "Drain the Swamp" signs. Others waved the yellow "Don't Tread on Me" flags of the tea party. Demonstrators, several armed with military-style guns, then marched into the statehouse and stared down the police.
What did they propose to do with these weapons? Shoot the virus? Shoot the governor? Shoot themselves in the foot? https://www.washingtonpost.com/opinions/2020/05/01/trumps-gun-toting-supporters-are-firing-blanks/
13. Bess Levin: Trump: Abraham Lincoln Had It Easy Compared to Me
Unfortunately for The Donald, journalistic outlets have continued to cover his efforts during the coronavirus crisis. And given that, on a good day, he's recommended the American people give themselves a Clorox enema, the stories have not been entirely positive. While another president might decide to momentarily set aside his beef with the free press to focus on the pandemic at hand out of some crazy notion of responsibility, or even respect for the 65,000-plus dead, these are things that Trump's malignant narcissism will not allow. Instead he's upped the ante, telling reporters they're subhuman for asking him legitimate questions and making it abundantly clear that he'd round them up in some kind of gulag situation if he could. And you want to know why? Because according to Trump, he's been treated worse than any president in U.S. history, including one who was literally assassinated.
Speaking to Fox News on Sunday night during a virtual town hall at the Lincoln Memorial, Trump was asked about his attacks on reporters. To which he responded: "I am greeted with a hostile press the likes of which no president has ever seen. The closest would be that gentleman right up there," he said, gesturing to Abraham Lincoln, who the history buffs among us will recall was shot and killed one night at the theater. "They always said Lincoln, nobody got treated worse than Lincoln—I believe I am treated worse. You're there, you see those press conferences, they come at me with questions that are disgraceful, to be honest, disgraceful. Their manner of presentation and their words. And I feel that if I was kind to them, I'd be walked off the stage. I mean, they come at you with the most horrible, horrendous, biased questions. And you see it, 94 and 95% of the press is hostile…The media, they might as well be in the Democrat Party…Nobody's ever seen anything like this…I'm standing up there and instead of asking me a normal question, the level of anger and hatred, I'll look at 'em and I'll say, 'What's your problem? What is your problem?'"
In fact, one might respond that their "problem" has to do with Trump downplaying COVID-19 for months and insisting it was fake news. Or instructing his advisers not to "do or say anything" that would spook the stock market, like publicly warning Americans to take the virus seriously. Or gutting the administration's pandemic team. Or lying about the accessibility of tests. Or emboldening social distancing protestors to continue endangering people's lives. Or blaming everything on Obama. Or casually doubling the number of people he'd be okay losing to the virus. Or saying, during the same interview in which he claimed he's been treated worse than a guy who was literally shot in the head, that he was not warned about the deadly disease until late January and that there will be a vaccine by Christmas, both of which were objectively astonishing lies. Things like that!
Anyway, stay tuned for the next Fox town hall, during which Trump will likely claim JFK also had it easy compared to him. https://www.vanityfair.com/news/2020/05/donald-trump-abraham-lincoln-debate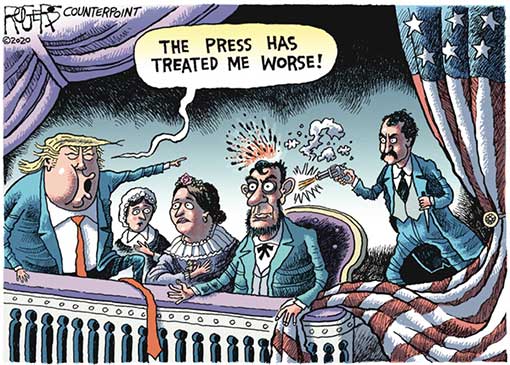 14. Gabriel Sherman: "Trump Is Really Aiming To Take Down Fox": A Group Associated With Donald Trump Jr. Is Buying A Major Stake In OANN
Trump's view that Fox is insufficiently loyal has motivated him to look for a more reliable media partner. On April 26, he tweeted: "The people who are watching @FoxNews, in record numbers (thank you President Trump), are angry. They want an alternative now. So do I!"
Trump now is on the verge of having that alternative. According to sources, an investor group aligned with his son Don Jr. and the Dallas-based Hicks family has acquired a major stake in One America News Network, the fledgling conservative cable-news channel that features hosts like Jack Posobiec, a chief promoter of the Pizzagate conspiracy. "[RNC co-chair] Tommy Hicks and Don Jr. have been looking to buy a station for Trump TV," said one source briefed on the talks. "This is all about building a Fox competitor. Trump is really aiming to take down Fox," the person briefed on the deal told me. (A person close to Hicks said he resigned his position from the family business when he joined the RNC and isn't involved in the OANN deal).
"Trump's big thing was always to own a network and be a multibillionaire," the source said. "If Trump loses, he can be on OANN all the time. And before he leaves office, he has months to pump it up." https://www.vanityfair.com/news/2020/05/trump-is-really-aiming-to-take-down-fox
15. Kaitlan Collins, Jeremy Diamond and Kevin Liptak: Ousted vaccine director files whistleblower complaint alleging coronavirus warnings were ignored
Dr. Rick Bright, the ousted director of the office involved in developing a coronavirus vaccine, formally filed an extensive whistleblower complaint Tuesday alleging his early warnings about the coronavirus were ignored and that his caution at a treatment favored by President Donald Trump led to his removal.
"I was pressured to let politics and cronyism drive decisions over the opinions of the best scientists we have in government," Bright said on a call with reporters after filing his complaint.
Bright said in the complaint he raised urgent concerns about shortages of critical supplies, including masks, to his superiors in the Trump administration but was met with skepticism and surprise.
While Bright said some officials shared his concerns -- including top White House trade adviser Peter Navarro -- he describes an overall lack of action at the top of the administration even as the virus was spreading outside of China. https://www.cnn.com/2020/05/05/politics/rick-bright-complaint/
16. Jonathan Chait: Trump's Plan to Solve the Coronavirus Crisis Is to Give Rich People Another Tax Cut
The Trump administration, thrashing around for solutions to the pandemic and recession, is falling back on the response every Republican administration has sought for four decades: giving rich people a big tax cut. The administration has already endorsed restoring the tax deduction for business meals, a tax break that allows the executive class to dine out at taxpayer expense. Jim Tankersley reports that the administration is also considering several more juicy tax cuts for the affluent: extending the full expensing of business investment, and of course a capital gains tax cut. Trump seemed to endorse the notion by tweeting his support for two of the measures.
Trump and the Republicans enacted a huge tax cut for business two years ago. At the time they promised that reducing taxes on business income would give business owners a stronger incentive to invest, thereby producing enough new economic activity that the resulting acceleration in growth would generate enough revenue to pay for itself. Business investment did not increase at all, nor did overall economic growth, and revenue from the corporate tax dropped like a stone.
One of the measures in that bill that failed to yield the promised surge in investment was a measure allowing business to expense all investments through 2022. In theory, that measure gave them an incentive to push up their investment quickly — they could enjoy a tax benefit by moving up their plans to, say, open a new factory, before the tax break expires at the end of 2022. https://nymag.com/intelligencer/2020/05/trumps-coronavirus-economy-plan-tax-cut-rich.html
17. John Cassidy: The White House's Push to

the Economy This Early Is a Dangerous Gamb

le

With the White House having effectively abdicated responsibility for testing, many states are still having difficulty acquiring the necessary test kits and chemical agents. And, of course, this hasn't been the only Presidential failure. Even as his own medical advisers have warned against moving too quickly, Trump has defended protestors, including armed ones, who have demonstrated against the state lockdown orders. In the past few days, he has cheered on governors who are relaxing restrictions even as their states have failed to meet some of his Administration's own safety guidelines.

The early reopening is far from the carefully calibrated, carefully monitored exercise that Birx and Fauci, the White House's two leading medical advisers, talked about when they unveiled the federal guidelines last month. It looks more like a reckless gamble to get the economy going before the November election without sparking a big new wave of infections. Perhaps it will succeed: no one can say for sure either way. But if it doesn't work out well, and the new projections for the spread of the virus prove to be accurate, the weakest and most vulnerable members of American society will be the ones who bear the heaviest cost. https://www.newyorker.com/news/our-columnists/the-white-houses-push-to-reopen-the-economy-this-early-is-a-dangerous-gamble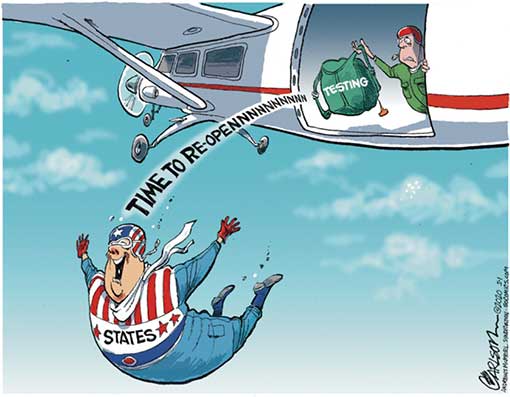 18. Michael Tomasky: Trump's America Now Leads the World—in Suicidal Stupidity
"American exceptionalism" is the general idea that the United States is different from other countries, endowed with special traits, better, superior. It goes back—well, actually, people debate how far it goes back.
But there's no debating when it ends. It ends this month, in May 2020, under Donald Trump, who in prematurely sending people back to work (and to gyms) so they can die needlessly is destroying not just thousands of human lives but also any idea of America as a special place. That shining city on a hill business? Done.
We are a laughing stock. And, we are a horror show. The other day, there was a world conference on vaccines, a virtual summit run out of London. There were speeches, live and pre-recorded, by Angela Merkel, Boris Johnson, Emmanuel Macron, Shinzo Abe; even thugs like Netanyahu and Erdogan chimed in, putting aside their usual venality out of respect for the gravity of the occasion. The United States? Not represented. By anyone. https://www.thedailybeast.com/with-coronavirus-response-trumps-america-now-leads-the-worldin-suicidal-stupidity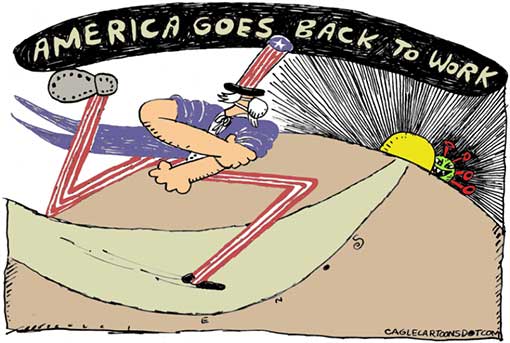 19. Jay Rosen: The plan is to have no plan
The plan is to have no plan, to let daily deaths between one and three thousand become a normal thing, and then to create massive confusion about who is responsible— by telling the governors they're in charge without doing what only the federal government can do, by fighting with the press when it shows up to be briefed, by fixing blame for the virus on China or some other foreign element, and by "flooding the zone with shit," Steve Bannon's phrase for overwhelming the system with disinformation, distraction, and denial, which boosts what economists call "search costs" for reliable intelligence. 
Stated another way, the plan is to default on public problem solving, and then prevent the public from understanding the consequences of that default. To succeed this will require one of the biggest propaganda and freedom of information fights in U.S. history, the execution of which will, I think, consume the president's re-election campaign. So much has already been made public that the standard script for a White House cover up (worse than the crime…) won't apply. Instead, everything will ride on the manufacture of confusion. The press won't be able to "expose" the plot because it will all happen in stark daylight. The facts will be known, and simultaneously they will be inconceivable. https://pressthink.org/2020/05/the-plan-is-to-have-no-plan/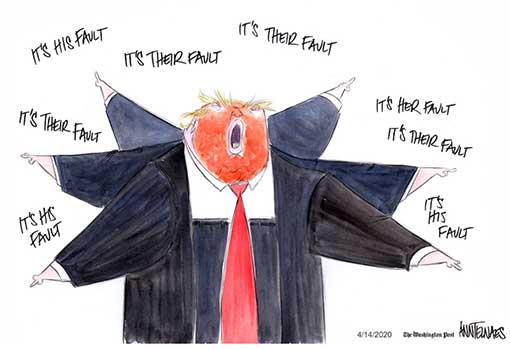 20. S.E. Cupp:The president is not well: The umpteenth reminders of Trump's mental state and the consequences
Less than two weeks after unimaginably suggesting injecting disinfectants might help kill off the coronavirus, the past few days have seen him spiral out of control, proving utterly incapable of staying focused on the biggest crisis a president can face. Instead, he has:
Spread unfounded conspiracy theories about the origins of the coronavirus, about former President Barack Obama and about an MSNBC cable-news host;
Made statements that can only be described as delusional, like comparing himself to Abraham Lincoln, inventing a non-existent letter of apology from Joe Biden, and spewing non-science about his favorite drug, hydroxychloroquine;
Attacked two female reporters for doing their jobs, lamenting that they didn't behave like "Donna Reed," an actress synonymous with the gender role-abiding, kitchen-dwelling 1950s housewife she played on television more than 60 years ago;
Attacked another female cable-news host, calling her a "3rd rate lapdog";
And in the middle of the night on Tuesday, at 12:45 a.m., gone on a 234-word rant on Twitter, complaining about an ad released by a Republican anti-Trump group whose leaders include George Conway, husband of his staffer Kellyanne, in which he used words like "deranged loser of a husband," and "Moonface" to describe him.
It's a frightening commentary on the slow normalization of this completely abnormal behavior that we can greet the undeniable deterioration of the president of the United States with mere shrugs. And the only concerns from his inner circle seem not to be about the mental instability itself, but the political ramifications of it being exposed in daily press briefings. https://www.nydailynews.com/opinion/ny-oped-the-president-is-not-well-20200505-37i32k3q55c55bnnk6hdkgxvga-story.html